This page contains affiliate links. Please read our disclosure for more info.
We recently ran a live question and answer session on the #TravelAMA section of AMAFeed. AMA means Ask Me Anything and we were happy to answer dozens of your questions about travel and digital nomad life.
Here's a selection of some of the best questions and our answers:
Our Travel Favourites
"How many countries have you travelled together for 8 years? Which country is the best to visit?"
We've travelled to 60-something countries together including 40 countries in the last 8 years since we were nomadic (we return to a lot of the same countries too). We usually visit about 8-10 countries a year.
Our absolute favourite countries are Japan and Italy.
Japan is like nowhere else in the world and we love how unfamiliar and exotic it feels, yet how easy and efficient it is to travel around. The people are also exceedingly polite and the food is amazing (even for vegetarians if you know where to look).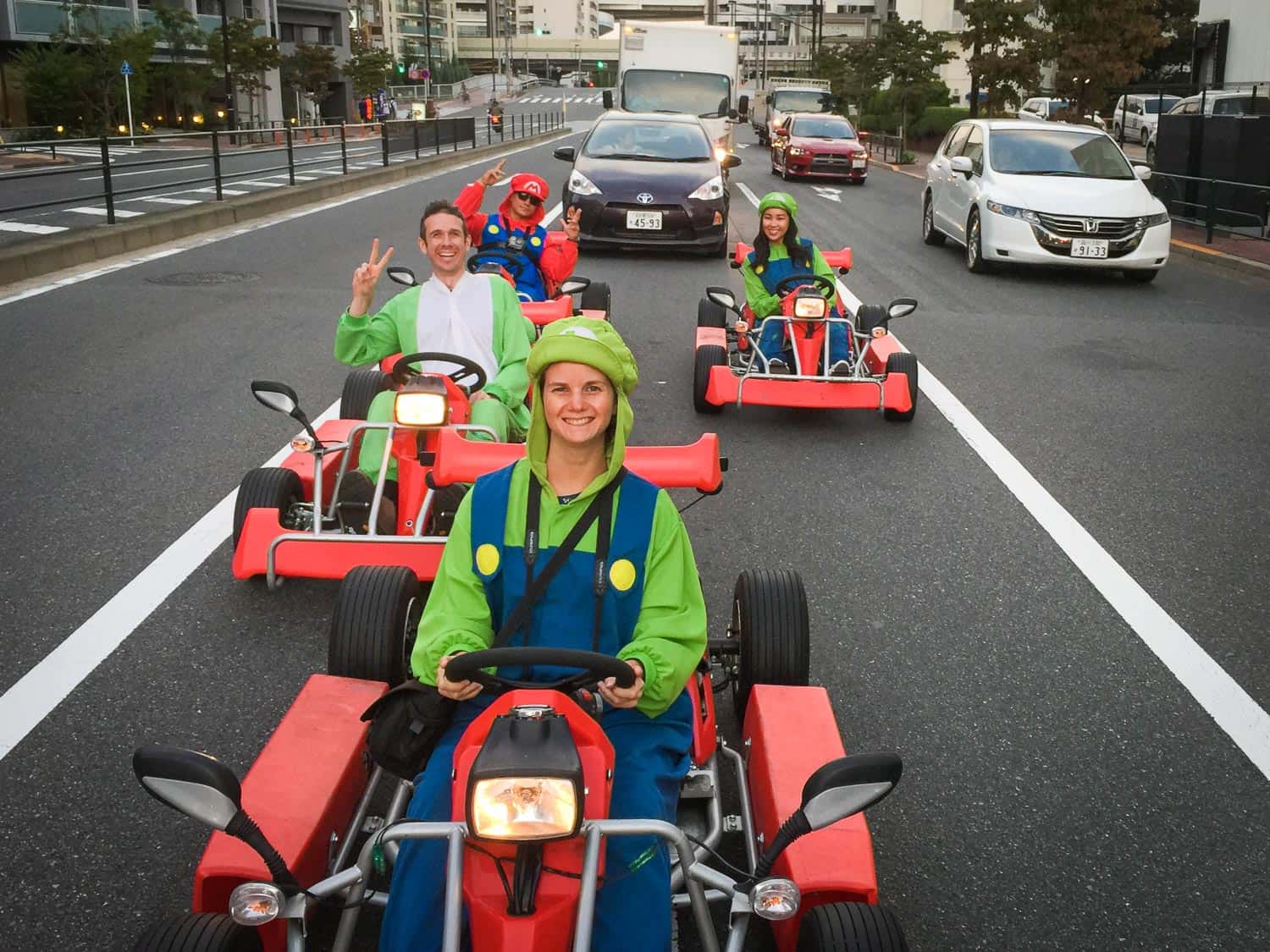 Italy is all about the food, wine, and stunning medieval towns, countryside, and coastline. We love the relaxed lifestyle there.
For short trips, we also highly recommend Slovenia, Jordan, the Maldives, South Africa, and Cuba.
For digital nomads looking for a base for a few months, we recommend Bali (Ubud), Thailand (Koh Lanta and Chiang Mai), Mexico (Guanajuato, San Pancho, Playa del Carmen), and Argentina (Buenos Aires, Salta). Cape Town is amazing too but a bit pricier than the others.
"What was your absolute favourite island beach? One with good food and, for us, good wine too?"
Reethi Beach Resort in the Maldives! It is heavenly! We loved the overwater bungalow, great snorkelling off our deck, sunset cocktails on the beach, a dolphin watching trip, and the most perfect white sandy beach.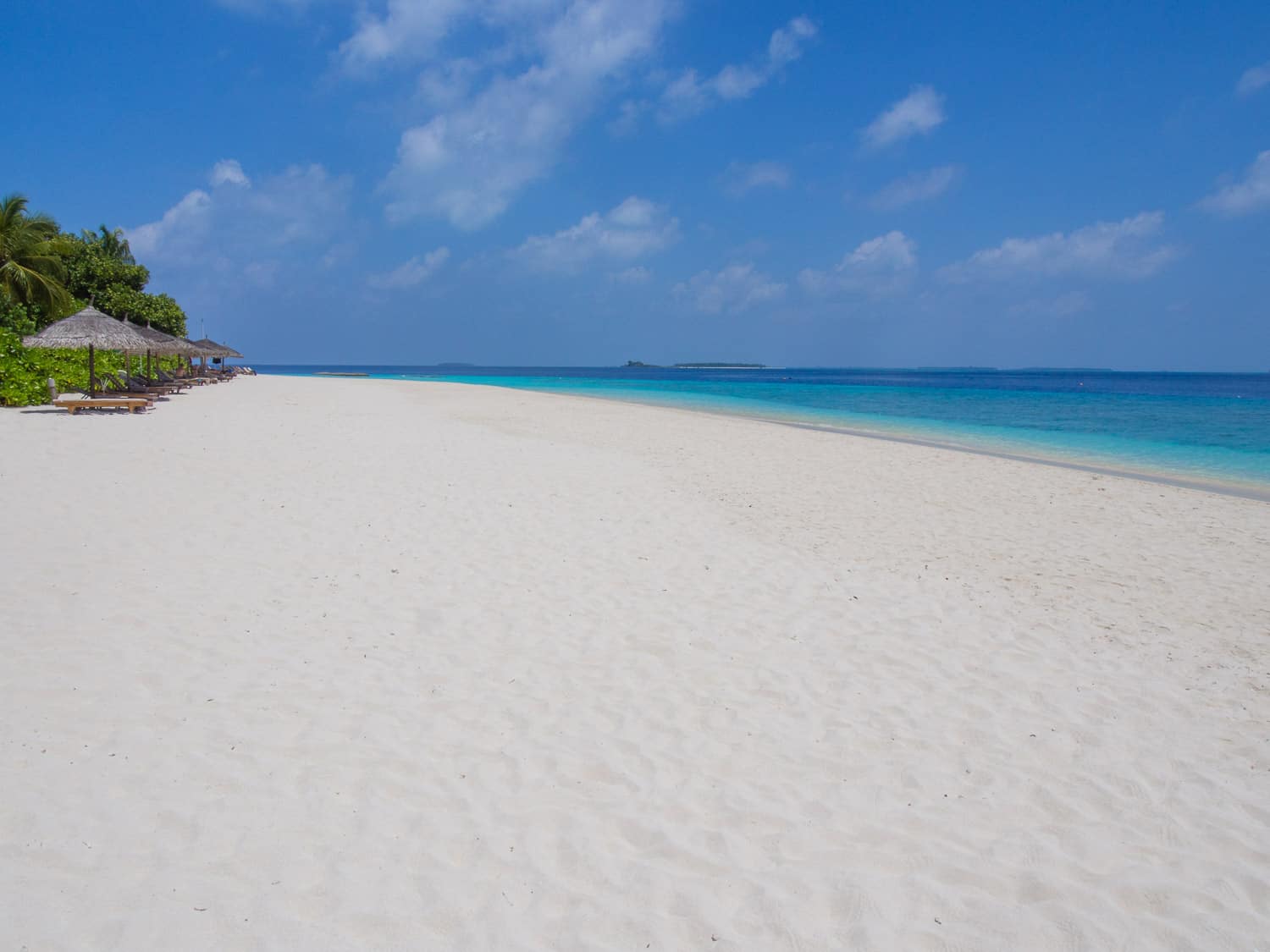 The food isn't gourmet but we really enjoyed the buffets (and I am not usually a buffet fan at all). I'm not sure we had any wine. It's Asia so I wouldn't expect too much.
Unfortunately, the best beaches and the best wine don't really match up. If you are not set on an island or warm water you could consider South Africa. The beaches around Cape Town and the Garden Route are stunning (but too cold to swim) and the food and wine are superb and so affordable. Some seriously spectacular places to stay too.
"We are 7 months into our trip and heading to Malaysia / SE Asia for a few months. Are there any places you would especially recommend and are there places in that area that are on your list to visit? We have read your stuff about Langkawi – wondered if you had any other recommendations?"
In Malaysia, we also like Penang, Perhentian Besar island (we did our advanced scuba diving course there), and of course, Kuala Lumpur is worth a visit (great cheap Indian food). We haven't travelled the country extensively, though.
In the rest of SE Asia, we love (with links to our blog posts about them):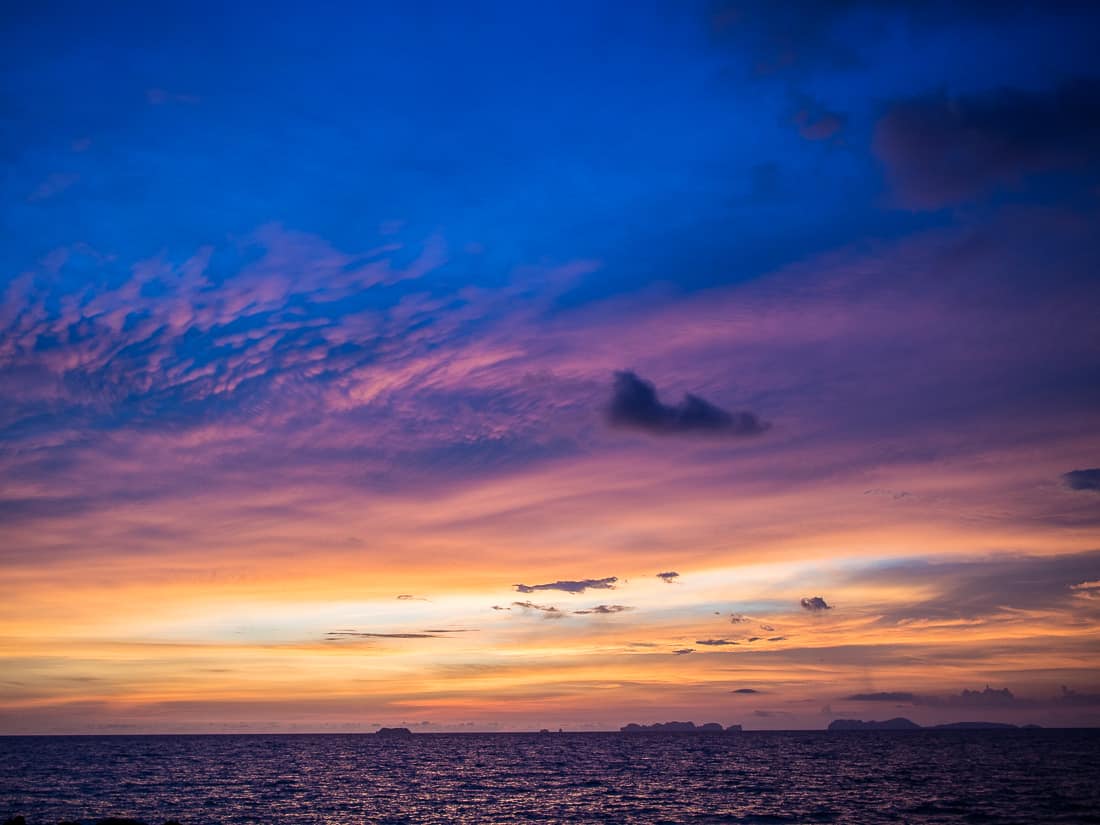 The Philippines are still on our list and would be a great place for island hopping.
If you don't mind going a bit further afield, Air Asia has relatively cheap flights from KL to the Maldives, which are absolutely stunning – the best beaches we've ever seen. It's possible to travel there independently so it's not so expensive—you can see our Maldives budget here.
And Japan is well worth a visit if you can afford it. It's one of our favourite countries and is unlike anywhere else in the world. We've written loads of posts about it but our two week Japan itinerary is a good place to start.
Digital Nomad Life
"It seems that you both are the embodiment of real nomads. Why the lifestyle?"
Freedom! We absolutely love being able to go where we want, when we want. We can fly to Italy because we crave pizza or Thailand because we need some beach time. We can spend months in a place we fall in love with or leave after a day if we discover it's not our thing. We can follow the sun and only experience winter if we chose to.
We love being able to work on projects we love and not having to commute to an office or answer to anyone except ourselves. We love spending 24/7 with each other and having time to do the things we love—yoga, running, drawing, reading, writing, cooking, video games.
Ultimately, there's so much of the world to explore—places we want to return to and new places on our ever expanding wish list. We've had so many magical experiences in the last eight years and we just don't want it to stop.
"How do you earn from working online? Are the blog, the books, and the apps your only sources of your online income?"
These are our sources of income from largest to smallest:
Affiliate commission – If someone purchases an item or books a hotel that we recommend on our travel blog we receive a commission.
Trail Wallet app – Our app helps travellers track their travel expenses and stay on budget. We sell it on the Apple app store only. You can try it for free (and input 25 items) but to continue using it costs $4.99. We do have other apps, but they don't make much money. (update: after 10 years, the app is sadly no longer available)
The Carry-On Traveller book – We've been travelling with just a carry on bag each for eight years so I wrote this book to share our tips on how to pack light. We sell it through Amazon for Kindle and as an on-demand paperback.
Blog sponsorships – Very rarely we will be paid to write a review of a company's product or service. I am very picky about who we work with, so this doesn't earn a huge amount.
Freelance writing – I haven't done any freelance writing in the last year, but previously it's something I occasionally did if a good offer came my way.
By far the majority of our income comes from 1 and 2. Luckily it's passive income, so we are able to take a month or two off work to travel and continue to earn.
"Who, between the two of you, creates the iPhone app? How many apps in total have you completed?"
Simon creates the iPhone apps. He has made five apps but Trail Wallet is by far the most popular.
You can see more details on Voyage Travel Apps.
This year Simon plans to make an adventure game.
"What are your considerations when looking for a place to settle for some time, aside from price and accessibility?"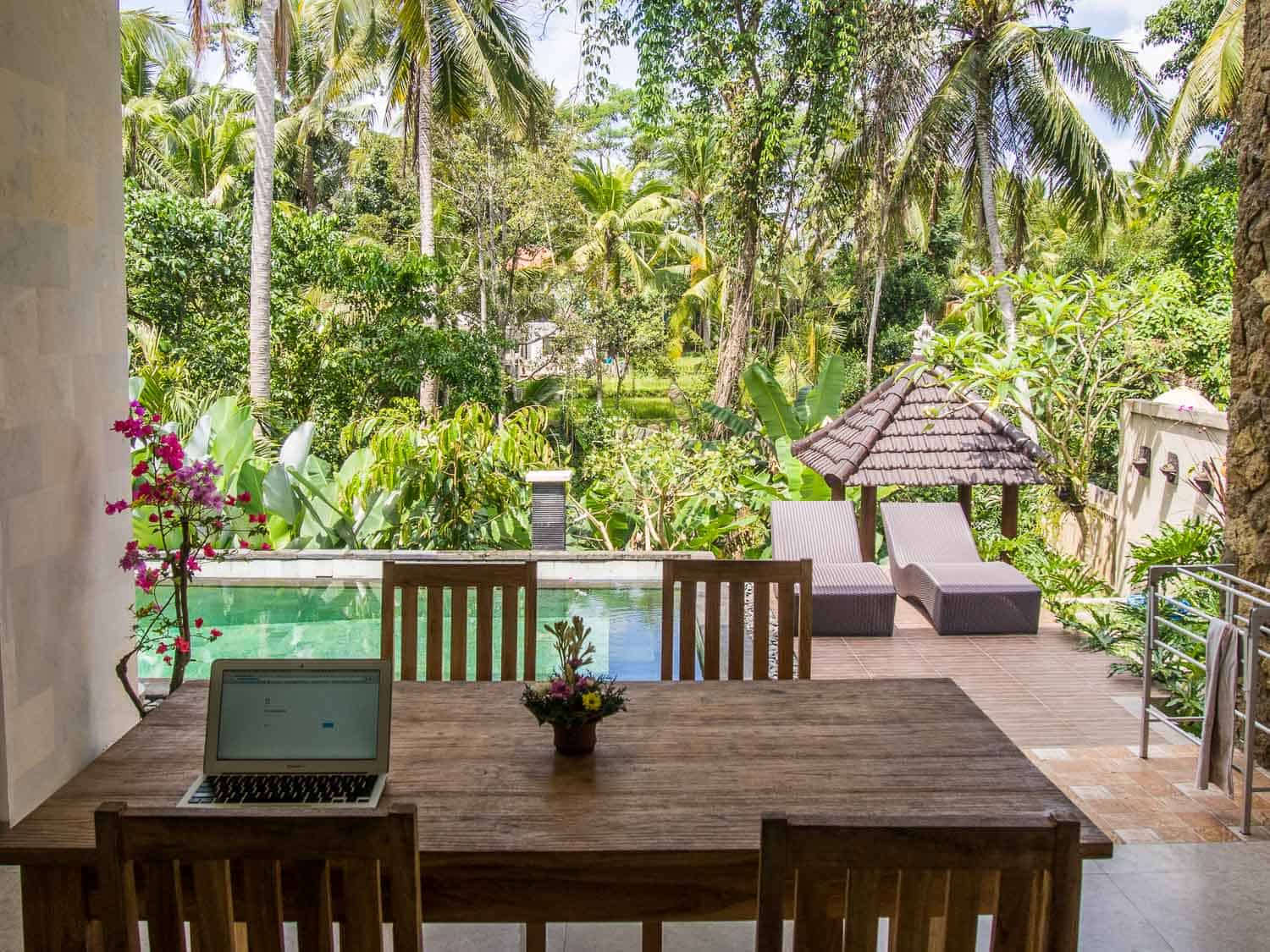 When choosing somewhere to spend a few months we look for:
Availability of affordable, medium-term apartment/house rentals. Some solo travellers are happy to stay in hostels/hotels but we really like to have our own space to work, relax and cook. It's the only home we have after all.
Decent WiFi. We're not super strict about this as we do manage (if somewhat frustratingly) in places like Lake Atitlan, Guatemala where the connection is slow, but we do need some kind of workable WiFi.
Good vegetarian-friendly restaurants. Or at least access to a good local produce market.
Interesting things to do or beautiful scenery (beaches, rice fields, lakes, mountains etc). We don't need a lot to do if we can work and go for pretty walks.
Weather – We usually follow the sun although we are currently experiencing our first full winter in 8 years!
Running routes – Not a deal breaker as I can find places to run anywhere but good routes away from roads makes it so much easier.
As for your apartment rentals, especially the longer term ones, are/is noise, odors, cleanliness, general safety and the actual host(s) much of an issue for the locations you typically select?
Finding an affordable, comfortable place to rent where we can feel at home is one of the biggest challenges of being a digital nomad. Especially as we're homebodies (I know that sounds like a contradiction for a nomad!) and prefer to work at home rather than in co-working spaces or cafes.
We've never had any major problems, though. It's usually just annoying things like a badly equipped kitchen (we have bought knives, chopping boards, frying pans, and rice cookers so often!). Or in Bali we struggled with the lack of privacy in the culture—our landlord would walk into our open-air kitchen without warning. Mexico was pretty bad for noise as it's not exactly a tranquil culture. Kids, music and a crazy guy next door are some of the things I remember!
We've never felt unsafe though or had a really bad landlord. And most things we get used to over time. Travel has taught us how adaptable humans are.
One way to find a good place is to choose an Airbnb apartment with lots of great reviews and carefully read the listing, look at the photos, and ask lots of questions (about wifi, natural light, transport etc).
It is more expensive than renting a place once you arrive but it's also so much easier. We don't usually like to book in advance for stays of more than a month, but we did for two months in Cape Town (as Airbnb is the only real option) and it worked out well.
Airbnb is our go-to in Europe and the US, but in cheaper countries like Mexico or in SE Asia we usually look around when we arrive (local Facebook groups are helpful) so we can see the place and maybe negotiate a better rate. It can be a lot of work though.
Packing Light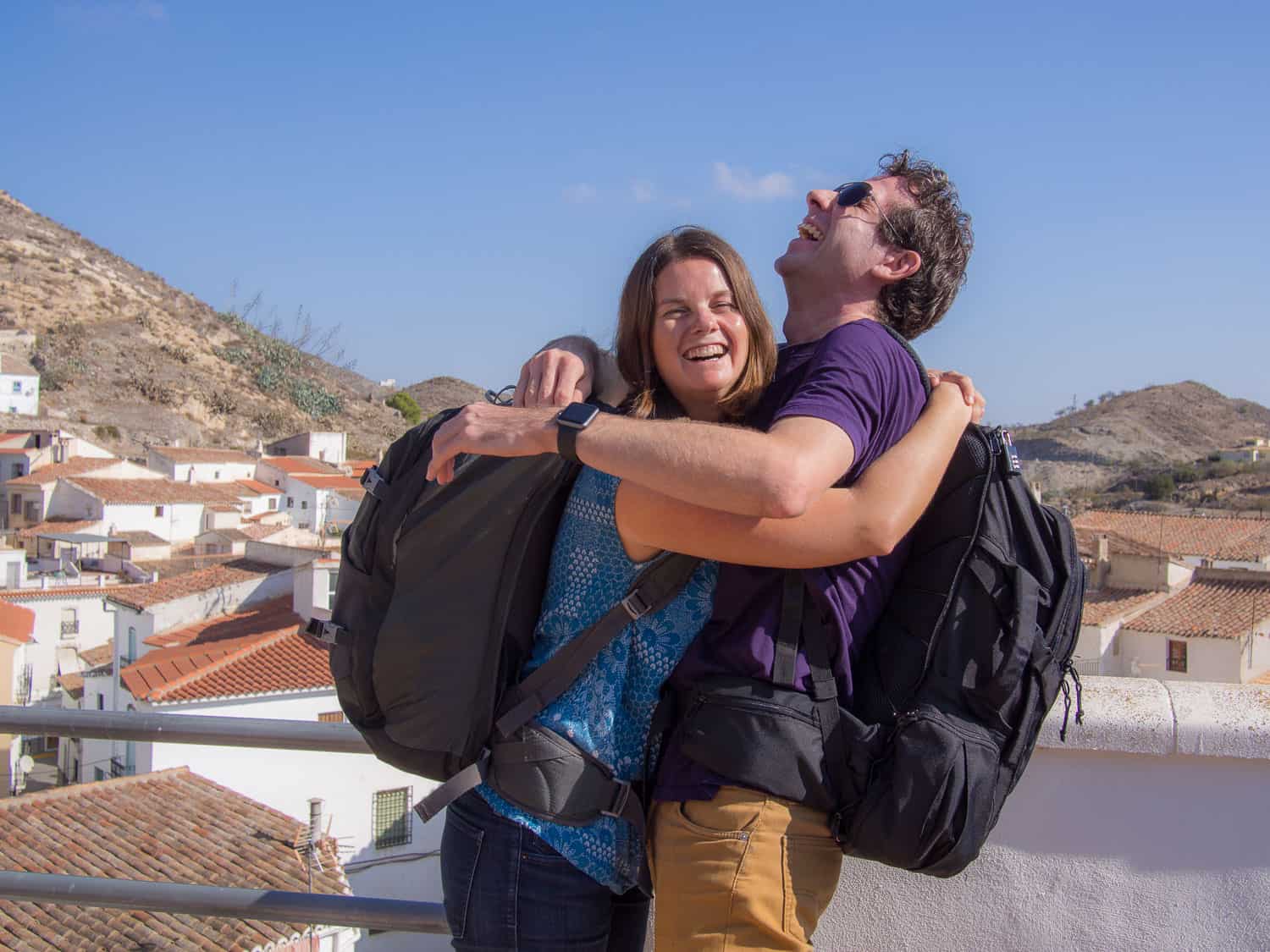 "Is it because there's the two of you traveling that each of you can just bring one carry one backpack since one can put more things in the other's bag?"
Not at all. It does help to be able to share some things, but we could easily travel solo with just a carry on bag—we know tons of people who do so.
Honestly, we travel with so many things that regular travellers wouldn't need as we work online so have tons of electronics like our laptops and camera.
Also, after 8 years of travel without a home base, we want more luxury items than we used to. Simon is currently travelling with a Nintendo Switch and an AeroPress coffee maker for example! And it still all fits in his carry on bag!
For more on how we do it, you can see our post on how to travel carry-on only and my book The Carry-On Traveller.
"How can you be confident with only the backpack on with you while traveling? What should be essentials you can do without that this bag should have?"
We feel confident that we have everything we need in our carry-on-size backpack. Most people pack way too much stuff and take things "just in case" that they never end up using. If we really do need something we don't have we can always buy it locally—most things can be found anywhere.
There are no right things to pack as everyone has different needs, but some things that are useful for packing light include:
Packing cubes – These make a huge difference by making it possible to pack lots of clothes in a small space. They also keep things organised and easy to find. I have one for my main clothes, one for workout clothes, and one for underwear. I really like Eagle Creek's ultralight compression cubes. You can read more about how to use packing cubes here.
Solid toiletries – If you are flying you can't take liquids over 100ml and they must fit into a single ziplock bag. Products like Lush solid shampoo bars help you avoid liquids.
Kindle or other ebook reader – A must for bookworms as books are too heavy.
Odour-resistant clothes – You can wear these for longer without them smelling, so you can pack less. We like Ably t-shirts, Athleta Unstinkable workout clothes, ExOfficio underwear, Smartwool socks, and Icebreaker long sleeve tops.
I also recommend only packing enough clothes for a week and then doing laundry. And 2 or 3 pairs of shoes is enough for any situation—I have running shoes, hiking sandals, and Tieks ballet flats.
You can see our packing list for exactly what we pack.
"Are you also endorsing a certain brand for the backpack? Or have you ever thought of creating your own lines of backpacks with ideas gathered from your traveling?"
We have very specific requirements for our backpack. It must:
Be carry-on size. Usually about 40 litres max for a backpack.
Be front-loading. This means it opens around the sides like a suitcase for easy access (not like a hiking backpack which opens from the top).
Have lockable compartments for security.
Have a padded hip belt to transfer weight from your shoulders to your hips and avoid backache. This is often hard to find in a carry on size backpack.
Have a laptop sleeve.
Be durable.
The backpacks we found that meet our requirements are the Tortuga Outbreaker for Simon and the Osprey Farpoint 40 for me (the Outbreaker is too big for my needs). You can read our detailed carry on backpack review.
We've been travelling with them for over three years and we're so happy that we have no need to create our own.
Thanks to everyone for your fantastic questions—we really enjoyed answering them!
If you enjoyed this post, pin it!