This page contains affiliate links. Please read our disclosure for more info.
The houses of Guanajuato tumble down the hills that surround it in every imaginable colour. There's no subtle, complementary colour scheme—fuchsia pink mingles with pillar box red, saffron yellow, baby blue, and lime green.
We like the city better for its discordance. Despite its beauty it's not perfectly restored and retains a gritty realness—it's a city where people live, work, study, and play, not a museum piece for tourists.
This colonial city in the mountains of central Mexico was once a silver mining town and although it's a UNESCO World Heritage Site, strangely it's not very popular with foreign tourists, who prefer San Miguel de Allende just an hour away.
The small group of foreigners in Guanajuato tend to be expats or long stay visitors, here to take Spanish classes.
It's certainly a better place to learn Spanish than the Mexican coast where we were frustrated by our Spanish being responded to with English by staff keen to please vacationers from north of the border. In Guanajuato locals spoke to us in Spanish and we appreciated it.
Contents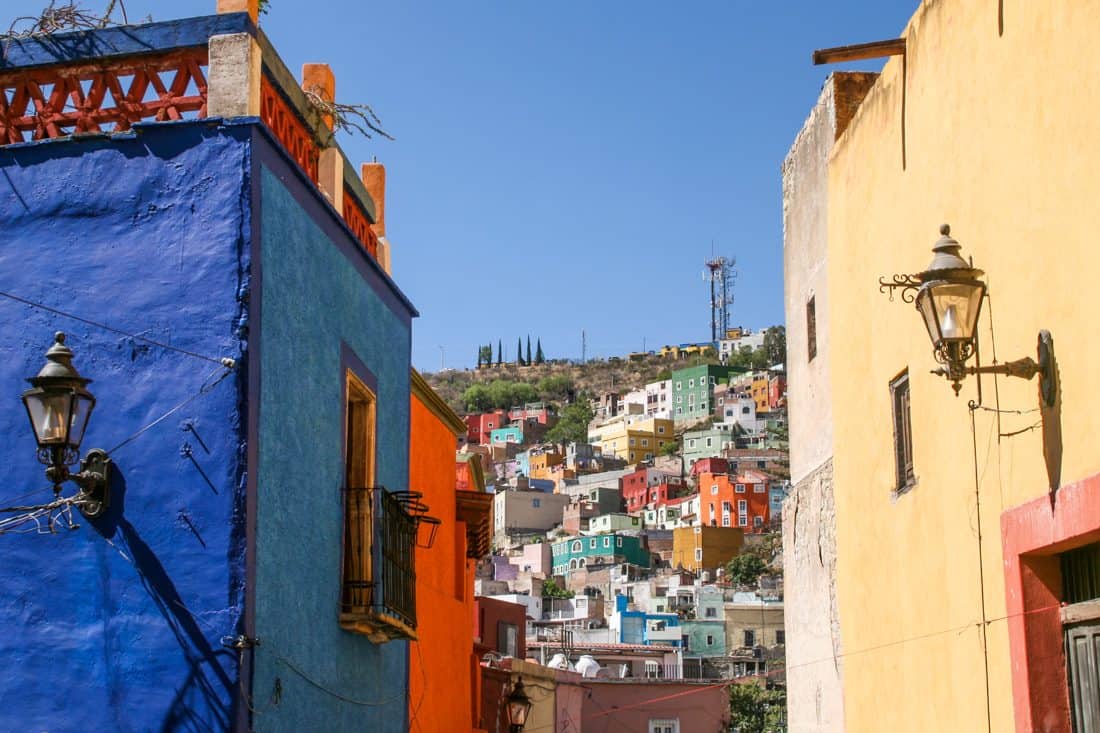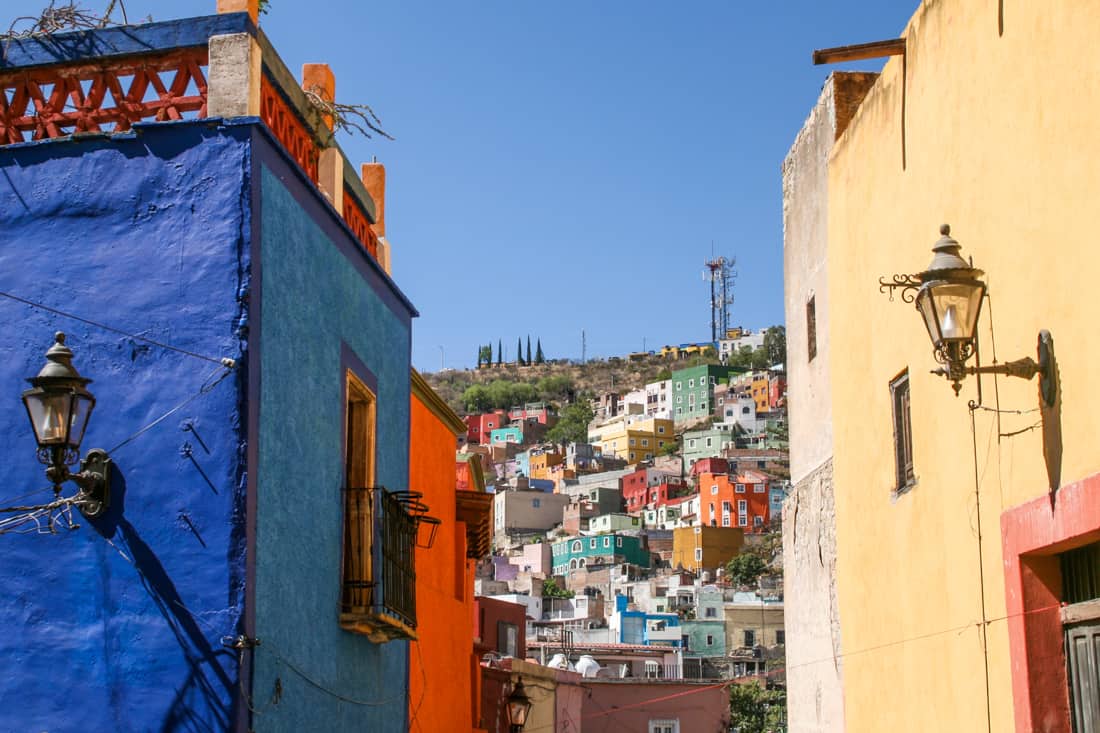 Exploring Guanajuato
We soon fell for Guanajuato—its colours, graceful churches, shady plazas, and lively atmosphere.
It's a compact, walkable city but the large student population means there's plenty going on with many cafes, bars, street food stalls, markets, and art galleries.
It was the perfect place to indulge our favourite slow travel activity of aimless wandering. It's easy to get pleasantly lost in the cobblestone lanes that climb steeply from the centre, turning a corner to find yet another tiny plaza with locals chatting on benches shaded by manicured trees.
It's definitely a walking city as the narrow streets are a nightmare for cars and one of the city's unique features is a network of underground tunnels that are used as roads.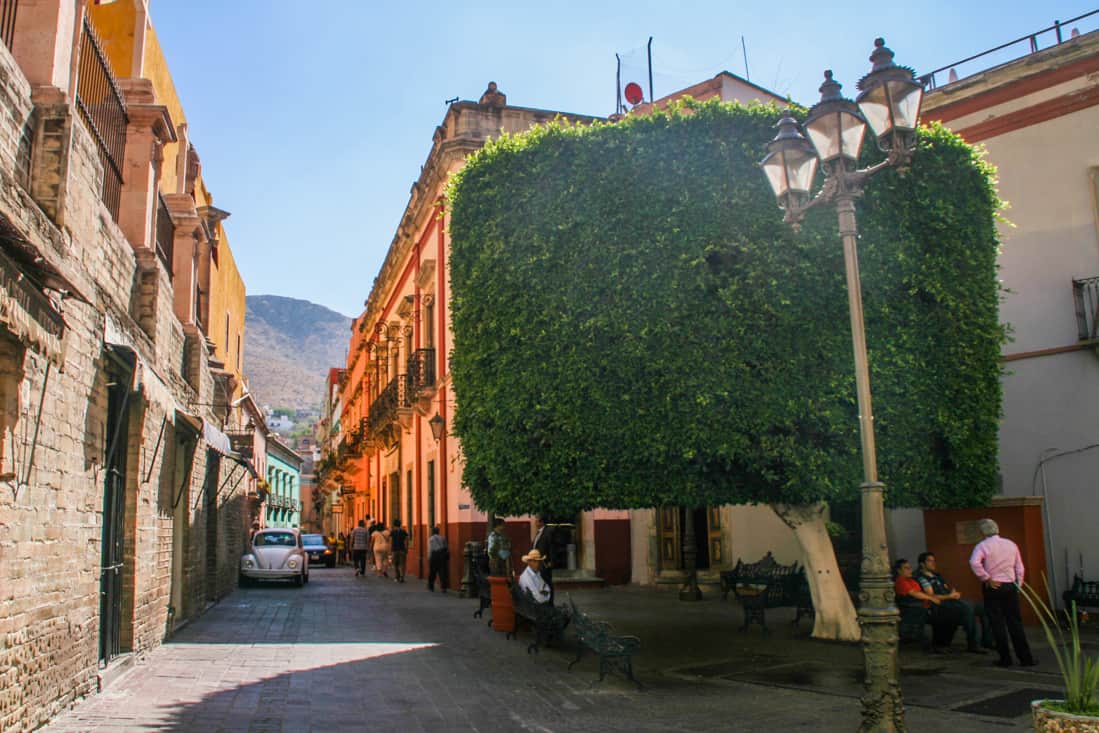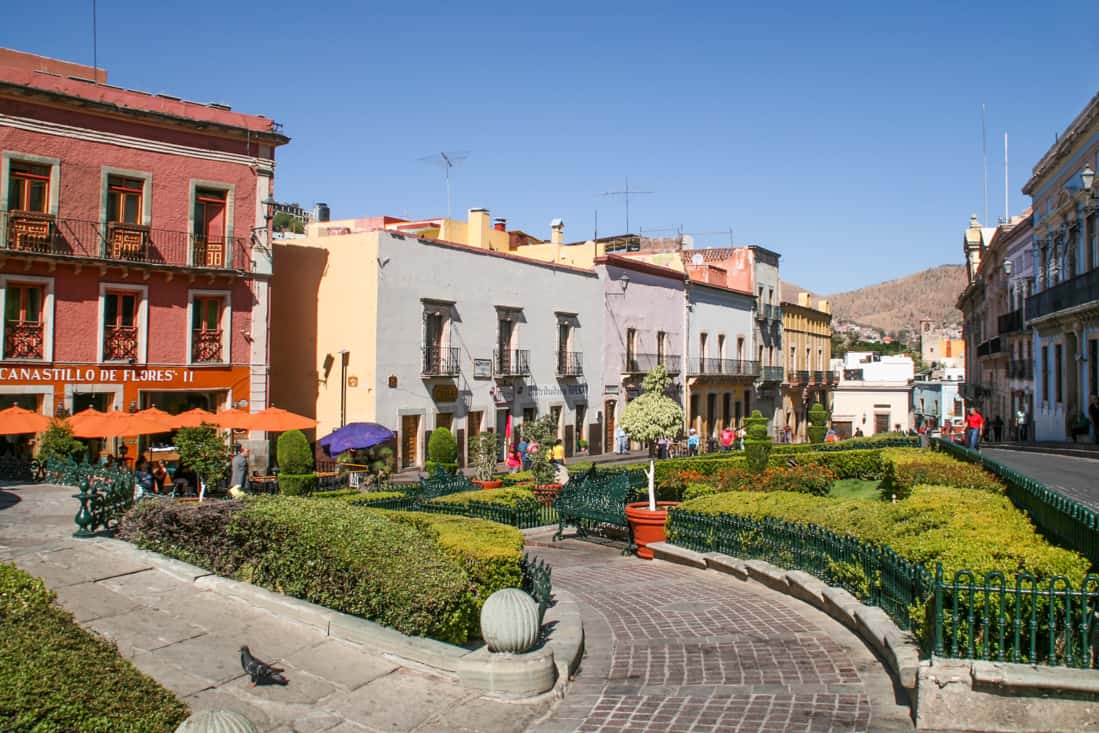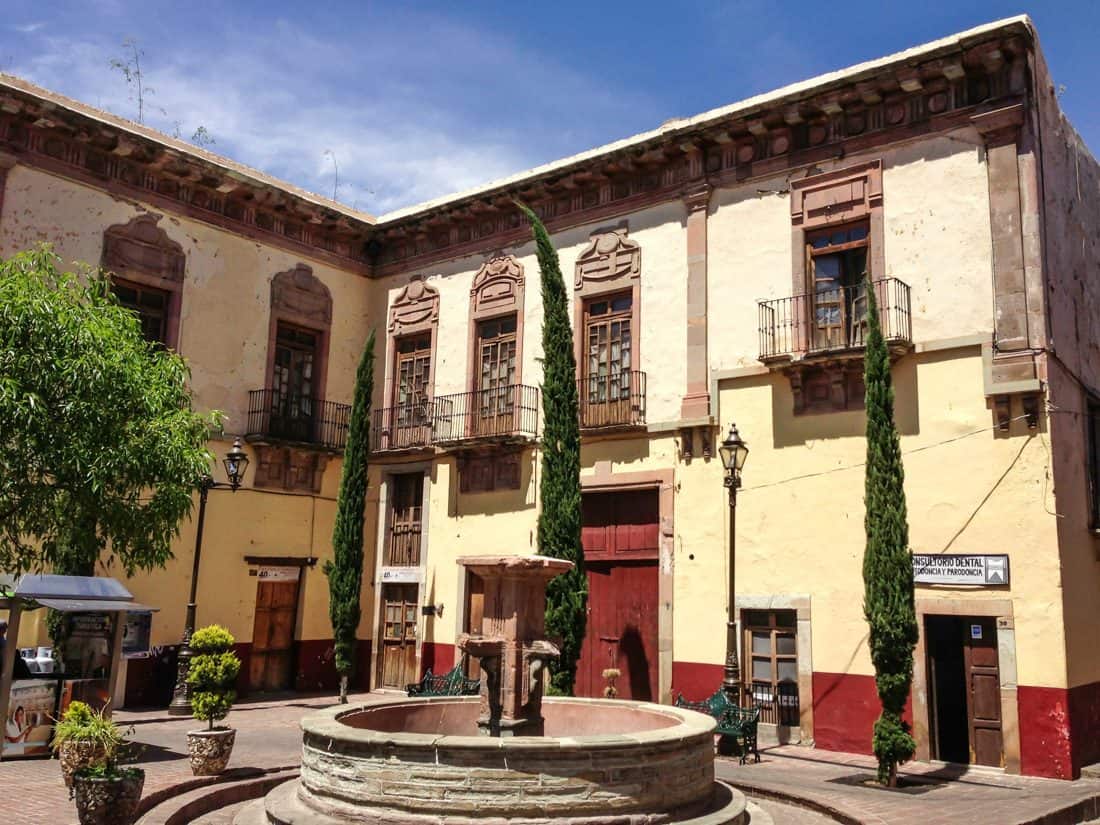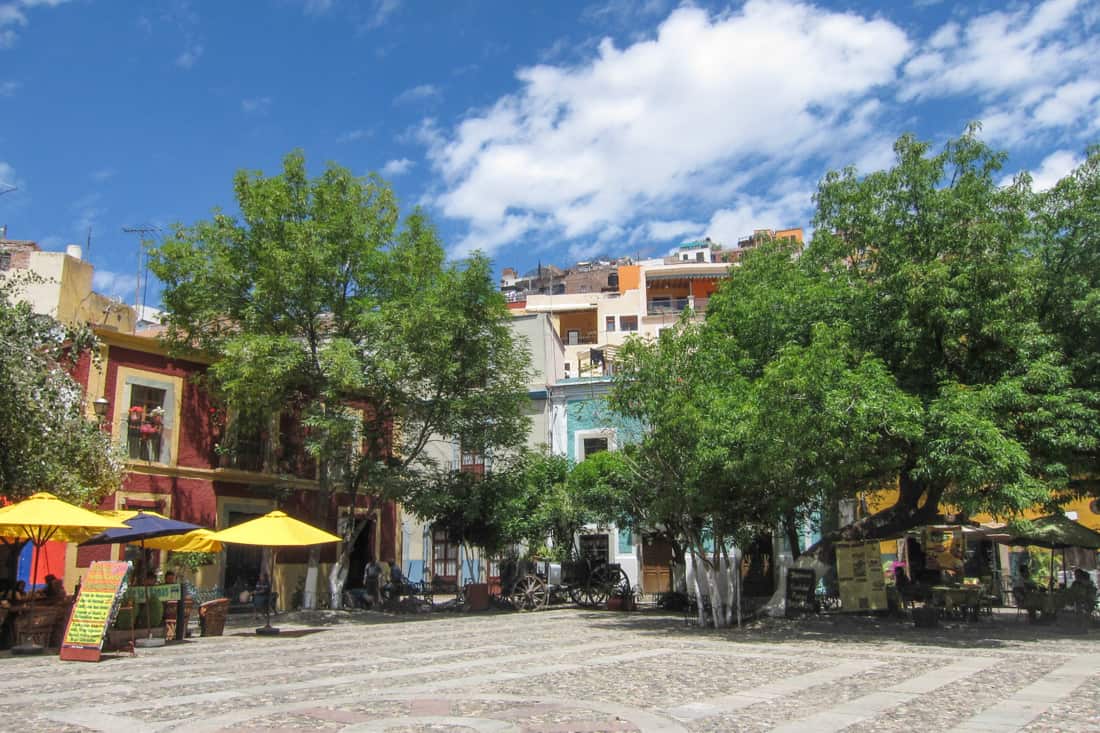 Fine baroque and neoclassical buildings are the result of the prosperity of the silver mines in the 18th century and there are many churches.
We were visiting during Semana Santa (the week before Easter Sunday) a popular time for Mexican tourists to visit the city. In Guanajuato Holy Thursday is celebrated with the Visita a los 7 Templos, a pilgrimage to seven churches, although for many it's more a social than religious activity.
We opted out but did manage to walk past six of them as we wandered around town and saw the queues snaking out of the churches.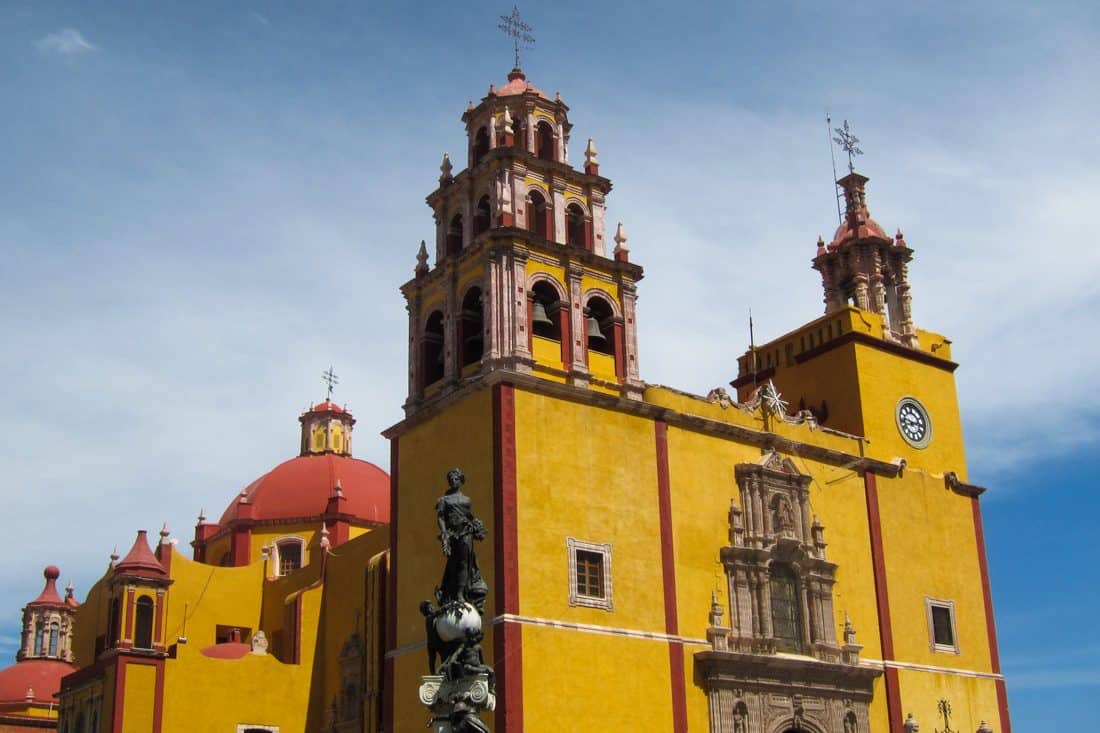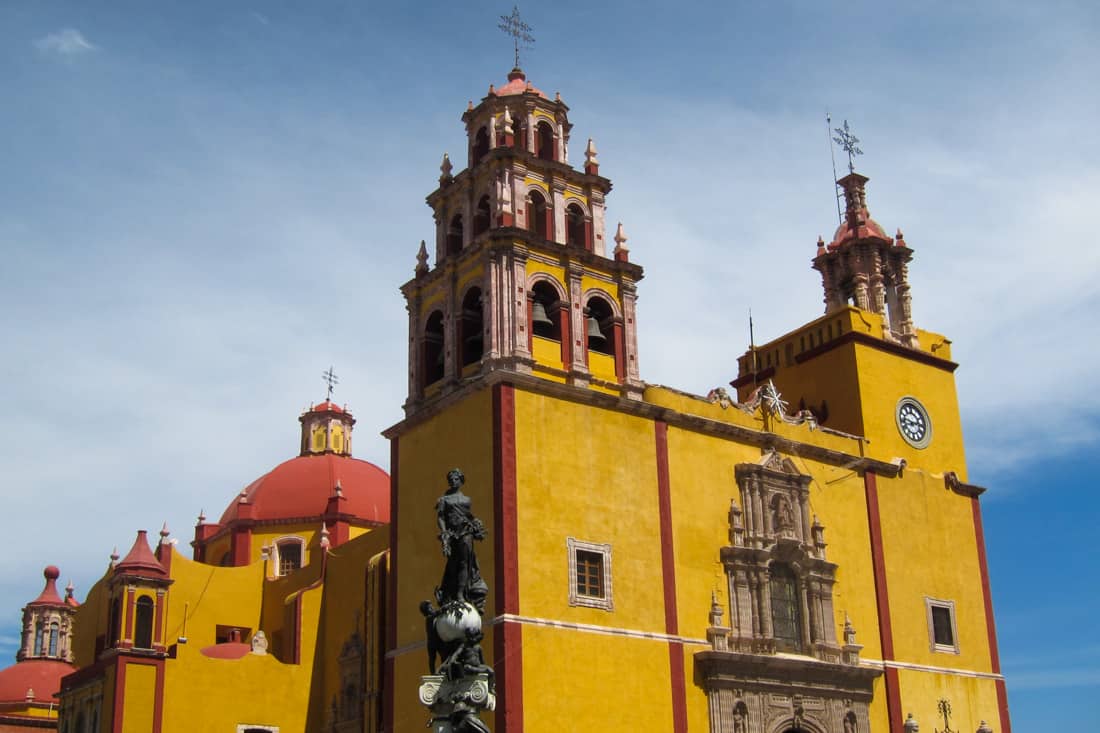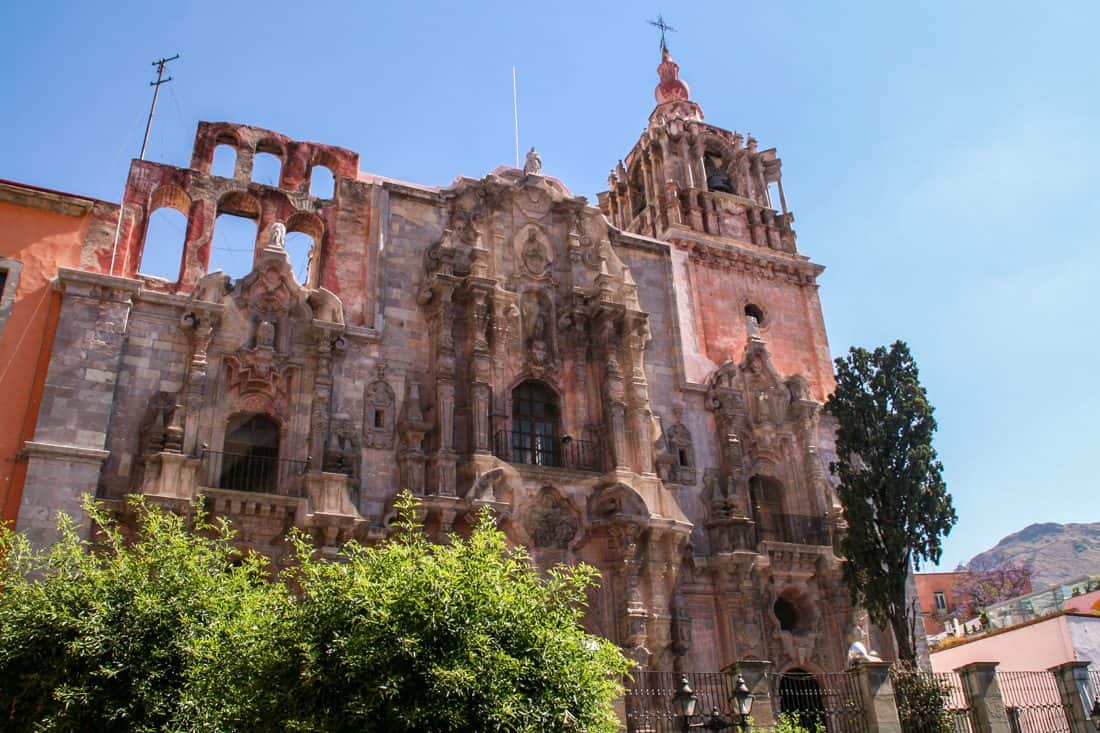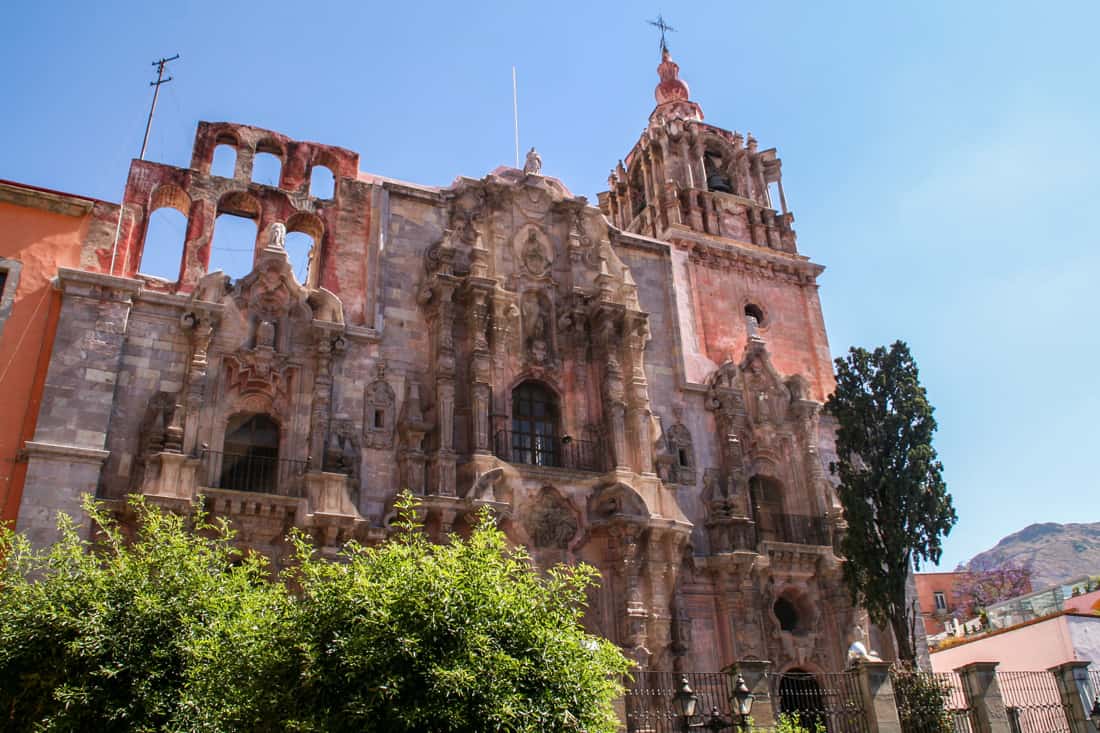 The heart of the city is the main plaza, Jardin de la Union. Indian laurel trees have been trimmed to create a dense canopy shading the craft stalls and benches.
It's surrounded by bars and restaurants whose outside seating is a prime location for people watching. The area is lively in the evenings with mariachi bands and street performers.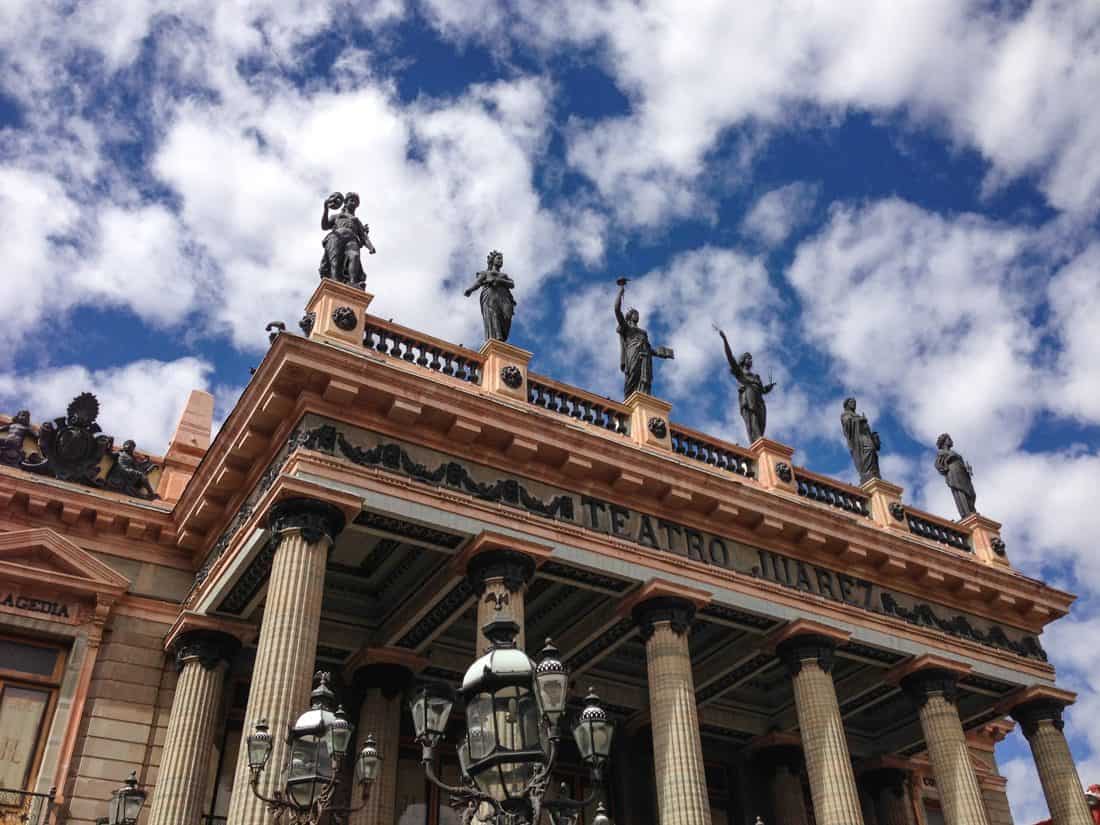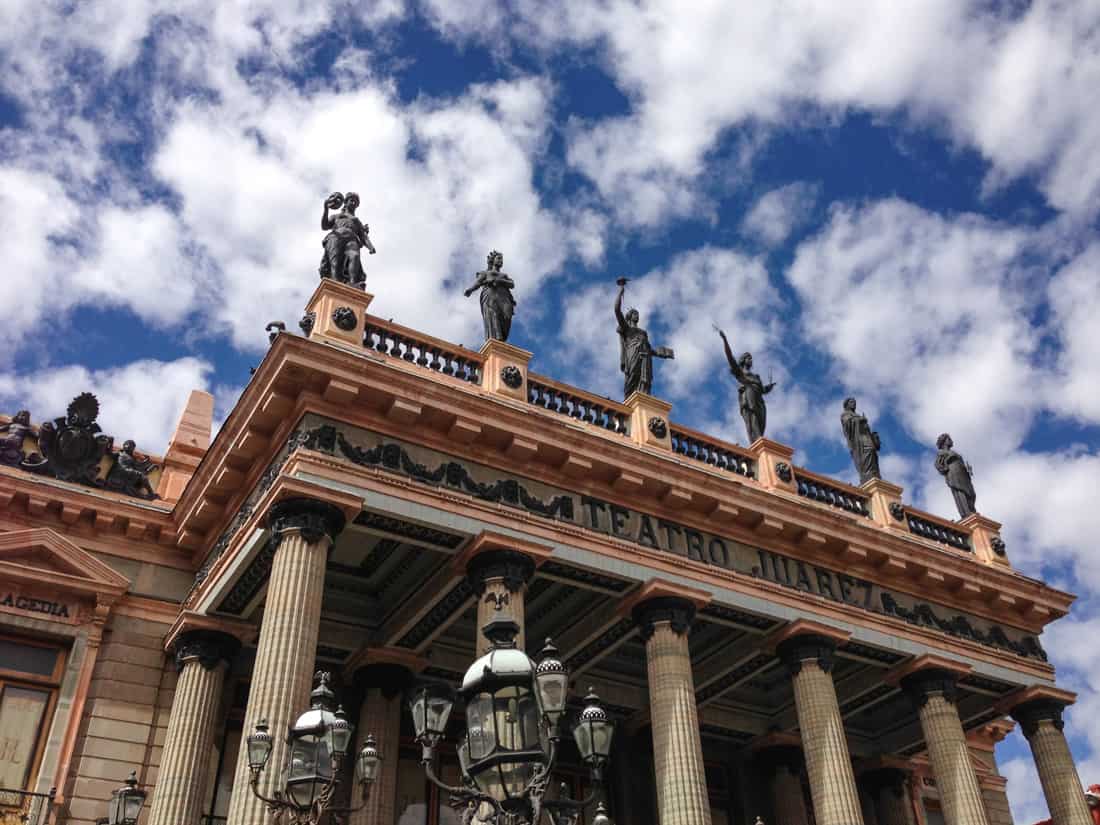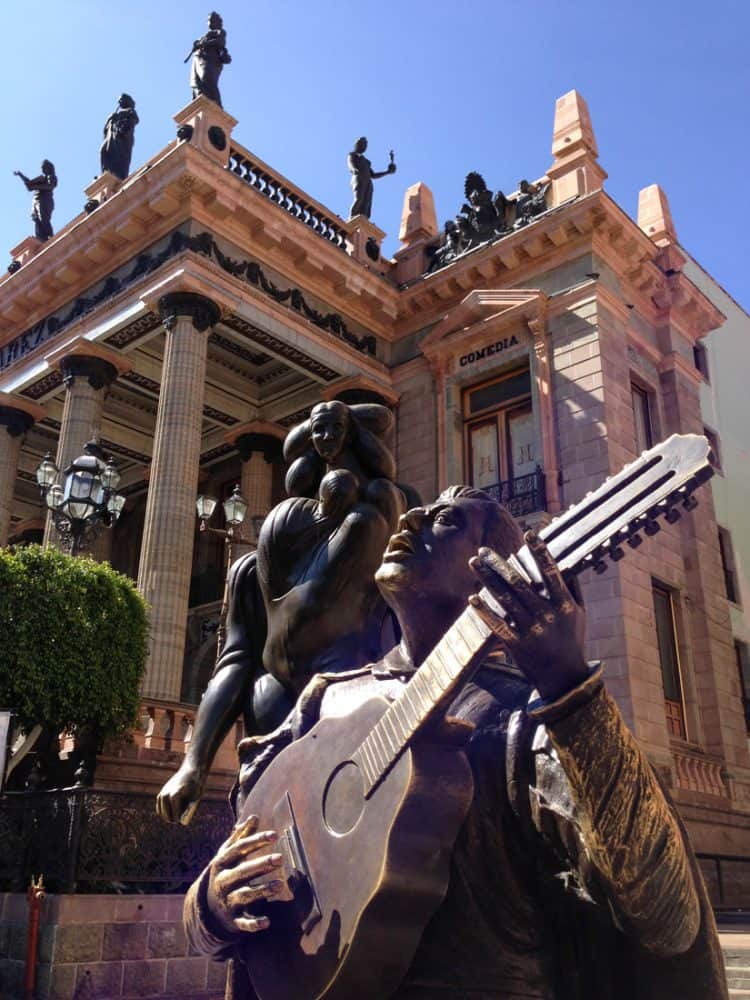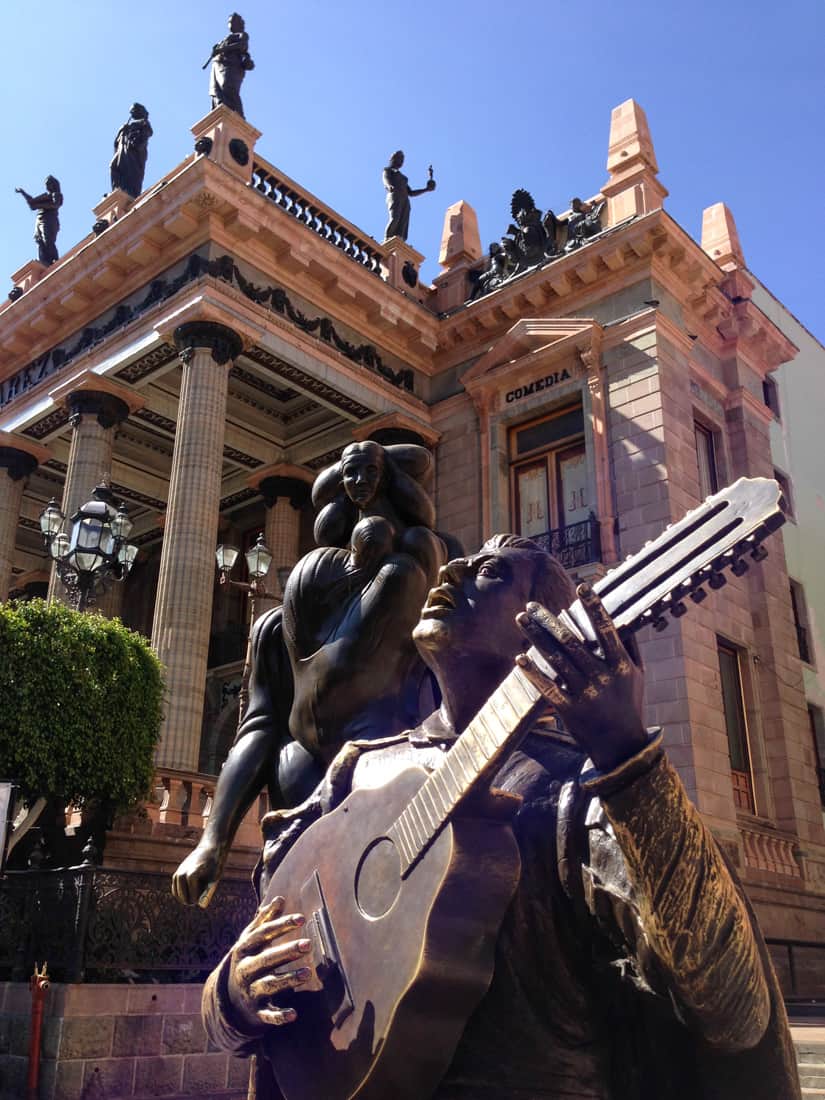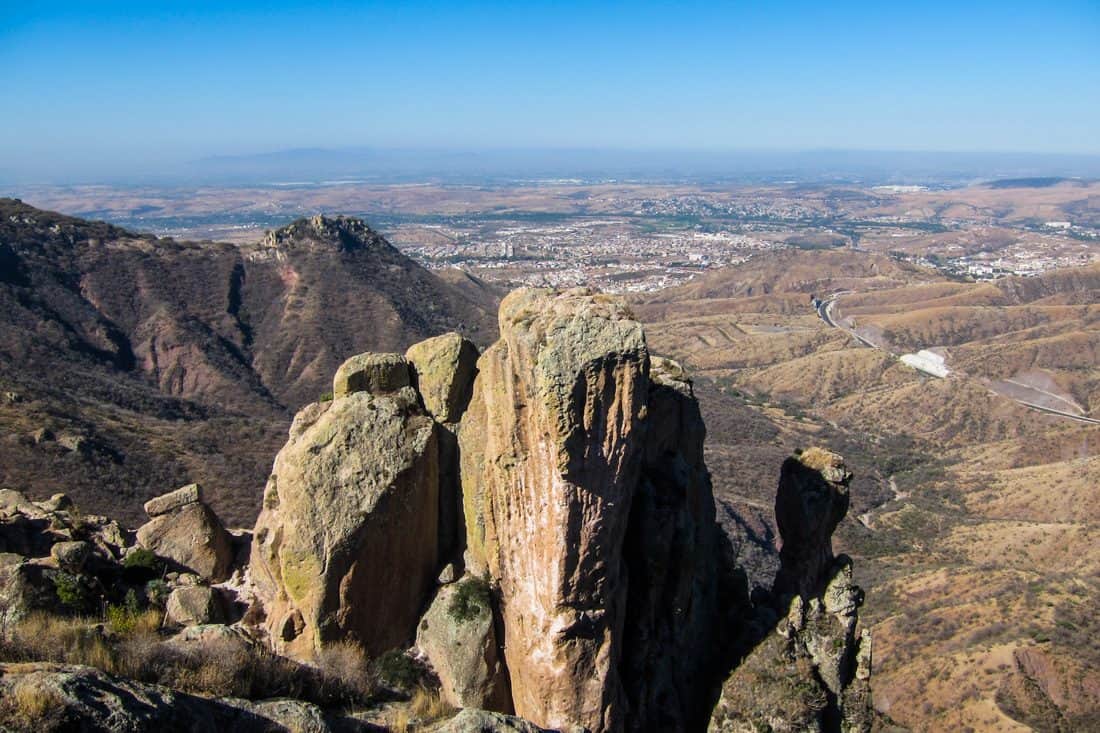 We were staying with our friends Warren and Betsy who got us up at 6.30am to take advantage of the cool mornings for hikes up to the crosses that top many of the surrounding hills, scorched brown at the end of the dry season, but with sweeping views of the city.

One of our hikes was particularly challenging as Warren took us off trail and we ended up fighting our way through brush and clambering down steep rock faces using bridging techniques.
But one of the best things about hiking is the satisfaction you feel when it's over as with aching limbs you relax and reward yourself for a challenge overcome with tacos, beer, and Guanajuato's excellent street ice-cream.
Things to Do in Guanajuato
Our favourite activity in Guanajuato was walking, both through the centre's streets and the hills outside it. We didn't visit many of the tourist attractions but there are a couple of art galleries we recommend:
Don Quixote Iconographic Museum— We weren't sure about this one as we haven't read the book, but as it was free on Tuesdays we gave it a go and are really glad we did. It's a diverse collection of paintings, murals, and sculptures depicting the character in different styles. Manuel Doblado 1, closed Mondays and Sunday mornings. 30 pesos entrance fee.
Casa Diego Rivera—While you need to go to Mexico City to see Rivera's famous murals, the house where he was born is worth a visit and it's only 25 pesos. It contains some of Rivera's early works so you can see the development of his style, as well as a gallery for contemporary artists. Positos No 47, closed Mondays.
Goats on the Road have more suggestions for things to do in Guanajuato.
Lonely Planet Mexico is my favourite guidebook with more ideas on things to do in the area.
Where to Stay in Guanajuato
There are hotels, guesthouses and vacation rentals for every budget in Guanajuato such as Hotel Boutique 1850, a beautiful high-end hotel, and Casa Tepozanes, an inexpensive, friendly and charming guesthouse.
Search for more accommodation in Guanajuato here.
Where to Eat in Guanajuato
There are plenty of street food stands all over the city.
For a break from Mexican, we loved the falafel wraps (with chipotle sauce for a Mexican twist) at vegetarian Habibti Falafel (Sostenes Rocha 18 C) and you can also get mixed plates of falafel, hummus, tabbouleh, and vine leaves.
For more veggie options see Happy Cow Guanajuato.
How to Get to Guanajuato
Bus
We arrived and left on very comfortable Primera Plus buses. From Mexico City (Mexico Norte station) to Guanajuato it takes five hours and costs 680 pesos/ $32 with online discounts available.
To Puerto Vallarta on the coast, the overnight bus takes nine hours and costs 1187 pesos/$62.
Plane
Guanajuato's nearest international airport is Del Bajío (BJX) in Silao 30 minutes away. Search for cheap deals on Kiwi.com, which offers a lot of flexibility (choose a date range to find the cheapest day to fly). From the US it could be cheaper to fly to Mexico City and take the bus.
Interjet and Aeromexico fly direct from Mexico City to Del Bajío airport if you don't want to take the bus. Flights take one hour.
Budget airlines charge for checking in luggage. To avoid these fees, pack light and travel with just carry-on luggage. My book, The Carry-On Traveller: The Ultimate Guide to Packing Light, shows you how.
Travel Insurance
Don't forget travel insurance for your trip in case anything goes wrong.
We use and recommend SafetyWing, which is available worldwide, covers COVID-19, and can even be purchased after departure. It's especially good for longer stays as it's payable monthly and can be cancelled at any time. Read my SafetyWing insurance review for more details.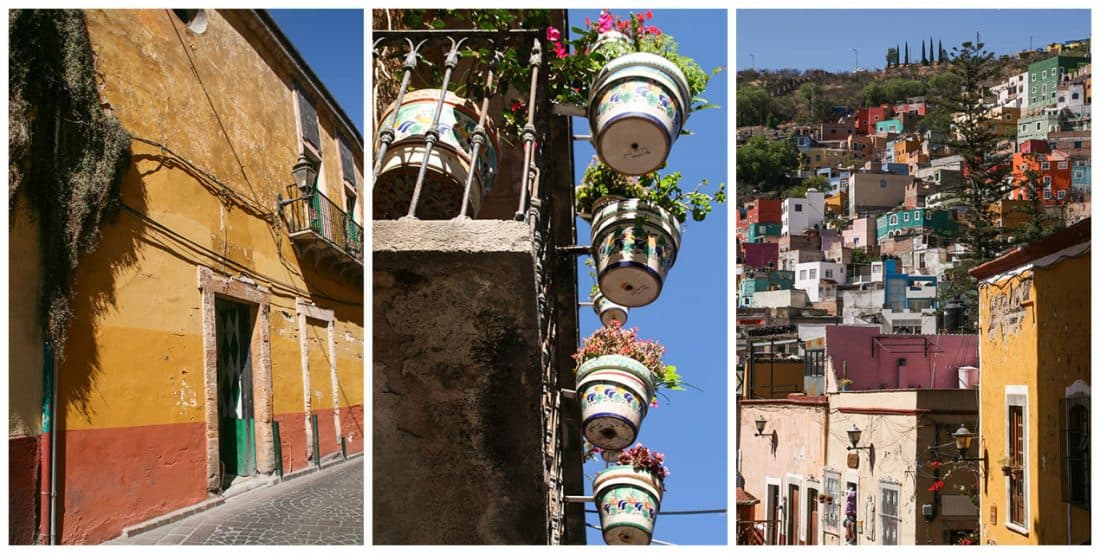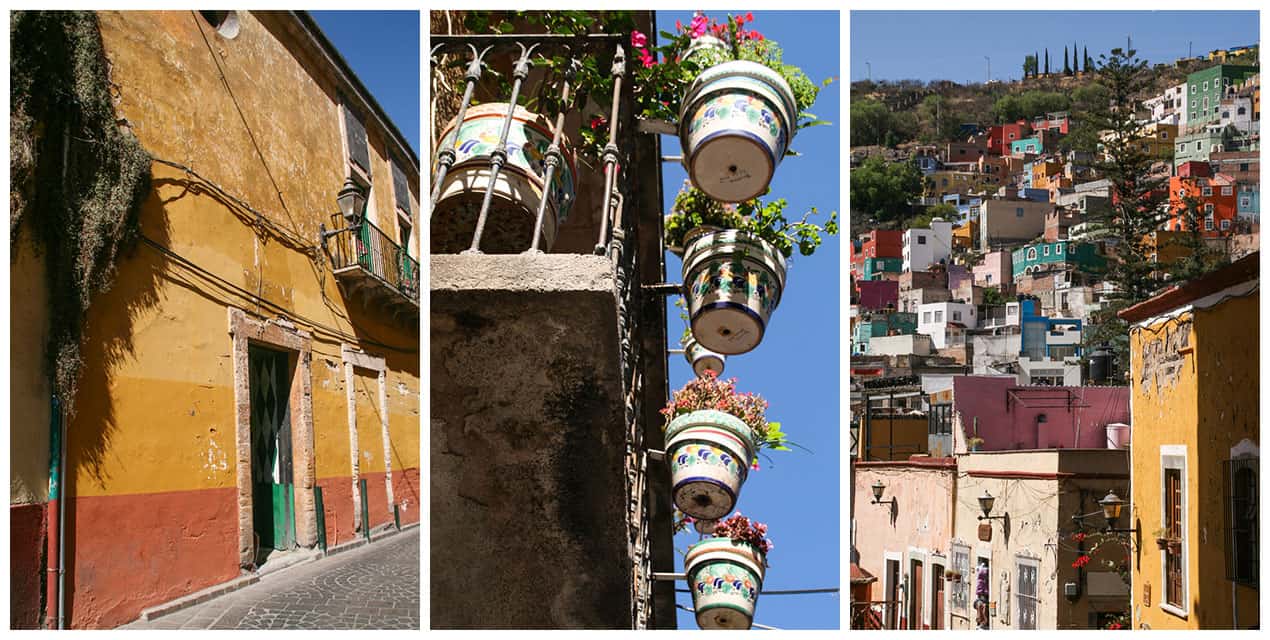 Guanajuato has been called the most beautiful city in Mexico and it's definitely the most attractive city we've visited with its colourful buildings, tree-lined streets, lovely plazas, and easy escape to the mountains.
If you enjoyed this post, pin it!