This page contains affiliate links. Please read our disclosure for more info.
After living on Mexico's Caribbean coast for three months in Playa del Carmen we travelled to Cuba, Mexico City, and Guanajuato before settling down for another three months—this time on the Pacific Coast in the tiny beach town of San Pancho (officially called San Francisco), 50km north of Puerto Vallarta. As in Playa we discovered that living in Mexico is much more affordable than travelling around when the cost of hotels and buses can really add up. By slowing down and getting to know a place for longer we not only had plenty of time for work and relaxation, but also spent much less.
These are our monthly expenses in San Pancho in USD for two people.
Monthly Expenses in San Pancho
Casita rent
$400
Food
$585
Drinking Water
$19
Transport
$37
Entertainment
$23
Miscellaneous
$35
Total Monthly Expenses
$1099 (£700) for 2 people
We actually spent $187 less per month than we did in Playa del Carmen, although this is mainly due to getting a good deal on our accommodation, as we spent slightly more on food here.
So what does $550 (£350) a month per person get us in San Pancho?
Accommodation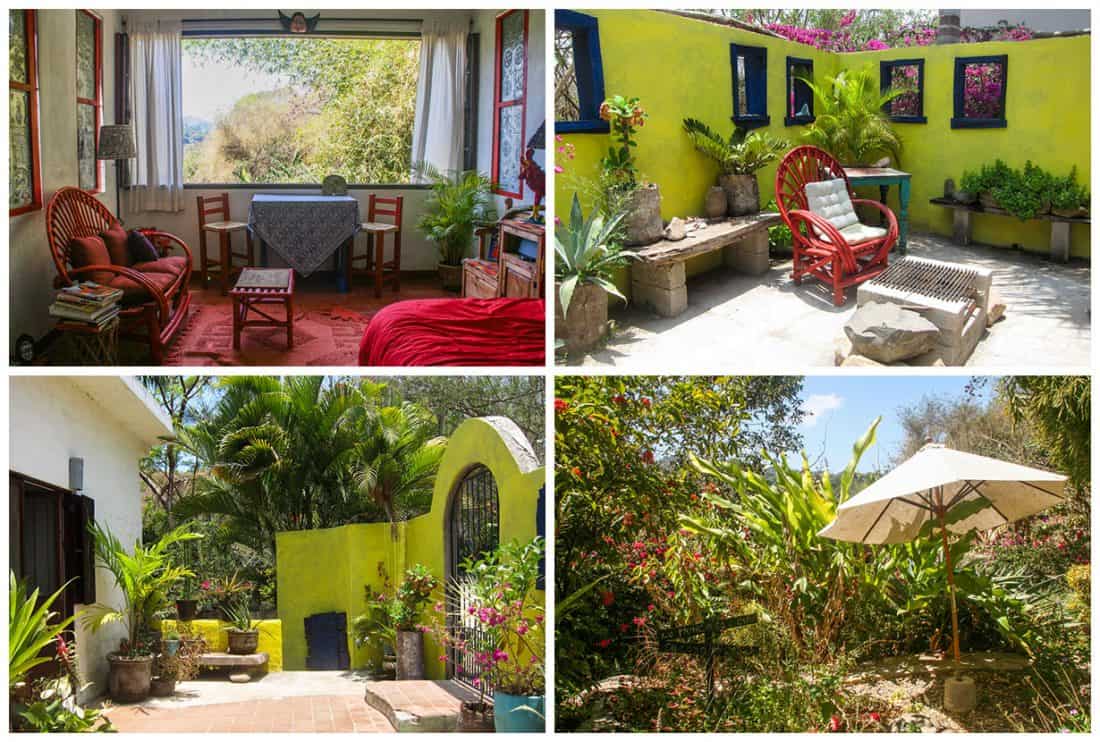 We got a good deal on our beautiful casita as we are subletting from a friend of a friend who has a long term rental here. We are about 10 minutes walk outside of town up a steep hill, but the payoff is a peaceful location overlooking the jungle. Our two storey casita consists of two spacious studio apartments (we use downstairs as our bedroom and upstairs as our work and living area), two terraces, and a garden filled with flowers, butterflies, birds, lizards, and the all important hammock.
We have a fully equipped kitchen (yay, an oven!), reasonable internet (it can be slow but it's mostly fine), a washing machine, and it's beautifully designed with lots of Mexican artwork and an open-air design that brings nature into the house (literally sometimes). All our bills including a gardener and cleaner once a week are included.
As I said, we got a good deal and I'm not sure you'd be able to get such a nice place for this price for a short/medium term rental. There are only a few hotels in town and most people who visit are American expats or people renting holiday homes—the weekly rates can be quite expensive. You can get a much better deal by renting monthly and the best way to find a place is by coming here and asking around.
Our friends Victoria and Steve of Bridges and Balloons paid $500 a month for their one bedroom apartment with roof terrace in the centre of town (read more about it here), and Shannon from A Little Adrift paid $375 for a studio apartment (read her total living costs here). If you are prepared to go basic (no hot water or internet) you can get a room in a shared house or studio for much less.
Overall I'd say apartments are cheaper in San Pancho than Playa del Carmen as good deals there are getting harder to find and are only possible outside of the centre of town.
Food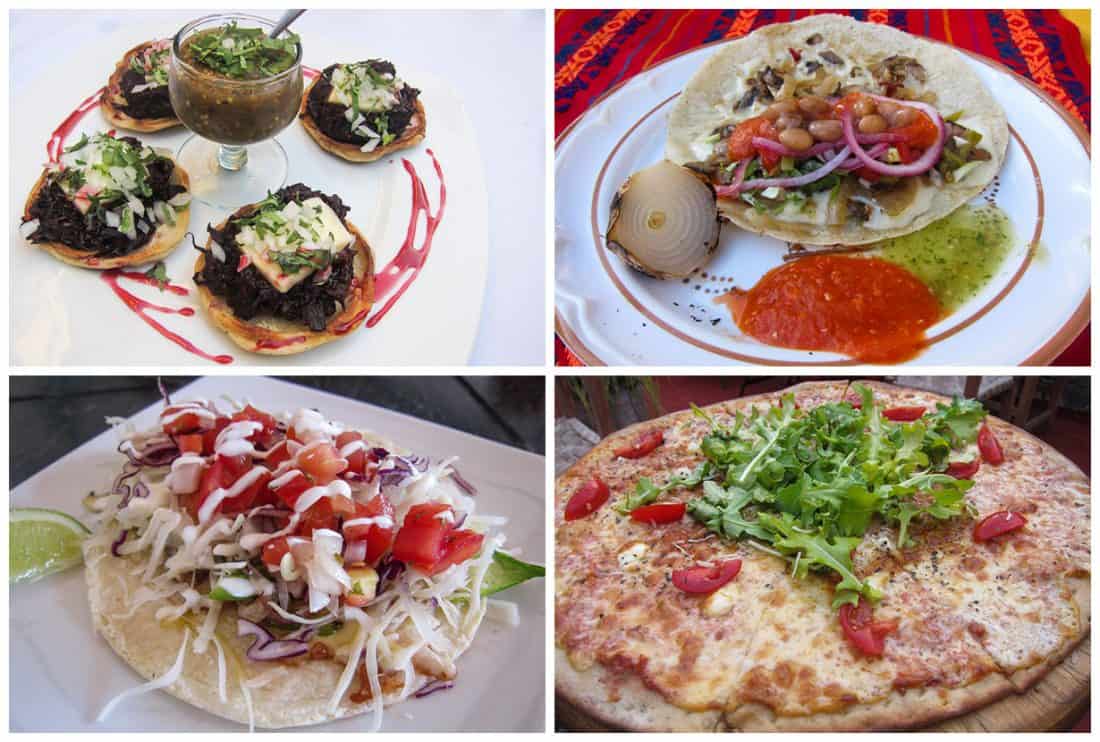 We eat out more often in San Pancho than we did in Playa del Carmen and our food costs are slightly higher because of it. We ate out more in our first month than we do now (many places have closed for the low season) but it averages at 3-4 times a week, cooking at home the rest of the time.
Meal prices range from 50 pesos ($4) for two quesadillas and soft drinks at a taco place to 400-700 pesos ($31-55) for dinner for two at the town's best restaurants (despite its small size there are some great restaurants here). We are also regulars at Cafe Paraiso where Simon is addicted to their frappuccinos and we both indulge in the brownies, coconut cupcakes, and banana bread.
Cooking at home is much cheaper and we spend less than $50 a week on groceries. We buy corn tortillas from the tortilleria, fruit and vegetables from a stall, and everything else from the little grocery store El Indio. I thought we'd miss having access to a big supermarket but we can really get everything we need here and it's a much more pleasant shopping experience. We only go to the supermarket Mega (about 30 minutes away on the bus) about once a month when we need to withdraw cash as the ATMs here charge a high withdrawal fee. While there we end up buying treats we don't really need (Simon disagrees) like imported cheese and salt and vinegar kettle chips.
You could definitely spend less on food by avoiding the coffees and treats, cooking for yourself, and only eating at the cheap taco stands. As vegetarians though the cheap options are limited to cheese quesadillas as this small town doesn't have the variety of Mexican vegetarian dishes that we found elsewhere.
Drinking Water
We buy 20 litre returnable garrafones that cost about 25 pesos ($2) each and last us 2-3 days. We drink a lot of water so this cost might be higher than for most people.
Transport
Everything in San Pancho is walkable in no more than 15 minutes so our only transport costs in town are a taxi about every 10 days to stock up on water. They are too heavy to carry up our hill and the water truck that delivers the garrafones can't make it up here.
Other transport costs included here are a few bus trips to Mega, a return bus trip to Puerto Vallarta (for our short break to Majahuitas), and a few visits to the nearby surf town of Sayulita 6km away. Although the bus to Sayulita only costs 10 pesos ($0.80) per person they aren't very frequent and you have to walk to the highway to pick one up, so we usually get a taxi back which costs 100 pesos ($8).
Entertainment
We haven't done any tourist activities like boat trips since we've been here as they are quite expensive if you don't have a group to share the cost. Simon did rent a surfboard for an hour in Sayulita for 50 pesos ($4), and the rest of the entertainment expense is on alcohol when not included with a meal. We don't drink often but have indulged in the occasional margarita on the beach or glass of Mexican wine while watching a game at the town's incongruous fancy polo club. The main attraction in San Pancho is the beach and that's free.
Miscellaneous
This includes other items like suncream, toiletries, medical supplies, and a new hat. The biggest cost is a data plan for our Mexican SIM card for our iPhone 5 which is 299 pesos ($24) for 1GB of data with Telcel and lasts a month. Simon has written a detailed post about setting up a pre-paid Mexican SIM over on Too Many Adaptors. It's the first time ever that we've had internet on a phone and as well as getting Simon hooked on Foursquare (he's basically mayor of San Pancho), it's been useful during the occasional power cut when we can switch to using 3G and continue working.
We have loved living in San Pancho and have found it very affordable without depriving ourselves of anything we wanted. We spent much less than we would have travelling around Mexico as we'd have had to pay $40-50 a night for a simple hotel room with private bathroom. Slow travel wins again.
You can read more about San Pancho and our casita and see our cost of living in Playa del Carmen, Puerto Escondido, and Oaxaca.