This page contains affiliate links. Please read our disclosure for more info.
We're not the best people at sticking to a budget—after years of saving for travel and then three years on the road it's rather tedious to watch every penny. One of the advantages of slow travel though is that when we stay somewhere for a month or more we spend less than when we are moving around without even trying. Monthly apartment rentals are far cheaper than hotels, we spend less on transport, and we can cook for ourselves.
Playa del Carmen is a tourist town that receives a lot of vacationers from the US and Europe so is more expensive than other parts of Mexico. We lived there for three months and discovered that while living expenses like groceries, transport and even cinemas are affordable, any time you do anything touristy it costs much more.
These were our monthly expenses in Playa del Carmen in USD for two people.
Monthly Expenses in Playa del Carmen
Apartment rent
$520
Electricity bill
$14
Food
$545
Transport
$96
Entertainment
$59
Miscellaneous
$52
Total Monthly Expenses
$1286 (£863) for 2 people
So what did $643 (£432) a month per person get us in Playa del Carmen?
Apartment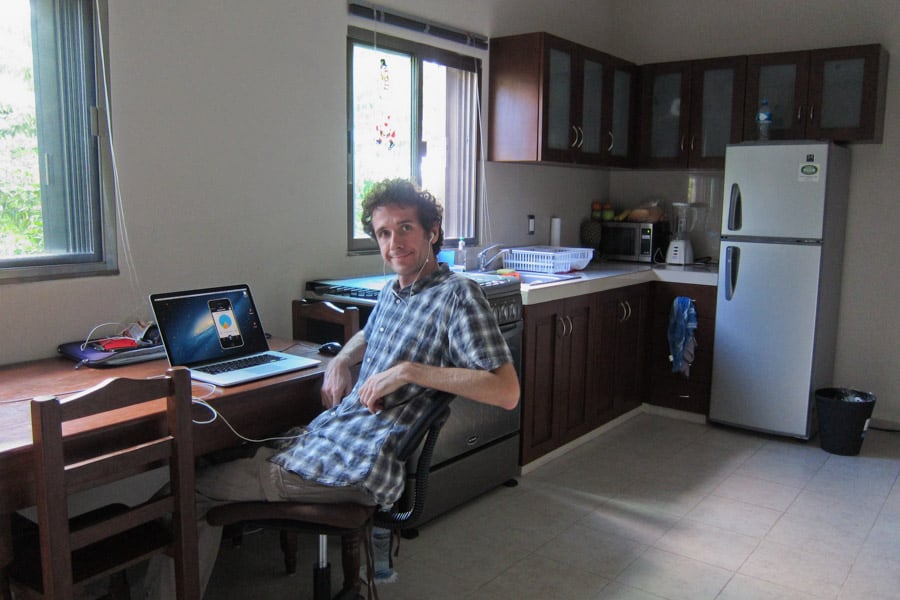 We rented a one bedroom apartment in the Colosio neighbourhood which is about a 20-30 minute walk from the centre. We really liked the area because it isn't touristy and the beach is much quieter at this end of town. The apartment was simple but modern with very fast internet, a good kitchen with huge oven, and it was only a two minute walk from the beach. Read more about our apartment and neighbourhood.
The apartment cost 6500 pesos a month ($520) and electricity was extra. You can find cheaper places (Expert Vagabond rented a studio for $300 a month) but you'll pay more to be closer to town (Sarah Somewhere's studio in the centre is $600 a month). Prices can go crazy high in Playa and to get a pool costs maybe $1500 a month.
Food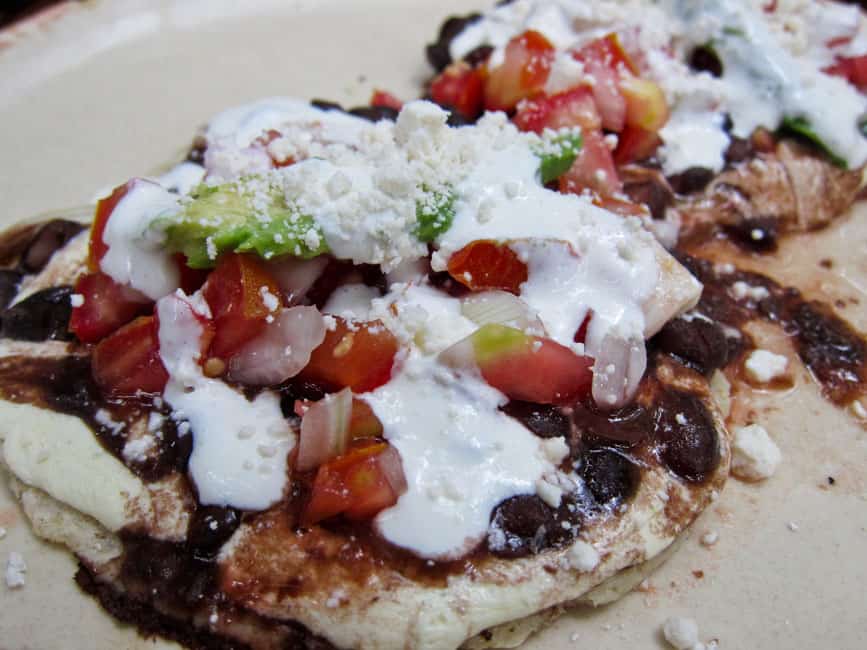 We cooked at home most of the time but ate out a couple of times a week plus the occasional cafe visit. As we cooked Mexican at home when we ate out we tended to eat at more expensive international places for some variety. Costs in Playa vary widely from a few dollars for Mexican food in simple restaurants along 30th Avenue to $15 for an Italian restaurant meal. We've written about our favourite restaurants in Playa del Carmen.
Water is also included in this cost. We bought a 20 litre bottle of water for 26 pesos ($2) every 2-3 days (we drink a lot of water)—exchanging the empty for a new one at the local shop.
Transport
Playa is very walkable and that's what we did most of the time. As we were quite far out of town if we were feeling lazy a colectivo shared van (or in some cases bus) only cost 5 pesos ($0.40). We took a taxi for about 30 pesos ($2.40) a couple of times a week to bring groceries home and to go to the cinema on the outskirts of town in Plaza Las Americas.
We also took a longer distance colectivo to Akumal a couple of times and a nice ADO bus to Valladolid and the airport at the end of our stay.
This includes the cost of a one day car hire that was $47.70 including all insurance which we used for a day trip to Tulum and Coba. You could get the bus but we wanted the flexibility.
Entertainment
We only went out to bars a few times as we prefer eating out to drinking. We went to the cinema about once a week, usually on Wednesdays when it's half price—a bargain 26 pesos ($2) a ticket.
Other costs here are for tourist activities which we found quite expensive. Hiring snorkelling gear in Akumal was $7 a day per person; entrance to the cenote Chaak Tun was nearly $20; and the Mayan ruins cost from $4.50 (Tulum and Coba) to nearly $15 (Chichen Itza).
Miscellaneous
This includes laundry which cost around $3 a load, tips to the guys who packed our bags at the supermarket, and haircuts which cost 40 pesos ($3.20) for Simon at a local place and 420 pesos ($34) for me at a fancier place run by a Canadian.
Other Expenses Not Included Above
There are a few one off expenses that won't apply to most people so we didn't include them above.
We paid $75 to Elizabeth from Renting Playa del Carmen to help find us the apartment and negotiate the price. As we were there in peak season over Christmas we never would have found somewhere affordable without her and we highly recommend using her services if you are looking for an apartment.
We spent about $185 on buying stuff for the apartment to make it more homely including more comfortable chairs and extra kitchen equipment (the basics were supplied). None of this was essential though.
We had a trip away to Valladolid where we spent $42 a night on a hotel.
Exit tax to leave Mexico at Cancun airport cost 295 pesos ($24) each.
It is interesting to see that we actually spent slightly less living in Playa del Carmen than we did in Chiang Mai, Thailand which we found a much cheaper destination overall. We did have a much nicer apartment with swimming pool and also rented a scooter, so I'd still say Chiang Mai is better value for money.
We were surprised how affordable it was to live in such a popular tourist town with an apartment only two minutes walk from the Caribbean Sea. It was definitely far less than we would have spent if we had stayed in hotels and just confirms our love for renting apartments and travelling slowly.
For a solo traveller's perspective see James at Nomadic Note's Playa budget where he spent $850 a month.
You can also read our cost of living posts for other destinations in Mexico including San Pancho, Puerto Escondido, and Oaxaca.
If you enjoyed this post, pin it!