This page contains affiliate links. Please read our disclosure for more info.
With meals revolving around tortillas, beans, salsa and cheese it's pretty easy to find vegetarian friendly Mexican food. In tourist-orientated Playa del Carmen there are some excellent Mexican and international restaurants. Here are some of our favourites from our three month stay.
Mexican
La Cueva del Chango
La Cueva is popular with Mexicans and tourists alike and for good reason. The food is fresh and tasty and it has a lovely setting in a lush garden. The breakfasts are particularly popular and there are good vegetarian options for breakfast and lunch, but it's much more limited for dinner.
Some of our favourite dishes were the empanadas with your choice of many vegetarian fillings; molletes, a comforting dish of melted cheese and beans on bread served with salsa; the panela cheese and chaya (a local spinach) crepes with poblano sauce; and chalupitas, tortilla topped with beans and Oaxaca cheese. We also love the salsas that accompany every meal and the house juice of orange, pineapple and chaya. If you only go to one restaurant in Playa then we recommend here.
Chalupitas, crepes, molletes, and salsas at La Cueva.
La Cueva del Chango is on Calle 38 between 5th Avenue and the sea.
La Ceiba de la 30
La Ceiba is located within DAC, the vegetable market that we love (see Self Catering below). The dishes are a bit lighter and healthier than the usual Mexican restaurants and there are a few vegetarian options including vegetarian burritos, quesadillas, and sandwiches. The chilaquiles (tortilla chips in salsa with cheese and avocado—see top photo) were the best I had in the area. As well as Mexican dishes there are also salads and pasta. The huge smoothies are a highlight with a range of interesting flavour combinations.
La Ceiba is on 30th Avenue, between Avenida Constituyentes and Calle 20.
El Nativo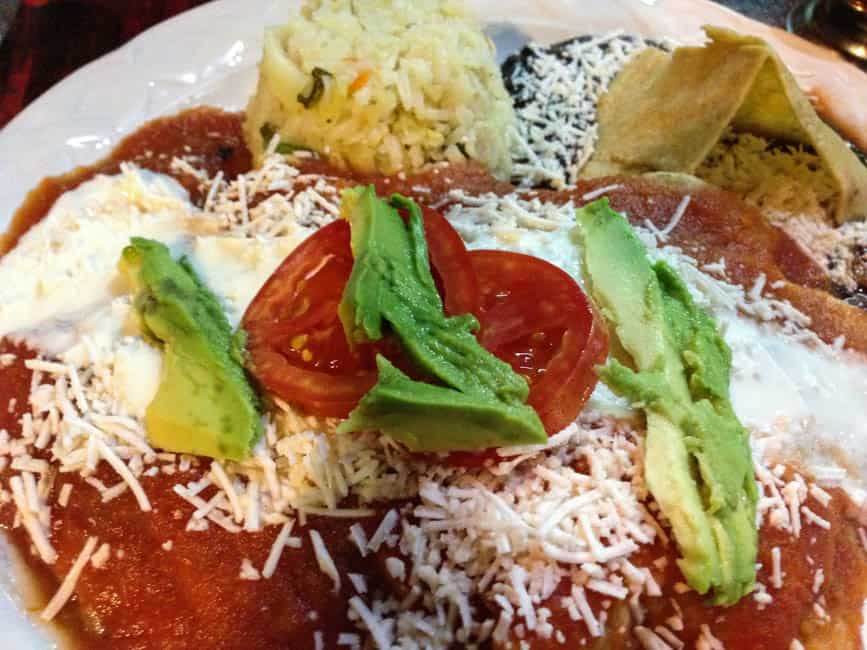 Opposite La Ceiba, El Nativo also has wonderful big smoothies and a few vegetarian options including vegetarian enchiladas and burritos. They come with beans and rice and the portions are huge, and you get tortilla chips and salsa while you wait.
El Nativo is on 30th Avenue, between Avenida Constituyentes and Calle 20.
Burro Playero
This funky burrito stand has vegetarian burritos and tacos.
Burro Playero is on Calle 8 between 10th and 15th Avenues
International
When you need a change from Mexican there are quite a few good options in Playa.
Piola
Piola became our favourite place for thin Italian-style pizzas. There is a huge menu with plenty of vegetarian options. The bruschetta is also great, and the creamy chocolate mousse served in a wafer basket is heavenly. Its famous for its big frozen basil martinis which I think are delicious, but Simon thought were odd.
Piola is opposite La Cueva del Chango on Calle 38 between 5th Avenue and the sea.
Novis
This Italian deli has lots of Italian produce including authentic but expensive cheeses, and some of the best bread in Playa—but you need to get there early as it's often gone by the afternoon. We mostly came here for the paninis. There are a few vegetarian options but our favourite was the Genova with mozzarella, sundried tomatoes, pesto & basil.
Novis is at Calle 20 with 25th Avenue.
Chez Celine
An French boulangerie and patisserie with a prime people watching spot on 5th Avenue. We were hooked on the breakfast pastries including a wonderful chocolate croissant and we could never visit without taking a baguette home. They also do some good salads, sandwiches, and crepes (after 4pm). If you are craving some flavourful cheese then this is the place—the brie is punchy and I loved the homemade goats cheese with onion and garlic served on a toasted baguette. So simple but so good.
Chez Celine is on 5th Avenue with Calle 34.
Bio Natural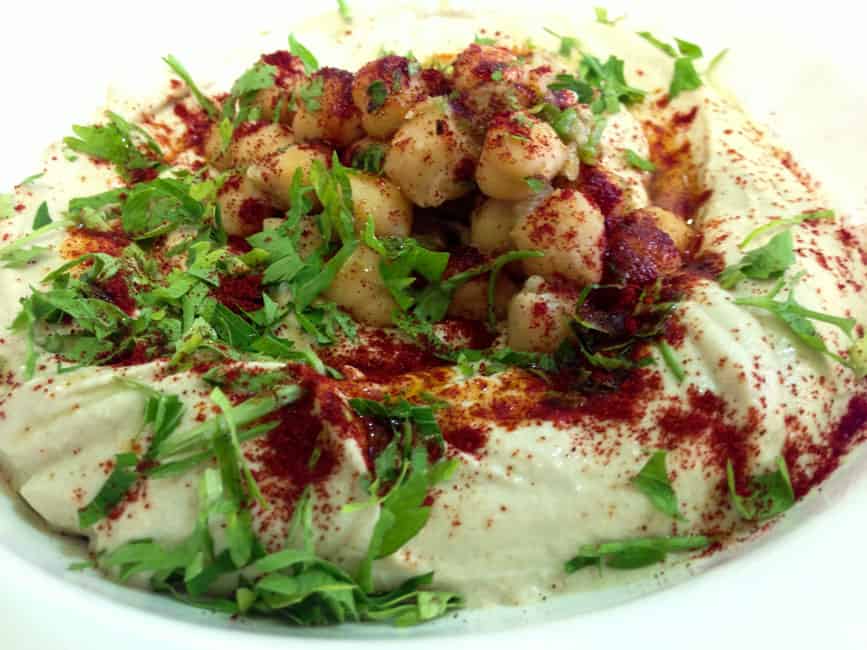 This the only completely vegetarian restaurant on this list and is located within a little organic shop. There are lots of interesting salads and pasta dishes (our friend liked the spirulina pasta). We enjoyed the spicy tomato chipotle soup (a daily special), the hummus, and the quinoa tortilla chips with aubergine, carrot and yogurt dips.
Bio Natural is on 5th Avenue between Calle 40 and 42. now has a bigger store and restaurant and has moved to 10th Avenue between Constituyentes and Calle 16, behind Quinta Alegría Mall.
Titi Panini
Although the pasta isn't quite as good as in an Italian restaurant they have a number of vegetarian options and every pasta or panini comes with a free salad bar visit which was fresh and tasty.
Titi Panini is on Calle 10 between 10th and 15th Avenues.
Sweet Treats
Ah Cacao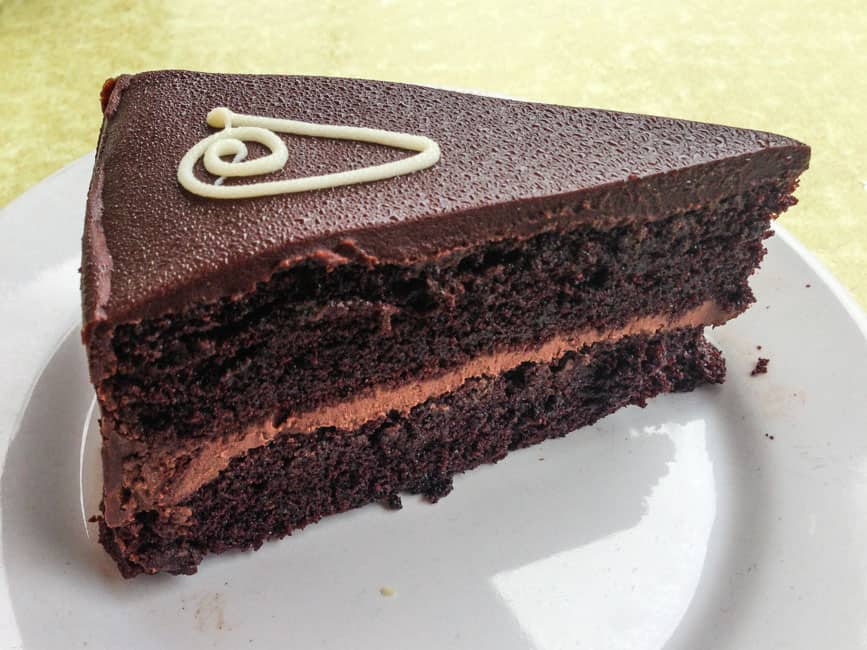 Ah Cacao does great coffee and chocolate treats. We loved the brownies, chocolate cake, and the spicy Mayan hot chocolate.
Ah Cacao has two locations on 5th Avenue—one by Calle 30 and the other by Constituyentes.
Chez Celine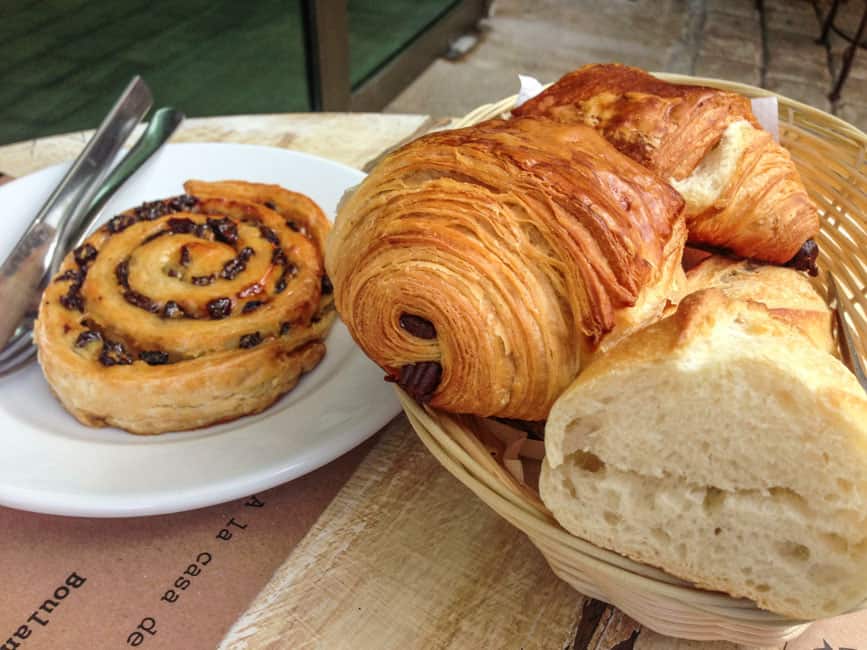 Although the coffee isn't quite as good at Chez Celine as at Ah Cacao it made up for it with the delicious pastries and cakes. They also do crepes after 4pm. See above for details.
Self Catering
We cooked for ourselves most of the time and here's where we did our shopping. For good bread we liked Chez Celine and Novis (details above).
DAC
A wonderful place with lots of vegetables, fruit, organic produce, international ingredients, and best of all, self service tubs where you could help yourself to spices, dried chillies, dried fruit, nuts, and seeds. It's perfect for travellers as you don't always want to buy a whole pack of something.
You can also pick up a smoothie to go or stop for a meal at La Ceiba (details above).
DAC is on 30th Avenue, between Avenida Constituyentes and Calle 20.
Mega
A huge supermarket conveniently located a few doors down from DAC.
Mega is on 30th Avenue with Constituyentes.
Cooking Course
We loved our cooking course with CoCos Culinary School which gave us lots of ideas to expand our Mexican cooking horizons (and know what to do with all those dried chillies in DAC).
Update: We've written a detailed guide to vegetarian food in Mexico that you might find useful travelling around the country.