This page contains affiliate links. Please read our disclosure for more info.
In most of Latin America the news for vegetarians isn't great, so Mexico comes as a pleasant surprise. It is a meat focused country and vegetarianism isn't widespread, but luckily vegetarian ingredients like corn tortillas, beans, cheese, and vegetables feature in many dishes so there is almost always an option for tasty meat-free meals.
The best options for vegetarians in Mexico are antojitos, literally little whims or cravings. These quick, inexpensive snacks are found at street stalls or taquerias, served from breakfast until late at night depending on the stall. Most of these are based around corn tortillas and you can usually get vegetarian versions, even if it is just cheese, and then liven them up with common toppings like salsas (red and green, cooked and raw), chopped onion, cilantro (coriander), lettuce, cabbage, and crema (Mexican sour cream).
Veggie toppings to look out for include rajas (grilled poblano pepper strips, often mixed with crema and cheese), champiñones (mushrooms), frijoles (beans), queso (cheese), requesón (ricotta), flor de calabaza (squash blossom), nopales (cactus), papa (potato), and huitlacoche (corn smut, a fungus that grows on corn, similar to mushroom).
The main meal of the day in Mexico is between 2-5pm in the afternoon when restaurants serve comida corrida set meals consisting of soup, a main dish, dessert, and agua fresca (fruit water). Most of the main dishes are meat based so we never bothered with comida corrida, although it is possible to find a vegetarian option like chile relleno (stuffed pepper). For us antojitos were quicker, cheaper, and more vegetarian friendly.
One thing to bear in mind is that sometimes beans are cooked with lard (manteca de cerdo). You could ask about it or choose to turn a blind eye as we did, although we ate beans much more often at home because of this. Mexico is great for self-catering if you have access to a kitchen. A kilo of fresh warm corn tortillas is just 14 pesos ($1.10) from a tortilleria, fresh vegetables and fruit are inexpensive and good quality, and you can make big batches of refried beans from cheap bags of dried beans. Note that if you used canned refried beans some brands contain manteca de cerdo and some don't so check the label.
Useful Spanish Phrases
As always speaking the local language helps to explain what you can and can't eat. In some places in Mexico "soy vegetariano/a" (I'm a vegetarian) will be understood, but it's always better to be more specific: "No como carne, ni pollo, ni jamón, ni pescado" (I don't eat meat, chicken, ham or fish).
This usually worked fine and there was only one occasion in Mexico that we ended up with meat in our food. A taco stand in Mexico City said they could do us a potato and cactus taco but the potato obviously had bits of meat in it, so small that they didn't think it counted. Checking before you bite is always a good idea.
Egg Breakfasts
Hearty breakfasts are popular in Mexico and most of these include eggs with beans, tortillas and salsa, many of them vegetarian. We aren't egg fans, and although Simon had omelette a few times we never tried classics like huevos rancheros (fried egg on tortilla with salsa) or huevos a la Mexicana (scrambled egg with onion, chile and tomato). If you do like eggs then there are plenty of variations to choose from.
Non-egg breakfast options include hotcakes (pancakes), chilaquiles, and molletes.
Chilaquiles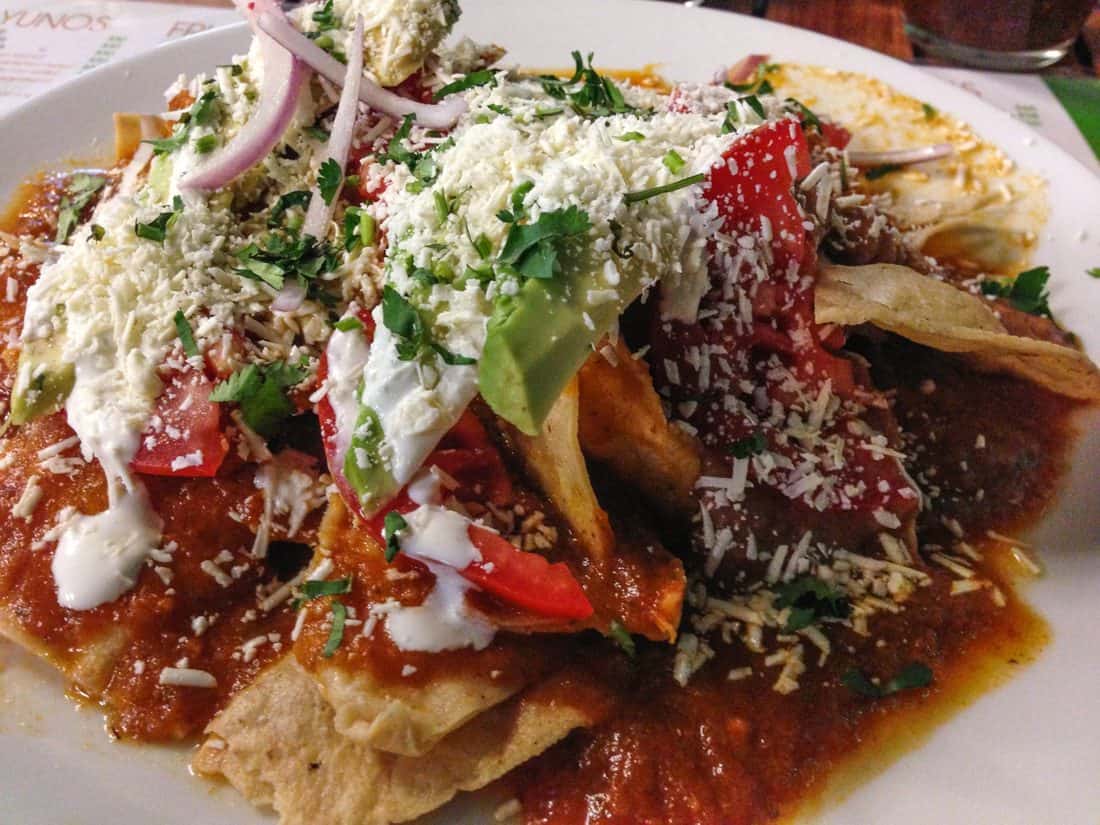 Leftover tortillas are cut and fried to make totopos (tortilla chips) which are covered in salsa and sometimes toppings like crema, cheese, avocado, beans, eggs or chicken. They are a bit like a saucy nachos, are super filling, and can vary in tastiness—my favourites were at La Ceiba in Playa del Carmen.
Molletes
Another great breakfast option and pure comfort food is molletes. This Mexican cheese on toast is a roll topped with refried beans and melted cheese, with salsa on the side.
Tacos
The classic Mexican street food is sadly not very vegetarian friendly. Tacos are small soft corn tortillas with any kind of filling, but mostly the fillings are meat. Here are a few places we found with veggie tacos:
Mexico City: Taquería El Guero (known as Hola) on Avenida Amsterdam 135 in Condesa has lots of vegetarian options including acelga (chard), beans and cheese, and coliflór (cauliflower). Beans, cheese and guacamole are available as extra toppings.
Playa del Carmen: La Exquisita de la 38 on Calle 38 between 5th and 10th Avenues has an unusual pipian verde de setas taco: mushrooms mixed in a pesto like salsa made from toasted pumpkin seeds.
San Pancho: Baja Taqueria on Ave Tercer Mundo (the main street) has a veggie taco with grilled vegetables sautéed in garlic with melted cheese.
Quesadillas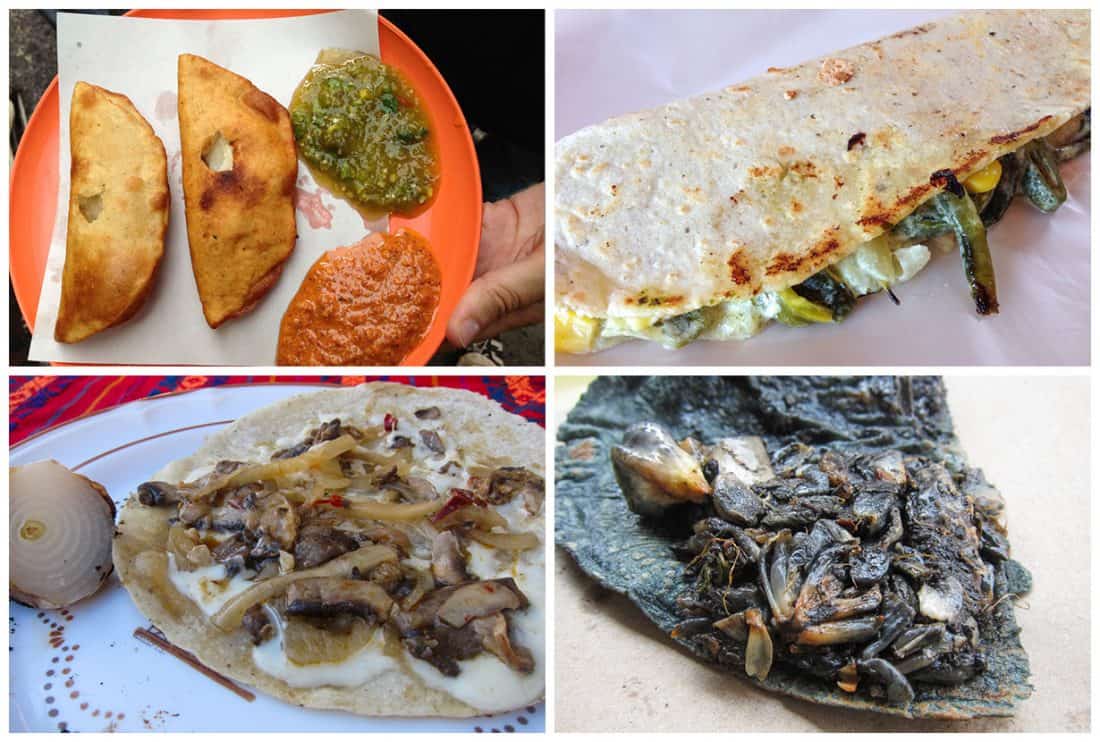 Quesadillas are the most common vegetarian option as they are easy to find and can always be made vegetarian, even if it's just cheese which you can liven up with toppings like salsa, onions etc. Fillings vary around Mexico and include rajas (roast poblano peppers), squash blossom, mushroom, and huitlacoche (corn smut). You often have to ask for cheese in addition to the other filling.
In Mexico City they love to deep-fry their quesadillas, making them more like empanadas. They aren't very healthy but are tasty with potato and cheese making a particularly delicious combo. Our favourites were at Las Quekas outside San Cosme market in San Rafael.
Sincronizadas
We only had sincronizadas once. They are basically the same as quesadillas except they are made from flour not corn tortillas, and two tortillas sandwich the filling in the middle, rather than one tortilla being folded in half. We had ours at La Exquisita de la 38 in Playa del Carmen which has three veggie options—aubergine/eggplant, leek, and chaya (a local leafy green) and achiote (a spice), all with panela cheese.
Tlacoyos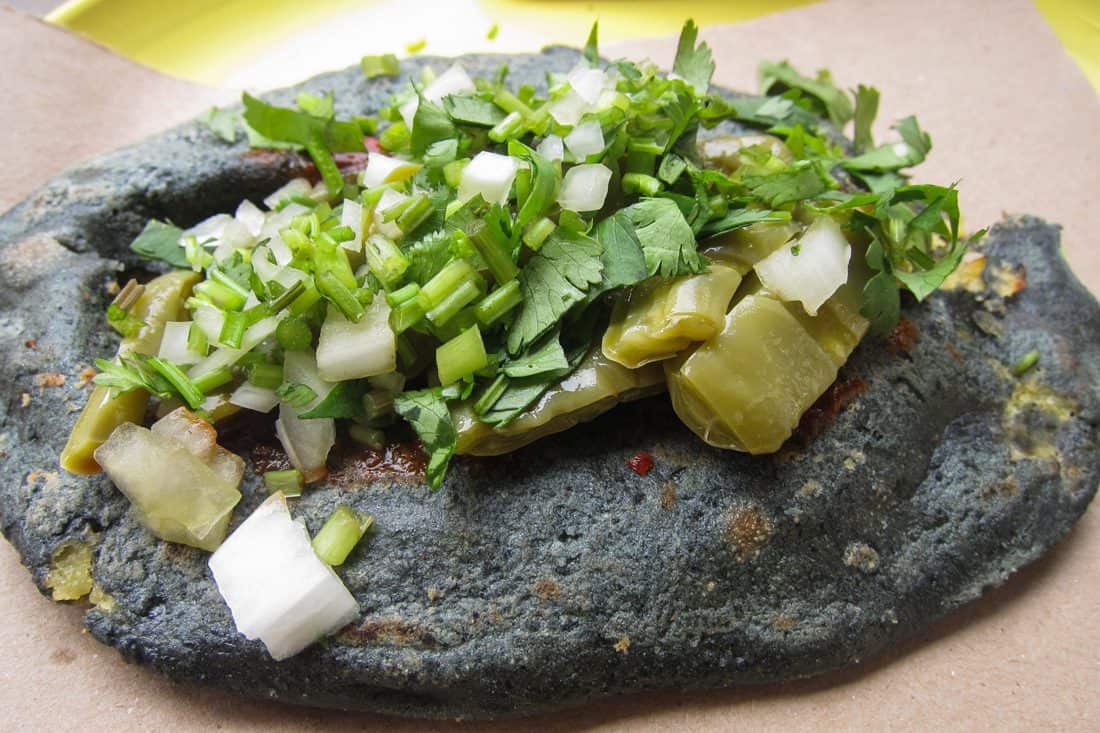 Mexico City has by far the most choice of vegetarian street food, and our favourite was delicious tlacoyos which are usually meat-free. The ones we tried were made from blue corn and cooked over a simple comal on the street—they are always made by women. The oval shaped masa (corn dough) is stuffed with beans, cheese, or fava beans (habas). We went with fava beans and topped it with cactus, onion, cilantro and salsa.
Flautas
Another yummy deep-fried option is flautas—tortillas are filled, rolled and deep-fried. Vegetarian fillings are potato or cheese, and they are usually topped with crema, salsa, lettuce and cheese.
Sopes
Sopes are small disks of thick fried masa dough with pinched sides to keep the toppings on top. We've had them with cheese, beans, squash blossom, rajas, and at the upmarket Bistro Organico in San Pancho, jamaica (hibiscus flower) and panela.
Huaraches
These are bigger versions of sopes, with an oblong masa base with various toppings.
Tostadas
Crunchy tortillas with various toppings. We didn't see vegetarian versions of tostadas very often so we usually made them ourselves at home with beans, guacamole and salsa.
Tortas
A Mexican sandwich roll stuffed with many ingredients. Meat is the main filling but you can ask for it without and instead have beans, cheese, egg, avocado, tomato, and salsa.
Empanadas
We occasionally came across these stuffed pastries with fillings such as onion, cheese, spinach, rajas, corn, and potato.
Elote
In Mexico corn on the cob is served on a stick and smothered with crema, chile powder, lime, and cheese.
Tortilla soup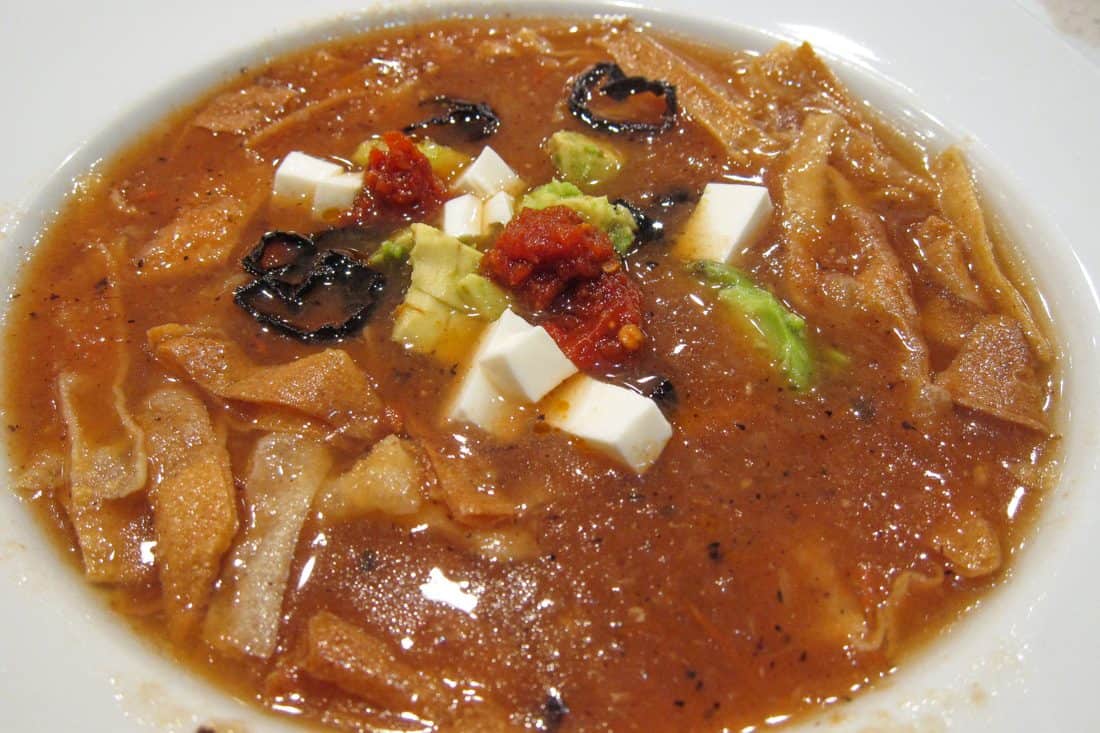 Tomato soup is poured over fried tortilla strips and garnished with an array of toppings: panela cheese, avocado, cilantro, fried chiles, onion, and crema.
Chile Relleno
Roasted poblano peppers usually stuffed with cheese, battered and fried, and served with salsa. It's a good idea to check that it hasn't been filled with meat.
Enchiladas
These rolled tortillas are usually filled with meat and covered with salsa but we sometimes found them with vegetables or panela cheese.
Enfrijoladas
These are like enchiladas but covered in a bean sauce.
Drinks
Most restaurants and street stands serve agua fresca, a drink made from blended fresh fruit, water and sugar. The most common are jamaica (hibiscus flower, my favourite), tamarindo (tamarind), fruit like piña (pineapple) or sandia (watermelon), and horchata, made with rice and cinnamon making a milky sweet drink almost like melted ice-cream.
You can also find fresh juices or jugo, either freshly squeezed orange or grapefruit, or a blended mix. In bigger cities we found plenty of juice stalls who make set juice blends like antigripal (anti flu) with guava, orange, pineapple, lime, and honey. They seemed to have a blend for every ailment or you can request your own. You can also get licuados (milkshakes) with milk blended with the fruit.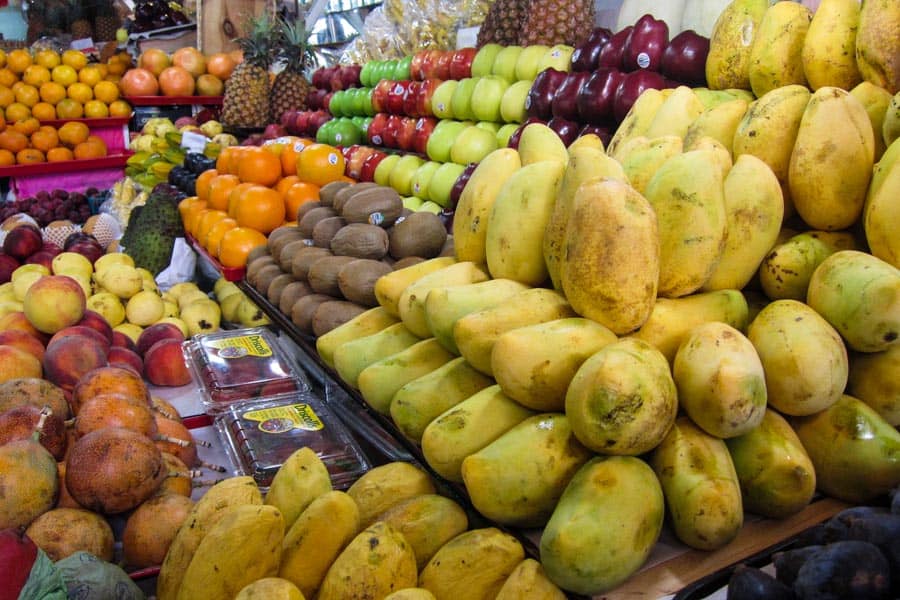 Although I admit we're rather bored of cheese quesadillas after six months in Mexico, it's definitely the most vegetarian friendly country we've visited in Latin America and we loved having the opportunity to delve into Mexican cuisine. Vegetarian street food is more easily found in bigger cities like Mexico City but even in smaller towns you are never going to starve as Mexicans are happy to whip you up something without meat, and the wonderful array of ubiquitous salsas and toppings livens up even the simplest dish. We also enjoyed doing a cooking class, and taking advantage of the wonderful fresh produce in the markets to cook for ourselves at home.
We have also compiled a list of our favourite vegetarian friendly restaurants in Playa del Carmen on the Caribbean coast and in San Pancho near Sayulita/Puerto Vallarta.
If you are a travelling vegetarian don't miss our vegetarian survival guides to Jordan, Burma, Chiang Mai, Thailand, Japan, Hong Kong, Argentina, Brazil, Paraguay, Bolivia, and Peru.