This page contains affiliate links. Please read our disclosure for more info.
Burma (or Myanmar) isn't the worst place we've been for vegetarians and we coped a lot better than we expected. This was largely due to the big Indian influence and the fact that in this Buddhist culture there is a well understood Burmese word for vegetarian. Being able to communicate this made things a lot easier.
We had some delicious meals in Burma, some that were decidedly average, and only one mishap when we were served shrimp in our salads. Overall we enjoyed exploring the cuisine of this little-visited country.
Here are our tips for surviving Burma as a vegetarian.
Learn the Magic Word
The best advice we received was from our friend Shannon who told us to learn the magic word for vegetarian: "thatalo". I think it literally means "lifeless" so by using it you'll get a meal without any living creatures in it.
We found it worked really well, although sometimes we didn't get the pronunciation quite right so it wasn't always understood.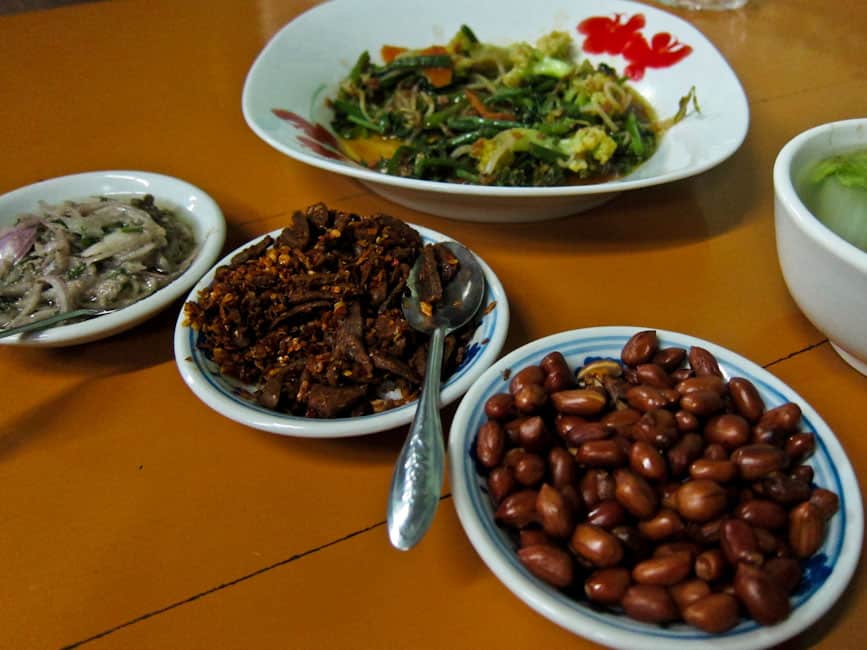 It did enable us to eat in traditional Myanmar restaurants and get all vegetarian meals. Unfortunately we found the food in these places rather bland and unexciting – usually we'd get some boiled vegetables with rice. Better than going hungry though.
Indian Food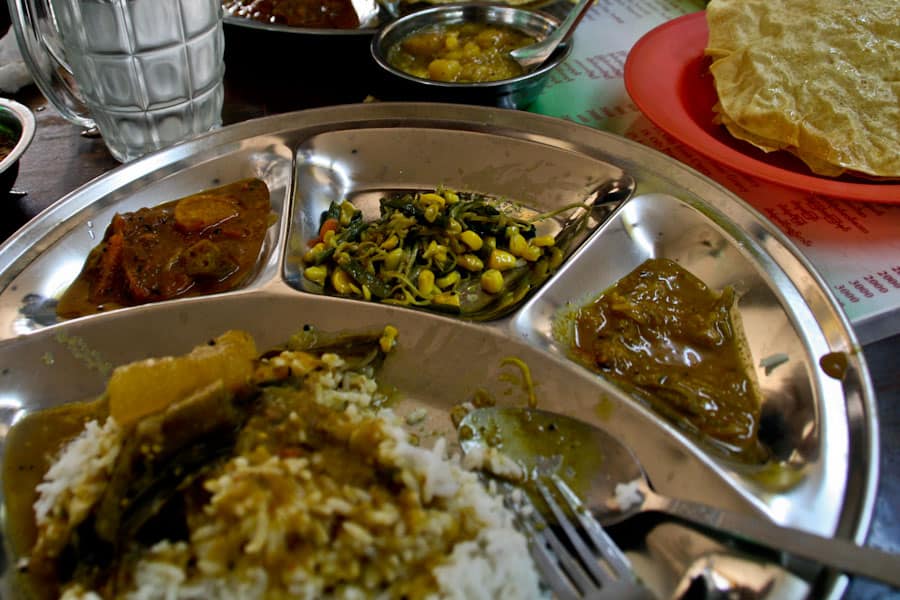 There's a huge Indian influence in Burma and we are very thankful for it! We ate some delicious cheap meals of dosas (pancakes filled with spicy potato) although more commonly known as thosai here, and all you can eat vegetarian thalis (rice and curries).
We also loved the availability of fried Indian snacks on the streets. Samosas are easily found and were always vegetarian (although check by asking "thatalo?").
Tea Shops
Tea shops are obviously a place to drink tea, but we found them to be a good place for snacks too and we often found samosas or fried vegetables here.
Another good option is Pe Byouk – flat bread served with a boiled pea dip. It's common for breakfast or as a snack later in the day. Breakfast is usually free at guesthouses but if not head to a tea shop.
Shan Food
We found the food from Shan state (although available in Yangon too) to be particularly delicious and vegetarian-friendly.
Some dishes to look out for:
Shan tofu – a creamy version made from split yellow peas rather than soybeans. We ate it fried, in a tofu salad, and mixed with noodles for a creamy comfort dish.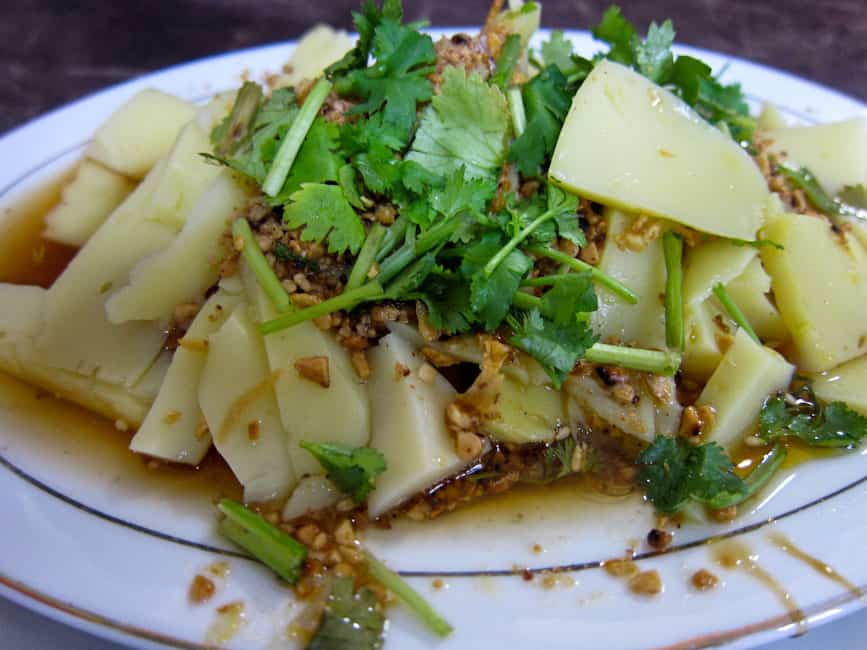 Shan noodle salad/soup – we ate both a noodle soup and a noodle salad, which had a little bit of broth so was like a soup.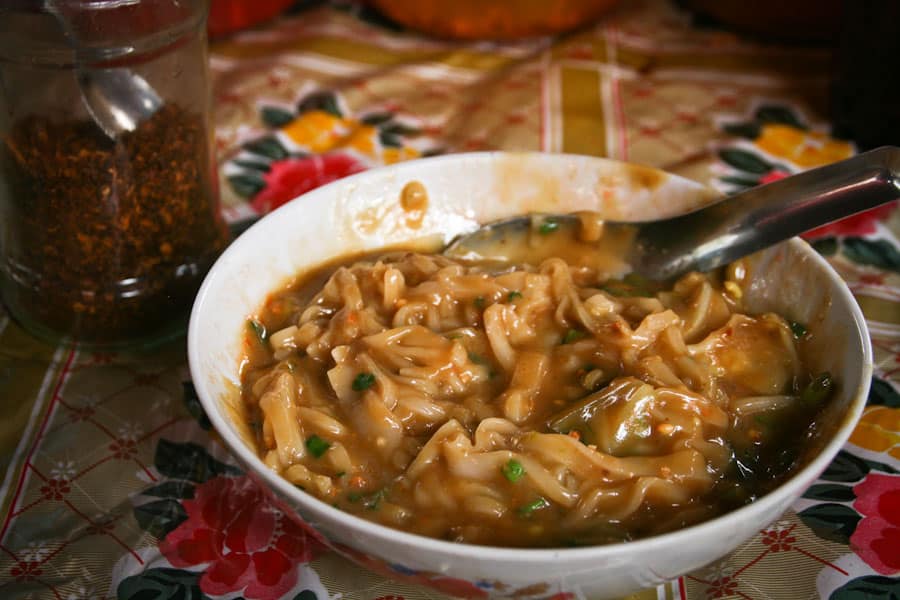 Shan yellow rice and tomato – tasty rice with tomato, onion and garlic.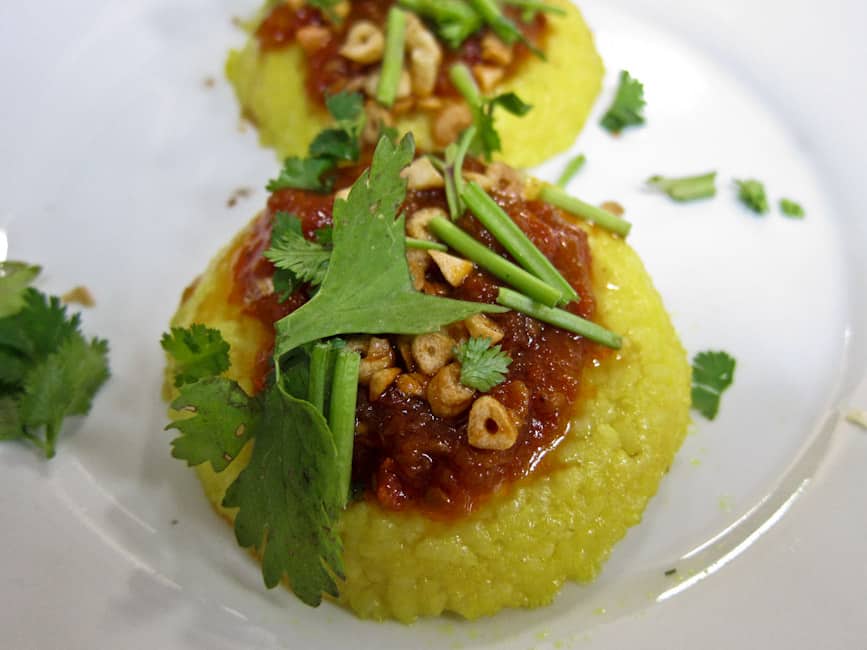 Burmese Salads
Burmese salads are a revelation. They are nothing like the western salads we know and are always full of flavour. Usually the ingredients are chopped thinly and it's all mixed by hand. They make a great option for vegetarians although fish sauce and shrimp are often added so you'll need to say "thatalo" when you order, and hope for the best. We ended up with shrimp on top of our salad once and had to pick them out.
Here are some of the salads we tried, but there are many more interesting options.
Tea Leaf Salad (Lahpet Thoke) – This is the classic Burmese salad. We loved it but it does have a strong flavour that takes some getting used to. Pickled tea leaves are mixed with tomato, cabbage, onion, sesame, peanuts, dried peas, garlic, chilli and lime. It's crunchy and full of flavour. See the top photo.
Tomato Salad – In France you'd literally get a plate of tomato but the Burmese tomato salad is so much more interesting. There are different variations but usually included onion, garlic, peanuts, coriander and sesame.
Lemon Salad – A mix of cabbage, red onion, lemon, chilli, and sesame.
Pennywort Salad – An unusual but delicious salad made from the pennywort herb and mixed with onion, sesame, peanuts, garlic and lime.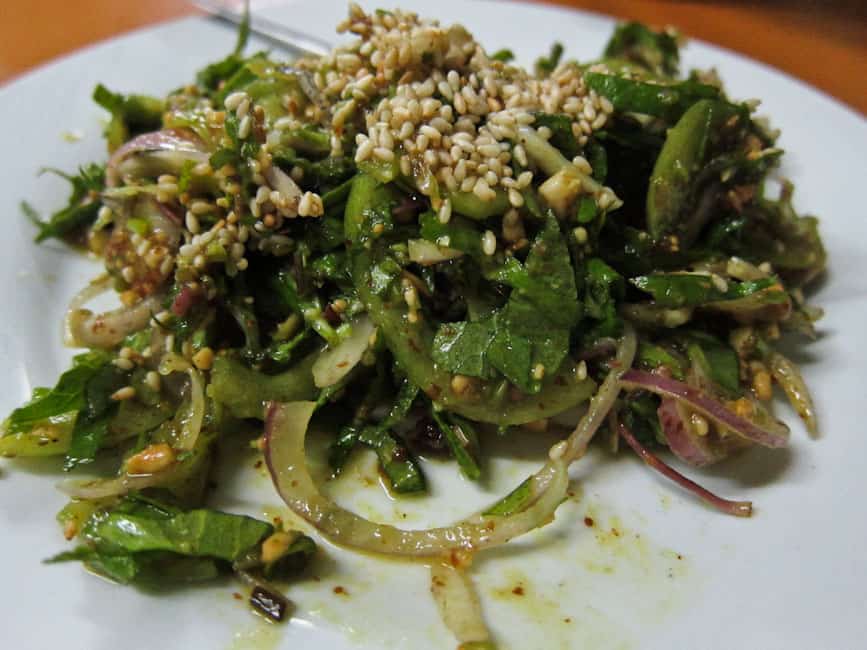 Recommended Restaurants
These are some of the restaurants we recommend.
Yangon
Barbecue on 19th Street/ Mahabandoola Rd
The best barbecue we have ever had was in Yangon's Chinatown. 19th St is lined with stalls where you pick up a tray, choose your food and they grill it up for you. There is meat and fish but also plenty of vegetables – we feasted on tofu, okra, broccoli, garlic and potato grilled in a tasty chilli and garlic marinade. It was utterly delicious and cheap too – our first visit only cost 1200 kyat for the two of us and even stuffing ourselves on our second visit cost 3000 kyat for us both including water.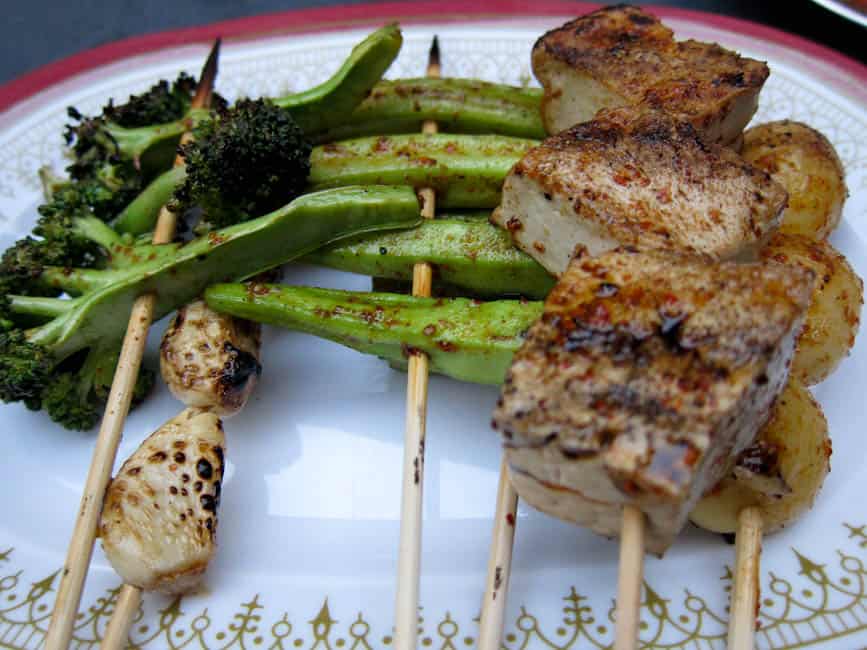 Ingyin New South India Food Centre on Anawrathta Rd
There are lots of Indian restaurants on this road. The South Indian restaurants will be most vegetarian-friendly. We ate tasty dosas and a vegetarian all you can eat thali here for 1000 kyat.
Nang Htike on Bogyoke Aung San Street between 46th & 47th
On our first night we met up with Bessie and Kyle from On Our Own Path who lived in Yangon at the time. They took us to this Shan restaurant where we feasted on Shan creamy tofu and noodles; rice with tomatoes, garlic and onion; fresh water seaweed in a tangy chilli and lime dressing; and spicy mixed vegetables. It was delicious and cost 1600 kyat each. They ordered for us though and I don't know how easy it would be to do if you don't know the names of the dishes.
Bagan
Aroma 2 on Restaurant Row in Nyuang U
It's not as authentic as the cheap places in Yangon but this is a good Indian restaurant with a friendly owner and nice setting. The tasty vegetarian thali included vegetable curry, chapati, rice, and five chutneys including tamarind, mint and coriander, and spicy tomato.
The Moon Vegetarian Restaurant, near Ananda Pahto, Old Bagan
It's location makes it a good place for lunch while out at the temples and there's a huge selection of interesting dishes at this vegetarian restaurant. The eggplant salad made with warm roasted and mashed eggplant, and the creamy Bagan Tamarind Curry with groundnuts were particularly good.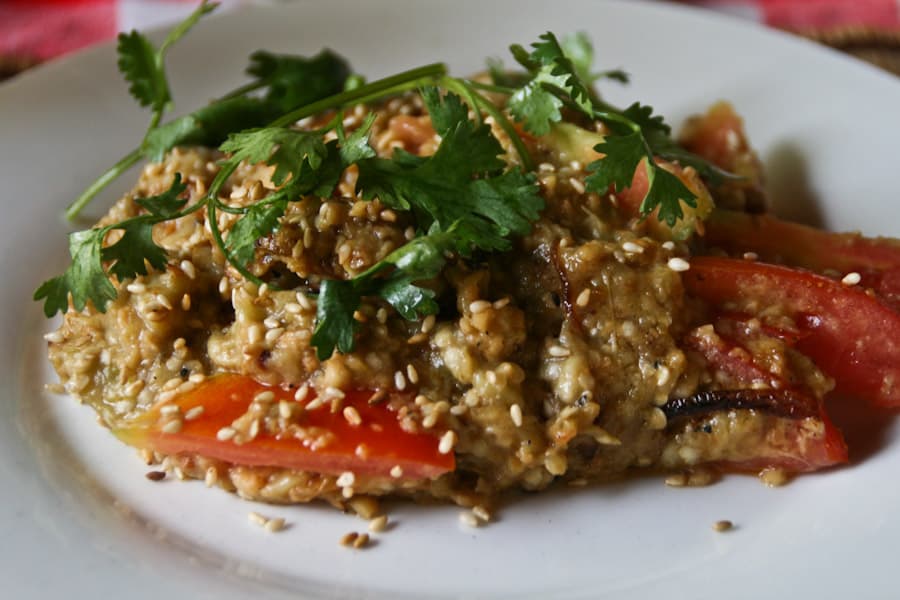 Yar Pyi Vegetarian Restaurant, opposite The Moon
It's not as busy as The Moon because it's not in the Lonely Planet but it's another good option for vegetarians with a similar menu.
Mandalay
NVC Nepali Restaurant, 81st Street 26/27.
We liked the all you can eat vegetarian thali for 2000 kyat and the potato paratha served with curries.
Nyaungshwe (Inle Lake)
Night Market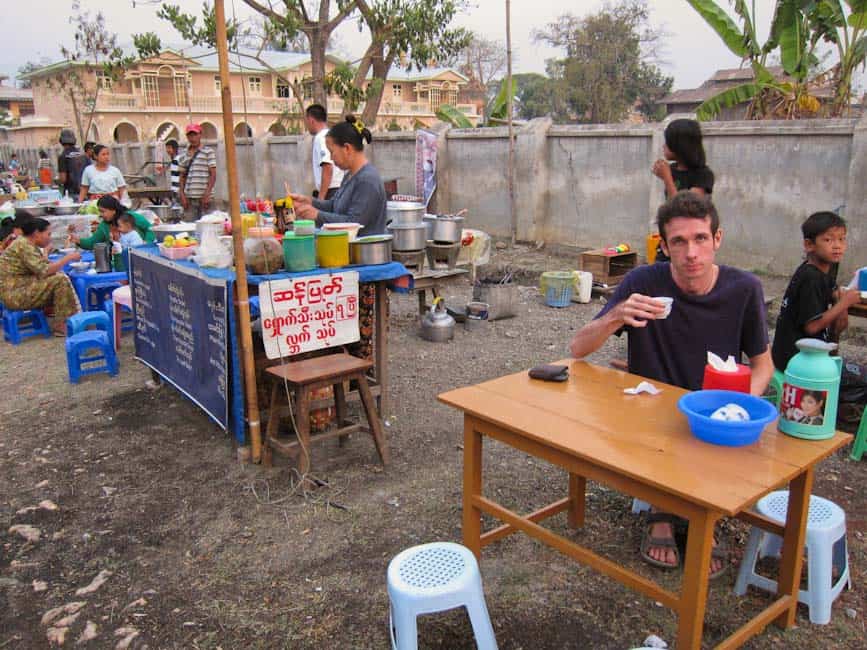 We ate at the first stall which had a menu in English and the lady understood our "thatalo" request. We liked the Shan noodle salad, although it was more like a soup with cabbage and a little bit of broth, served with pickles and chilli. The tea leaf salad was quite strong but the lemon salad was good. All dishes are around 500 kyat.
Star Flower Italian Restaurant
We didn't usually bother with western food in Burma but we had heard good things about this Italian restaurant. It's quite expensive but the pizzas (5000 kyat) and homemade pasta with eggplant and parmesan (3500 kyat) were excellent. You get free bruschetta too.
If you are a travelling vegetarian don't miss our vegetarian survival guides to Chiang Mai, Thailand, Japan, Hong Kong, Argentina, Brazil, Paraguay, Bolivia, and Peru.