This page contains affiliate links. Please read our disclosure for more info.
Chiang Mai is the best city we have ever visited for vegetarians. Sure, San Francisco has world class vegetarian restaurants and wonderfully fresh produce, but prices are high. We love cheap thalis and dosas in India – probably the best country for vegetarians – but it doesn't have the diversity of cuisine that you'll find in Chiang Mai. Whether you are craving a healthy salad, a spicy Thai curry, a falafel wrap, or a vegan cake – you'll find it in Chiang Mai.
We took it upon ourselves to attempt to to visit every Chiang Mai vegetarian restaurant but I'm afraid that even after five months here we didn't manage it – there are just so many! We counted over 40 vegetarian-only restaurants plus many more vegetarian-friendly options.
Chiang Mai is a compact city and it's easy to get around on foot or bicycle but we like whizzing around on our moped.
Our Top Picks
These are our favourite vegetarian restaurants in Chiang Mai.
Note: 30B is about US$1.
1) Pun Pun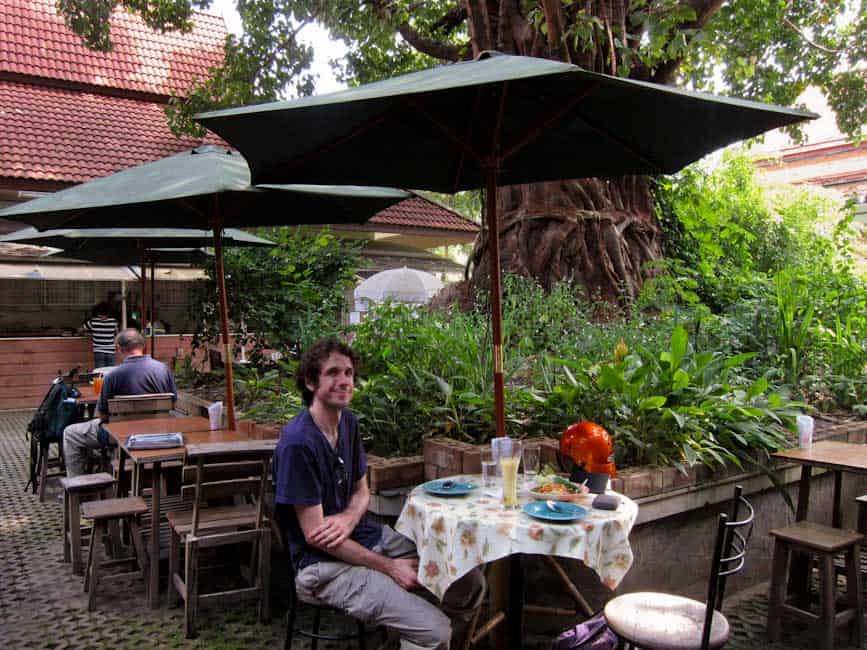 At Pun Pun you sit in the shade of a giant Bodhi tree within the grounds of Wat Suan Dok with saffron-clad monks gracefully wandering past while you peruse the vast menu of vegetarian Thai dishes. The food is made with local organic produce where possible – much of it from their own farm. The service is friendly and the prices excellent value – most dishes are around 40B.
There is so much to choose from but some of our favourites are the spicy Thai salads including som tam (papaya salad) or the unusual banana flower salad or wing bean salad; the crispy spring rolls; the noodle dishes such as egg noodles with burnt chilli paste and vegetables, and a spicy, sweet and sour version of pad thai – pad thai rod tum yum. Pun Pun is also a good place to try the northern Thai classic khao soi, a coconut curry noodle soup. Don't miss the delicious passion fruit shakes at only 30B.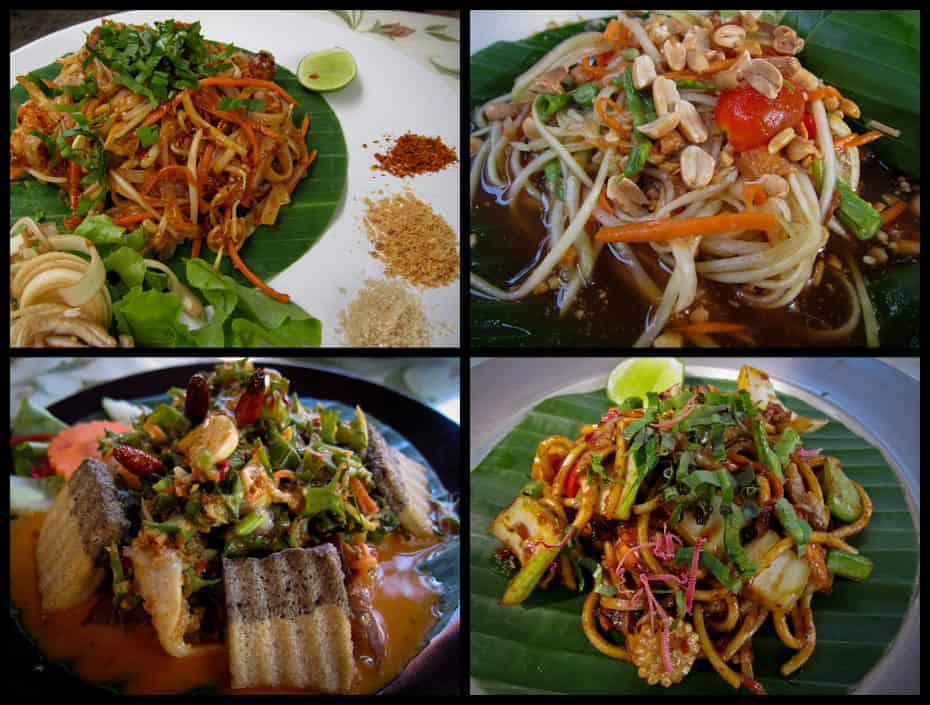 With a peaceful setting, varied menu, and low prices, Pun Pun is our top pick of all vegetarian restaurants in Chiang Mai.
Pun Pun is located at Wat Suan Dok on Suthep Rd. Head to the far end of the temple grounds and you'll find the restaurant behind the Monk Chat building. It's open 9am to 4pm and closed on Wednesdays.
Pun Pun now has a second location at 10 Santitham Rd with a more expensive but innovative menu of western and fusion dishes. It's open 8.30am to 8pm. [Update: The second Pun Pun has changed management and is now called Imm Aim, it's still very tasty though. Open 10am to 8pm]
Update: Pun Pun's second location is now called Pun Pun Lang Moh and is on Suthep Rd near Chiang Mai University. It has the same menu, not as atmospheric location, but it's conveniently open from 10am to 8pm.
2) Cafe Compassion [closed]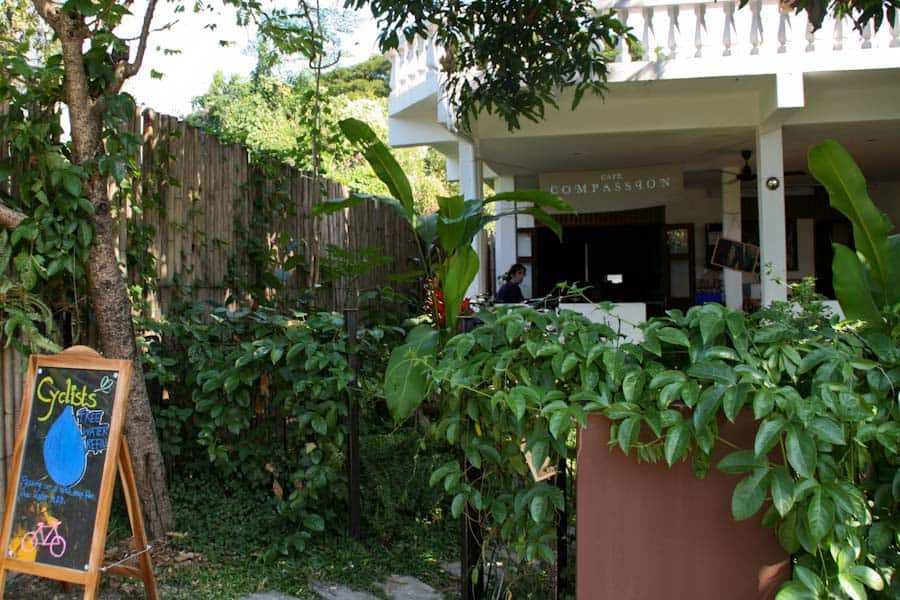 Note: Sadly Cafe Compassion has now closed.
Cafe Compassion is hidden down a quiet, leafy soi with a simple but elegant garden setting. The small menu is lovingly prepared and they describe it as comfort food with a conscience. They serve mostly western dishes and although prices are quite high for Thailand at around 140B a dish it's worth it for the high quality and relaxed ambience. The staff are friendly and they will happily cater for vegans and raw foodists too.
We love the bulbous veggie burger and the thyme roasted vegetable and cheddar panini, both served with tasty side salads. But what really keeps bringing us back is the decadent gooey brownies. We also appreciate the free filtered water.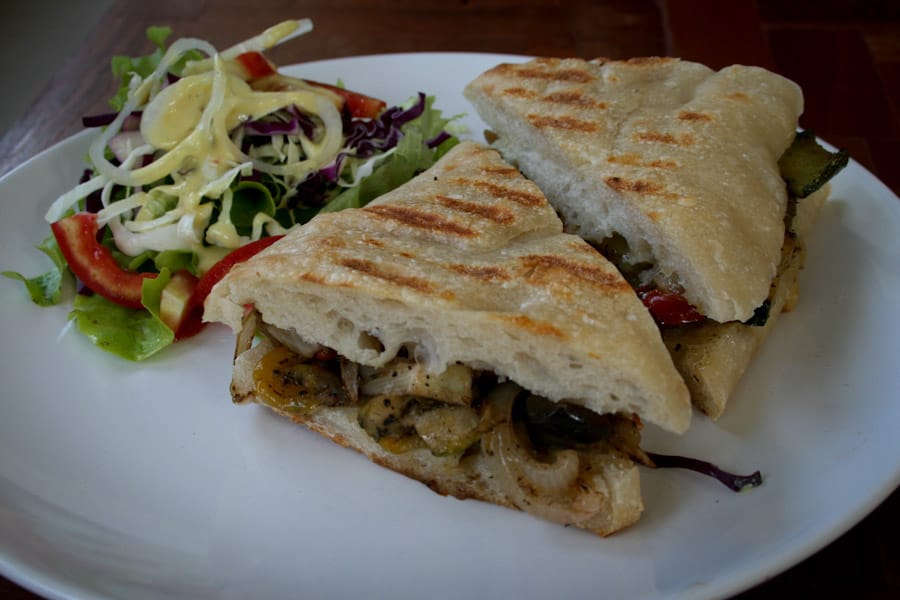 Cafe Compassion is located on Soi 11 off Sirimangkalajarn Rd and is open Tuesday to Saturday 11.30am to 8pm. Note: It has now closed down.

3) Free Bird Cafe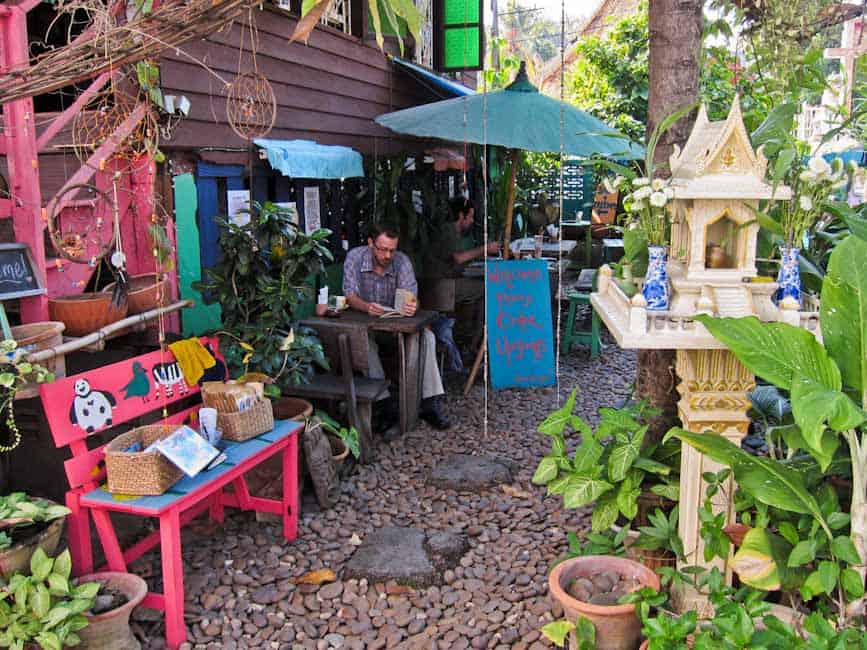 At Free Bird Cafe you can eat delicious food while helping a good cause – the proceeds go to the Thai Freedom House a language and arts community centre that supports Burmese refugees.
Free Bird has a cool location with seating either on cushions upstairs or in a shady and colourful garden. The menu is a mix of Thai, Burmese, Shan, and western dishes. We love the Burmese and Shan salads in particular – the Shan papaya salad is a creamier variant of the Thai version with added potato; the tangy teaf leaf salad; and the flavourful Shan rice noodle salad. Salads are around 65B.
Free Bird Cafe is located at Moon Muang, Soi 7. It's open Tuesdays -Saturdays 9am to 5pm. Update: they have now moved and are at 116 Maneenoparat Rd along the north side of the moat near The setting isn't quite as nice (no garden) but the food is still delicious.

4) Khun Churn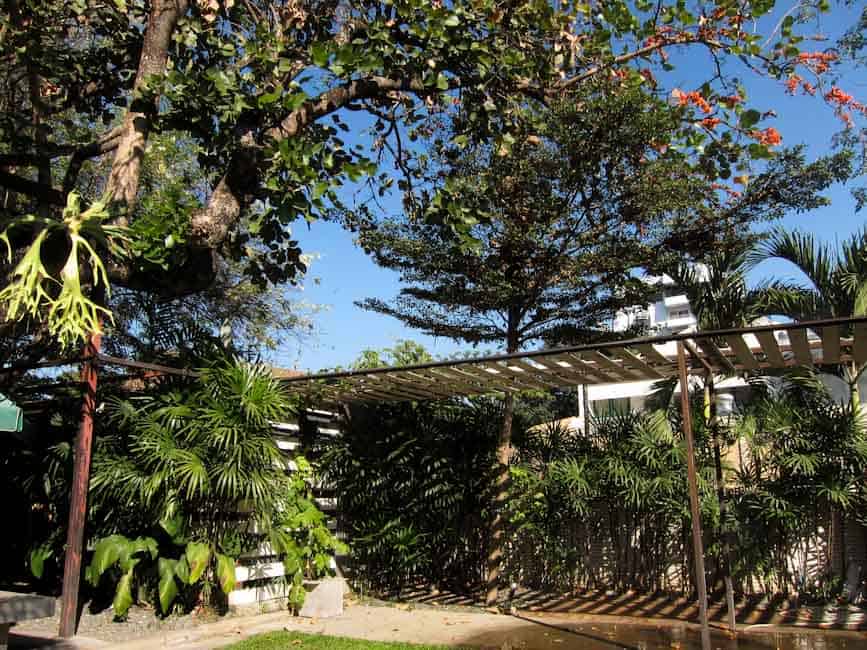 Most of the vegetarian restaurants in the old city are full of tourists but when you head to Nimmanhaemin Rd out towards the university it's far less touristy, and at Khun Churn you'll find more Thais than foreigners. This isn't a typical basic Thai vegetarian restaurant though – it has a classy garden setting and a menu packed with interesting northern Thai dishes.
The lunch buffet (169 baht) is extensive and includes make your own khao soi. From the menu mains are around 60-70B and are beautifully presented and full of flavour. The tod mum kaow poad (deep fried corn cakes) with a sweet and sour sauce are particularly good. The larb-e-sarn is a vegetarian version of an eastern Thai dish with mushrooms and tofu filling in for meat and packed full of flavour with lime, chilli, ground roasted rice, shallot, mint, spring onion, and coriander.
Khun Churn is located on soi 17 off Nimmanhaemin Rd and is open every day from 8am to 10pm. Update: Khun Churn has now moved to the Old Chiang Mai Cultural Center at 185/3 Wualai Rd.
Best Of The Rest
Although those are our top vegetarian restaurant recommendations it was hard to choose just a few. If we are looking for a particular dish or experience then we have some other favourites.
Best Vegetarian Khao Soi
Khao soi is a northern Thai speciality that you should definitely try while in Chiang Mai. It's a curry coconut soup with egg noodles, tofu, and vegetables and is topped with crispy noodles. It's usually served with pickles, onions, lime, and chilli on the side.
Our favourite vegetarian khao soi is made with potato and tofu at Aum (60B), a vegetarian restaurant next to Black Canyon Coffee at Tha Phae Gate. Pun Pun is also a good place to try it.
Best Veggie Burger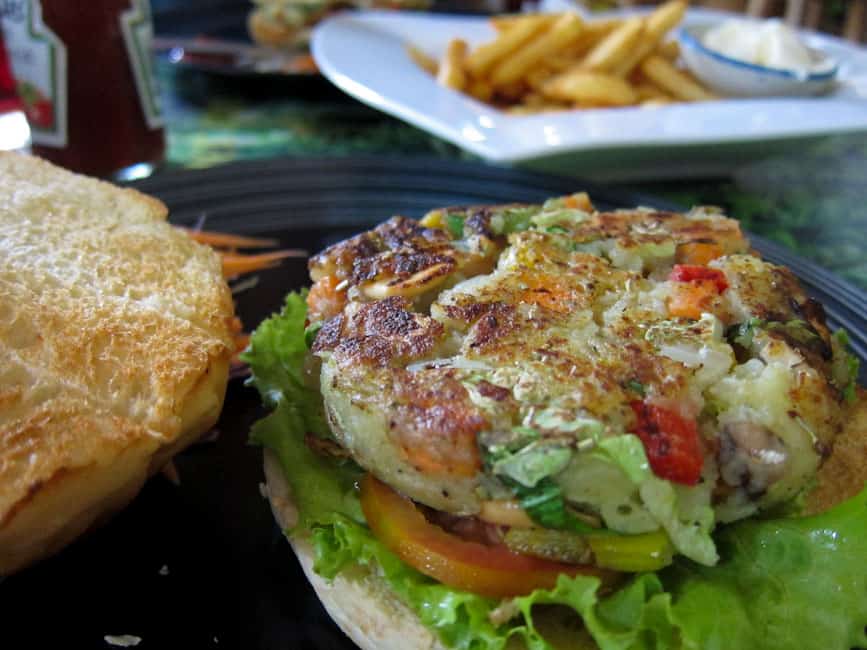 We have sampled many veggie burgers in Chiang Mai and count ourselves lucky that we have so much choice. Our favourite is at Peppermint Cafe on quiet soi 5 off Rachadamnoen Rd in the old city. It's not a vegetarian place but the burger is delicious, made with a potato base and packed full of vegetables and cashews (99B). You can also get fries or chunky fried potato to go with it which you won't get at the more health conscious vegetarian restaurants.
The veggie burger at Cafe Compassion [now closed] is also delicious (140B) and the side salad is much better than at Peppermint.
Update: We also like the veggie burger at Juicy 4 U, and the tofu burger with mango coleslaw at Magical Garden Cafe.
Best Cheap Eats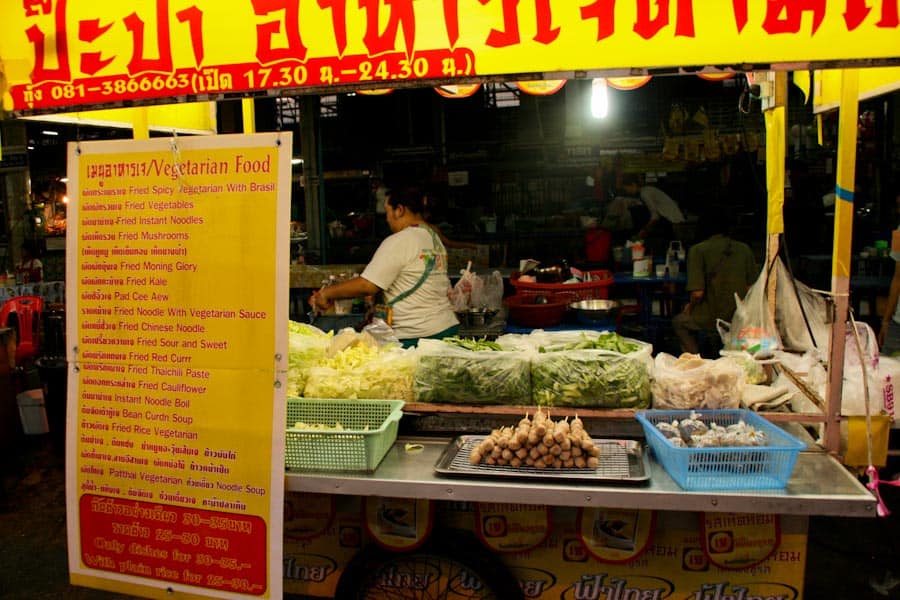 The markets are the best place for cheap eats and luckily there is a vegetarian stall at the Chiang Mai Gate market in the old city, open from about 6pm. Dishes are 25B and you can choose from a range of stir fry vegetable and noodle dishes – it's all made to order. While you are at the market pick up a 20B fruit shake from Mrs Pa's stall across the road.
The Saturday and Sunday night walking markets are also popular places to find cheap meals. You can find vegetarian snacks but the full meals are limited. The best option at the Sunday Night Market is an Indian food stall inside Wat Pan On off Ratchaphakinai Rd where you can get two pretty decent veggie curries and rice for 40B. We also like the nearby samosa stall where three vegetable samosas cost 20B.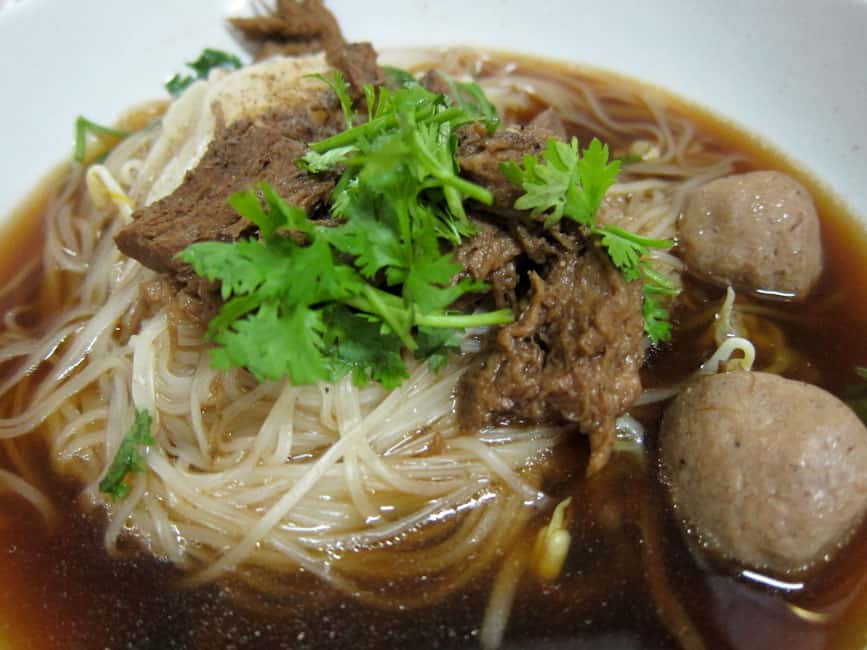 Chiang Mai is full of Thai-style vegetarian eateries which may not have signs in English but you can recognise the Thai sign for "jay" meaning vegetarian. They are mostly open at lunch and you choose from a selection of pre-made dishes at the counter. These places are very cheap, usually 25B for a couple of dishes with rice, but we weren't a big fan of them because they use a lot of fake meat and the food was usually cold.
If this doesn't bother you then you can try Ming Kwon on Rachadamnoen Rd near Wat Phrah Singh or Tieng Sing Taiwanese on Phra Pokklao Rd near Chiang Mai Gate, both in the old city. More options are listed on Happy Cow and on the helpful map on the Chiang Mai Vegetarian Facebook page.
Best Salad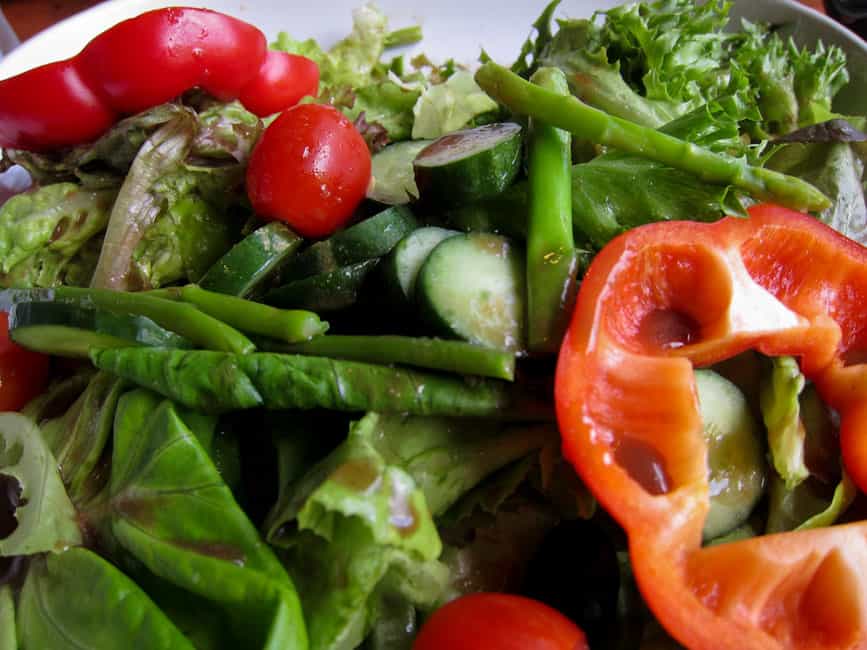 I'm a fan of the spicy Thai salads and Pun Pun and Freebird Cafe are a good place to try these. If you prefer a western salad then head to Salad Concept on Nimmanhaemin Rd (corner of soi 13). For 50B [now 69B] you get a fresh lettuce salad with a choice of five ingredients and one of the unusual dressings. Cheese costs extra. [update: there's a second Salad Concept in Central Festival shopping mall].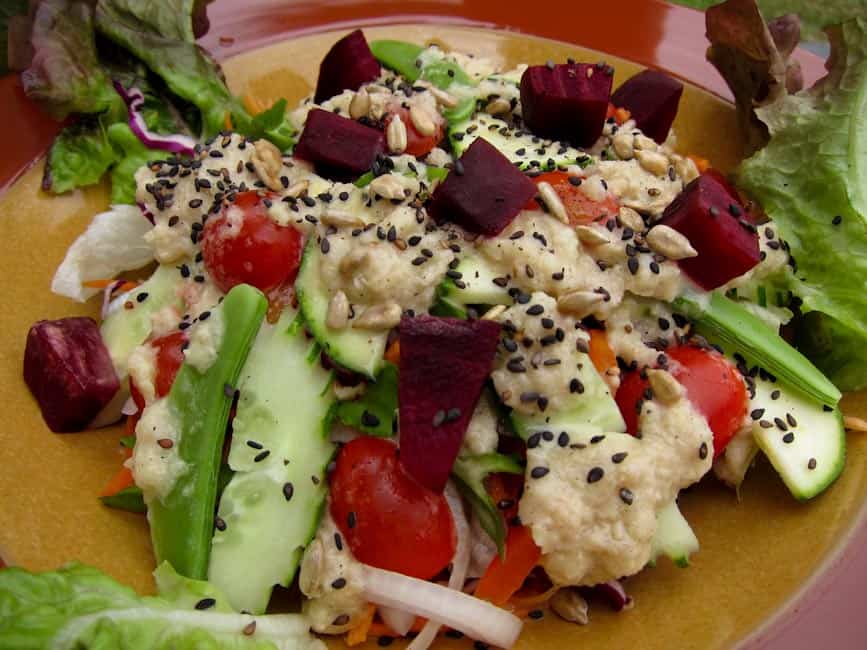 I also like the salads at Beetroot Stories, a vegetarian cafe in the Kad Klang Vieng Plaza on Ratchaphakinai Rd. A good creative vegetable salad is 60B and includes green beans and beetroot amongst the more typical ingredients. The ginger and pineapple dressing is delicious.
Best For Visiting With Meat-Eating Friends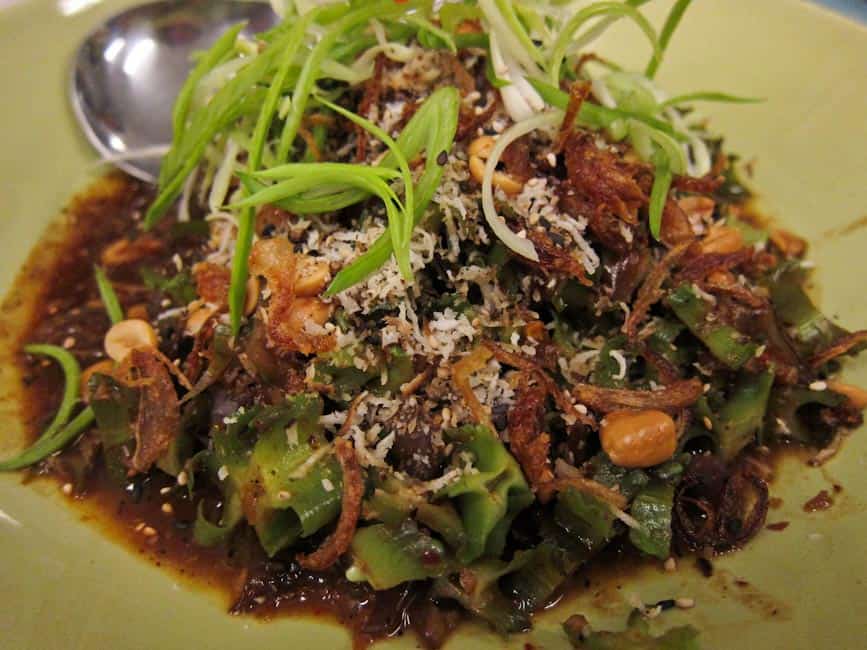 If you are looking for a restaurant that has both vegetarian and meat meals there are plenty of options in Chiang Mai. We like Bon Kitchen [now closed] on Sridornchai Rd outside of the old city towards Chang Klan Rd. Everything is healthy and nutritious with no MSG and is organic where possible. There is a decent vegetarian selection including unusual options such as the huge and delicious wing bean salad (150B) with tamarind, chilli, coconut and peanut; and the fruit salad with goji berries, sunflower seeds, and a slightly spicy pumpkin and mint dressing. UPDATE JANUARY 2013: Bon Kitchen is now closed.
Dada Kafe on Rachamanka Rd in the old city is another good option with plenty of healthy vegetarian and meat options.
Best Garden Setting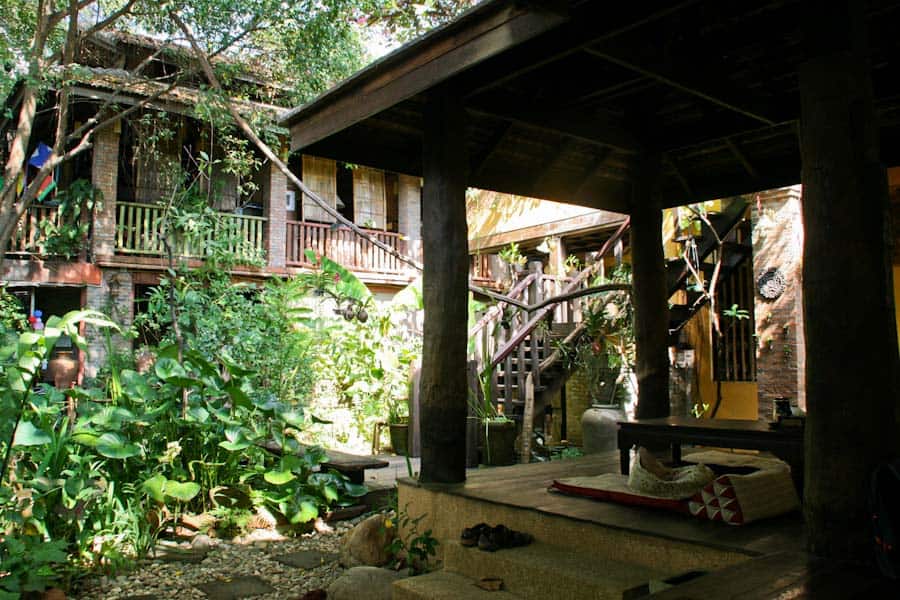 At Tianzi Tea House you laze on cushions at low tables in a covered pavilion within a serene garden filled with lush plants and colourful flowers. The only problem is the mosquitoes, so take insect repellent. The food is all vegan and macrobiotic and is more Chinese and Japanese influenced than Thai. Our favourite dishes were the lentil salad in a flavourful mix of herbs, carrot, garlic, and vinaigrette dressing; and the brown rice salad with sesame sauce. Most dishes are about 80-100B.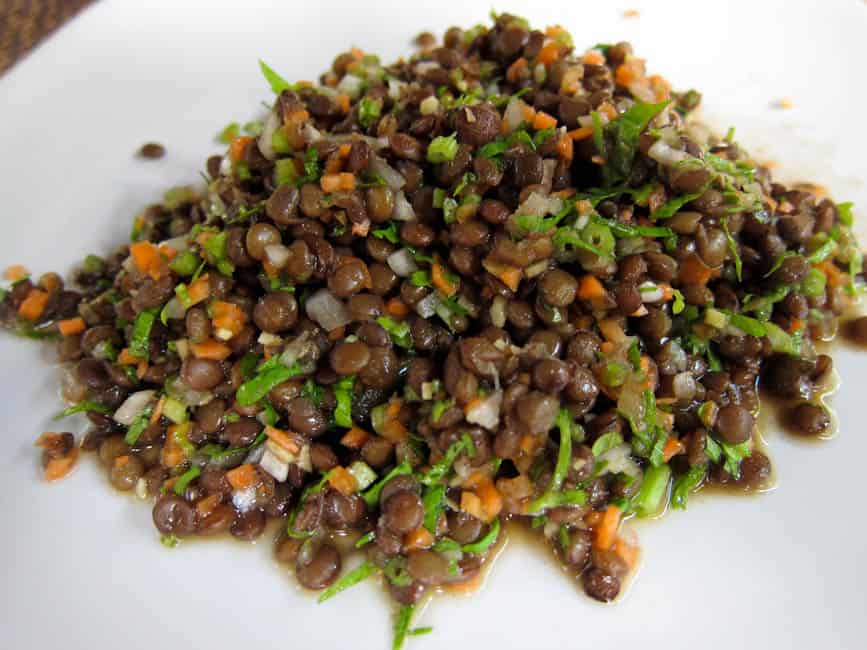 Tianzi Tea House is just off Sridornchai Rd opposite the Imperial Mae Ping Hotel.
Honourable Mentions
While not our favourite vegetarian restaurants in Chiang Mai (it's so great to be in a city where we can be this fussy!) you can also get good vegetarian meals at:
May Kaidee's [now called Morning Glory] on Ratwithi Rd. They also do a vegetarian cooking class.
Giva Raw Food on Soi 1, Tha Phae Rd is the only all raw organic vegan restaurant in the city.
Taste From Heaven [CLOSED] on Tha Phae Rd – service isn't great but there's a big menu and air conditioning if you are feeling the heat.
Blue Diamond on Soi 9, Moon Muang Rd – they serve meat dishes too and it's a bit pricy but they have vegan cakes and a health food shop.
Juicy 4 U on Rachamanka Rd (opposite Dada Kafe) – their veggie burger is decent and if you are craving a sandwich you can choose up to 10 ingredients on whole grain bread.
Another interesting meal option (you'll eat a lot) is to do a cooking course. There are plenty of cooking schools to choose from and all cater for vegetarians. It's actually useful to go to a cooking school that also caters for meat-eaters as you can learn which dishes have ingredients like fish sauce in them and what to use as a substitute. We have written about our experiences learning to cook Thai food in Chiang Mai.
If you are a vegetarian travelling in SE Asia you won't want to miss a visit to this vegetarian-friendly city. With so many options to try you may (like us) find it hard to leave.
Update February 2014 – New Vegetarian Restaurants in Chiang Mai
We recently returned to Chiang Mai for another three month stay. We found that some of the vegetarian restaurants listed above have closed (Cafe Compassion we miss you!) but many more have opened to take their place and Chiang Mai is even more vegetarian friendly then ever. Here are the new places we liked best:
Anchan – A popular place off Nimman Rd with a small weekly changing menu that uses seasonal organic ingredients. It's a bit pricey but portions are big and the quality is high. Try their signature Anchan juice made from a purple flower.
Brown Rice Organic Bistro – It's run by a Thai celebrity chef and the food is tasty and beautifully presented but we were put off by the use of soy meat which we aren't fans of.
Chiang Mai Vegetarian Restaurants Map
We've created a map marking all the vegetarian restaurants in Chiang Mai that we have mentioned in this post. Click on the blue markers to see the names of the restaurants.

View Chiang Mai Vegetarian Restaurants in a larger map
We have also written about our favourite international restaurants in Chiang Mai – they all have good veggie options if you are looking for Mexican, Indian, Italian, Spanish, Burmese, or Middle Eastern food, and our top picks for sweet treats in the city.