This page contains affiliate links. Please read our disclosure for more info.
Sometimes you just need something sweet and Chiang Mai is happy to oblige. From market stalls selling Thai desserts to ice cream vendors roaming the streets and chic cafes with an array of cakes, there is plenty of choice in Chiang Mai.
I'll admit I'm not a huge fan of Thai desserts, usually a bewildering array of gelatinous blobs, so this list of our favourite places for sweet treats is heavily weighted in the direction of Western baked goods.
Butter is Better
Butter is Better was dangerously close to our apartment so we became regulars in this American style diner complete with comfy red booths, black and white checkered tablecloths, vintage records on the walls, and old movie posters on the tables. It's known for its American breakfasts but we come for the baked goods. Every day a different selection is displayed in the cabinet and of course it's all made with pure butter. No artificial ingredients are used (there's an ingredient list displayed for each item) and it shows in the delicious results.
Our favourites are the chocolate chip, and oatmeal and raisin cookies (25B); the dense chocolate torte (30B); the apple pie (65B); and the New York cheese cake (90B). There are also brownies (60B) and cinnamon buns – it's all good.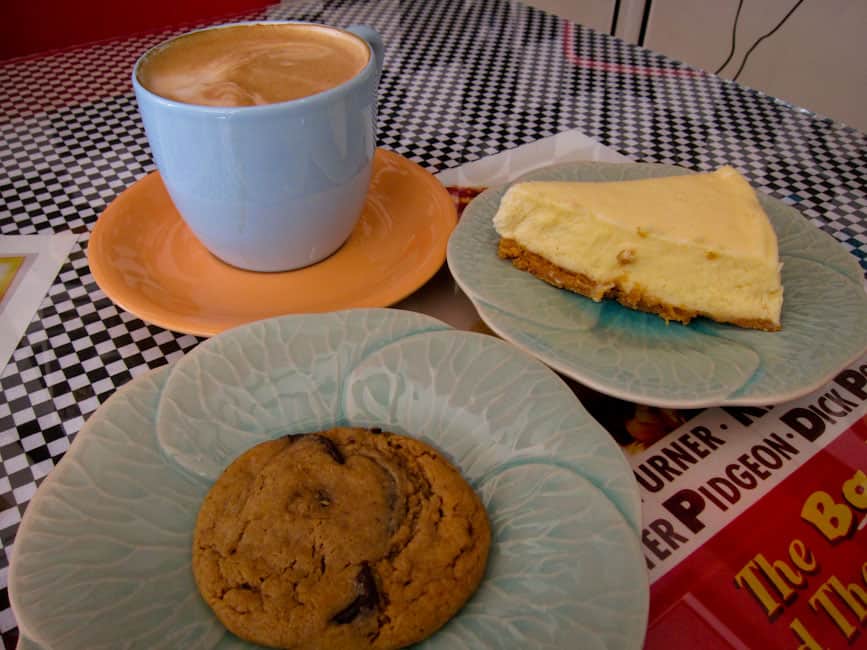 We also like Butter is Better for the friendly staff, free filtered water, good coffee, and fast WiFi, which along with the comfy booths makes it a good place to work.
Butter is Better is located at 189 Chang Klan Road (south of the Night Bazaar) and is open 8am to 5pm (until 4pm on Sundays).
Charcoa Cafe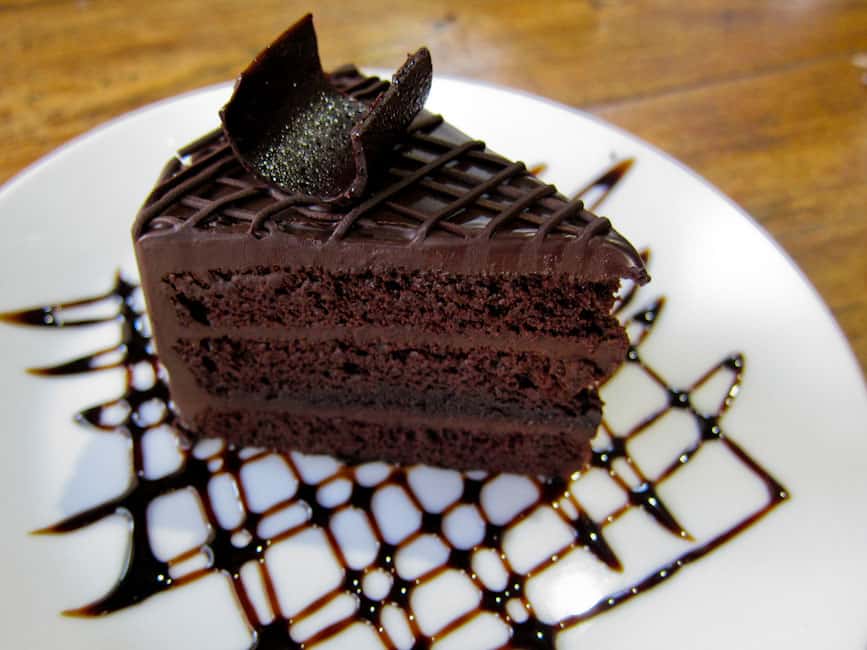 Cafe Compassion is the undisputed winner of the brownie contest but Charoca Cafe takes the prize for the best chocolate fudge cake we've eaten in Chiang Mai. It's triple layered with moist cake between layers of dense fudgy goodness, and artfully presented on a pattern of chocolate sauce. Seriously good and worth the 85B price tag.
Charcoa Cafe is attached to the Charcoa House hotel in the far north east of the old city. See their website for directions.
iberry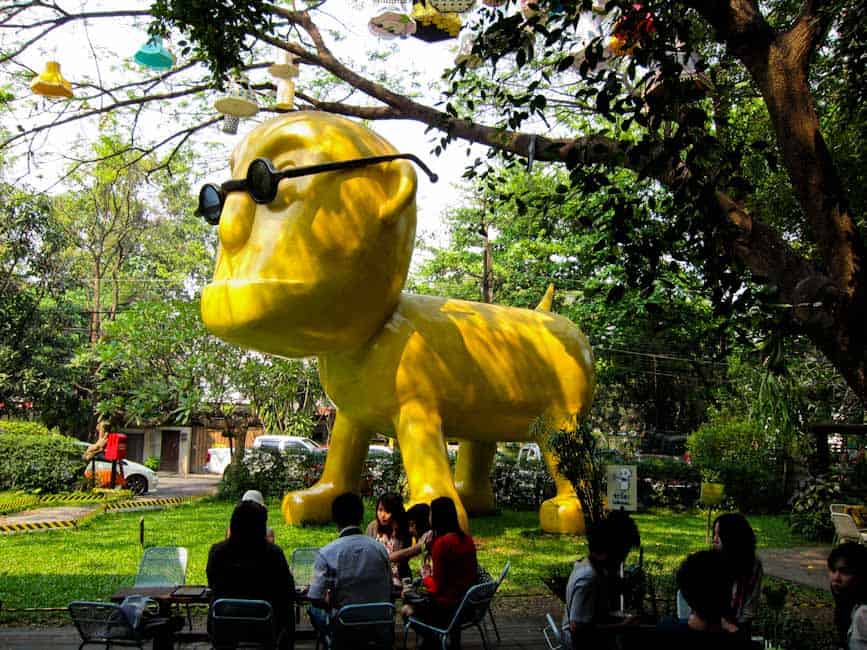 For an experience that is a bit more Thai head to iberry, a popular hang out with young Thai hipsters. The unusual ice cream and sorbet flavours such as tamarind or durian, and the decadent cakes are delicious, but what sets iberry apart is its huge garden location full of quirky details. A giant yellow sun-glassed dog dominates while lampshades hang from the trees, the door handles are ray guns, and photo opportunities abound.
Scoops of ice cream are 59B or get two small ones for 60B, and cakes are around 80B. I sampled the coconut and almond, and blueberry yogurt ice cream while Simon went for the white chocolate cheesecake. I love the cute silver cups they serve free water in too.
Iberry is located on Soi 11 between Nimmanhaemin Rd and Sirimangkalajarn Rd and is open from 10.30am to 10pm
THAI DESSERTS
Coconut Ice Cream
For ice cream in a funky setting head to iBerry but if you want a quick cheap scoop then look out for one of the ice cream vendors that roam Chiang Mai's streets pushing their carts with steel refrigerated containers containing coconut ice cream. When it's done well simple street coconut ice cream beats anything you'll find in a trendy ice cream shop.
It's also incredible value at only 10B for a couple of scoops. You can opt for Thai style served in white bread (bizarrely this is the only time Thais eat bread) and topped with tasty treats such as sweetcorn, kidney beans and condensed milk! I prefer mine plain in a cup – it's delicious enough on its own.
I can never seem to find an ice cream cart when I want one but you can try the night markets or I found one in the grounds of Wat Chedi Luang.
Mango and Sticky Rice
This classic Thai dessert is the one I like best. Succulent, juicy mango is served on sticky rice that has been cooked in lots of coconut cream and palm sugar. You can find it in many restaurants and at the night markets. A filling plate costs around 30B.
I know we haven't ventured far into the world of Thai desserts but sometimes when you've been travelling for a while you need a taste of home and Chiang Mai provides plenty of comfort food at reasonable prices.
For more tasty eats in Chiang Mai see our guide to Chiang Mai vegetarian restaurants and the best international food in Chiang Mai.