This page contains affiliate links. Please read our disclosure for more info.
Our latest Nomadic Interview is with James Clark who has been exploring the world as an expat and digital nomad since 1999. He now makes his living from web design and online marketing, and writes about his travels at Nomadic Notes. We recently met up with James in Chiang Mai where we are meeting so many fellow digital nomads we'll have enough interviews to keep us going all year!
1) How long have you been travelling and where have you been?
I first went overseas in 1995, and I contracted the travel bug immediately. I went on yearly one month holidays while I was working which never satisfied my travel bug, so in 1999 I took up a working holiday visa to the UK. Upon returning to Australia I still had the wanderlust, so I took up a one year working holiday visa to Ireland in 2002/2003. I left Ireland in 2003 and that is when I started the full time work and travel lifestyle that I lead today.
I have been to 40+ countries in that time so I'm a bit of a slow traveller in that regard. I don't have the desire to rush through as many countries as I can (though I certainly won't say no to visiting every country). Now that I work and travel I like to find a good place to stay for a while, rather than being on a bus every other day.
2) What made you decide to become a digital nomad?
I didn't really decide to become a digital nomad, rather it was something that just happened over time. I originally started out doing my current business because I wanted to combine my two biggest passions – travel and the internet – into one job, so I taught myself web design and started making travel websites. I don't think the terms "digital nomad" or "location independent" were even coined then, and this was before the 4 Hour Work Week brought the idea of working remotely to the masses. I was working a full time job in Ireland when I started this business, then I went to Switzerland for 6 months before going back to Melbourne as a work at home business. From my base in Melbourne I started going off on travels, testing the water to see how long I could travel and work. I would go to Europe for 6 months of the year, then come back to Australia for the Summer. Eventually I realised I could do this full time, so I left my place in Melbourne in 2010.
3) How do you fund your travels?
I fund my travels through my online business activities, which is a combination of e-commerce, web design, tourism marketing, and SEO consulting. I have a company in Australia and I still work a full work week (40+ hours) while I am travelling.
4) What advice would you give someone wanting to earn a living from travel websites?
First of all I would say that it's a full time job, so don't expect to start a site and put it on autopilot while you are away on adventures. This is the dream that is sold, but it is far from the reality.
If you are keeping a travel blog, keep it as a travel blog and start another site if you want to do something with commercial potential. Your travel blog is about your own personal experiences, and it is your personal brand.
5) Do you find it difficult to balance travel and work? How do you manage it?
Yes I do find that balance difficult. I love both travel and work equally, and these two forces are constantly vying for my attention. The thing is that I actually like working. I'm an entrepreneur at heart so I'm always thinking of new business ideas and website concepts. I have so many ideas written down and not enough time to implement them. I am definitely not a sit on the beach and do nothing type of traveller. On top of that I have the travel bug, so new lands are always calling my name to come visit, which I usually answer with a yes. Thus my work productivity takes a dive once I'm on the road again. I manage this by trying to spend every other month in one place.
6) Like us you are a fan of Chiang Mai as a place to base yourself and work for a while. Do you have any other recommendations for digital nomad friendly destinations?
Chiang Mai has certainly been good for me as a base camp. There have been plenty of other online work and travel friends passing through, so it has been good to mingle with people with similar interests. Chiang Mai has been the equivalent of my work water cooler – a place to come and talk with fellow workers on your work break about what is going on in the world.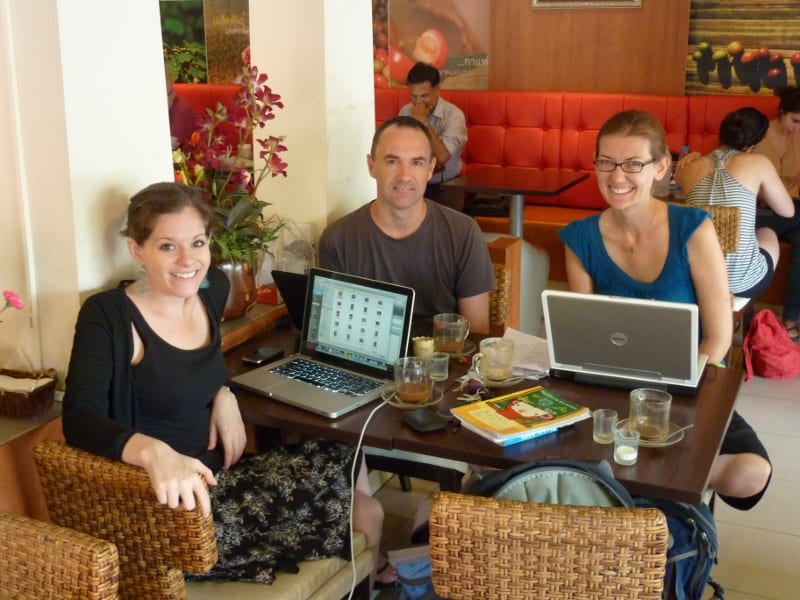 I'm still on the quest to find more digital nomad friendly locations. Last year I spent a month in Penang in Malaysia, which I have been to a few times now. I also spent a month in Playa del Carmen in Mexico with fellow nomad Wandering Earl. Mexico was a great work location as there is good internet, plus the food is excellent!
7) What's the biggest challenge of nomadic life?
Not having regular people in your life is certainly a challenge, as well as the continual goodbyes. Running a business also has its challenges as I still have to do my paperwork and report taxes, etc. I am refining this process to reduce paperwork to a minimum. And sometimes I miss a good Melbourne latte, especially when I have had one too many 3in1 instant coffees.
8 ) You have recently returned from Myanmar (Burma) where we are travelling this month. Any advice for us on places to visit?
Make sure you visit the big three highlights (Yangon/Shwedagon Pagoda, Bagan, and Inle Lake), then after that pick out what sort of travel you would like to do. If you want a beach holiday, head south. For trekking there are good options out of Kalaw, near Inle Lake. If you want to visit some more remote ruins head west to Mrauk Oo. I enjoyed visiting the hill towns of Pyin U Lwin and Hsipaw.
9) What are some of your favourite off the beaten track destinations?
I find that off the beaten track destinations are tied to the experience that I had there, rather than it being a must see destination in itself. These experiences mostly happen through people I meet, so I never recommend such places as it's an experience that is personal. For example I once ended up in a village near Mt Kinabalu in Sabah, Malaysia. It's not a place you would recommend anyone go out of their way to visit (I couldn't even tell you how to get there), but I happened to spend a weekend in this village to attend a traditional local wedding. That happened by a chance meetup with a local who invited me to come.
In the meantime if I do happen to find a favourite off the beaten track destination, I probably won't be telling anyone about it ;)
10) Where are you heading to next? Do you think you'll ever settle down in one place?
I am in El Nido in the Philippines as I type this interview. I will be in Southeast Asia for a few more months before heading to Europe and then the US to attend some conferences. I would never say never to settling down in one pace as you never know what will happen in this life. I could certainly see myself with a homebase somewhere, but I suspect that I will always feel compelled to go travelling.
You can follow James's travels at Nomadic Notes, on Twitter and on Facebook.
If you enjoyed this interview then read about other long term nomads in our Nomadic Interviews series.