This page contains affiliate links. Please read our disclosure for more info.
We love Thai food and have written extensively about the wonderful dishes we tried in Chiang Mai's vegetarian restaurants, but if you are craving something different then the city has plenty of options. These are our picks for what we consider the best restaurants in Chiang Mai for international food. All have vegetarian and meat options.
Keep in mind that you will pay considerably more for western food than for Thai meals but we have included some budget options where possible.
Note: 30B is about US$1.
Best Pizza: Girasole
What's the one food that travellers in Asia miss the most? I'd bet on pizza. Simon definitely can't go too long without one. We have had some terrible pizzas in Asia but this isn't a problem in Chiang Mai where you can take your pick from Italian restaurants serving excellent thin-crust pizzas.
We sampled a number of Italian restaurants and while all were good, our favourite pizza was at Girasole. The crust is perfectly firm – not floppy, not hard, and the toppings flavourful but not overpowering. We also love the free breadsticks and tomato pesto dip that come with every meal, and the tomato, mozarella and basil bruschetta is delicious (90B, see top photo). A margherita pizza costs 140B which is reasonable for Chiang Mai.
Girasole is located in Kad Klang Vieng Plaza on the corner of Ratchaphakinai Rd and Rachadamnoen Rd.
Runner Up: La Lanterna on Ratchaphakinai Rd near Tha Phae Gate also has good Italian-style pizzas. They are slightly more expensive than at Girasole but they are bigger.
UPDATE Feb 2014: Girasole isn't as good as it once was. Our favourite pizza is now at By Hand Pizza Cafe and Street Pizza.
Best Mexican: Miguel's
Miguel's is a popular tex-mex restaurant and we visited many times. It's not often that you can find Mexican food this good in Asia. You can choose from vegetarian or meat fillings for burritos, enchiladas, tacos, quesadillas, and fajitas. We were fans of the big veggie burritos (130B), nachos (160B), and the combos with rice, refried beans, one taco and one enchilada (160B).
Miguel's is located on the NE corner of the moat road on Chaiyaphum Rd.
Runner Up: On our last weekend in town we were introduced to The Salsa Kitchen on Huay Kaew Rd and if we had more time it may well have knocked Miguel's off the top Mexican spot. We loved the cheesy bean dip and the huge platters where you choose three out of tacos, burritos, chimichangas, and quesadillas.
Loco Elvis Tex Mex Grill is the latest Mexican restaurant in Chiang Mai and we enjoyed the huge gourmet burritos for 180B with your choice of fillings.
Best Spanish: Su Casa [now closed]
We didn't discover Su Casa until the end of our stay and had to squeeze in a few more visits as it was so good. We had heard there was a tapas restaurant in Chiang Mai but had assumed it wouldn't be very good (we are in Thailand!) and that, like Spain, it wouldn't be very vegetarian-friendly. Happily we were wrong on both counts.
It's located on one of the ultra-cool sois off Nimmanhaemin Rd where the trendy coffee shops and fashionably-dressed young Thais make you feel like you are in a tropical version of New York's Soho. Su Casa is certainly classier than most restaurants in the city and the menu is varied and creative.
We sampled a selection of the vegetarian "favourite tapas" for 68B each. The homemade bread with fresh tomato, garlic and olive oil was intensely flavourful; the new potatoes with spicy tomato sauce was better than some patatas bravas we've had in Spain; and the chickpea and spinach stew was a pleasant surprise in a creamy sauce with cherry tomatoes and topped with parmesan. Other favourites were the grilled eggplant with red pepper alioli and the incredible arroz with pumpkin, goats cheese, and asparagus.
You can also sample tapas-style mini desserts for 68B. Our gorgeous chocolate mousse came in a shot glass and was the perfect way to end the meal.
You don't often find such high-quality European food in Asia so we'd recommend taking advantage of it when you are in Chiang Mai.
UPDATE Feb 2014:Su Casa has sadly closed. For wine and tapas we now head to Jagajee.
Best Middle Eastern: Jerusalem Falafel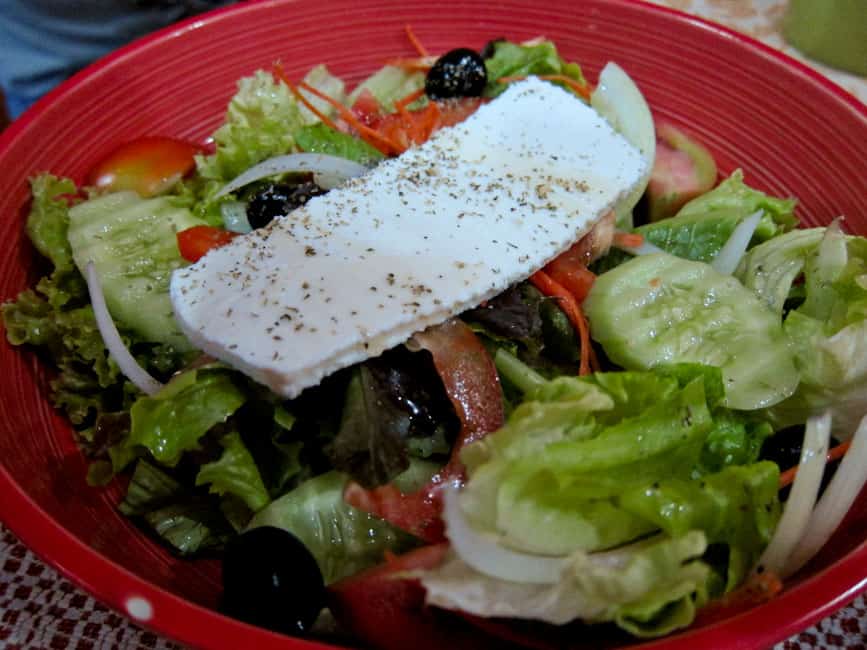 Jerusalem Falafel is a popular choice for authentic Middle Eastern food and is run by a woman from Jerusalem. We shared falafel, hummus, pitta, and a greek salad, and it was all fresh and delicious. If you get a selection of mezze at around 100B each it can work out quite expensive though.
Jerusalem Falafel is located on the moat road Moon Muang, just south of Tha Phae Gate.
Runner Up: Zoe in Yellow is a cheaper alternative if you are happy with a much smaller menu selection. The falafel wraps are 100B and are packed with hummus, tzatziki and salad, and come with fries. It's on the corner of Rachaphakinai and Ratwithi Rd.
Budget Option: Funky Monkey stall on Rachaphakinai Rd has a falafel sandwich for 55B and although it isn't as good as the above options it is tasty and good value.
Best Indian: Whole Earth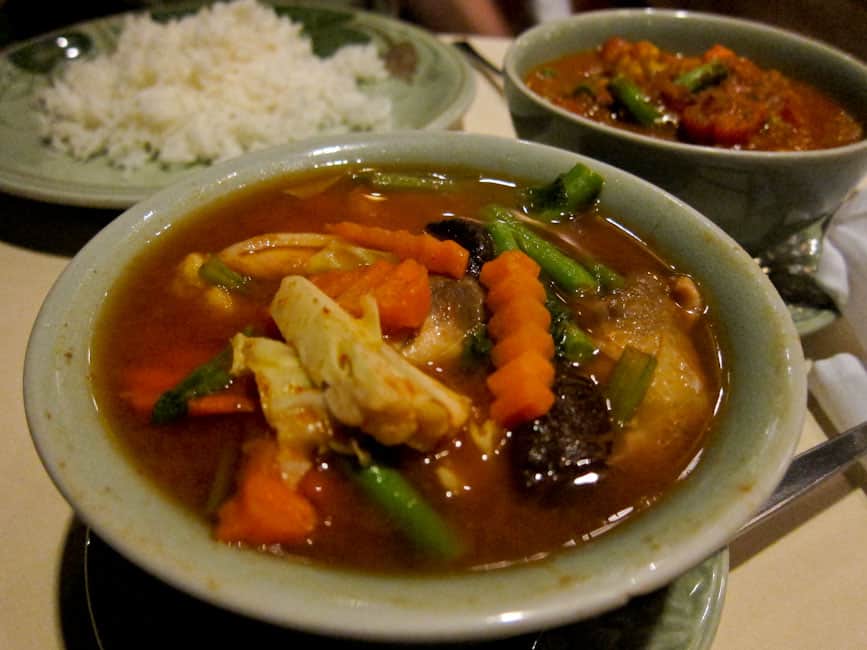 We didn't sample a huge number of Indian restaurants in Chiang Mai but our best Indian meal was at Whole Earth, an elegant teak restaurant with excellent service and a beautiful garden setting. The catch? It's expensive for Thailand with curries costing 140B each plus 35B for unlimited rice. It's a good option for a treat though. They have Thai and Indian curries but we much preferred the Indian. Most dishes are vegetarian but they have options for meat-eaters too.
Whole Earth is located on Sridornchai Rd just off Chang Klan Rd.
Runner Up: Le Spice is a cheaper alternative by the Night Bazaar with decent Indian food. The vegetarian thali for 100B is great value for three curries, dips, rice and pappadum.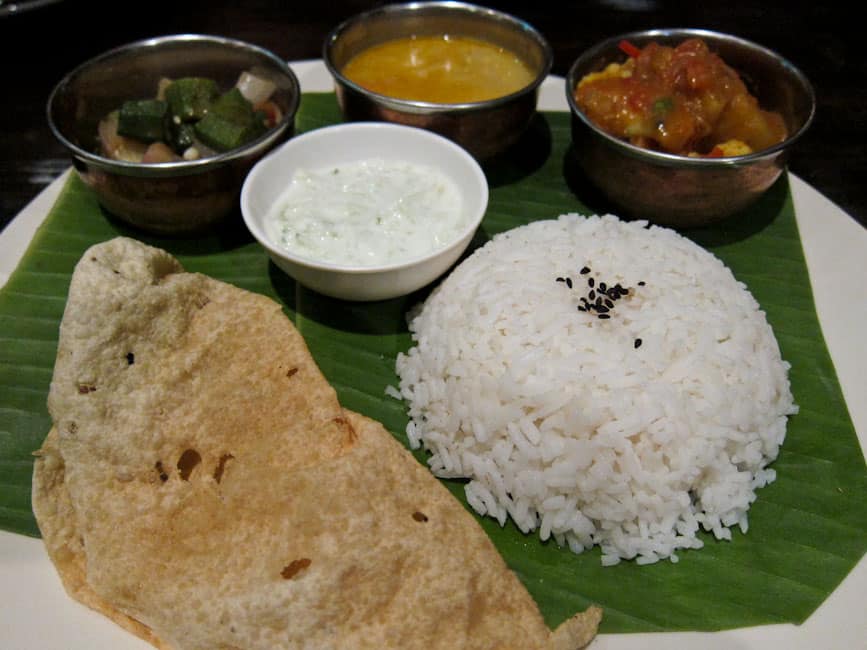 Budget Option: Sunday Night Market – if you are on a budget you can get two curries and rice for 40B at the Indian stall inside Wat Pan On during the Sunday night walking market.
Best Burmese: D-Lo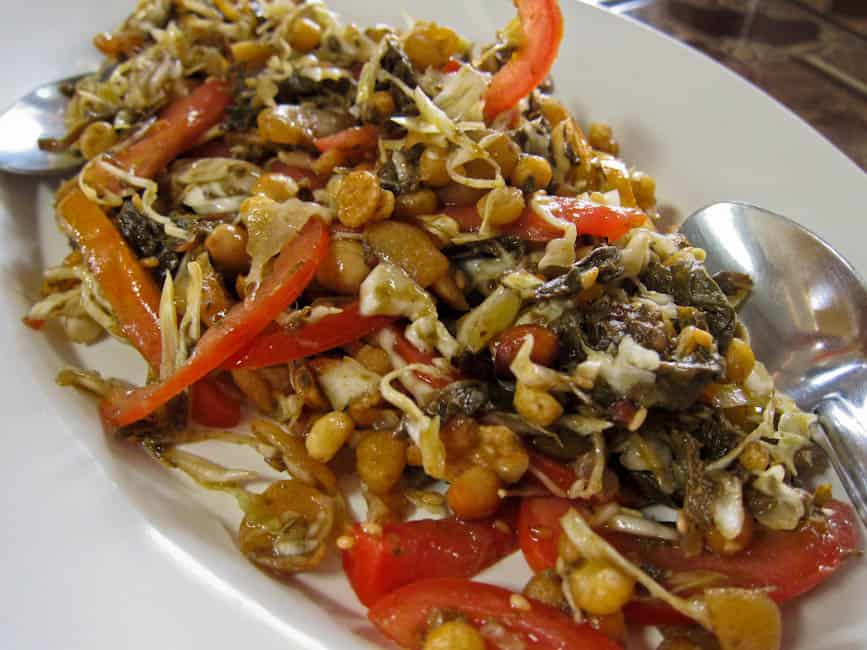 Chiang Mai was the first place we had tried Burmese food and D-Lo was a great introduction. Unlike the other restaurants listed above you won't come across many foreigners here – it's a simple, inexpensive place serving authentic Burmese dishes. As vegetarians we stuck with the salads – the highlight was the tangy, crunchy tea leaf salad although the tomato salad was a close second. Our meal (including lots of rice) only came to 50B each.
D-Lo has moved to a new location since we visited. It is now at 47/7 Soi 4, Jed Yot-Chang Khian Rd.
Runner Up: Freebird Cafe is one of our top picks for Chiang Mai vegetarian restaurants. It has a good selection of Burmese and Shan salads and all proceeds go towards supporting Burmese refugees.
Best International Restaurants in Chiang Mai Map
All of the restaurants mentioned in this post are marked on this map. Click on a blue marker to see the name of the restaurant.

View Chiang Mai international restaurants in a larger map
If you are looking for good Thai food then also see our detailed guide to Chiang Mai vegetarian restaurants. We also share our favourite sweet treats in Chiang Mai.