This page contains affiliate links. Please read our disclosure for more info.
Japan was a country we had always dreamed of visiting but due to its expense we put it off for "one day". Then the opportunity to house sit came along and how could we resist the chance to live in Kyoto rent-free for over three weeks?
We did agonise over the decision as what with the flights and travel costs to see some of the country while we were there, it was a financial risk. But we went with it and never regretted our decision.
We spent over five weeks in Japan and fell for the country more than we ever expected. In fact it has taken us nearly six months to finish writing about our time there as we had so many wonderful experiences.
We loved the quirkiness, the cultural differences, the super-polite people, the diverse temples, the artistic food, the contrast of modern and traditional, and the ease of travelling around in a country that is run with ultra-efficiency.
It's time to round up our time in Japan, and look back at our highs and lows.
Where did we go?
Here's how we spent our time in Japan in August-September 2011:
1 night in Osaka
24 nights in Kyoto (including a day trip to Nara)
1 night in Koya-san
2 nights in Hiroshima
1 night in Nagoya
1 night in Tsumago
1 night in Matsumoto
6 nights in Tokyo
Total: 36 nights.
After house sitting in Kyoto we used a Japan Rail Pass to travel to a number of places in Honshu (Japan's largest island) before arriving in Tokyo. We would have loved to explore more places but we are glad we got to spend so much time in Kyoto.
Highs and Lows of our Time in Japan
Favourite City – Definitely Kyoto. This might be unfair as we spent by far the longest amount of time here but we did love it.
The downtown area with its concrete highrises and busy highways is unattractive but on the edges of the city you'll find the temples, narrow stone streets, wooden houses, and bamboo forests of traditional Japan. Three weeks was not enough to explore it all.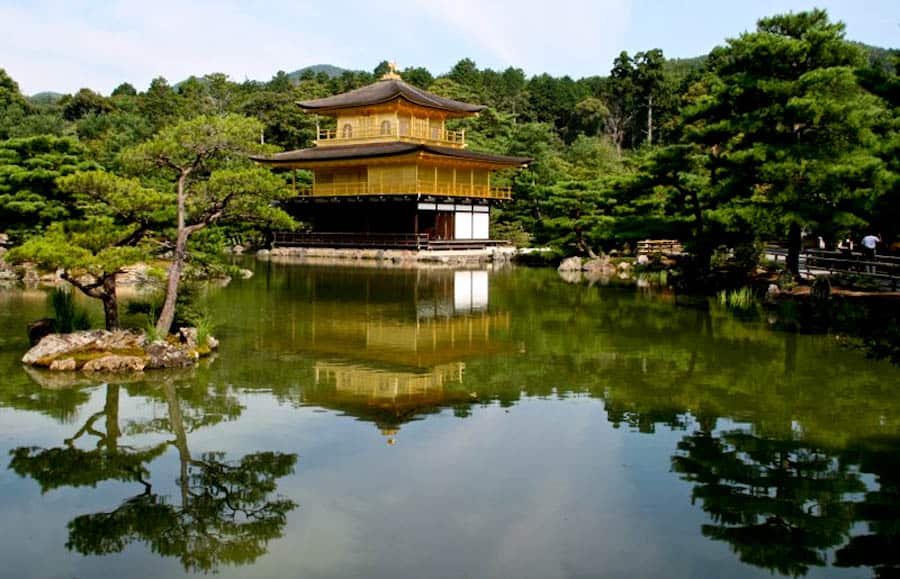 Least Favourite City – Nagoya was a big, busy city which didn't really appeal to us. We didn't have much time to explore though and we only spent the night there as a base to get to Tsumago where we couldn't afford to spend two nights (only traditional accommodation is available there which is pricey).
Favourite Temple – This is a tie between two very different temples in Kyoto. Otagi Nenbutsuji with its 1200 stone sculptures of Buddha's disciples in strange poses is cute, quirky, and off the beaten track.
Fushimi Inari Taisha is a shrine featuring thousands of bright red torii gates snaking up through the forest into the mountains. It took us hours to walk through them all.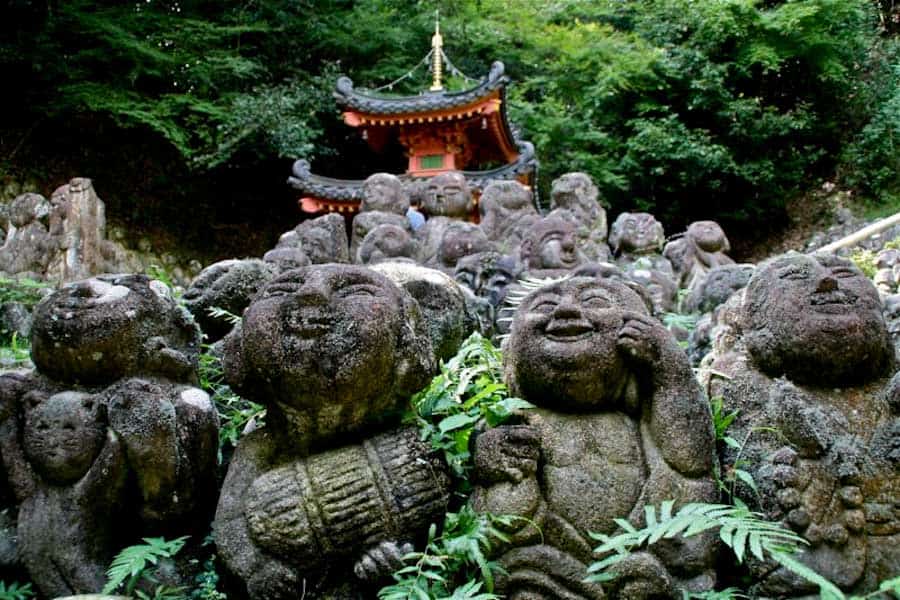 Favourite Activity – Learning to cook Japanese food with Emi at Uzuki. We had a private lesson in Emi's house and she was happy to tailor the class to our needs as vegetarians. The insight into Japanese food and culture was fascinating, and the meal at the end delicious.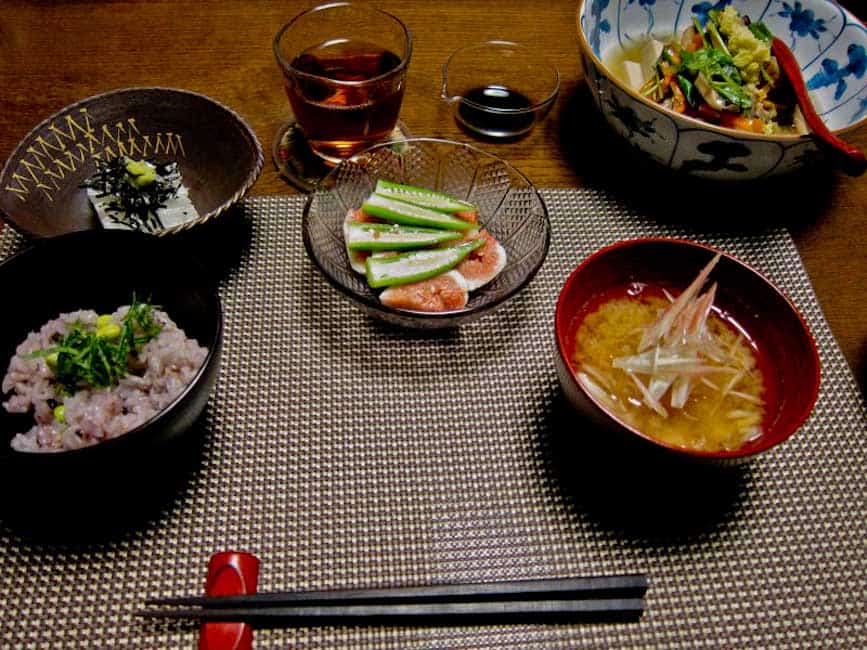 Biggest Disappointment – Not getting to hike the ancient Nakasendo trail from Tsumago because of a typhoon. Despite the rain Tsumago was a picture-perfect traditional Japanese village in the mountains and we highly recommend a visit. We'd love to return in better weather to hike the trail to Magome.
Favourite Meal – We had so many amazing multi-dish meals in Kyoto, the home of shojin ryori (Zen Buddhist vegetarian cuisine) that it's hard to choose. Although eating in the tatami mat room of a temple was a highlight, the most accessible, delicious, and best-value meal was at down-to-earth Mikoan (sadly now closed).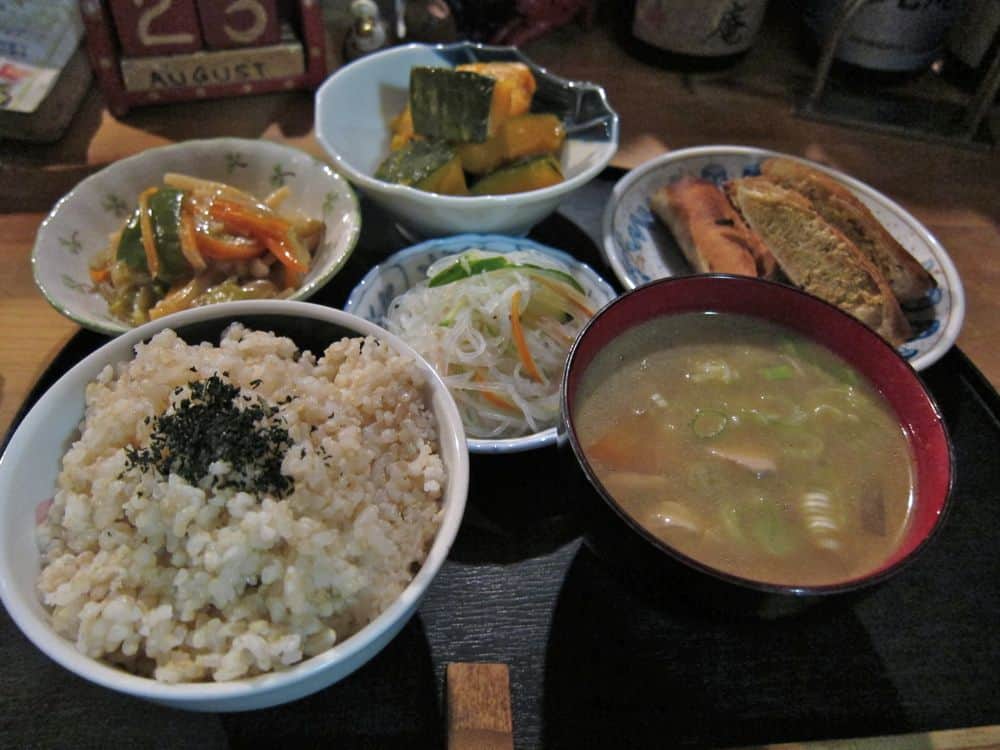 Most Disappointing Meal – We were looking forward to trying Hiroshima's speciality okonomiyaki, a kind of savoury pancake, and found a tiny restaurant that specialised in it with a friendly owner who spoke English (unusual in Japan) and understood we were vegetarian.
We sat at the counter while she made the okonomiyaki on the hot plate on the counter in front of us – piling on cabbage, bean sprouts, egg, and before we realised what it was – dried fish. We did our best to eat it, picking around the fish, but it did prevent us from fully enjoying the meal. Shame as it would have been tasty without the fish. (Update: we later learned it was probably dried seaweed, not fish).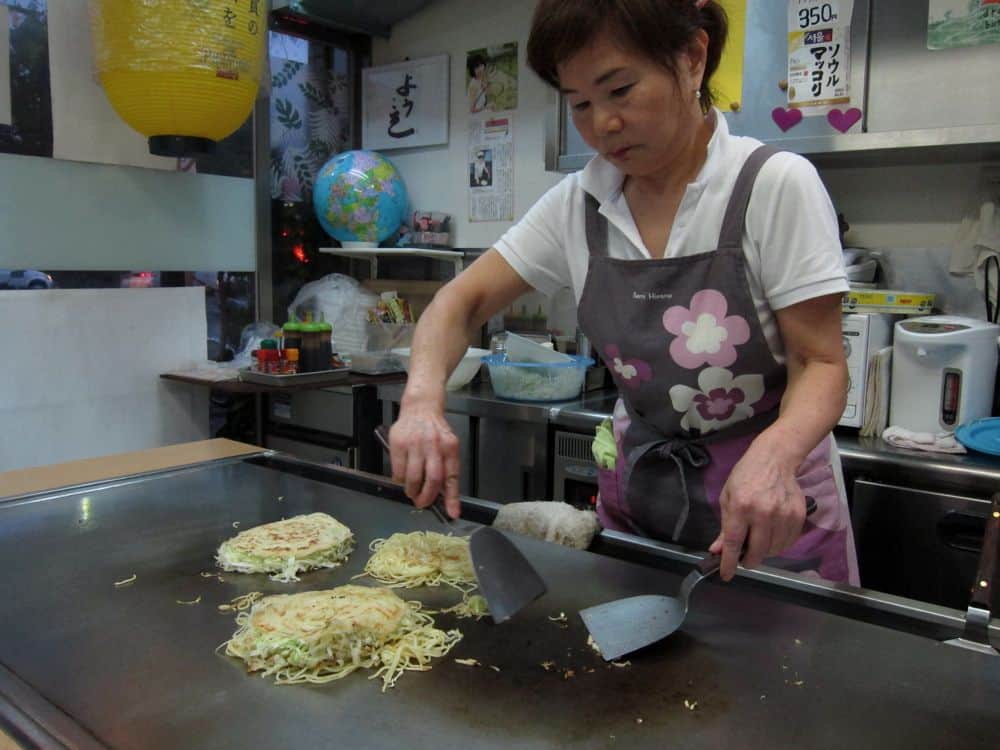 Most Fun Experience – Simon loved playing the taiko drum games in the many arcades, but the most fun experience was definitely visiting Disney Sea in Tokyo.
Scariest Experience – Our first experience of communal baths during our temple-stay in Koya-san.
Most Memorable Experience – Spotting a geisha in Gion, and watching the early-morning chanting and fire ceremony after our night in a Japanese temple.
Best Deal – Getting a one week Japan Rail Pass. Although it was expensive it still saved us a lot and we loved being able to jump on trains whenever we wanted. The trains are comfortable, fast, and always on time. Bullet trains are particularly awesome. Read our guide to working out whether a Japan Rail Pass is worth it for you.
Worst Deal – Japan is expensive and although we found it worth the money we wish traditional ryokan accommodation wasn't quite so pricey. It's much cheaper to stay in business hotels but far less atmospheric.
Biggest Surprise – How wonderfully polite the Japanese people are. We had heard this of course but the people exceeded our expectations.
Second Biggest Surprise – How few western tourists we saw in Japan.
Would we go back? – Absolutely! There is so much more we want to see in Japan and we'd love to experience the different seasons – cherry blossom viewing in spring and snowboarding in winter, as well as the different islands.
Update: We did indeed go back in September/October 2017 and again in February, March and April 2019. See our 2 Week Japan Itinerary and the best places to visit in Japan for some of our favourite places. We also spent 10 days in Tokyo and loved it even more this time—see the coolest things to do in Tokyo.
Read More About Our Japan Trip
If you are planning your own trip to Japan here are some posts we have written about our experiences and recommendations.
Kyoto
Other Destinations