This page contains affiliate links. Please read our disclosure for more info.
It's easy to be vegetarian in Kyoto. As Japan's ancient capital, it has a long tradition of shojin ryori or Zen Buddhist temple cuisine, which is entirely vegan and includes multiple small dishes using seasonal ingredients.
Eating in a temple is a highlight of a visit to the city, but there are many other vegetarian and vegan restaurants in Kyoto, both modern and traditional.
There is also an increasing number of traditional restaurants that specialise in one dish, like ramen or gyoza, that now provide meat-free options.
Planning is key. You will likely struggle if you wander into a random restaurant as dashi (fish broth) is used in many dishes.
We spent a month in the city tracking down the best vegetarian food in Kyoto from casual ramen joints to sophisticated multi-course meals.
Most of the vegetarian restaurants serve set lunches which include an array of seasonal dishes for a healthy, balanced, delicious, and affordable meal.
Here are our picks for the best vegetarian restaurants in Kyoto (including many vegan options) plus a map with everywhere mentioned.
Contents
Tips for Being Vegetarian in Kyoto
The Happy Cow website or app is the best resource for finding veggie-friendly meals nearby.
Make sure you have data on your phone so you can use Google Maps to find your way around. Airalo eSIMs are the easiest way to stay connected as you can set it up before you arrive.
Many of these restaurants are small, family-run places and were sometimes closed when we expected them to be open.
It's worth checking their Facebook pages before you visit for any unexpected closures (you may have to use Google Translate). It's always a good idea to have a backup plan.
I've included current prices but they are subject to change. Note that most restaurants don't accept credit cards. 7-Eleven is the best place to withdraw cash with international cards for free.
The current exchange rate is approximately 1 USD = 142 yen and 1 GBP = 167 yen.
Our vegetarian Japan guide has lots more tips.
Kyoto Vegetarian Restaurants
All these restaurants and cafes are entirely vegetarian (most are vegan), so you can safely choose anything from the menu.
I'm also excited to try Vegan Ramen Uzu on our next visit. The 100% vegan menu includes four types of ramen plus sushi in a stylish space featuring teamLab artwork.
1) Shigetsu (TOP PICK)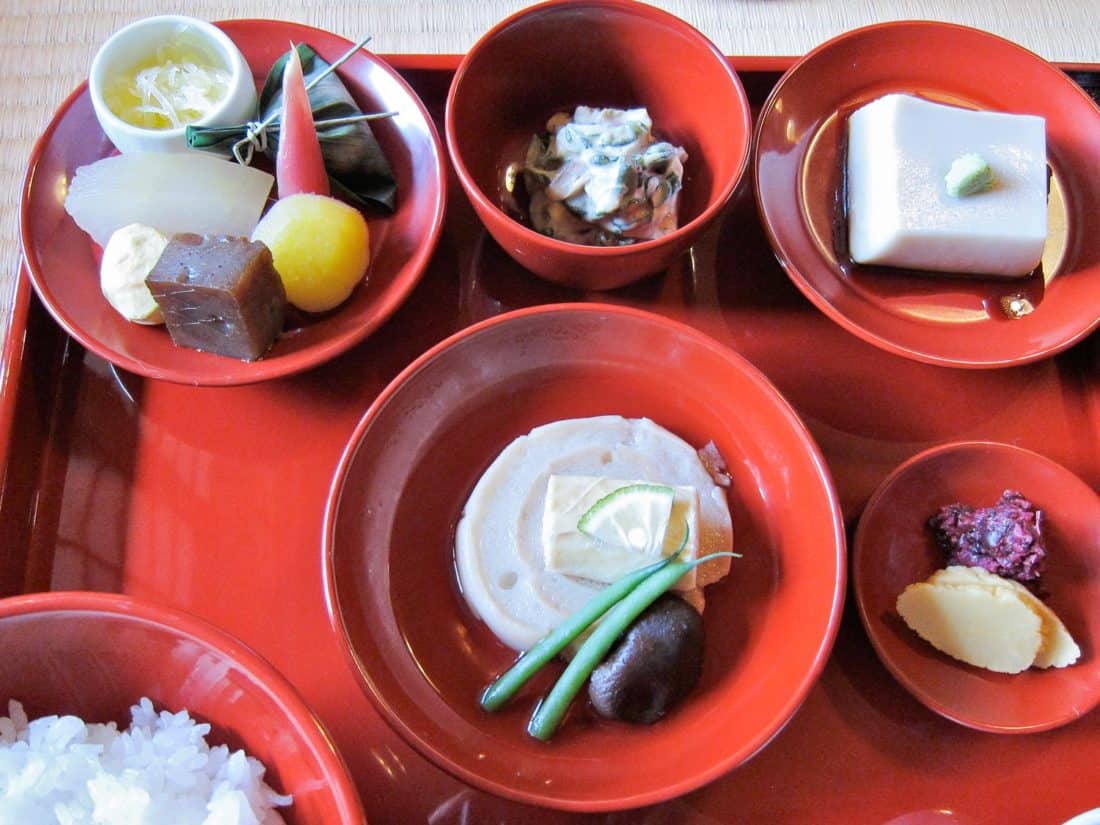 The best place to try Zen Buddhist cuisine or shojin ryori in Kyoto is at Shigetsu inside Tenryu-ji temple. The food is entirely vegan.
It's located in the Arashiyama neighbourhood in the western hills and you can combine lunch with a day visiting the temples, bamboo forest, and other attractions in this lovely area.
See my detailed guide to the best things to do in Kyoto for more sightseeing tips.
You dine on the floor in a large tatami mat room with no tables or chairs and views of the temple's garden (apparently you can request a chair). For a while we had the huge empty space to ourselves.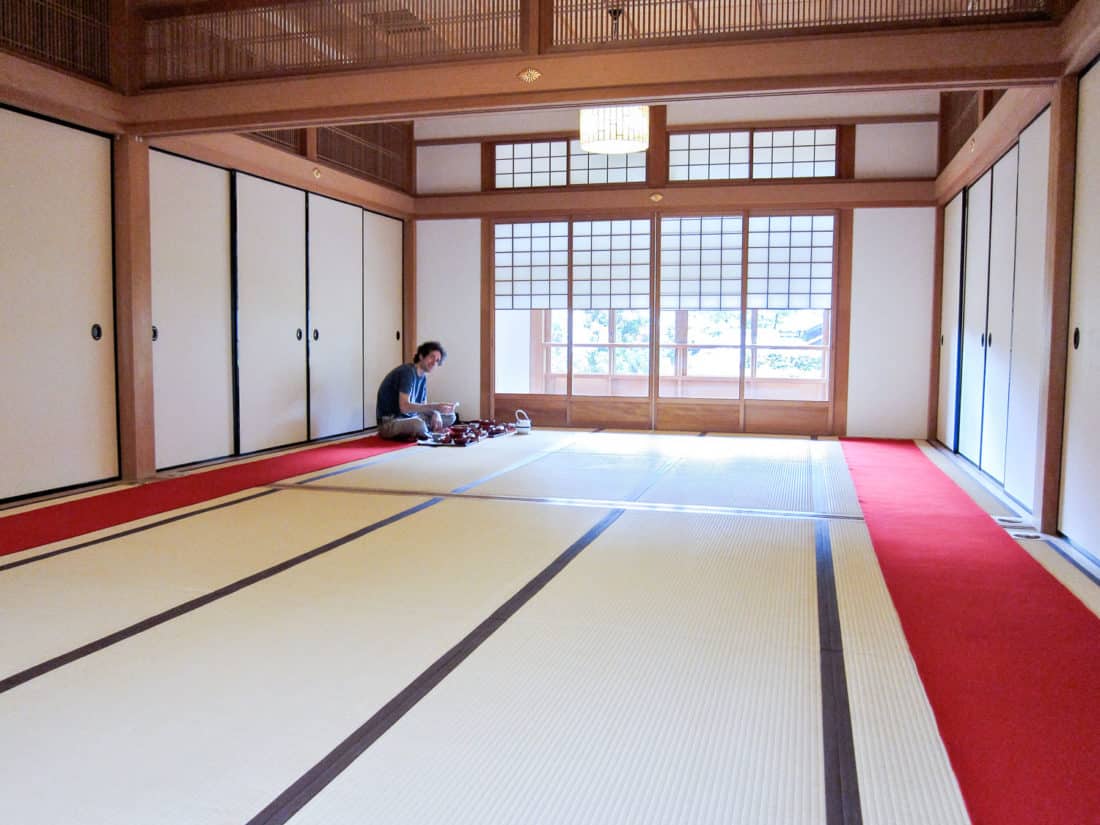 We ordered the cheapest lunch set and were served multiple small dishes on a red lacquer tray.
We couldn't identify much of what we were eating, but that's part of the culinary adventure and is the closest vegetarians can come to kaiseki (Japanese fine dining).
We later learned that the mysterious jelly-like cubes were konnyaku, known in English as Devil's Tongue, which is made from the root of the tuberous plant konjac.
Other dishes included goma dofu (sesame tofu), yuba (sheets of soy milk skin), nasu dengaku (eggplant grilled with miso), nama-fu (raw wheat gluten), pickles, mushroom and cucumber salad in a sesame sauce, and pumpkin soup.
The food ranged from exquisite to odd and we loved the opportunity to try random things knowing that it was all meat-free, something we don't often get to do.
Make sure you make a reservation on their website—ideally at least a few weeks in advance as they do book up.
Cost: 3300 yen, 5500 yen or 8000 yen for lunch set including rice, soup and five, six, or seven side dishes. You must also pay the 500 yen temple entrance fee.
Details: Inside Tenryu-ji temple, Arashiyama. Open from 11 am – 2 pm every day.
Website: Shigetsu
2) Hobodo Cafe (TOP PICK)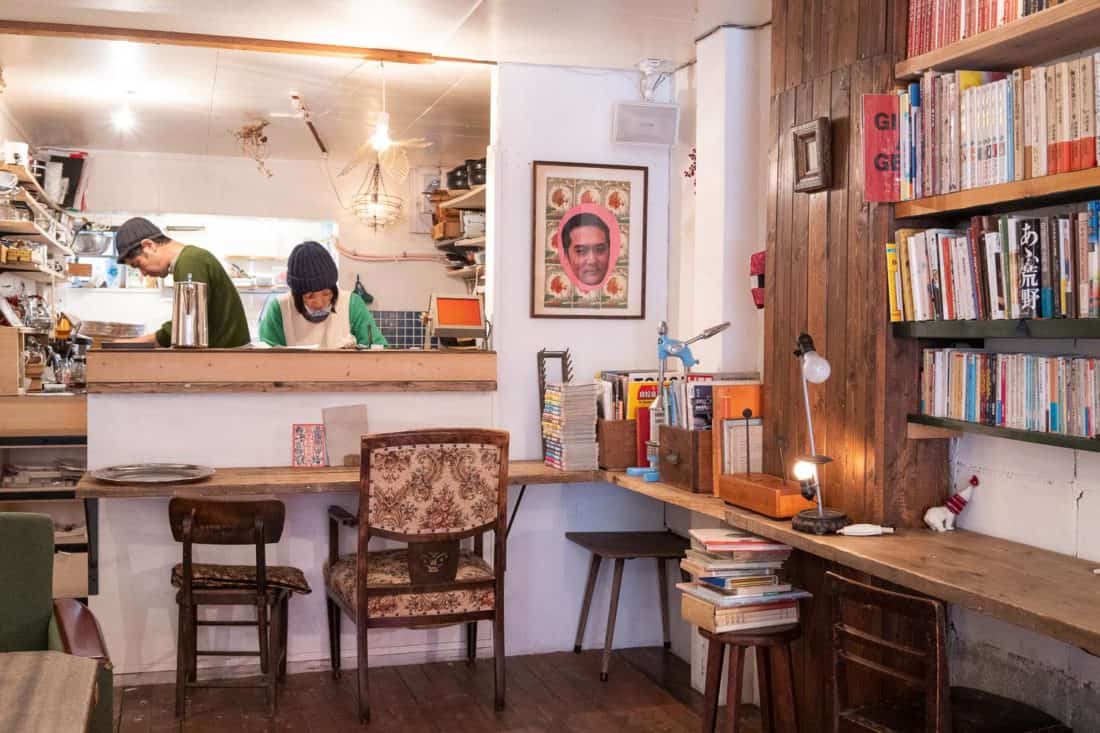 This cute Kyoto vegan cafe has a relaxed, vintage vibe with mismatched furniture and shelves of books.
It's in a quiet, off-the-beaten-track residential neighbourhood, but it's only a 15-minute walk from Gion.
The friendly couple who run Hobodo Cafe speak some English and provide an English menu. You have the choice of curry, the set lunch, or a takeaway bento box.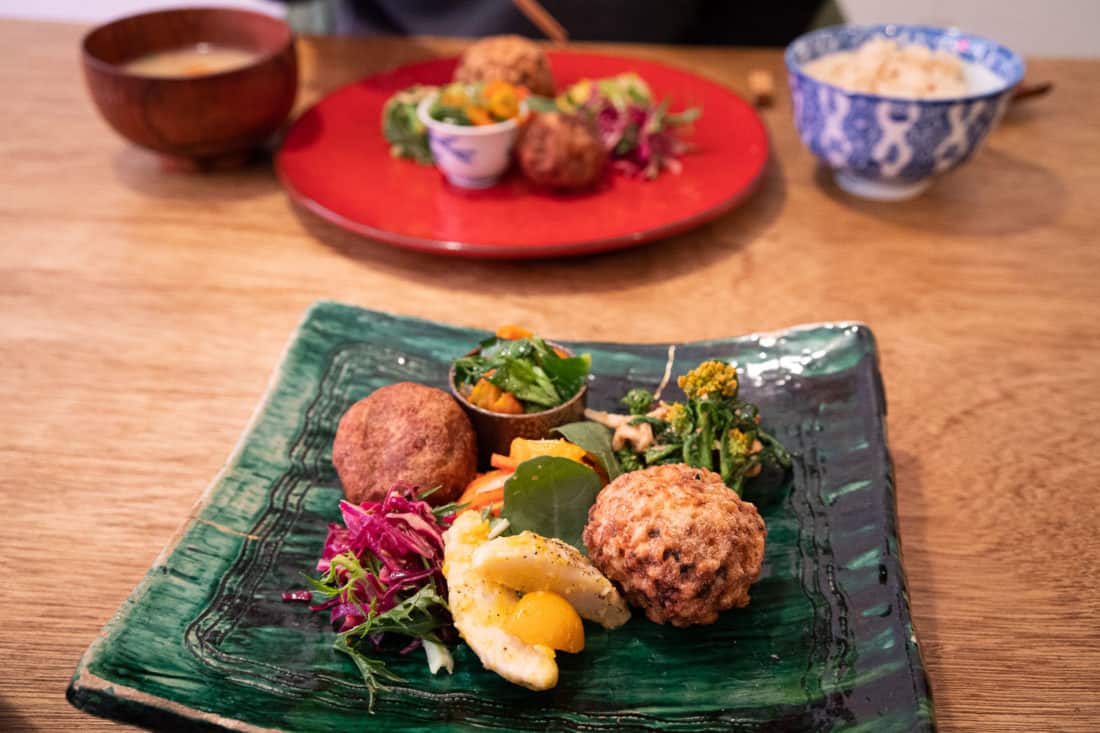 We had the excellent value set lunch and it was one of our favourites in Kyoto. It includes rice, miso soup, and seven side dishes—ours included delicious dumplings and various vegetables.
Cost: 1200 yen for lunch set.
Details: 東大路西入 正往寺町452 仁王門アパート1F. Open from Fri – Sun 11.30am – 5pm (last order 4pm) and closes on random days (check Facebook). They may run out of food later in the day.
Website: Facebook
3) Little Heaven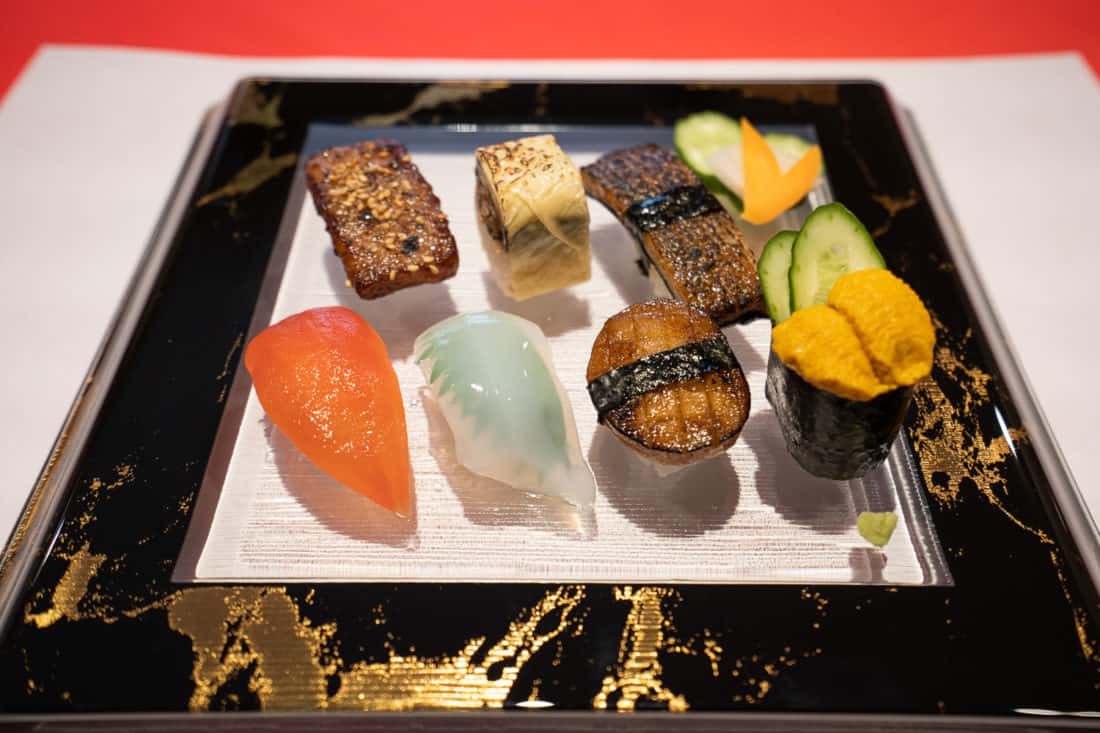 For high-end, creative vegan food in Kyoto, head to Little Heaven. They make a modern version of shojin ryori—there are many courses of beautifully presented, seasonal dishes but some westernised dishes are mixed with the traditional Japanese.
We were seated in a private room on a western-style table and chairs overlooking a small garden.
Highlights of our meal included yuba cooked in various ways, an impressive plate of sushi (replicating eel, tuna, and scallops), and an incredibly creamy matcha tofu cheesecake.
There were so many beautiful touches like vegetables shaped like butterflies.
It's in the Arashiyama area but a few train stops from the main area.
You need to book at least three days in advance, but a few weeks is better. You can email [email protected] or book via their website.
Cost: 7000 yen for set menu plus 8% tax and 5% service.
Details: Sagano hirakichou 8–29 Ukyou-ku. Open from 12pm – 7pm. Irregular opening days. Booking essential.
Website: Little Heaven
4) Peaceful Rice Padma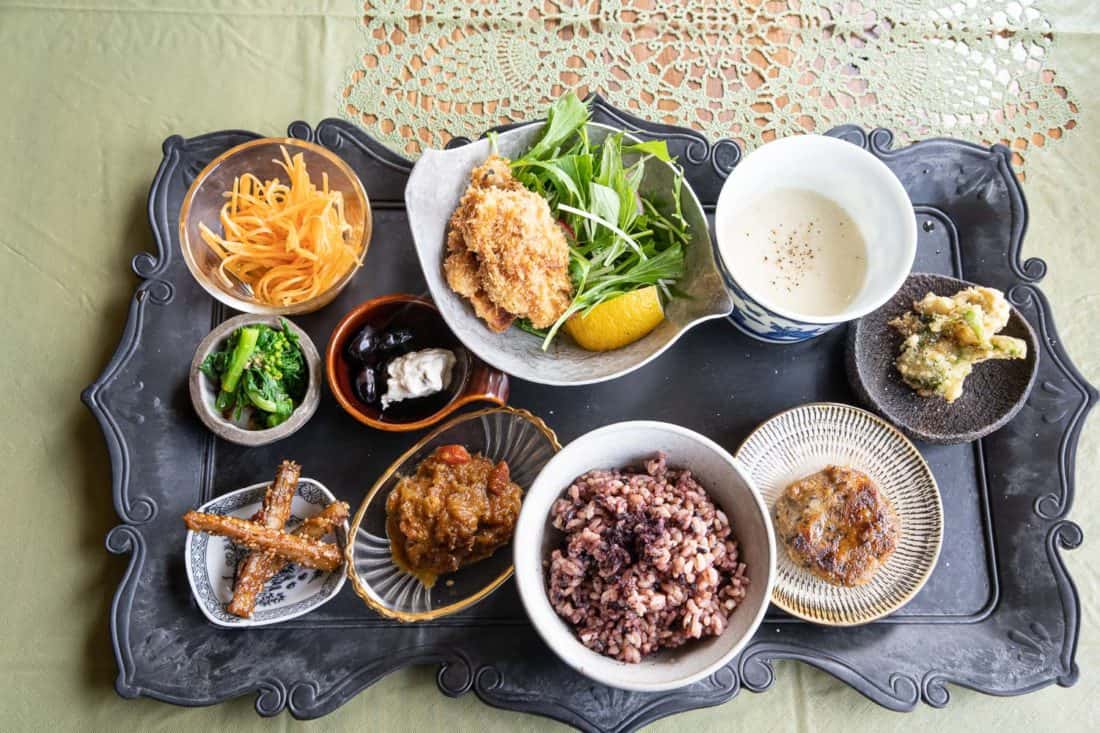 This Kyoto vegetarian restaurant has eclectic decor, large windows overlooking the Kamo river, and a small range of vegan products for sale.
At lunch there are two set meals and a curry plate. I got the most expensive Peaceful lunch set which included rice, soup, and lots of small dishes.
It included a few soy meat dishes (deep fried and in curry) which I don't usually like, but it was well prepared and the vegetables balanced it out.
Simon enjoyed the curry which was a generous amount of food but less variety than the lunch set.
While the food is vegan, they do serve cow's milk.
Cost: 1200 yen for curry, 1200 yen – 2000 yen for lunch set.
Details: 2nd floor of Ebisu building (the door is to the left of Lawsons), Shimozutsumi-cho, 82. Open from Tues – Wed and Fri – Sun 12pm – 7pm. Closed Monday and Thursday.
Website: Peaceful Rice Padma
5) Veg Out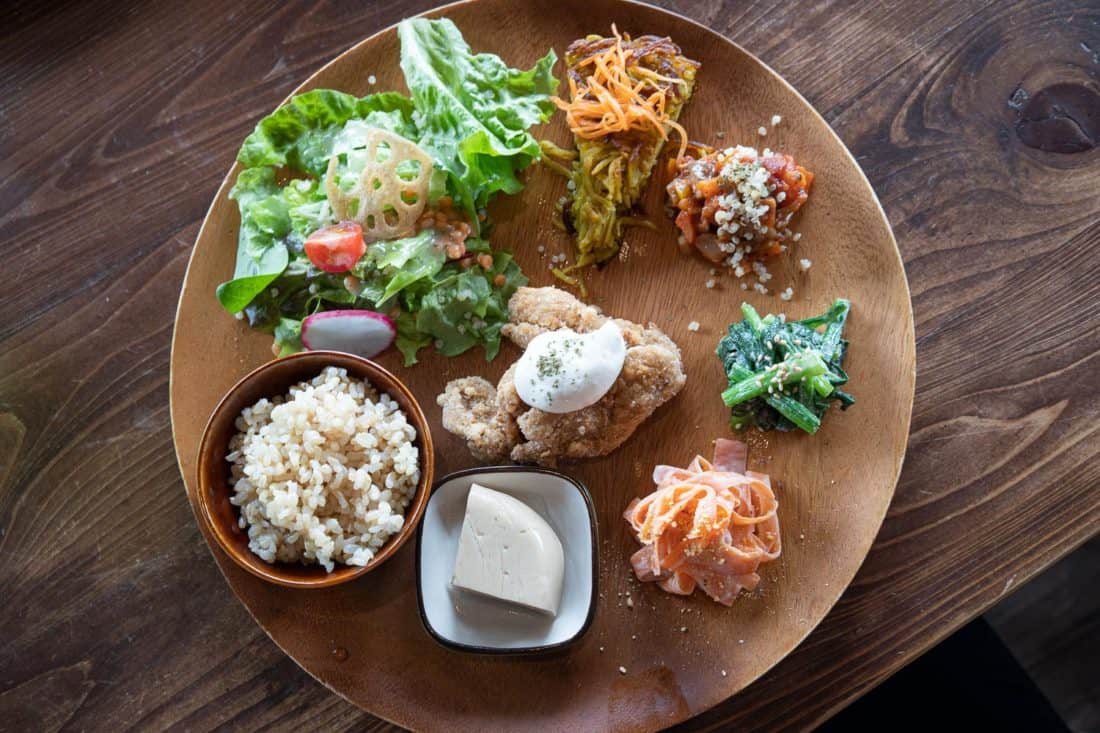 Veg Out is a Kyoto vegan cafe with a great location overlooking the Kamo River.
The plant-based menu includes Buddha bowls and paninis but our favourite dish was the obanzai lunch set which includes rice, soup, salad, and a mix of Japanese and international dishes.
The raw mint chocolate cheesecake and kombucha were also delicious and they have a small bulk buy section including granola.
Cost: Lunch dishes from 1100 yen.
Details: 1F, 44 Inari-cho, Shimogyo-ku. Open from 9am – 6pm (earlier if they run out). Closed Mondays and some irregular days (check Facebook).
Website: Veg Out
6) Cafe Waka at Otera House ( 和香)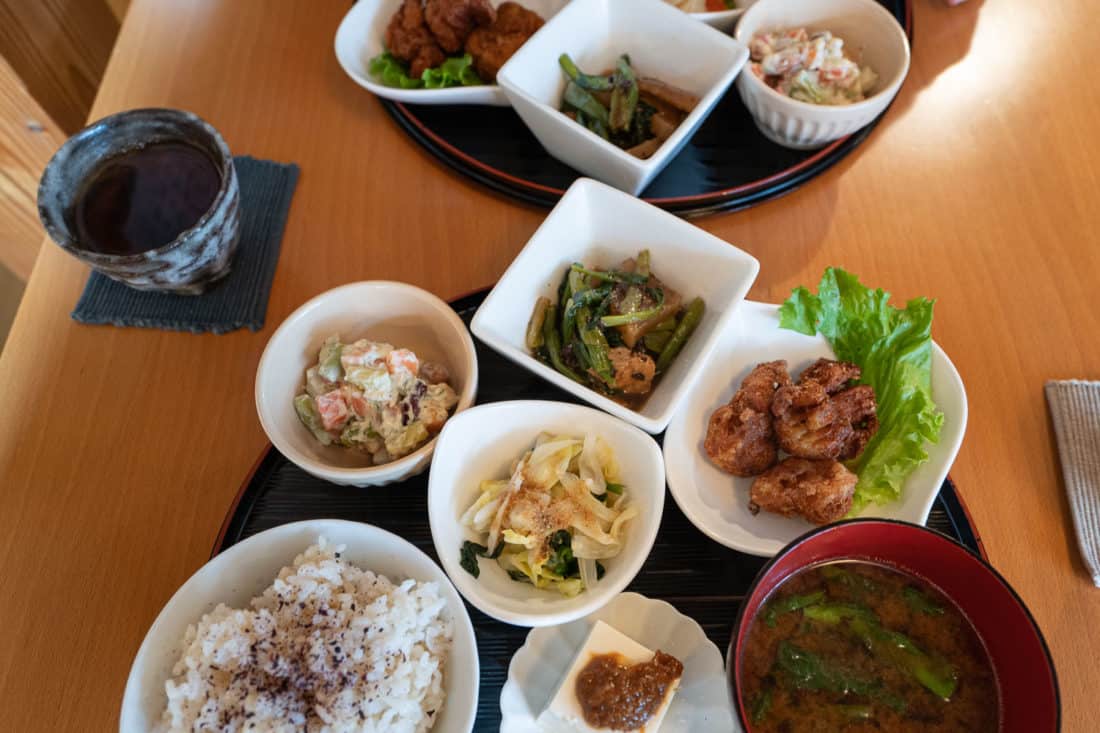 Cafe Waka offers delicious vegetarian Buddhist set lunches. The location is a little off-the-beaten-track (we were the only tourists there), but it's only a 15-minute walk across the river from Gion.
Our set lunch included tea, rice, miso soup, pickles, deep-fried soy meatballs, leafy greens with tofu, cold silken tofu in miso sauce, and vegetables in mayonnaise.
It's great value and you can also get an even cheaper lunch box to take away.
I believe all the dishes except the cakes are vegan, but it's best to check.
Cost: 1000 yen for lunch set and 600 yen for takeaway lunch box.
Details: 397–9 Shinkaichō, Shimogyō-ku. Open from 11.30 am – 3 pm on Wednesday, Thursday, Friday and Saturday.
Website: Otera House website and Happy Cow listing.
7) Yoshuji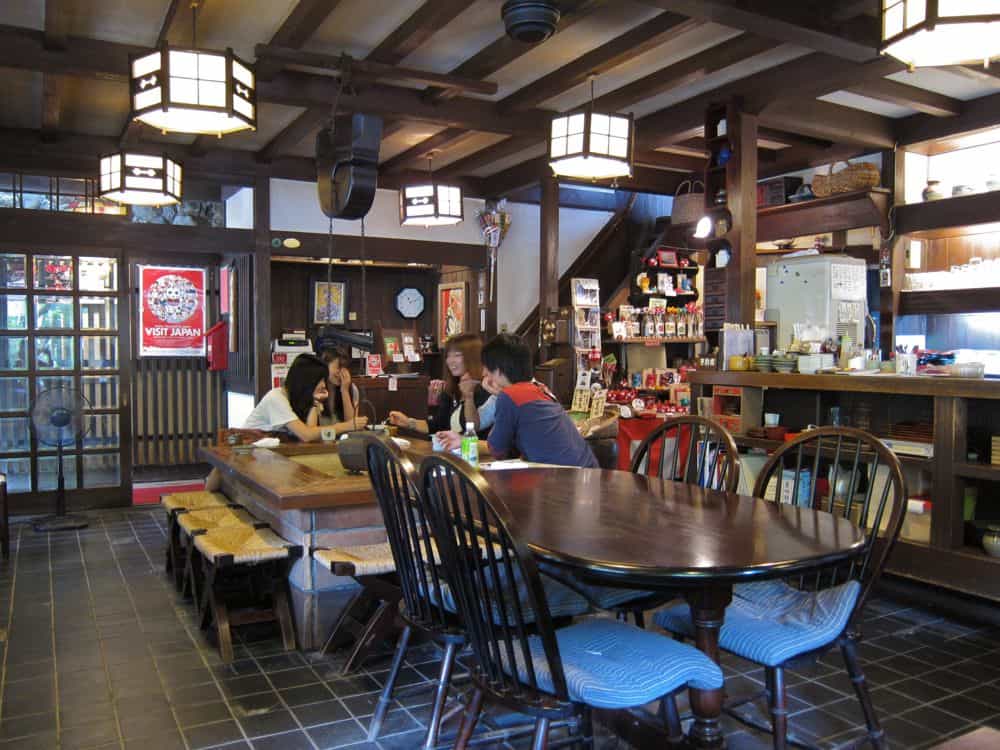 Yoshuji is a vegetarian, mostly vegan restaurant in the village of Kurama in the mountains north of Kyoto.
One of our favourite things to do in Kyoto is take the train to Kibune and hike through the forest to Kurama where you can visit the beautiful Kurama-dera temple and finish with lunch at Yoshuji.
The restaurant is in a cosy Japanese farmhouse with an irori (fire pit) in the centre. You can order a bowl of noodles or shojin ryori set lunches.
We chose the cheapest set which came with rice, miso soup, pickles, enoki mushrooms, goma dofu (chilled sesame tofu), mashed tofu with wild greens, mashed yam with seaweed, and konnyaku served like sashimi with a dark miso sauce.
Yoshuji is halfway up the stairs leading to Kurama-dera on the right hand side (or left as you come down as we did after hiking from Kibune). There is an English menu outside.
Cost: Noodles from 1100 yen and sets from 2200 yen – 3300 yen.
Details: 1074–2 Kuramahonmachi, Sakyō-ku. Open from 10am – 6pm. Closed Tuesday.
Website: Yoshuji
Vegetarian-Friendly Restaurants in Kyoto
Some of the best vegetarian and vegan food in Kyoto isn't found in vegetarian restaurants. The restaurants below serve meat and fish, but they also cater for vegetarians (and often vegans).
They are good options for dinner as most of the vegetarian restaurants only open for lunch. You can try classic Japanese dishes like ramen, gyoza, and okonomiyaki in a typical setting.
Another ramen restaurant I want to try is Kyoto Engine Ramen, which offers two vegan ramen and vegetable gyoza.
8) Mimikou for Udon (TOP PICK)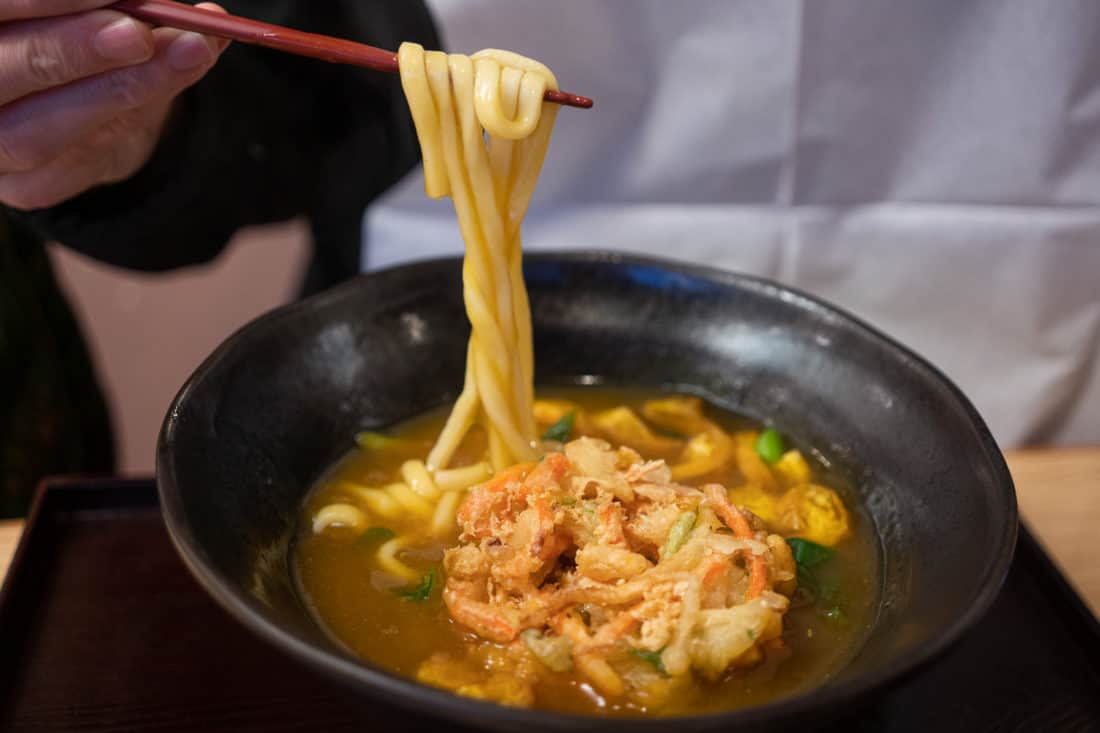 On our latest visit to Kyoto, Mimikou is the place we ate the most. This traditional udon (wheat flour noodle) restaurant is located near Yasaka Shrine and is popular with tourists.
Two pages of the English menu are dedicated to vegetarian dishes including ramen and curry donburi (rice bowls), but best of all is the curry udon.
Our favourite dish was the kitsune (fried tofu) curry udon with vegetable tempura, which is fantastic comfort food.
You can choose your type of udon (we liked the regular noodles which are quite thick), spice level (medium was ideal for us), and any extra toppings.
The vegetarian menu is vegan except for the option to add egg. They confirm that they do not use dashi in the soup.
It can be messy so use the paper bib the staff bring you!
Cost: Kitsune curry udon is 902 yen (1144 yen with tempura).
Details: 528–6 Gionmachi Minamigawa. Open from 11.30am – 7pm. Closed Monday.
Website: Mimikou
9) ChaoChao for Gyoza (TOP PICK)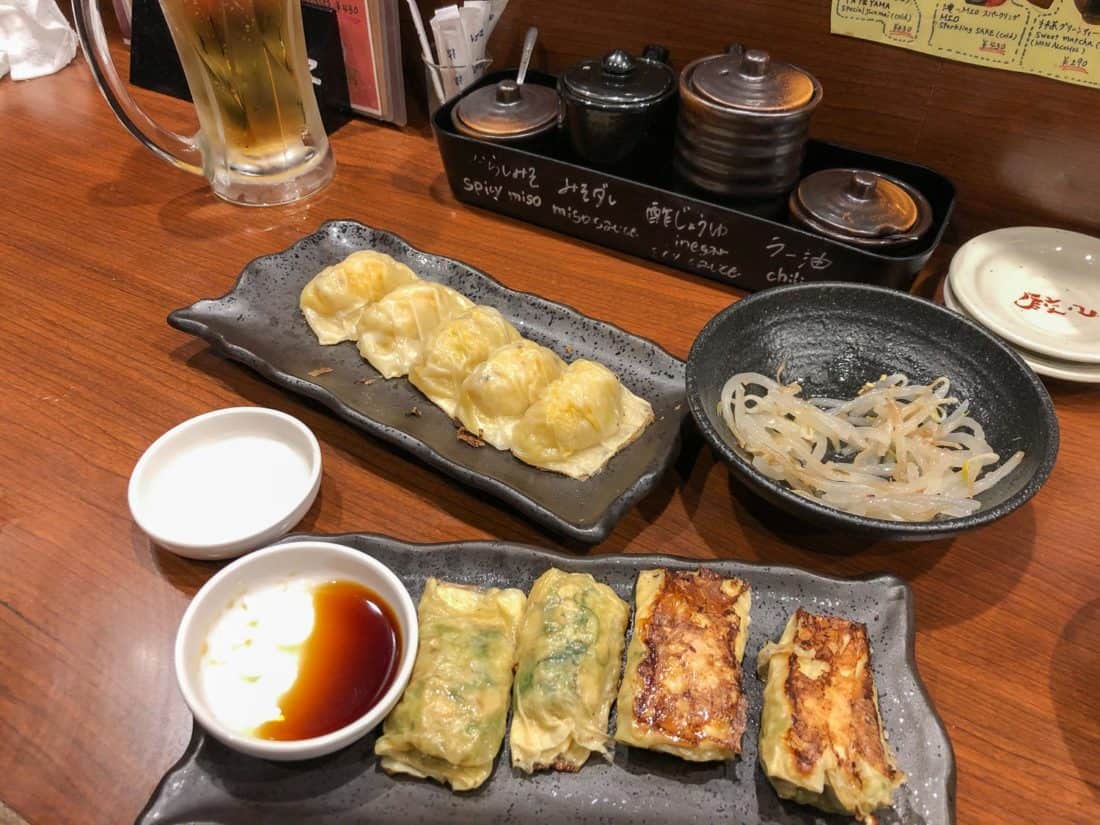 This gyoza bar is a fun place for a drink and a quick, inexpensive meal. The staff are friendly and speak some English.
The Shijo-Kawaramachi branch of Gyoza ChaoChao has a vegetarian menu in English with five types of vegetarian gyoza plus side dishes like bean sprout salad.
Vegan options are marked on the menu but are much more limited (only the yuba gyoza and a chocolate and banana dessert gyoza).
All the gyoza we tried were delicious including mashed potato, yuba, mushroom risotto with cheese, and shibazuke (soy pulp and pickles).
Cost: 1600 yen for a set including two gyoza, one side, and a drink. From 300 yen for one portion of gyoza.
Details: Shijo-Kawaramachi branch at 河原町通四条下ル順風町312–1. Open from 11.30am – 3pm/ 5pm – 11pm (all day on weekends).
Website: Gyoza ChaoChao and Happy Cow listing.
10) Tokkyu Ramen for Ramen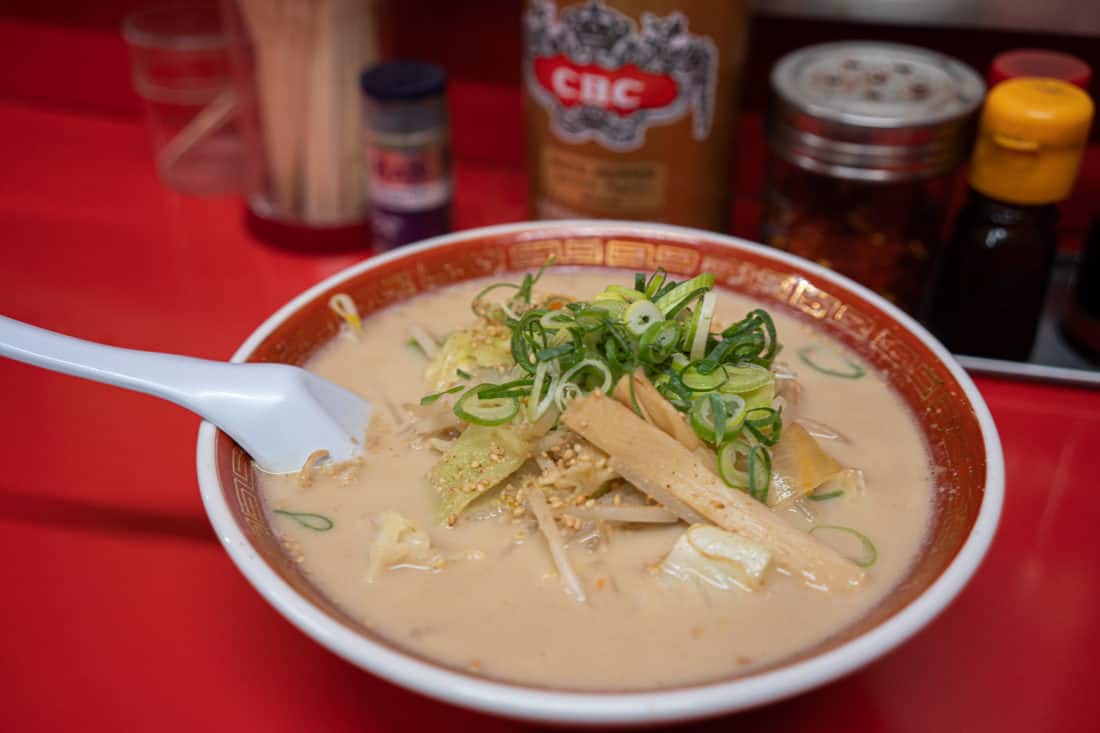 This basic ramen joint near Yasaka shrine has no English sign so look for the red lantern and hand-written sign saying vegan and vegetarian ramen.
They offer one vegan ramen made with a creamy sesame miso broth topped with bean sprouts, cabbage, green onions, bamboo shoots, and sesame seeds.
It's not our favourite Kyoto vegan ramen, but the location is convenient when sightseeing in Gion.
Cost: 850 yen for vegan ramen.
Details: 30–4 Bishamonchō, Higashiyama-ku. Open Mon – Tues and Thurs – Sat 11.3am – midnight, Sun 11.30am – 8.30pm. Closed Wednesday.
Website: Happy Cow
11) Tousuiro for Tofu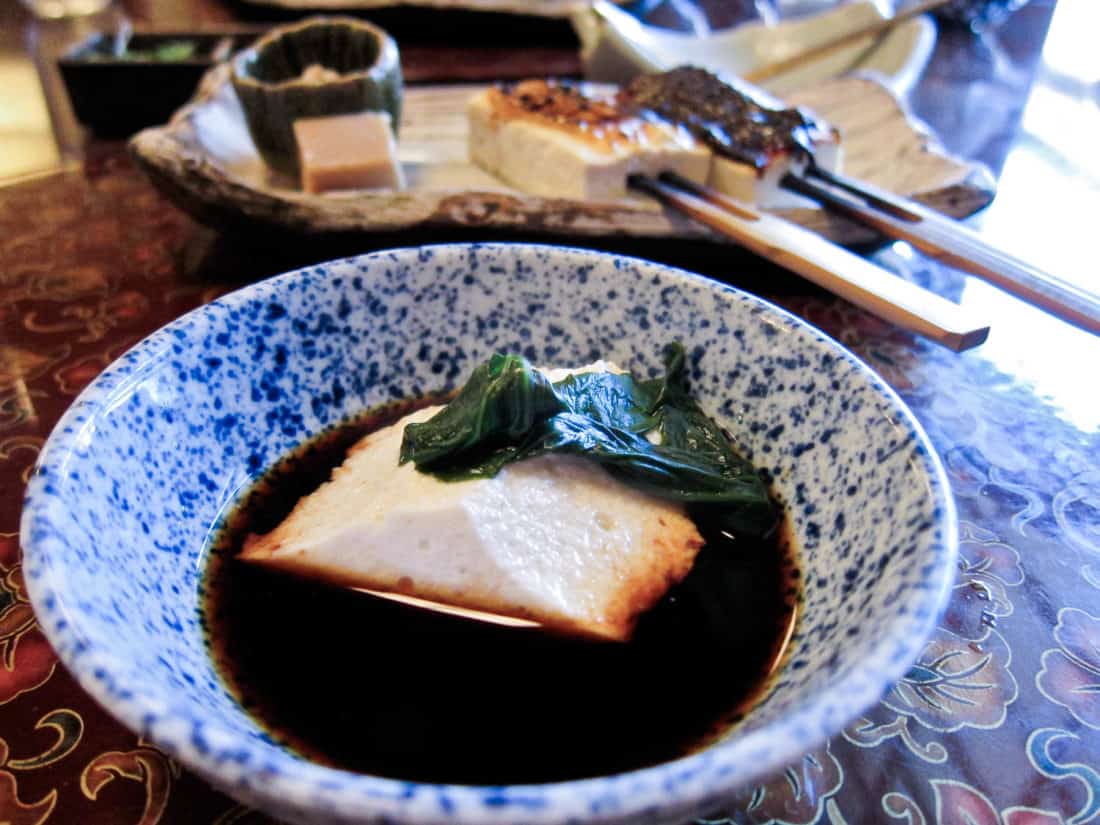 Kyoto is famous for its tofu and there are a number of restaurants that specialise in it, but they usually use dashi.
The Gion branch of Tousuiro offers a vegan set menu as well as a vegan and gluten-free kaiseki set menu.
It's not cheap but it is an unusual experience and the setting is traditional in a 130-year-old merchant house.
You'll experience tofu in all its forms including goma dofu (sesame tofu), yuba (soy milk skin), yudofu (a simmering pot of tofu and greens), and grilled miso-glazed dengaku tofu. We did get a little tofued out but are glad we tried it.
You no longer need to book the vegan menu in advance, but the gluten-free version does require a reservation.
As it's a popular place, it's highly recommended to reserve a table anyway. If you make a reservation by email, make sure to email at least three days in advance.
Cost: 8000 yen (including tax and service) for Rokuhara vegan set. 9000 yen for vegan and gluten-free set.
Details: 38–1, Bisyamonten-Cho. Open every day from 11.30am – 3pm and 5pm – 10pm (9.30pm on Sundays).
Website: Tousuiro
12) Teppan Tavern Tenamonya for Okonomiyaki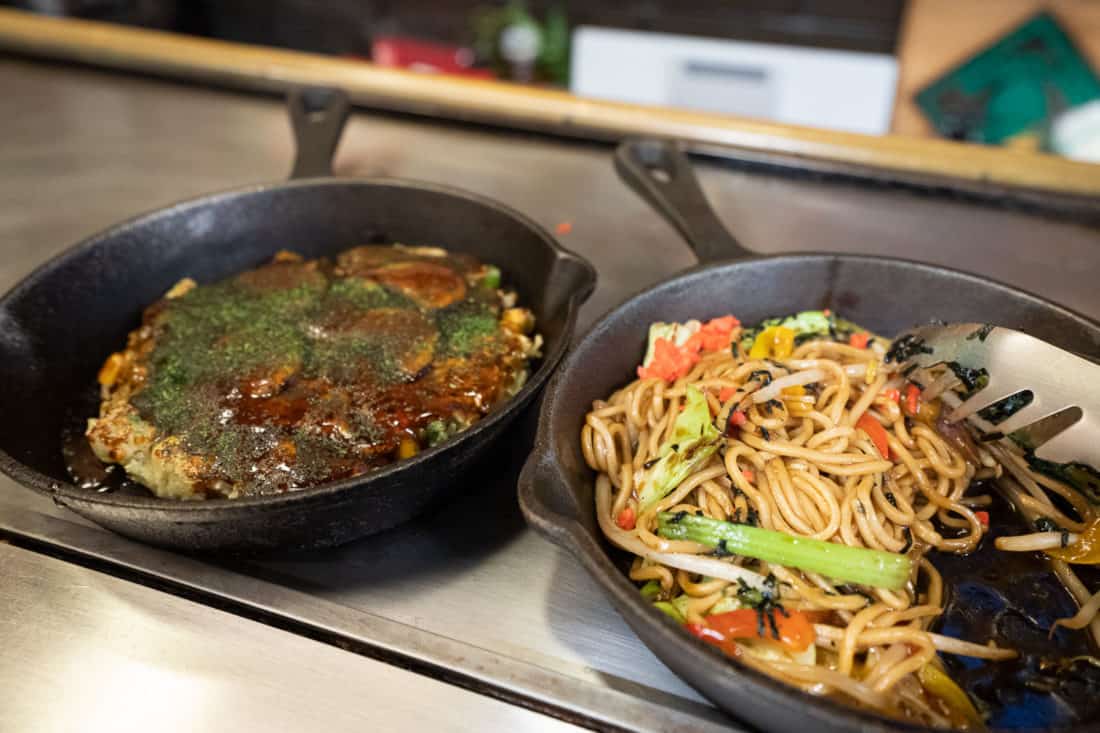 Teppan Tavern Tenamonya is not the place to go if you are offended by meat being cooked next to you, but it's a good choice if you are travelling with a meat eater who wants to try the famous wagyu beef.
It's a small izakaya (pub) with counter seating and a grill in front of you to keep the food hot.
Most of the guests are foreigners these days as it's close to Yasaka shrine, is ranked highly on Tripadvisor, has an English menu, and is run by a friendly couple.
It's so popular that booking up to two weeks in advance is essential (you can email but don't email more than 15 days ahead). They can't accommodate groups bigger than four people. Check out their website for all the details.
Despite the meat focus, they offer a number of tasty vegetarian dishes including okonomiyaki (the Hokkaido version was good), yasaka soba (fried noodles with vegetables), and fried potato with cheese.
But they don't encourage groups that are all vegetarian any longer, perhaps because they have a minimum spend of 4000 yen.
Cost: 1100 yen for Hokkaido vegetarian okonomiyaki.
Details: B1F, 537–2 Gionmachi Minamigawa. Open Fri – Wed 5pm – 10pm. Closed Thursday.
Website: Teppan Tavern Tenamonya
13) CoCo Icibanya for Japanese Curry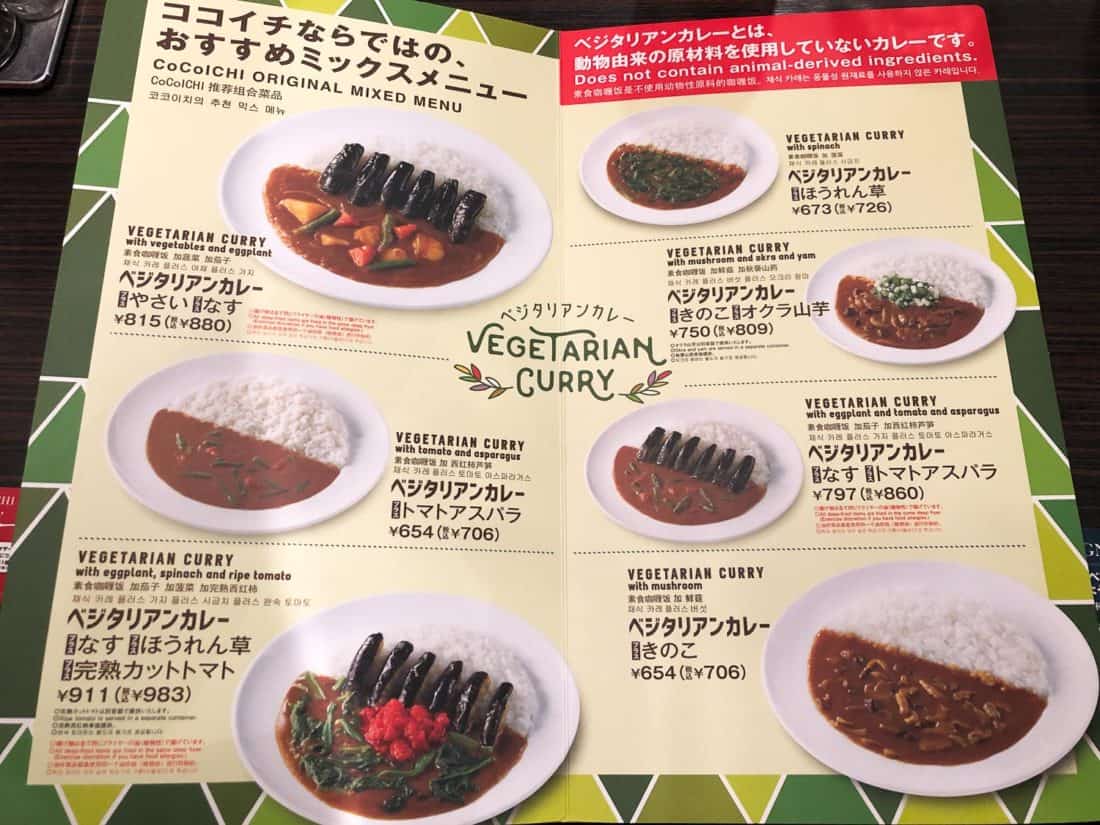 Looking for the nearest CoCo Ichibanya is one of the easiest ways to find a vegetarian meal in Japan.
Most branches of this Japanese curry chain have a separate vegetarian menu—look for signs on the window or for the green menu at the tables. The regular English menu is helpful to explain the ordering process.
You choose your fillings (we usually get vegetables and eggplant), spice level (3 is pretty spicy), and size of rice portion. It's tasty, filling, inexpensive, and quick.
While they describe it as a vegetarian curry, it is actually vegan.
We went to CoCo Ichibanya Keihan Shichijo, but there are many branches. I check the Google Maps reviews to see if anyone mentions the vegetarian menu.
Cost for a Main Dish: Vegetarian curries from 705 yen.
Details: Various branches. Open from 11am – 11pm. There may be some variation between branches.
Website: CoCo Ichibanya
International Vegetarian Food in Kyoto
On short trips to Japan we usually stick to Japanese food as it's so good, but as we were there for over two months on our last trip, we did fancy something different occasionally.
Here are our favourite international restaurants for vegetarian food in Kyoto.
Vegetarian Cooking Class in Kyoto
Taking a cooking class is one of the best Kyoto activities. It's a great way to learn more about Japanese cuisine and familiarise yourself with the unusual ingredients like yuba (soy milk skin tofu) that are often found in vegetarian Japanese cuisine.
We took a private class in the home of Emi Hirayama of Uzuki Cooking who is happy to cater to vegetarians. Unfortunately, Emi is no longer running classes.
Another option is this Afternoon Japanese Izakaya Cooking Class with Cooking Sun.
They can cater to vegetarians and you learn to make 5-6 home-style dishes. Just be aware of the likelihood that others in the class will be cooking non-vegetarian food. If this bothers you, you can pay for a private class.
They also offer a Nishiki Market tour followed by a donburi (rice bowl) cooking class. Vegetarians can make tempura.
Vegetarian Kyoto Map
Our Kyoto vegetarian map lists all the restaurants mentioned above.
The vegetarian and vegan restaurants in Kyoto are marked in green, veggie-friendly traditional restaurants in blue, and international restaurants in yellow.
Summary
I hope you enjoy eating your way around Kyoto as a vegetarian as much as we did! There are many more vegetarian restaurants that we didn't have time to try. Leave a comment below if you have any more recommendations.
More Japan Posts
Our Vegetarian Japan Guides
Japan Tips
Enjoyed this post? Pin it for later!