Japan is somewhere I think everyone should visit. From futuristic skyscrapers to tranquil bamboo forests and neon arcades to serene temples, it's like nowhere else on the planet.
The food is incredible, the people are ultra polite, and it has one of the most efficient public transport systems in the world. We love the combination of ease of travel and glorious bewilderment.
Japan has so much to offer but where should you start? These are our picks for the 10 best places to visit in Japan, perfect for your first or second trip to the country (plus extra suggestions for the repeat visits that are likely to happen!).
I've included our favourite things to do in each place, how long to spend there, and where we stayed. At the end of the post you'll find a map of all these Japan destinations to start planning your route.
I recommend mixing a few of the popular cities (most people won't want to miss Tokyo and Kyoto) with some quieter, more rural places in Japan to see a different side of the country and take a break from the crowds.
Contents
Video of Japan Must Sees
Watch our short video for ideas on where to go in Japan for an amazing trip.
Top Places to Visit in Japan
1) Kyoto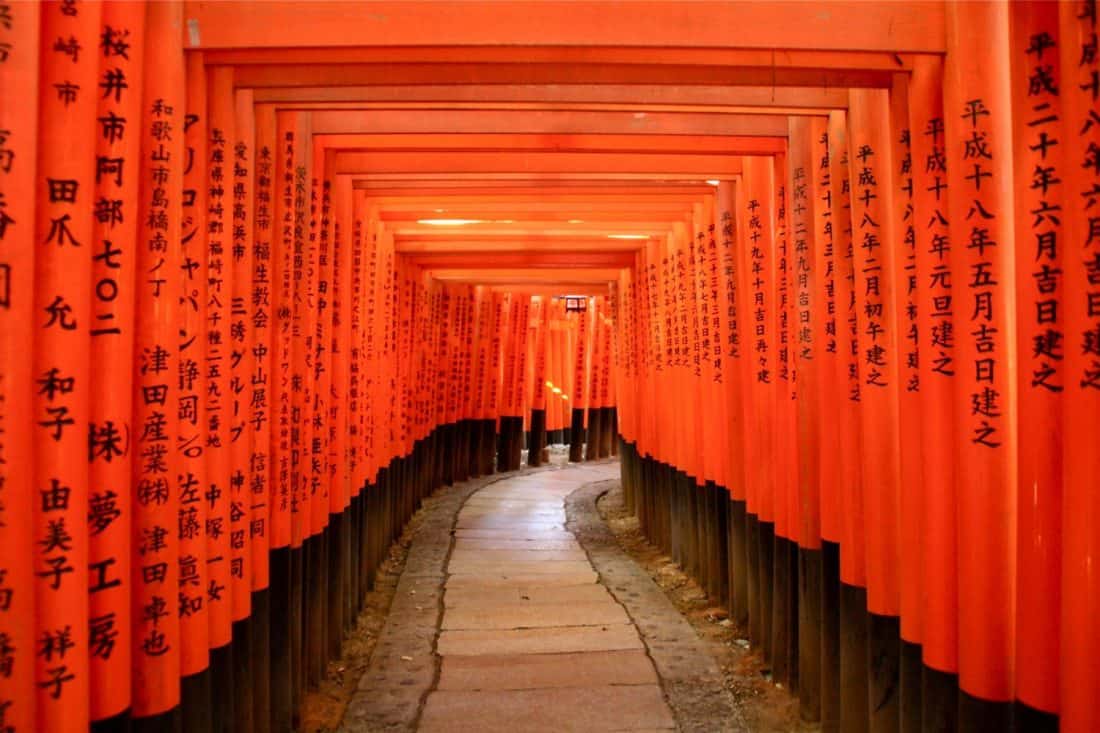 If you only have time for one Japan destination, make it Kyoto.
This is traditional Japan as you imagined it—geisha in brightly coloured kimonos emerging from wooden teahouses, forests of bamboo, temples and shrines in gold and silver and scarlet, raked gravel Zen gardens, intricate feasts served on lacquered plates, graceful tea ceremonies, and markets full of intriguing but unidentifiable ingredients.
The concrete high-rises of downtown Kyoto can be disappointing, so head out towards the mountains to the surrounding neighbourhoods where you'll find narrow stone streets, old wooden houses, monks in flowing robes, and the sounds of chanting and gongs from the many temples and shrines.
Gion is the place to spot geisha, Higashiyama has many beautiful temples to explore, and Arashiyama, up in the western hills, is one of the most traditional neighbourhoods and home to bamboo groves, quirky temples, and monkeys.
Kyoto is one of the top Japan tourist spots, so try to visit the popular temples early in the morning as they do get crowded.
In Kyoto don't miss:
Wandering through the red torii gates of Fushimi Inari shrine.
Learning to cook traditional Japanese cuisine in a Kyoto cooking class.
Getting your fortune from a vending machine at Kinkaku-ji (the Golden Temple).
Taking the train to the village of Kibune and walking across the valley to the beautiful Kurama-dera temple.
Retreating from the busy streets of Gion to the magical Yasaka-jinja at night.
Strolling the Philosopher's Path.
Experiencing Zen Buddhist cuisine at the Tenryu-ji temple.
Getting off the beaten track at the quirky Otagi Nenbutsuji temple.
Exploring these magical Kyoto cherry blossom spots if you visit in late-March or early-April.
How Long to Spend: 3 nights minimum but 5 nights would be better. We've spent two months in Kyoto and still haven't done everything! A longer stay also allows you to avoid the crowds more easily (you have more early mornings available) and take some of these wonderful day trips from Kyoto.
2) Tokyo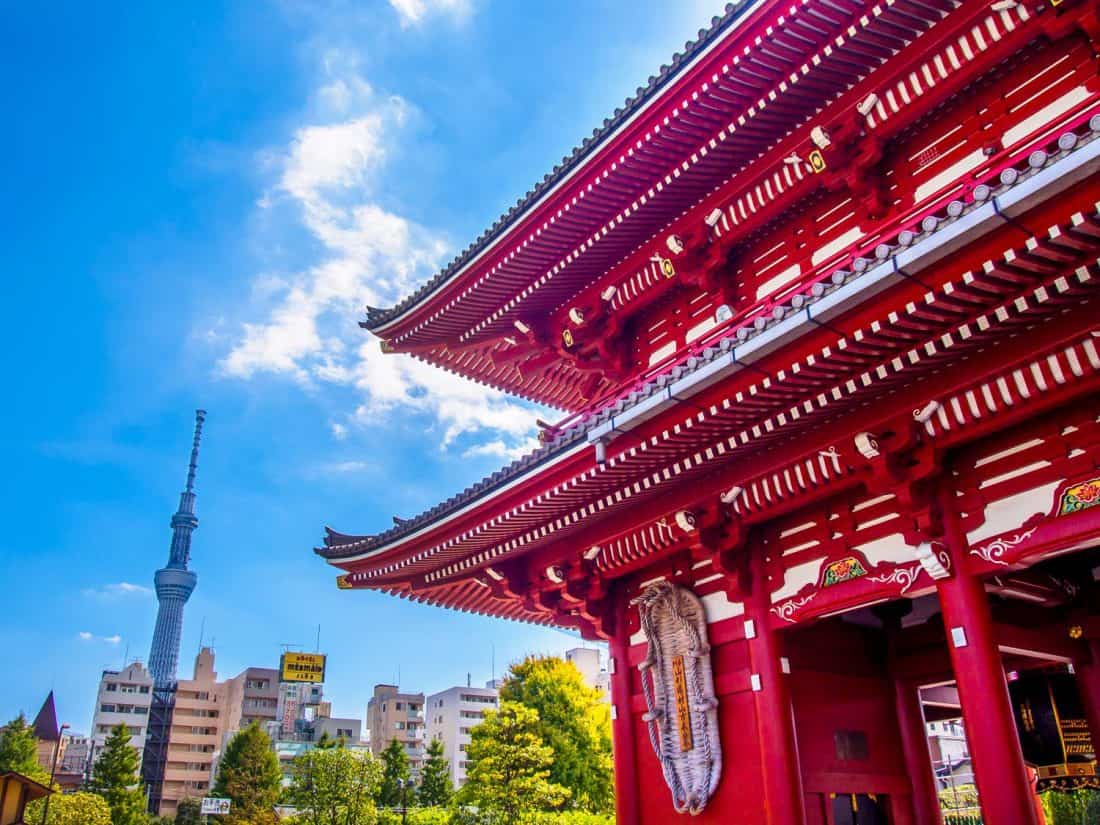 If Kyoto is the heart of traditional Japan, Tokyo is its ultramodern counterpart.
It's here you'll find the skyscrapers, noisy arcades, busy pedestrian crossings, quirky youth fashions, and many many incredibly delicious restaurants.
If all you do in Tokyo is eat, you'll have an amazing time—even as vegetarians we ate so well.
Tokyo is also home to some of the weirdest activities we've ever done. From themed cafes (cats, owls, maids, robots, goats—you name it, Tokyo has it) to sensory-overload shows and arcades to cos-play go-karting.
On my first trip to Tokyo I was overwhelmed by the sprawling city and couldn't help comparing it unfavourably to Kyoto.
On repeat visits I've grown to love the city (the food certainly helped) and while it isn't as attractive as Kyoto, there is so much to do that you won't want to skip it.
In Tokyo don't miss:
Driving a go-kart on the real roads while dressed as your favourite character. Insanity but so much fun!
Eating in a tiny restaurant on atmospheric Memory Lane.
Gazing at the night skyline from the free Tokyo Metropolitan Government Building in Shinjuku.
Walking across the famous Shibuya Crossing.
Gawping at the outrageous outfits on Takeshita Street in Harajuku.
Visiting the brilliant DisneySea (possibly our favourite Disney park in the world!) or neighbouring Tokyo Disneyland (or both if you have two days spare).
Immersing yourself in the colourful digital art museum, TeamLab Planets.
How Long to Spend: 3 – 5 nights or longer if you want to take day trips (such as to Nikko, Kawaguchiko or Hakone (for Mt Fuji), and Kamakura). We've spent over a month here on various trips and still find new things to do. If time is limited, I would allocate more time to Kyoto than Tokyo.
3) Takayama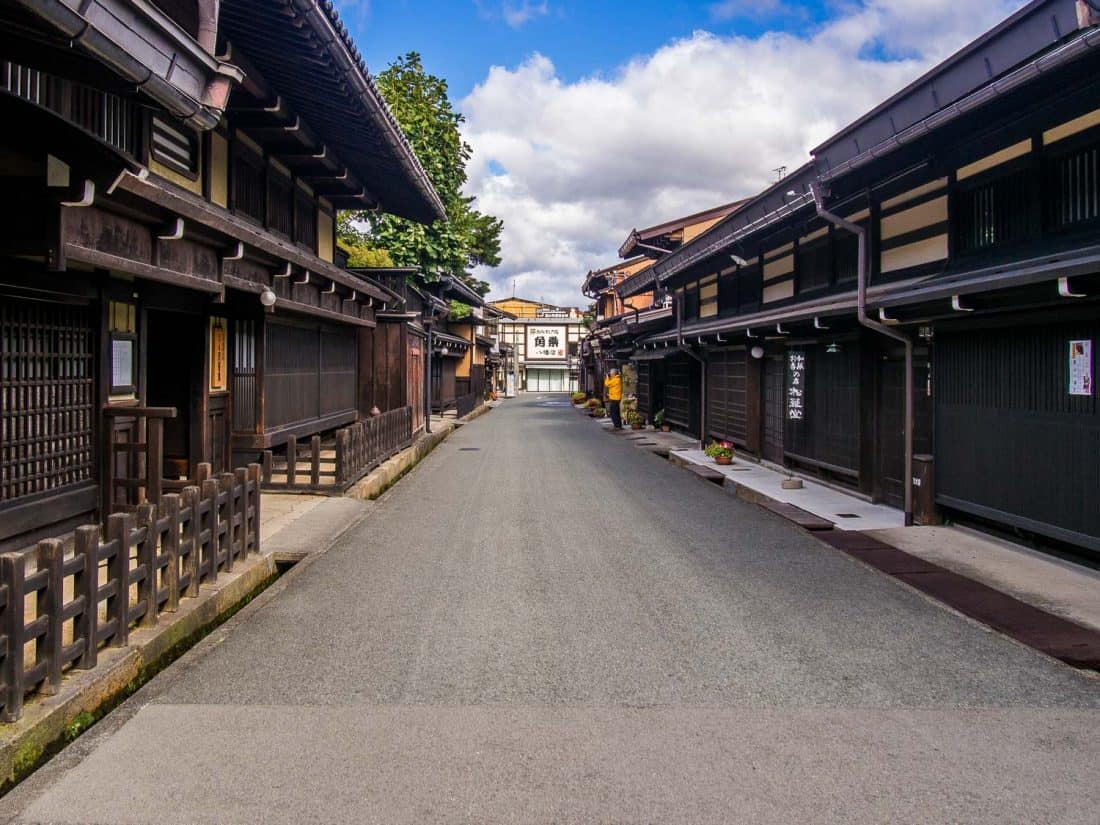 Takayama is an utterly gorgeous small town on the edge of the Japan Alps and one of the best less-visited places to go in Japan.
I loved wandering the historic centre full of traditional wooden houses, colourful shrines, neatly shaped trees, and bright red bridges over the river.
In Takayama don't miss:
Wandering the old town in the early morning before the crowds arrive.
Buying delicious fruit from the morning markets.
Snacking on mitarashi-dango (rice balls grilled in soy) from a street stall.
Seeing the extravagant floats at the Festival Floats Exhibition Hall.
Visiting the Hida Folk Village to see traditional thatched houses.
Cycling through the countryside with Satoyama Experience.
How Long to Spend: 2-3 nights. We had 2 nights and wished we'd had longer because there's lots to do in the surrounding countryside. With a longer stay you could take day trips to the traditional thatched roof houses of Shirakawa-go and go hiking in Kamikochi in the Japan Alps.
4) Hakone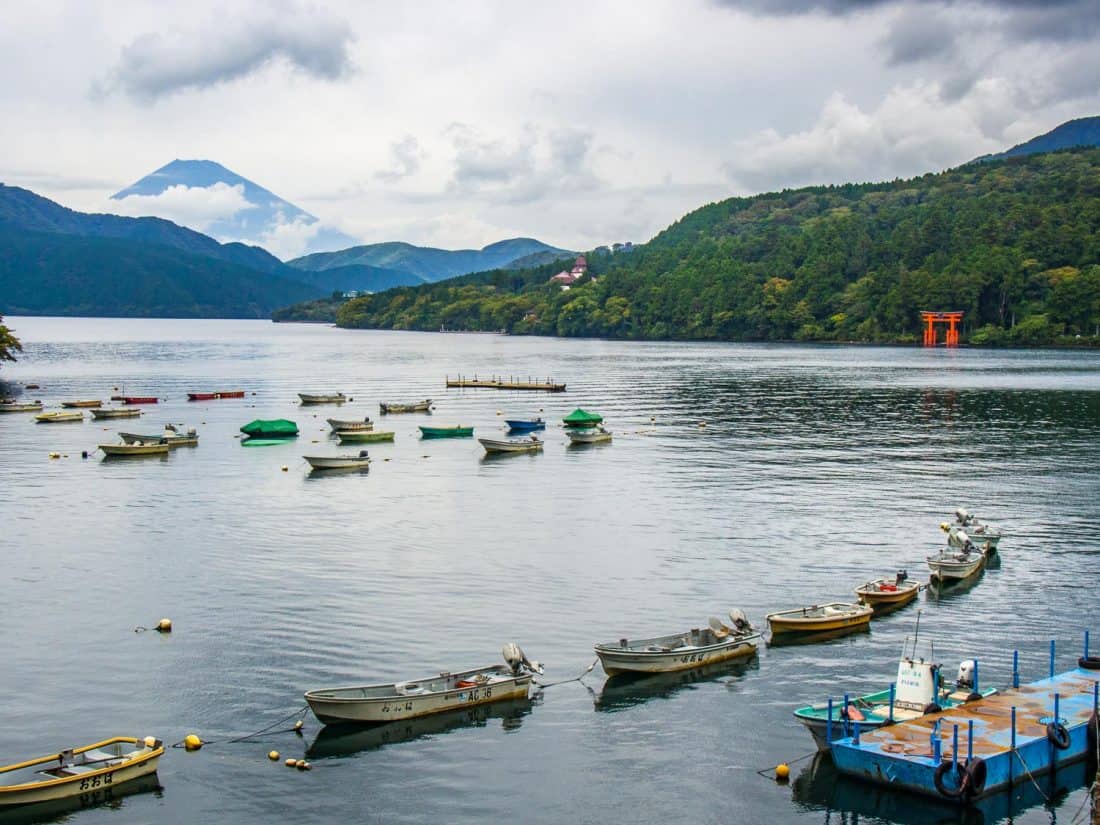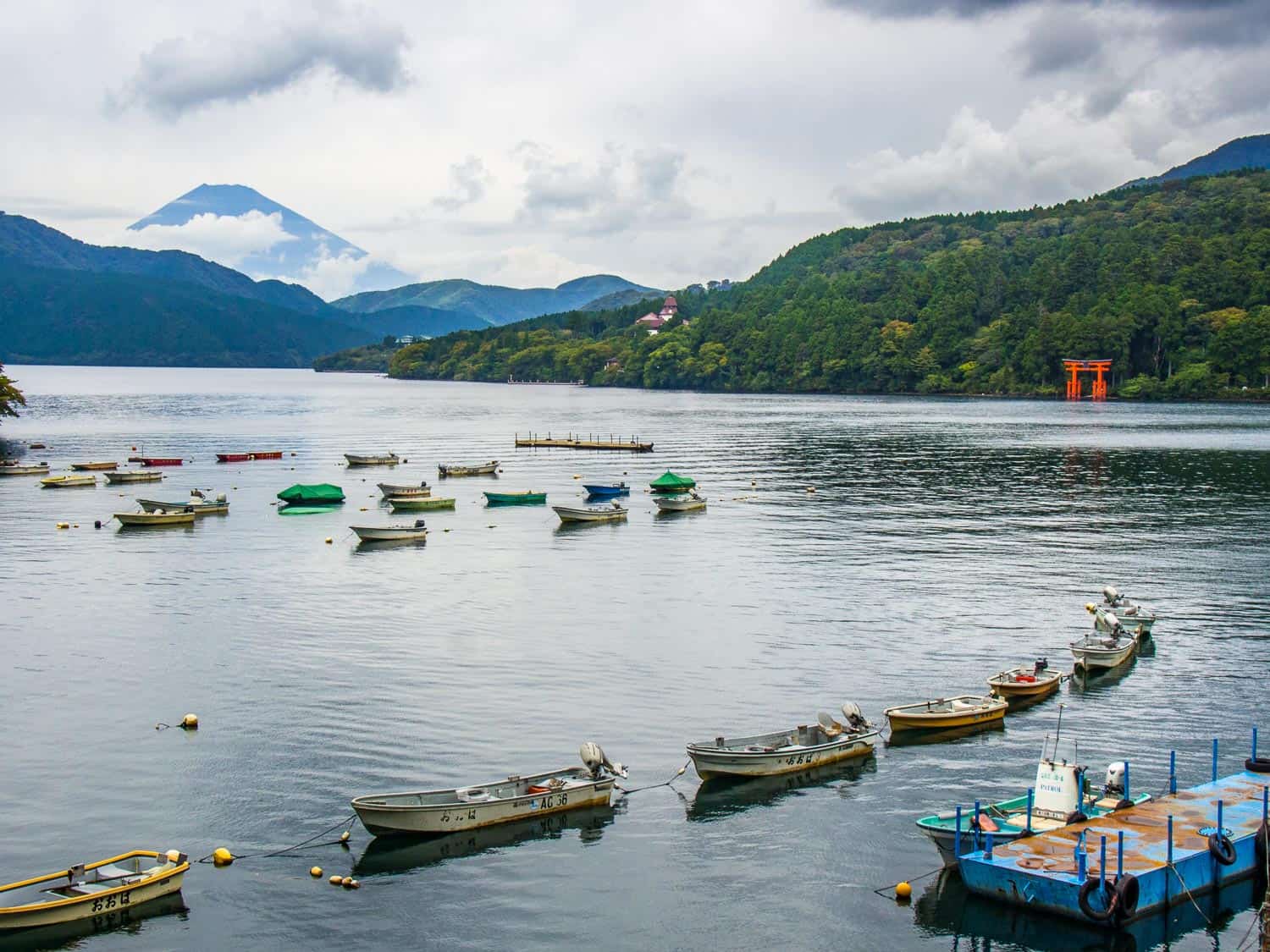 Mount Fuji is on most people's lists of places to visit in Japan, but this must-see Japan landmark can be rather elusive and is often hidden by clouds.
There are a number of places you can see the mountain from (Kawaguchiko is another great option), but Hakone is easy to reach from Tokyo and there are lots of other things to do in the area in case you are out of luck with a sighting.
Despite visiting on a cloudy, drizzly day, we were lucky that Mount Fuji emerged from the clouds above Lake Ashi and it was magical!
Hakone is also fun to visit because you can do a loop of the sights on different modes of transport—train, bus, pirate boat (yes, really!), and cable car.
In Hakone don't miss:
Buying a Hakone Free Pass so you can hop on and off all the transport options on the Hakone Loop.
Seeing Mount Fuji from the lake or cable car.
Eating a black egg cooked in the hot sulphur springs at volcanic Owakudani (not really, we skipped this, but the Japanese love them).
Soaking in an onsen.
Staying in a tatami room in a ryokan (traditional inn) and enjoying an elaborate dinner.
Wandering the outdoor sculpture gallery at Hakone Open Air Museum.
How Long to Spend: You could visit on a day trip from Tokyo but I recommend 1-2 nights to experience a ryokan and onsen. We had one night and did part of the loop in the afternoon we arrived and the rest in the morning. While it was just enough for the main sights, we wished we'd had longer to enjoy our ryokan.
5) Kanazawa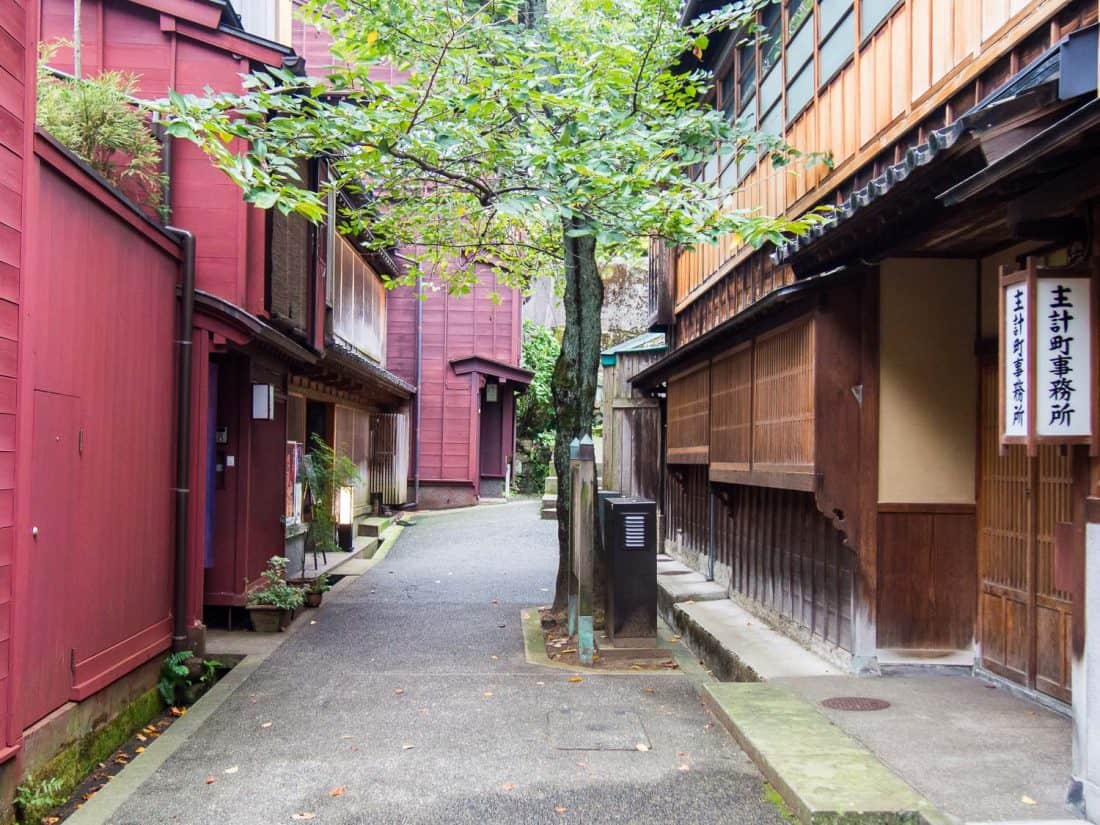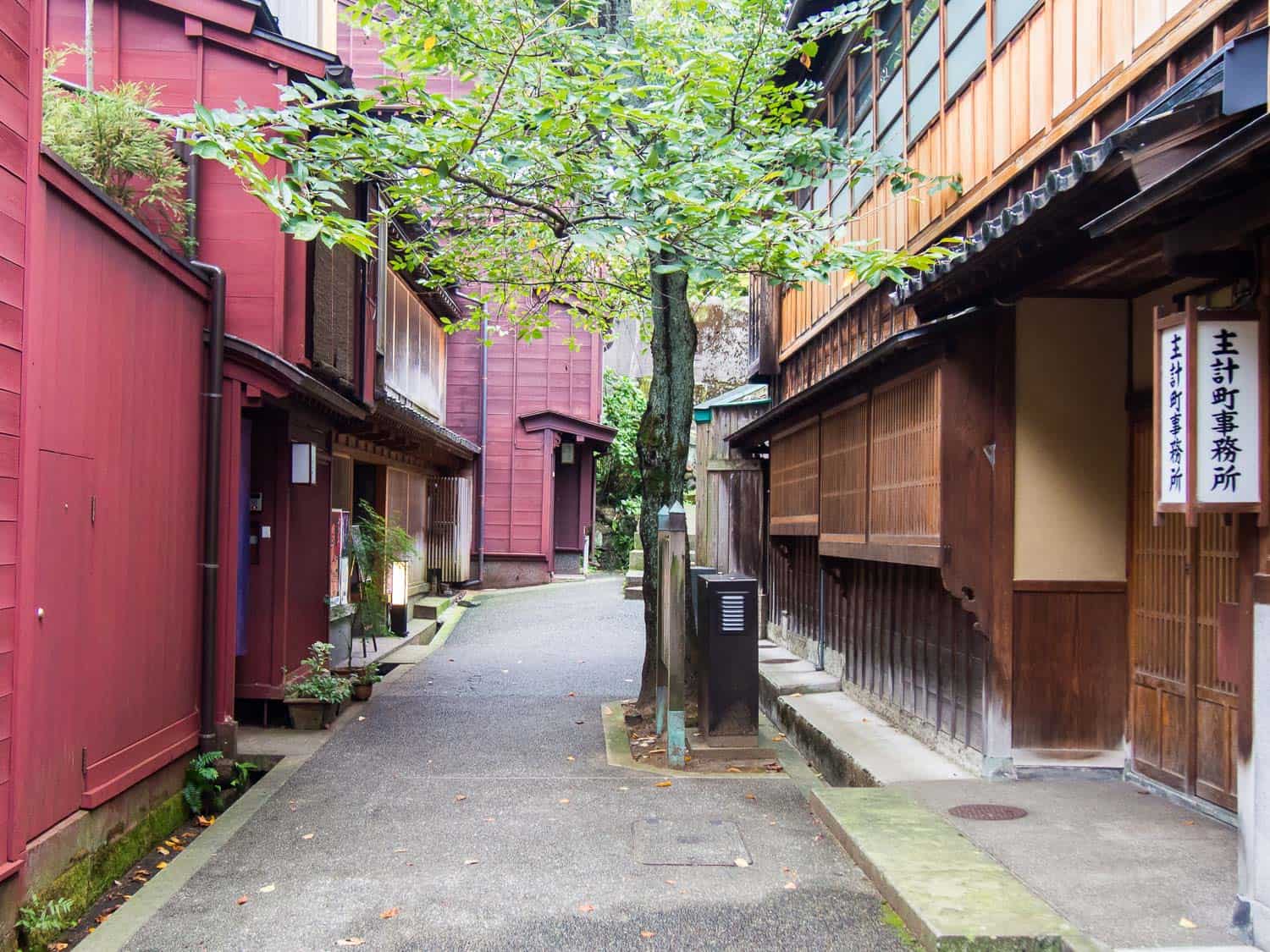 Kanazawa is one of the best cities to visit in Japan, but few foreign tourists make it here.
Consider Kanazawa as a quieter alternative to Kyoto to experience geisha districts with preserved wooden buildings.
There is also one of the most beautiful gardens in the country, a stunning castle, and many art museums to explore.
In Kanazawa don't miss:
Wandering Kenroku-en Garden, one of the top three gardens in Japan.
Exploring the wooden teahouses of the geisha districts Higashi Chaya and the quieter Kazuemachi and Nishi Chaya.
Experiencing a traditional tea ceremony at the exquisite Gyokusen-en Gardens.
How Long to Spend: 2 nights.
6) Nikko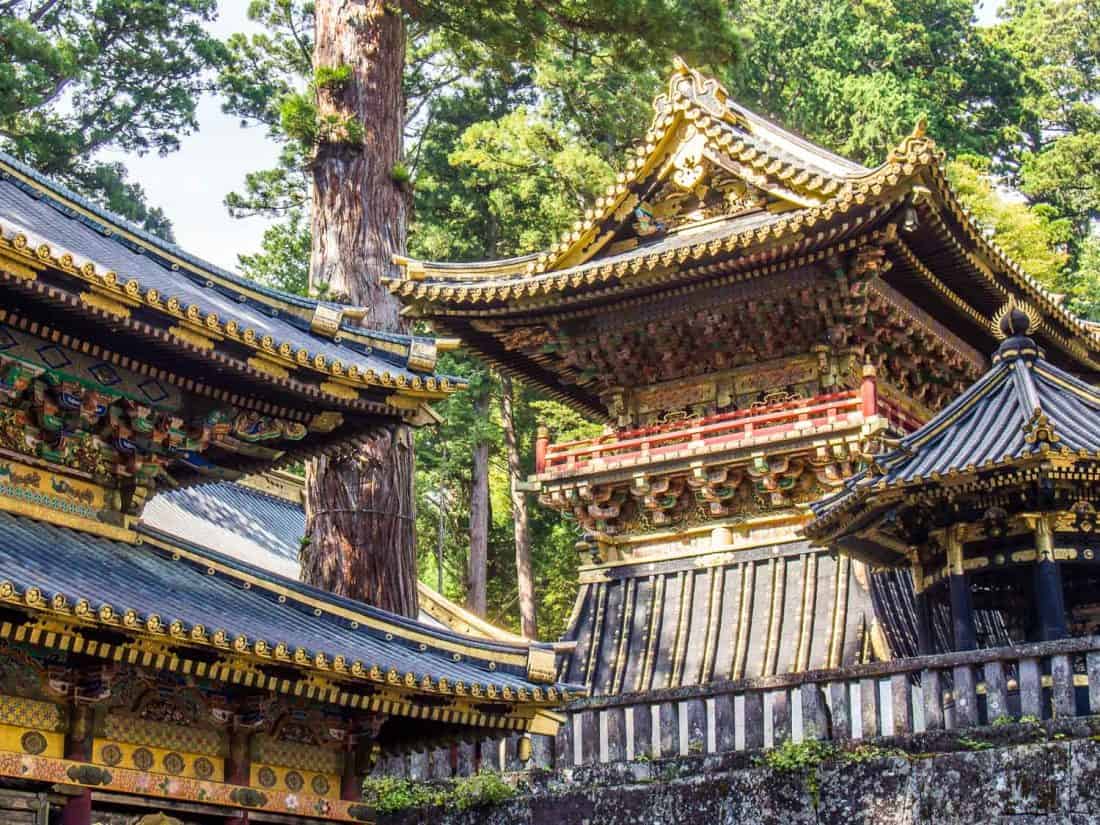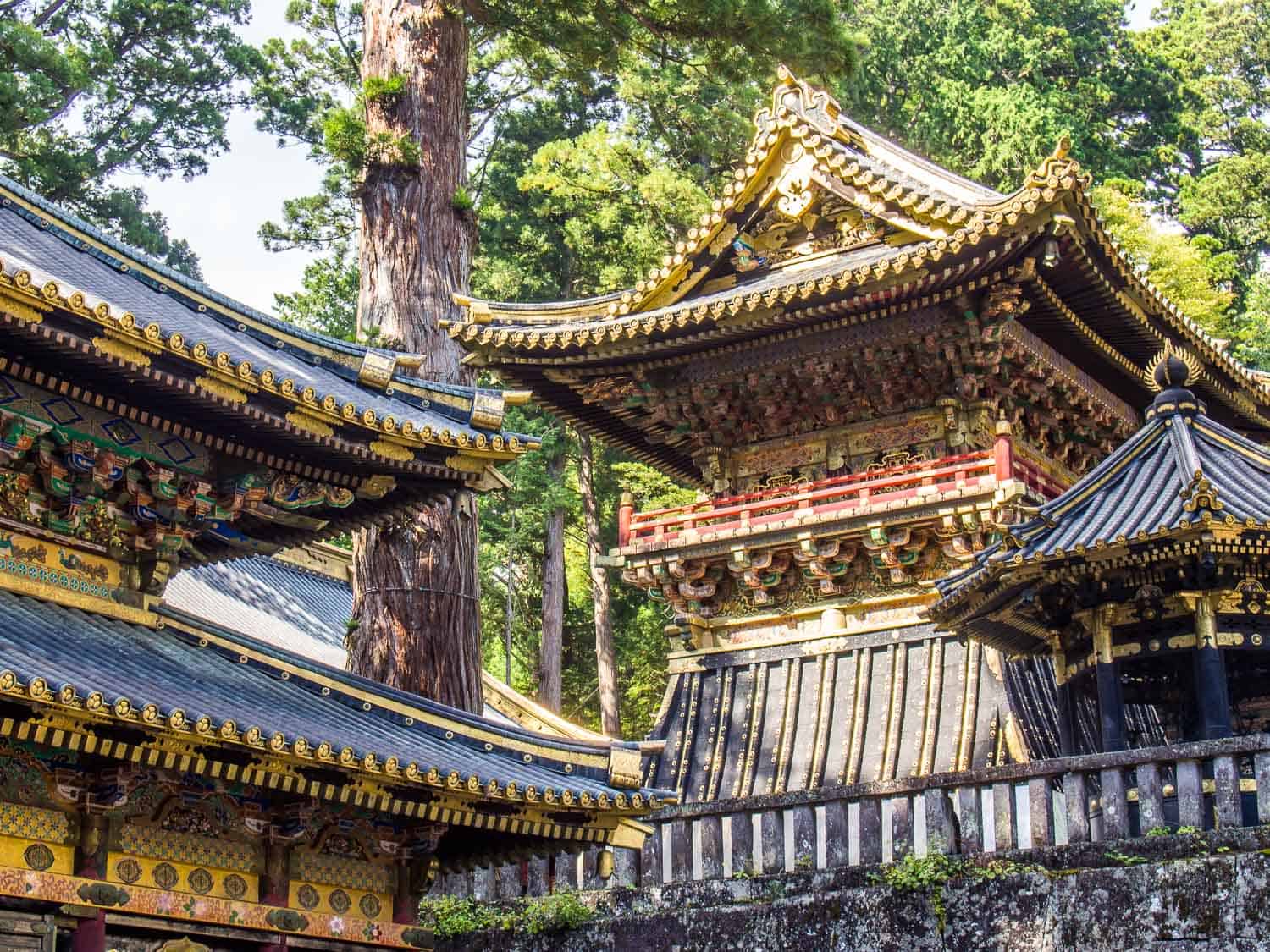 Nikko is a temple town and UNESCO world heritage site in the mountains a few hours north of Tokyo and makes a cool retreat from the city. The area is famous for its vibrant autumn colours.
The temples and shrines with their vermillion gates and moss-covered stone lanterns are scattered on the wooded hillside.
The main attraction is Toshogu Shrine, a stunning complex with more than a dozen lavishly decorated red and gold buildings amongst huge, ancient cedar trees. The crowds can be overwhelming, so afterwards head to one of the quieter shrines.
In Nikko don't miss:
Visiting Toshogu Shrine early to avoid the crowds
Playing games at atmospheric Futarasan-jinja
Exploring Taiyuinbyo
Hiking up the mountain to the peaceful Takino shrine
Photographing the bright red Shinkyo bridge
Munching on dango (grilled rice balls on a stick) from a street stall
Eating sushi at Komekichi Kozushi
How Long to Spend: You could visit Nikko as a day trip from Tokyo, but it's worth spending a night or two to explore one of the most beautiful places in Japan including hiking trails, lakes, waterfalls, and hot springs.
We had one night and wished we'd had two so that we could have visited Toshogu Shrine early on the second day.
7) Koya-San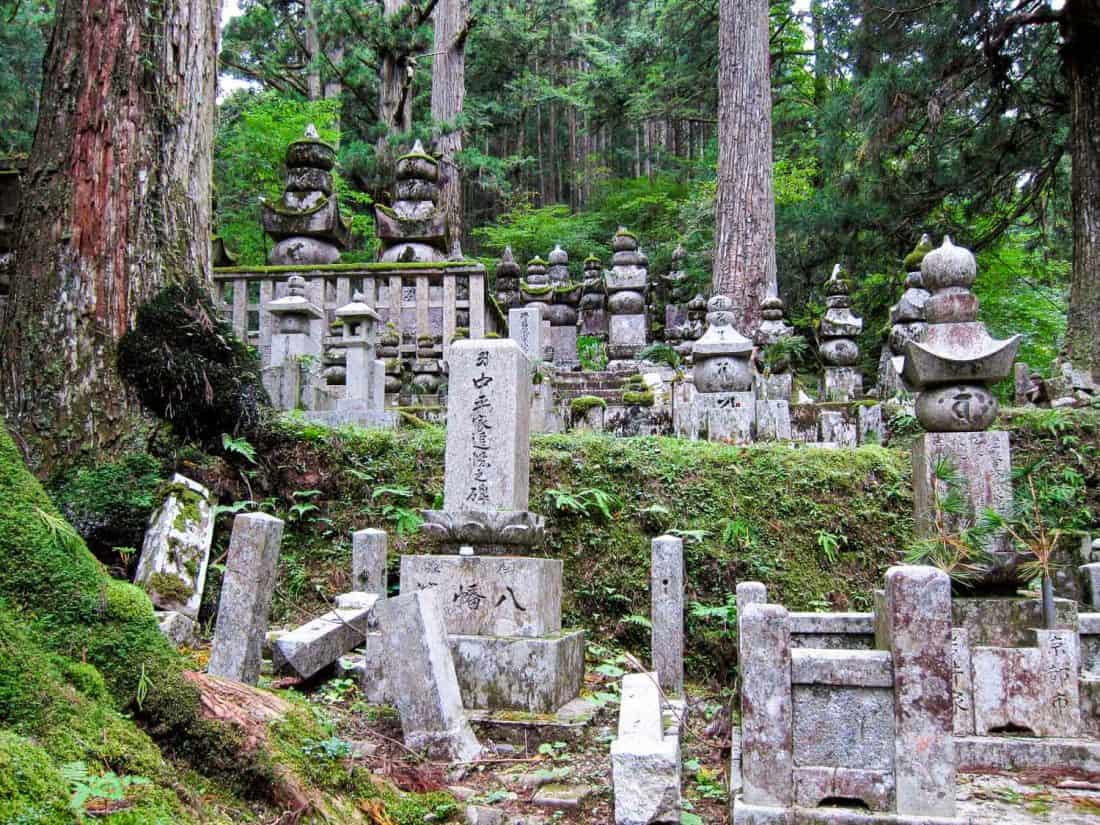 Koya-san (Mount Koya) is one of the most interesting places in Japan to experience the traditional side of the country.
This secluded and sacred temple town is located in the forest-covered mountains of Kansai and is one of the best places to get a taste of life as a monk by staying in a shukubo or temple lodging.
After wandering around the otherworldly Okunoin forest cemetery, we checked into our simple tatami room at the temple, soaked in the communal onsen bath, and enjoyed a delicious shojin ryori vegetarian Buddhist meal.
In the morning we were up early for the chanting and meditation ceremony with the monks.
A temple stay at Koya-san is a fascinating experience and well worth the detour from Osaka or Kyoto.
How Long to Spend: 1 night.
8) Tsumago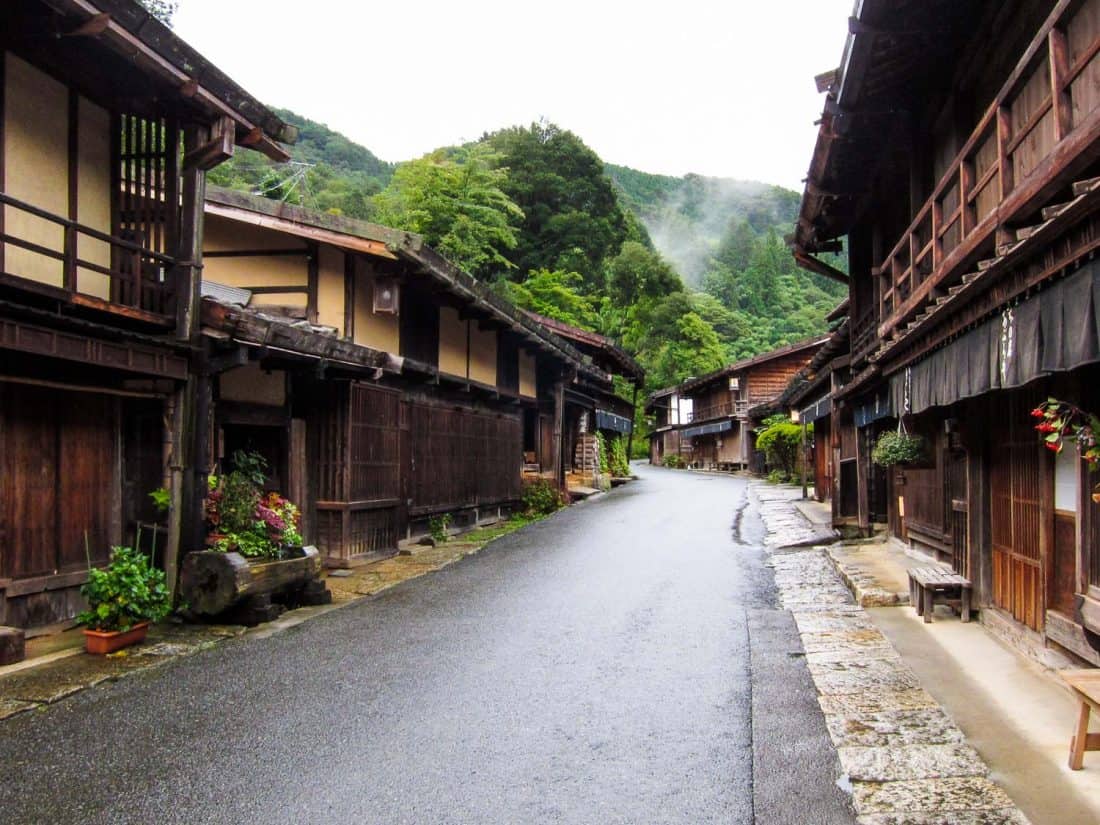 Tsumago is a picture-perfect traditional mountain village in the Kiso Valley.
It is one of the best-preserved post towns in Japan and you feel like you've stepped back in time on the traffic-less streets of beautifully restored wooden inns.
During the Edo period 300 years ago, Tsumago was a stop on the Nakasendo Way between Kyoto and Edo (now Tokyo).
You can hike part of this trail to the village of Magome in about two to three hours. Unfortunately, a typhoon prevented us doing this, but it's supposed to be a scenic and easy walk.
How Long to Spend: 1-2 nights. If you can arrive early enough on the first day to hike the Nakasendo Way in the afternoon, then 1 night is enough as it's a tiny village.
9) Nara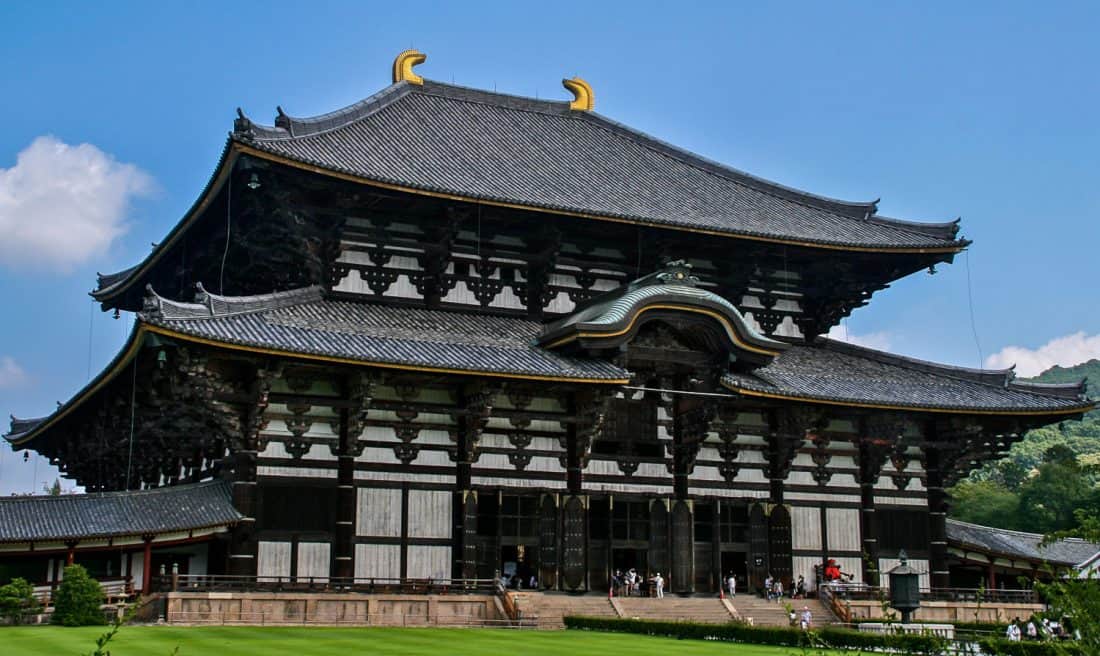 Nara was Japan's first permanent capital and is full of historic treasures including many UNESCO world heritage sites.
It's one of the top Japan attractions and makes a rewarding day trip from Kyoto to visit the temples and wild deer in Nara Park.
The Daibutsu-den (Hall of the Great Buddha) at Todaiji is the main sight—it's the largest wooden building in the world and nothing prepares you for the immense sight.
Inside is the 15-metre tall gold and bronze statue of Buddha that dates back to 751.
How Long to Spend: Most people visit as a day trip from Kyoto. You can see the highlights in half a day but a full day is better.
10) Hiroshima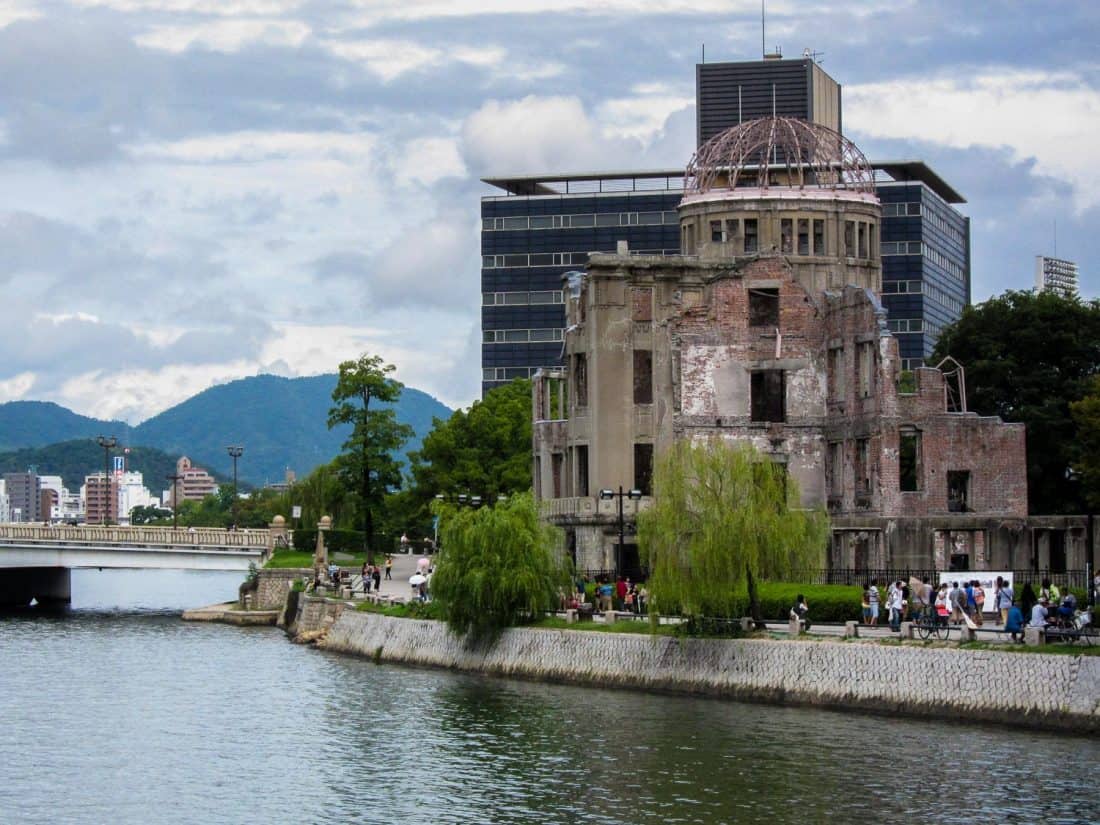 Come to pay your respects to the victims of the atomic bombing at Hiroshima's moving Peace Memorial Museum and Park and stay to explore the modern city that was almost entirely rebuilt after World War II.
Hiroshima is usually combined with a visit to the famous floating torii gate at Itsukushima shrine on nearby Miyajima Island.
You'll also want to try the delicious local speciality okonomiyaki, a thick pancake of batter, vegetables and noodles.
How Long to Spend: 1-2 nights is enough to visit the Peace Memorial Museum and Miyajima Island or you could visit as a long day trip from Kyoto, Osaka or Okayama.
More Amazing Japan Destinations
There are so many incredible places to explore in Japan. Here are some more destinations that we absolutely loved (and it was hard to leave them off the top 10 list!).
If any of these appeal to you more than the ones above (or fit into your itinerary better), then they will be just as enjoyable.
11) Osaka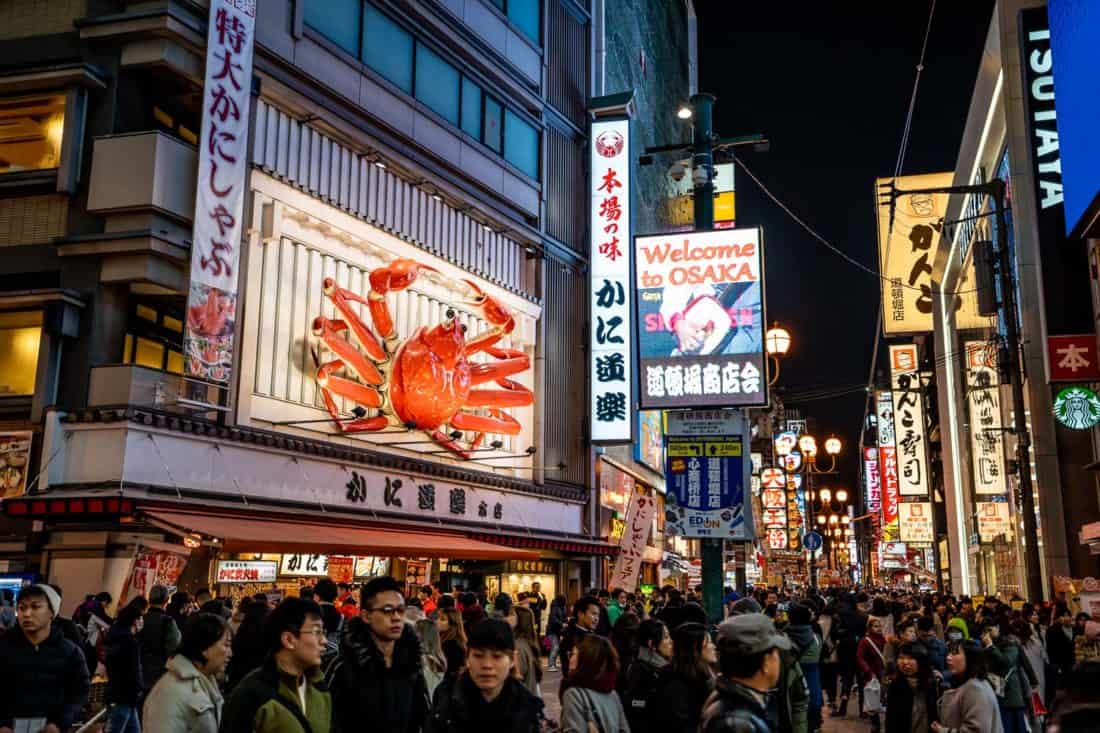 Osaka is a Japan must-see for many visitors. We love the neon craziness of Dotonburi, the amazing food (for vegetarians too), friendly people, affordable prices, and the scary rides and brilliant Harry Potter World at Universal Studios Japan.
But, if you have limited time on your first trip to Japan, I would probably say choose Osaka or Tokyo as they are both sprawling modern cities.
If you are flying into or out of Kansai airport then it makes sense to spend a night or two in Osaka. You could also visit as a day trip from Kyoto.
In Osaka, we loved staying in Shinsaibashi. The location is ideal—quiet but close to lots of cool shops and restaurants and within walking distance of Dotonburi. Hotel options include the stylish Hotel The Flag.
12) Kinosaki Onsen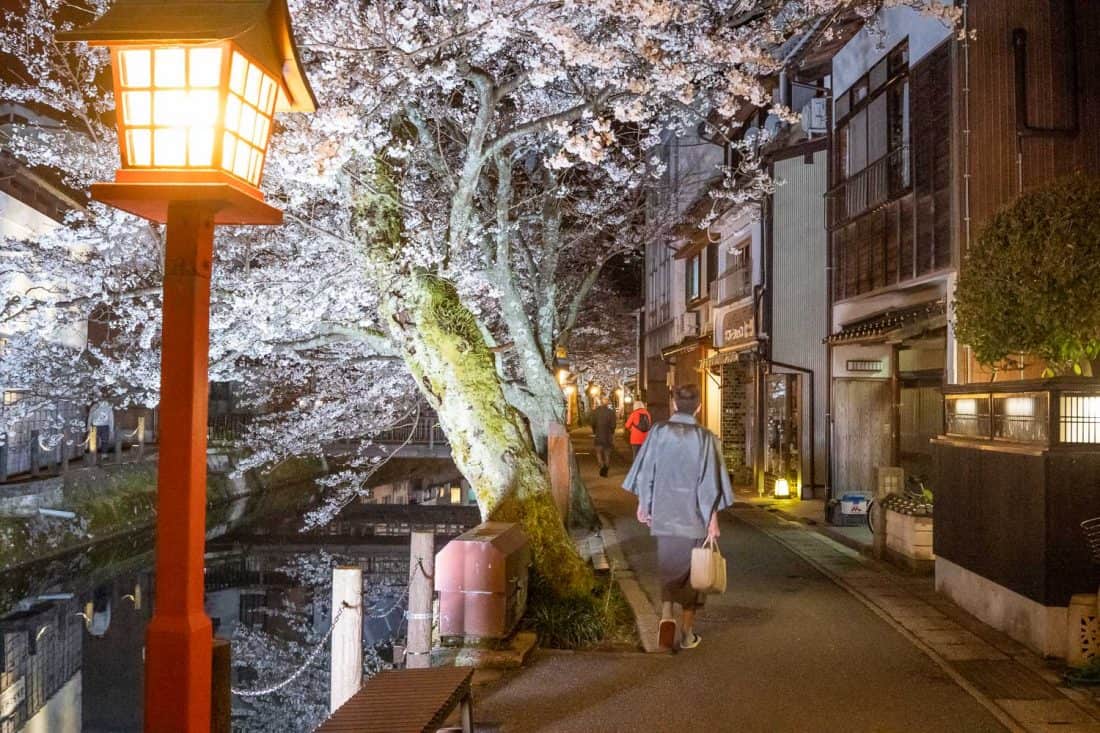 On our first Japan trip we were terrified of getting naked in onsens, but on our latest visit we were brave enough to spend a few nights in an onsen town.
Onsen hopping dressed in a kimono in a traditional hot spring resort is a classic Japanese experience. Kinosaki Onsen is a great place to experience it.
It's only a few hours from Kyoto or Osaka and the canal-side town is very pretty, especially in cherry blossom season.
We stayed in a traditional tatami mat room at Morizuya Ryokan. It's ideal for first-timers as they speak English and are very friendly, walking you through everything you need to know. The epic meals served in your room are delicious too.
Read our Kinosaki Onsen guide for all the details including onsen etiquette and how to get over your fears.
13) Naoshima Island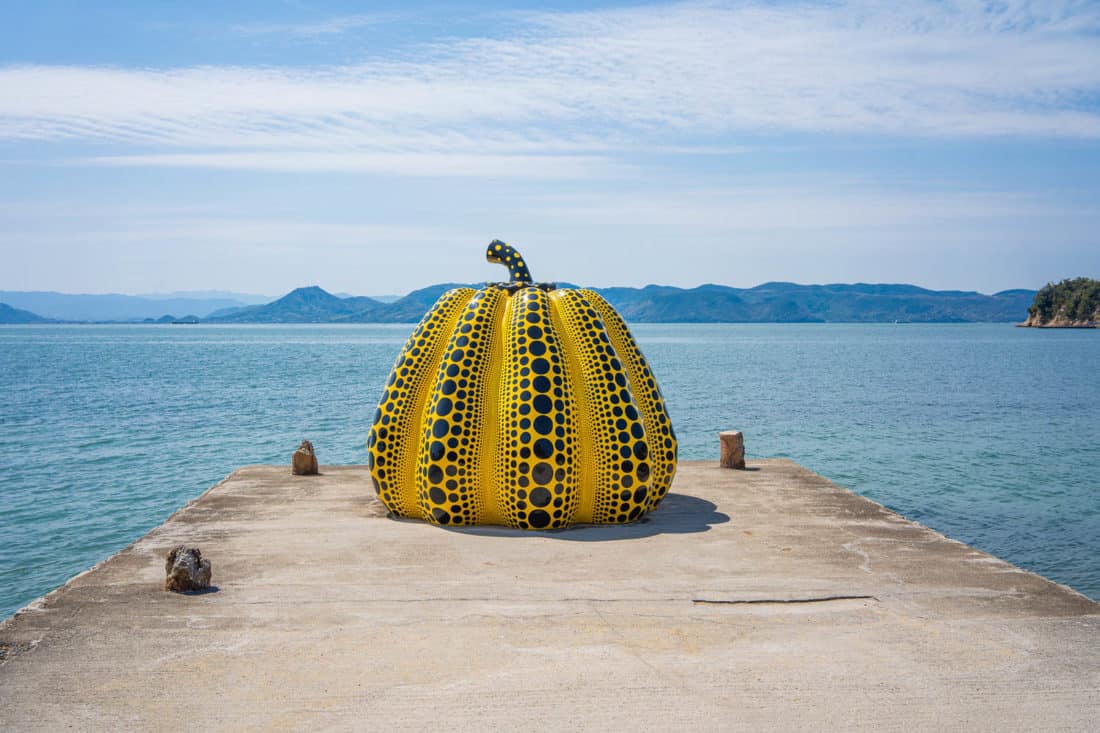 Contemporary art fans will love Naoshima, a sleepy island in the Seto Inland Sea known for its art galleries and outdoor sculptures.
We visited on a day trip from Okayama and had a wonderful day cycling around and combining art with beautiful sea views and tiny fishing villages.
Read our Naoshima Island guide for a recommended one day itinerary.
14) Okayama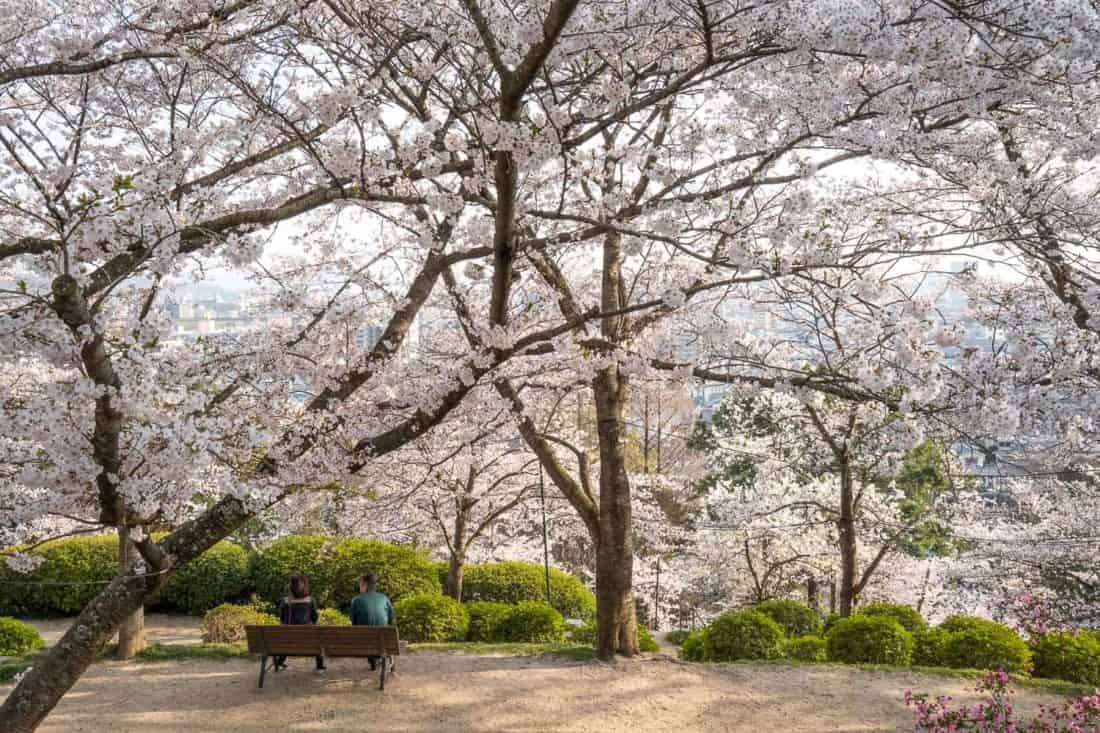 If you are interested in getting off-the-beaten-track, Okayama is a great place to visit in Japan.
This modern city is home to one of the best gardens in the country and is especially beautiful in sakura season when you can enjoy the cherry blossoms without the crowds of Kyoto or Tokyo.
As it's on a bullet train line, it's a convenient and affordable base for exploring the area including the historic Kurashiki, Naoshima Island, Himeji Castle, and Hiroshima.
We also did a fantastic bike trip on the Kibiji Bike Trail through rice fields to untouristy temples.
Our post on the best things to do in Okayama has all our tips.
15) Himeji Castle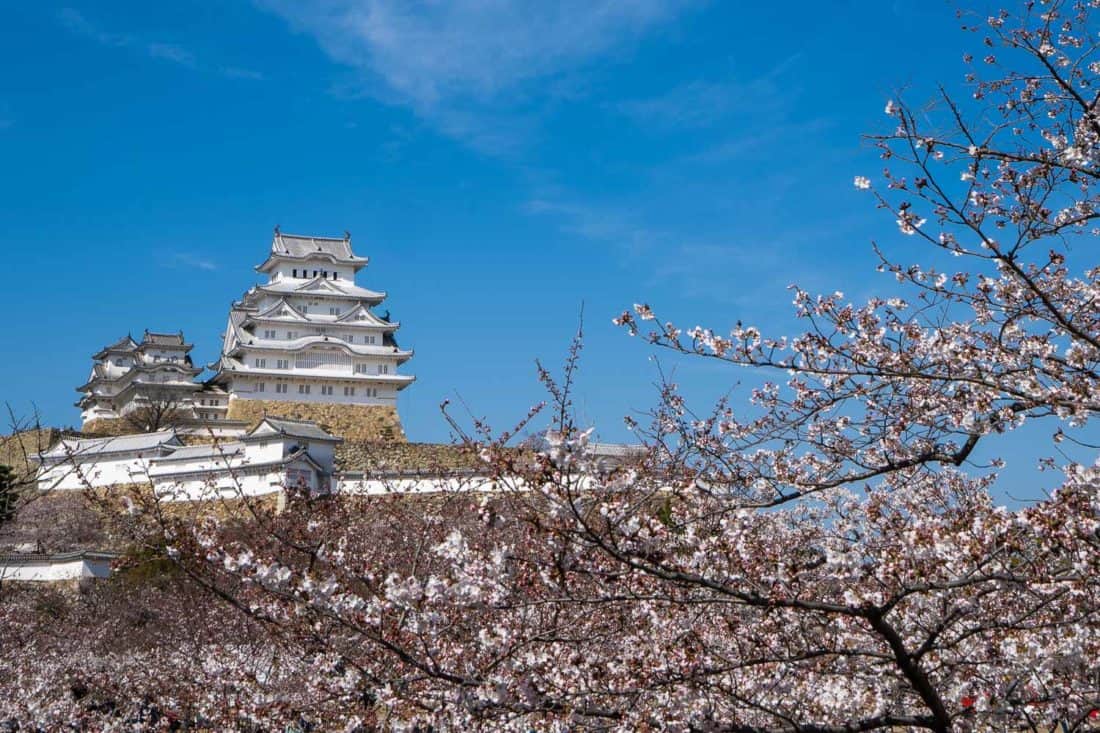 Himeji Castle is one of the few original castles in Japan (most were destroyed at some point and rebuilt). It's well worth a visit, especially in cherry blossom season.
You can easily visit in half a day from Osaka, Kyoto, Okayama (as we did) or on the way to Hiroshima.
16) Kawaguchiko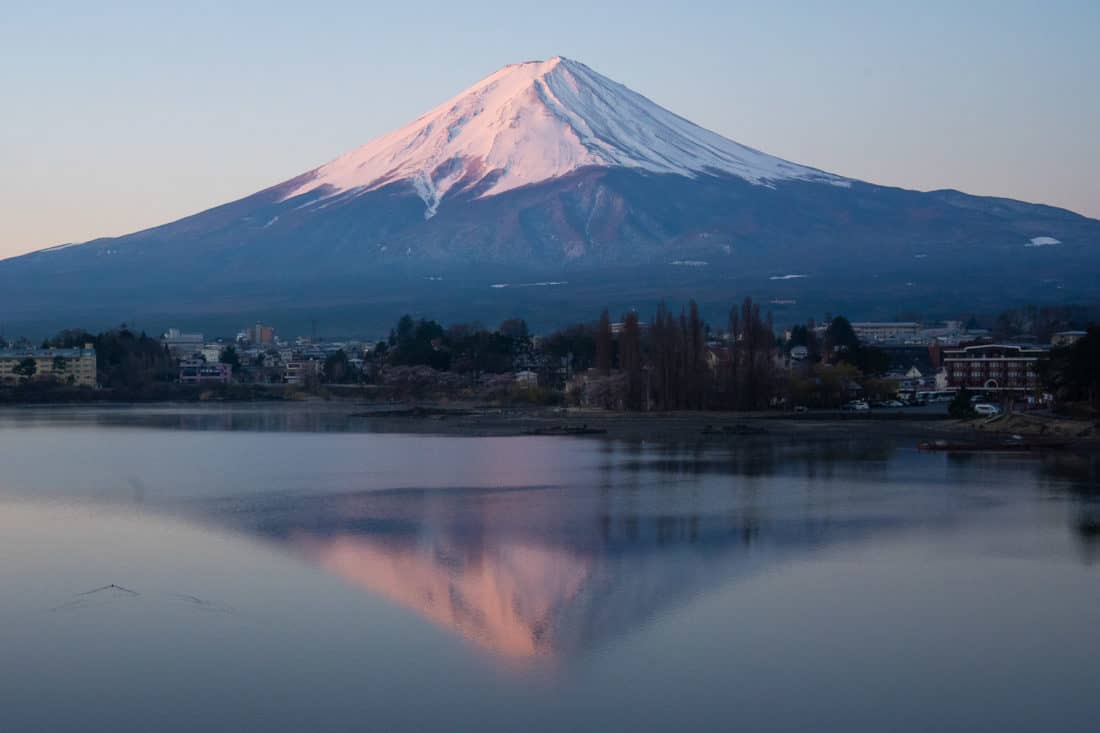 For the best views of Mount Fuji, head to Lake Kawaguchiko. It's especially lovely in cherry blossom or autumn leaf seasons.
You can enjoy the views by walking or cycling around the lake or taking a trip on a cable car or boat (we hired a panda pedal boat!).
The lake is also home to one of my favourite museums and tea houses in Japan.
Kawaguchiko Lakeside Hotel is an excellent affordable option here. Unusually for Japan, our room was huge, and it's close to the lake with Mt Fuji views from some rooms.
See my Lake Kawaguchiko guide for more tips.
And a Few More Places to Go in Japan
These Japan tourist attractions and off-the-beaten-path gems are on our list for our next trip:
Kamakura – Beaches, Buddhas, hikes and vegetarian-friendly food. You could visit as a day trip from Tokyo.
The Izu Peninsula – Rugged coastline, mountains, and hot springs not far from Tokyo.
Shirakawa-go – A village of traditional grass-roofed houses in a scenic setting. You could fit in a visit between Takayama and Kanazawa.
Takaragawa Onsen – A scenic onsen resort a few hours from Tokyo. It has a large mixed-gender onsen, so unusually you don't have to be naked.
Hokkaido – The northernmost island of Japan known for its natural beauty and outdoor activities.
Okinawa – A chain of tropical islands in the far south of Japan.
Best Places to Visit in Japan Map
Japan Travel Tips
Read our detailed Japan guides for everything you need to know to plan a brilliant trip.
I hope this post has given you some ideas of where to go in Japan. Wherever you decide to visit you are sure to have an amazing trip.
What are your favourite places in Japan? Leave a comment and let us know so we can add them to our Japan bucket list.
If you enjoyed this post, pin it!