This page contains affiliate links. Please read our disclosure for more info.
Okayama is overlooked by most visitors to Japan, but it has a lot to offer those looking to get a little off the beaten track.
The city is home to one of the Three Great Gardens of Japan and is especially lovely to visit during cherry blossom season.
We found many beautiful sakura spots to enjoy without the crowds of Kyoto or Tokyo.
It's also a fantastic, affordable base for exploring the area. Okayama is the capital city of Okayama Prefecture, known as the Land of Sunshine.
You can visit Kurashiki, a picturesque canal-side historic quarter, and cycle through rice fields to quiet temples on the Kibiji Bike Trail.
As Okayama is on a bullet train line, it's easy to explore further afield to places like Hiroshima and Himeji Castle.
It's an ideal base for visiting Naoshima Island, known for its contemporary art galleries.
We spent six days in Okayama and managed to visit many places without having to move our luggage every few days.
Staying right next to the station at Hotel Granvia Okayama made day trips especially convenient.
Here are our picks for the best things to do in Okayama and beyond, as well as tips on where to stay and the best vegetarian places to eat. At the end, there is a handy map with everything mentioned.
Contents
How to Get to Okayama Japan
Okayama is located on a shinkansen (bullet train) line, so it's easy to reach quickly and comfortably from major Japanese cities including Hiroshima (40 minutes), Osaka (50 minutes), Kyoto (1 – 1.5 hours), and Tokyo (3 – 4.5 hours).
You can check train times and prices on the Navitime website or app.
We had a Japan Rail Pass for our stay in Okayama, which made it affordable to take shinkansen rides to places like Himeji.
See my guide to the Japan Rail Pass for everything you need to know.
Top Things to Do in Okayama City
1) Okayama Korakuen Garden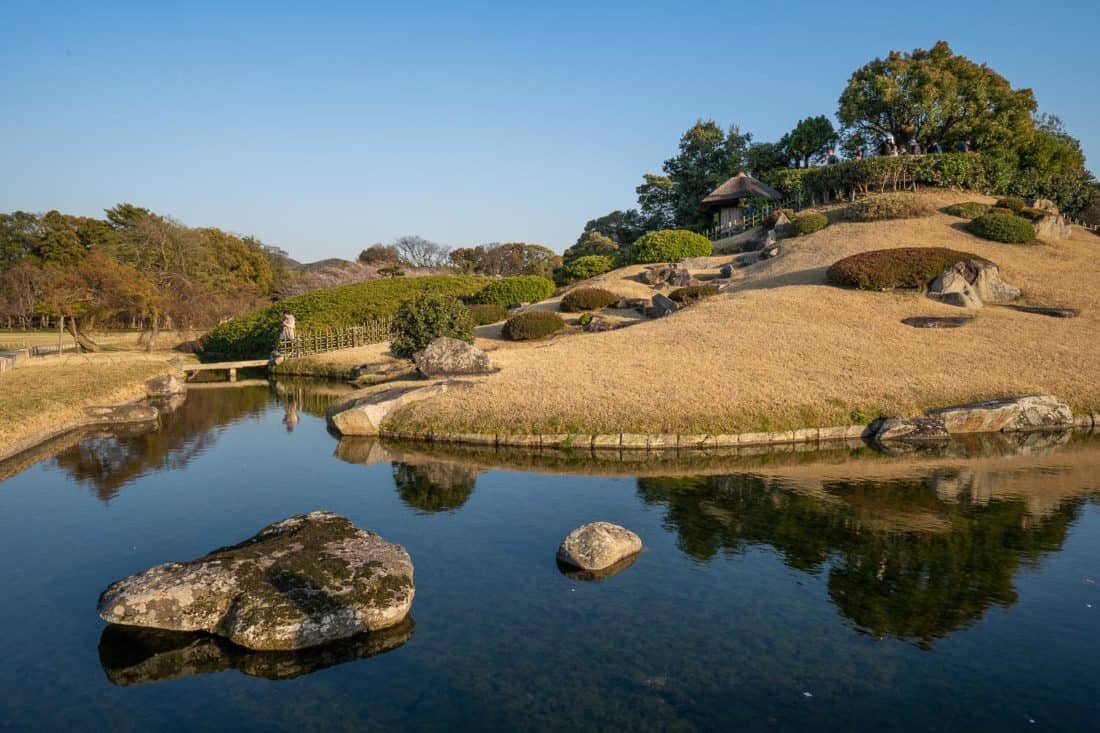 The most famous Okayama attraction is Korakuen Garden, which is known as one of the Three Great Gardens of Japan (along with Kenroku-en in Kanazawa and Kairaku-en in Mito).
This large landscape garden was first created in 1687 by the feudal lord for entertaining his family and guests.
It features many classic elements including a large pond with stone bridges and small shrines and a lookout point up a hill.
There are also extensive lawns, a cherry blossom grove, tea and rice fields, a cluster of bamboo, and a teahouse.
Allow a few hours to explore it all.
It was beautiful in spring, and autumn would also be lovely with the trees turning red.
In August, and again in mid to late November, an Okayama must-see is the Garden of Dreams event, when the garden stays open late and is illuminated with lights and candles.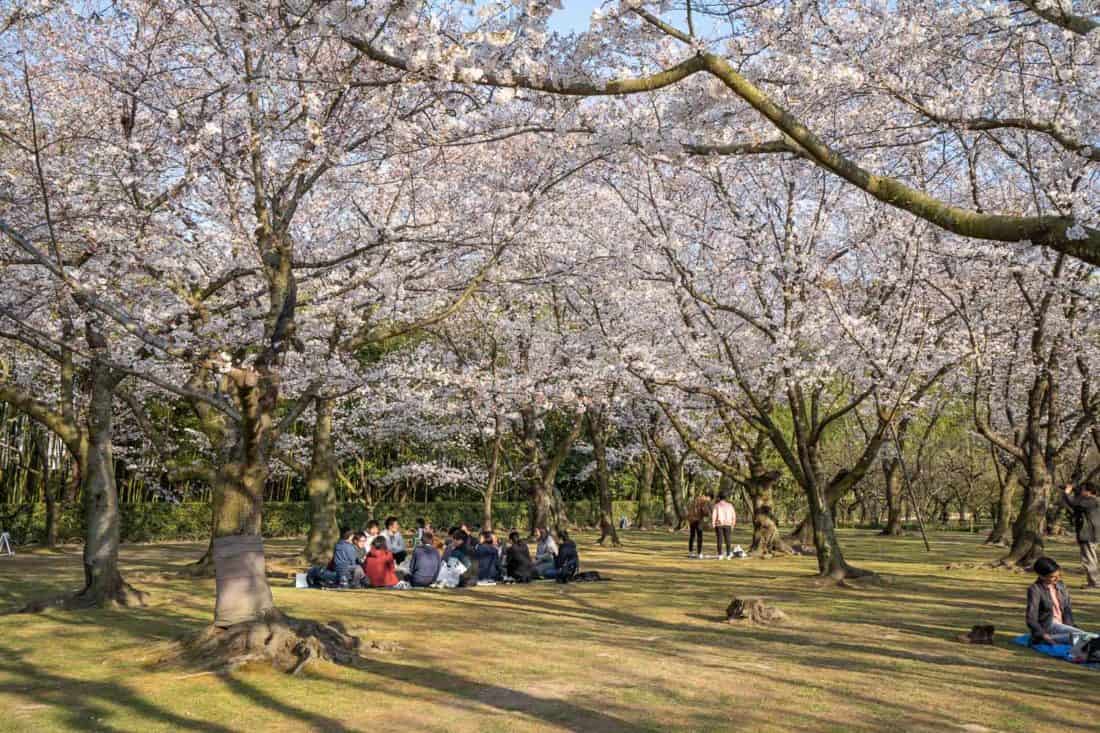 If you are visiting in sakura season (when we visited in early April), I also recommend taking a walk along the nearby Asahi River Sakura Road.
There are 200 cherry trees along the banks of the river, and at the height of the season, they are illuminated at night and food stalls are set up.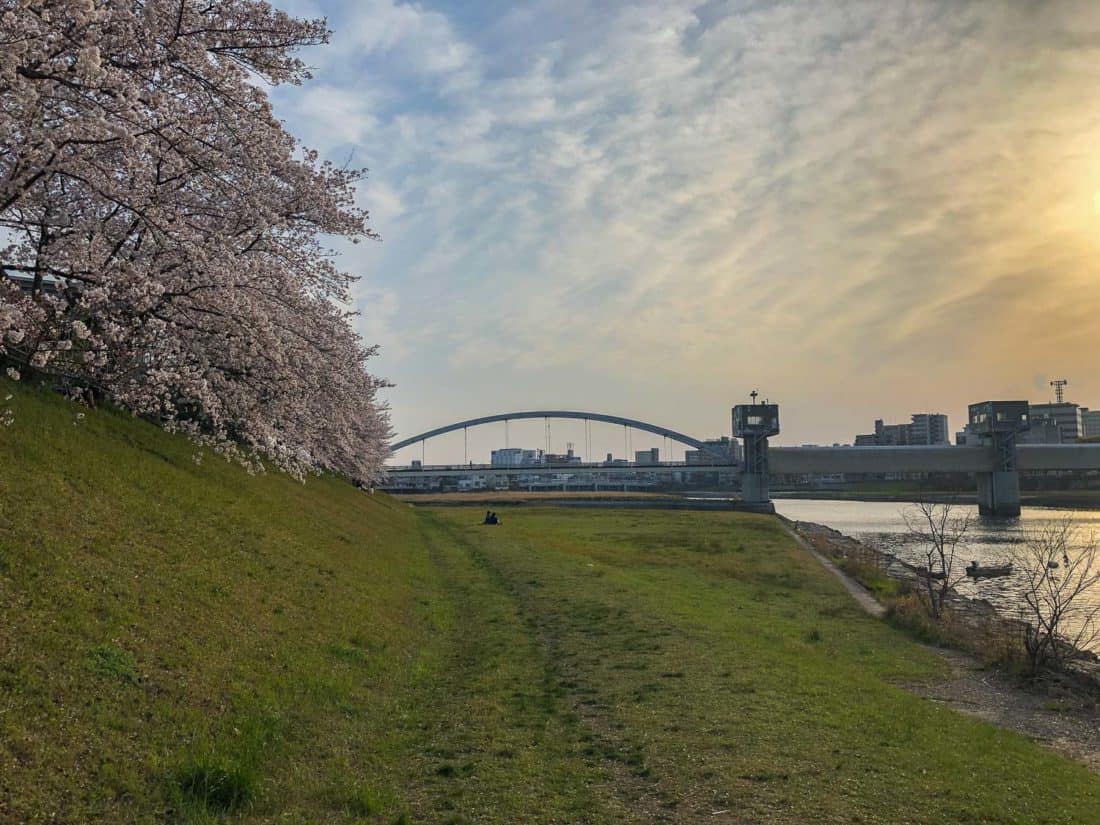 Details: Open 7.30am – 6pm (8am–5pm in winter). Entrance fee 410 yen ($3) for adults, free for children. The gardens are a 25-minute walk from the train station or you can take a bus or tram. See the Okayama Korakuen website for special events.

Suggested Tours: Why not combine the gardens with other Okayama sights on this half-day private tour with an official guide?
2) Okayama Castle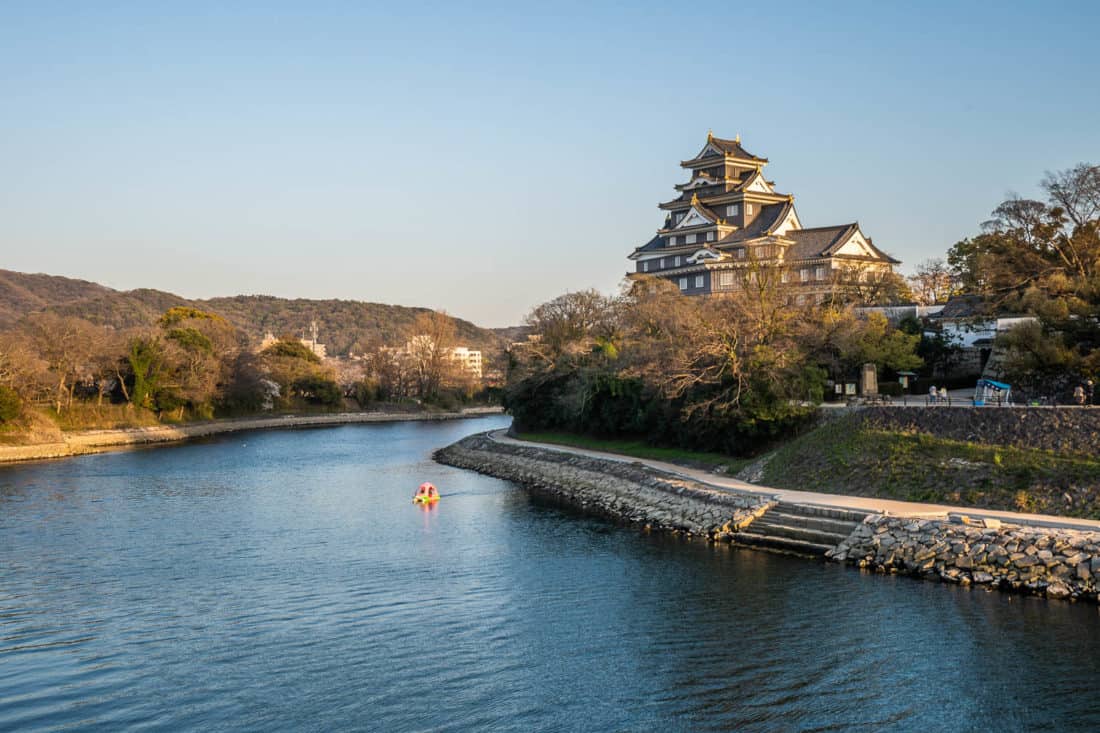 Across the Asahi River from Korakuen Garden is Okayama Castle, which you'll see if you enter the gardens by the south gate and from certain points in the gardens.
It's known as Crow Castle because of its black outer wall.
It was originally completed in 1597 but was destroyed in World War Two; the current castle is a reconstruction (as is the case for most Japanese castles).
We just enjoyed the view from outside. Inside, you can find displays about the castle's history and the opportunity to dress up as a feudal lord or princess or make Bizen pottery.
Details: Open 9am – 5.30pm. Cost 400 yen ($3) for adults/ 100 yen ($1) children. You can combine the castle with Korakuen Garden for 640 yen ($4.50).
3) Handayama Botanical Garden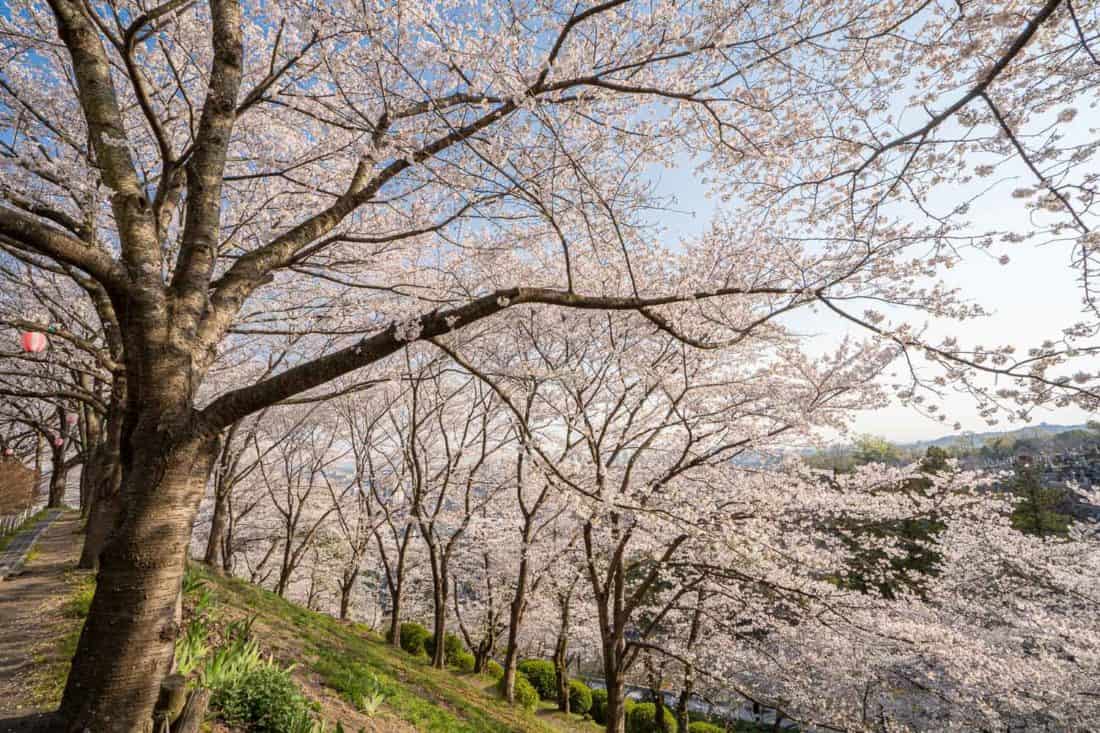 Our absolute favourite cherry blossom spot in Okayama wasn't Korakuen or the Asahi River, but the magical Handayama Botanical Garden.
This hillside garden has views of the city and an incredible 1000 cherry trees—they stretch on and on and you feel fully immersed in the blooms.
Best of all, this hidden gem is not very crowded (even on a sunny weekend in full bloom).
There are plenty of grassy areas to lie back and gaze at the flowers or enjoy a picnic.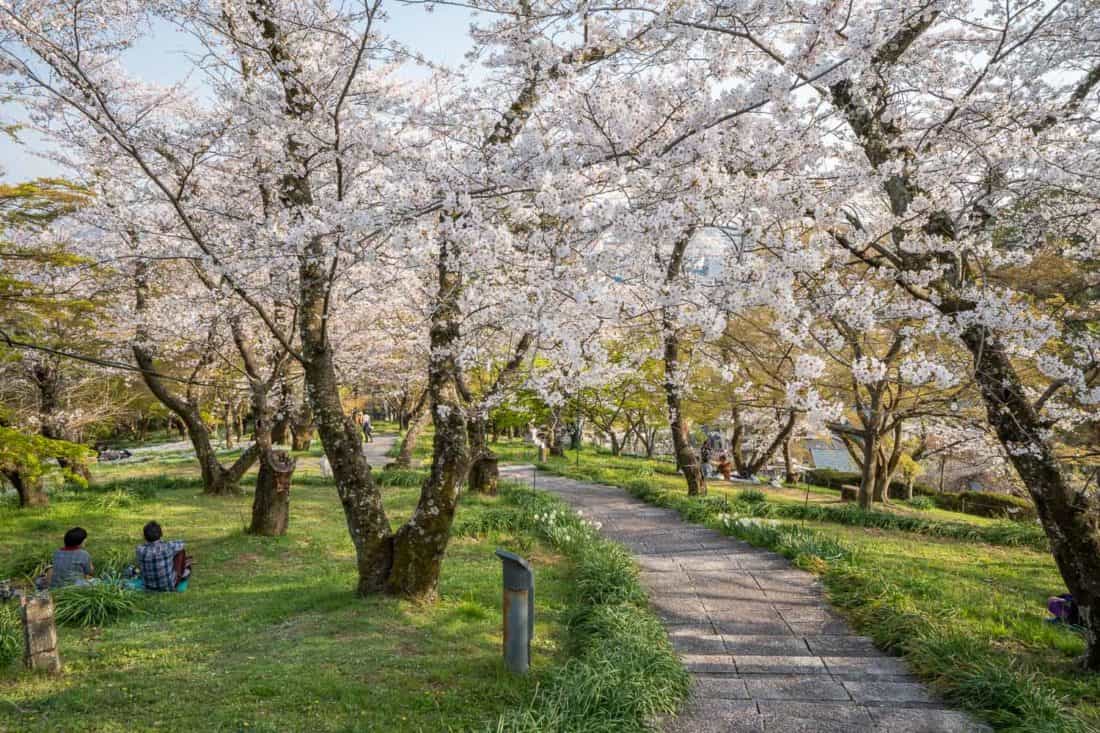 We had a blissful afternoon here and it was by far our favourite sakura spot in Japan.
We loved viewing the Kyoto cherry blossoms, but it was far more crowded and you can't relax in the same way as you can here.
Details: Open 9am – 4.30 pm (plus nights during full bloom). Closed Tuesdays. Cost 310 yen ($2 adults/ 125 yen ($1) children).

You can take the bus here from Okayama station, but we took a taxi (1500 yen/$10). It's easiest to show the driver the name of the gardens in Japanese.

There are no taxis at the gardens, so we had to walk to the main road to find one.
The gardens are a 15-minute walk from JR Hokaiin Station, but the trains aren't very frequent.
4) Nishigawa Canal Park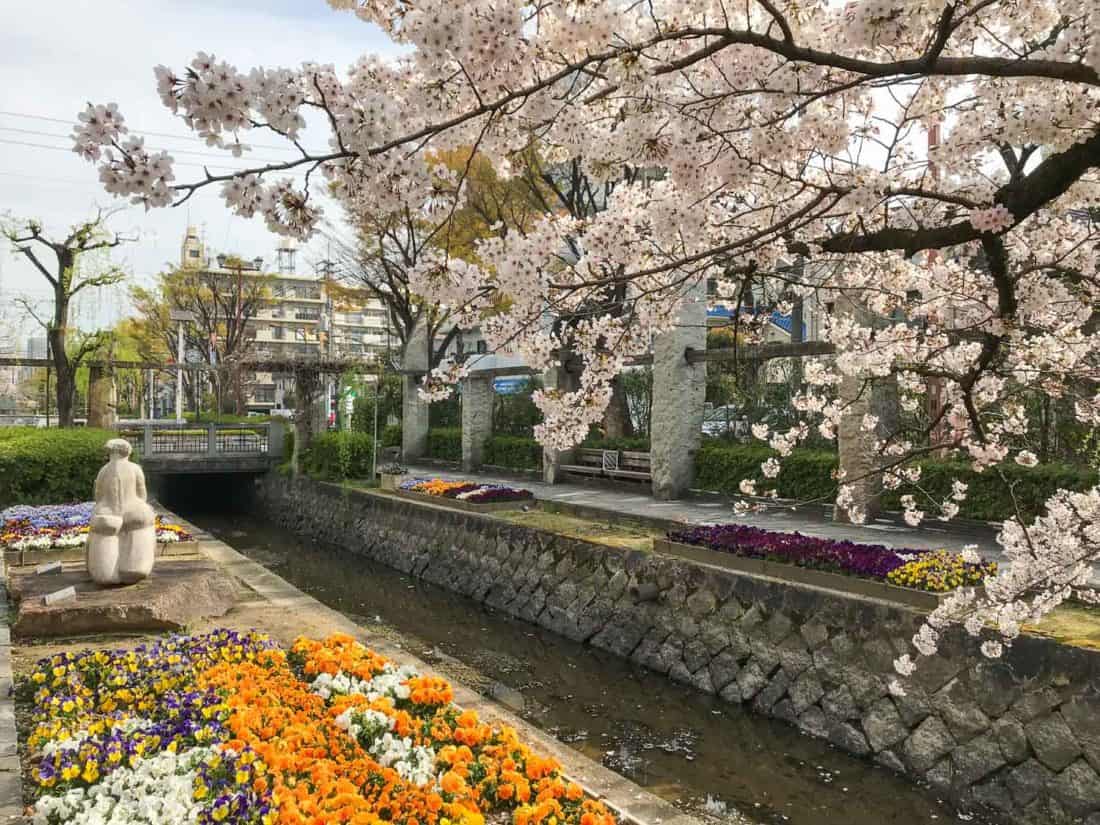 The Nishigawa Canal Park isn't a top Okayama tourist attraction, but it is a pleasant place for a jog or stroll, especially in cherry blossom season.
The canal runs through the city and is lined with flowers, cherry trees, and sculptures with benches to sit and enjoy them.
Details: Open 24 hours. Free. It's a 10-minute walk from the train station.
5) Look for Momotaro (Peach Boy)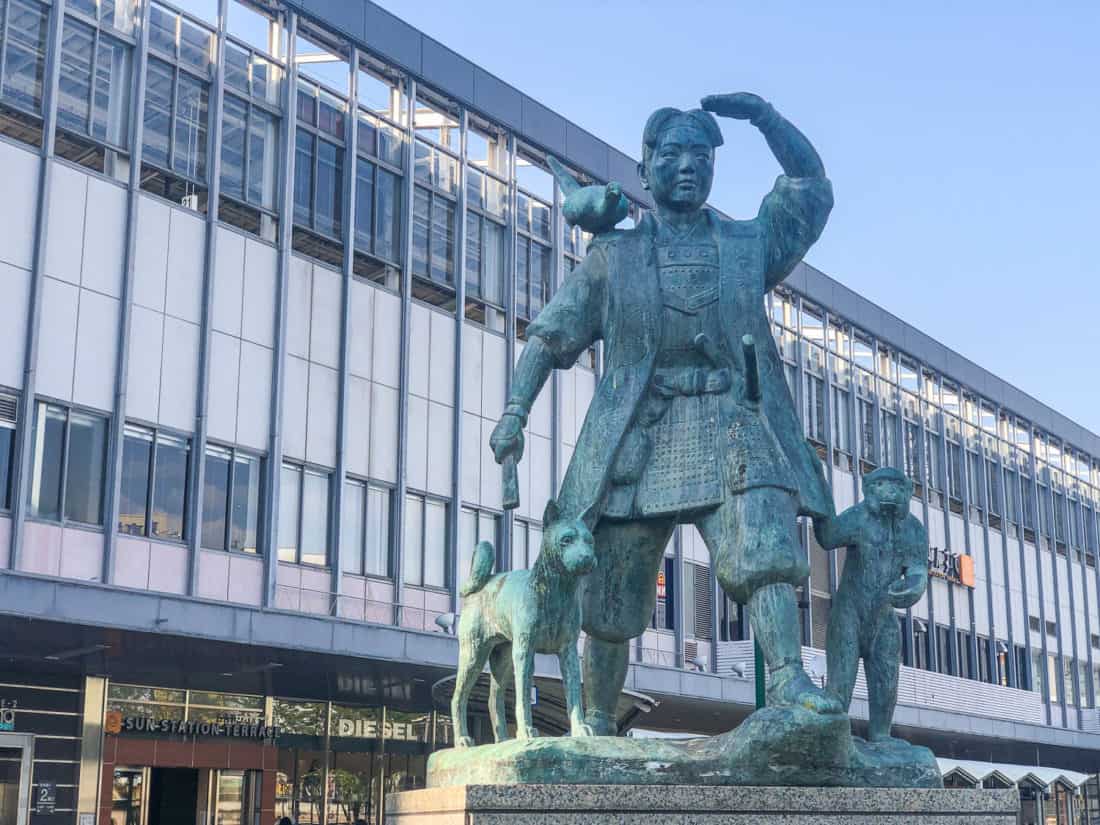 You can't visit Okayama without seeing Momotaro (Peach Boy) everywhere.
He's the hero of a famous Japanese folk tale about a boy who was born out of a giant peach and grows up to fight demons alongside his sidekicks, a dog, monkey, and pheasant.
You can see the Momotaro statue outside Okayama station and look out for his image on colourful manhole covers throughout the city.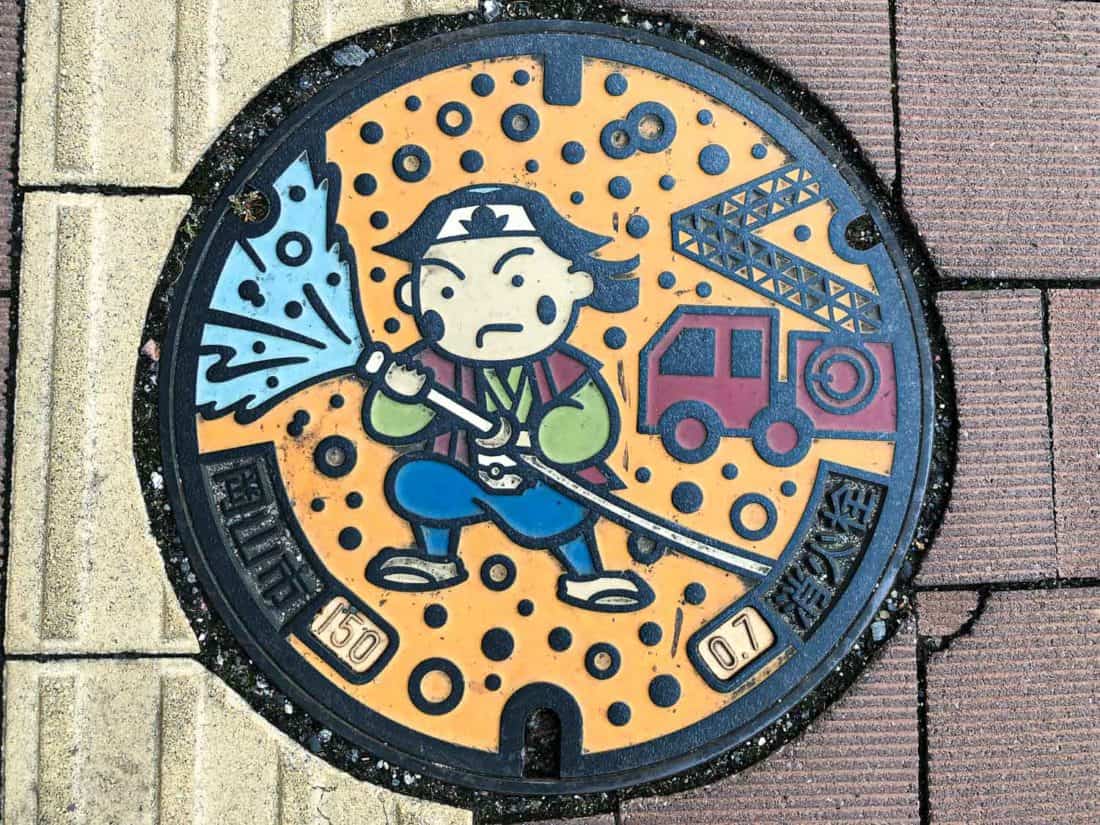 Okayama Prefecture is known for its delicious white peaches, so don't miss these if you visit in summer (you can also pick your own peaches at nearby farms).
The Momotaro folk tale features kibi dango (millet dumplings) and these local sweets are now a popular souvenir from Okayama.
Day Trips from Okayama, Japan
Okayama City itself has enough sightseeing to occupy you for a day, but what we loved most about it was its convenient location for exploring many other destinations.
In addition to the places below, you could also visit Osaka and Kobe from Okayama. Kyoto is also possible, but I think it warrants a longer stay.
If you have a Japan Rail Pass (like we did), all of these trips are covered by it (except for the ferry to Naoshima).
See our post, Is a Japan Rail Pass Worth It? for more details
6) Kurashiki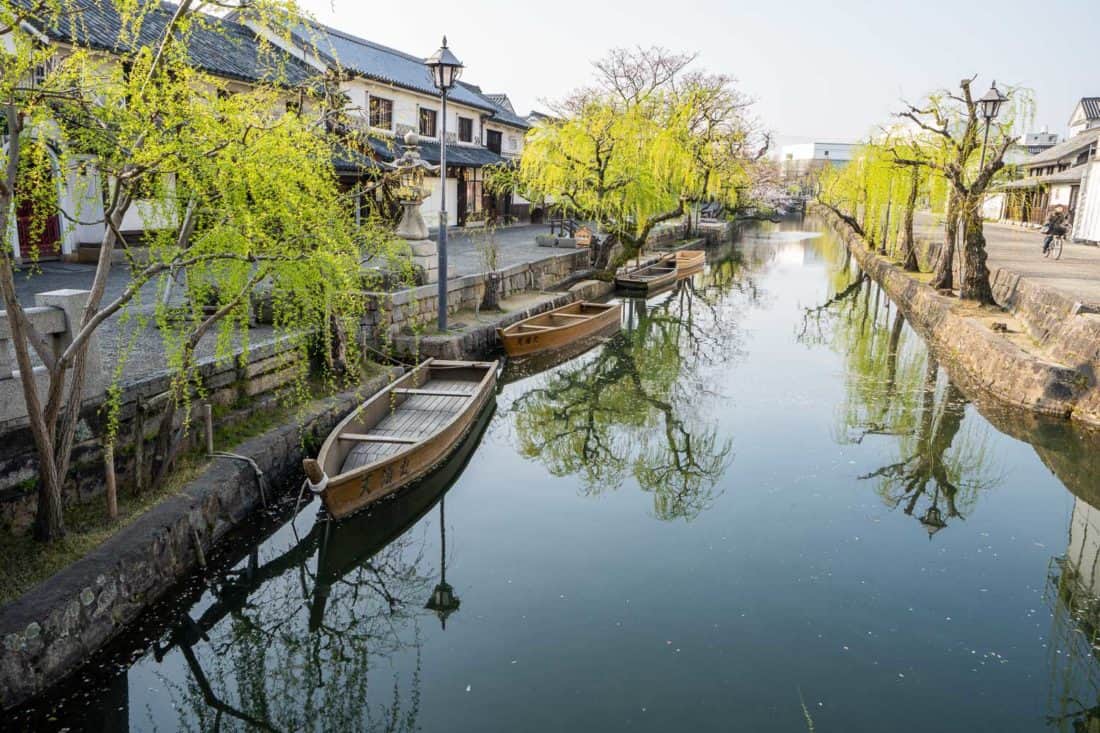 Kurashiki is the most popular Okayama day trip and it's only a 15-minute train ride away.
It's the city's Bizan Historical Quarter that attracts visitors. This picturesque area features traditional Japanese houses and a canal lined with weeping willow trees.
The area dates back to the 1600s when it was an important location on Japan's rice trade route. Rice was brought there on barges on the canals and then kept in storehouses before being shipped off to the cities.
The storehouses with their white walls and black tiles have been preserved and are now shops and cafes.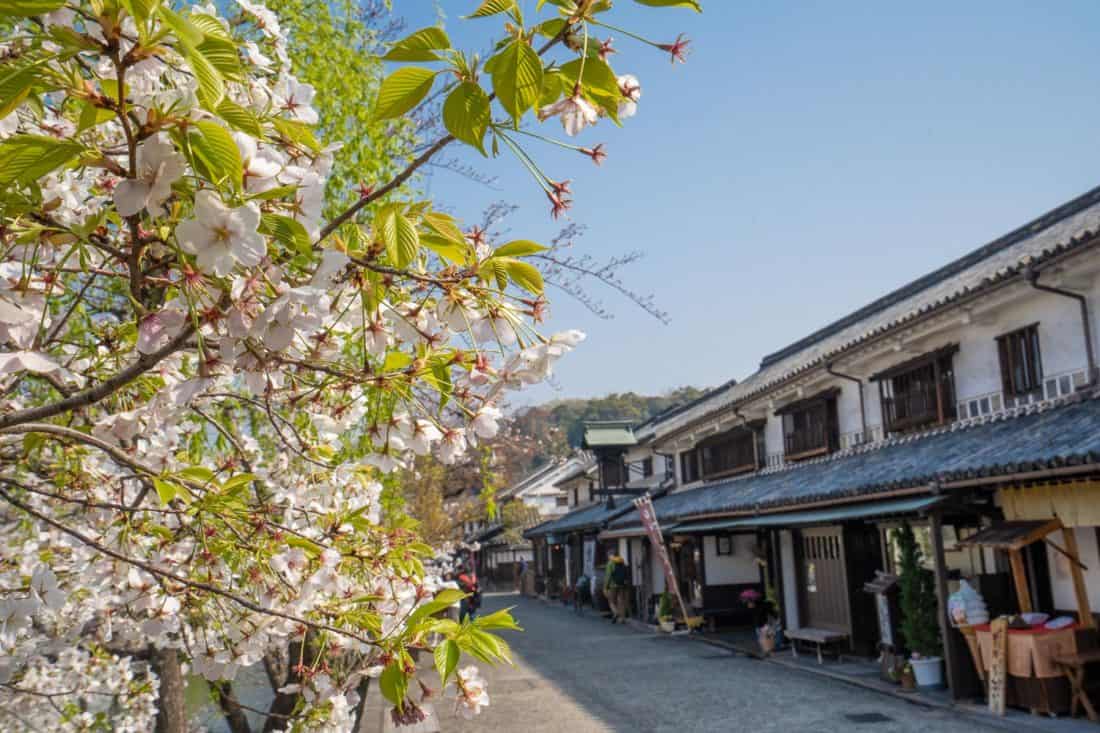 We arrived at 7.30am to avoid the crowds and loved strolling the quiet canal and backstreets. By 9am it was much busier.
We only spent a few hours here, but you could spend longer if you want to shop (many shops don't open until 10am), take a boat ride on the canal (from 9.30am, in Japanese only) or visit the Ohara Museum (1500 yen, closed Mondays) known for its collection of Western masterpieces including Picasso and Gauguin.
If you are visiting in sakura season, we found some lovely cherry trees in Ivy Square and up a hill at the Achi Shrine.
How to Get There: Take the train to Kurashiki Station (15 minutes) and walk for 10 minutes to the Bizan area. You can pick up a map at the station.

Suggested Tours: Explore Kurashiki with an official guide in this Full Day Private Tour.
7) Kibiji Bike Trail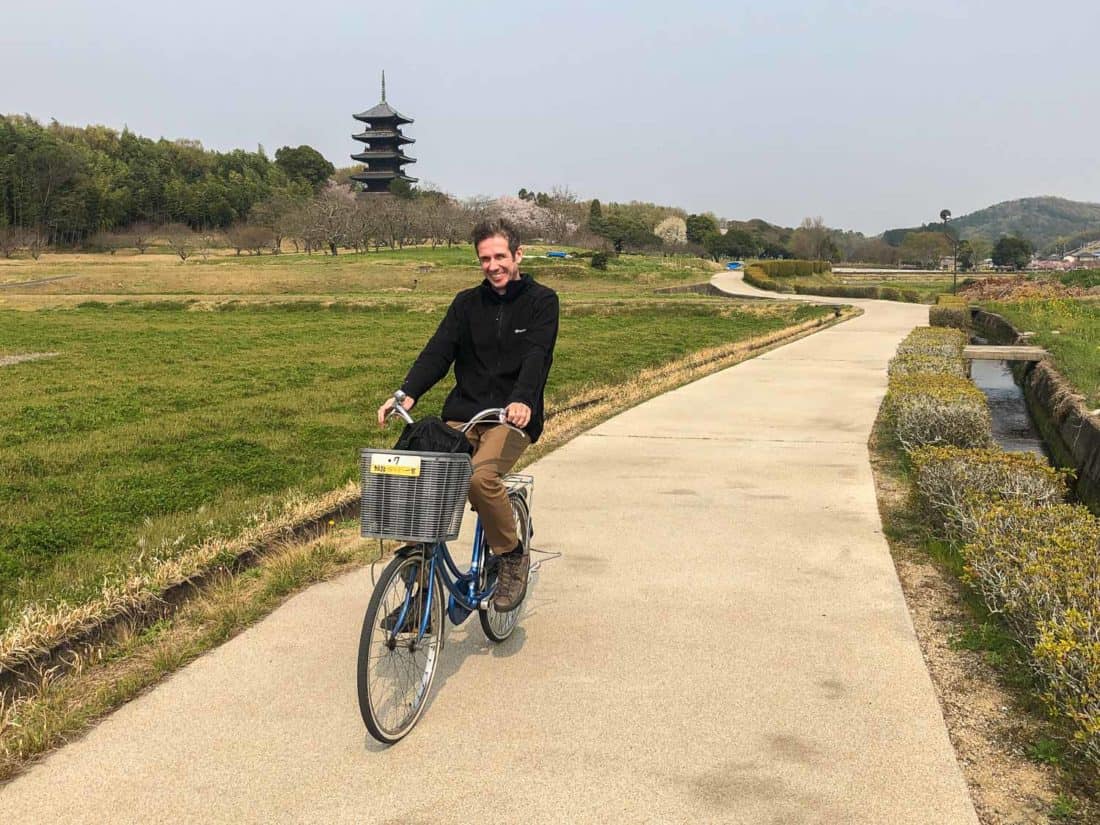 One of our favourite days in Okayama was spent cycling the Kibiji Bike Trail.
This 22km (13.5 mile) cycling route goes through the Kibi Plain between Bizen-Ichinomiya and Soja Stations—one-way bike rentals are available at the stations.
It's an easy, mostly flat, and well-signposted ride through rural areas, small towns, and rice fields.
There are a number of temples, shrines, ruins, and burial mounds to visit along the way.
Even on a sunny Sunday the path wasn't busy and we only saw two other foreigners all day. In early April, there are some lovely off-the-beaten-path sakura spots.
The whole route took us 4.5 hours with a number of stops and breaks.
We focused on the three main shrines and temples. At Kibitsuhiko Shrine we came across a wedding with a bride in an extravagant white kimono and a small farmer's market.
Kibitsu Shrine is a huge complex on a hill. At the bottom there's a picturesque pond with bridges and a red pagoda. To reach the main shrine you follow a long wooden corridor.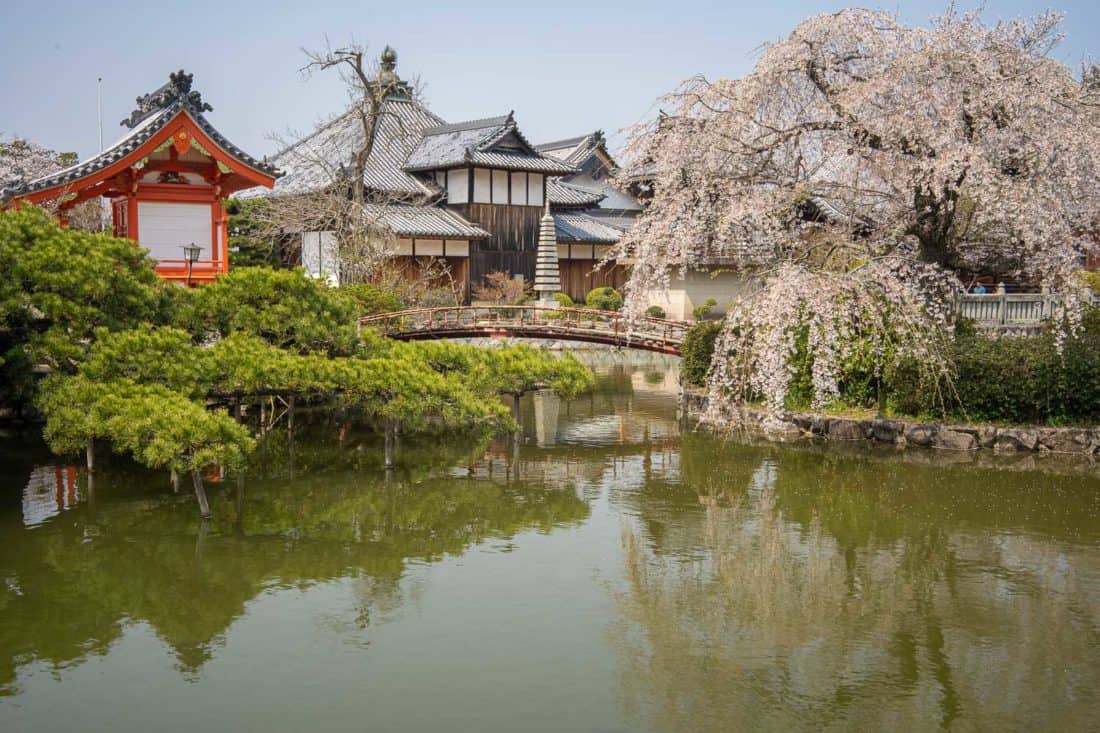 Our final stop was Kokubunji Temple which features a lovely five-storey pagoda.
We bought a speciality peach soft-serve ice-cream and joined the locals picnicking under the cherry blossoms.
The bike ride is an easy trip from Okayama and is a pleasant escape from the cities with a chance to see some temples and shrines that mostly only locals visit.
I recommend taking a picnic, although there is a Lawson convenience store on the route and a few restaurants.
How to Get There: Take the train to Bizen-Ichinomiya (15 minutes). Check train times in advance as they aren't very frequent.

Bike Rental: Uedo bike shop (9am – 6pm) is right next to Bizen-Ichinomiya station and rents bikes for 1000 yen ($7) one way to Soja station. No passports or deposits are needed. They are simple one-gear bikes with baskets but were fine for the route. They also give you a map. From Soja station it takes 30 minutes to return on the train to Okayama.
8) Naoshima Art Island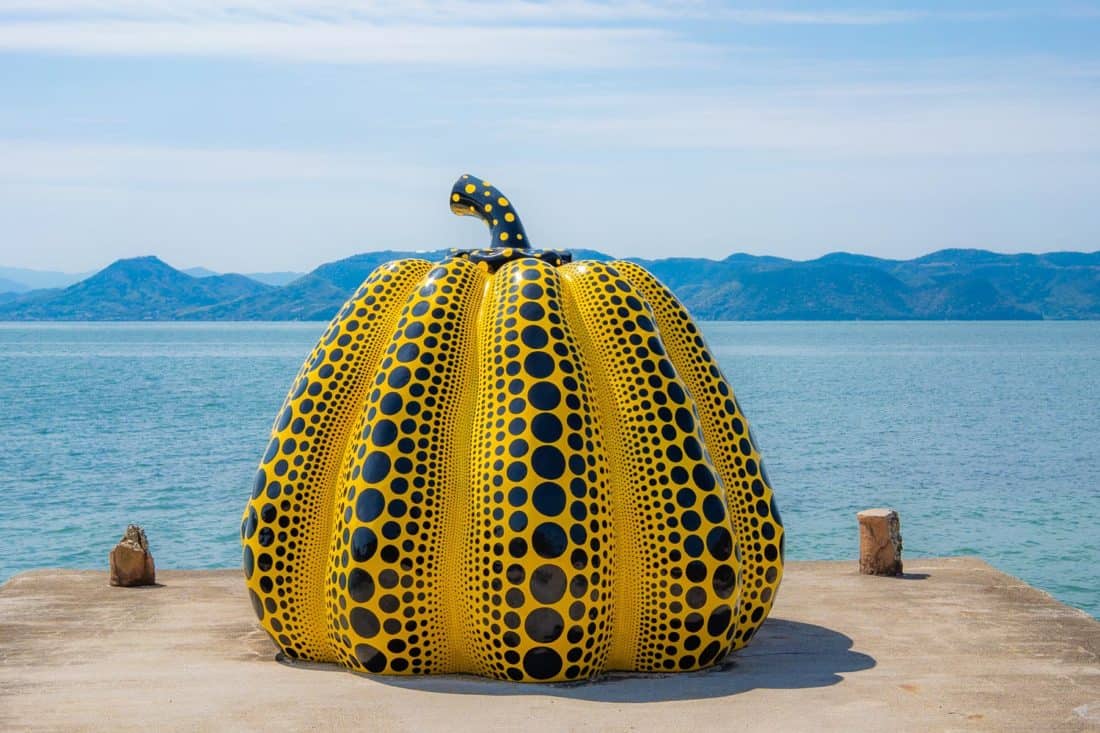 Naoshima is a rural island that has been transformed into a contemporary art hub.
We spent a wonderful day cycling to art museums and outdoor artworks (including the famous Yellow Pumpkin) while enjoying sea views. We even found a tasty vegan lunch at Aisunao.
It's a unique place and a fantastic combination of art and nature.
See our Naoshima itinerary for all the details you need for this Okayama day trip.
9) Himeji Castle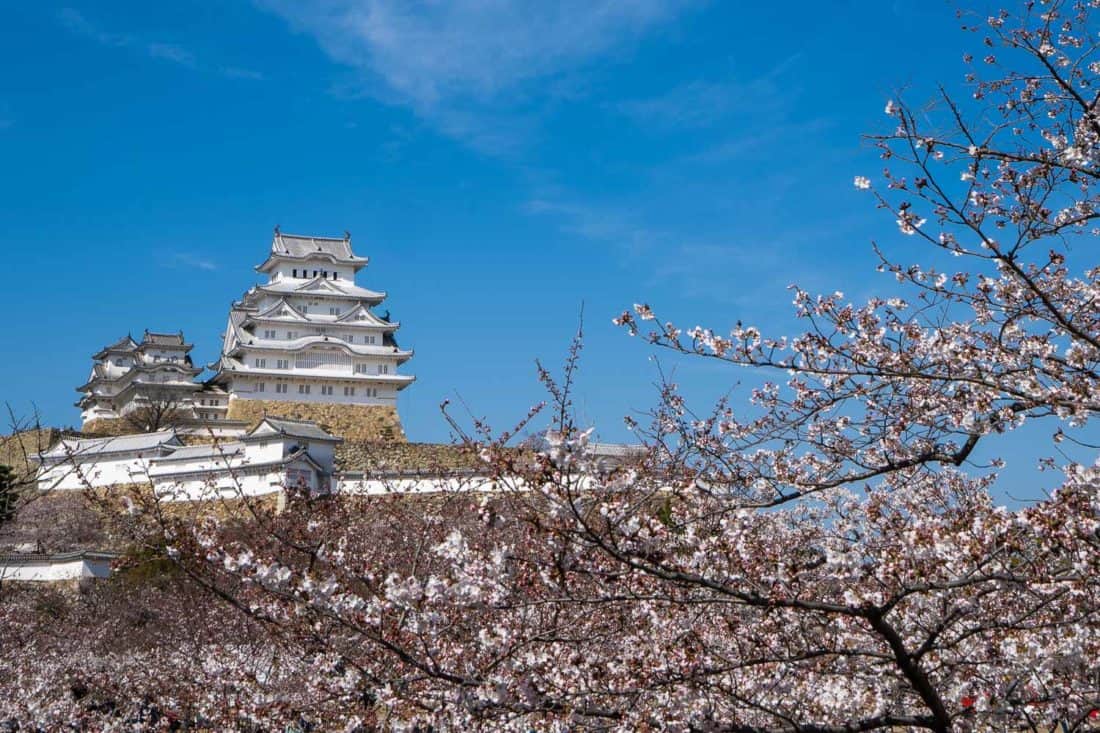 Himeji Castle is considered the most impressive castle to visit in Japan and it is certainly our favourite.
It's very easy to visit from Okayama in just 20 minutes on the shinkansen (bullet train).
It's one of the few Japanese castles that was never destroyed and the complex dates back to 1609. It's known as White Heron Castle due to its white walls.
Himeji is worth visiting at any time of year, but it is especially stunning in spring when the many cherry trees on the grounds bloom and the Japanese come for hanami picnics.
Usually, I recommend visiting Himeji as soon as it opens at 9am as there can be long queues to enter the main keep.
As we wanted to see the special sakura night illumination, we chose to visit in the afternoon and stay into the evening instead.
By waiting until 3.30pm (last entry is at 4pm), we were able to enter the keep without queuing, although the top floor with views of the grounds was rammed.
Before we visited the castle we had a lovely vegetarian set lunch at Sakura Saku (closed Mondays/ Tuesdays), which has views of the castle from its tatami mat rooms.
We then visited the Koko-en gardens which are next to the castle and worth visiting. The extensive castle grounds are also a lovely place to stroll.
After dark we enjoyed the special night light show and wandered through all the hanami picnics.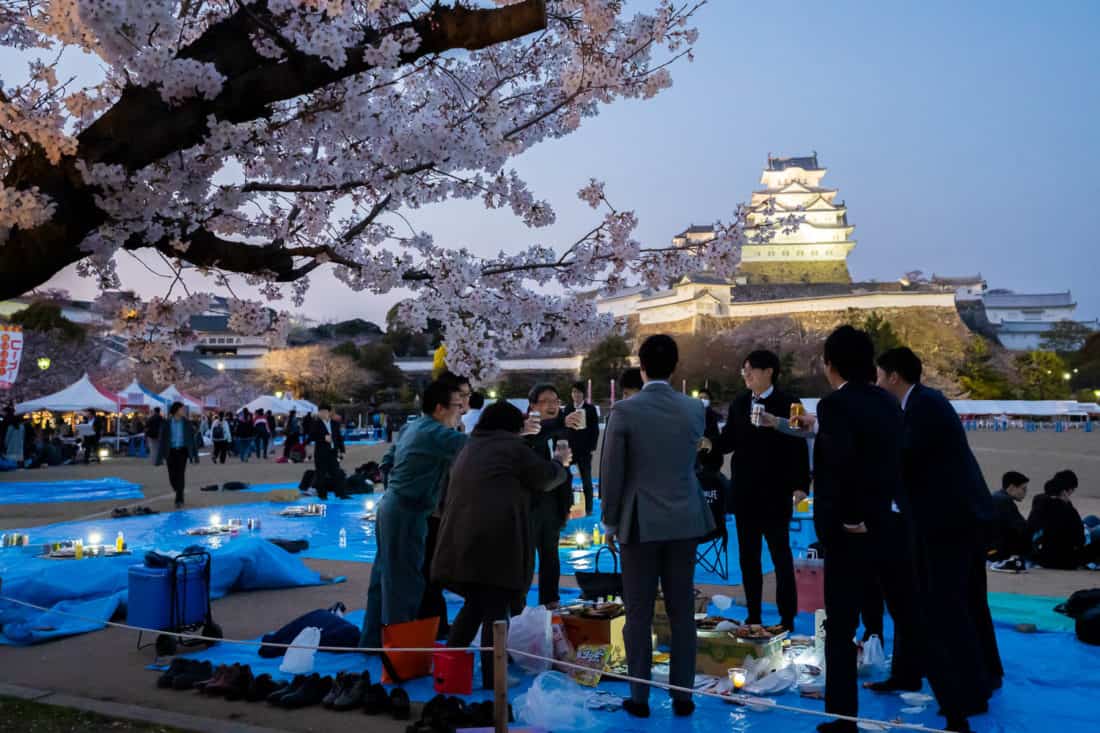 Some groups were impressively organised with generators and plastic tables; all featured plenty of beer and sake.
Details: Himeji Castle is open 9am – 5pm (last entry 4pm). Cost 1050 yen ($7.50) for a combined ticket to the castle and Koko-en gardens. See the Himeji Castle website for special events.

How to Get There: Take the shinkansen to Himeji (20 minutes). Avoid the Nozomi shinkansen if you are travelling with a Japan Rail Pass. From Himeji station it's a 20-minute walk (or short bus ride) to the castle.

Suggested Tours: This Himeji Half-Day Private Tour allows you to customize up to 3 different sites you wish to visit.
10) Hiroshima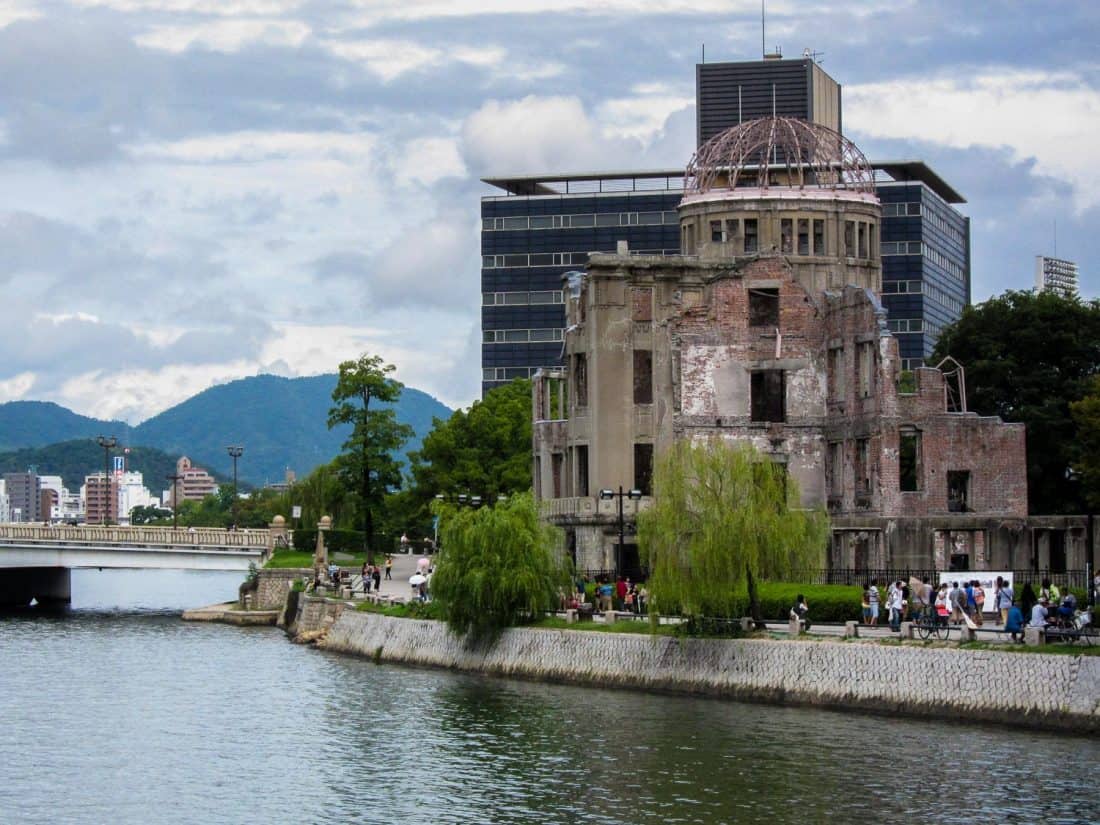 Hiroshima is an essential stop for many visitors to Japan in order to pay their respects at the site of the atomic bomb and visit the excellent Peace Memorial Park and Museum.
We visited Hiroshima on our first trip to Japan, so we didn't visit this time, but it's an easy day trip from Okayama.
You could also combine the Peace Museum with a trip to Miyajima Island to see the iconic Itsukushima giant torii gate that appears to float on water.

How to Get There: Take the shinkansen to Hiroshima (35–40 minutes). Avoid the Nozomi shinkansen if you are travelling with a Japan Rail Pass. From the station it's a 15-minute tram ride or 30-minute walk to the Peace Memorial Park.

Miyaijima from Hiroshima: Take the train to JR Miyajima Guchi station (28 minutes) from where you can catch the ferry. The ferry takes 10 minutes and the JR ferry is included with Japan Rail Passes.

Suggested Tours: This Hiroshima & Miyajima Island Private Guided Walking Tour looks ideal with the tour starting from your accommodation.
Okayama Hotels
Hotel Granvia Okayama (Our Pick)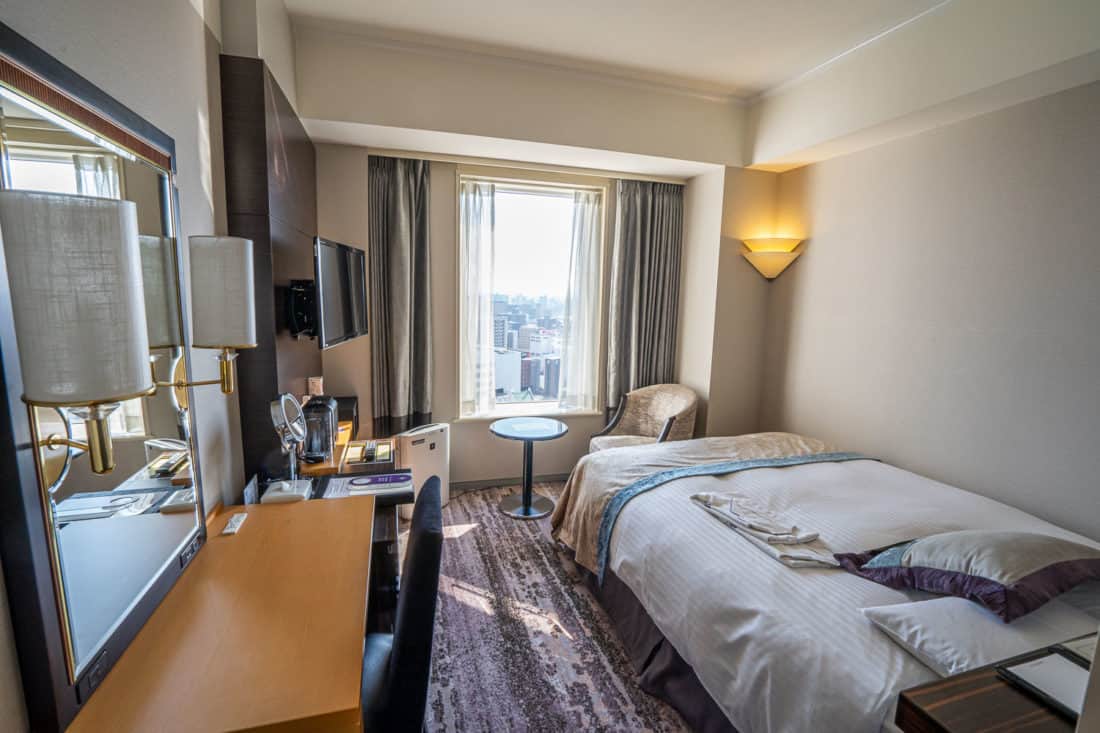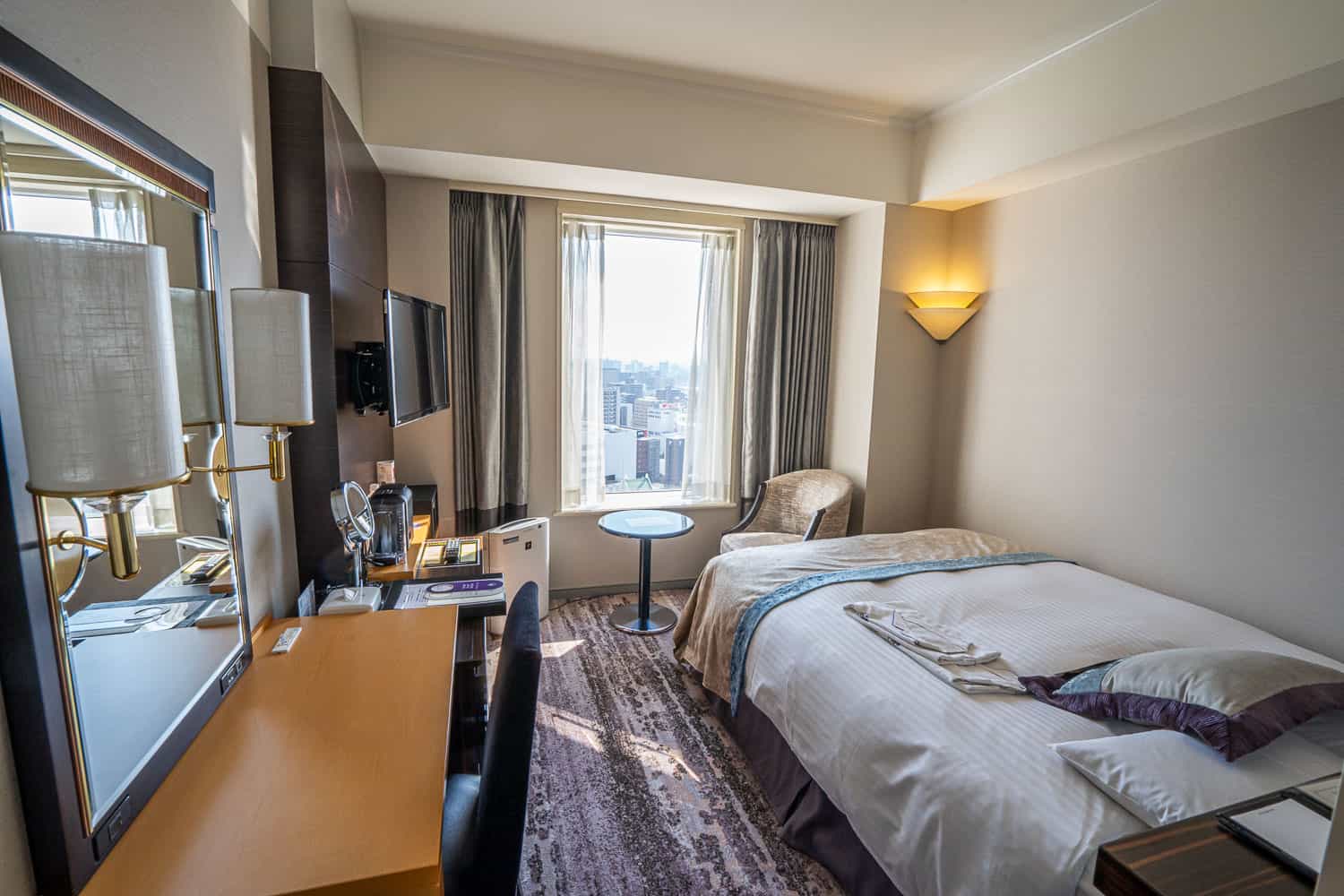 We chose to stay at Hotel Granvia Okayama because of its convenient location and we're so glad we did.
This huge four-star hotel is connected to the Okayama train station, so it couldn't be easier to take day trips. It's just a few minutes' walk to the platforms and you don't even need to go outside.
We stayed in one of the newer refurbished rooms on the 18th floor, which was nicer than most Japanese business hotels with a modern bathroom.
They were sold out of the larger double rooms so we had a smaller room with a semi-double bed which was a typical Japanese hotel room size.
It was a little small for a six-night stay with not a lot of storage space (there's a wardrobe and a suitcase rack but no drawers), but I had just enough floor space for yoga.
We also had good WiFi, a desk, armchair, fridge, kettle, and air conditioning. There was no noise despite how close it is to the station.
At reception they had a useful cherry blossom report and the staff responded quickly to our requests for extra pillows and hangers.
We would definitely stay at Granvia Okayama again because the location can't be beaten and it was ideal for following this Okayama itinerary.
Check the latest prices of Hotel Granvia Okayama here.
Other Hotels in Okayama
Mitsui Garden Hotel Okayama is also close to the station and is less expensive than Hotel Granvia Okayama. It features a public onsen.
If you are looking for a hostel, Lazy House has twin rooms and dorms.
Search for more hotels in Okayama here.
Okayama Vegetarian Food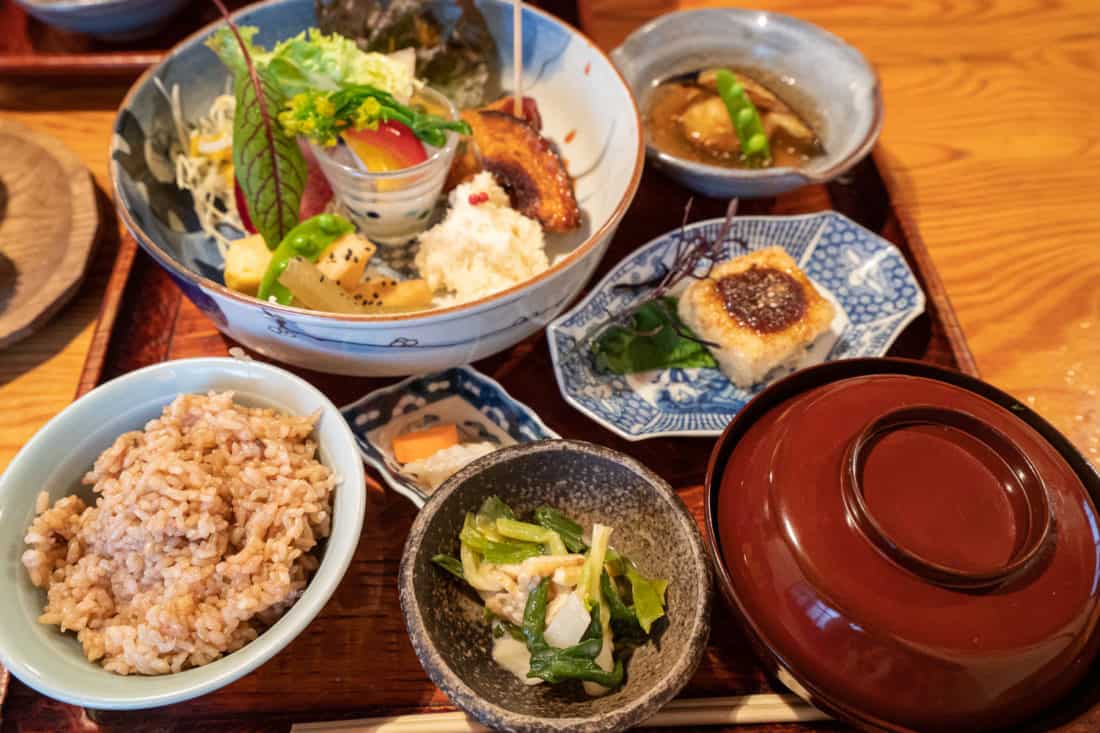 There aren't a huge number of places to eat vegetarian food in Okayama, but there was enough to keep us going.
Unfortunately, Yasai-Shokudo Koyama, which we previously recommended, has now closed.
We often grabbed a snack (pizza slices, cheese bread, pastries) from the Vie de France bakery in the train station.
See our vegetarian Japan guide for more tips on avoiding meat and fish while travelling the country.
Milenga (Indian)
For an inexpensive meal, Milenga is great for vegetarians. The interior is simple but colourful and in spring you can see the cherry blossoms on the canal.
The Indian food is authentic and spicy. The thali is massive; I found the two curries with chapatis enough and it's only 850 yen ($6). The dosa tasted good but wasn't very crispy—I'd stick with the curries instead.
Coco Ichibanya (Japanese Curry)
Ah, Coco Ichibanya, the saviour for vegetarians in Japan! Most branches of this Japanese curry chain have vegetarian menus these days, including the one near Okayama station.
Just look for the green menu and choose your variety (we like vegetables and eggplant) and spice level (3 is pretty spicy).
It's cheap, quick, and tasty.
Here are a few other recommended vegetarian and vegan places to try:
CBD Green – A health store next to the train station that offers 2 daily vegan set meals.
Kamadaya – Restaurant specialising in a variety of tofu-based dishes.
Hajimarini – Further outside the city this vegan bakery sells delicious looking plant-based baked treats.
Okayama Japan Map
Is Okayama Worth Visiting?
While Okayama might not be a priority if you are a first time visitor to Japan, I do think it's well worth visiting for returning travellers or those on longer trips.
I hope this Okayama travel guide has encouraged you to give this less-visited city a go.
It's an affordable and convenient base for exploring the area and has a few lovely attractions in the city.
In cherry blossom season, it's especially worth visiting as you can enjoy the flowers without fighting the crowds.
More Japan Posts
General Tips:
If you enjoyed this post, pin it!