This page contains affiliate links. Please read our disclosure for more info.
Japan has a huge variety of accommodation options that you won't find anywhere else.
If you are on a budget, finding the cheapest Japan accommodation will be a priority, but I recommend spending a bit extra and staying in a ryokan (traditional Japanese inn) at least once.
Sleeping on a futon in a tatami mat room is a quintessential Japanese experience and it'd be a shame to miss out.
We have travelled around the country three times with a Japan Rail Pass and tried out a range of accommodation. Prices may be high (although no higher than Western Europe or the US), but standards are too, and we've never had a bad experience. Just be prepared for small rooms and pack light as luggage storage space is limited.
It's best to reserve accommodation in advance because you could end up paying a fortune if budget places are booked up when you arrive.
We use Booking.com to find hotels in Japan except for the bigger cities like Tokyo and Osaka where it's usually cheaper to rent an apartment on sites like Vrbo.
Here are the different types of Japan accommodation to expect and our picks for the best places to stay in Japan.
Japan Accommodation Contents
Video: Where to Visit in Japan
Get inspired with our video on the top places to visit in Japan.
Hostel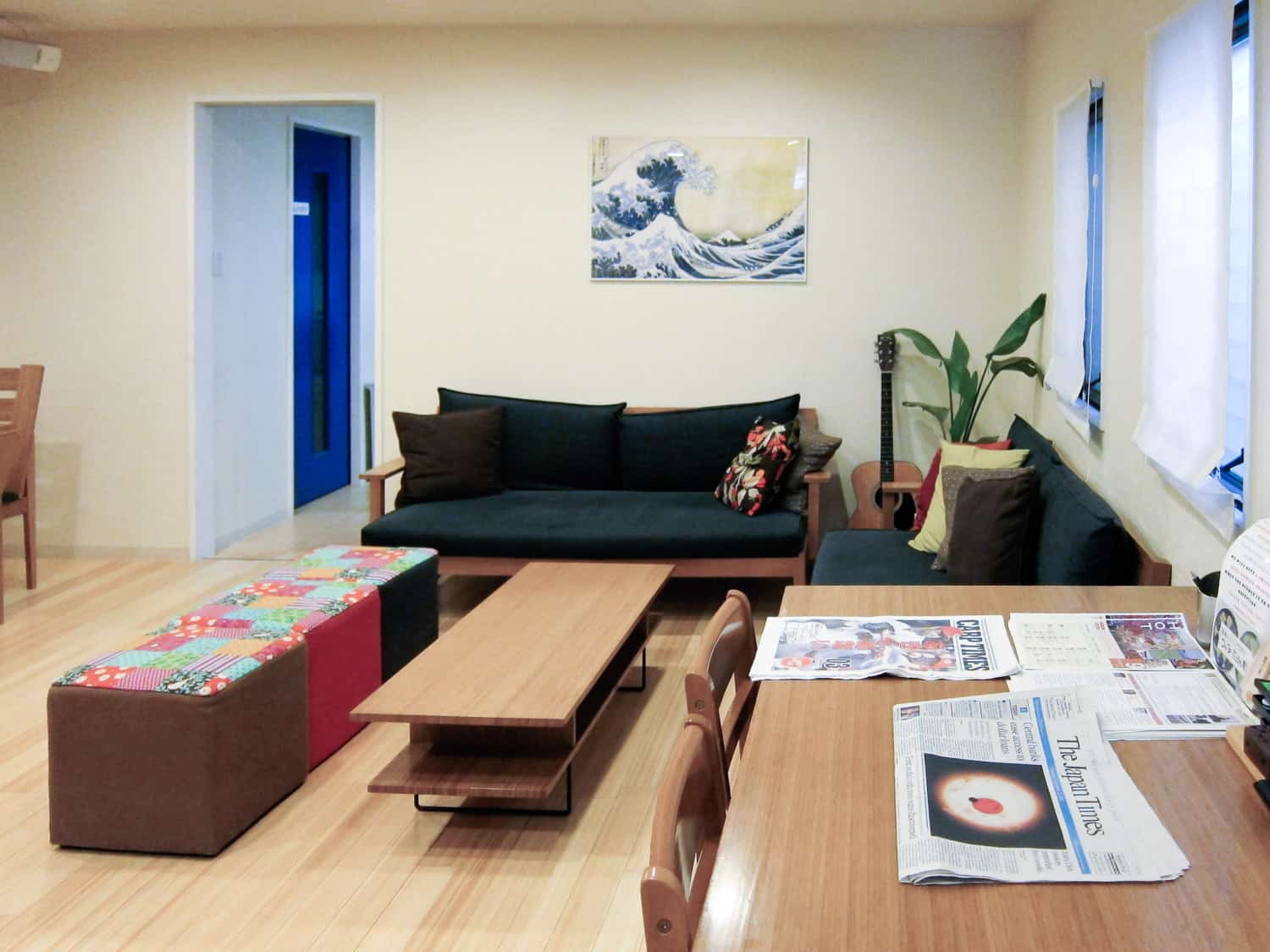 You might assume that hostels are the cheapest places to stay in Japan, but we usually find business hotels to be cheaper for couples (see below).
There are some benefits to staying in hostels, though. There are usually better facilities including a kitchen (which can save you money eating out), common area to relax and socialise in, WiFi, computers, bike hire, and laundry.
The staff is more likely to speak English (which isn't commonly spoken elsewhere) and be able to help you with information on the local area.
If you are travelling alone, dorm beds are one of your cheapest options in Japan, and hostels are the best places to meet other travellers.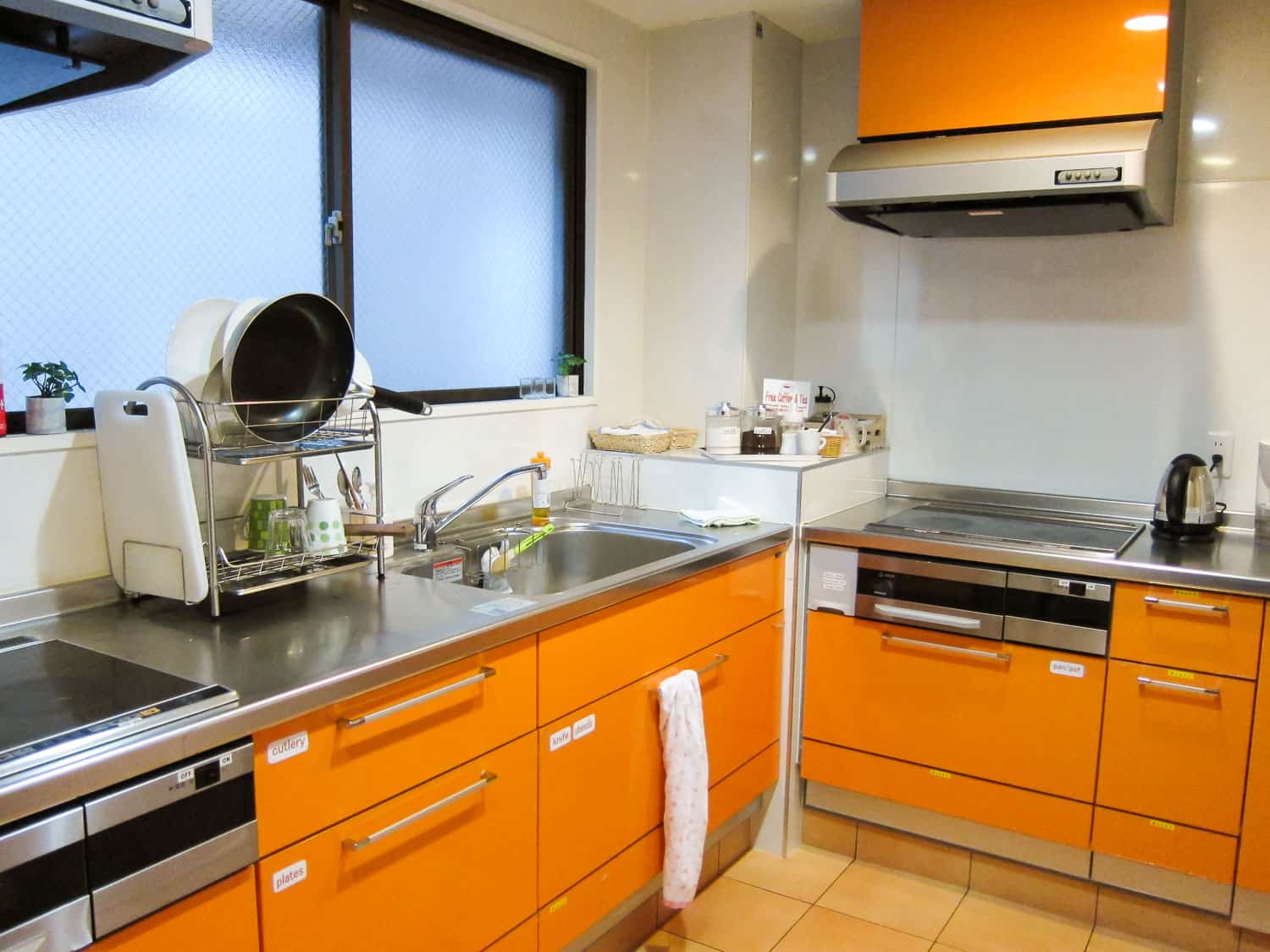 On our first Japan trip, we stayed at K's House Hostel Hiroshima and, although the room was small (most are in Japan), it was clean, comfortable, and had a private bathroom well equipped with towels, shampoo, and soap.
The kitchen was immaculate and well-stocked, and the staff were welcoming. We loved the map they provided with details of restaurants in the area—we found a great little okonomiyaki place this way.
You can't go wrong with K's House hostels in Japan—you can stay with them in Tokyo, Kyoto, Takayama, Hakone (complete with onsen!), Kawaguchiko (with Mt Fuji view) and many other places around the country.
We've also heard good things about the J-Hoppers hostel chain.
Cost: Beds in dorm rooms range from 2000 – 3000 yen (US$18-27). A private double room with shared bathroom is 5600-8000 yen ($50-70) per room and a private double ensuite around 8000 – 11,000 yen ($70-100).
Recommended For: Budget travellers, especially if you are travelling alone or want to self-cater.
Business Hotel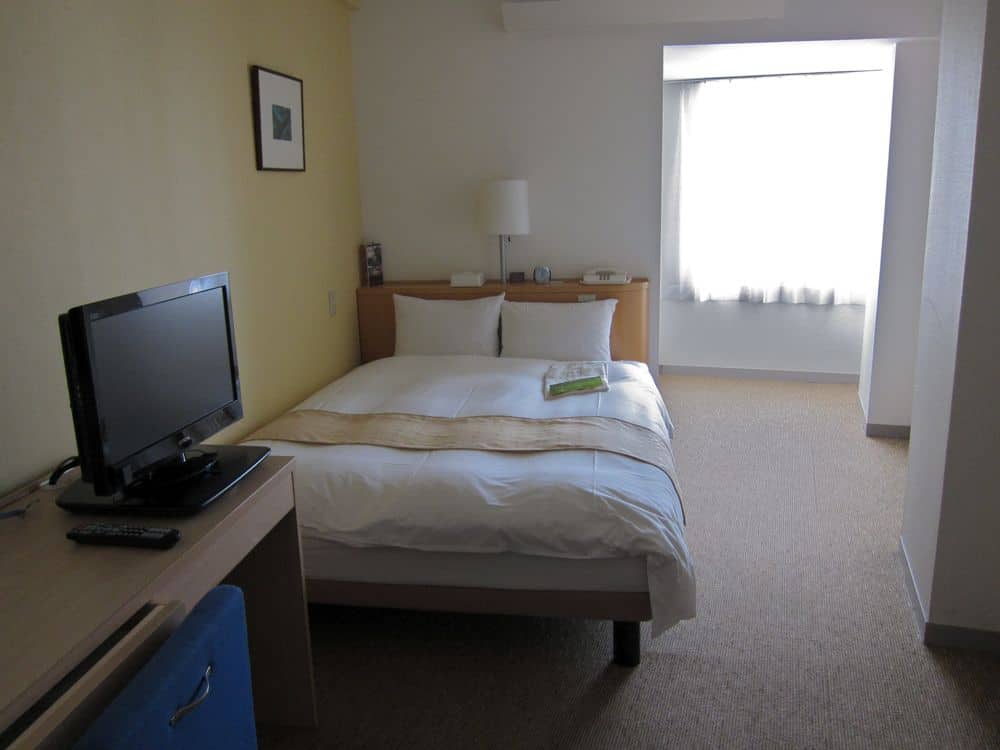 We've found the cheapest ensuite double rooms in cities by booking business hotels online on Booking.com.
Rooms are small but clean, usually have WiFi, and as they are aimed at businessmen who might have missed the last train home, come equipped with everything you might need: towels, soap, shampoo, toothbrush, comb, robe. They always have a private bathroom, desk, fridge, and kettle.
Some business hotels we've stayed in have laundry facilities, free breakfast, and even an onsen bath.
Business hotels don't have much charm or character and the staff may not speak much English (although this is becoming more common), but they are a good budget option for a few nights.
They are often in convenient locations close to train stations, which makes things much easier when you are travelling around the country at a fast pace with a rail pass.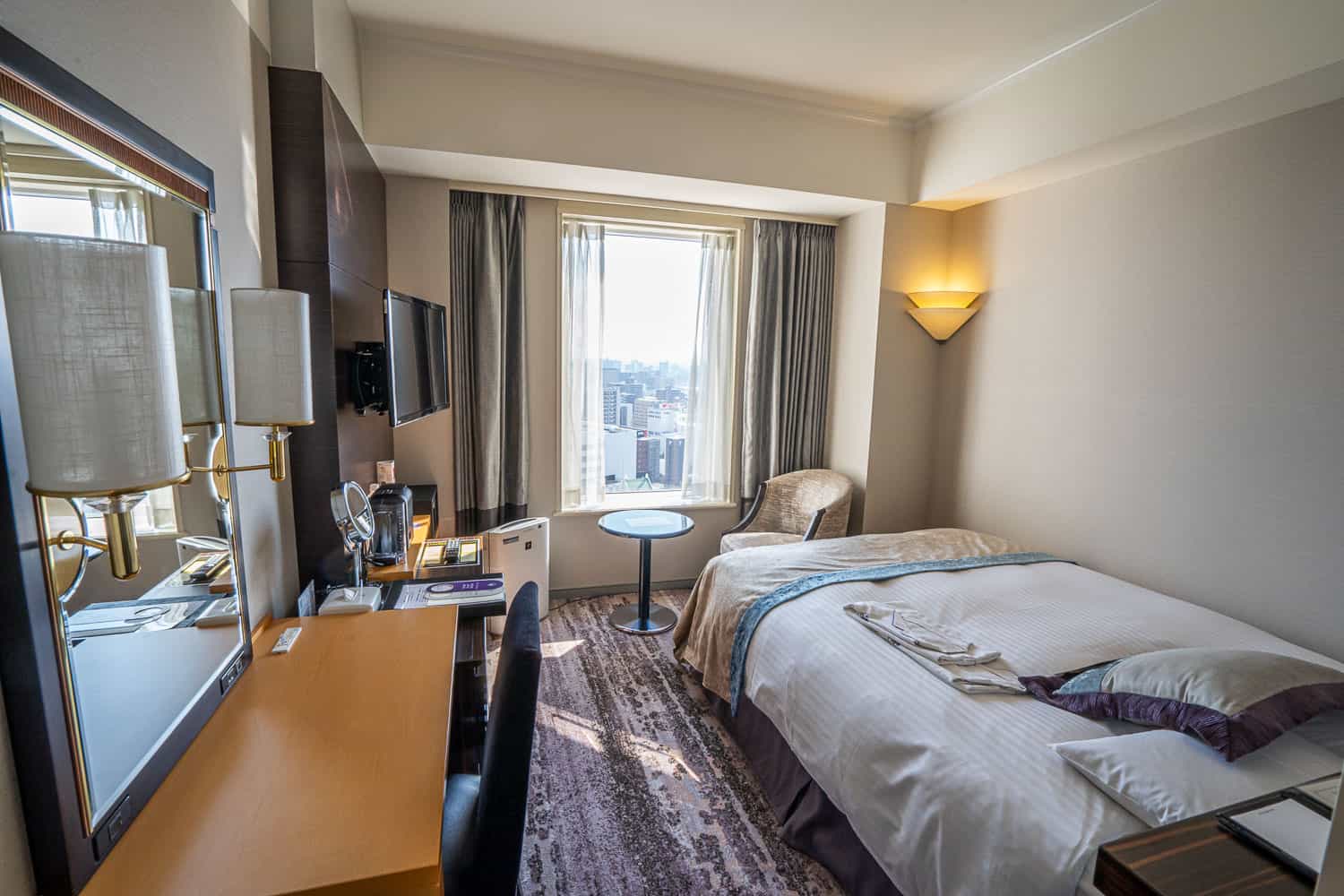 This is especially true for the Granvia chain whose hotels are attached to train stations. We stayed in the Hotel Granvia Okayama and it couldn't have been more convenient for the day trips from Okayama we did (including to Naoshima art island and Himeji Castle).
There are also Granvia hotels at the JR stations in Kyoto and Osaka which are ideal if you'll only be spending a night or two or are planning to take lots of day trips.
Some other business hotels we've stayed in include: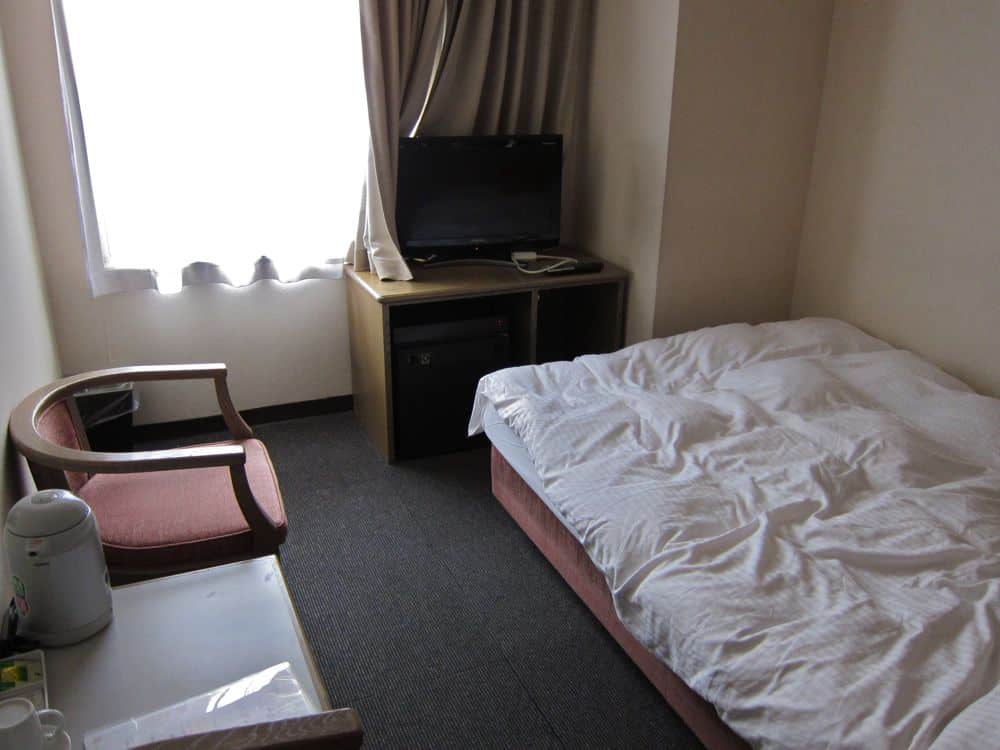 Cost: Prices vary but we've paid from 5600 – 12,000 yen ($50-106) per room by booking online on Booking.com.
Recommended For: Couples on a budget.
Travel tip: Don't forget to buy your Japan Rail Pass before you get to Japan. It will save you money and is the easiest way to travel the country. Read my post on whether a Japan Rail Pass is worth it for everything you need to know.
Ryokan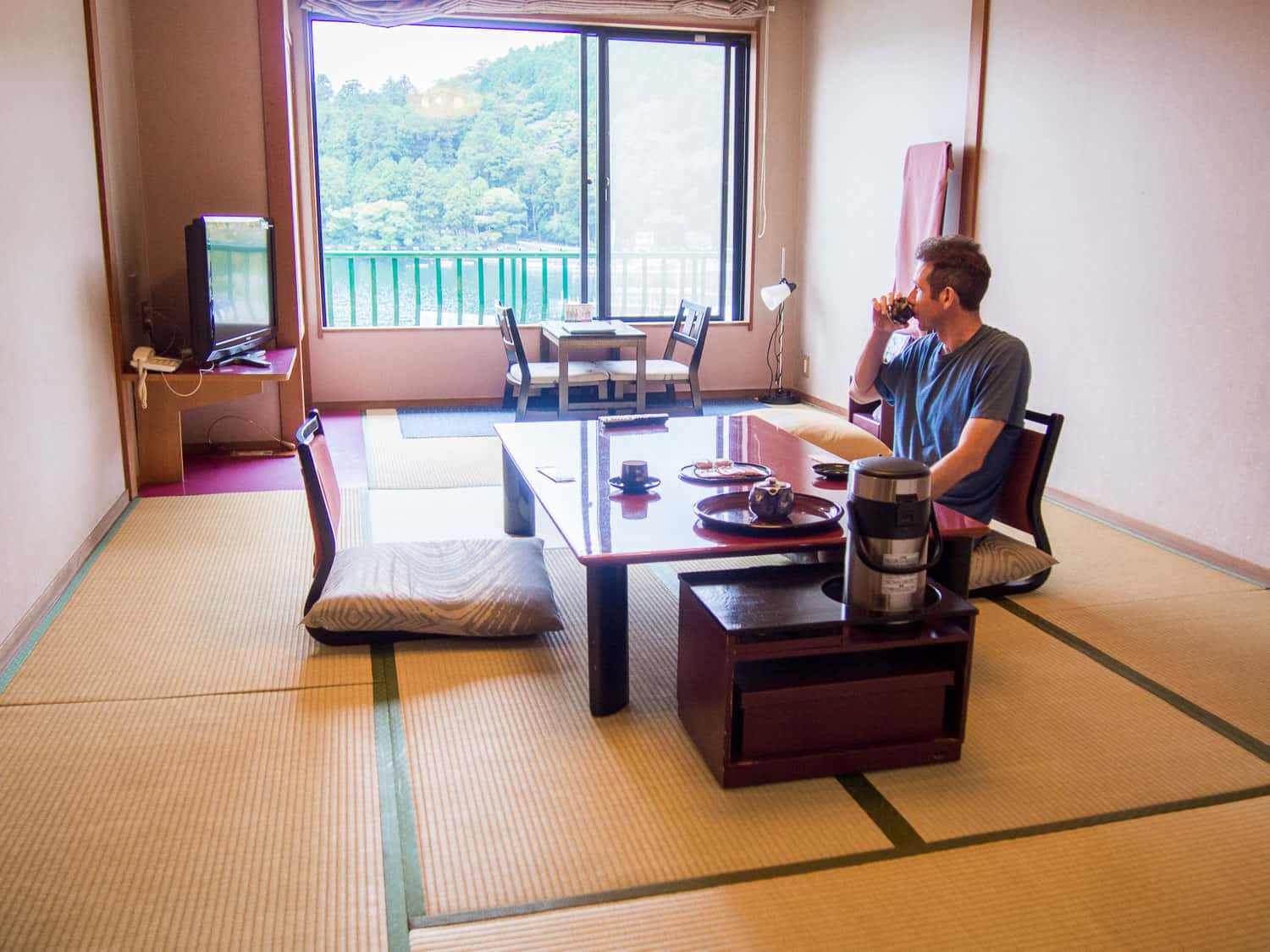 A ryokan is a traditional Japanese inn. When you are planning where to stay in Japan I highly recommend adding a ryokan to your itinerary.
They are more expensive than standard hotel rooms but are worth trying at least once for a unique experience—they are my pick for one of the top things to do in Japan.
You'll sleep in a tatami mat room on a futon – a stack of thin mattresses that are put away during the day leaving a minimalist space. Usually the only furniture is a low table where you sit on cushions to drink green tea (served on arrival) and sometimes eat your meals.
The most traditional inns are made from wood with sliding paper doors and views of elegant gardens.
A modern ryokan is more affordable and looks like a normal hotel from the outside but with tatami mat rooms. Modern ryokans are more likely to have ensuite bathrooms, air conditioning, and other modern conveniences.
A yukata (cotton kimono) is provided and you can change into this as soon as you arrive for maximum comfort and wear it around the inn. In onsen towns like Kinosaki Onsen, you can even wear them around town as you tour the different baths.
Our Ryokan Picks
We have stayed in and recommend these ryokans.
Hotel Musashiya, Hakone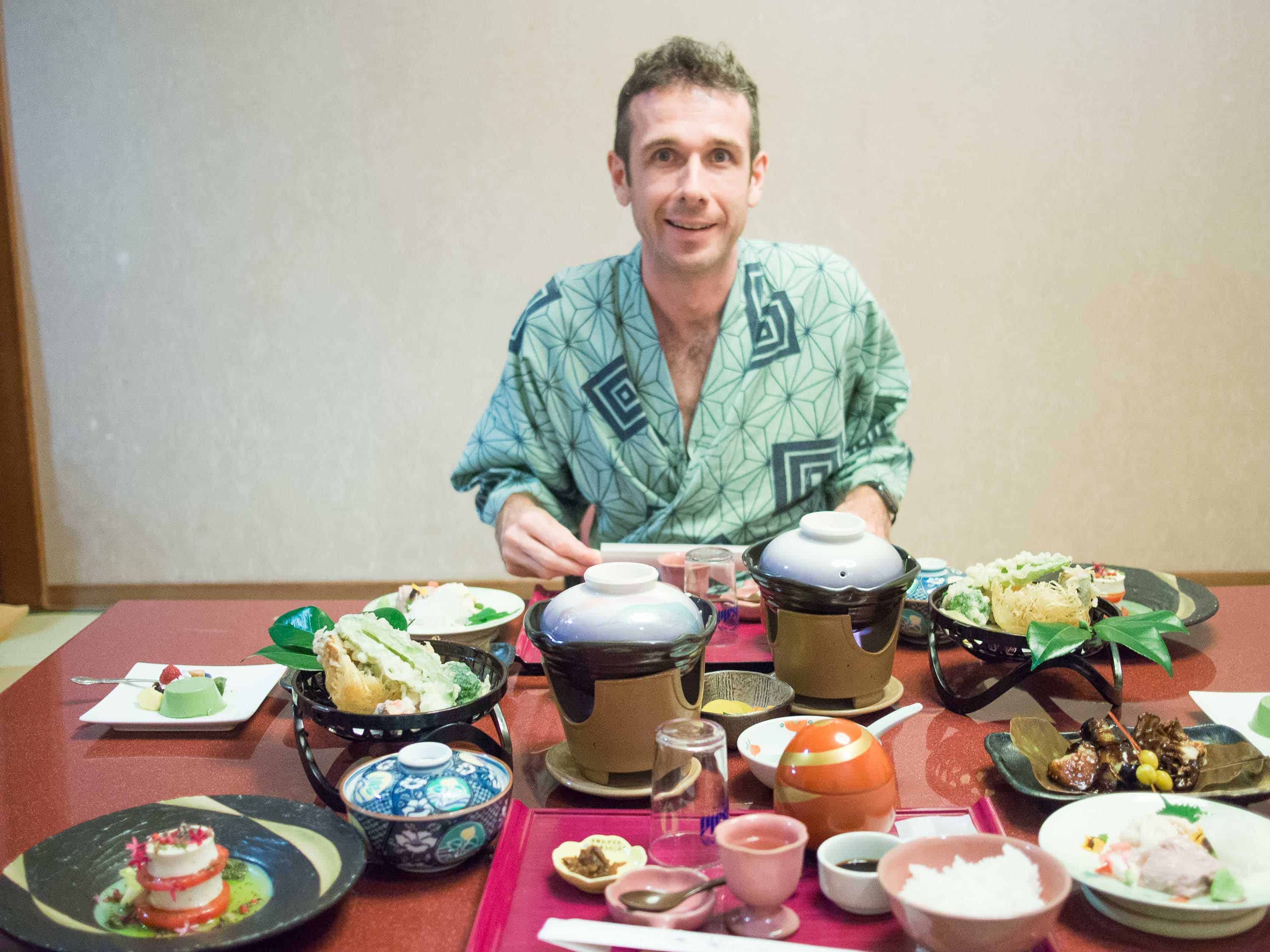 We stayed at the modern ryokan Hotel Musashiya in Hakone and highly recommend it—it was the highlight of our two week Japan itinerary.
Our room and the indoor and outdoor onsens have fabulous views over Lake Ashi and it's just a few minutes walk from the pirate ship dock and viewpoint to see Mount Fuji.
Our room had an ensuite and was comfortable and tranquil. The food was outstanding. WiFi is only available in the cosy lounge, but this was a blessing as ryokans are ideal for disconnecting.
Check the latest prices of Hotel Musashiya here.
Morizuya Ryokan in Kinosaki Onsen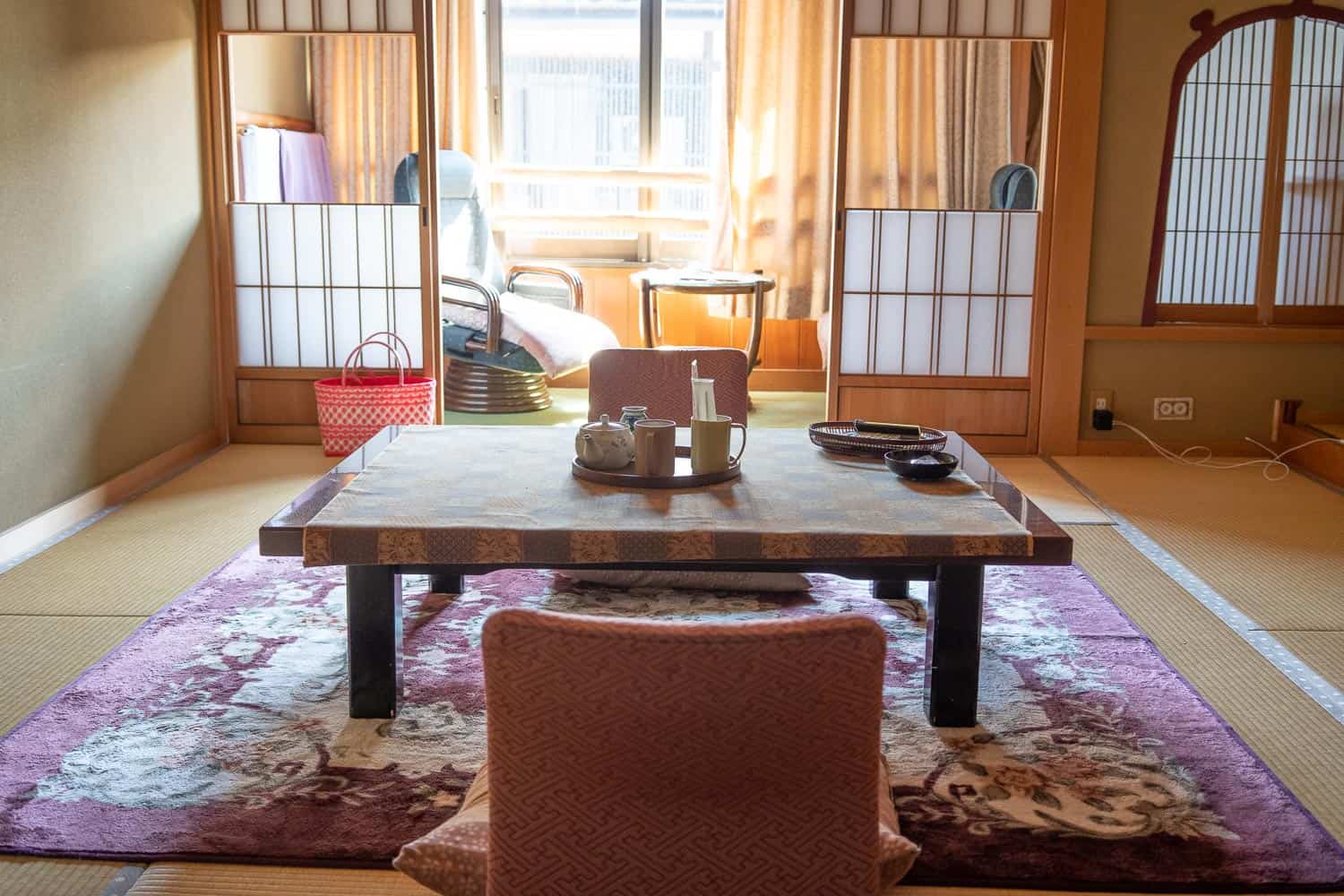 Run by a super-friendly family, Morizuya is a great place for your first onsen town experience. There are two baths in the hotel that can be booked for private use (great for couples and families) and you'll get a free pass for the other seven onsens in town.
The food at Morizuya is also fantastic and they catered well for us vegetarians.
See my Kinosaki Onsen guide for onsen etiquette tips (and how to get over your public nudity fears) and a more detailed review of the ryokan.
Check the prices of Morizuya Ryokan here.
Kawaguchiko Lakeside Hotel at Lake Kawaguchiko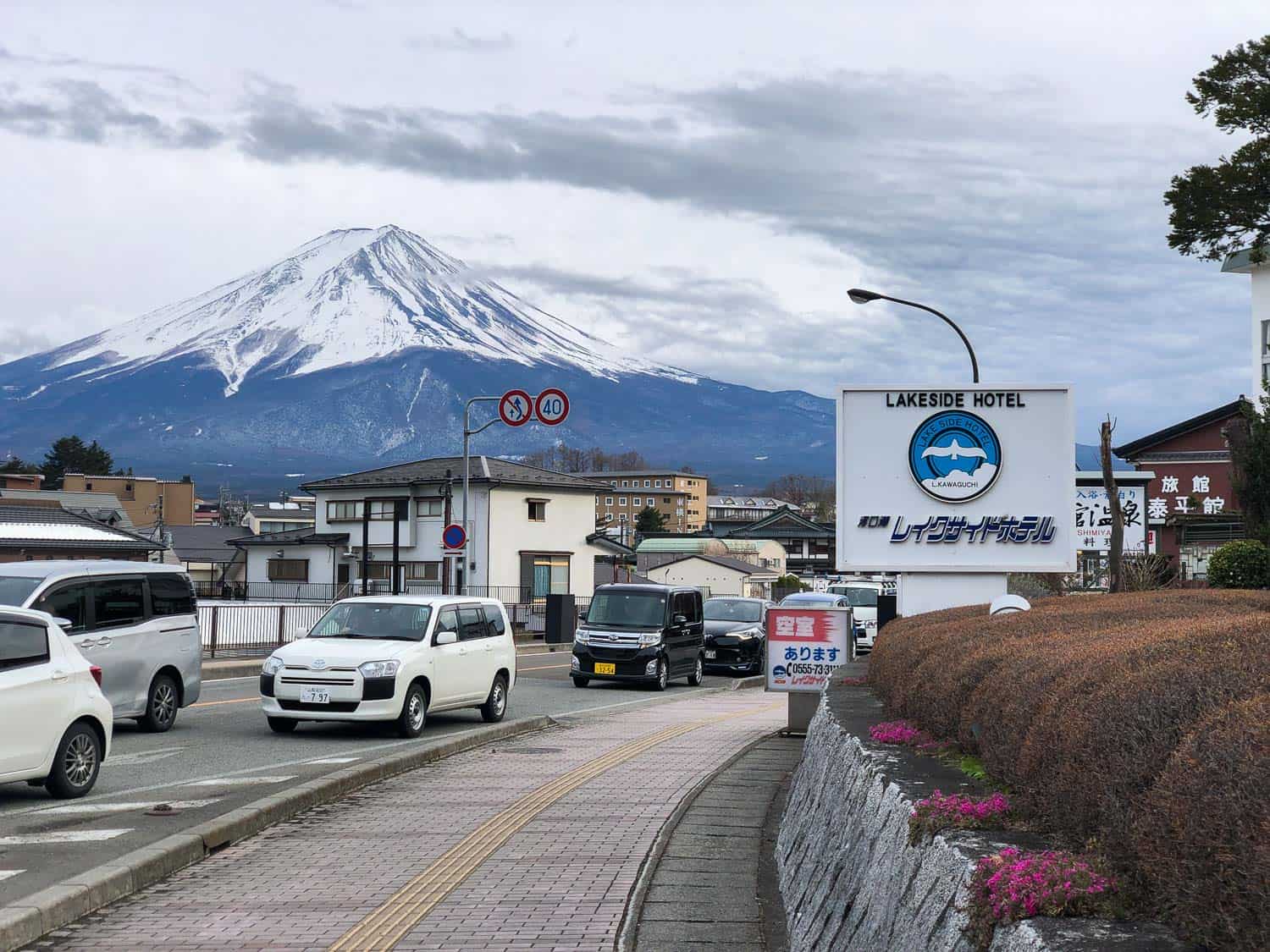 If you have your heart set on seeing Mount Fuji, Kawaguchiko is the best place to do so.
Kawaguchiko Lakeside Hotel is a large, modern, and friendly ryokan in a great location near the bridge that crosses Lake Kawaguchiko.
The rooms are not very traditional, but our budget room was spacious (with a separate bedroom and living room) and some have Mt Fuji views (or just step outside and you can see it on clear days!).
It's a good affordable option for exploring the lake and seeing the iconic mountain.
Check the latest prices of Kawaguchiko Lakeside Hotel here.
Baths
Many ryokan rooms don't have private bathrooms, and even if they do, Japanese style communal bathing is part of the experience, especially in towns famous for its onsens (hot spring baths).
There are separate male and female bathrooms, sometimes with set bathing times. You leave your clothes in a basket in the changing room and walk naked into the shower area with just a tiny face towel. Here you sit on one of the low stools in front of a shower and wash (very important) before getting into the large hot bath to relax.
The idea of taking a bath naked with strangers freaked me out the first time, and I may have hidden in the toilet while I worked up the nerve to take my clothes off!
But honestly, once I did, it felt totally normal and I'm glad I got over my fears. Soaking in the hot bath was so relaxing and I felt blissed out during our whole ryokan stay. I've gone on to try many onsens since and they are a highlight of Japan.
If you really don't want to do the communal thing, look for ryokans that allow you to reserve a time slot for a private bath (like Morizuya above).
Some expensive ryokans have private baths in the rooms. I really wanted to stay at Fujikawaguchiko Onsen Konsanso where some rooms have private onsens on the balconies with Mount Fuji views (see top photo), but it was already booked up when we visited.
Food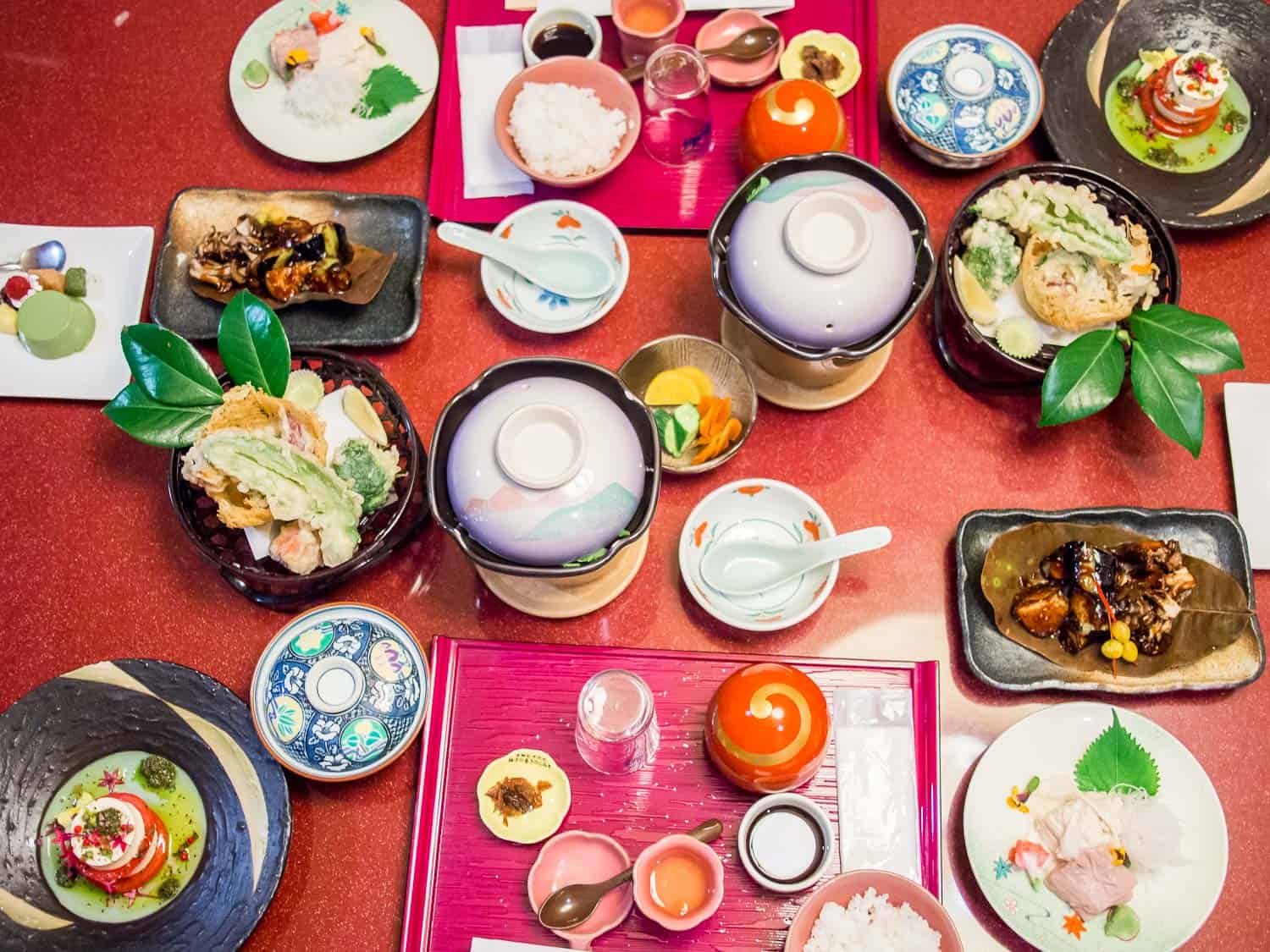 Ryokan meals are a highlight. Dinner and breakfast are usually provided and this is part of the reason the room price is high. Trust me, it's worth it.
In your room or a public dining area you'll be served multi-course kaiseki, a traditional Japanese gourmet feast. Even breakfast is an adventure featuring rice, miso soup, fish, pickles, and seaweed.
Many ryokans allow you to request special meals for dietary requirements in advance and are a fantastic option for vegetarians in Japan. Hotel Musashiya and Morizuya made us superb veggie feasts.
Booking a Ryokan
Booking in advance is essential. The easiest way to find a ryokan is on Booking.com —just choose "ryokan" as a property type in the filters list. You can also select "breakfast & dinner included", "hot spring bath" or "open-air bath".
On our first trip we used Japanese Guest Houses which has a comprehensive list of ryokans in Japan. They will book them for you, but you must make an enquiry first and can't see current availability. For this reason we now find Booking.com easier.
Cost: We paid 31,500 yen ($277) for one night at Hotel Musashiya in Hakone including dinner and breakfast, which is about average. You can find ryokans from 14,000 yen ($123) per couple all the way up to an astonishing 220,000 yen ($1935).
Recommended For: Everyone who would like to experience traditional Japan and can afford it.
Minshuku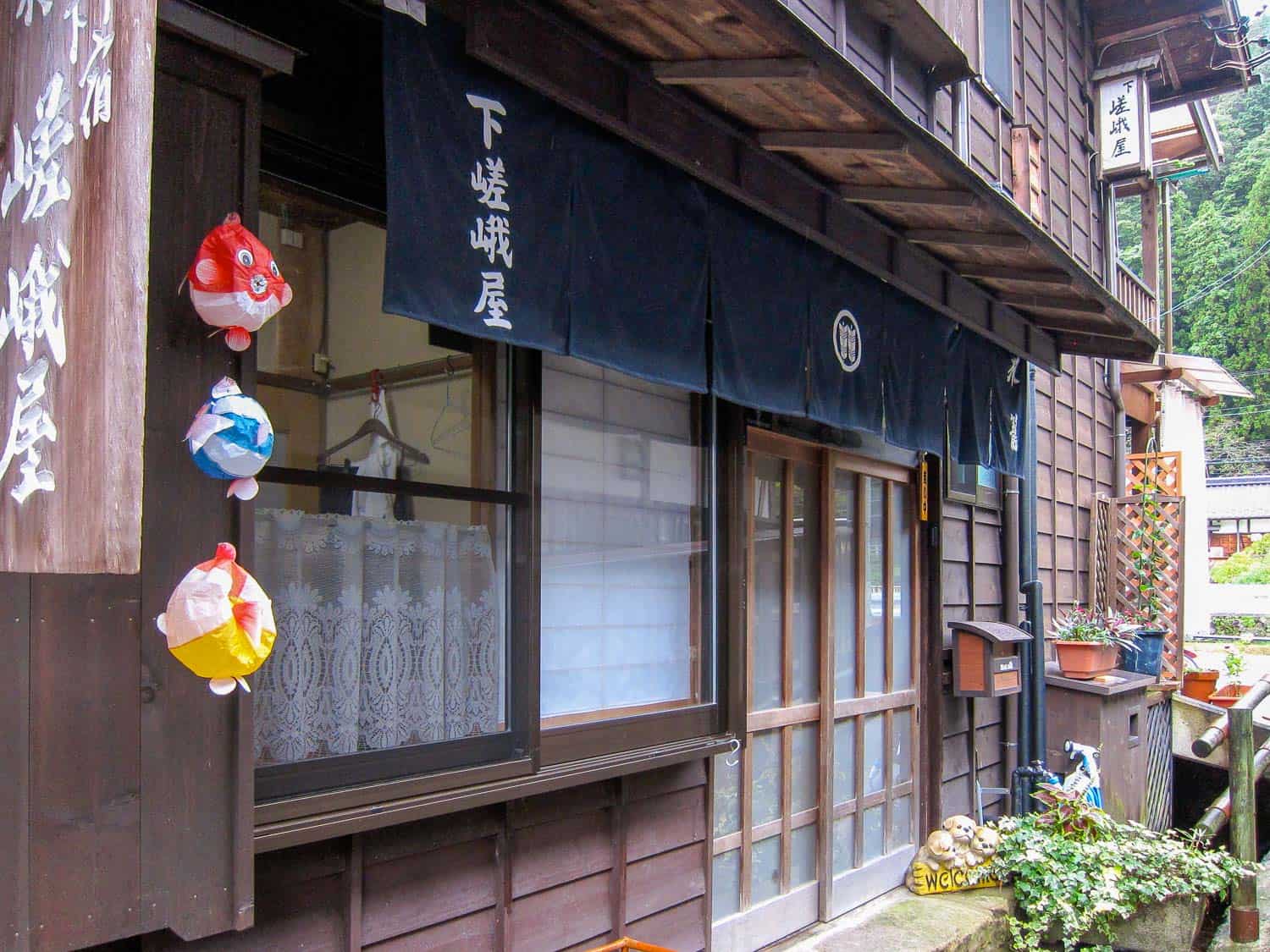 A minshuku is a more basic, family-run version of a ryokan. They are smaller with a homely atmosphere.
In 2011 we stayed at Minshuku Shimosagaya in the small traditional village of Tsumago in the Kiso Valley, which we think is one of the best places to visit in Japan.
Our room was smaller and simpler than at our ryokan, there was no ensuite or hot spring bath, and meals weren't served in our room. It's a good option if you can't afford a ryokan, but the experience didn't feel as relaxing and special.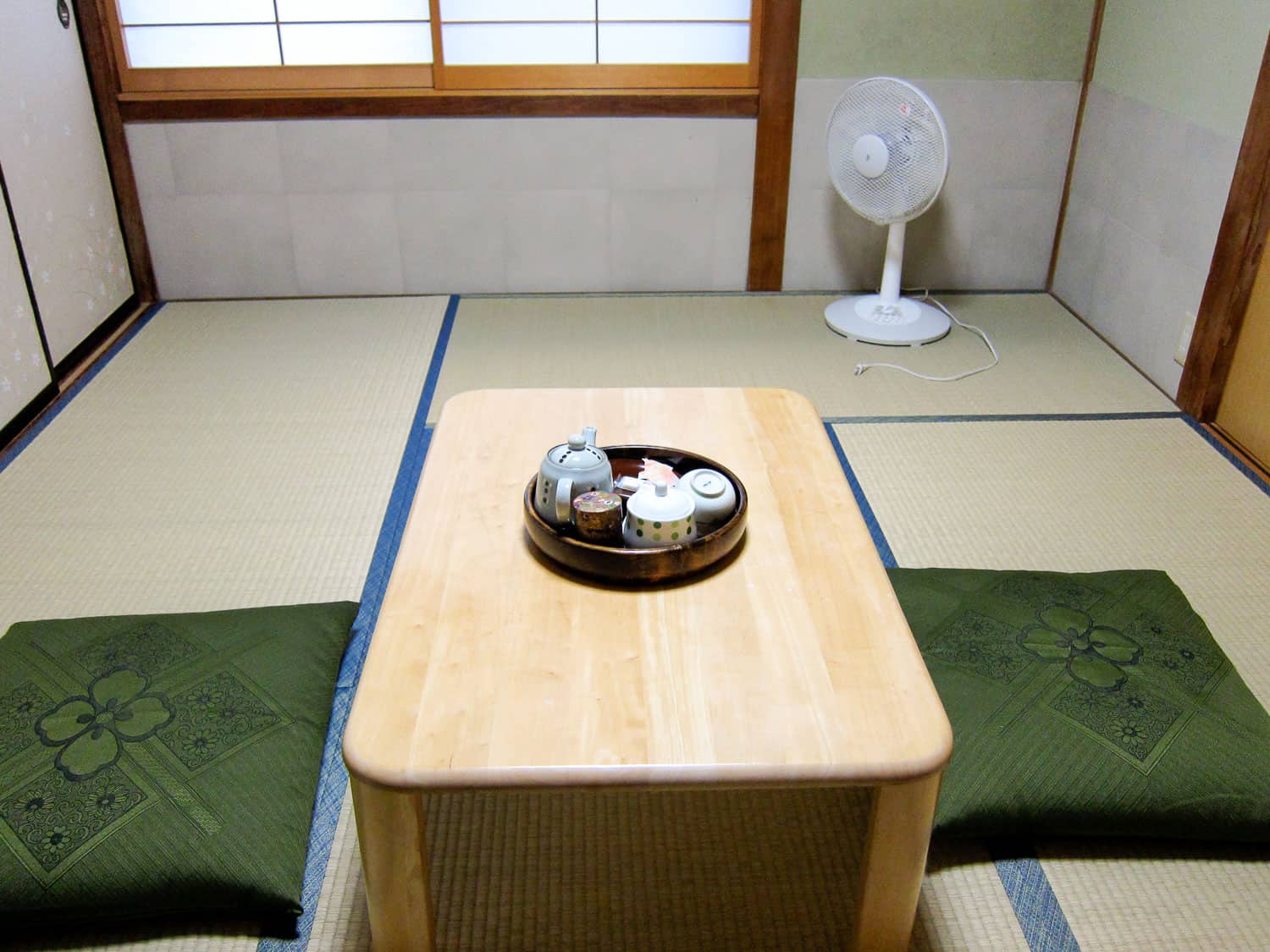 If you can't afford a ryokan or minshuku, many hostels offer tatami mat rooms for the same price as Western-style rooms so you can get a taste of the traditional experience on a budget.
Cost: Our minshuku in Tsumago cost 17,430 yen ($153) for us both with meals.
Recommended For: People who'd like to experience traditional Japan but don't have the budget for a ryokan.
Temple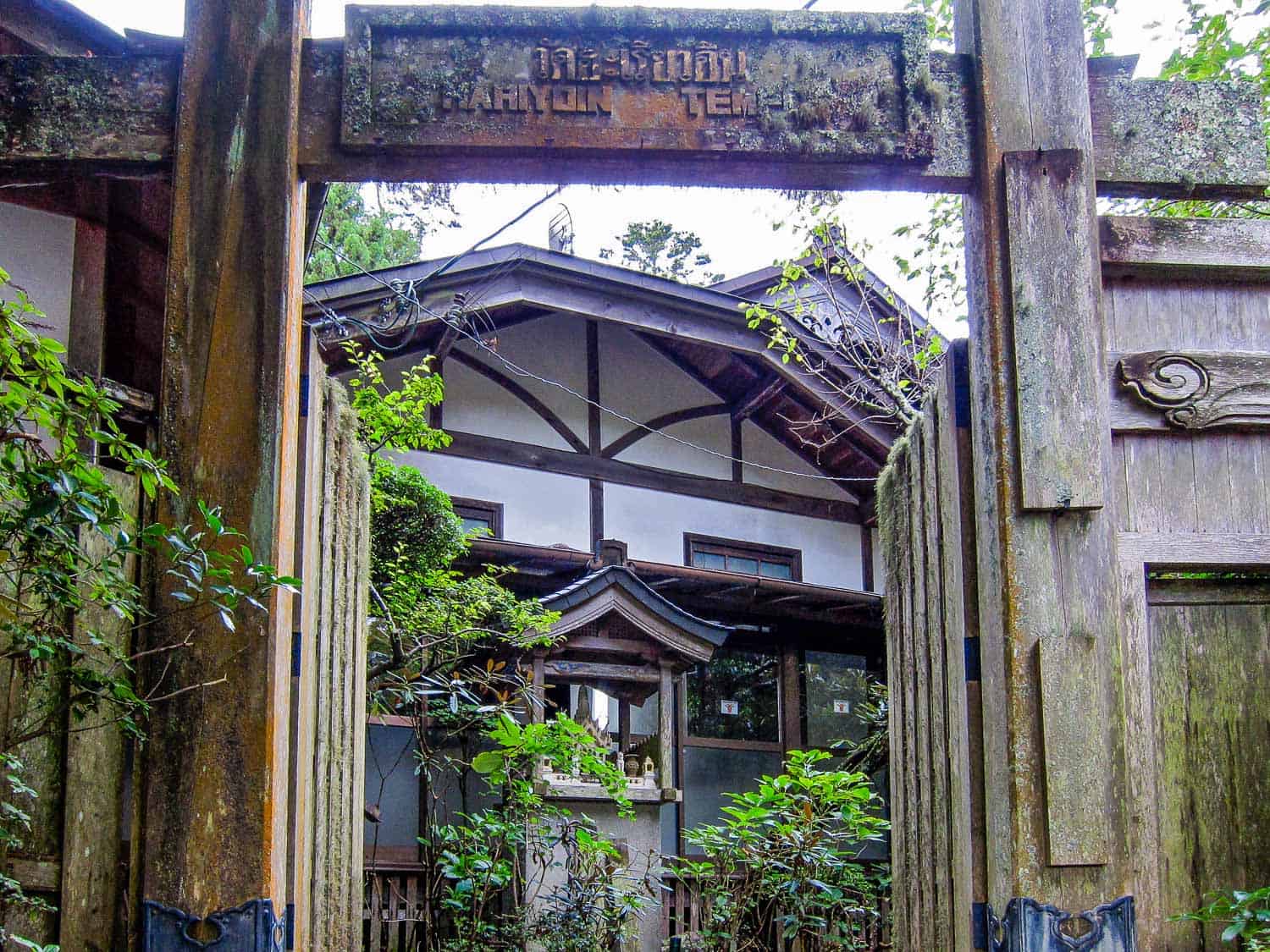 For a unique Japan accommodation experience, you can stay in a Japanese Buddhist temple.
The room style is similar to a ryokan—you'll sleep on futons in tatami mat rooms, share communal baths, and eat multi-course feasts for dinner and breakfast.
The difference is you'll be served shojin ryori vegan meals and you'll be encouraged to participate in the early morning chanting and meditation ceremony with the monks.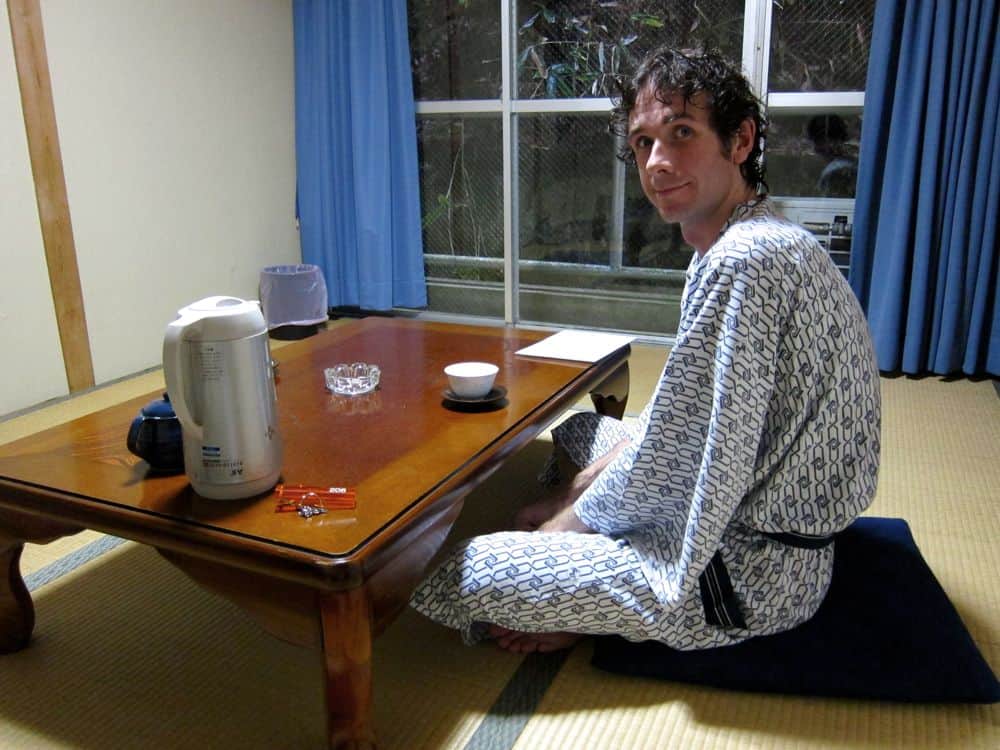 You can find temple lodgings in Kyoto temples and in Koya-san, a pretty temple village up in the mountains a few hours outside of Osaka.
We stayed in the cheapest temple in Koya-san, Haryo-in, but I'm not sure it's available any longer. It was quite basic and the temple more modern than attractive, so I recommend splurging on one of the other temples like 1000-year-old Eko-in.
You can book temple stays on Booking.com or Japanese Guest Houses.
Cost: Haryo-in in Koya-san cost 13,650 yen ($120) for us both with meals. Eko-in costs 24,000 yen ($211) per couple.
Recommended For: Anyone looking for an interesting Japanese experience (especially vegetarians).
Apartment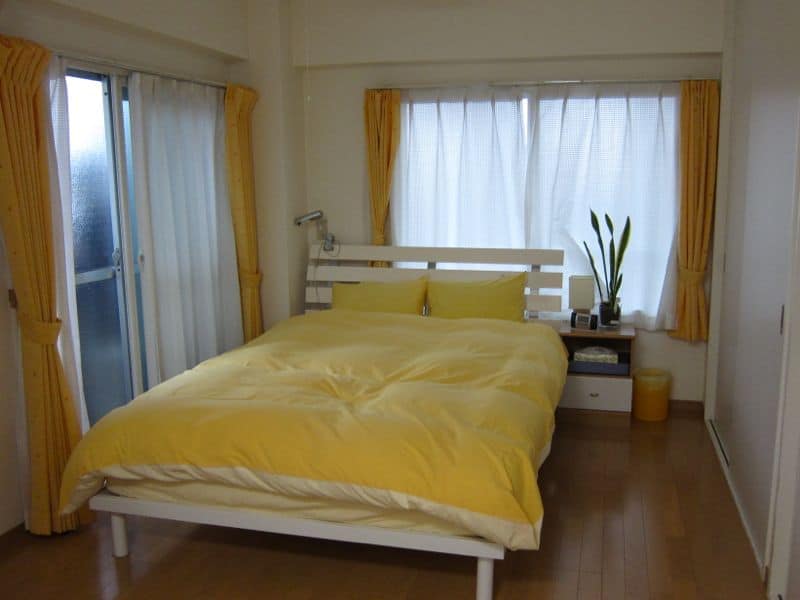 We usually rent apartments when we're staying for more than a few days in big cities like Tokyo, Osaka and Kyoto.
They are often cheaper than a hotel room and are more spacious and well-equipped, often with a washing machine and a kitchen to save money on eating out.
We think Shinjuku is the best area to stay in Tokyo. We like to rent an apartment near Shinjuku Gyoen Gardens which is fairly quiet but walkable to the major train station. You can search for apartments in Shinjuku here.
If you are on a tight budget, you can find some fantastic deals if you stay a little further from the popular areas.
On our first trip to Tokyo, we found an affordable apartment in the Nishi Ogikubo suburb. It was a train ride into the city, but we enjoyed exploring a quieter, untouristy neighbourhood and had a lot more space than we did in Shinjuku or Shibuya.
Search for apartments in Japan on Vrbo.
You can also find apartments on Booking.com by ticking the "Apartment" box in the filter list.
Cost: Our apartments in Tokyo cost about 10,000 yen ($88) per night.
Recommended For: Families and couples.
Love Hotel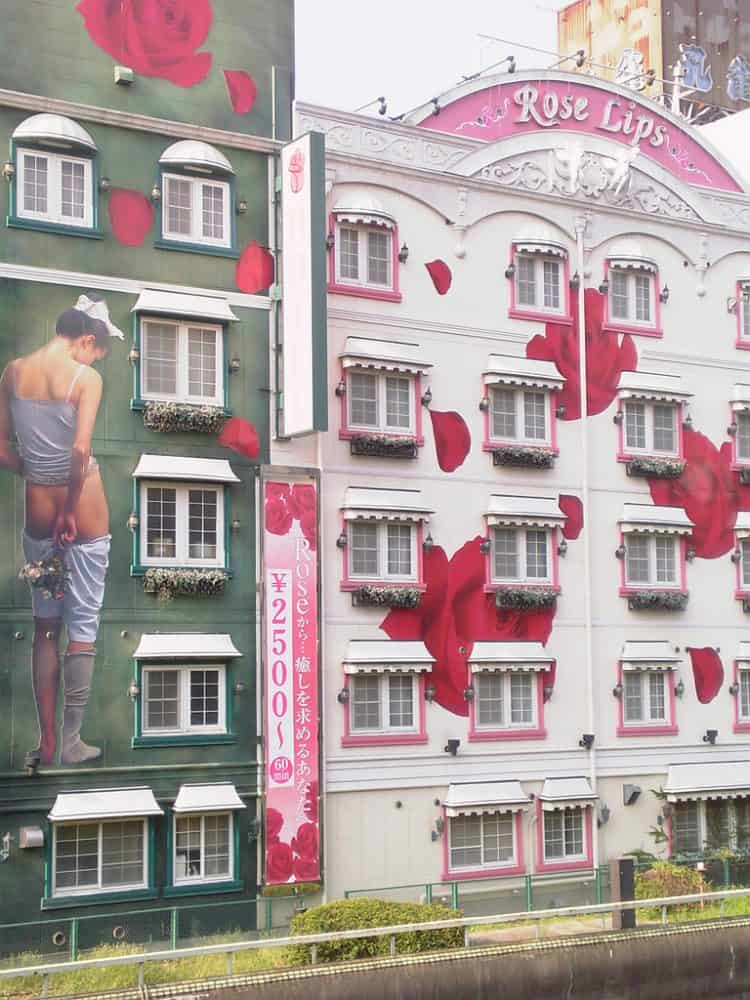 Yep, you've guessed it from the name – Love Hotels are aimed at Japanese couples looking for some privacy. They are common in big cities and aren't as sleazy as you'd expect. Often the quality of the rooms is great for the price and you can enjoy the fun room themes!
You can recognise Love Hotels by their garish décor and signs outside giving prices for Rest (a few hours) or Stay (overnight, usually from 9 or 10 pm). Most aren't available to book online.
We didn't have the chance to stay in one ourselves, but I've heard they are a good option, especially if you are arriving late in a city and don't have pre-booked accommodation.
Cost: An overnight stay costs around 8000 yen ($70).
Recommended For: Couples on a budget, especially if arriving late at night.
Capsule Hotel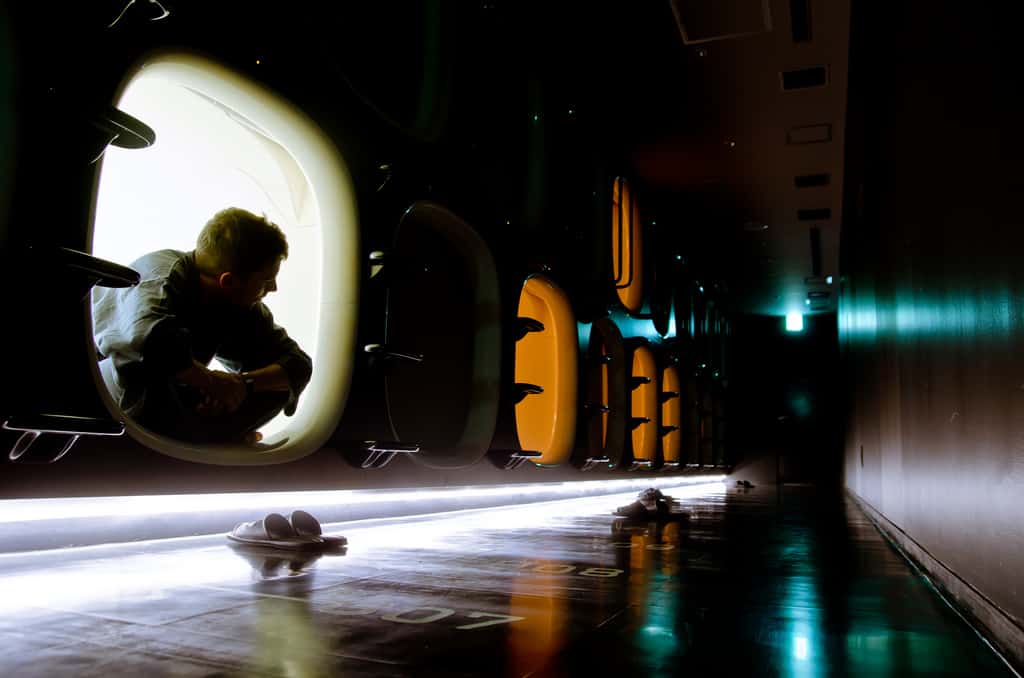 Capsule hotels are aimed at businessmen who missed the last train home. Rooms or sleeping pods are tiny, not much bigger than a coffin, and come with a TV, light, and alarm.
Bathrooms are shared and luggage is stored in lockers. Most capsule hotels only allow men so we didn't try one, but it would be a quirky place to spend a night and meet some Japanese salarymen.
Cost: 3000 to 4500 yen ($26-40) per night.
Recommended For: Single guys on a budget.
Manga Kissa Internet Cafes
A manga kissa is a manga café where young Japanese hang out to read comics and use the internet. There are usually video games, cheap food, lockers, and showers.
Private cubicles can be rented with a computer and comfortable, reclinable chair, so many people stay in them overnight, especially if they missed the train home. Tokyo Cheapo has a guide to manga kissa.
Cost: 1500 – 3000 yen ($13-26) for an overnight stay.
Recommended For: Solo travellers who need a cheap place to stay late at night.
House Sitting
Housesits don't come up in Japan very often, but we got lucky on our first visit. Being able to stay in a house in Kyoto for free for over three weeks in exchange for looking after two cats enabled us to save a lot of money.
Free accommodation is just one of the benefits of house sitting though and we also loved living in a quiet residential area and having a kitchen.
Our favourite housesitting site is Trusted Housesitters—sign up and they'll send you daily emails with a huge range of housesits worldwide.
Cost: Free!
Recommended For: Anyone with flexible travel dates.
Couchsurfing
If you can't secure a housesit in Japan, another way of finding free accommodation is couchsurfing.com. Not only do you get a free place to stay on someone's couch or in their spare room, but you can meet local people and get tips about their city.
We've had wonderful experiences with couchsurfing in the past, but we found it difficult to find places in the Japanese cities we were visiting that had space for a couple.
The couchsurfing community isn't as huge in Japan as in other countries which may be because of language issues and a lack of space. If you are travelling alone, you might have more luck, especially in the bigger cities.
Cost: Free!
Recommended For: Solo travellers on a budget.
Japan has some fascinating accommodation options and I recommend trying a few of them for a varied trip.
Where are your favourite places to stay in Japan? Leave a comment and tell us!
For more travel tips see our guide to planning a trip to Japan and our two week Japan itinerary.
If you enjoyed this post, pin it!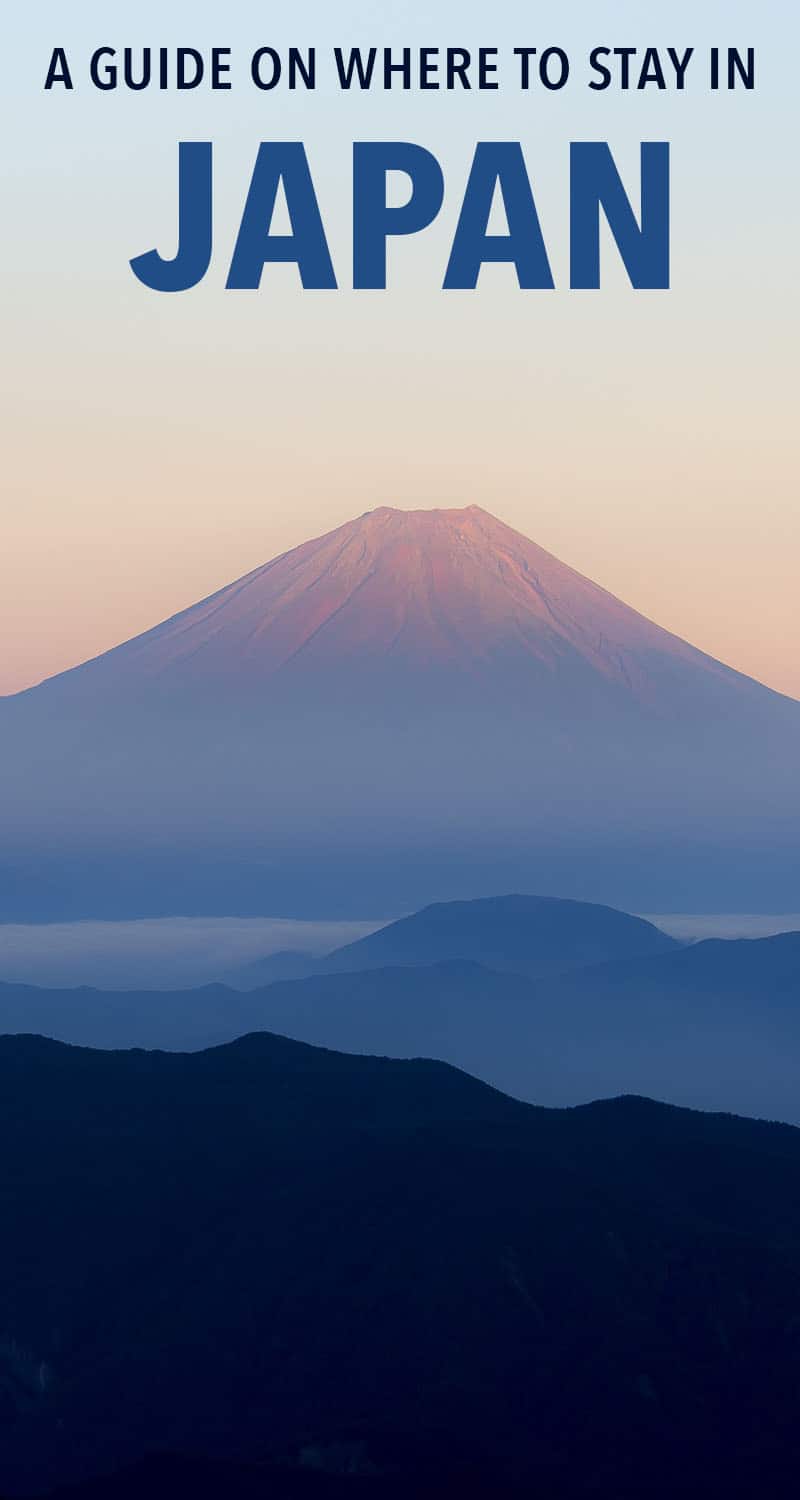 Photo credit: Top photo by Chris Robinson.
This post was originally published in 2011 and has been updated regularly since then after repeat visits to Japan. It was last updated in 2021.