This page contains affiliate links. Please read our disclosure for more info.
The soundtrack of Kinosaki Onsen is the clip-clopping we heard beneath our window.
It sounded like horses but was actually visitors in wooden geta (like elevated flip flops) wandering around the town in kimono from one hot spring bath to another.
Onsen towns are a distinctly Japanese experience. These small resort towns are found all over the country and the Japanese love to come for a break to soak in the steaming mineral waters.
A key part of the experience is staying in a ryokan (traditional inn) and feasting on epic meals of local specialities (in Kinosaki crab is popular, but our hotel catered for us vegetarians) served in your room while you lounge in a yukata (casual cotton kimono).
Kinosaki Onsen is the ideal place for a first visit to an onsen town in Japan. It's easily accessible (2.5 hours on the train from Kyoto or Osaka), foreigner-friendly (with signs in English and tattoos allowed), and is oh so pretty.
You can easily walk to all seven public onsens along the pretty cherry blossom and weeping willow lined canal.
If you're feeling peckish, you can wander down the main street of wooden buildings selling matcha ice cream, fancy wagashi (Japanese sweets), and crab-themed souvenirs (crab beer anyone?).
It doesn't take long to get across town, but if you need a break there are free foot baths along the way.
For Westerners (especially us prudish Brits and Americans), onsen towns present some challenges.
The idea of getting naked in public and having a bath with strangers can be terrifying and the strict rules confusing.
In this guide, I'll share how we got over our fears, the onsen etiquette you need to know, and useful information for visiting Kinosaki Onsen including where to stay. At the end there is a map with everything mentioned.
Contents
Arriving in Kinosaki Onsen and Getting Over My Fears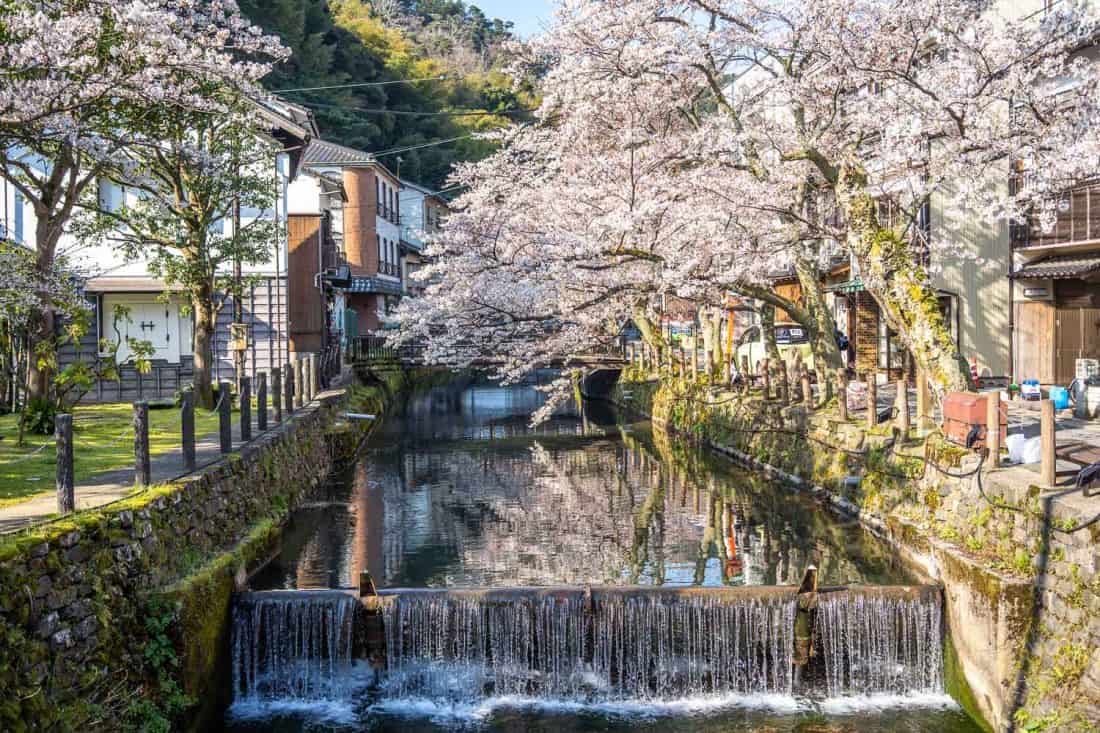 We had onsen experiences on our first two visits to Japan.
Our first was while staying in a temple in Koya-san—we spent all afternoon being terrified at the prospect and were greatly relieved when we both had our baths (almost always divided by gender) to ourselves.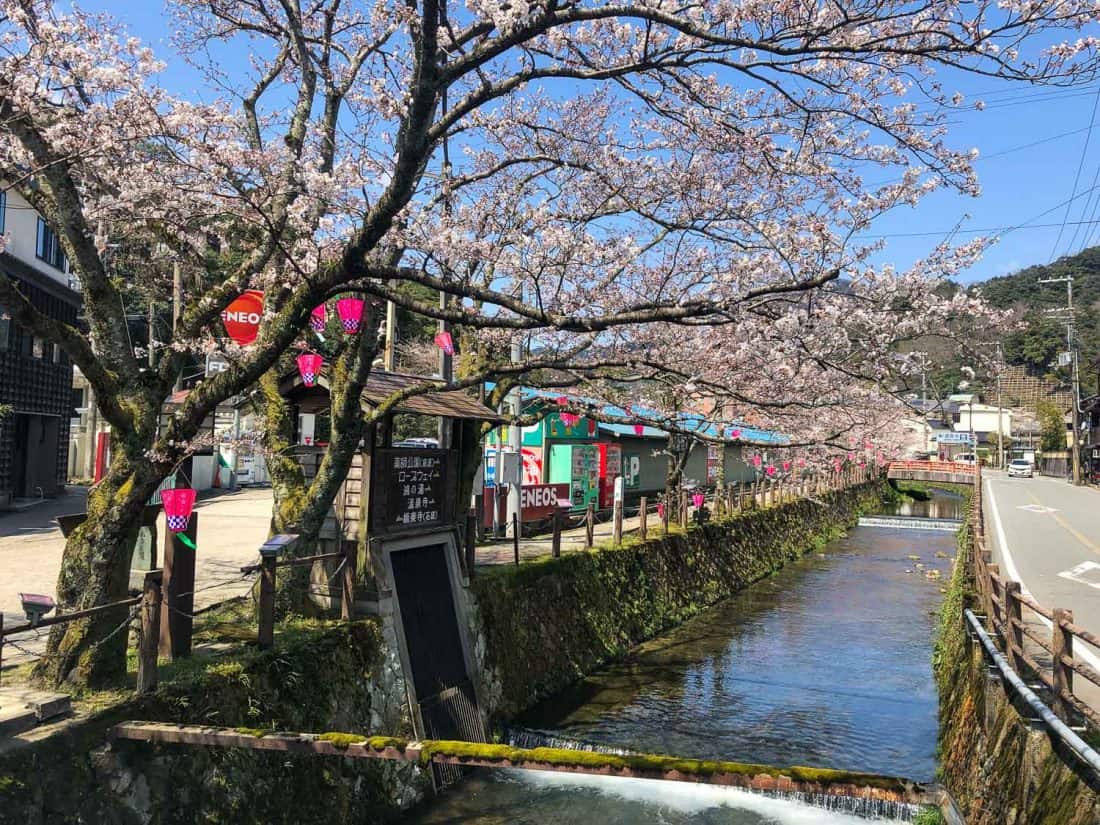 On our second visit, while staying in a lovely ryokan in Hakone, we couldn't miss out on the bath overlooking Lake Ashi, so we had to get over our fears knowing we wouldn't have empty baths this time.
For me, the hardest moment was taking off my clothes in the changing room—I actually hid in the toilet for a while to put it off! But once I was naked, it wasn't so bad and felt pretty natural, which after all, it is.
So I thought I was prepared to take it to the next level and visit a town entirely dedicated to onsen soaking.
Not so much.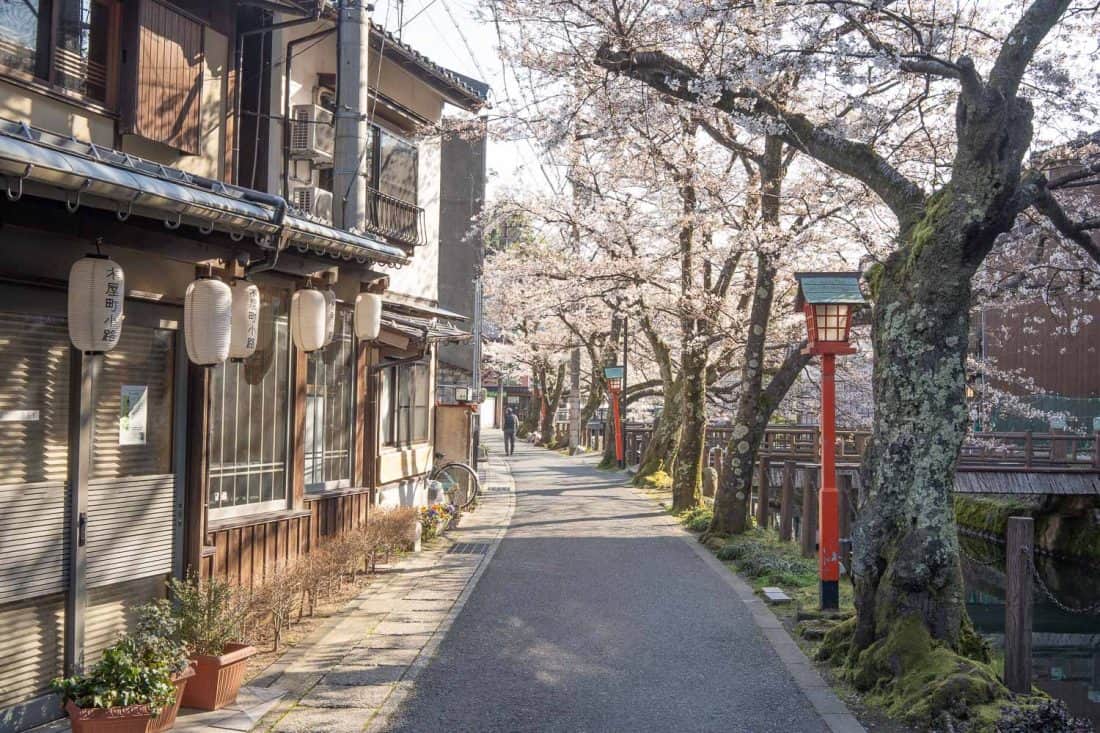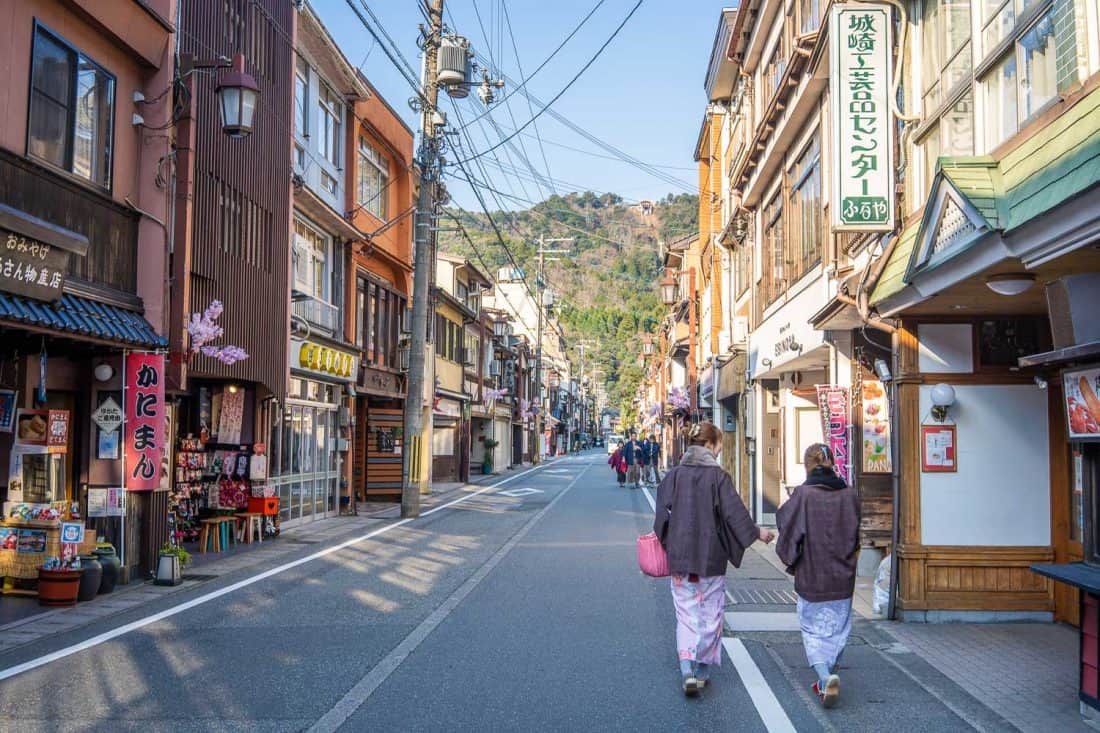 I was impressed by the cute town when we arrived, but once we checked in to Morizuya Ryokan my anxieties began.
I wasn't sure how to wear the kimono—the one I'd chosen was too long and we weren't sure how to layer the winter kimono.
Then there were the onsen fears—what if I arrived naked in the bathing area and the bath was small and crowded and I had to squeeze in next to strangers or stand there awkwardly?
I felt confused and anxious and guilty about being confused and anxious. I should have been eager to start onsen hopping, but I really wasn't.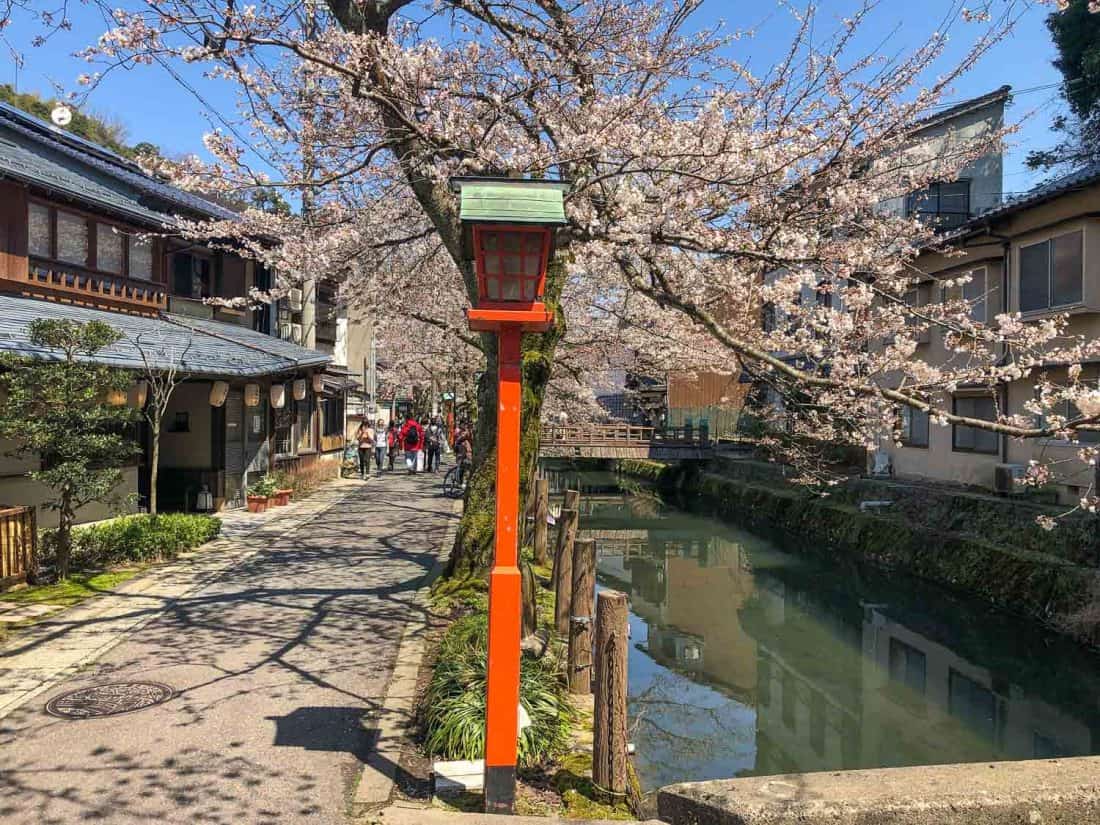 We decided to ease in with a private onsen at our ryokan—a rare opportunity to bathe with Simon as most are divided by gender.
We enjoyed the post-onsen spaced out feeling and relaxed in our room afterwards before a delicious dinner (with sake for courage).
Under cover of darkness it was time to venture into the streets. We managed to get our kimonos into a decent looking state and slid/stumbled along in our geta just a few doors down to our first public onsen.
I'd love to say it was a blissful experience and I overcame all my fears, but the bath was crowded, fairly small, and not that attractive. Once I sank into the hot water I felt fine, but I can't say I loved the experience.
My advice is to keep going though: it really does get easier and more enjoyable.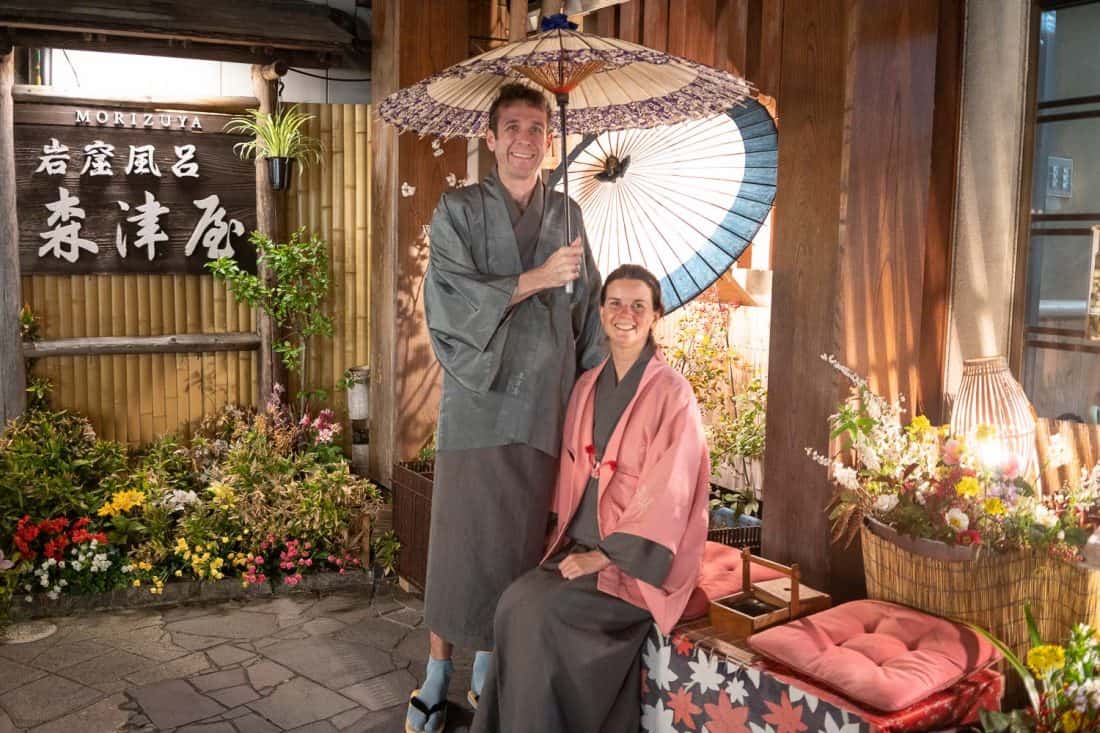 In the morning I felt more comfortable in the kimono and knew what to expect at the onsen.
It helped that we visited the most beautiful onsen in town and it wasn't too busy.
I let go of my worries, relaxed, enjoyed the steaming baths and went on to explore more of the town's onsens. By the end of the stay, I felt much more at ease and was onsening like a pro.
Even if it scares you, visiting an onsen is well worth doing (it's one of our top things to do in Japan).
It's a uniquely Japanese activity, and it's good for all of us to get over our body issues and realise that people come in all shapes and sizes.
Just make sure you follow the etiquette below and you'll be fine!
How to Visit an Onsen in Japan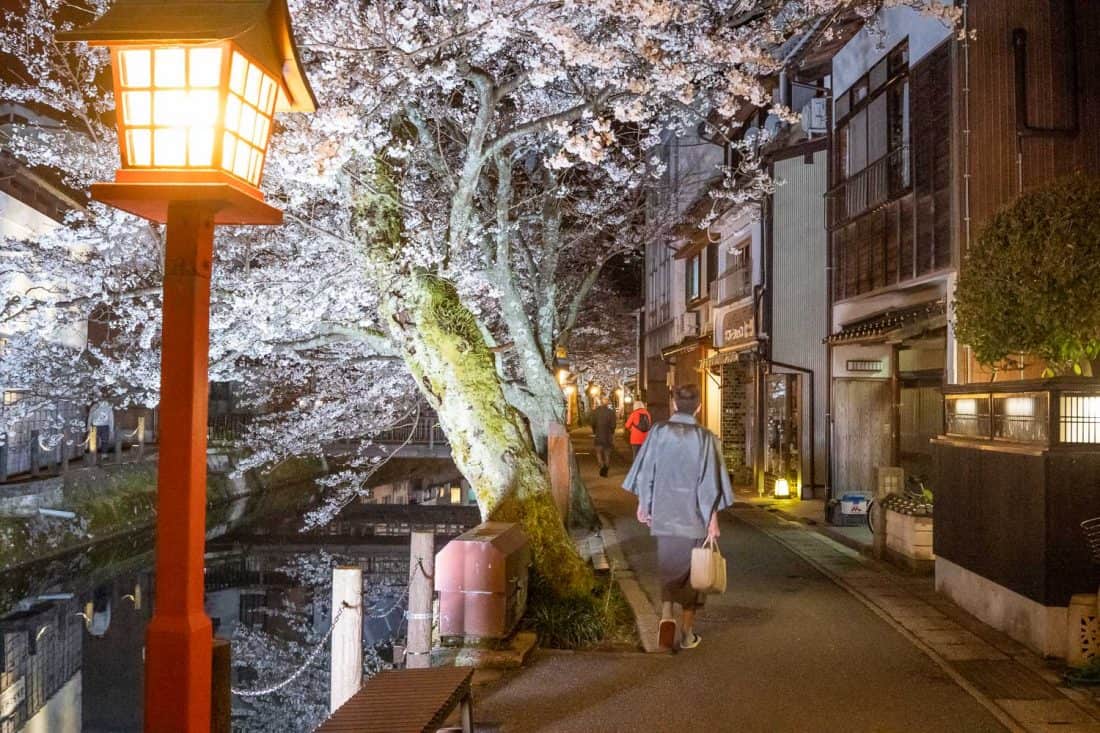 Here's the process for visiting an onsen in a Japanese onsen town. The bathing steps apply to any hot spring bath (such as in your ryokan) even if you aren't visiting an onsen town.
At Your Ryokan
In your room, get dressed in the provided yukata (cotton kimono) and tabi (split toe) socks. Leave your underwear on underneath. You wrap the right side of the yukata over your body first and then the left on top of that, then wrap the obi (sash) around your waist (women) or hips (men) and tie it. In winter, a warmer robe and a short jacket are also provided so layer these on top.
If you have long hair, bring a band to tie it up.
Bring the small and large towels provided and the free onsen pass you get when staying in town. Our hotel provided baskets to carry things. There are lockers at the onsens if you want to bring your phone and wallet.
Use the map provided to choose an onsen (see below for our favourites). It's a small town so you can walk everywhere.
Put on a pair of geta that are available at your hotel entrance and head out.
At the Onsen
When you arrive at the onsen, scan your pass (staff will show you where), take off your shoes and put them in the free lockers or shelves provided. There are signs in English.
Follow signs to the women's or men's baths. Women's have red curtains and men's have blue or purple.
In the changing room, put your belongings in a free locker (you keep the key around your wrist) and take off all your clothes—yes, everything. Leave the large towel in your locker and only take the small face towel with you. No phones or cameras are allowed in the bathing area.
Walk into the bathing area (try to be confident—no one is looking at you) and sit on one of the little plastic stools in front of the line of showers (there are no private cubicles). Wash thoroughly (shower gel, shampoo and conditioner are provided). You can use the small towel for this if you like. Make sure to rinse off all the soap from your body and stool once done. I didn't always wash my hair, but you should tie it up and don't let it touch the water.
Get into one of the baths (sometimes there are more than one to choose from). Leave your small towel on the side or maybe on a shelf by the door or on your head Japanese-style—just be sure not to get it in the water.
Relax and try to stay in the boiling water as long as you can. Try out the different baths if available.
Before heading back into the changing room, use your small towel to dry off as best you can to avoid dripping water everywhere.
Open your locker, dry off properly with your large towel, and get dressed. Hairdryers are provided if needed.
Head back to the reception area. There are seating areas here if you are meeting a travel companion or need a moment to stop your head swimming from the heat. Some onsens have massage chairs and drink vending machines. Get your shoes from the lockers and head back to your hotel or on to another onsen.
More Onsen Tips
If you are struggling to put on your yukata, ask for help at your hotel. And don't stress too much about it being perfect (as long as you aren't exposing anything!) as no one cares and few visitors (even Japanese) are experienced kimono wearers, so we're all in the same boat.
You can wear your yukata anywhere in town, so feel free to go shopping or stop at a cafe.
You don't see many people wearing them between 10am and 3pm, though, probably because they have already checked out of their ryokan or haven't checked in yet. It would also be a bit odd to wear it up the ropeway (see below).
If you are travelling with children under 10 years old, they can enter the onsen of the opposite gender if necessary. An adult must accompany children at all times.
Are Tattoos Allowed in Kinosaki Onsen?
Tattoos are allowed at all public onsens in Kinosaki, which is unusual for Japan as they are usually banned due to associations with yakuza (Japanese mafia).
Check with your ryokan if they allow tattoos in their private onsens.
The Seven Onsens in Kinosaki
Many visitors try to visit all seven onsens in Kinosaki, even if only staying for one night.
Your free onsen pass is valid from 3pm on arrival day until 3.30pm the day you check out.
That's certainly possible if you pay attention to closing days/times and get up early, but it felt like too much faff to us with all the washing and getting changed, so we stuck to one per morning, afternoon and evening.
As we were staying two nights, we were able to visit four of the public onsens plus two private ones in our ryokan.
If you aren't staying overnight in Kinosaki, you can purchase a day pass for 1500 yen ($11) for adults, 750 yen ($5.50) for children, free for children under 3.
Of the four we visited this is how we'd rank them:
1) Goshono-Yu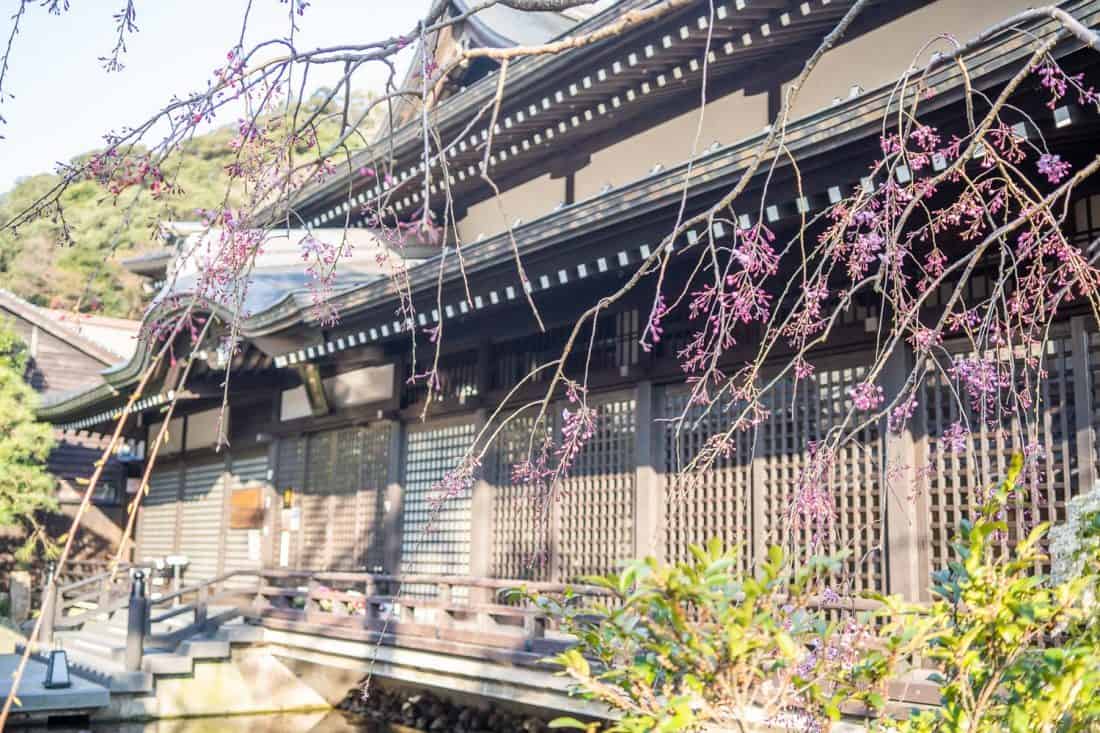 Open 7 am – 11 pm (closed Thursdays)
Goshono-Yu is the most attractive onsen in town so don't miss it. The temple-like wooden building was built to resemble Kyoto's Imperial Palace.
Inside there's a large indoor bath with floor to ceiling windows and a glass roof held up by huge Japanese Cypress beams.
It overlooks the lovely stone outdoor bath and waterfall. There's also a deep jet bath with bubbles to massage your back.
Although Goshono-Yu is one of the most popular onsens in town, it was quiet when we visited at 10am, probably because most people check out of their hotels then.
2) Satono-Yu
Open 1pm – 9pm (closed Mondays)
Satono-Yu is the largest bathhouse in town and is right next to the station (there's also a free foot bath outside).
There are Japanese and European baths and each day women and men alternate between the two.
I wouldn't worry about which one you get as they are similar except the Japanese bath has a view of bamboo while the European one has Greek statues.
We loved the diversity at this onsen, and because there are multiple baths to choose from, you have a good chance of getting one to yourself.
Downstairs there's a large main bath, jacuzzi, deep bath with jets for your back, smaller bath, and a very hot dry sauna.
Upstairs (yep, walk up in the buff), is a lovely outdoor bath with a waterfall and view over the town (I couldn't see much in the dark) and a steamy sauna.
3) Kouno-Yu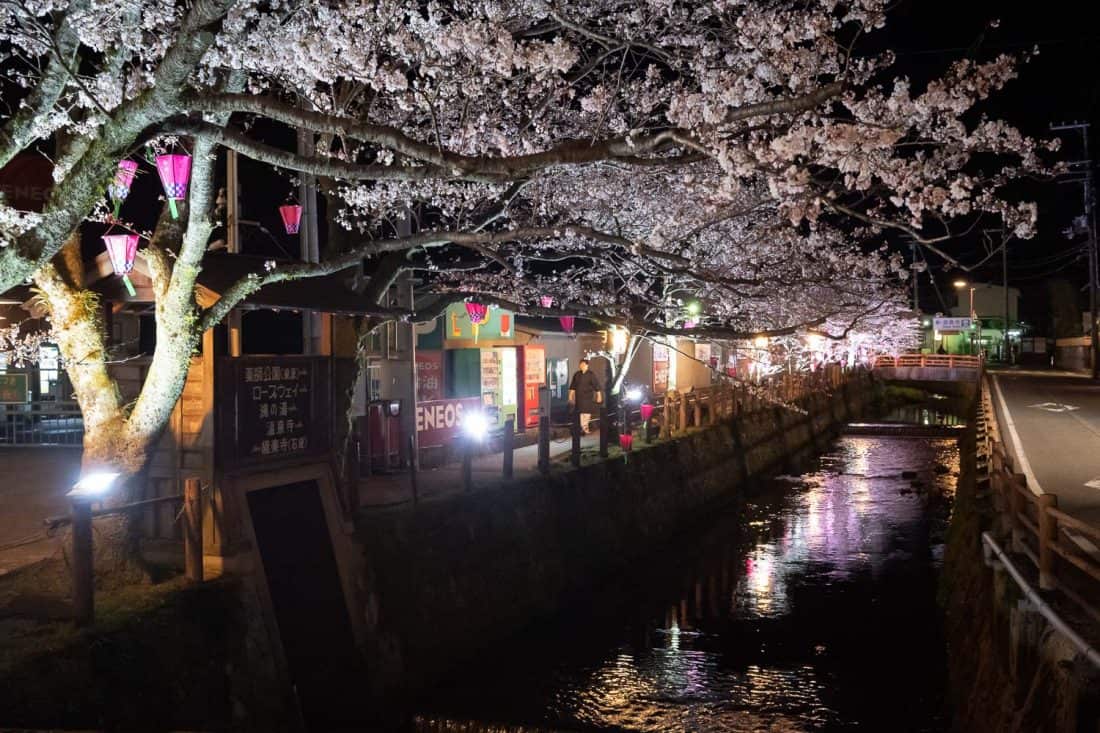 Open 7 am – 11 pm (closed Tuesdays)
Kouno-Yu, the oldest hot spring in Kinosaki, is at the far end of town on a street lined with cherry trees.
There's a large indoor bath with floor to ceiling windows overlooking the stone-lined outdoor tub (which is not as hot).
It backs on to a woodland covered hill and is very pleasant. At 7.30am I had the baths to myself.
4) Yanagi-Yu
Open 3 pm – 11 pm (closed Thursdays)
Yanagi-Yu is the only bath we didn't enjoy much (it didn't help it was our first, though).
I chose it because the small cypress bath was described as the most traditional, but it was too crowded for my comfort level (in the evening at least) and there's no view.
You could skip this one if time is limited or try Mandara-Yu or Ichino-Yu instead.
The other baths we didn't have a chance to try are:
5) Mandara-Yu
Open 3 pm – 11 pm (closed Wednesdays)
Set back from the road, Mandara-Yu looks rather grand from the outside and features two small ceramic outdoor baths as well as a larger indoor onsen.
6) Ichino-Yu
Open 7 am – 11 pm (closed Wednesdays)
Ichino-Yu resembles a Kabuki theatre from the outside and features a cave bath made of natural boulders.
7) Jizou-Yu
Open 7am – 11pm (closed Fridays)
Jizou-Yu is a smaller bath house with no outdoor bath. Visitors say it isn't particularly special, but it's popular with local families and they have a separate children's bath with colder water.
See the Visit Kinosaki website for more details and photos of the hot springs.
Your ryokan may also have its own onsen—ours had two (see below). You might be able to book these for a private bath (mixed genders allowed).
Kinosaki Onsen Ropeway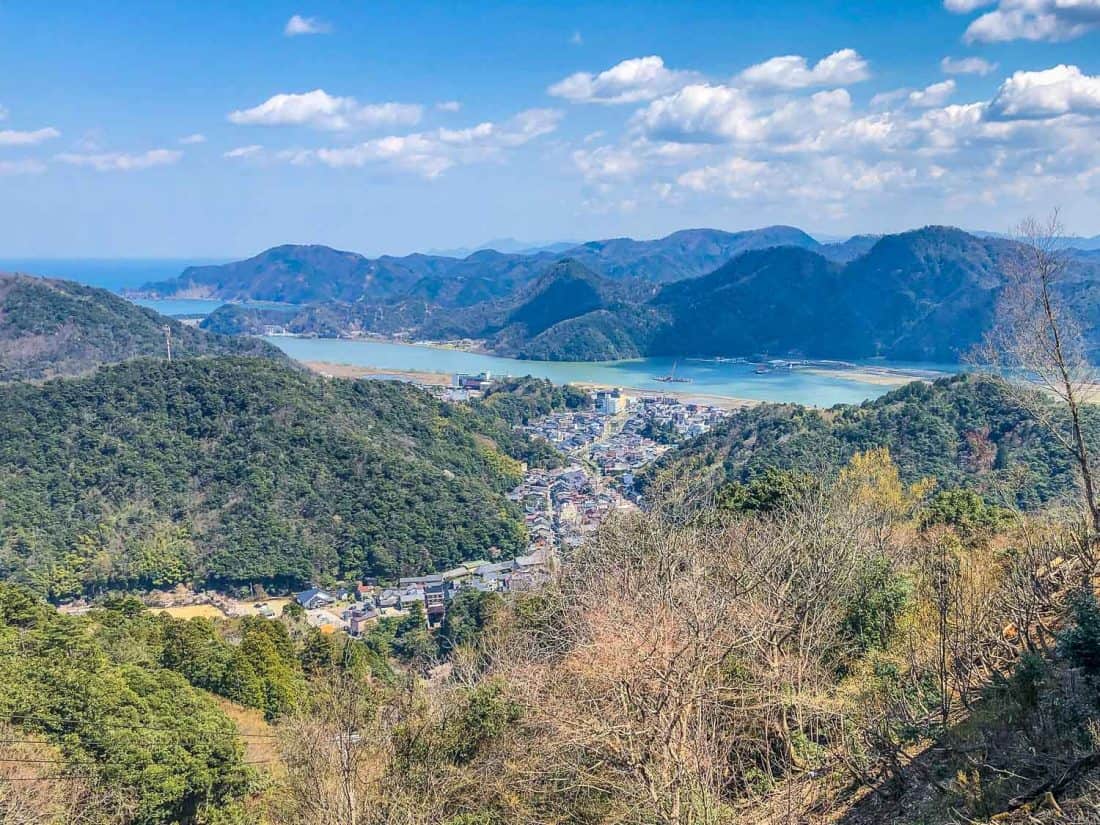 Onsen hopping is the main attraction in town, but if you are looking for other things to do in Kinosaki Onsen, it's well worth taking the Kinosaki Onsen ropeway (cable car) up Mount Daishi.
There's a cafe at the top and beautiful views down to the town and the Maruyama River and Sea of Japan beyond.
On the way back down we got off at the ancient Onsenji Temple and walked down the 500 stone steps (5–10 minutes) from there.
A return ticket costs 1200 yen ($8.50) for adults/ 600 yen ($4.30) for children over 6.
Or you can save money on a one-way ticket (620 yen/ $4.50 for adults, 300 yen/ $2.15 for children over 6) by walking down from the summit (30–40 minutes, sturdy shoes are recommended).
Cable cars run every 20 minutes from 9.10am until 5.10pm (last car up at 4.30pm).
If you have more time, there's a 1.5-hour walk from the top of the ropeway to Mt Kuruhi (567m).
The ropeway is at the far end of town, about a 15–20 minute walk from the station.
Beaches Near Kinosaki Onsen
We didn't realise how close Kinosaki Onsen is to the Sea of Japan until we saw the view from the ropeway.
If you are visiting in summer (the sea is warm enough for swimming from June to September), you can reach Kei no Hama Beach is about 20 minutes by rental bike (available from the Ryokan Service Centre opposite the station) or take the train one stop to Takeno to visit beautiful Takeno Beach with its clear blue waters.
Kinosaki Onsen Ryokan Accommodation
Part of the onsen town experience is staying in a ryokan or traditional inn.
These feature tatami mat rooms where you sleep on futons on the floor and often include breakfast and dinner served in your room.
If you have the option of adding a meal plan, definitely do so as the multi-course feasts are delicious.
Note that many ryokans (including Morizuya) are cash-only, so bring plenty with you (or there are international ATMs at the station and post office).
Check-in is usually from 3pm and check out at 10am.
Morizuya Ryokan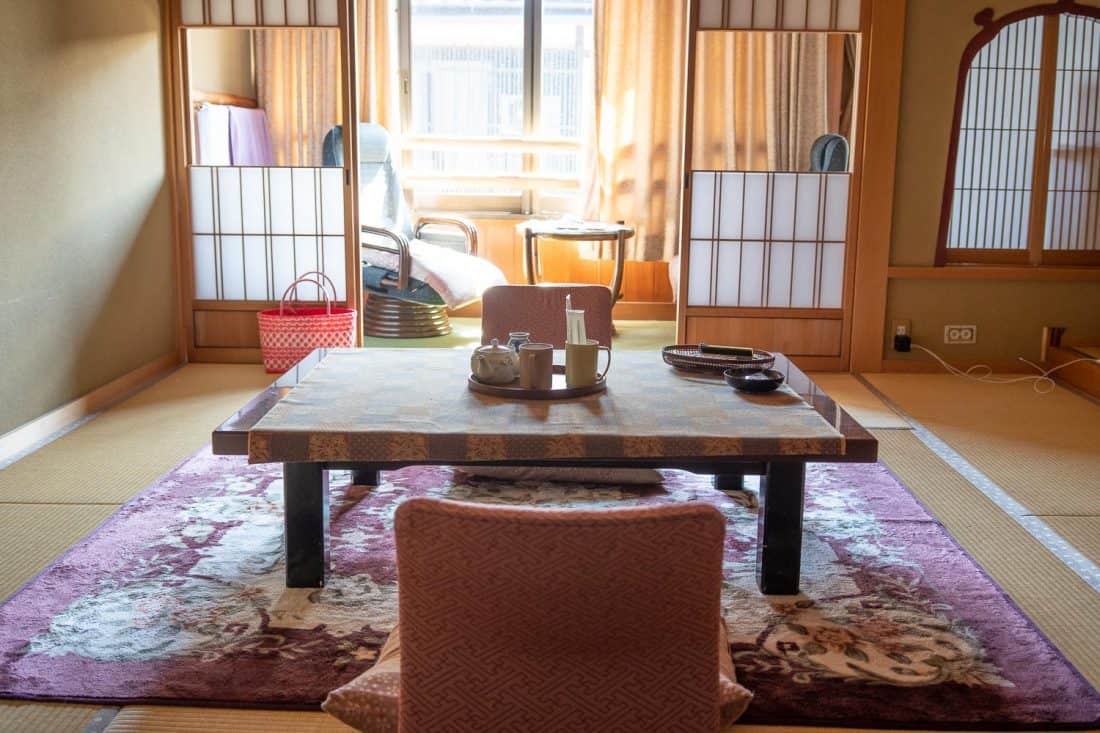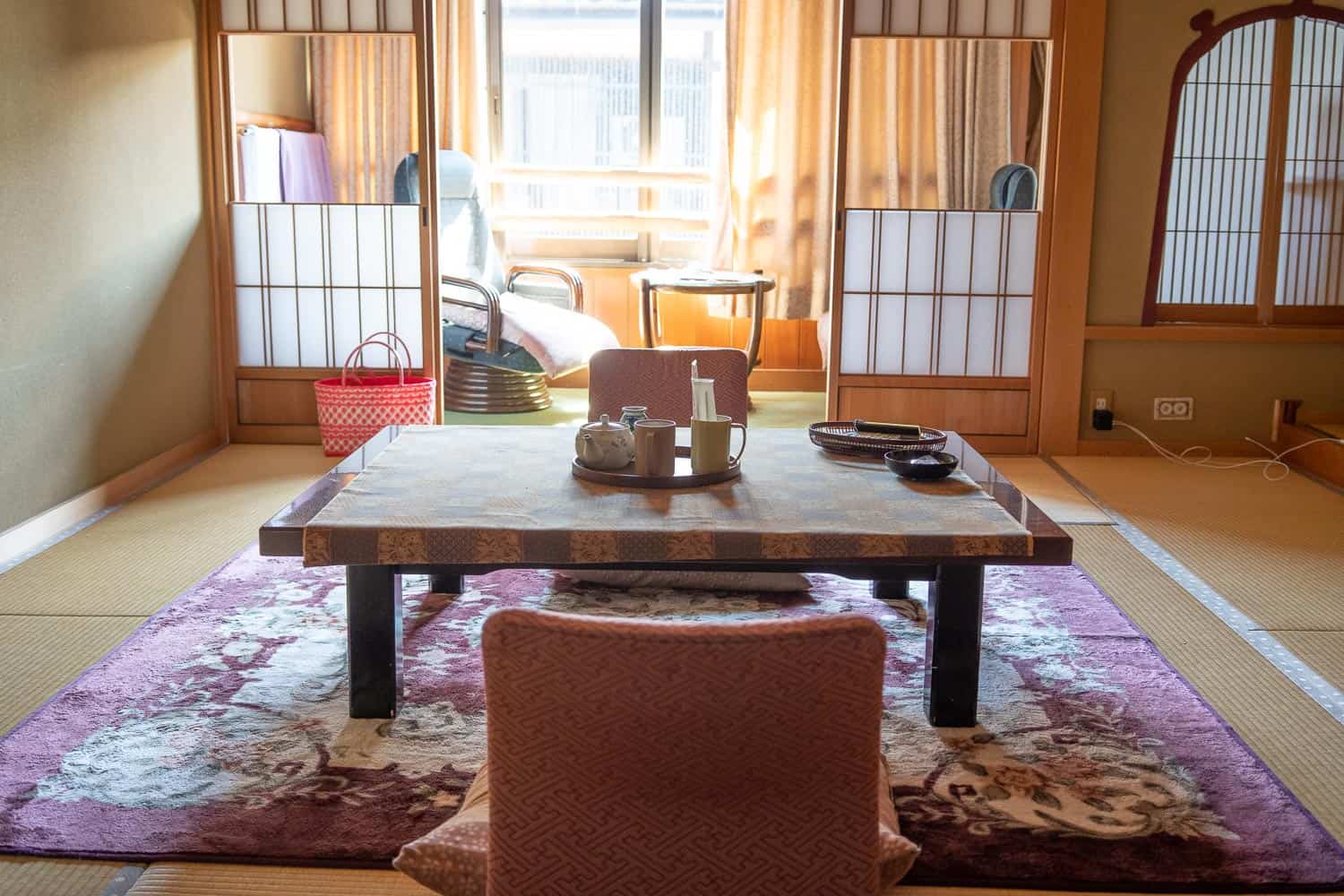 We stayed at Morizuya Ryokan which has been run by multiple generations of the same family for over 100 years.
The owners speak English and are very friendly—you may be invited to a tea ceremony, driven back to the station, and have your photo enthusiastically taken.
The location is ideal in the centre of town between the station and the ropeway. It's just a one minute walk from Goshono-Yu, the loveliest onsen in town, and a bridge over the river with cherry blossom views.
The usual simple cotton yukatas are provided in your room, but women can also choose from a large selection of pretty colourful kimono.
I ended up sticking to my yukata as I couldn't figure out how to shorten the kimono, but the staff did offer to help (English levels are mixed but we always figured things out).
Room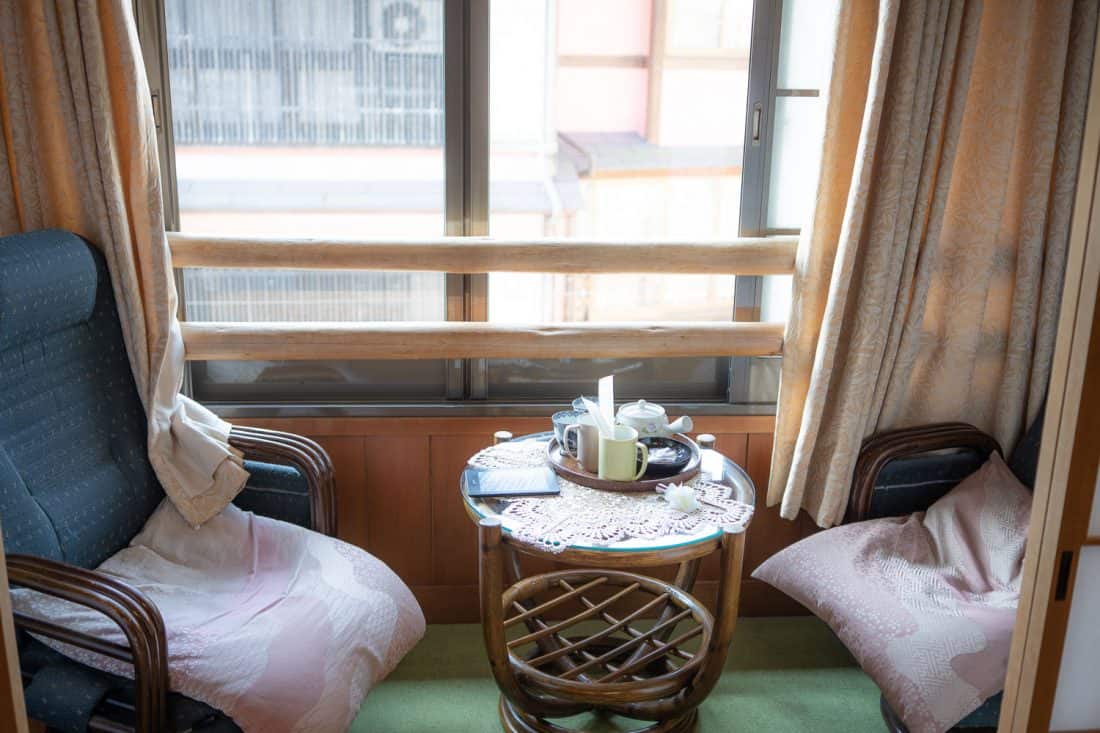 Our room was nothing fancy, but it was spacious for Japan with three areas separated by sliding paper doors.
Unlike in many ryokan rooms, there's an ensuite toilet which we appreciated (no shower but you are here to onsen after all).
The main room features a low table and chairs during the day and is where our futons were set up at night.
There's also a TV, cupboard, fridge stocked with drinks, and air conditioning unit which kept us warm on the chilly early April days. WiFi was slow in our room on the 3rd floor, but we wanted to disconnect anyway.
At first I was disappointed that we didn't have a mountain view, but we soon came to enjoy people watching from the two western style soft chairs and table by the window where you can see the main street and ropeway up the mountain.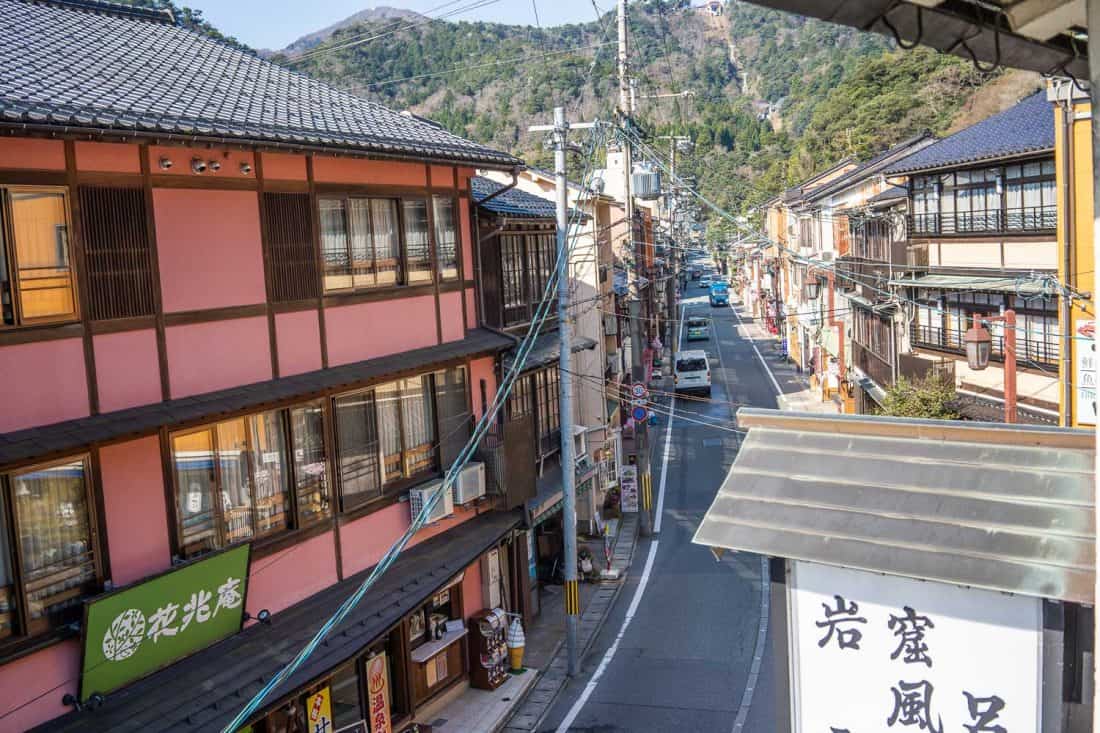 Food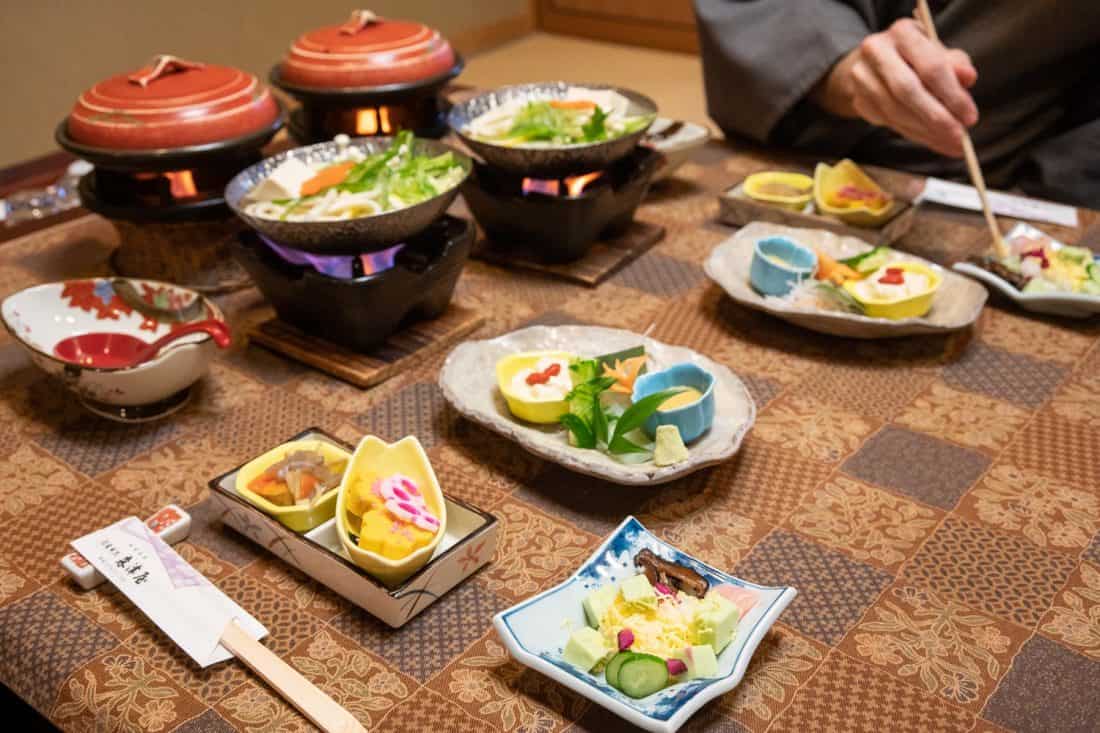 The food was excellent at Morizuya. They weren't fazed by us being vegetarian (they can also do vegan food if you explain what you can't eat) and served us epic feasts each night.
Dinner is served at 6 pm or 6.30pm (but tended to arrive early)—make sure you are hungry as it's huge!
We couldn't tell what everything was but each night included a noodle soup and grilled vegetables kept warm on a hot burner, as well as an array of small dishes. On our second night we had a huge platter of sushi.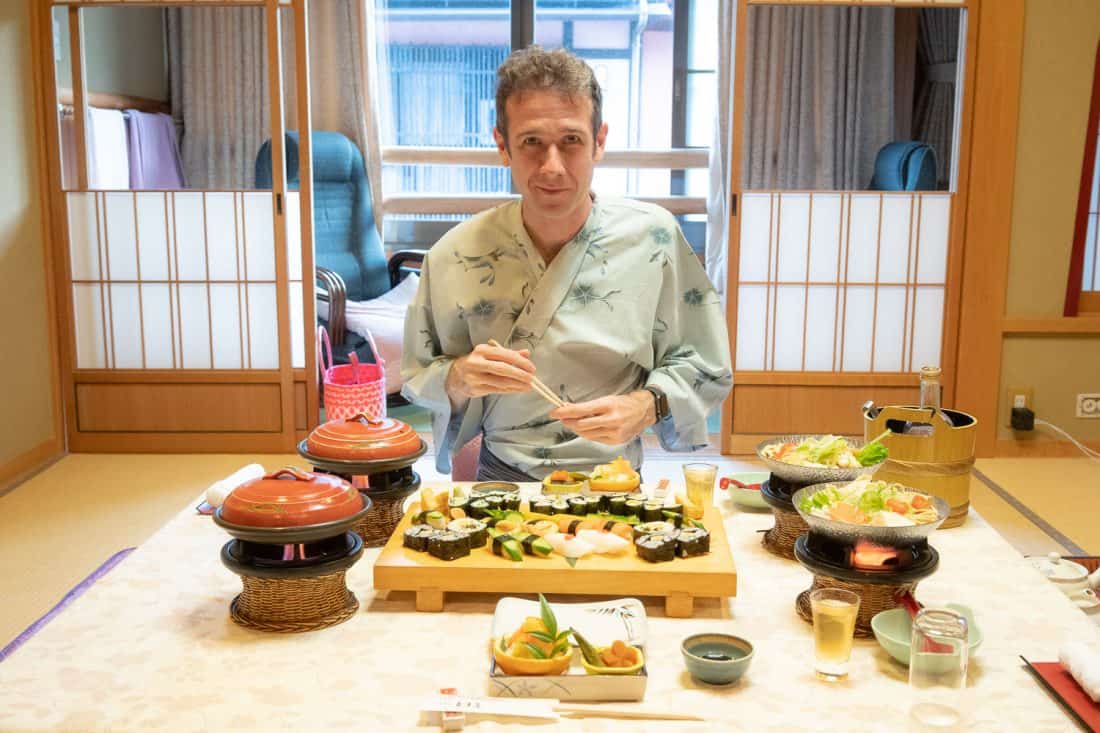 Breakfast is also served in your room (between 7.30am and 8.30am). Japanese breakfasts can be a bit overwhelming when you've just woken up and face a huge spread featuring lots of slimy things and seaweed, but it's all part of the experience.
We couldn't finish half of it so it was toned down the next day! It helps to get up early and visit an onsen first to develop an appetite.
Onsen
Morizuya has two small onsens—an indoor cave bath which is very cool and an outdoor one. From 3pm – 6.30pm these are available for private, mixed gender use—there's no need to book, just lock the door behind you.
In the evenings and mornings, one is for women and one for men. This is an easy place to start if you've never visited an onsen before.
We really enjoyed our stay at Morizuya Ryokan and highly recommend it. Check the latest prices here.
Luxury and Budget Kinosaki Ryokans
Luxury
150-year-old Nishimuraya Honkan is considered the best ryokan in Kinosaki Onsen.
Beautiful tatami rooms overlook manicured gardens and some have private open-air onsen.
This is the classic ryokan experience, but you do pay for it. Check the latest prices here.
Budget
If Morizuya and Nishimuraya Honkan are out of your price range, there are simpler Kinosaki ryokan at more affordable prices such as Sinonomesou, which has Japanese-style rooms with shared bathrooms. Note that tattoos are not allowed in their onsen.
Search for other ryokan in Kinosaki Onsen here.
Food in Kinosaki Onsen
Most people eat breakfast and dinner in their ryokans and I highly recommend this. You'll get a feast so eat a light lunch.
For lunch there are plenty of cafes, but quite a few were closed on Wednesdays including Cafe & Bar 3rd which we'd heard had vegetarian options.
If you eat meat and fish, you won't have a problem finding something, but we ended up in Kinosaki Burger for french fries and pancakes!
There are also two Family Mart convenience stores which have some vegetarian rice balls and other snacks.
Here's a list of Kinosaki Onsen restaurants.
How to Get to Kinosaki Onsen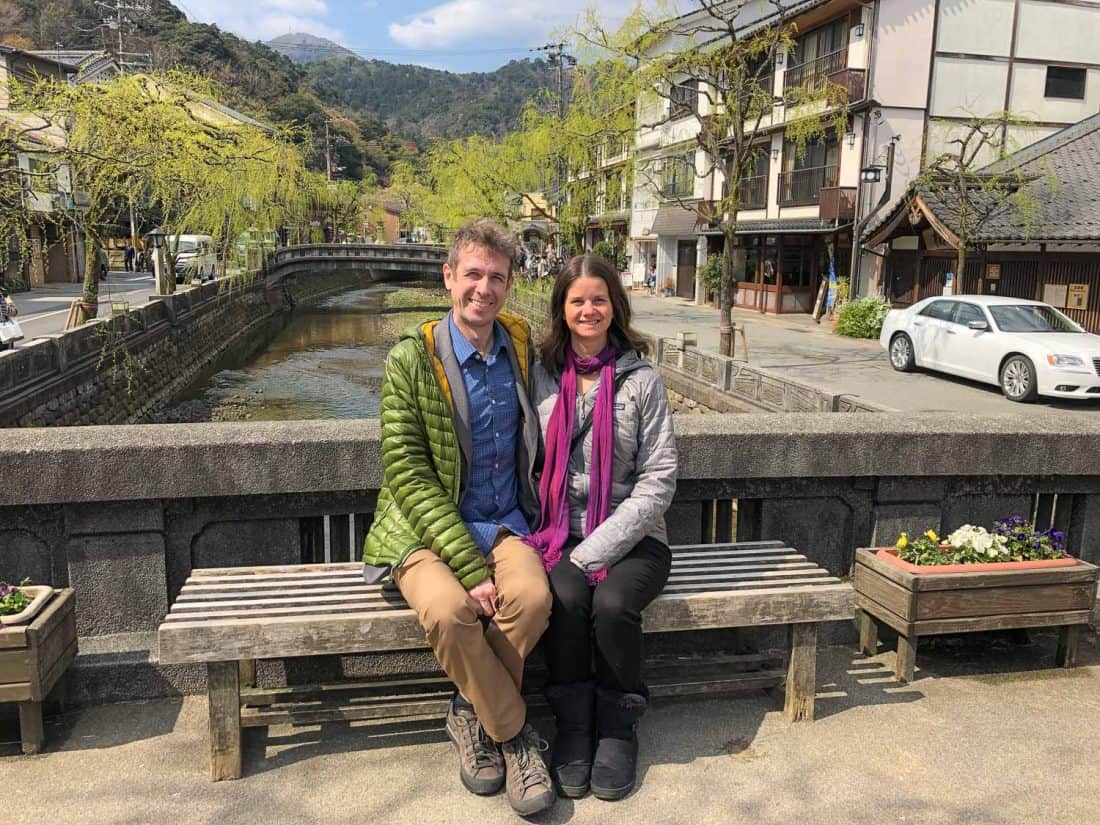 Kinosaki Onsen is located in northern Hyogo on the Sea of Japan coast. It's easily accessible by train from Kyoto and Osaka.
Use the Navitime website or the Japan Travel app to check train times and routes.
Japan Rail Passes can be used on this route. We highly recommend them to save money and time when travelling around the country—see our post Is a Japan Rail Pass Worth It? for all the details.
Or, if your trip is focused on the Osaka/Kyoto area, you might consider the 5 Day JR Kansai Wide Area Pass. The trip to Kinosaki and places like Kobe, Himeji, Nara and Okayama are included.
Getting From Kyoto to Kinosaki Onsen
From Kyoto Station take the JR Limited Express Kinosaki to Kinosaki Onsen Station (2.5 hours, 5170 yen/$37).
There are four direct trains a day—we got the 11.25am train which arrives at 1.49pm.
Seat reservations are mandatory (free with a Japan Rail Pass).
The journey is beautiful with mountain and river views.
The train was busy on the way there. On the return journey (at 10.34am, which is the first direct option), it was much quieter.
Osaka to Kinosaki Onsen
From Osaka take the JR Limited Express Hamakaze or Konotori (2.5 – 3 hours, 5940 yen/$42).
There are six direct trains a day between 7.48am and 12.23pm.
Seat reservations are mandatory (free with a Japan Rail Pass).
Getting Around Kinosaki Onsen
There's a free shuttle bus from the station to the local ryokans. When we arrived at the station, an official from the tourist office asked where we were staying and sent us onto a bus waiting outside.
If you can't see the staff member, enquire in the information centre across from the station.
On the way back our ryokan gave us a lift. If you don't have much luggage the centre of town is only a 10-minute walk from the station.
If you arrive before 3 pm check-in, you can leave your bags at your hotel or the storage centre opposite the station.
When to Visit Kinosaki Onsen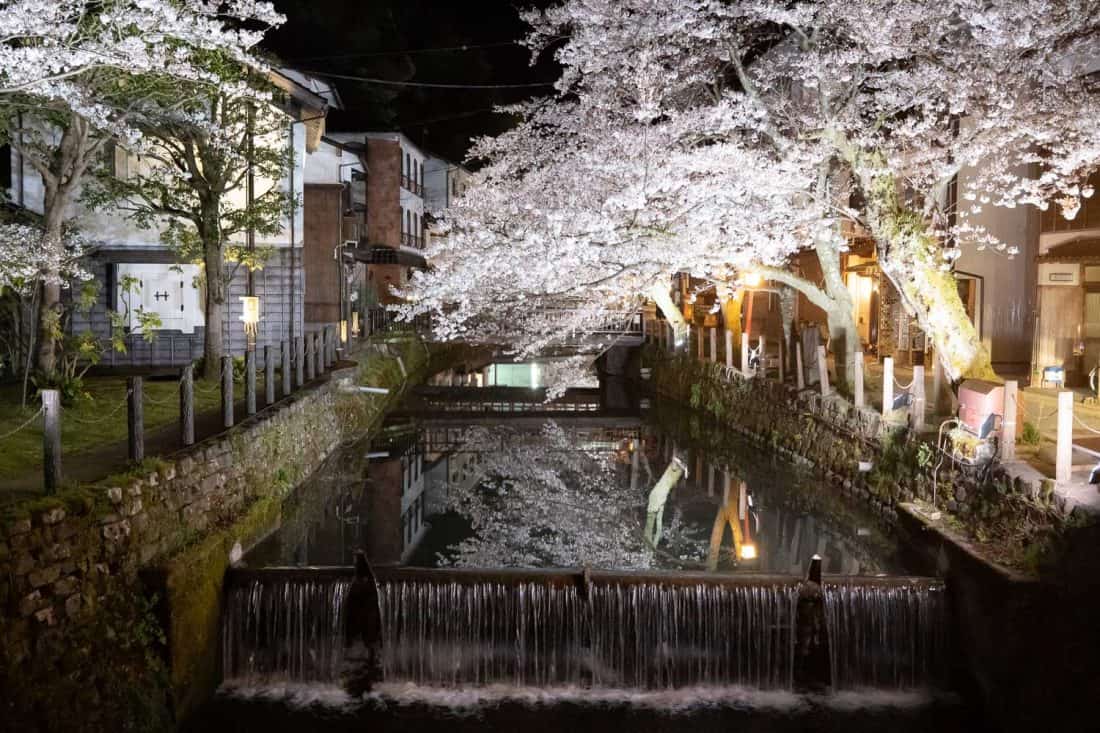 You can enjoy a visit to Kinosaki at any time of year. We visited in early April which is cherry blossom season and it was beautiful to see the blossoms lining the canals, and it wasn't very busy.
The weather was still cool so we could appreciate the onsen.
The town is more popular with Japanese in July and August when they come for festivals and fireworks, and in winter, which is crab season and there can be snow in January and February.
Most visitors spend one night in Kinosaki Onsen, and if that's all you have the time or budget for then it is worth it.
Two nights (which we had) will allow a more leisurely experience and time for relaxing in your room with a pot of green tea and a book. In the summer you could allow time for a day at the beach.
Some people visit Kinosaki Onsen as a day trip, but I wouldn't recommend it as part of the experience is staying in a traditional inn, enjoying the food, and wandering around in a yukata.
Kinosaki Onsen Map
This Kinosaki Onsen map shows the ryokans mentioned in this post in yellow, the onsens in green, and other points of interest in blue.
It takes about 20 minutes to walk from the station to the furthest onsen Kouno-yu.
Is Kinosaki Onsen Worth Visiting?
Yes, Kinosaki Onsen is definitely worth visiting! Despite the anxiety at the beginning of our stay, we left Kinosaki Onsen relaxed and content.
We enjoyed wandering the pretty streets, soaking in the many onsens, chilling out in our tatami room, eating delicious feasts, and wearing a yukata for two days.
Visiting a hot spring resort is a unique Japanese experience and makes a great break from the big cities and the hectic pace of sightseeing.
Kinosaki Onsen is one of the best onsen towns in Japan and is ideal for first-timers.
More Japan Posts
Enjoyed this post? Pin for later!