This page contains affiliate links. Please read our disclosure for more info.
Travelling by train is one of the things we love most about Japan. There's an extensive network, the trains are spacious and comfortable, and they always run on time (we even made a one-minute connection!).
The only downside is the price. Buying a Japan Rail Pass in advance used to save you a lot of money, but that has changed with a price increase in October 2023.
In this review, I'll explore whether a Japan Rail Pass is worth it any longer and share useful tips for using the pass and travelling by train in Japan.
Contents
Update: Japan Rail Pass Price Increase 2023
The cost of the Japan Rail Pass increased significantly (around 70%) in October 2023.
Unfortunately, this means that for most visitors, the Japan Rail Pass no longer saves you money.
This is such a shame as I absolutely love the convenience of travelling with a pass. You should still consider a Japan Rail Pass if:
You are travelling a lot – For example for a trip that includes Tokyo to Kyoto return with a day trip to Hiroshima (see the itinerary below), a pass now costs about the same as individual tickets.
You prioritise convenience – It's so nice being able to hop on trains without buying a ticket.
Another change with the new passes is that you can use it on the fastest shinkansen trains (Nozomi and Mizuho), but you have to pay a hefty supplementary fee (4960 yen/ US $33 from Tokyo to Kyoto). This isn't worth it to reach Kyoto 20 minutes faster.
What is a Japan Rail Pass?
A Japan Rail Pass is a ticket that provides unlimited travel on all Japan Rail national trains for a certain period. Passes are available for 7, 14 or 21 consecutive days and you can choose between a standard and green (first class) pass.
Japan Rail Passes are only available to foreigners travelling on a tourist visa and (usually) must be bought outside Japan.
You can buy your pass online and get it delivered to your home address or even to your first Japan hotel if you've left it to the last minute.
Japan Rail Pass Price (New Prices)
This is the current cost of each of the standard Japan Rail Passes in Japanese yen with the current approximate exchange rate in US dollars and the cost per day in dollars.
| Japan Rail Pass | Cost in Yen | Cost in $ | Cost per Day in $ |
| --- | --- | --- | --- |
| 7 Day JR Rail Pass | ¥50,000 | $336 | $48 |
| 14 Day JR Rail Pass | ¥80,000 | $538 | $38 |
| 21 Day JR Rail Pass | ¥100,000 | $672 | $32 |
JR Passes for children cost half the amounts above (i.e ¥25,000 for a 7 Day Pass).
I don't think there's any need to pay extra for the Green Pass (¥70,000 for a 7 Day Pass) to travel first class as we found standard class comfortable with plenty of leg room, tables, and power points.
The only time it might be worth considering is during holiday periods such as Golden Week in late April/early May when standard class trains are busy (you can make seat reservations, though).
We always buy our tickets online with official vendor JRailPass.com. They ship worldwide in two days.
Buy your Japan Rail Pass from JRailPass.com here
Which Trains are the Japan Rail Pass Valid On?
The JR Rail Pass is valid on all Japan Rail trains, but it can't be used on trains operated by private companies.
This means you can't take the fastest Nozomi or Mizuho shinkansen (bullet trains) unless you pay an expensive supplement, but there are plenty of other bullet trains and this never caused us a problem.
For example, when travelling from Tokyo to Kyoto you can take the Hikari shinkansen which is only 20 minutes slower at 158 minutes than the Nozomi shinkansen which takes 138 minutes.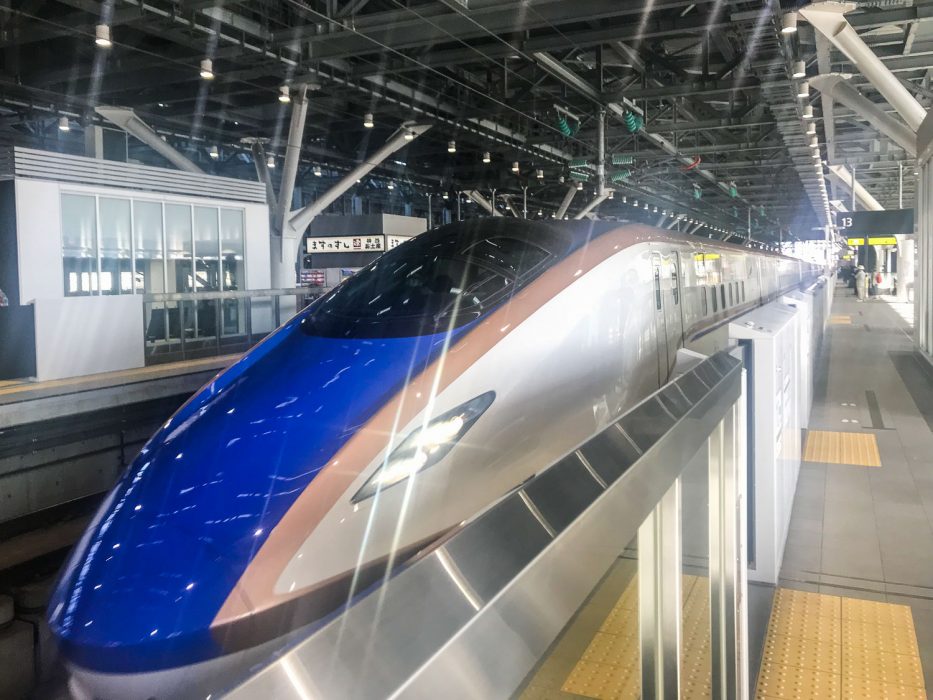 The rail pass can be used on some local trains within Tokyo and other big cities, but not on the metro or buses.
It's mostly useful for saving money on travel between cities. See the local transport section below for more details.
Joyful Trains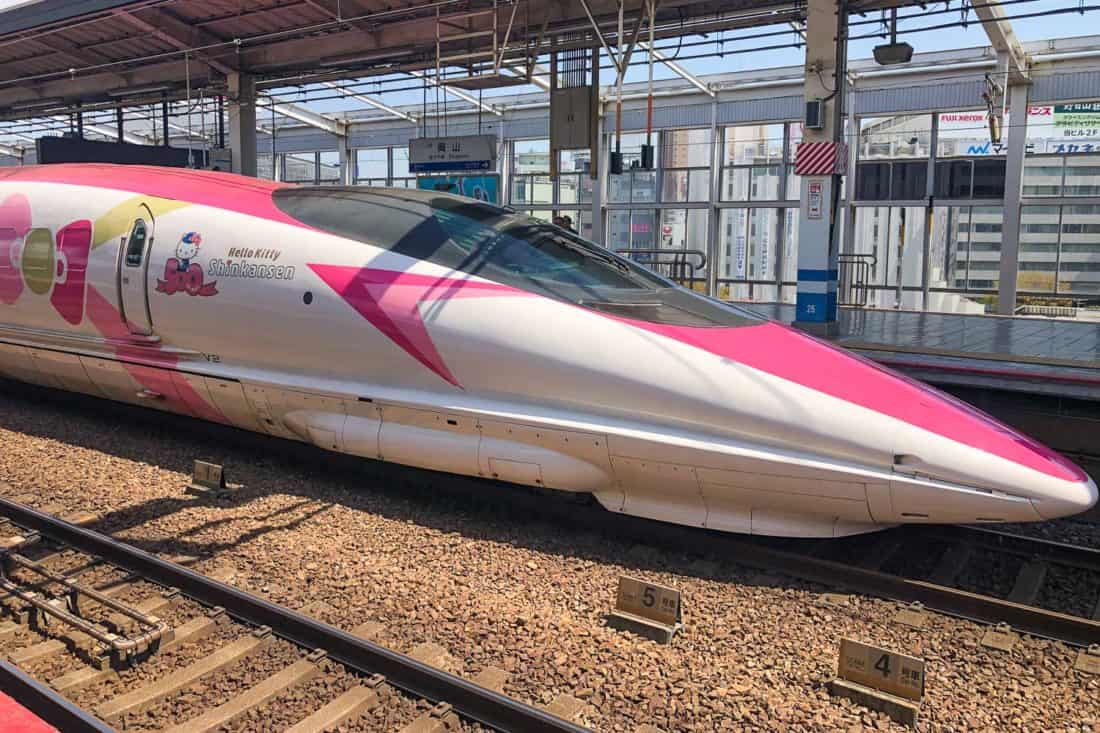 The JR Pass is valid on many of Japan's Joyful Trains which are fun, character-themed trains.
We noticed the Hello Kitty shinkansen in Okayama station and were tempted to hop on for a joy ride (the advantage of a rail pass is you can follow whims like this).
Destinations where we couldn't use a JR Pass
If you are only travelling to major cities, you'll be able to use your JR Pass everywhere. For trips to some smaller towns, you may need to pay extra to take the bus or private railway.
Even with these extra expenses, the rail pass still saved us money on our three trips.
On our first trip we visited two places that we couldn't access with our rail pass. For the mountain temple town Koya-san we used our pass to travel from Kyoto to Osaka and then bought a ticket for the private Nankai Railways train.
For the tiny town of Tsumago in the Kiso Valley we used our pass to get from Nagoya to Nagiso then paid for the bus to Tsumago.
On our second trip (see our two week Japan itinerary) we used our rail pass to get everywhere except Hakone where we bought a Hakone Free Pass from Odawara train station to explore the area by bus, train, ferry, and cable car.
The only other slight issue was having to take a slower train with one transfer to get to Nikko as you can't use a pass for the direct train from Shinjuku to the Tobu Nikko station.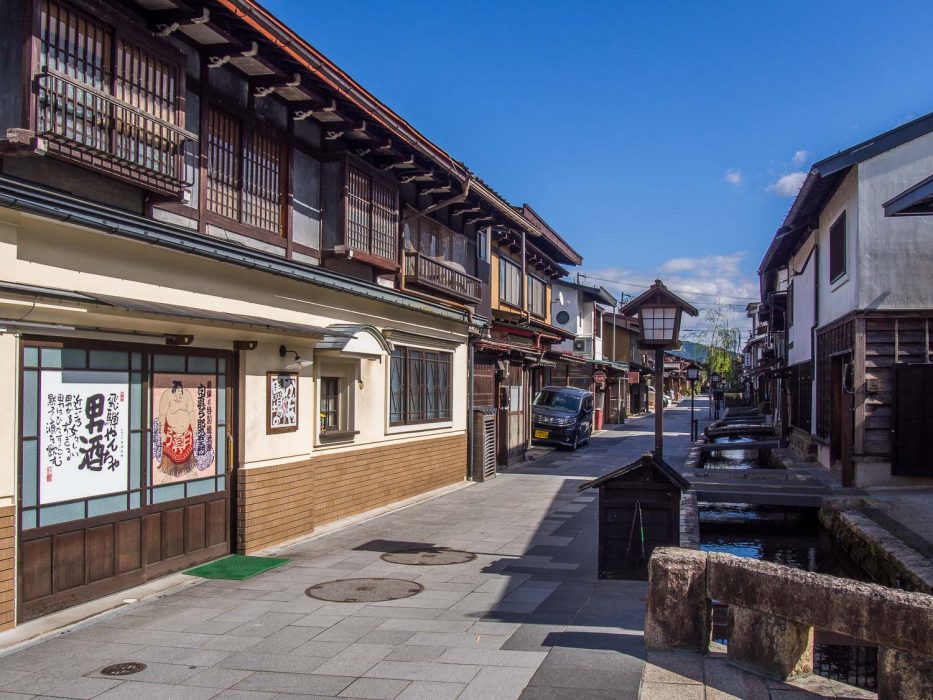 On our third trip, the only place we couldn't get to with a JR Rail Pass was Kawaguchiko (to see Mt Fuji at Lake Kawaguchi).
We were travelling from Okayama (on the same line as Hiroshima) and could only take the shinkansen as far as Mishima where we took a 1.5-hour bus ride to Kawaguchiko.
From Tokyo you can get to Otsuki with a rail pass and only pay the regular fare for the final section to Kawaguchiko.
We also visited the very cool Naoshima Art Island as a day trip from Okayama. The rail pass covered our train to Uno port but didn't cover the 20-minute ferry (which is inexpensive anyway).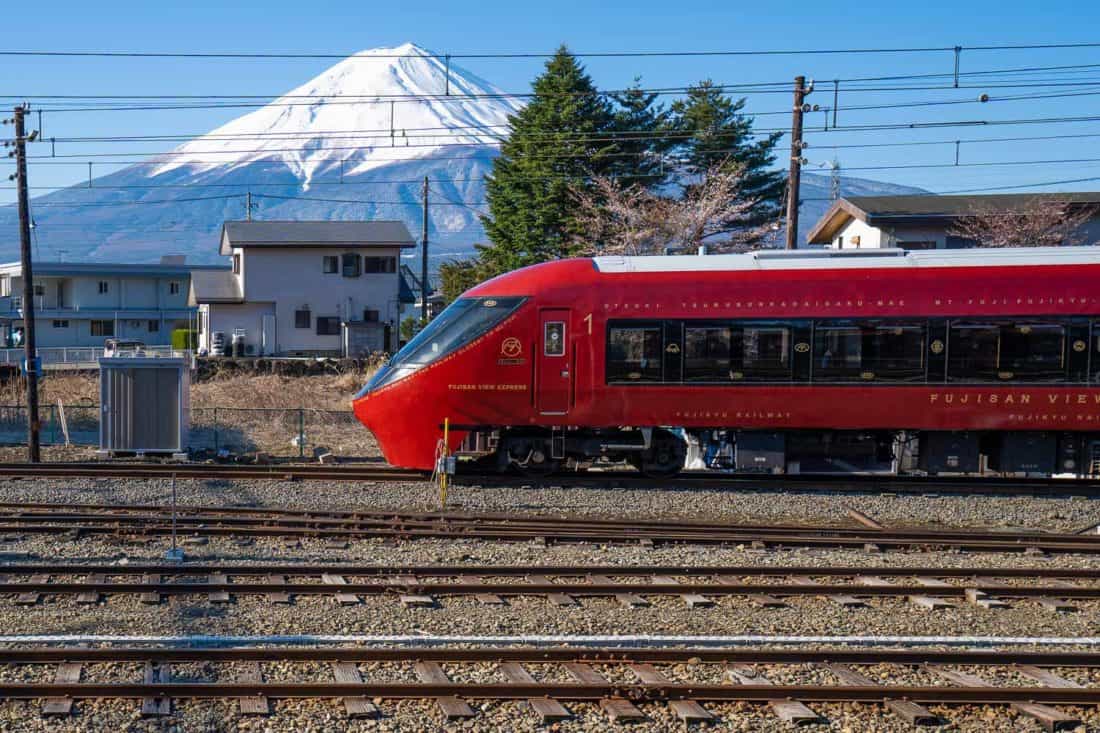 Is a Japan Rail Pass Worth It?
Whether a Japan Rail Pass is worth it for you depends on your route.
If you'll be travelling at a fast pace to lots of places, especially on the expensive bullet trains, then a rail pass may save you money.
If you are only travelling from Tokyo to Kyoto and back within a week, the pass no longer saves money.
The return trip on the shinkansen costs ¥27,300 (for a reserved seat). You'll have to do a lot of extra travel to reach the ¥50,000 cost of a 7-day pass.
Japan Rail Pass Calculator
To work out whether the JR Pass is worth it for you, you need to come up with a potential itinerary and then calculate how much it would cost to pay for your tickets as you go.
To get a rough idea use Japan Guide's Japan Rail Calculator. It's not 100% accurate, but it's quick and easy to use.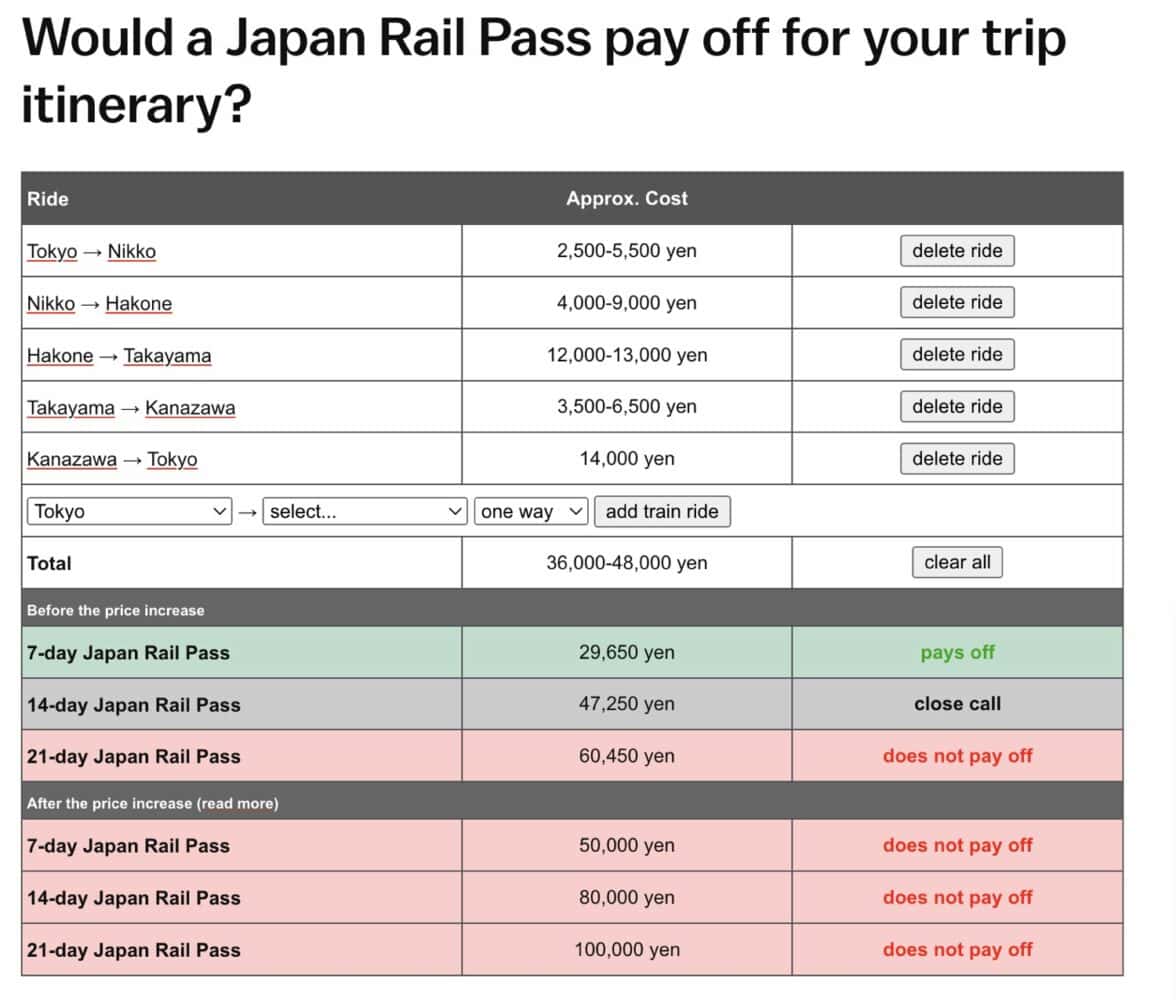 For an accurate calculation, put each leg of your trip into Navitime to see the costs.
If it's a close call
If the cost of the pass is just a little more than individual tickets, I recommend buying the pass. It makes travel much easier not having to buy tickets and being able to hop on and off trains as you like.
You can also use the pass for some local travel (especially in Tokyo where it can be used on the trains but not subways) and day trips.
Our our latest more unconventional trip from Kyoto-Kinosaki Onsen-Okayama (with day trips)-Mishima (for the bus to Kawaguchiko)-Tokyo we bought a 14-day Japan Rail Pass.
As we were travelling at a fairly slow pace, this worked out roughly the same price as if we'd bought the tickets individually (at the old pass price), but the convenience made it worth it.
Our Savings with a Japan Rail Pass
For a previous two week trip to Japan we flew in and out of Tokyo and used a 7-day Japan Rail Pass to travel to Nikko, Hakone, Takayama, and Kanazawa—see our detailed Japan itinerary.
Here are the savings we made by using a Japan Rail Pass. This includes a side trip from Takayama and using the pass for local trains in Tokyo on our final day with the pass.
| From | To | Cost in Yen |
| --- | --- | --- |
| Tokyo Shinjuku | Nikko | 5,380 |
| Nikko | Odawara (for Hakone) | 8,200 |
| Odawara | Takayama | 12,000 |
| Takayama | Hida-Furukawa (side trip) | 240 |
| Hida-Furukawa | Takayama | 240 |
| Takayama | Kanazawa | 5,610 |
| Kanazawa | Tokyo Station | 13,920 |
| Tokyo Station | Shibuya (within Tokyo) | 200 |
| Shibuya | Takadanobaba (within Tokyo) | 170 |
| Takadanobaba | Shibuya (within Tokyo) | 170 |
| Total Cost of Individual Tickets | | JP¥46,130 |
| Cost of Old 7 Day Japan Rail Pass | | JP¥29,110 |
| Previous Saving | | JP¥17,020 |
| Cost of New 7 Day Japan Rail Pass | | JP¥50,000 |
We saved over ¥17,000 or $115 per person with the old Japan Rail Pass.
Unfortunately, with the new Japan Rail Pass prices, we would have saved ¥4000 ($27) by buying tickets individually. In this case, I do think the pass would be worth the extra cost for the convenience.
A Tokyo to Kyoto Sample Itinerary and Savings
Here's an example for a typical 10 day trip to Japan arriving in and departing from Tokyo and visiting the highlights.
Spend the first three days in Tokyo (pay out of pocket for the Narita Express train from the airport), and then activate your 7-day rail pass on the day you leave for Kyoto.
Spend six days in Kyoto and take day trips to Nara and Osaka (which are inexpensive on local trains) and further afield to Hiroshima by bullet train (where you'll really appreciate the pass). See more Kyoto day trip ideas.
Return to Tokyo for your final day and use the pass to take the Narita Express train to Tokyo Narita Airport.
Here's how much you would save by purchasing a JR Rail Pass for this itinerary: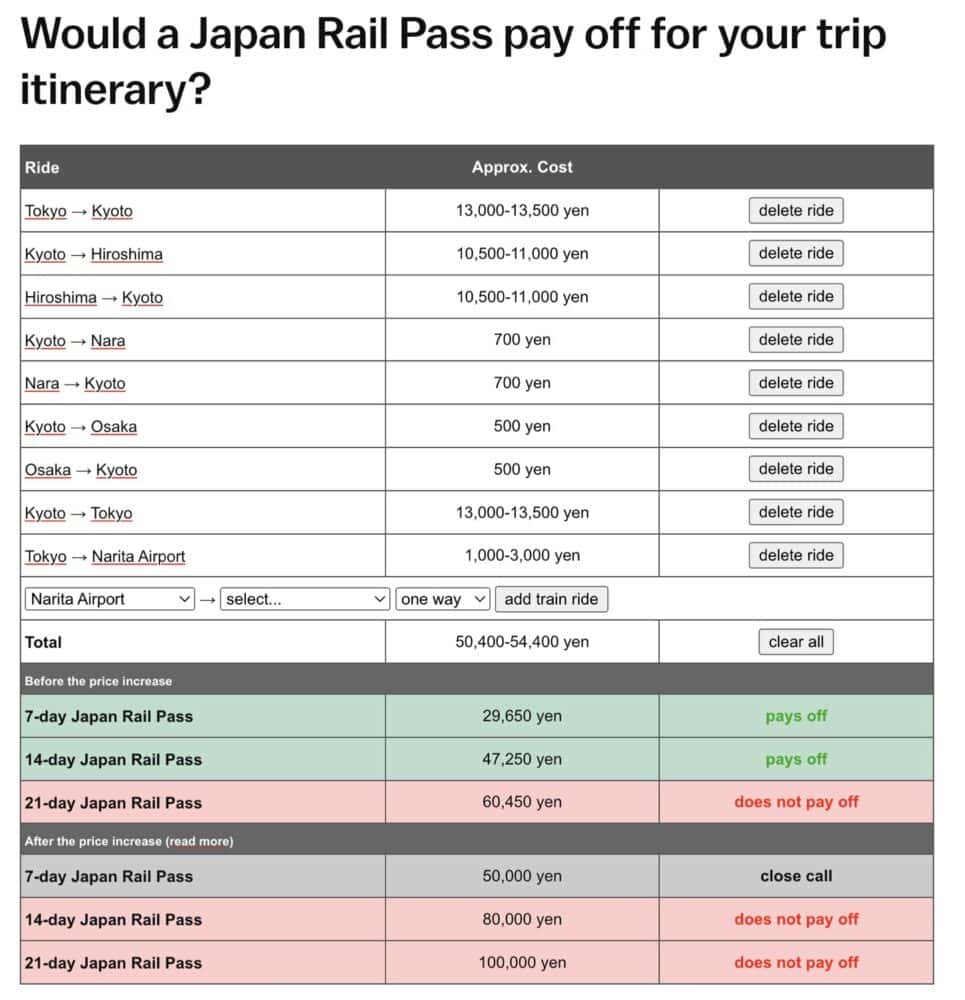 By purchasing a 7-day JR Pass for this trip, you used to save a considerable amount. After the price increase, buying a pass is about the same as individual tickets but could be worth it for the convenience.
When Not to Use a Japan Rail Pass
If you are flying into Tokyo and out from Osaka (or vice versa) and only travelling to Tokyo, Kyoto and Osaka, a rail pass will be more expensive than the one-way shinkansen ticket from Tokyo to Kyoto.
Or even if you are just travelling from Tokyo to Kyoto and back (without major day trips), buying individual shinkansen tickets is cheaper and you'll be able to take the fastest Nozomi train.
If you are only travelling in one area of Japan, such as Kansai where Osaka and Kyoto are, paying for tickets individually will likely be cheaper than a JR pass. You might want to look into a regional rail pass instead such as the Kansai Area Pass (although those have also had price increases).
If you are on a really tight budget and are travelling at a slow pace, it could work out cheaper to take the bus. Willer offers bus passes from ¥10,200 for three days of travel within two months.
We much prefer train travel, though, as it's faster, more comfortable and spacious, we can work on the tables, and I don't get travel sick (a problem on the bus on Japan's winding mountain roads).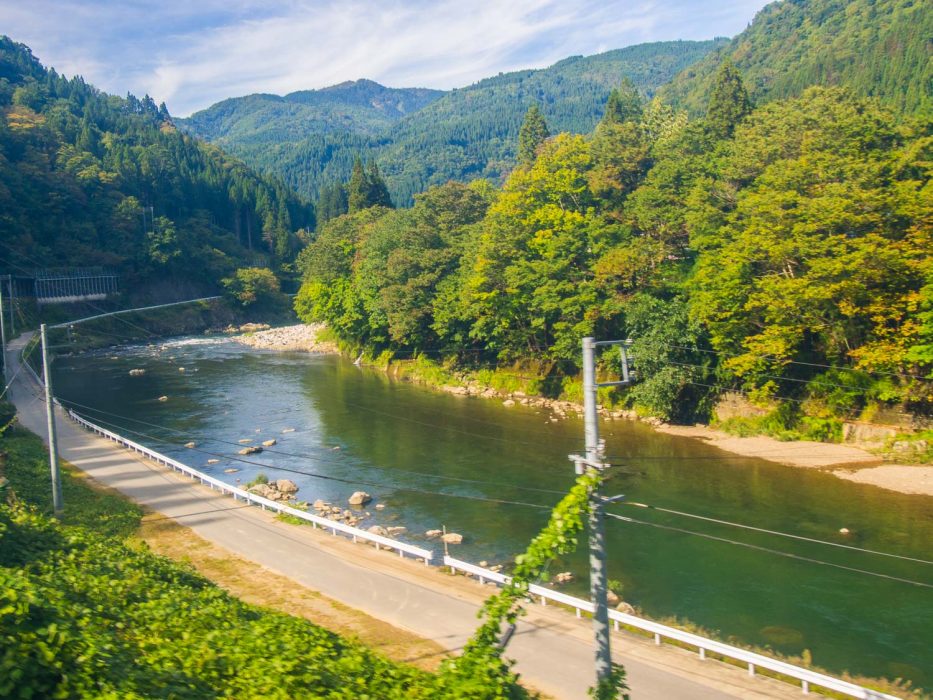 Where to Buy a Japan Rail Pass
Japan Rail Passes are sold by some travel agents outside Japan, but the easiest way to buy a pass is online.
We bought our passes for our last two trips from JRailPass.com who are an official JR Rail Pass vendor. You will receive an exchange order that you exchange for the pass when you arrive in Japan.
Another option is Klook, which is the best option for Australians as they include free shipping within Australia (or pick up from Sydney CBD).
The exchange order must be exchanged within three months, so don't order too far in advance.
Our purchase with JRailPass.com was very easy. For each passenger you need the full name exactly as it's written on their passport and their nationality.
You are also asked for an approximate arrival date in Japan, but this is just so they can make sure your passes will arrive on time. You don't need to decide the exact start date of the pass until you get to Japan.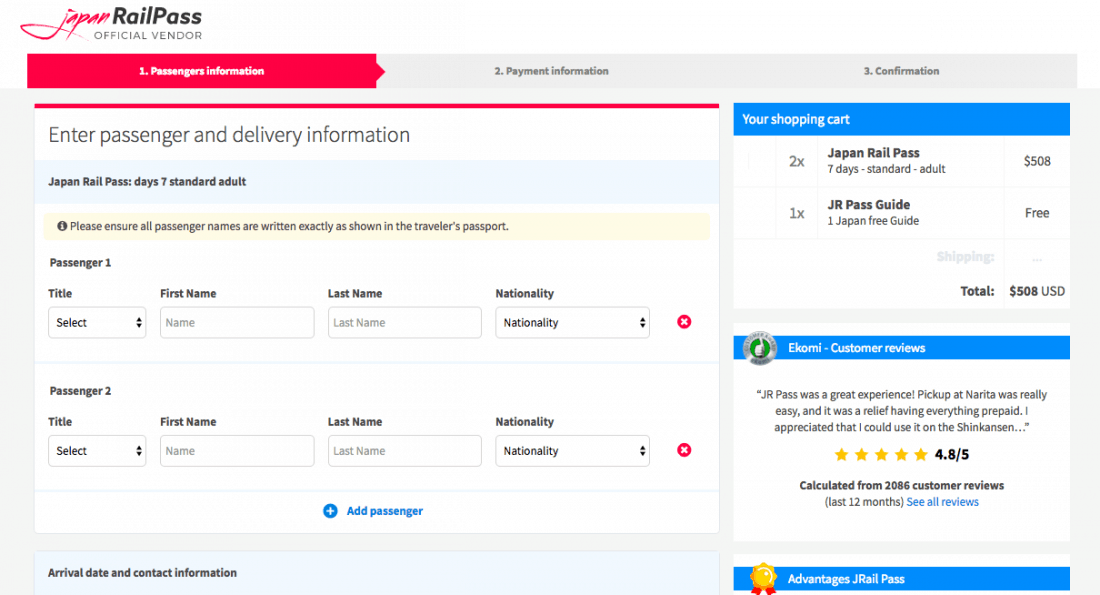 They can ship passes worldwide and they usually arrive within two working days, although ours took three days to Indonesia. On one of our trips we were already travelling so we got the pass delivered to our hotel in Bali.
There are extra credit card and shipping fees unless your order is over $600 when there's free shipping to the UK and Europe.
In the US the passes are sent by UPS and worldwide they use FedEx International Priority. You are given a tracking number to track the progress of the delivery. Someone has to sign for the delivery.
Sending a Japan Rail Pass to Japan
If you've left buying your pass to the last minute, you can get the exchange order sent to your first hotel in Japan.
It's best to check with your hotel or Airbnb host first, but it shouldn't be a problem with bigger hotels.
On our last trip we were staying in an apartment in Kyoto for a month before we started our two-week rail pass trip.
As I wasn't sure what would happen if we missed the delivery (and we wouldn't be able to read any notices in Japanese), the agent who managed the apartment agreed to receive delivery for us.
Buying Direct
It used to be you could only buy a pass outside Japan from an authorised agent, but Japan Rail now sell passes online (they stopped selling them at certain stations). See the Japan Rail Pass website for more details.
The downside of booking direct is having to deal with a somewhat clunky site (where you have to create an account).
The upsides are not needing to have an exchange order mailed to you in your home country (you collect the pass in Japan) and being able to make seat reservations online (even before you arrive in Japan), which could be useful at very busy times of year like Golden Week.
How to Exchange a Japan Rail Pass
You don't receive the pass at first but an exchange order that you can then exchange for your pass when you arrive in Japan.
A booklet with information on where you can do this comes with the exchange order.
We exchanged ours at the JR Rail office in Shinjuku Station and it was quick and easy.
We had to fill in a short form and show our exchange order and passports (don't forget to bring yours). You have to choose the start date for the pass within the next month and this can't be changed.
If possible, it's best to do this a day or so before your first travel day so you don't have to worry about it on the day.
Otherwise, make sure you allow plenty of time before your train departs in case there are queues.
Can You Use a Japan Rail Pass for Local Transport in Tokyo and Kyoto?
For local transport within cities you can use the JR Rail Pass on some train lines but not the metro or buses.
As local transport isn't very expensive (with the exception of the fast airport trains), it might not be worth activating your pass until you leave the city. See above for how to calculate this.
Tokyo Local Travel
In Tokyo, the Japan Rail Pass is quite useful. You can use it on the JR Yamanote line, which is one of the most used lines in the city and connects major hubs such as Shinjuku, Shibuya and Tokyo Stations.
There are a number of other JR train lines that crisscross the huge city—the Chuo line is another one we often use.
You can't use a JR Pass on the Tokyo Metro.
The pass can be used on the Narita Express train which is the most comfortable and quickest way to get from Narita Airport into the centre of Tokyo.
You can activate your pass at the JR Travel Service Centre in the airport train station.
Kyoto Local Travel
In Kyoto, the pass is of more limited use for local transport. You can't use the pass on the metro or buses, but there are a couple of train journeys you could use it for.
You can take the JR Nara line to Inari (to see Fushimi Inari shrine—one of our top things to do in Kyoto).
You can also take the JR Sagano line to Saga-Arashiyama station to see the famous bamboo grove and many beautiful temples in this neighbourhood.
If you are flying into Kansai Airport near Osaka, you can activate your rail pass at the airport train station and use it for the Limited Express Haruka train, which is the best way to get to Osaka or Kyoto.
Osaka
Although there are a few JR train lines within Osaka, the Osaka subway is more useful for getting around, and this is not included with a rail pass.
Local Transport Cards
As you can't use a JR Rail Pass on many forms of local transport within the cities, if you are staying for more than a few days, it's worth picking up a prepaid IC transport card.
You add money to these in advance and then just tap on and off all local transport.
In Tokyo you can buy a Suica or Pasmo card and in Kyoto and Osaka you'll get an ICOCA card.
Whichever card you buy you can use them in cities all over Japan, so you don't need a separate card for Kyoto and Tokyo.
You used to be able to buy them at ticket machines and counters in train and metro stations, but sales are currently suspended due to a shortage of IC chips.
Tourists can still purchase Welcome Suica and Pasmo Passport cards at select stations and airports. They are only valid for 28 days though.
An easier option is to add Suica or Pasmo to Apple Wallet on your phone or watch (currently only Mastercard and American Express work as payment methods for it in Wallet though).
The old IC cards included a ¥500 deposit, which you can get a refund for if you return your card at the end, but only in the area you bought it. You can't get a refund for a Suica card in Osaka or an ICOCA card in Tokyo.
The tourist cards don't have a deposit.
Finding Train Times
Use Navitime to search for train times. Remember to click the Tourist Pass dropdown menu and select Japan Rail Pass to have it show routes where the rail pass is valid.
Making Seat Reservations
You don't need to make seat reservations to travel with a pass on most trains—you can just hop on any unreserved car.
The most commonly used train that does require a seat reservation is the Narita Express from Narita Airport into Tokyo.
If you want to use your pass on the airport train, you can swap your exchange order for a pass and get the seat reservation at the airport JR office.
You probably want to make seat reservations when travelling during Japanese national holidays—see this list of Japan holiday dates.
Seat reservations are free for rail pass holders and can be made at any JR station ticket office—either at the counter or at ticket machines.
It doesn't have to be the station you are travelling from, so you can save time by getting a few seat reservations at once. Smaller stations will have shorter queues.
You could also make your first few seat reservations when exchanging your exchange order for a pass. We did this in Kyoto Station on our last trip, which saved time as the queues were long.
All you have to do is show your pass and give them the train time you want the reservation for.
Staff may speak English, but I find it helpful to write down the date, train time, and route I want reservations for. This is why it's best to research times on Navitime in advance.
Luggage Reservations
If you are travelling on the Tōkaidō, San'yō, or Kyūshū Shinkansens and have oversized luggage, you'll need to make a seat reservation for the seats next to the oversized baggage area at the end of the train car.
Luggage is considered oversized if it has total dimensions (A+B+C) of over 160cm.
This is fairly generous as most standard suitcases are smaller than this. Smaller suitcases, including any that fit in airline overhead compartments (including our Away Bigger Carry On), should fit in the overhead compartments on shinkansens.
Even if your bag is not oversized, you can book an oversized luggage seat to have access to the storage area behind the seat if you think you'll have problems lifting your baggage overhead.
How to Use a Japan Rail Pass
To use the Japan Rail Pass all you need to do is get on an unreserved car and find an empty seat.
In 2023, the format of the pass changed and it's now a small scannable ticket that you can use in the automatic gates to access the train platforms.
You may also be asked to show the pass on the train.
When you are travelling on a bullet train you can see which cars are unreserved on the screens, and then find the corresponding number on the platform to see where to wait.
The panels on the side of the carriage will also say whether it's reserved or unreserved.
Trains are always on time so a 10-minute transfer time is fine.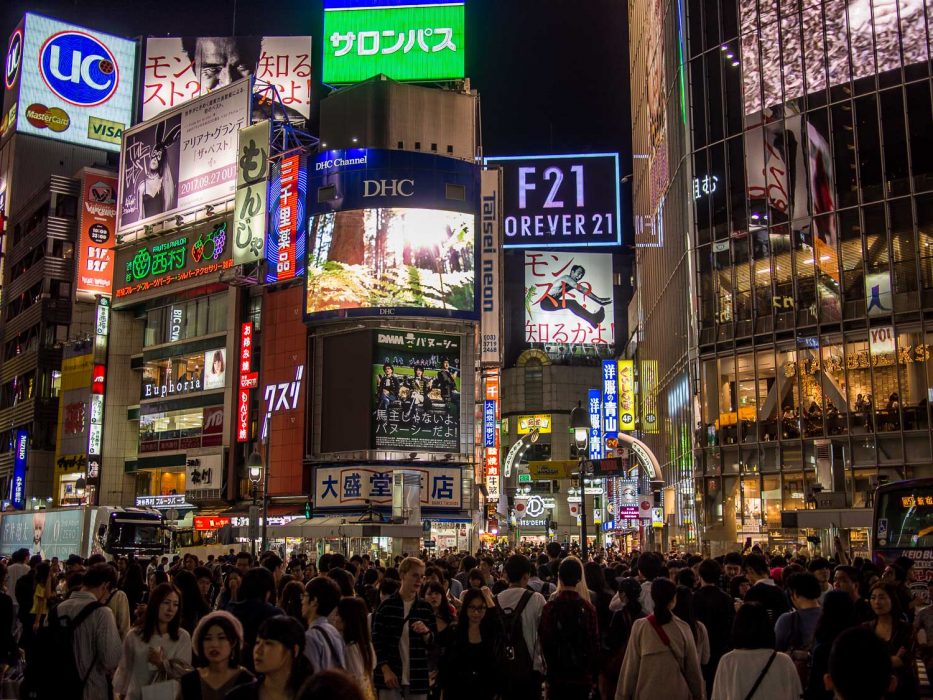 Japanese Train Etiquette
The Japanese are generally a quiet and respectful people and it's important to follow these rules when travelling by train:
Be quiet – Keep your volume low when taking, don't talk on your phone and make sure it doesn't beep or ring. We even saw signs warning you not to type too loudly on your laptop!
No eating – The exception is on bullet trains when buying a bento lunch box at the station is a big part of the experience. On local trains we didn't see anyone eating or drinking anything other than water.
Don't smoke – Unless there's a designated smoking car on the bullet trains.
Don't sit in the priority seating – On local trains these seats are designated for the elderly, pregnant women, and people with disabilities. If the train is quiet you can sit here, but be prepared to give up your seat if necessary.
Queue – There are designated spots to wait for the train marked on the platform, so join the orderly queue.
Be patient – Stand to the side and wait for people to get off the train before you get on.
Is a Japan Rail Pass Worth it?
On all our previous trips to Japan, we found a JR Pass saved us hundreds of dollars and made travel much easier.
While that has changed with the price increase, it's still worth considering a rail pass if you are doing a lot of travel.
Even if a pass costs about the same as individual tickets, the convenience of being able to hop on almost any train without buying a ticket is worth it.
Hopefully the tips above will help you work out whether a Japan Rail Pass is worth it for you.
Let me know if you have any questions in the comments below.
More Reading to Plan Your Japan Trip
If you enjoyed this post, pin it!