This page contains affiliate links. Please read our disclosure for more info.
Mission Beach is a blissfully relaxed beach town in Tropical North Queensland far from the hustle and bustle of Cairns and Port Douglas.
It's made up of four coastal villages linked by 14 kilometres of idyllic (mostly empty) golden beach fringed by palm trees—a quintessential tropical paradise.
While most people come here for relaxation, there are enough things to do in Mission Beach to keep you busy including rainforest walks, wildlife spotting (it's one of the best places to see the unique cassowary bird), and snorkelling trips to a quiet section of the outer Great Barrier Reef.
In this post, I share our picks for what to do in Mission Beach after spending two weeks there. Plus where to stay, how to get there, and a map with all our recommendations.
Contents
Where is Mission Beach Queensland?
Mission Beach is located on the Cassowary Coast in North Queensland, Australia. It's 140km or a two-hour drive south of Cairns and 235km or three hours north of Townsville.
Cairns (CNS) is the nearest airport with domestic and international flights.
Below you'll find a map and details on how to get there.
Best Things to Do in Mission Beach Qld
1) Relax on the Beaches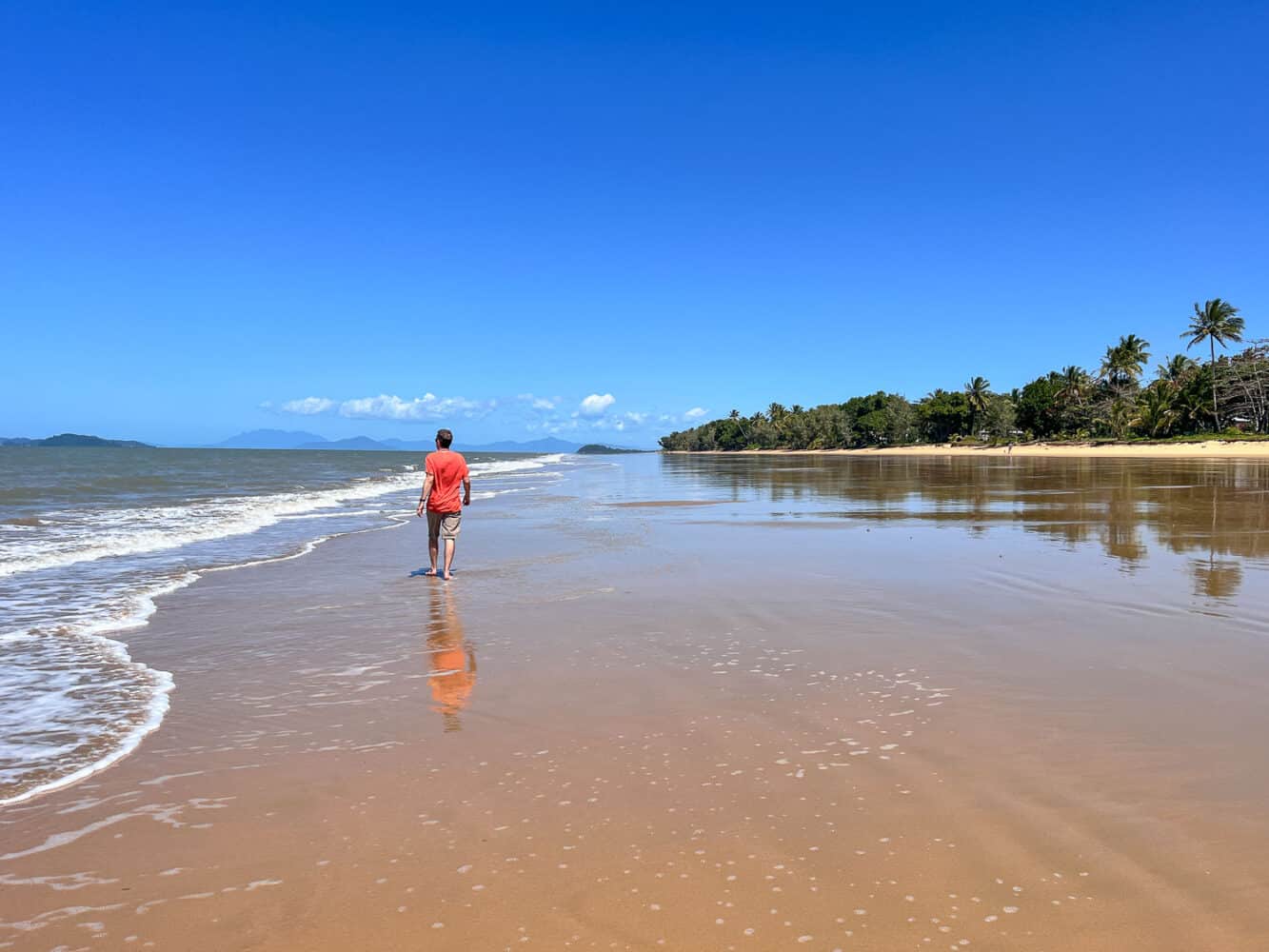 The long golden beach is the highlight of Mission Beach. Even in the winter high season, the beach was usually empty, especially away from the main hub, Mission Beach Village (sometimes called North Mission Beach).
The palm trees that line the sand are wonderfully picturesque and the views of Dunk Island offshore and the mountains in the distance add to the scenic view.
Don't expect to find any sunbed rentals—bring your own towel. In the afternoon there's plenty of shade from the trees.
The extreme tides mean that the ocean is often quite far out leaving a wide firm beach that's ideal for walking, running, and even cycling.
Mission Beach does have some downsides, though. In the summer months (November to May), it's stinger season with a high risk of jellyfish including the venomous box jellyfish.
You can still swim but you need to wear protective clothing and swim within the stinger nets at North Mission and South Mission beaches.
From June to October, it's safe to swim, although I did feel a mild tingle in the water sometimes.
The other potential hazard is crocodiles! There's not a zero per cent chance of crocodiles in the water at Mission Beach (or anywhere in the Far North), but it's extremely unlikely you'll encounter one. Locals we met hadn't seen one in decades. I did avoid swimming at night, though, which is a higher risk time.
One final issue is that the ocean often turns brown after rain or wind. This was the case when we arrived, but it cleared up several days later.
Swimming on the offshore islands is more enjoyable as the water is clearer and doesn't have the risk of jellyfish or crocs.
Dunk Island (see below) is the easiest to visit or we stayed at the luxurious Bedarra Island Resort after Mission Beach (25 minutes away) and loved it. See our Bedarra Island Resort review for details.
2) Visit the Four Coastal Villages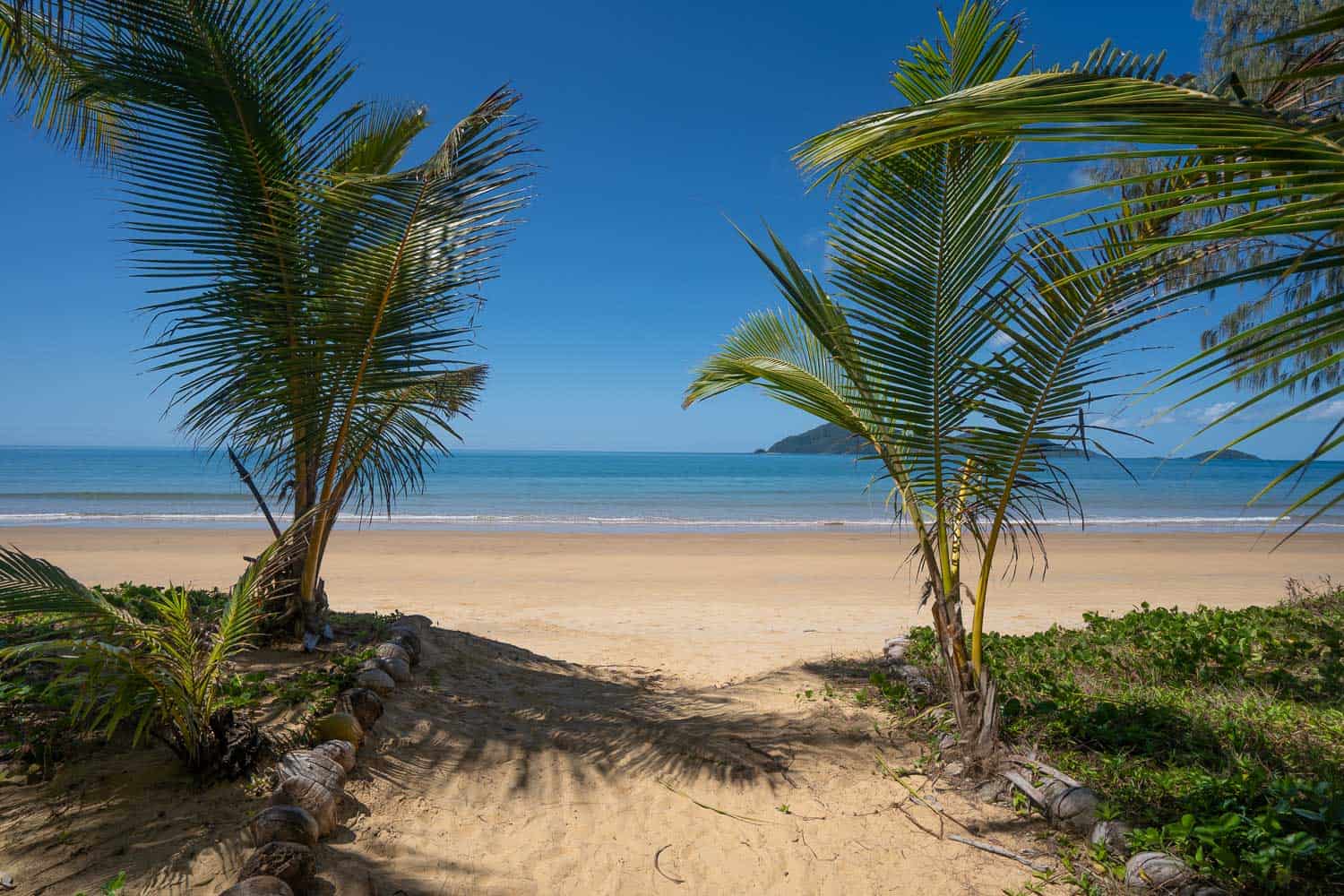 The four coastal villages that make up Mission Beach are (from north to south): Bingil Bay, North Mission (or Mission Beach Village), Wongaling Beach, and South Mission.
They are all low-rise with minimal development between the rainforest and beach.
Bingil Bay
Bingil Bay is a sleepy village with a pretty beach. There's not much here except a campsite and the popular Bingil Bay Cafe with its quirky, colourful decor.
It's close to Garners Beach (see below) and the Bicton Hill Walk.
North Mission Beach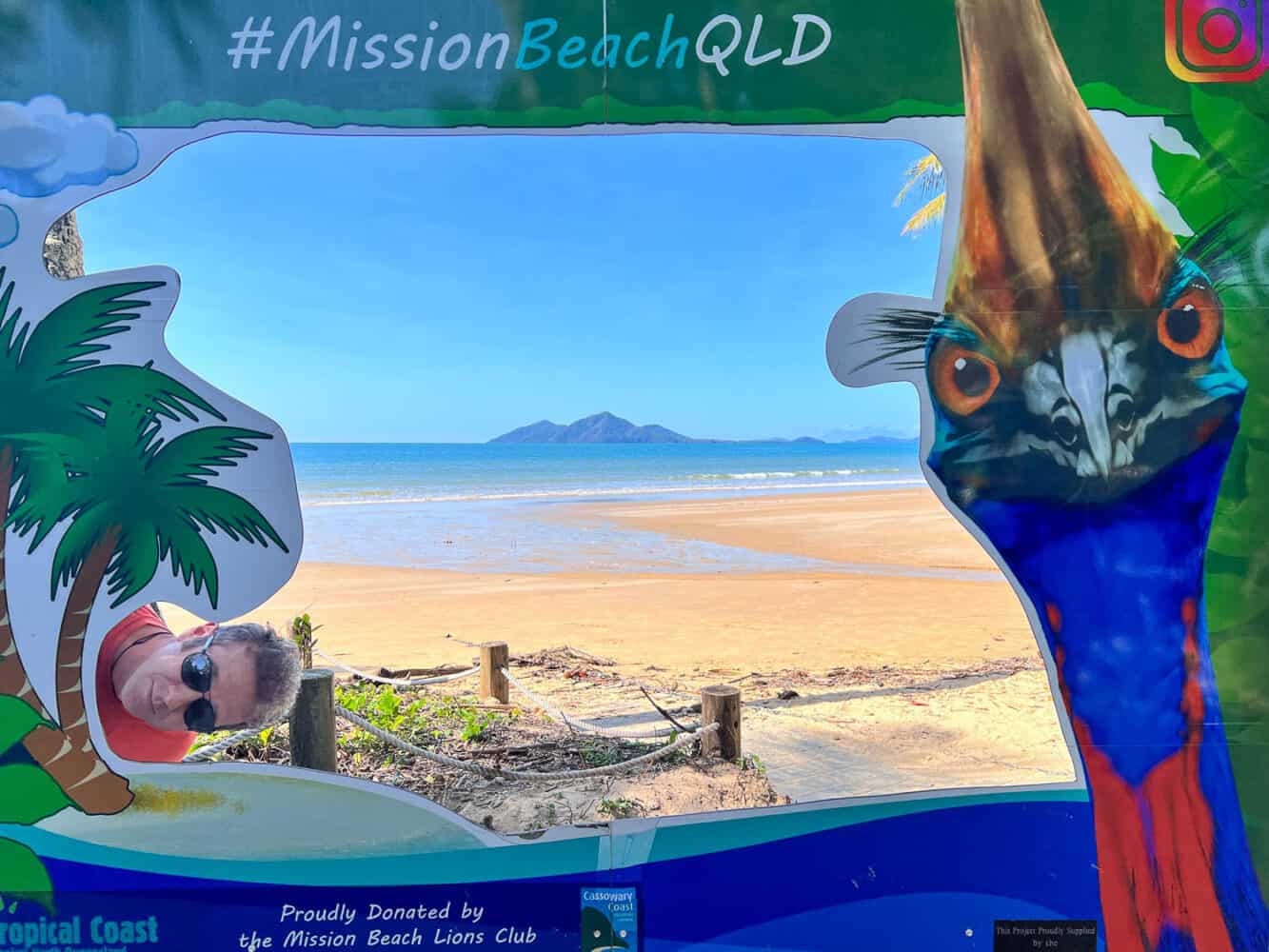 Mission Beach Village or North Mission is the visitor hub. It has the most restaurants and cafes, and on weekend evenings is quite lively with several bars hosting live music.
It's home to the Sunday Market and a few shops including Leny's for tropical fruit, The Bowerbird's Pantry for coffee and local foodie products, and Helen Wiltshire Gallery for art and gifts.
At the beach access on David St (by Plenty Restaurant), there's a cute cassowary sign where you can take your photo. Next to it is a very scenic swing hanging from a palm tree.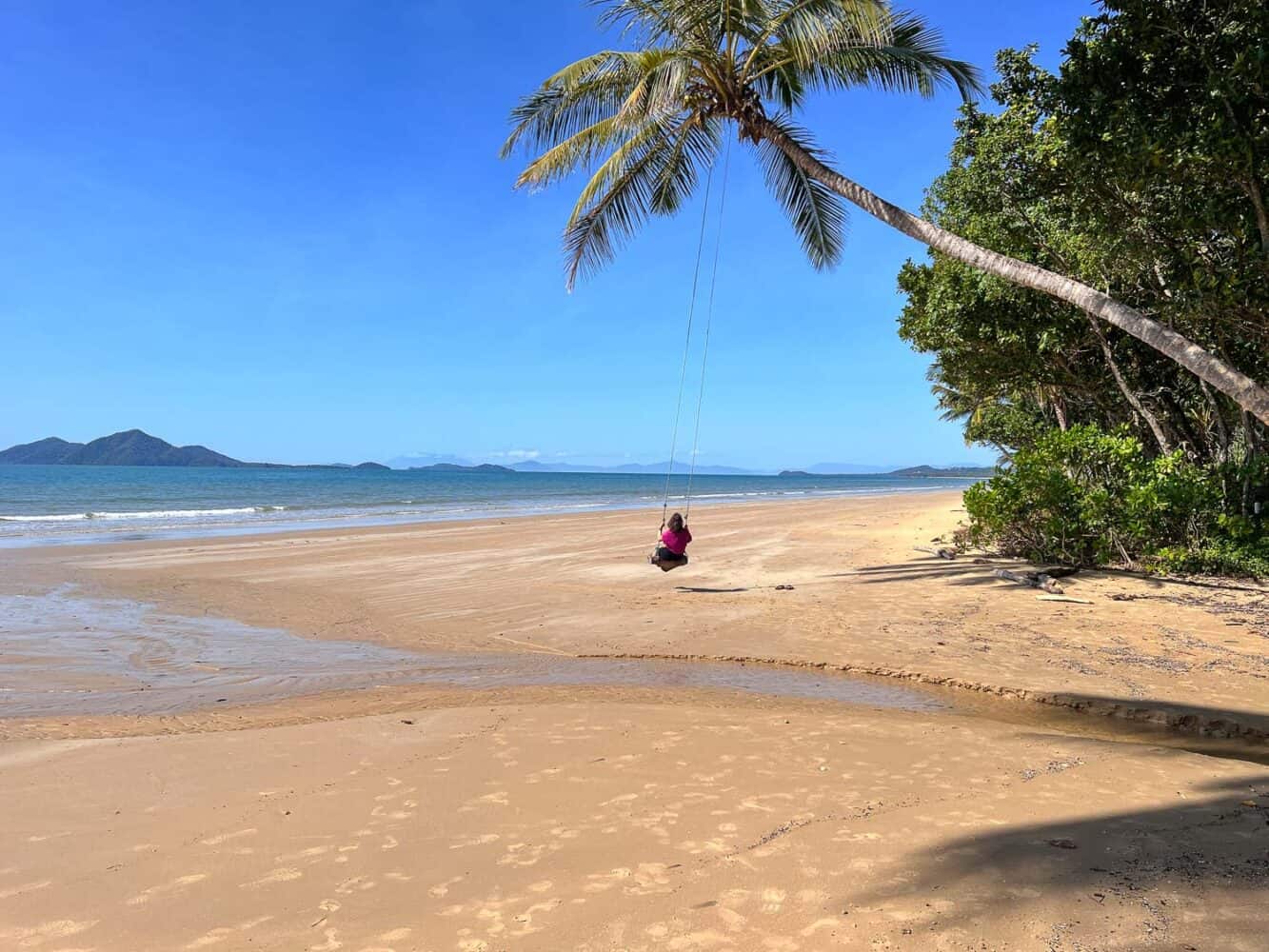 Wongaling Beach
Wongaling Beach is more of a residential area with lots of beach houses (including one we stayed in) on a quiet stretch of sand. There are a few restaurants and the only supermarket (Woolworths).
South Mission Beach
South Mission is another quiet beach with a caravan park and beachfront dining at Tuskers Tuckerbox. Most people come here for the Kennedy Walking Track.
3) Sample Local Tropical Fruit
The Cassowary Coast is a major growing area for bananas and other tropical fruit.
Leny's Tropical Fruit and Veg in the main village is a good spot to pick up fresh produce and there's a smoothie shop next door. They often have seasonal fruit for $10 a bucket—we bought delicious passionfruit and happily made our way through them all.
Next to Leny's is an honesty box where you can pick up inexpensive bananas.
You can also try the Sunday Market, but there are only a few stalls with fresh produce.
4) Spot a Cassowary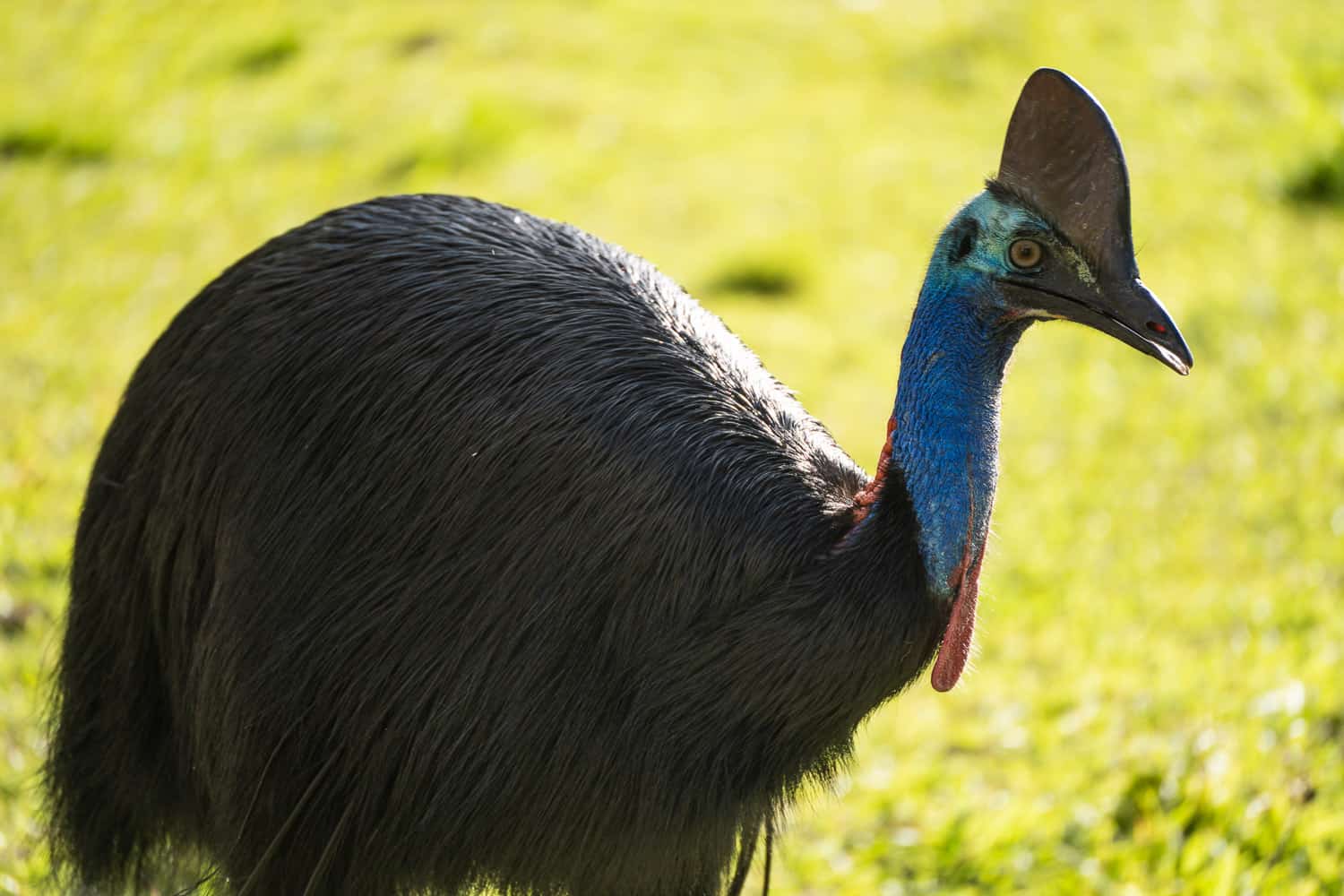 Cassowaries are large, flightless birds that descend from dinosaurs. They are wonderfully strange looking with shaggy black bodies, blue heads topped with a large knob (called a casque), and massive three-toed clawed feet.
These dagger-like claws are what give the cassowary its reputation as the most dangerous bird as they can kill humans with them. The risk is overstated and it's unlikely to attack you, but it's best to keep your distance if you are lucky enough to see one.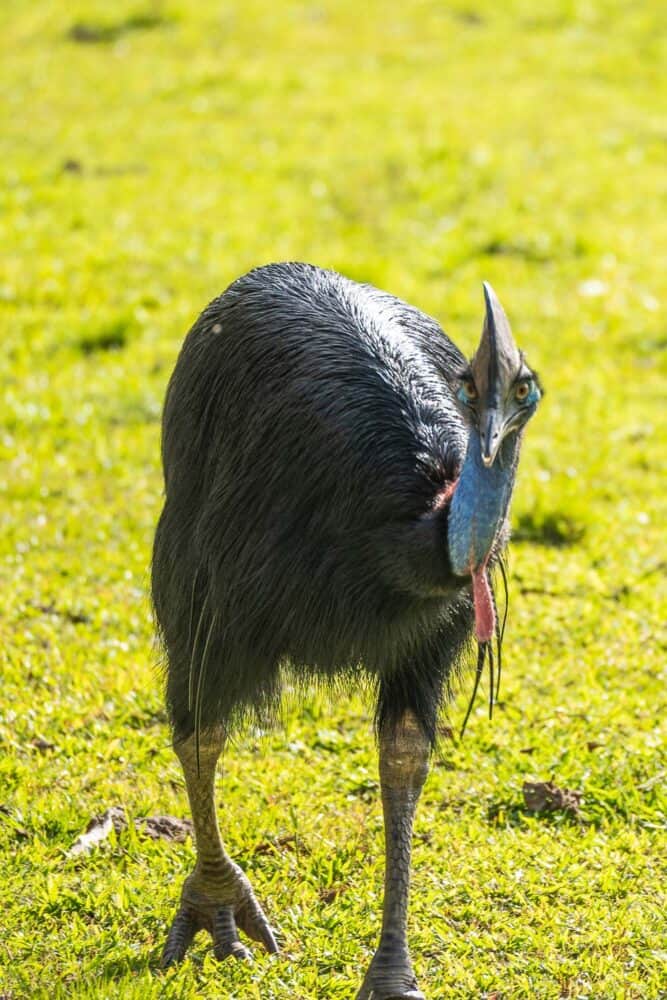 So where can you see a cassowary in Mission Beach? Any of the rainforest walks are a good place to start. We saw their droppings on the Lacey Creek Walk but didn't see the bird itself.
We'd almost given up hope after nearly two weeks in town before we saw a mother and chick in a field by the road just past Lacey Creek.
We also met people who'd seen them in the garden while staying at Licuala Lodge and the caravan park at South Mission Beach apparently has a regular visitor.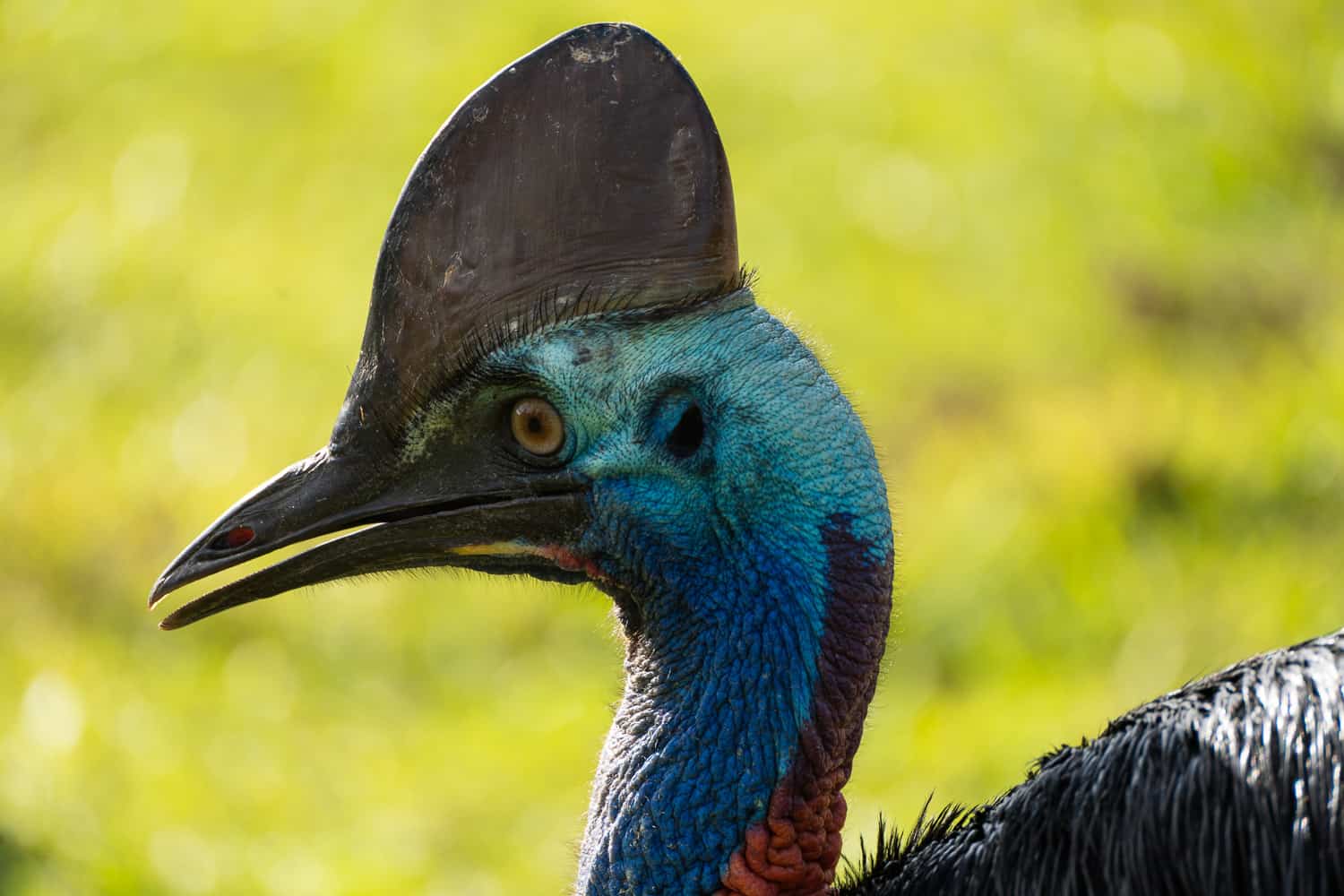 Etty Bay (40 minutes north) is known for them but we didn't see any. We did see two while camping at Murray Falls, though (50 minutes south).
If all hope is lost, there's always the Big Cassowary statue in the shopping centre in Wongaling Beach.
5) Snorkel on the Great Barrier Reef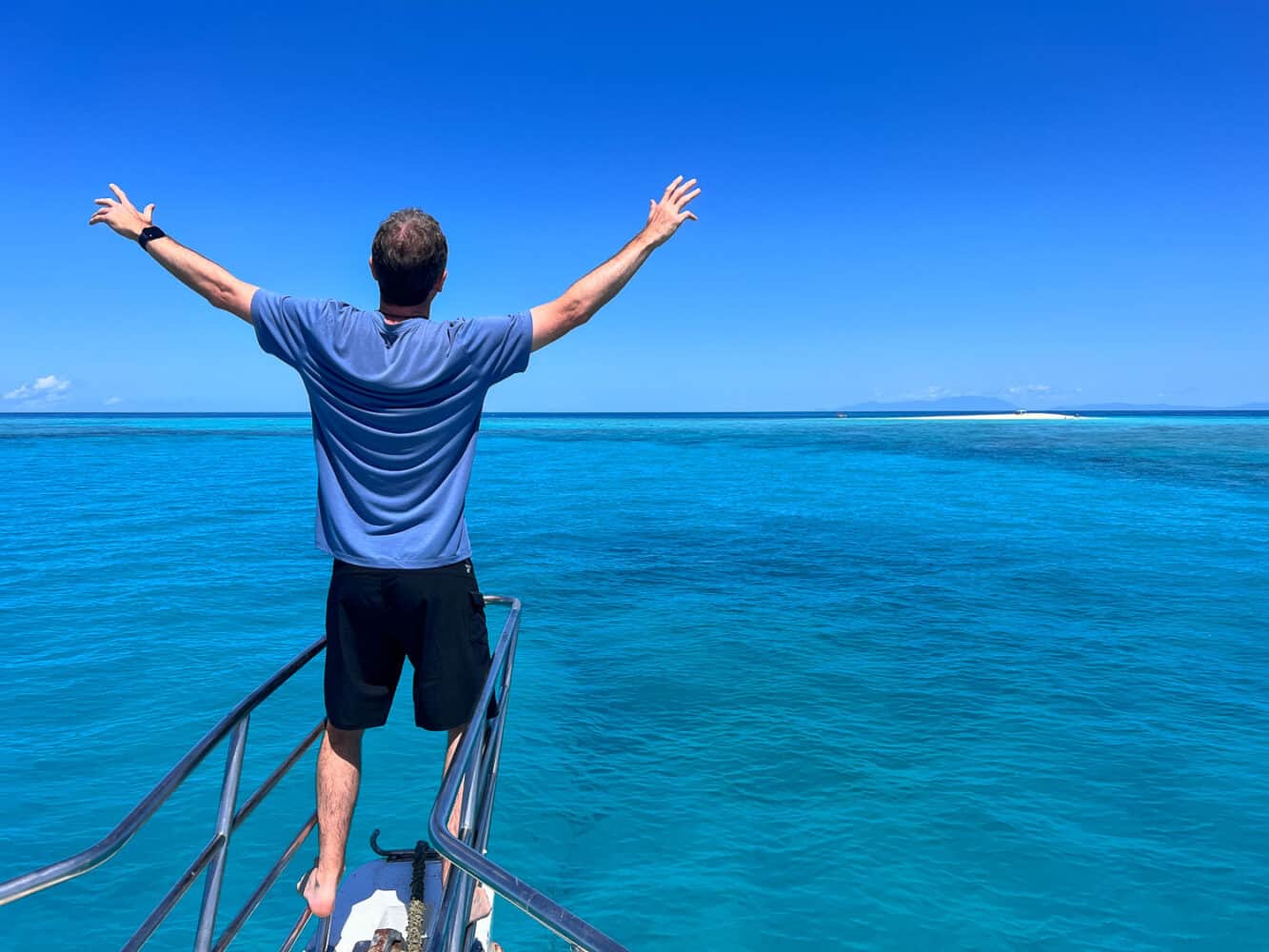 A snorkelling trip is one of the best things to do in Mission Beach as it's one of the closest towns to the outer reef and is much quieter than Cairns.
We did a full-day snorkel trip with Mission Beach Dive, currently the only company that offers group trips. You can dive or snorkel at two spots on the reef.
On our trip, we went to Beaver Cay, which features a picturesque sand bar, and there were no other tour boats around.
We snorkelled over colourful coral and dramatic drop-offs with thousands of fish including parrotfish, angelfish, butterflyfish, trumpetfish, and many more. Swimming through massive schools of fish was especially magical.
It's a long day out, though, with a 90-minute journey to the outer reef. This is the same for trips from Cairns and Port Douglas too. Seeing whales and dolphins on the way did make the trip more enjoyable.
A snorkel trip with Mission Beach Dive includes lunch and snorkel gear. You can rent wetsuits for $5 (definitely recommended) and buy drinks onboard. Tours don't run every day so make sure to book ahead.
Check availability for a Mission Beach Dive snorkel trip here.
Although we really enjoyed the trip (and you can't spend too much time on the reef), if you are also visiting Port Douglas, we preferred our small-group snorkel trip with ABC. Tours are run by a marine biologist so we learned a lot about the fish, and they take a maximum of 12 people.
6) Enjoy Coastal Views on the Kennedy Walking Track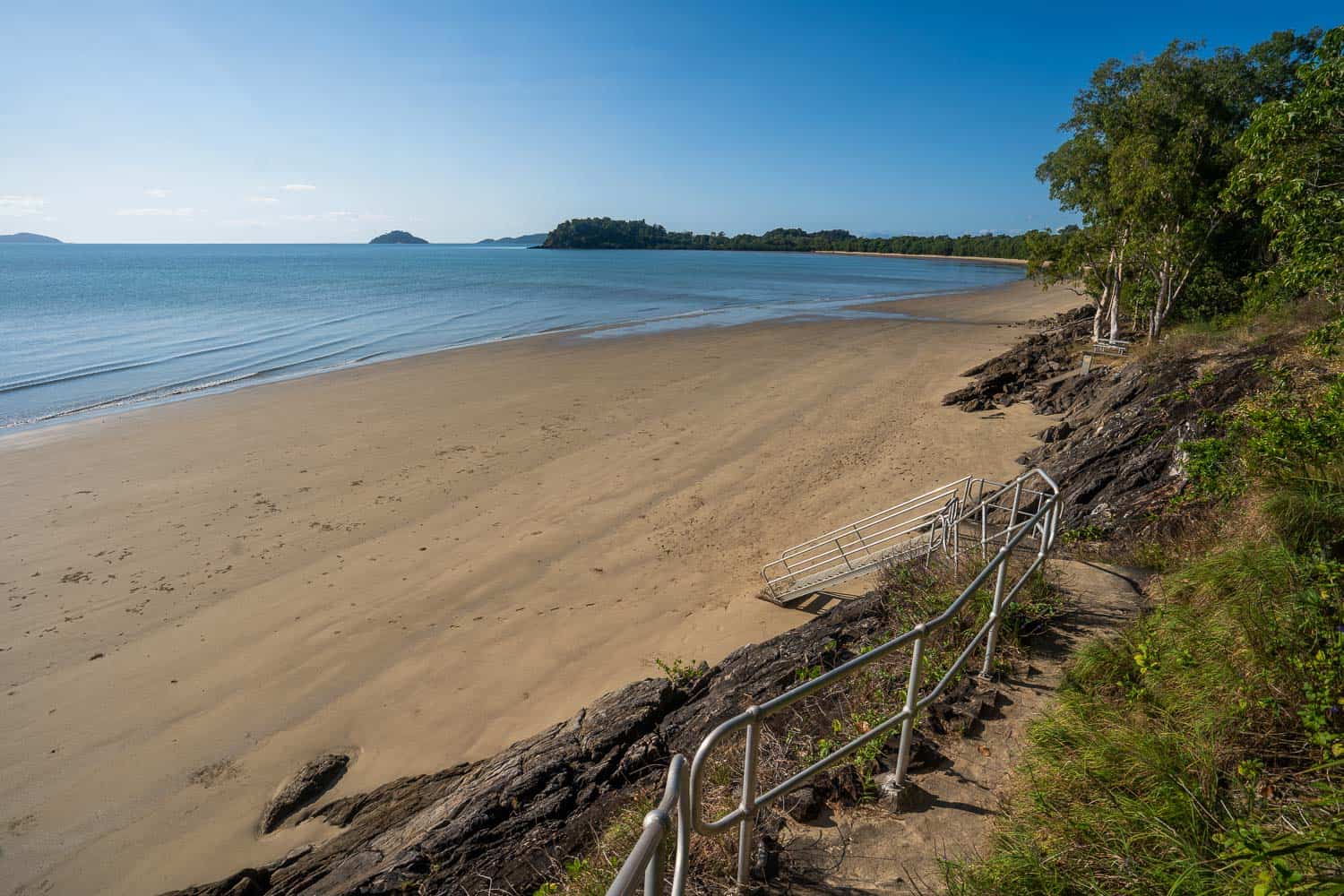 Kennedy Walking Track is one of the most popular hikes in Mission Beach but typically for the area, we only saw a few others around.
The whole trail from South Mission to Kennedy Bay is 8km return and takes around two hours. You don't need to walk the whole trail to enjoy lovely views though (we didn't).
Avoid hide tide for this coastal walk.
The trail starts on boardwalk past the small rocky Lover's Beach and then heads up into the rainforest past a lookout across to Dunk Island.
You then take steps down to the long sandy beach at Lugger Bay where you walk on the beach before reaching the headland and lookout.
Cassowaries have been seen on the trail but we didn't see any.
There's a small car park with a toilet at the start of the trail (Kennedy Walking Track on Google Maps) at the southern end of South Mission Beach.
7) Walk at Lacey Creek in Djiru National Park
Another lovely walk in Mission Beach is the easy Lacey Creek Walk in Djiru National Park, which we did twice in the hope of spotting a cassowary.
The 1.1km loop through the rainforest took us 20 minutes. We went anticlockwise and saw some cassowary droppings (with large partially digested fruit seeds) on the first part of the trail but no sign of the birds.
Even without a cassowary sighting, it's a pleasant, tranquil stroll (although insect repellent is advisable). You pass the creek at several points (we saw fish and turtles) and at the end, there's a small swimming hole and picnic table.
For a longer walk, the steeper Dreaming and Musgravia Trails start across the road.
8) Find Solitude on Garners Beach
If the main beaches aren't quiet enough for you, head north of Bingil Beach down a remote gravel road through the rainforest to the small bay at Garners Beach.
On our visit, there was no one else on this lovely beach except a yacht. It was shady in the late afternoon—morning would be better if you want to enjoy the sun.
9) Shop at the Mission Beach Sunday Market
A couple of times a month the main Mission Beach village hosts a market next to the beach.
The focus is more on clothes and crafts than food, but there are a couple of places to pick up breakfast and produce.
Our favourite stall was Mad Baker for sourdough loaves and delicious toasties.
There are two markets at the same spot in Mission Beach, but they are very similar and both run from around 8am – 1pm:
Mission Beach Markets
Held on the 1st and 3rd Sunday of the month all year round.
Mission Beach Monster Markets
Held on the last Sunday of each month from Easter Sunday until the end of November.
10) Eat by the Beach at Plenty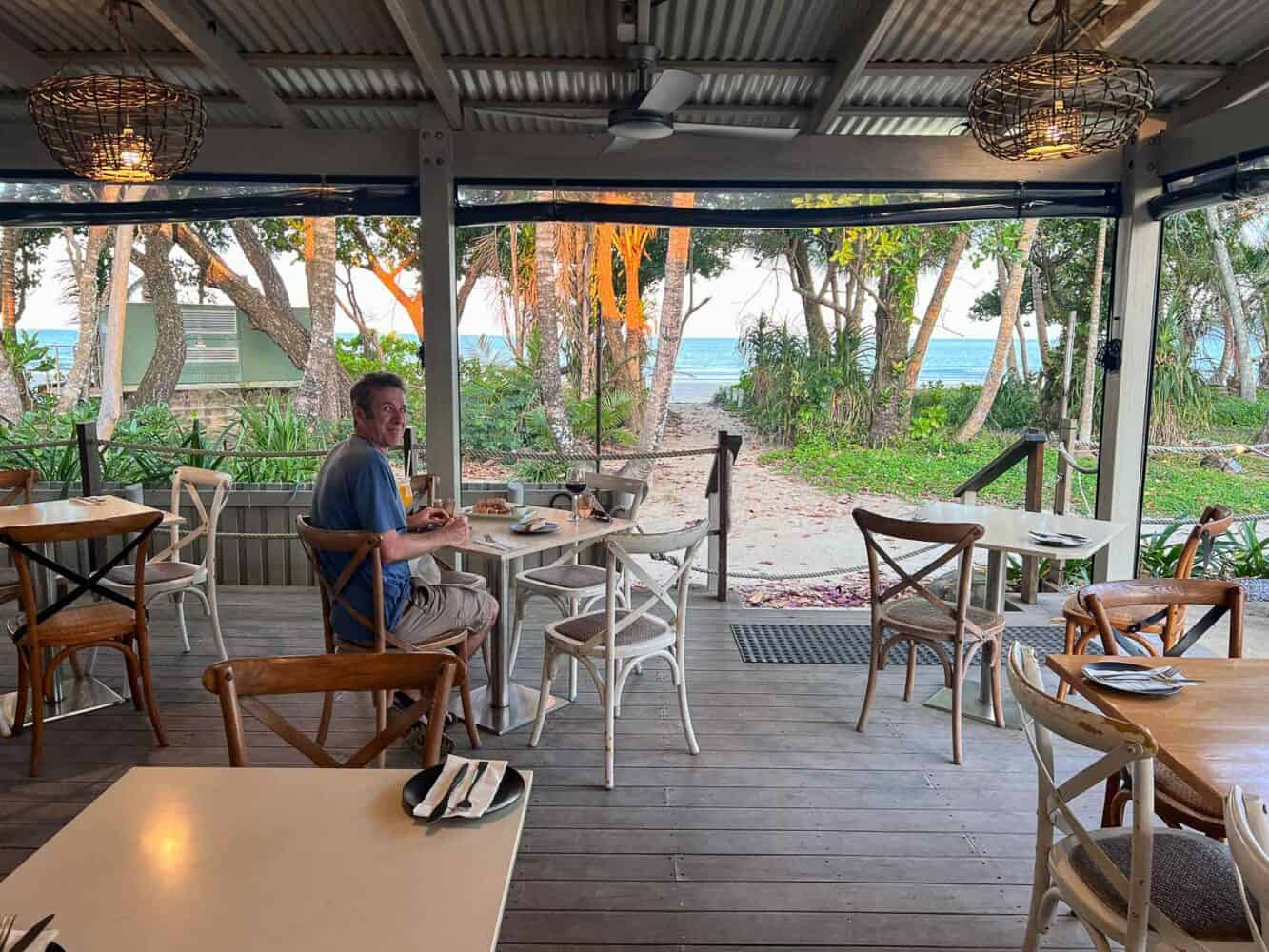 Our favourite meal in Mission Beach was at Plenty. Their menu is more creative than the pub grub at most of the other places in town, and they have the best location right next to the beach.
There are a few vegetarian options and we enjoyed the tonkatsu eggplant and the vegetarian poke bowl (even though it wasn't a typical poke bowl).
It was quiet on a weekday but booking is a good idea on weekends so you can get a front-row seat to enjoy the ocean view through the palms.
Other more casual spots where we ate dinner in Mission Beach Village were Mad Pizza (nice sourdough bases but too much cheese for us) and Lansis (a burger place with a good veggie burger). Both of these do takeout so you can enjoy your meal on the beach just minutes away.
11) Have a Leisurely Brunch
There are a few good cafes in Mission Beach to enjoy a relaxed brunch before hitting the beach.
We appreciated that Cafe Johalia on the main street has a vegan big breakfast with hash browns, toast, beans, veggie sausages, mushrooms, and roast tomatoes. It was huge but you can order a half portion.
Shanti Cafe just down the road has a pleasant garden setting and a cabinet full of tempting cakes.
Bingil Bay Cafe is another popular option.
12) Try a Feel Good Banana
A Feel Good Banana is a locally made, organic, frozen banana dipped in chocolate.
They are tasty and filling and you'll find them in shops and restaurants all over town (such as the Mission Beach Mini Mart).
13) Play Pétanque
There's a free pétanque court by the beach in Mission Beach Village. Unfortunately, you need boules and there's nowhere to rent them.
The Pétanque club meets on Sunday from 3pm and Wednesday from 5pm and visitors are welcome to play with them and borrow their boules.
More Mission Beach Activities
Despite having two weeks in town, we didn't get around to everything on our list, partly due to the weather and partly due to not wanting to leave our lovely beach house.
If you have more energy than us, here are some other Mission Beach activities to consider:
14) Visit Dunk Island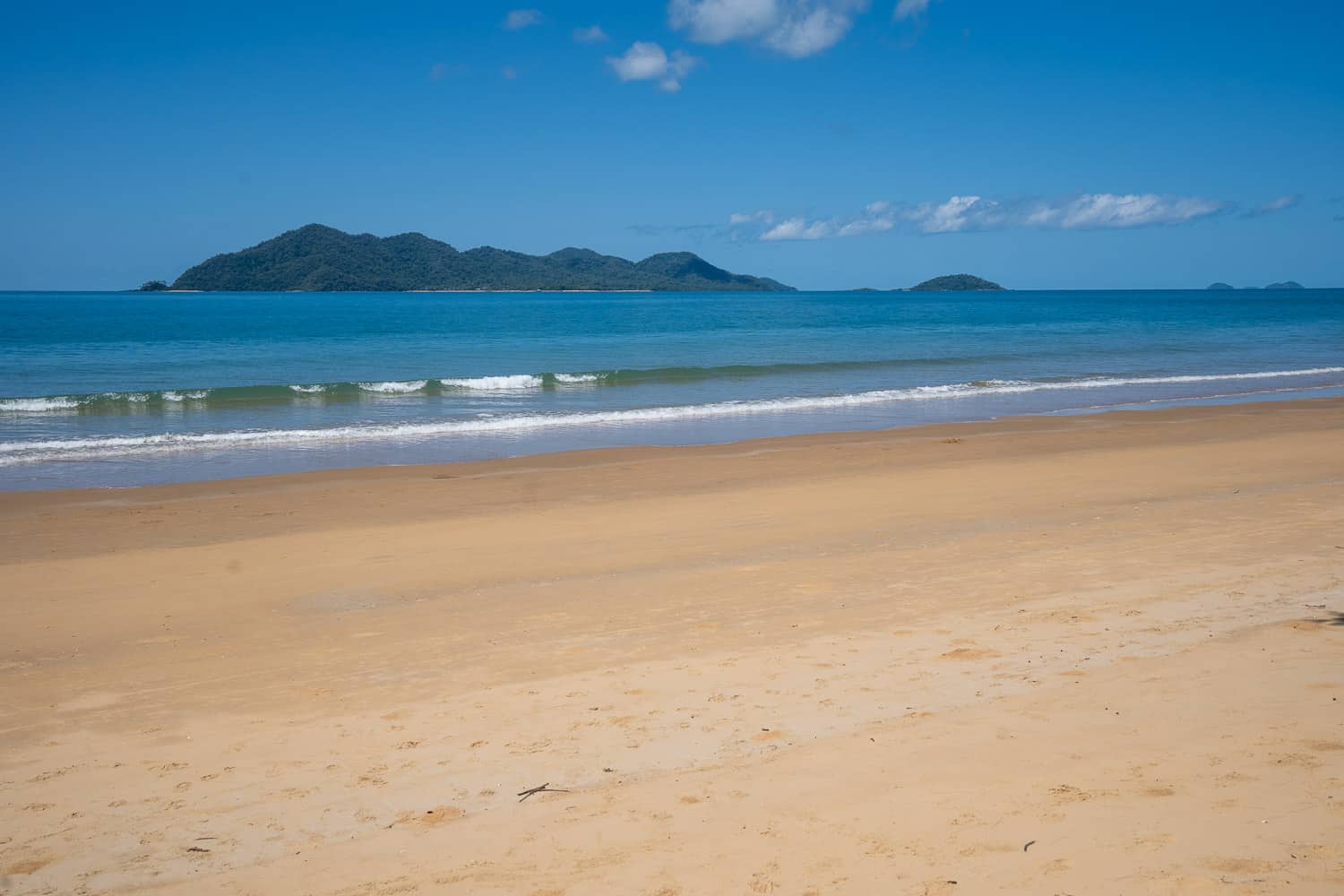 It's a shame we didn't visit Dunk Island as we spent our whole trip admiring it from the beach.
The island is home to a now-defunct resort and national park. The best way to explore is on the 10km Dunk Island Circuit Track, which takes you to the top of Mount Kootaloo, down Palm Valley, and across to Coconut Beach.
You can reach Dunk Island on the FastCat ferry service by QuickCoast. It departs from Clump Point Marina at 9am four days a week and returns at 3pm, so you get about six hours on the island.
Check Dunk Island ferry times and book here.
15) Go White Water Rafting
One of the most fun things to do from Mission Beach is to go white water rafting on the Tully Gorge which has grade 3 and 4 rapids.
The meeting point for the tour is about 20 minutes from Mission Beach, so this is much closer than going from Cairns.
16) Walk Up Bicton Hill
Another beautiful walk that we didn't get around to is the Bicton Hill walk in Clump Mountain National Park.
The 3.2km circuit takes about 1 hour 15 minutes with 188 metres of elevation gain. It takes you through the rainforest up to a lookout with ocean views.
17) See the Rainforest at Licuala Day Use Area
Licuala is another area in Djiru National Park with easy walks through the forest. Do the 2km stroll on the Fan Palm and Family walks for a chance to see cassowaries.
18) Take a Bean to Bar Chocolate Tour
Charley's Chocolate Factory is a 10-minute drive inland from Mission Beach Village. They grow their own cocoa beans and make chocolate onsite.
They offer bean-to-bar tours twice a week (bookings essential) and the onsite shop is open 10am – 2pm from Tuesday to Friday.
We bought their chocolate from The Bowerbird's Pantry in the village and it was the best dark chocolate I've ever had—so fruity and smooth. I wish we'd done their tour or at least stocked up in the shop.
19) Jump out of a Plane
Surprisingly, sleepy Mission Beach is one of the best places in Queensland to skydive.
The site has Australia's highest jump (up to 15,000 feet) with up to 60 seconds of freefall. Plus you'll enjoy gorgeous views of the town from above and land on the beach.
Book your tandem skydive experience with Skydive Australia here.
20) Swim at Alligators Nest Swimming Hole
25 minutes from Mission Beach near Tully is one of the best swimming holes in the area.
Alligators Nest Swimming Hole looks beautiful, has no crocs, and is easy to access. Perfect for a picnic and refreshing dip.
21) See the Castle at Paronella Park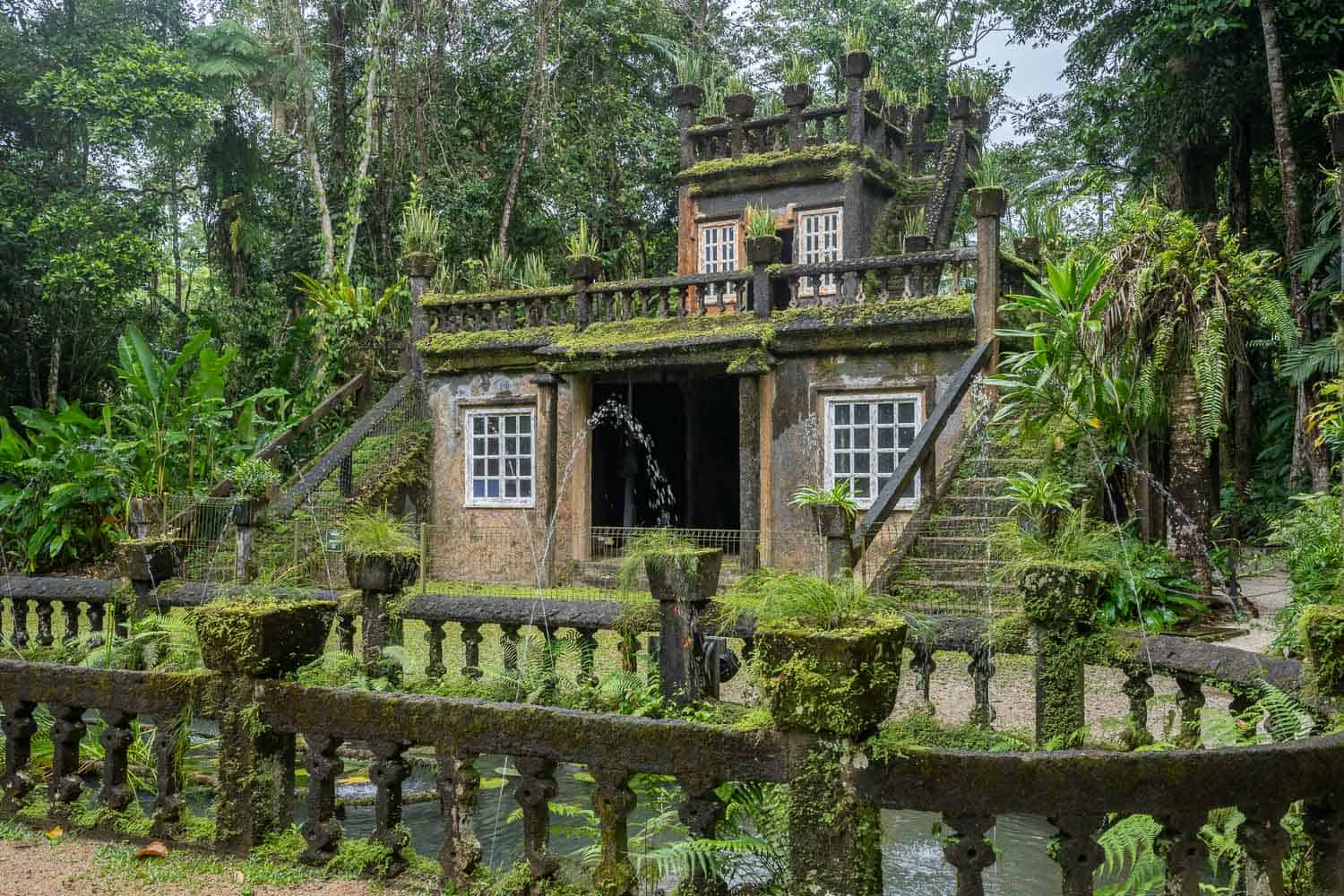 Paronella Park is a unique tourist destination a 45-minute drive north of Mission Beach (we stopped here on our way down from Cairns).
In the early 20th century, Spanish immigrant José Paronella dreamt of building a castle. He started out as a farm worker and ended up making his fortune by clearing land, planting sugar cane, and then selling the farm.
Eventually, he was able to realise his dream and created his family home at Paronella Park. It was also open to locals who attended balls and film screenings and came to swim and eat at the cafe.
Most of the buildings are in ruins now as it was hit by many cyclones, but it's an atmospheric place to wander and see the crumbling castle covered in moss, being taken back by the jungle.
There are also some lovely short walks through the rainforest including down the scenic Kauri avenue and to a pond full of turtles.
Entrance to Paronella Park is A$55 but it includes a free tour and is valid for two years. You even get a free stay in the caravan park next door.
Where to Stay in Mission Beach
We stayed at this Airbnb beachfront house in Wongaling Beach and loved the views and location on a quiet stretch of sand. You do have to drive everywhere, though (10 minutes to the restaurants in Mission Beach).
If you'd rather be able to walk to restaurants and cafes, choose a hotel in Mission Beach Village such as the beachfront Castaways Resort.
If seeing a cassowary is a priority for you, consider Licuala Lodge, a B&B in the rainforest between Mission Beach and Wongaling Beach.
You'll have to drive everywhere, but we met a couple staying there who had seen cassowaries several times in the garden while eating breakfast on the deck. There's a lovely pool too.
Search for more accommodation in Mission Beach here.
How to Get to Mission Beach
As Mission Beach is spread out across several villages, it's best visited with your own vehicle. We rented a car from Apex at Cairns Airport or you can check Rental Cars to compare the options.
The two-hour drive from Cairns to Mission Beach is scenic with several interesting stops on the way including Babinda Boulders and Josephine Falls for swims, Etty Bay for a pretty beach and chance to see cassowaries, and Paronella Park.
To reach Mission Beach by public transport, there is one Mission Link bus a day from Cairns Airport and city centre to Mission Beach or several Greyhound buses.
If you are heading south, Mission Beach to Townsville is a three-hour journey by car. There is a Greyhound bus service that runs three times a day and takes about four hours.
The best stops on the way to Townsville are a detour off the highway and include Murray Falls, Cardwell Spa Pool, and the stunning Wallaman Falls (the tallest single-drop waterfall in Australia).
Map of Mission Beach Queensland
Is Mission Beach Qld Worth Visiting?
If you like sleepy coastal villages and long empty beaches, Mission Beach is well worth visiting.
It's not as action-packed as Cairns or even Port Douglas, but there are several worthwhile activities including visiting Dunk Island and the outer reef. Mostly it's the place to come for long beach walks, rainforest exploration, and the chance to see cassowaries.
More Queensland Posts
We spent six months travelling around Queensland. Read more of our travel tips:
North Queensland
Sunshine Coast
Southeast Queensland
If you enjoyed this post, pin for later!