This page contains affiliate links. Please read our disclosure for more info.
Driving off-road around K'gari (Fraser Island) is one of the most fun adventures we had in Queensland, Australia.
We cruised on long beaches and bumped down sandy forest tracks, swam in a turquoise lake and floated in a crystal clear creek, hiked down sand dunes and through rainforest, and spotted the iconic dingo.
K'gari is a special place—it's the world's largest sand island (122km long) and is UNESCO World Heritage-listed for its unique landscapes.
It's the only location on Earth where subtropical rainforests grow entirely on sand, and it's home to half the world's perched freshwater lakes, which form on sand dunes.
Many people visit K'gari on a tour (driving here is a challenge), but we really enjoyed the freedom to explore on our own.
Here are our top picks for the best things to do in K'gari (Fraser Island) plus the 2 night/3 day itinerary we followed.
You'll find a map with all these K'gari must see places near the end of the post.
Contents
A Few Things to Know About K'gari
The Butchulla people are the traditional owners of K'gari.
In 2023, its name was officially changed from Fraser Island to its aboriginal name, K'gari (the K is silent), which means paradise.
You can only drive on the island with a 4WD and you need to arrange a permit before you arrive.
As the main "highway" is a beach, the tides affect the time you can visit many places. You can't drive on the beach for 2.5 hours on either side of high tide. Check tide tables here.
The two gateways to the island are Rainbow Beach and Hervey Bay (3-4 hours north of Brisbane and 1.5-2.5 hours north of Noosa).
K'gari is home to dingoes (wongari), Australia's only wild dog. Do not feed or approach them.
Cell signal is very limited on the island.
Best Things to Do in K'gari (Fraser Island)
1) Drive a 4WD Off-Road
For an adventure, drive yourself on K'gari. A 4WD is essential as there are no paved roads. Instead, driving takes place on long beaches and sandy tracks through the forest.
It is doable for confident drivers who haven't driven off-road before. We managed not to get stuck in sand, but it can happen (we hired Maxtrax just in case).
We rented from Rainbow Beach Adventure Centre 4WD Hire who were really helpful. They gave us driving tips, arranged our ferry ticket and driving permit, and helped plan our itinerary.
Their advice was essential as we learned that the tracks to two of the lakes we wanted to visit (Lake Boomanjin and Lake Birrabeen) were a mess (the rest were bad enough so we didn't want to tackle even worse).
They even let us do the paperwork the afternoon before our rental started so we could get an early start. (We stayed the night before at Debbie's Place in Rainbow Beach, which was ideal).
As they are based in Rainbow Beach, we took the Manta Ray Barge from Inskip (15 minutes from the office) to Hook Point at the southern end of the island.
The alternative (if you rent a 4WD in Hervey Bay) is taking the Sealink car ferry from River Heads to Kingfisher Bay Resort or Wanggoolba Creek on the east side of the island.
We preferred the barge option as the journey is shorter (just 10 minutes) and they run approximately every 30 minutes between 6am and 5pm, so you don't have to book a specific ferry time as you do with the other route.
Once on the island, driving on the beach is the easier, smoother option (with a speed limit of 80 km/hr).
The inland tracks are incredibly bumpy with a speed limit of 30 km/hr (and we rarely got to that). Taking travel sickness medicine was essential for me.
They feel like a real adventure, though, and you won't want to miss the beautiful rainforest and lakes in the centre of the island.
2) Stay at Kingfisher Bay Resort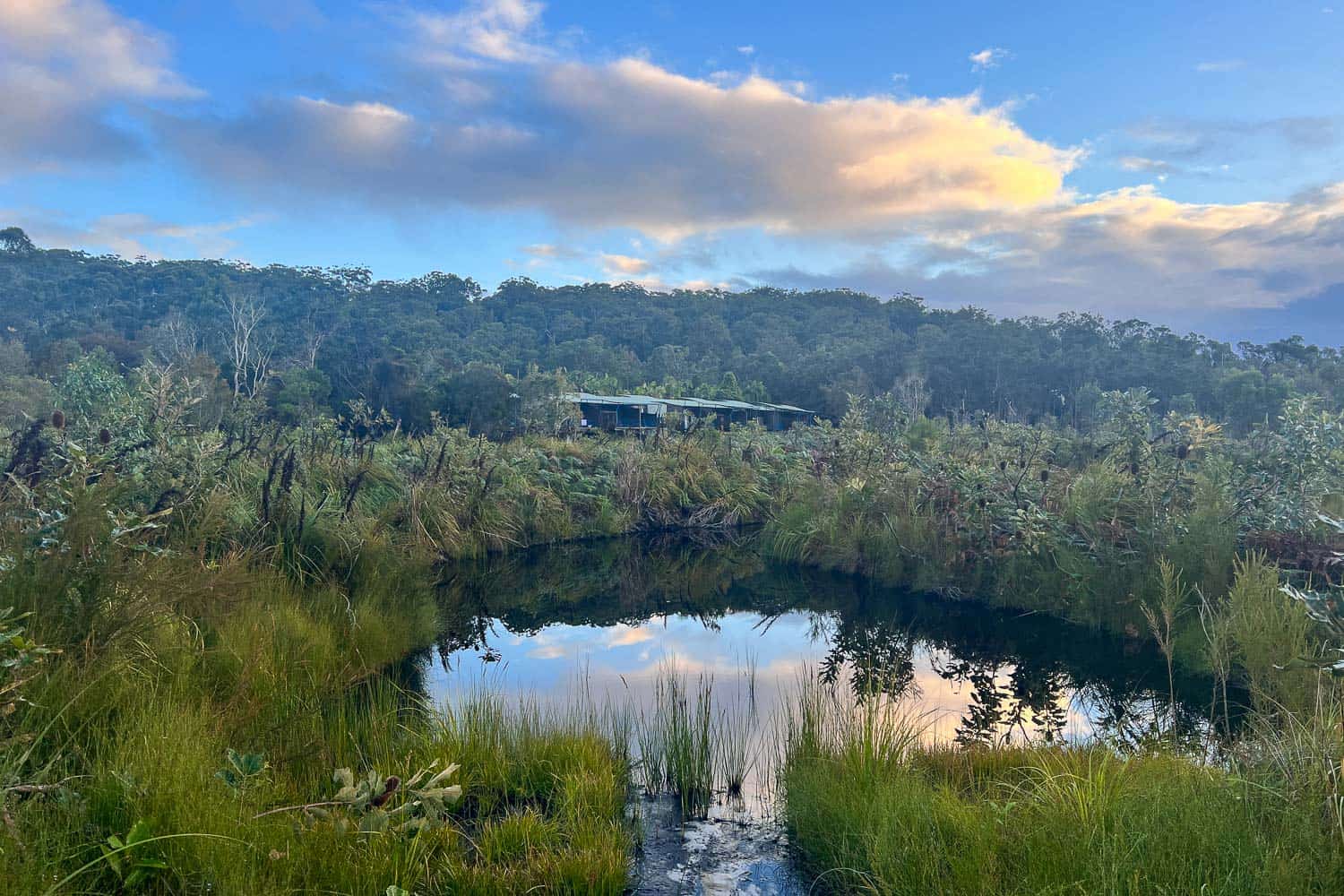 Camping is the classic way to experience K'gari, but if that's not your thing (like us), there are a couple of comfortable hotels and holiday rentals.
We stayed at Kingfisher Bay Resort on the west coast of the island and loved it.
K'gari Beach Resort in Eurong on 75 Mile Beach would have been more convenient (no bumpy inland driving to get to the east coast), but Kingfisher has a more beautiful forest setting, better amenities (four pools and various bars and restaurants), and is located on a calmer, swimmable beach (you can't swim on the east coast).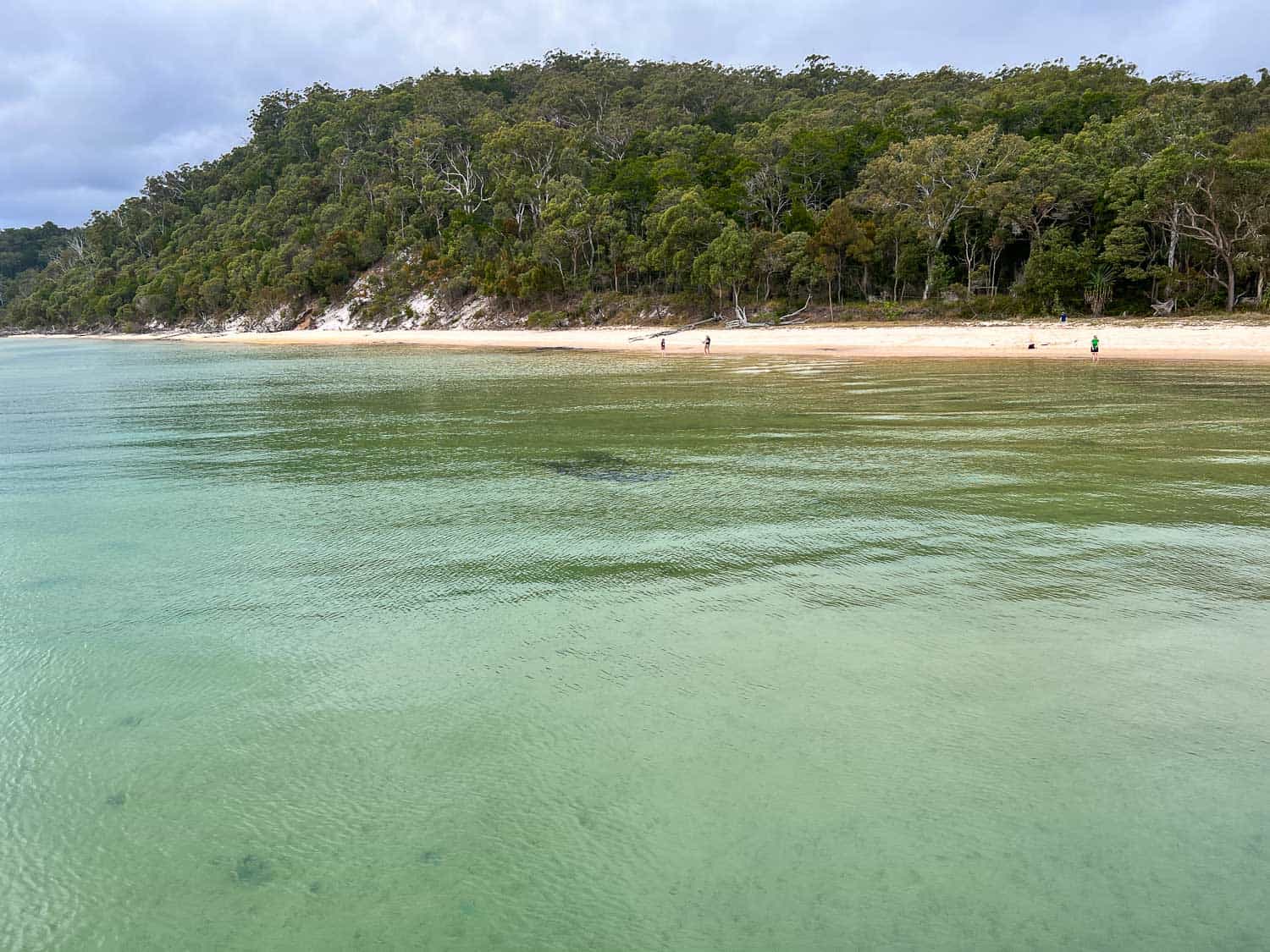 Best of all, the sunset views on this side of the island are amazing, and the resort has a Sunset Bar right on the sand next to the jetty. It's the perfect way to end the day on K'gari.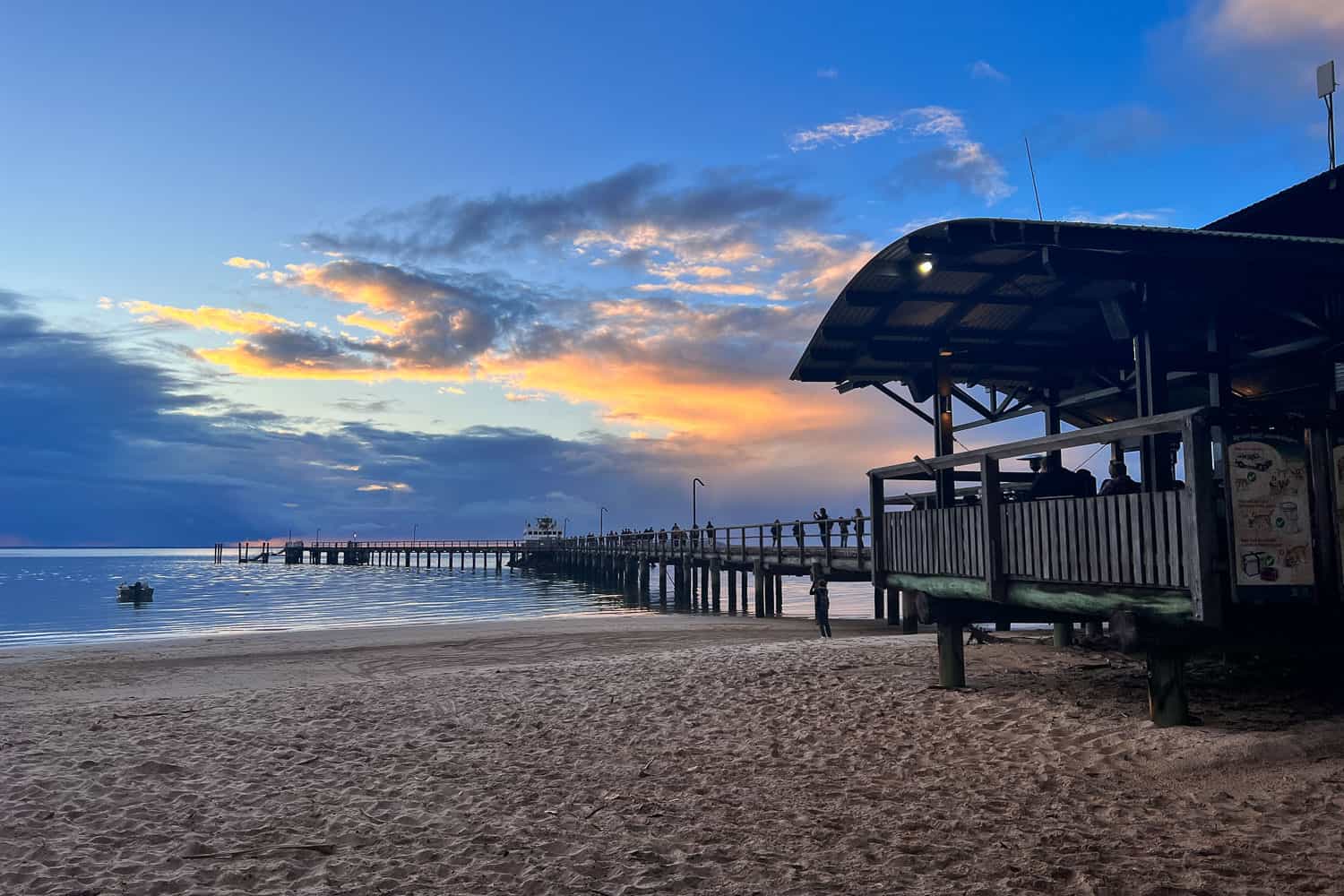 Dune is the best restaurant at the resort with tasty Asian fusion cuisine (bookings are essential). The Sand Bar is a more casual spot with pub grub and Sand & Wood overlooks the pool (breakfast and lunch only).
Even if you don't want to drive yourself on K'gari, a stay at Kingfisher Bay is one of the best ways to experience the island in comfort.
You can take a passenger ferry direct to the resort from Hervey Bay, relax in a beautiful setting, and take one of the resort tours to see more of the island.
Check availability for Kingfisher Bay Resort here.
3) Swim in the Turquoise Waters at Lake Boorangoora (Lake McKenzie)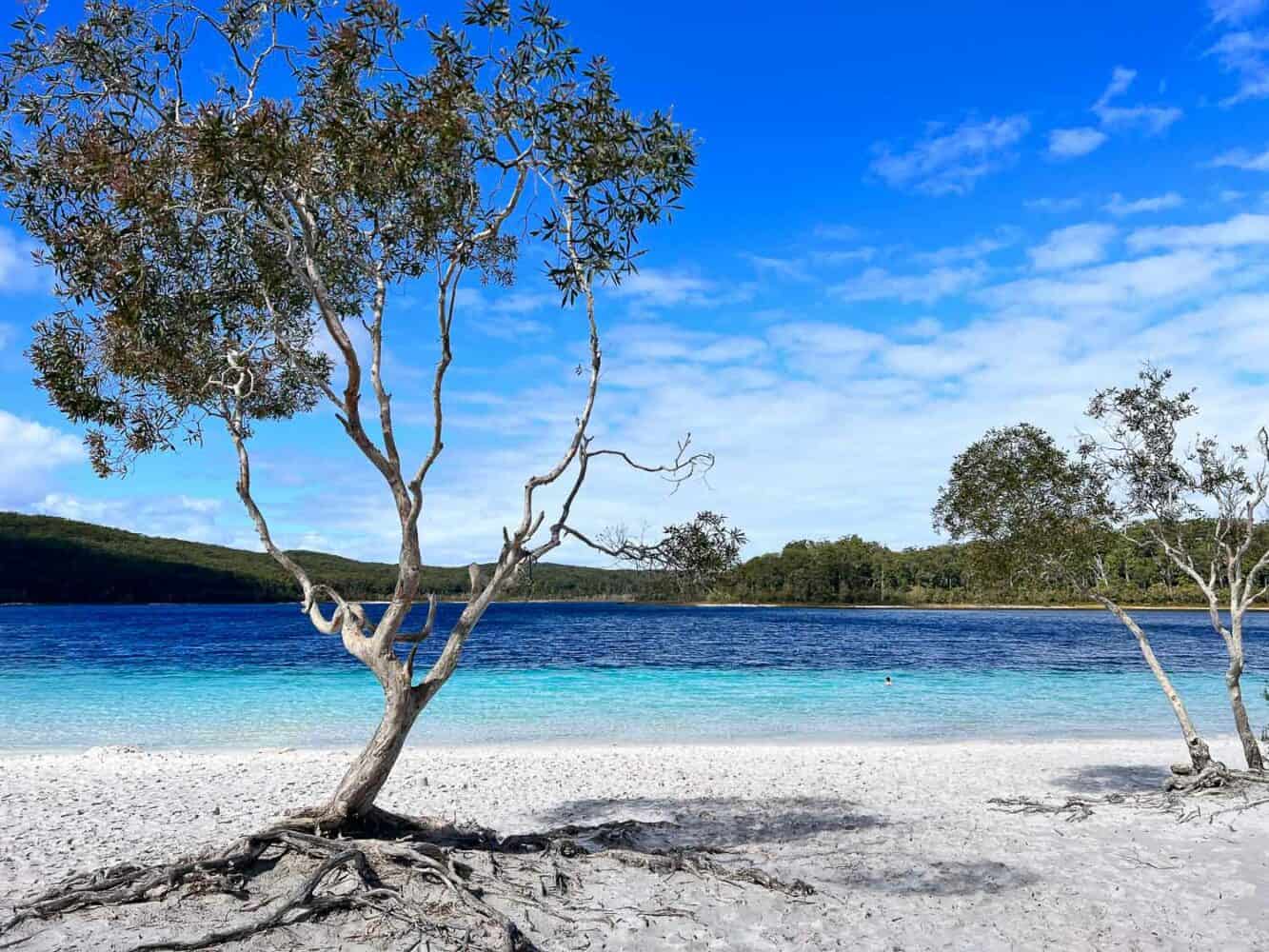 Lake Boorangoora (Lake McKenzie) is one of the most popular spots on the island and for good reason—it's absolutely stunning.
The white sand and turquoise water look like they should be on a Caribbean Island, but this is one of K'gari's unique perched sand lakes that are filled entirely with rainwater.
Swimming in the crystal clear water was a K'gari highlight for me despite it being a little chilly on our winter visit.
The lake is in the centre of the island accessed down one of those bumpy inland tracks.
The toilets next to the car park have changing areas so get into your swimwear there. It's a 100-metre walk down to the beach.
You aren't allowed to take food or drinks (except water) down to the lake shore as they attract dingoes. We had lunch in the fenced-off picnic area next to the car park instead.
We got lucky on our midday visit and missed the tour groups. It can get busy, but the beach is a good size (the left side is quieter) and you'll want to relax in this beautiful spot for a while.
Lake Birrabeen is a quieter alternative, but the road there was very rough on our trip so we skipped it.
4) Drive Down 75 Mile Beach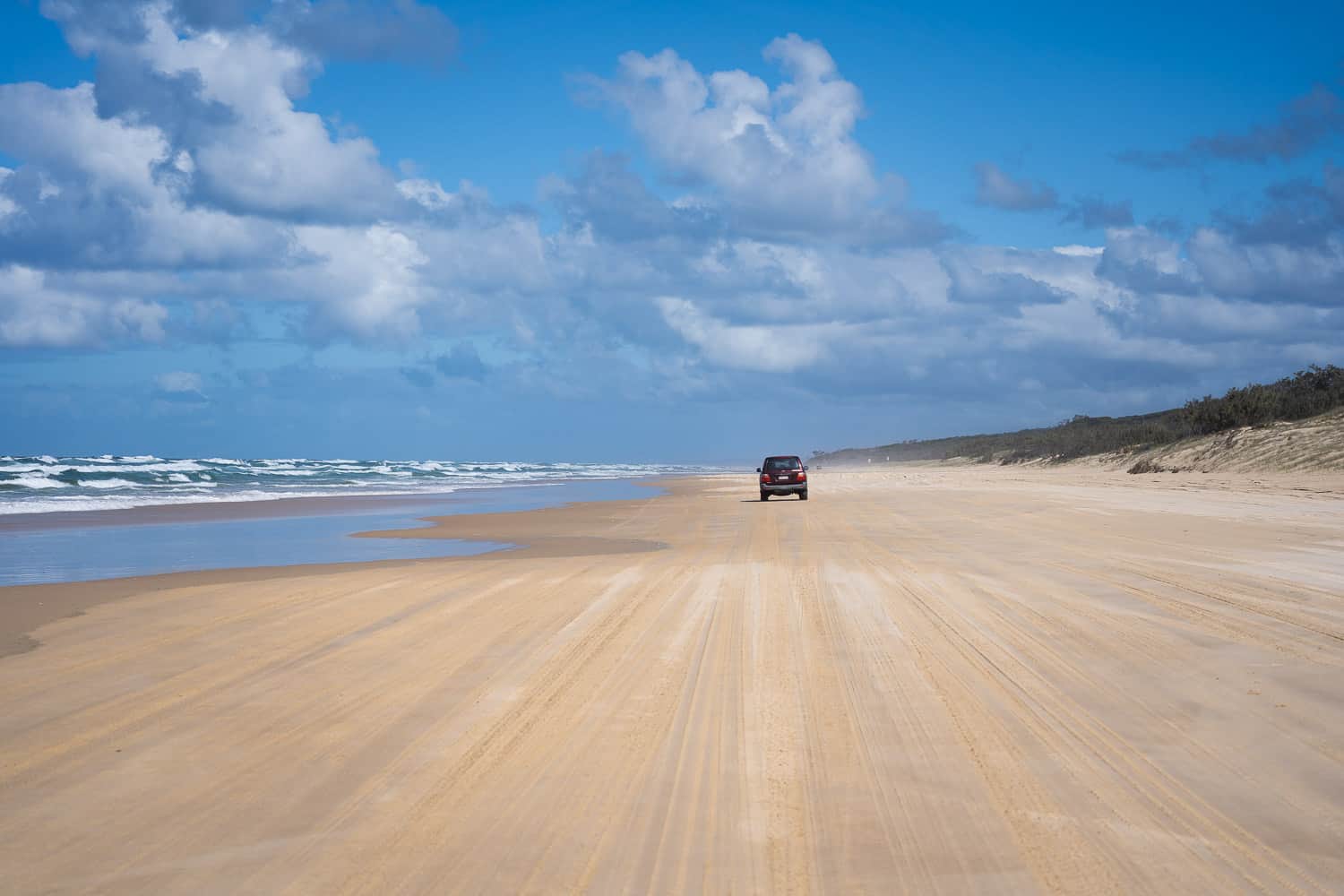 Driving a 4WD on the sandy 75 Mile Beach on the east coast is one of the best things to do on K'gari.
It's the most popular driving route as it's smoother than the inland tracks and takes you to top attractions like Eli Creek and Champagne Pools (more on those below).
It feels strange driving on sand at first but you do get used to it. Just avoid the shiny sand so you don't get splashed by the surf (rental companies will change if there's salt water in the engine).
Some parts of the beach are more challenging where the sand is deeper (the trick here is to keep momentum) or you have to detour off the beach around some rocks.
You'll also pass through many shallow creeks—go very slowly (walking pace).
Most of the beach is wild and empty with various camping areas (most with no facilities). Beach fishing is popular but swimming isn't allowed due to rips and sharks.
You can stop wherever you like but park above the high tide mark at 90 degrees to the ocean so it's obvious you are stationary.
Small planes even land on the beach so keep an eye out when passing through the marked landing areas (we did see one take off!).
5) Look Out For Wongari (Dingoes)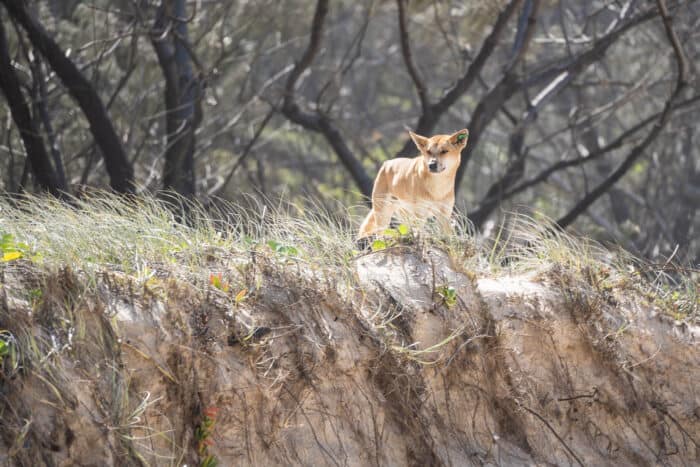 Dingoes (wongari) are wild dogs that may look like rangier pets, but they can be dangerous (mostly because humans feed them and encourage them to approach).
If you do get lucky and see a dingo, keep your distance, don't feed them, and don't run (if they approach, maintain eye contact and back slowly away).
We saw dingoes on three occasions while driving on 75 Mile Beach (we did not get out of the car) and it was very exciting to see these classic Australian animals.
Read more about being dingo safe.
6) Enjoy the Coastal Views at Champagne Pools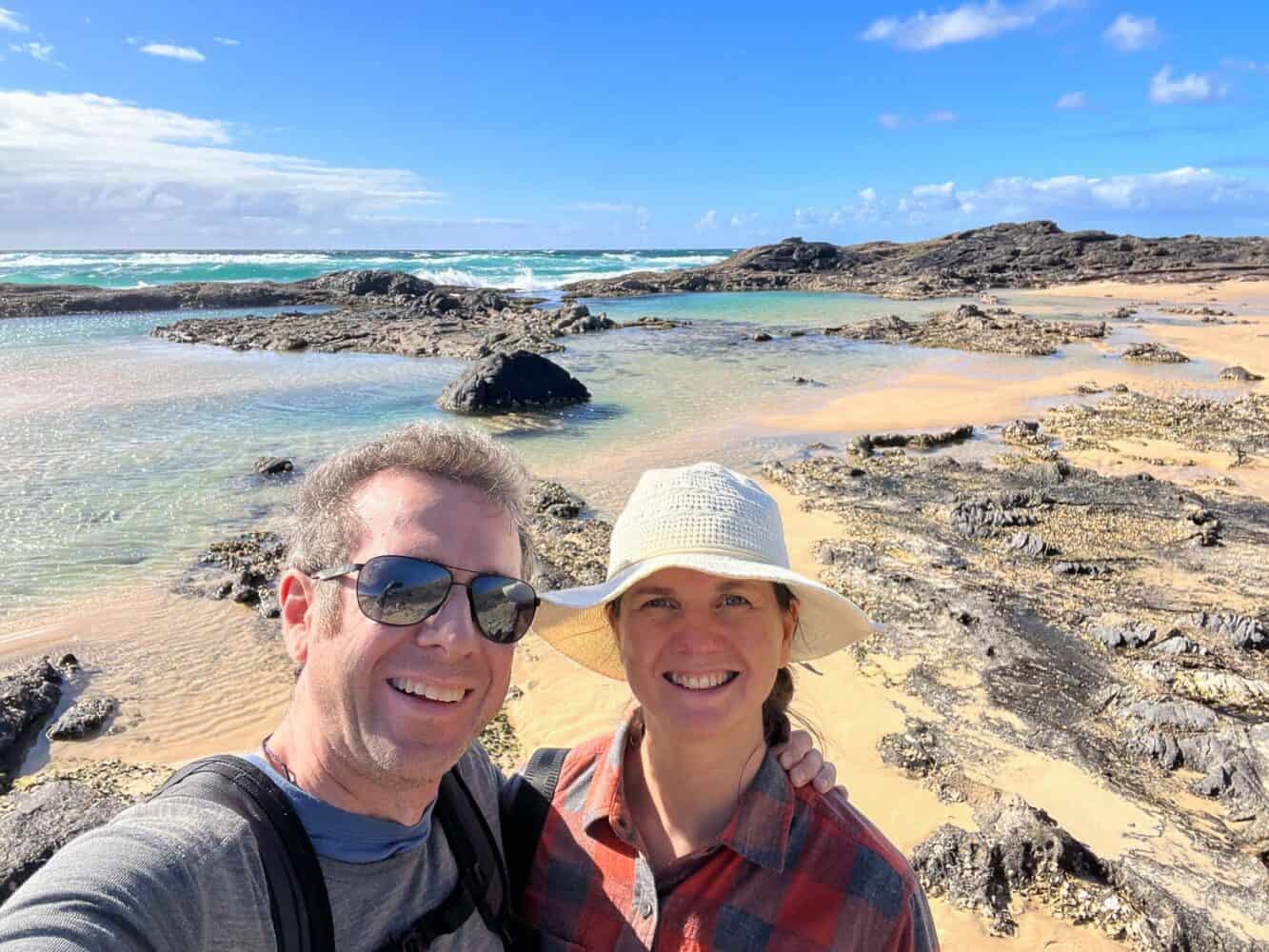 Champagne Pools is the furthest north that rental companies allow you to go on 75 Mile Beach.
It's a long drive up here (about 2.5 hours from Kingfisher Bay), but it's well worth it as the coast becomes more dramatic.
You'll need to plan the timing of the drive carefully to make sure you get back down and off the beach before high tide.
Champagne Pools is the only safe saltwater swimming spot on the east coast of the island, but I enjoyed it more for the incredible coastal views on the short walk there over Middle Rocks.
We parked at the Southern car park where there are toilets with changing areas if you plan to swim.
Then it's a 10-minute walk on a boardwalk around the headland with fantastic views back to 75 Mile Beach and Tukkee Wurroo (Indian Head), a rocky headland caused by volcanic activity 30 million years ago (note you can no longer climb it due to severe erosion).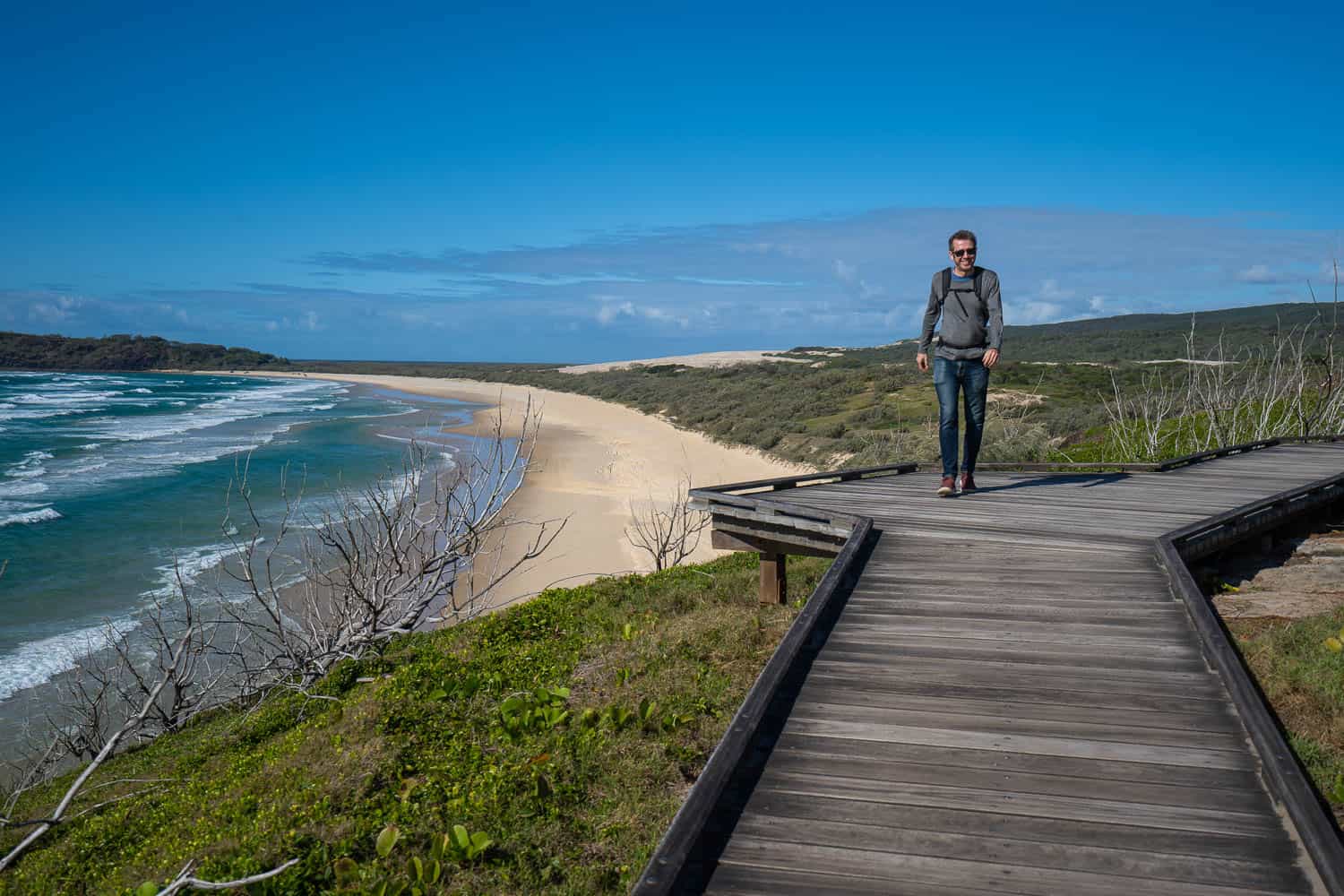 After walking down the stairs you'll reach the Champagne Pools, which got their name from the bubbling water after the waves crash over the rocks into the pools.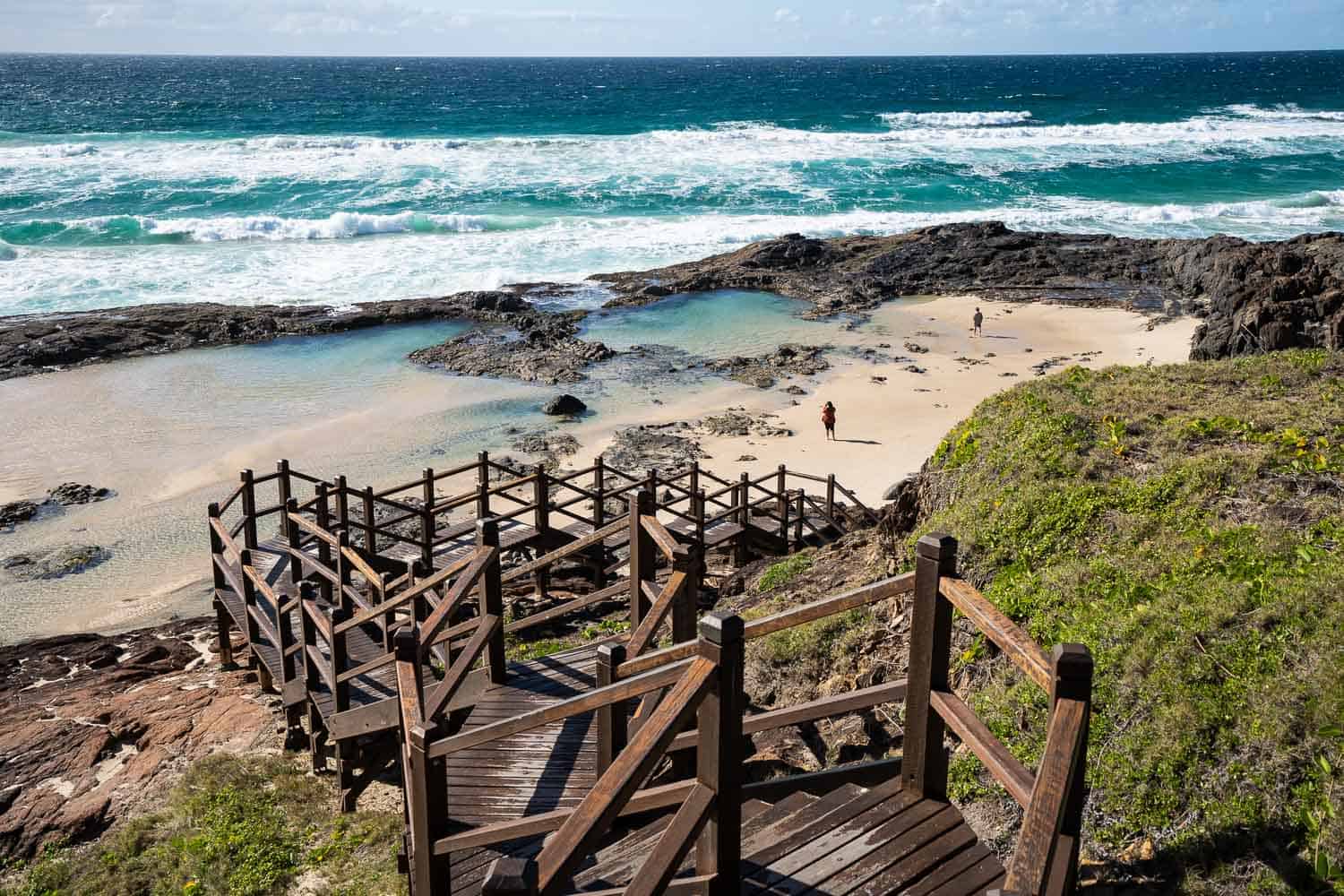 The pools are quite small so it's more of a wading spot, but it's good if it's hot. (On a cool morning we saved our swim for Eli Creek).
Again, we got lucky and were just ahead of the tour groups—lots arrived as we were leaving at 9.45am (tour times vary with the tides though).
7) Float Down Eli Creek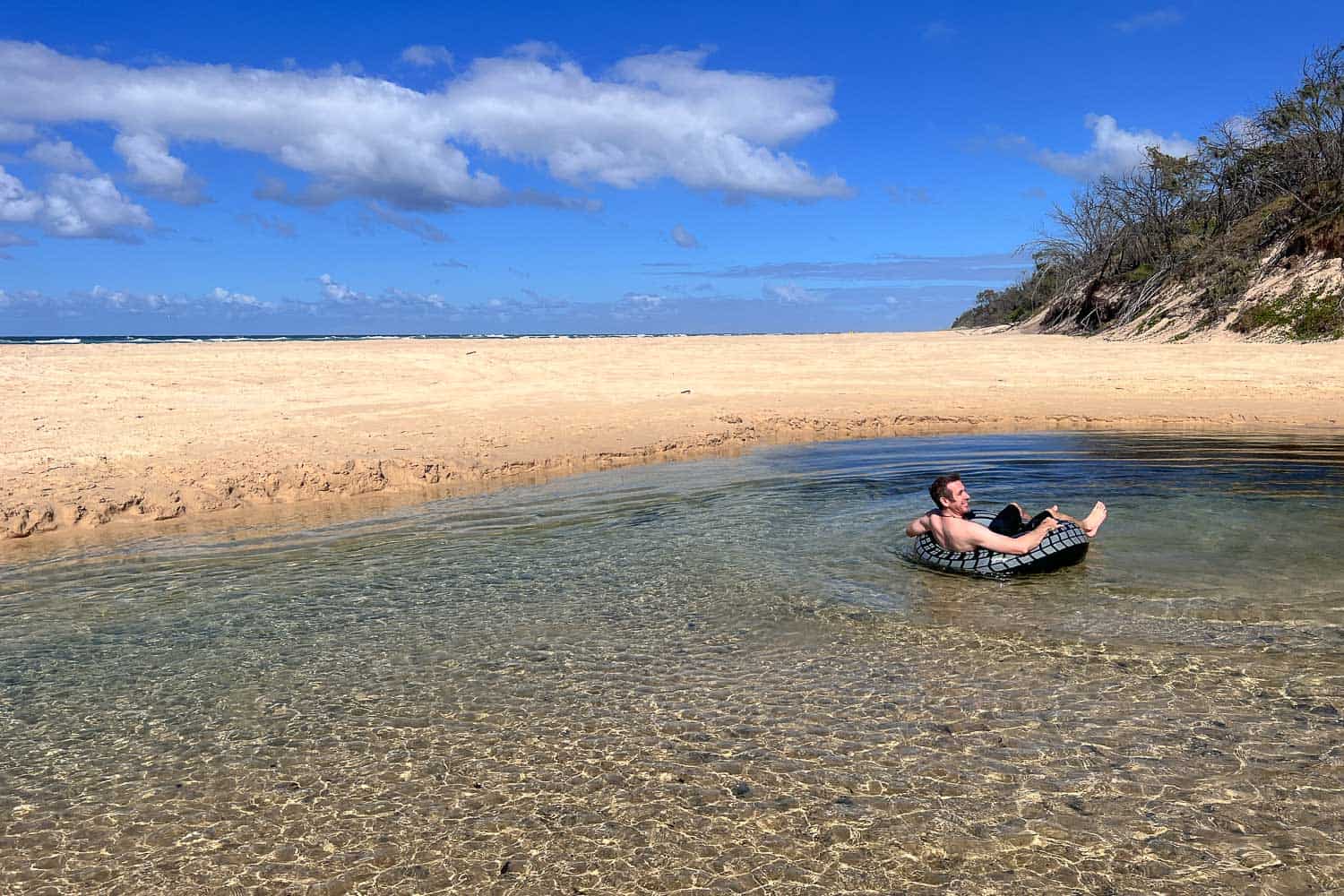 Eli Creek is another popular spot on 75 Mile Beach that you won't want to miss. Tubing down this clear, freshwater creek is one of the most fun things to do on K'gari.
From the parking area you'll need to wade through the creek so don't bother with shoes. You can then follow the boardwalk next to the creek (maybe a 5-minute walk) before getting into the water at the other end to follow the current back down.
Our 4WD rental company provided a tube, but if you don't have one, you could float or walk through the creek, which is about knee-deep. It's worth getting into the water as it's a really pretty trip.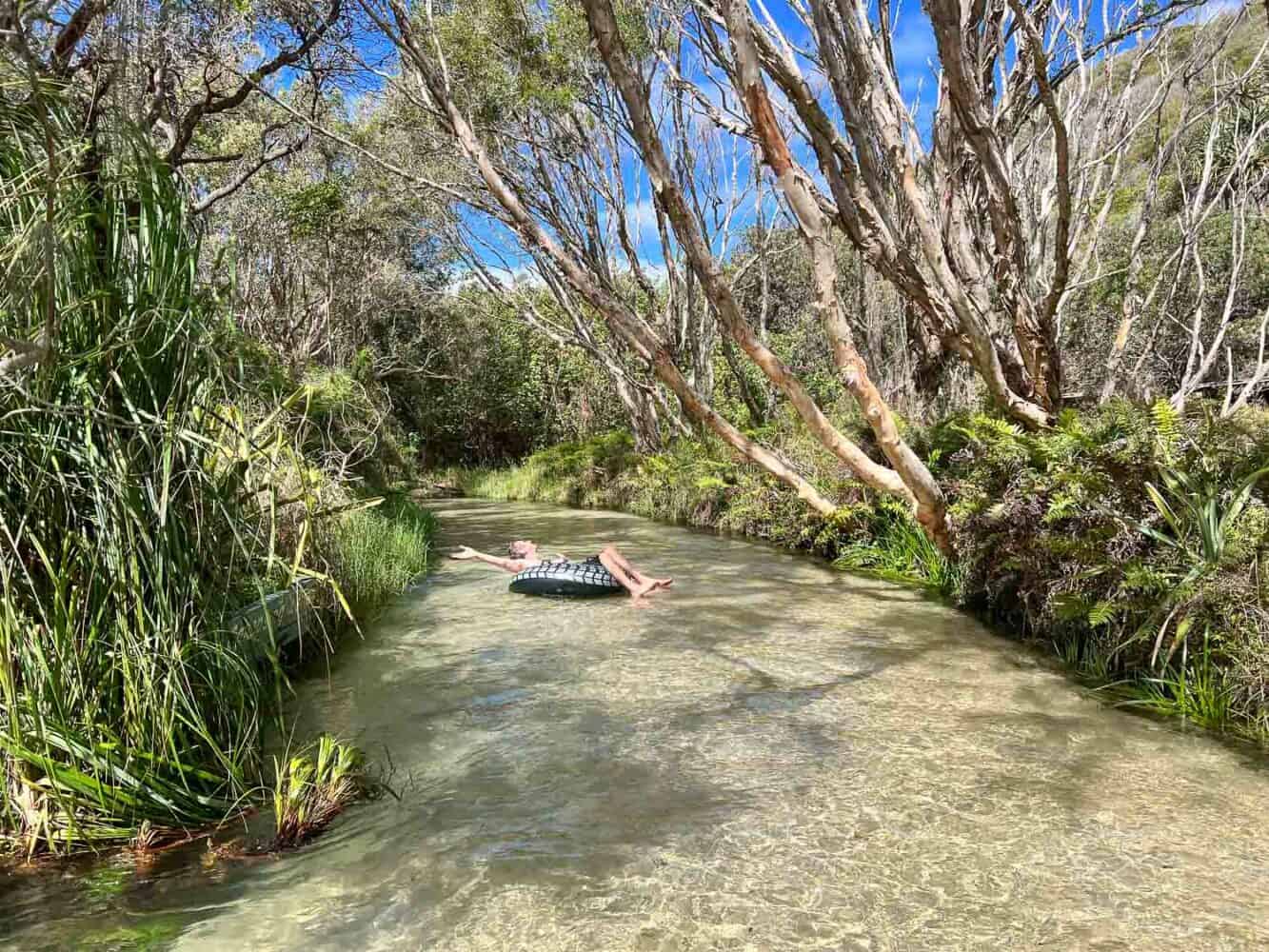 There are toilets with changing areas, but they are quite far from the start of the boardwalk.
There's no picnic area at Eli Creek and dingoes are common, so be careful when eating (don't eat on the ground).
8) Walk Down a Sand Blow to Lake Wabby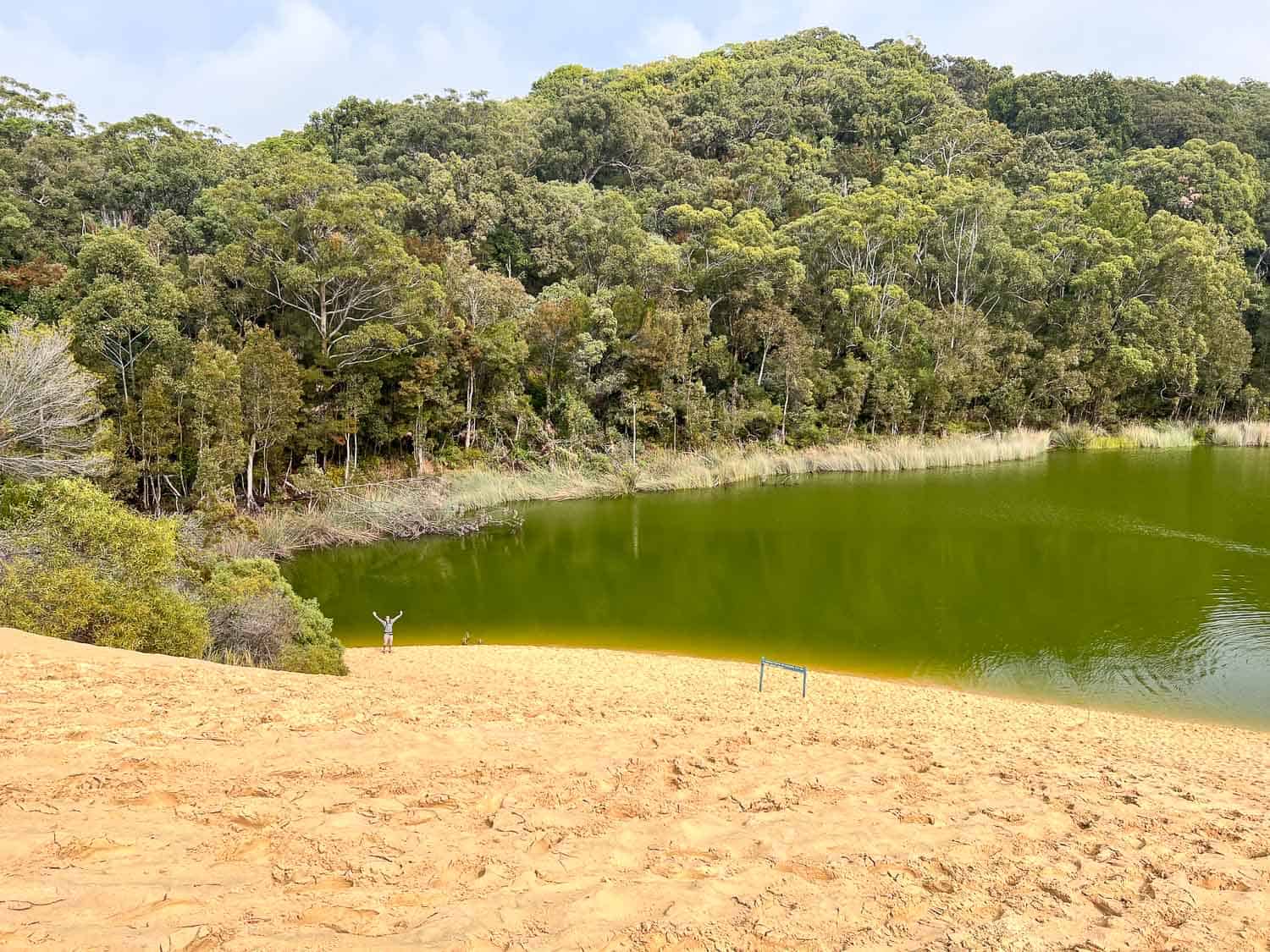 Lake Wabby is another unique, stunning place to visit on K'gari.
Like Lake McKenzie, it's a perched lake, but this is the deepest on the island, and the water is a wonderful olive green colour.
You have to walk to the lake but it's well worth it. The start of the track is just north of Eurong on 75 Mile Beach. There's a sign and toilets a little way down the trail.
The 5km return walk took us 1 hour and 10 minutes (plus a break at the lake) with a 138m elevation gain. There are some small ascents, but it isn't too challenging.
Most of the walk is through the forest before you emerge on the golden sand of the huge Hammerstone sand blow with ocean views.
Head down the dune (running is sadly not allowed) to reach the gorgeous lake. I had serious regrets about not bringing swim gear—don't make my mistake and plan to relax in this peaceful spot for a while (again, picnics are not allowed due to dingoes).
9) See the Maheno Shipwreck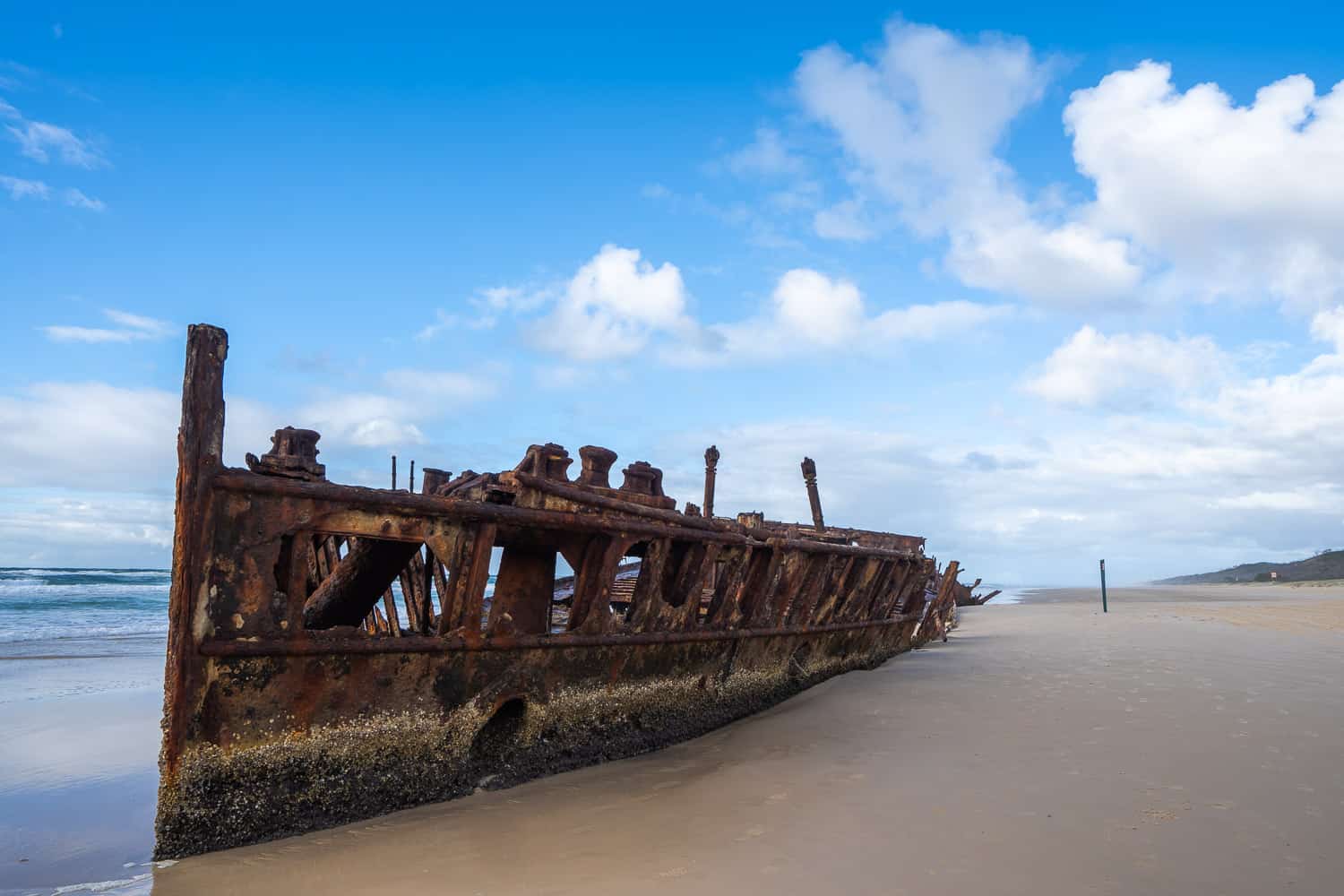 In 1935, the Maheno steamer was shipwrecked and abandoned on 75 Mile Beach and it has remained there ever since.
Located five minutes north of Eli Creek, this is a K'gari must-see, although it's just a quick stop to see the rusty, barnacled remains.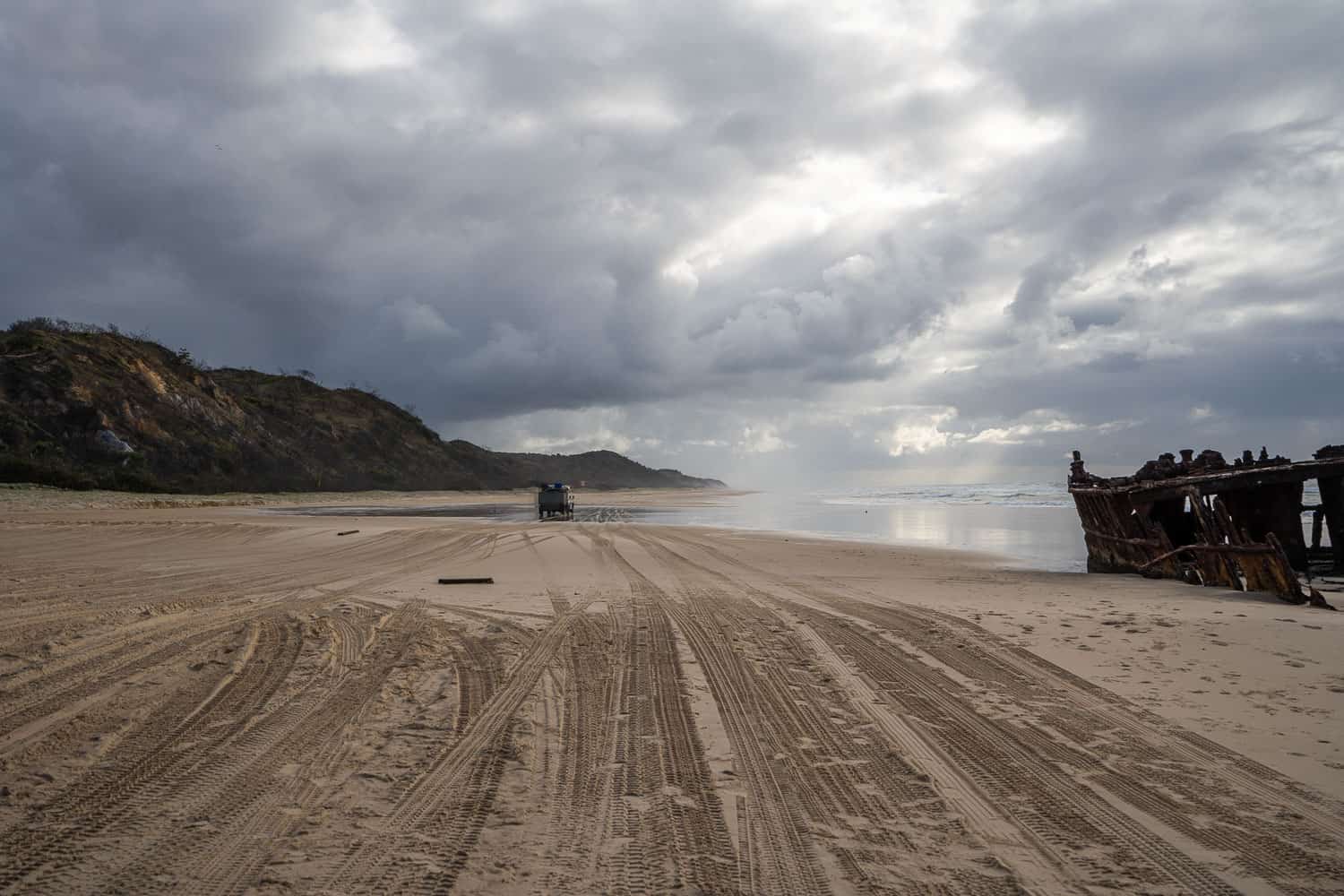 Its decay was accelerated when it was used as target practice during WWII.
There are no facilities.
10) Admire the Colours at The Pinnacles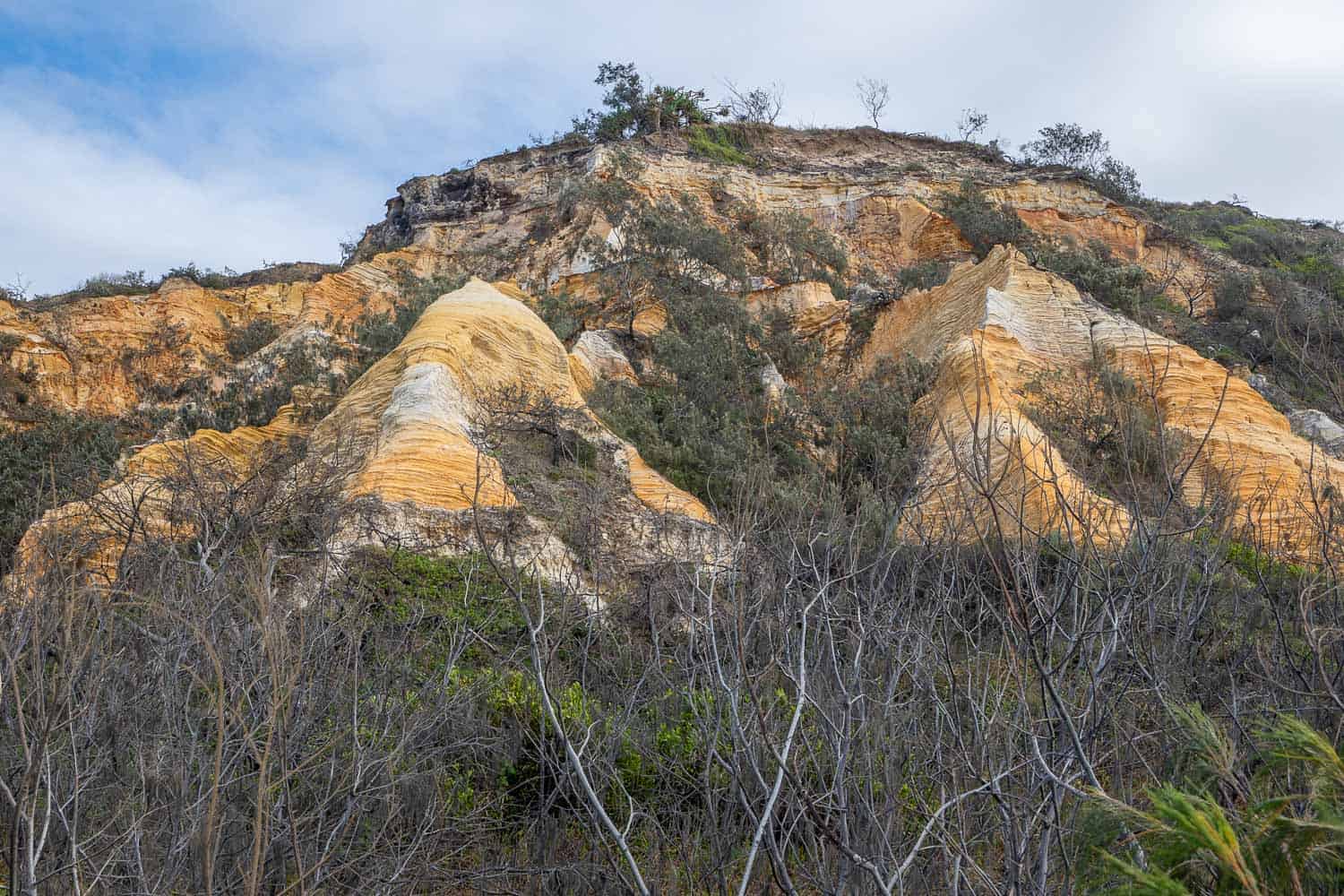 Five minutes north of the Maheno Shipwreck is another quick stop (no facilities).
The Pinnacles, also known as the coloured sands, are a collection of sand dunes that have been sculpted by wind and water into rifts and crumbling spires.
Supposedly there are 74 different coloured sands in the craggy dune in variations of red, brown, and yellow.
11) Hike Through the Rainforest at Central Station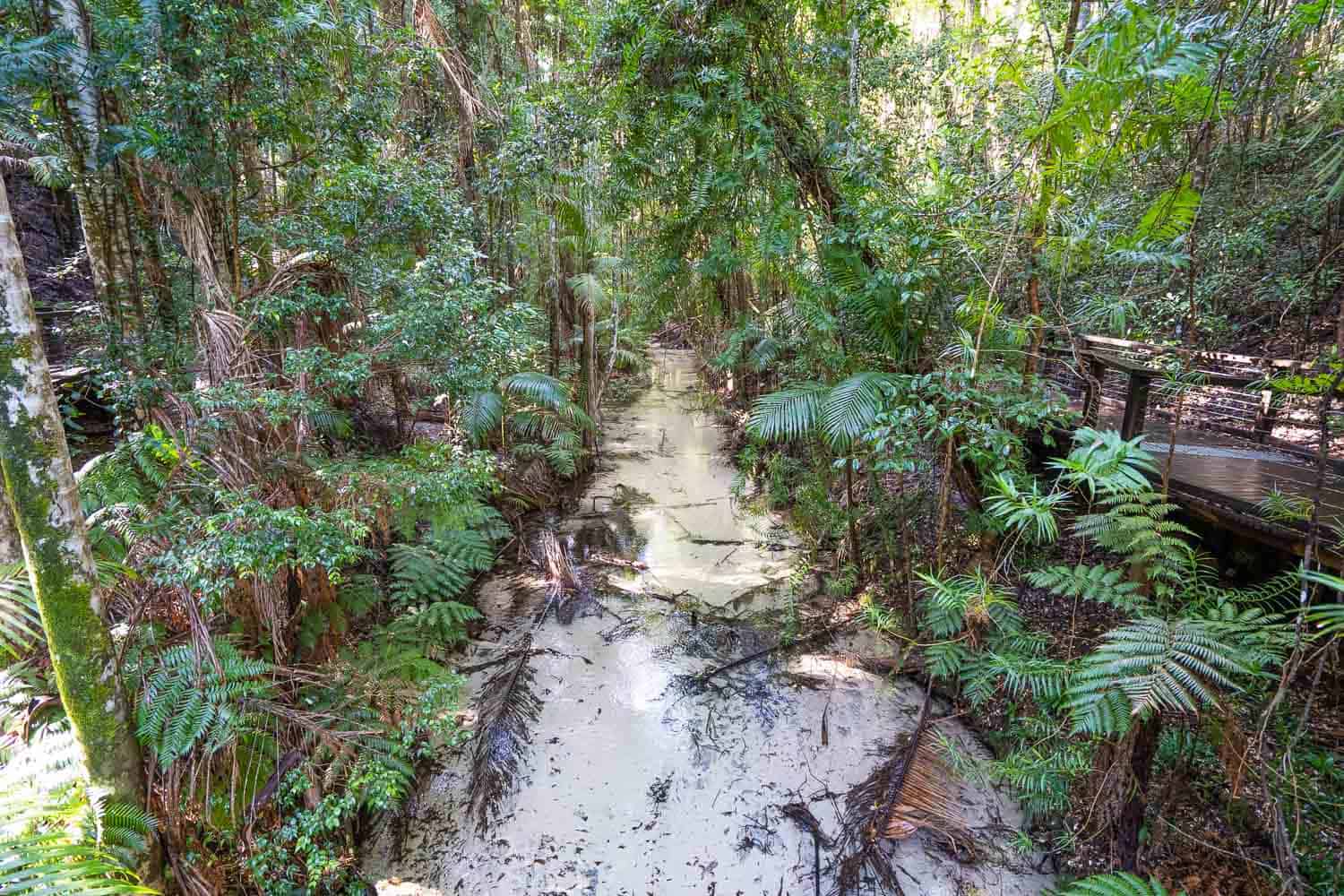 Central Station is in the centre of the island and is the best place for a forest walk.
There are lots of options, but the easiest is the 0.7km Wanggoolba Creek circuit on a boardwalk next to a crystal-clear freshwater creek.
If you want something longer, the 5.6km/1.5-hour return hike to Basin Lake is supposed to be lovely and you'll likely have the lake to yourself.
There are picnic tables and toilets at the Central Station day-use area and there's a campsite nearby.
Our K'gari Self Drive Itinerary
This was our 2-night/3-day K'gari itinerary that covers all of the K'gari activities above.
The order and times you'll be able to visit places will depend on the tides, though. When we visited low tide was around 8am – 10am.
Day 1
8.15am Leave Rainbow Beach (we did the paperwork for our 4WD rental the afternoon before)
9.15am Arrive at Hook Point, K'gari after getting the barge
10.30am – 11.40am Central Station walk
12.10pm – 1.30pm Lake McKenzie picnic and swim
2.15pm Check in at Kingfisher Bay Resort
Explore grounds, Sunset Bar, dinner at Dune
Day 2
I'm glad we got an early start as we were about an hour ahead of the tours. Everyone follows a similar route due to the limitations of the tides.
6.40am Leave Kingfisher Bay
7.30am Arrive on 75 Mile Beach Beach and drive north (we passed Eli Creek at 8.05am but didn't stop as we wanted to make sure we had enough time later)
8.10am – 8.30am Maheno Shipwreck
8.35am – 8.40am The Pinnacles
9.15am – 9.50am Champagne Pools
10.40am – 12.10pm Eli Creek tube float and picnic
1.30pm Back at Kingfisher Bay
Relax, Sunset Bar, dinner at The Sand Bar
Day 3
9am Leave Kingfisher Bay
10am – 12pm Lake Wabby hike
12.45pm Arrive at barge landing at Hook Point
1.25pm Get off barge at Inskip Point
1.40pm – 3pm Rainbow Beach (refuel, vacuum car, get the outside washed, return 4WD)
Map of Things to Do in K'gari
Is K'gari Worth Visiting?
K'gari is definitely worth visiting. This special island was one of our favourite places in Queensland.
We loved the adventure of off-road 4WD driving (despite the nausea-inducing forest tracks) and the natural landscapes are truly stunning from diverse forests to colourful lakes and wild beaches. Seeing a dingo is fun too!
Whether you decide to drive yourself or take a tour, we highly recommend a visit to K'gari.
More Australia Posts
Queensland
Victoria
Enjoyed this post? Pin it for later!