This page contains affiliate links. Please read our disclosure for more info.
The beach town of Caloundra on Queensland's Sunshine Coast flies under the radar compared to some of the more popular destinations in the area.
The laidback town retains a classic holiday vibe with most of the things to do in Caloundra focused on the ocean. Surfing, swimming, kayaking, and boating are all popular activities in Caloundra.
For the less energetic, you can relax on one of the many beaches, enjoy beautiful coastal walks, eat delicious food, and admire colourful street art.
Caloundra is also well placed for exploring the gorgeous Sunshine Coast Hinterland and the iconic Glasshouse Mountains, which you can see from town.
We loved our seaside break here, and in this post, I share our picks for what to do in Caloundra including where to stay and eat, how to get there, the best day trips, and a map with all our recommendations.
Contents
We acknowledge the Kabi Kabi people as the Traditional Custodians of this land and sea.
Where is Caloundra?
Caloundra is the southernmost town on the Sunshine Coast, 95km (about 1.5 hours drive) north of Brisbane in Southeast Queensland, Australia.
It's 15km (25 minutes) south of Mooloolaba and 58km (1 hour) south of Noosa, which are both popular beach towns on the Sunshine Coast.
Below you'll find details on how to get to Caloundra and a Caloundra map.
Best Things to Do in Caloundra
1) Enjoy the Calm Waters at Bulcock Beach
We loved Bulcock Beach where our apartment hotel La Promenade was located right on the water.
It's on the Pumicestone Passage, the channel of water between Caloundra mainland and Bribie Island.
The ever-changing sandbanks and turquoise water of the lagoon are very scenic and the Glasshouse Mountains are visible in the distance.
The calm, clear water is perfect for kids.
The beach has widened in recent years and at low tide, you can even walk across the sand to Bribie Island.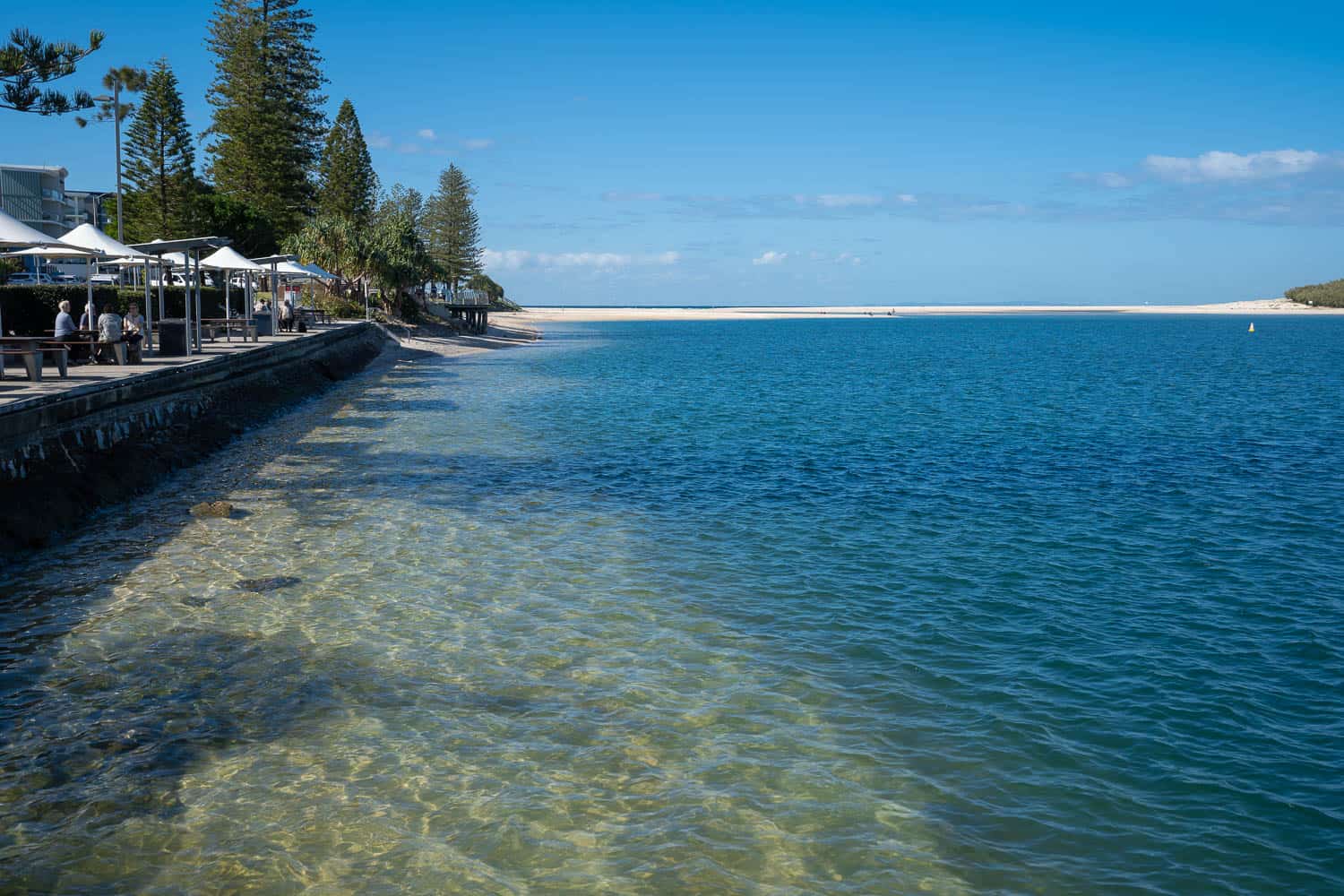 Bulcock Beach is one of the best beaches in Caloundra for swimming, paddleboarding, and kayaking. If you prefer to play in the waves, head around the corner to where the beach meets the open ocean.
There are plenty of facilities including toilets, showers, picnic tables, BBQs, a playground, and cafes. The boardwalk is a great place for a stroll (see below) and the views are especially lovely at sunrise and sunset.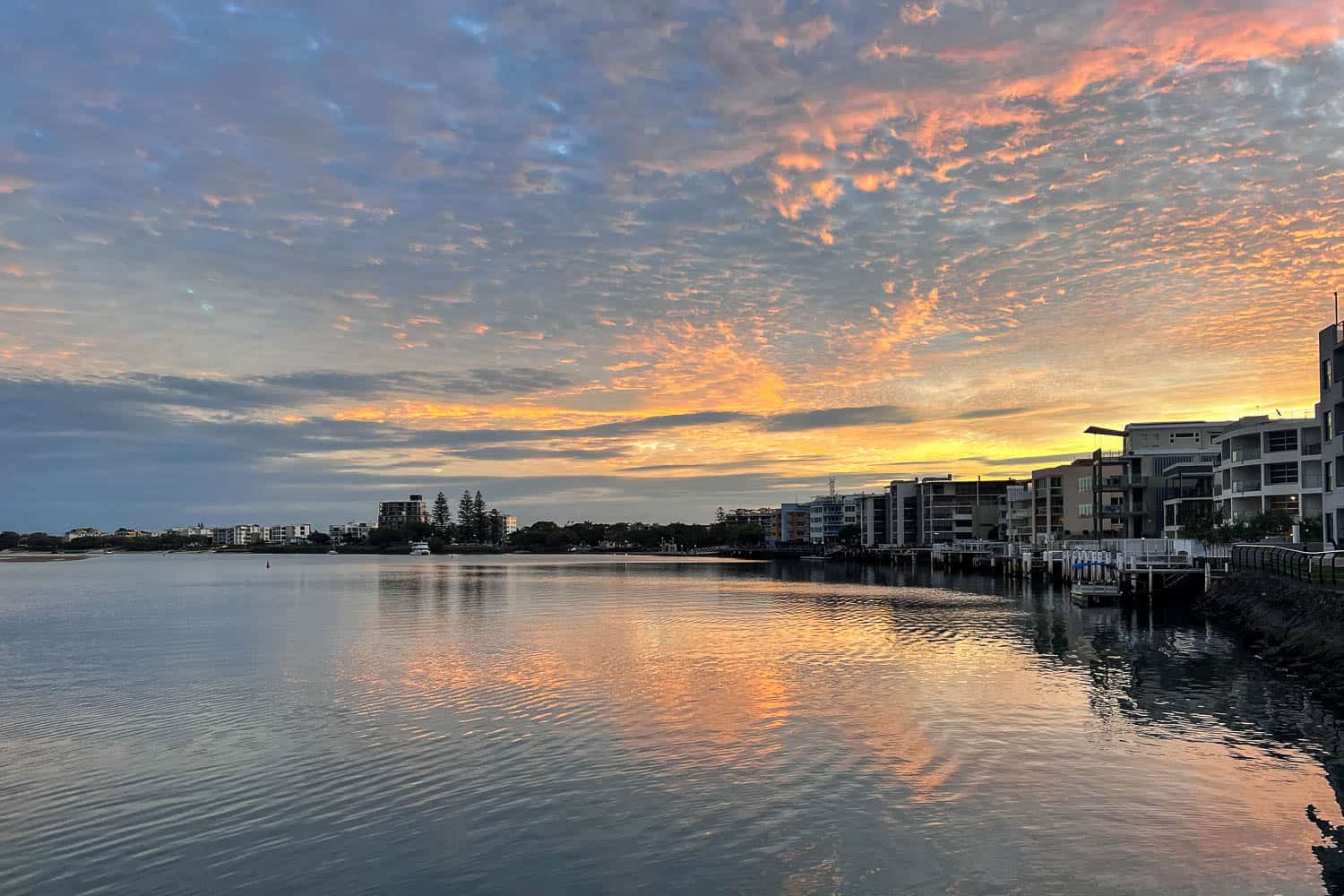 The beach is only patrolled from September to May, so in winter (when the sun still shines), you might prefer Kings Beach.
2) Walk the Caloundra Coastal Path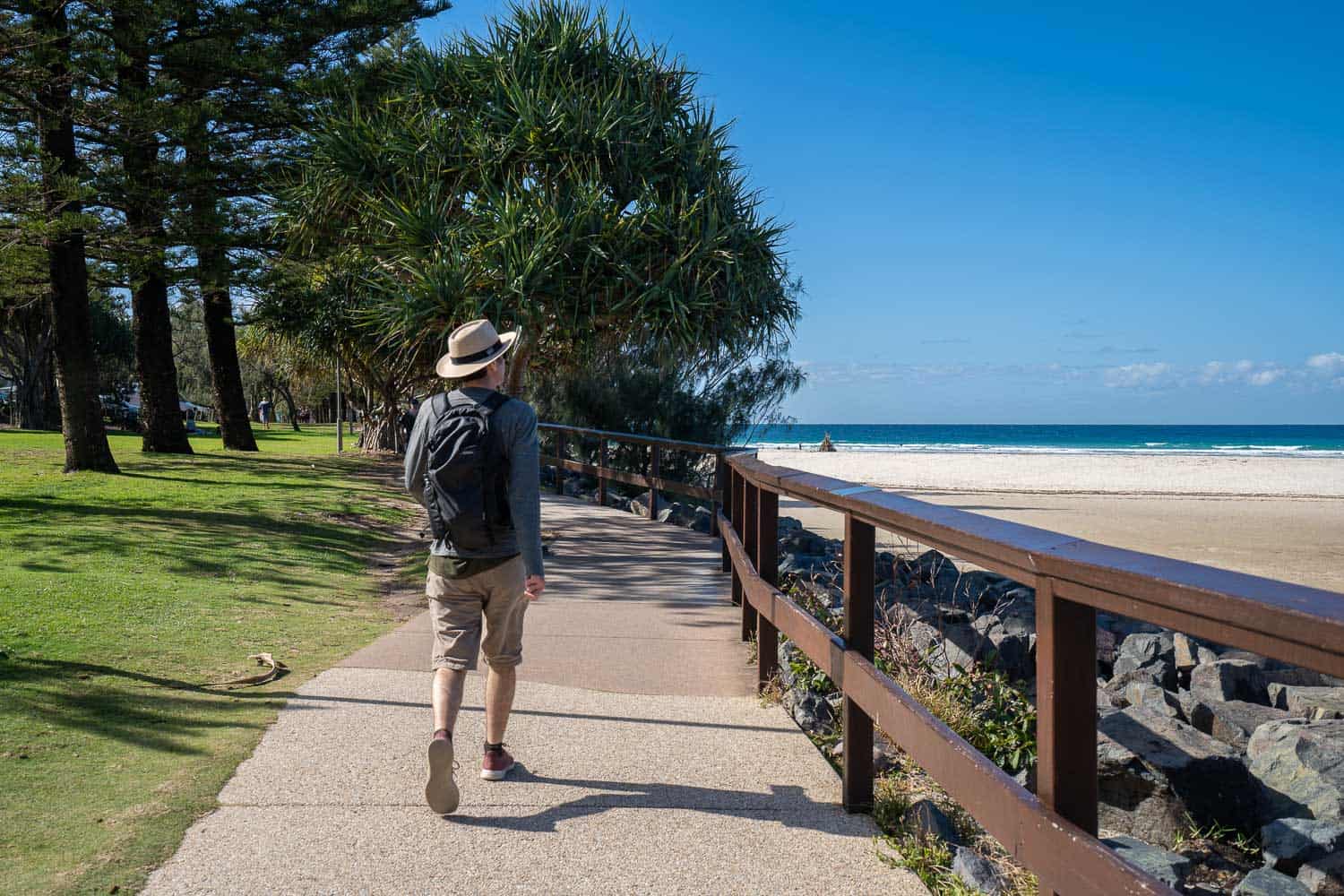 One of the best things to do in Caloundra is the Caloundra Coastal Walk, an excellent way to explore the town's best beaches.
The whole trail is 25km from Golden Beach in the south to Mooloolaba in the north, but you can choose to walk as much or as little as you'd like.
We walked from Bulcock Beach north to Moffat Beach and highly recommend it. This stretch is 4.7km and took us one hour each way.
The path is paved and mostly flat (we had 50 metres of elevation gain, mostly around Moffat Headland) with ocean views the whole way.
The first section on the boardwalk from Bulcock Beach to Kings Beach (about 20 minutes) is the busiest with lots of facilities and cafes.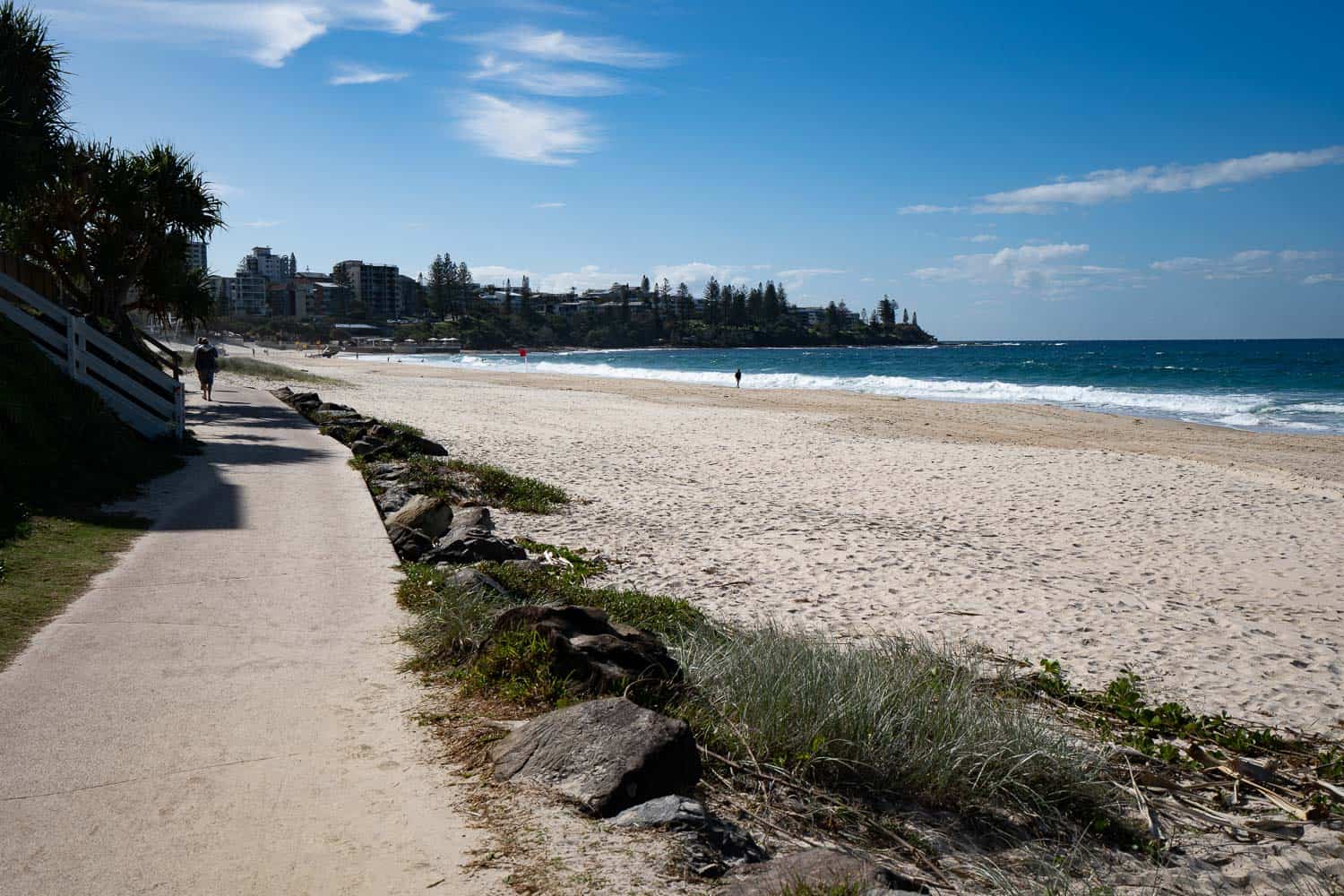 After Kings, it was quieter as we passed the war memorials at Centaur Park and Anzac Park. Look out for the plaques on the path that honour the lives of veterans lost.
Next is the unpatrolled Shelly Beach where it's easy to find a quiet stretch of sand to yourself (but swimming is not recommended).
You can also explore the rock pools at low tide and look out for the huge ships passing by—Caloundra is close to a shipping lane.
There's a small park opposite with picnic tables and toilets.
The path gets a little hillier as you walk up to Moffat Headland Lookout, where you can watch the surfers on the point break. This is home to the legendary Pa and Ma Bendall Memorial Surfing Contest that has taken place on Easter weekends since 1974.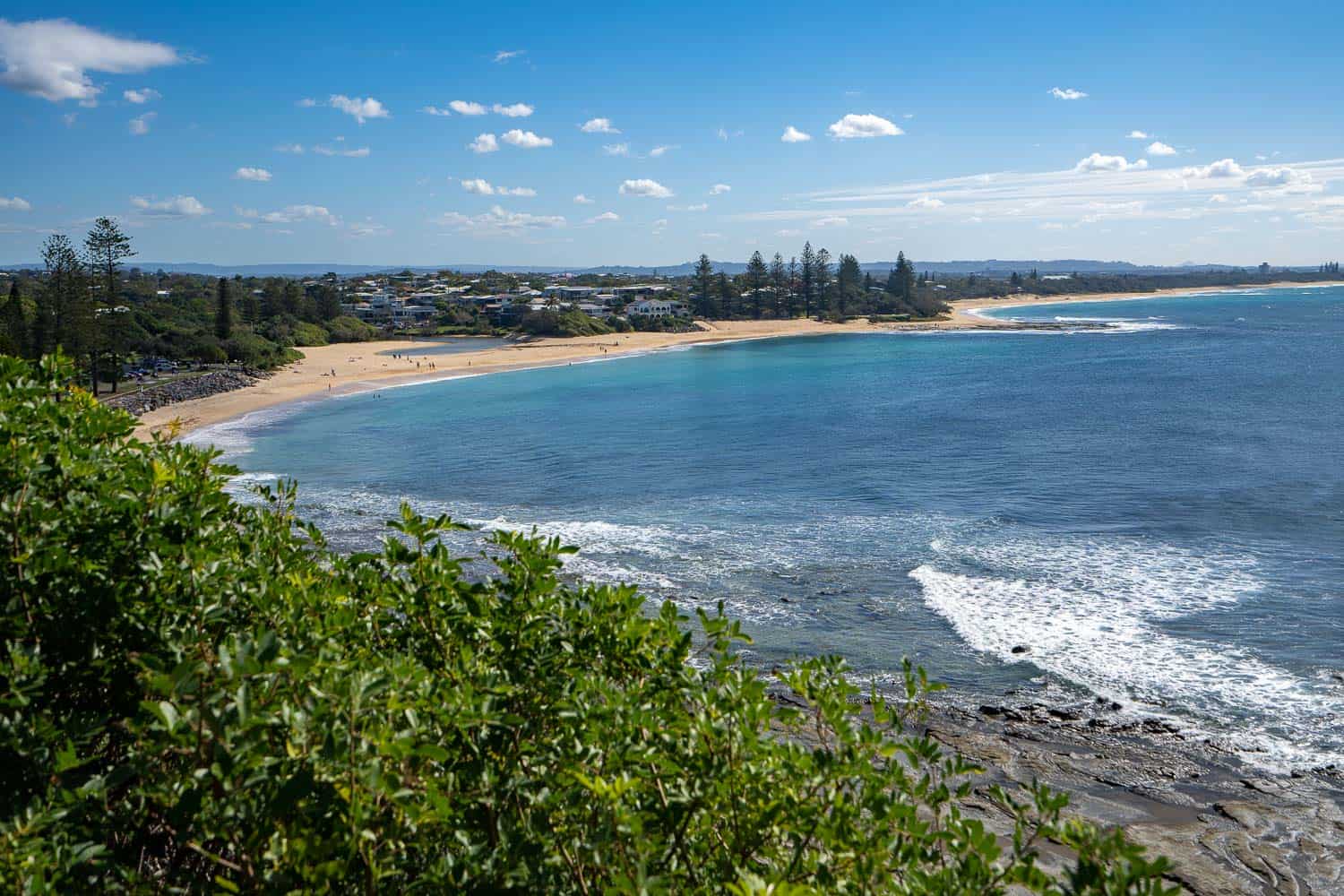 We finished our walk at Moffat Beach, a golden curve of sand that's a favourite amongst locals. It's unpatrolled so not recommended for swimming, although it was fairly calm on our visit.
The cafes opposite the beach are ideal for a break before walking back to Bulcock Beach (or you can always order an Uber).
We had lunch at Moffat Beach Brewing Co (see below), but The Pocket Espresso Bar is popular too.
I also liked the look of the menus at ZeeCafe Nosh Co (Japanese) and One Block Back, but they are a little further inland from the beach. Next time!
3) Try a Local Brew at Moffat Beach Brewing Co
Moffat Beach Brewing Co is a popular local brewery with a brewpub in a prime location opposite Moffat Beach.
Drink amongst the tanks of beer brewing inside or on the patio with views of the beach across the road. On weekend evenings there's live music.
They have a changing menu of beer to try—Simon liked the tropical flavours of the Trilogy Best Coast IPA.
The menu is pretty standard pub grub, but we did enjoy our lentil and chickpea burger.
4) Spend the Day at Kings Beach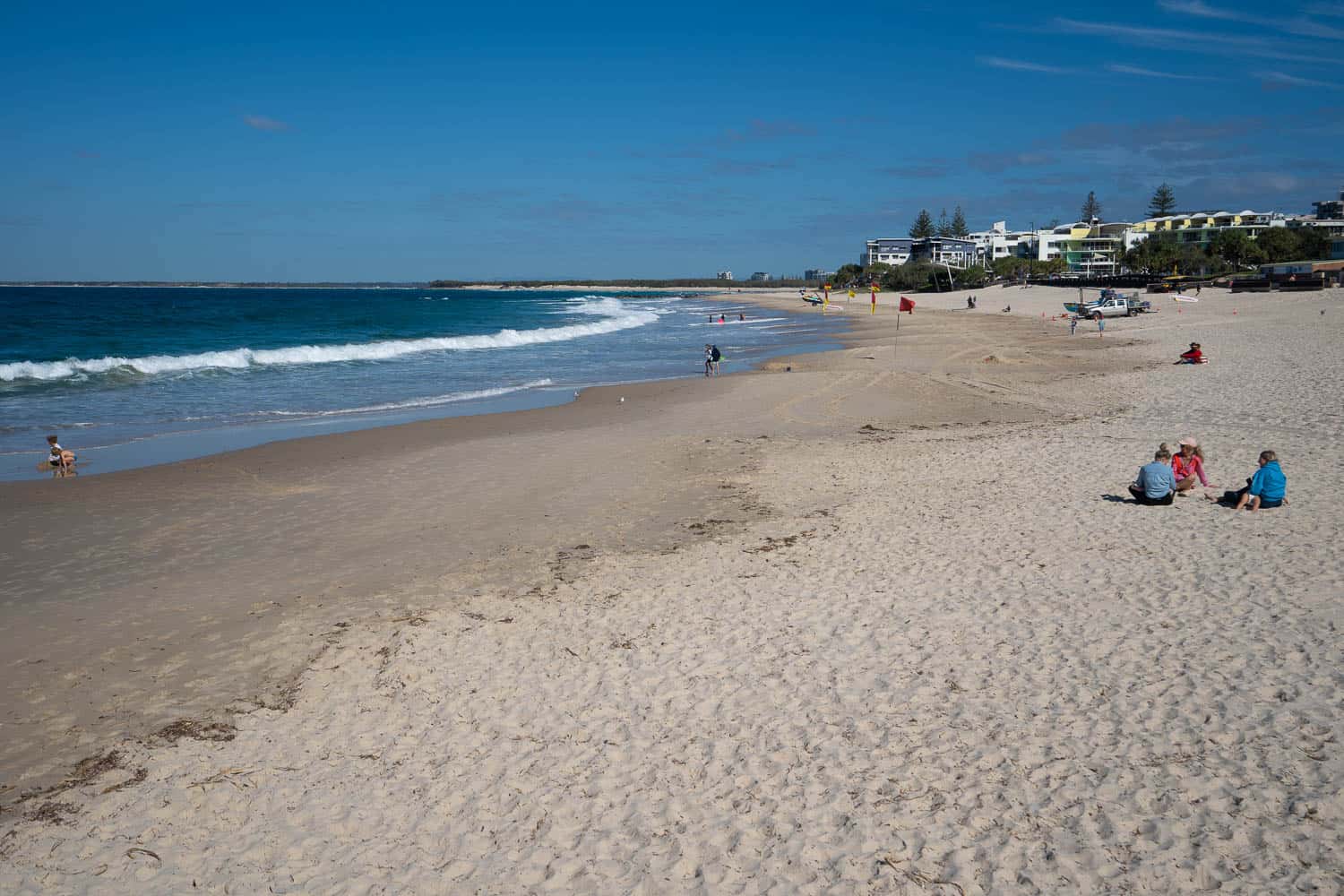 Visiting Kings Beach is a Caloundra must do.
This popular beach is patrolled year-round by the surf club which also runs a restaurant and bar with fantastic views overlooking the beach.
You'll find all the facilities you need including toilets, changing rooms, showers, picnic tables, BBQs, a playground, kid-friendly water fountain, and even a free oceanfront pool.
The gentle waves at Kings Beach are ideal for boogie boarding or more confident swimmers.
Cafes on the waterfront here include Kings Beach Bar and Coffee Cat on Kings Beach.
5) Swim in the Oceanfront Pool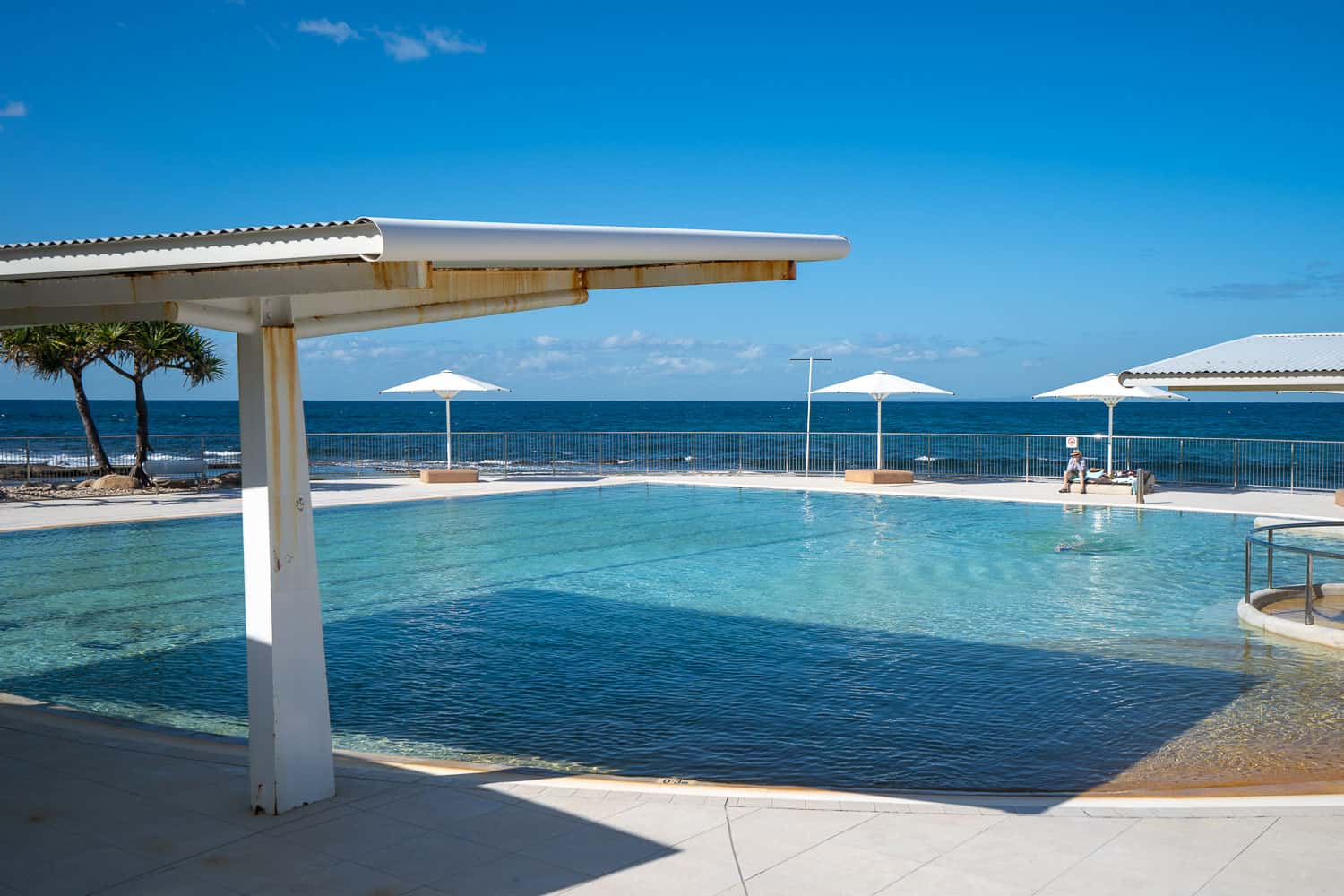 You can't beat the location of the Kings Beach saltwater pool right on the oceanfront.
Best of all, it's free for all to use with 25-metre lanes for serious swimmers and a wading area for kids.
6) Eat a Delicious Brunch at Lamkin Lane Espresso
Lamkin Lane Espresso is our top pick for where to eat in Caloundra.
It's located in one of the laneways in Caloundra's downtown area (less than a 10-minute walk from Bulcock Beach) with a stylish interior and plant-filled patio.
The creative menu is Asian-inspired and goes beyond the usual brunch dishes. It's especially good for vegans with more options than most cafes.
Simon had the crispy tofu tacos with slaw, pineapple, and some seriously tasty sauces. They were so good I kept sneaking bites. The crispy tofu is a winner so consider adding it as a side to other dishes.
My beautiful avocado toast had some interesting additions—roasted capsicum hummus, edamame, potato gems, and flowers.
Don't miss Lamkin Lane!
7) Kayak to Bribie Island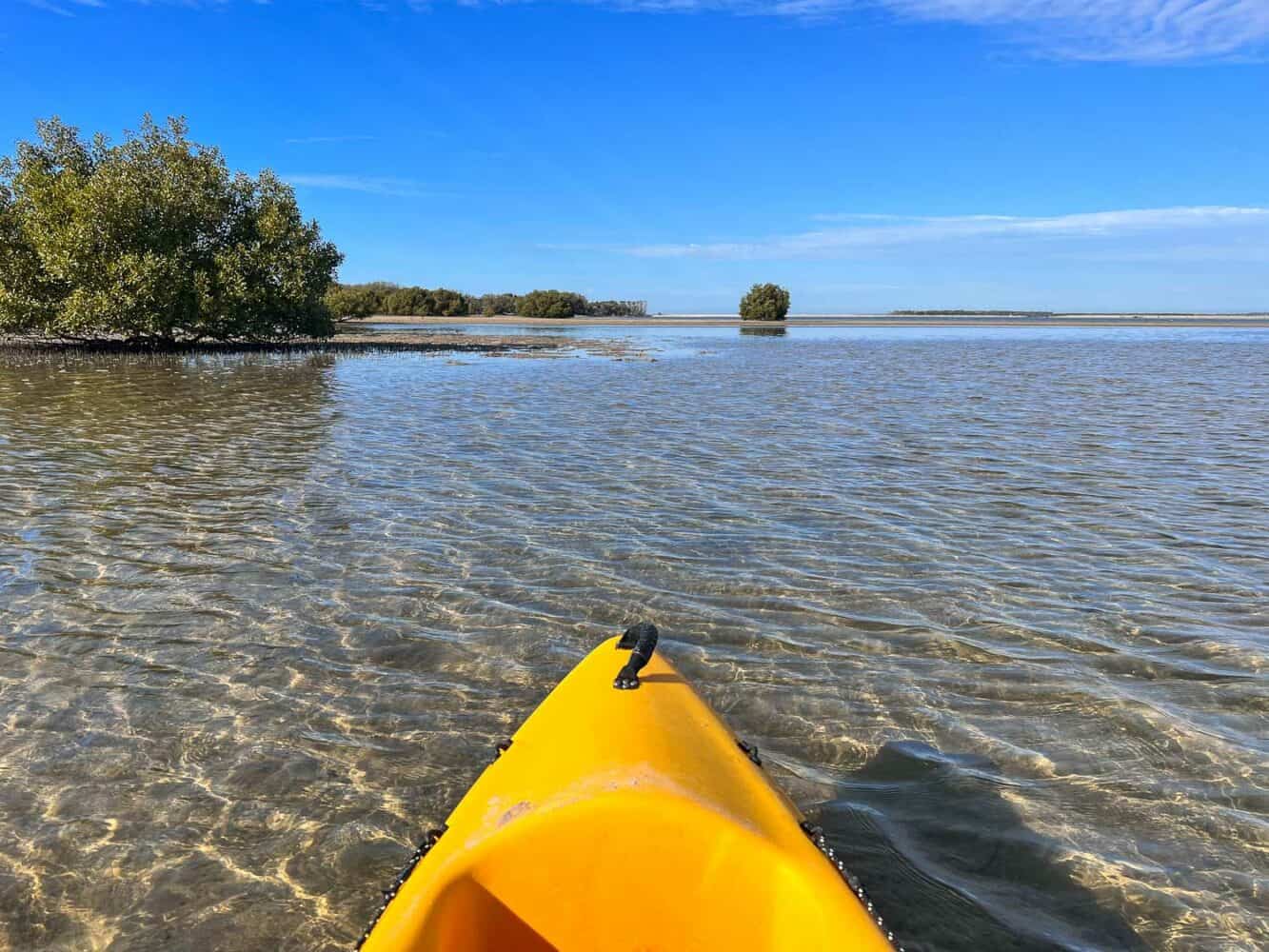 One of the best Caloundra activities is to get out on the water to explore the Pumicestone Passage and Bribie Island.
We rented a double kayak from Bill's Boat Hire at Golden Beach. They also rent boats (no licence necessary) if you're not feeling energetic, as well as stand-up paddleboards.
While kayaking to an island sounds impressive, the northern tip of Bribie Island is only a few minutes' paddle away, so it's an accessible adventure, especially on a calm day.
Bribie Island is the fourth largest sand island in the world (like nearby North Stradbroke Island which we love) and the end near Caloundra is unspoilt National Park.
On our two-hour paddle, we saw stingrays, jumping fish, and lots of birds. You can even see dolphins and turtles sometimes.
We kayaked past the Bribie Island Breakthrough, the split that opened up in 2022 when the ocean carved a new pathway through the island.
We stopped on a white sand beach for a break and swim—calm water on one side and the rough ocean on the other.
Bill's Boat Hire isn't open every day (except during school holidays), but it's worth asking as they opened just for us.
You can also hire single or double kayaks from Golden Beach Hire.
8) Sample Local Gin at Beach Tree Distillery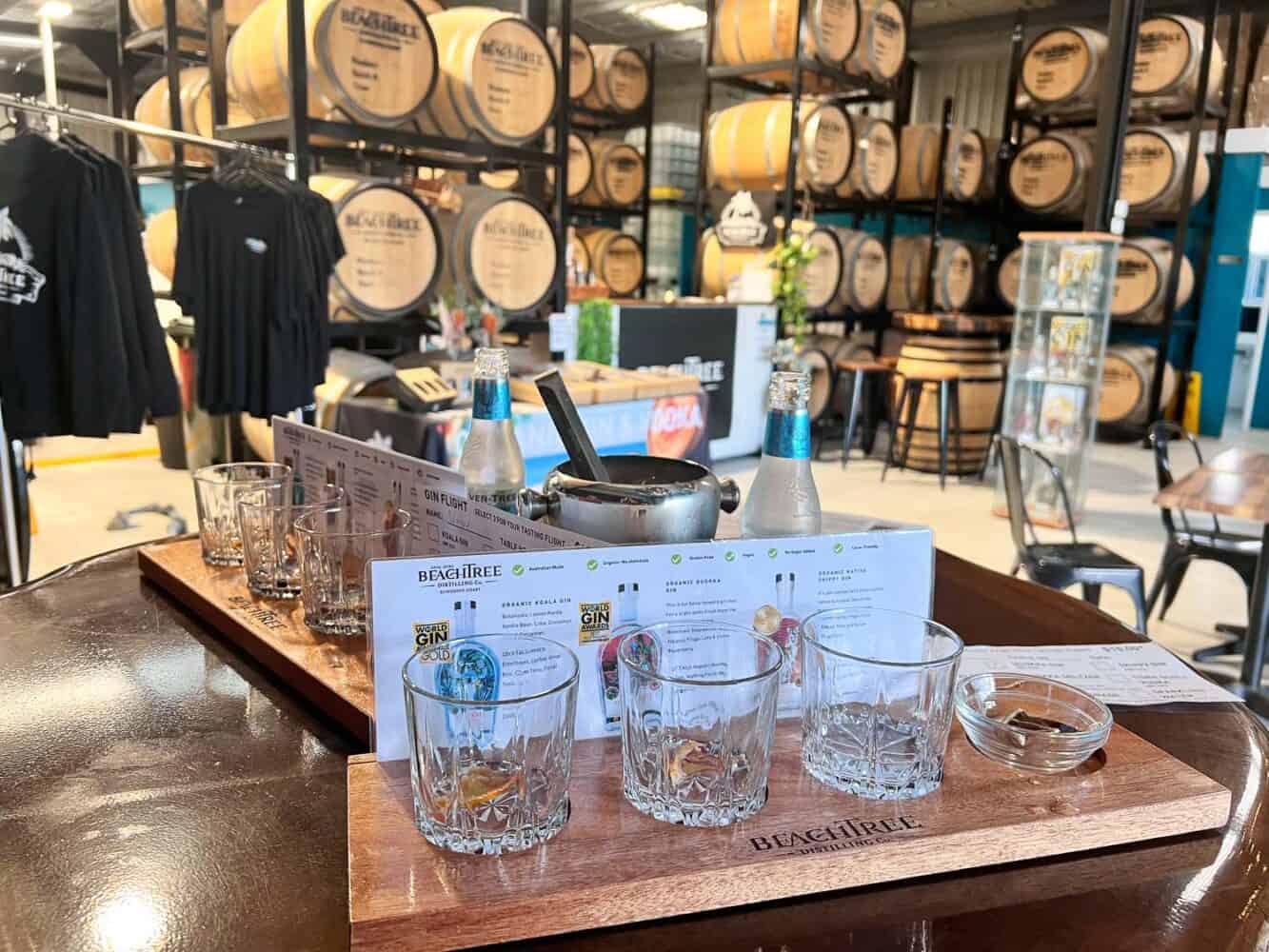 Beach Tree Distillery make handcrafted, small-batch gin and vodka (with rum and whisky coming soon) using organic Australian botanicals.
At their distillery, you can do a guided gin tasting ($15 for your choice of three) to see which of their drinks you like best. We liked the peppery Skippy gin and berry-forward Quokka gin.
Each spirit is named after an endangered Australian animal, and they plant a tree for every bottle purchased.
As well as tastings, you can buy G&Ts and cocktails to enjoy onsite amongst the barrels of ageing spirits.
Beach Tree Distillery is a 5-minute drive from Bulcock Beach. We got an Uber so we could sample their products freely.
9) Lunch at White Picket Fence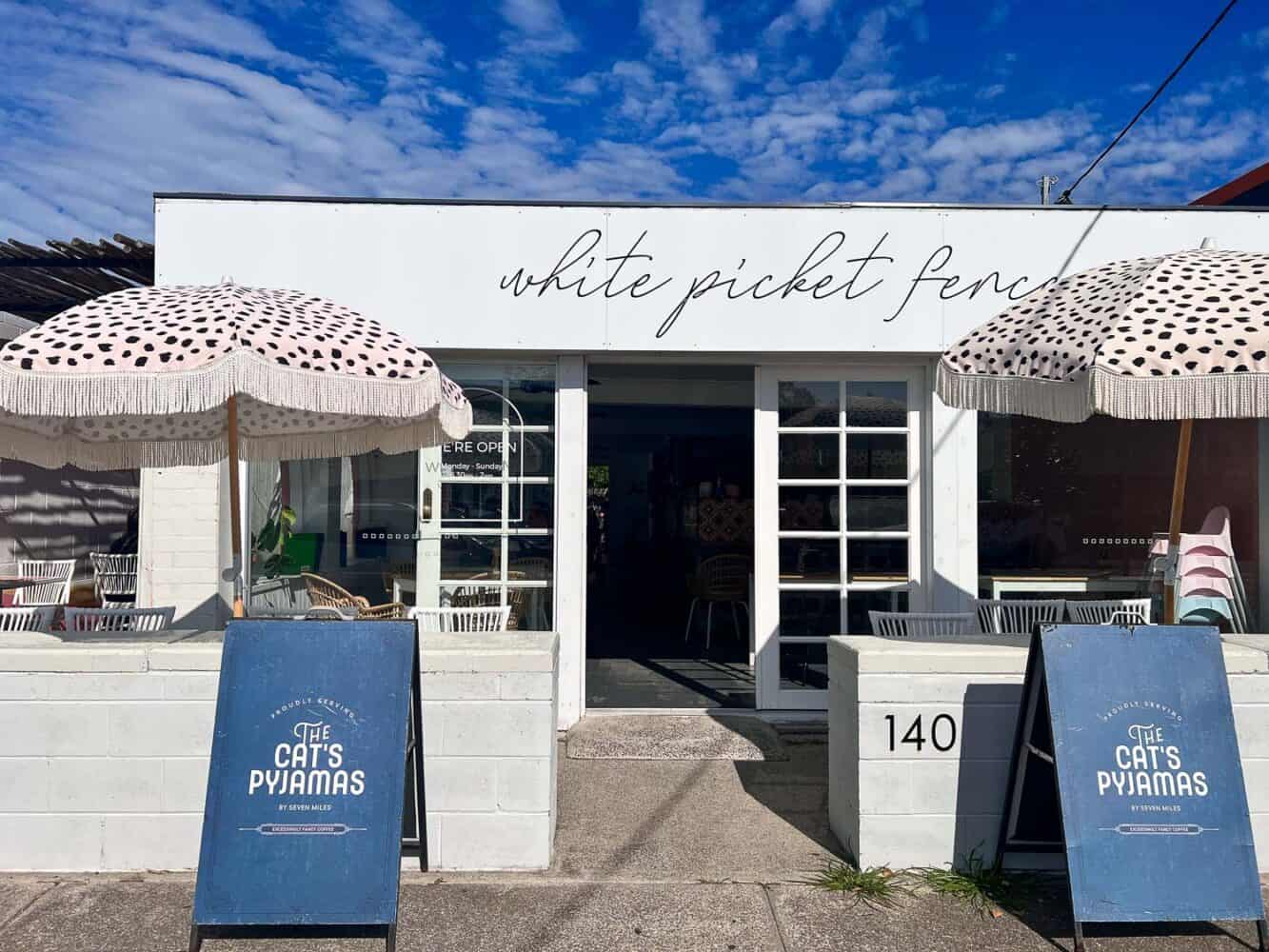 White Picket Fence is another of Caloundra's excellent cafes, just a three-minute walk inland from Bulcock Beach. Eat in the plant-filled interior or the lovely pink-walled garden out back.
We appreciated the vegan and gluten-free options on the creative menu. I really enjoyed my Pakora + Friends—Indian spiced pakora on a kale salad—and it was nice to have a break from bread.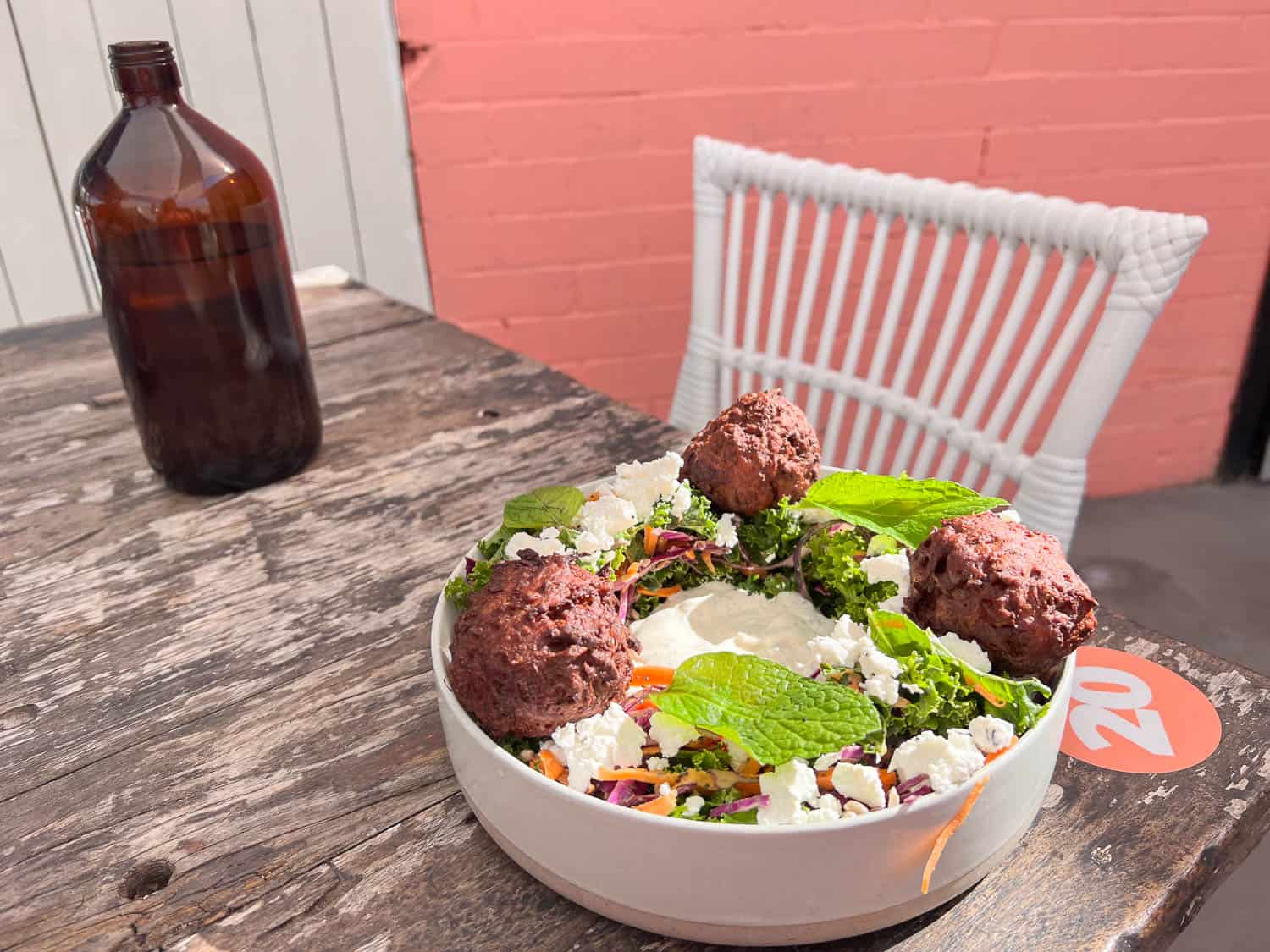 The breakfast cocktails also sounded tempting.
10) Try a Cupcake from Cocoa Spice Cakery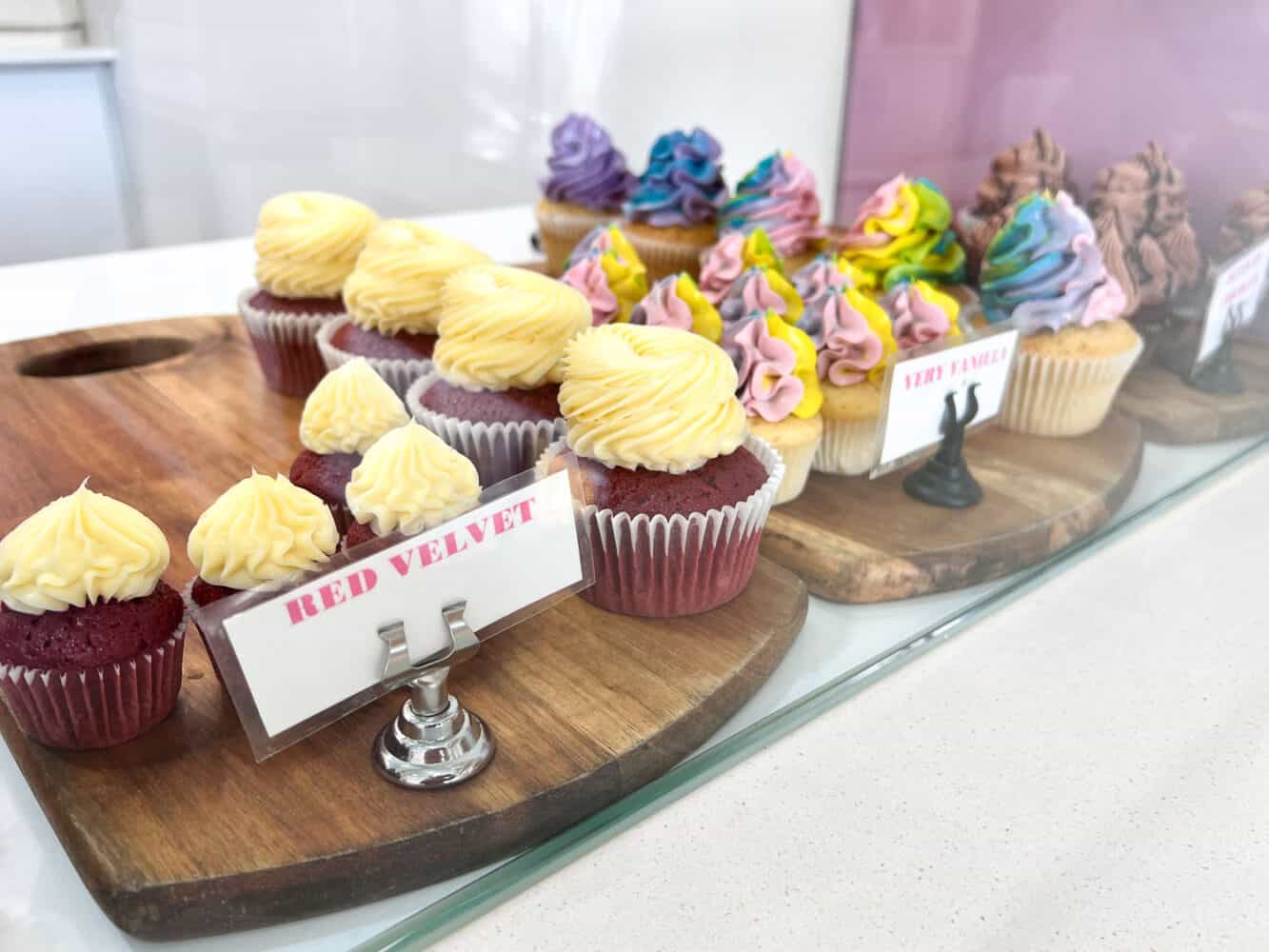 If you have space after lunch, head down the road to Cocoa Spice Cakery to try one of their colourful array of cupcakes. Mini options are available if you just want a bite of sweetness.
11) Enjoy an Ice Cream at Gelateria Milano
Or if ice cream is your sweet treat of choice, a little further down Bulcock Street is Gelateria Milano.
Here you'll find authentic Italian-style gelato, so much nicer than the puffy stuff you'll see elsewhere.
You can choose two flavours even for a small size. The strawberry cream was amazing!
12) Follow the Caloundra Street Art Trail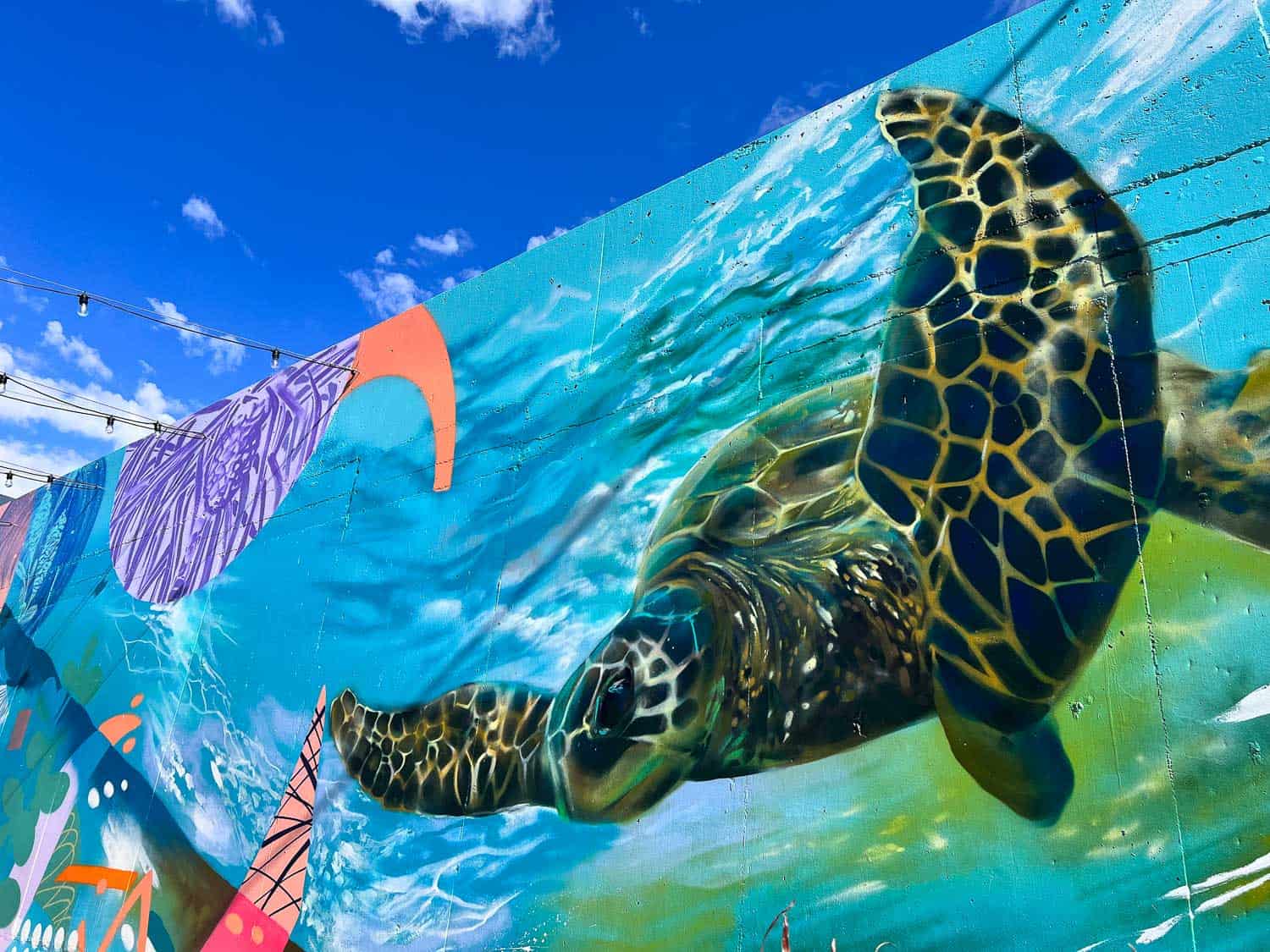 Caloundra's street art isn't obvious at first, but once you start heading down laneways and side streets you can discover some lovely pieces.
The Dingle Wall is the most well-known (find it on Google Maps as Caloundra Mural). The huge, colourful mural features scenes from Caloundra life including the lighthouses, surfing pioneers Pa & Ma Bendall, local fishermen, and more.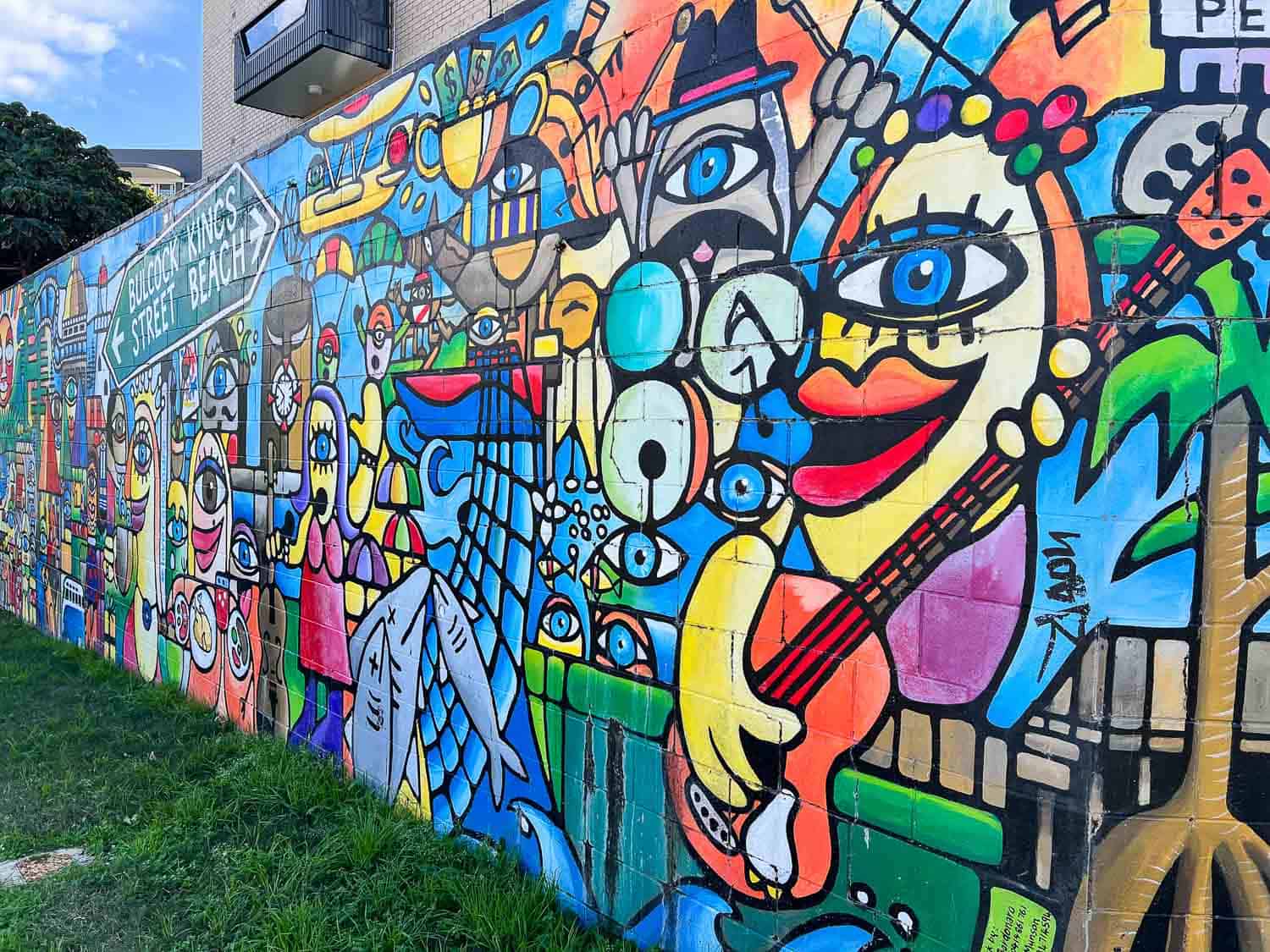 Other good places to look for street art are Lamkin Lane and Williamson Lane. You can download a Caloundra Art Trail map here.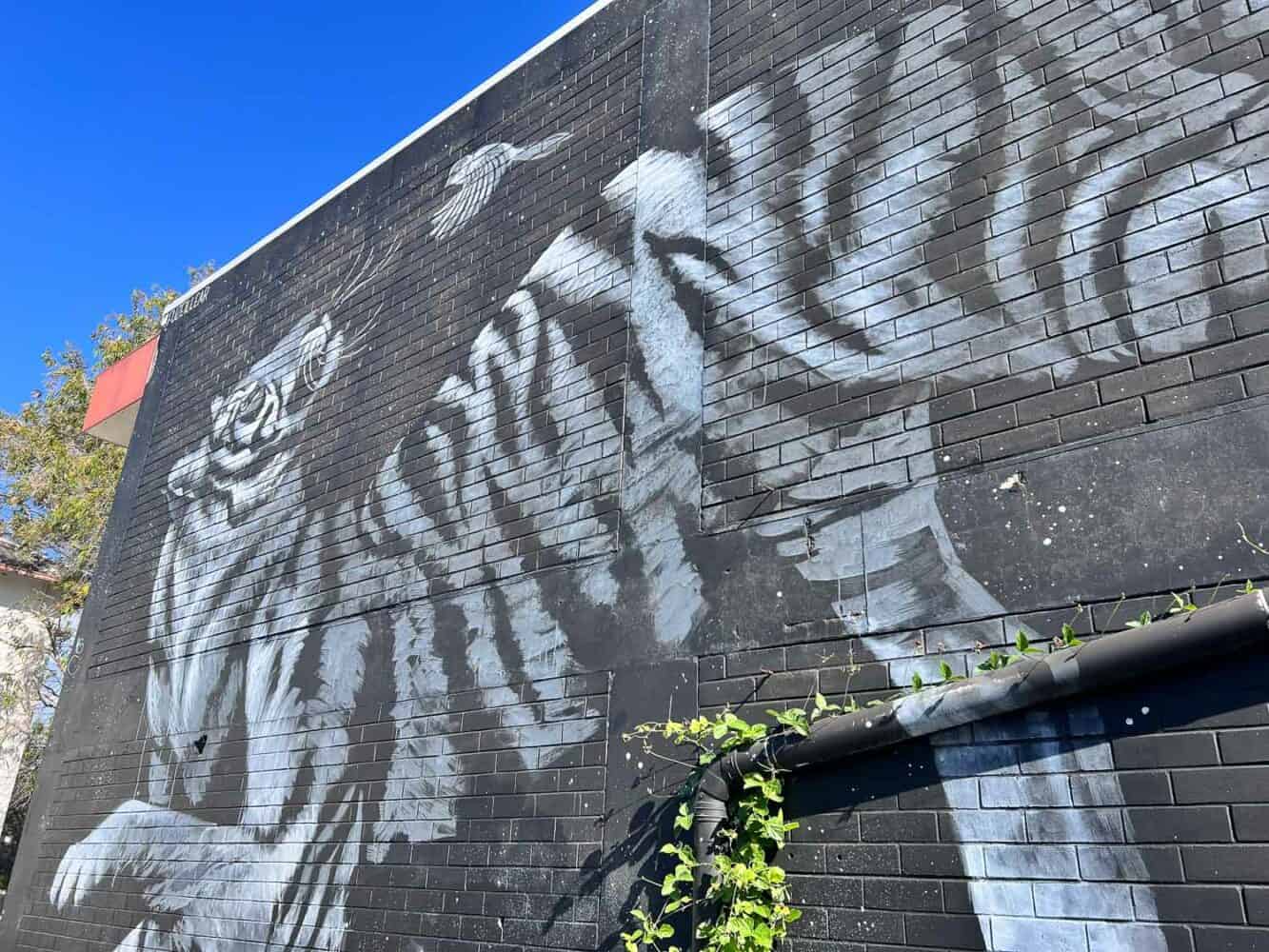 13) Eat Mexican at Holy Taco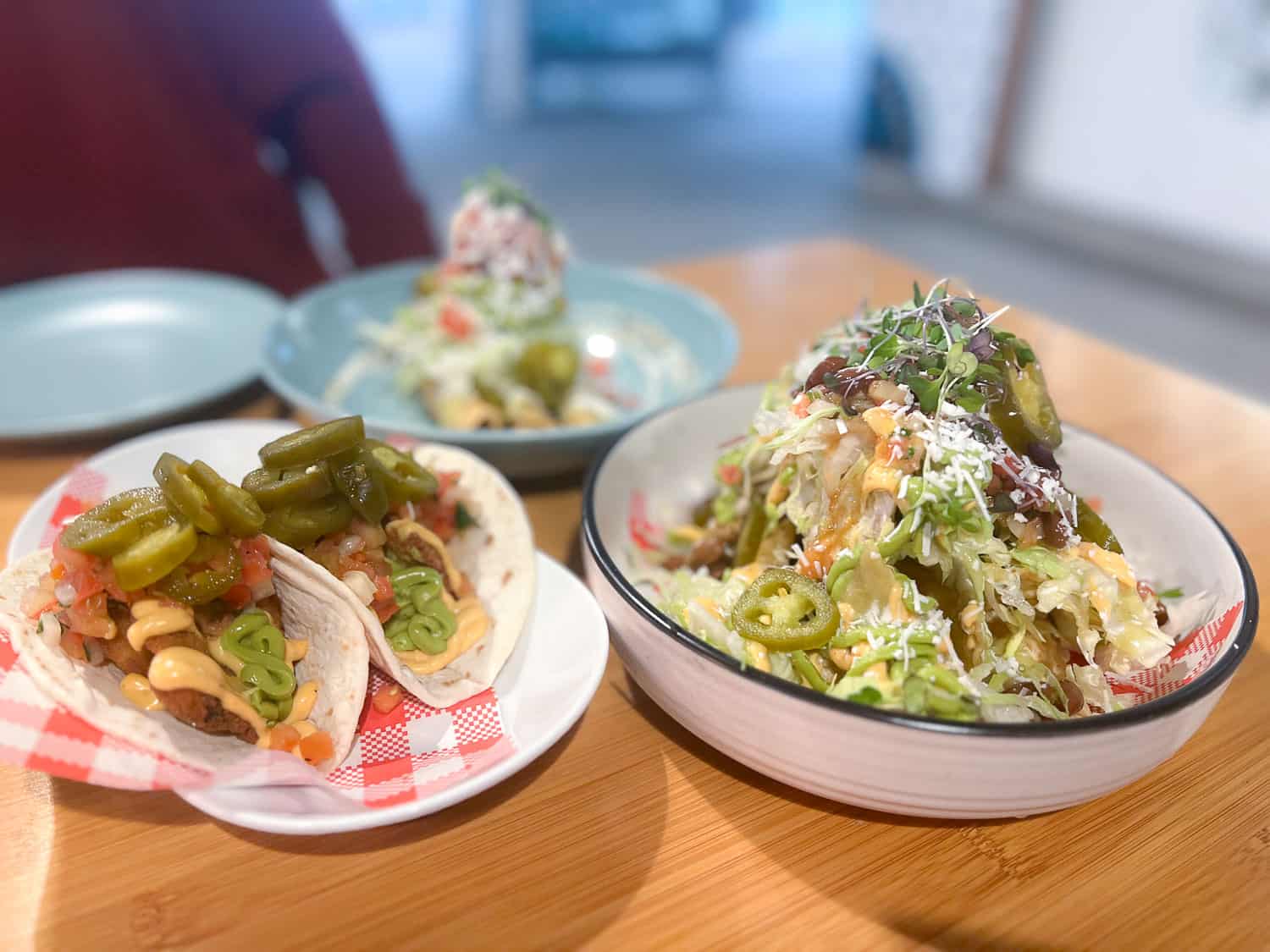 Our favourite dinner spot in Caloundra was Holy Taco, a kiosk that serves delicious plant-based Mexican food.
It's run by a Mexican couple so the flavours are authentic albeit with a vegan twist.
The small menu consists of tacos (with soft flour tortillas), golden tacos (fried, rolled-up corn tortillas), nachos, and a few sides.
Our favourite was the Caloundra taco made with crumbed mushrooms, smoky chipotle mayo, guacamole, and pico de gallo. We appreciated that they let us top everything with jalapeños too.
Holy Taco is located a five-minute walk from Bulcock Beach in a small shopping arcade with covered outdoor seating.
14) Visit the Caloundra Regional Gallery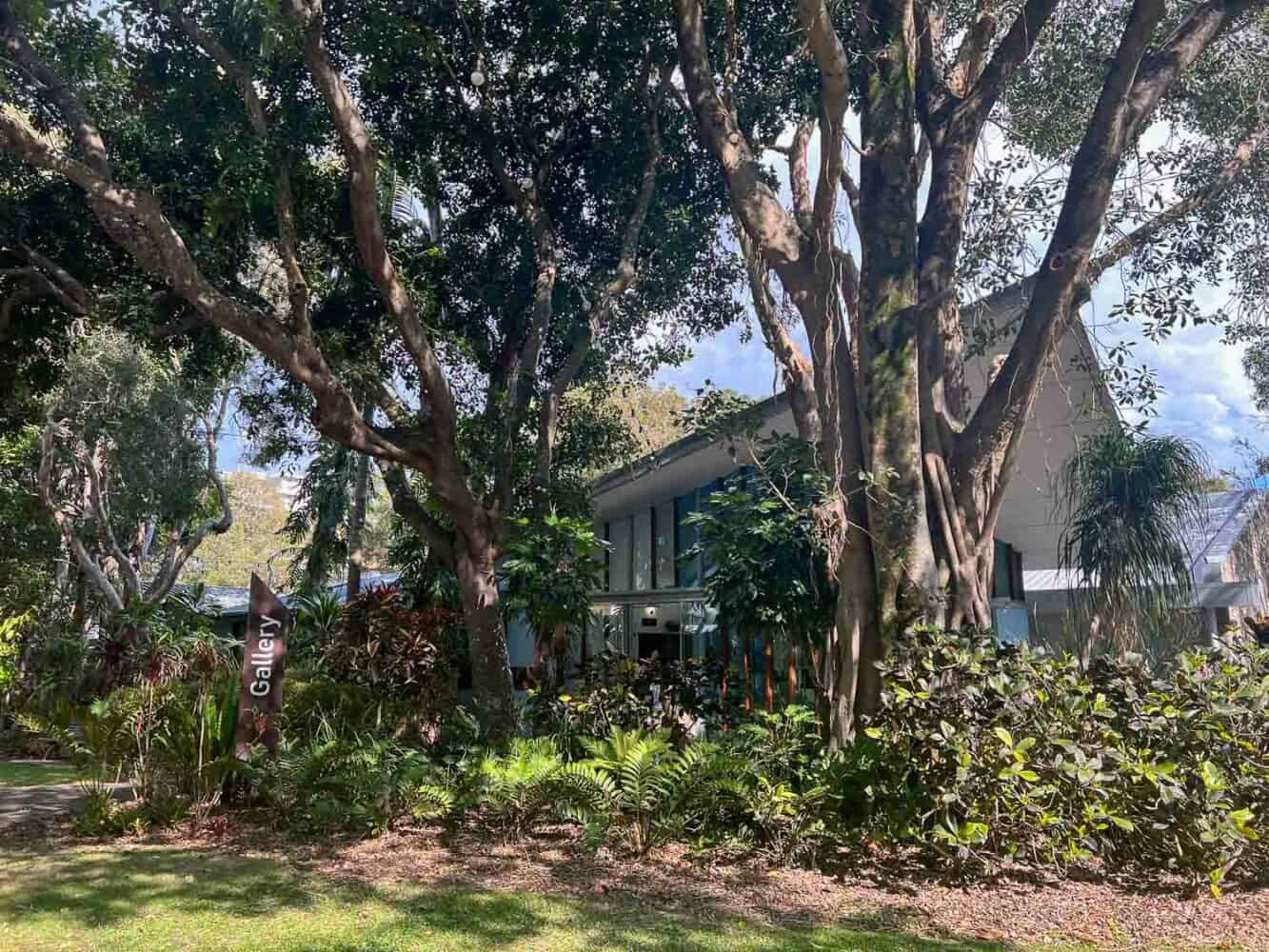 Caloundra's art gallery is just two rooms, but it's free entry and well worth popping by.
Exhibitions change regularly and feature local and national artists. We visited during a wearable art exhibition and saw some very cool creations.
There's also a gift shop featuring locally made ceramics, textiles, jewellery, and toys.
A trip to the gallery is one of the best things to do in Caloundra when it's raining or when you want a break from the sun.
15) Play Giant Chess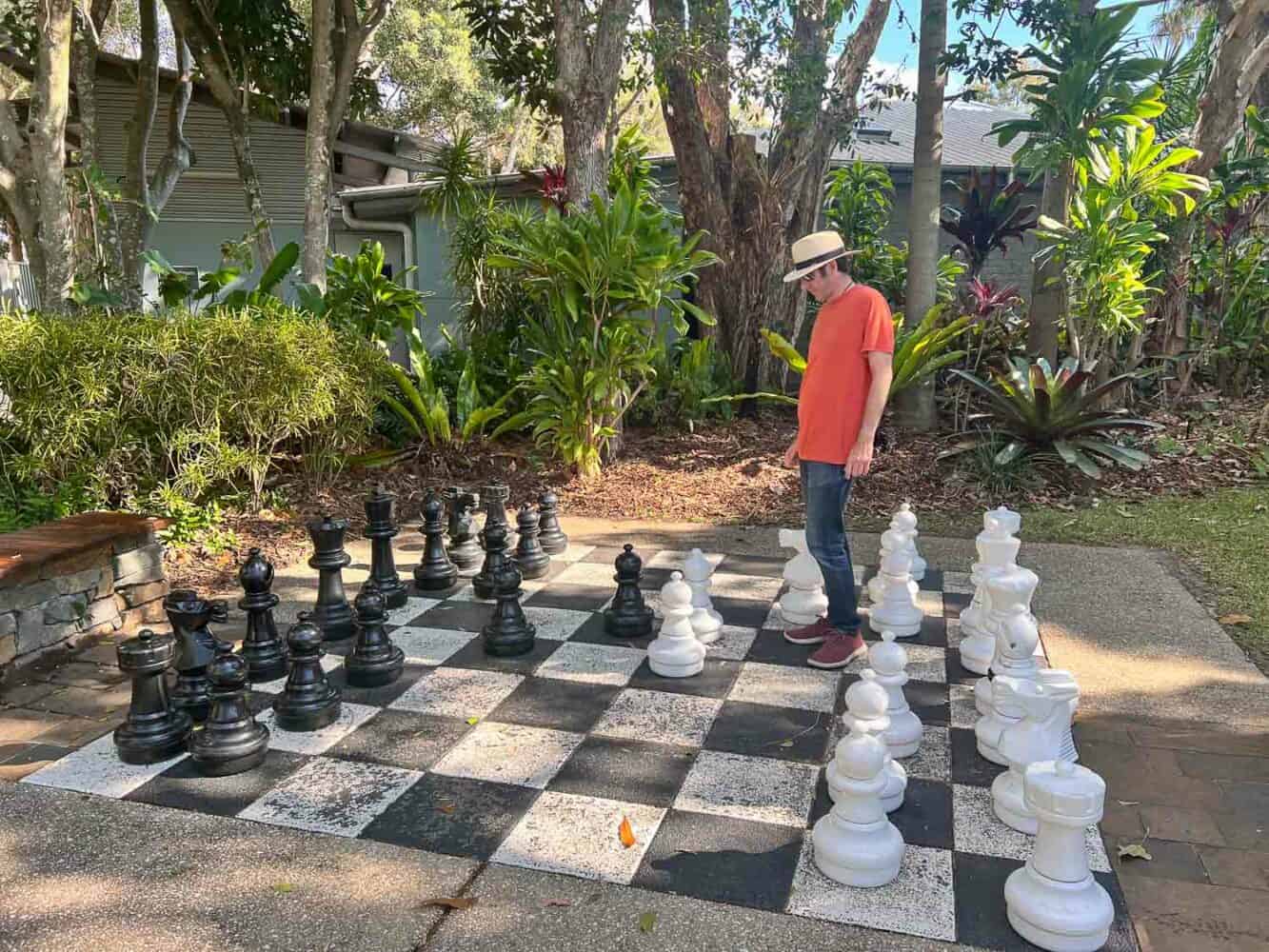 The gallery is located in central Caloundra in Felicity Park, a tiny but lovely park shaded with huge trees.
Outside the gallery, there's an oversized chess board if you fancy a game—another of the many free things to do in Caloundra.
16) Sample the Croissants at The Pastry Lab
The Pastry Lab is an artisanal patisserie and espresso bar that makes delicious flaky croissants and other pastries (everything we tried was fantastic).
It's only a few minutes' walk from Happy Valley (the beach park around the corner from Bulcock Beach) so take your breakfast there to enjoy with a view.
17) Walk or Paddle at Currimundi Lake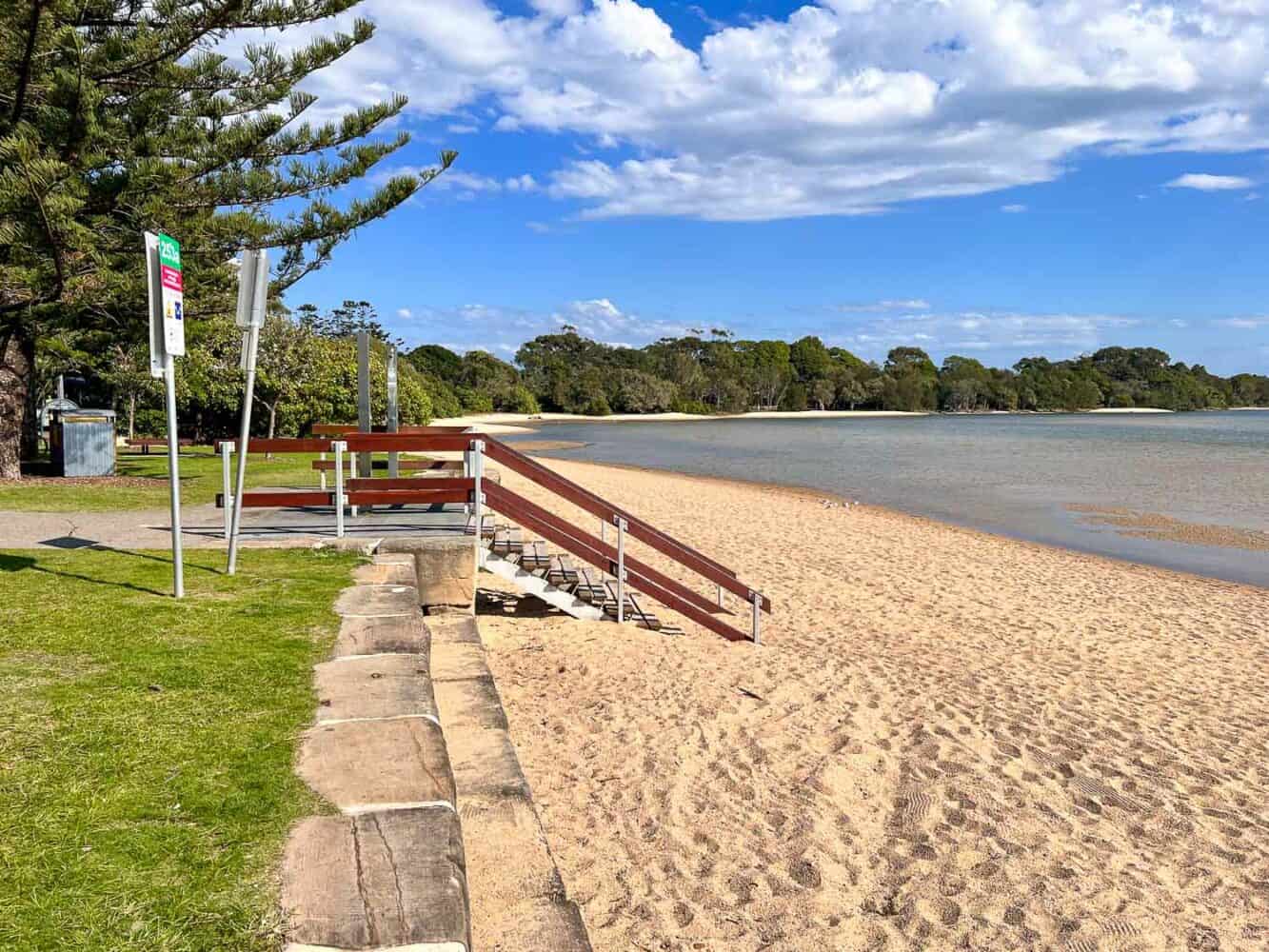 Currimundi is a 10-minute drive from Bulcock Beach on Caloundra's northern boundary.
You could also walk there on the coastal path (see above—it's 3.1km extra from Moffat Beach to Currimundi).
Currimundi Lake is interesting because it's technically an ICOLL, a coastal lake or lagoon that alternates being open or closed to the ocean.
When we visited it was open to the ocean (making it a lagoon), but sometimes the sand closes over the opening and it turns into a lake again. You can tell when this happens because the water becomes brown from the tannins in the leaves of the surrounding trees.
Either way, it's a great spot for an easy stroll or a swim, kayak or paddleboard in the calm waters. You can also surf on the oceanfront beach.
The main hub is on the southeastern corner (we parked outside the cafe Coco's Currimundi) where there are two cafes, a kayak/SUP rental place, and public toilets.
We just did a short walk on the shady trail through the bush next to the lake, but you could do the full 4km loop around the lake by crossing over a bridge at one end and then the sandy section on the other (be prepared for wet feet).
I'd love to return for a paddle as the calm water looked ideal.
18) Enjoy A Drink with an Ocean View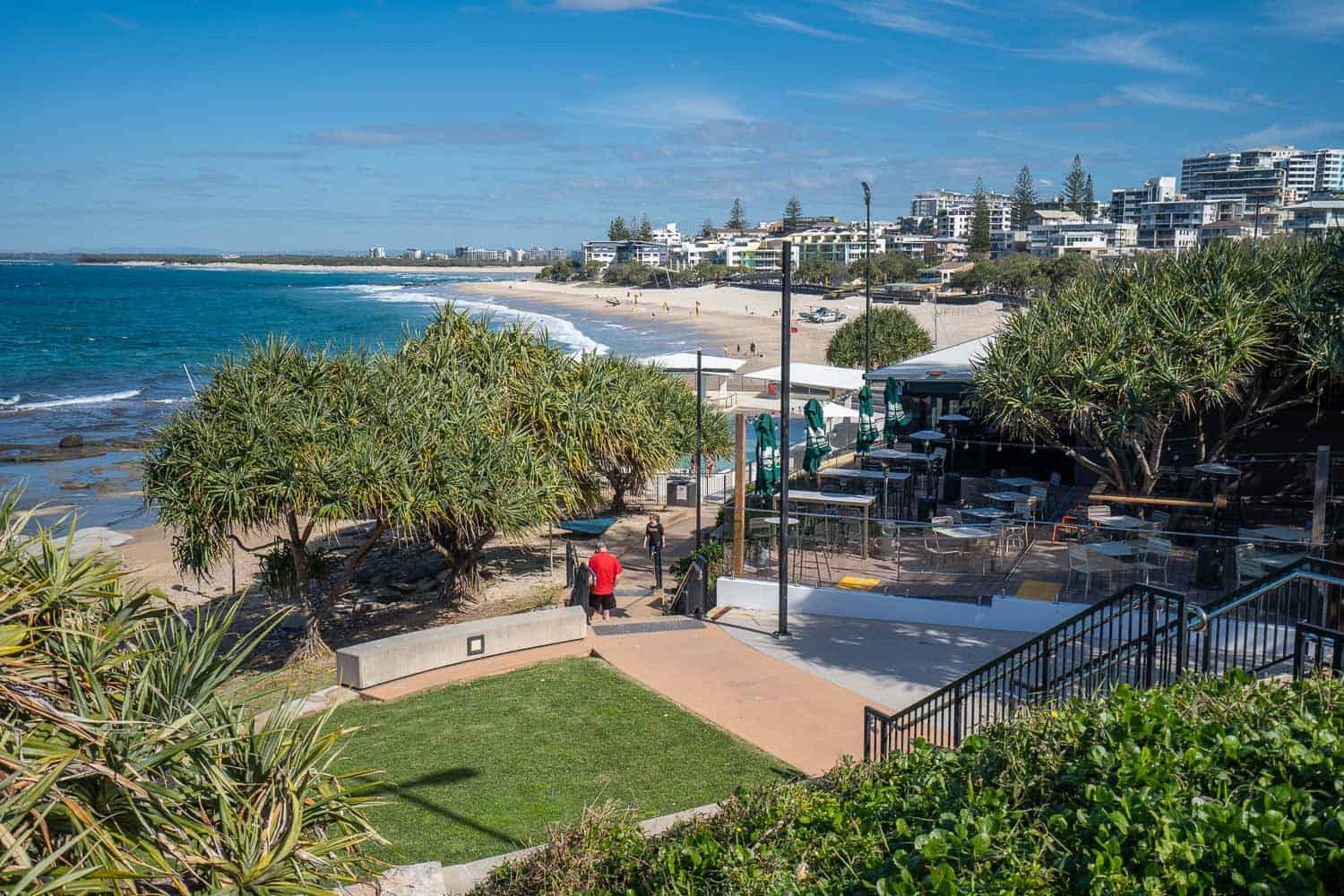 Caloundra has several spots on the water where you can enjoy a drink or meal.
Kings Beach is the best place if you don't want the road between you and the water (see above for some suggestions including the Mets on Kings surf club).
At Bulcock Beach there are a few places with views of the Pumicestone Passage, although they are on the other side of the road.
Simon had an afternoon drink at Drift Bar, which is known for its live music.
We also enjoyed nachos and margaritas at Mexican restaurant Greedy Gringo, which has outdoor seating to take advantage of the views.
19) See the Caloundra Lighthouses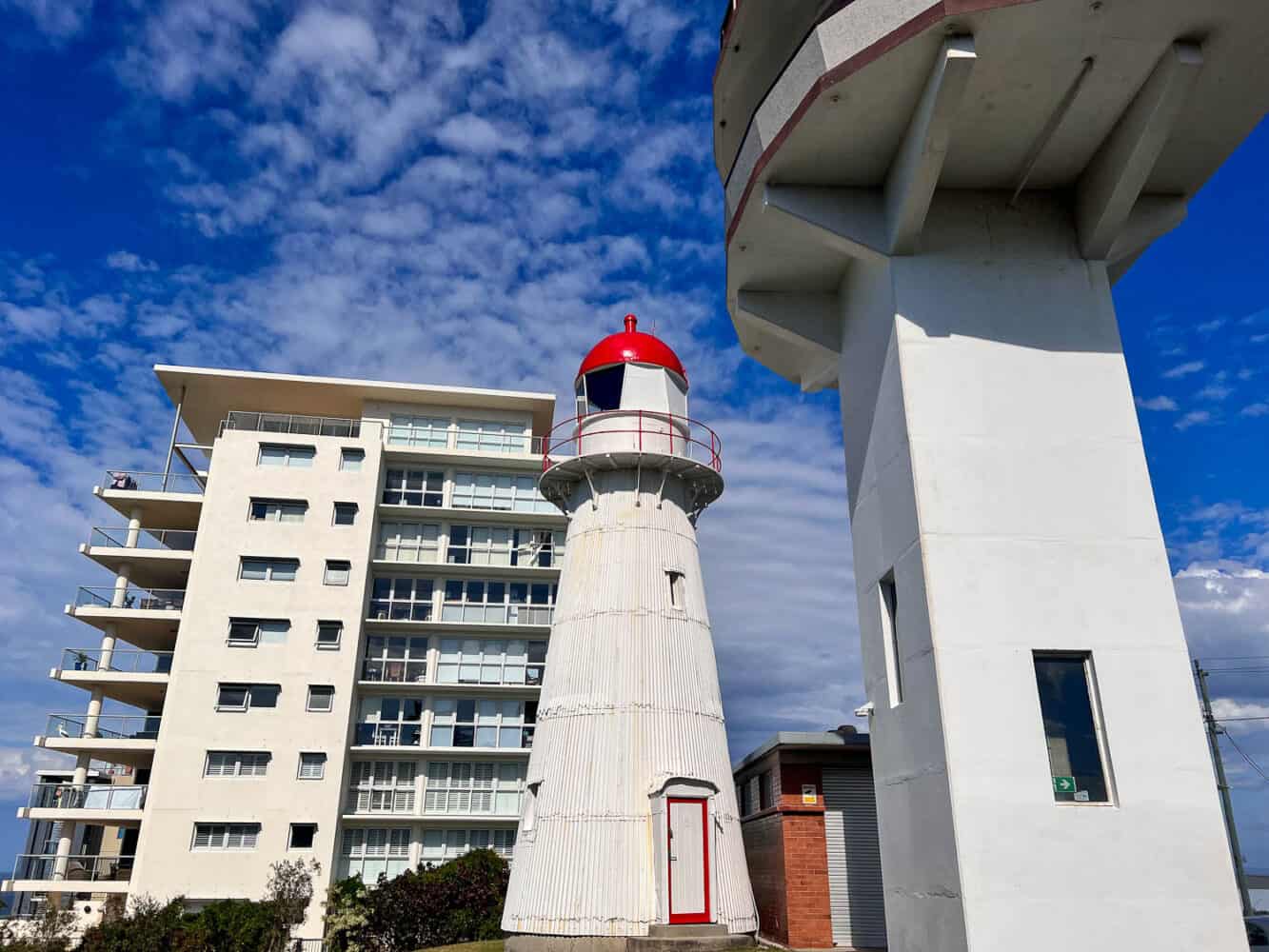 The original Caloundra Lighthouse was built in 1896 and is the oldest surviving building in Caloundra. It looks like the quintessential lighthouse with its white timber frame and red top.
In 1968 a new lighthouse was built with updated technology—it looks very different, more like an airport control tower.
The old lighthouse has been moved a few times, but locals always fight to save it, and it was eventually moved back to its original position.
It's rather strange to see the two lighthouses side by side in a residential area next to an apartment building. The high-rise development in the area is what eventually stopped the second lighthouse from being used.
You can reach the lighthouses with a 10-minute walk uphill from Kings Beach or a short drive (we stopped on our way out of town).
On the 2nd and 4th Saturdays of the month, the lighthouses are open to the public from 9am – 3pm. See the Friends of the Caloundra Lighthouses website for details.
Look out for the iconic Caloundra Lighthouses in various murals around town.
20) Shop at the Caloundra Markets
Sadly, we weren't in town on a market day, but Caloundra's markets are supposed to be excellent.
Caloundra Street Fair runs every Sunday morning on Bulcock Street with over 120 stalls selling street food, fresh produce, and handcrafted art and homewares. There's also live music and activities for kids.
The Caloundra Twilight Market is smaller, but there's still plenty of delicious food and fun entertainment. It takes place on the last Friday of each month (except June and July) from 5-9pm on the Esplanade at Bulcock Beach.
The Currumundi Lake Twilight Market is focused on street food and drinks (bring a blanket to enjoy your food on the lakeside beach) and takes place on the third Friday of each month (except June and July) from 4-8pm.
Things to Do Near Caloundra
There are so many wonderful things to do around Caloundra—here are our top picks.
21) See the Glasshouse Mountains
You can see the craggy peaks of the Glasshouse Mountains from Caloundra, and it's well worth taking a drive inland (perhaps on your way back to Brisbane) for a closer look.
The uniquely shaped mountains rise incongruously from the fairly flat landscape. These plugs are remnants of volcanic activity from over 25 million years ago.
For a quick look, drive up to the Glasshouse Mountains Lookout. There's also a cafe nearby with more amazing views. We stayed here at one of the literal glass houses at Glass on Glasshouse—highly recommended!
If you fancy a hike, the walk up Mt Ngungun took us 25 minutes (one way) and was worth it for the views.
22) Drive the Blackall Range
The best way to experience the Sunshine Coast Hinterland is to drive the Blackall Range Tourist Drive (Route 23), which takes you up on the escarpment with stunning views of the rolling hills and distant ocean.
Read our detailed guide to the best things to do in Sunshine Coast Hinterland for all our tips.
Maleny and Montville are charming small towns on the drive with plenty of places to eat and shop.
Another top stop is the Mary Cairncross Scenic Reserve, where you can do an easy walk through ancient rainforest—we saw lots of pademelons (small kangaroos).
The loop from Caloundra up to Maleny and Montville and back is 85km and takes 1.5 hours (without stops).
You could easily combine this with a hike in the Glasshouse Mountains for a full day out from Caloundra.
If you want to spend longer in the Hinterland, the lake-view treehouses at Secrets on the Lake outside Montville (complete with spa baths and fireplaces) are one of the most romantic and relaxing places we've ever stayed.
We loved it so much, we booked our second stay as soon as we returned from the first!
23) Visit Noosa
There are plenty of Sunshine Coast towns to visit, but my pick is Noosa at the northern end (one hour drive from Caloundra), where we spent three months.
Yes, Noosa is much busier and more expensive than Caloundra, but it has a wonderful holiday vibe set amongst rainforest with beautiful beaches, the lovely Noosa River, and delicious food.
Some of the must do things to do in Noosa are relax on Main Beach, walk the coastal path in Noosa National Park, paddleboard (or hire a boat) on Noosa River, and visit the superb Farmers Market on Sunday mornings (go hungry).
See our guide to the best Noosa restaurants from casual eats to fine dining.
Where to Stay in Caloundra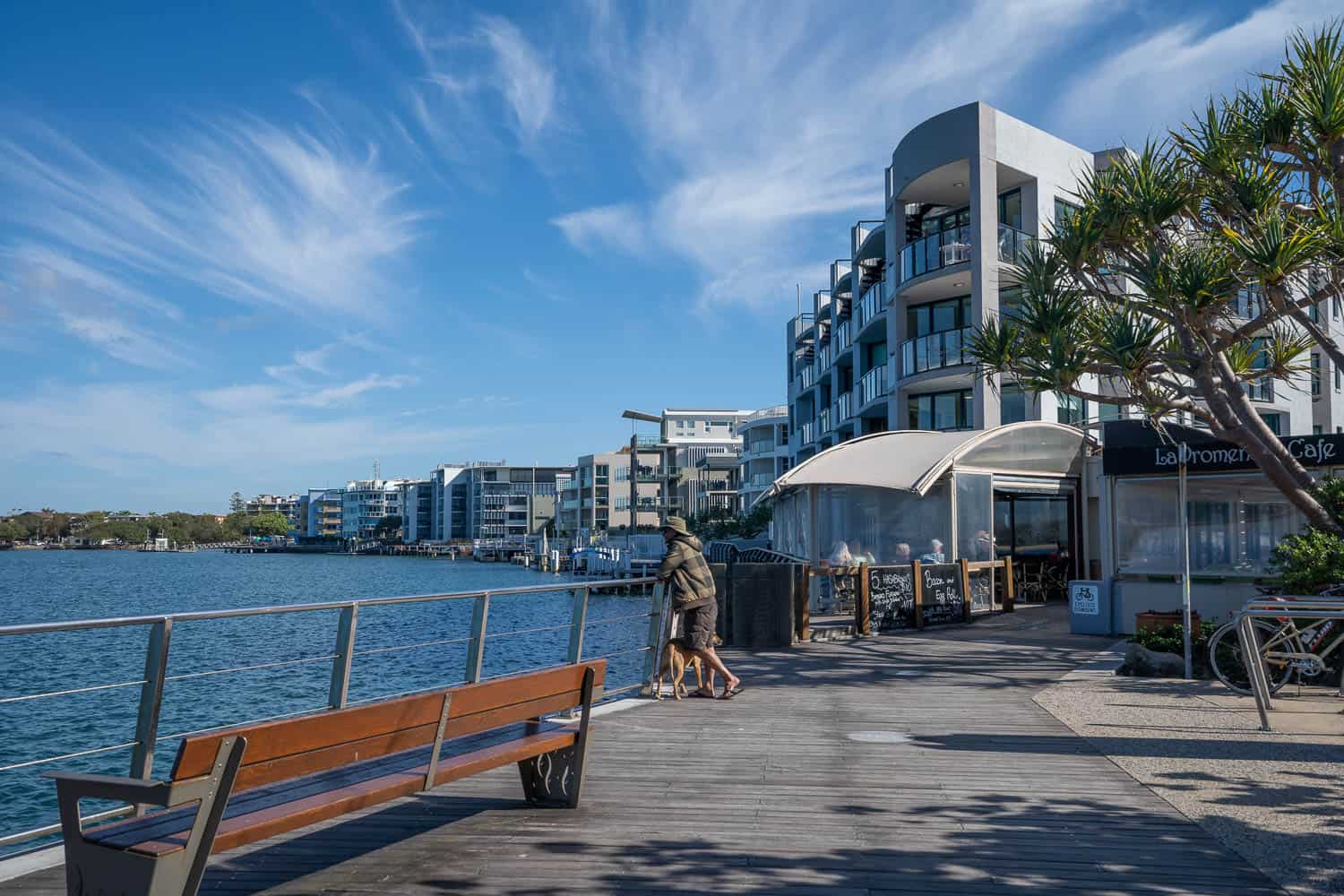 Most accommodation in Caloundra is self-catering apartments ideal for a family beach holiday.
Bulcock Beach and Kings Beach are excellent locations and most of the Caloundra attractions on this list are within walking distance of both.
We stayed at La Promenade, an apartment hotel with the perfect location right on the water next to Bulcock Beach.
The apartments aren't fancy, but they are spacious, good value, and almost all have spa baths, balconies, and the most incredible ocean views. You can even fish from your patio on the ground-floor apartments!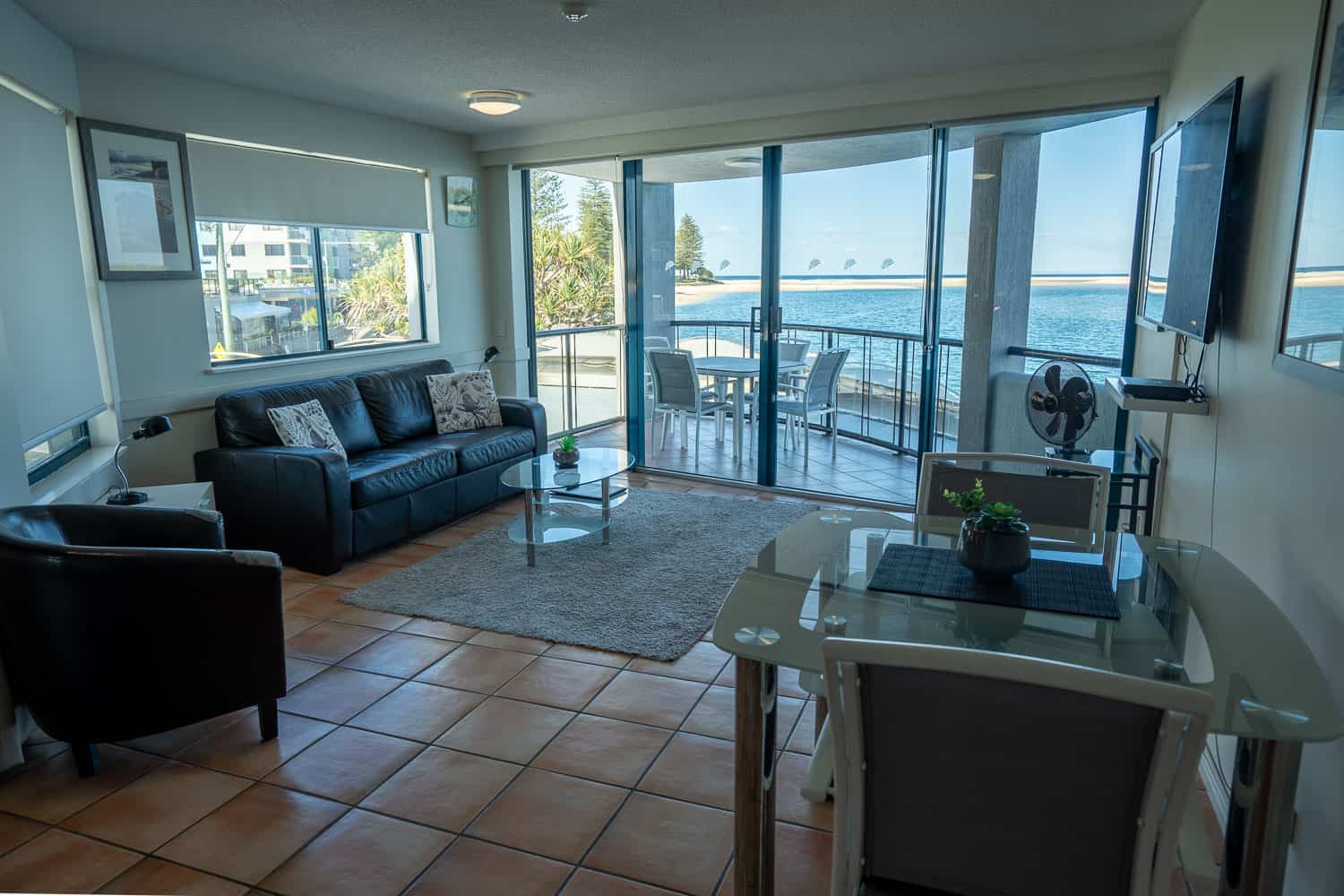 The top-floor apartments also look appealing with their private roof terraces with BBQs, sun loungers, and more amazing views.
I'd request an apartment away from the reception and cafe for a quieter stay. There's also some traffic noise, at least in our 1st-floor corner apartment.
We'd definitely stay here again for the prime location and views for a great price.
Check availability for La Promenade here.
How to Get to Caloundra
The nearest airport to Caloundra is Sunshine Coast Airport (MCY), 30 minutes north of Caloundra, with flights from within Australia and from Auckland, New Zealand.
For international flights, Brisbane Airport (BNE) has more options.
If you want to explore the surrounding areas, Caloundra is best reached with your own vehicle, but you can manage without a car in the town itself.
We walked almost everywhere in Caloundra and got an Uber to Beachtree Distillery.
To get from Brisbane to Caloundra by public transport, take the train to Landsborough and change to a bus to Caloundra. Allow around two hours for the journey.
From either of the airports, it would be easier to get to Caloundra by airport shuttle bus.
Map of Caloundra Queensland
Is Caloundra Worth Visiting?
Caloundra is well worth visiting if you are looking for a low-key, family-friendly beach town on the Sunshine Coast.
While it's not quite as pretty and green as Noosa, it's quieter and more affordable, and there are beautiful beaches, a wonderful coastal walk, and other fun activities. Plus Lamkin Lane is our favourite cafe on the coast!
More Australia Posts
Sunshine Coast, Queensland
Elsewhere in Queensland
Victoria
If you enjoyed this post, pin for later!