This page contains affiliate links. Please read our disclosure for more info.
The Great Ocean Road is one of the most scenic coastal drives in the world.
It's known for the dramatic Twelve Apostles rock stacks that emerge from the ocean, and while they are definitely a highlight, there is so much more to enjoy along the way.
Expect to see beaches, waterfalls, forests, lighthouses, limestone formations, koalas, and if you're lucky, whales.
You can hike, surf, ride helicopters, follow gourmet food trails, wander seaside towns, and much more.
We spent four days self-driving the road from Melbourne, but you could follow our Great Ocean Road itinerary in two or three days if necessary (we had a fair amount of relaxation time).
I include suggestions for shorter trips below and a handy map with everything mentioned.
Do allocate as much time as you can, though—it's a gorgeous part of the world with plenty to see.
Contents
All prices quoted below are in Australian dollars. The current exchange rate is 1 AUD = 0.69 USD and 0.54 GBP.
Where is the Great Ocean Road Drive?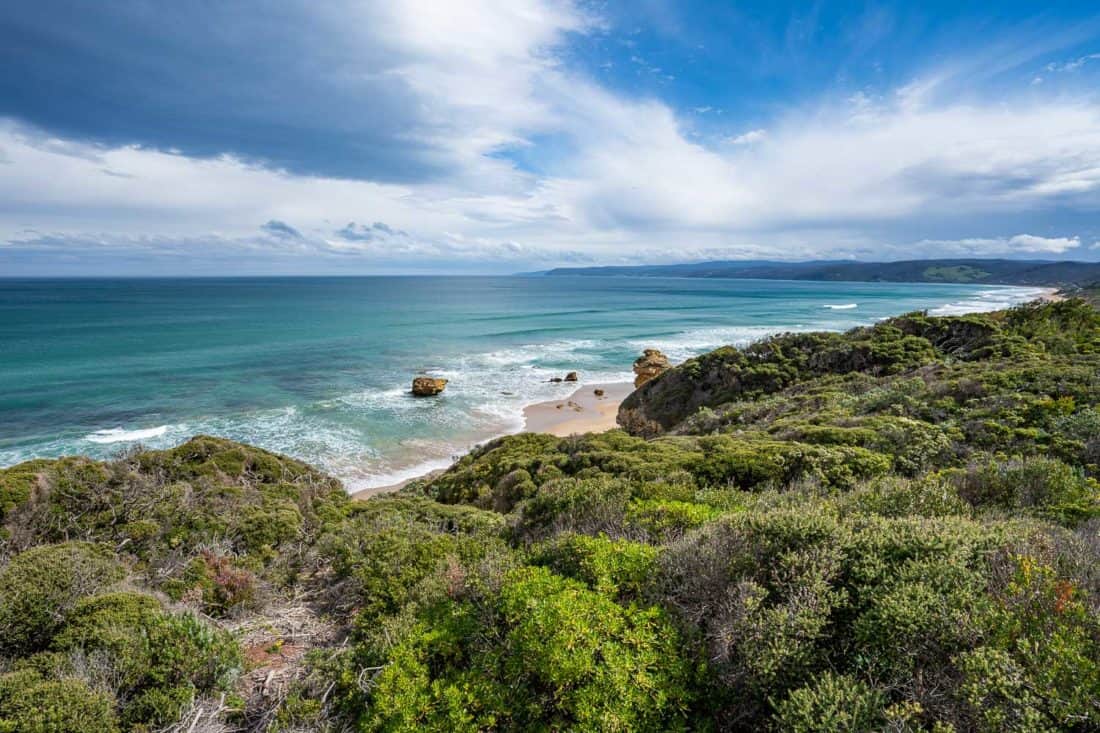 The Great Ocean Road is in the state of Victoria in south-eastern Australia.
The nearest major city is Melbourne and it's a popular day or side trip from there (it's where we visited from).
The Great Ocean Road drive is 243km (151 miles) long. It starts in Torquay, which is 105km (65 miles) from Melbourne, and continues westward along the coast to finish at Allansford near Warrnambool.
You can also travel from Melbourne to Adelaide via the Great Ocean Road, but you'll need at least a few days as it's a distance of nearly 1000km (620 miles).
If you are wondering the best direction to drive the Great Ocean Road, I recommend driving it from east to west, starting in Torquay.
This means you'll be driving on the ocean side of the road and will have the best views and easy access to the many viewpoints.
The only exception is if you only have one day for the drive, which I explain below.
Video: Great Ocean Road Drive
Great Ocean Road Tour vs Self Drive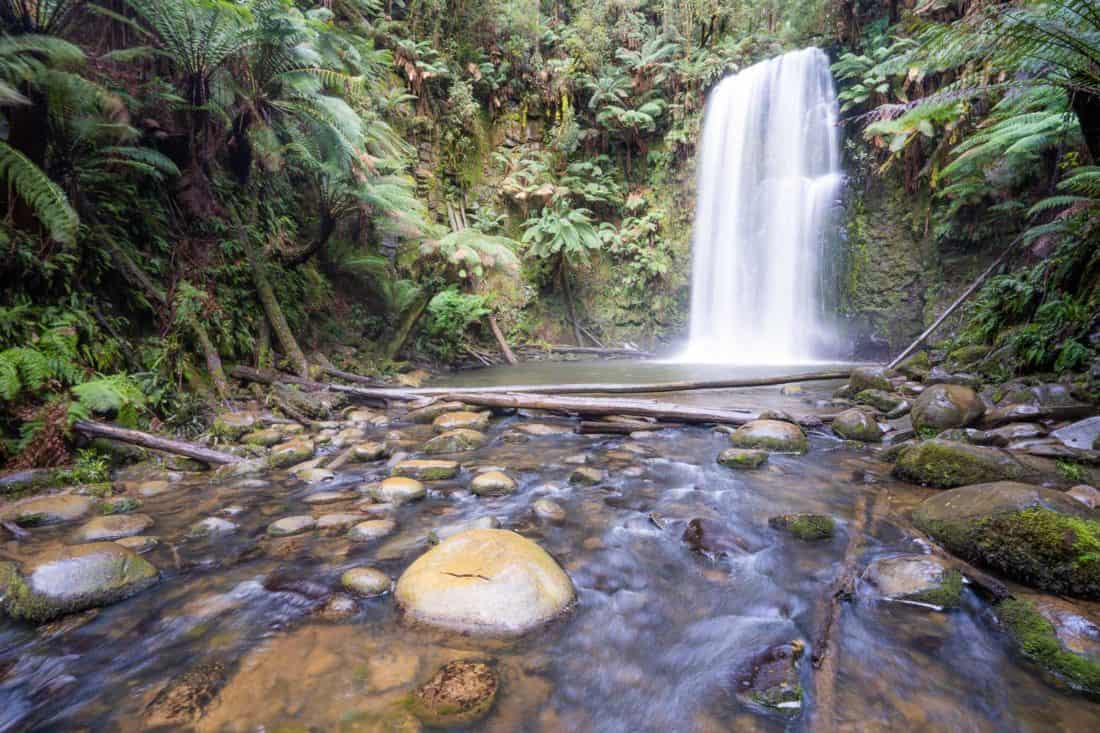 Many people visit the Great Ocean Road as a very long day trip from Melbourne on bus tours.
If possible, I recommend driving yourself and spending at least two nights on the road.
That way you can travel at your own pace, avoid the crowds, and have more time to enjoy the many Great Ocean Road attractions beyond the Twelve Apostles.
We didn't find the drive difficult although it is very windy, which gets tiring after a while (especially if you get travel sick).
It'll take longer than you think due to the many curves and places you'll want to stop to take a photo or visit an attraction.
If you only have one day, it's going to be a long trip, so you might consider taking a tour so that someone else does the driving.
The downside of taking a tour of course is that you'll never escape the crowds. That being said this Great Ocean Road Day Tour is popular.
Or if you'd prefer to visit the Twelve Apostles before most of the other tour buses arrive, this Great Ocean Road Reverse Experience heads directly to the highlights via the inland route then follows the road back to the city.
Great Ocean Road Itinerary Suggestions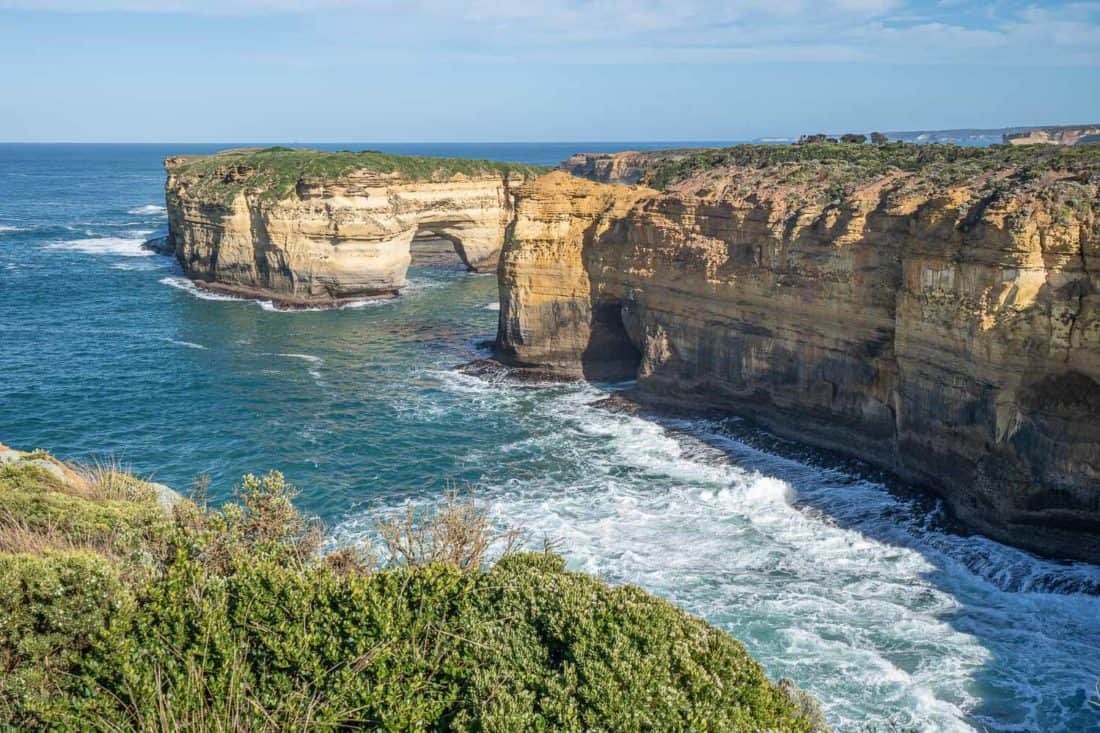 Great Ocean Road Day Trip from Melbourne
If you decide to drive yourself, it's best to drive in the opposite direction of our itinerary below.
Take the inland road via Colac and drive directly to Port Campbell (about 3 hours from Melbourne).
If you start early and arrive by late morning, you'll have a good chance of enjoying the Twelve Apostles without the crowds.
You can then drive back to Melbourne via the Great Ocean Road route and choose the stops you are most interested in.
The best Great Ocean Road stops are in the Port Campbell National Park (including Twelve Apostles) so focus your time here.
The most scenic leg of the drive is further along between Lorne and Apollo Bay.
2 Day Great Ocean Road Itinerary
If you have one night/ two days to spend on the Great Ocean Road, I would follow the strategy above and drive directly to Port Campbell to get there before the tour buses.
You could then drive the Great Ocean Road at a more leisurely pace and spend the night in the Apollo Bay area before continuing back to Melbourne the next day.
While you could drive it in the opposite direction, Port Campbell would be quite far to reach on the coastal route for your overnight stay, and it's a fairly long drive from Apollo Bay to Twelve Apostles for an early morning visit.
3 – 4 Day Great Ocean Road Itinerary
I think 3 days/2 nights is the minimum amount of time for a really enjoyable trip.
You can follow a very similar itinerary to ours, but you'll need to pack more in every day.
I recommend overnight stays near Apollo Bay and Port Campbell as we did.
If you have an extra night, you could add it to either of those locations depending on your interests—Apollo Bay is nearer forests and waterfalls and Port Campbell is nearer the Twelve Apostles and many other beautiful coastal rock formations.
5 Day Great Ocean Road Itinerary (Our Route)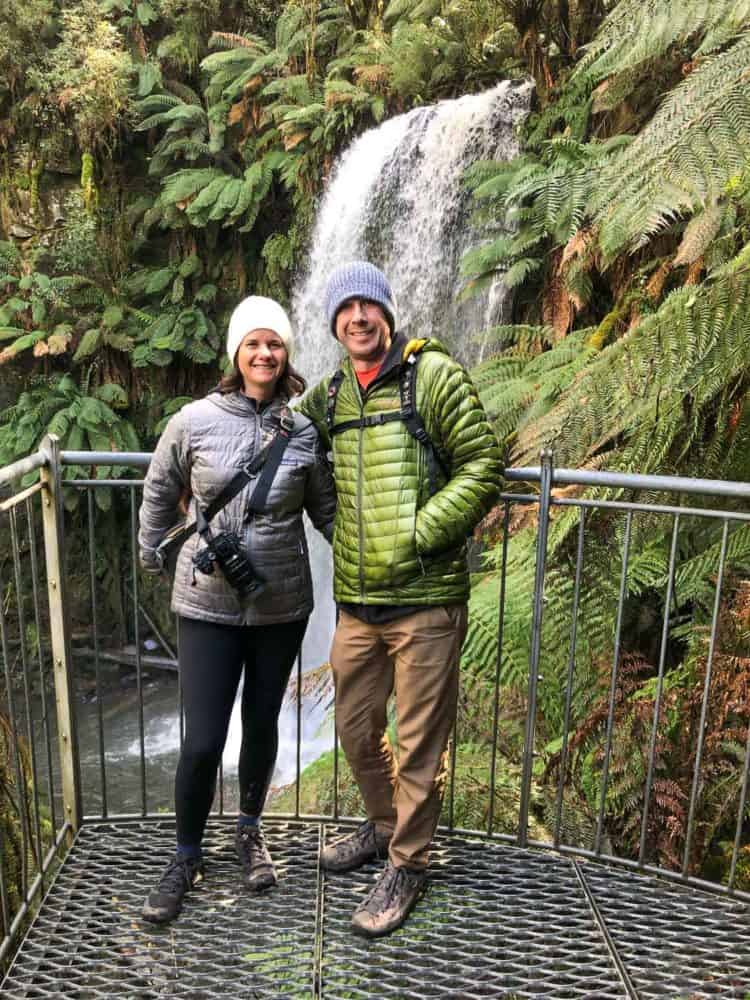 This was our Great Ocean Road route.
We had 4 nights and 4.5 days on the road trip and it was a good amount of time to see the Great Ocean Road highlights, although we could easily have spent longer.
We spent the first two nights in an incredible cottage overlooking the ocean at Points South by the Sea, a 15-minute drive before Apollo Bay.
We did not want to leave, but Port Campbell made a much more convenient base for exploring the Twelve Apostles and surrounding attractions—we're glad we had a full day and two nights here.
You can see our detailed GOR self-drive itinerary below.
Longer Great Ocean Road Trips
If we'd had an extra night, we'd have spent it at Points South by the Sea just so we could have a relaxation day in our cottage enjoying the view and local walks.
It would also be tempting to continue down past the end of the road to Warrnambool or Port Fairy for a night and visit the nearby Tower Hill Wildlife Reserve for a chance to see koalas, kangaroos, and emu in the wild.
Many people also continue inland to the Grampians National Park, a fantastic hiking and wildlife location, before returning to Melbourne via the old gold mining town of Ballarat.
If you are looking for other ideas on places to visit in Victoria, see our guide to the best day trips from Melbourne.
Great Ocean Road Accommodation
If you are on a budget, the cheapest way to do a Great Ocean Road Trip is by camping.
There are many free campsites and serviced holiday parks along the route, and you can either pitch your own tent or drive a campervan.
We visited in mid-September (early spring) and there was frost on our car one morning, so tent camping is probably best in the summer.
We were more interested in luxury accommodation on the Great Ocean Road as we wanted a place where we could relax and enjoy the views between sightseeing trips.
There are more motels than boutique hotels in the area. I found holiday rental sites had the most interesting options and ended up booking two lovely cottages with stunning views.
Apollo Bay Area
Points South by the Sea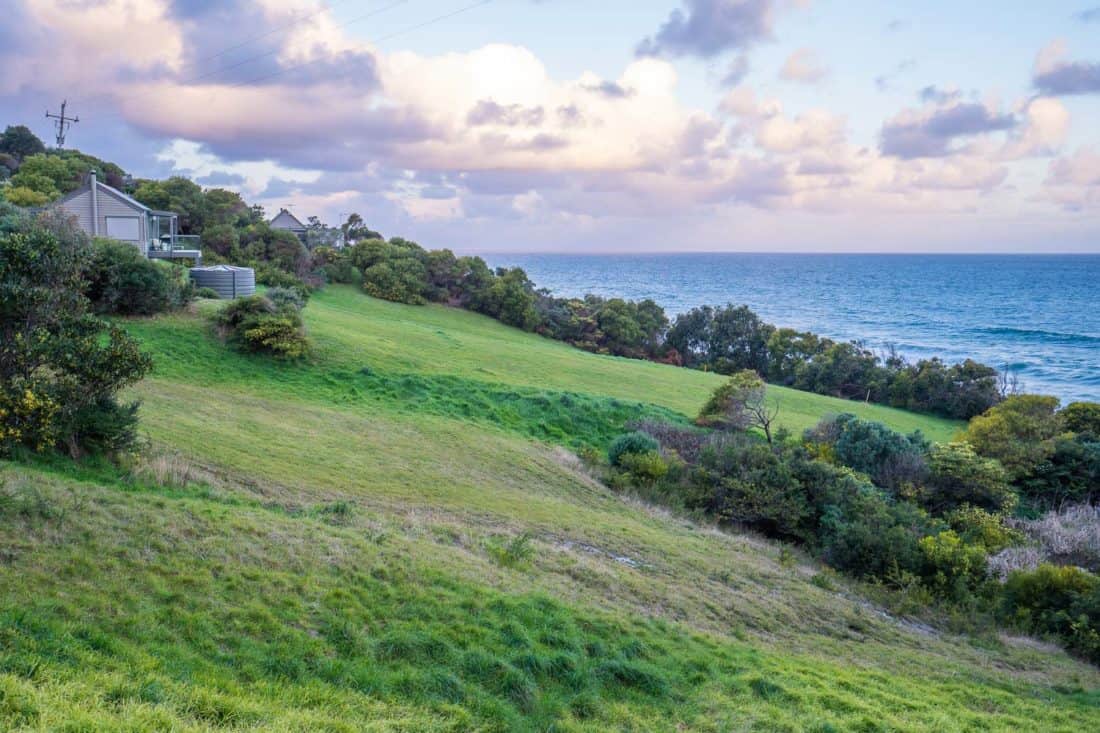 I was originally looking for accommodation in Apollo Bay, but I'm really glad we ended up 15 minutes outside of town in the hamlet of Wongarra.
The quieter location meant we could really enjoy the natural beauty of the area.
We stayed in a luxury cottage at Points South by the Sea and it was perfect.
The ocean views are incredible and we could have happily spent all day curled up on the window seat with the fire roaring watching the waves crash down below. (In fact, we returned a month later to do just that!).
See below for a more detailed review.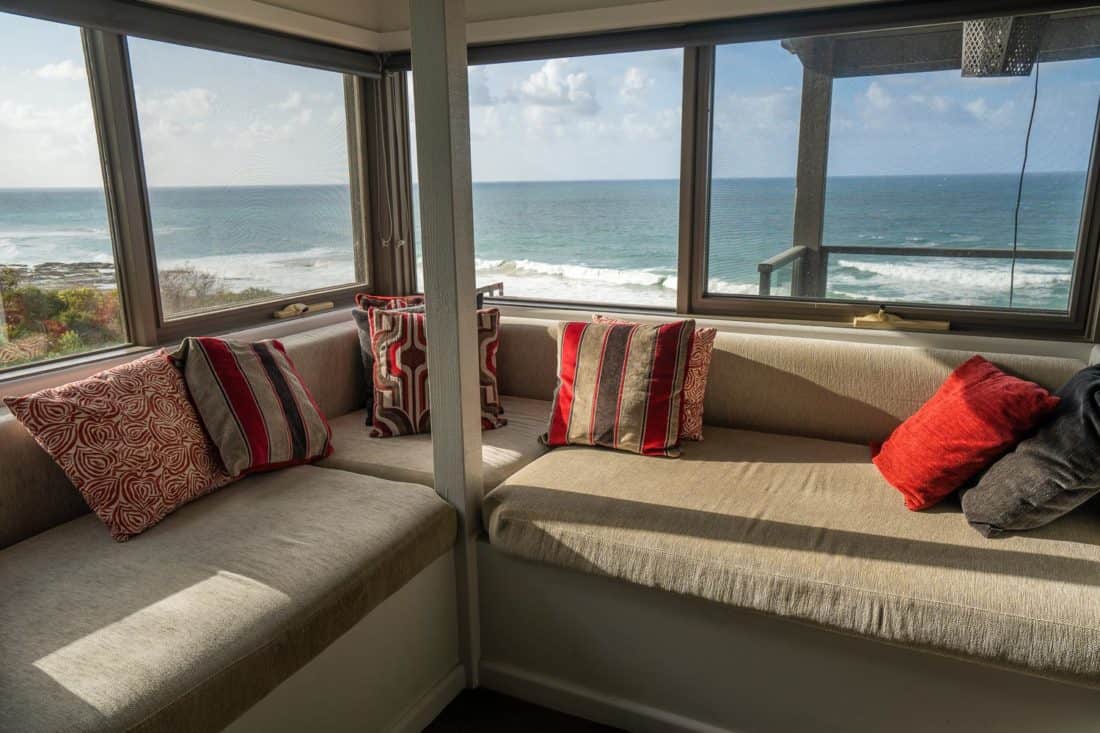 Alternative Places to Stay Near Apollo Bay
Sri Menanti Cottage at Impiana – High up on a hill, this lovely two-bedroom cottage has stunning views down to Apollo Bay and the coastline. It's great value.
Modern Home in the Heart of Apollo Bay – An affordable, one-bedroom cottage in the centre of town, just one block from the Great Ocean Road and beach.
Apollo Bay Eco YHA

– This budget-friendly hostel has dorms and private rooms and it's in the centre of town with a fantastic roof terrace.
There are plenty more accommodation options in Apollo Bay—search on Vrbo for holiday rentals or Booking for hotels, motels and B&Bs.
Port Campbell
Anchors at Port Campbell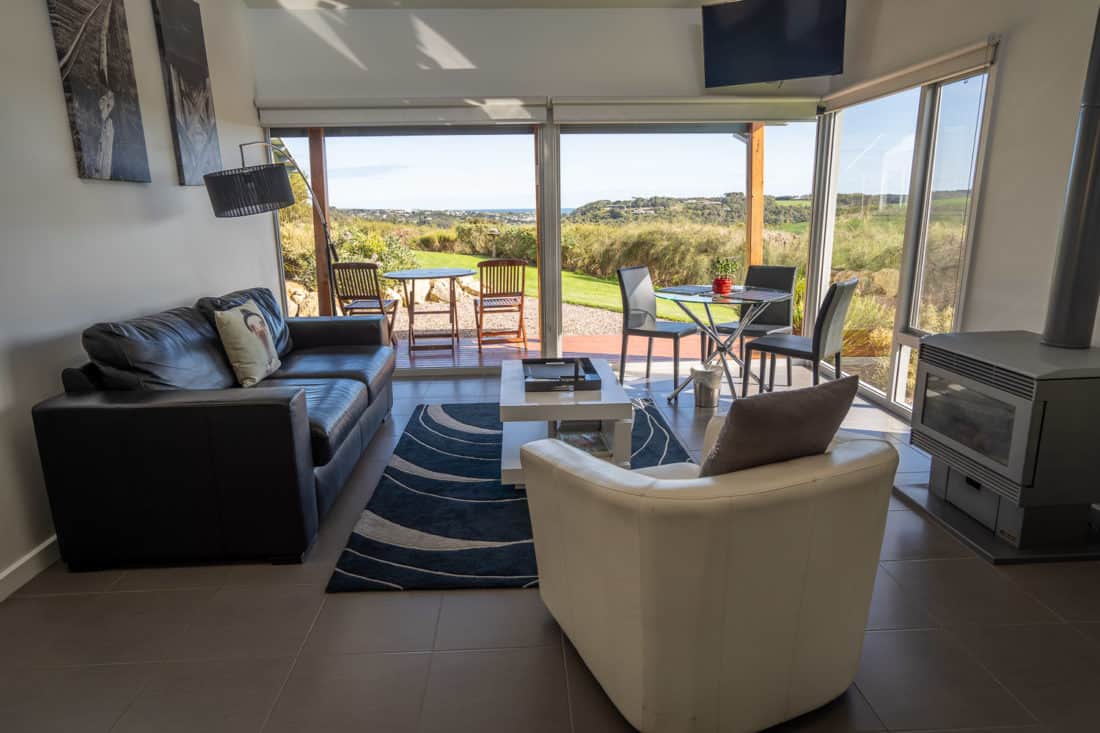 We stayed in one of the modern, luxury cottages at Anchors at Port Campbell on a farm a few kilometres inland from Port Campbell.
There are beautiful countryside and ocean views and all the comforts you need including a well-equipped kitchen, spa bath, and gas log fire.
See below for a more detailed review.
Alternative Places to Stay in Port Campbell
There are a few hostels and B&Bs in the centre of this small town—Twelve Apostles Port Campbell Bed & Breakfast is 600 metres from Port Campbell beach, while Sow and Piglets Guesthouse has dorms and rooms (and a brewery next door).
Search for more options in Port Campbell here.
Great Ocean Road Drive Tips
We rented a car from the local company Advance Car Rental in Melbourne—a Toyota Corolla cost us $158 for six days.
They have cheaper compact cars and you can drive the route in any vehicle.
Picking up and dropping off the car was quick and easy, and they are near Queen Victoria Market where you can pick up supplies for the trip.
You can also compare many rental companies and find the cheapest cars at Rental Cars.
Don't forget that in Australia you drive on the left. There are signs reminding you along the road as tourists driving the wrong way is a common problem.
Avoid driving after dark as the roads are windy and unlit and there's the danger of hitting wildlife.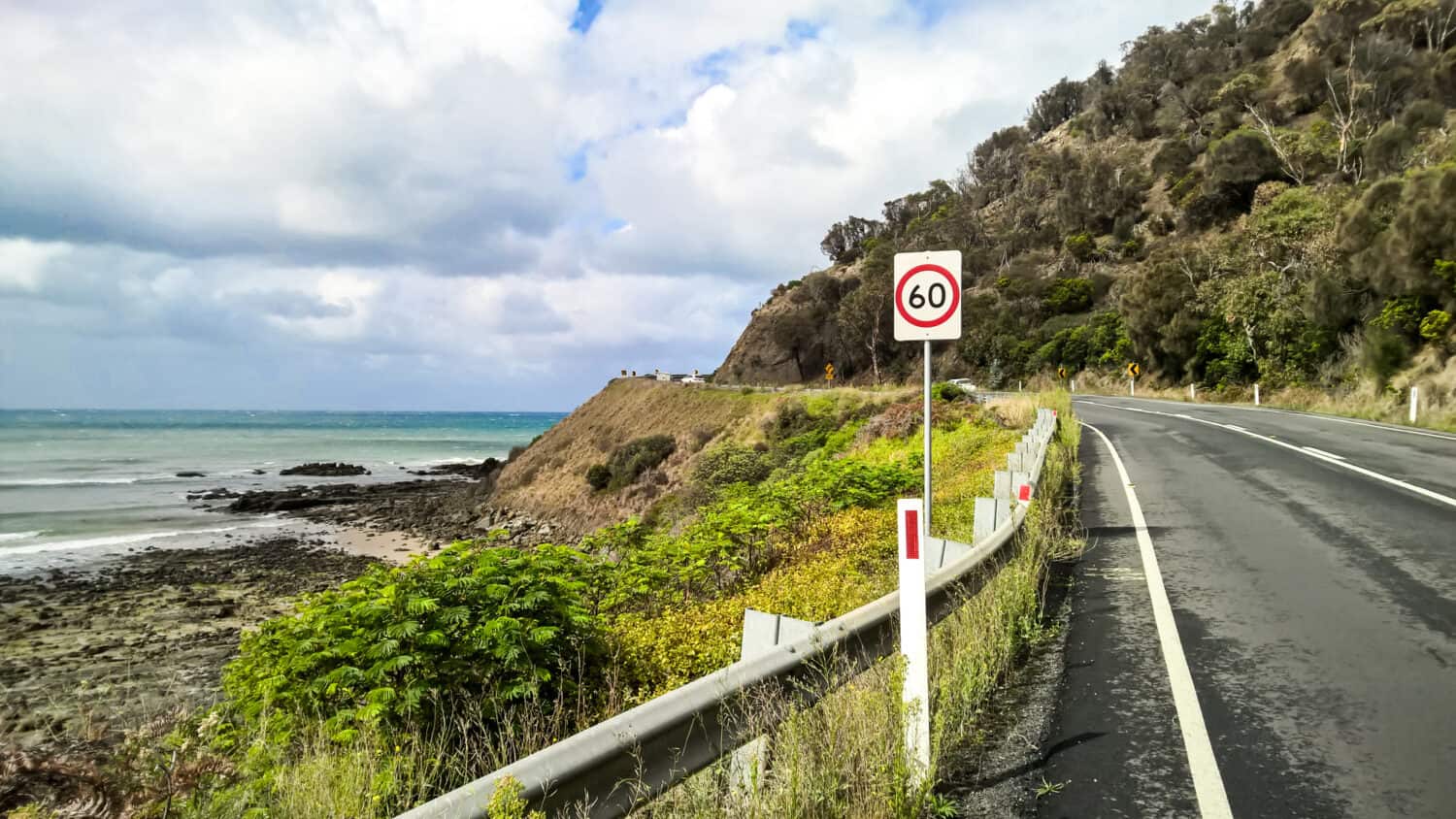 I recommend packing a water bottle (we always travel with a few Vapur flexible bottles as they are light and foldable when empty) and a travel coffee mug or thermos.
Simon had a reusable coffee cup but wished he'd had a larger flask for our early start at Twelve Apostles (the kiosk there doesn't open until 10am).
Wear shoes that are comfortable for walking. Most of the time I was fine in my Allbirds wool runners, but I was glad for hiking shoes on the muddy trails to the waterfalls in Great Otway National Park.
You can do a Great Ocean Road Trip at any time of year. It's most popular in summer (December to February) when you can enjoy the beaches.
Winter (June to August) can be chilly, but you'll have the chance to see whales, lower crowds, and can cosy up by the fire.
We visited in early spring (mid-September) and while we weren't going to do any swimming, it was good walking weather. We had two partly rainy days and the rest were sunny with varied temperatures.
One day we had frost on the car in the morning but by the afternoon were eating ice cream in the sun with 20ºC temperatures.
Great Ocean Road Map of Attractions
This map shows the best things to see on the Great Ocean Road drive and everything mentioned in the post.
Below I've included driving times between stops and how long we spent at each destination. Your stop times will vary—we tend to walk fast but take a lot of photos.
Day 1: Melbourne to Apollo Bay
We left Melbourne at 11 am, but I recommend an earlier start as we did feel a little rushed and there's lots to see on the way to Apollo Bay.
We arrived at our accommodation at 4.40pm.
We didn't bother stopping in Torquay where the Great Ocean Road officially starts, but you might want to visit if you're interested in surf wear.
Bells Beach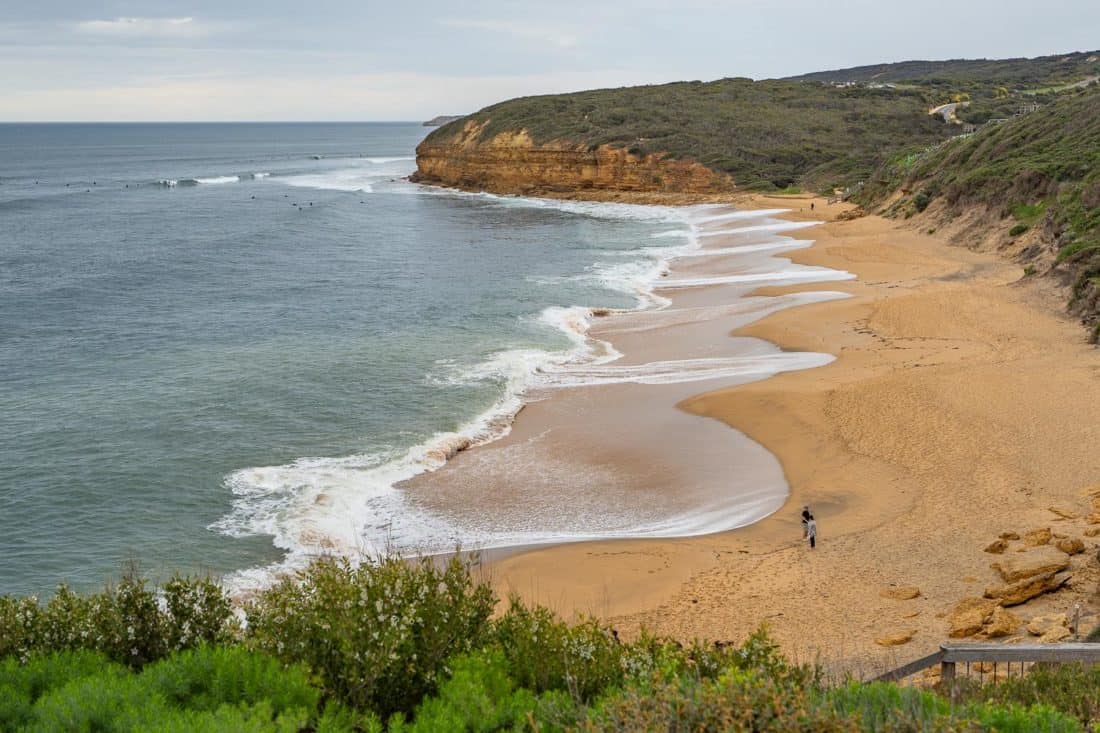 Journey Time: 1.5 hours from Melbourne
Stop Time: 10 minutes
Our first stop was just outside Torquay and was a slight detour off the Great Ocean Road. Bells Beach is a famous surf beach with huge waves and is home to the Rip Curl Pro surfing competition in April.
It's worth a quick stop to admire the surfers riding the waves from the viewing platform above.
You can also walk down the steps and along the beach but as it was raining we skipped that.
Great Ocean Road Chocolaterie
Journey Time: 10 minutes from Bells Beach
Stop Time: 30 minutes
We didn't expect to spend so long at a chocolate shop, but this place is huge!
You can try chocolate buttons for free as you enter and then browse the massive selection of treats including lots of unusual flavours.
It's not the best quality chocolate, but we still enjoyed it. There's also a cafe if you want a longer break.
Split Point Lighthouse at Aireys Inlet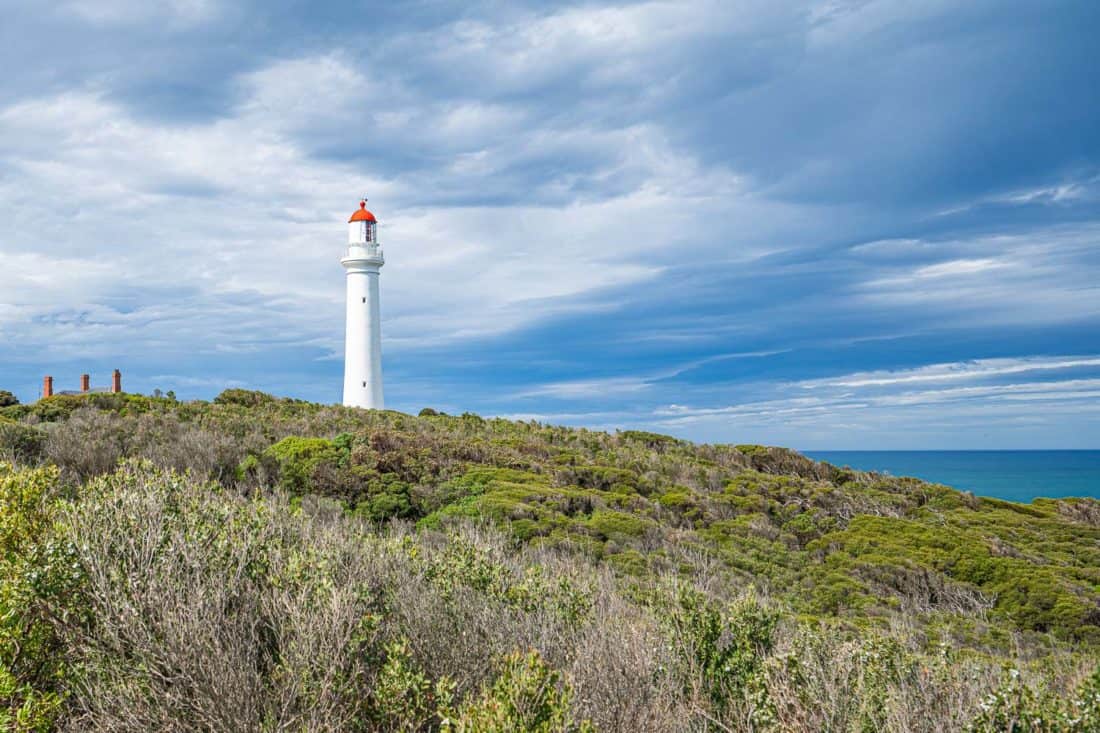 Journey Time: 20 minutes from Chocolaterie
Stop Time: 25 minutes
Anyone remember the 90s TV show Round the Twist? This is where the exterior scenes of the family's lighthouse home were filmed!
Even if you've never seen the show, it's worth a stop as it's a quintessential lighthouse and there are beautiful coastal views.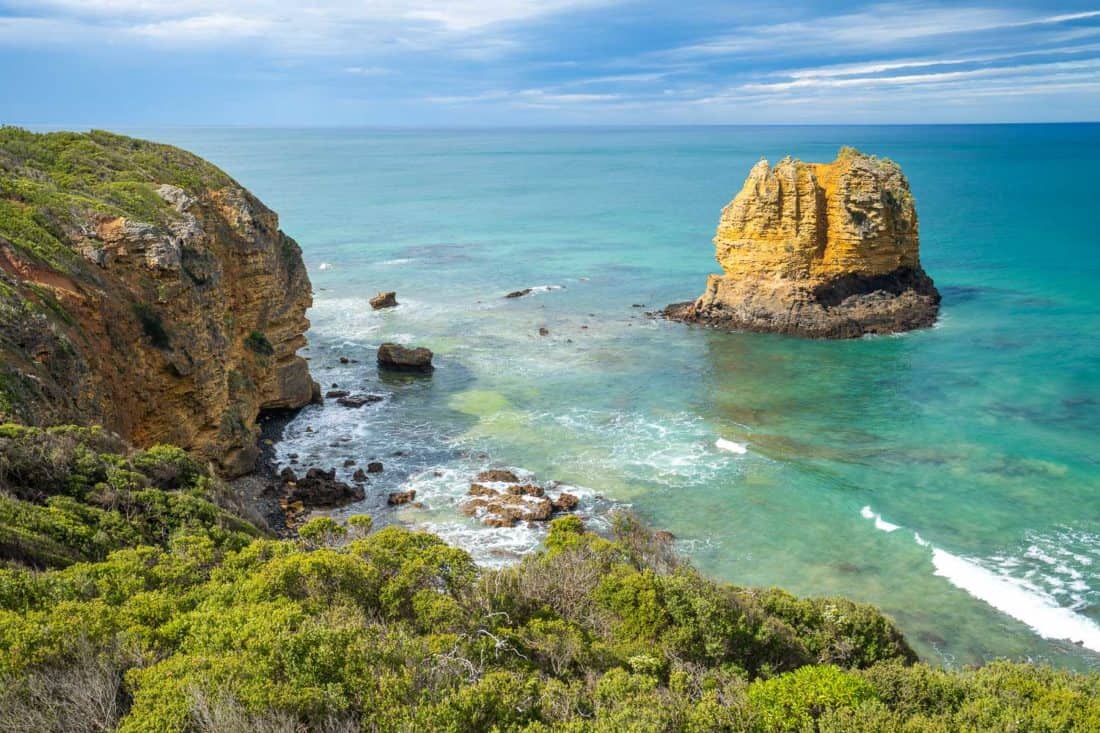 You need to park just off the road and then walk up the hill to the lighthouse.
There are some short trails you can follow, but we didn't have time to go far. (I would have liked to stay longer but we were getting hungry for lunch as it was after 2pm).
Split Point Lighthouse is still a functioning lighthouse, so you can only go inside on a tour.
We didn't do this but tours are open between 10am until 1.30pm. Guided tours last 30–45 minutes and self-guided tours you can take as long as you need. All tours cost $10.
Another good stop in Aireys Inlet is Fairhaven Beach. It's a beautiful long sweep of sand that would be great for a walk.
While driving to Lorne we had our first Australian wildlife experience—an echidna crossing the road. We had no idea what it was at first although its spikes made us guess it was a porcupine. But it has a strange beak and is one of the few mammals that lay eggs.
Lorne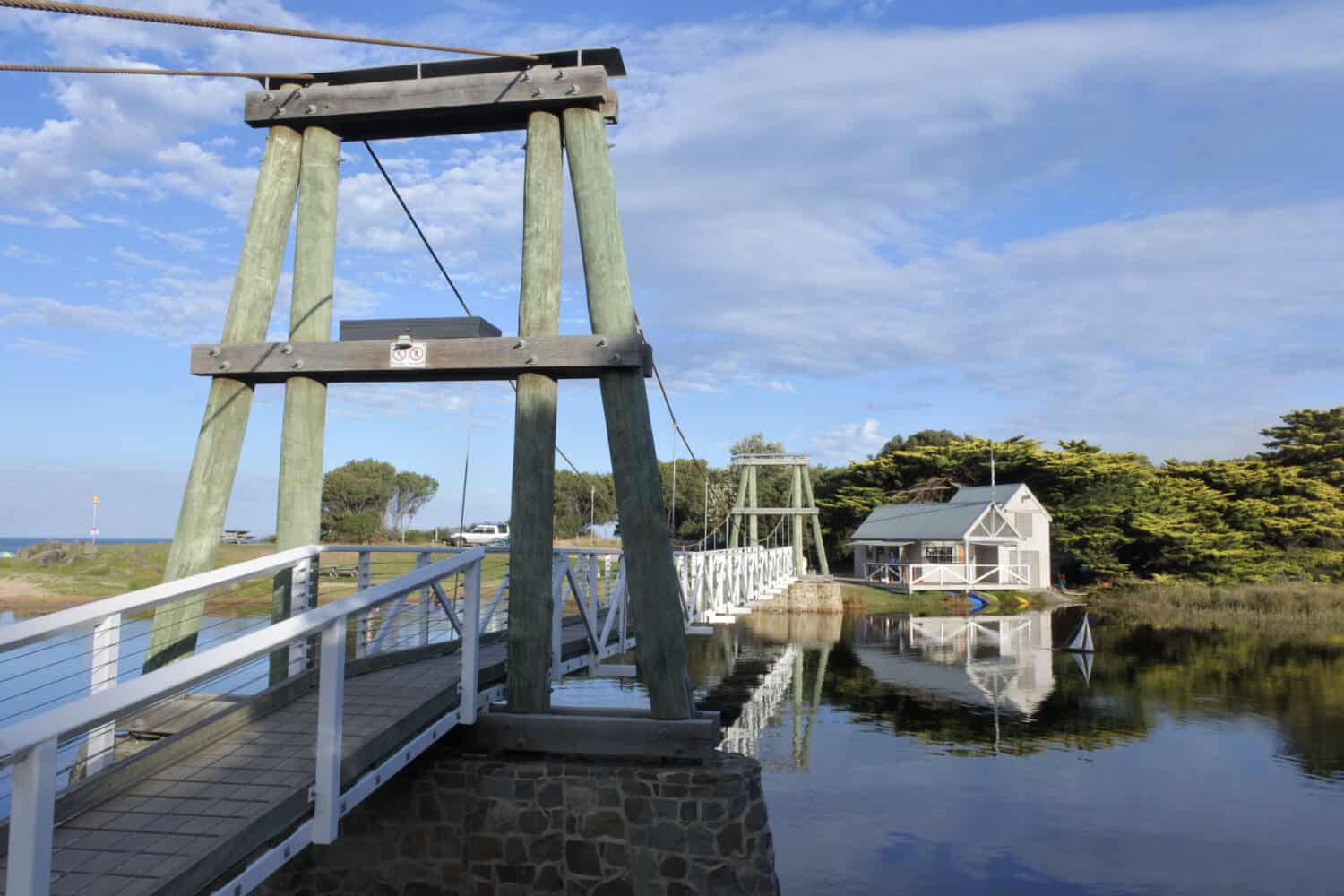 Journey Time: 25 minutes from Aireys Inlet
Stop Time: 50 minutes
Lorne is one of the most popular towns on a Great Ocean Road Trip.
If you had plenty of time, you might want to spend a night here as there are some beautiful beaches and waterfalls nearby.
By the time we arrived it was pouring with rain, so we didn't see much and just had lunch at The Bottle of Milk.
It's a casual, diner type place on the seafront strip that's known for its burgers. There are several veggie options and the lentil burger was decent, if nothing special.
Other lunch options are The Swingbridge Cafe right on the beach or Lorne Central which does classic brunch options.
We were also planning to stop at Teddy's Lookout on the way out of town, but visibility was so low we didn't bother.
The drive from Lorne to Apollo Bay is the most scenic section of the Great Ocean Road. It hugs the coastline with many twists and turns and stunning ocean views.
If it hadn't been raining so heavily, I'm sure we would have stopped often for photos.
Kennett River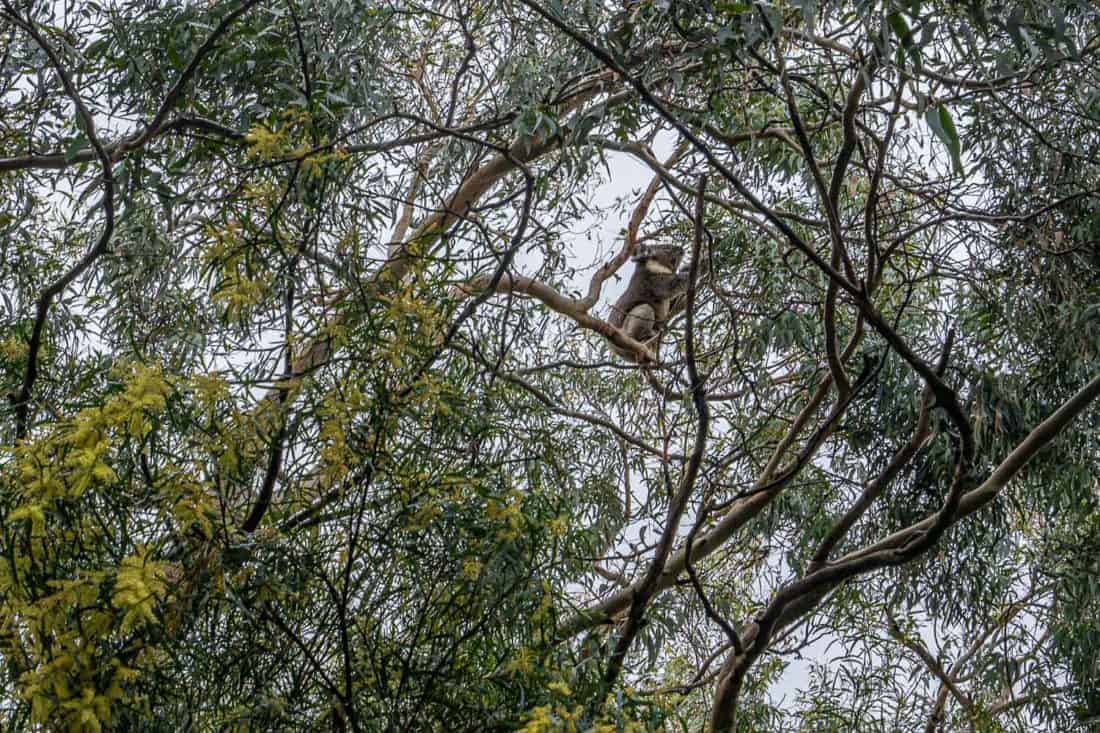 Journey Time: 40 minutes from Lorne
Stop Time: 15 minutes
Kennett River is known as one of the best spots on the Great Ocean Road to see koalas, and it didn't disappoint.
They live in the eucalyptus trees behind the caravan park and are not hard to find.
Park at the Kafe Koala and follow the crowds. It's rather a touristy experience as the tour buses stop here and the cafe sells bird feed—the colourful parrots are so tame they hop all over the tourists.
We do not recommend feeding wild birds, but it is exciting to see the koalas, and if you walk further down Grey River Rd it gets quieter.
We saw two koalas—one sleeping (which they do for up to 22 hours a day) and one munching on leaves (which they do for the rest of the time).
They are impossibly cute and fluffy and we couldn't quite believe they were real.
When you continue down the road, the Cape Patton Lookout Point is a good place for views.
Where to Stay in Apollo Bay: Points South by the Sea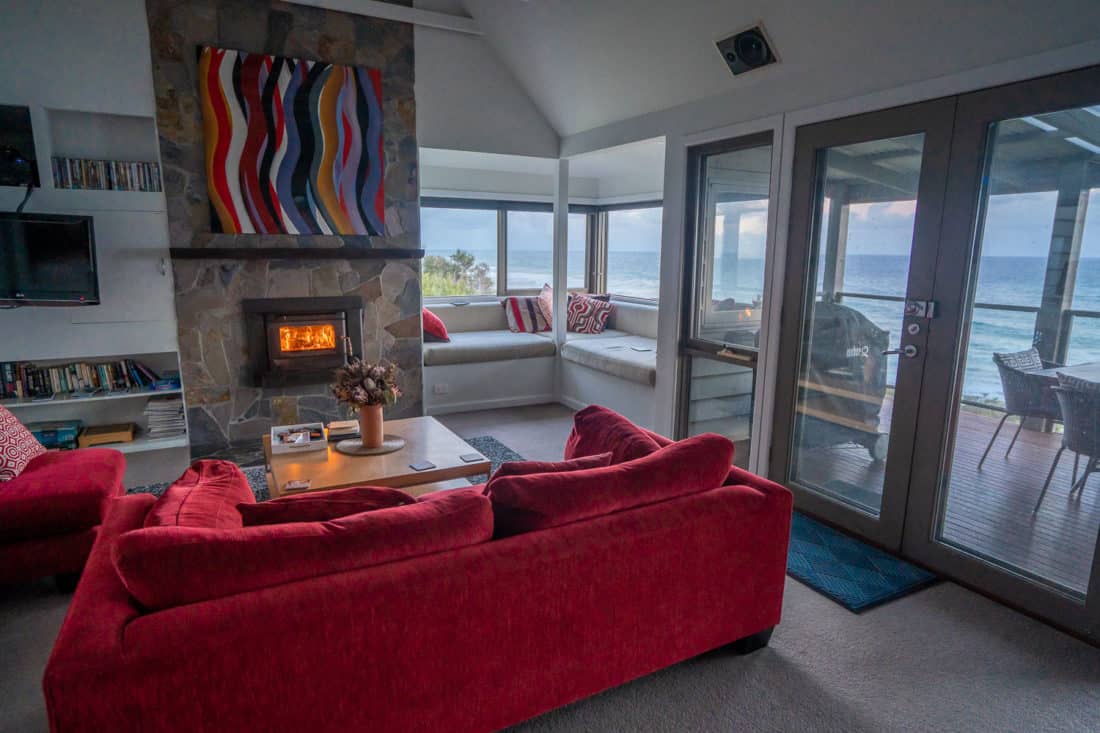 15 minutes down the road from Kennett River is Wongarra, where we spent the next two nights at Points South by the Sea.
It's barely even a hamlet, just a collection of houses and farms spread along the coast, but the bigger town Apollo Bay is only 15 minutes away. We loved the quiet location.
Points South by the Sea is the perfect place to stay on the Great Ocean Road; in fact, it's one of our favourite places we've ever stayed.
It consists of three cottages on a 160-acre farm owned by Bryan and Joan. Each cottage feels very private and has outstanding ocean views.
Although the property is along the road itself, the cottages are perched upon the cliffside and it feels wonderfully tranquil with only the sound of crashing waves below.
You are free to wander around the farm to try to see koalas and wallabies or head down to the lovely private beach for a walk or surf. We saw an adorable mother and baby koala!
We stayed in Cottage 1 and didn't want to leave. The ocean views from almost everywhere in the cottage (including the bed) were just amazing.
While all the cottages have superb views, I recommend requesting Cottage 1 as it has the best views down to Cape Patton.
The large corner window seat is the perfect place to enjoy the views in winter, and for warmer weather, there's a large balcony with a table, chairs, and BBQ. You can sometimes see whales here in winter.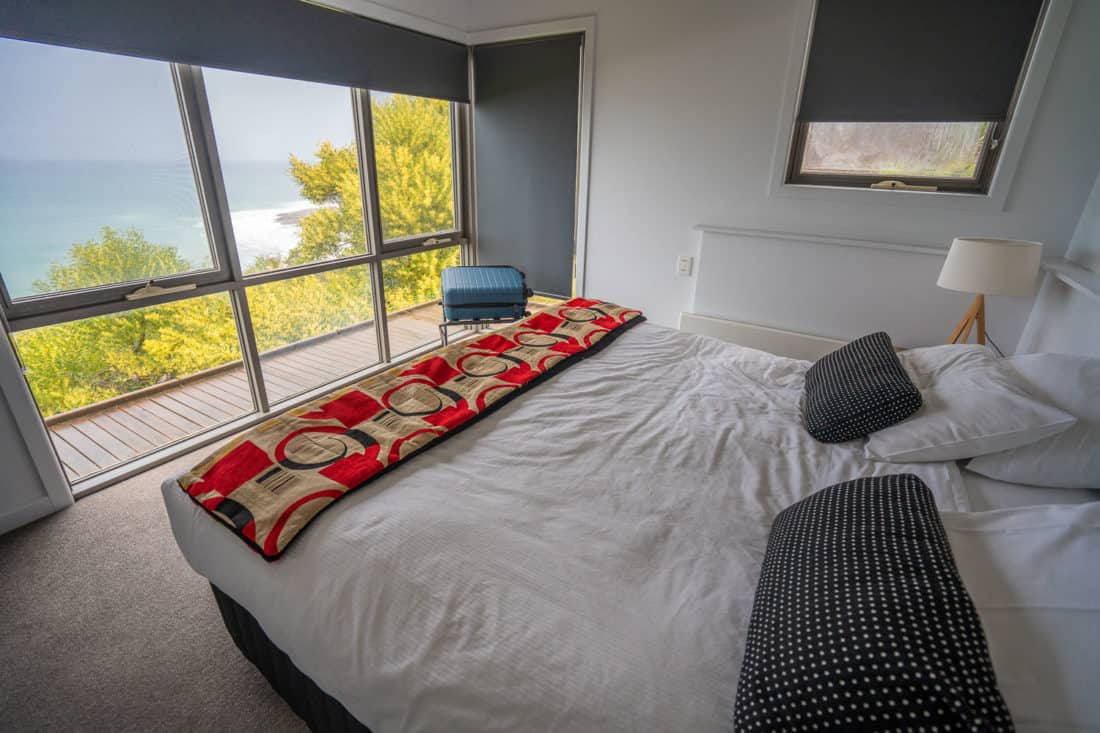 At night we loved snuggling on the comfy couch by the fireplace. I'm glad we bought plenty of food (and wine) as we did not want to go out for dinner.
The cottage is very well-equipped and Bryan is a fantastic host who goes out of his way to help you make the most of your stay and share his tips for the area.
There's a pull-down bed in the living room so the cottages can sleep up to four people.
I can't recommend Points South enough. We loved it so much we returned a month later for a few days to do nothing but relax and enjoy the view.
Check out Points South on Vrbo or compare prices on Booking.com. Book as far in advance as you can as it is very popular.
Day 2: Great Otway National Park
We spent the full day we had in the Apollo Bay area detouring off the Great Ocean Road to explore the inland forest section of the Great Otway National Park.
The road up into the forest is even windier than the coastal route and narrow in parts. It's a beautiful drive but slow going.
There aren't many eating options up here so bring a packed lunch or there's a cafe at Otway Fly and a few options further along in Lavers Hill.
Californian Redwood Forest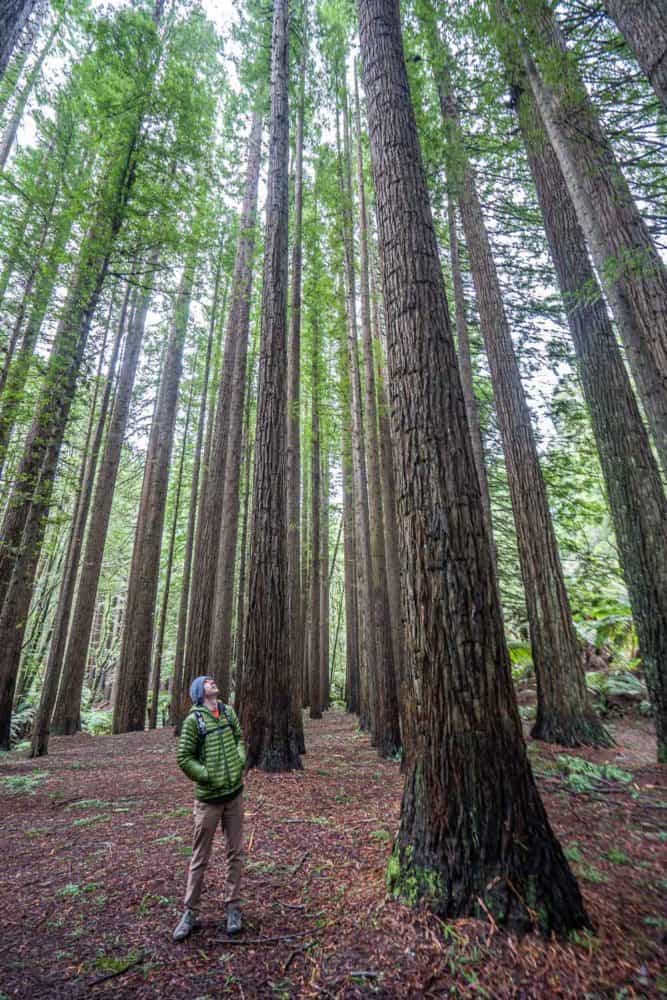 Journey Time: 1 hour from Apollo Bay or Wongarra
Stop Time: 25 minutes
Amongst the native eucalyptus trees is this surprising cluster of giant Californian Redwoods which were planted in the 1930s and are thriving. It's a lovely place for a short stroll.
There are toilets here but not at Hopetoun Falls.
Hopetoun Falls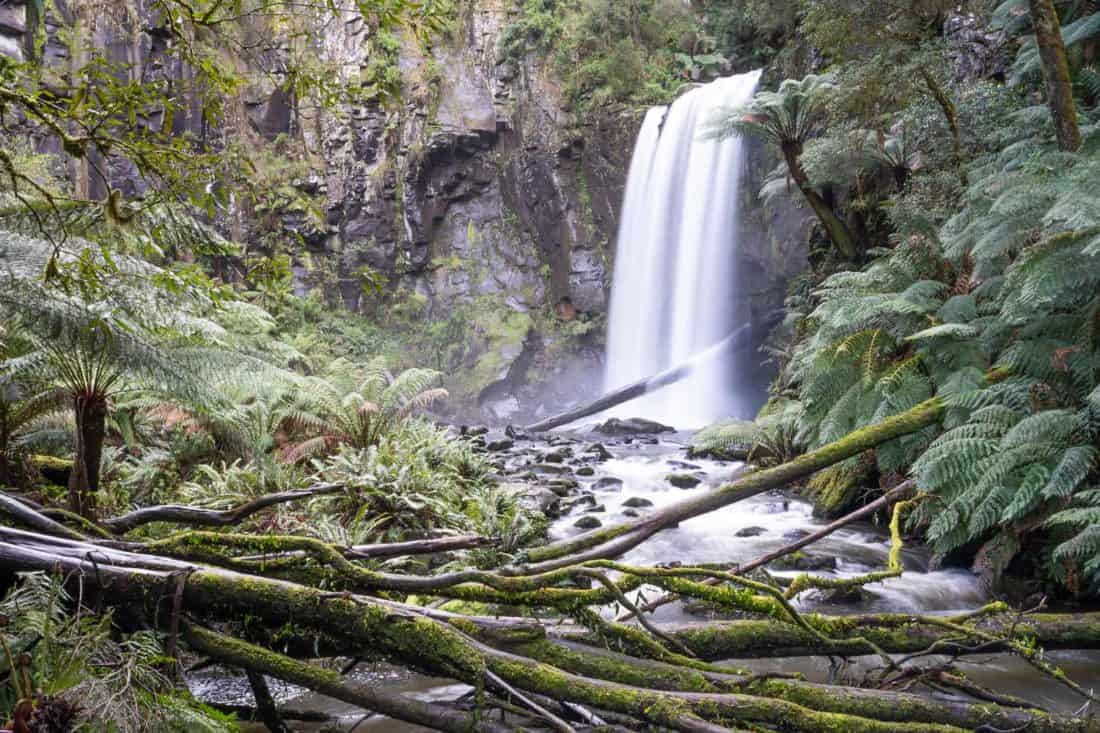 Journey Time: 3 minutes from Redwoods
Stop Time: 20 minutes
Just down the road is Hopetoun Falls. You can look down to the falls from a platform near the car park, but it's better to walk down the steps to get a closeup view.
The return walk took us 20 minutes and it is rather a steep climb back up.
Beauchamp Falls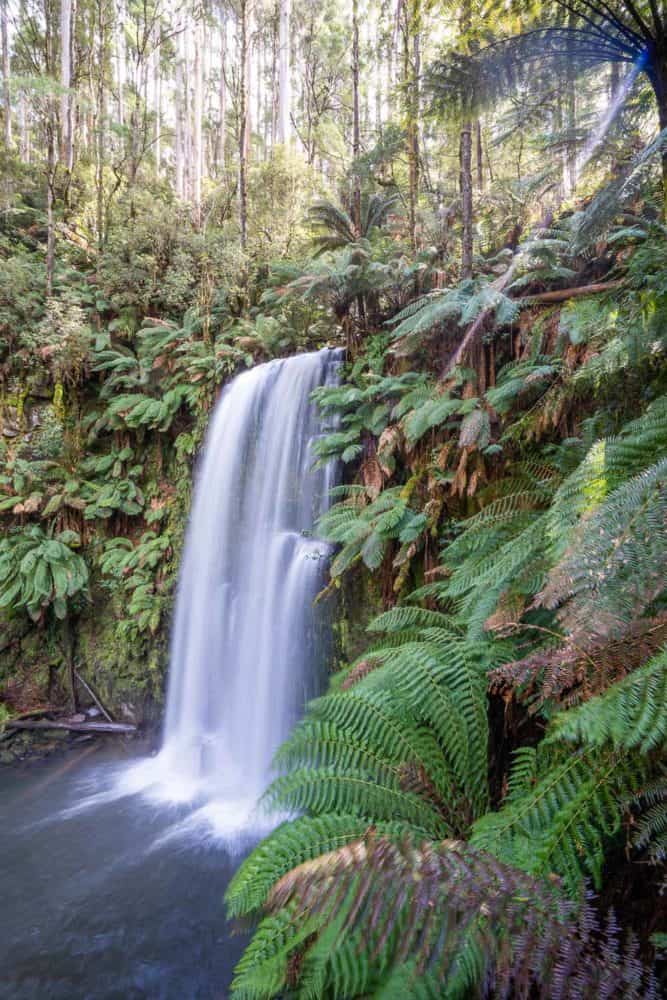 Journey Time: 10 minutes from Hopetoun Falls
Stop Time: 1 hour
Beauchamp Falls wasn't on our original plan but ended up being my favourite stop of the day.
It's a longer walk to reach the waterfall than at Hopetoun Falls (it took us an hour return), but it's lovely and peaceful through the forest of ferns, mountain ash, and myrtle beech.
The 20-metre falls crash over a ledge with a backdrop of lush ferns and the forest towering above.
You can view the falls from the side and clamber on the rocks to see them from the pool below.
It's a fairly steep climb back up to the car park where there are toilets.
From Beauchamp we drove back to Points South in about 45 minutes. We were out for about four hours in total and were left with the afternoon to relax in our wonderful cottage.
Other Options
The three stops above are a good half-day trip, but if you have a full day you can continue on to Otway Fly Treetop Adventures where you can go zip lining (book ahead, from $120 per adult) or walk above the trees on the elevated treetop walk ($27.50 adults/ $21.50 children). Family tickets are available.
Nearby you'll find another popular waterfall, Triplet Falls (a one-hour walk).
From there you could continue the loop back down to the Great Ocean Road via Lavers Hill.
Possible stops on the way back to Apollo Bay are the Cape Otway Lighthouse (which we visit the next day) and Maits Rest, an easy walk through the rainforest.
Day 3: Apollo Bay to Port Campbell
If you drive directly from Apollo Bay to Port Campbell on the Great Ocean Road it takes about 1.5 hours, but there are some worthwhile detours along the way.
We left at 10am and arrived in Port Campbell at 2.45pm.
Apollo Bay Marriner's Lookout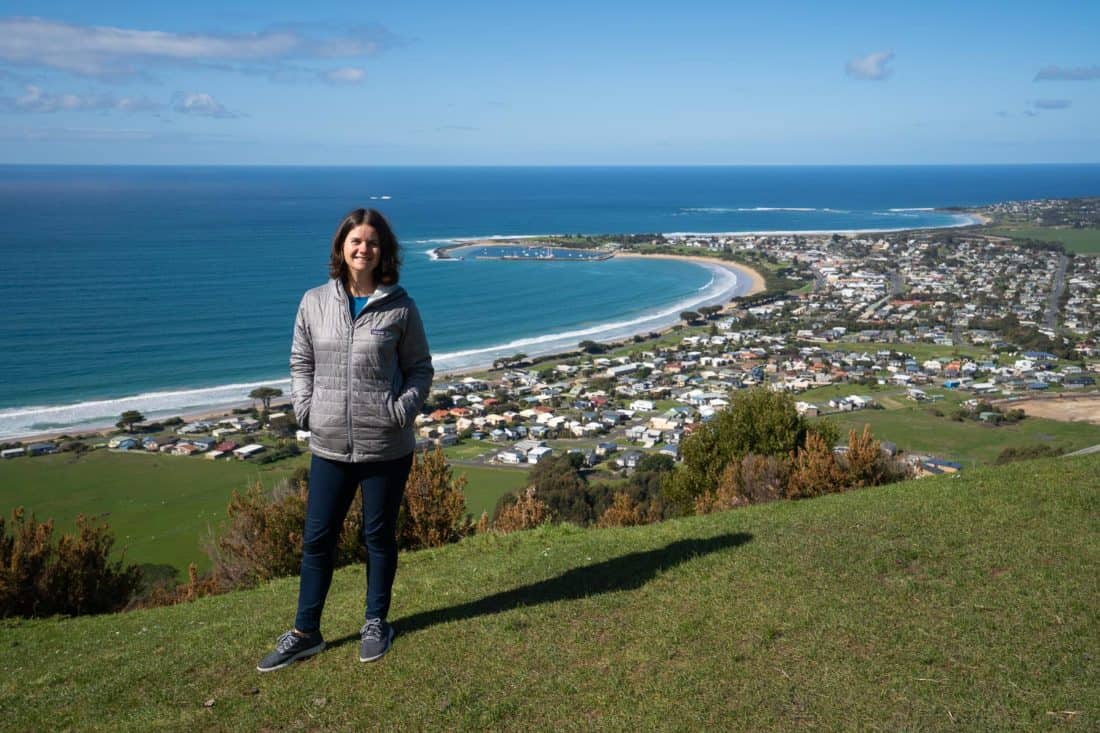 Journey Time: 15 minutes from Points South by the Sea
Stop Time: 15 minutes
Despite staying close to Apollo Bay, we loved our cottage so much that we didn't visit the town until our way out.
The Marriner's Lookout is a short drive from the centre of town and a 5-minute uphill walk from the car park. The views of the town and coastline are superb.
Next we stocked up on supplies at the Foodworks supermarket (there's no big supermarket in Port Campbell) and bought a snack from the Apollo Bay Bakery.
They are famous for their scallop pies but have plenty of vegetarian and vegan options. Simon loved the cheese and vegetable pasty.
Cape Otway Lightstation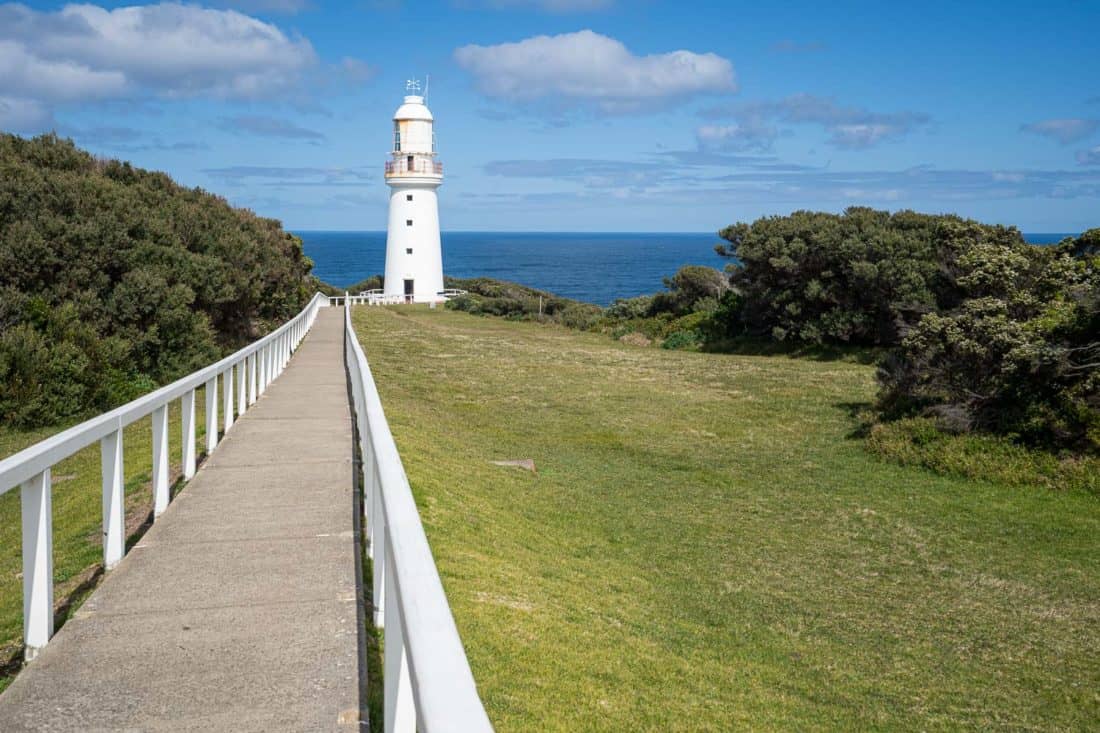 Journey Time: 35 minutes from Apollo Bay
Stop Time: 2 hours (including lunch)
The Cape Otway Lightstation is a 15-minute (each way) detour from the Great Ocean Road and is the only place we visited with an entrance fee ($19.50 adults/ $7.50 children), but it's well worth it.
The extensive grounds contain much more than just the lighthouse and you can learn about the history dating back to 1848 and enjoy fantastic views of the rugged cliffs.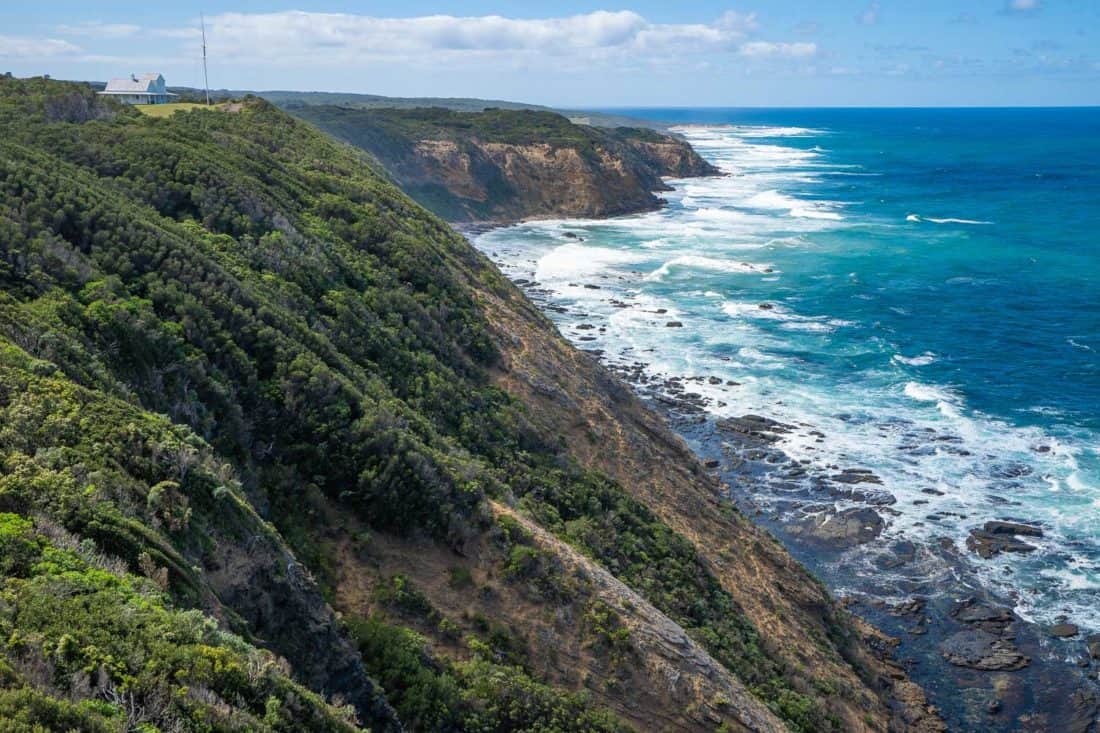 Highlights include the Telegraph Station, World War II Radar Bunker, whale viewing platform (we had no luck), and the lighthouse itself, which you can climb.
We even saw a wallaby (like a smaller kangaroo)! If you time it right, there are also history and bush tucker talks.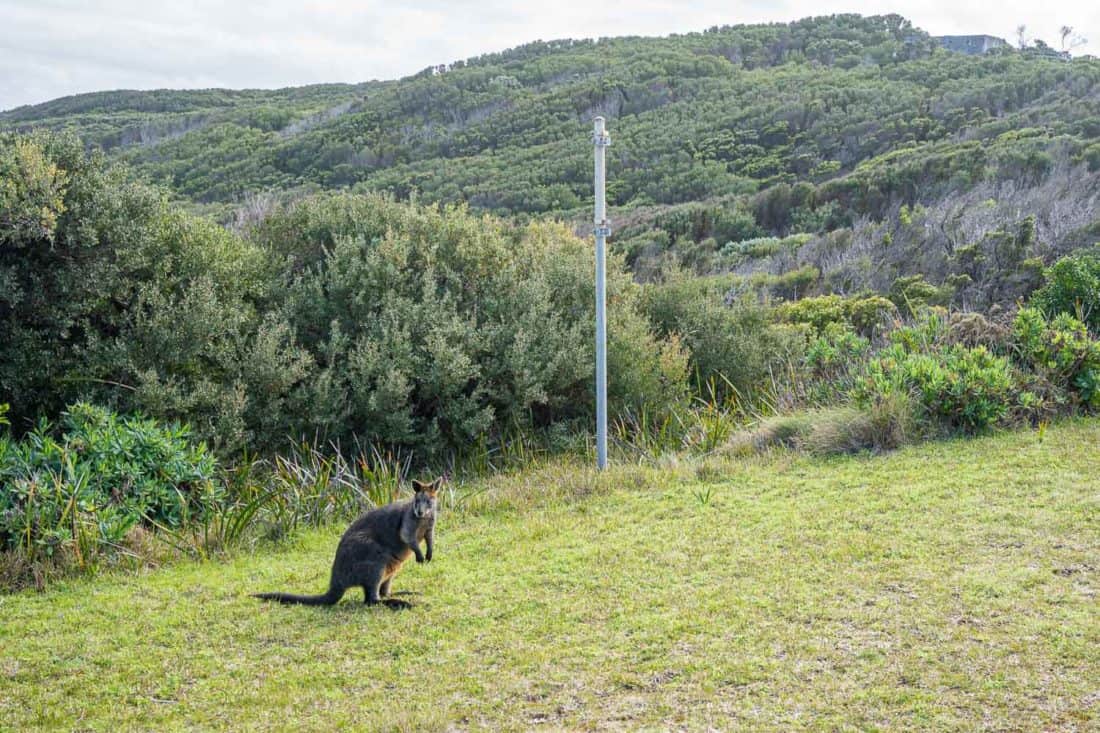 We had a light lunch in the surprisingly good cafe housed in the Assistant Keepers Quarters with views of the lighthouse.
The homemade scones and vegetarian korma pie were delicious, and the cakes looked tempting.
The Lightstation is open every day from 9.30am – 5pm (except for Christmas Day), but if you arrive out of hours, you can still walk along the lovely coastal trail that starts by the car park.
There's a distant view of the lighthouse after 1.5km, but the trail continues beyond that as this is a section of the Great Ocean Walk.
Back on the Great Ocean Road, the next section is quite different as it follows a more inland route and alternates sections through the forest with vibrant green rolling hills and farmland with fields of cows and sheep.
Another worthwhile detour on the way to Port Campbell is Wreck Beach, but we didn't have the energy to stop.
You have to walk down 400 steps to get to the beach where you can see the remains of shipwrecks.
You will pass the Twelve Apostles on the way to Port Campbell, but it's very crowded mid-afternoon so we left it for the next morning.
We arrived in Port Campbell at 2.45pm and had a few hours rest before heading out to see the sunset at London Bridge, which is a quieter alternative to the Twelve Apostles.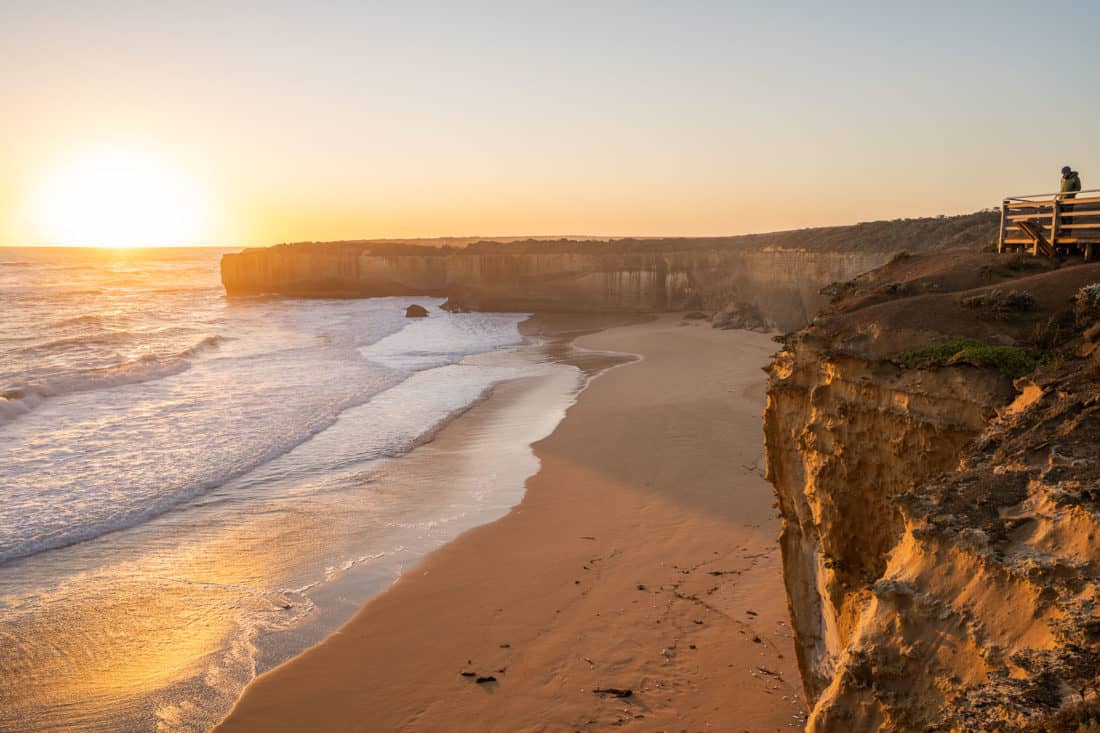 Where to Stay in Port Campbell: Anchors at Port Campbell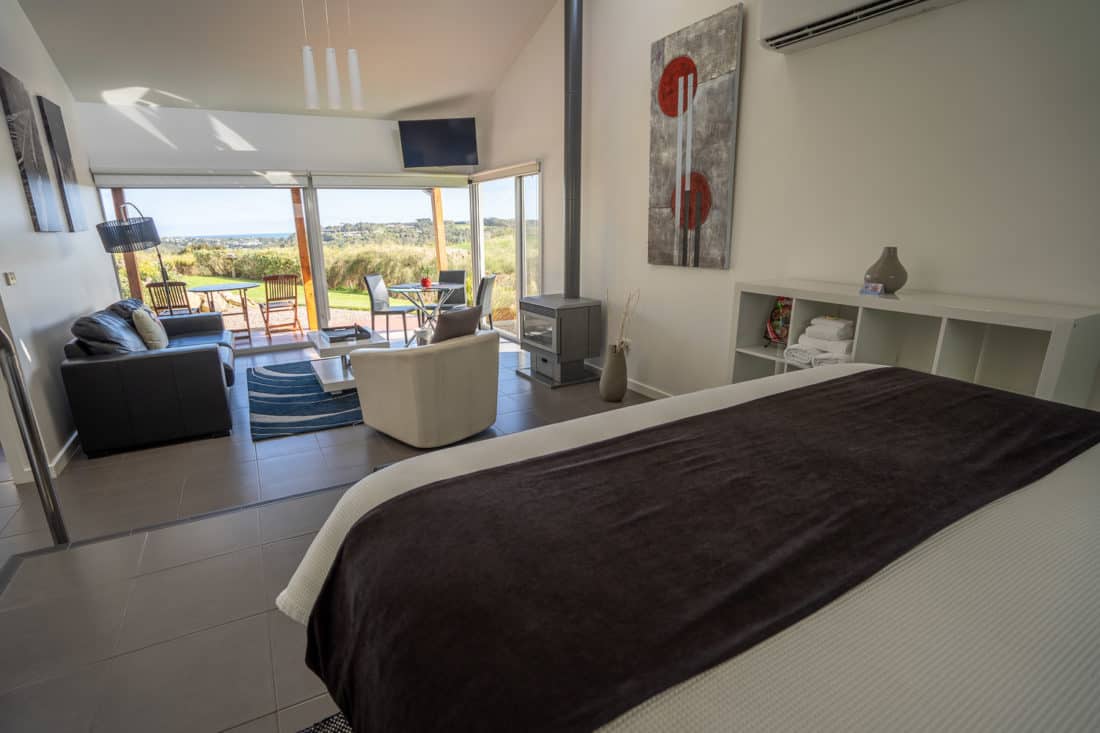 Port Campbell is a tiny town, but it's a great base for the Twelve Apostles.
We stayed at Anchors at Port Campbell where there are three cottages on a farm a few kilometres inland from town.
It's only a 10-minute drive from the Twelve Apostles so was very convenient for getting there early.
The cottages are modern and stylish with big windows to make the most of the views of the rolling green hills and ocean beyond.
They are set up studio style (best for a couple) with the large comfortable bed on a platform at the back and a sofa, armchair, and small dining table at the front. The gas log fire kept us warm.
There's also a small but well-equipped kitchen, a balcony with table and chairs, and a bathroom with an excellent shower and a spa bath with a view.
The cottages are quite close together, so if you take a bath with the blinds up, you do have to trust your neighbours won't walk in front of your cottage (we had no issues).
Check the latest prices of Anchors on Vrbo or on Booking.com.
Day 4: Port Campbell National Park
Our last full day was dedicated to the Port Campbell National Park. It's most famous for the Twelve Apostles rock formations, but there's lots to see along the stunning Shipwreck Coast.
As we were staying so close we were able to arrive early and easily take breaks between exploring different areas.
The town of Port Campbell is in the middle of the park so you can take a break or have lunch there after visiting the eastern side (Twelve Apostles, Gibson Steps, and Loch Ard Gorge), before continuing west.
Twelve Apostles + Gibson Steps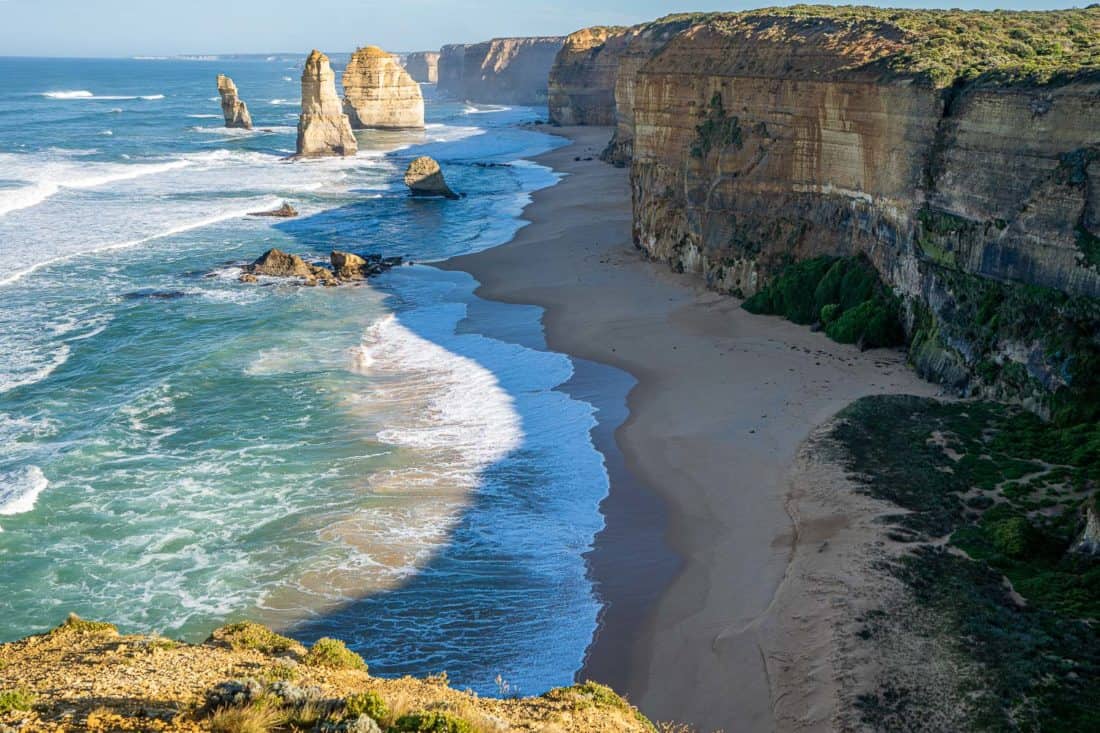 Journey Time: 10 minutes from Port Campbell
Stop Time: 1 hour 25 minutes
The Twelve Apostles are by far the most famous sight on the Great Ocean Road.
The iconic rock stacks were created by erosion of the limestone cliffs from the stormy Southern Ocean.
Gradually caves were formed, then arches, and when they collapsed the rock stacks stood alone, isolated from the shore.
Despite the name, there are only seven stacks (there were eight when they named it).
They are a beautiful sight amongst the dramatic cliffs and crashing waves as they change colour throughout the day.
The Twelve Apostles are reached by a five-minute walk from the car park, where there's also a visitor centre, toilets, and a kiosk (which doesn't open until 10am). Note there are no toilets at any of the other sights on today's itinerary.
As the area is popular with day tour buses from Melbourne, the Twelve Apostles are busiest in the afternoon.
When we drove past around 2.30pm, the viewing platform was rammed. At 8.30am we had it entirely to ourselves.
I highly recommend visiting in the morning to truly enjoy it. We decided to skip sunrise and arrive about an hour later at 7.20am.
There were a few people around then (and some photographers just leaving) but it was still quiet.
The sun wasn't quite high enough to illuminate the stacks, but an hour later it was, and there were even fewer people around.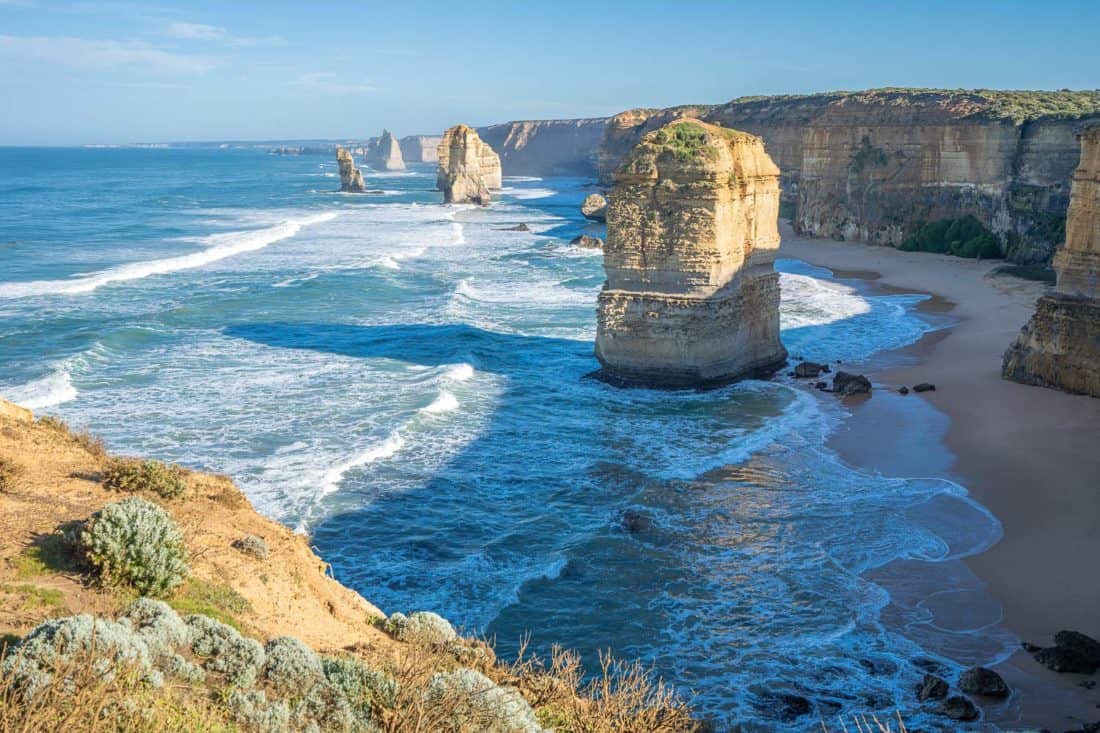 We also walked to the Gibson Steps, which took 15 minutes each way (you can also drive but parking is limited).
The steps lead to a beach where you can get another view of the Twelve Apostles, but unfortunately, they were closed for safety reasons on our visit.
If you want an even better view of the Twelve Apostles, you can take a helicopter ride over them.
Loch Ard Gorge
Journey Time: 5 minutes from Twelve Apostles
Stop Time: 1 hour 35 minutes
Loch Ard Gorge is another place that you don't want to miss. There are striking cliffs and rock formations, easy coastal walks, and interesting history.
It was named after the clipper Loch Ard that was wrecked here in 1878.
From the car park, it's a short walk to a viewpoint of the beach surrounded by cliffs. You can also walk down the steps onto the beautiful beach.
If you just wanted a quick stop, you could do that in about 15 minutes, but it's worth following one or all of the three marked trails.
If you only have time for one, follow the 900-metre-return Geology walk to the left of the car park which takes you to The Razorback, a massive rock formation.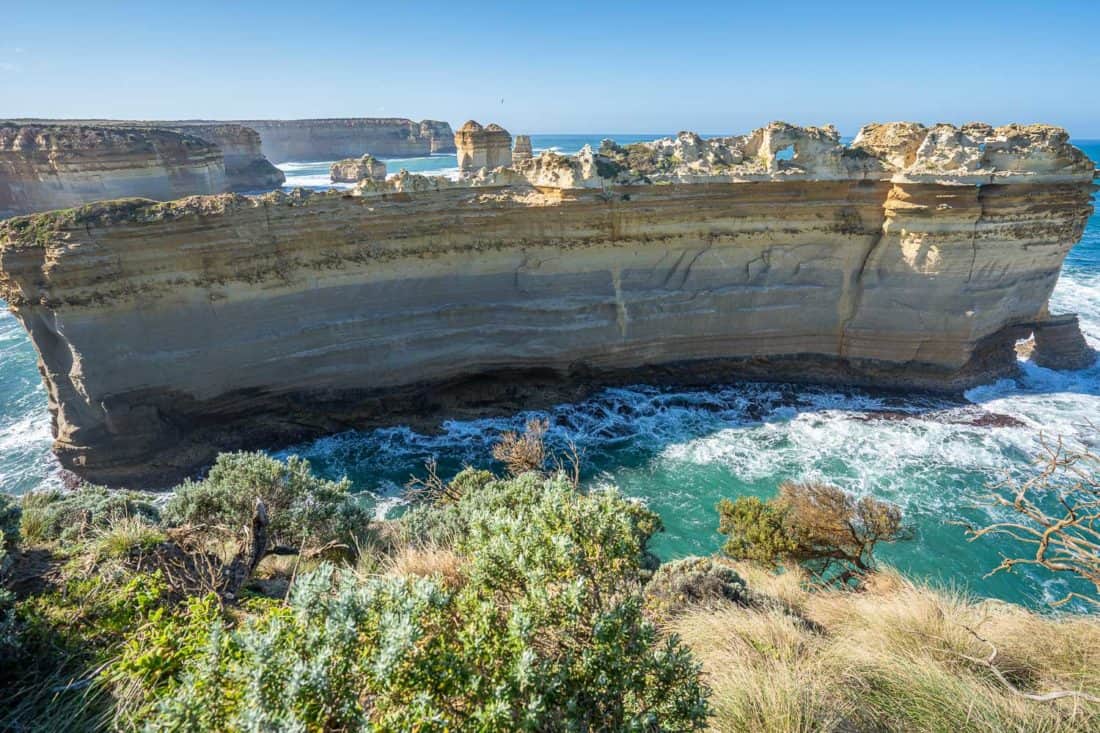 On the way you'll see Tom and Eva, two rock stacks named after the only survivors of the shipwreck.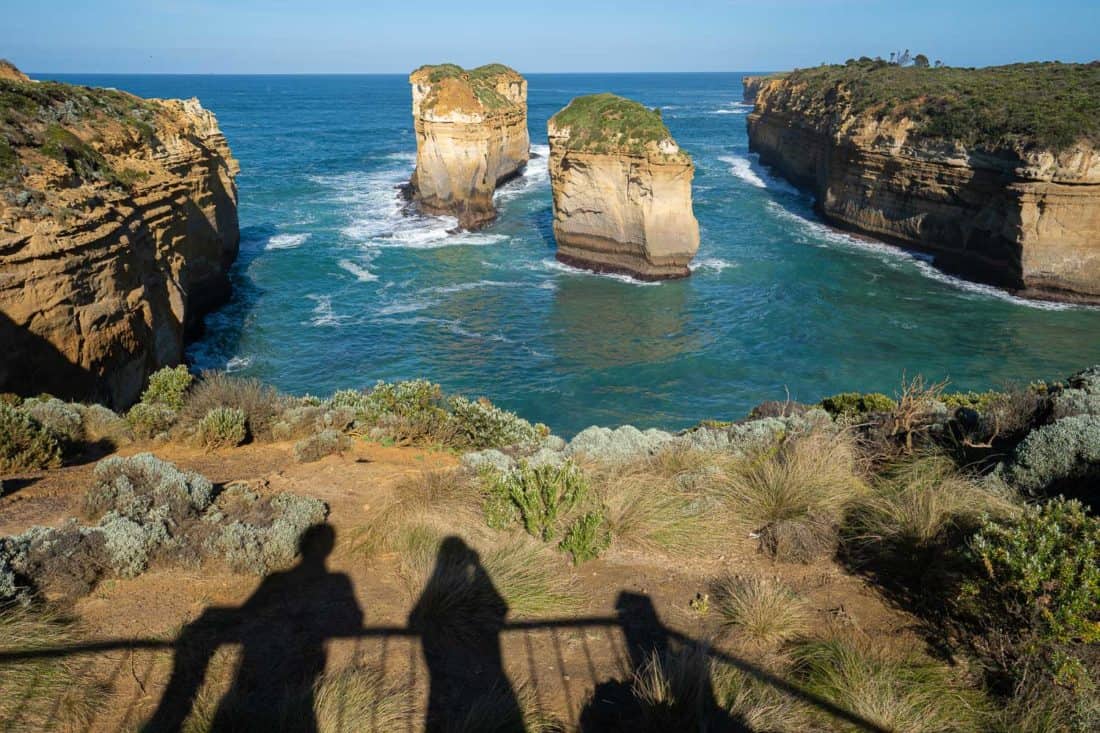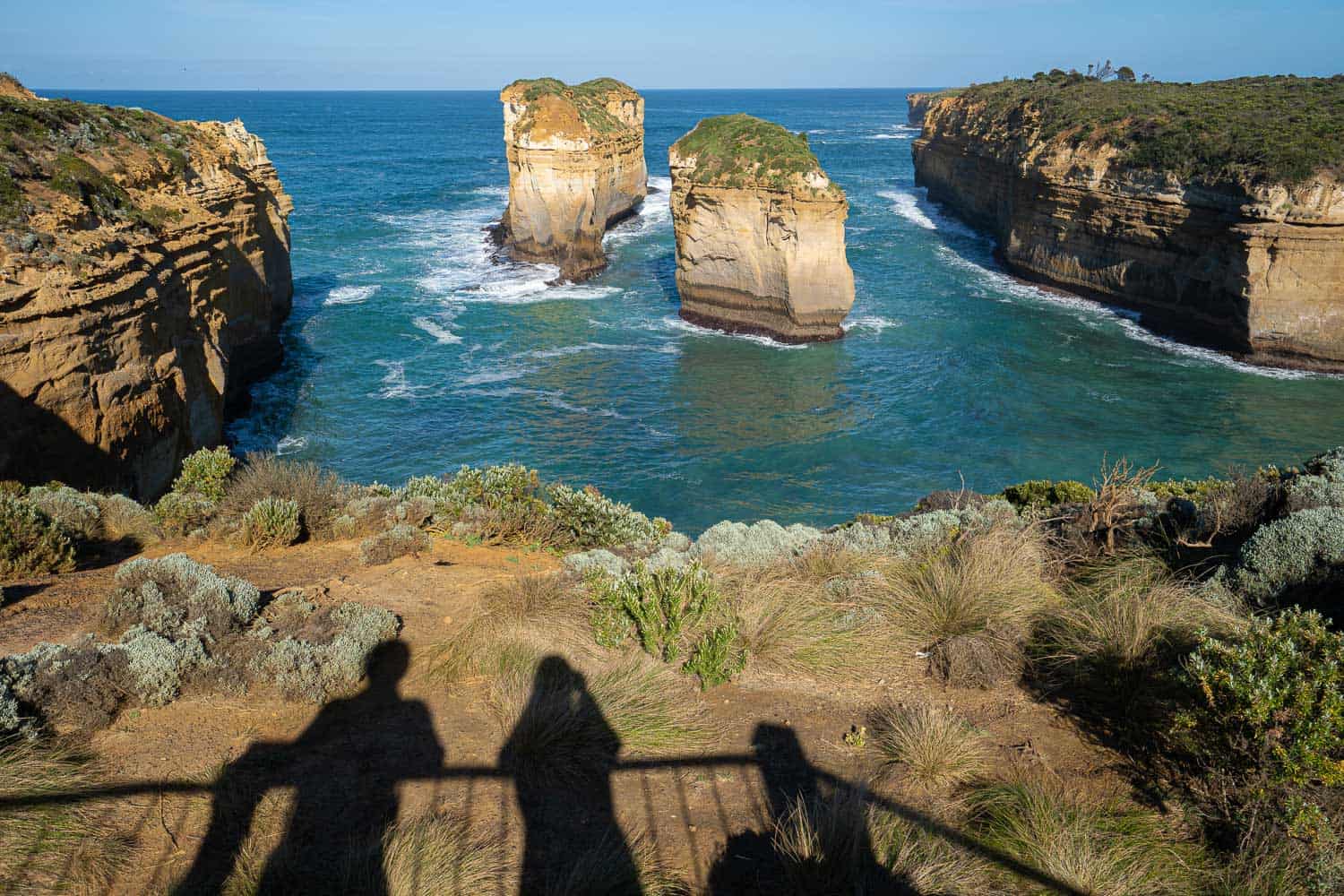 It's also worth following The Wreck of the Loch Ard trail (1.4km return) for more scenic viewpoints.
This connects to the more distant, and much quieter, Living on the Edge walk (to the right of the car park) where you can see Muttonbird Island and enjoy more gorgeous coastal views.
We walked all of the trails except for the furthest section between Broken Head and Sherwood Estuary and walked a total of 6km (3.7 miles).
I definitely recommend allocating a few hours to explore it all.
We were finished by 10.30am and returned to our hotel for a break before going out for lunch.
You could continue down the coast, perhaps having a break in Port Campbell.
Timboon for Lunch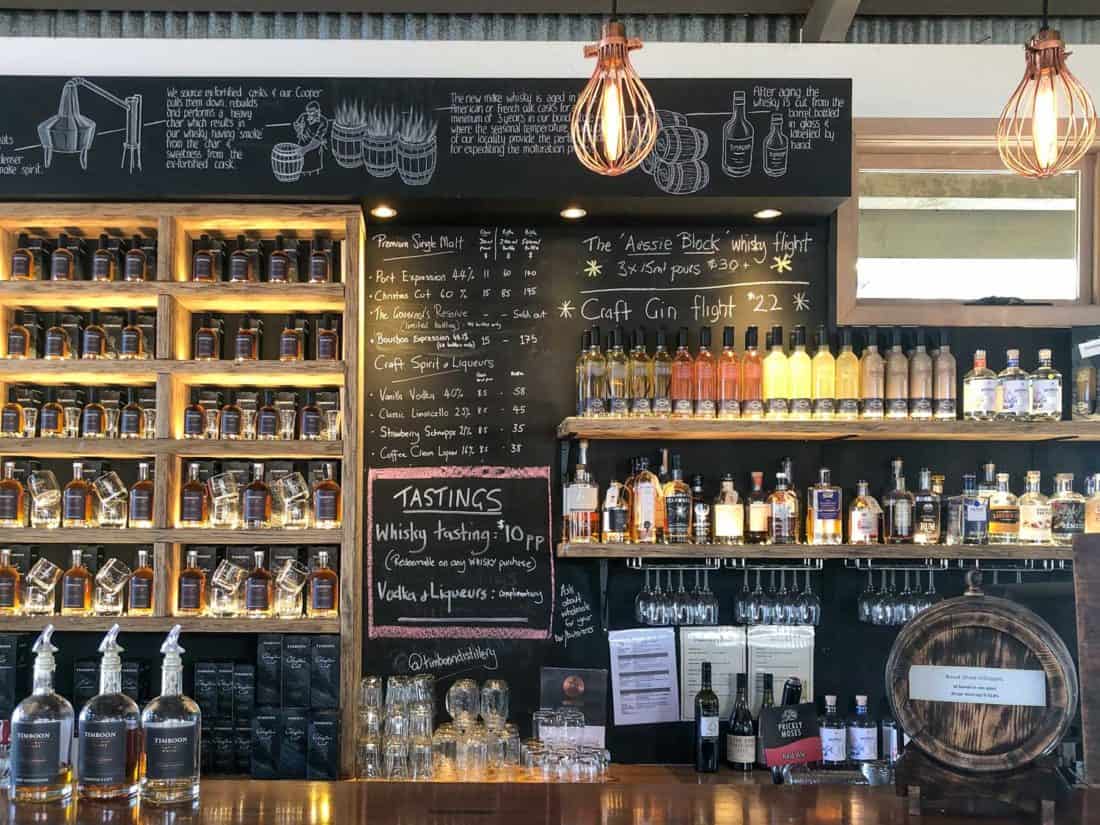 Journey Time: 25 minutes from Twelve Apostles (15 minutes from Port Campbell)
Stop Time: 1 hour 30 minutes
If you have a full day in the area, a fun detour off the Great Ocean Road is to follow some of the 12 Apostles Gourmet Food Trail.
This gives you the opportunity to see the quieter countryside inland of vibrant rolling hills and farmland—you could almost be in England.
Along the way, you can sample cheese, whisky, beer, chocolate, fudge, strawberries (in summer), ice cream, and olives from local producers.
We visited two stops in the tiny town of Timboon for lunch and fitted in a couple more on our way back to Melbourne the next day.
At Timboon Railway Shed Distillery you can do whisky tastings and tours, but it's worth a visit even if you don't sample their wares.
It's a hub for the local food scene with a small shop selling cheese, wine, beer, condiments and other products made in the area.
There's also a cafe if you just want a coffee or one of the tasty looking cakes.
We had lunch and found the vegetarian options a bit limited if you didn't want cheese, but the food gets good reviews from meat-eaters.
Just around the corner is Timboon Fine Ice Cream where you can choose from a huge selection of unusual flavours including a whisky cream made with the drink from next door. We enjoyed our cone in the lovely gardens.
We were back at our cottage by 2pm and had a two-hour break before heading out to explore the second section of Port Campbell National Park.
The Arch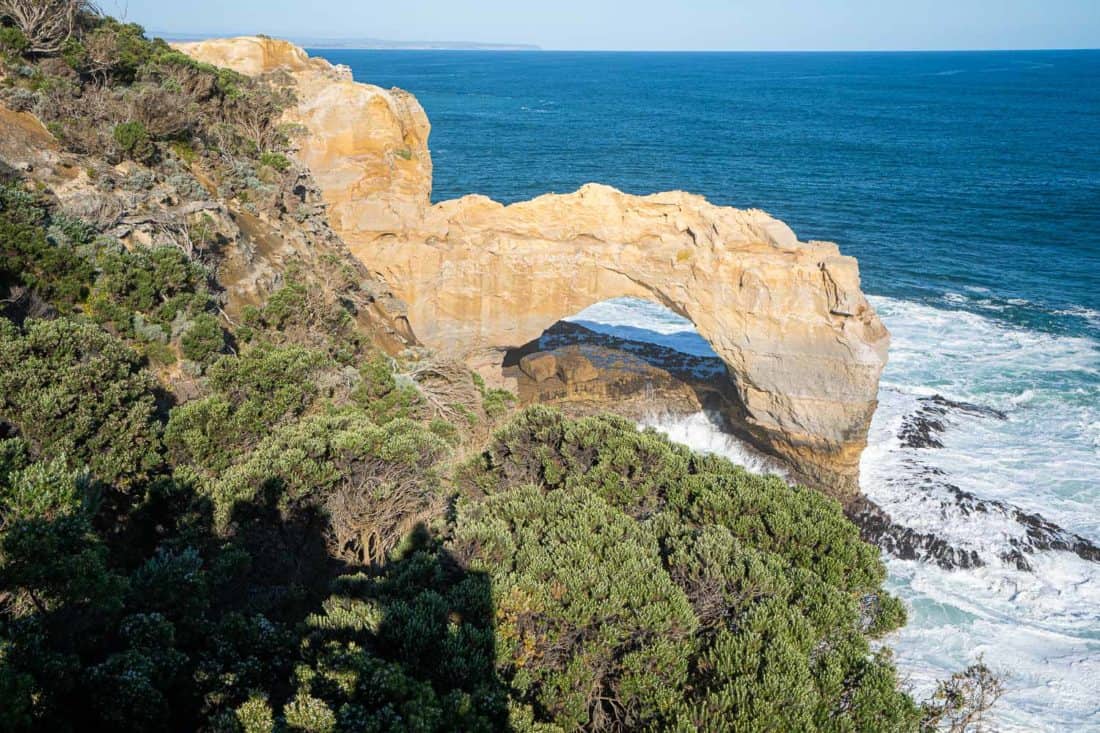 Journey Time: 10 minutes from Port Campbell
Stop Time: 5 minutes
The Arch is the first in a series of rock formations where you can stop for a quick look from viewing platforms.
The huge natural limestone arch was formed by erosion and you can see the power of the waves that caused it.
If you have limited time you could skip this one (we preferred London Bridge), but it's only a quick stop.
London Bridge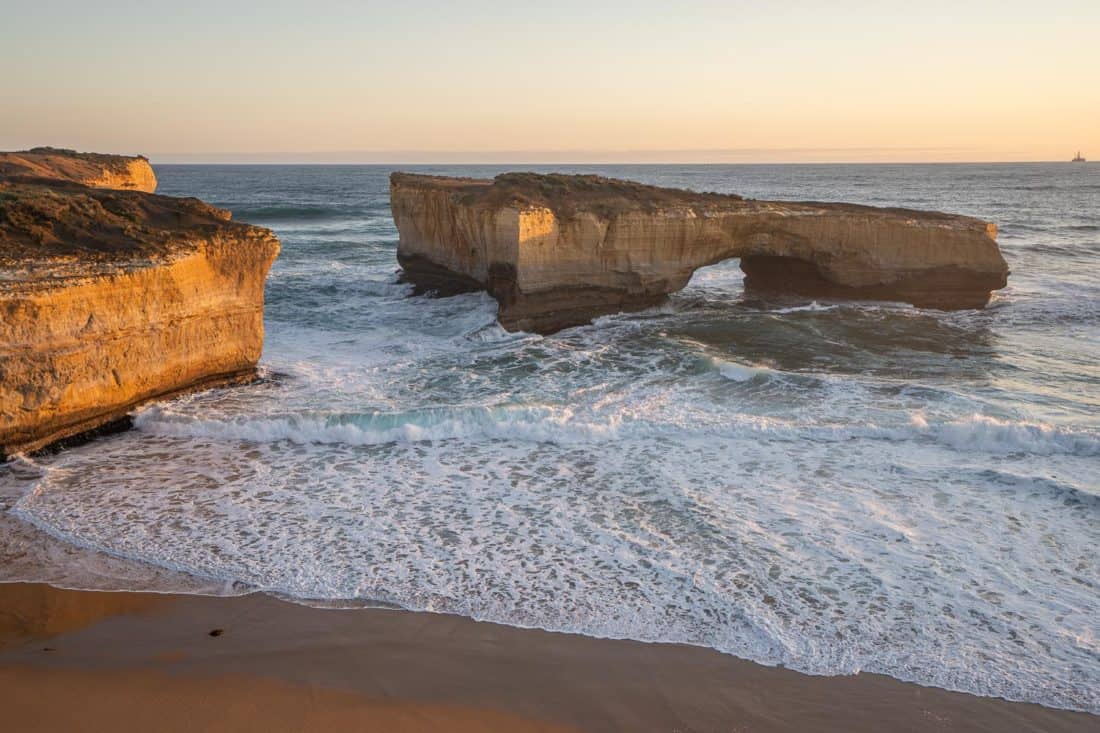 Journey Time: 4 minutes from The Arch
Stop Time: 20 minutes
There are two viewing platforms to admire London Bridge a short walk from the car park.
This rock arch was once connected to the mainland until in collapsed in 1990 (leaving two tourists trapped but uninjured).
It's a wonderfully scenic place with a beach below and crashing waves. We actually visited at sunset the previous day. The sun doesn't set behind the arch but the cliffs look beautiful in the glowing light.
The Grotto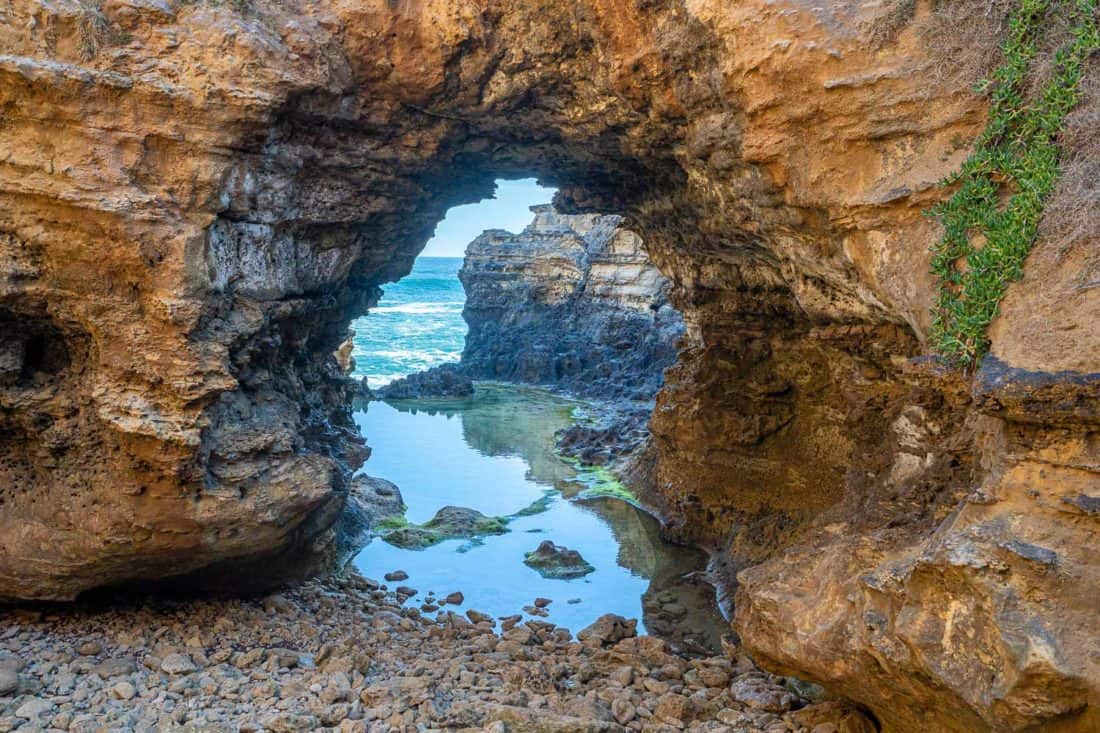 Journey Time: 4 minutes from London Bridge
Stop Time: 20 minutes
The Grotto is unlike any of the other rock formations in the area. It's part-archway, part-cave with a serene pool of water in contrast to the powerful waves beyond.
You need to head down to the lower viewing platform to appreciate it, which is a 700-metre return walk with stairs from the car park.
It's a small platform and we were lucky that we got to take a few photos before three tour buses arrived. It would be quieter in the morning.
Bay of Martyrs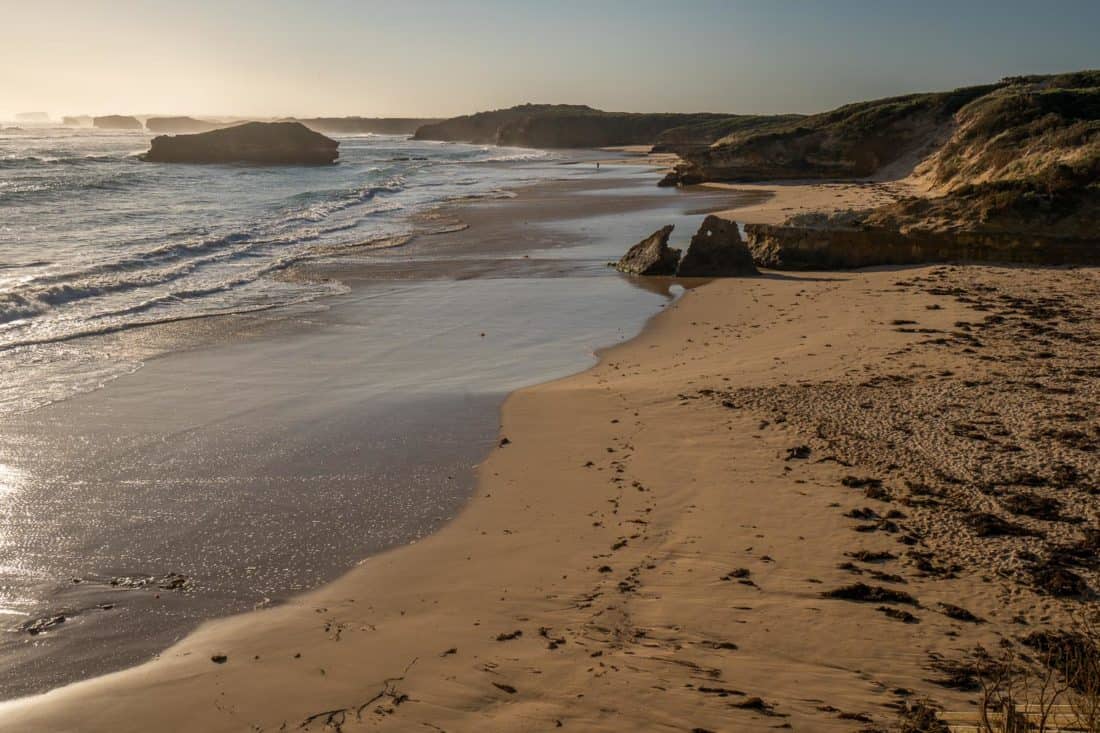 Journey Time: 7 minutes from The Grotto
Stop Time: 20 minutes
Bay of Martyrs is an overlooked spot that's perfect for escaping the crowds.
It might not seem as impressive as the other stops from the viewing platform by the car park, but you can walk down to the beach for a scenic walk.
There was only one other person on the beach when we visited.
Bay of Islands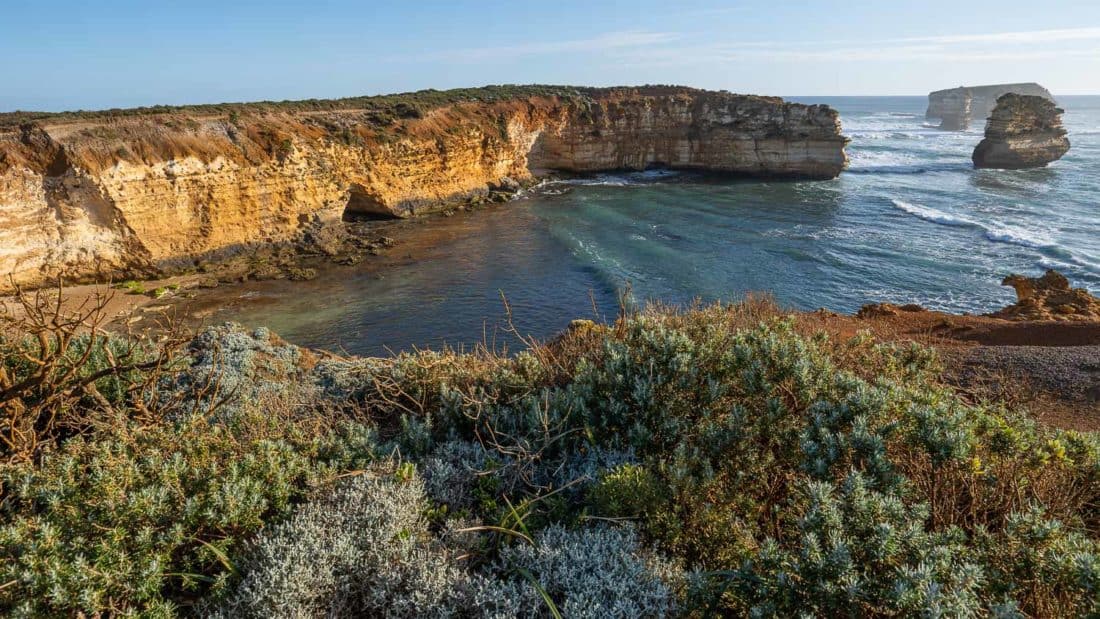 Journey Time: 5 minutes from Bay of Martyrs (20 minutes back to Port Campbell)
Stop Time: 20 minutes
The Bay of Islands offers similar scenery to the Twelve Apostles but without the crowds.
You can walk to a few viewing platforms to admire the towering limestone stacks from different angles.
In the late afternoon, photography was difficult as I was shooting into the sun, but it'd be an excellent place for sunset.
Day 5: Port Campbell to Melbourne
We chose to drive back from Port Campbell to Melbourne via the inland route (3 hours) rather than continue on for the final section of the Great Ocean Road that ends just before Warrnambool.
We left at 10.30am and with the stops below arrived back in the city at 3.30pm.
If you have more energy than us (or an extra night), the final stops we would have visited were Childer's Cove, an uncrowded beach (30 minutes from Port Campbell), and Logans Beach Whale Watching Platform (1 hour from Port Campbell) where you have the chance to see whales in the winter.
12 Apostles Gourmet Food Trail
Our final stops in the area were on the food trail. You could also fit them in on the previous day.
G.O.R.G.E Chocolates (20 minutes from Port Campbell) is a small, low-key chocolate shop that's very different from the touristy affair of the Great Ocean Road Chocolaterie.
We sampled a few of their offerings (the raspberry liquorice is unusual and delicious) and enjoyed a delicious dark mint hot chocolate in the sun overlooking the farm.
They are happy for you to wander the property to see the horses, chickens, pigs, and sheep.
Five minutes down the road is Apostle Whey Cheese where for a bargain price of $1 you can try all 12 of their cow's milk cheeses.
We liked the brie and pepper havarti (sadly they don't have storage space for cheddar).
You can also buy a toasted sandwich or cheese platter ($20). The views of the countryside outside are lovely.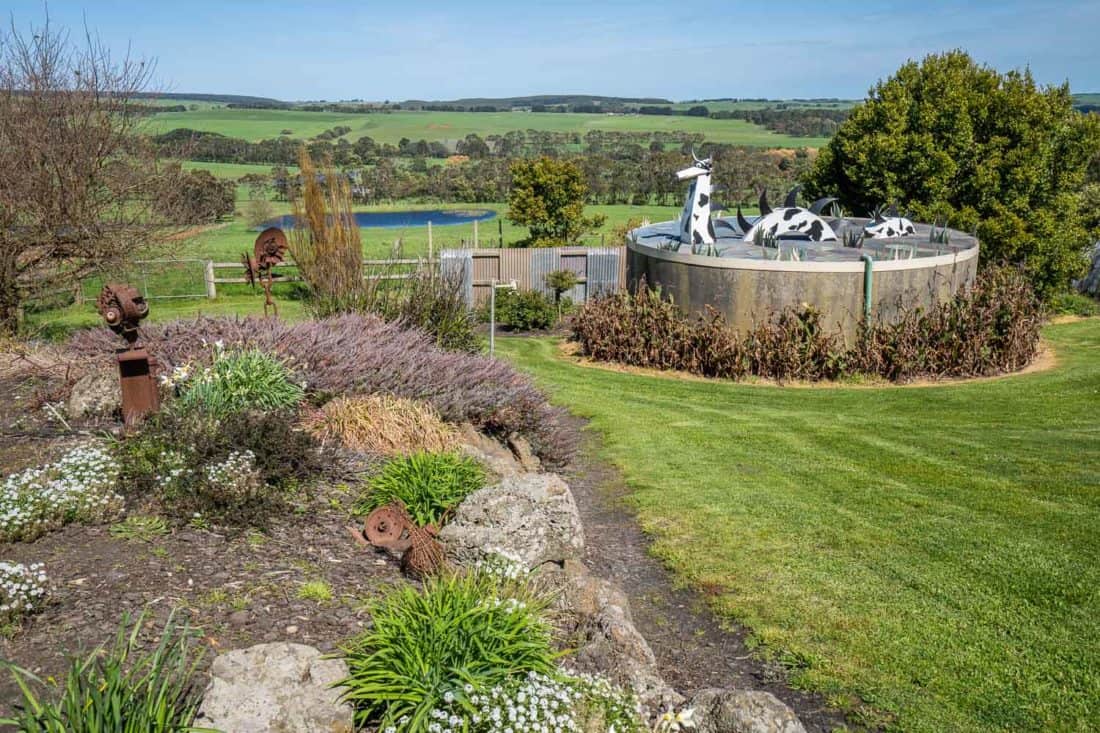 Colac
There's no real need to stop in Colac, but as the inland route back to Melbourne along the A1 passes through, we stopped for lunch.
The Botanic Cafe on the Lake within the Botanical Gardens is a pretty spot for lunch with outdoor seating and views of the lake.
Even better, it's a non-profit enterprise that provides training and employment opportunities to people with mental and physical disabilities.
And with that, sadly our Great Ocean Road trip was over.
Is a Multi-Day Great Ocean Road Trip Worth It?
Yes absolutely! If you can, this beautiful stretch of the world begs you to take the time to discover its many treasures.
We have plans to return and try the 100km Great Ocean Walk next time.
More Australia Posts
Victoria
Queensland
If you enjoyed this post, pin for later!