This page contains affiliate links. Please read our disclosure for more info.
If you need a break from the city, Melbourne is a fantastic base for exploring Victoria with picturesque seaside villages, historic gold rush towns, stunning beaches, and lush rainforest all easily accessible.
On these day trips from Melbourne you can go wine tasting, swim with seals, soak in hot springs, get up close with penguins and koalas, and drive one of the most scenic coastal roads in the world—the famous Great Ocean Road.
During our three months in Melbourne, we did many of these day trips ourselves and have also included suggestions from other travel bloggers.
I've organised these Melbourne day trips by distance from the city from easy trips like Brighton Beach to longer but worthwhile excursions to the Great Ocean Road and Grampians National Park.
All prices mentioned are in AUS $ and at the end there is a handy map with everything mentioned.
Contents
Melbourne Travel Tips
Most of these day trips from Melbourne are best experienced with your own car.
I recommend checking Rental Cars to search for the best car rental deal.
If you aren't renting a car for your entire stay, make sure you choose a rental from downtown Melbourne as the airport is 23km away.
For one of our day trips, we used Uber Carshare which is a car-sharing site where you borrow a car from a local.
It was more expensive than a traditional rental and the car wasn't as nice, but it was more convenient.
We were able to choose a car just around the corner from our Airbnb in North Fitzroy, we didn't have to complete any paperwork in person (it was contactless key collection), and we didn't have to refuel before returning it.
It's a good option if you're not staying in the CBD and only need a car for one day.
In the listings below I've included approximate distances and times from Flinders Street Station in Melbourne CBD.
If you don't want to rent a car, I've suggested Melbourne day tours and included public transport details where applicable.
Melbourne Day Trips Within 1 Hour
These easy day trips are within a 1 hour drive from Melbourne.
1) Heide Museum of Modern Art
As easy day trip from Melbourne is to the Heide Museum of Modern Art in the northern suburb of Bulleen.
This modern art gallery features Australian art in three exhibition buildings which were once the home of arts benefactors John and Sunday Reed who purchased an old dairy farm in 1934.
It became the gathering place of young modernist painters known as the Heide Circle.
The galleries are set within 15 acres of beautiful gardens where you can wander amongst the sculptures. There's also a great cafe featuring produce grown in their kitchen garden.
Details: The museum is currently open from Tuesday to Sunday 10am to 5pm (and public holidays) and costs $22 for adults/ Free for children under 16.
How to Get There: Heide is located 15km north of Melbourne CBD. The easiest way to get there is to drive or get a taxi which takes 20 minutes. There's free parking on site.

By public transport, take the train (Hurstbridge line) to Heidelberg station and then the 903 bus (Mordialloc bound) to Heide. Disembark at the Bridge Street/Manningham Road stop and walk to Heide through Banksia Park.

Alternatively, if you are feeling energetic, you could cycle or walk to Heide along the Yarra River.
2) Brighton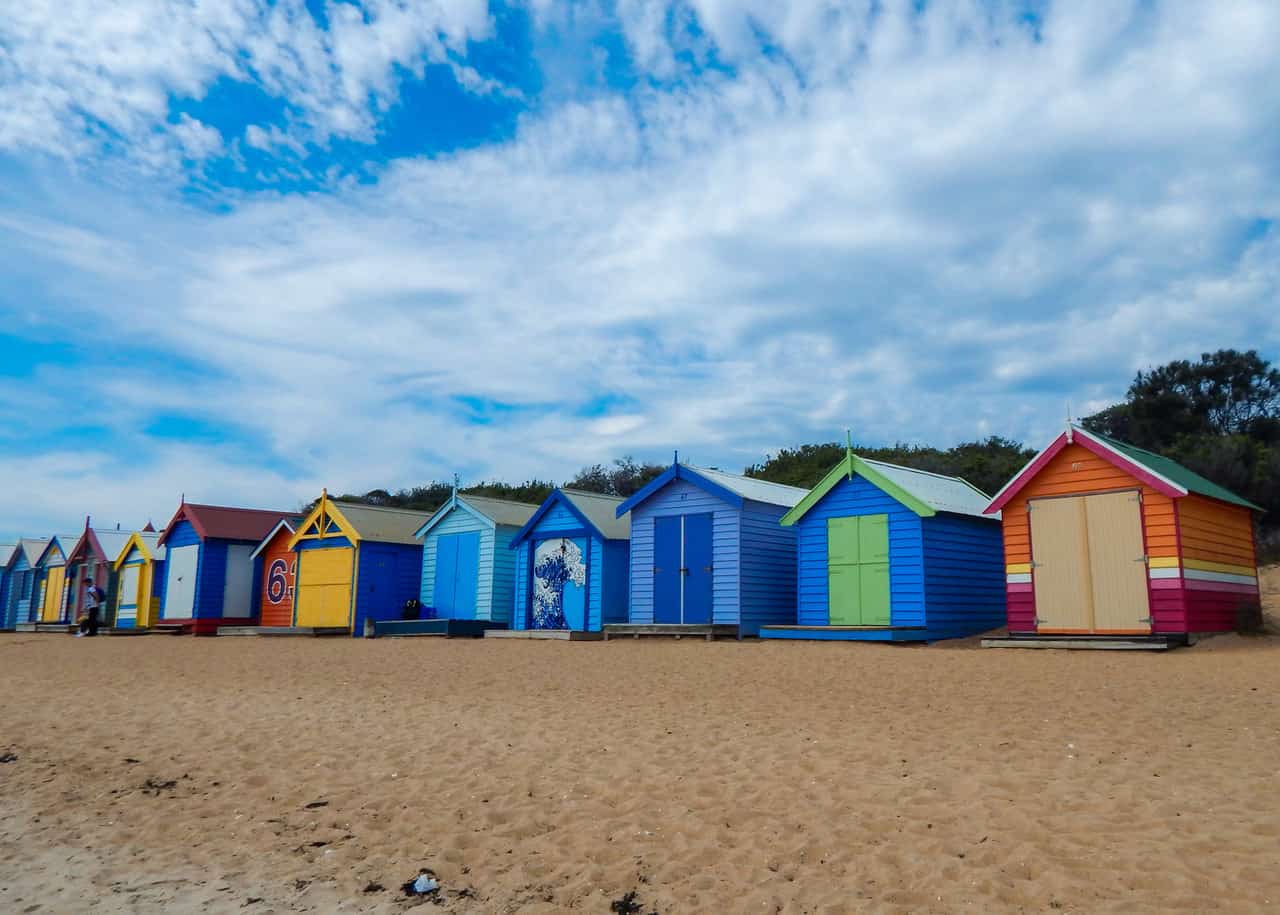 Contributed by Pauline from BeeLoved City
Located only 20 minutes away from Melbourne CBD, Brighton is an excellent destination for people who want to get away from the city without having to travel for too long.
This coastal suburb is the perfect place to visit if you want to get out in the fresh air and enjoy the beach.
The Brighton Bathing boxes are the most famous landmark in the area. Not only are they beautiful and colourful but they are also a historical site. They've been around since the 19th century!
From the station, it takes less than 10 minutes to reach the bathing boxes. There are quite a few of them and you will love taking beautiful photos there.
Pro tip: the most famous beach chalet is the one with the Australian Flag. People usually queue to take photos in front of it.
If you walk further down, you will discover many other beach chalets that are just as beautiful and don't get as much attention.
It's also an excellent spot to soak up the views of the Melbourne skyline.
Once you are done with the beach, roam around Brighton and discover the local shops. For the full experience, grab some fish and chips!
If you wish to explore more during your day, you can keep driving and head to the Yarra Valley, Phillip Island or Mornington Peninsula.
How to Get There: This is one of the best short trips from Melbourne. You can easily get to Brighton by car (20 minutes drive) or by train (15 minutes from Flinders Street Station). If you opt for the train, you can either buy a ticket or use your Myki card (daily passes cost $6.70 – 9.20).

Suggested Tour: This Phillip Island day trip stops at the Brighton Bathing Boxes on the way.
3) Yarra Valley Wineries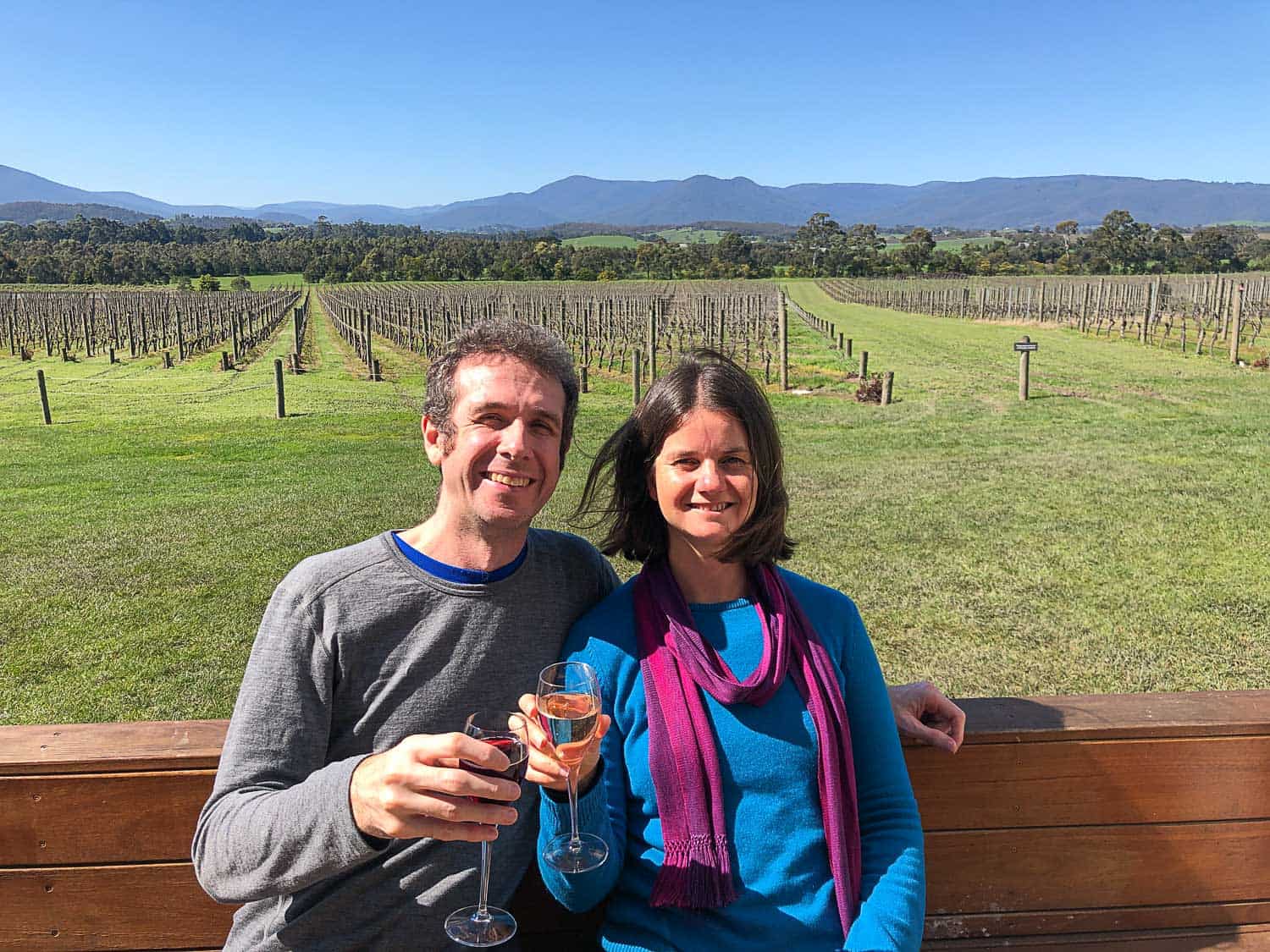 One of the best day trips from Melbourne is to the Yarra Valley, Victoria's oldest wine region dating back to 1838.
It's only an hour from the city but feels far away from everything. The pretty rolling green hills and vineyards could be in Europe, except for the kangaroos—we saw dozens of them bouncing amongst the vines on our way home.
We took a wine tour so we could both sample the chardonnay and pinot noir the region is known for.
We went with Vinetrekker, which is more expensive than some of the Yarra Valley tours, but it felt worth it to us.
Our guide Paul has an excellent relationship with the wineries and we got more premium tastings (often of reserve wines). He was even able to get us into places that are usually closed on winter weekdays.
There were only six of us on our tour and we never felt rushed. We also appreciated that food pairings were provided with a couple of the wine tastings as well as a full lunch at Yering Station.
Medhurst was our favourite winery—it is small and good value and has beautiful views from the tasting room.
Domaine Chandon is the most visited winery in the area—it's the Australian branch of Moet & Chandon—and is grand and stylish with huge windows overlooking the vines.
Paul took us on a tour of the cellar and taught us about the process of making sparkling wine before we enjoyed a glass of bubbles outside.
The only downside of the day was the windy roads on the drive home after drinking far too much wine!
How to Get There: The Yarra Valley is an hour's drive from Melbourne. It's best to visit with your own vehicle (if you have a designated driver) or by tour if everyone in your group wants to sample the wine.

Suggested Tour: We did Vinetrekker's Wine and Food Day tour which costs $250 for a full day trip including transport, guide, and lots of wine and food.

This Full-Day Yarra Valley Wine Experience with Lunch is a more affordable option at $165 but group sizes are larger and it doesn't include additional food pairings.
4) Dandenong Ranges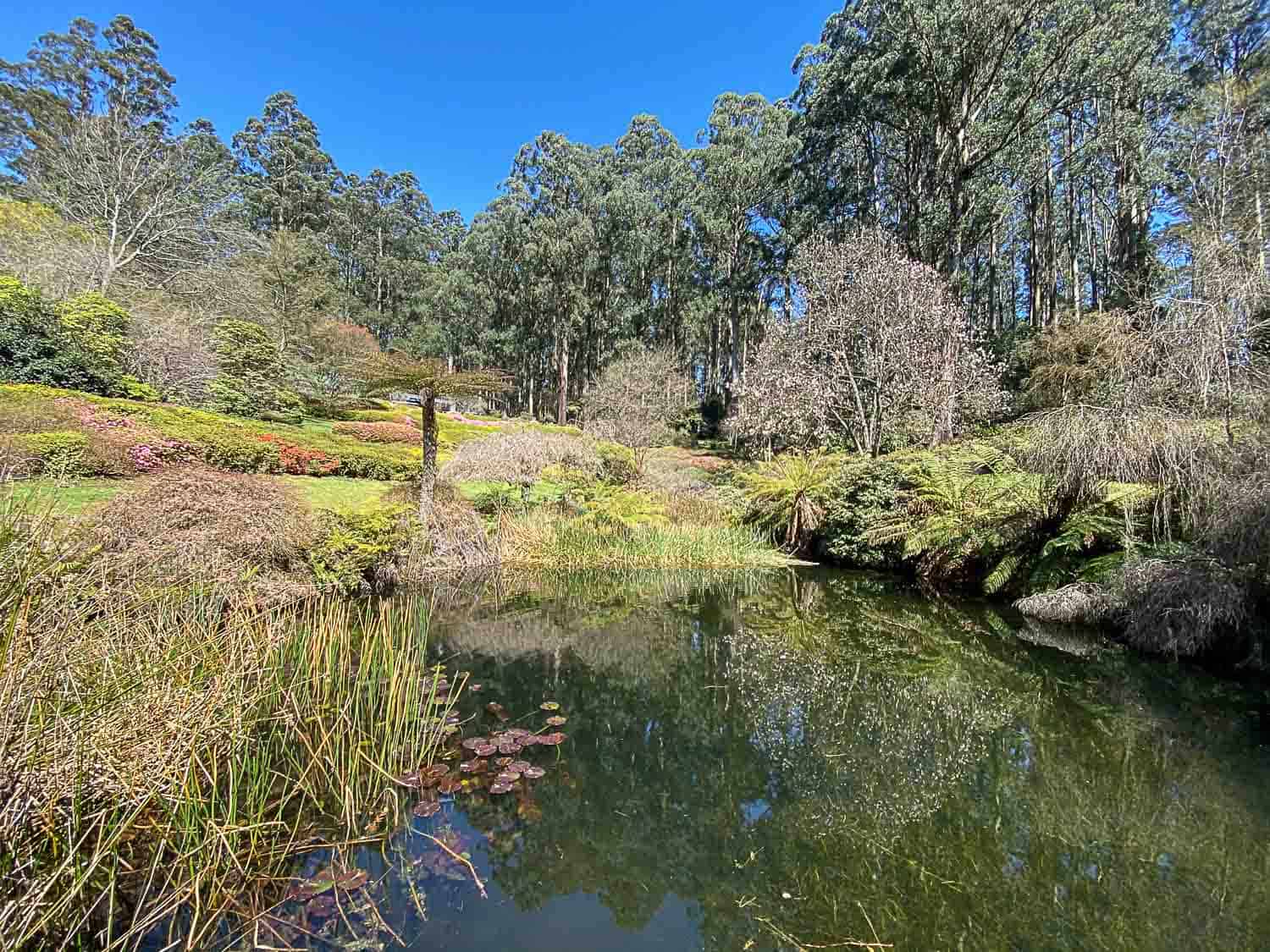 The forested slopes of the Dandenong Ranges are the perfect green escape just an hour from the city.
You'll find beautiful gardens and hiking trails as well as cute villages for a delicious lunch or afternoon tea.
We started our Dandenong day trip at the 1000 Steps (officially the Kokoda Track Memorial Walk) in the Dandenong Ranges National Park.
It's a popular local exercise spot that involves a challenging climb up steps through eucalyptus trees and ferns—we even saw a wallaby.
There's no view at the top—it's more about experiencing the rainforest and getting your heart pumping.
The return walk took us an hour. It's best visited early on a weekday before it gets too busy.
Next we visited the Dandenong Ranges Botanical Gardens where we spent an hour strolling the pretty gardens, although we could have easily stayed for longer.
In early spring the rhododendrons were blooming a vibrant pink and red and the cherry blossoms had started to appear.
A short drive away in the village of Olinda we stopped at The Deli Platter for lunch—the vegetarian focaccia was delicious and they have lots of deli items you could take away for a picnic.
A few doors down is an excellent organic shop, The Organic Fanatic, where we treated ourselves to a bouquet of beautiful poppies and some locally made vegan chocolates by Medita.
Next up was our favourite stop of the day—the William Ricketts Sanctuary, a fabulous sculpture garden in the forest. The unique clay sculptures merge with the rocks beneath the towering eucalyptus trees.
From here we drove up to SkyHigh Mount Dandenong, a popular stop in the area but it felt like a tourist trap to us.
Parking costs from $5 – 10 and on our visit it was busy with kids enjoying the maze and mini golf.
The small gardens didn't match the ones we'd seen earlier in the day and although the view of the Melbourne CBD was sweeping, we preferred the view at the Silvan Dam Lookout on the way up.
Other popular places to visit in the Dandenongs if you have more time are the Puffing Billy steam train and more gardens such as Alfred Nicholas and George Tindale.
How to Get There: The Dandenong Ranges are best visited with your own vehicle. We started in the south and worked our way north before heading back to the city. The 1000 Steps are 40km east of Melbourne CBD and take less than an hour to reach.

Suggested Tour: This Puffing Billy Train Day Trip also includes a visit to Healesville Animal Sanctuary and this Dandenong Ranges Private Tour includes lunch and a forest walk.
5) Hanging Rock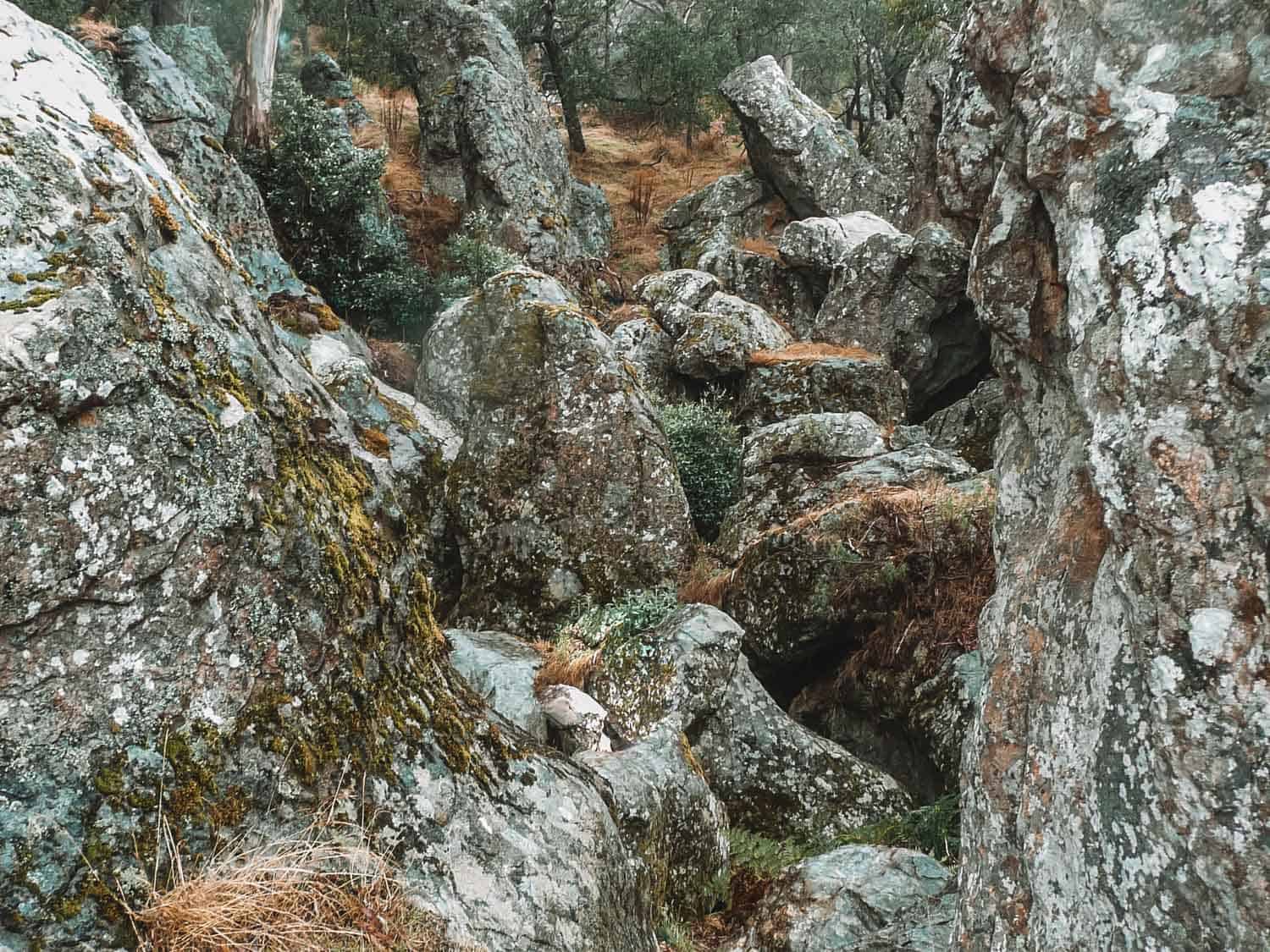 Contributed by Chris Fry, The Aquarius Traveller
While you're visiting the Melbourne region, explore the mysteries and history of Hanging Rock.
This former volcano lies 718 metres above sea level near the small town of Woodend.
It was created 6 million years ago by magma pouring from a narrow vent in the bedrock and is an excellent example of a mamelon mountain.
The walk up to the summit is only 1.5km long (almost one mile), but you should allow about one hour to explore all the rock formations and admire the views.
As a class 3 track, it is recommended for closed in shoes and for people with some bushwalking experience. Alternatively, in the area there are also wineries, parks, markets, and gardens to visit as well.
What makes Hanging Rock so famous in Australia is that a small group of boarding school girls mysteriously disappeared after a picnic in 1900.
There was a book written about the story in 1967 and a Peter Weir movie produced in 1975, which has ensured the story has survived more generations.
How to Get There: Hanging Rock lies about 70km north of Melbourne city and takes about one hour to get there.
Day Trips 1–2 Hours From Melbourne
6) Geelong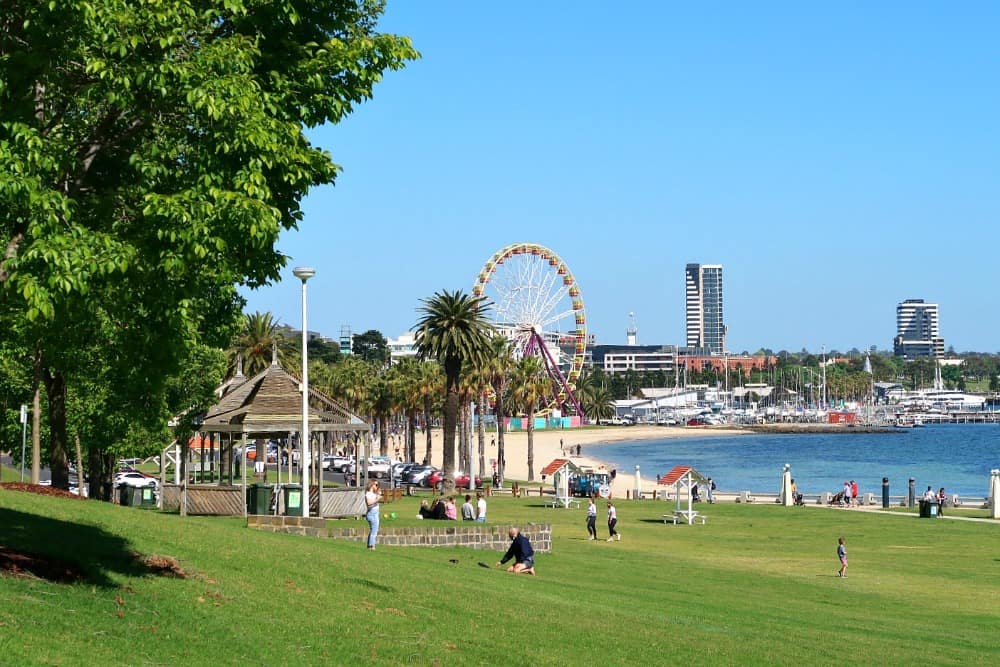 Contributed by Audrey Chalmers from See Geelong
If you're visiting Melbourne and would like to get out of the city for a while, there's no easier (or more fun!) day trip than a visit to Geelong.
Located just 75 kilometres south of Melbourne, Geelong is Victoria's second-largest city, but it still manages to retain a relaxed laid-back vibe that's perfect for a short getaway from the big city.
Geelong's biggest drawcard is its magnificent north-facing waterfront.
Offering views across the bay towards the You Yangs and Melbourne this enticing area is filled with cafes, restaurants, bars, and loads of fun activities to keep you busy all day.
Here you'll find the Giant Sky Wheel, helicopter and Harley Davidson rides, Segway tours, sailing lessons, and stand-up paddleboarding.
It's a great family destination with plenty of things for kids to do. In summer head to the waterpark at Eastern Beach where they can splash and swim all day long.
Littlies love the magic of the 1892 hand-carved wooden carousel, the Thomas lookalike train, the Poppy Kettle playground, and the iconic Baywalk Bollard characters.
Geelong is also home to a host of festivals and events. Time your visit right and you can enjoy the Festival of Sails, the largest keelboat regatta in the southern hemisphere, the Geelong Revival Motoring Festival, or the Cadel Evans Road Race.
How to Get There: There are regular VLine rail services from Southern Cross Station to Geelong. Alternatively, the Port Phillip Ferry departs from the Docklands and docks at Cunningham Pier, right in the heart of the waterfront.

Suggested Tour: Explore Geelong's waterfront with this fun and unique Water Bike Coastal Tour experience.
7) Queenscliff – Swim with Dolphins and Seals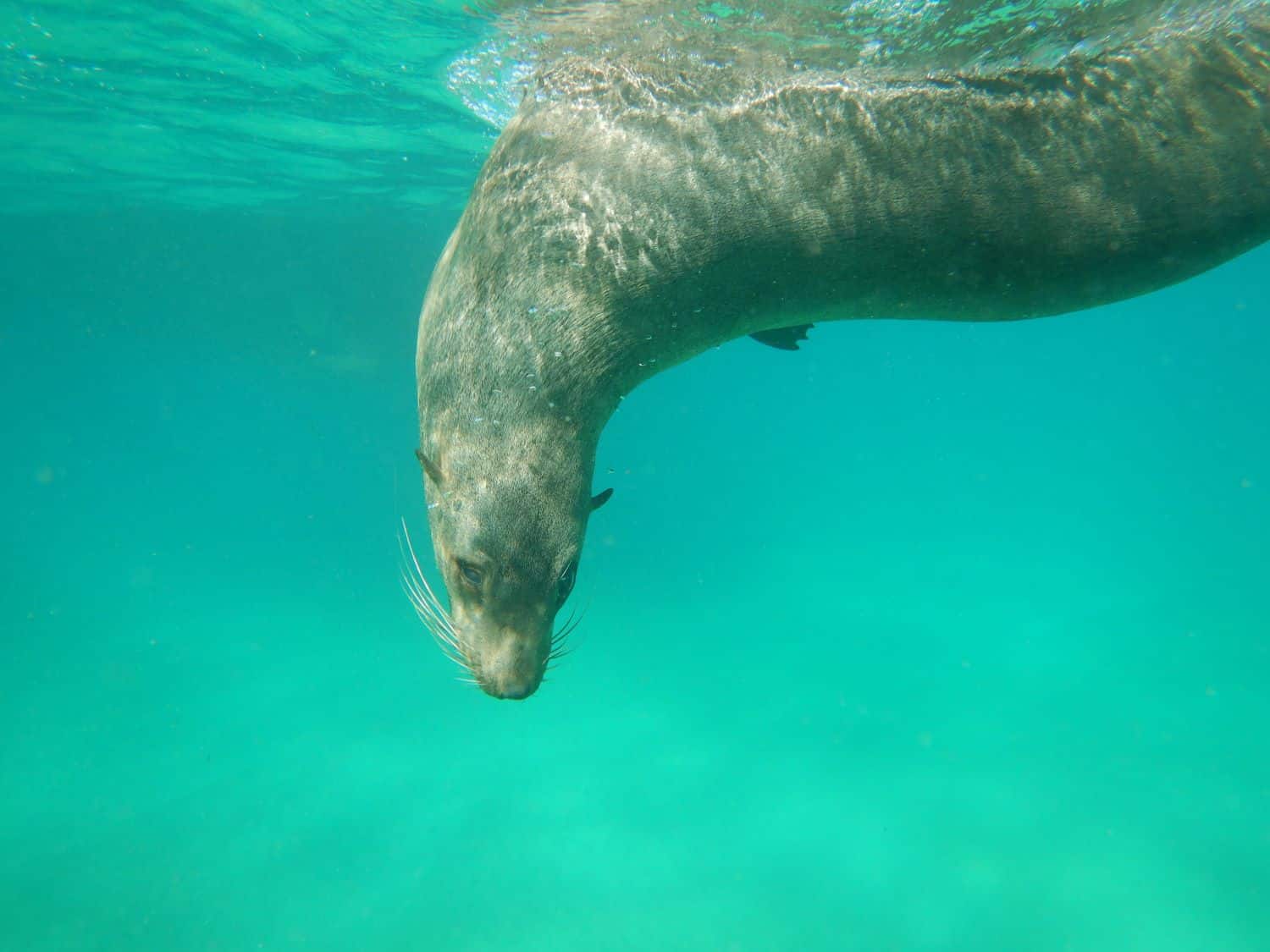 Contributed by Natalie & Steve from Curious Campers
Queenscliff is 90 minutes southwest of Melbourne. It sits on one side of the entrance to Port Phillip Bay.
Given its seaside location, when you head to Queenscliff for the day, pack your bathers and towel.
The highlight of visiting Queenscliff is the chance to swim with seals and dolphins. A Seal & Dolphin Swim Tour takes you into Port Philip Bay to meet the resident sea lion colony.
The sea lions are more than eager to come over and say hello—it is one of the most interactive wildlife experiences you'll have. If you prefer to stay dry, you'll still get a great view of these inquisitive creatures.
You might also get to swim with dolphins. Even if you don't jump in the water with them, it is great watching them swim at the bow of the boat.
All your equipment for this half-day tour is included. The experience caters for swimmers of all abilities.
Back at Queenscliff, you can visit the Maritime Museum and get a sense of the town's naval history.
The Bellarine Railway is also based at Queenscliff and gives you a chance to ride old steam locomotives between Queenscliff and neighbouring towns. The sound and smell of the trains is fantastic!
If you haven't had enough of the water, nearby Ocean Grove and Barwon Heads have lovely beaches and coastal scenery to explore. They are great for a swim, walk or surf.
How to Get There: If you want to make the journey to Queenscliff part of the adventure, drive to Sorrento on the other side of the bay and take the car ferry across. The one-way fare for your car is $75 (free for bikes!) and $14 adults/ $10 for children 4-15 years old.

Suggested Tour: This Seal & Dolphin Swim Tour will give you lots of unique snorkelling opportunities with an expert crew.
8) Point Lonsdale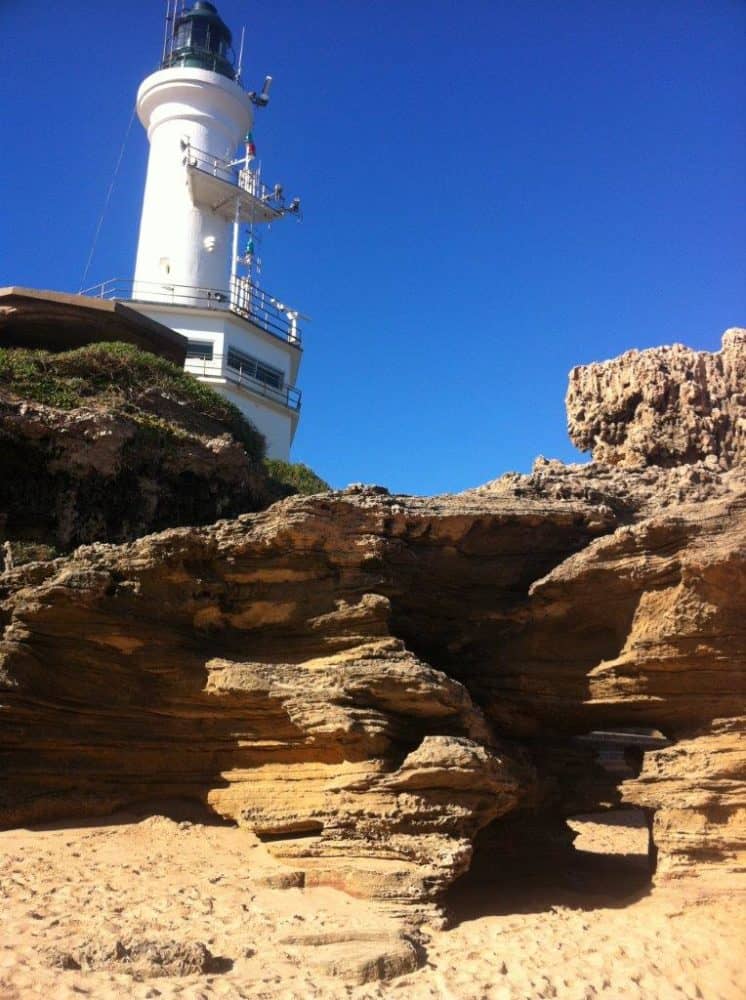 Contributed by Dean and Laynni of Routinely Nomadic
Located just across Port Phillip Bay within view of Melbourne, historic Point Lonsdale seems much closer than it really is.
An hour and a half by car or two and a half by bus, this classic port town makes a terrific day trip for those who like a little history with their scenery, or a perfect stop along one of the world's best road trips.
Yes, Point Lonsdale has great ocean views and a nice beach, although that doesn't exactly make it unique in Victoria.
What you don't see every day is a century-old lighthouse that is still in use today. One of the last manned lighthouses in all of Australia, it overlooks "the Rip", considered one of the most dangerous navigable passages in the world.
Visitors can climb the 120 steps for stunning views across the Victoria Bight to Fort Nepean and you can book a tour (from $8 adults) if you want a closer look at the inside.
Other attractions in Point Lonsdale include a pair of Victorian Heritage Registered buildings, bird-filled Lake Victoria and Port Phillip Heads Marine National Park with great diving and snorkelling.
The legendary Buckley's Cave is also worth exploring.
Legend has it that a mentally unstable Buckley hid here for decades after escaping the prison in Sorrento. Then one day he simply walked into Melbourne and immediately received a pardon, possibly in honour of his moxie? The stories vary.
Charming little Point Lonsdale has a population of less than 3,000, making it easily explored in a few hours.
How to Get There: The most direct route is to drive down through Geelong, but you can turn it into a loop by taking the scenic ferry journey across between Queenscliff and Sorrento.

Suggested Tour: This Full Day Bellarine Peninsula Sightseeing Tour includes a visit to Geelong, the Narana Aboriginal Cultural Centre, Point Lonsdale Lighthouse and even strawberry picking!
9) Mornington Peninsula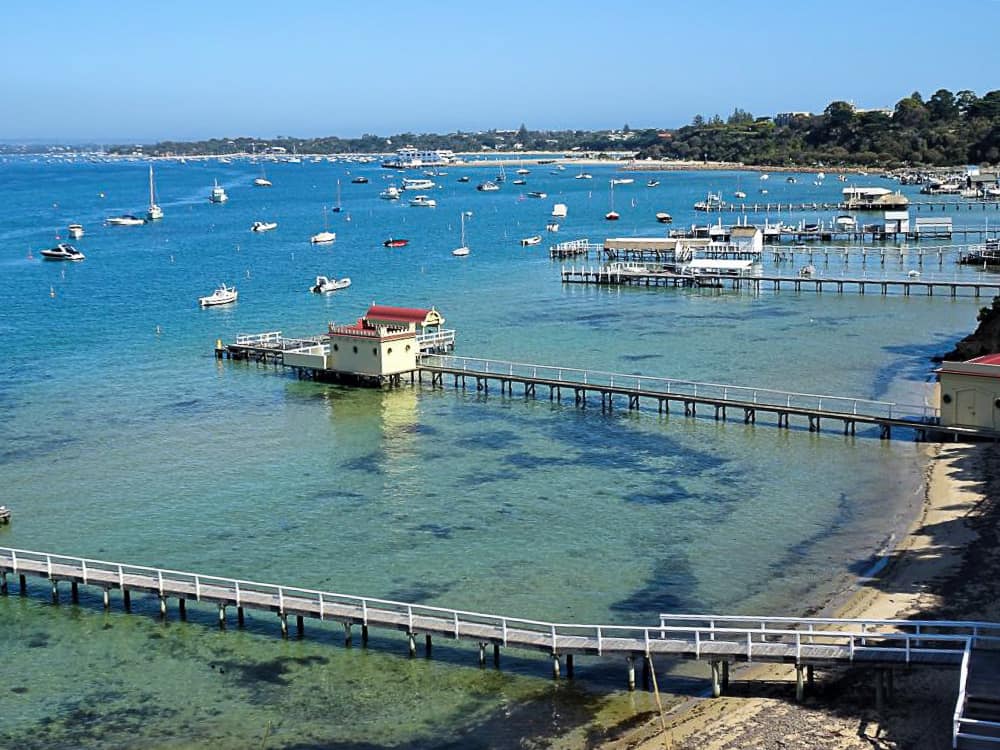 Contributed by Monique from Trip Anthropologist
It is only just over an hour from downtown Melbourne to the delightful wineries of the Mornington Peninsula, with their cellar doors, pizza ovens, fine dining, and sculpture parks.
Another 30 minutes further south brings you to the end of the Mornington Peninsula and the towns of Sorrento and Portsea.
The Mornington Peninsula is known for its markets, hot springs, and for snorkelling, diving and hiking.
At the far tip is the intriguing Point Nepean National Park with its Quarantine Station, forts, tunnels, wild surf beaches and quiet bathing spots.
It is free to wander through this entire abandoned town with its dormitories, morgues, cemeteries, leper colonies, and consumptives wards all within a beautiful coastal setting.
The town of Portsea straddles both the Bay and the wild Bass Strait and, like Sorrento, is full of cafes, bars, restaurants and spas. Make sure to look for weedy sea dragons off the Portsea Pier!
Sorrento has wonderful swimming beaches lined with bathing boxes and both a Millionaire's Walk and an Artists' Trail.
Accommodation in Portsea and Sorrento is scarce but a day trip gives plenty of time for boating, picnicking, swimming, e-biking, or exploring the shops, wineries, bars and eateries of this beautiful part of southern Victoria.
How to Get There: The Mornington Peninsula is just over 100km from Melbourne CBD and takes about 90 minutes to drive. By public transport take the train to Frankston then the bus to Sorrento and Portsea. This route is much slower and can take three hours each way.

Suggested Tour: The Mornington Peninsula & Hot Springs Tour includes an 8km coastal hike and a soak in natural hot springs. If that sounds too active, this Morning Peninsula Hot Springs and Bathing Boxes Tour visits the hot springs as well as the gondola and colourful bathing boxes.
10) Ballarat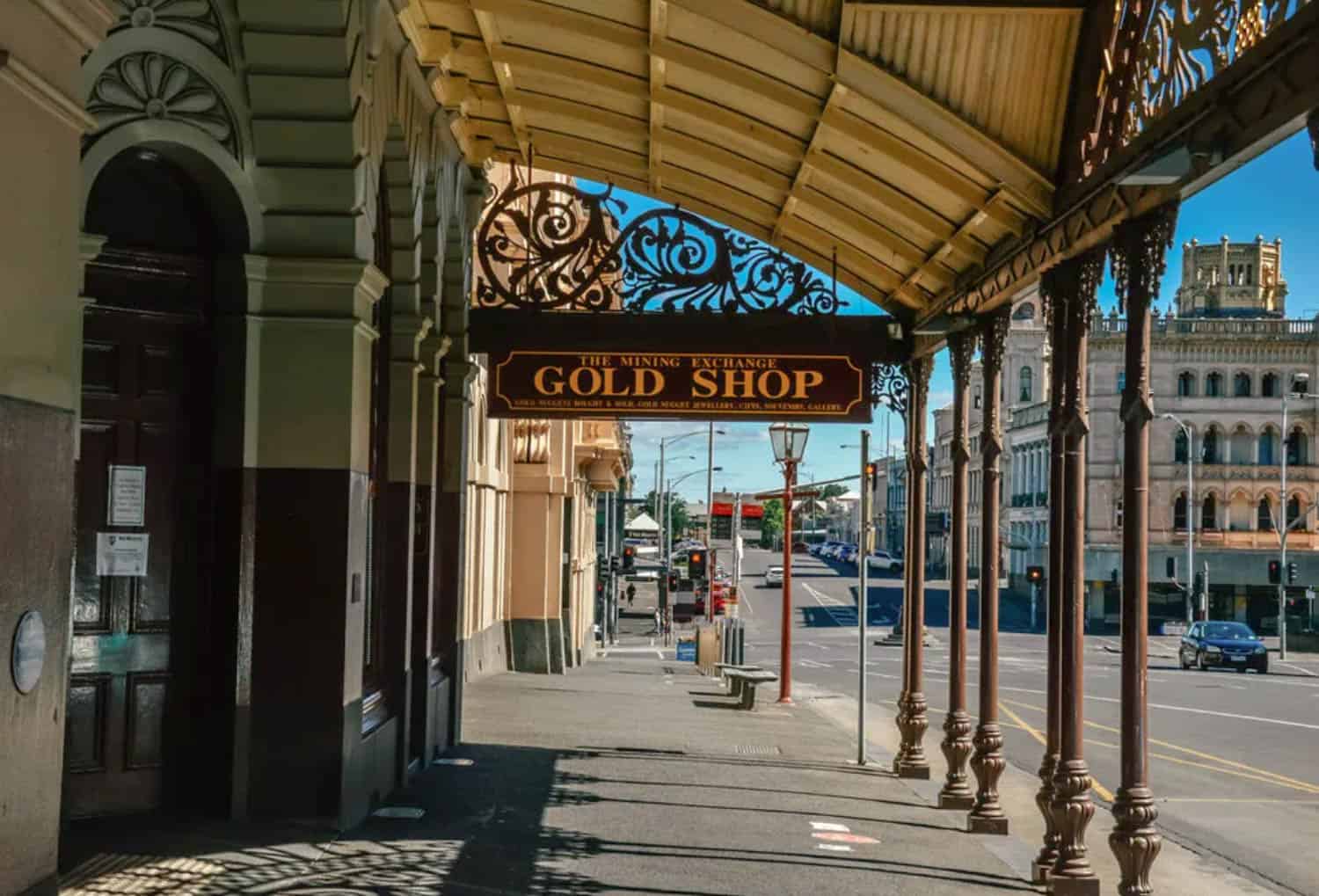 Contributed by Shae from The Bright Eyed Explorer
Ballarat is most famous for its place in Australian history when gold was discovered in the 1850s and people from all over the world flocked to the area to find their fortune.
A great way of learning about the history of Ballarat is to head to Sovereign Hill.
One of the most popular attractions in Victoria, Sovereign Hill is a living history museum, presenting the story of Ballarat during the gold rush boom.
The wealth of the gold rush era is evident today in the Victorian-era style buildings that line Ballarat's charming streets.
I suggest spending some time walking around Sturt and Lydiard streets which is where you will find art galleries, artisan shops, and the famous Craig's Hotel.
Food lovers will be impressed by the number and quality of restaurants and cafes that have popped up all over the city, where the focus on locally sourced produce is a highlight.
Equally impressive is the local beer and wine scene. I recommend having a bite to eat and sampling local wines at Mitchell Harris Wines. There are also plenty of great pubs worth trying too.
Lake Wendouree and the Botanical Gardens are lovely to walk around in the spring and summer months.
Worth a visit is the Ballarat Wildlife Park where you can get up close with some native Australian wildlife (yes koalas and kangaroos!).
How to Get There: Ballarat from Melbourne by car will take approximately 1.5 hours from the CBD. Alternatively, the V/Line train service from Southern Cross Station in Melbourne will get you there in just under two hours. Trains run frequently and late into the night.

Suggested Tour: If you have limited time then this Sovereign Hill Gold Mining Town Day Trip that includes round-trip transport could be useful.
11) Daylesford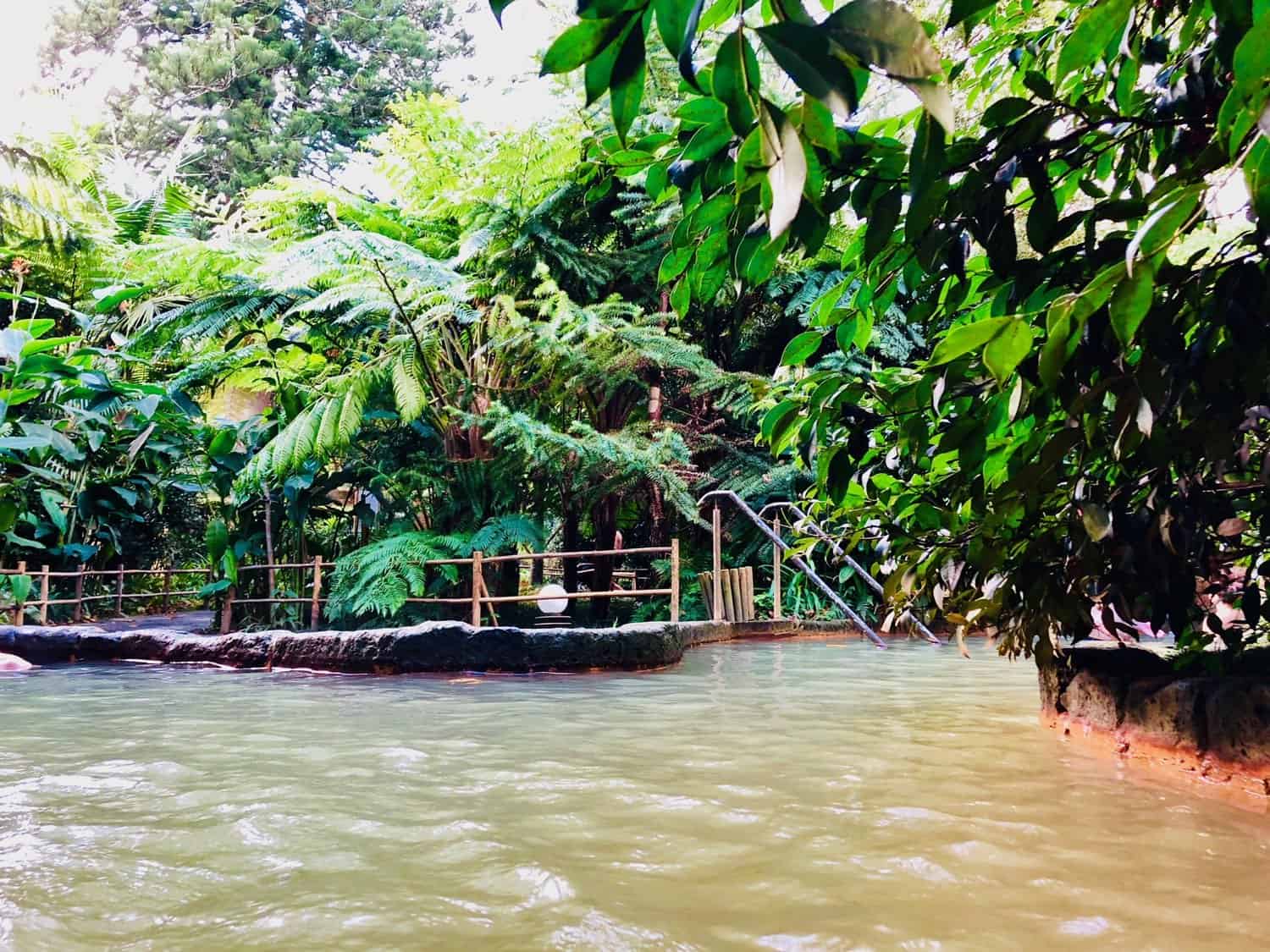 Contributed by Ucman from BrownBoyTravels.
Daylesford is a beautiful town that offers fresh clean air for city dwellers, mineral thermal springs that rejuvenate your skin, and amazing local wines to complement fresh locally produced cuisine.
There are multiple spas rich with mineral thermal water with plenty of options whether you prefer the balmy indoor pools and saunas to perfectly heated water outside.
The city itself features mid 19th-century cottages that have been converted into luxury accommodations giving the city its pristine, idyllic look.
For shopping head to Vincent Street, and if you like architecture, the area around the Town Hall is your spot.
If you are excited by art, head to the Convent Gallery which was described as 'Australia's most beautiful art gallery'.
If you prefer nature, head to the shores of Daylesford Lake for a relaxing stroll.
Daylesford has something for everyone and makes for the perfect day trip from Melbourne.
How to Get There: By car it's 115km and takes under 90 minutes with beautiful views along the way. By public transport, there are frequent trains and buses. A train ride will cost roughly $9–14 whereas the bus will set you back $8–12 and can take up to three hours with connections.

Suggested Tour: This Small Group Daylesford Wine Tour can be tailored to a half-day/ full day and includes stops at wineries, distilleries, sights and more.
Day Trips 2+ Hours From Melbourne
12) The Great Ocean Road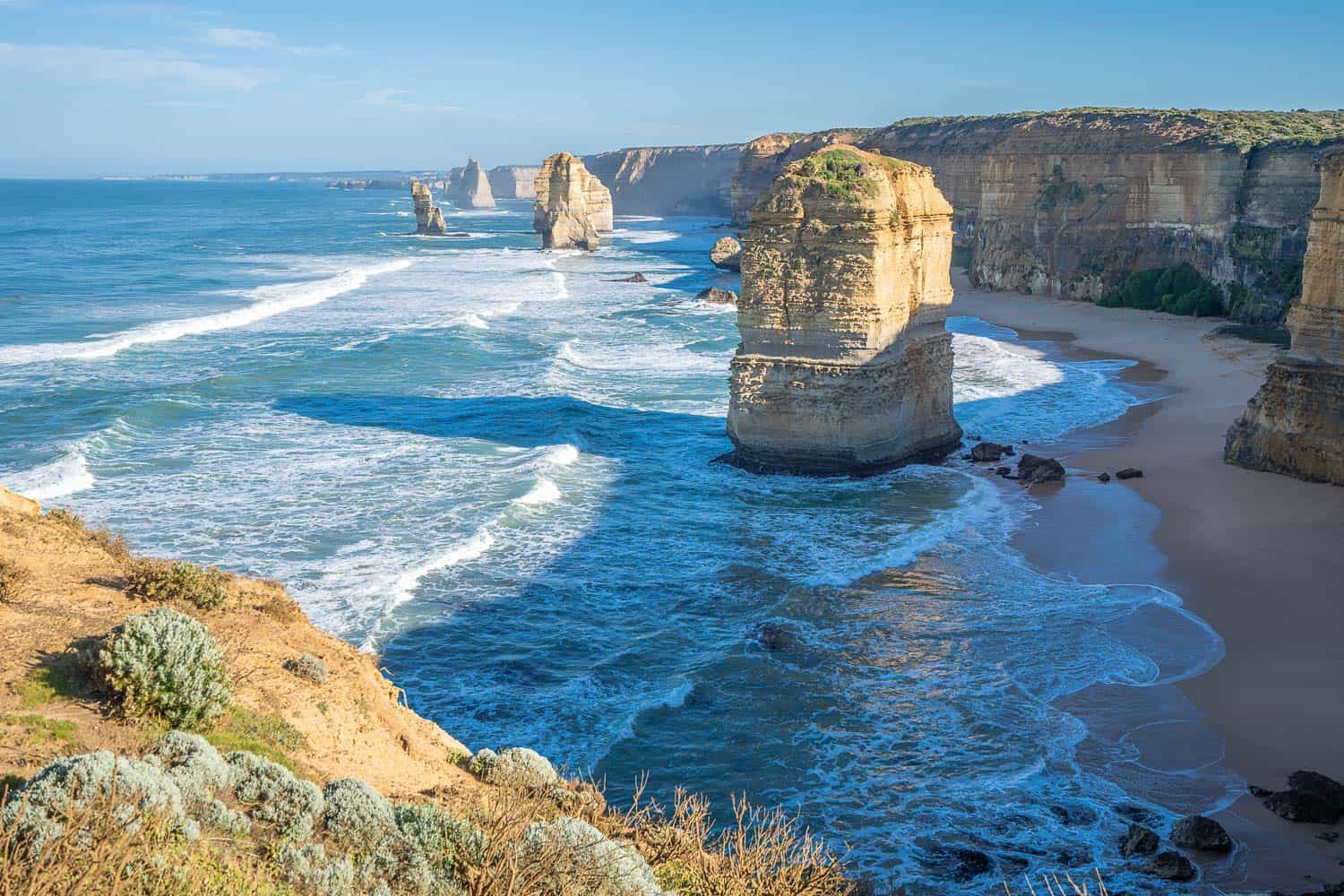 The Great Ocean Road is the most famous destination in Victoria and many people want to visit it during their stay in Melbourne.
If you can, I highly recommend allocating at least two or three days to drive this scenic coastal road, but it is possible on a day trip.
To make the most of your day, an early start from Melbourne is key. I recommend taking the inland road via Colac and driving directly to Port Campbell (about 3 hours from Melbourne).
Nearby is the most famous attraction on the Great Ocean Road—the dramatic Twelve Apostles rock stacks that emerge from the ocean.
There are various viewing points only a five-minute walk from the car park.
If you arrive by late morning, you'll avoid the crowds (the tour groups usually drive the road in the other direction). You can then drive back to Melbourne on the Great Ocean Road.
Other highlights of the drive are the nearby Gibson Steps, Loch Ard Gorge (only five minutes from Twelve Apostles), the seaside town of Apollo Bay, and Kennett River where you can see koalas.
See our Great Ocean Road itinerary for more details.
How to Get There: You'll need to drive yourself or take a tour. Expect it to be a long day (at least 12 hours) and you'll need to be confident driving on winding coastal roads.

Suggested Tour: This Great Ocean Road Day Full Day Trip is popular and follows a typical itinerary. If you'd prefer to visit the Twelve Apostles before most of the other tour buses arrive, this Great Ocean Road Reverse Experience heads directly to the highlights via the inland route and then follows the road back to the city.
13) Phillip Island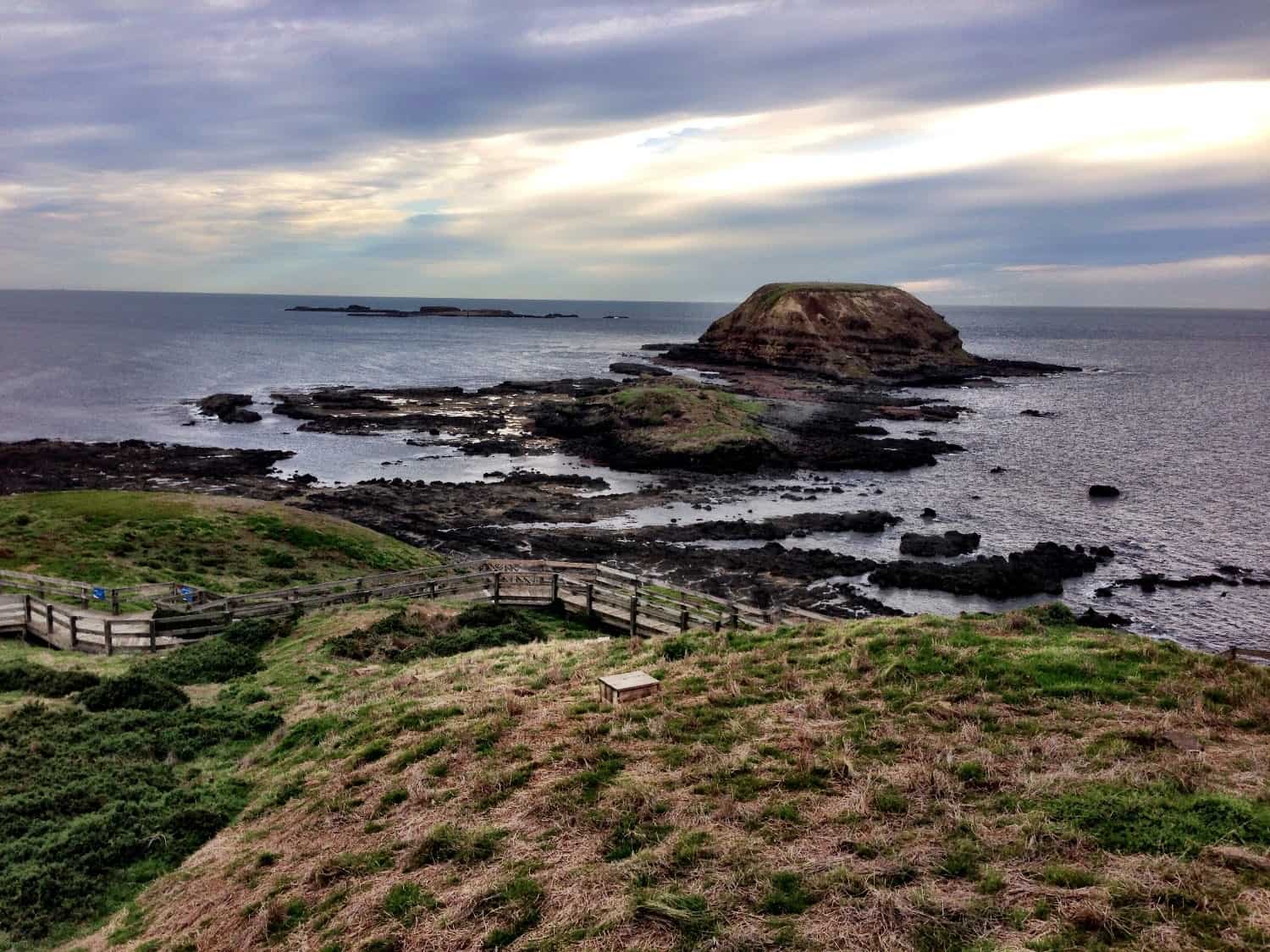 Contributed by Sharon from Baby Journey.
One of the most popular day trips from Melbourne is definitely one of the best – visiting Phillip Island.
Located an easy two-hour drive south-east of Melbourne, Phillip Island is most famous for its nightly penguin parade. Around sunset, many fairy penguins come ashore in groups.
You can watch them from stands in the sand dunes and then walk around on boardwalks looking down as they waddle to their nests for the night. This should be #1 on your Phillip Island hit list.
There are many other attractions for the day time, like Nobbies Centre which is nearby. From here, you can see Australia's largest fur seal colony or learn about Antarctica at the Antarctic Journey.
If you buy a 4 Park Pass from Phillip Island Nature Parks, you can visit these attractions plus visit the Koala Conservation Centre and spot koalas in the wild and Churchill Island to learn about the history of the place and for fun farm activities.
Adding all these attractions together will give you a fabulous day trip from Melbourne.
How to Get There: Phillip Island is connected to mainland Australia by bridge and is easy to get to by bus or car. The island itself is a reasonable size at 101 square metres and attractions are spread out, so it's best to travel here by car so you can enjoy all the island has to offer.

Suggested Tour: This Penguin Parade and Koalas Tour from Melbourne includes the koala reserve, beautiful beaches, Nobbies, and of course, the sunset penguin parade.
14) The Grampians National Park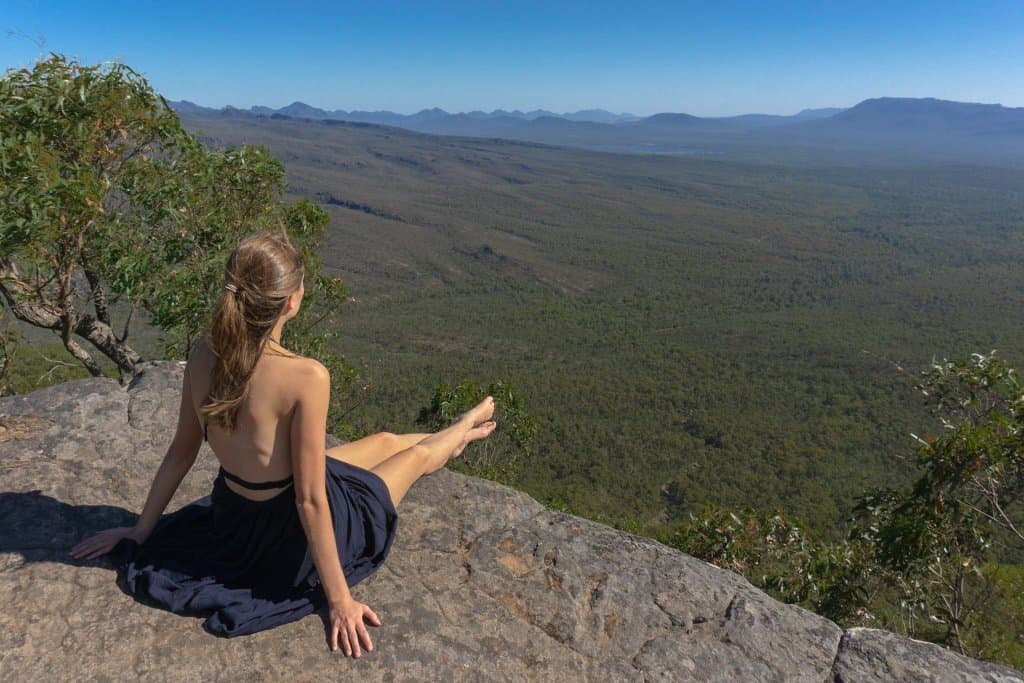 Contributed by Cassie from Cassie The Hag
The Grampians National Park is a popular day trip from Melbourne, providing a feeling of the true Australian wilderness, as well as specific natural gems.
I recommend heading straight to MacKenzie Falls, one of my favourite waterfalls in Victoria.
There is a fairly steep walk down to the 35-metre waterfall which is 2km return, but then you can enjoy the scenery and relax.
Alternatively, there is a separate 2km walk to the top lookout point with no steps. This is the must-see of any visit to the Grampians National Park.
There are also many lookout points within the Grampians, a great way to witness the endless bush and significant rocky features within the valley such as 'Halls Gap'.
You can drive directly to some, such as the Boroka Lookout or view them during a trek such as The Pinnacles Hike.
The Balconies is also an easy 1km walk, making it a good option for a day trip.
The Hollow Mountain walk is only just over 2km but is more of a difficult option with rocky boulders and drops—one for the more experienced hikers.
Most activities are free, aside from gas, though more difficult hikes may be best to do with a guide.
Despite the long drive, coming back to Melbourne at sunset is a wonderful time to spot hundreds of kangaroos who tend to graze here. I also spotted wild emus and (yikes) a brown snake.
Melbourne Day Trips Map
More Australia Posts
Victoria
Queensland
If you enjoyed this post, pin it!