This page contains affiliate links. Please read our disclosure for more info.
Noosa, Queensland is one of the most beautiful beach towns in Australia—we fell in love with it during our three-month stay.
The relaxed town features golden beaches, a scenic river, and subtropical rainforest. Much of the land is protected as a UNESCO biosphere reserve, so it's lush and green with no high-rise development.
There are plenty of things to do in Noosa—from surfing and swimming in the ocean to hiking in the national park and kayaking in the nearby everglades.
As well as all the outdoor activities, Noosa has a superb food scene with some wonderful restaurants and the best farmers market we've ever been to.
In this post, I share our picks for what to do in Noosa plus where to stay, the best day trips, how to get there, and a map with all our recommendations.
Contents
We acknowledge the Kabi Kabi people as the Traditional Custodians of Noosa's land and sea.
Noosa Must Dos: Our Top 5 Picks
If you are short on time, these are our absolute favourite things to do in Noosa:
Main Beach – Surf, swim, sunbathe, or stroll the boardwalk. This is the heart of Noosa.
Noosa National Park – Hike the popular coastal walk or escape the crowds on the forest trails.
Noosa River – Experience it on a paddleboard, hire a picnic boat, or take a sunset cruise.
Noosa Everglades – Kayaking on these tranquil waterways is magical!
Noosa Farmers Market – If you are in town on a Sunday morning, don't miss it (and go hungry)! From tropical fruit stalls to vegan food trucks, it's foodie heaven.
Best Things to Do in Noosa
1) Relax on Main Beach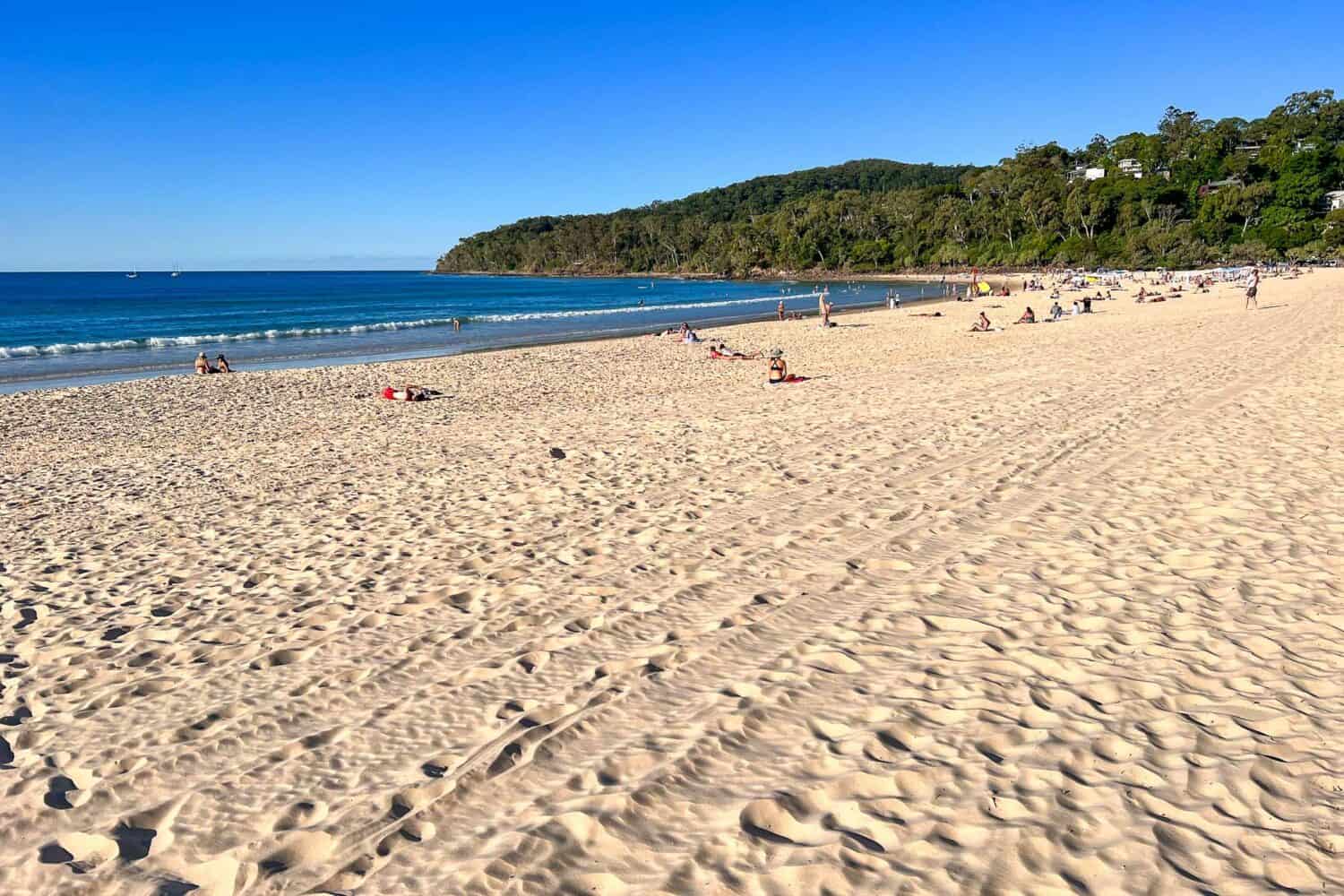 Main Beach in Noosa Heads is the heart of the action. The golden curve of sand in Laguna Bay is usually protected from the wind and is much calmer than most east coast beaches—perfect for swimming.
When the surf does pick up, the gentle waves are ideal for learning to surf.
Due to Noosa's amazing climate (the Sunshine Coast lives up to its name), you can enjoy the beach throughout the year.
We were there from May to July (late autumn and winter) and it was beach weather most days—sunny and 22ºC with similar ocean temperatures (I swam throughout).
While the beach is always busy, there's plenty of space for everyone, and you can find a quieter spot up near Noosa Woods and the Main Beach Groyne. If you have kids or aren't a confident swimmer, stay in the patrolled area between the flags, though.
Just outside the surf club, there's a stand that rents out umbrellas, chairs, and sun loungers ($15 a day), as well as surfboards, kayaks, and standup paddleboards.
There are all the facilities you need nearby including toilets, showers, and lockers.
Hastings Street runs parallel to the beach with plenty of cafes, beach gear shops, and upmarket boutiques.
Some of our favourite places to eat are Betty's Burgers and Raw and Rice for takeaway poke bowls to eat on the beach.
See my detailed guide to the best restaurants in Noosa for more ideas.
And don't miss an authentic Italian gelato at Massimo's, which you can enjoy while strolling the boardwalk next to the sand.
There are a few truly beachfront places to eat and drink—the Noosa Heads Surf Life Saving Club is the most affordable spot for a beer or pub grub.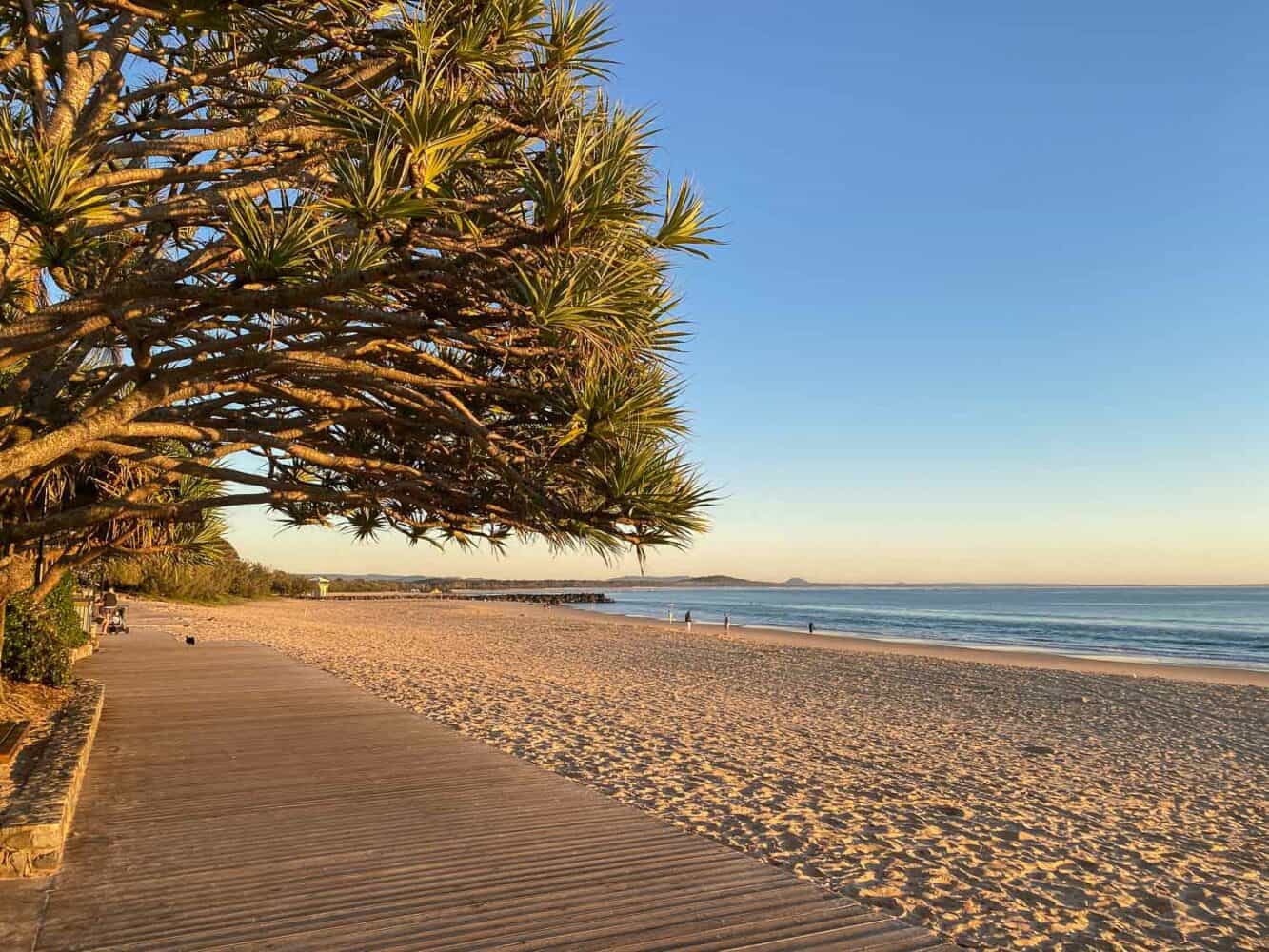 2) Walk the Coastal Track in Noosa National Park
Noosa National Park is a Noosa must do and sets it apart from other beach towns.
Just a 15-minute stroll from Main Beach, you'll find a beautiful expanse of rainforest with hiking trails, beaches, and wildlife to enjoy (and it's all free).
By far the most popular hike is the Coastal Walk with stunning ocean views throughout and the chance to spot dolphins, turtles, and whales (in winter).
The full trail is 10.8km return, but you can walk as far as you'd like and still have a wonderful walk.
For example, lovely Tea Tree Bay is only a 10-minute walk from the National Park car park.
To escape the crowds, I recommend exploring the forest trails too. My favourite early morning run was a 7km loop out on the Coastal Walk and back through the diverse forest of the Tanglewood Track.
See my guide to the best walks in Noosa National Park for ideas for all abilities and details on what facilities to expect in the park.
3) Eat at the Sunday Farmers Market
The Noosa Farmers Market on Sunday mornings (6am – midday) is our favourite market in the world.
It is foodie heaven and perfect for breakfast (seriously, go hungry), picnic ingredients, or self-catering.
There's always an abundant selection of locally grown fresh fruit and vegetables as well as bread, dips, olives, honey, cheese, nuts, hot sauces, chutneys, juices, and sweet treats.
You'll find food trucks for all tastes too including plenty of vegan options.
These were our go-to stalls:
Dragon Roti – Flavourful dahl and flaky roti. Expect a wait so put your order in first then do some shopping.
French Sin – Wonderfully decadent warm chocolate croissants and baguettes.
Heaps Good Smoothies – The Earth Mother is the best green smoothie I've ever had.
Alegria Vegana – Tasty vegan empanadas (the sweetcorn is our favourite).
Roro Pizza – Authentic Neapolitan-style wood-fired pizza made vegan.
Flying West – This coffee stall always has the longest line but it is the best.
House of Salsa – Fantastic fresh salsa and tortilla chips. They are only there every other week. If you miss it, visit the House of Salsa Salsaria on Thursday and Friday mornings.
The Wonky Loaf – Our favourite bread stall. The olive and rosemary sourdough is especially good.
FermenStation – The sesame miso dressing is wonderful for a quick stir-fry.
The market takes place at the AFL Football Club at 155 Weyba Rd (a five-minute drive from Hastings St). It's always busy so go as early as you can.
We usually arrived about 8am and always got a parking space (gold coin donations appreciated), but it could be slow going. It's worse after 9am.
The market is focused on food, so if you are looking for clothes and crafts, visit Eumundi Market instead (see below).
4) Find a Quiet Beach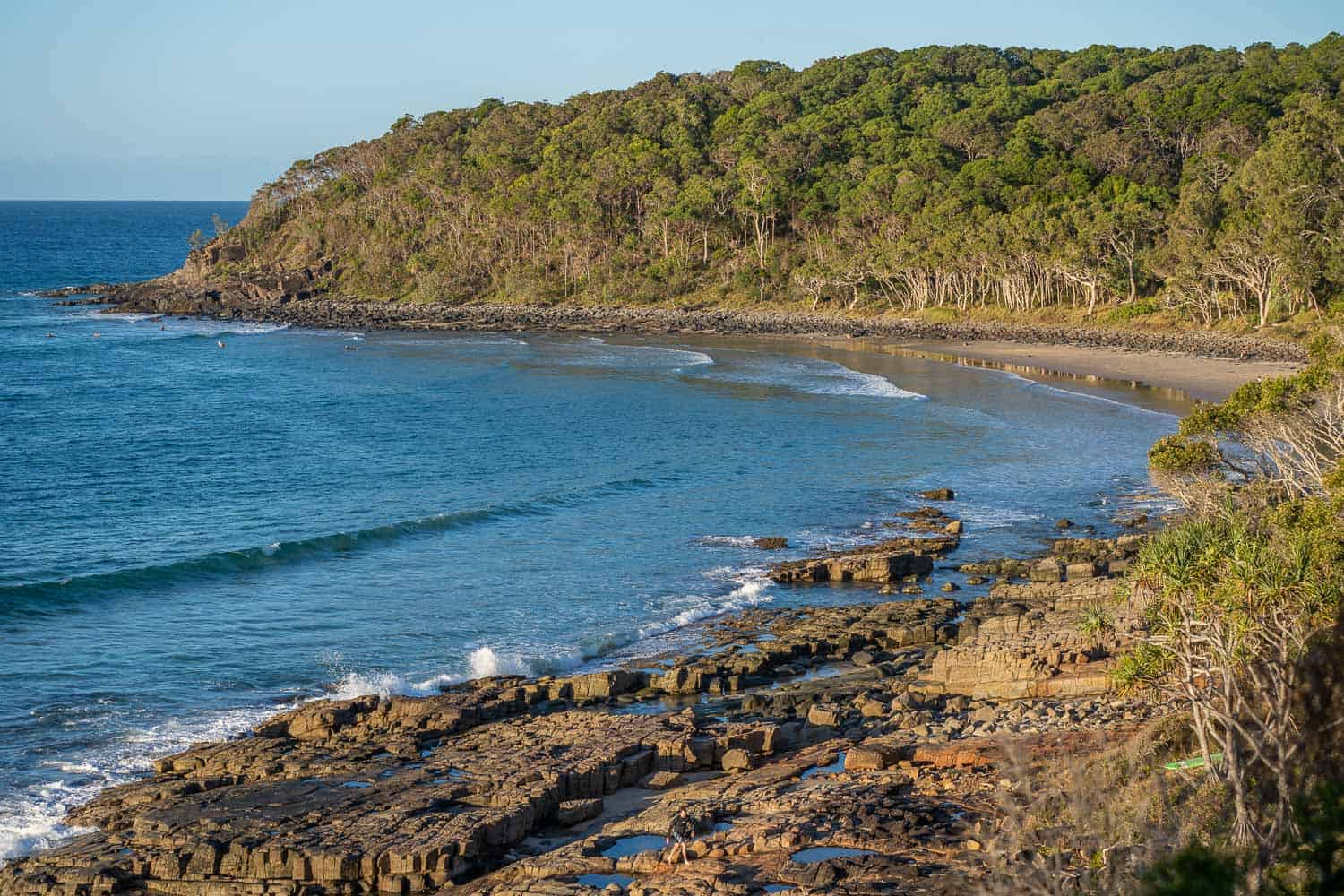 If you are looking for a quieter stretch of sand than Main Beach, there are some beautiful tranquil beaches in Noosa:
Little Cove Beach – This secluded bay is a five-minute walk from Main Beach towards the National Park. As it's small it can sometimes feel busy.
Tea Tree Bay – A 25-minute walk from Main Beach (or 10 minutes from the National Park car park) is one of the loveliest beaches in Noosa. Sometimes it's popular with surfers, but when it's calm, it's ideal for swimming.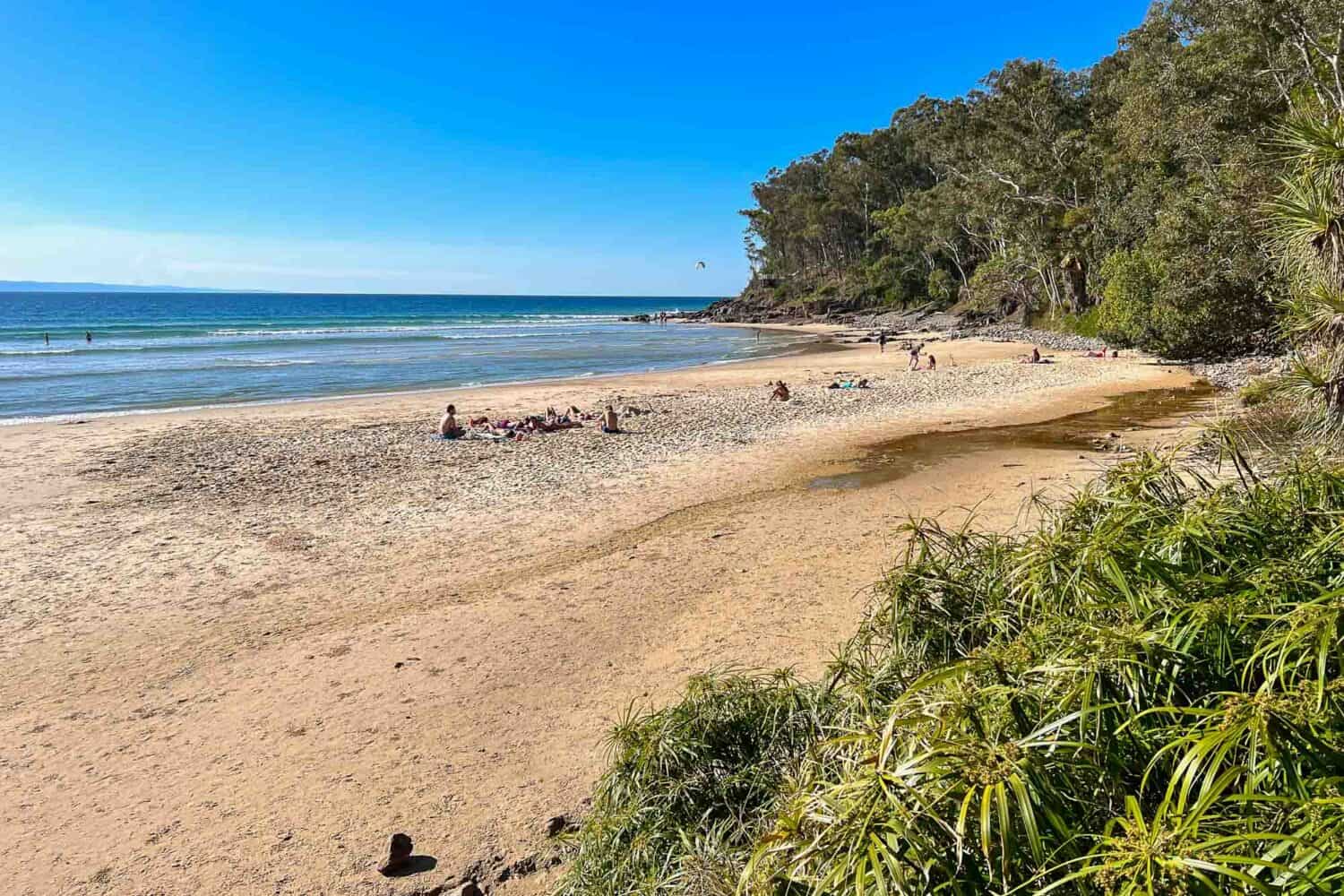 Alexandria Bay – Also in Noosa NP, this long beach takes more effort to get to, but it's almost always empty (which nudists take advantage of). You'll reach it on the Coastal Walk or the quickest way is on the Alexandria Bay Walk (25 minutes each way) from Sunshine Beach. My Noosa National Park guide has details.
Noosa Woods – At the far end of Main Beach, you'll find a much quieter stretch of sand. And if you walk through the woods to the other side of the spit, there are lots of little beaches on Noosa River (where the water is always calm) such as River Entrance Beach or Doggy Beach.
Noosa River – Further up the river in Noosaville there are lots of small, quiet beaches. If you rent a boat (see below) you can get to even more secluded spots.
Sunrise Beach – The Eastern Beaches are always much quieter. Sunrise was our favourite for a long walk.
5) Stroll by the River in Noosaville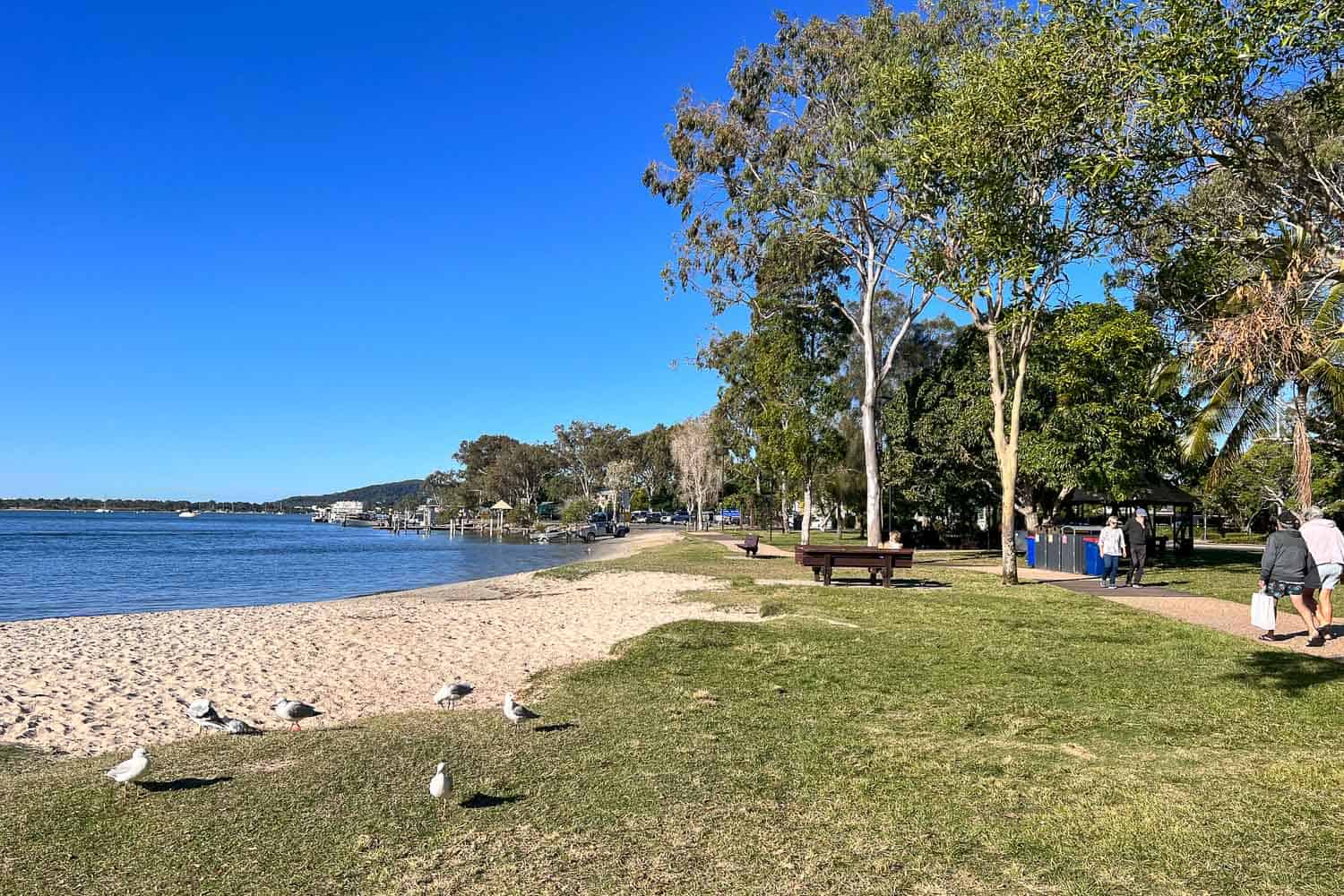 Make sure to visit the riverside community of Noosaville to see a different side of Noosa. A 10-minute drive from Hastings St (or take the Noosa Ferry), it's much easier to get parked here.
The focal point is Gympie Terrace where there's a path next to the river that's perfect for strolling with an Amo gelato in hand.
There are picnic tables, benches, and grassy lawns where you can relax and enjoy the view, which is especially good at sunset. It's a popular local spot for evening drinks and a picnic or BBQ.
There's also a kid's playground and several places to hire boats, kayaks, and paddleboards.
Getting out on the river is one of the top things to do in Noosa—I share various options below.
Our favourite spot for a sunset cocktail is the Sunset Bar at Noosa Boathouse. We also like to grab a poke bowl from Raw + Rice to eat riverside.
6) Cruise the Noosa River at Sunset
The easiest way to get out on the river is on the Noosa Ferry, which runs from Hastings Street (Sofitel Jetty) to Noosa Marina in Tewantin via Noosaville.
The whole journey takes 35 minutes each way, and you can buy an afternoon or all-day pass to hop on and off as you like.
We chose to do the Sunset Cruise, which was a very pleasant way to end the day.
You can BYO drinks and snacks (they provide glasses and ice) to enjoy on the top deck as the sun goes down.
We did the shortest cruise from Hasting St (1 hour 15 minutes) and cruised down narrow canals past mangroves and trees full of nesting cormorants.
It was interesting to peek at the fancy homes on exclusive Noosa Sound and hear the stories about them.
If you are looking for more of a splurge, consider hiring a gondola (with a driver) for a private river cruise.
7) Rent an Electric Picnic Boat on Noosa River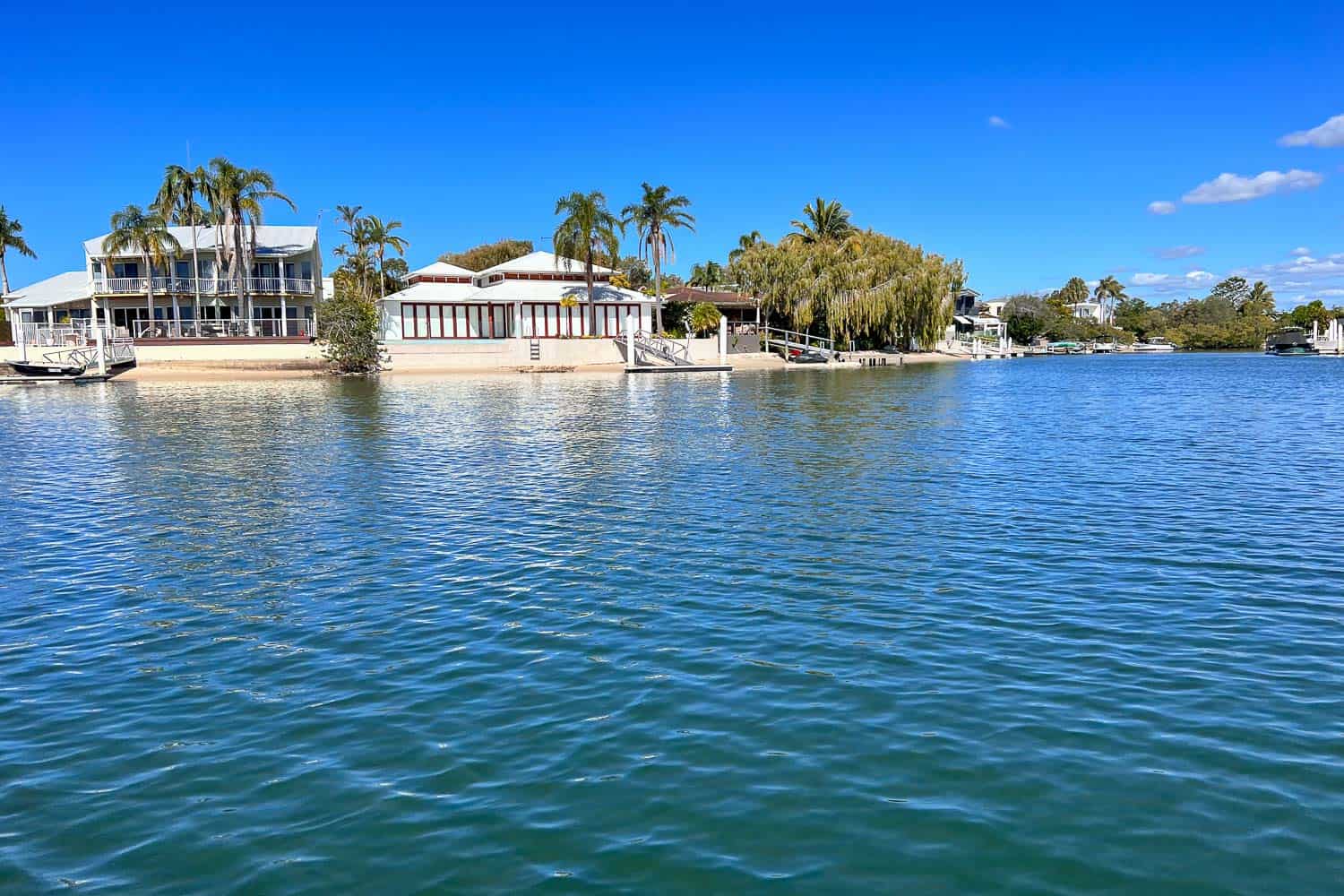 Renting a boat to explore the river is one of the best activities in Noosa.
Several companies in Noosaville plus Boardwalk Boat Hire on Hastings St offer rentals.
We hired from Eco Noosa River Adventures because their electric picnic boats are eco-friendly, quiet, and have a table for your lunch.
The padded seats are comfortable with plenty of space to spread out and a canopy for shade. You don't need a boat licence and they are easy to drive.
We rented for two hours, which was enough time to see the allowed areas (you can't go too far down the river), but three hours would have given us more time anchored for lunch and a swim.
First, we went right towards the ocean and down the canals past luxury villas, mangroves, and the beaches of Noosa Woods.
Then we returned to Noosaville and continued past to Makepeace Island, a private island resort owned by Richard Branson. You can't stop here, but the mainland opposite is tranquil and green and we found a little beach for our lunch stop.
8) Stand Up Paddleboard on the River
Renting a kayak or standup paddleboard (SUP) is another fun way to experience the river, especially as some sections of Noosa River are too shallow for boats.
I hired a SUP from Eco Noosa River Adventures for one hour, which was enough time to paddle around Goat Island.
Powered boats aren't allowed on the far side of the island and it's lovely and peaceful with mangroves and lots of birds.
If you are looking for unusual things to do in Noosa, they have Nauticycle water bikes so you can ride a bike down the river!
We were also tempted by their eFoil lessons.
If you'd rather rent a SUP near Hastings St, Boardwalk Boat Hire at the Sofitel has rentals (a good location for exploring the canals and luxury homes).
You can also rent them on Main Beach but the waves make it more challenging.
9) Do Yoga by the Water
My favourite way to start the day in Noosa was with an outdoor yoga class with Noosa Beach Yoga.
The classes take place in Noosa Woods under the shade of trees next to the river.
You won't want to go back to a yoga studio after doing downward dog with water views and the sound of birds.
The one-hour classes are slow stretchy flows that are suitable for all levels. Mats are provided, but you need to book online at the Noosa Beach Yoga website.
10) Learn to Surf
Learning to surf is the only item on this list that we actually didn't do (we've tried elsewhere), but it's such a quintessential Noosa activity that it's well worth trying.
With gentle waves, a sandy bottom, and year-round sun, Noosa is the ideal location for surf lessons.
Go Ride a Wave offers 2-hour group lessons on soft beginner surfboards and promises to get you standing on your first lesson.
11) Take a Long Walk on the Eastern Beaches
If the crowds on Main Beach are bothering you, head to the Eastern Beaches just a 10-minute drive away.
This long stretch of wide sandy beaches leads from Sunshine Beach to Peregian Beach past chilled beachside villages.
The surf is much bigger here, so it's better for surfing than swimming (swim between the flags if you do go in), but we love it for long walks.
Sunshine Beach is the busiest and is patrolled year-round, but you'll still find plenty of space. The steep steps at the far end lead up to the Coastal Walk in Noosa National Park.
Some of our favourite Noosa restaurants are in the small community of Sunshine Beach including Humble on Duke, Embassy XO, and the Surf Club (for the ocean views more than the food). Sunshine Social/ Entity Coffee roasts its own beans and has great coffee.
Sunrise Beach is further south and is quieter than Sunshine. It was our go-to for a late afternoon walk.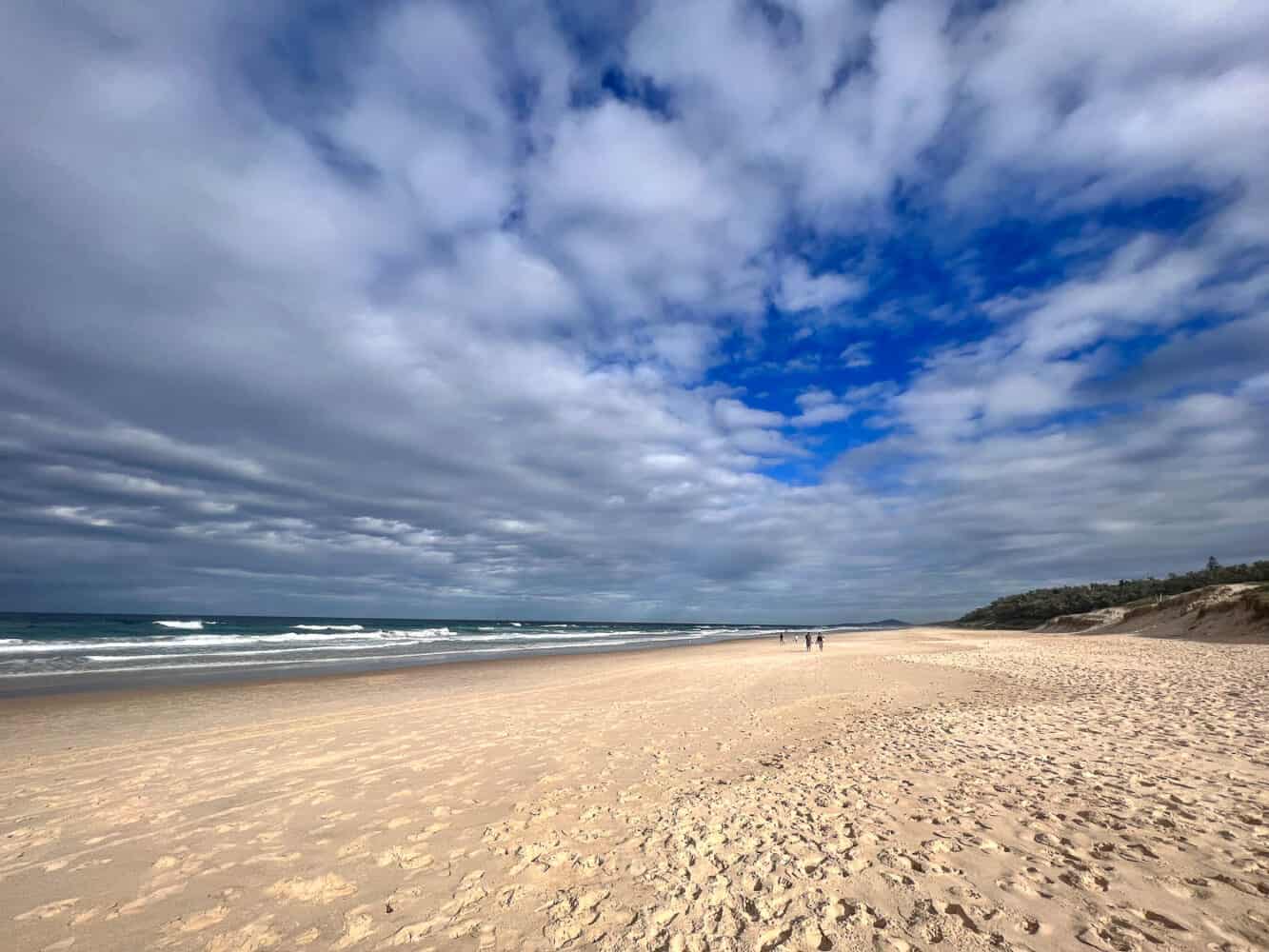 For a long walk, continue onto undeveloped Castaways Beach, which is dog-friendly.
Peregian Beach is a popular local spot with cafes and shops around a pretty square. Like further north, the beach is long and surfy.
We had brunch at Outer Square, which doesn't have the most scenic location next to the IGA supermarket, but they've done their best with the outdoor space and the food is excellent.
I loved my avocado toast with dill cashew cheese, while Simon's caramelised French Toast was seriously decadent.
12) Watch the Sunset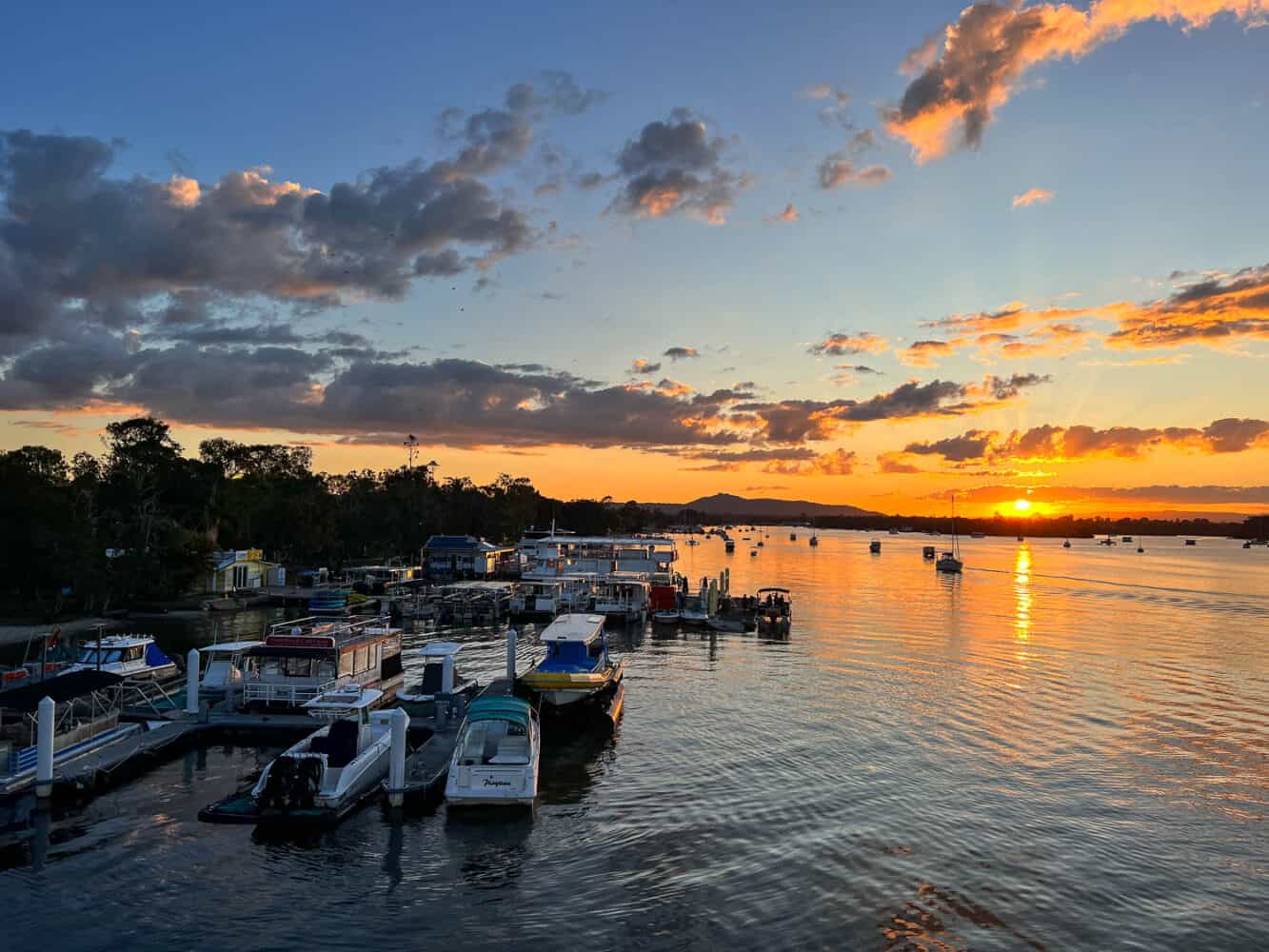 Although Noosa is on the East Coast, there are a few great places to watch the sun setting behind the mountains.
Our favourite spot is the Sunset Bar on the third floor of Noosa Boathouse, which floats on the river in Noosaville.
Arrive early to get a front-row seat and enjoy a cocktail as the sun illuminates the river.
A budget option would be to bring your own drinks and enjoy them on the riverbank.
In Noosa Heads, the best place is the far end of Little Cove (or there's a bench on the path above the beach) or at the start of Noosa National Park.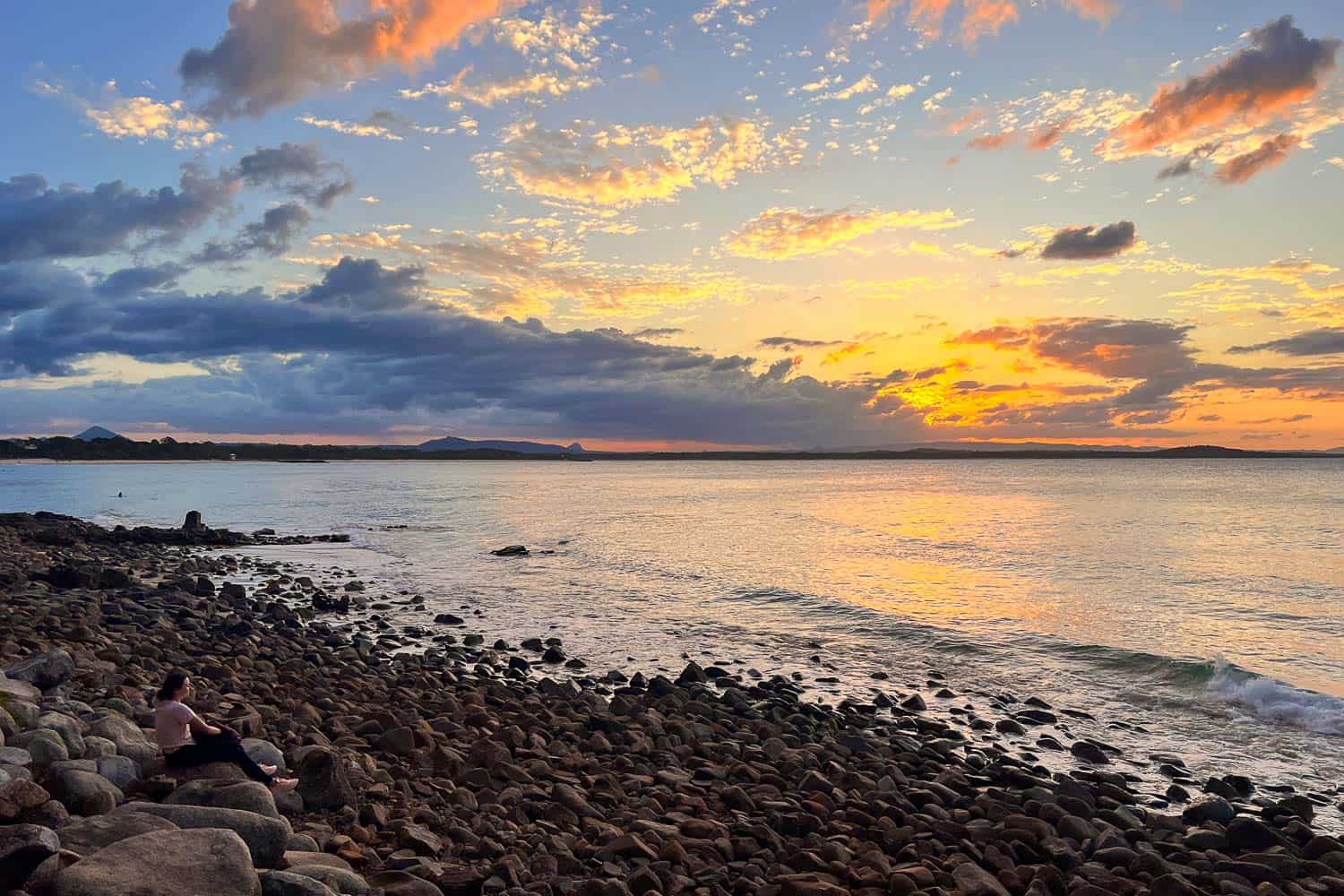 Just before the NP car park, there are benches and a rocky beach where you can see the sunset behind the ocean with views of Main Beach and the peaks behind it.
13) Picnic in Noosa Woods
Walk west along Hastings St or Main Beach and you'll reach Noosa Woods, a forested area on Noosa Spit.
While it's not as scenic as the National Park, the pathways are pleasant for a flat, shady run or walk.
On the ocean side, you'll find grassy nooks (such as Laguna Grove) overlooking the beach which are perfect for a picnic (if a wedding isn't taking place).
On the river side, there are little beaches that you'll often have to yourself.
It's also easier to get parked in the woods than at the other end of Hastings Street.
The Farmers Market is my favourite place to stock up on picnic supplies. Belmondos Organic Market in Noosaville has lots of gourmet treats, or closer on Hastings St are Noosa Wine Cellar and Milk Bar Grocer.
14) Get Creative at Frida's Sip and Paint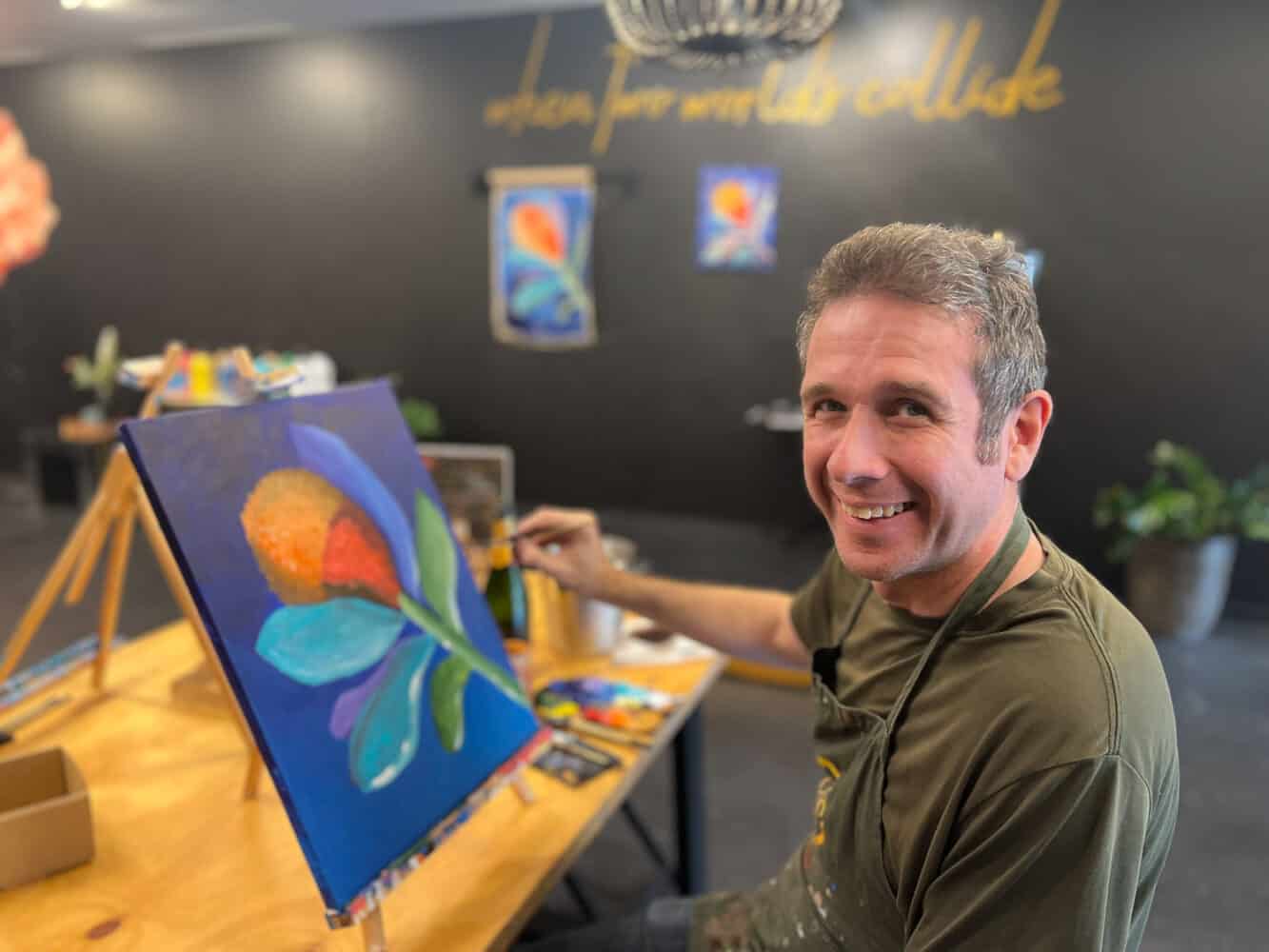 Frida's Sip and Paint in Noosa Junction is one of the most fun Noosa activities for couples (we celebrated our anniversary there) or friends.
No painting experience is necessary in these relaxed classes that combine fun and creativity.
I was nervous, but the teacher walked us through the simple paintings step by step and it wasn't difficult. You can follow along or add your own flair.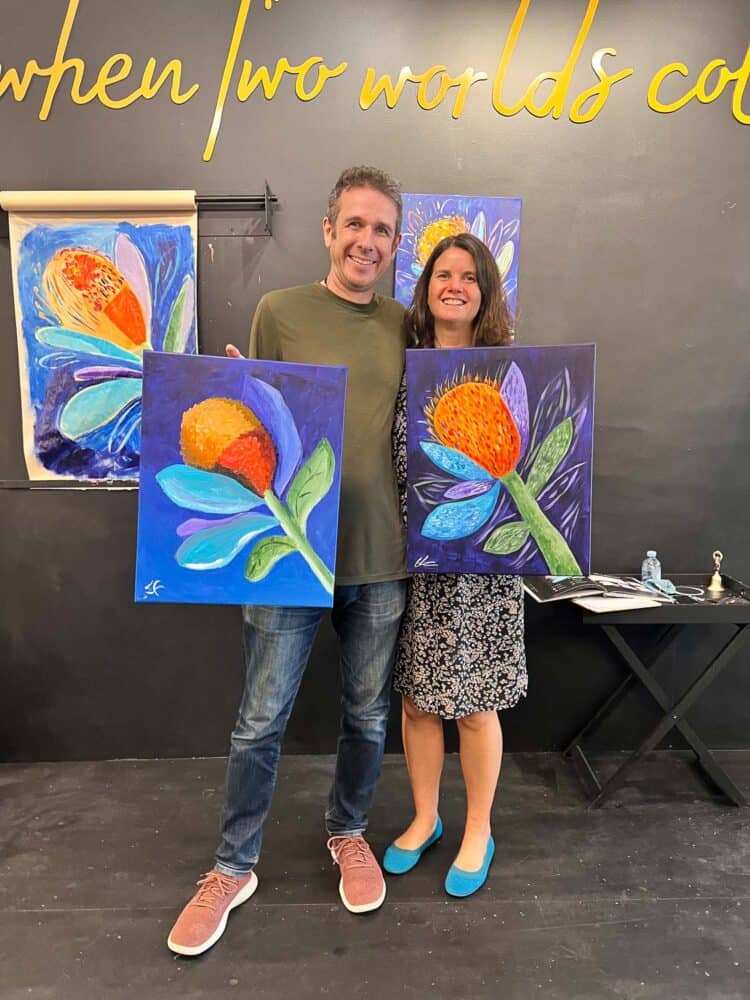 It helps that you can bring your own drinks to sip while you paint.
You create a different artwork at each session of Frida's Sip and Paint so check the website to see what appeals to you.
15) Eat and Drink at Noosa Junction
While you are in Noosa Junction, make sure to check out the excellent bars and restaurants.
This is where locals eat out and we found the options more creative than on Hastings Street.
Some of our favourites are Herbert (fine dining), Light Years (Asian fusion), Somedays (authentic Italian pizza), Vanilla Food (brunch—we're addicted to the Chili Tofu Scramble), Telephone Call From (casual vegan Middle Eastern), and Flo's Creperie (authentic savoury galettes and sweet crepes).
And that's just some of them! For full details see my Noosa restaurants guide.
Noosa Junction is a 15-minute walk over the hill from Hastings Street. There's plenty of free parking.
16) Sip a Clandestino Coffee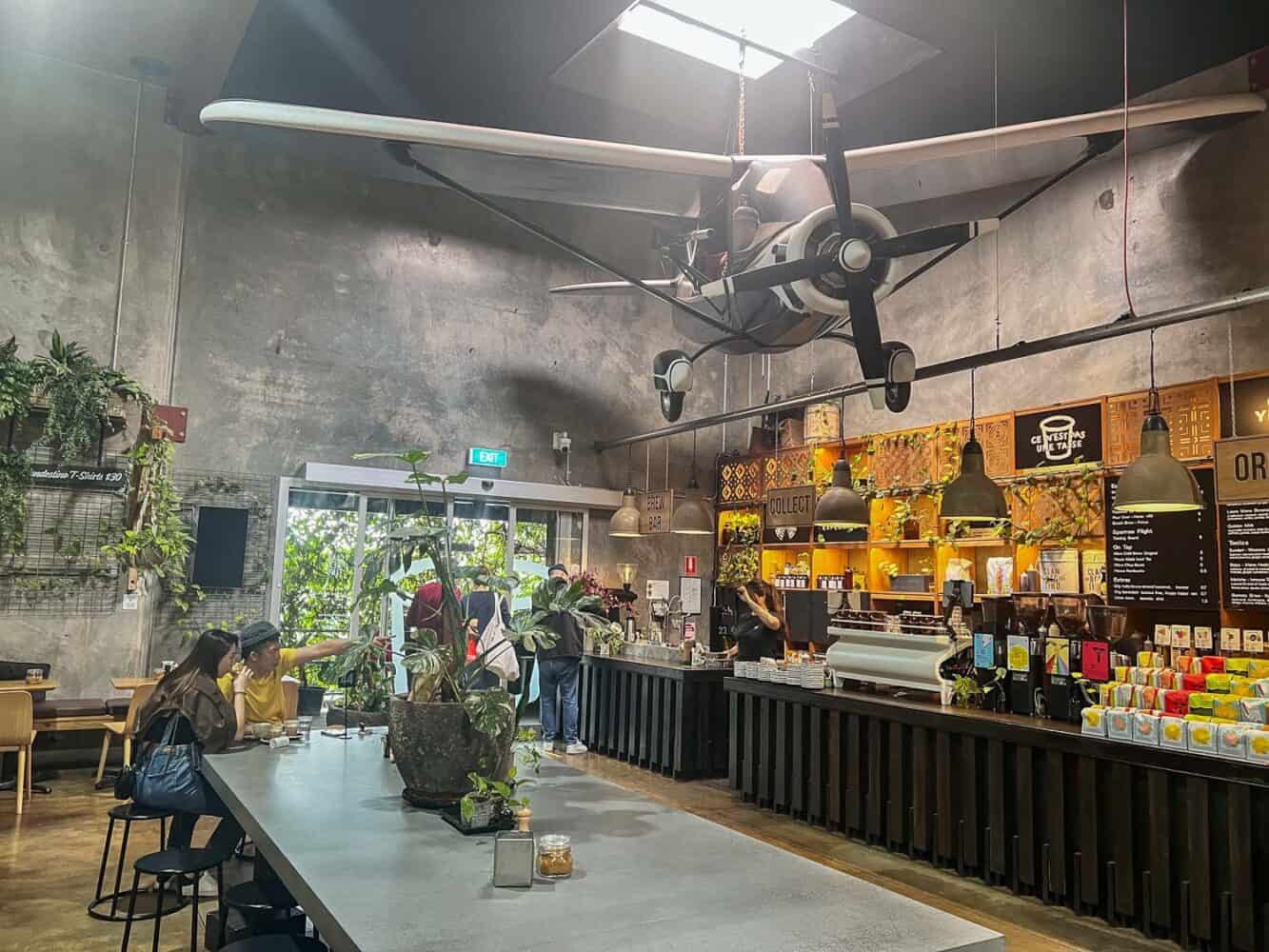 Clandestino Coffee is the best coffee in Noosa. Many cafes in town serve their coffee (including our fave Vanilla Food), but if you can, head to their roastery and cafe in Belmondos Organic Market.
It's a little off-the-beaten-track in Noosaville's industrial area, but the space is cool (make sure to look up) and you can really appreciate the flavour of their beans with a pour-over (they even give you tasting notes).
While you are in the area, pick up some Tanglewood sourdough or croissants (also in Belmondos) and fresh salsa and a brekky burrito at House of Salsa (Thursday and Friday mornings only). There are a couple of breweries nearby too.
Things to Do Around Noosa
There are some worthwhile day trips from Noosa to the hinterland and along the Sunshine Coast.
If you have a few spare days, I also highly recommend a side trip to K'gari (previously known as Fraser Island), the largest sand island in the world.
We rented a 4WD for two nights from Rainbow Beach (1.5 hours north of Noosa) and had so much fun exploring the beaches, lakes, dunes, and rainforests.
My post on the best things to do in K'gari has all our tips.
17) Kayak the River of Mirrors in Noosa Everglades
Distance from Noosa Heads: 30-minute drive.
Kayaking the Noosa Everglades is my top pick for things to do near Noosa. It's a stunning, tranquil place that feels far away from it all but is easily accessible from Noosa.
We did a self-guided kayaking tour with Kanu Kapers. They meet you at Elanda Point with all the gear you need including quality sea kayaks, map, cool box, and dry bag. Make sure to bring plenty of food and water.
After a quick paddle lesson and tips on the area, we headed off across Lake Cootharaba, glassy and calm with no one else around.
It took us 50 minutes to paddle to Kinaba Information Centre and from there we entered the smaller waterways of the Everglades.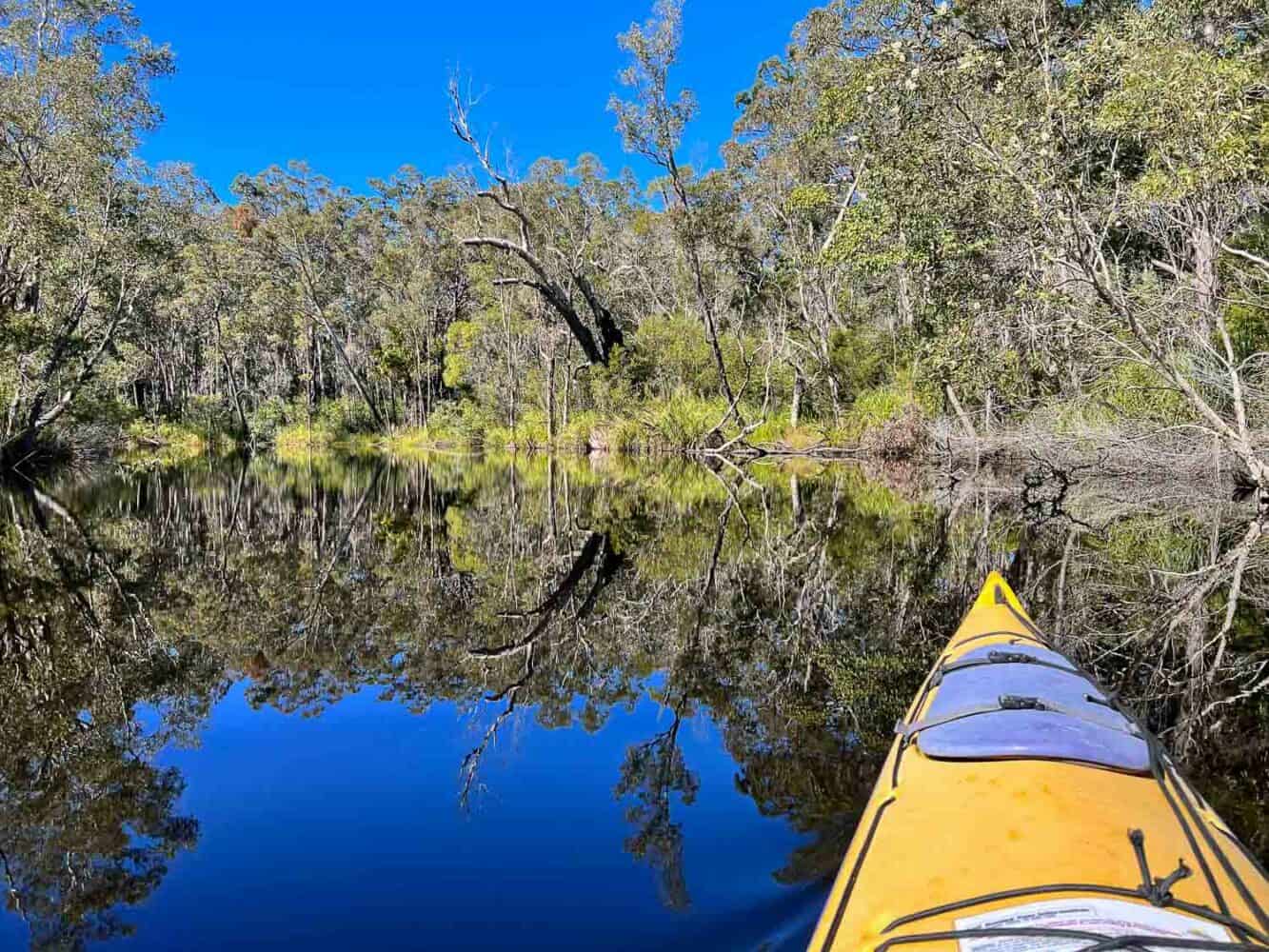 After 15 more minutes, we reached Fig Tree Point, the only place you can stop for a break (you aren't allowed to land in most of this delicate ecosystem). There's a picnic area, toilets, and a jetty I swam off.
From there we entered The Narrows, the highlight of the area. You can go all the way to Harry's Hut camping area, but at 20km return that was a bit much for us.
Instead, we paddled about 45 minutes from Fig Tree and saw the best of this narrow, curving section of the river known as the River of Mirrors.
The reflections of the trees in the tea-coloured water are truly astounding. Surreally, it looks like there's a forest under the water and you can't tell the difference between reality and reflection.
It's blissfully peaceful out here—we didn't see anyone else in this section and only heard the sound of the birds.
In total, we spent 5 hours on the river with 3.5 hours spent paddling (plus two breaks). We were tired and achy by the end, despite our perfect calm conditions, but it was totally worth it to enjoy this magical place.
Kanu Kapers also has guided day tours, which might be a good option if you are an inexperienced kayaker or want to learn more about the area.
Or they can arrange 3-day camping trips, which would be a fun adventure. I would have loved more time on the river (Simon less so!).
Book the Kanu Kapers Self Guided Everglades Kayaking trip here.
If kayaking seems like too much effort, consider this Everglades Explorer Cruise from the Habitat Noosa Eco Camp.
You can choose to explore entirely by boat or add on a canoe trip from Fig Tree Point to The Narrows.
This is a much shorter amount of paddling than we did and covers the best section, but their canoes looked a lot less comfortable.
It would be ideal if only some of your party wanted to paddle, as the others can stay on the boat.
18) Enjoy the Views at Mount Tinbeerwah Lookout
Distance from Noosa Heads: 20-minute drive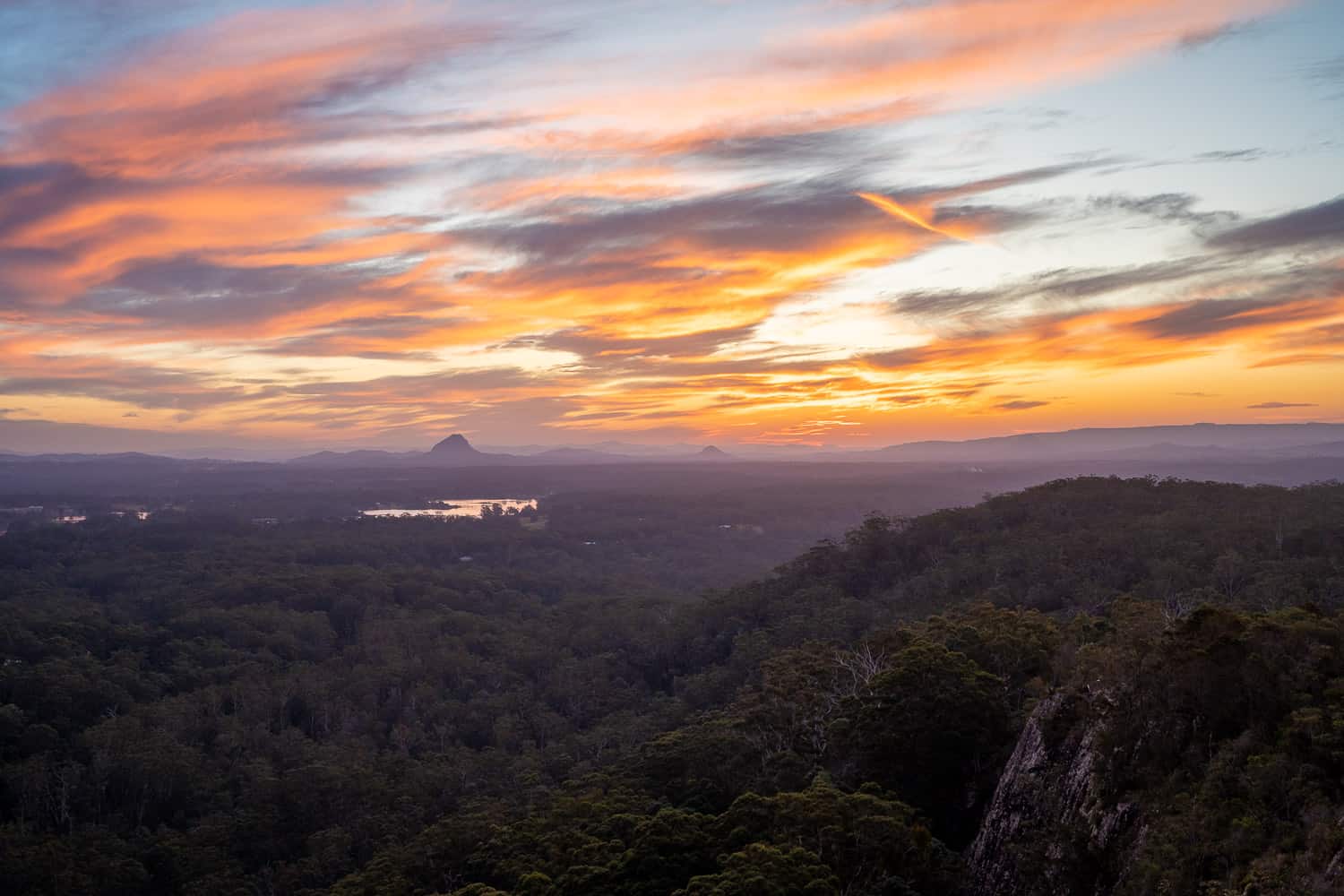 Mount Tinbeerwah is the best way to get an elevated view of the Noosa area with minimal exertion.
You drive most of the way up the mountain and then walk up a fairly easy paved path for 10 minutes to the lookout (1km return).
The 360º views are fantastic—you can see Noosa, the ocean and river, surrounding lakes, Noosa North Shore, and neighbouring peaks.
It makes you realise how green and undeveloped the area surrounding Noosa is.
We went at sunset and it was especially lovely. It's a popular spot for locals to enjoy drinks and snacks as the sun goes down (as we did).
19) Hike Up Mt Coolum
Distance from Noosa Heads: 30-minute drive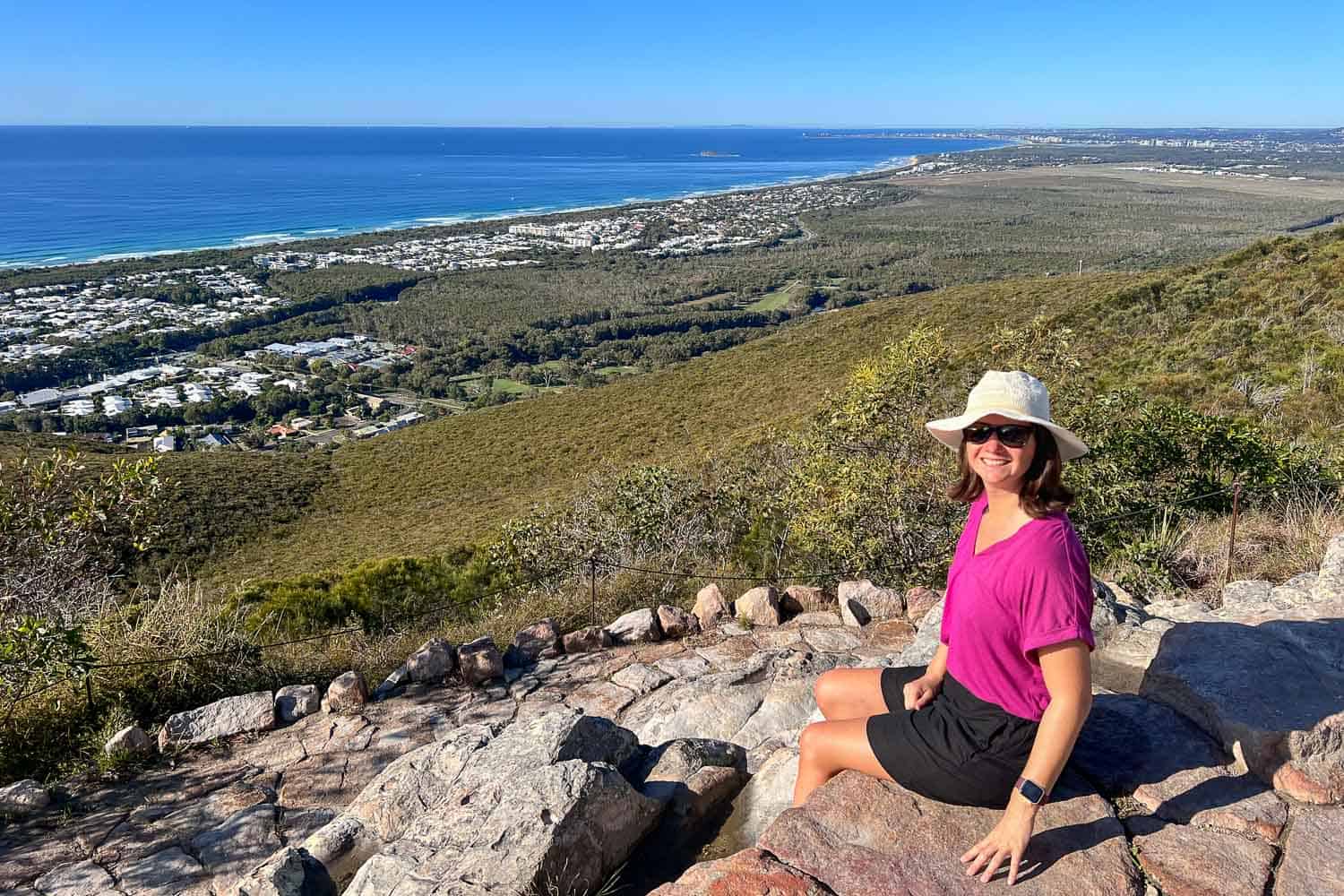 For a more energetic hike, head down the coast and walk up Mt Coolum, an ancient volcanic dome.
It's a local exercise spot with lots of stone steps to the summit. The 2.25km return walk took us 50 minutes (plus a break at the top) with 187m of elevation gain.
There are lovely coastal views from the summit, and if you walk past the main lookout, you can see inland to the airport and the distant Glasshouse Mountains.
This area is a lot more developed than around Mt Tinbeerwah, but it's worth doing if you are in the area.
Drive the coastal road 6 back to Noosa and stop at Point Arkwright, Coolum Beach, and Peregian Beach on the way.
20) Shop at Eumundi Market
Distance from Noosa Heads: 25-minute drive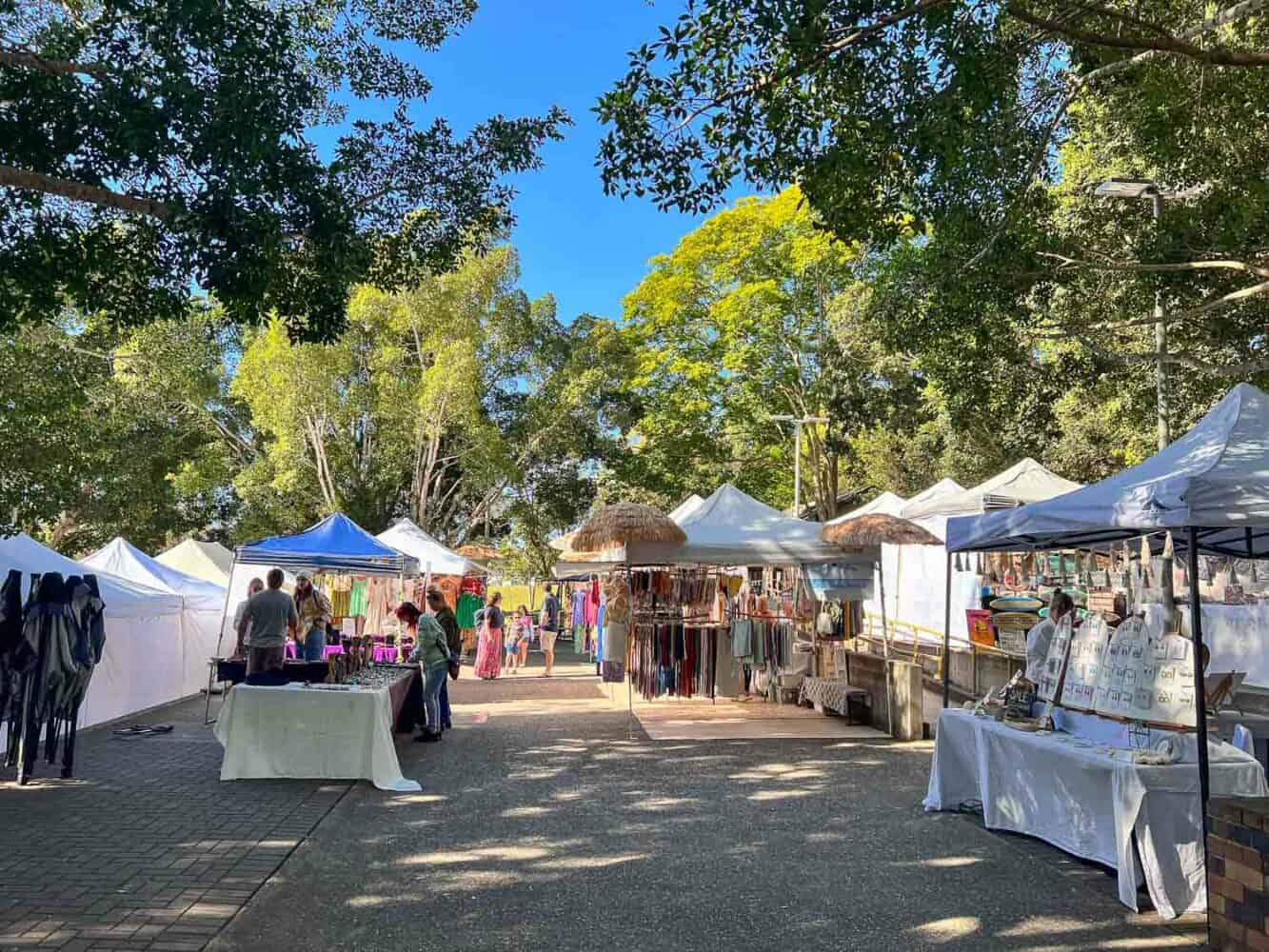 While the Noosa Farmers Market is best for food, for gifts and souvenirs visit the renowned Eumundi Market on Wednesday and Saturday mornings.
The huge market features an array of stalls selling clothes, jewellery, art, gifts, games, home decor, ceramics and more.
See my post on the best things to do in Sunshine Coast Hinterland for more details.
21) Visit the Ginger Factory
Distance from Noosa Heads: 30-minute drive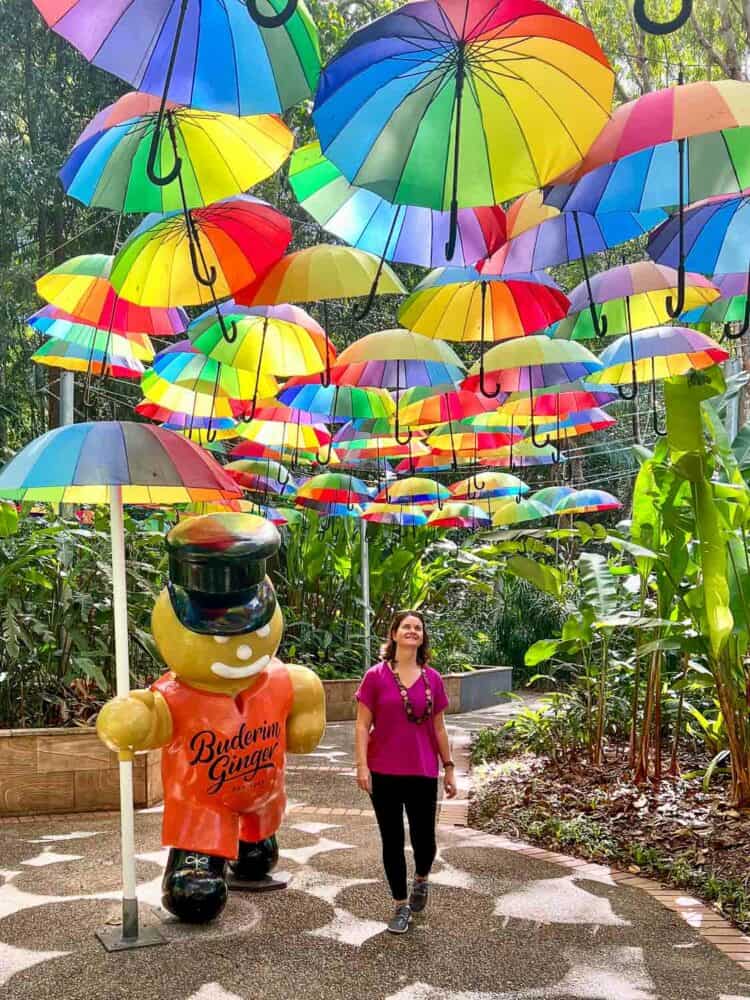 Just 10 minutes past Eumundi is The Ginger Factory in Yandina. This is one of the top Sunshine Coast attractions for families with rides, walks, tours, play areas, and shopping.
Even without kids, we enjoyed our Harvest Tour where we learned how ginger is grown. We also picked up lots of tasty ginger products in the shop.
For a full day out from Noosa, combine Eumundi Market and Ginger Factory.
If you like Thai food, I also highly recommend adding lunch at Spirit House in Yandina. It was the most delicious meal we had in the area and the grounds are beautiful.
You'll need to book at least a few weeks in advance, though, and plan to be there for a few hours.
22) Take a Scenic Drive in the Sunshine Coast Hinterland
Distance from Noosa Heads: 1 hour+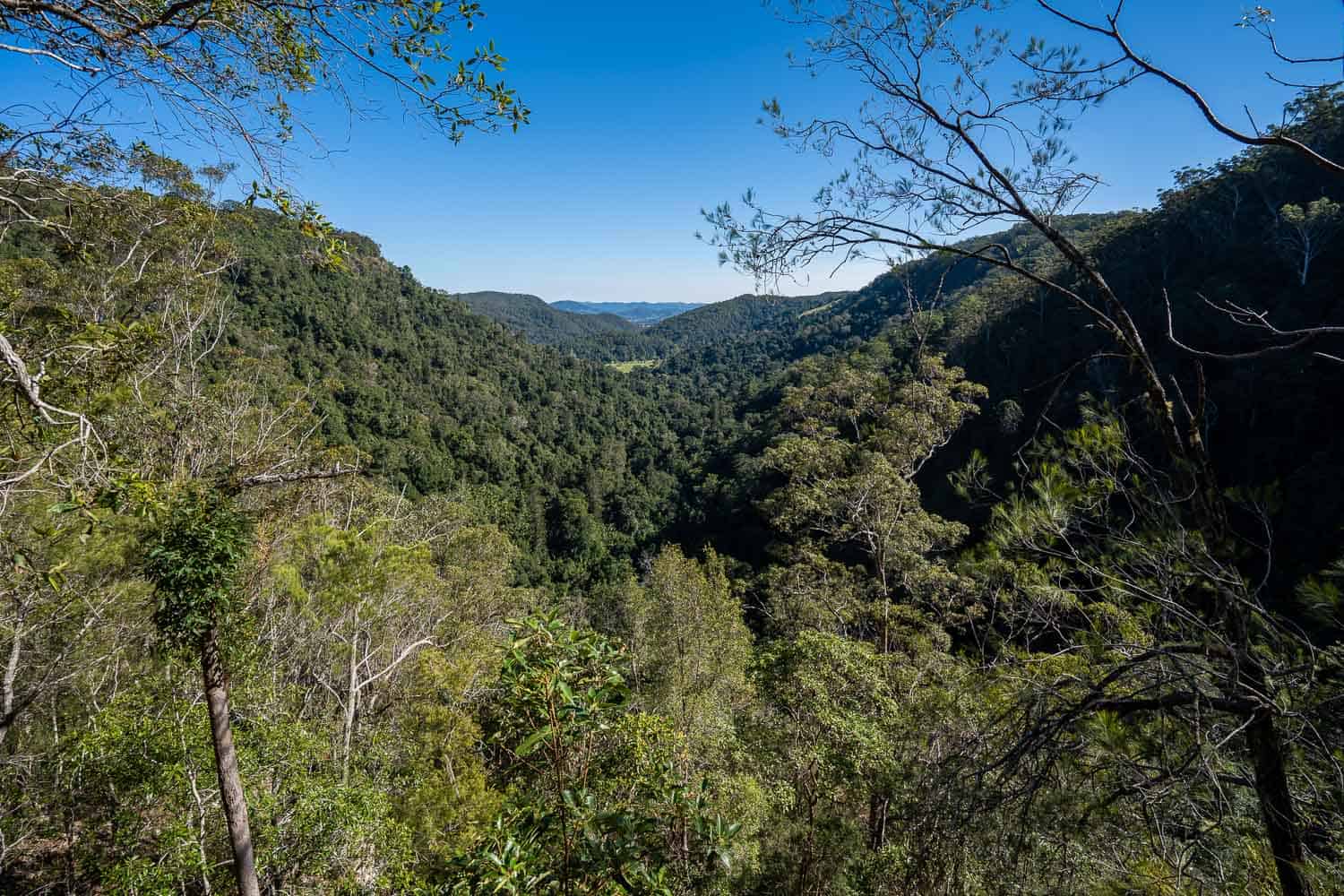 We absolutely love the Sunshine Coast Hinterland and ended up visiting three times during our time in Noosa.
While we love staying in a treehouse at Secrets on the Lake, you can easily visit the Hinterland on a Noosa day trip by self-driving or taking a tour like this Rainforest, Views, and Montville Day Tour.
Highlights of the area are hiking to a waterfall in Kondalilla National Park, driving the scenic Blackall Range Tourist Drive, and browsing the shops in the cute villages of Maleny and Montville. There's lots of good food (including cheese and chocolate), too.
My detailed Sunshine Coast Hinterland travel guide has lots more tips.
Where to Stay in Noosa
If you can afford it, Hastings Street is the prime location for a Noosa holiday. It's right next to Main Beach and close to restaurants, shops, and the National Park.
Tingirana Noosa and Seahaven Noosa Beachfront Resort have the best locations right next to the beach. Both have pools and self-catering apartments.
If you can't afford the Hastings St high prices, look near Noosa Junction such as the Noosa Blue Resort.
We stayed in this Airbnb apartment in that area and loved that we were close to the excellent restaurants (and supermarkets) at Noosa Junction and could walk to Main Beach in 15 minutes.
The walk back up the hill from the beach is a bit of a pain when it's hot, but it was worth not having to drive as parking on Hastings St can be a nightmare.
The riverside resorts in Noosaville are also worth considering.
How to Get to Noosa Queensland
The nearest airport to Noosa is Sunshine Coast Airport (MCY), 30 minutes south, with flights from within Australia and from Auckland, New Zealand. Airport shuttle buses are available.
For international flights, Brisbane Airport (BNE) has more options and is 90 minutes away.
If you want to explore the surrounding areas, Noosa is best reached with your own vehicle, but you can manage without a car in the town itself, especially if you stay close to Hastings Street.
There are some local buses, Uber is available (but I'm not sure how reliable it is), and you can take the ferry up the river.
We rented a car from East Coast Car Rentals in Brisbane, which has good prices for longer rentals. You can also compare prices at Rental Cars.
Parking is free in Noosa but is often time-limited (look for the P sign—2P = 2 hours) and is a challenge to find. When we drove to the beach, we found it easier to park in Noosa Woods.
If your accommodation is not within walking distance of Hastings St, the best way to get around is to hire a scooter, which is much easier to park at the beach. Scooter Mania is one of the companies that rent them.
Noosa Activities Map
This map features all the Noosa attractions mentioned in this travel guide.
Is Noosa Worth Visiting?
Yes, Noosa is absolutely worth visiting! Some people complain Noosa is expensive and crowded, and it is, but it's popular for a reason.
It's a beautiful place with year-round sun where you can enjoy nature as well as excellent restaurants and fun activities.
Main Beach is one of the best places to swim on the Sunshine Coast as it's usually calm and protected from wind.
And it's certainly possible to escape the crowds, which mostly congregate on Main Beach, Hastings Street, and the National Park coastal walk.
We were very much sold on the relaxed Noosa lifestyle and hope to return for another extended stay.
More Queensland Posts
Read our other travel guides to Noosa, the Sunshine Coast and beyond.
Sunshine Coast
Elsewhere in Queensland
If you enjoyed this post, pin for later!