This page contains affiliate links. Please read our disclosure for more info.
Noosa National Park is a highlight of the beautiful beach town of Noosa on Queensland's Sunshine Coast.
The free park features stunning coastal and forest trails, quiet beaches, and plenty of birds and wildlife, all easily accessible from Noosa Main Beach.
Don't expect to have the trails to yourself as it's popular with locals and visitors for walks, runs, and surfing. You can find quiet spots, though, especially if you head inland. Sunrise is my favourite time to visit.
During my three months in Noosa, I visited the park many times for runs and walks.
In this post, I share the best walks in Noosa National Park with choices for all abilities from a short coastal walk to longer trails that go deeper into the park's quieter sections.
You'll find a Noosa National Park map near the end of the post.
Contents
How to Get to Noosa National Park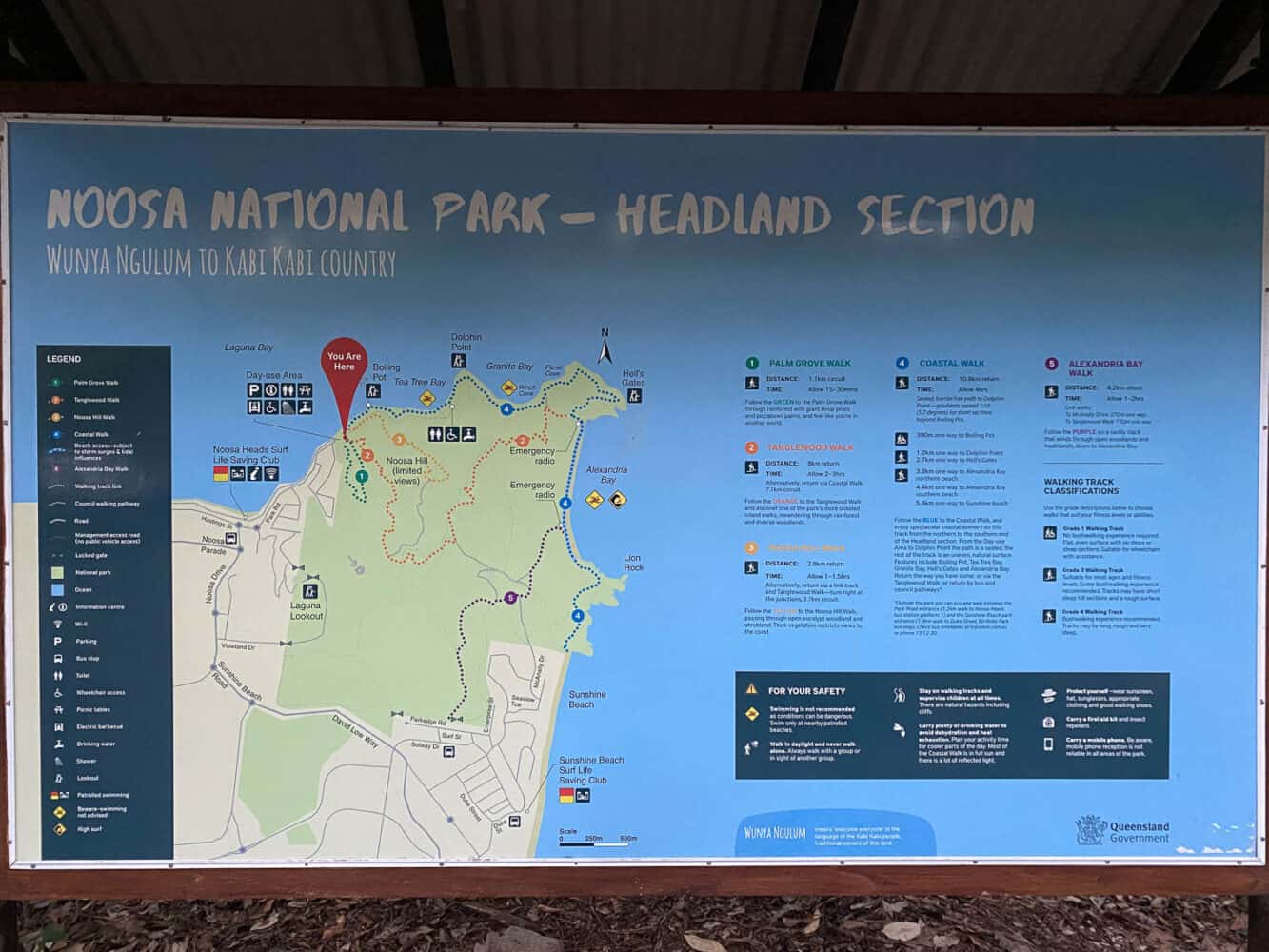 This post focuses on the Noosa Headland section of Noosa National Park. This is by far the most popular area of the park with the most walking trails.
The starting point for all the Noosa National Park walks below (except #7) is the Noosa National Park car park, which is 1km or a 3-minute drive from Hastings Street and Main Beach in Noosa Heads (the hub of Noosa).
Parking at the National Park car park is free and is 4P (limited to four hours). There are additional spaces just outside the car park facing the ocean and on Mitti Street that are 2P (two hours only).
While there are plenty of spaces, they do fill up fast. For a morning walk, I would arrive by 8am (preferably earlier) to guarantee a spot.
If the surf is up, it can even fill up earlier. On one extreme occasion, I couldn't get parked at 6.20am (10 minutes before sunrise in July) because there were so many surfers.
Late afternoon can also be an easier time to get a parking space, especially if 2P is enough for you.
The times and distances for the walks below are from the National Park car park. If you are staying on Hastings Street, it'll be easier to walk to the park. This adds an extra 1km/ 15- 20 minutes each way.
The walk from Hastings Street is pleasant. From the end of Main Beach follow the path next to Park Road up the hill. You'll soon reach an elevated boardwalk which takes you to the park entrance past Little Cove Beach with some lovely views on the way.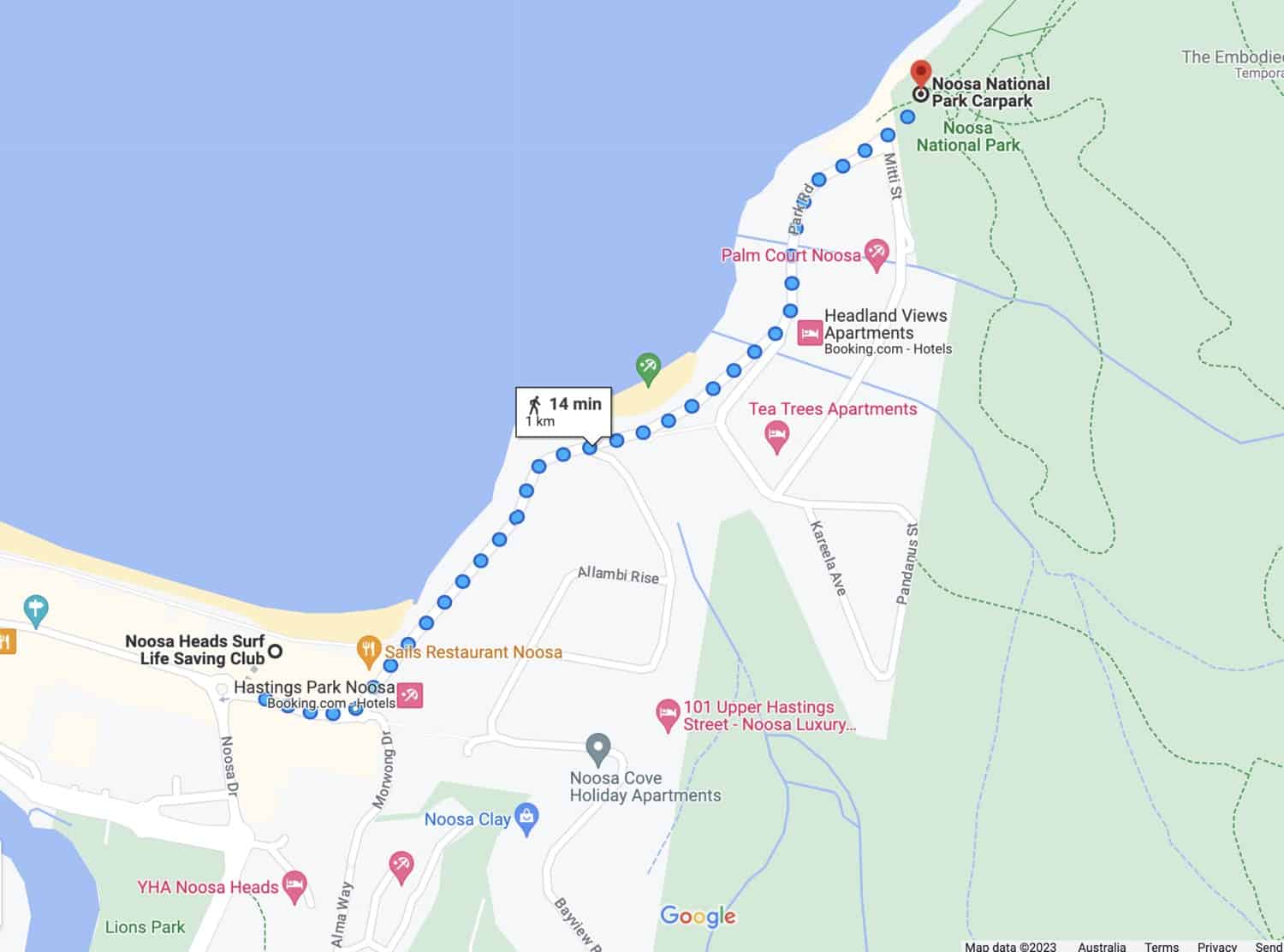 The Alexandria Bay walk (#7 below) starts in Sunshine Beach and is much easier to get parked at.
Noosa National Park Facilities
At the Noosa National Park day-use area next to the car park there are toilets, picnic tables, electric BBQs, drinking water, a map, and a small coffee kiosk (open 7am – 1pm).
On the trail, the only toilets are just past Tea Tree Bay (about 15 minutes into the Noosa coastal track).
Make sure you take all the water and snacks you need.
If you want to eat before or after your walk, see our detailed guide to the best restaurants in Noosa including options in Hastings Street and Sunshine Beach (at either ends of the coastal track).
What's the Best Walk in Noosa National Park?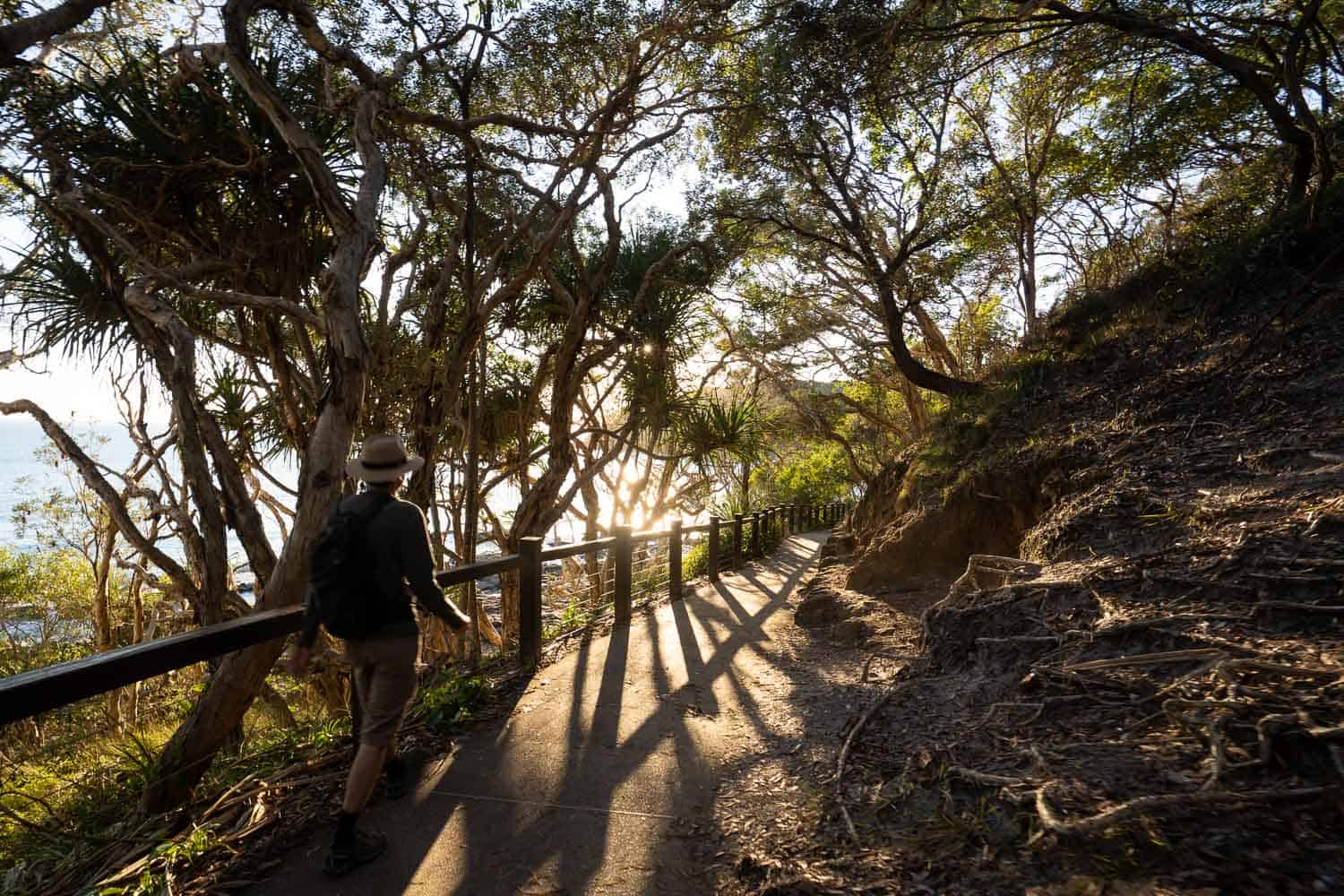 If you only have time for one of the walks in Noosa National Park, make it the Coastal Walk, which is one of the best things to do in Noosa.
The full trail is 10.8km return, but you don't need to hike the whole way to enjoy wonderful views. Below I've included options for walks from 20 minutes to 2.5 hours.
The walk is easy to follow and is fairly flat with only small hills on the way to Hell's Gates (it's hillier past there but nothing too challenging).
The beautiful trail is partly through bush (try looking for koalas, although we had no luck) with some more exposed sections.
There are ocean views almost the whole way, and if you do the full walk, you'll walk on the long beach at Alexandria Bay.
If you don't want to do the whole Noosa National Park Coastal Walk, I recommend Walk #2 below to Hell's Gates.
Noosa National Park Walks
1) Noosa Coastal Walk to Tea Tree Bay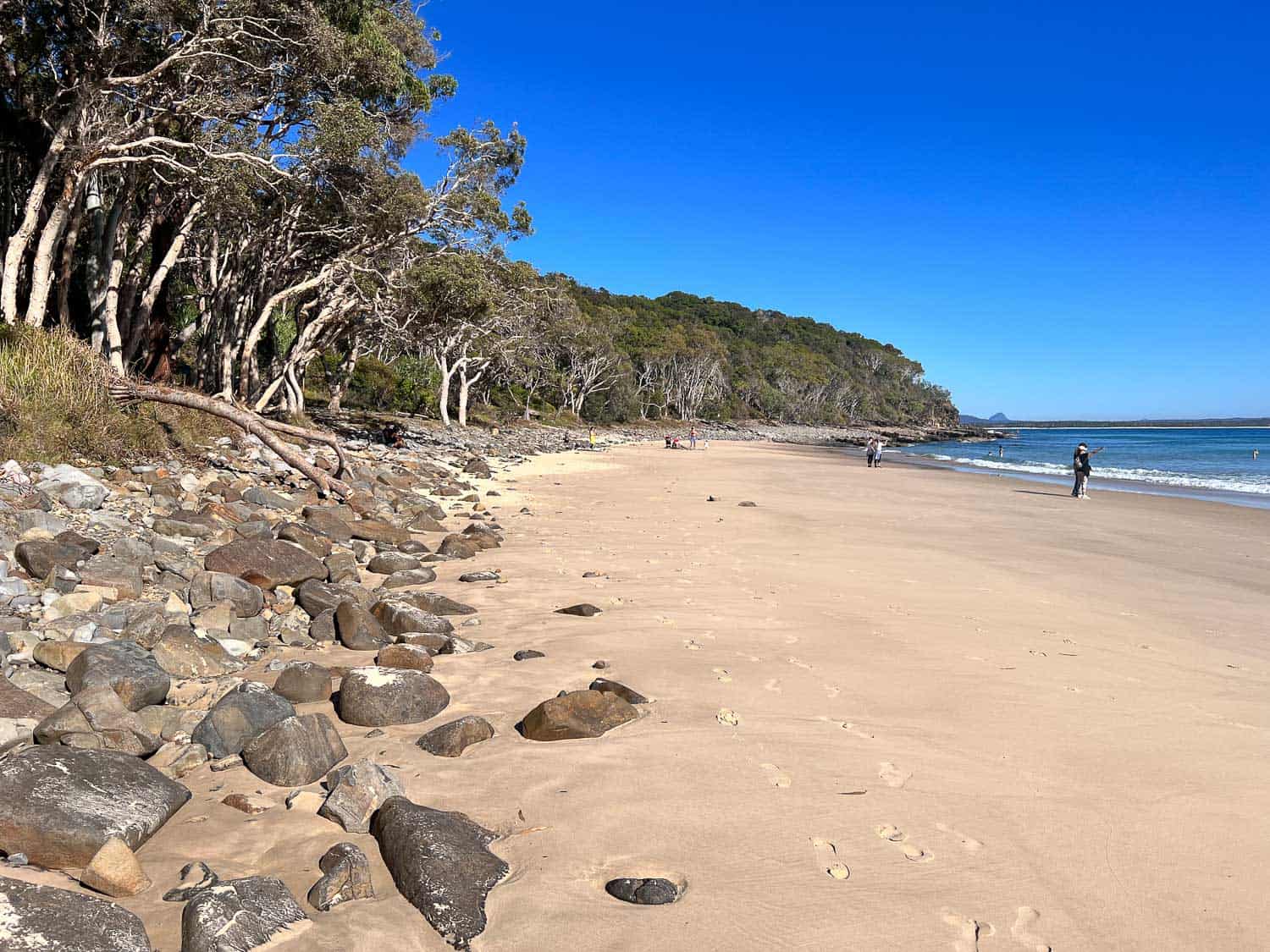 Distance: 1.5km out and back
Time: 20 minutes
Total elevation gain: 26 metres
The first section of the Noosa Coastal Walk from the car park to Dolphin Point is paved and wheelchair accessible.
If you are short on time or energy, you could just walk to Tea Tree Bay and back on the easy path (with just a few small inclines).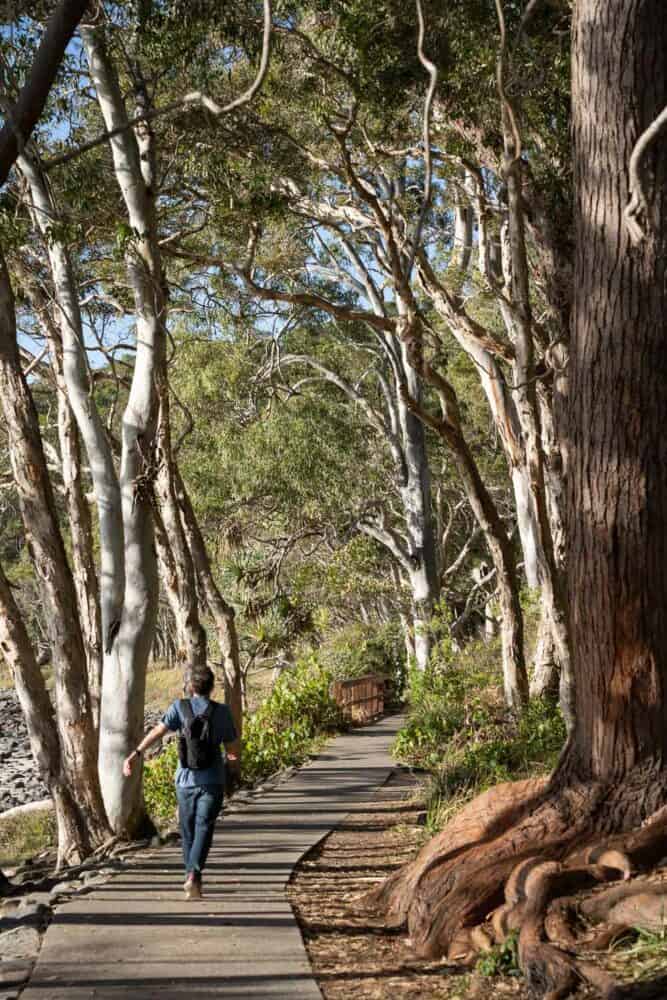 Boiling Pot Lookout is the first stop on the coastal path, just five minutes from the start. In rough conditions, you can see how it got its name as the surf crashes into the rocks.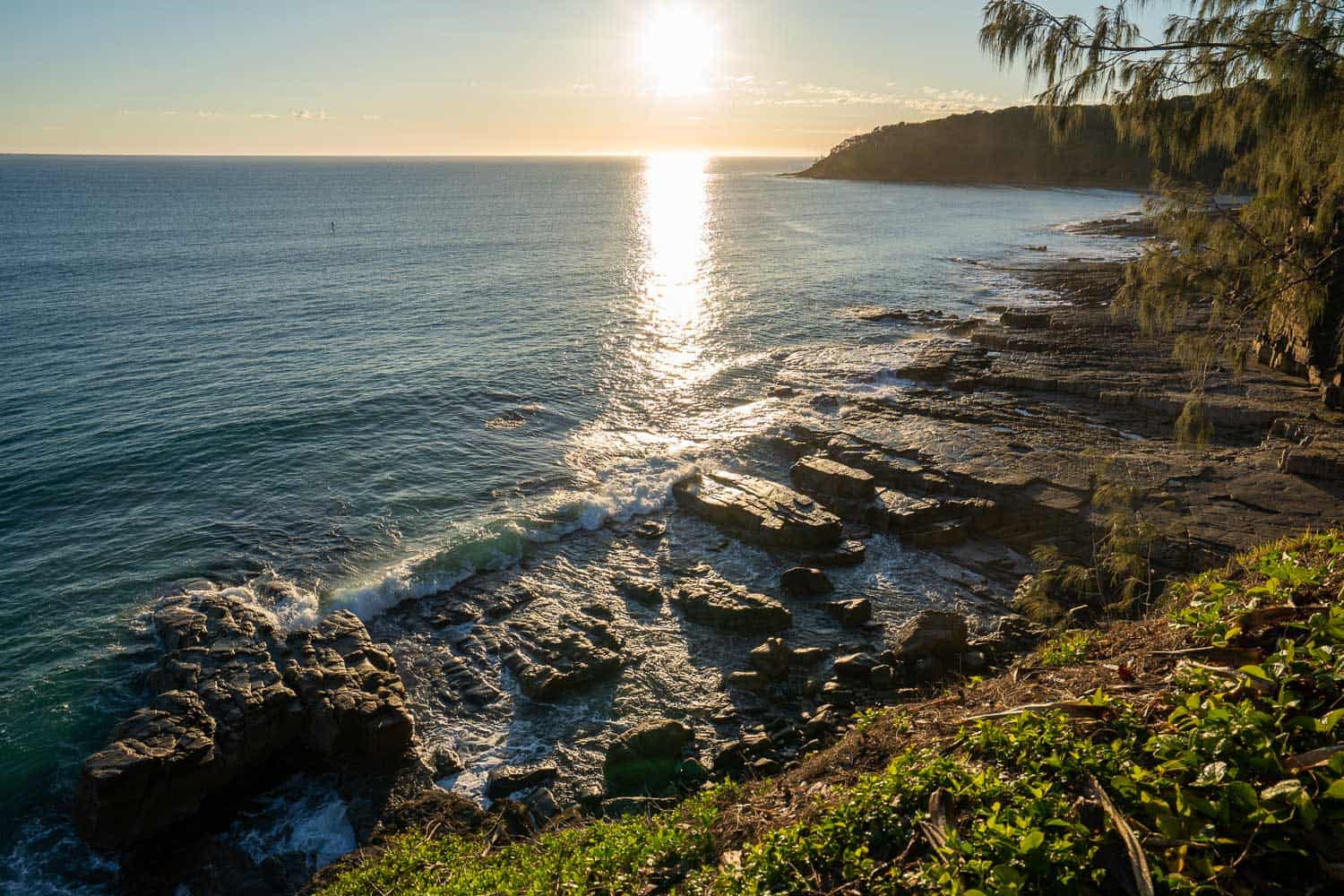 You can also see Tea Tree Bay in the distance.
On calm days you might get lucky and see turtles (although we never did).
A further five-minute walk from Boiling Pot you'll reach the start of Tea Tree Bay, the prettiest beach in Noosa National Park.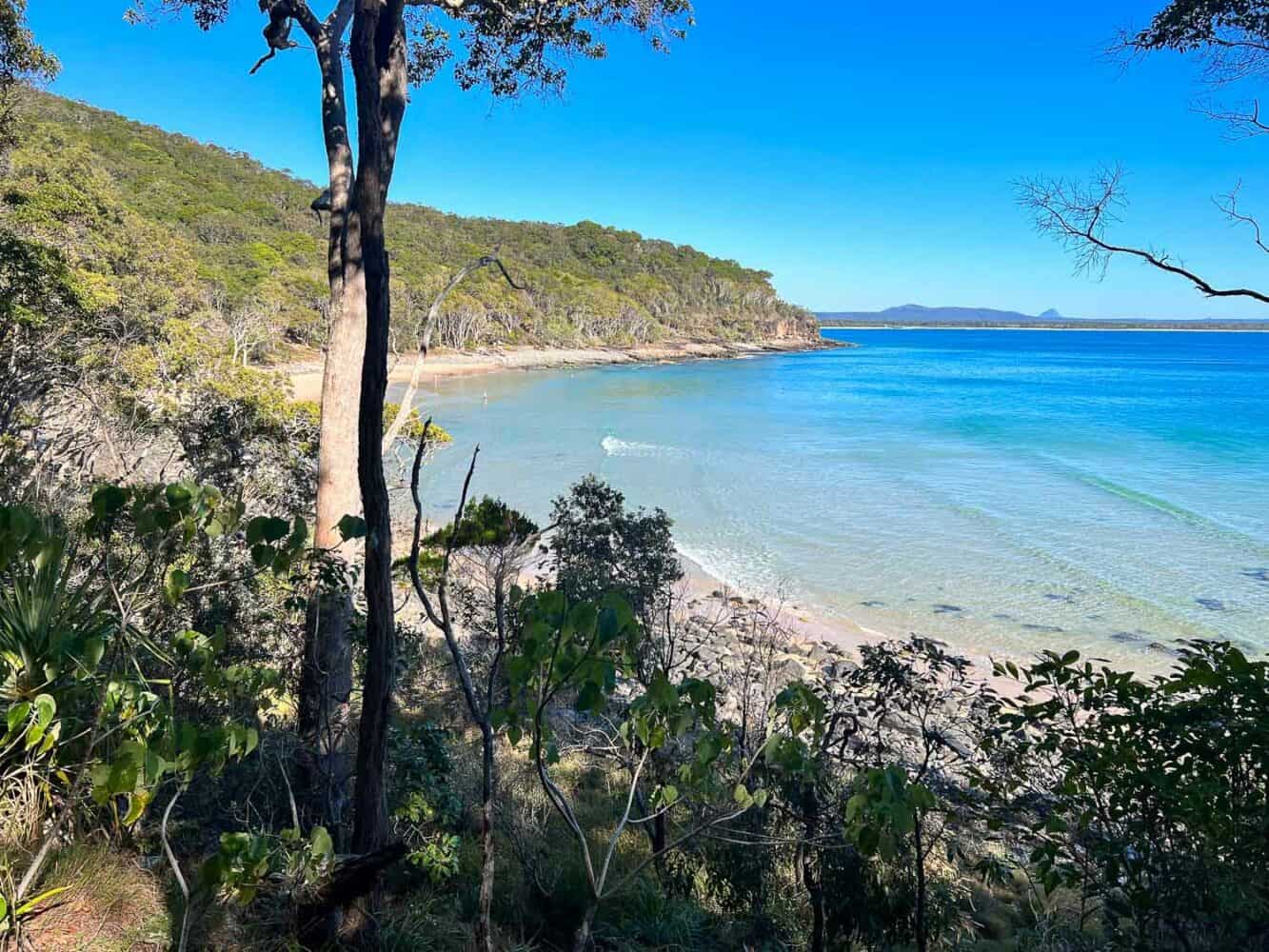 This is a popular surf spot, but on calm days it can be good for a swim (just be careful as it's unpatrolled).
There are toilets just past Tea Tree Bay—the only ones on the trail.
There are signs saying to look out for koalas in the trees next to Tea Tree Bay, but these are now very rare in the park and we've never seen one.
You will see plenty of bush turkeys, though! And if you hear a loud, human-like cackle, it's probably a kookaburra.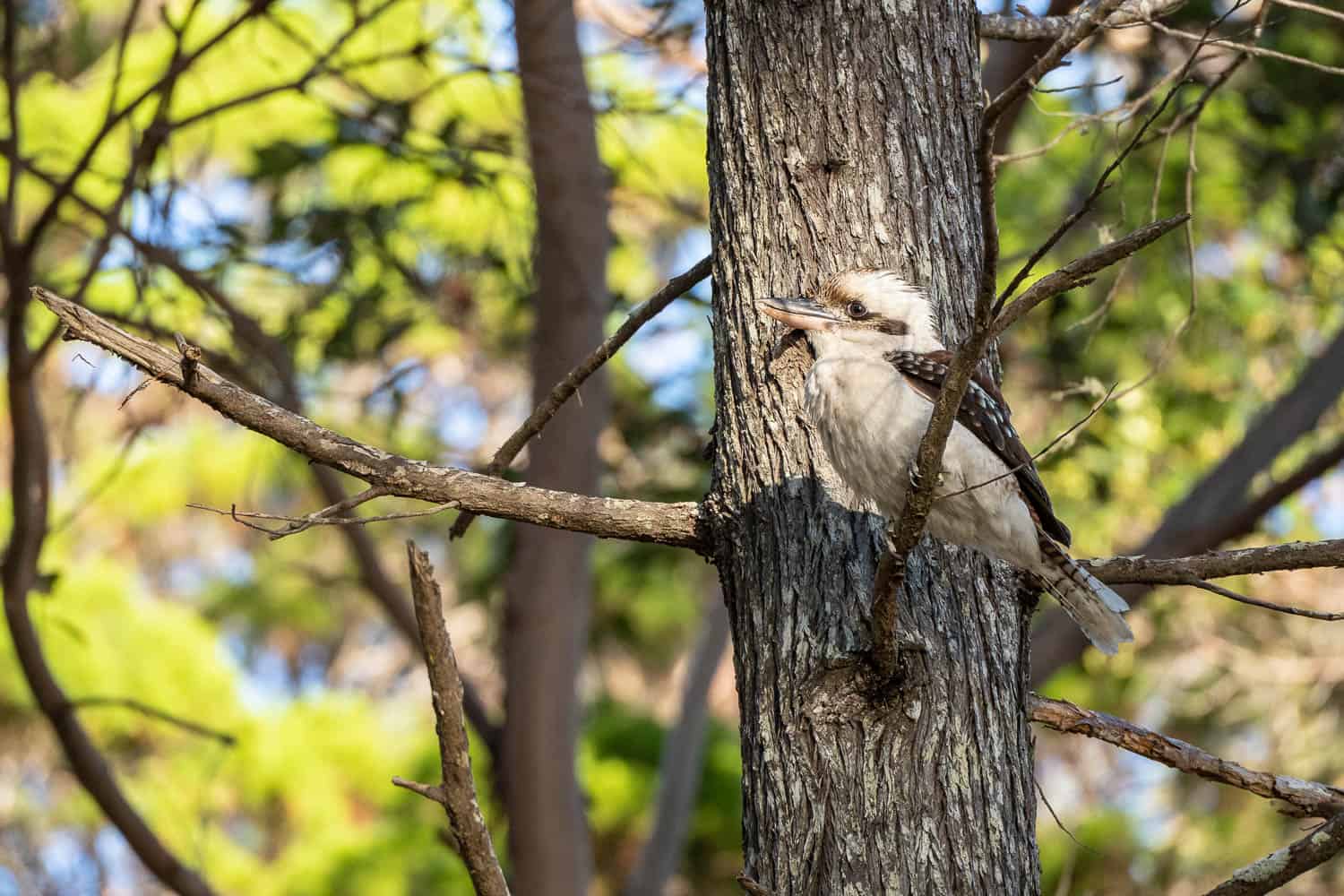 If you only want a short walk, turn back at Tea Tree Bay. If you want a taste of the rainforest too, you could add on the short Palm Grove Walk (#5 below) once you return to the car park.
If you are walking from Hastings Street, the walk to Tea Tree Bay will be about 3.5km and 50 minutes return.
2) Noosa Coastal Walk to Hell's Gates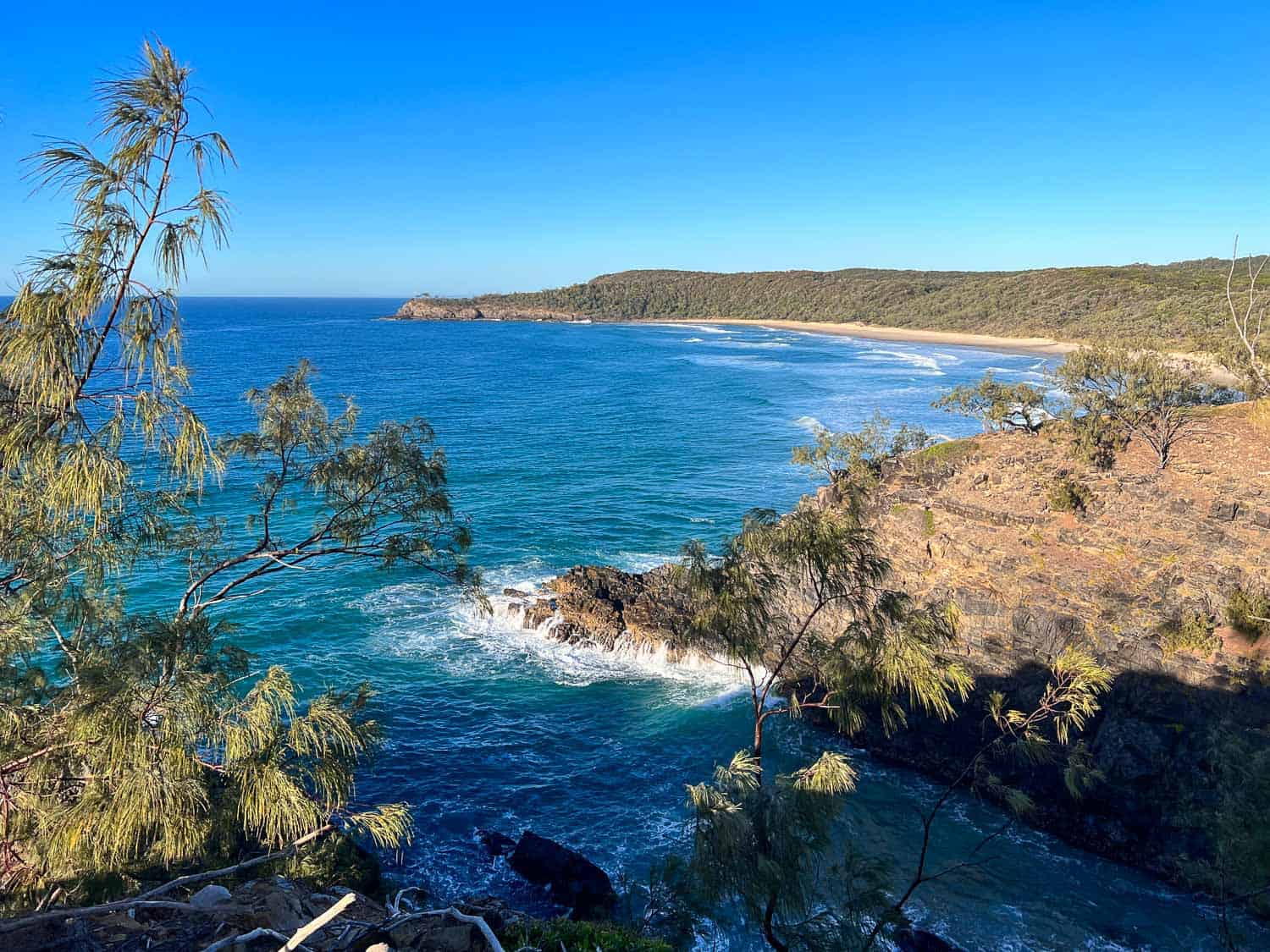 Distance: 5.3km out and back
Time: 1 hour 15 minutes
Total elevation gain: 68 metres
If you can, it's well worth continuing further along the coastal track until Hell's Gates. The views just get better!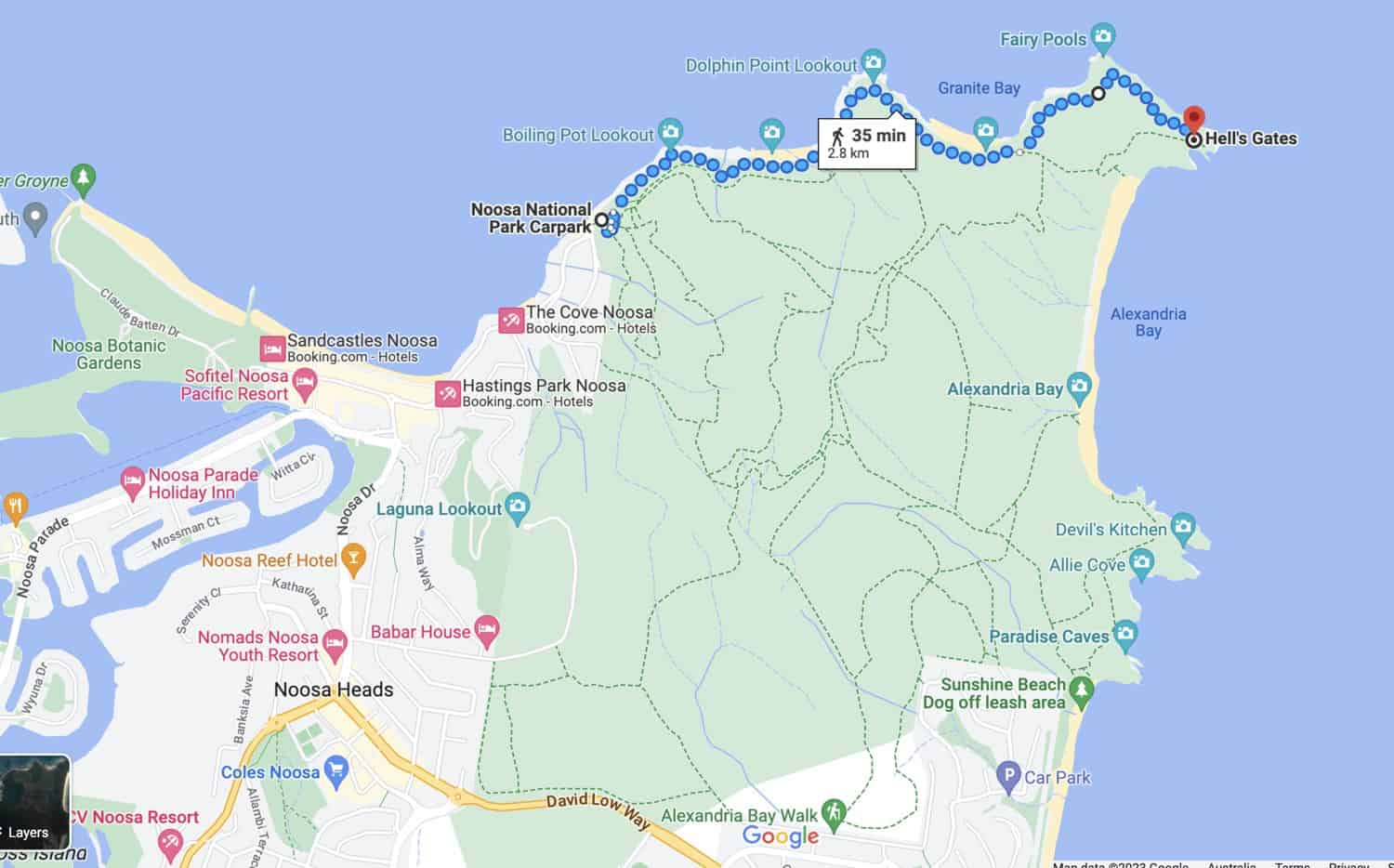 See Walk #1 for details on the first section of the trail. Five minutes past Tea Tree Bay is the next lookout, Dolphin Point, which is a slight detour off to the left.
Unfortunately, we've never seen dolphins here but it's always worth a look.
From here the trail is no longer paved—it's a sandy/packed dirt track.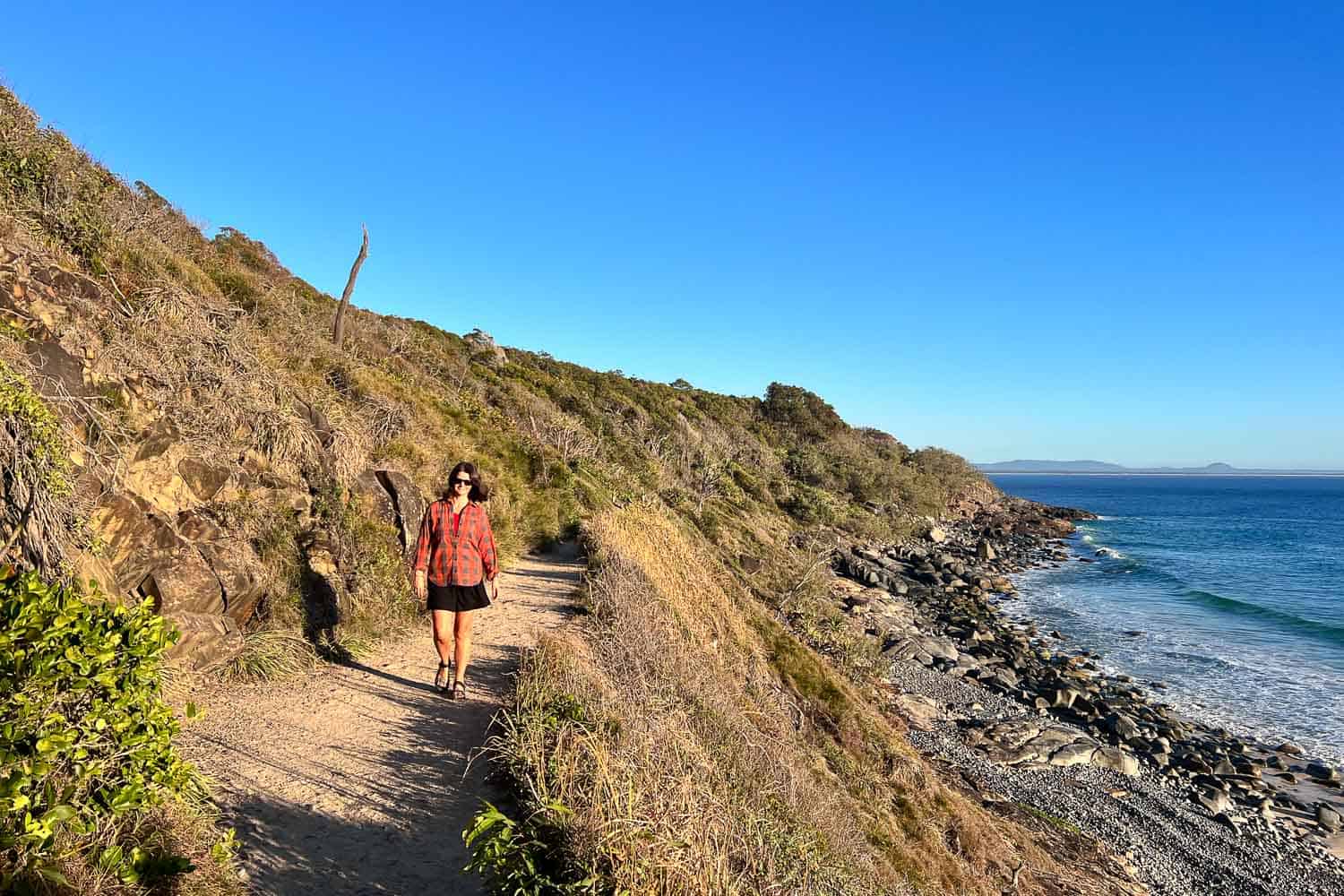 10 minutes past Dolphin Point is Granite Bay, one of my favourite parts of the walk. The trail opens up with unobstructed views down to the pebbly/sandy Winch Cove and smaller Picnic Cove.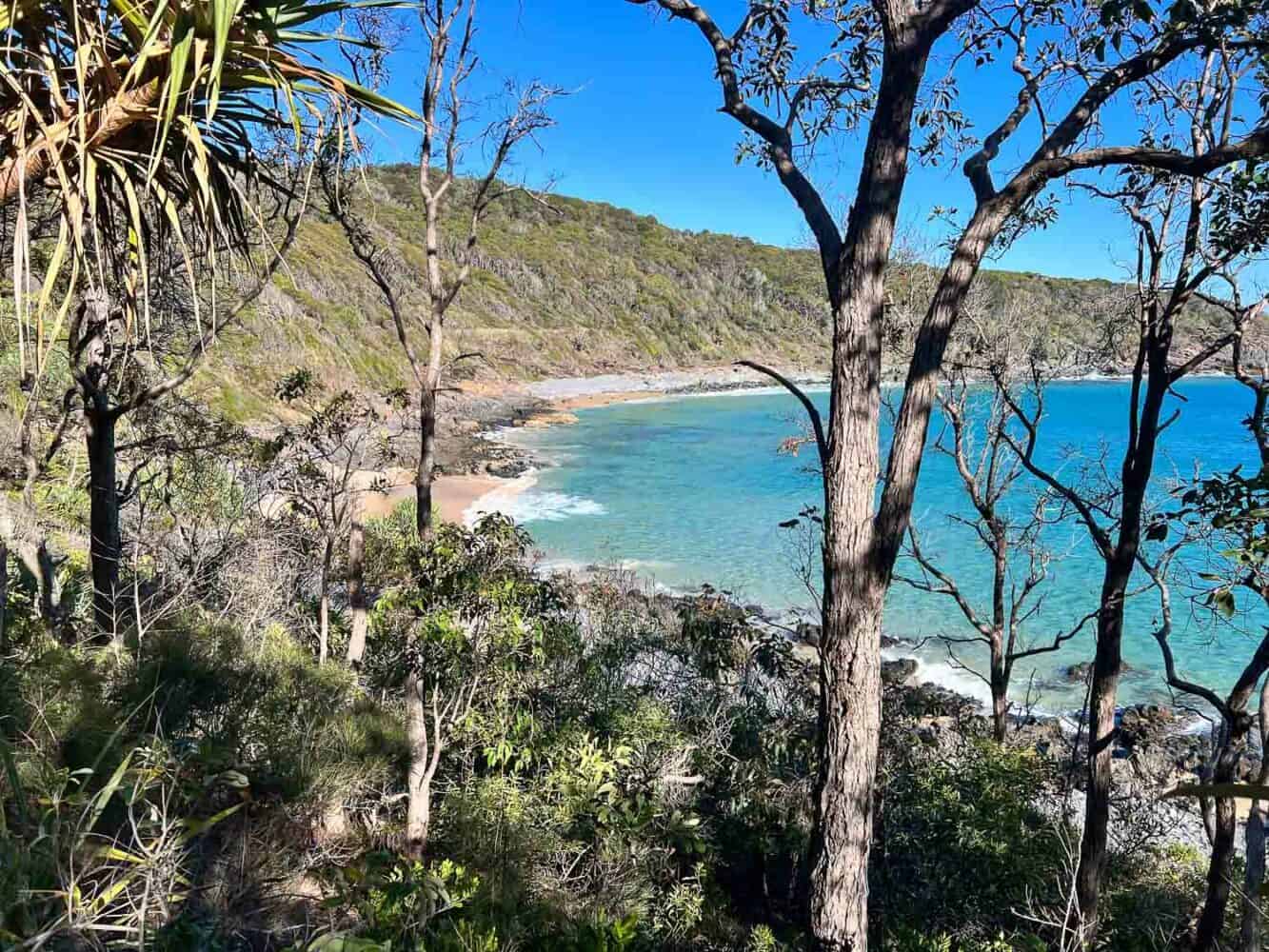 You rarely see anyone on these beaches as it's a steep track down, it's not safe for swimming, and at high tide, the beach disappears. The occasional adventurous surfer makes it out here.
About 10 minutes further along is one of the most Instagrammable spots in Noosa National Park, the Fairy Pools. These are not signposted or on any official maps as you have to clamber down slippery rocks to reach them.
They are marked on Google Maps (see our map below). After Picnic Cove you'll reach two stone benches and then a rope fence on a headland. When the rope ends, leave the trail and walk down the rocks to the pools.
When the ocean is calm (low or mid tide is best), you can float in the small pools amongst the rocks.
Honestly, I don't understand their extreme popularity. Most of the time they seem quite dangerous with the ocean crashing into the pools.
To get the perfect photo you need just the right conditions with the sun shining into the pools making them a translucent blue.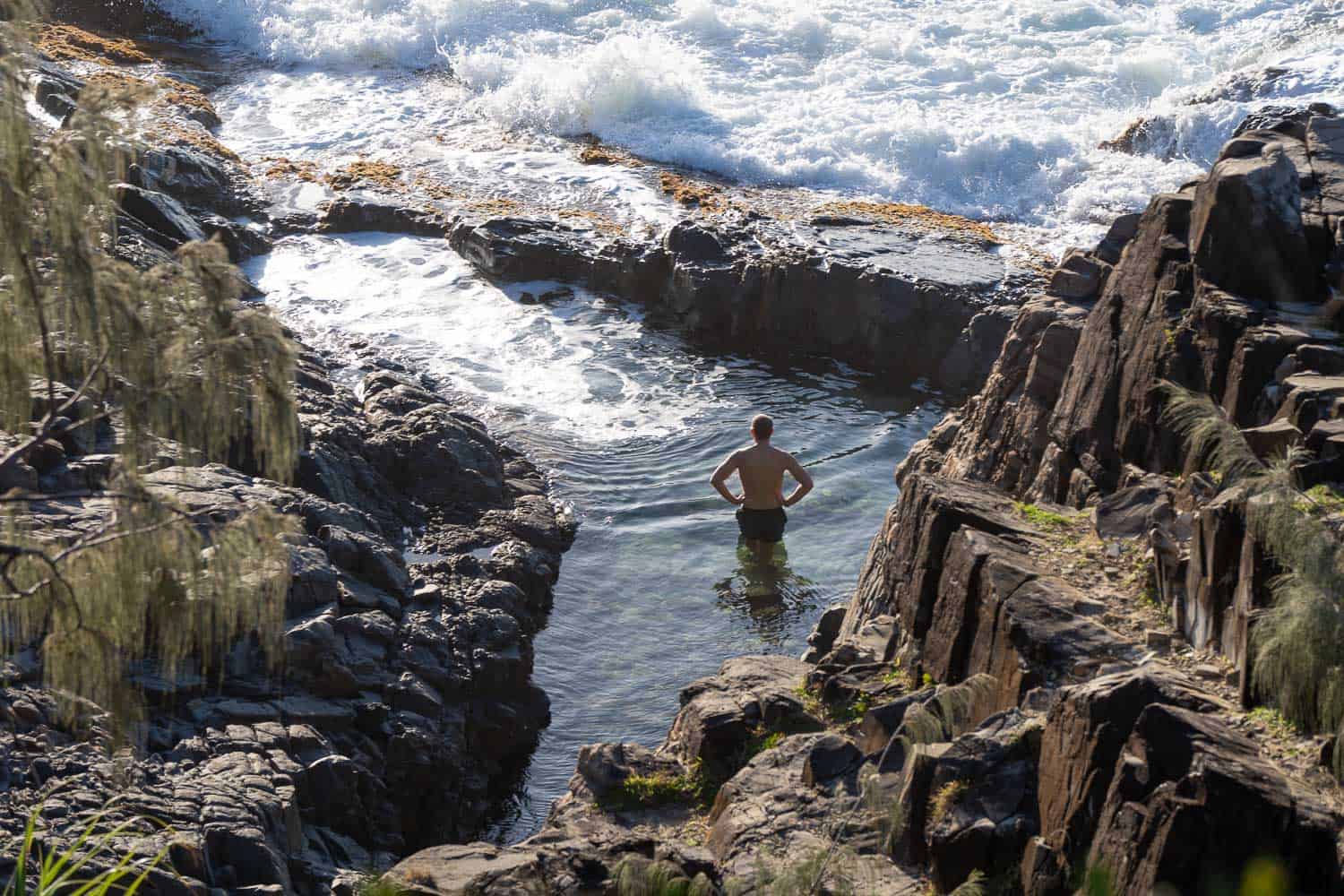 The Fairy Pools are about 35 minutes from the start of the coastal trail and 5 minutes before Hell's Gates, the last stop on this version of the walk.
After walking on a flat section of open trail with panoramic views (and we saw a wallaby once), you'll reach the eroded sandstone outcrop on the tip of the peninsula.
You can see beautiful Alexandria Bay here, but you'll get a better view if you continue on the trail for a few minutes.
There are a few log benches at Hell's Gates and this is the best spot to take a break and look out for dolphins (which we did see!) and in winter, whales.
If you don't want to complete the full coastal trail, this is the ideal turnaround point. If you want a longer walk, see walks #3 and #4 below.
3) Coastal Walk and Tanglewood Track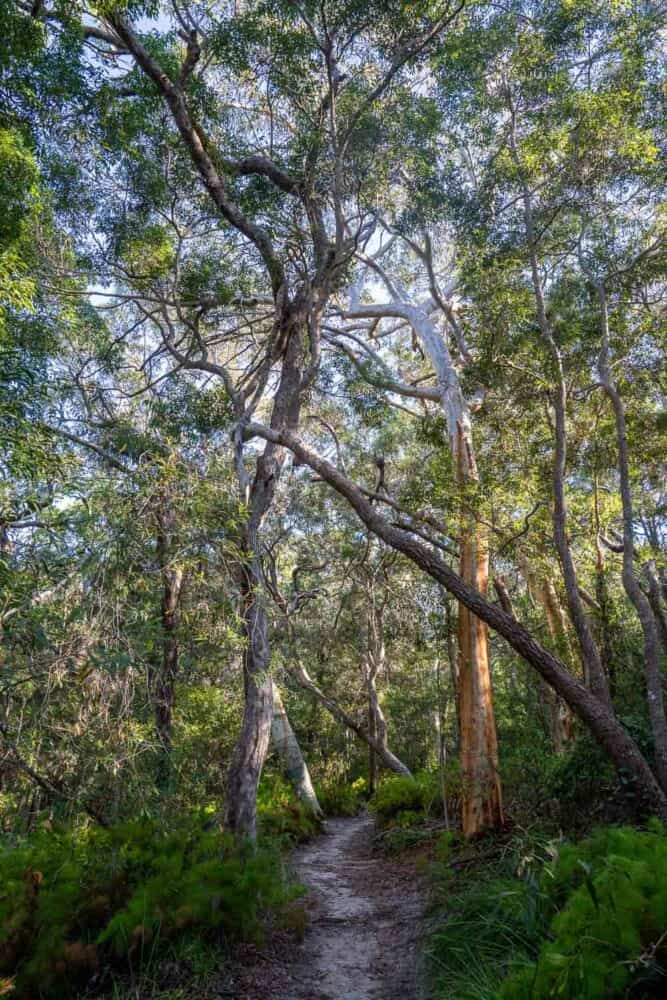 Distance: 7.2km loop
Time: 1 hour 40 minutes
Total elevation gain: 109 metres
My favourite Noosa National Park walk (and run) is to take the Coastal Walk to Hell's Gates (as described in #2) and continue about five minutes past it where there's a turn-off to the Tanglewood Track.
Following the Tanglewood back to the car park is a longer but much quieter route and takes you through stunning, ever-changing rainforest and eucalypt forest alive with birdsong.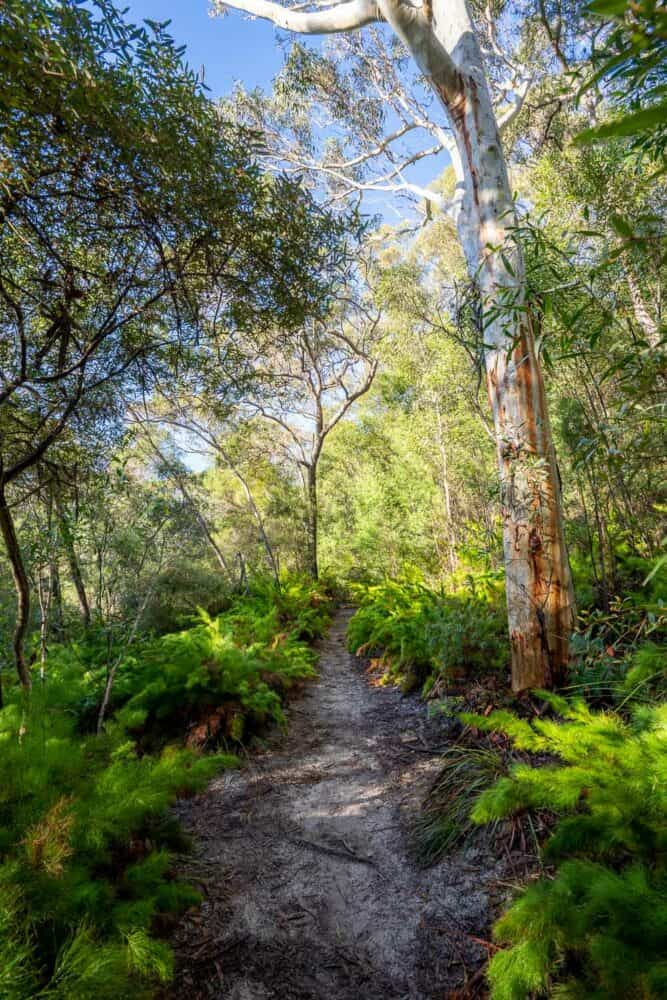 The trail is a little uphill at first but then levels off before descending to the car park.
If you want to run in Noosa National Park, I recommend starting the coastal track before 6.30am as it gets very busy and it's difficult to pass people on the narrow trail. The inland tracks like Tanglewood are much quieter.
4) Coastal Walk to Sunshine Beach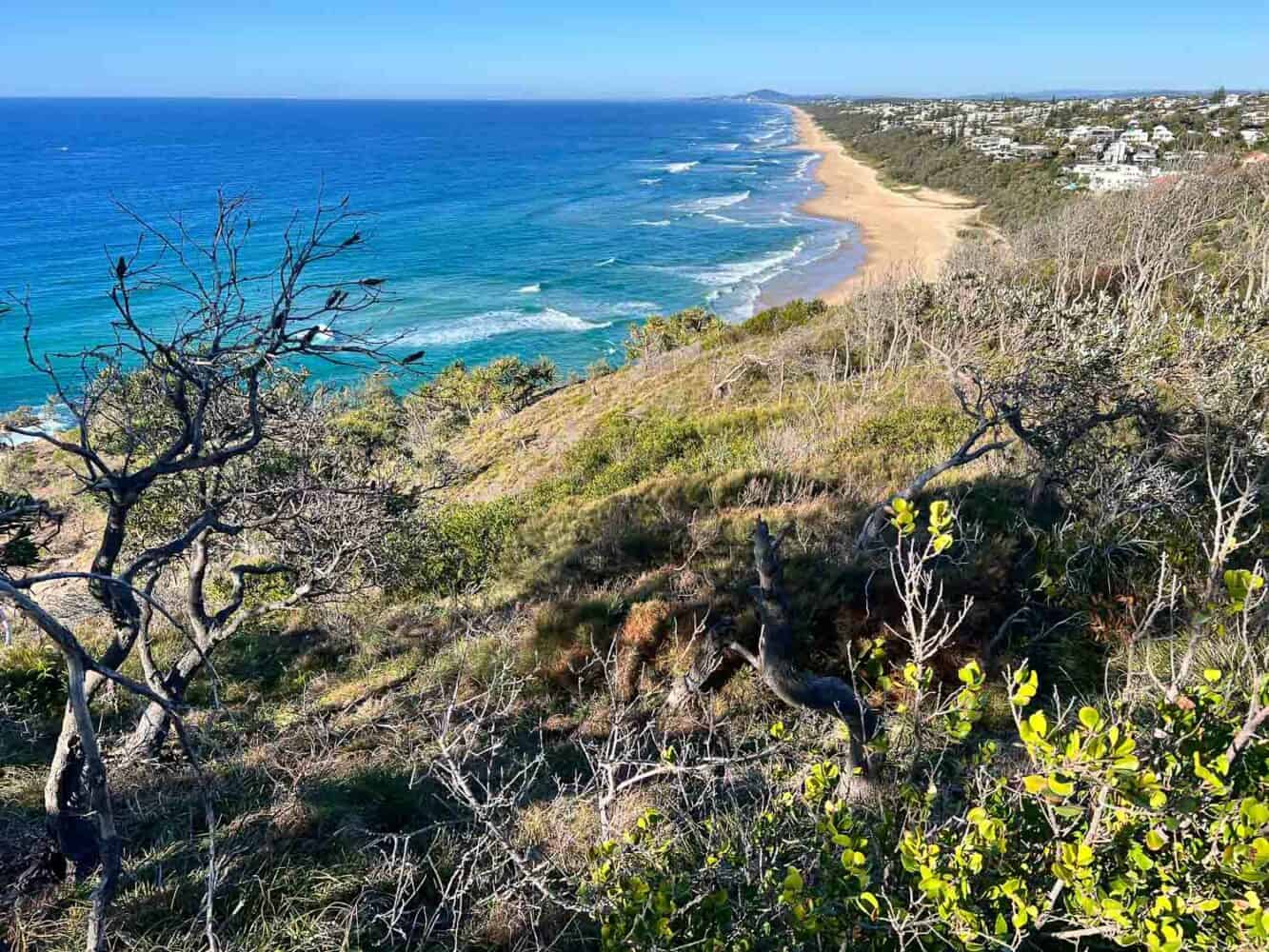 Distance: 10.6km out and back (to the top of Sunshine Beach steps)
Time: 2.5 hours (plus breaks)
Total elevation gain: 190 metres
If you have the time and energy, consider the full Coastal Walk to Sunshine Beach.
Follow walk #3 above and continue on past Hell's Gates. The trail takes you down to Alexandria Bay, a long, isolated beach that's usually quiet (although popular with nudists).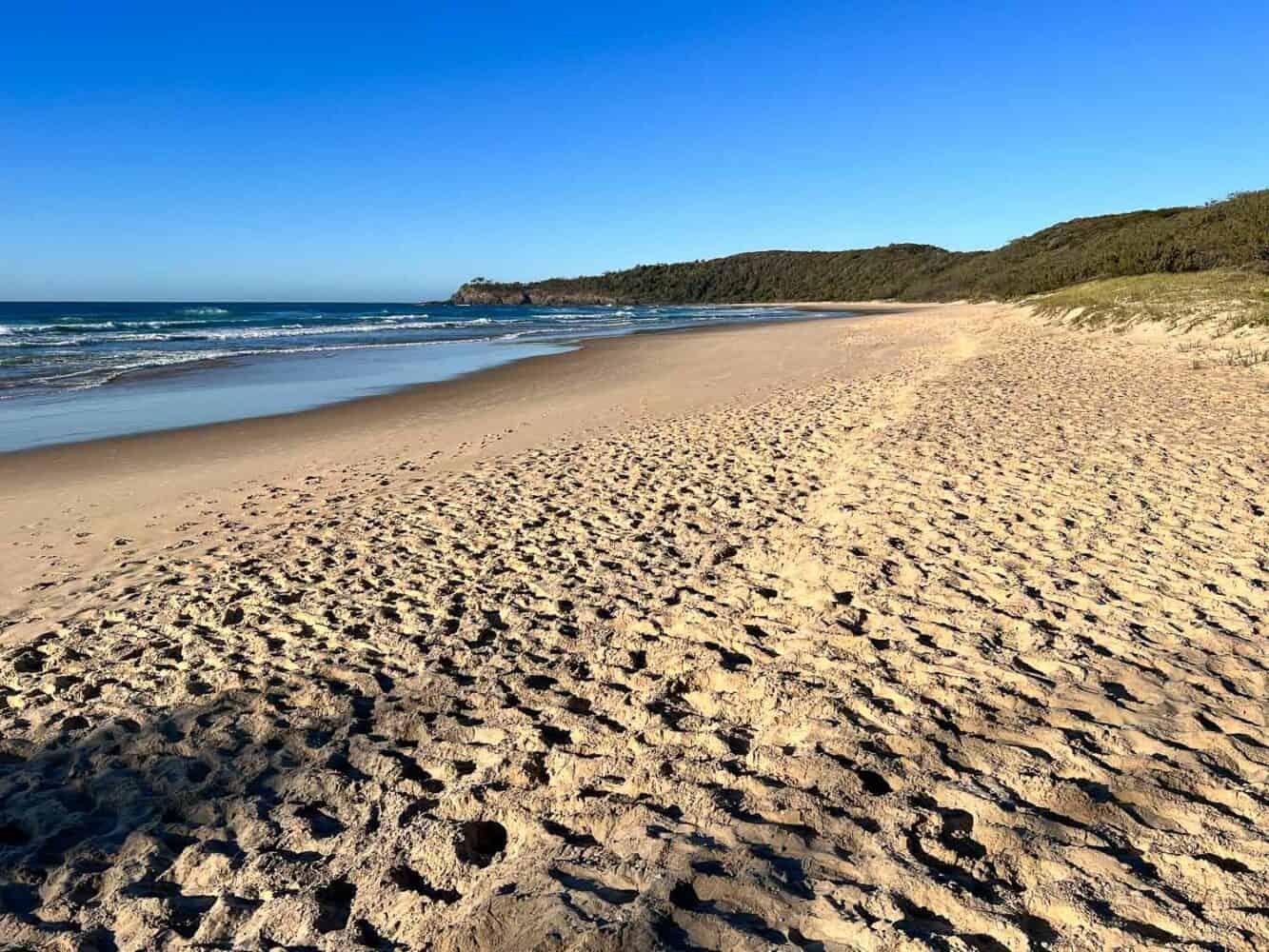 The ocean is generally too rough for swimming, and there are no facilities here, but it's a beautiful spot.
Walk along the beach until you see the trail sign at the other end. Then walk up the rocky steps through the bush—the hardest part of the walk so far.
Once at the top, there's a stunning view of Sunshine Beach. We turned back here as it's a steep climb down to the beach if you are just going to turn back around.
If you want to visit the Sunshine Beach cafes (just inland from the surf club), it'll probably add an extra 1km each way. You could also take a bus or Uber back to Noosa from here.
Otherwise, return the way you came.
5) Palm Grove Walk
Distance: 1.1km loop
Time: 15 minutes
Total elevation gain: 21 metres
The Palm Grove Walk is a very short and easy trail through the forest that starts behind the toilets at the car park.
It's often overlooked so it can be a peaceful add-on to a short coastal walk if you don't want to do the much longer Tanglewood Track.
The impressive trees include piccabeen palms, strangler figs, tuckeroos, crow's ash, and kauri pines. The birds can be loud!
6) Noosa Hill Walk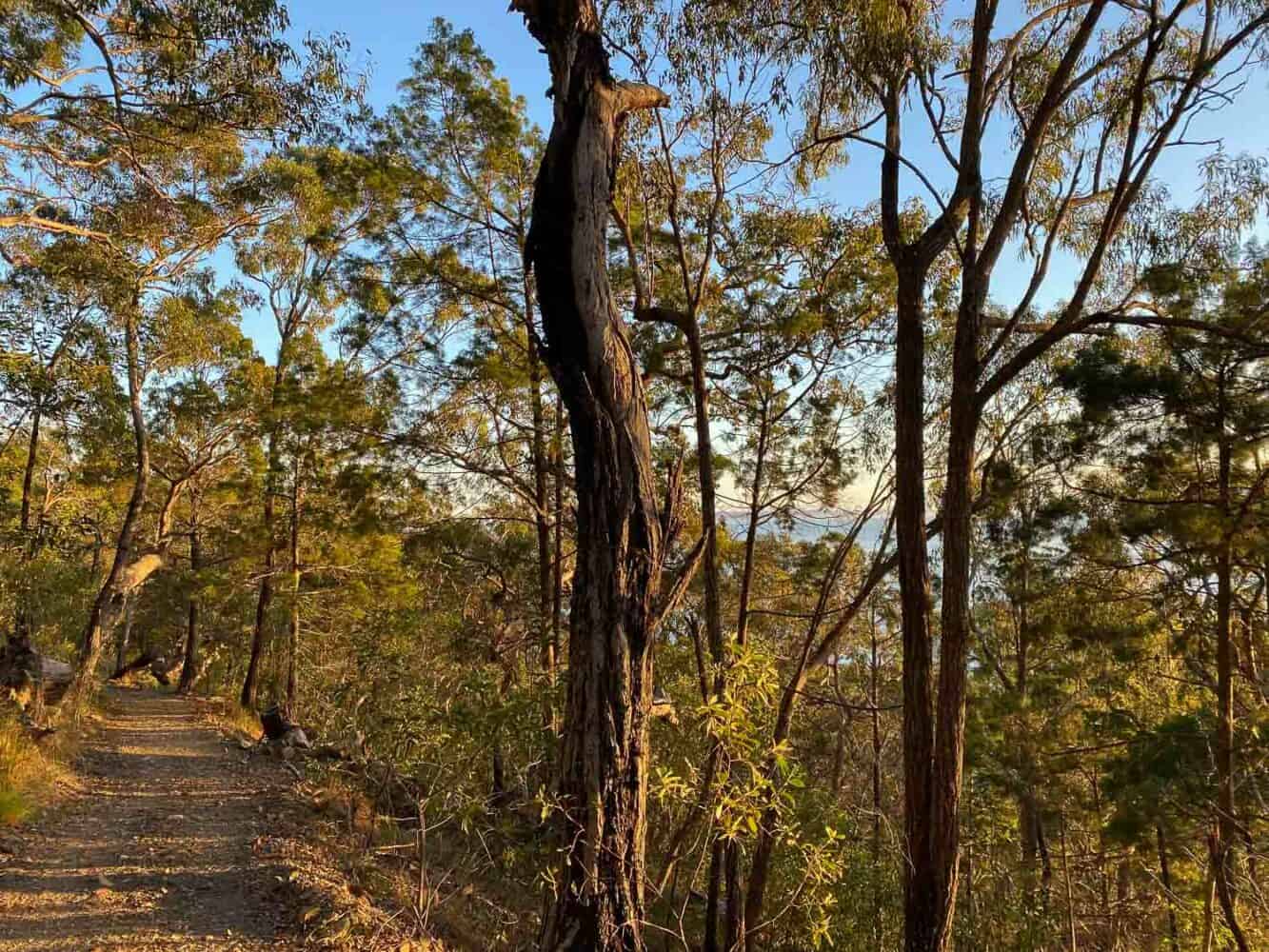 Distance: 2.8 km out and back (or 3.7km loop)
Time: 45 minutes
Total elevation gain: 140 metres
Noosa Hill Walk is one of the quietest trails in the national park—I saw no one else when I ran it! The NP map manages expectations by saying that the track has limited views, so perhaps this puts people off.
While I wouldn't recommend doing this if you only have time for one walk (the coastal track is more scenic), it is definitely worth doing if you are looking for a steeper or more peaceful walk.
From the car park, walk down the coastal track for about 50 metres and you'll see the yellow sign to the Hill Walk on the right.
It's uphill all the way to the summit, but it's not too steep. You pass through open forests of blue gums, ruby-sapped bloodwoods, and Moreton Bay ash trees.
While there are no sweeping views, you do get glimpses of the ocean through the trees throughout, and it was especially lovely in the morning light.
There's a 150-metre detour up a rocky, narrow section of the trail to the summit. The view wasn't any better than what you see on the way up, though.
You could return back the way you came, but I did a longer 3.7km loop back via a signposted link track, which connects to the Tanglewood Walk (go right at the junctions).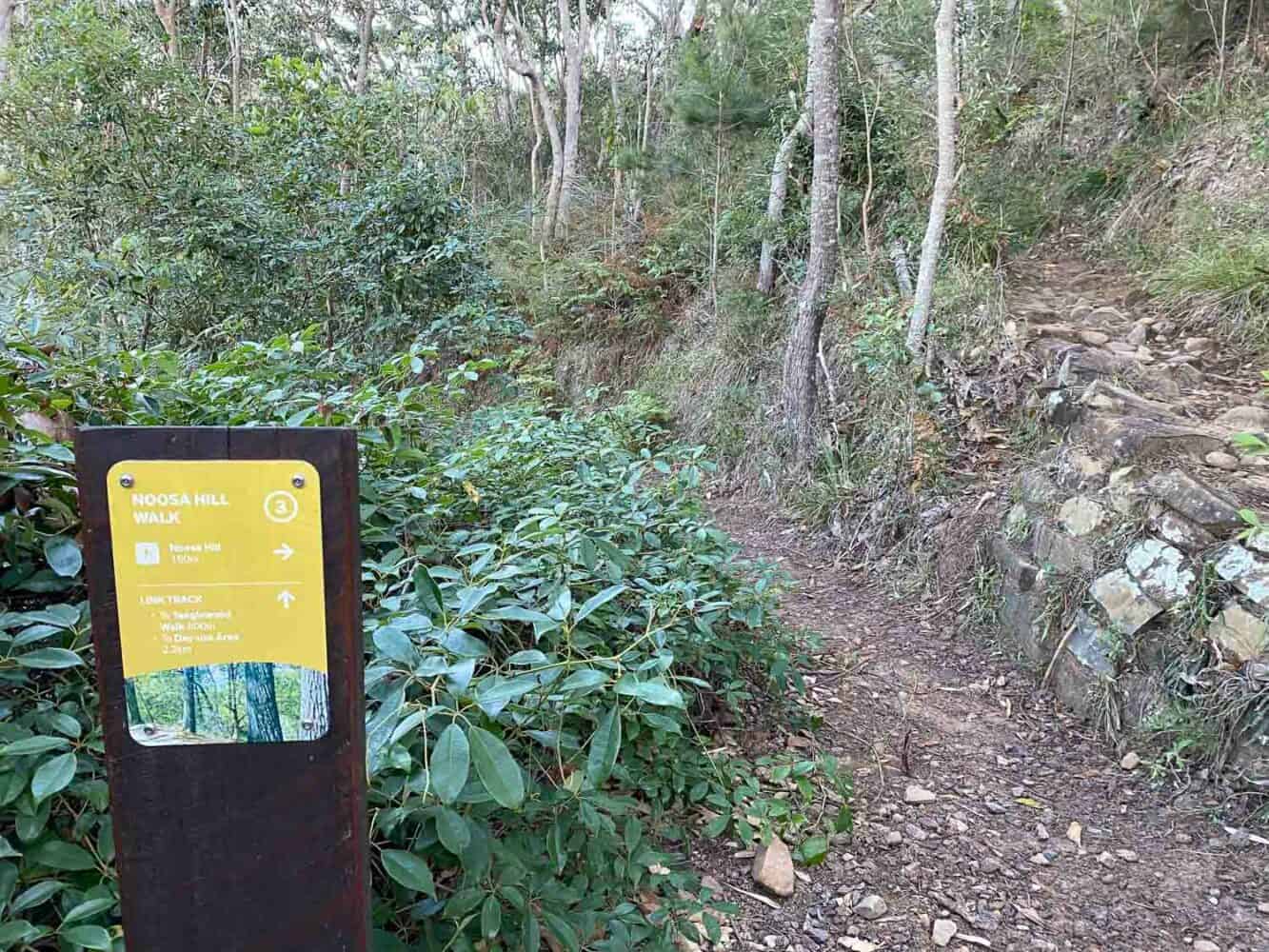 I recommend this way back as you pass through denser and more varied forests.
It might be less steep if you start on the Tanglewood first—this Alltrails page for the Noosa Hill Track to Tanglewood Track says the 3.5km circuit takes an average of 1 hour with 116m of elevation gain.
7) Alexandria Bay Walk
Distance: 4.2km out and back
Time: 50 minutes
Total elevation gain: 118 metres
The Alexandria Bay Walk is the only one on this list that doesn't start at the Noosa Headlands car park.
Instead, it starts on Parkedge Road in the suburbs of Sunshine Beach (marked as Alexandria Bay Walk on Google Maps). Even though only street parking is available, it was never busy for us.
This was our favourite afternoon walk when we knew getting parked at Noosa Headlands would be difficult.
There's a map at the entrance and it's easy to follow the purple signs. The enjoyable walk takes you through the forest (with one open section with ocean views) to the beautiful beach at Alexandria Bay and back.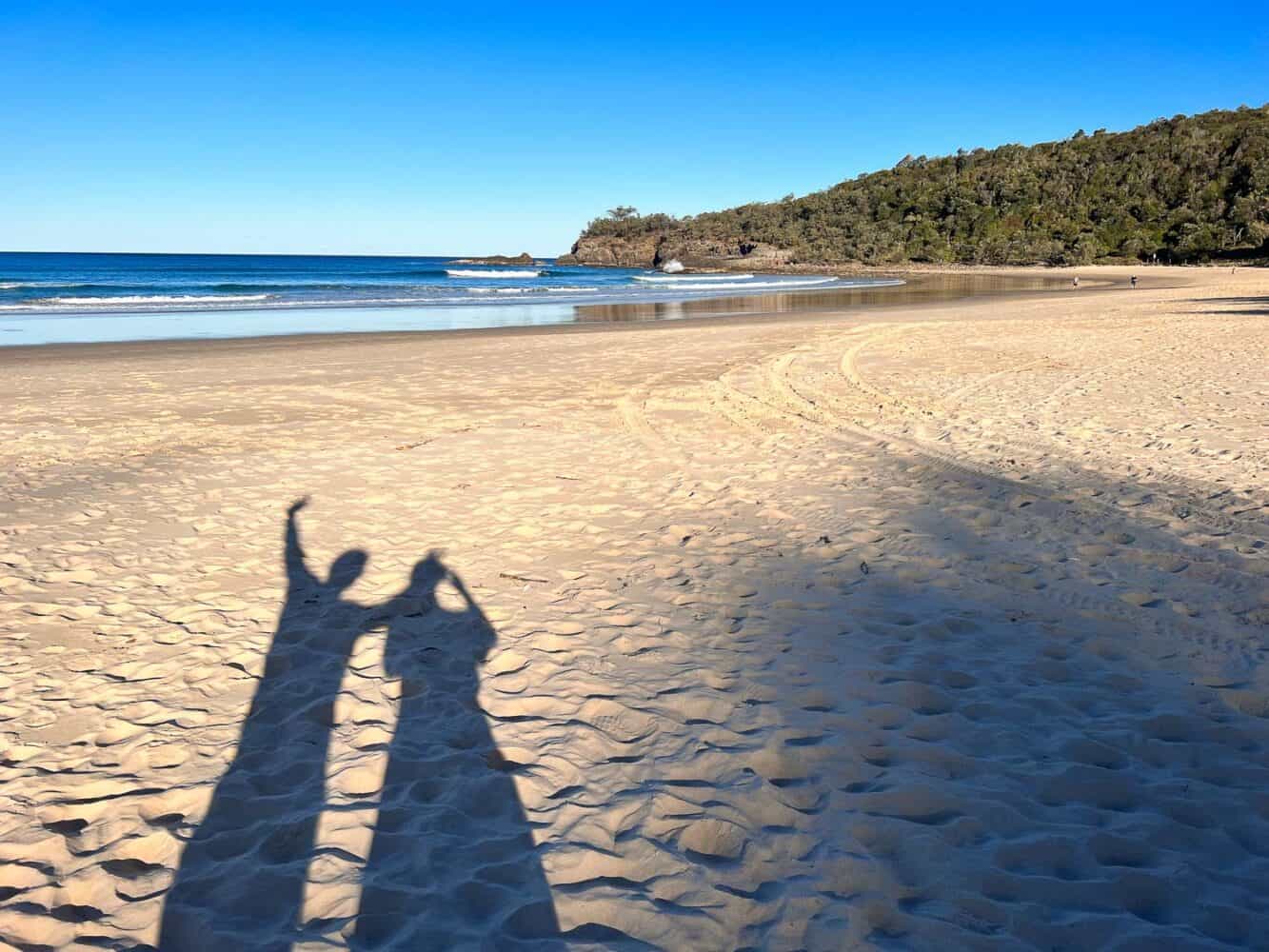 There are some small hills but nothing too challenging.
If you want a longer walk, you can connect to the coastal walk on the beach.
Noosa National Park Map
Is Noosa National Park Worth Visiting?
Yes, Noosa National Park is a must do on any trip to Noosa! Even if you only have time for a short stroll to Tea Tree Bay, it's well worth doing especially as it's so close to Main Beach.
The Coastal Walk is the highlight of the park, but if you have the time, the beautiful forest trails are a great way to escape the crowds.
More Australia Posts
Noosa
Elsewhere in Queensland
Victoria
If you enjoyed this post, pin for later!