This page contains affiliate links. Please read our disclosure for more info.
Noosa is one of Southeast Queensland's top holiday destinations and has a fantastic food scene that makes the most of the amazing local fresh produce.
From authentic Neapolitan pizza and delicious Asian fusion to creative fine dining and meals with ocean views, there's a lot to enjoy.
We spent three months eating our way around town and here are our picks for the best restaurants in Noosa. There are a lot, so we share our absolute faves at the top.
You'll find a map at the end with all the restaurants, cafes, bars, and food shops mentioned here.
Contents
We acknowledge the Kabi Kabi people as the Traditional Custodians of Noosa land and sea.
Best Places to Eat in Noosa: Our Top Picks
Best Restaurants: Humble on Duke, Herbert, Light Years
Breakfast: Vanilla Food, Noosa Farmers Market (Sundays)
Pizza: Somedays Pizza
Casual Restaurant: Telephone Call From
Cheap Eats: Raw + Rice, House of Salsa Salsaria
Ocean Views: Sunshine Beach Surf Life Saving Club
Sweet Treat: Massimo's Gelateria
Sunset Drink: Noosa Boathouse Sunset Bar
Coffee: Clandestino at Belmondos Organic Market
Also Don't Miss: Spirit House in Yandina, where we had our favourite meal in the area. This Thai-inspired restaurant is a 30-minute drive from Noosa but well worth it for a special occasion. See my Sunshine Coast Hinterland travel guide for more details.
Best Areas for Food in Noosa
Noosa's heart is Hastings Street, which runs parallel to Main Beach in Noosa Heads. Here you'll find beachfront dining, relaxed cafes, and delicious gelato.
While there are some good restaurants on Hastings Street, the best place to eat in Noosa is Noosa Junction. It's also in Noosa Heads, a 15-minute walk uphill from Hastings Street, with a huge range of wonderful restaurants and bars. This is where Noosa locals eat out.
Other worthwhile destinations for dining out in Noosa are Sunshine Beach, a small suburb with a couple of excellent hidden gems, and Noosaville, which is further from the ocean but has riverside dining and some great local spots in an industrial estate inland.
None of these areas is more than a 10-minute drive apart.
You can see the Noosa restaurants map below for locations of all these places.
See our detailed guide to the best things to do in Noosa for more tips on the area.
Best Restaurants in Noosa
1) Humble on Duke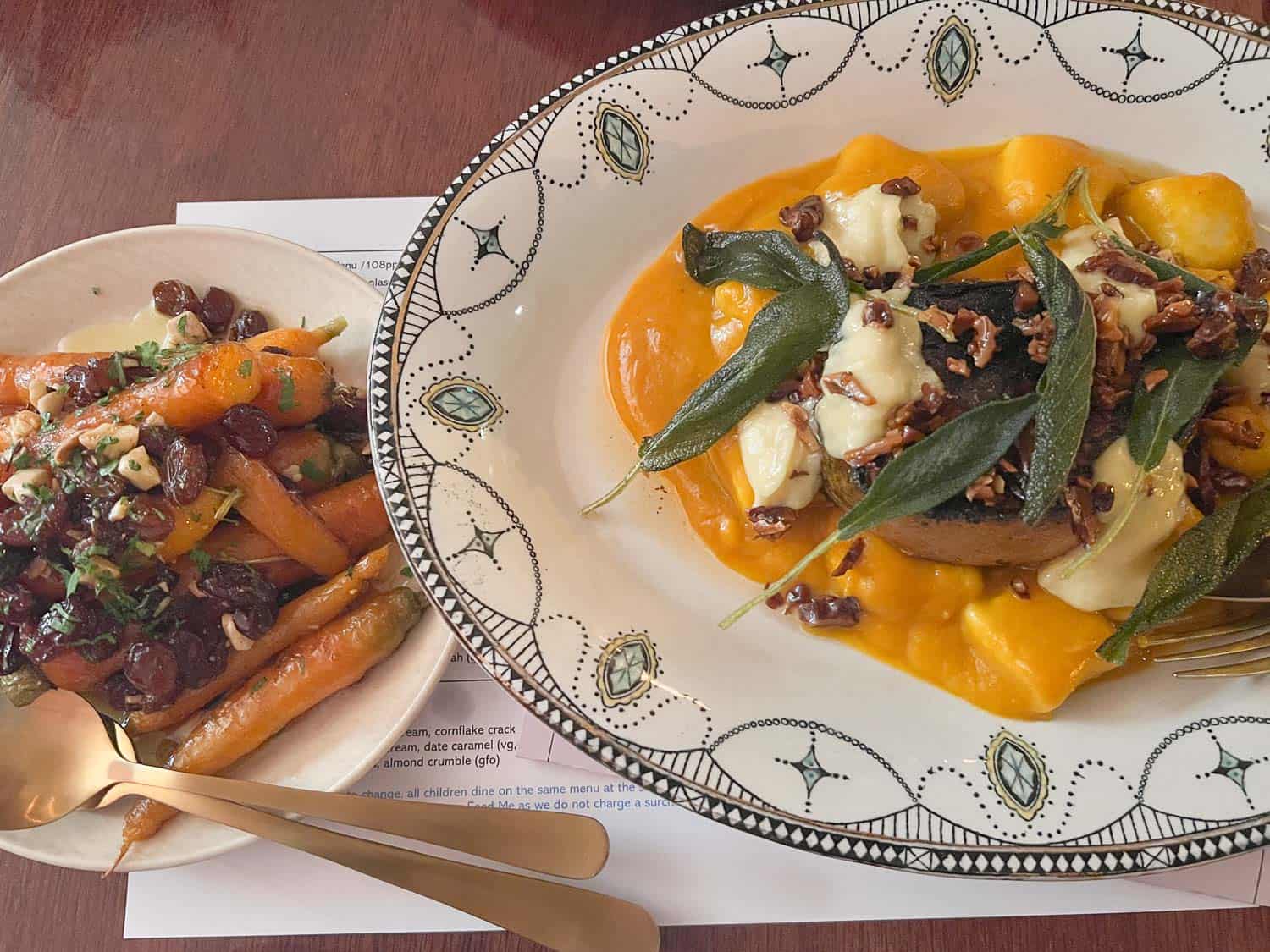 Location: Sunshine Beach
Our favourite meal in Noosa was at Humble on Duke, a hidden gem in Sunshine Beach.
This cosy, 14-seater restaurant is run by Jade and Stacey and is one of the friendliest places we've ever eaten.
The small, seasonal menu is Middle Eastern-inspired and everything is served sharing style. Choose from the $88pp Share Menu or the $108 Feed Me, which includes a few extra dishes and desserts.
We went for the Feed Me menu and had no regrets. They were able to adapt the menu for us vegetarians and everything was creative and super flavourful.
My favourite dish was the burrata with pickled quince, honey, and hazelnuts—so creamy, sweet, spicy and tangy.
Simon loved the sigara börek (crispy feta-filled rolls), which we had with the Sabzi khordan—herbs, pickles, and feta, all wrapped in lettuce leaves.
The pumpkin maakroun (a kind of Lebanese gnocchi) and chocolate brownie with hokey pokey ice cream were also wonderful.
The wine list was a highlight. Jade knows her wine and features some interesting Australian wines from small producers available by the glass (or the wine pairing is a good deal). My Somos Aglianico was the best wine I've had in a restaurant in Australia and is not something you find anywhere else.
While Humble on Duke is pricey, it's definitely worth it for a unique and delicious experience.
Bookings are essential (they are small and only open four evenings a week) and let them know any dietary requirements in advance.
2) Herbert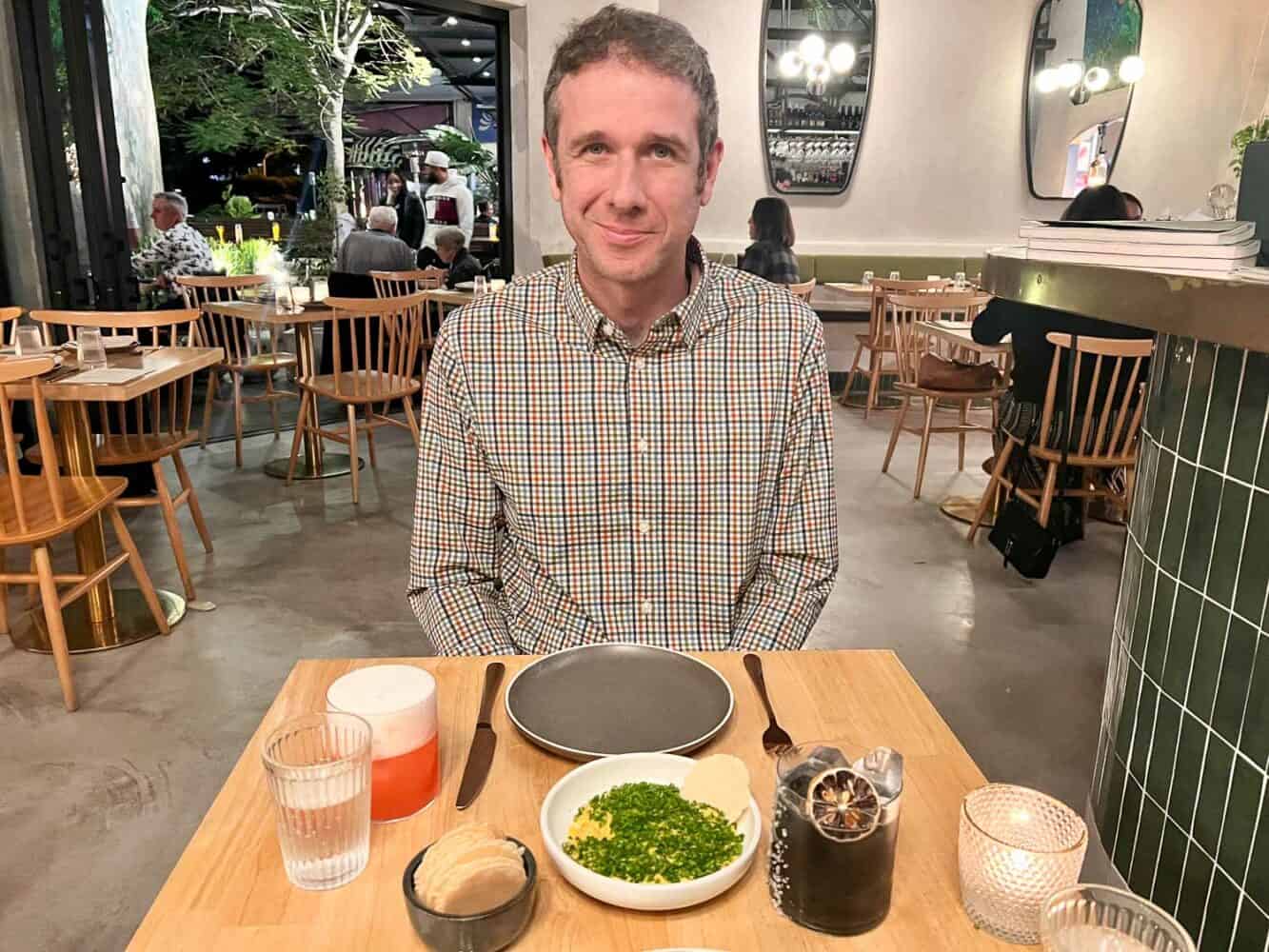 Location: Noosa Junction
Herbert is another special occasion restaurant—we celebrated our anniversary there—but manages to be both stylish and casual.
The small, seasonal menu changes regularly and is vegetable focused with just a few meat or fish dishes.
Everything is designed to be shared and they recommend you choose two or three dishes per person from the small, medium, and large plates.
Some of the dishes are rather unique and you might resist certain combinations—such as black sesame sorbet served with spicy mapo tofu—but just trust the process!
The small plates were our favourites—an incredible smoky sweetcorn dip and wonderfully crispy tapioca fritters with chilli-infused honey and bitter eggplant jam. Don't miss either if they are on the menu.
The cocktail menu is creative, too, and I loved my margarita-style drink made black by activated charcoal.
3) Light Years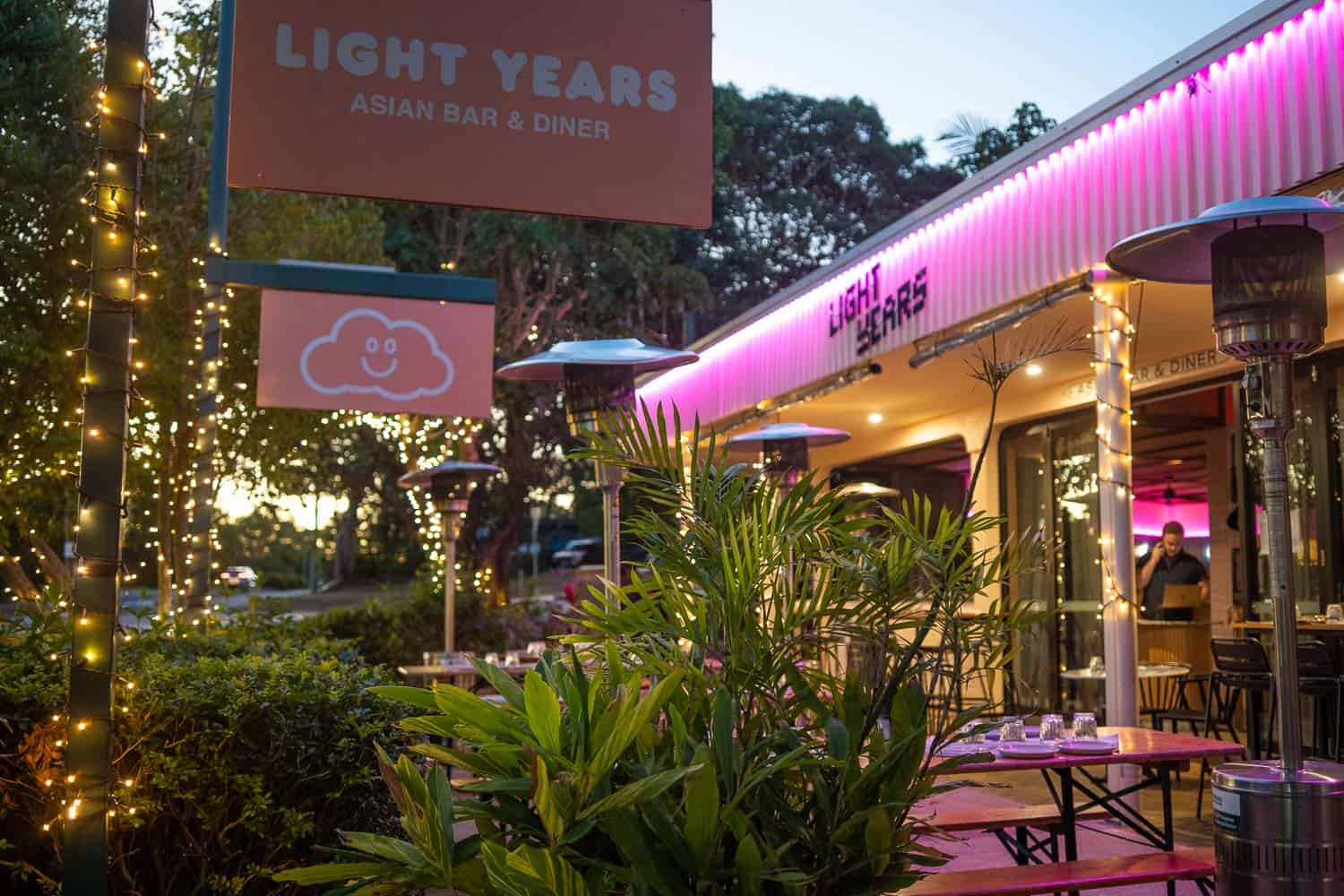 Location: Noosa Junction
Light Years is probably the most popular restaurant in Noosa Junction (bookings recommended) with its casual, funky atmosphere, tasty Asian-fusion menu, and unique cocktails.
While the food is share plates, most of the dishes are much larger than we expected so we ordered way too much food the first time.
On our second visit, we shared the eggplant katsu bao buns (a highlight), a turmeric and coconut cauliflower curry, rice, and their pickle plate (a must for pickle fans). It was a great combination of flavours and textures and just the right amount to leave us comfortably full.
There's a good variety of vegan and gluten-free dishes which are marked on the menu.
4) Vanilla Food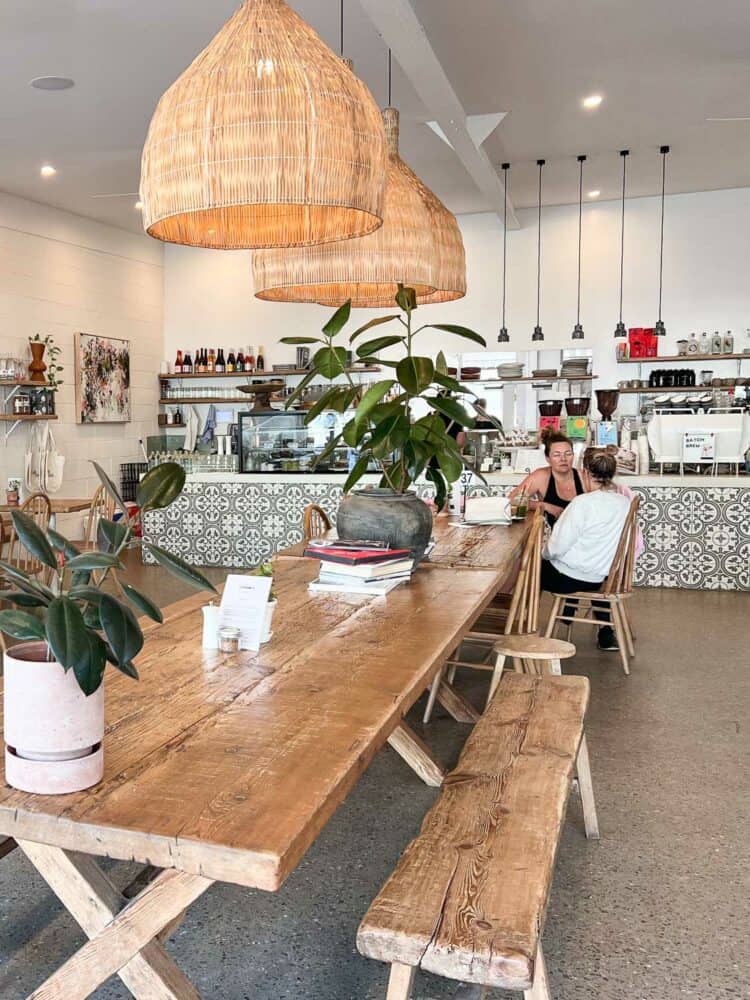 Location: Noosa Junction
Vanilla Food is our pick for the best cafe in Noosa. It's stylish, bright, spacious, and serves beautifully presented food that feels nourishing but doesn't skimp on flavour.
They also serve Clandestino coffee (the best in Noosa).
We ate breakfast at Vanilla Food a lot and the Chili Tofu Scramble on sourdough toast was our most eaten dish in Noosa. It's absolutely delicious and we appreciated that they have vegan breakfast options that go beyond avo toast.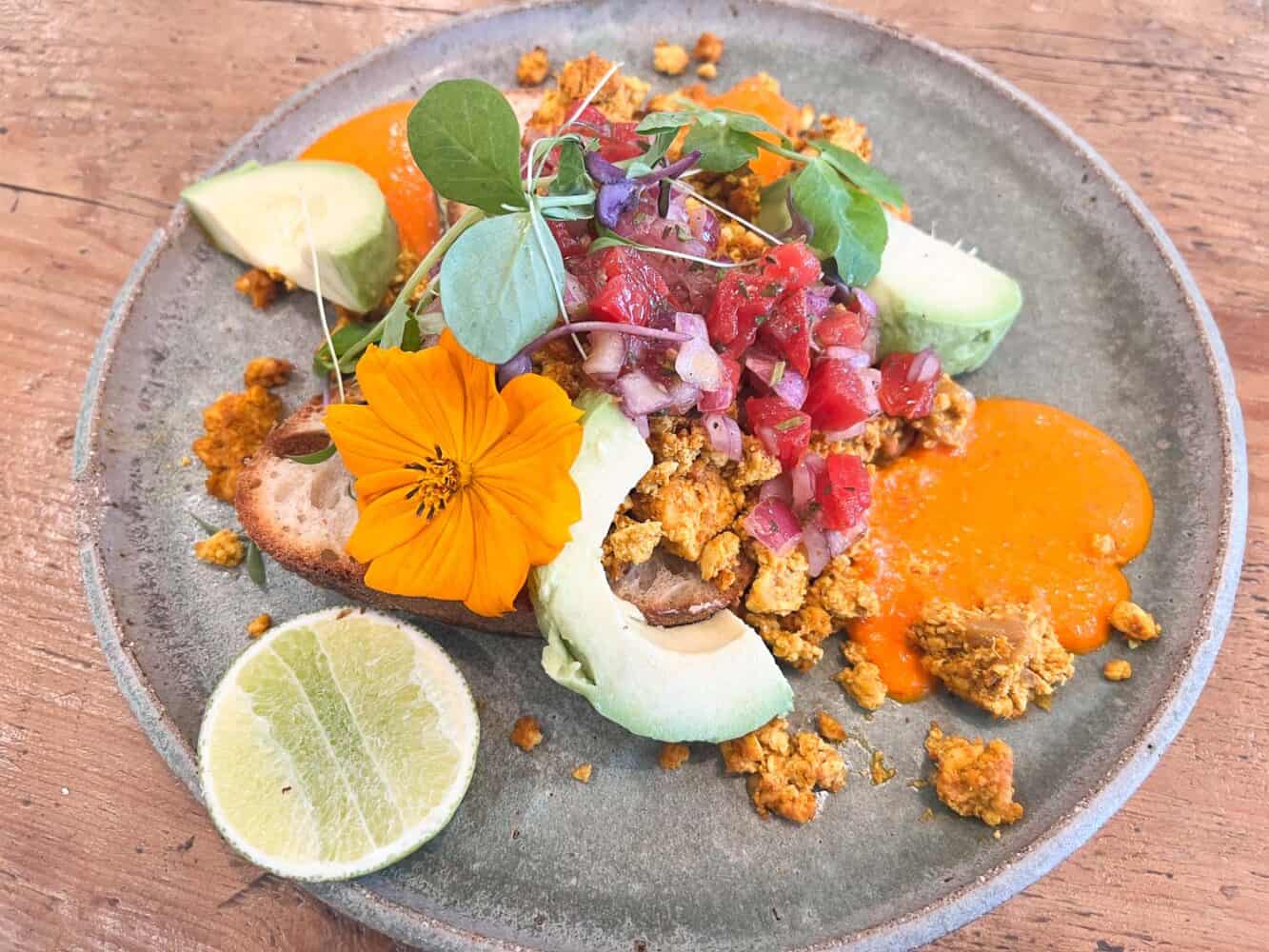 I can also rarely leave without picking up one of their perfectly chewy and crunchy lemon amaretti biscuits.
The salads at the counter are useful for a healthy takeaway lunch.
While Vanilla Food is popular, we always manage to get a seat.
5) Somedays Pizza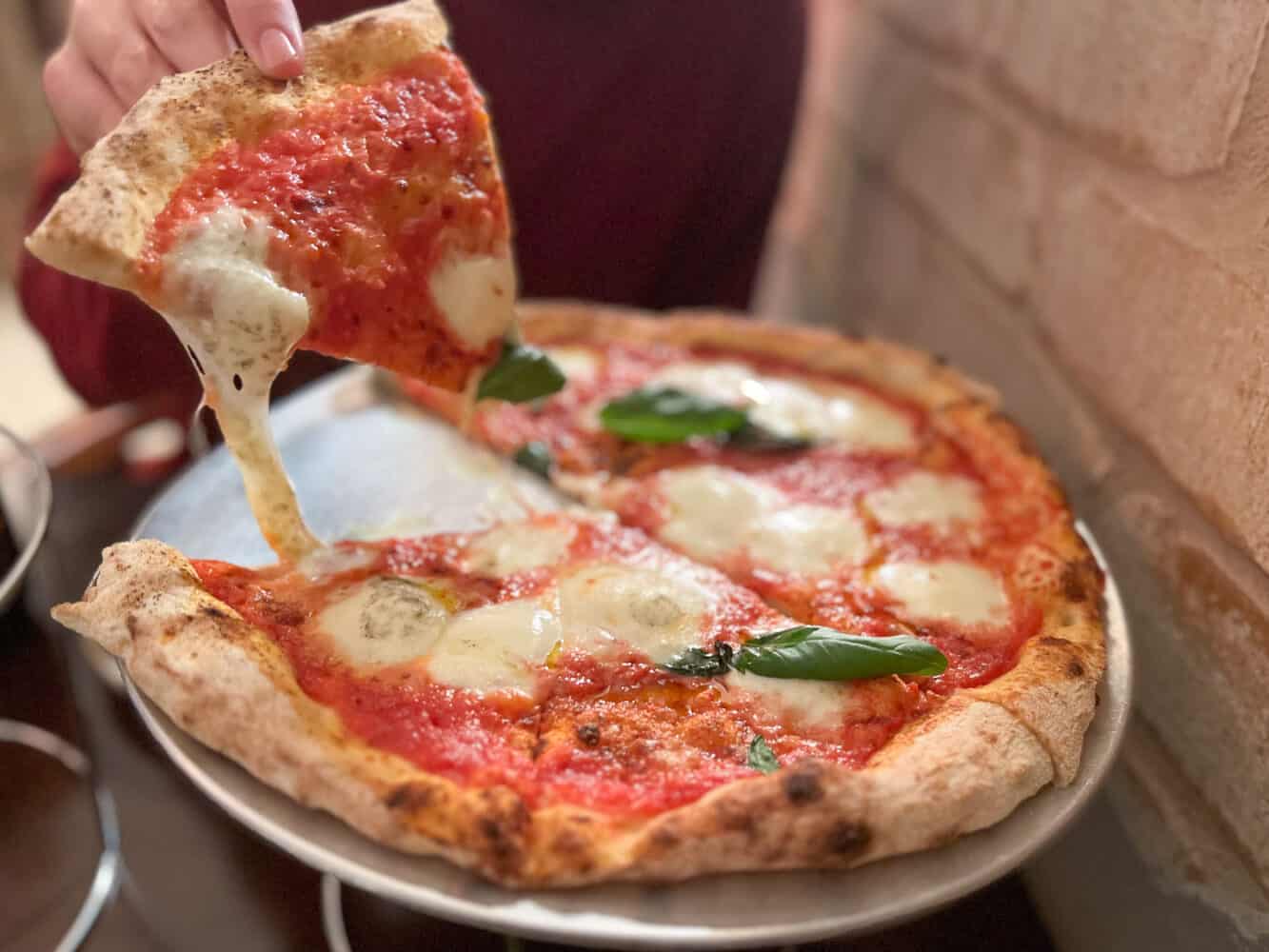 Location: Noosa Junction
Somedays Pizza makes legit, wood-fired, Neapolitan-style pizza that's the best we've eaten outside of Italy in a long time.
While they have some creative topping combinations, their Margherita pizza is probably our second most eaten meal in Noosa. It's as simple but flavourful as it should be.
They can substitute vegan cheese or a gluten-free base.
Bookings are a good idea as it's always busy or you can order online to take away.
6) Telephone Call From
Location: Noosa Junction
Telephone Call From started as a pop-up featuring different world cuisine, but in 2023, Israeli chef Noah took over with a vegan Middle Eastern menu.
This casual spot has all outside seating (on the lovely, pedestrianised Arcadia Street in the Junction) and a small menu, but the food is absolutely delicious.
Our favourite is the Mezze Plate for two which features excellent falafel, wonderfully flaky Yemenite layered flatbread, and various dips, pickles and salad. It's ideal for a light meal.
Telephone Call From is open for lunch on weekdays and dinner from Wednesday to Saturday (closed Sundays). As Noah is the sole chef, it can close at other times on occasion.
7) Flo's Creperie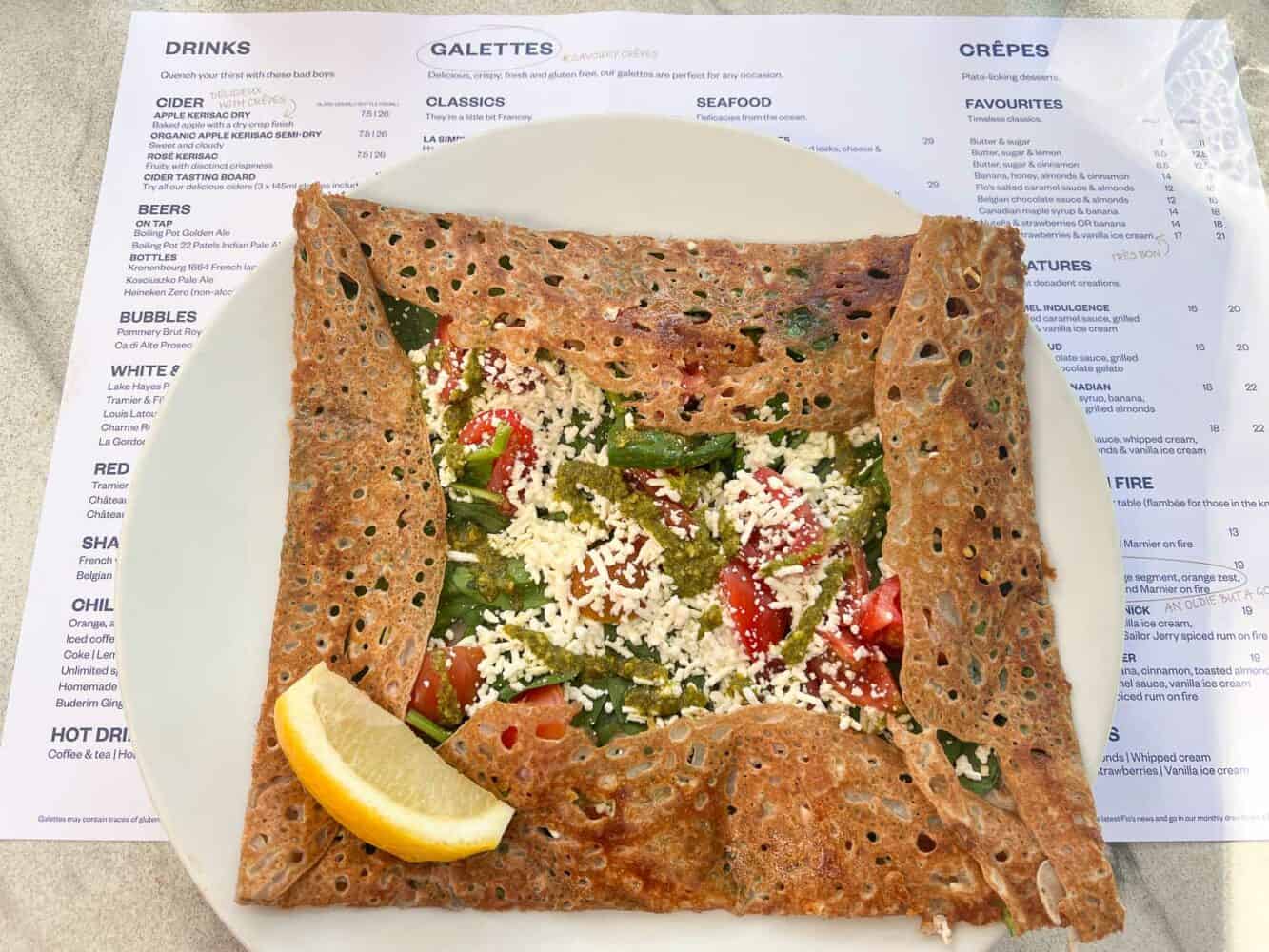 Location: Noosa Junction
We were surprised to find authentic French sweet crêpes and savoury galettes in Noosa. They are both so good!
As Flo's Creperie is open from 7am to 8.30pm every day, it works for any meal or a sweet treat. It's easier to get a table during the day.
Vegetarians are well catered for and you can ask for their vegan menu. The galettes are gluten-free too.
I especially love the crispy galettes like The Goatee (with goats cheese and cider-cooked onions) and the Veg Out with spinach, feta, tomato relish and potatoes.
But it's always hard to resist dessert here—my favourite was a winter apple and caramel special. You can even get a crêpe flambé lit on fire at your table!
8) Embassy XO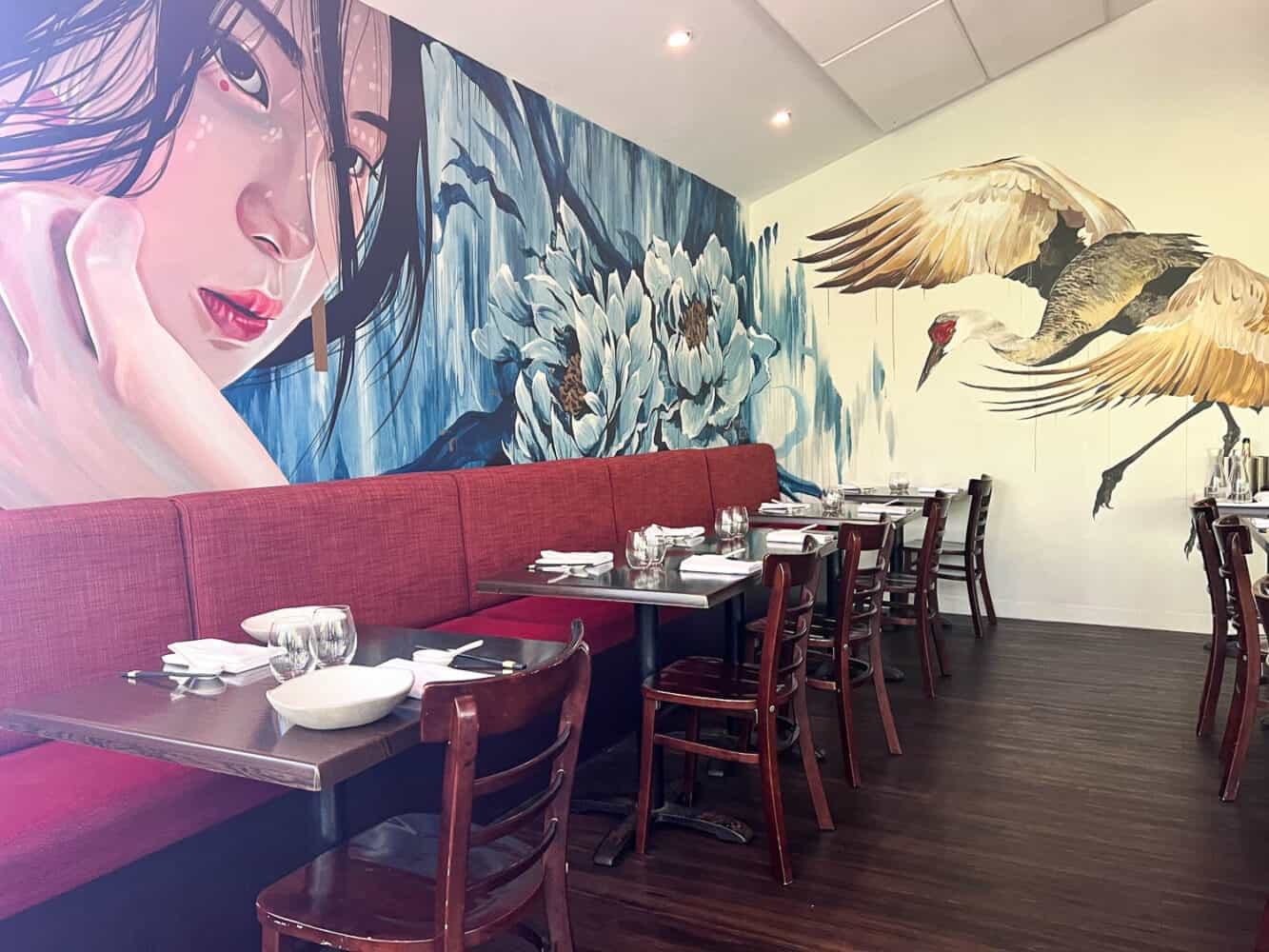 Location: Sunshine Beach
Embassy XO offers modern Asian dining in a trendy space in Sunshine Beach.
They have a good selection of vegetarian and vegan options with the option of a 5-course vegetarian or non-vegetarian tasting menu at dinner.
We went for their more affordable vegetarian yum cha banquet (Friday to Sunday lunch). While it wasn't exactly authentic (there was no tea on the menu), our nine small plates were all delicious including black pepper tempura tofu, tempeh steamed buns, and zucchini flower in a ginger soy dressing.
9) Alba by Kuruvita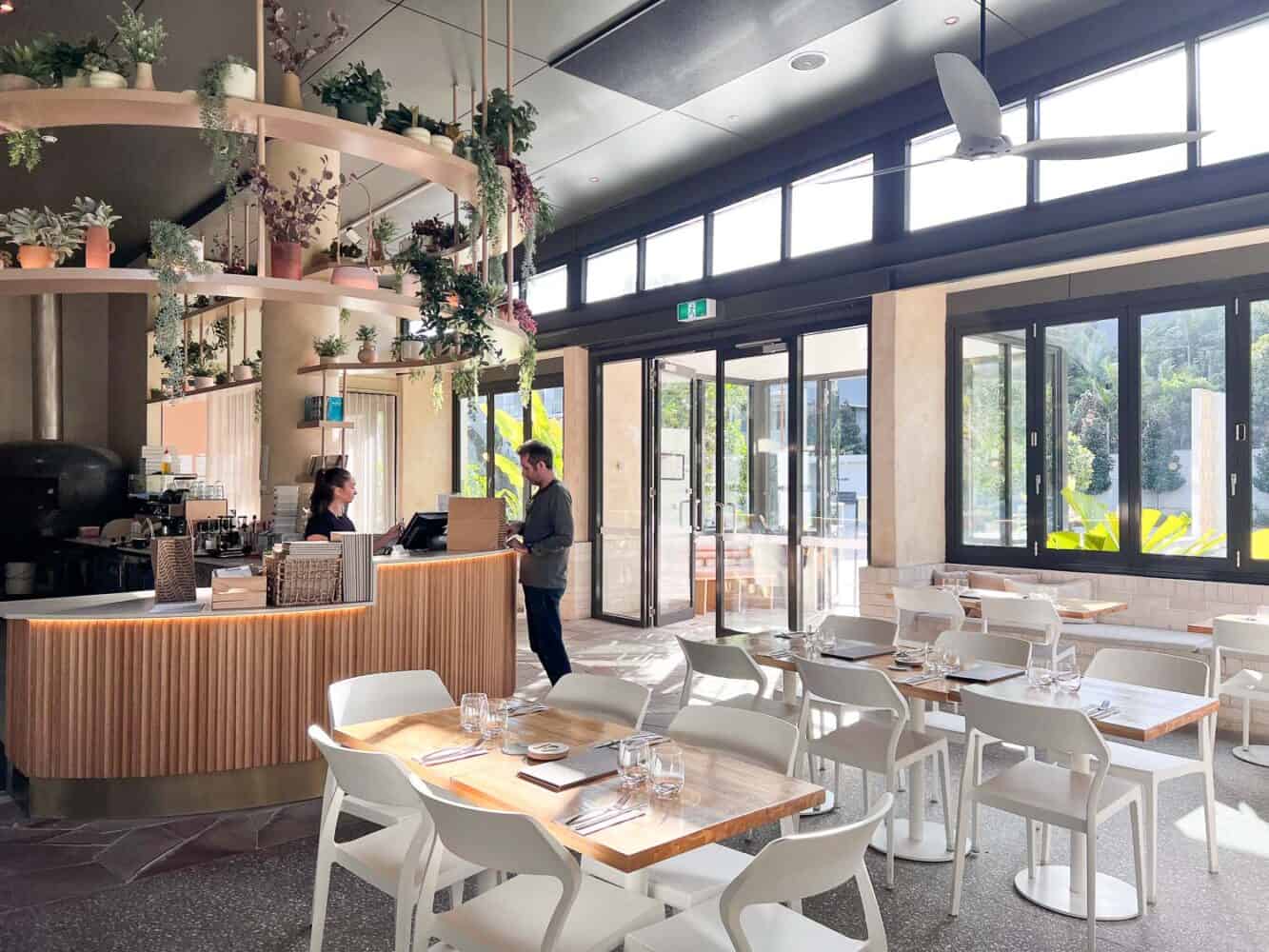 Location: Noosa Heads
Alba by Kuruvita is an upmarket restaurant run by celebrity chef Peter Kuruvita. The location is rather out of the way, but it's only a 10-minute drive from Hastings Street.
While they do have pizza and casual bites at the bar, the main draw is the fine dining menu (with vegetarian and non-vegetarian tasting menus available), which mixes modern Australian cuisine with spicier dishes reflecting Peter's Sri Lankan heritage.
We went for the Sri Lankan 5-Pot Curry lunch which runs on the first Saturday of each month from March to September.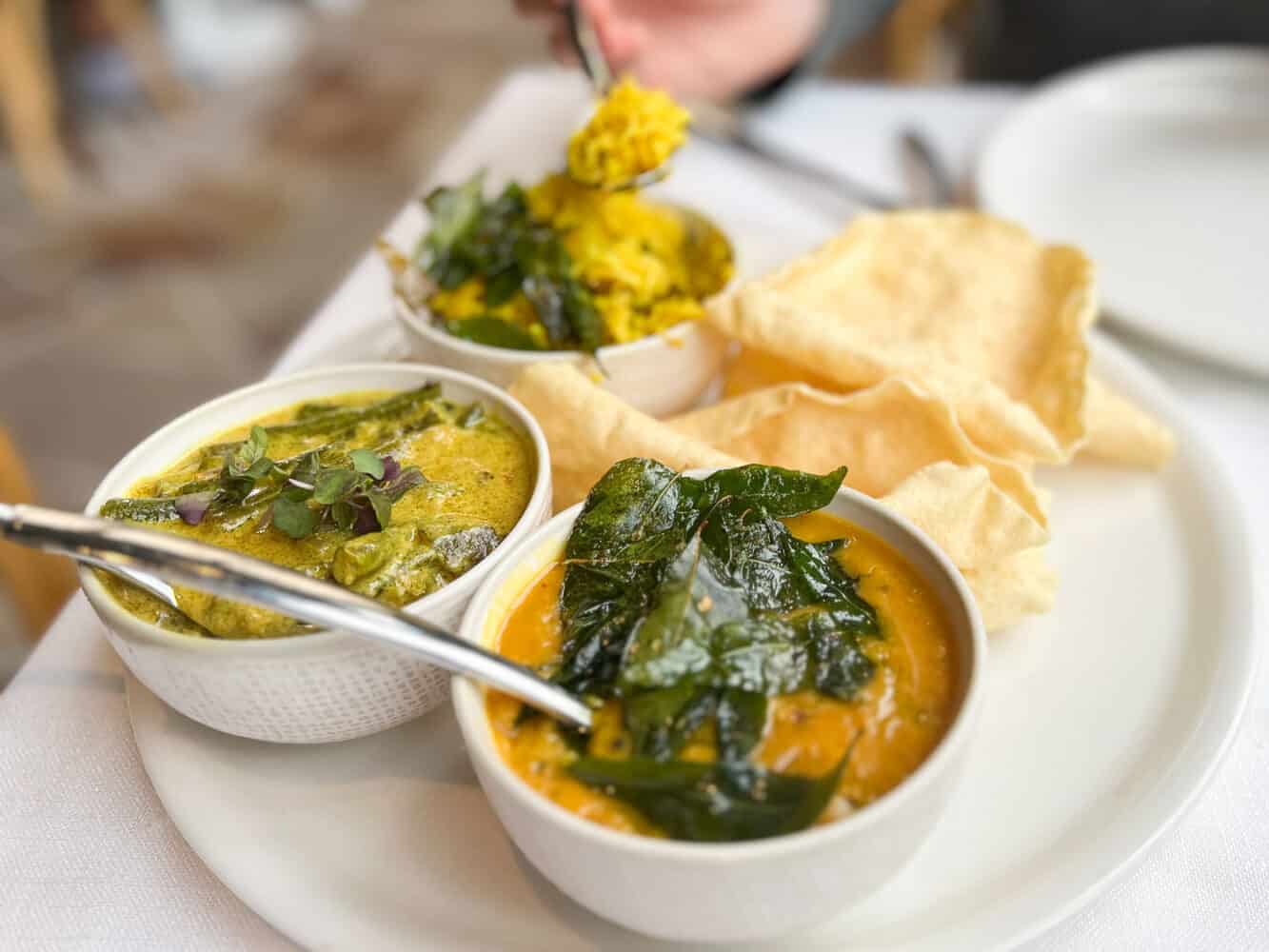 Each month is a different selection of short eats (snacks like samosas), curries, and sambals served family style for a leisurely lunch (we were there for two hours).
They did a special vegetarian selection for us and it was such a delicious, flavourful feast! I especially loved the dahl and green bean and coconut curry with their classic Sri Lankan flavours—it really took me back to my time in the country.
If you're in Noosa when the curry lunch is running, we highly recommend it for a meal you won't find anywhere else in the area.
10) Moto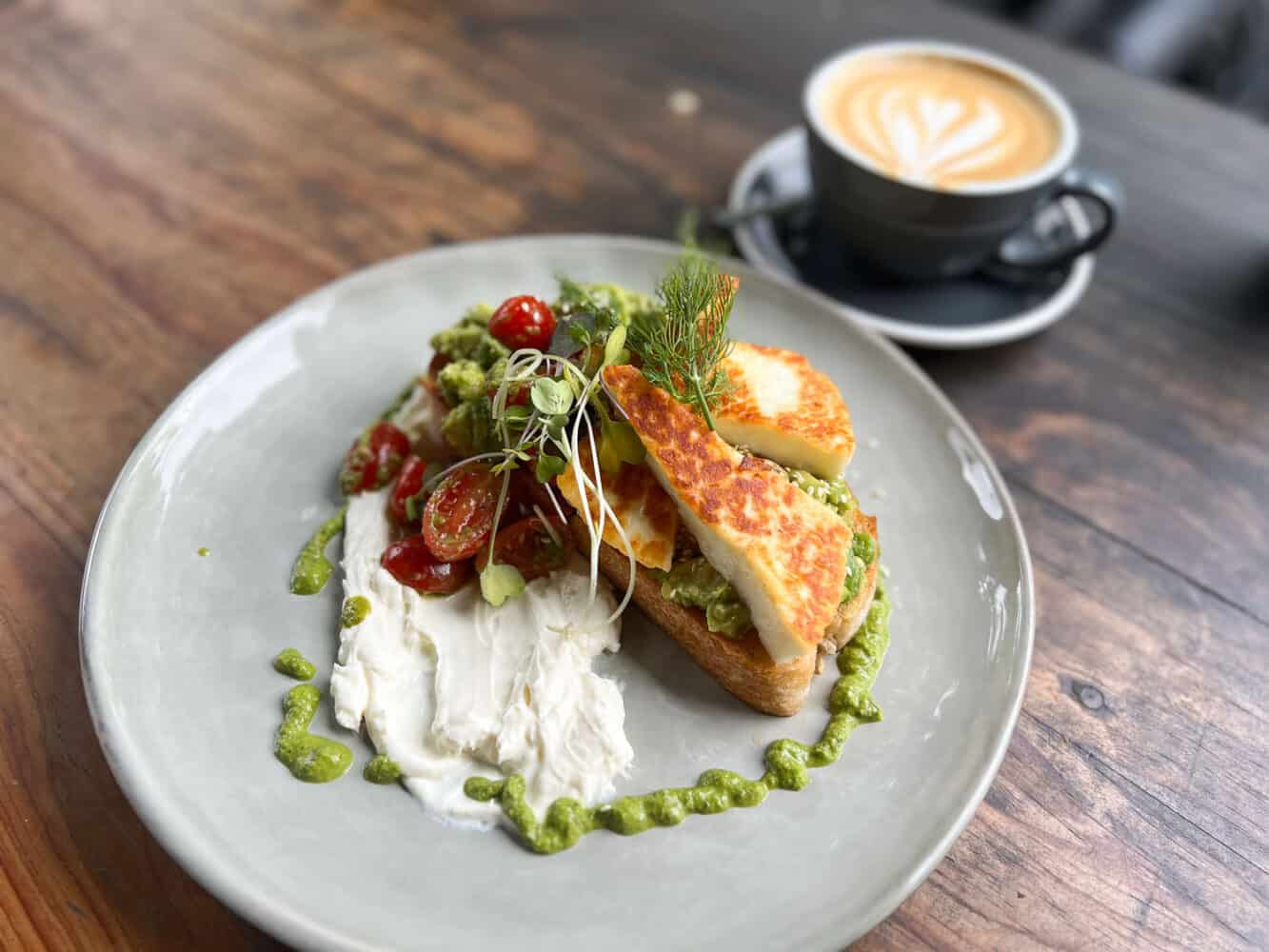 Location: Noosa Junction
Moto is another excellent cafe in Noosa Junction. This local hangout features cool bikes on display, excellent Clandestino coffee, and a small but delicious brunch menu.
The avocado toast with halloumi and labneh was especially good.
As well as opening every morning, they also open for select evenings (usually Thursday to Sunday) with a rotating roster of guest chefs (Greek, Japanese, Pizza etc).
We went for ramen night run with FermenStation, who make the best miso (find them at Noosa Farmers Market). The vegan miso ramen with tempura eggplant was incredibly good.
Check the Moto Instagram for upcoming events and text or call to book a table. (I recommend going at 5pm as it gets busy and service can be slow).
11) Izakaya Ate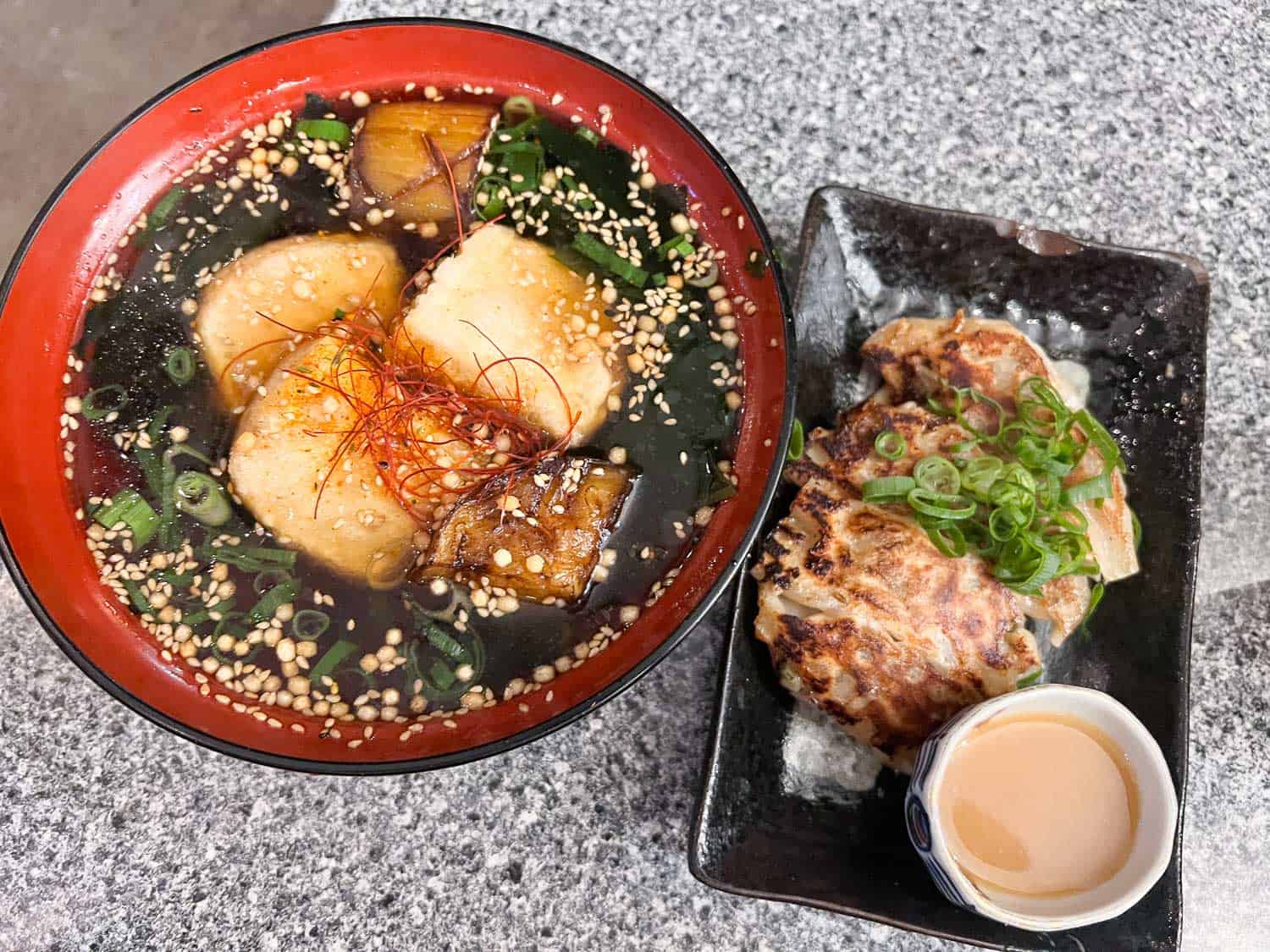 Location: Noosa Junction
Izakaya Ate is a casual eatery with an authentic Japanese izakaya (pub) menu and indoor and outdoor seating on Arcadia Street.
They have a decent amount of vegan options and we enjoyed the veggie gyoza, agedashi tofu, and teppanyaki udon noodles. I only wish there were a vegan version of their ramen.
12) Haru Korean Kitchen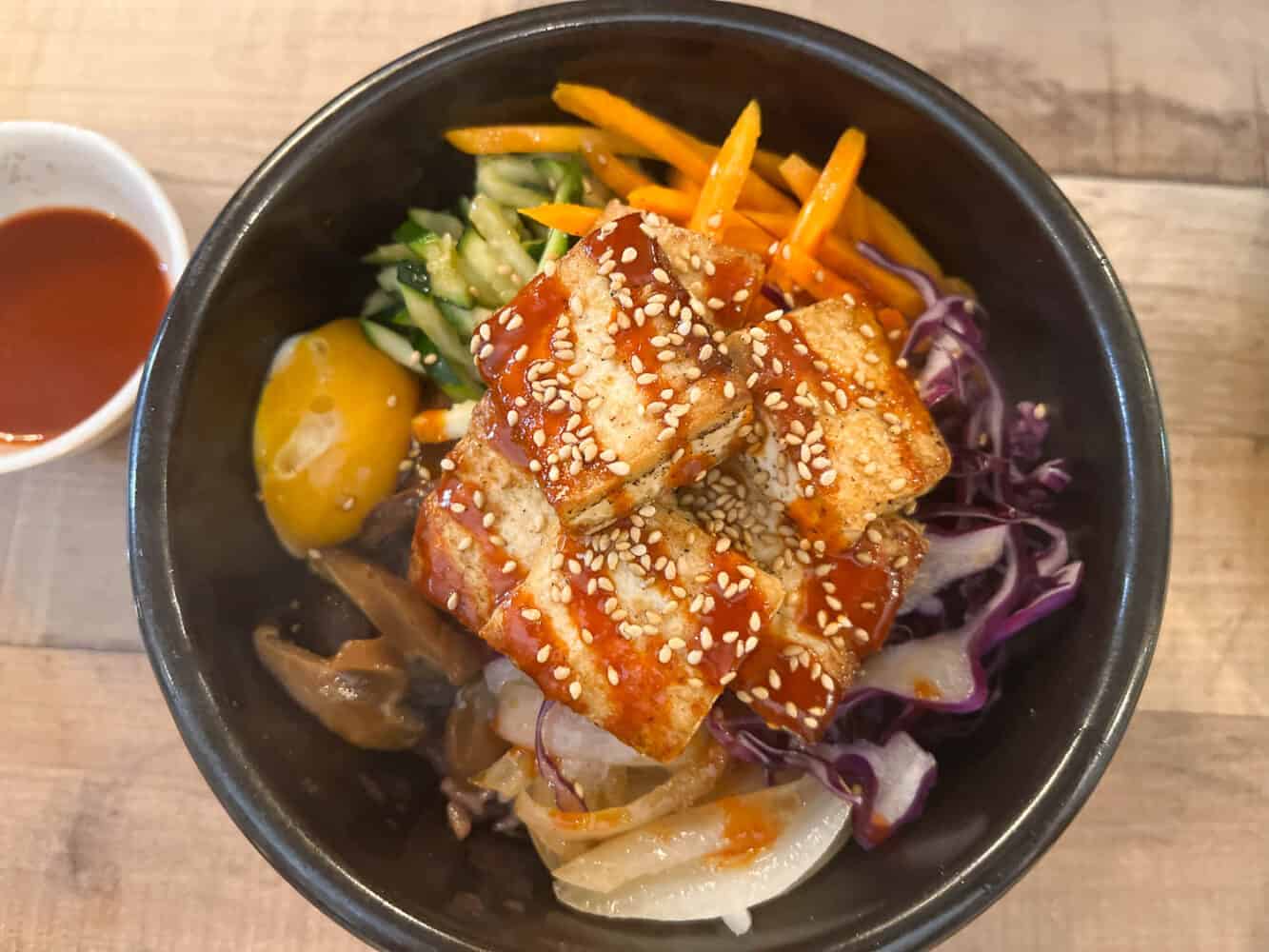 Location: Noosa Junction
Next to Izakaya Ate is Haru, the only authentic Korean restaurant in Noosa.
While their vegetarian options are limited, we found the tofu bibimbap and vegetable dumpling soup perfect for a lighter but still comforting meal.
While a lot of dishes have eggs in them, I think they'll be vegan if you ask to leave it out.
13) Pucca Restaurant and Gin Bar
Location: Noosa Junction
Pucca is not your average Indian restaurant. The creative food is a modern twist on South Indian cuisine and the bar focuses on boutique gins.
On the small menu, the Street Food section features fried snacks like samosas, the Entrees are lighter and inventive like the excellent beetroot bhel puri, and the Mains are more classic curries.
Noosa Restaurants on the Beach
If you are looking for an ocean view, these are the best Noosa restaurants to visit.
In addition, Bistro C has a prime spot right on the boardwalk, but we didn't find the seafood-focused menu appealing.
14) Sunshine Beach Surf Life Saving Club
Location: Sunshine Beach
The Sunshine Beach Surf Life Saving Club has a spacious new building just above Sunshine Beach with stunning ocean views.
It's much easier to get a front-row seat on the ocean deck here than at the Noosa Heads Surf Club (at least on weekdays) and the garden area (drinks only) is even closer to the beach.
You have to order meals at the food counter and drinks at the bar and they'll be delivered to your table.
The food wasn't the highlight for us, but we made the mistake of ordering a pizza, which was a typical, overly cheesy pub pizza—not our thing. People seem happier with the fish and chips and nasi goreng.
They are open for lunch and dinner throughout the week and also for breakfast on weekends.
You might want to head here after walking the coastal track in Noosa National Park.
15) Noosa Heads Surf Life Saving Club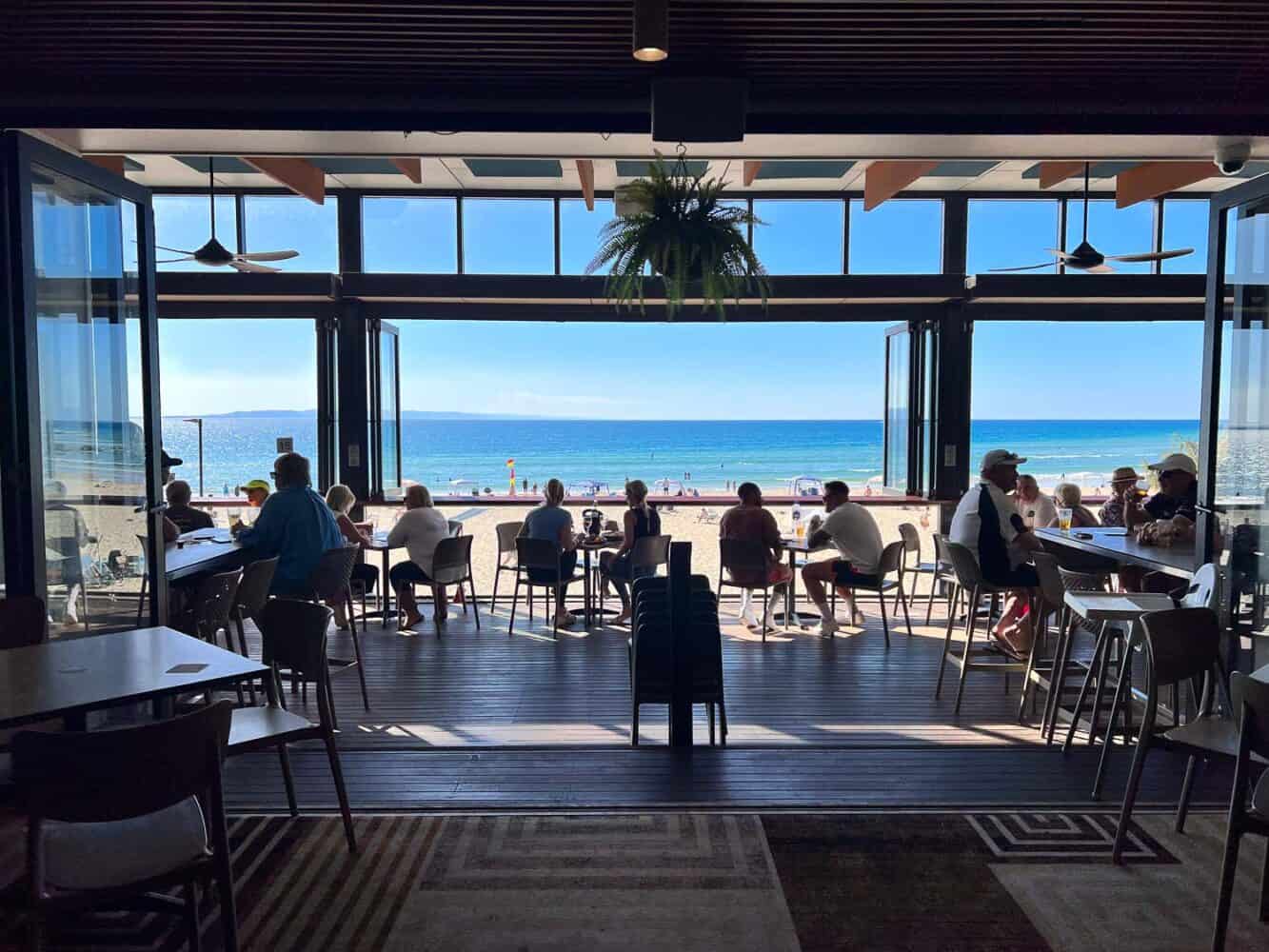 Location: Hastings Street
On Noosa's lively Main Beach, the Noosa Heads Surf Life Saving Club has the best ocean view and is the cheapest place for a beachfront drink or meal.
It's a large space but getting a coveted front-row spot on the deck is a challenge. You can still enjoy the beach view sitting further back in the open-sided restaurant.
Again you order at the counter and the food is slightly better than the average pub grub. Simon's veggie burger and my Noosa bruschetta were fine, but really it's all about the location.
16) Boardwalk Bistro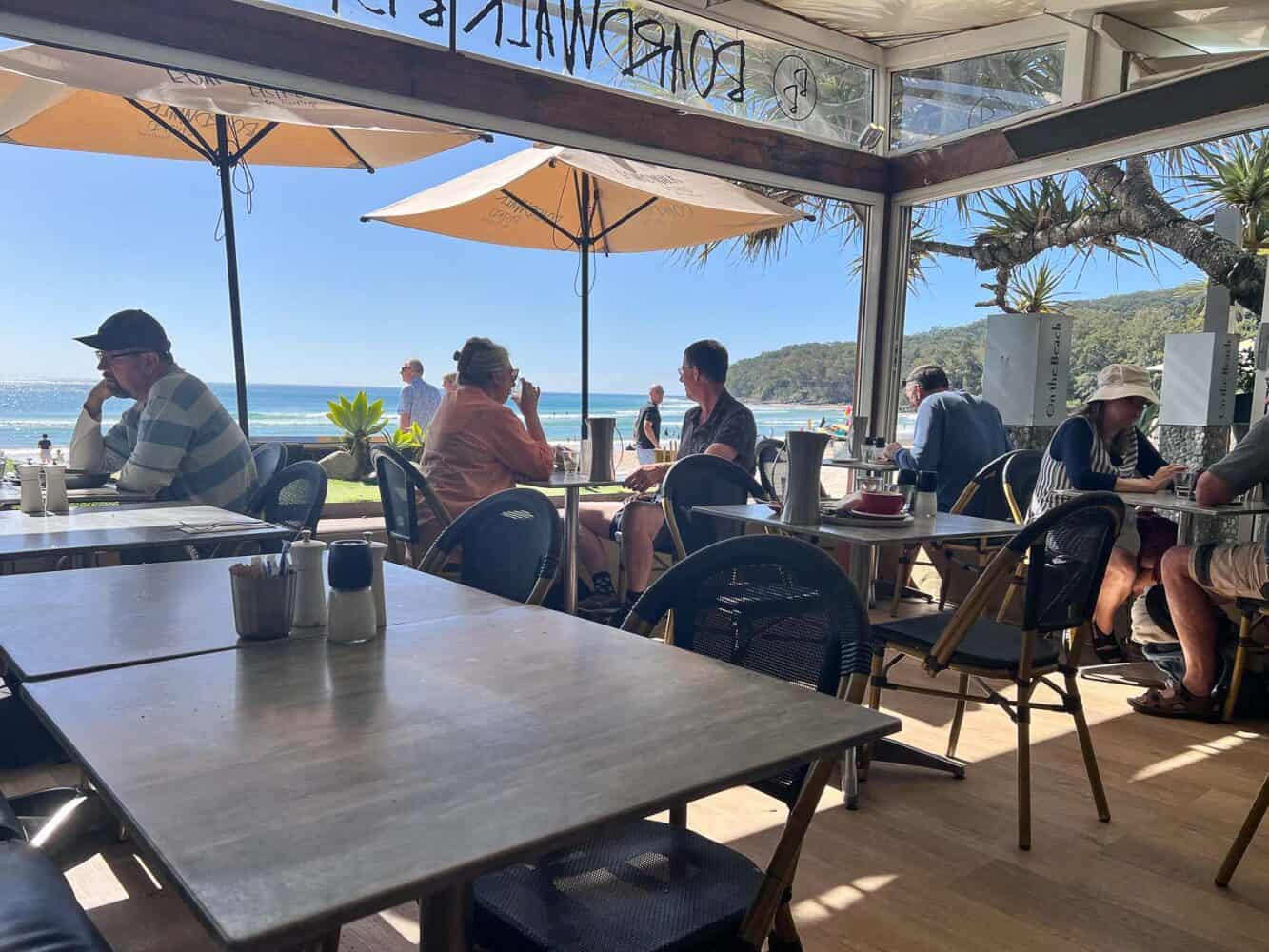 Location: Hastings Street
While at the surf club, you sit elevated above Main Beach, at Boardwalk Bistro you are on ground level next to the beach with just the boardwalk between the restaurant and sand.
The restaurant is small and narrow with only three tables in the prime front row position, so it's difficult to score the perfect view.
We went for breakfast and our pancakes and French toast were good, although nothing special. Again, it's all about the location.
Best Cheap Eats and Takeaway in Noosa
17) House of Salsa Salsaria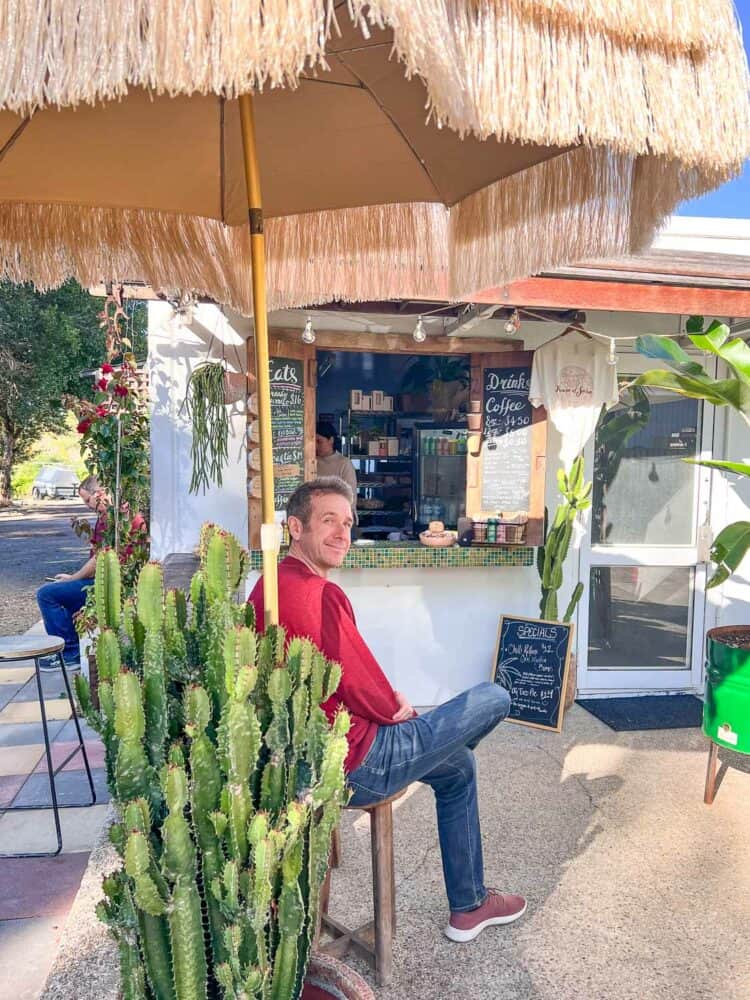 Location: Noosaville Inland
Jules from House of Salsa has been selling her delicious fresh salsa at markets in the area for a while—we became addicted to it!
In May 2023, she opened the House of Salsa Salsaria, a cute Mexican-inspired hatch hidden in an industrial area.
There are a few outdoor seats, but it's mostly a takeaway place with coffee, brekky burritos (including a vegan option), toasties, and interesting specials (like the tasty chilli relleno corn muffin), all using one of the amazing salsas.
It's only open on Thursday and Friday mornings. Check their Instagram to be sure they are opening and to see what's on the menu that week.
Don't forget to buy some salsa (the green is our favourite) and totopos (corn chips) while you are there.
18) Raw + Rice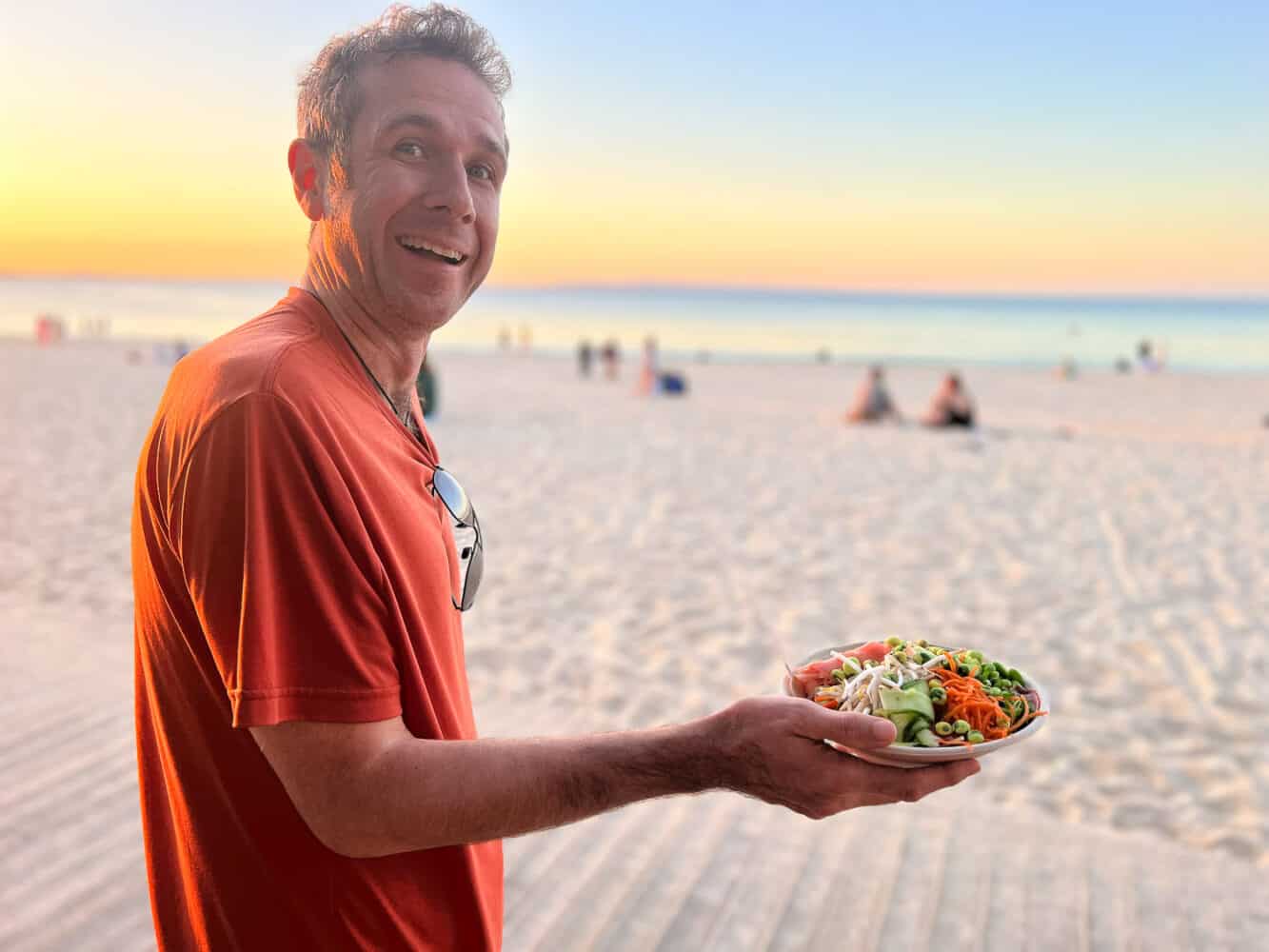 Location: Hastings Street and Noosaville
When we want a quick, healthy meal, we head to Raw + Rice for a poke bowl.
It's takeout only, so grab your bowl and head to the beach (from the Hastings Street branch) or river (in Noosaville) for an inexpensive meal with a view.
You can build your own bowl including base (rice, quinoa or greens), protein (with mushrooms or tofu for vegans), an array of veggies and pickles, sauces, and a crunchy topping. It's very adaptable for all tastes.
The small size is plenty for me, but Simon always goes for a regular.
19) Betty's Burgers
Location: Hastings Street
Betty's Burgers is a popular Australian burger chain that's great for a quick, inexpensive meal close to the beach. It can be busy, especially at lunchtime.
You can choose from the large burger menu, which includes three vegetarian options (that can be adapted to be vegan).
We both enjoyed our choices. Simon had the Classic Plant with a Love Buds plant-based patty—it tastes most like a real burger with that grilled flavour.
I'm not a fan of fake meat, so I preferred the Classic Vegan with a patty made from puffed rice and veggies. The spicy mayo added a nice kick.
You need to order sides separately. The fries are typical skinny fries—I prefer the chunkier chips at Grill'd (see below) but we found the burgers here more flavourful.
20) Grill'd
Location: Hastings Street
Just around the corner from Betty's is another Australian chain, Grill'd, which says it sells healthy burgers.
I'm not sure how they are healthier, but we did appreciate that they have a bean burger and plant-based patty.
Again, it hits the spot if you want a quick meal after the beach, but we preferred the burgers at Betty's. I would go here if there's a long line at Betty's, though.
21) The Steamed Bun Co
Location: Noosa Junction
If you are looking for an inexpensive takeaway at lunch, The Steamed Bun Co is an excellent option.
They have a range of bao buns including vegan options (the eggplant miso was our favourite).
22) Massimo's Gelateria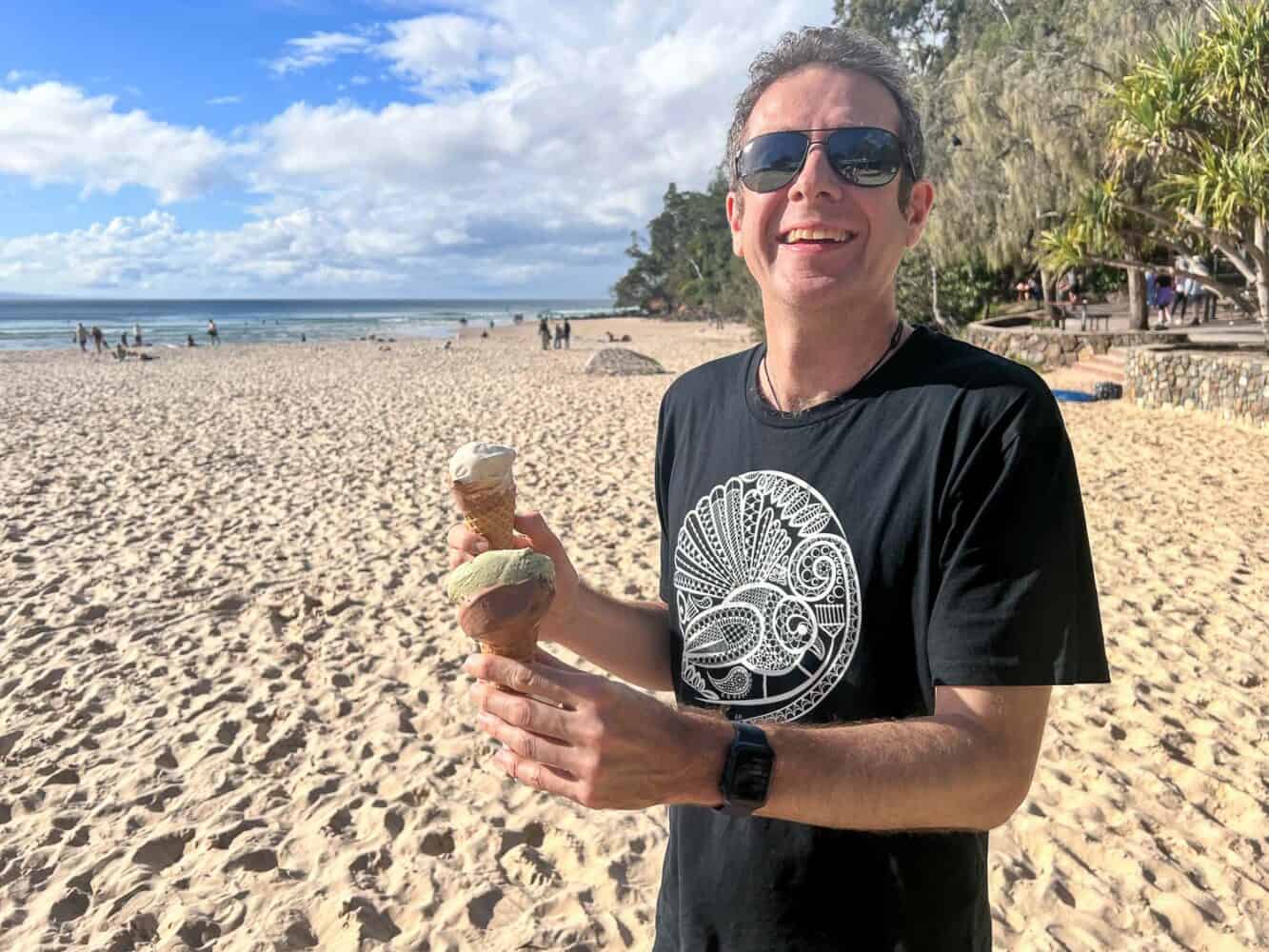 Location: Hastings Street
Massimo's has some of the best gelato we've had outside Italy. It's creamy, authentic, and flavourful.
And it's close enough to the beach that you can take it there to eat or stroll along the beachfront boardwalk.
You can choose two flavours for any size. My absolute favourite combination is chocolate truffle and pistachio in a waffle cone.
The black cherry and coconut are also good.
More Noosa Sweet Treats: If you prefer fruity frozen yoghurt, head to the Frenzy Ice Cream Van around the corner from Massimo's next to the beach. Happy Pops further down the boardwalk has fun create-your-own ice cream pops. Or for a river stroll in Noosaville, pick up a cone from Amo Gelato.
23) Noosa Farmers Market
Location: Noosaville
If you are in Noosa on a Sunday morning, I highly recommend visiting the Noosa Farmers Market for breakfast.
There are loads of fantastic stalls, but we love roti and dahl from Dragon Roti, warm chocolate croissants from French Sin, vegan empanadas from Alegria Vegana (get the sweetcorn), vegan wood-fired pizza from Roro Pizza, and the best ever green smoothie (Earth Mother) from Heaps Good Smoothies.
Not to mention all the amazing locally grown fruit from the produce stalls.
Best Bars in Noosa
24) Noosa Boathouse Sunset Bar
Location: Noosaville
The Sunset Bar at Noosa Boathouse lives up to its name. On the third floor of a building that floats on the Noosa River, the bar faces the mountains inland where the sun disappears.
We had a stupendous sunset on our visit and this really is the best place to see it.
The cocktails are pretty good and there are some simple bar snacks available. There's also a popular seafood restaurant downstairs.
25) Mr Drifter
Location: Noosa Junction
Mr Drifter is good for a casual Asian-inspired meal in a cool bar.
We had the signature drifter rolls—roti tacos with different fillings (we had eggplant). The curries and cocktails also looked good.
26) Theo's Social Club
Location: Noosa Junction
A local told us that Theo's is the best bar for a late-night drink in Noosa. It has indoor and patio seating on Arcadia Street.
Come here for a glass of wine or cocktail accompanied by some delicious snacks. The zucchini goats cheese toast and stuffed zucchini flower were both wonderful.
For something more substantial they have a pasta of the day, or you are in the heart of the Junction with many restaurants nearby.
27) Muse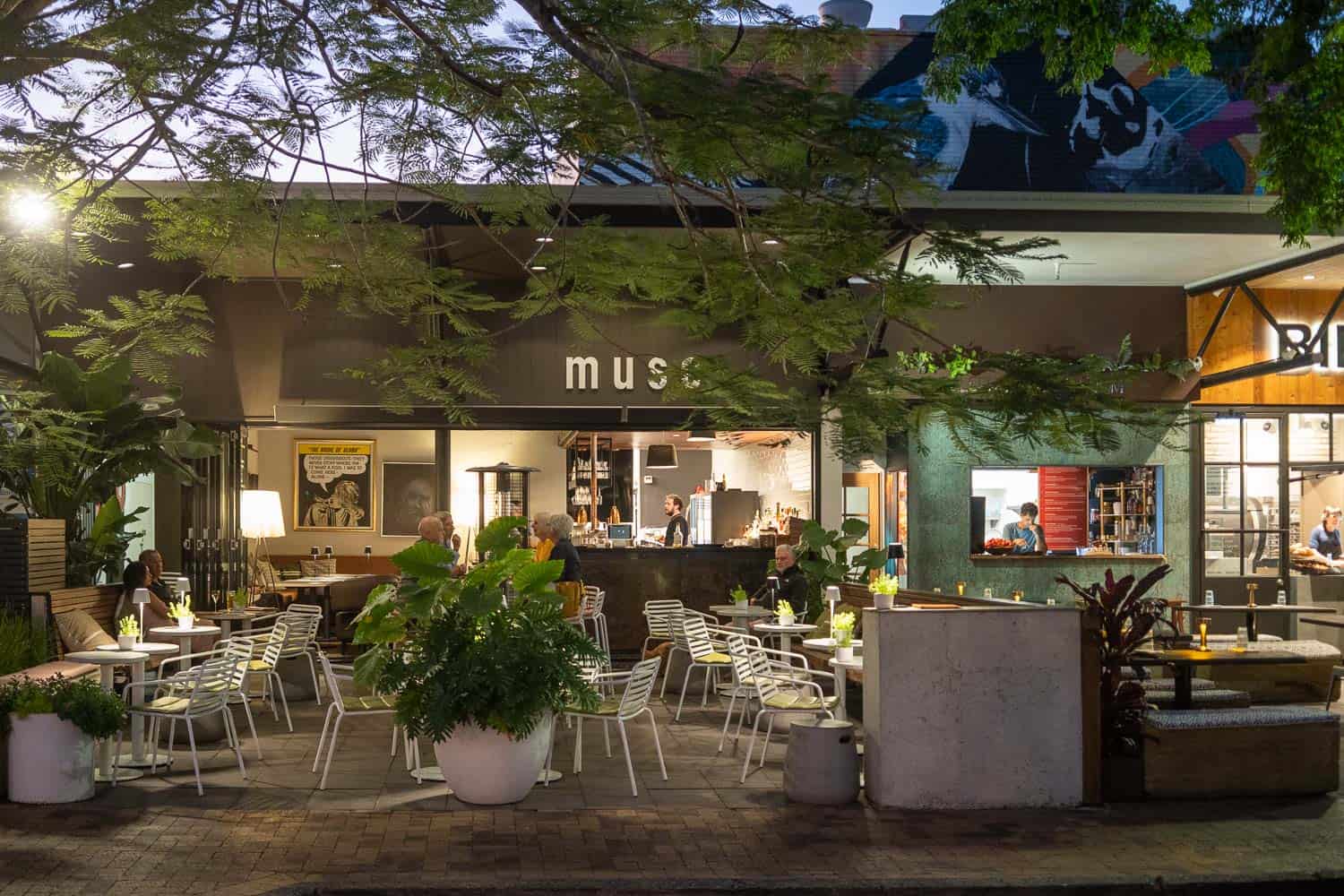 Location: Noosa Junction
Across the road from Theo's is Muse, another casual but stylish bar with wine, cocktails, small plates, and outdoor seating,
The potato and cheese croquettes and smashed potatoes were our favourite snacks, and the dessert of the day, a deconstructed lemon cake, was a highlight.
Self-Catering in Noosa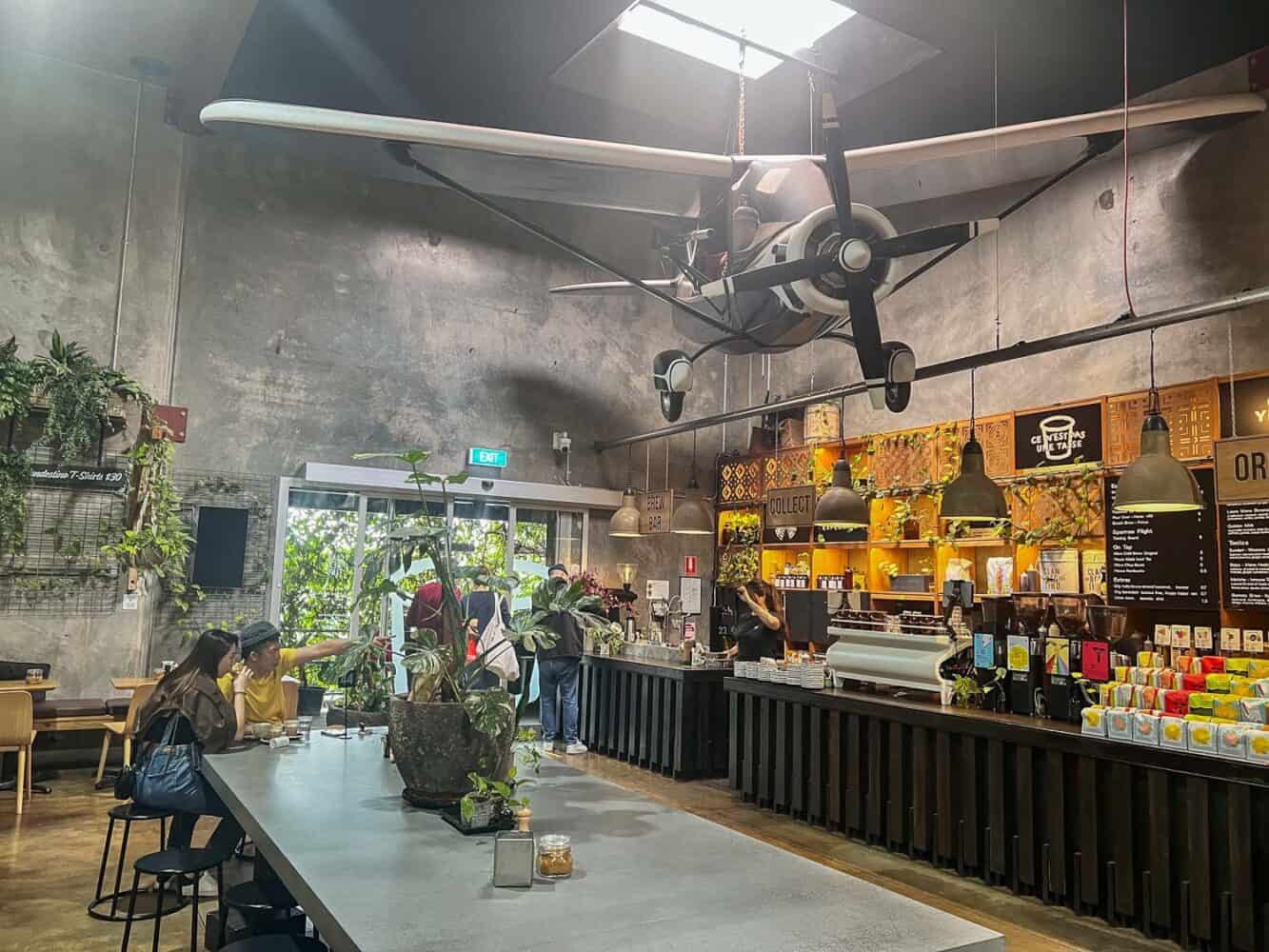 There are only a few small shops on Hastings Street, so for grocery shopping, it's best to head to Noosa Junction where there's an excellent IGA and a Coles supermarket.
Noosaville has even more choice. You'll find Woolworths and Coles supermarkets, but our favourite is Belmondo's Organic Market.
Belmondo's is great for whole foods and international ingredients you might not be able to find elsewhere. It also has a Tanglewood Bakery stall (the best sourdough bread in Noosa) and a Clandestino cafe (the best coffee in Noosa) where you can drink in or buy beans.
For fresh fruit and vegetables plus bread, cheese, olives, dips and more, you can't beat Noosa Farmers Market on Sunday mornings.
Noosa Restaurants Map
More Queensland Posts
Noosa
Elsewhere in Queensland
If you enjoyed this post, pin for later!