This page contains affiliate links. Please read our disclosure for more info.
As appealing as the Sunshine Coast's beaches are, it's well worth tearing yourself away for a day (or preferably longer) to explore the Sunshine Coast Hinterland.
In the green interior, you can walk through lush rainforest and swim in waterfalls, drive past rolling hills with views down to the ocean, shop in cute villages for locally made products, and enjoy delicious food and drink.
The Hinterland is perfect for a romantic getaway (it's popular for weddings) as there are many unique places to stay including cosy cottages (and treehouses!) with spa baths and fireplaces. But there's plenty to do for families and friend groups too.
One weekend in the Hinterland turned into three during our extended stay on the Sunshine Coast—we absolutely love the area.
Here we share our top picks for the best things to do in Sunshine Coast Hinterland including our favourite places to stay and eat.
Near the end of the post, you'll find a map with all the Sunshine Coast Hinterland attractions mentioned.
Contents
Where is Sunshine Coast Hinterland?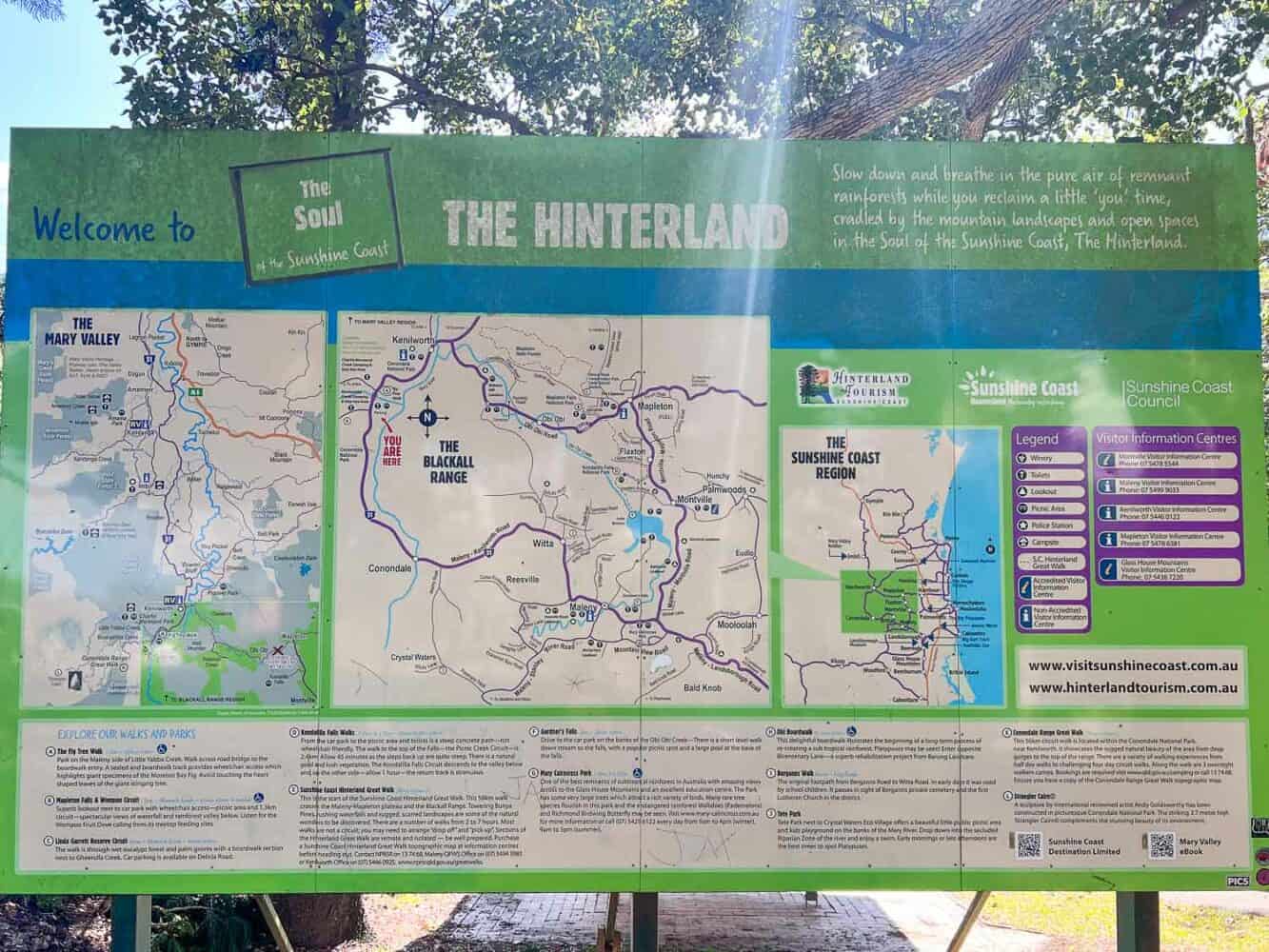 The Sunshine Coast Hinterland is the area inland from the Sunshine Coast, which stretches from Caloundra to Noosa in Southeast Queensland, Australia.
The Hinterland is one to two hours north of Brisbane and can be reached from the coastal towns in around 30-40 minutes.
The heart of the area is the Blackall Range including the towns of Maleny, Montville, and Mapleton.
It also includes the Glass House Mountains further south and towns like Eumundi and Yandina, which are closer to the coast.
The Sunshine Coast Hinterland is best explored with your own vehicle.
It's perfect for a road trip from Brisbane (perhaps as a first stop on your way north) or a day trip from the Sunshine Coast beach towns.
If you're staying in one of the coastal towns and don't want to drive yourself, try this Sunshine Coast: Rainforest, Views, and Montville Day Tour which visits a lot of the places in this guide.
Best Things to Do in Sunshine Coast Hinterland
1) Stay in a Treehouse at Secrets on the Lake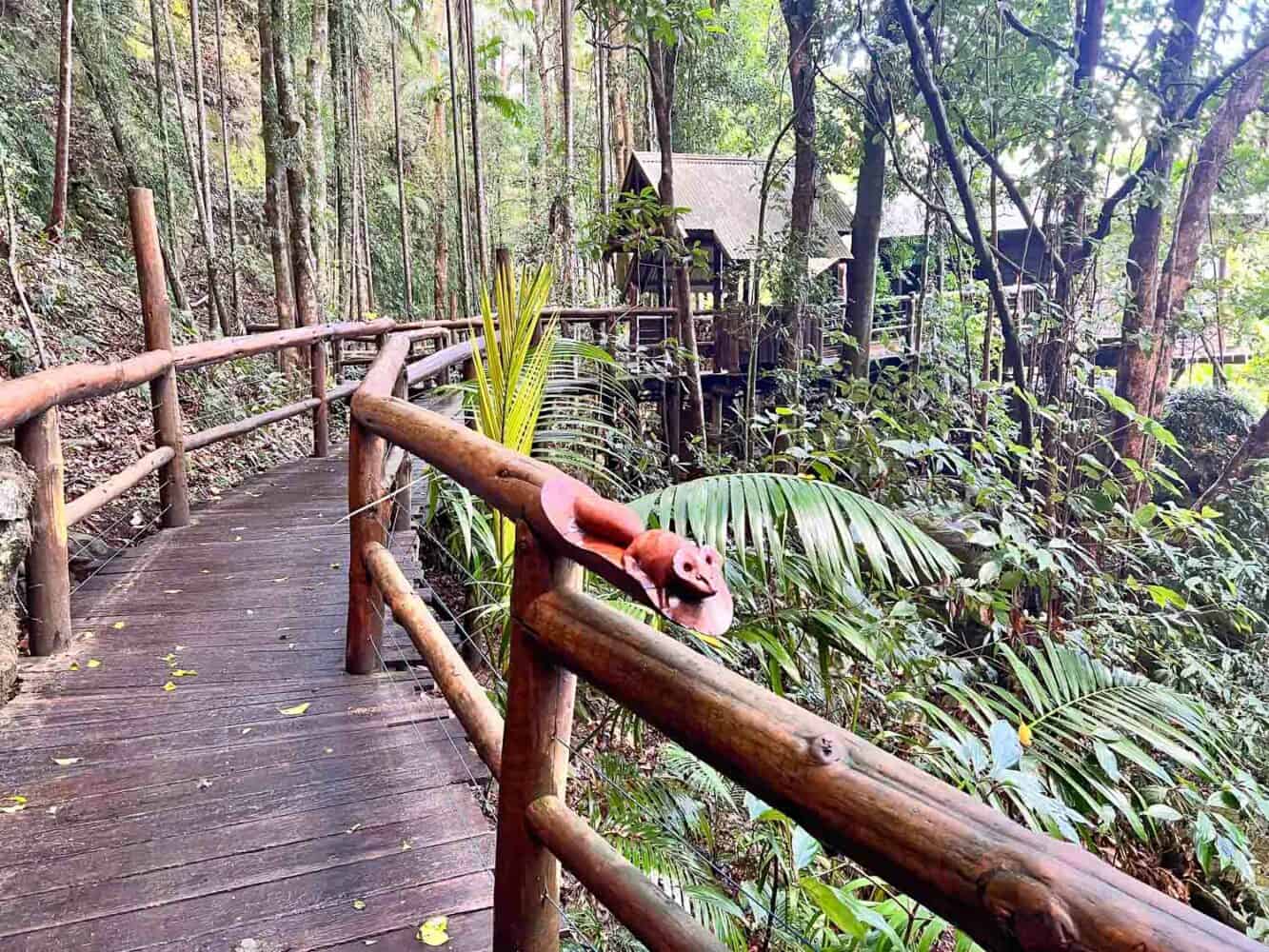 The luxury treehouses at Secrets on the Lake are one of the best places we've ever stayed.
We loved it so much that we booked our second stay as soon as got back from our first trip!
The treehouses are hidden in the rainforest overlooking Lake Baroon. It feels far away from it all, but it's less than a 10-minute drive to Montville.
The cabins are elevated on stilts amongst the trees and are reached by wooden walkways, which adds to the magical feel of this unique place.
Most of the rooms are designed for couples with spa baths next to the windows, cosy fireplaces, and large terraces with double swing chairs.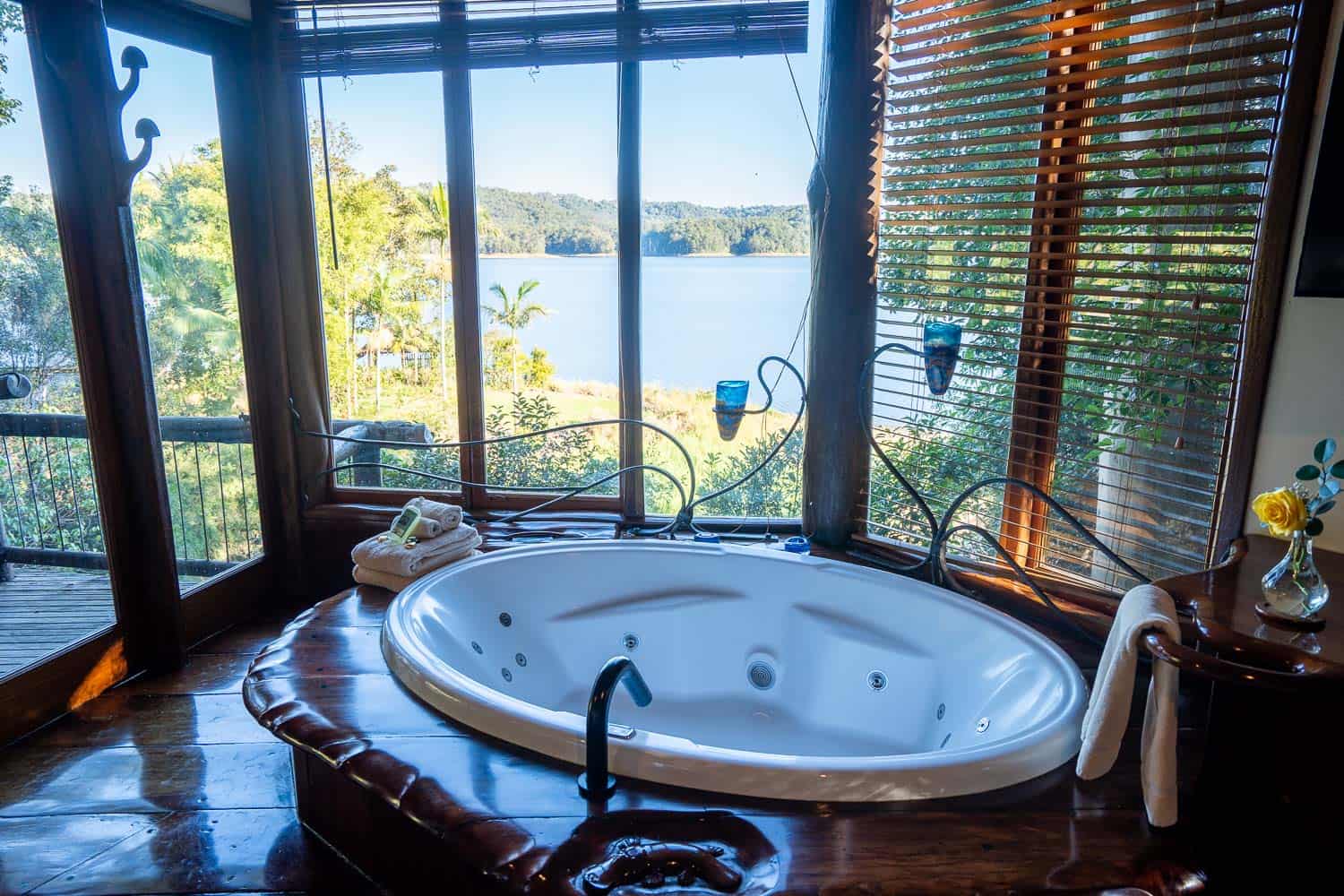 They all make the most of the incredible forest and lake views.
The attention to detail is amazing and you can see the love the owners George and Aldy have poured into the place in the last 25 years.
From the beautiful stained glass windows and handcrafted wood carvings in each cabin to the cosy bathrobes, chocolates by the bed, and warm croissants left outside your door each morning.
Treehouses have BBQs and small (but well-equipped) kitchens so you can self-cater or order a meal from the cafe to heat up in the evening. They arranged a delicious cheese plate for us one night.
Secrets on the Lake is a truly special place and perfect for an ultra-relaxing, romantic getaway in the Sunshine Coast Hinterland.
Check availability for Secrets on the Lake here. It's very popular so book as far in advance as possible.
2) Follow the Blackall Range Tourist Drive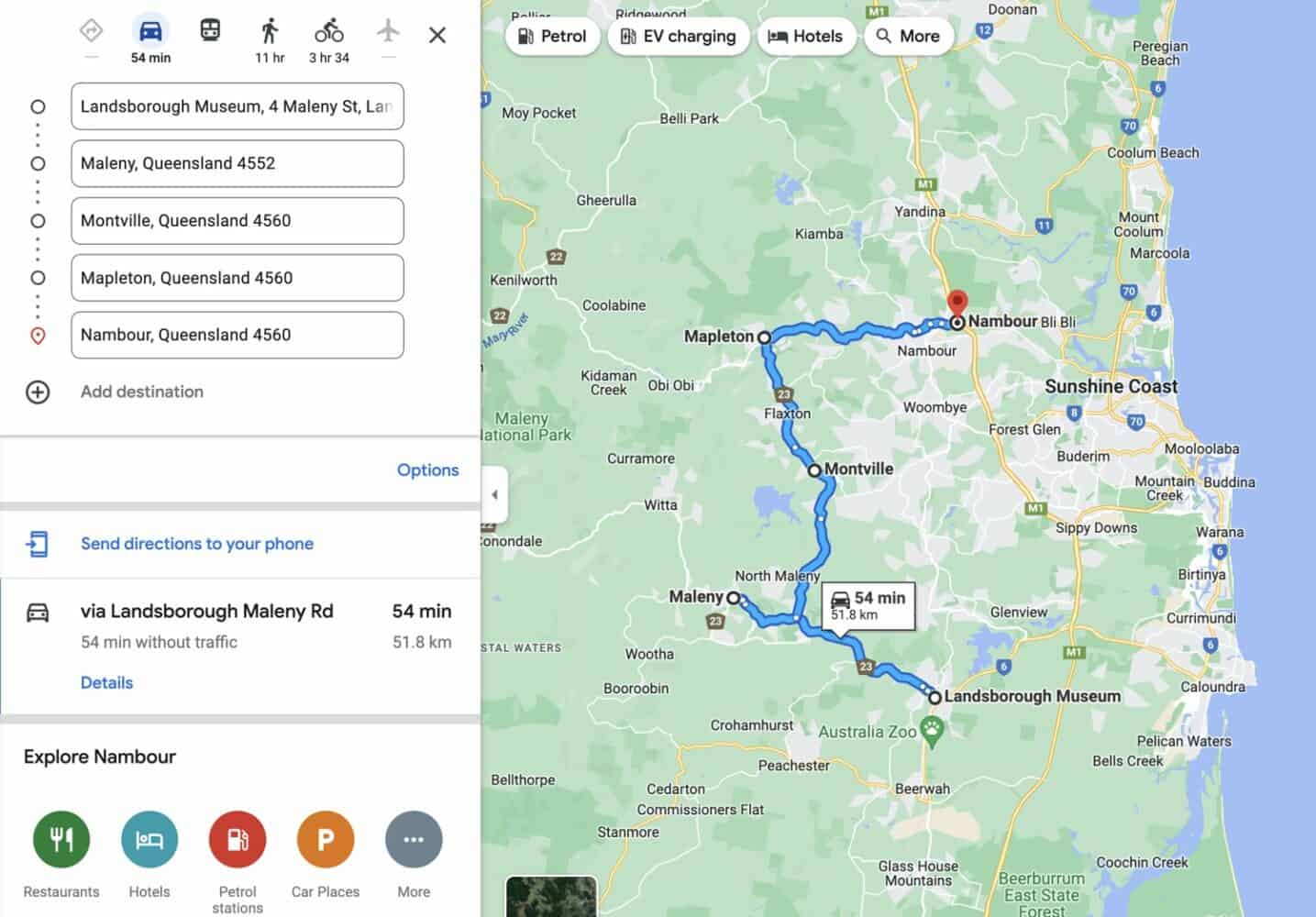 The 55km Blackall Range Tourist Drive (Route 23) runs from Landsborough to Nambour, but the best section connects Maleny to Montville and Mapleton, high up on the escarpment with stunning views of rolling hills and the distant ocean.
If you are short of time, this is the best route to follow to see the highlights of the Sunshine Coast Hinterland.
The drive takes an hour non-stop, but there's plenty to do along the way (as you'll discover below).
You can also stop at viewpoints like Gerrard's Lookout for sweeping views of the countryside and coast.
For a full day out, add on the Glass House Mountains—the main lookout is a 35-minute drive south of Maleny.
3) Eat and Shop in Maleny
Maleny is one of the best places to visit in the Sunshine Coast Hinterland.
The small town is surrounded by beautiful countryside and pockets of ancient rainforest high in the Blackall Range, 425 metres above sea level.
It's the ideal place to stop for lunch or to stock up on supplies for a self-catering stay in the area.
The town has an alternative vibe—we were surprised that a rural village had so many veggie options, but the community is artistic and eco-conscious.
We had a delicious lunch at Monica's Cafe, a plant and art-filled space on two levels (grab a couch upstairs). The food, coffee, and hot chocolate were all delicious, and there was even a separate vegan menu.
My vegetable halloumi burger was messy but so good packed with grilled vegetables, halloumi, pesto and mayo with nice chunky chips.
We were also tempted by Maleny Lane, an alleyway full of gourmet world food (Thai, Korean, Indian and more), but it's not open every day. There's live music on Friday nights.
The takeaway pies at Maleny Pie Guy looked great too (with vegan options) and Maple & Sage has vegan cupcakes and other treats.
For self-catering and picnic ingredients, head to Maleny Food Co for cheese (see below), Maple Street Food Co-op for whole foods and bulk buy, and the Seasons IGA for anything else.
And don't miss the chocolate at Maleny Chocolate Co!
Other shops in town sell clothes, art, antiques, books, and gifts. All these places are easily accessible on Maple Street.
There's lots to do near Maleny. Mary Cairncross Scenic Reserve is just outside town and we highly recommend it (see below).
Gardners Falls is also nearby and is one of the most accessible spots for swimming in the Hinterland—the natural pool is only 300 metres from the car park.
Brouhaha Brewery is a popular spot for craft beer fans.
4) Buy Fresh Pasta at Santini il Pastaio
Santini il Pastaio is a fresh pasta shop in Maleny that's so good it deserves its own entry. We've spent a lot of time in Italy and this is the real deal!
If you are self-catering during your stay in the Hinterland, definitely stop here to pick up an easy dinner.
We bought melt-in-your-mouth gnocchi and a simple but perfect Napoletana sauce, and it only took a few minutes to heat up. We couldn't stop raving about how good it was.
Even if you aren't self-catering, you can choose your pasta and sauce and have it cooked for you in the shop to take away.
There's a wide range of pasta and sauces including handmade ravioli and specials like vegetarian lasagne. They also have Italian desserts.
5) Spot Wildlife at Mary Cairncross Scenic Reserve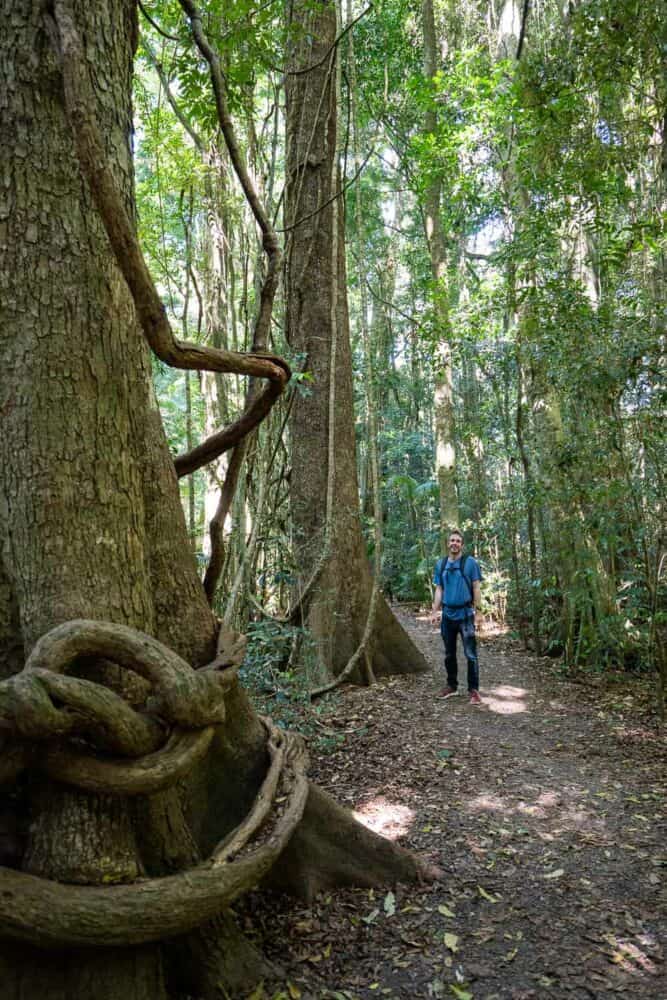 Mary Cairncross Scenic Reserve is a must do in the Sunshine Coast Hinterland, especially for animal lovers.
This remnant of the subtropical rainforest that once covered the Blackall Range is home to many birds, animals, and some truly impressive trees.
The easy 1.7km rainforest loop takes you around the whole reserve with plenty to see along the way. It took us 45 minutes with lots of stops.
The highlight was the five adorable pademelons (small kangaroos) that we saw including a mother and joey very close to the boardwalk.
You can learn more about the flora and fauna in the Rainforest Discovery Centre. There's also a cafe that looked appealing.
Head up to the viewing deck above the cafe for a wonderful view of the Glass House Mountains.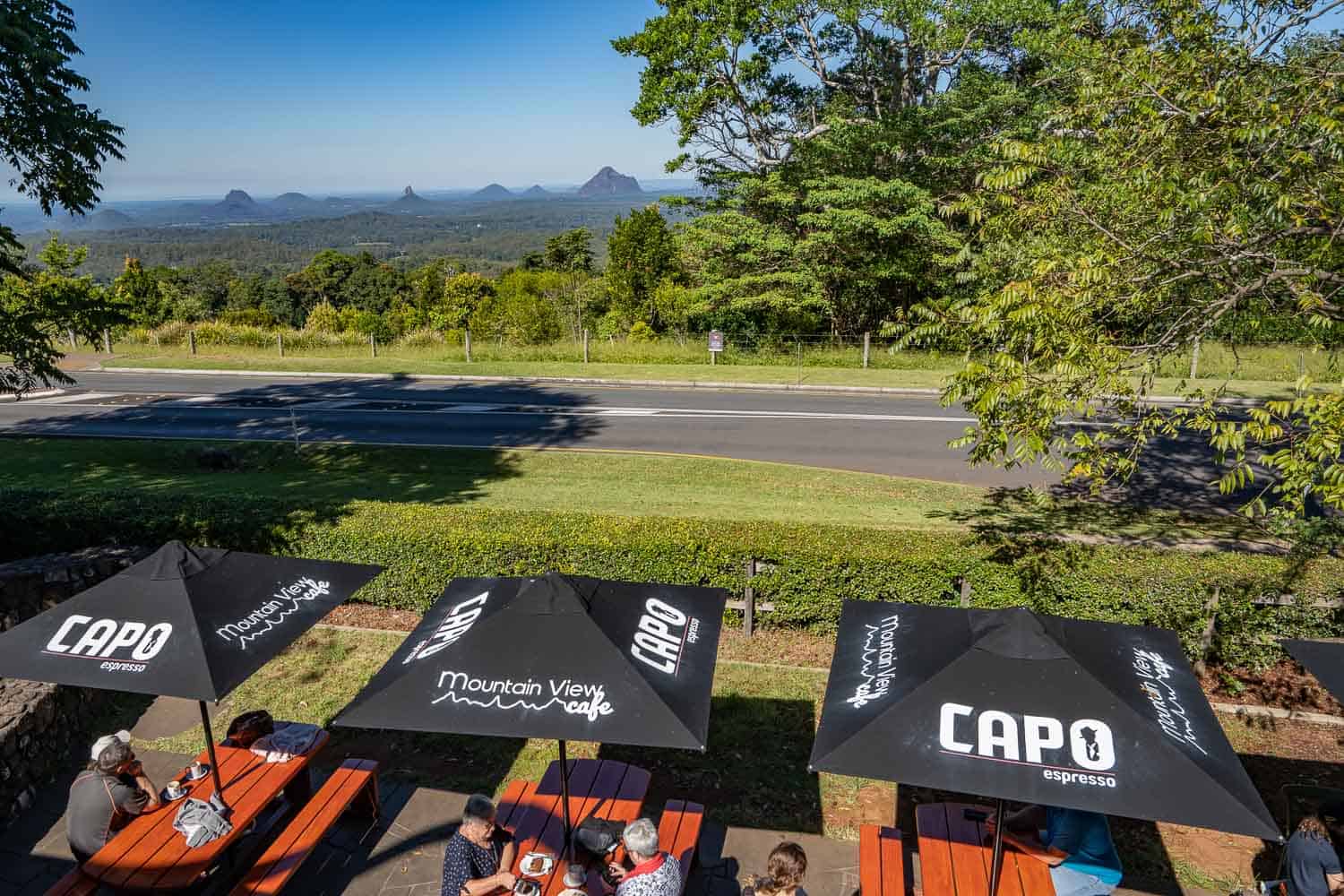 Mary Cairncross Scenic Reserve is a 10-minute drive outside Maleny. Entrance is by gold coin donation (contactless is available if you don't have cash).
6) Hike the Kondalilla Falls Circuit
One of the best Sunshine Coast Hinterland hikes is the Kondalilla Falls Circuit in Kondalilla National Park, just a five-minute drive from Montville.
This beautiful trail includes stunning rainforest, epic valley views, a 90-metre-tall waterfall, and rock pools for swimming.
The 4.8km loop took us 1 hour 20 minutes (two hours including a swimming break) with an elevation gain of 206 metres.
While there are a lot of steps, it wasn't too difficult. It's easier if you go anticlockwise (which is the way the signs will take you). This also leaves the rock pools to the end.
After parking at Kondalilla Falls Car Park, head down the steps to a picnic area (there are toilets and information signs here) and start on the Picnic Creek Circuit.
Go right at the junction and after about 20 minutes you'll reach a lookout (slightly off-trail) with expansive views of the valley.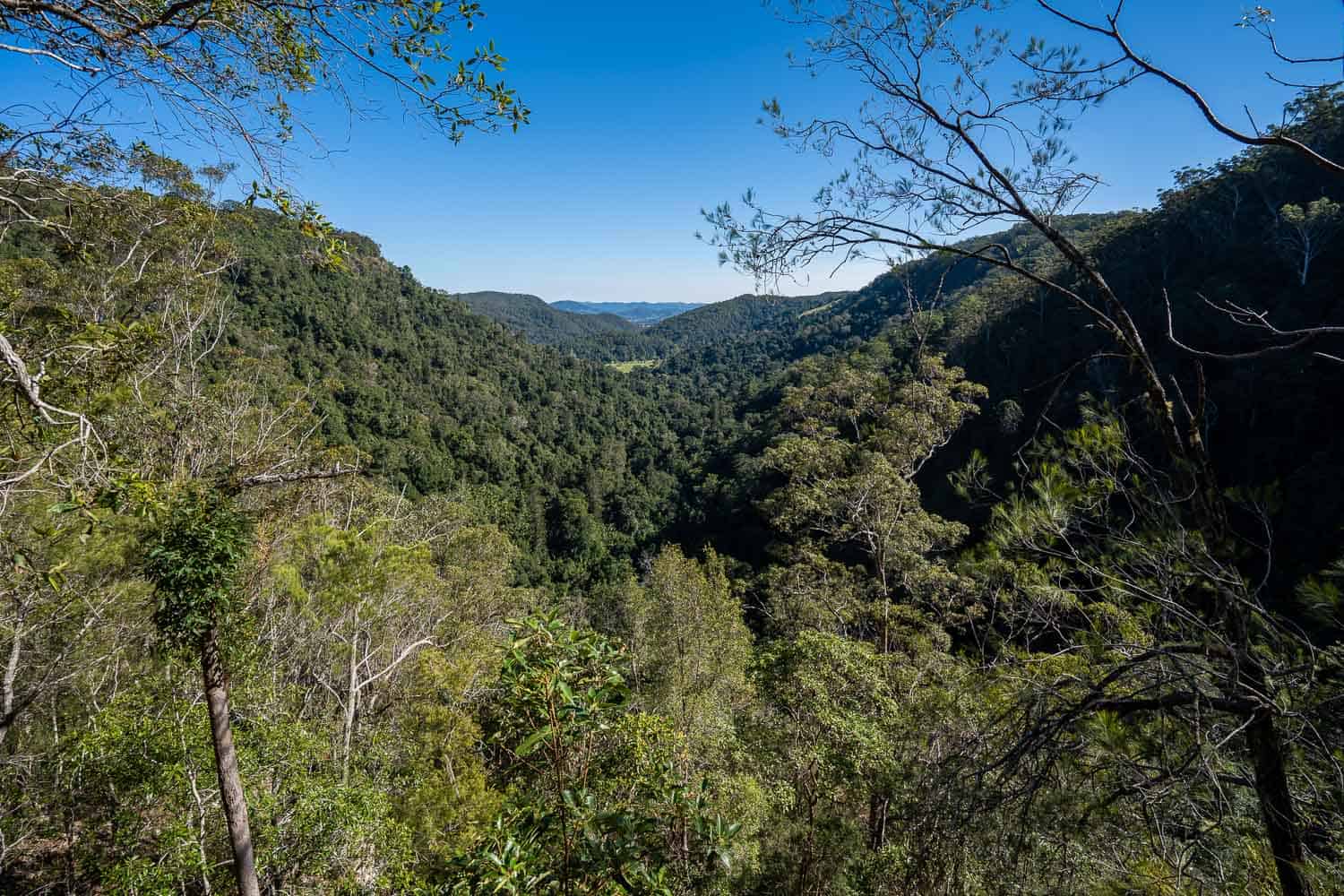 Then join the Kondalilla Falls Circuit (head right away from the rock pools) which will take you down steep steps through the forest far down into the valley.
There's a lookout to see Kondalilla Falls on the way down—a tall but narrow trickle of water for us in winter.
At the bottom, you can take a detour (about 10 minutes return) to the bottom of the falls. You have to scramble over some rocks to get to the small pool (not very appealing for swimming on our visit—save that for later).
Now you have to make your way back up the other side of the valley, but the switchbacks make it easier than the stairs on the other side.
Your reward at the top is the rock pools at the very top of the waterfall, which are perfect for a swim. In winter, I had it to myself but it was chilly. Watch out for the eels!
From the rock pools, it took us 20 minutes to return to the car park, taking the other side of the Picnic Creek Loop.
While you could head straight to the rock pools if you have limited time or energy, I really loved the whole hike.
Kondalilla Falls is justifiably popular so it's best visited on a weekday.
If you need lunch after your hike, the Kondalilla Restaurant in Kondalilla Eco Resort is next to the park.
There's a lovely bush view from the terrace and the vegetarian and seafood menu is great if are looking for something lighter. Our Nourish bowl and Thai curry were both veggie-packed and delicious.
7) Visit Lake Baroon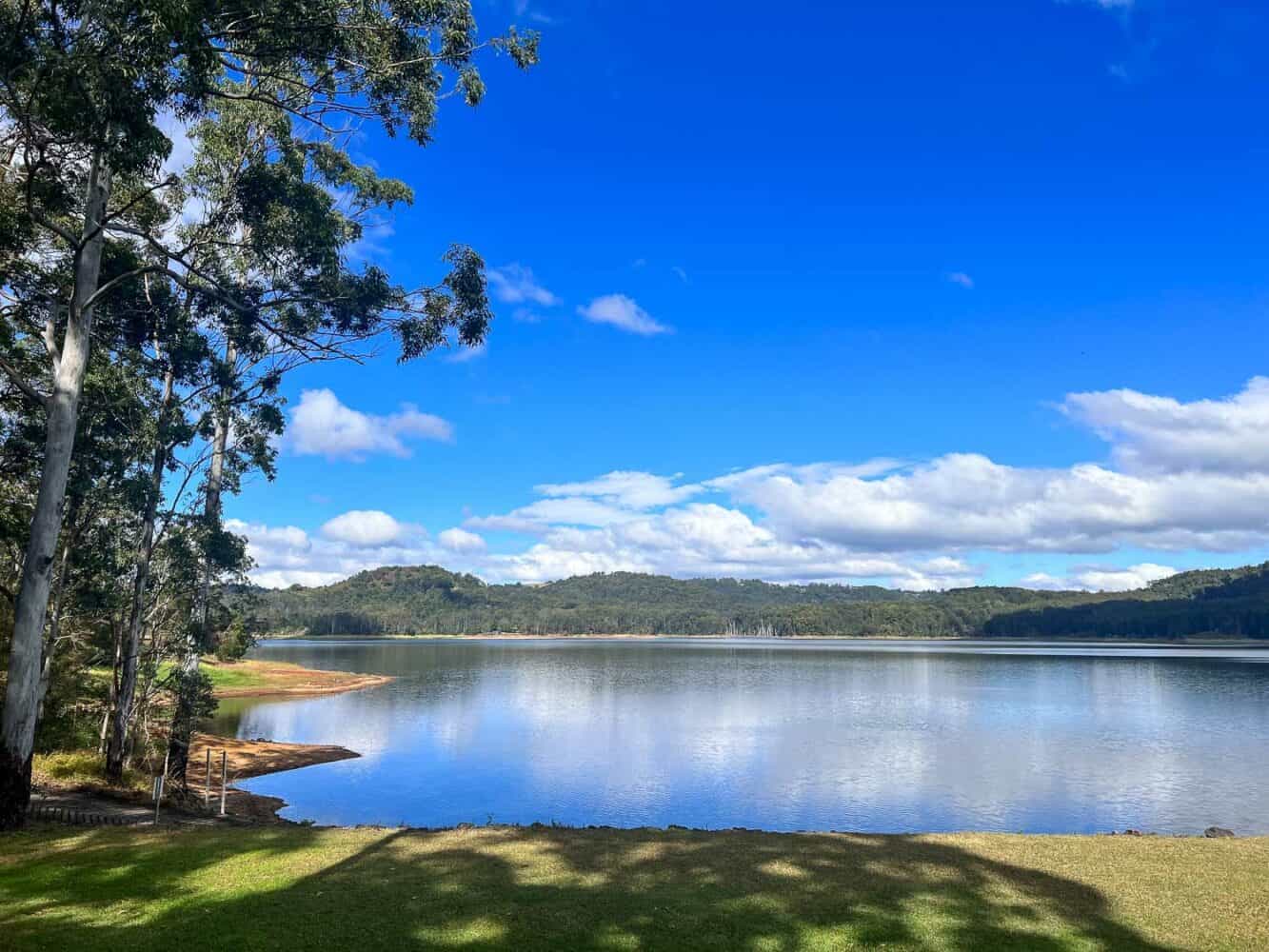 Lake Baroon is a hidden gem in the Sunshine Coast Hinterland.
The lake was created by Baroon Pocket Dam and is a peaceful spot for picnics, kayaking, or paddleboarding.
There are no water sports rentals, but if you stay at Secrets by the Lake (as we did), canoes are free for guests.
Even if you don't stay at Secrets, I recommend visiting their cafe for coffee, lunch, or afternoon tea as the terrace has a fantastic view of the lake.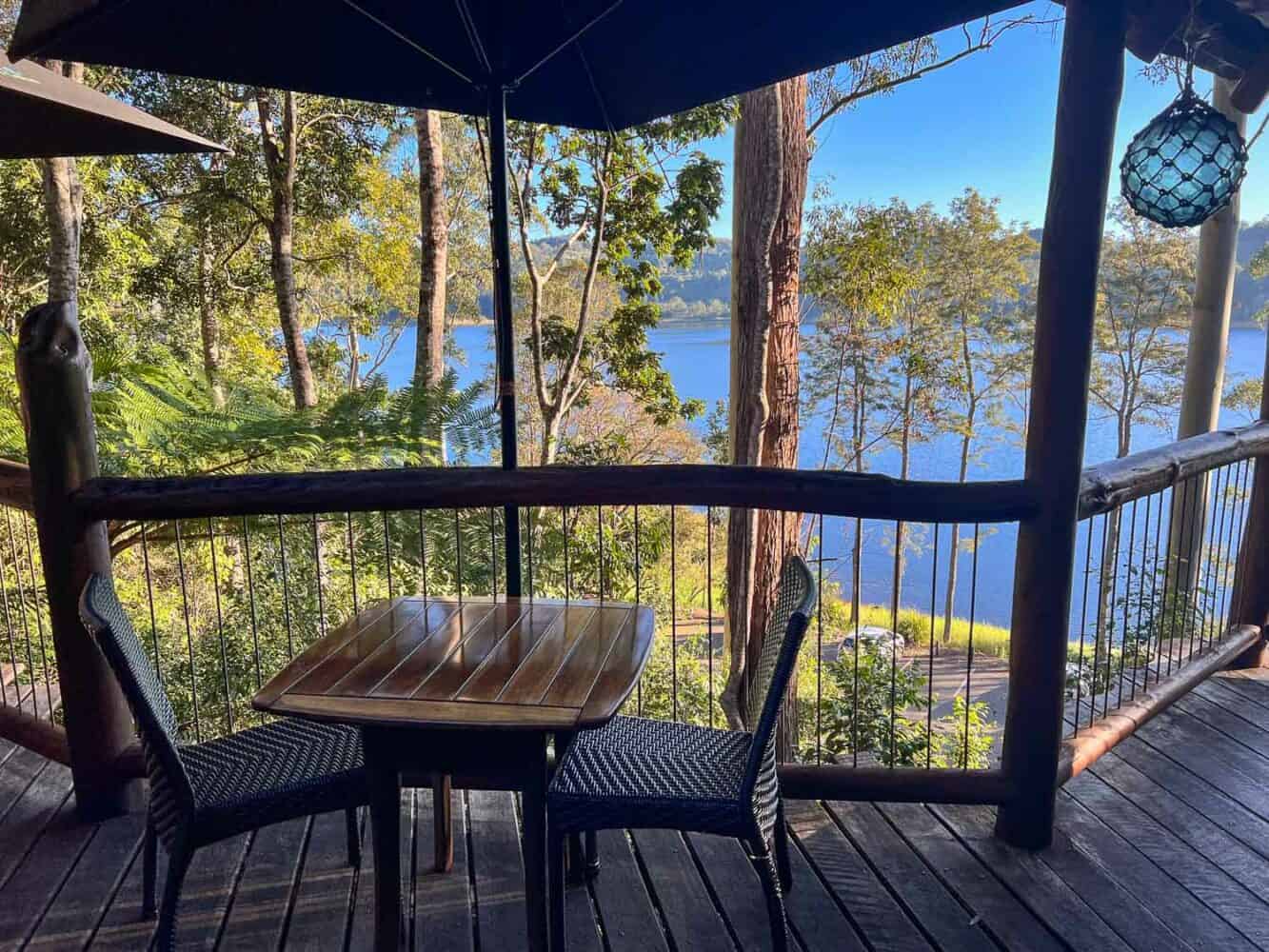 The northern end of the lake is also the start of the 58km Sunshine Coast Hinterland Great Walk. You can do a shorter hike in Kondalilla National Park here through some lovely forest.
The 5.5km return hike to Narrows Lookout and Baroon Lookout takes you to a view of the lake.
You can also walk the 10km to Kondalilla Falls from here. If you are staying at Secrets, they can drop you off with a packed lunch so you can do a one-way hike back.
Unfortunately, you can't swim in most of Lake Baroon as it provides drinking water to the area. There is one swimming area on the southern side (look for "Baroon Pocket Dam (North Maleny side)" on Google Maps).
8) Sample Local Cheeses
This rural area is heaven for cheese lovers with several local dairies.
We shopped for a cheese plate at Maleny Food Co, which has a walk-in Fromagerie with more than 250 Australian and international cheeses to choose from.
They have plenty of chutneys and pastes to go with the cheese. You can also eat in their cafe or they can arrange cheese and picnic boxes with 48 hours notice.
Kenilworth Dairy is known for its excellent cheese and you can visit their shop and cafe in Kenilworth.
Maleny Cheese is another popular option for cheese plates in their cafe that overlooks the factory floor.
Why not let someone else do the planning and try this Private Small Group Sunshine Coast Hinterland Cheese & Wine Tour which includes pick up and a two course lunch.
9) Indulge at the Chocolate Shops
Every Sunny Coast Hinterland town seems to have a chocolate shop and we're not complaining.
Maleny Chocolate Co is down the stairs below Monica's Cafe and has a wide range of treats (with free samples). We especially loved the peppermint bark and honeycomb bark (made using honey from their farm).
Chocolate Country Montville is another great spot. Their truffles are lovely and you can enjoy a hot chocolate in the cafe.
If you prefer fudge, Fudgyboombahs in Montville is popular.
10) Shop in Montville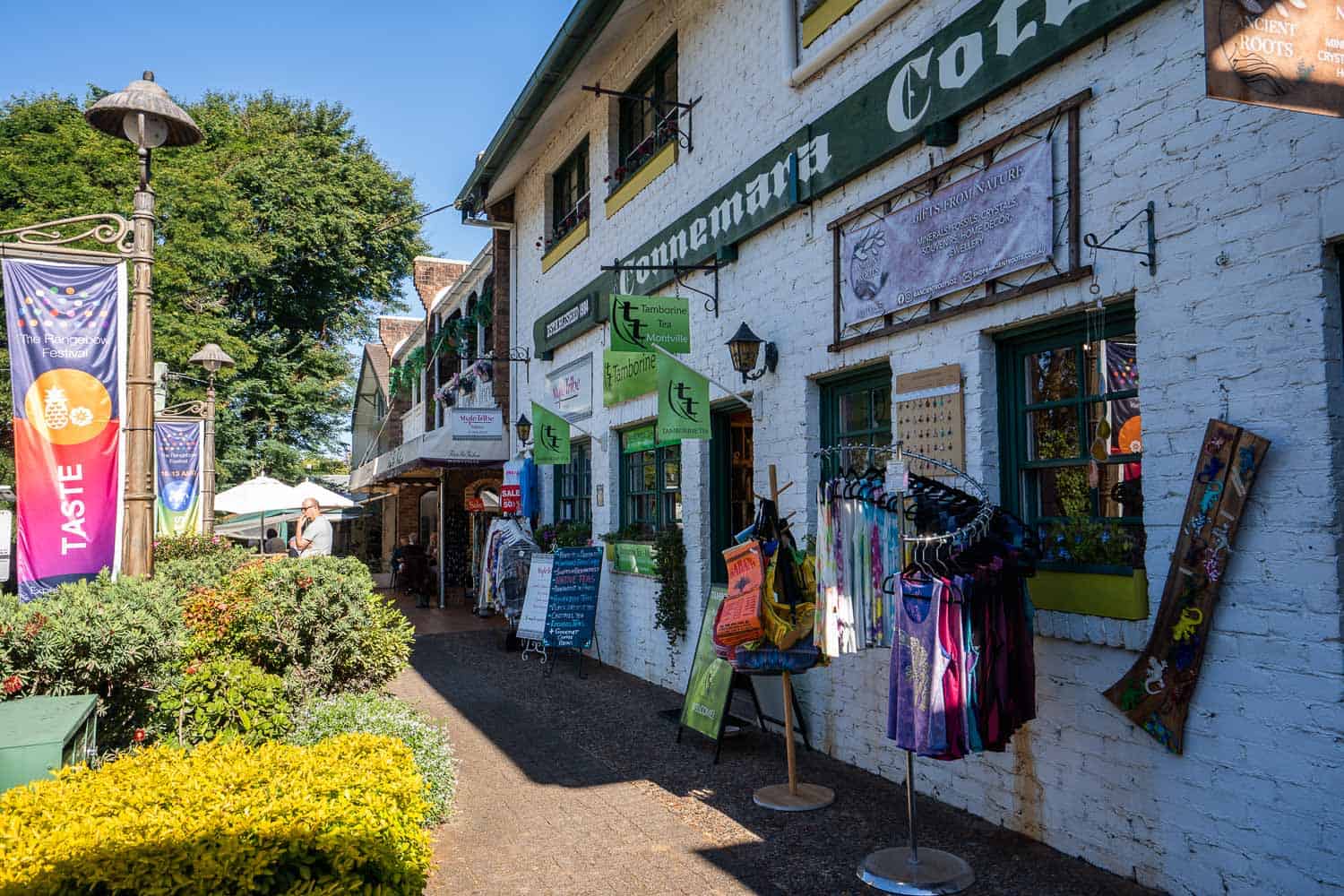 Montville is a pretty mountain town 15 minutes from Maleny on Route 23. Spending an hour or so browsing the shops here is one of the best things to do in Sunshine Coast Hinterland.
While there is parking on Main St, it's easier to go to the large free car park behind the Clock Shop. There's a public toilet here and everything is an easy walk down Main Street.
Some Montville highlights include:
Clock Shop – A quirky store selling cuckoo and grandfather clocks plus Christmas decorations and gifts.
Tamborine Tea – A wonderful range of loose-leaf teas including black, green, and herbal. They have testers so you can smell them all.
Montville Art Gallery – Paintings by local artists.
Chocolate Country Montville – Delicious chocolates.
There are many other gift shops and galleries including woodworking and ceramics.
We had lunch at Edamame, a Japanese cafe on an upper floor overlooking Main Street. The small menu includes donburi (rice bowls), ramen, curry, and salads with a few vegan and gluten-free options.
11) Stop at Mapleton Falls Lookout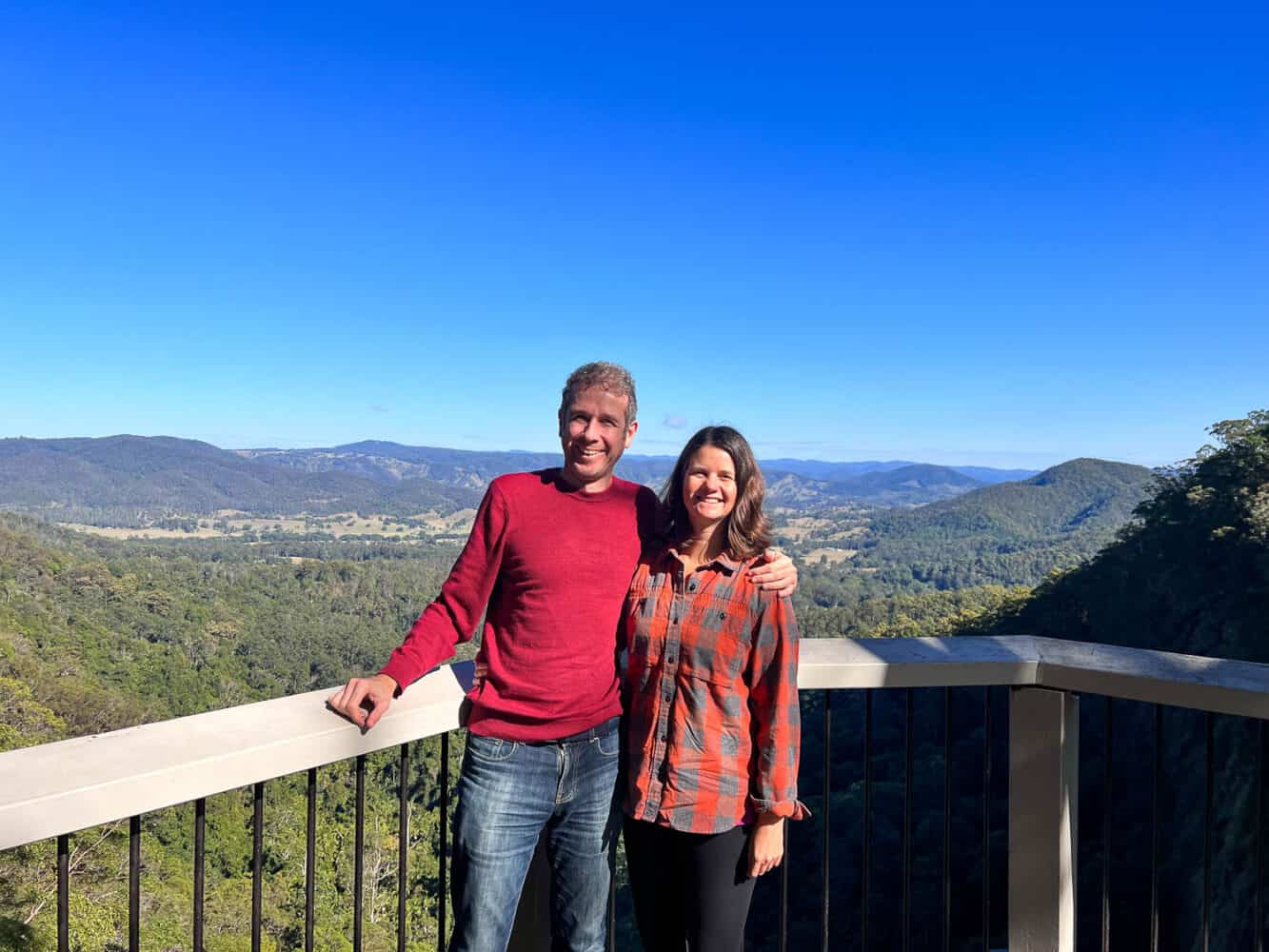 Mapleton Falls Lookout is a wheelchair-accessible viewpoint next to the car park in Mapleton Falls National Park.
At the lookout, you peer down from the top of the 120-metre waterfall, which was a trickle in winter (summer is the rainy season), but it's still worth stopping for the expansive views of Obi Obi Valley and the rainforest canopy.
In August and September, look out for peregrine falcons, which roost on the cliff edges here.
The Great Walk passes through here, but if you just want to stretch your legs, the Wompoo Circuit is a lovely walk through rainforest and eucalypt forest.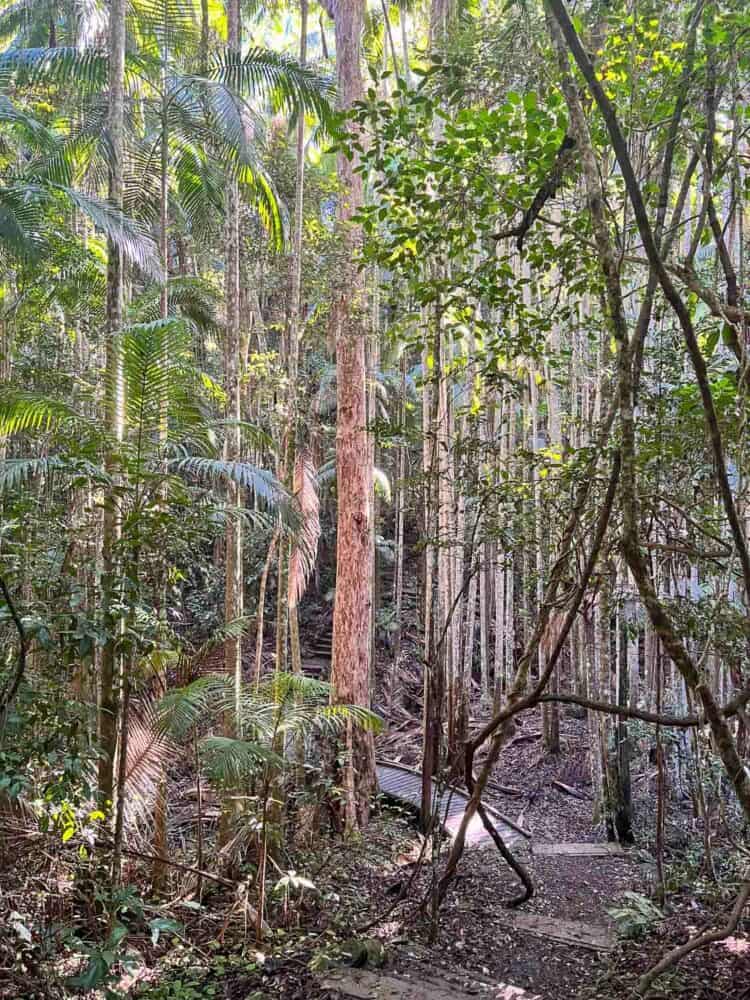 Including the Peregrine Lookout side trip, it was 1.7km for us and took 25 minutes with 65 metres of elevation gain. It was fairly easy with a few gentle ascents, and it's quieter than Kondalilla National Park.
12) Visit Kenilworth Bakery and Dairy
If you have time after visiting Maleny, Montville, and Mapleton, it's worth driving to Kenilworth, another little country town.
It was a beautiful drive down from Mapleton on Obi Obi Rd, although we hadn't expected it to be unsealed and so steep. No caravans are allowed. The road is sealed on the way back up.
Kenilworth is surrounded by farmland with cows grazing and feels far away from it all.
Kenilworth Bakery is renowned in the Sunshine Coast Hinterland for its pies and donuts, which you can buy from side-by-side shops on Elizabeth Street. I recommend trying both.
We were pleased that they had good vegan options in both. We loved the roast vegetable and korma pastry roll and the southwest tofu pie (like a chile with spicy beans, vegetables, and tofu).
There's a huge range of decadent donuts. We chose the relatively simple chocolate glaze and a vegan jam donut. Both were delicious, but we actually preferred the texture of the vegan one.
You can also get a coffee donut (a hollowed-out donut filled with coffee!) and a very intense-looking 1kg donut (pre-order needed).
Eat your treats at the picnic tables behind the shops and enjoy the murals by Daus Von Roe featuring music stars.
A few minutes walk from the bakery is Kenilworth Dairy. There's an outdoor cafe and store where you can buy their large range of cheeses and other foodie products.
I'd heard their yoghurts and chocolate mousse were excellent, but unfortunately, they contain gelatine so are not vegetarian-friendly.
From Kenilworth, you could loop back to Maleny on Route 22 or head to the coast via Eumundi.
13) Admire the Huge Trees on the Fig Tree Walk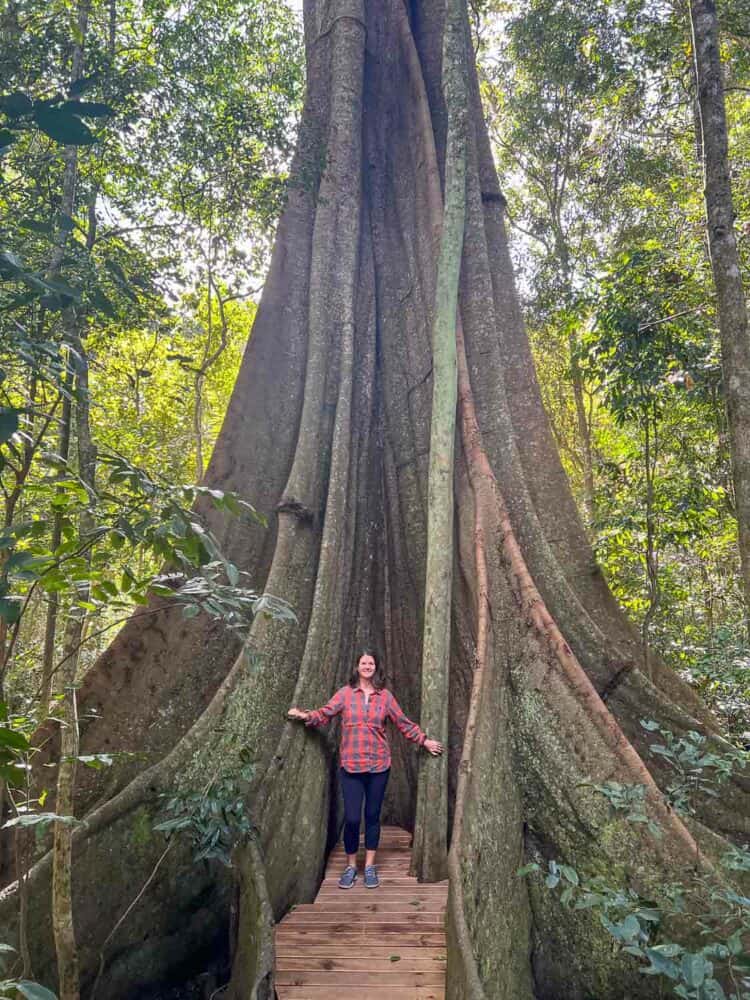 One of the easiest attractions to add to your Kenilworth visit is the Fig Tree Walk, a seven-minute drive out of town.
From the parking area, cross the bridge to get to the wheelchair-accessible paved and boardwalk loop.
The 1.1km flat trail took us 15 minutes and passed two immense 150-year-old Moreton Bay fig trees.
14) See the View at Glass House Mountains Lookout
The Glass House Mountains are at the southern end of the Sunshine Coast Hinterland.
The countryside is flatter than the Blackall Range, but the landscape is punctuated by unique plugs, which were formed by volcanic activity over 25 million years ago.
The easiest place to see the array of craggy peaks is the Glass House Mountains Lookout, which you can drive right up to.
It's a great overview of the area with signs to identify each mountain and information on how they were formed.
Facilities here include toilets, picnic tables, and BBQs. There's also a 800-metre bush walk but it doesn't have views, so you could skip it if you are doing other walks in the area.
Just down the road is the Lookout Cafe, which has fantastic views of Mt Coonowrin from the terrace.
We had coffee here while staying at Glass on Glasshouse on-site, but the menu looked appealing.
15) Hike Mt Ngungun for an Even Better View
For an even better view of the Glass House Mountains, it's worth heading up Mt Ngungun.
While the rocky steps up are quite steep, it's not a difficult walk. The return trip was 2.5km and took us 45 minutes (plus a break at the top) with a 190-metre elevation gain.
Wear shoes with traction as the rocks at the summit are quite slippery.
We also walked the 4.4km / 1 hour Mount Tibrogargan Circuit. It's easier than Mt Ngungun, but it's through the bush around the base of the mountain, so you only get occasional views of the mountains.
16) Stay in a Stunning Cottage at Glass on Glasshouse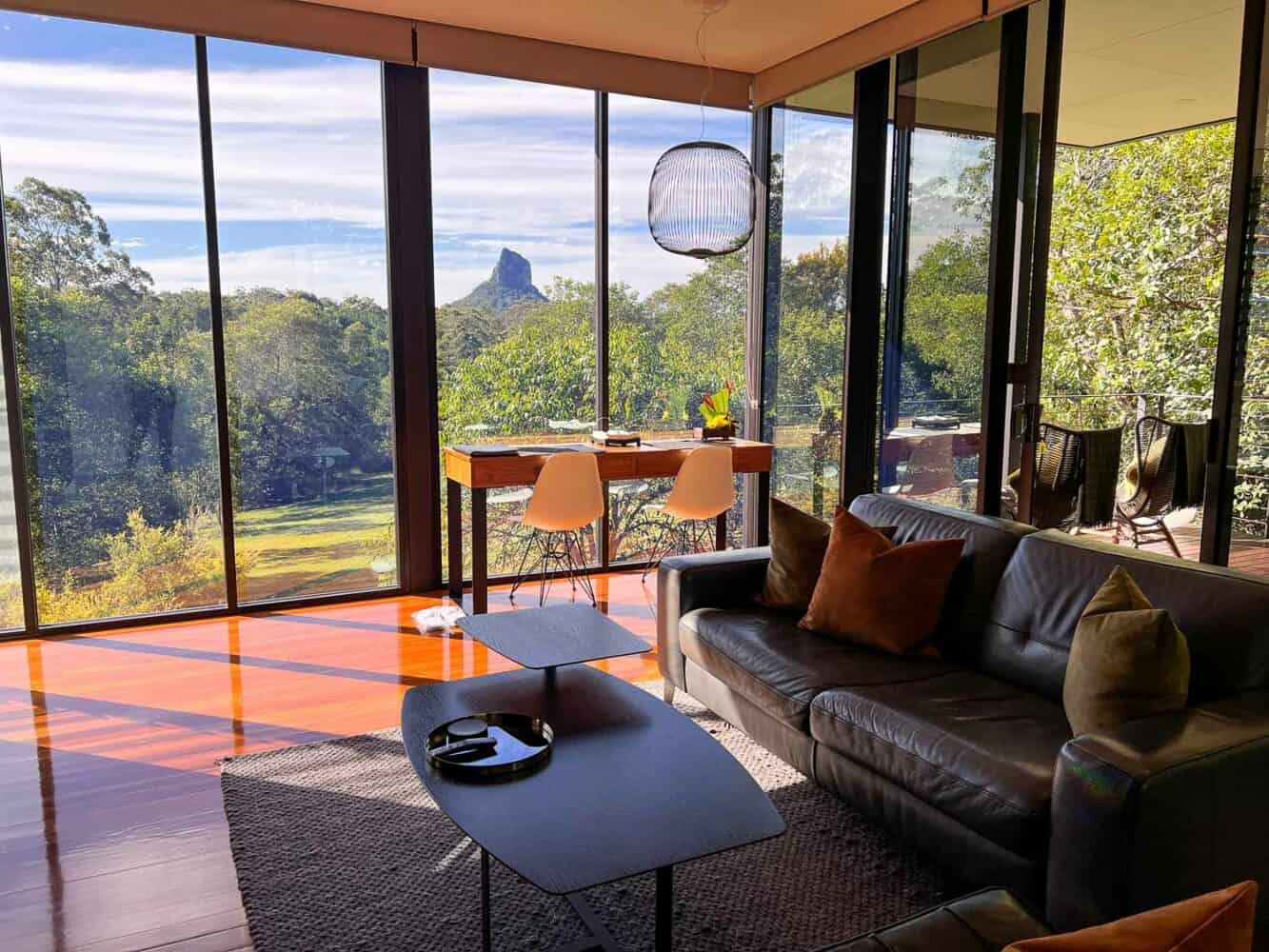 Our ideal Sunshine Coast Hinterland visit would include stays at both Secrets on the Lake in Montville and Glass on Glasshouse.
Glass on Glasshouse is an adults-only retreat with three private cottages with floor-to-ceiling windows to make the most of the stunning views of Mt Coonowrin.
The cottages are ultra-modern and stylish with a huge spa bath that fills from the ceiling, a patio with BBQ, and a fridge stocked with tasty breakfast ingredients.
You won't want to leave, so bring food to self-cater or order a meal in advance from the cafe.
There's a shared pool, which we had to ourselves and was perfect to cool off on a hot afternoon.
Look out for kangaroos on the lawns!
We absolutely loved our stay here and it's perfect for a tranquil, romantic weekend away in the Sunshine Coast Hinterland.
Check availability for Glass on Glasshouse here. Make sure to book well ahead.
17) Enjoy a Leisurely Lunch at Spirit House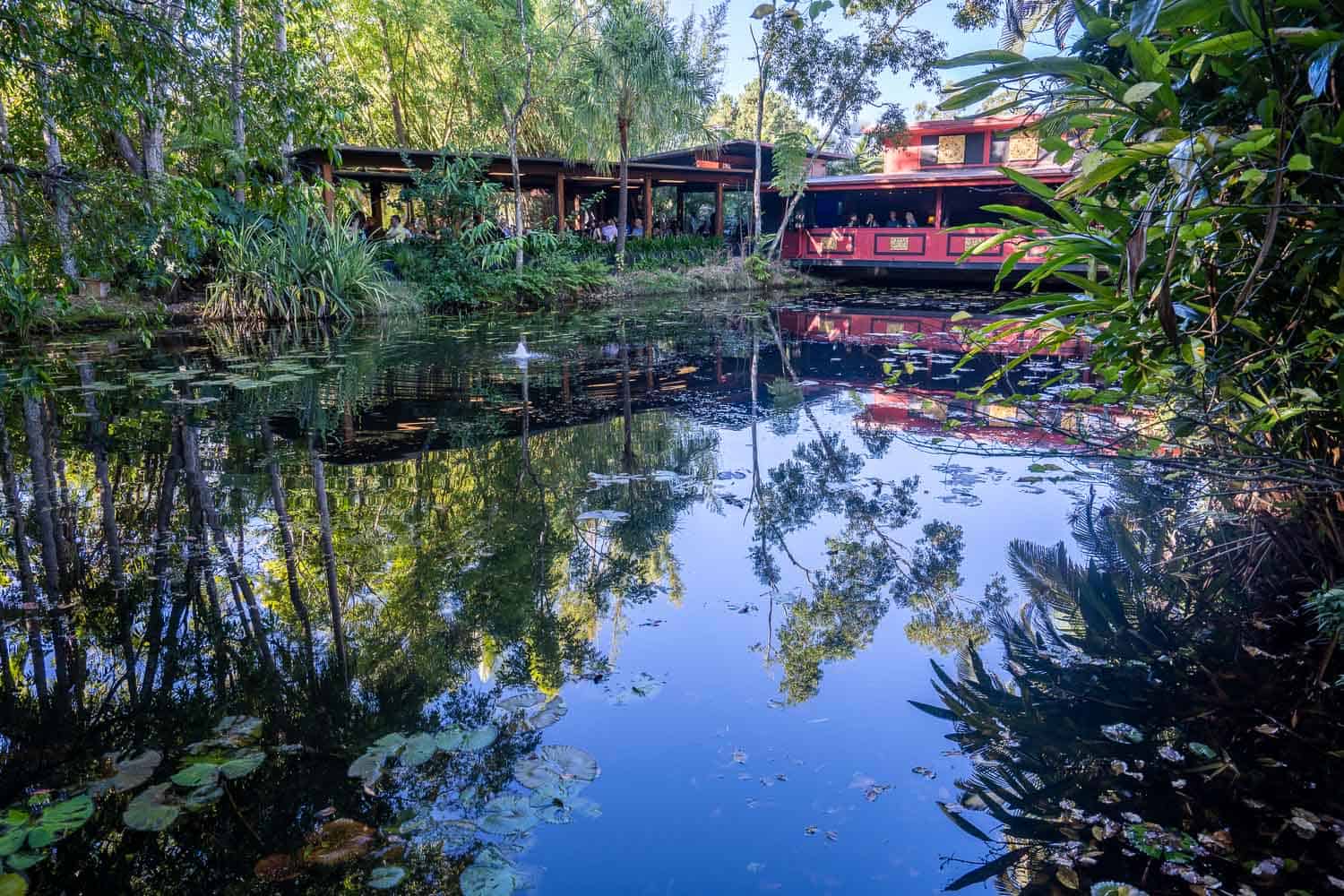 Spirit House is one of the most beloved destination restaurants on the Sunshine Coast and was our favourite meal in the area.
It's located in the small town of Yandina, between the coast and the Blackall Ranges. It's close to the Ginger Factory and Eumundi Market, so consider combining all three (easily done as a day trip from Noosa too).
The setting is beautiful with colourful buildings amongst lush Asian gardens and swaying bamboo. The main dining room is open-air and surrounds a lovely pond.
Spirit House is ideal for a special occasion. The minimum cost is $100 per person for three courses or choose the premium banquet at $120 for four courses served sharing style. Allow at least two hours for a leisurely meal.
The food is Thai inspired and the flavours felt authentic to us, albeit with a new interpretation.
Our vegetarian premium banquet included Miang Kham (peanuts and ginger wrapped in a betel leaf—a little flavour implosion), tom yum soup, steamed pumpkin cake, and our favourite, the sweet and spicy Fried Plantain and Tuturuga Spice Paste.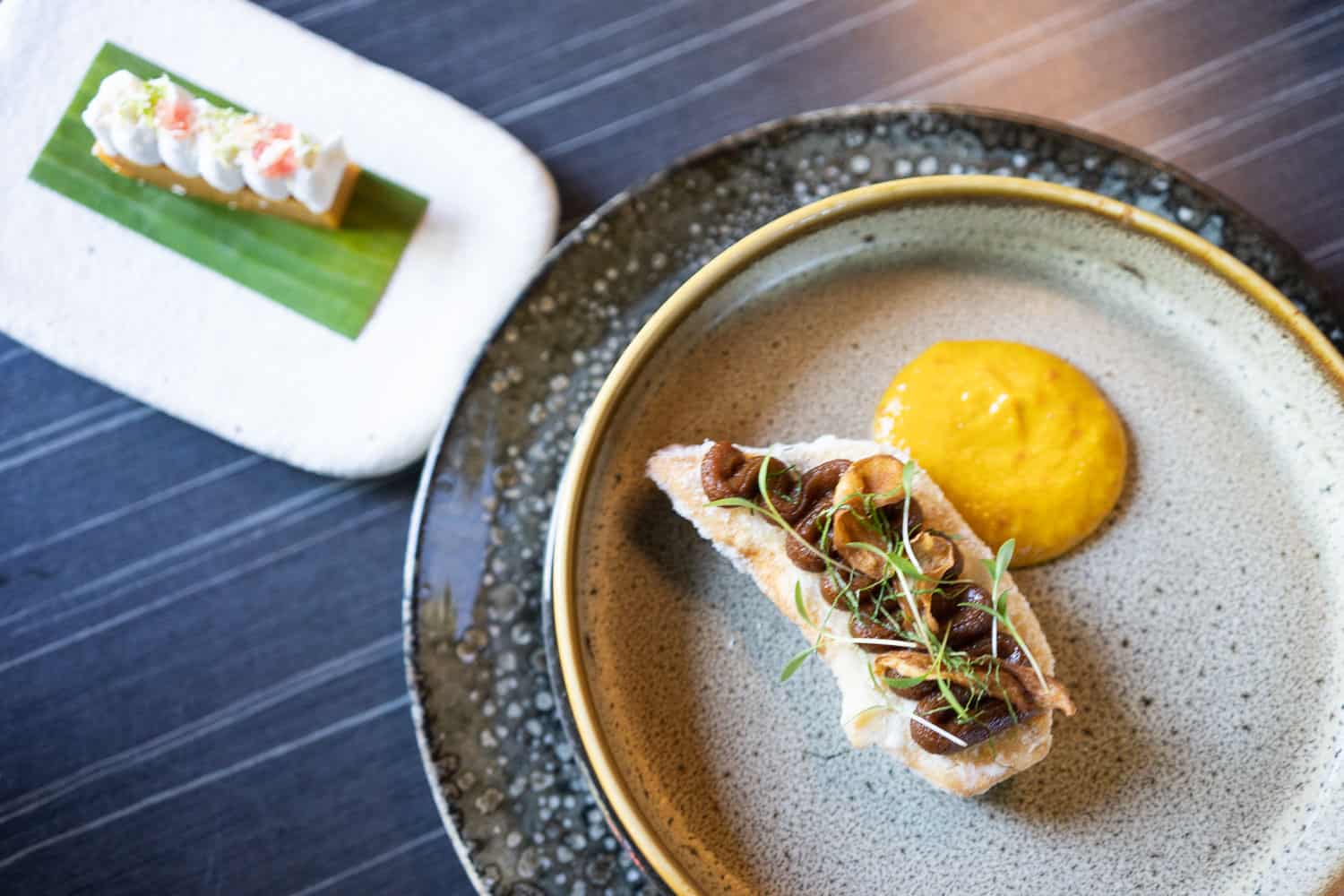 Our mains were an excellent Yellow Curry with beetroot cooked in multiple ways and a Mushroom Pad See Ew.
Dessert varies each day and was a highlight for us. The Mango Sticky Rice "Eton Mess" combined mango sorbet, meringue, and crystallised pandan for a light, fruity, crunchy end to a wonderful meal.
The food, service, and setting are all exceptional at Spirit House and we highly recommend it.
Advance bookings are essential—likely at least a few weeks for lunch and longer for dinner.
18) Experience the Ginger Factory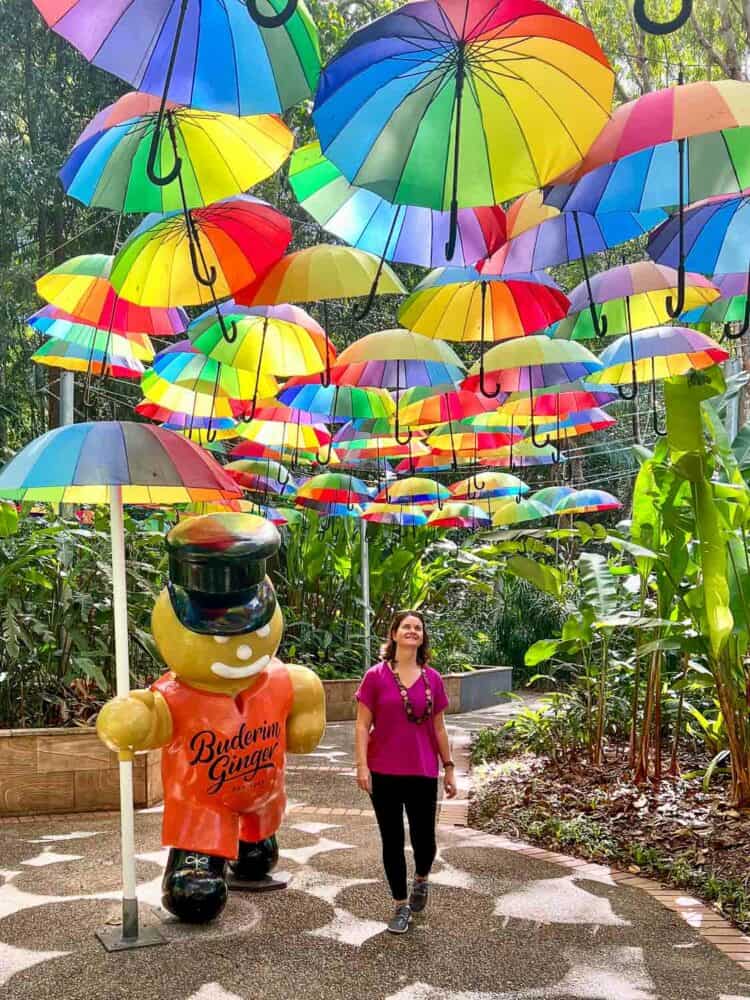 Also in Yandina is the Ginger Factory. I initially dismissed it as a tourist trap, but we ended up enjoying our time there.
It's one of the top Sunshine Coast Hinterland attractions for families, but if you like ginger, it's worth visiting even without kids.
Buderim ginger is some of the best in the world. While they no longer grow ginger here, it's processed on-site with ginger grown by local farmers.
At Ginger Factory you can learn the history of ginger production in the area, see how it's grown, and shop for a wide range of ginger products (the ginger beer with spiced rum is our favourite).
The large complex is more of a ginger theme park. You can take a steam train around the grounds, look for gingerbread men on the indoor boat ride (think Disney's It's a Small World), and stroll through a rainforest walk under vibrant umbrellas.
The grounds and play areas are free, but the train, boat ride, and various tours cost extra.
We enjoyed the seasonal Harvest Tour, where we learnt how ginger is grown and harvested and tried a few of their products.
The train and boat ride were cute but skippable for adults without kids.
Families could easily spend half a day here doing all the activities.
19) Buy Local Crafts at Eumundi Market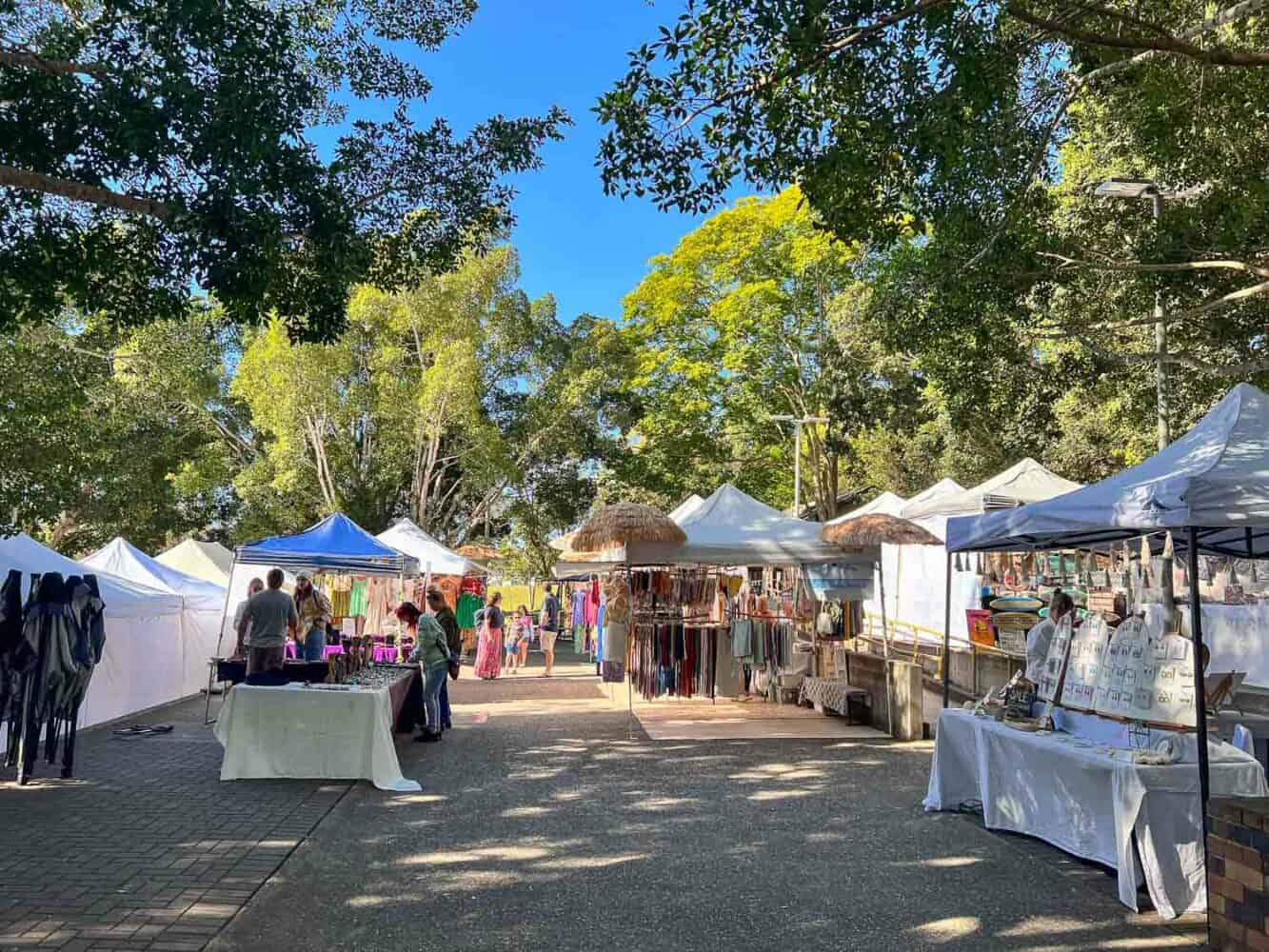 The famous Eumundi Market is one of the top Sunshine Coast Hinterland activities.
The huge market takes place every Wednesday and Saturday morning and features an array of stalls selling clothes, jewellery, art, gifts, games, home decor, ceramics and more.
There's much less of a food focus than the farmers markets in the area (like the excellent one in Noosa on Sundays—see our Noosa restaurants guide for our fave stalls), so this isn't the place to shop for fresh produce.
You can find nuts, honey, hot sauces, and chutneys, and we picked up a lovely Thai curry paste.
There are quite a few prepared food stalls for breakfast—we ate Tibetan momos and Dutch mini pancakes—but we didn't find the options as appealing as at Noosa's market.
Even though we're not really into shopping, we spent 90 minutes here. Shopping lovers will be in heaven.
Parking is $9 (card only). The market is popular but we didn't find it overwhelming on a Wednesday arriving early.
20) Celebrate Christmas in July
The weather is slightly cooler in the Hinterland than on the coast, so it's the best spot to celebrate Christmas in July. Don't expect snow (afternoons can still be 20ºC+), but you can appreciate a fire and warming meal on the cool nights.
Secrets on the Lake had their Christmas tree up on our July visit and a festive dinner was available for one night with lunches throughout the month.
Other places with Christmas in July celebrations are Montville Cafe Bar & Grill and The Long Apron. Bookings are essential.
Map of Sunshine Coast Hinterland
Is Sunshine Coast Hinterland Worth Visiting?
When we originally planned our Sunshine Coast trip, the beaches were our focus, but the rolling green hills and rainforests of the interior stole our hearts.
The Sunshine Coast Hinterland is well worth visiting whether you are looking for a relaxing, romantic break, an adventure-filled weekend of hikes and waterfall swims, or a leisurely day trip of shopping and eating.
I hope this guide has given you some ideas of what to do in Sunshine Coast Hinterland.
Leave a comment below if you have any other suggestions.
More Australia Posts
Sunshine Coast, Queensland
Elsewhere in Queensland
Victoria
If you enjoyed this post, pin for later!