This page contains affiliate links. Please read our disclosure for more info.
Brisbane is the perfect place for a weekend break. The capital of Queensland is the third largest city in Australia, but it feels so much more laidback than Sydney or Melbourne.
It has the excellent restaurants, bars, and museums that you'd expect from a big city, but the subtropical weather, riverside location, and lush greenery add a holiday vibe that we loved.
This is our itinerary for a wonderful weekend in Brisbane including delicious food and drinks, culture and relaxation in South Bank, and plenty of gorgeous river views.
At the end, there is a map with everything mentioned.
Contents
Where to Stay for a Brisbane Weekend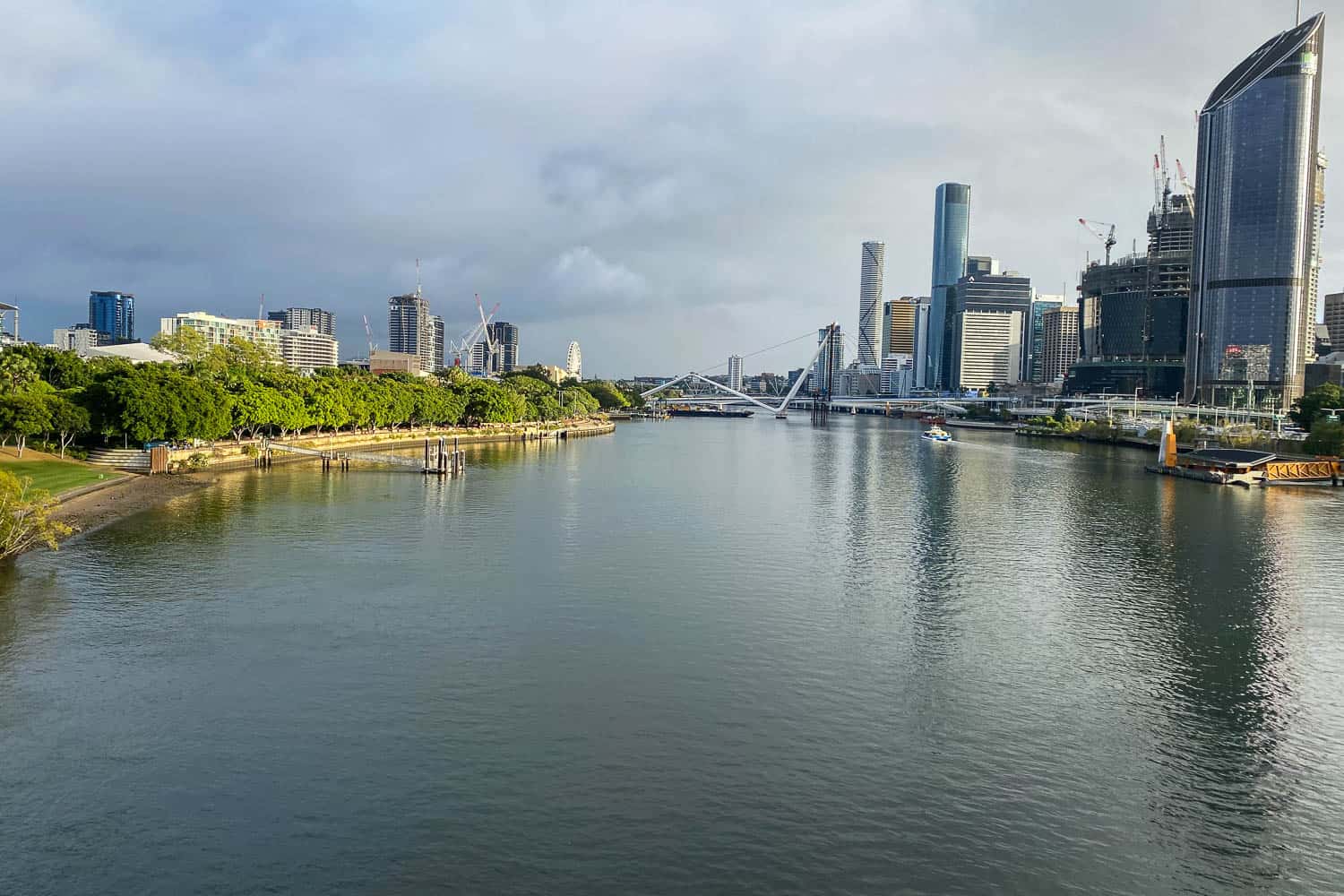 We highly recommend staying in South Bank for your weekend in Brisbane.
Located on the southern banks of the Brisbane River across from the CBD, it has great transport links to the rest of the city, stunning views, and beautiful parklands.
We stayed at the Emporium Hotel South Bank, one of the best hotels in the city with a prime location, river views, and a funky vibe with colourful decor and modern facilities.
We loved our spacious, comfortable river view room (we even had a bar area and wine fridge).
A highlight is the infinity pool with comfy loungers and an epic view of the river and skyscrapers. The sauna and steam room next to the pool are a bonus.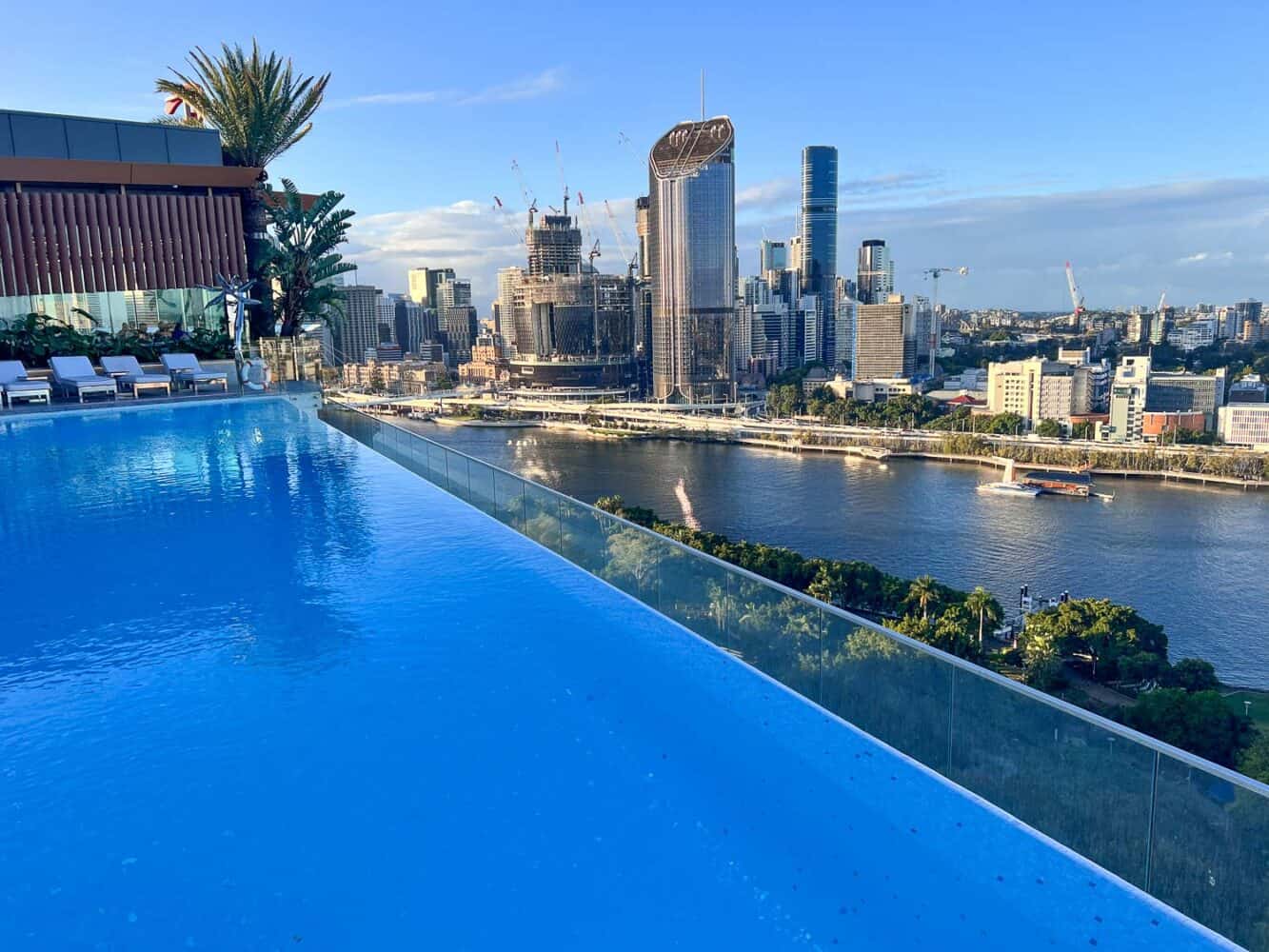 Check the latest rates for the Emporium Hotel here.
Other more affordable alternatives in South Bank include Courtyard by Marriott Brisbane South Bank and Fleet Lane Apartments.
Getting Around Brisbane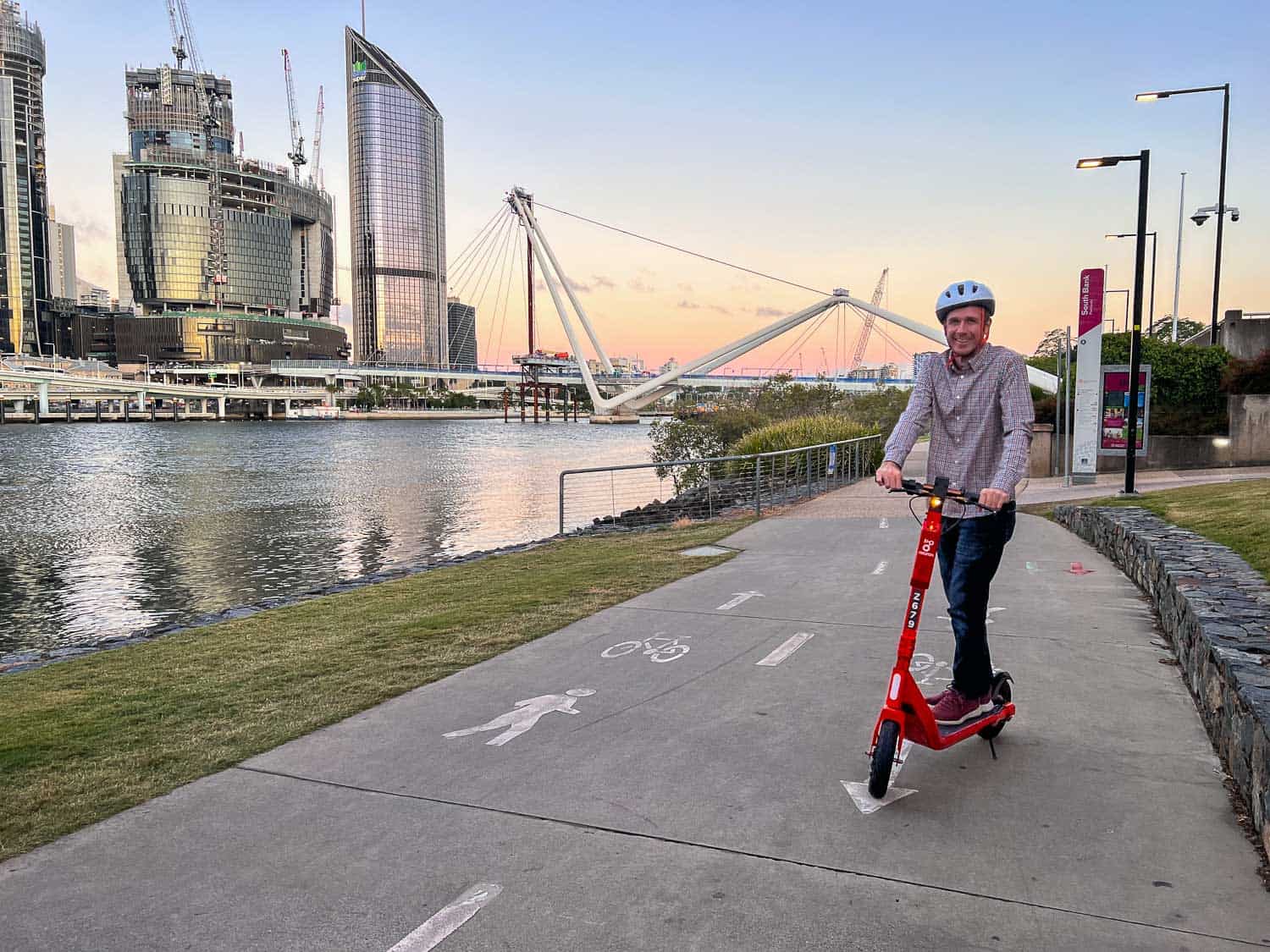 You don't need a car for this Brisbane itinerary and it'll be easier and cheaper not to deal with traffic and parking.
We got a taxi from Brisbane Airport (BNE) to South Bank, which took 20 minutes and cost $67 AUD. A cheaper alternative is the Brisbane Airtrain, which takes 35 minutes to South Bank Station, right next to Emporium Hotel, and costs $26 per person (discounted if you book online).
In the city, we walked or rode e-scooters most places. The scooters are such a fun and easy way to get around, especially on the riverside paths away from the road.
I recommend downloading the Neuron or Beam app on your phone so you can find the nearest scooters. Beam didn't work without an Australian phone number, so we used Neuron.
We did take the train once to Fortitude Valley, a short journey from South Bank. There's smart ticketing at most stations so we just tapped on and off with our credit/ debit card and didn't need to buy a ticket.
The CityCat ferry is also a good way to travel down the river. Or the CityHopper Ferries are slower but free. Check Translink or Google Maps for timetables.
Weekend in Brisbane Itinerary: Friday Evening
Dinner at Emporium Rooftop Bar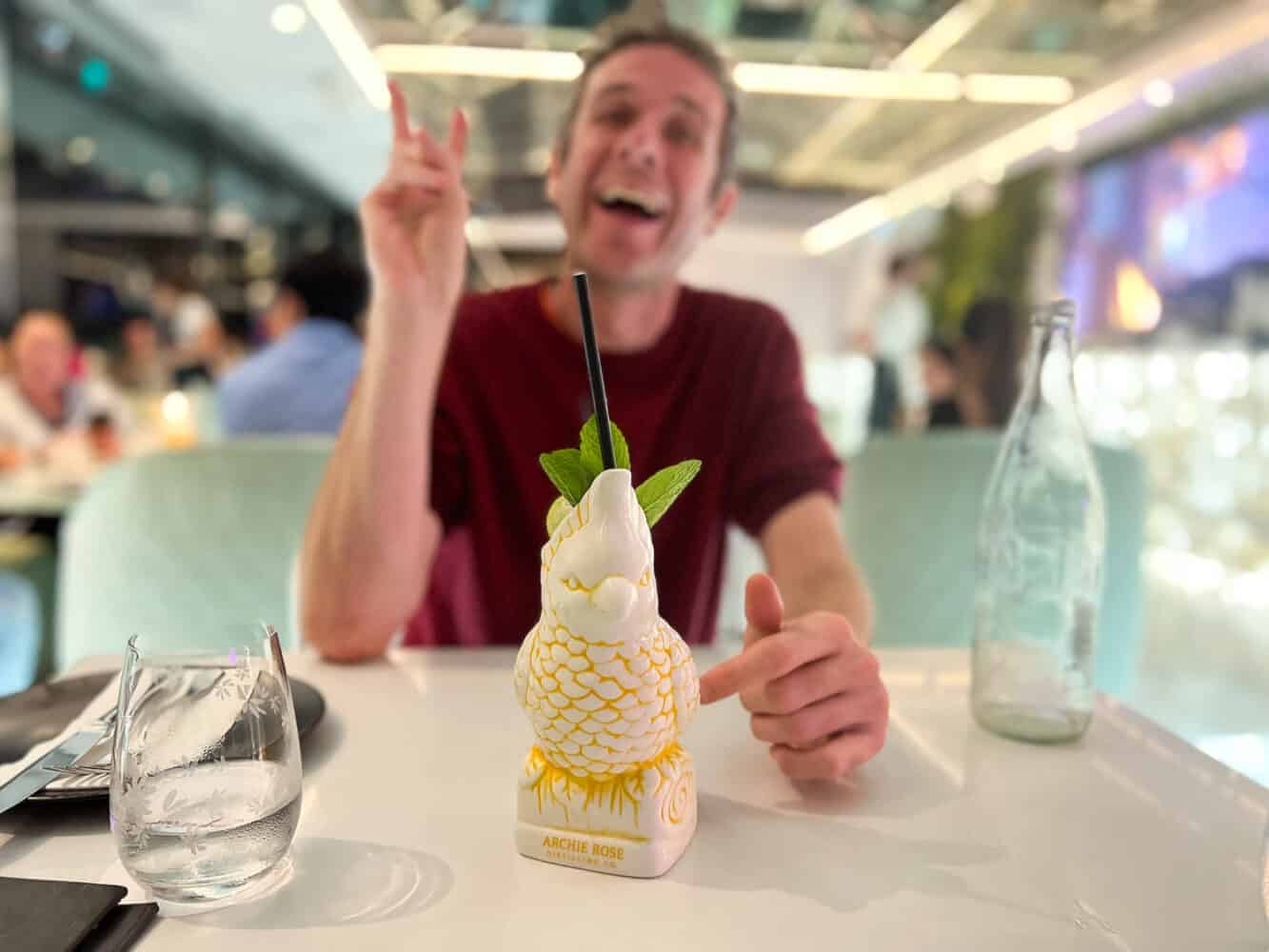 We arrived in Brisbane fairly late so kept it simple on our first night with dinner and cocktails at The Terrace rooftop bar in the Emporium Hotel.
While the food wasn't our favourite in Brisbane (although the tofu kimchi dumplings were pretty good), a visit here is all about the epic views of the Brisbane River and CBD. It's one of the best in the city. Sunset is the perfect time for a visit.
Simon's Para-Paradiso cocktail in a tiki cup was also fun!
If you arrive in Brisbane earlier, I recommend taking the ferry down the river to Eat Street Northshore (from 4-10pm on Fridays and Saturdays and until 9pm on Sundays).
This international food market sounds amazing with 70 traders in converted shipping containers and live entertainment.
Saturday
Breakfast at a Farmers Market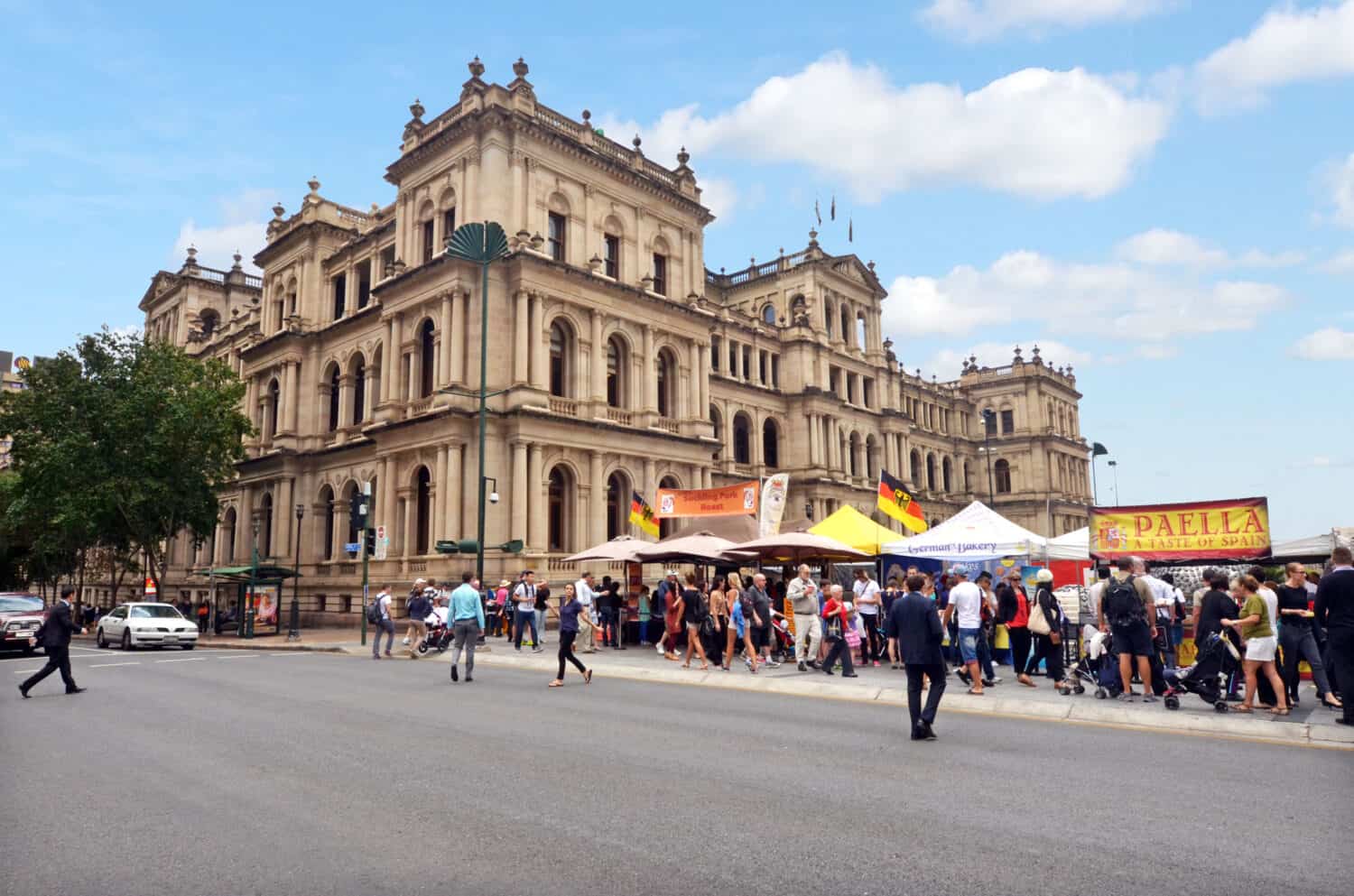 Start your Brisbane weekend with a visit to one of the farmers markets. Markets in Southeast Queensland are some of the best we've visited as so much amazing produce is grown year-round in the mild climate.
The markets aren't just about fruit and veg, though. They are a great spot for breakfast with coffee vans and food trucks serving everything from acai bowls to bahn mi.
Top picks on a Saturday morning are Jan Powers Farmers Market in New Farm next to the Brisbane Powerhouse (catch the ferry there) or West End Market (formerly known as Davies Park Market), which is walkable from South Bank.
If your two days in Brisbane happen to be during the week, head to the Brisbane City Market in the CBD on Wednesdays and Thursdays. There's less fresh produce here but plenty of food stalls.
Admire Modern Art at GOMA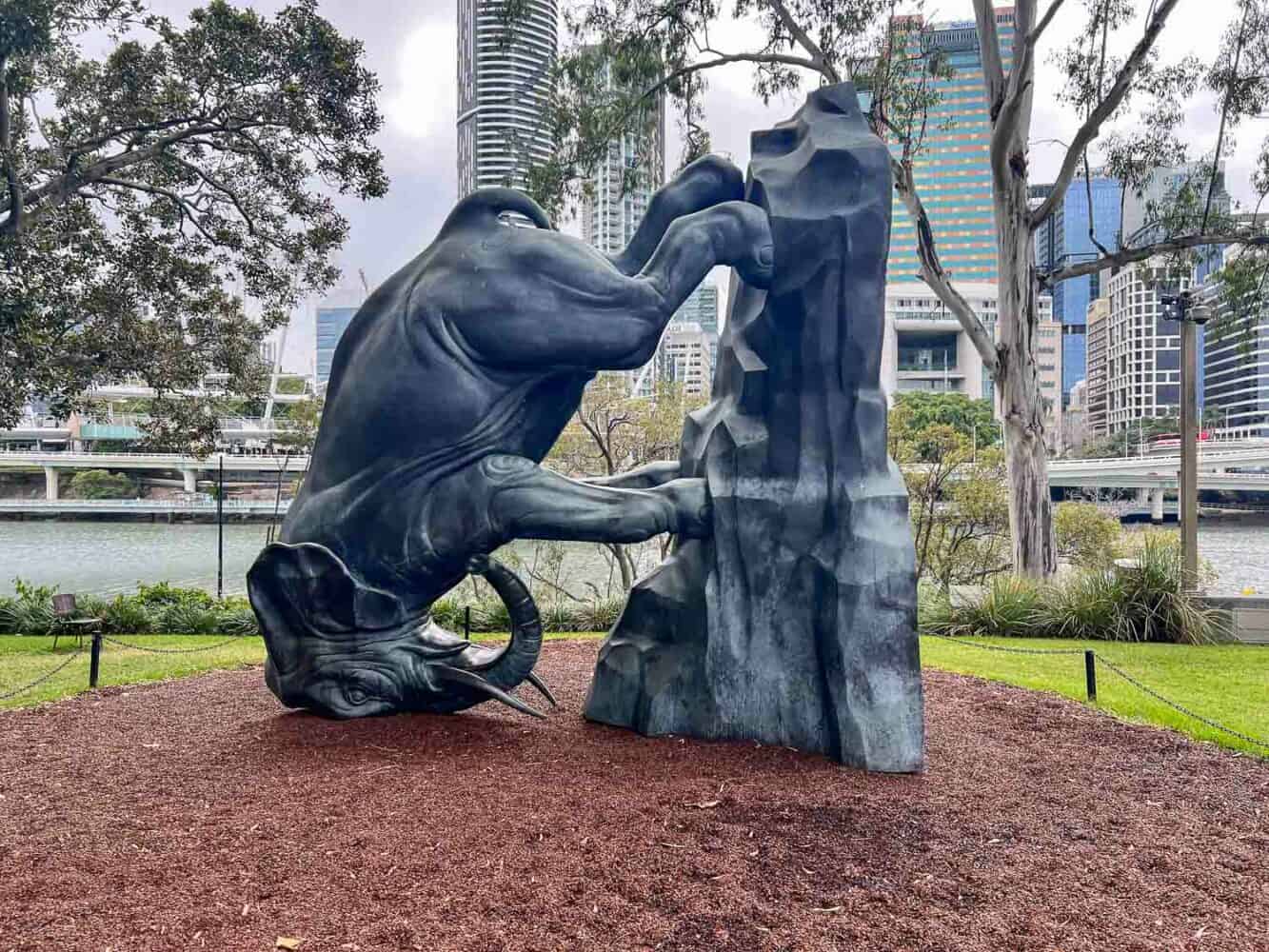 Next head back to South Bank to explore one of the many museums in this cultural precinct.
We loved our visit to GOMA, the Gallery of Modern Art in a spacious modern building next to the river.
Entrance is free (except for some special exhibitions) and exhibitions change regularly. We enjoyed Courage and Beauty, which showcased contemporary Australian, mostly aboriginal artists.
Don't miss The World Turns sculpture by Michael Parekowhai on the lawns on the riverfront.
GOMA is open from 10am to 5pm every day.
Other nearby museums are the Queensland Art Gallery and Queensland Museum.
Brisbane CBD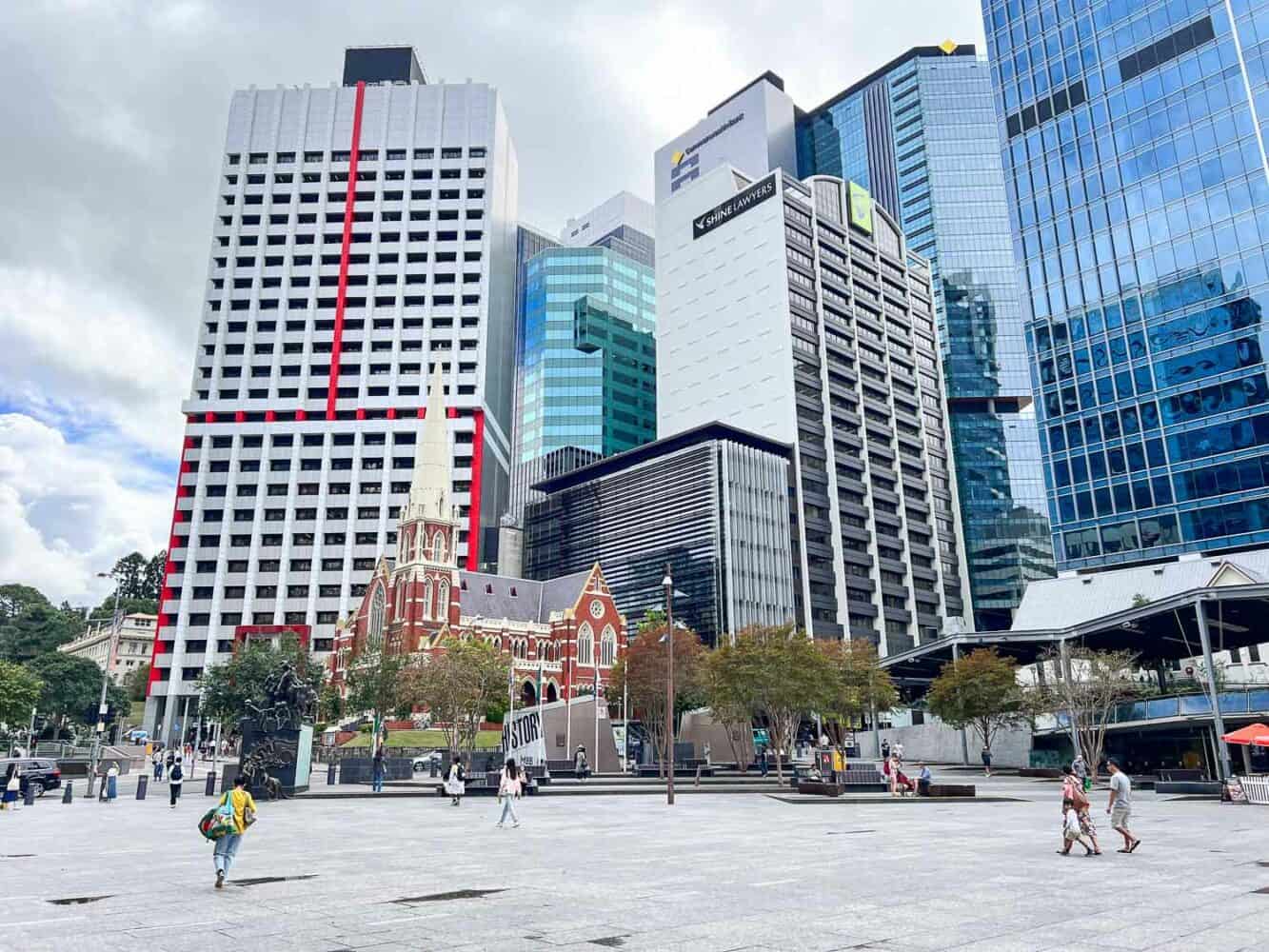 From GOMA it's an easy walk across the Victoria Bridge to Brisbane's CBD (Central Business District).
The CBD is pretty standard for Australian cities and isn't my favourite part of the city, so you could skip it.
If you want to do some shopping, Queen Street Mall has all the big name stores (including an Apple store).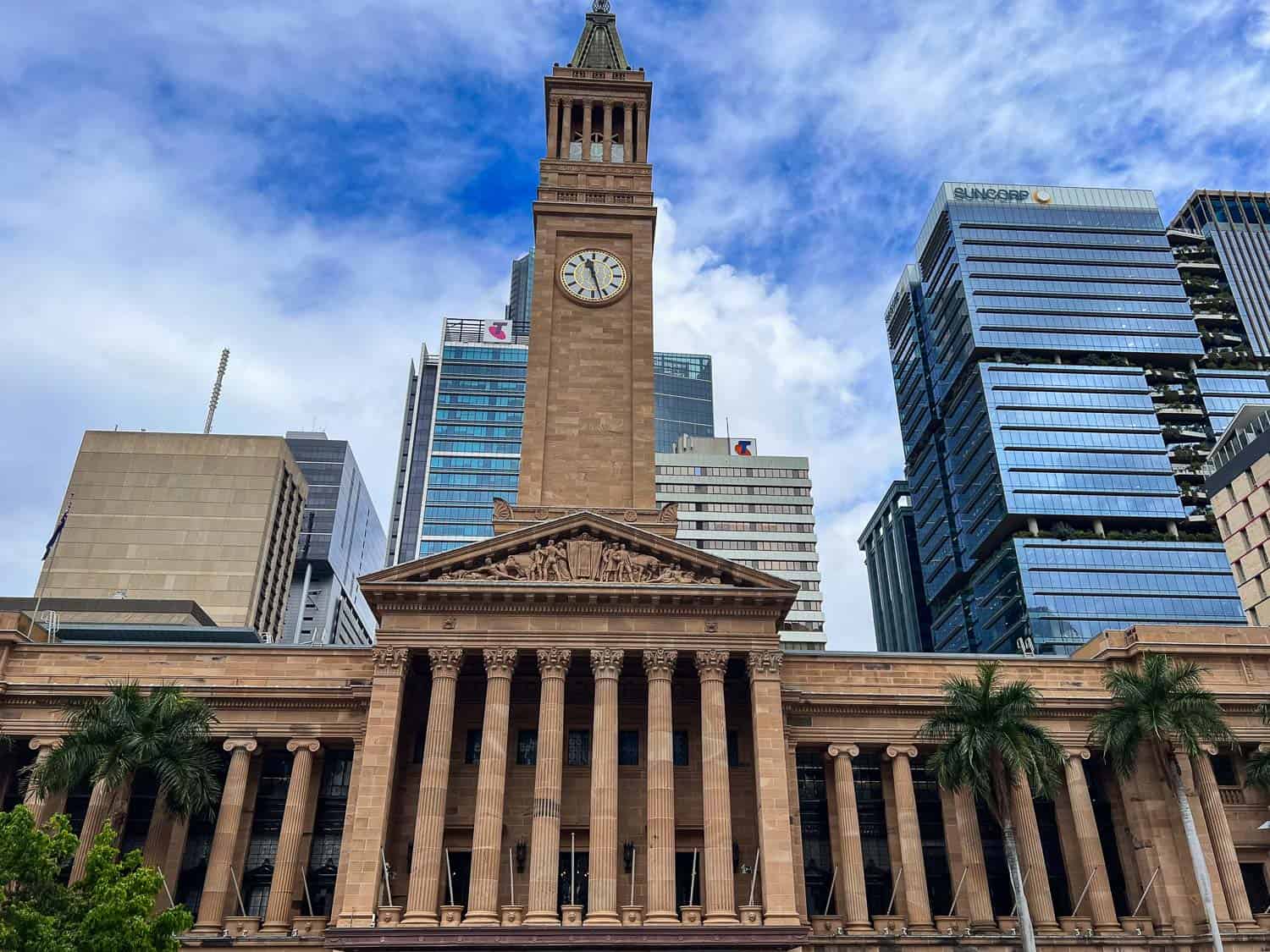 King George Square is worth visiting to see the immense Brisbane City Hall with its clock tower (you can climb it on a free tour) and gothic Albert Street Uniting Church, the red brick building built in 1889 that's now overshadowed by the surrounding high rises.
Brisbane City Botanic Gardens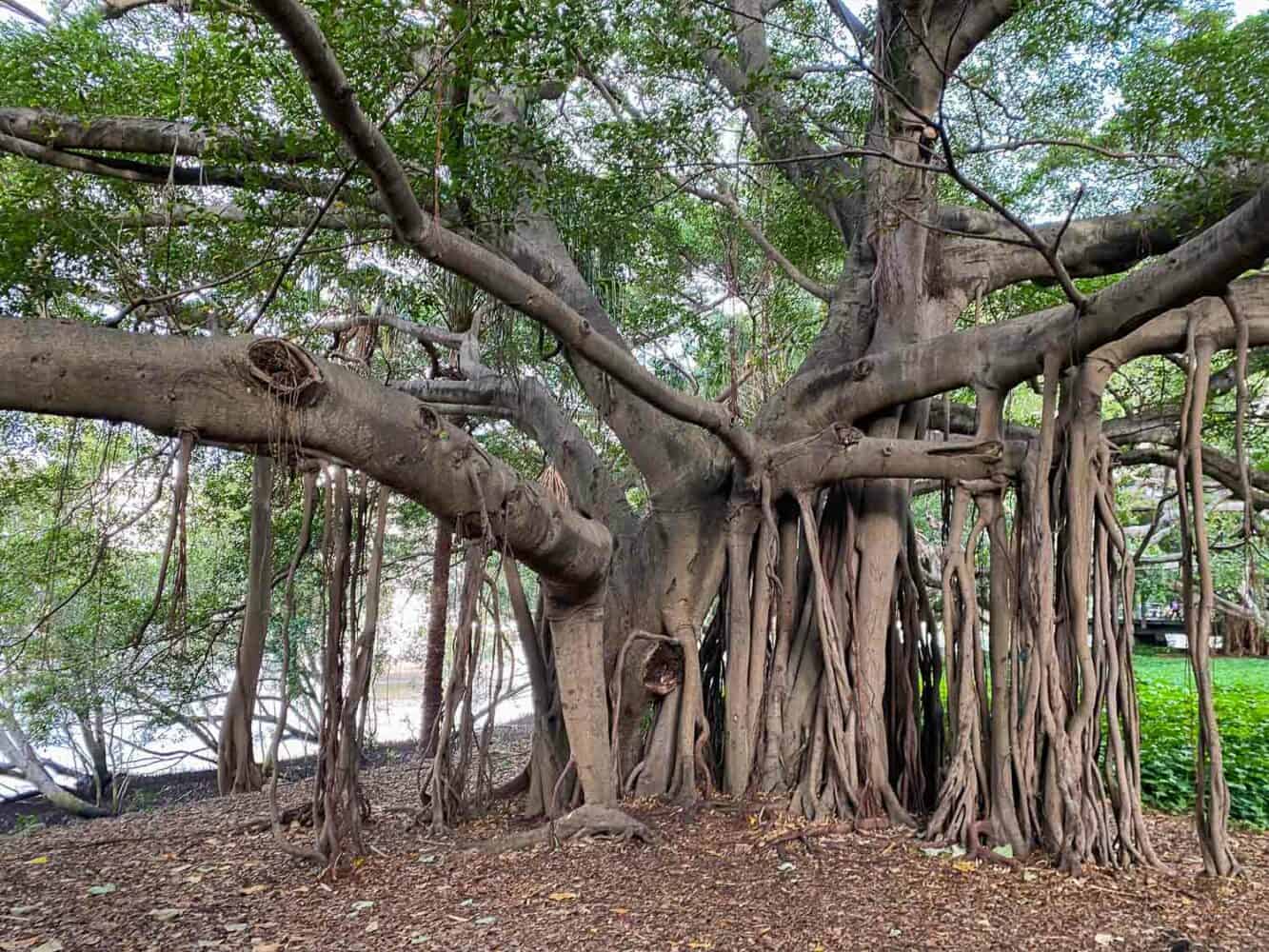 A 10-minute walk from King George Square are the City Botanic Gardens. The small riverside park is worth a stroll with some impressive fig trees and pretty ponds.
Parliament House is a heritage building located next to the park.
At night look out for the "Fairy Trees" by the Goodwill Bridge, which look magical covered in fairy lights.
From the gardens either head back to your hotel for a break or cross over the Goodwill Bridge to reach the next stop on our Brisbane 2 day itinerary.
Sunset at Kangaroo Point Cliffs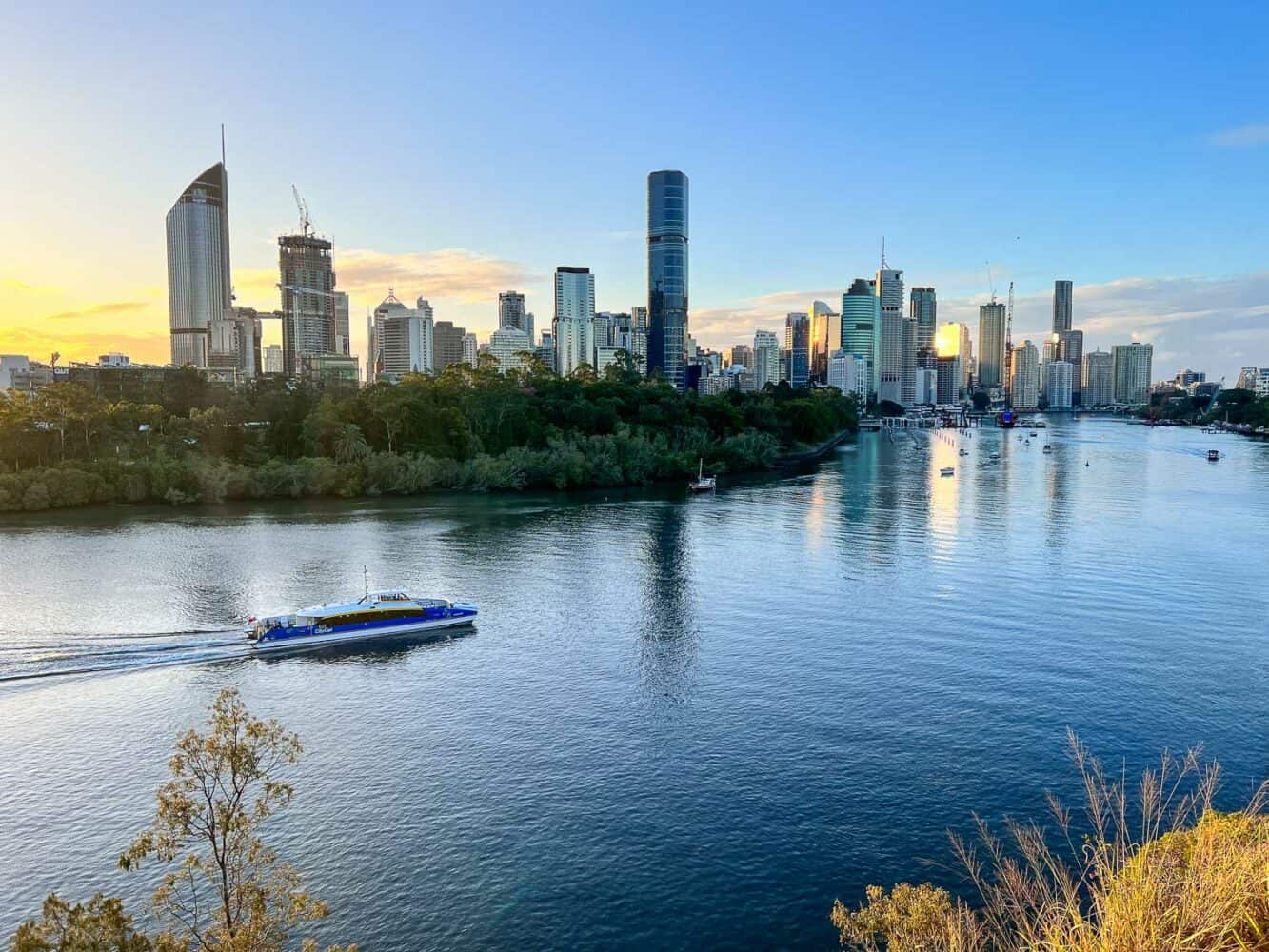 Kangaroo Point Cliffs are a popular climbing spot, but for the less adventurous, the Kangaroo Point Cliffs Lookout has a wonderful view of the river and city, especially lovely at sunset.
It's only 15 minutes from Emporium Hotel in South Bank. We walked along the riverside path past public art before climbing the stairs to the lookout.
Afterwards, we found scooters nearby so were able to quickly reach our next destination. Otherwise, it's a 30-minute walk to Fish Lane along the riverfront.
Cocktails and Dinner at Fish Lane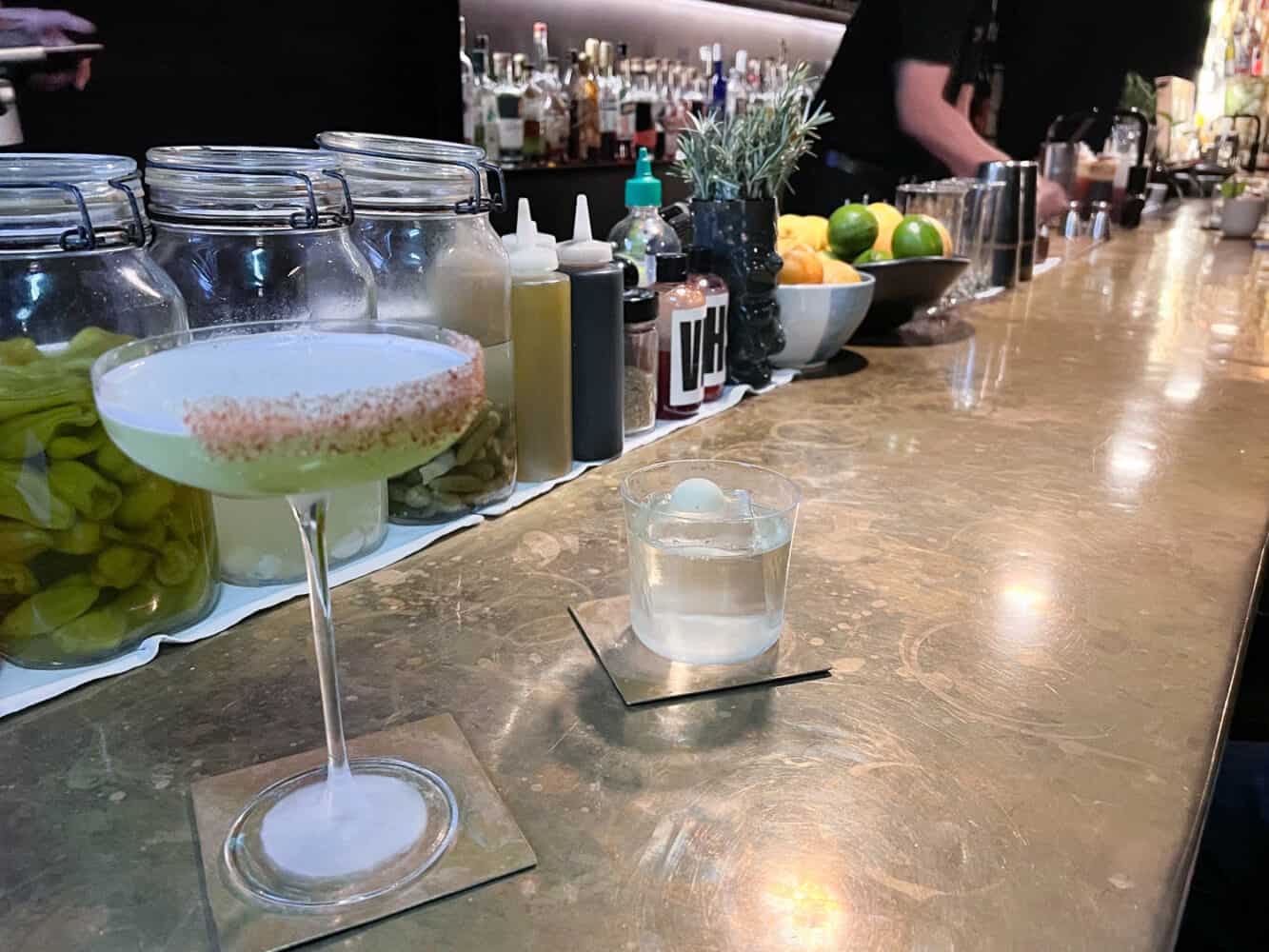 Fish Lane is a funky laneway in South Brisbane full of street art, restaurants, and bars.
The transformation of urban space is really well done with a car park under the railway bridge turned into Town Square, a lush green space with al fresco seating for Kiki cafe and bar.
We started with a drink at Maker, across the lane from the square. This is my perfect cocktail bar—an intimate space with mostly bar seating, a small changing menu of creative cocktails, and music at just the right level for conversation.
My tequila, pineapple, coriander, jalapeño, and lime concoction was one of my favourite ever drinks with just the right balance of fruit, herbs, and spice.
Simon was equally happy with his unusual mix of bourbon, passion fruit, white chocolate, and lemon.
If you don't manage to get a seat at Maker (go early, it opens at 4pm), Bar Brutus opposite looked like another cosy bar.
There are plenty of dinner options to choose from. We went for plant-based Mexican at El Planta and we still rave about our meal there.
You'll definitely want to book a table at this popular spot. The menu of small plates and tacos changes monthly and I don't think you can go wrong—everything was super flavourful.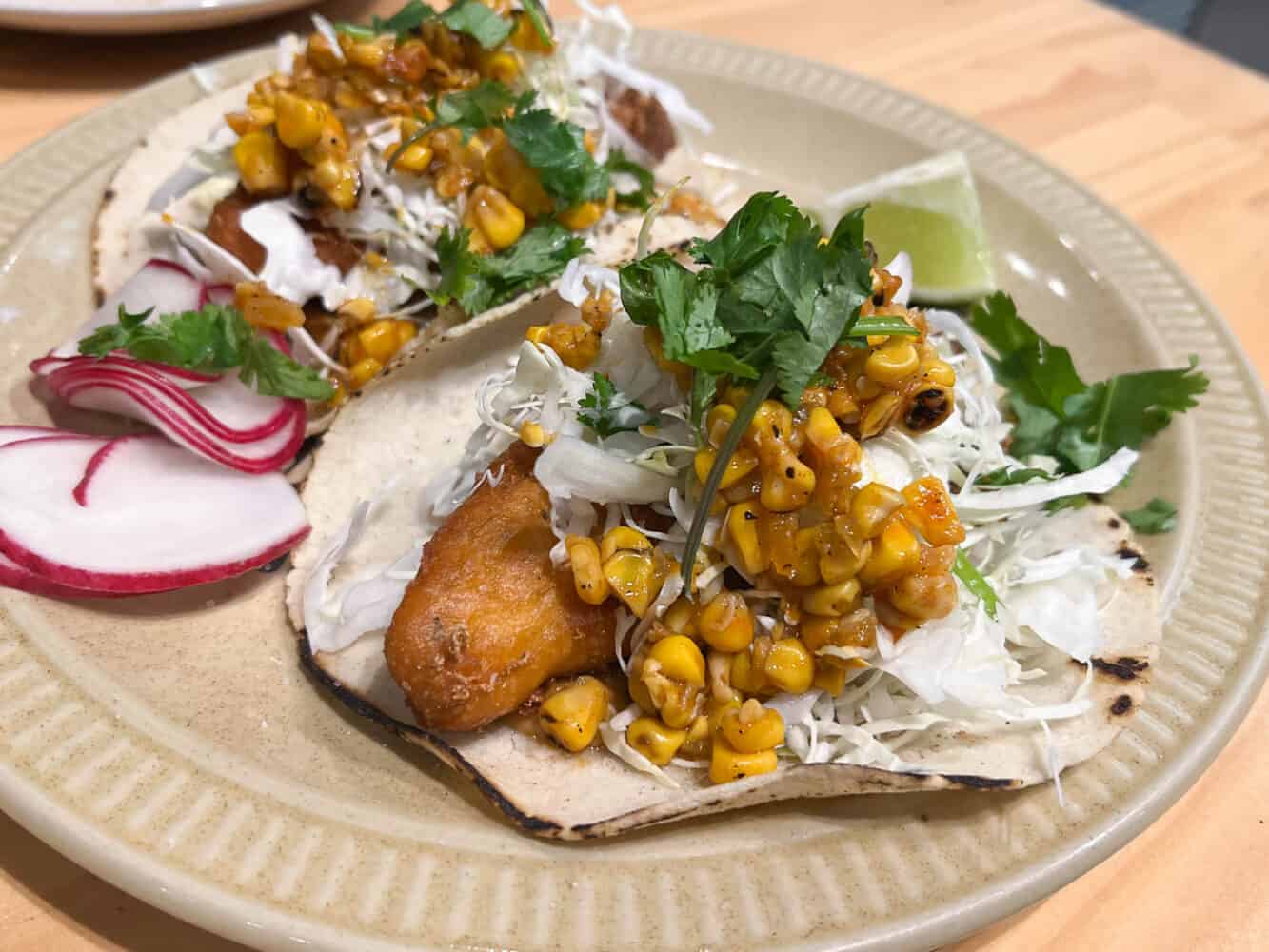 We especially loved the guacamole (the mandarin oil took it to the next level), fish tacos (yep, these are vegan), and the papas con salsa.
The margaritas were also perfect.
If we'd had space, we would have finished our Fish Lane evening with a gelato at Messina.
If you want one last drink, we've heard good things about Cobbler in West End, especially for whisky fans.
On the way back to your hotel, stroll past GOMA to see James Turrell's Night Life, which illuminates the building from within from sunset to midnight. (We sadly forgot to do this—I blame those cocktails).
Sunday
Breakfast at Lune Croissanterie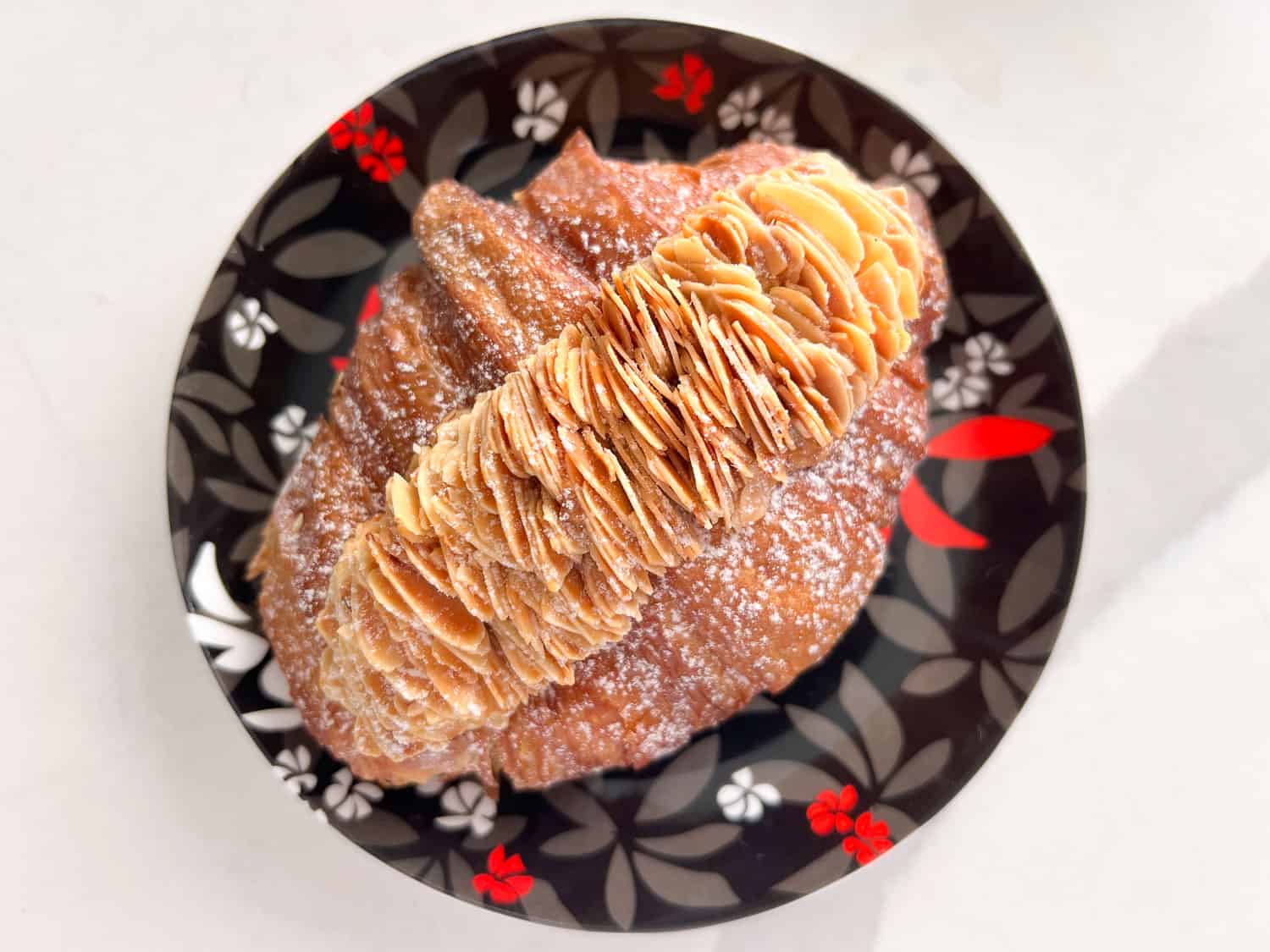 Our favourite place for breakfast in Brisbane is Lune Croissanterie (which we first discovered in Melbourne), so head to the Fish Lane branch (there's also one in the CBD) for your pastry fix.
It's all good—the perfectly crispy croissants and pain au chocolat, the decadent almond croissant (very filling!), and the lovely cardamon buns that were a special offering.
If you are looking for something more substantial, check out these brunch spots in Brisbane. The West End is one of the most cafe-filled suburbs in Brisbane and an easy walk from South Brisbane.
Wander the South Bank Parklands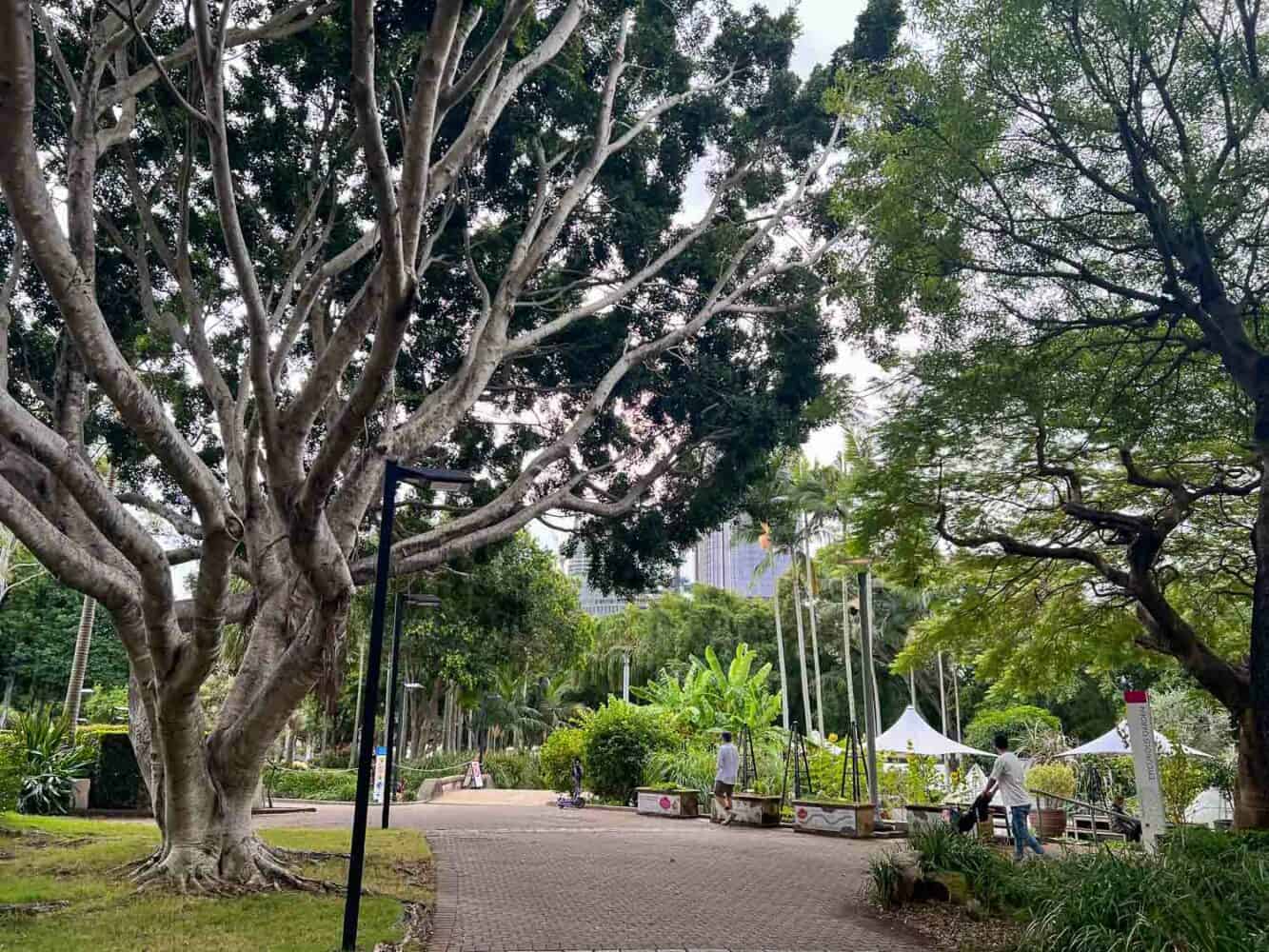 While you passed through the South Bank yesterday, today is the time to properly explore the beautiful riverside parklands. It's all pedestrianised and is a pleasure to wander.
From Lune, head down to the river to the iconic Brisbane Sign.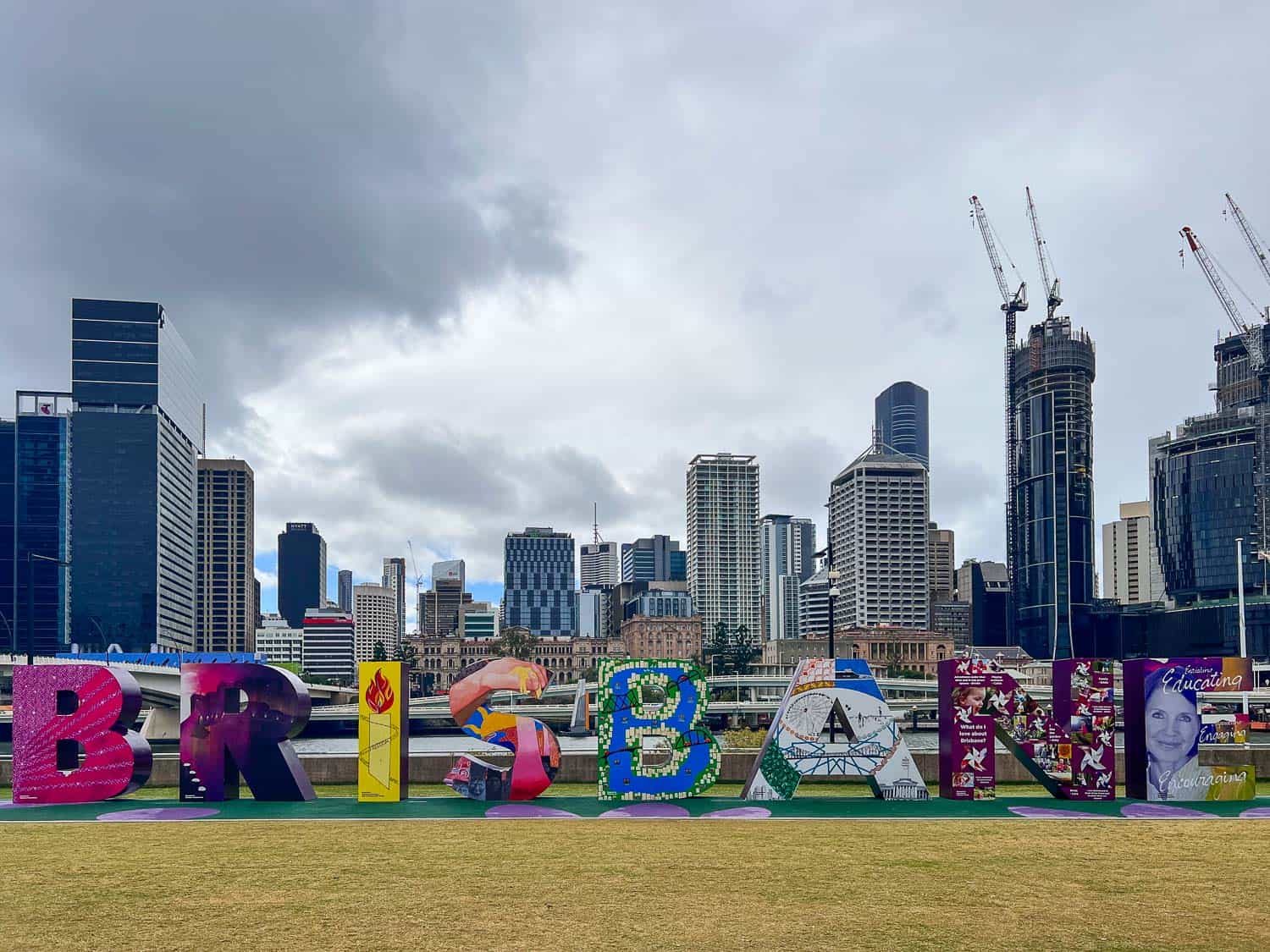 Continue on the promenade past The Wheel of Brisbane (which you can ride for a city view, open from 10am) to the Nepalese Peace Pagoda. This beautiful, hand-carved pagoda was contributed by Nepal to the 1988 World Expo.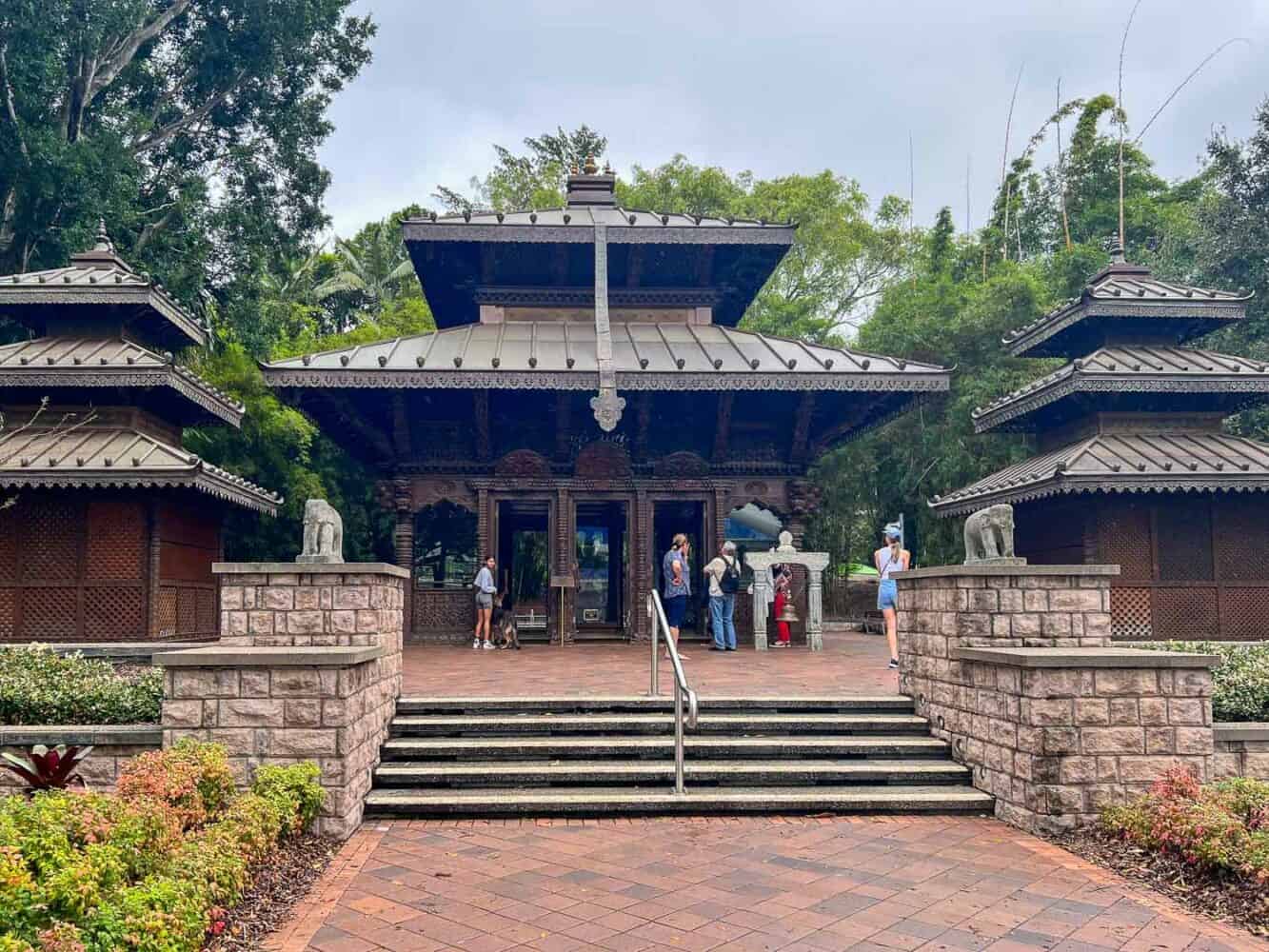 Next is the tranquil Rainforest Walk with boardwalks through the lush trees.
Riverside Green Playground is ideal for kids, as is the huge Streets Beach, a free lagoon-like pool with a sandy beach and views of the city skyline.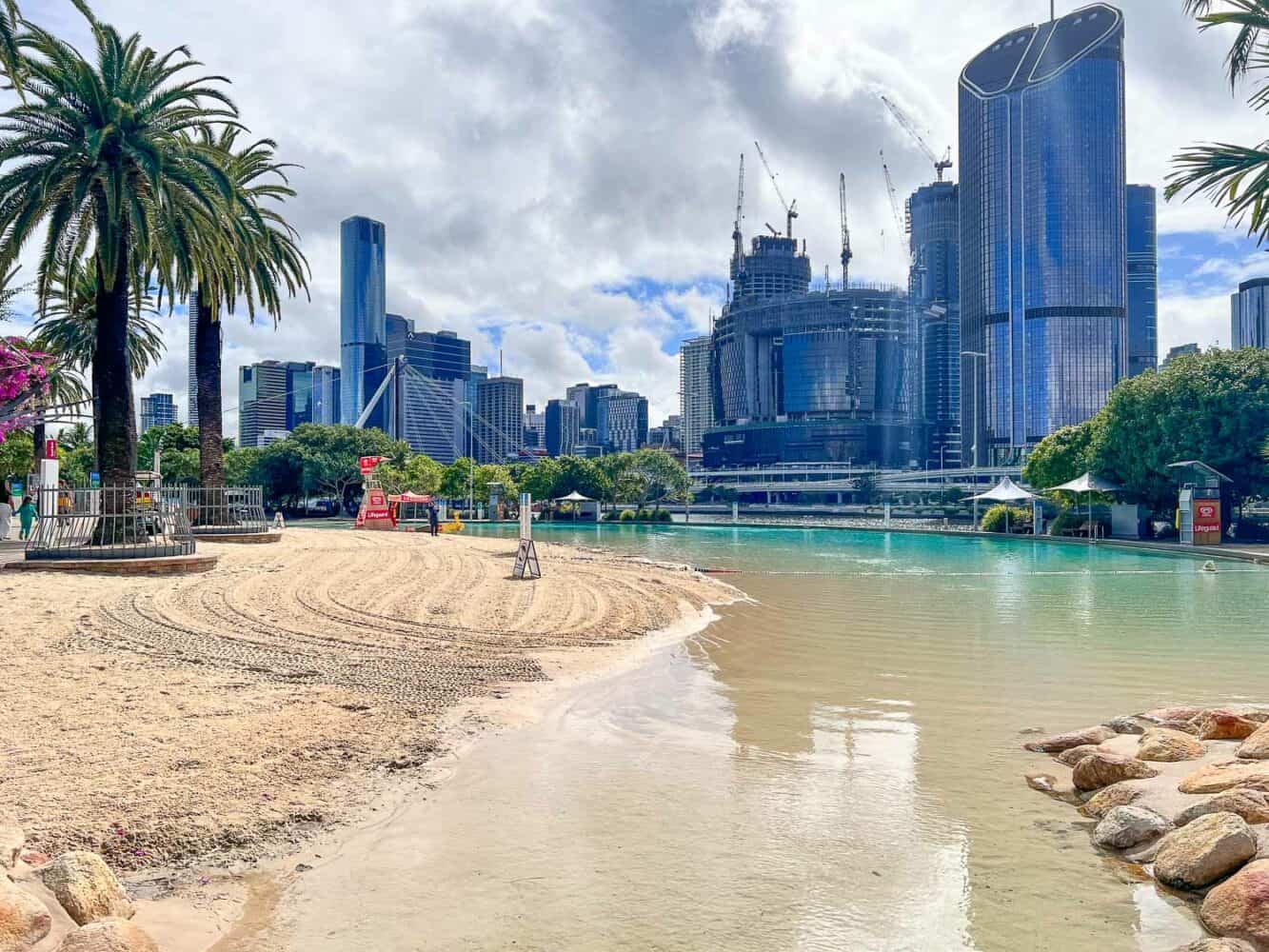 Whether you want to swim laps, wallow in the shallows, or play in the water features, this is a Brisbane must do for all ages.
Past the pool you'll find the Epicurious Garden, a volunteer-run community garden where you can try samples of the herbs, and a small pond.
The Arbour Walkway features curling steel columns clad in magenta bougainvillea. I love how they've used plants to create blissful shade from the Queensland sun. City planning at its best!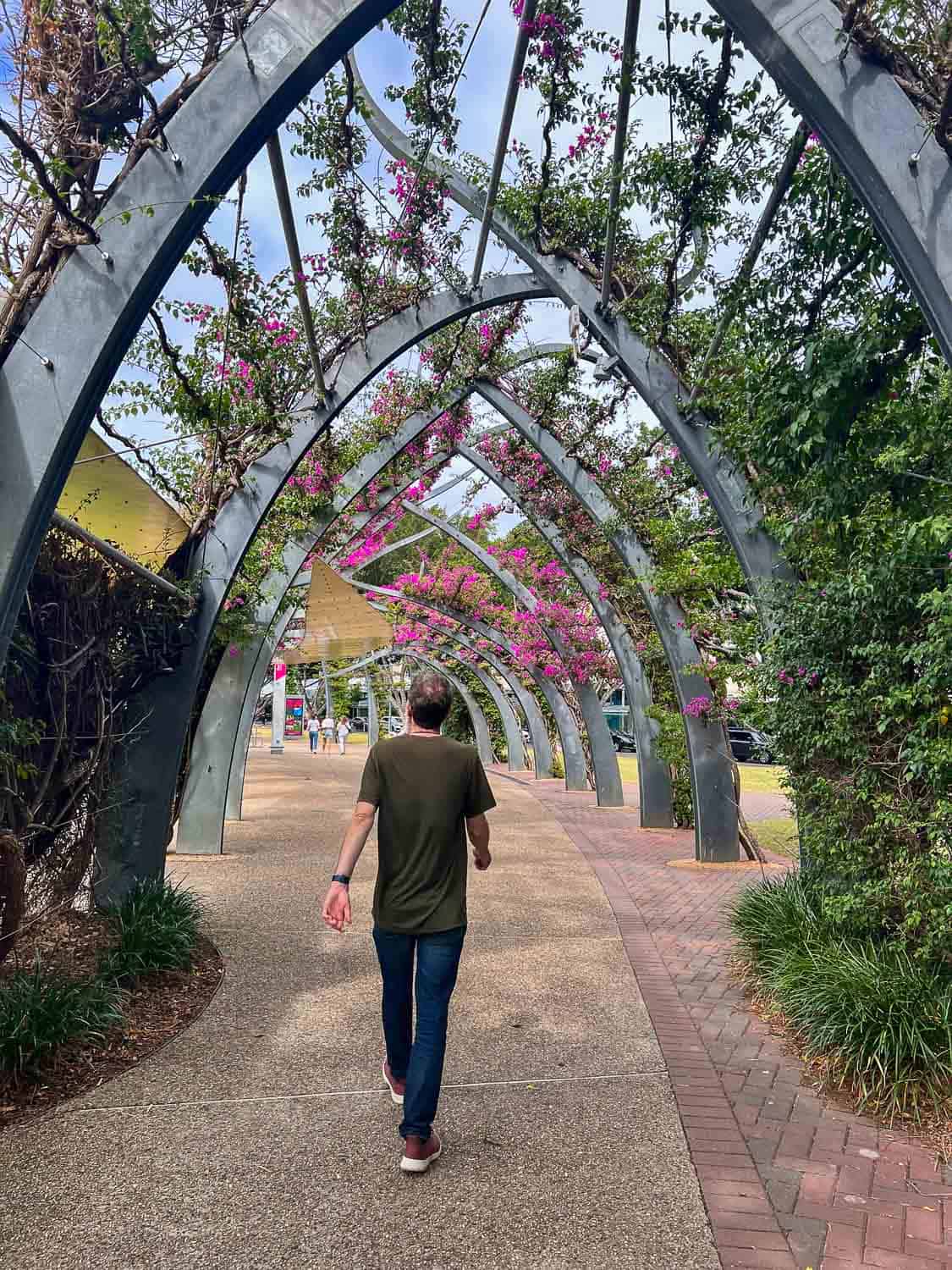 Picnic Lunch
There are lots of cafes and restaurants in South Bank. I recommend having a picnic lunch on the beach or one of the many lawns by the river. There are even free BBQs if you want to grill up your own feast.
Our pick is grabbing a takeout bahn mi from Bake N Grill Southbank. This casual Vietnamese restaurant has the best tofu bahn mi I've had outside Vietnam. It's also one of the most affordable meals in the area at $10 a sandwich.
Swim at Streets Beach
Spend the afternoon relaxing and swimming at Streets Beach or at your hotel pool if you are staying at the Emporium, as we did.
Play at Netherworld Arcade Bar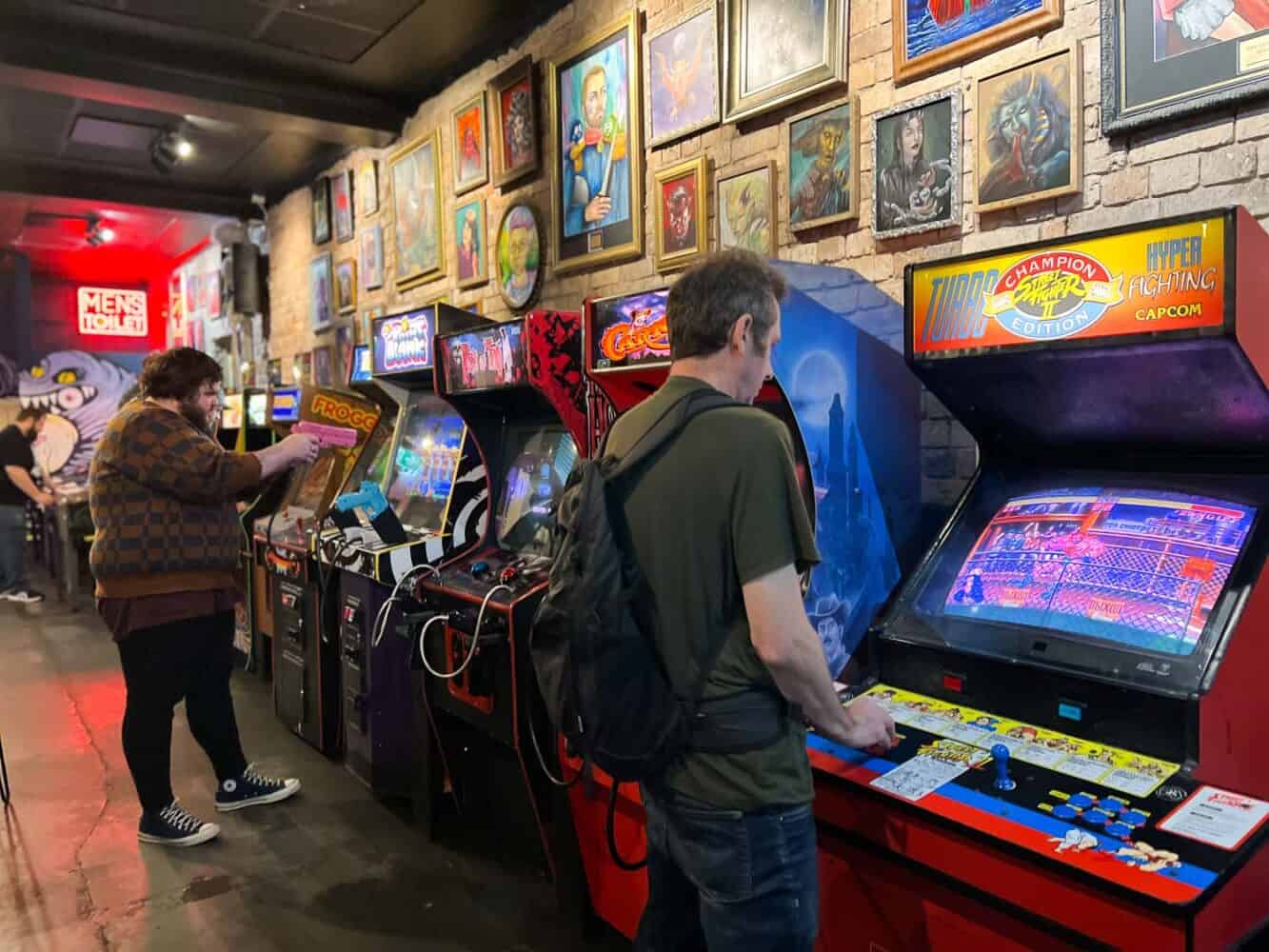 In the late afternoon, hop on the train at South Bank for the 10-minute trip to Fortitude Valley.
This inner-city neighbourhood is known for its nightlife and independent boutiques on James Street.
Just round the corner from the station is one of the most fun bars in Brisbane. At Netherworld you can sip excellent craft beer or cocktails (I loved my mezcal Paloma) while playing vintage arcade games and pinball.
Games are only $1 and you can get coins or tokens from the bar using your card, so no need to worry about bringing cash.
They also have an excellent array of free board games and old style game consoles.
If we hadn't had dinner plans, we'd have been tempted by their menu of mostly vegan junk food—hot dogs, burgers, nachos. Everything is plant-based by default, but you can add in dairy or meat if you must.
We loved the friendly, relaxed vibe of this alternative bar. You could easily while away a whole afternoon or evening here.
Sunset Dinner at Howard Smith Wharves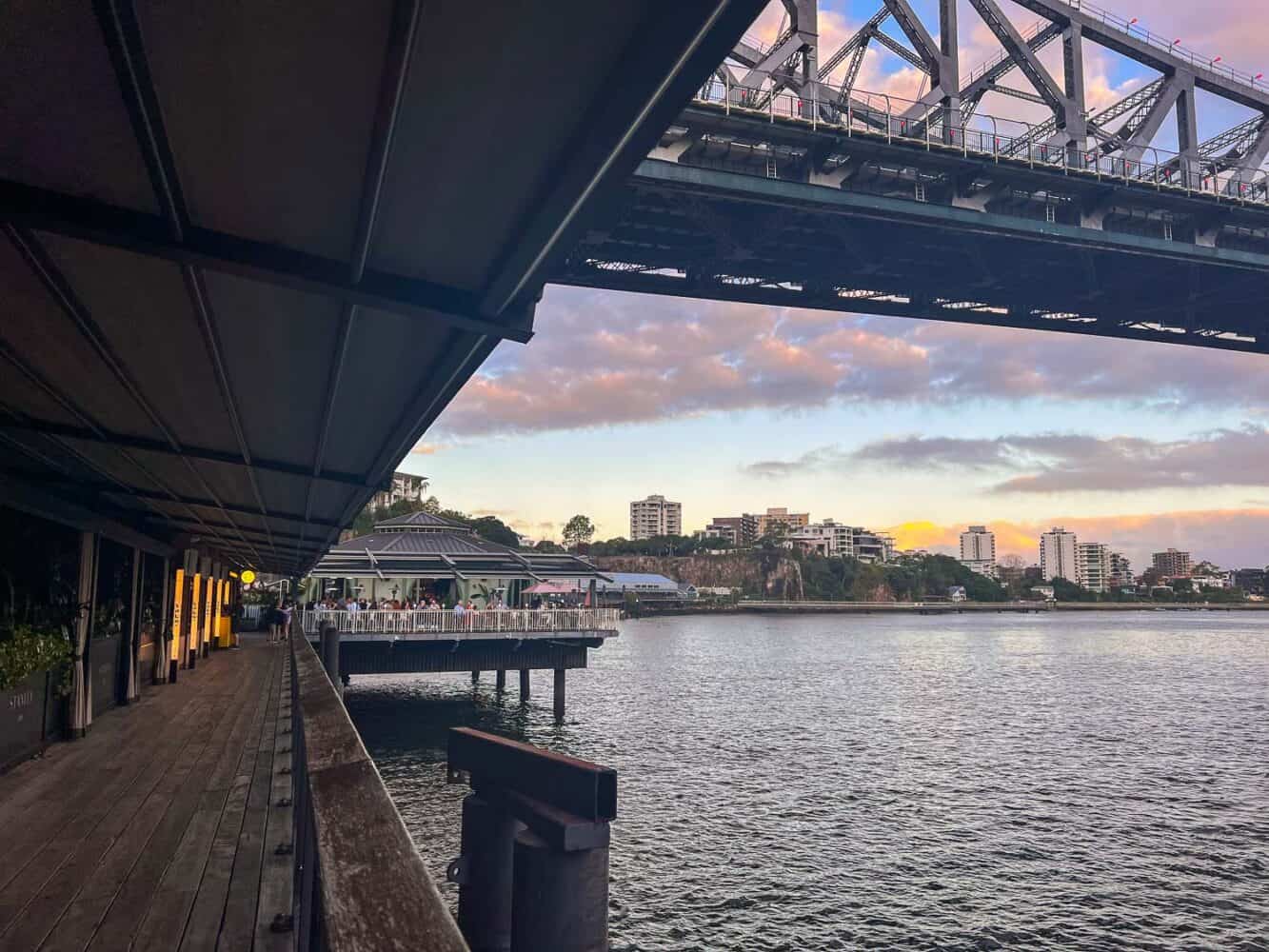 The walk from Netherworld to our next stop isn't the most pleasant as you have to walk next to some busy roads, but it only takes 15 minutes.
Howard Smith Wharves is one of the best places to eat and drink in Brisbane. It's right on the river under the iconic Story Bridge with fantastic views of the city skyline.
I recommend coming for sunset and staying to see the bridge and skyscrapers lit up after dark.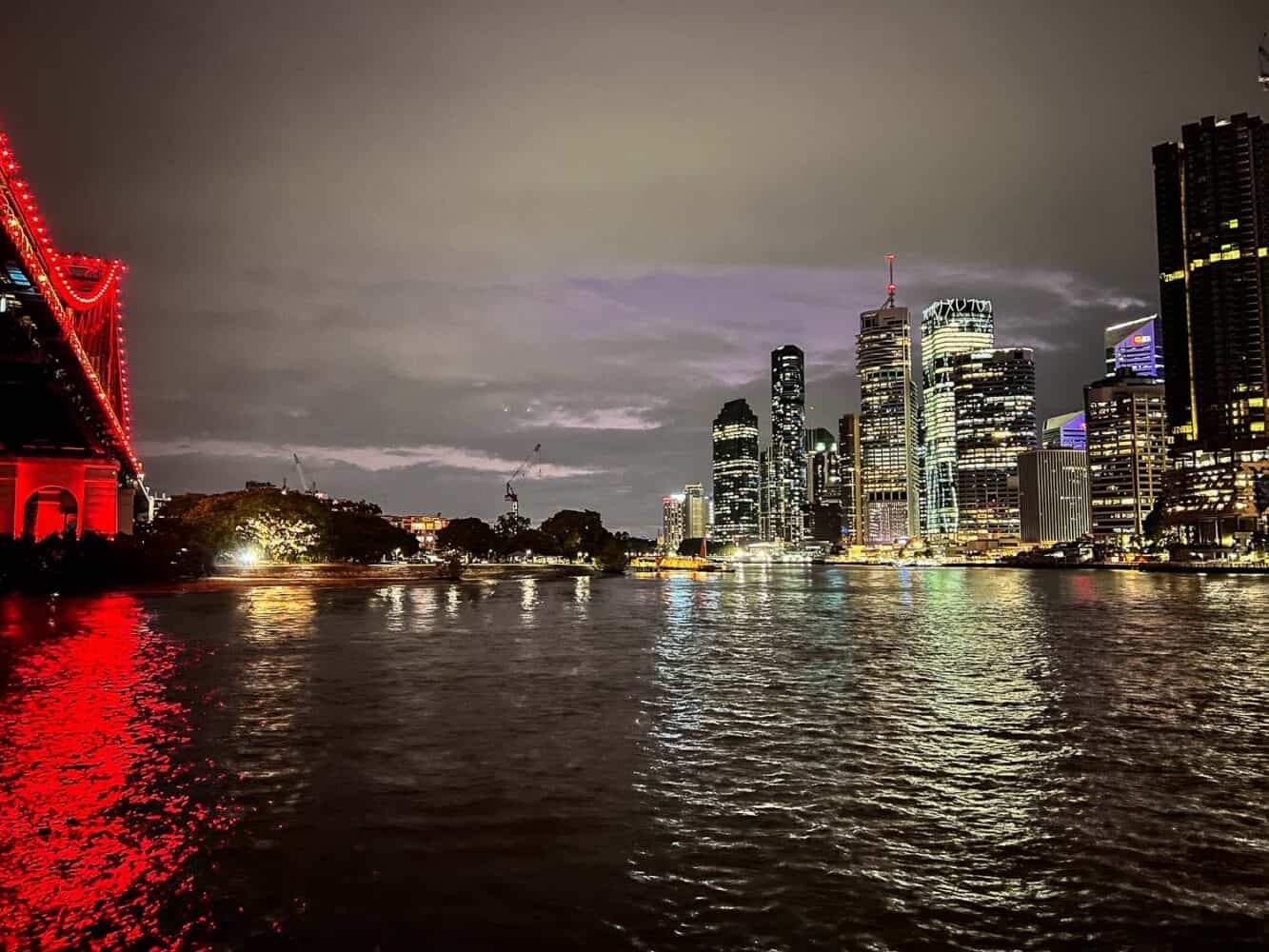 We ate at Japanese restaurant Yoko Dining—book an outdoor table for the best views. We were happy that they have a vegan menu and the food took us back to Japan. The eggplant nigiri was our favourite dish—we ordered a second round.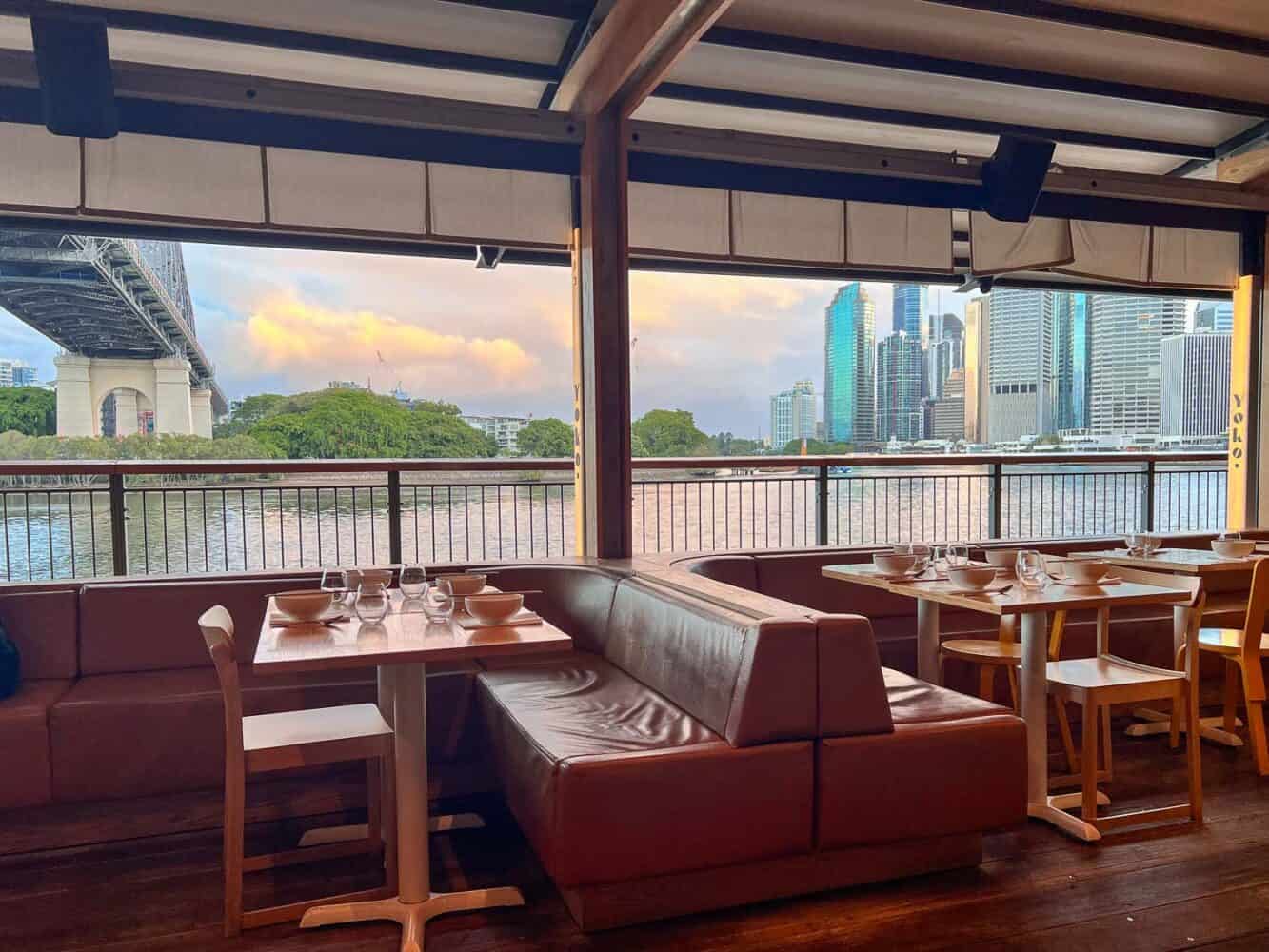 Other food options at the Wharves include Stanley for Cantonese, Greca for Greek, and Felons Brewery for pub grub and craft beers.
We picked up scooters again for the trip back to South Bank and it was such a fun ride! The City Reach Boardwalk is suspended over the Brisbane River and takes you from Story Bridge to the City Botanic Gardens with stunning views of the CBD and not a car in sight.
At the gardens pass the magical illuminated Fairy Trees and cross over the car-free Goodwill Bridge to return to South Bank.
With lots of bars and restaurants on the way, it's one of the best things to do at night in Brisbane!
More Brisbane Weekend Activities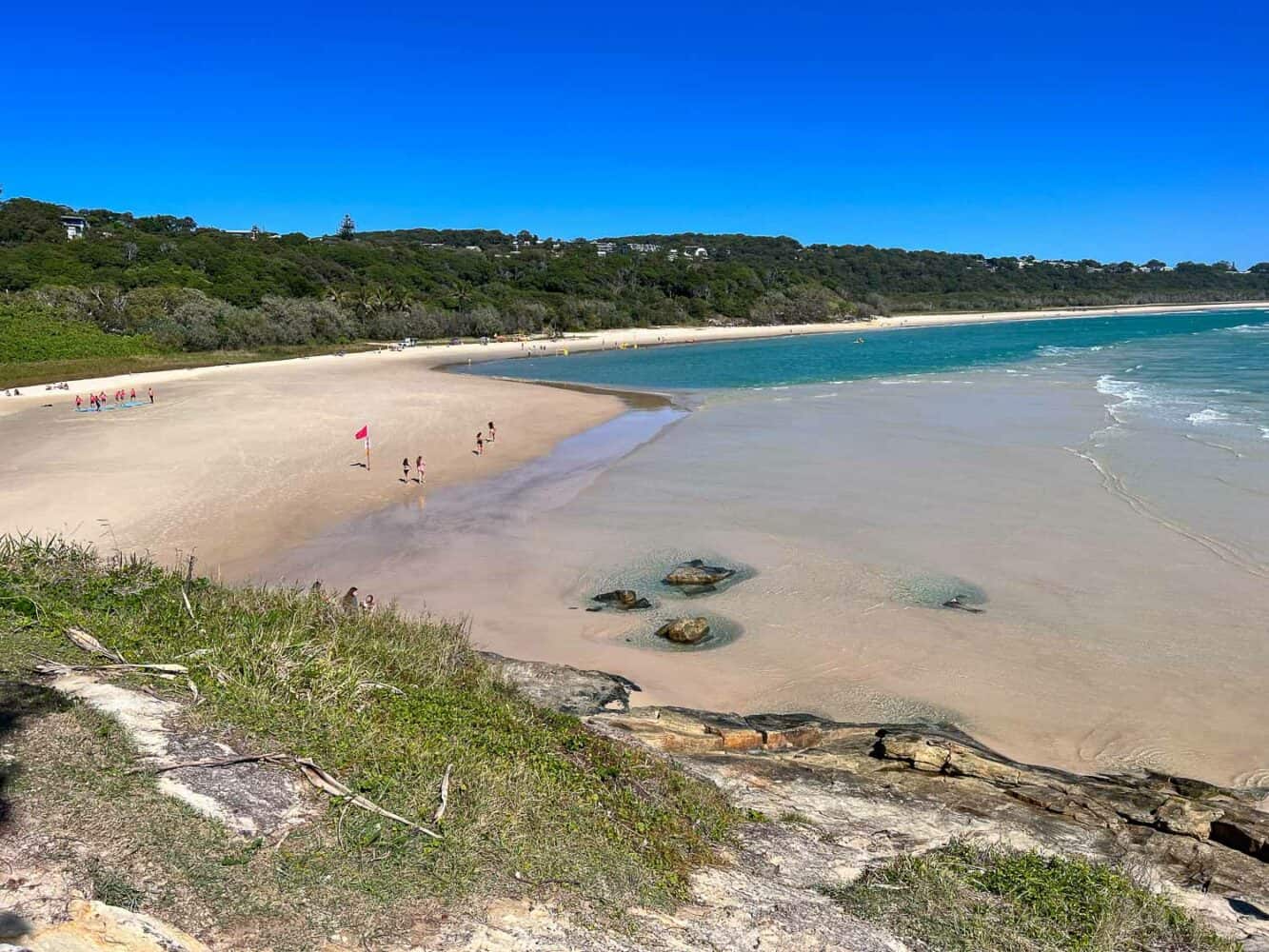 If you have a full 3 days in Brisbane, here are more suggestions for things to do on the weekend in Brisbane:
Brisbane Itinerary Map
Is Brisbane Worth Visiting?
Yes, Brisbane is well worth visiting! It makes an ideal weekend break, although you could easily spend longer (especially to enjoy some fun day trips).
It's a perfect mix of delicious food, interesting culture, and relaxation in the sun.
More Australia Posts
Sunshine Coast, Queensland
Elsewhere in Southeast Queensland
Victoria
If you enjoyed this post, pin for later!