This page contains affiliate links. Please read our disclosure for more info.
Bedarra Island Resort describes itself as barefoot luxury and we agree.
Its luxury lies in its secluded location, on an island that feels like it's all for you, and its exclusivity with just 12 villas hidden amongst the rainforest overlooking beautiful, empty beaches.
With just 24 guests (adults-only), Bedarra offers a personalised experience that's rare to find. We felt thoroughly spoilt with delicious meals, free-flowing wine and cocktails (all included), and attentive service.
The resort doesn't feel stuffy or fancy, though. There's no dress code, the staff is happy to chat over a cocktail, and we literally strolled barefoot from our villa to the beach (perhaps with a cheeky stop at the self-serve bar).
It's the perfect place to get away from it all for an ultra-relaxing, romantic break.
In this Bedarra Island Resort review, I share our experience and what to expect including the pros, cons, and costs.
Contents
Note: We paid our own way at Bedarra and we are not affiliates of the resort. We just really enjoyed our stay and wanted to share it.
Where is Bedarra Island?
Bedarra Island is located 10km off the coast of Mission Beach in North Queensland, Australia. It's part of the Family Islands group (which includes Dunk Island) in the Great Barrier Reef Marine Park.
Mission Beach is two hours south of Cairns and three hours north of Townsville. See our guide to the best things to do in Mission Beach (it's worth adding some time there before Bedarra).
Cairns (CNS) is the nearest airport with domestic and international flights.
Although the resort feels like it's on a private island, there are a few holiday rentals on the other side of the island. The guests there don't come to the resort beach and vice versa, so it still feels very secluded.
Arriving at Bedarra Island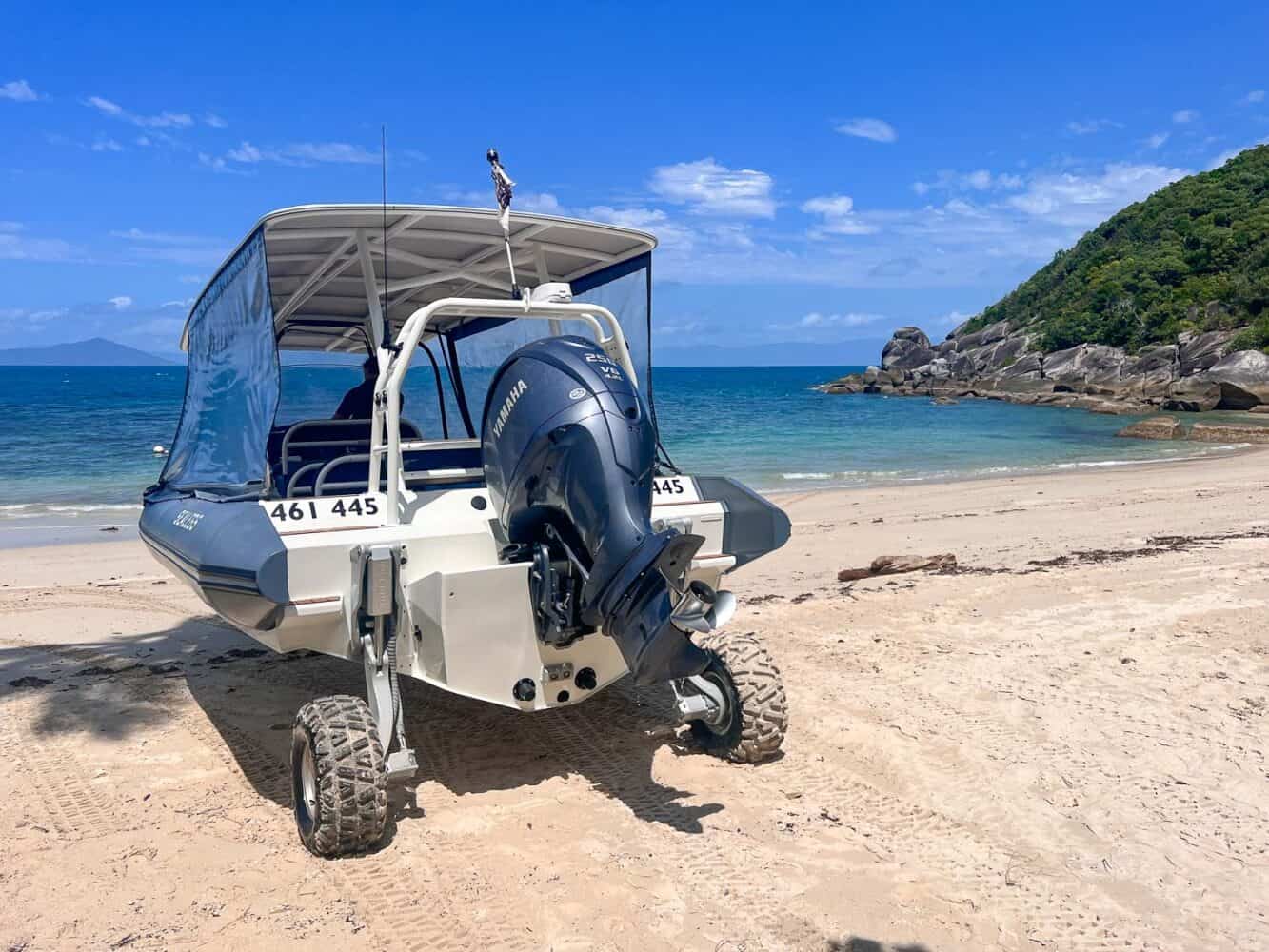 You can reach Bedarra Island by boat from Mission Beach or by helicopter from Mission Beach or Cairns.
We chose to take the boat as we were staying in Mission Beach before our trip to the island.
The experience started at their open-air lounge in South Mission Beach where we were offered champagne while we waited. As it was only 10am, we declined, but it is a sign of things to come.
If you are self-driving, you can leave your car at their office and it'll be waiting for you at the beach when you return.
The boat usually leaves at 12.30pm, but they were able to take us over early. The ocean was rough for us so it was a rather bumpy and loud trip (I appreciated my AirPods), but it only took 25 minutes.
Impressively, the boat is on wheels, which makes getting in and out of the water a simple process (and no wet feet)—they just drive it over the sand and into the ocean.
Soon we arrived in tropical paradise and were greeted by manager Geoffrey with a refreshing glass of Pimms.
There's no paperwork or check-in process here (you pay in advance so never have to think about the bill once you arrive)—we were just taken from the beach down a path through the rainforest to the reception and restaurant area.
Arrivals are timed so you are there just in time for lunch, which is a very pleasant way to start the trip and maximises your relaxation time on the first day.
Bedarra Island Villas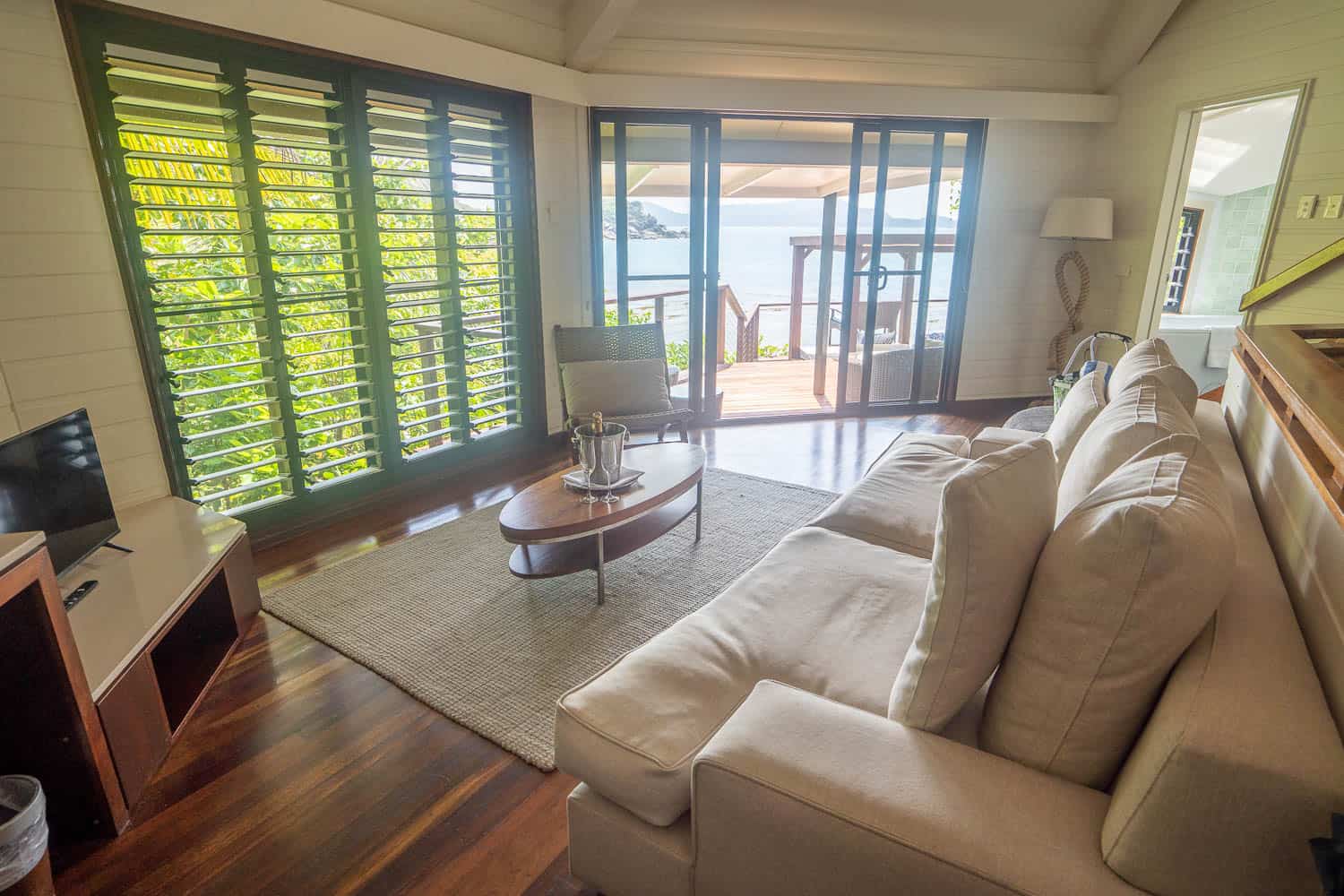 There are twelve guest villas at Bedarra Island Resort. They are all nestled in the rainforest with ocean views and each has special features.
Some are just steps from the beach, while others are perched higher up in the trees with spectacular views. Some have private plunge pools and others have expansive decks with day beds.
Unless you book a year in advance (which is a good idea!), your choice will be made by availability. We booked five months in advance and there were only two villas available for our three-night stay.
We chose The Treehouse Villa and absolutely loved it!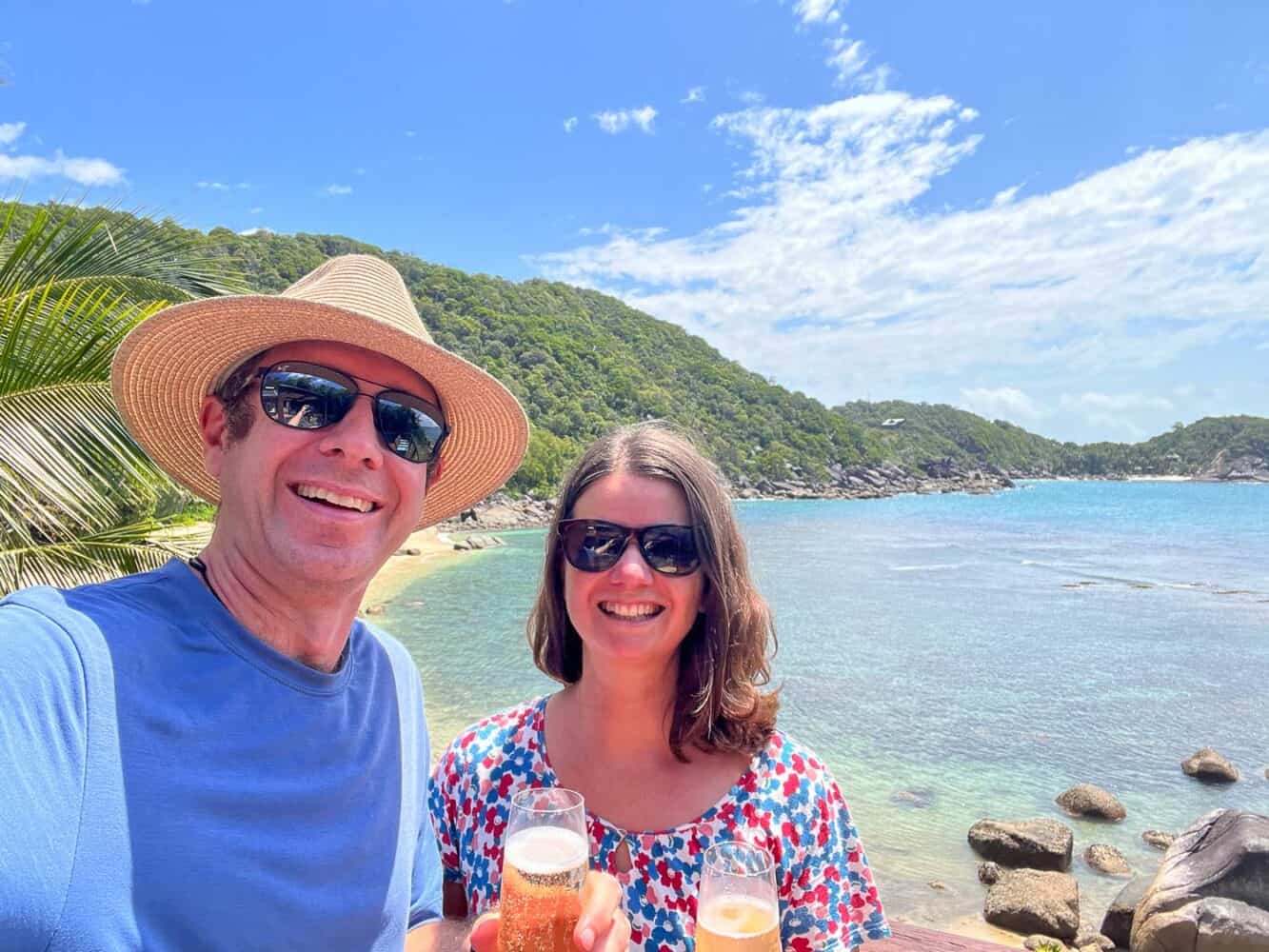 The split-level room is huge with a massive bed on the upper platform plus two wardrobes (where you'll find yoga mats, which I appreciated).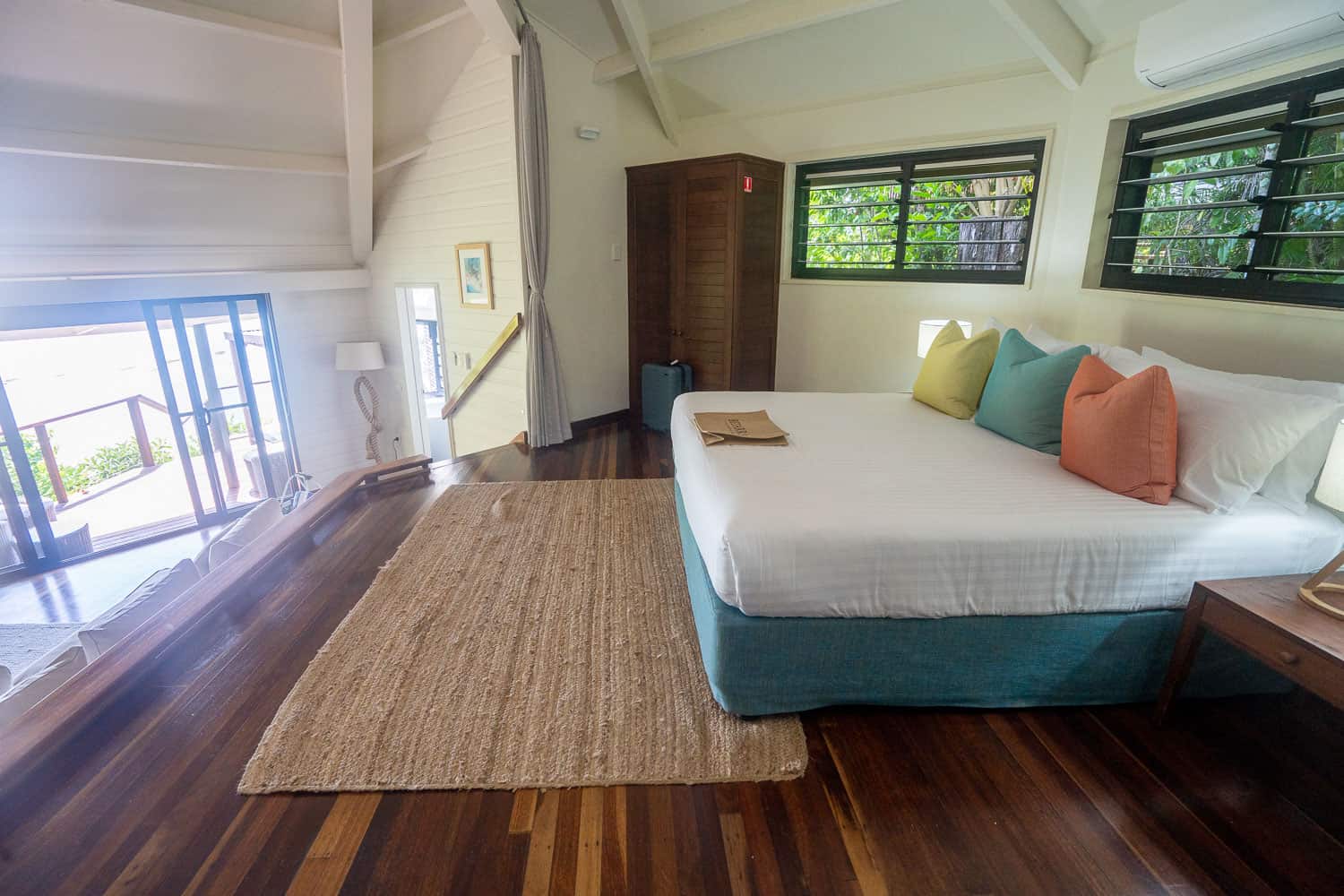 On the lower level, there's a large sofa, desk, TV, and mini-bar area with a stocked fridge, sink, pod espresso machine, kettle, and snacks.
The whole room is light and airy with screened windows that let the air circulate. The sea breezes and fans were enough to keep us cool, but there is air conditioning if needed.
It's private enough to sleep with the curtains open so we could see the ocean as soon as we woke up. The sound of the lapping waves was a relaxing soundtrack to sleep to.
The bathroom has a bath with a wonderful ocean view (sadly, it was too hot for us to use) and a good if unexciting shower. The high-quality toiletries are in large bottles.
The highlight is the huge deck with the most incredible views of the ocean and beach below. You are surrounded by trees, with lots of birds, and it feels private even though there's another villa next door.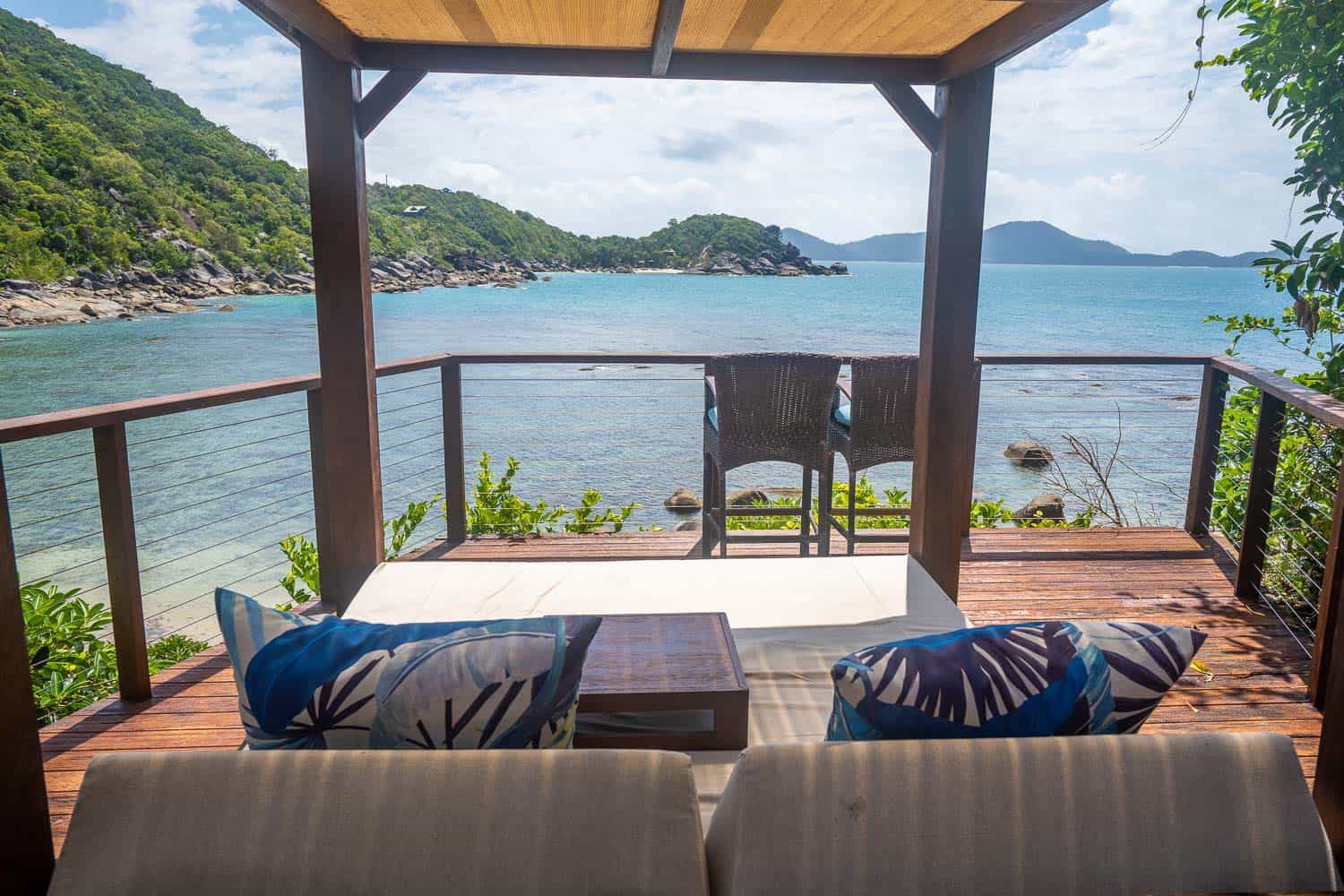 Again, this is split level with armchairs and an outdoor shower on the upper level, and a comfy double day bed and a couple of high stools on the lower level.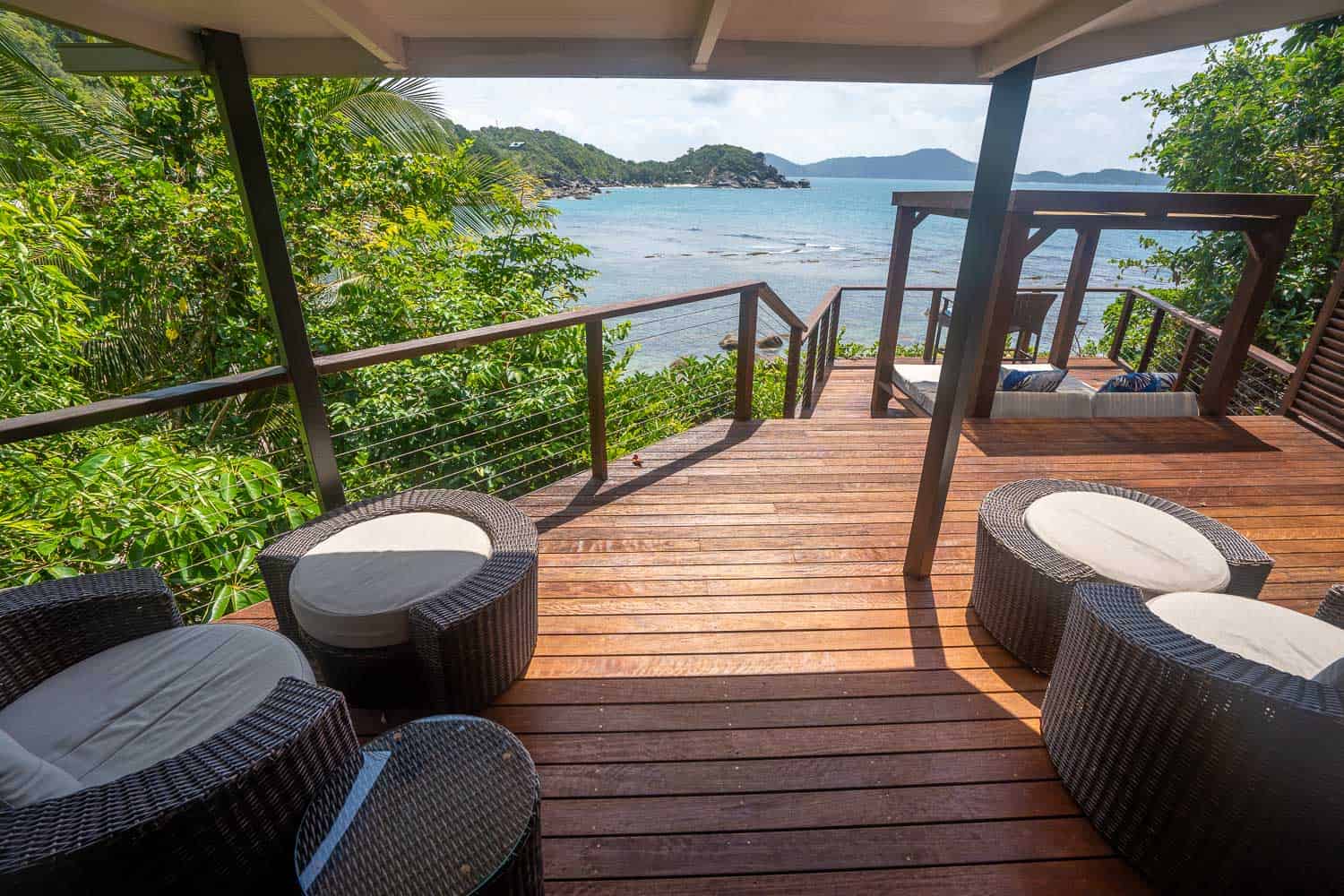 The daybed was by far my favourite place to hang out in the resort—such incredible views! We loved to lounge here in the afternoon with a bottle of champagne or after dinner to look at the stars.
We didn't regret not having a plunge pool as I prefer to swim in the ocean and those rooms are at least $500 a night more expensive. We would definitely book The Treehouse next time.
Our room was about a one-minute walk to the restaurant down steps through the rainforest and another few minutes down to the pool and beach. Other rooms are further from the main area, which has pros and cons.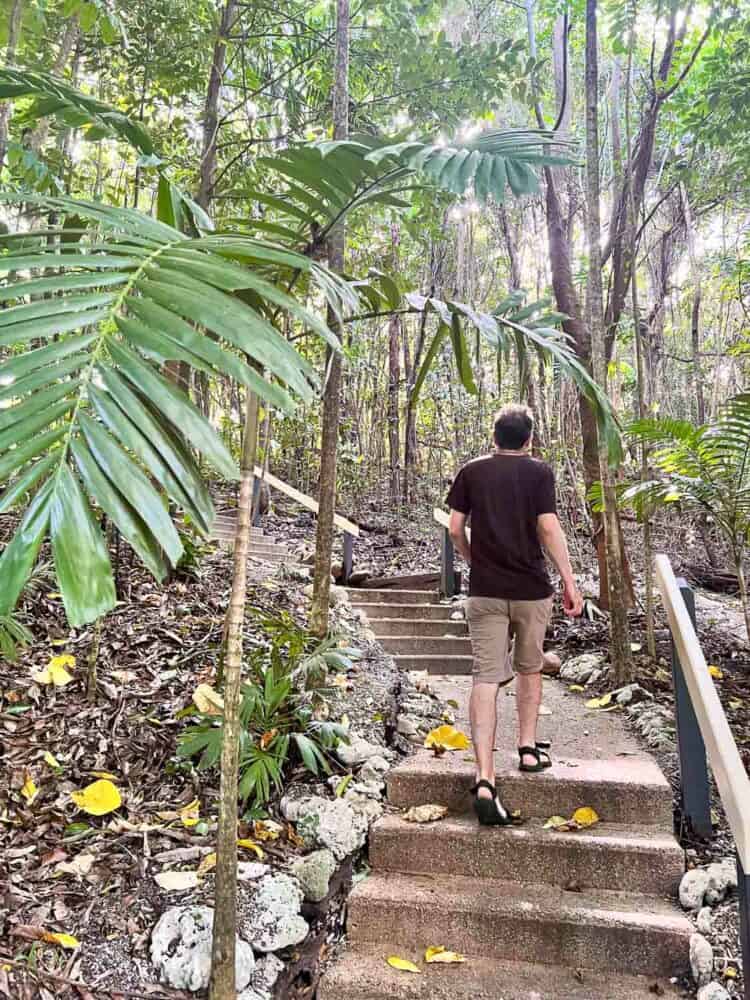 If you have mobility issues, I would check with the resort on the best options before you book as there are quite a few steps. We did see one older couple get a lift back to their more distant villa (The Pavilions are on the other beach).
Note that there are no room keys on this very relaxed island.
Beaches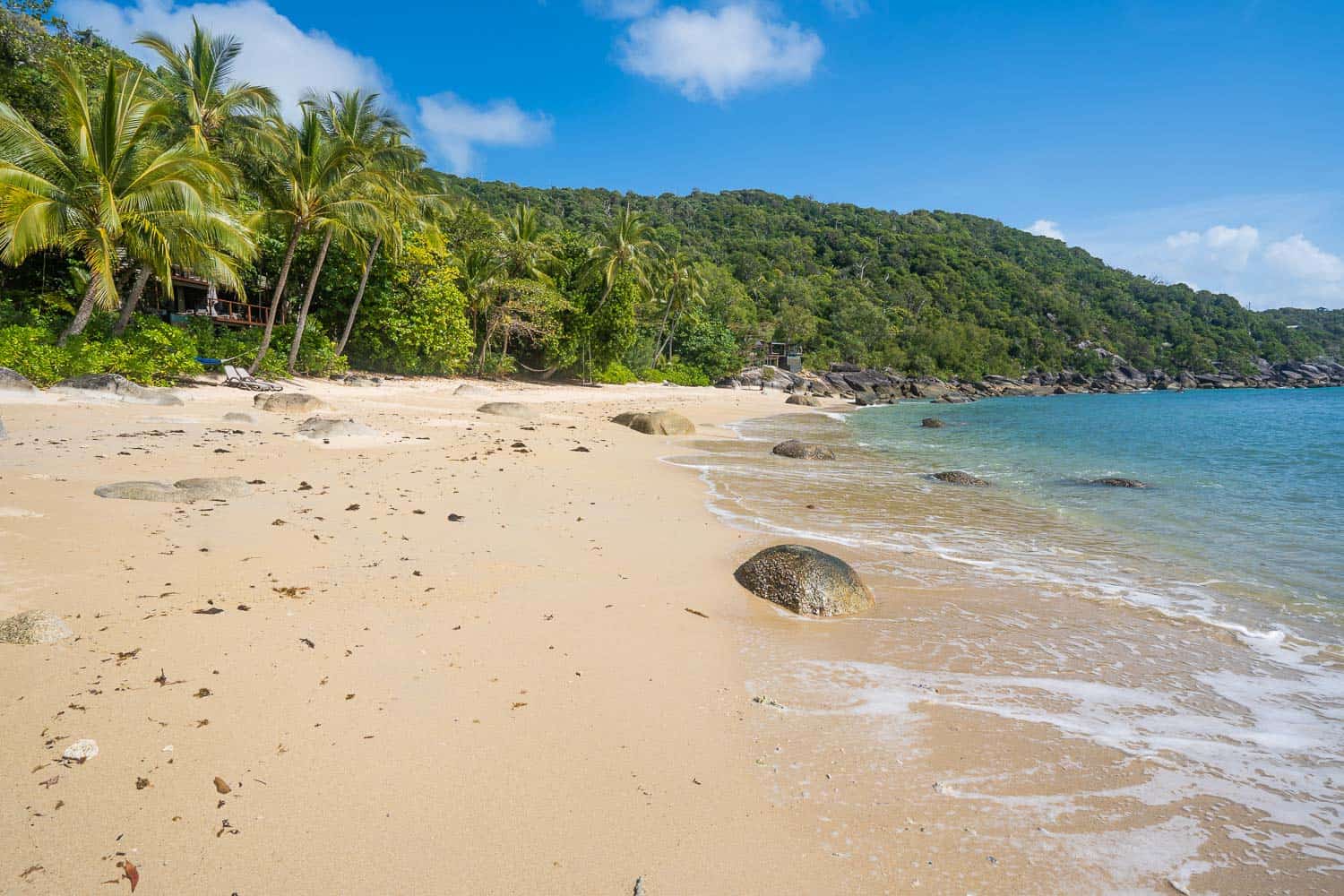 There are two beaches at the resort, both pretty bays of golden sand lined with palm trees.
There are a few advantages over the mainland—there are no jellyfish (even in the summer) and no crocodiles. The water is also clearer than at Mission Beach, which can sometimes go brown after bad weather.
As each beach is on a different side of the island, you can choose the one that's most protected from the wind.
We spent our beach days on Hernandia Beach, the main resort beach, which is just below the restaurant and pool. It was calm even when the other side of the island (Wedgerock Bay where the boats arrive) was windy.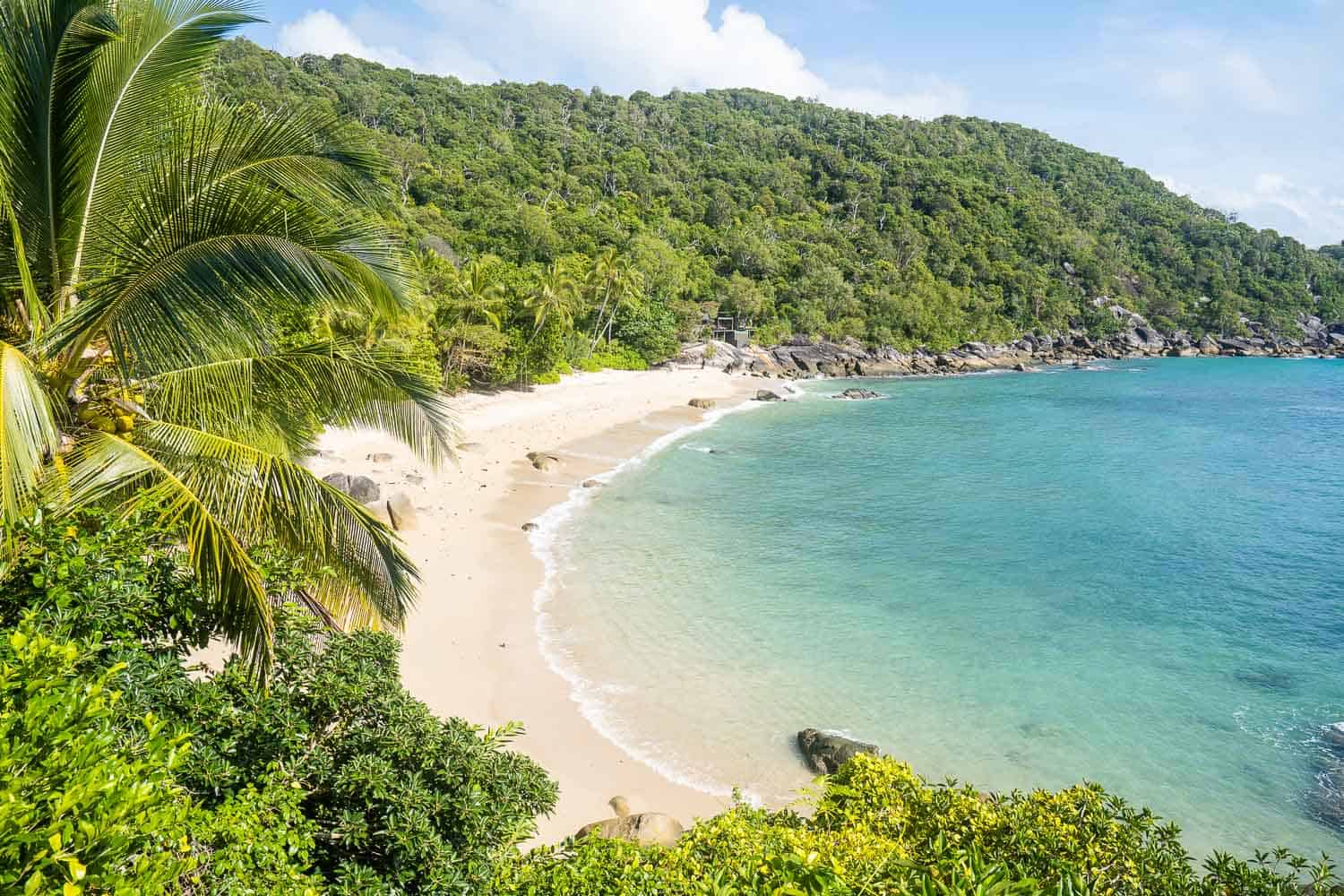 There are sun loungers and hammocks here, and even a fun swing, but they are discreetly placed and the beach never feels busy. You can also help yourself to kayaks and standup paddleboards, which we enjoyed.
Although the island is in the Great Barrier Reef, don't expect good snorkelling. There's no coral but you may be able to see fish. I saw a turtle pop its head out of the water once, but the water didn't have the best visibility for snorkelling during our stay.
Food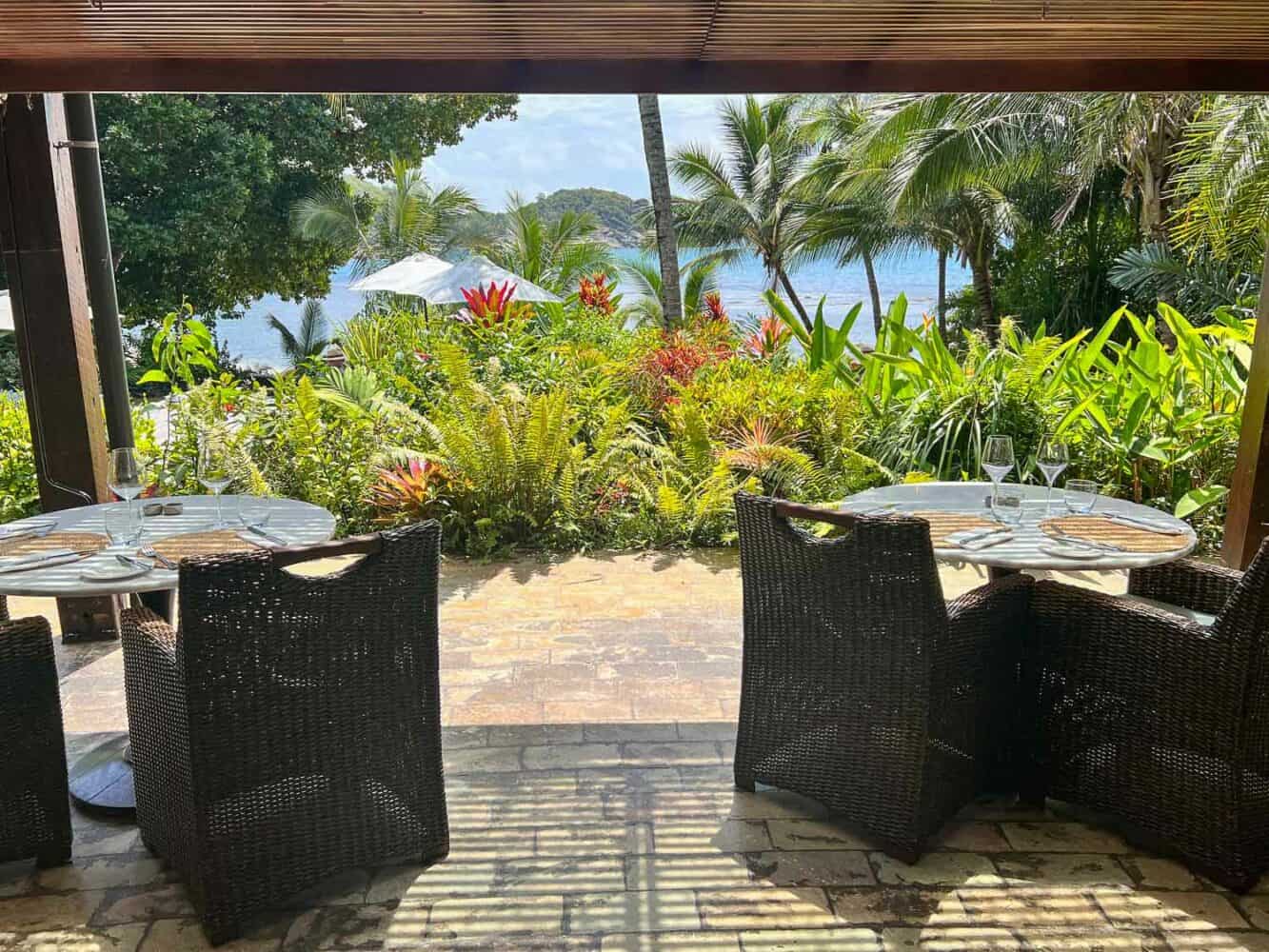 The food at Bedarra Island Resort is exceptional—we were so impressed by the quality, especially on a remote island. They were also able to cater well for us as vegetarians (just let them know about any dietary requirements).
All meals are served at private tables in the open-air restaurant above the pool and ocean below. There are also several private dining nooks by the pool and beach that they rotate guests to (we had two meals in these).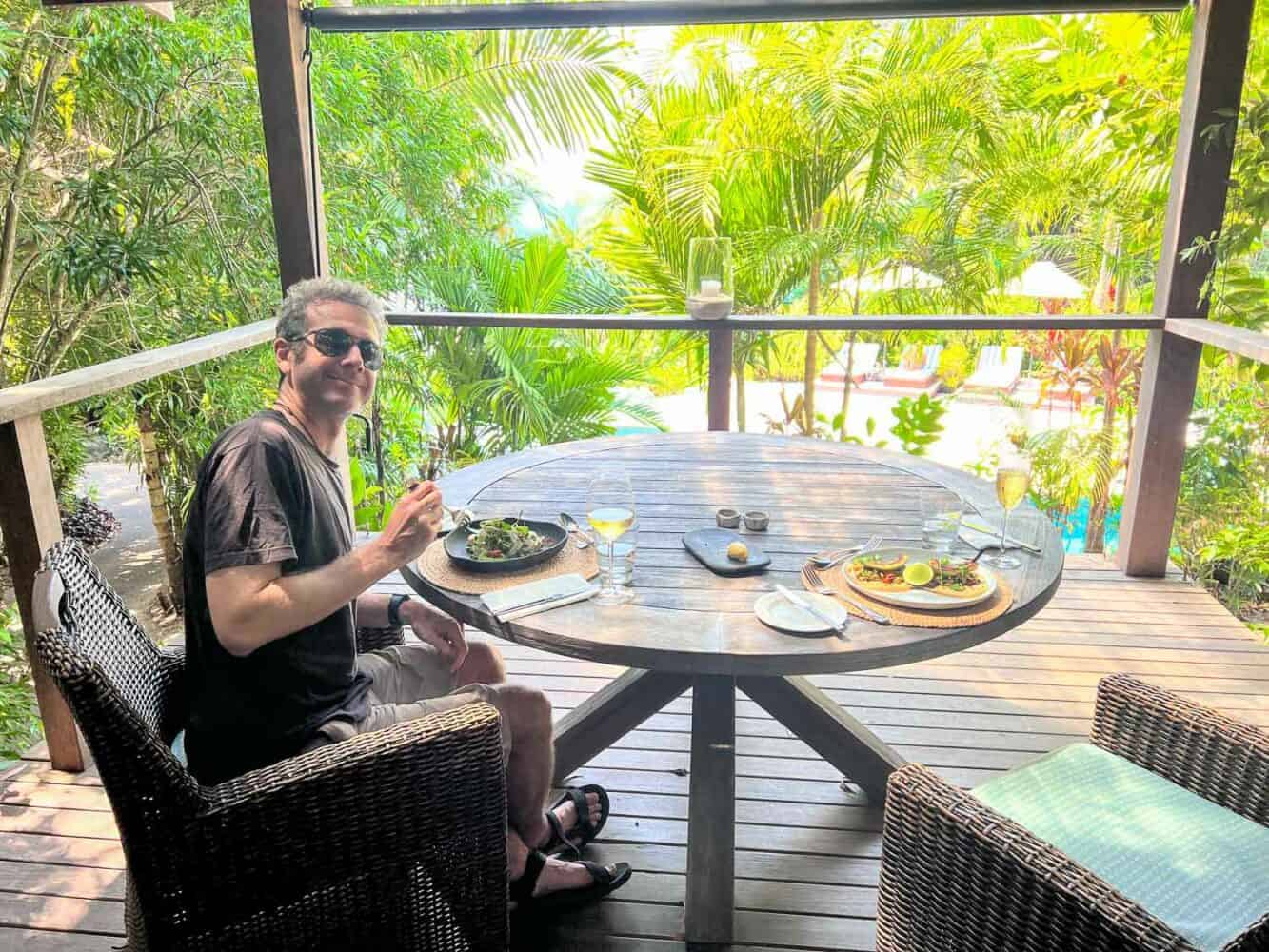 They can also arrange a picnic lunch if you want to be out and about during the day (as we did on our island adventure—see below).
Breakfast is served from 8 – 10am. They start by bringing tropical fruit, pastries, and fresh juice to your table, and then you can choose from the menu or a daily special. I enjoyed the avocado toast and Simon kept going back for the three-cheese omelette.
Your room is cleaned while you are at breakfast so you never have to worry about housekeeping coming at an inconvenient time.
A two-course lunch is served from 1pm. The menu changes every day and you usually have two options per course (even us vegetarians). Each meal starts with a different, always delicious bread selection.
Lunch is quite light so we happily always had room for the delicious desserts. We enjoyed a pumpkin curry, tofu poke bowl, avocado tacos, and a grilled halloumi and grapefruit salad.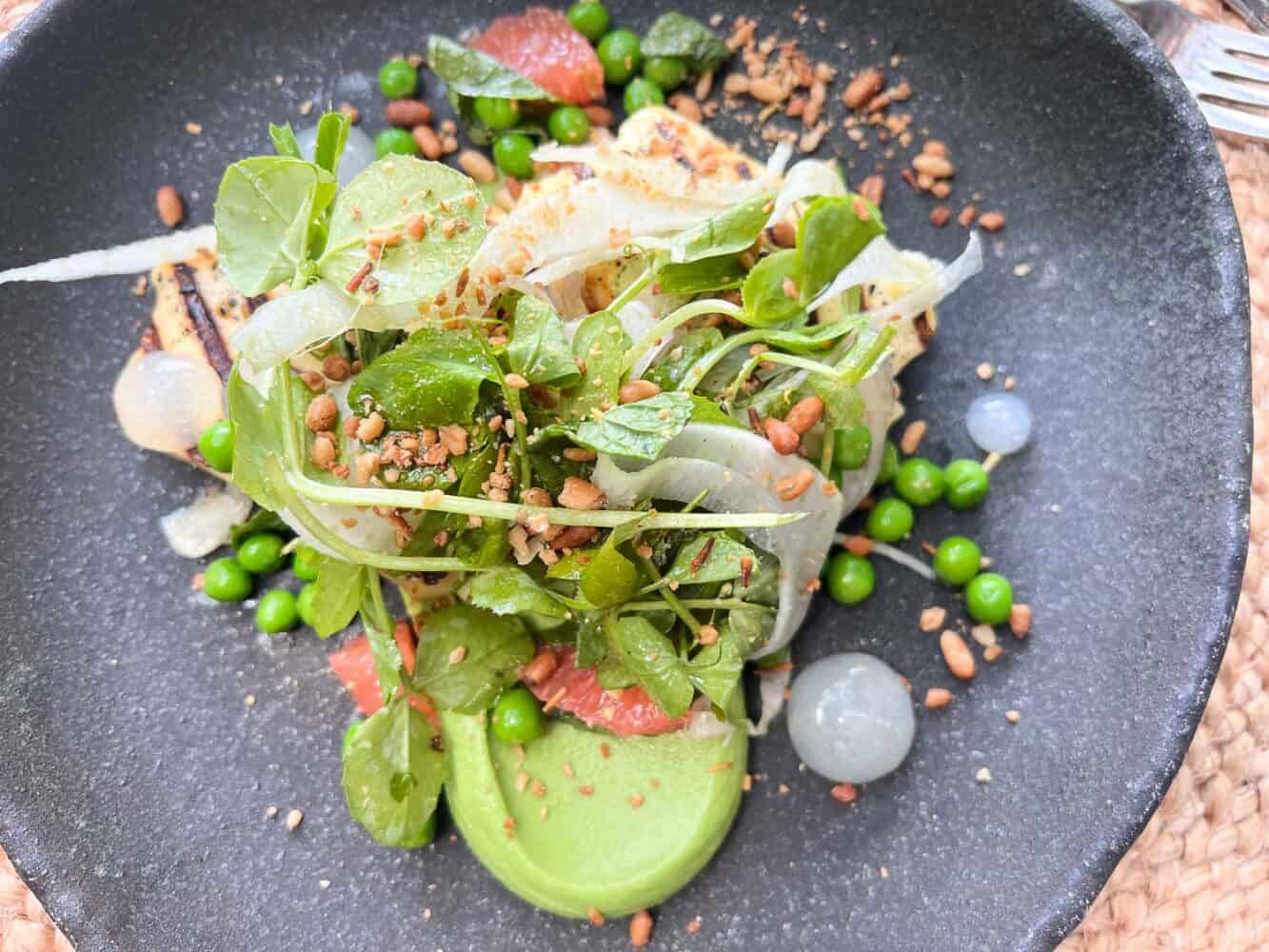 After the 6pm cocktail hour, a three-course dinner is served from 7pm starting with that wonderful bread. Again, portions are fairly small so we were always comfortably full by the end of the leisurely meal.
Seafood features heavily on the menu, but our vegetarian dishes usually involved beautifully presented vegetables and delectable sauces. They could be a little light on protein sometimes, but it all tasted so good we had no complaints.
If you get hungry during the day, you can help yourself at the snack bar, which includes cheese platters, fruit, crisps, nuts, cookies, granola bars, and yoghurt. Some crisps and cookies are also left in your room.
Drinks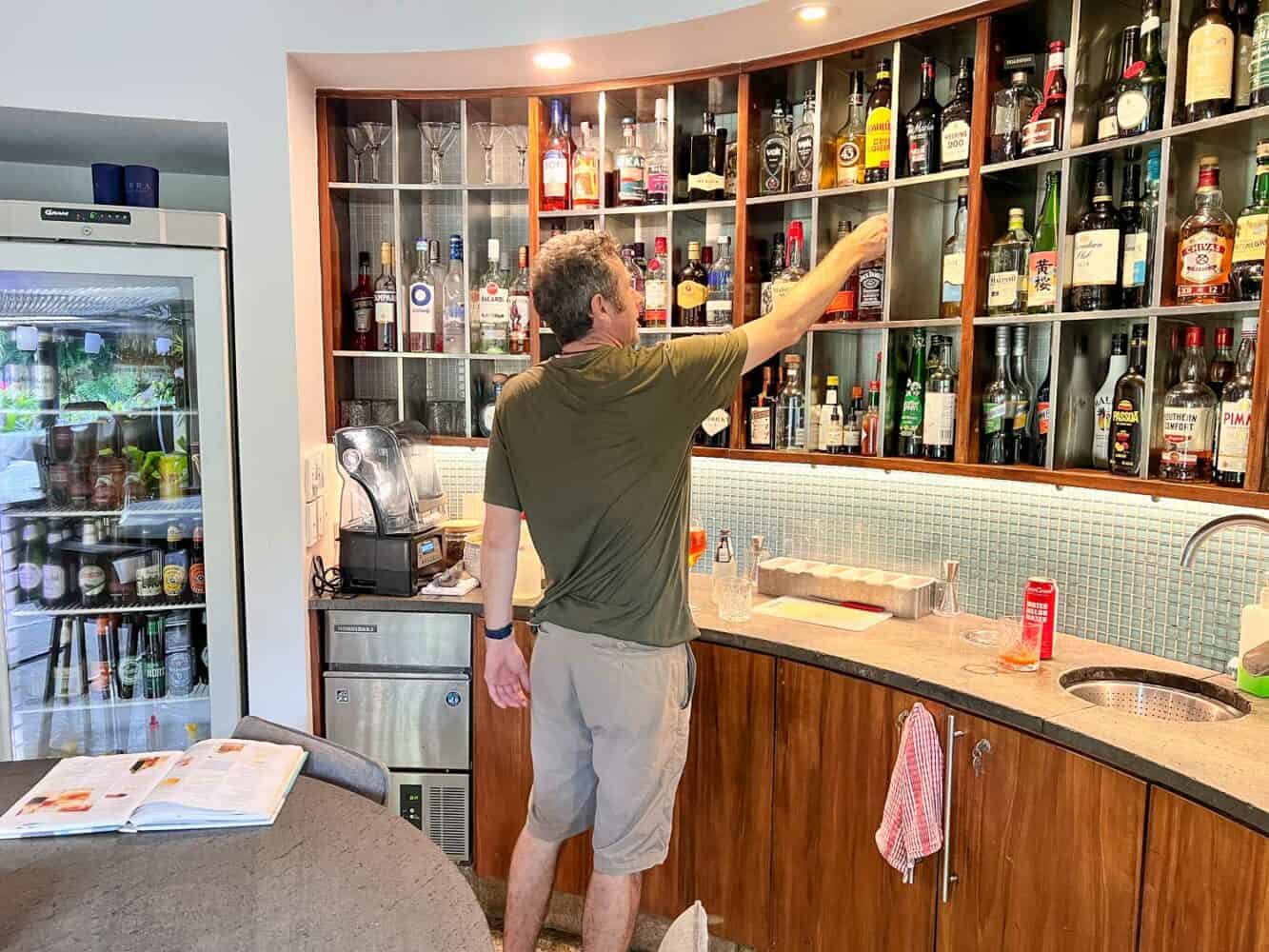 Alcoholic and soft drinks are included in your stay and they are freely available all day.
The self-service bar next to the restaurant is well-stocked with everything you need to make a cocktail of your choice.
The extensive wine selection is also excellent and you can help yourself to a glass (or bottle) of French champagne from the fridge.
There's a basket in your room and you are encouraged to restock your minibar whenever you want.
Cocktail hour features a special cocktail of the day (always excellent, but the pineapple Aperol daiquiri was my fave) or they can make you anything you'd like. This is a chance to chat with other guests and we met some interesting people.
With dinner, there's a suggested wine pairing with each of the three courses and this never let us down, but again, you can select a bottle if you prefer.
Honestly, it's easy to get carried away and we definitely drank more than we're used to and ended up with a multi-day hangover when we left the island!
Facilities and Activities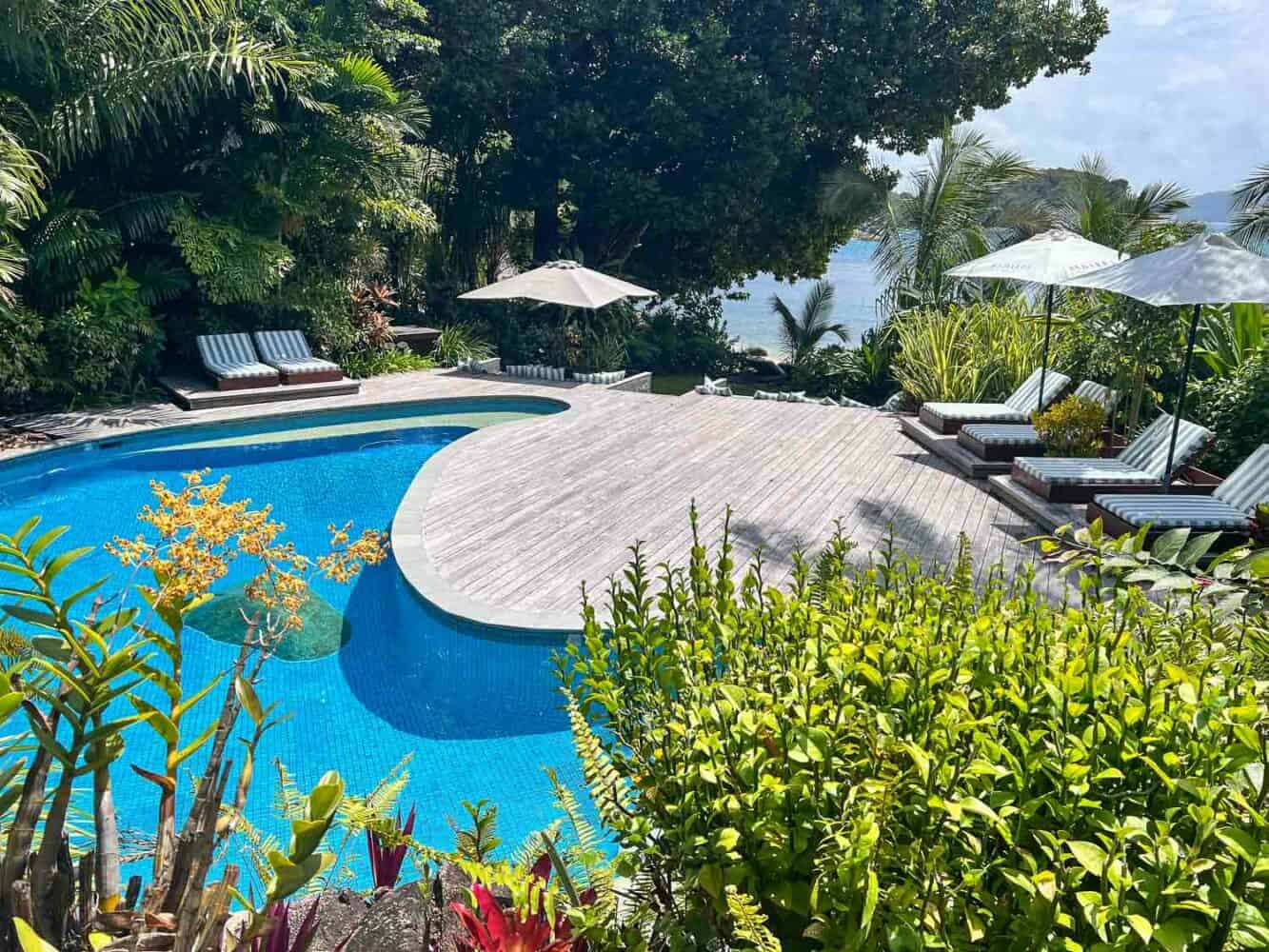 The resort is all about relaxation, but there is still plenty to do (all included in your stay):
Kayaks and SUPs
Swimming pool
Gym (small but I don't think many people use it)
Lounge next to the bar with books and games
Tennis courts
Motorised dinghies (for exploring nearby uninhabited islands)
Rainforest Hiking Trails
There are several hiking trails on the island (ask for a map at reception) and we found these the best way to work off the hangover before breakfast!
Options range from 15 minutes to several hours and we never saw anyone else on the trails.
We went to all the lookouts and the best view was from the East Lookout as you can see the resort beach.
This took us about 30 minutes return starting from the restaurant. It's a pretty steep climb but not too difficult. Take sturdier shoes than flip-flops if you plan to hike (hiking sandals were fine).
There are also longer walks to several other beaches on the island that we'd love to do if we return (hopefully!).
Find a Deserted Island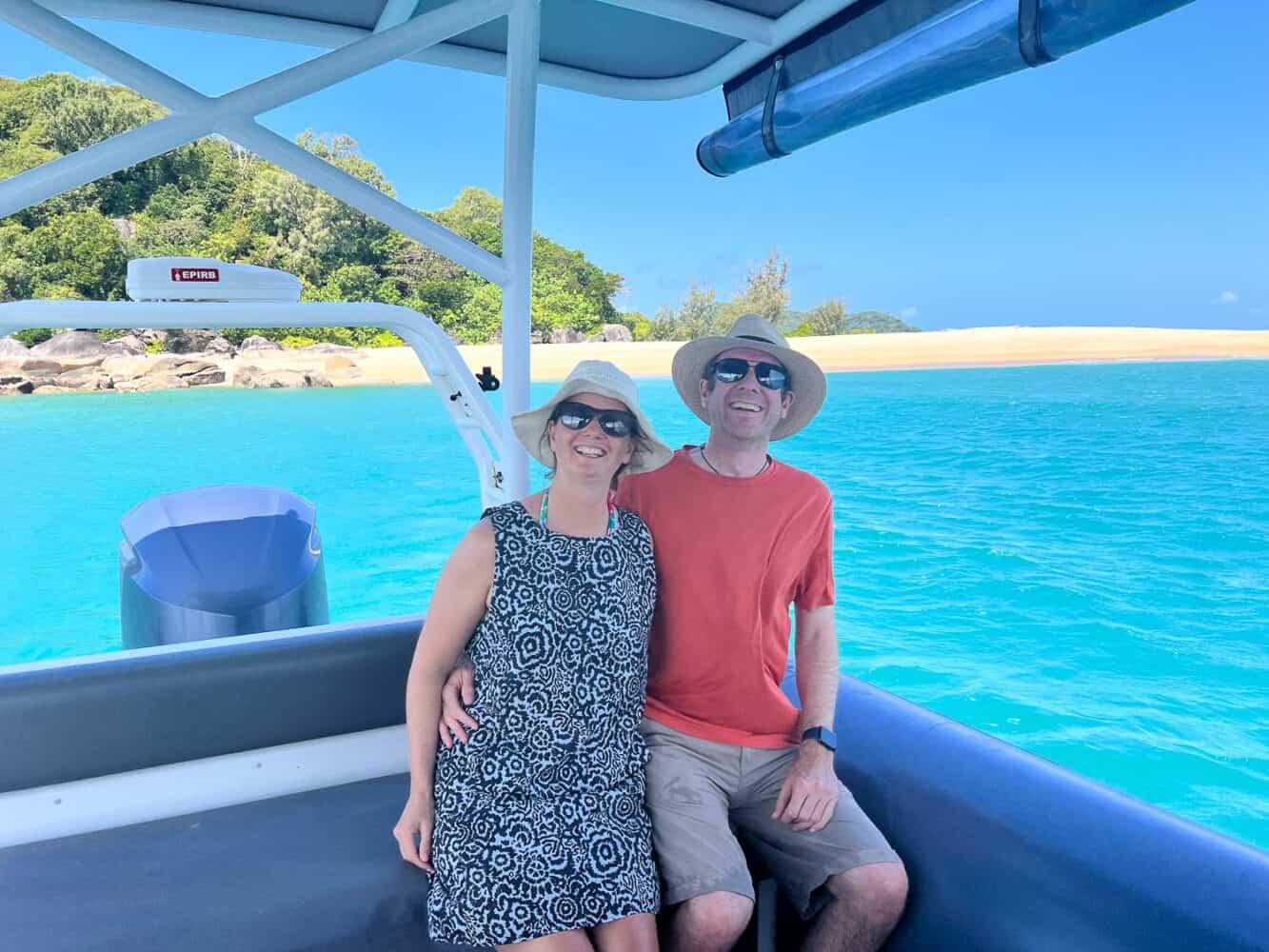 The resort provides dinghies so you can explore nearby uninhabited islands. As the ocean was too rough on our visit, they dropped us off on a beach on Wheeler Island in the bigger boat instead.
They provided an umbrella, blanket, towels, and picnic lunch complete with a bottle of wine of our choice.
It was fun playing Robinson Crusoe for a few hours, although we were feeling the heat by the end. I think this is best done with a dinghy if possible so you can be more flexible on departure times.
Additional Activities Not Included
For an additional fee, the resort can also arrange massages, snorkelling and diving trips to the outer reef, and scenic helicopter trips. It's best to arrange these before you arrive.
We did our outer reef snorkelling trip while we were staying in Mission Beach with Mission Beach Dive. We wouldn't have wanted to spend that much time away from the resort on a three-night stay, so that worked out better for us.
Bedarra Island Resort Highs and Lows
Highs
Secluded private island feel (but easy access from Mission Beach)
Beautiful beaches
Comfortable villas with amazing ocean views
Privacy and tranquillity
Excellent food
Plentiful, high-quality wine and cocktails
Friendly, helpful staff who go out of their way to make your stay enjoyable
Everything is included so no bill at the end
Lows
There's really not much to complain about at Bedarra Island Resort. The high cost is the biggest issue, although considering everything it includes and the exclusivity of the island, it's really not bad value.
The one misstep on our visit was that they accidentally dropped us off on a private island with a picnic lunch that wasn't vegetarian. We managed to eat enough with the cheese and crackers and dessert, but it wasn't ideal.
The staff was truly apologetic, though, and they treated us to a bottle of a premium dessert wine later (which usually costs extra) as they knew we liked dessert wines.
And one more con—the hangover! Perhaps we shouldn't have taken quite so much advantage of the open bar.
How Much Does Bedarra Island Resort Cost?
The cost per villa at Bedarra Island Resort starts from AUS $1890 per night for the Pandanus Villa and goes up to $3150 for The Point Villa. Our Treehouse Villa was $2090.
That's for two people and includes all your food, drinks, and activities.
I recommend staying at least three nights. Four or five nights seemed more common.
Transfers cost extra. The boat from Mission Beach costs $250 per couple each way and the helicopter is $400 each way.
The helicopter from Cairns (ideal if you are flying into Cairns) costs $1350 per couple each way.
Is Bedarra Island Resort Worth It?
My expectations for Bedarra Island Resort were very high—I'd been looking forward to our stay for months—but our experience exceeded them.
We absolutely loved our gorgeous villa (I miss those views), the beautiful beach, and delicious food and drinks. It's a special place that's perfect for serious relaxation.
If you are looking for a luxury Queensland island resort, we can't recommend it enough.
More Queensland Posts
North Queensland
Sunshine Coast
Southeast Queensland
Enjoyed this post? Pin for later!