This page contains affiliate links. Please read our disclosure for more info.
Nelson and the top of New Zealand's South Island don't attract the attention of further south, especially with international visitors.
This is a shame as there's so much to explore including beaches, mountains, lakes, native bush, wineries, craft breweries, berry farms, art galleries and more. You can hike, mountain bike, kayak, shop, and sample delicious local products.
We spent two months in Nelson and found it an excellent base for exploring the region. It's a small city that feels like a small town and there's lots to offer in a compact package.
You can be browsing art galleries or sampling craft beer one minute and strolling along the river or up in the surrounding hills the next. Beautiful nature is easily accessible.
While it's popular with Kiwis in the summer, Nelson doesn't attract the tour buses or campervanners you'll find further south, and we often had beaches and trails to ourselves.
Most tourists only visit Nelson for a couple of days with the main goal of visiting Abel Tasman National Park. I highly recommend spending longer here to enjoy more of the region.
Here are our favourite things to do in Nelson as well as the best places to eat and drink and tips on accommodation and transport.
Contents
Where is Nelson in New Zealand?
Nelson is located at the top of the South Island of New Zealand on Tasman Bay.
It's just over 100km (62 miles) east of Picton, where you'll find the ferry to Wellington, the beautiful Marlborough Sounds, and the nearby Marlborough wine region.
The Nelson Tasman Region is home to three national parks all within a 90-minute drive of Nelson City: Abel Tasman National Park, Nelson Lakes National Park, and Kahurangi National Park.
At the end of this post, you'll find a map with our favourite places in Nelson and around.
If you're looking for more travel ideas, see my epic guide to the best things to do in the South Island of New Zealand.
Video of the Best Nelson Activities
Best Things to Do in Nelson
I've divided our top things to do in Nelson into three areas: the city centre, the outskirts, and further afield locations which are great for day trips.
Many of these Nelson activities are free, but I've included costs when applicable. All prices are in New Zealand dollars. The current exchange rate is NZD $1 = USD $0.63, GBP £0.52, and EUR €0.59.
Central Nelson
These Nelson attractions are located in the centre of the small city and are accessible on foot.
1) Stroll Along the Maitai River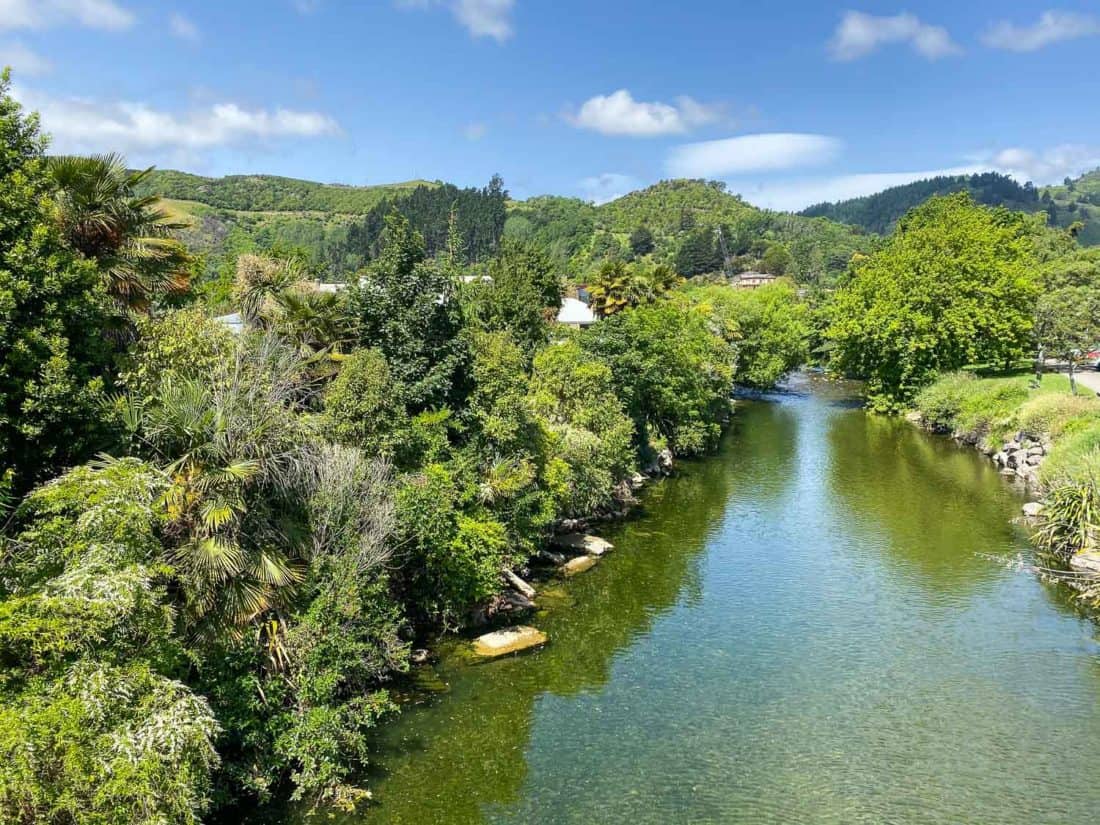 I love how much green space there is in Nelson. The Maitai River is the perfect place for an easy walk or run and is close to the shops and cafes in the centre.
The 8km (5 mile) walkway along the river is paved near town and becomes gravel as you get further out.
It's pretty and leafy and it doesn't take long until you feel far from the city.
Along the way there are a few swimming holes such as Black Hole, Dennes Hole, and Sunday Hole where you can cool off in summer.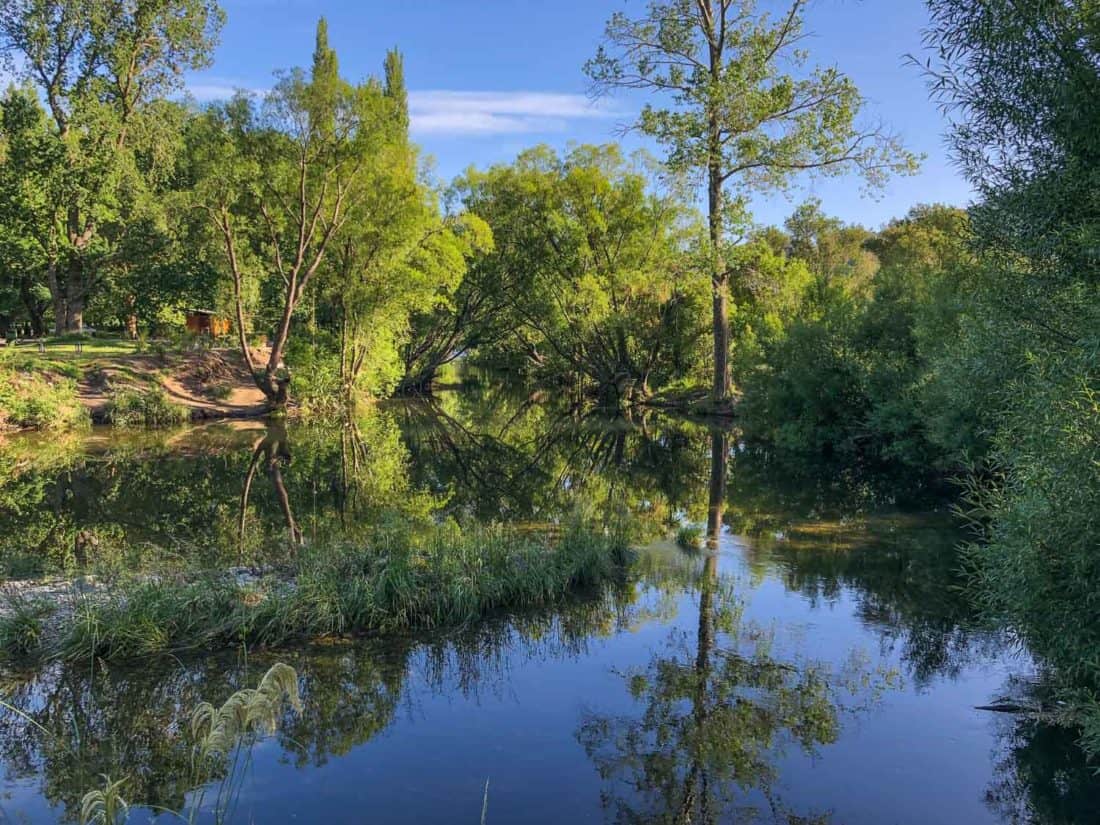 2) Climb to the Centre of New Zealand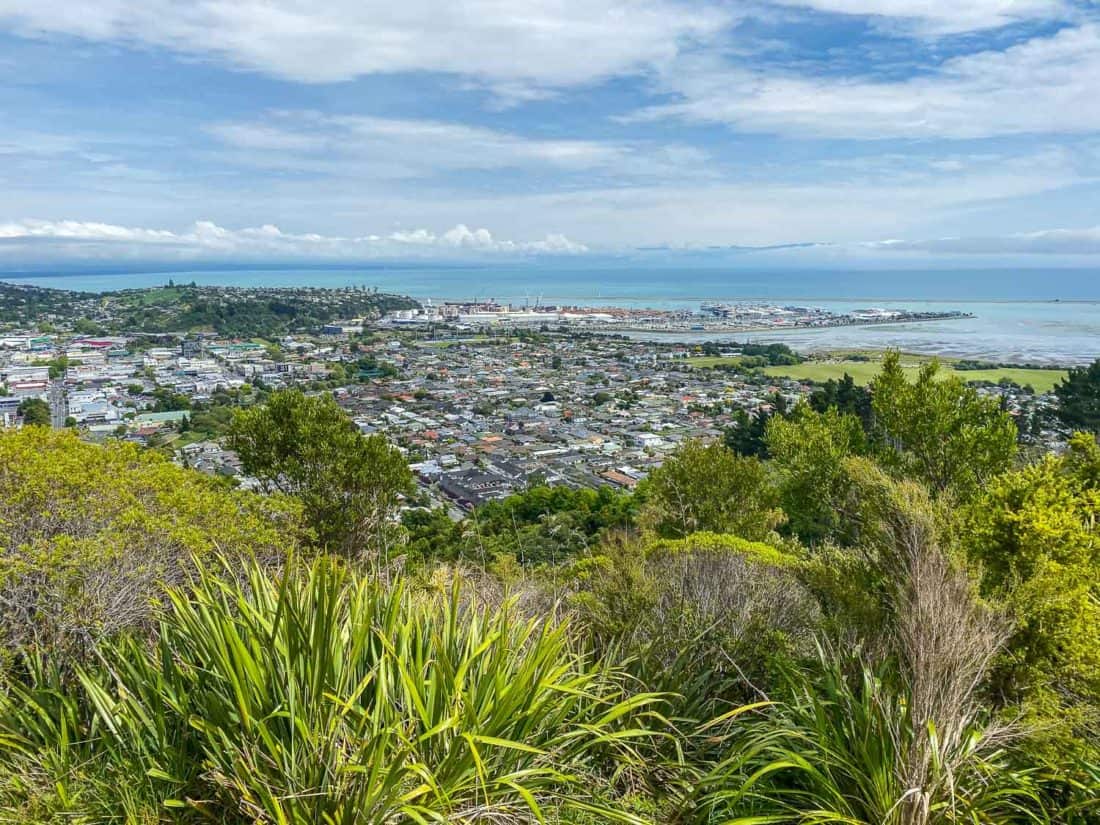 A slight detour off the Maitai River Walkway is another trail that takes you up Botanical Hill to the Centre of New Zealand.
It's not the exact centre of the country, but surveyors in the 1870s used it as the centre point.
This was our regular walking route and we loved seeing how the view from the top changed in different weather.
You can see the whole city, surrounding hills, and across the bay to the mountains beyond. It really is a Nelson must do.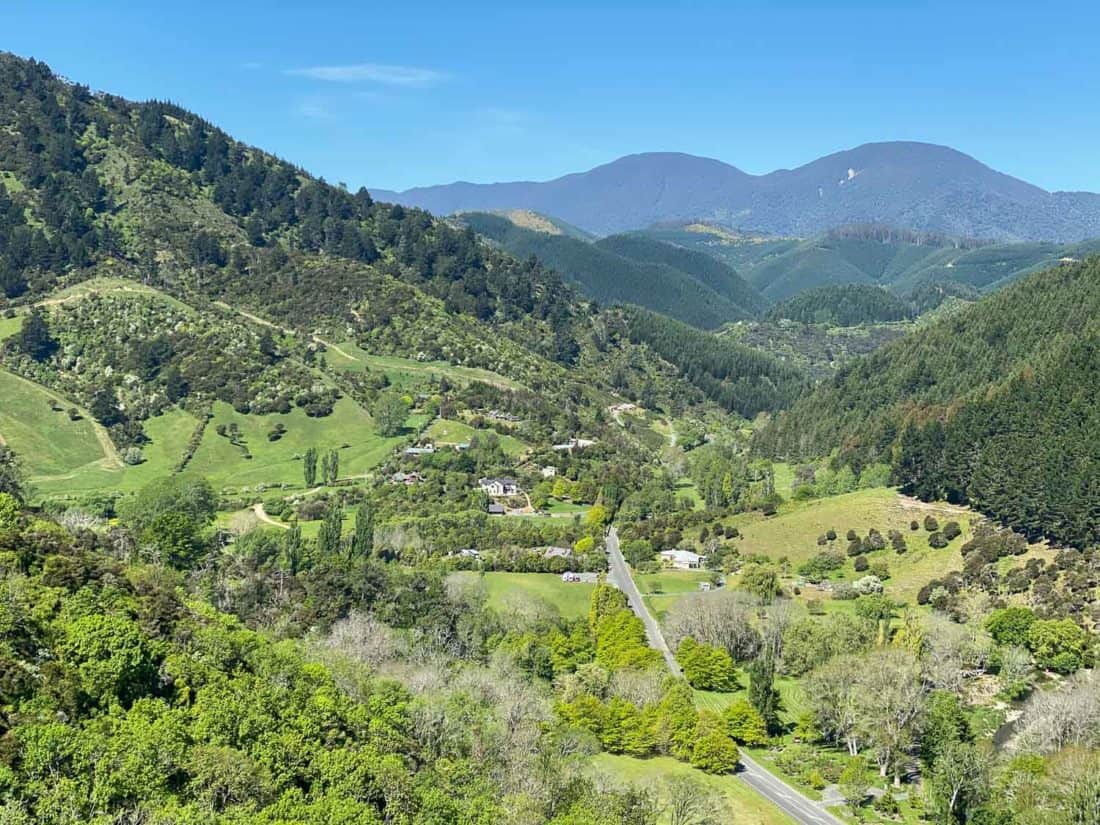 It's a bit of a climb to the top, but it's not difficult if you're reasonably fit. It took us about 20 minutes from the Botanic Sports Field at the bottom of the hill where the first rugby game in New Zealand was played in 1870.
From near the summit you can connect to a network of trails on the hillside—look out for the maps to see the different options including forest trails that take you to Branford Park.
You can find many of the routes on AllTrails+, it's worth signing up for a subscription to save maps offline.
Our favourite is the Sir Stanley Whitehead Track which takes you along a ridge past grazing sheep with more fantastic views of the city and port.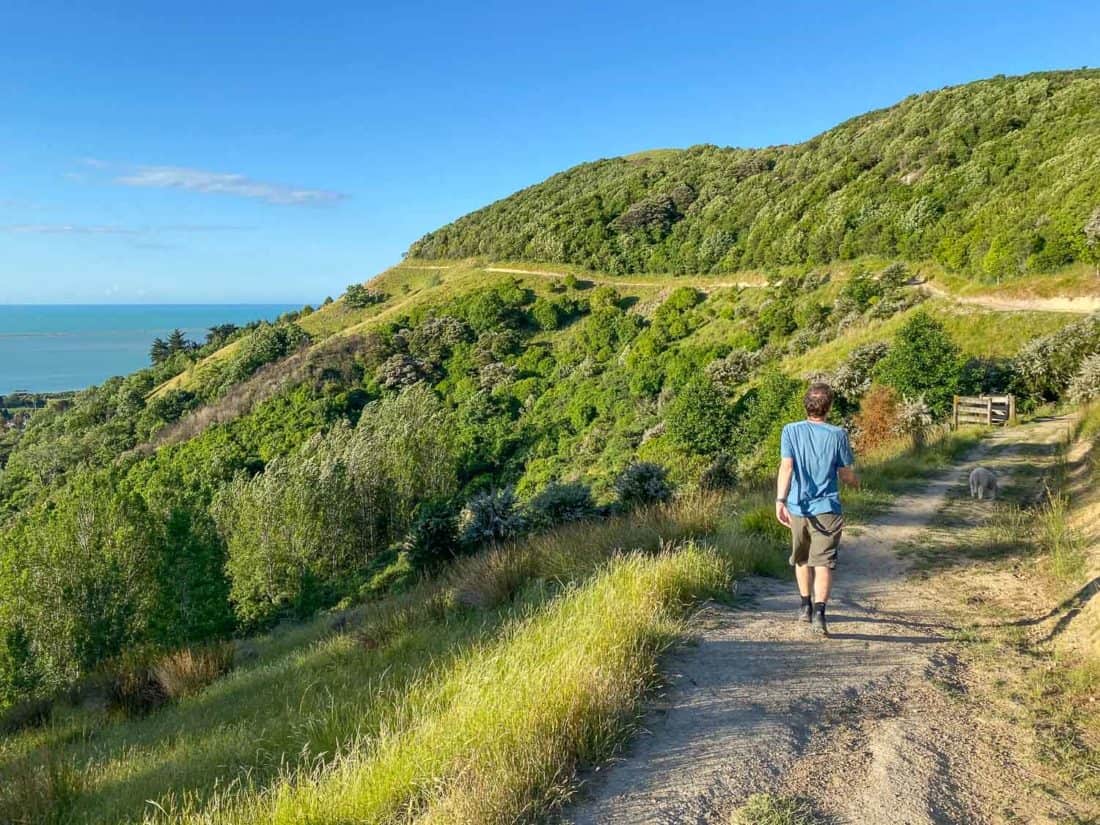 At the end of the trail, you descend the hill and emerge near Founders Heritage Park (entry fees are $11 for adults/ $5 for children).
We haven't visited the park, but if you have kids or are interested in history, it might be worth a visit. Miyazu Gardens, a pleasant Japanese garden (free entry), is also nearby.
3) Shop at the Saturday Market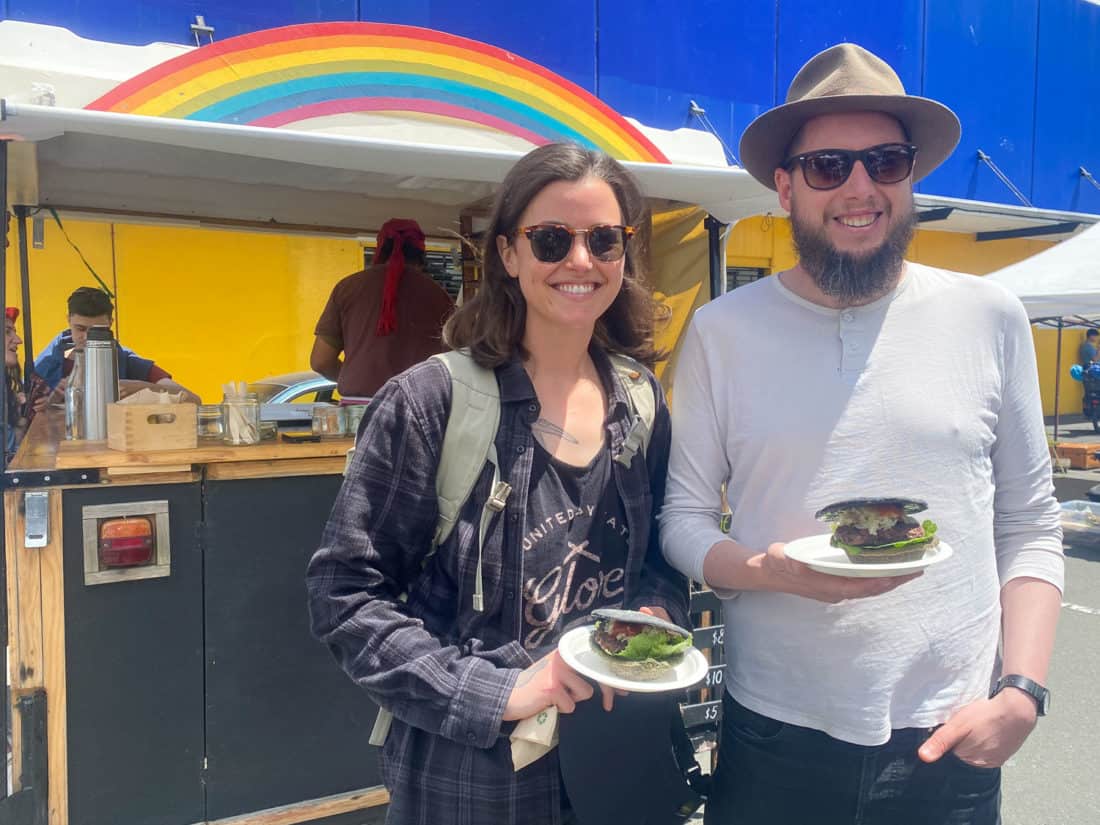 The Nelson Market is held every Saturday morning (8am – 1pm) at Montgomery Square and is one of the most popular things to do in Nelson. Head there early to avoid the crowds.
The large outdoor market is an excellent opportunity to buy locally-made products including cheese, olive oil, honey, baked goods, and condiments. There are also many stalls selling clothes, jewellery, and art.
You can pick up an inexpensive meal from one of the many hot food stands.
We love the huge veggie rotis from the Taste of Sri Lanka stall and our friends recommend the vegan pies from the Rainbow Kitchen stand (try the lentil tahini pie with chilli sauce).
There are relatively few fresh produce stalls, but they are especially good in the summer when you can pick up the delicious locally grown berries (or see below for how to pick your own).
The much smaller Nelson Farmers' Market is held on Wednesday mornings (8.30am – 1.30pm) on Halifax Street.
We preferred to pick up bread, vegetables, and fruit here as it is much less crowded than the Saturday market.
4) Hike up the Grampians (Followed by Afternoon Tea)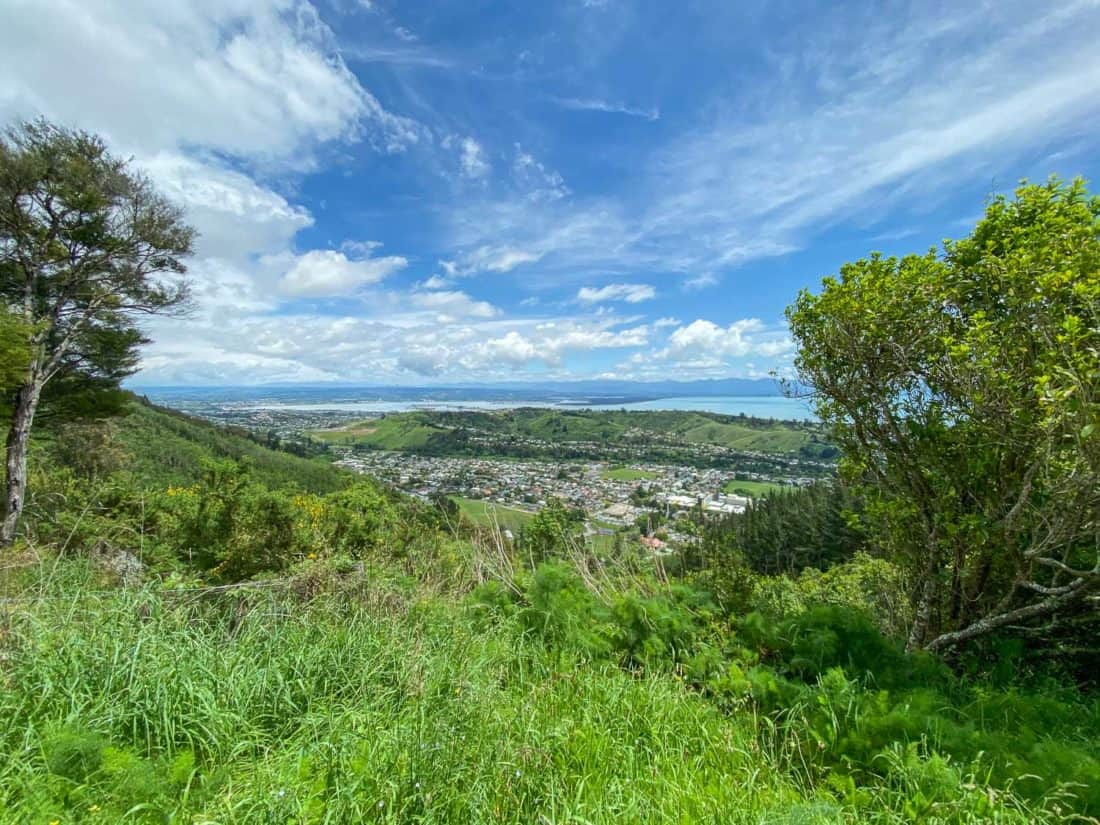 If you've already walked up to the Centre of New Zealand and are looking for more of a challenge, the Grampians is another beautiful walk.
The hike starts a 20-minute walk from the centre of the city in a residential area at the top of Collingwood Street (look for the trail map).
From here it took us about 50 minutes on the main trail to reach the summit—the beginning is very steep.
It's worth it, though, as you soon feel like you're in the countryside with sheep and horses grazing in the pastures.
The view down to the city and bay is superb for most of the way. Note that there is no view from the Telegraph Tower at the top, so there's no need to go all the way unless you want the extra exercise.
From the centre of town the return walk took us about two hours.
The perfect way to reward yourself after the walk is with lunch and a glass of local wine in the lovely rose garden of nearby Melrose House, one of the best cafes in Nelson.
If you book in advance, you can also order their famous high tea at 2.30pm.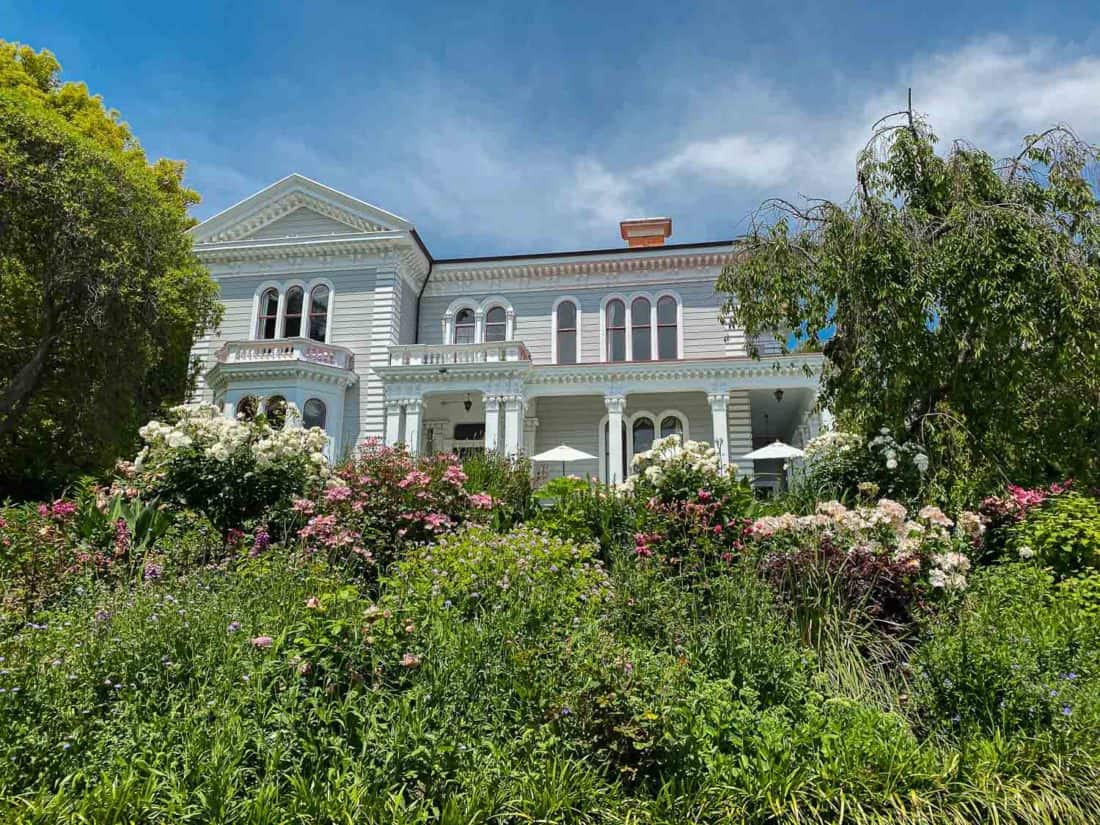 5) Relax in Queens Gardens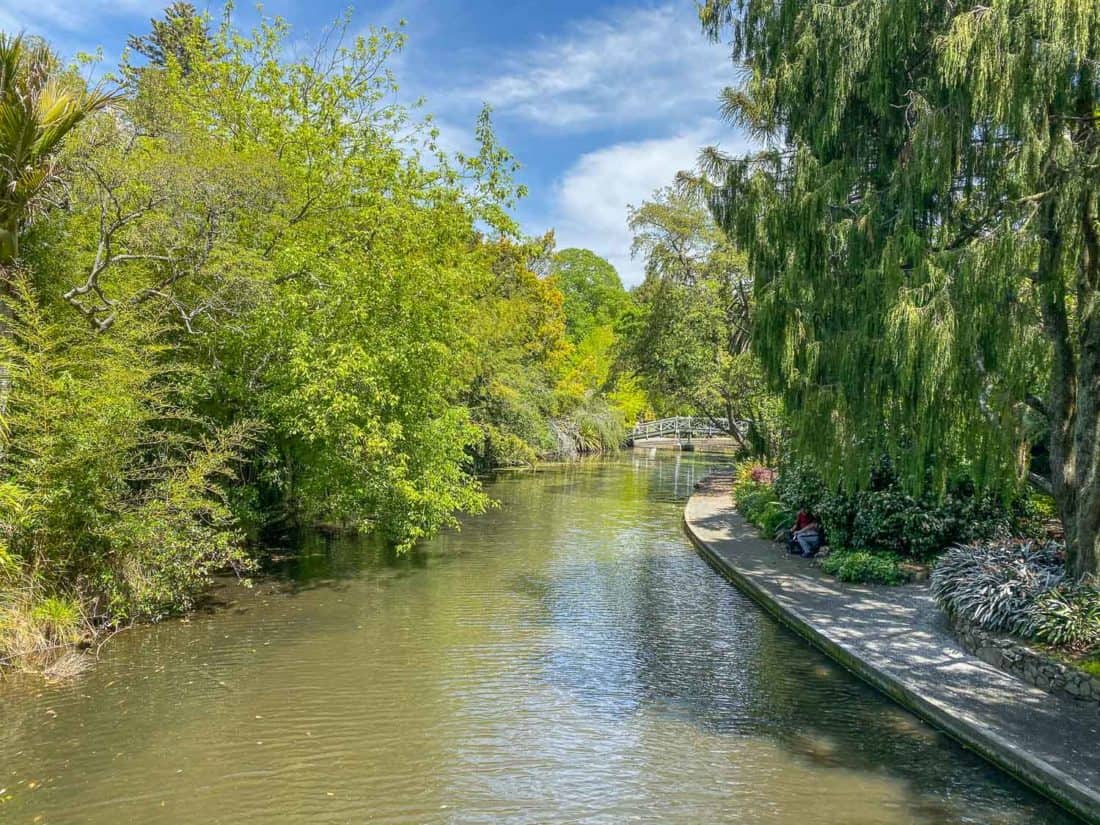 A worthwhile detour while strolling the Maitai River is to Queens Gardens which were opened in 1892 to celebrate the Jubilee of Queen Victoria.
These small but lovely gardens are one of the best places to visit in Nelson for a quiet stroll or picnic.
The gardens are also home to the Suter Art Gallery and Cafe. The cafe was a favourite hangout of ours on sunny afternoons for cake and wine overlooking the gardens.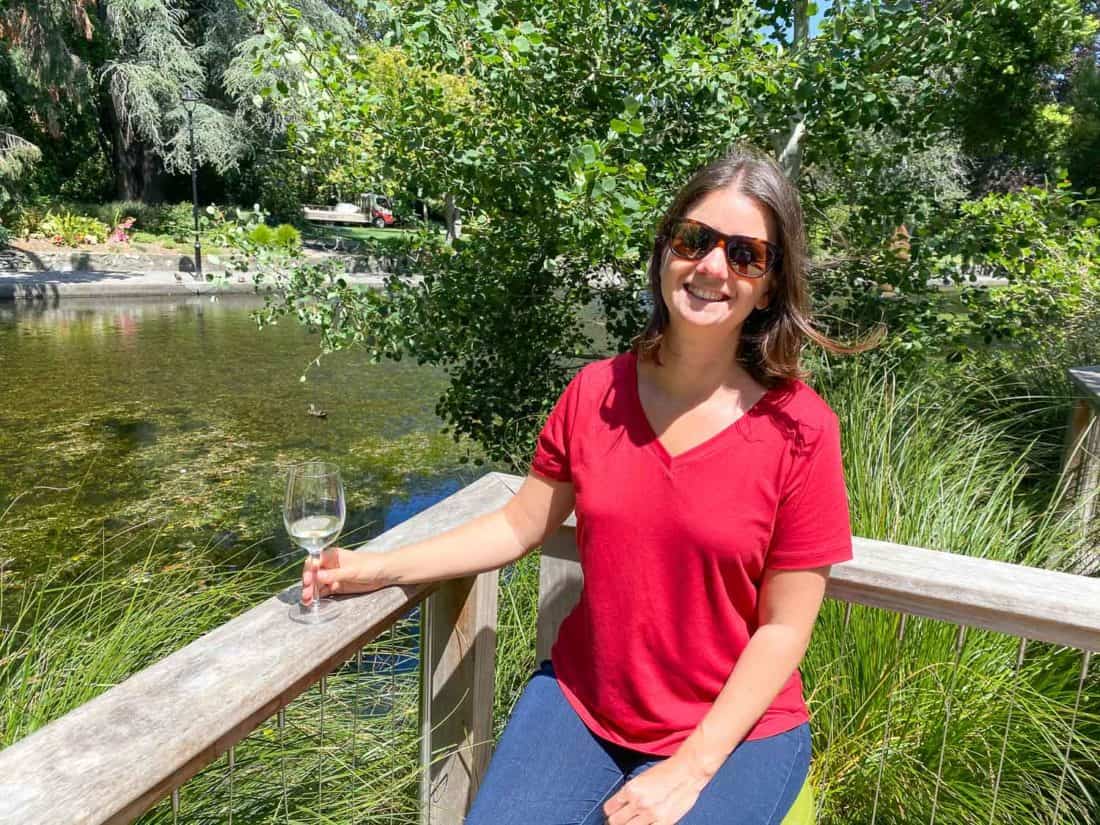 6) Follow the Nelson Art Trail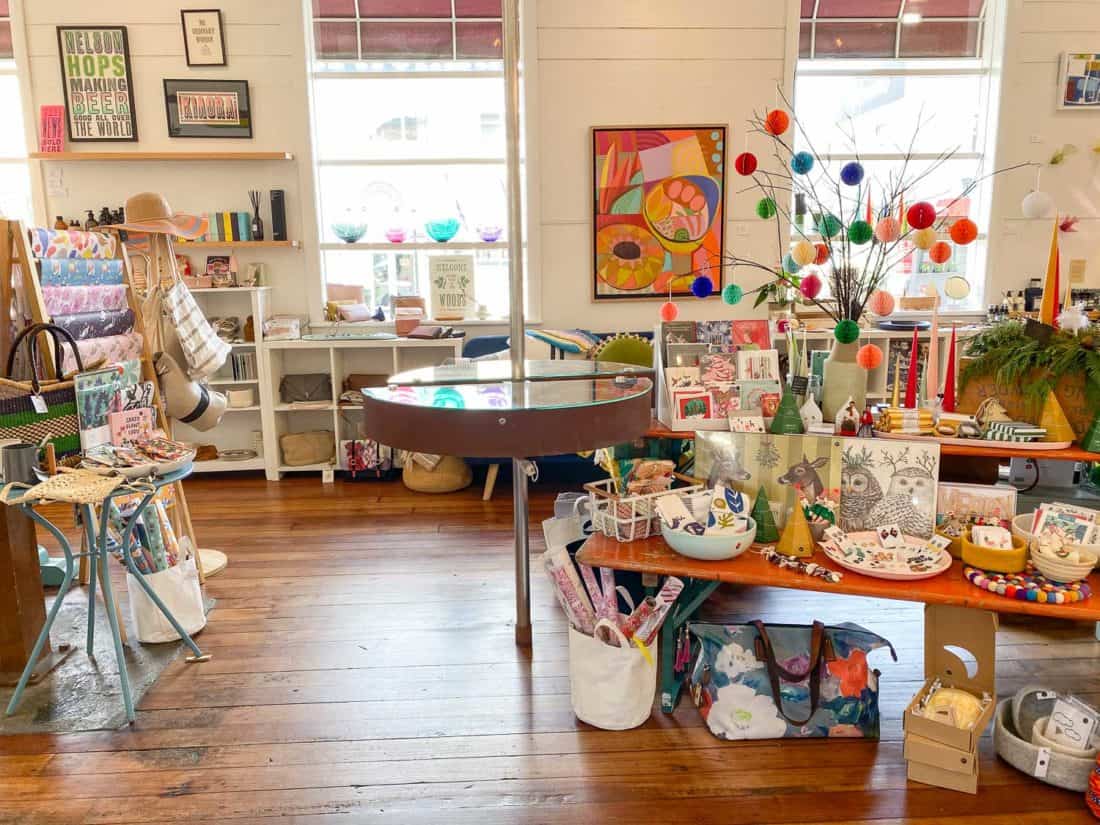 Nelson is home to many artists and following the Nelson Art Trail to small galleries, which showcase their paintings, ceramics, jewellery, glass blowing and more, is an enjoyable way to spend an afternoon.
The Suter Art Gallery is the largest art gallery in town. Entrance is free and there's a lovely cafe, so it's worth popping in. We found the exhibitions mixed—traditional landscapes alongside more interesting contemporary installations.
We also like having lunch in the Red Art Gallery.
7) Go Mountain Biking
We are not mountain bikers, but there are some quality trails close to the centre including the Dun Mountain Trail and the Coppermine Trail.
Our friends rented electric mountain bikes from Kiwi Journeys and said it was a fun way to explore the trails if you don't have a lot of experience.
8) Visit Christ Church Cathedral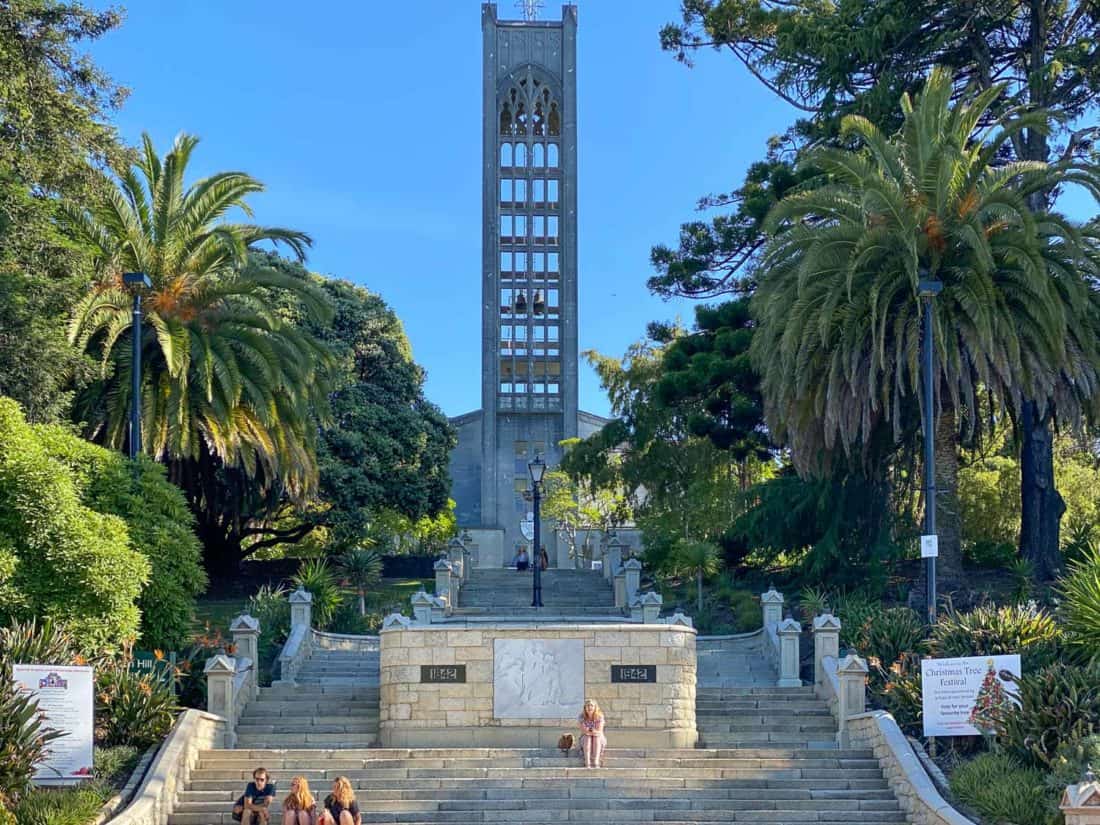 While I wouldn't say visiting the 19th-century Cathedral is a Nelson must do, it is worth wandering through Trafalgar Square for a quick look.
Stairs lead up to the iconic bellower with its unique cut-out design. It's surrounded by pretty gardens.
Nelson Outskirts
On the outskirts of Nelson you'll find the suburbs of Tahunanui and Stoke and the neighbouring town of Richmond.
Some parts are rather industrial and unattractive, but you'll find plenty of worthwhile attractions and natural beauty beyond the highway.
This area is best visited by bike or car and you could combine many of these activities for a day trip.
9) Seek Out Native Birds at the Brook Waimārama Sanctuary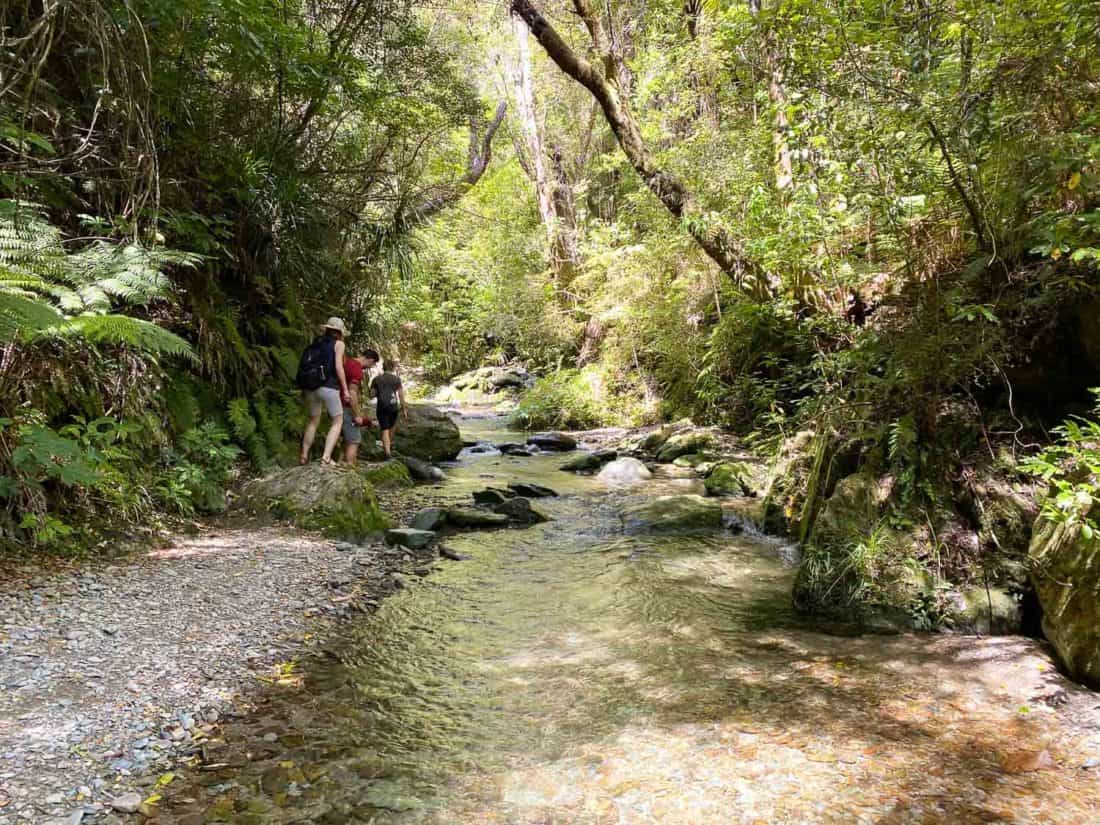 The Brook Sanctuary is a hidden gem in Nelson that deserves more visitors. It's only 6km (4 miles) from the centre, but you feel far away from it all.
It's the largest fenced reserve for endangered plants and creatures in the South Island.
As there are no predators, the native birds thrive and you can enjoy their birdsong as you explore the network of trails through the bush and alongside the river.
You can choose easy or more challenging trails. We wished we had worn hiking sandals as you do need to cross a small river to do the longer hikes.
The sanctuary is run by volunteers who talk you through the options when you arrive. Admission is $18 for adults/ $10 for children ($10 adults/ $5.50 children for locals). Hours are limited outside summer, so check the Brook Sanctuary website before you visit.
10) Swim and Stroll at Tahunanui Beach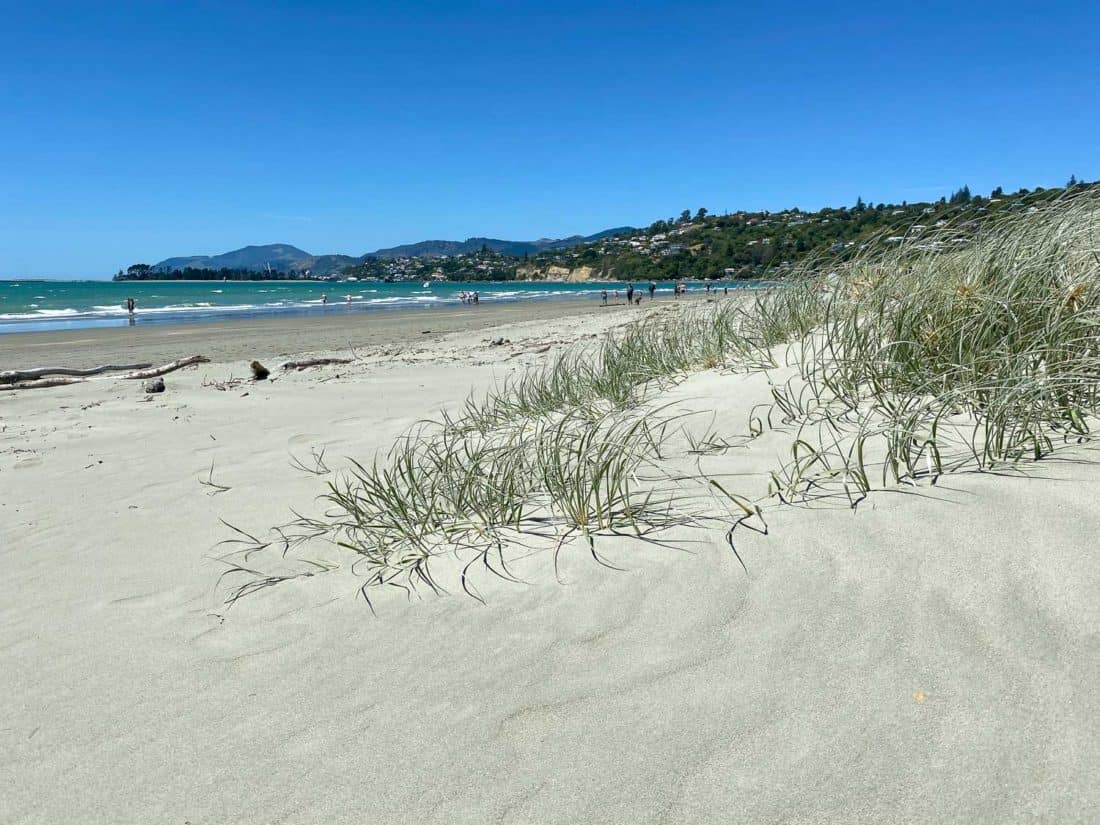 Tahunanui Beach is one of Nelson's highlights. This long, wide, grey sand beach is only a short drive or one-hour walk from the centre of town.
On sunny summer days the beach is very popular, but there's plenty of space for everyone.
We always find a quiet spot amongst the dunes by driving to the far end of the car park (near the Nelson Fun Park and Beach Cafe) and heading to the stretch of beach just before the dog-friendly section.
The water is shallow and calm and great for swimming.
Close to the playground you can usually find an ice-cream stand or two. We love the Real Fruit Ice Cream Cart which uses local berries like boysenberries (expect a wait on busy days, though) and the Applebys Farm van who make ice-cream from their own locally-made milk.
There are also lots of activities for kids by the beach including a water slide, mini-golf, go-karting, model railway, and a zoo.
11) Go Standup Paddleboarding
Standup paddleboarding is one of the Nelson activities that is popular with both locals and visitors. It's a great way to get out on the water and enjoy Tahunanui Beach.
You can hire SUP boards from Moana right on the beach for $25 for one hour.
The water is calm enough that it's suitable for beginners, but it's best before 11am when the wind usually picks up. Alternatively, you can arrange a paddle on the Maitai River which is even calmer.
We've paddleboarded a little before but decided to book an intermediate lesson to improve our skills ($70 for a one-hour lesson and two-hour board hire). Our teacher Tara is a NZ SUP champion and taught us useful techniques for choppy or windy conditions.
Moana also offers SUP yoga classes from $20 on Sunday mornings.
12) Admire Classic Cars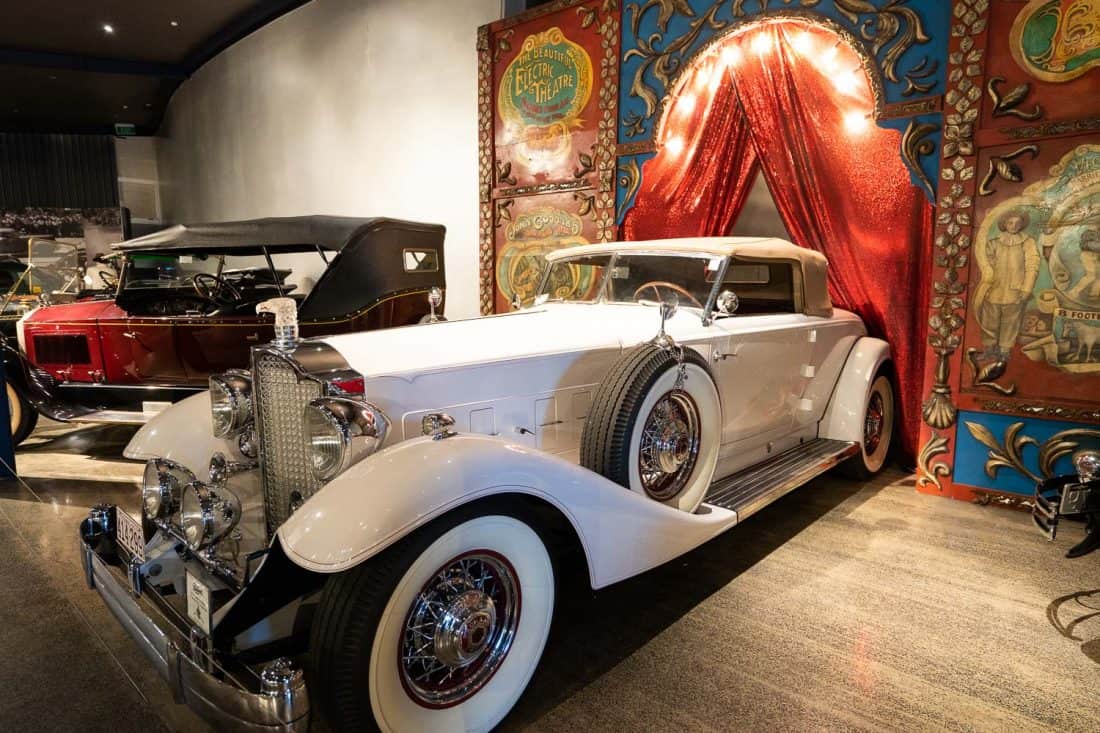 If you're wondering what to do in Nelson on a rainy day, head to the Nelson Classic Car Museum ($19 adults/ $8 children) to see over 150 immaculate classic cars dating back to 1908.
We're not particularly into cars but still enjoyed the stroll through motoring history, especially the 1950s Cadillacs.
13) Smell the Roses at Broadgreen Historic House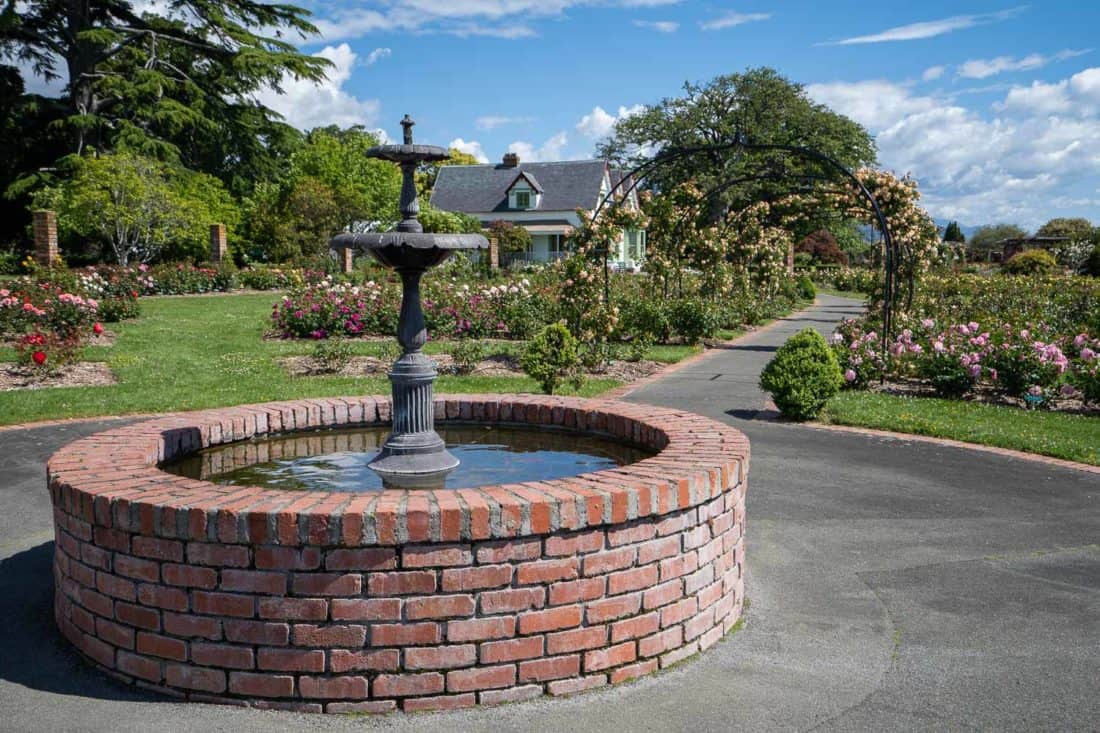 Broadgreen is a charming colonial house built in 1855. It's now a museum that shows what family life was like in the Victorian and Edwardian eras.
Entrance is $7 adults/ $2 children and includes an optional tour by one of the volunteers.
While we didn't make it into the house, we did enjoy strolling the Samuels' Rose Garden outside (free entry) when it was in full bloom in November.
There are a few benches amongst the hundreds of varieties of roses and it's a peaceful spot to read a book.
14) Sample Local Wine at the Moutere Hills Wineries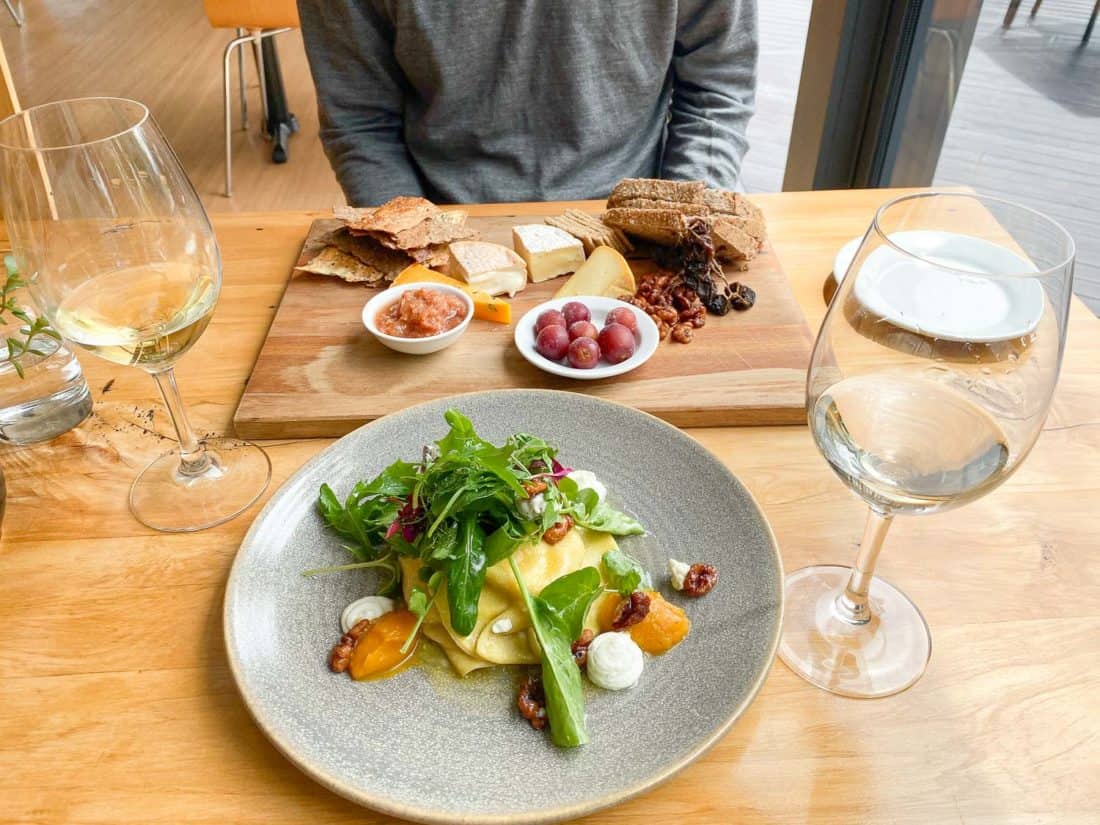 The Marlborough Wine Region (90 minutes away) might be more famous, but Nelson has its own, quieter wine region where you can sample Sauvignon Blanc, Chardonnay, Pinot Noir and aromatic varieties.
There are two wine-growing areas near Nelson. The Waimea Plains are nearer to the city, but I recommend heading up to Moutere Hills for a prettier and more rural setting of rolling hills. It's a 40-minute drive from Nelson.
At Forsters restaurant at the Moutere Hills Vineyard, we enjoyed a beautifully presented lunch with views of the vineyard and a small lake with the hills beyond.
Our cheese plate, goats cheese ravioli, and deconstructed white chocolate cheesecake were delicious and we sampled their wine with our meal. I loved the Sauvignon Blanc while Simon was a fan of their Reserve Chardonnay.
Afterwards we drove to Neudorf Vineyards for a tasting ($10). It was a friendly, low-key tasting at the counter—we enjoyed learning more about their wines but didn't feel pressured to engage in wine-speak.
We bought a bottle of their Rosie's Block Chardonnay which became our favourite white wine in New Zealand.
Their beautiful courtyard overlooks the vines and snow-capped mountains in the distance.
We would have loved to linger here in the shade of the huge tree with a glass of wine, but Simon had to drive. There's no restaurant but you can buy bread and deli ingredients for a casual lunch.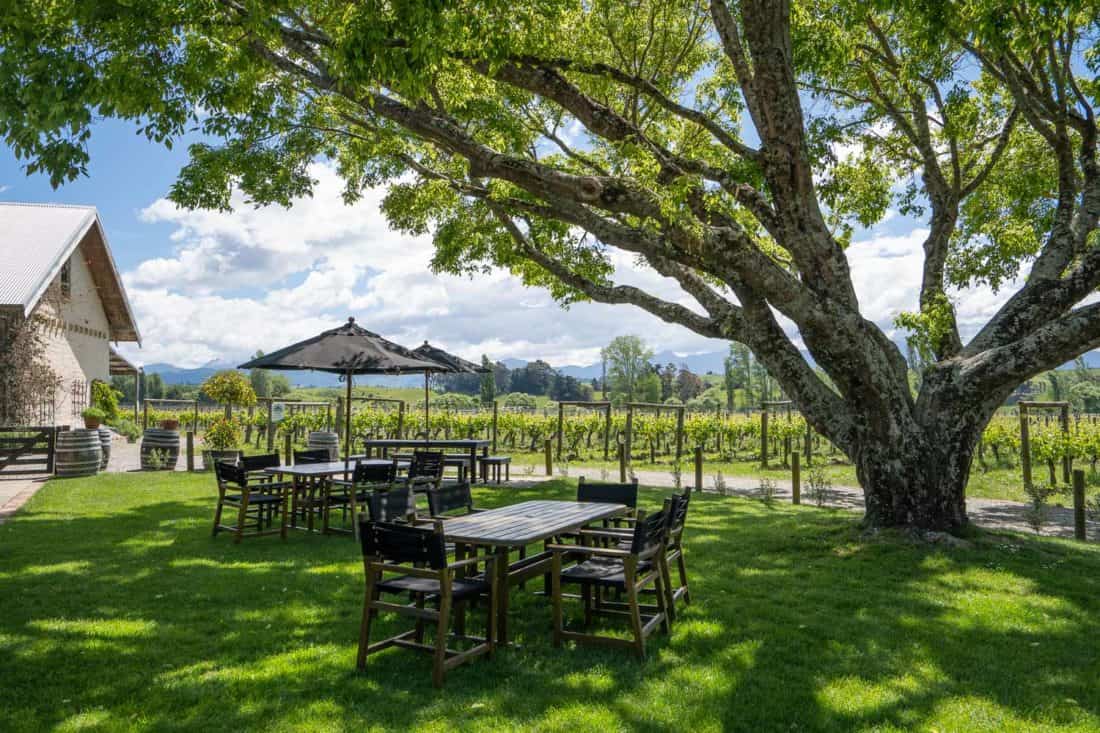 There's more to this picturesque area than wine. Pick up the Moutere Artisans leaflet for details of the local food, drinks and crafts you can find.
You can also rent bikes from the Gentle Cycling Company who offer a self-guided wine tour to the flatter wine area.
This Hop on Hop off Wine Tour looks great for those who prefer a guided wine tour and covers a wide range of venues in the day.
15) Pick Your Own Berries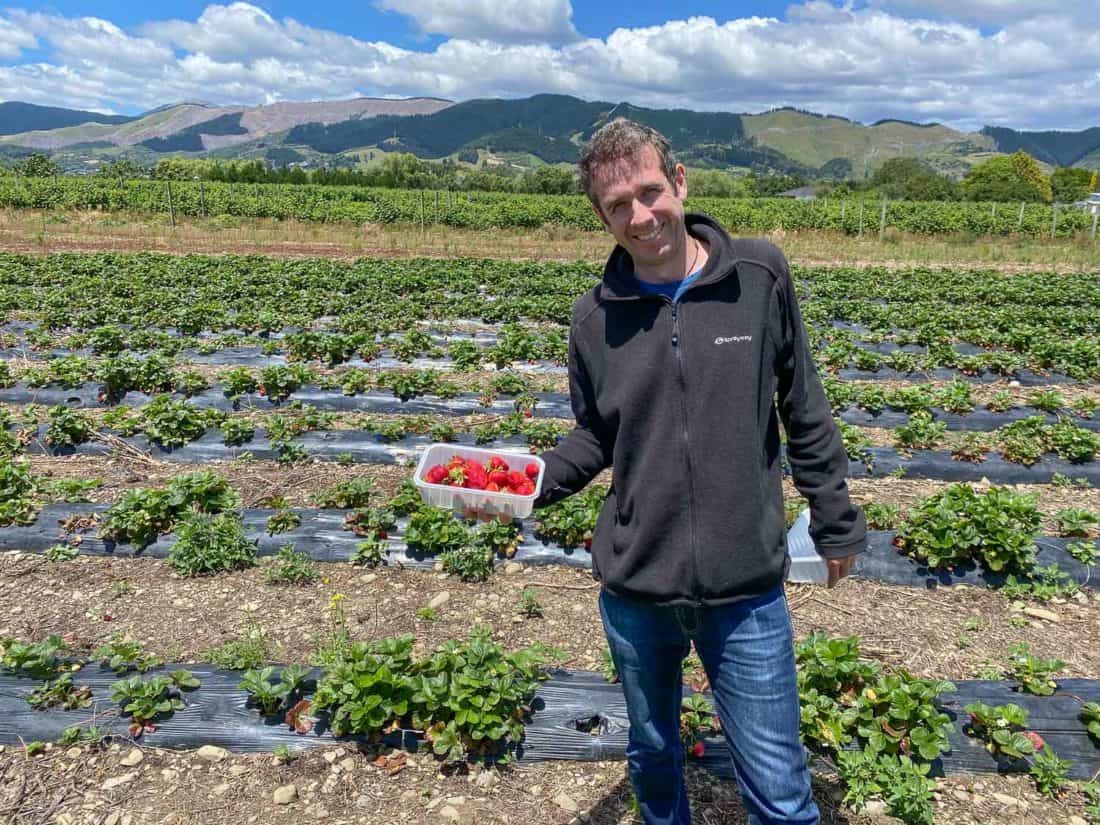 One of the summer delights of Nelson is the array of berries that are grown on nearby farms. You can purchase some from the city markets, but it's more fun to pick your own.
We visited Berrylands in late-December and picked an array of juicy strawberries, raspberries, boysenberries and karakaberries for a reasonable price ($9 a kilo). Afterwards we rewarded our hard work with their tasty real fruit ice cream.
Berries are usually available from mid-December until the end of January. Check the Berrylands Facebook page as opening hours and availability varies.
16) Follow the Craft Beer Trail
Nelson declares itself the craft brewing capital of New Zealand.
In the centre of town there are plenty of pubs where you can sample craft beer (see below), but if you are a beer fan, it's worth heading to the outskirts to one of the breweries.
The Nelson Craft Beer Trail stretches all the way to Motueka and Riwaka where the hops are grown.
Many of the breweries can be visited on the Great Taste Bike Trail (see below).
Simon and his friends rented bikes for half a day from Kiwi Journeys but only had time for lunch at the Honest Lawyer Pub and a tasting at McCashins Brewery in Stoke. If you have longer, you can also visit the Eddyline Brewery.
17) Picnic on Rabbit Island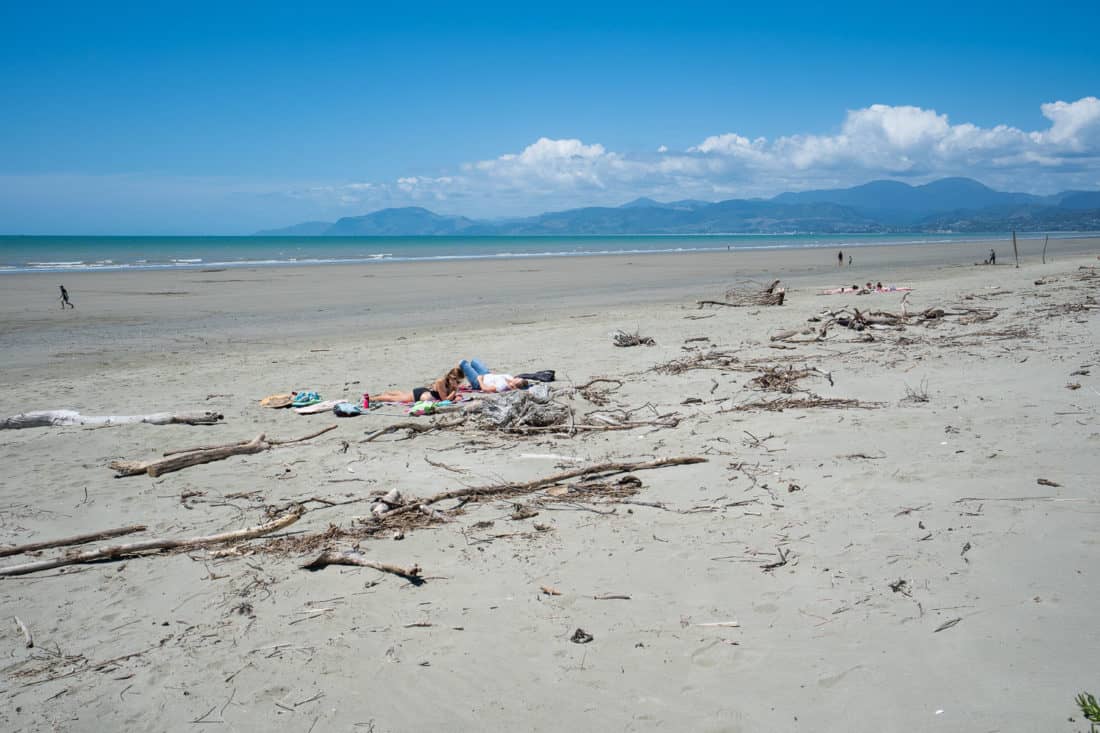 Rabbit Island is a 25-minute drive from Nelson and is a popular spot with locals for picnics, barbecues, walking, cycling, and swimming.
There are trails through the pine forest and a long grey sandy beach with safe swimming in the turquoise water.
You can drive onto the island or cycle there (as we did) on the Great Taste Trail (see below).
18) Eat, Drink and Shop at Mapua Wharf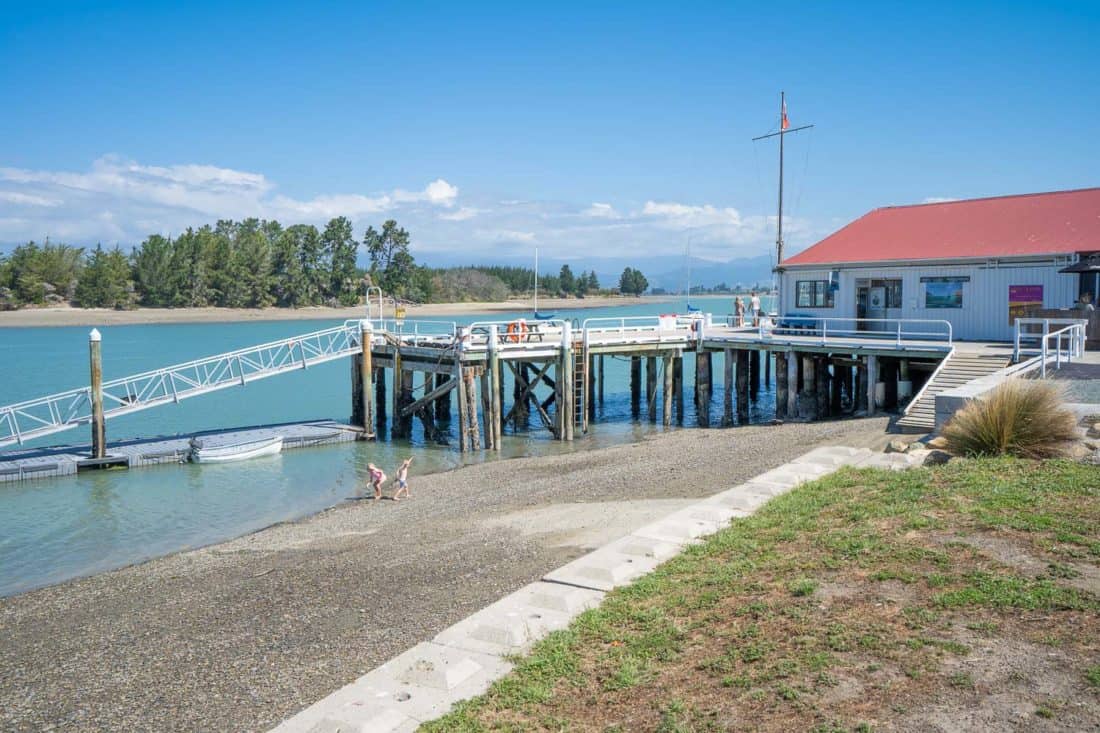 Mapua is a small town that's connected to Rabbit Island by passenger ferry, and it makes sense to combine the two, which we did when cycling the Great Taste Trail.
The Mapua Wharf features independent cafes, shops, art galleries, and bars overlooking the estuary.
We recovered from our bike ride at the Rimu Wine Bar where you can sample a huge selection of local wines by the glass or try a tasting flight.
The service was unusually unfriendly for New Zealand, but the comfy couches made up for it. I think we must have caught them on an off-day as the reviews are usually good.
We followed it up with good craft beer and Mexican bar snacks accompanied by live music on the terrace at Golden Bear Brewery Company.
The Apple Shed Kitchen was recommended to us and has a deck over the water. Alberta's is another popular spot for brunch with vegan and gluten-free options.
19) Cycle the Great Taste Trail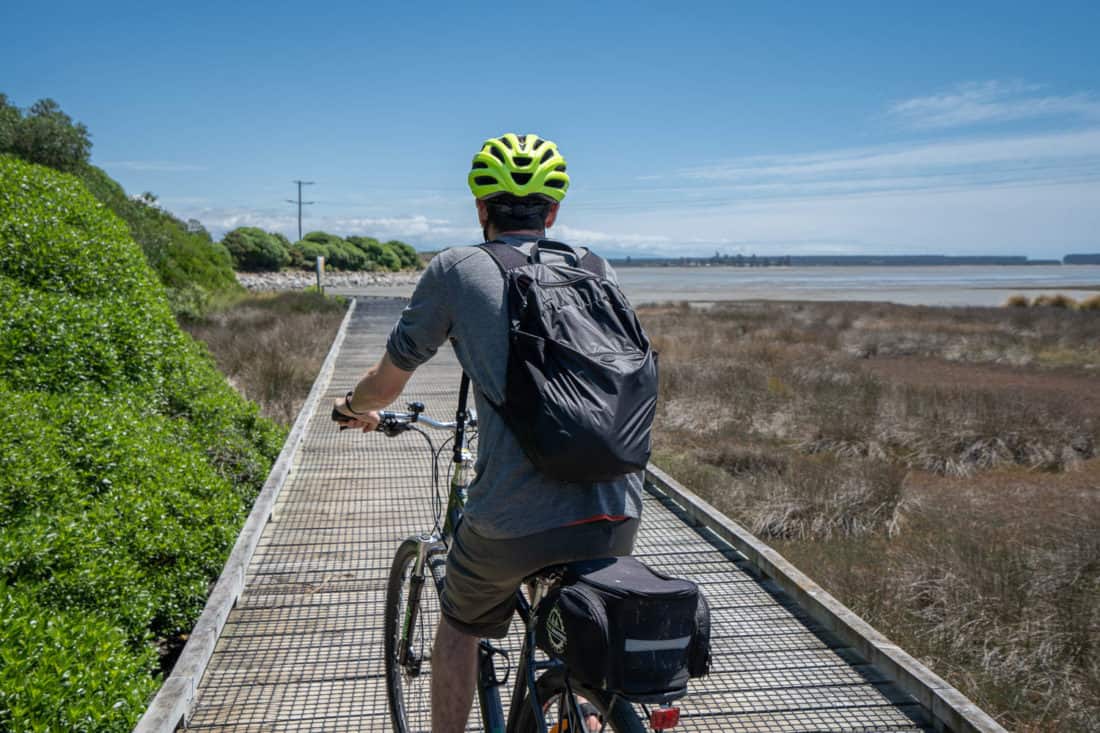 A great way to combine the previous few items on this list is to cycle part of the Great Taste Trail.
The full trail from Nelson to Kaiteriteri (the access point to Abel Tasman) is 175km (109 miles) and takes 2–6 days to complete.
We decided to cycle from Nelson to Mapua which is 32km (20 miles). We rented bikes with Kiwi Journeys who offer transport back from Mapua so we only had to cycle one way.
It costs $109 per person including the ferry to Mapua and bus back to Nelson.
Check availability for the Nelson to Mapua bike trip here.
The first section is a bit industrial, but it gets prettier the further you cycle. Along the way we stopped for a drink at McCashins Brewery, cycled past vineyards and orchards, and on boardwalks across the Waimea Estuary.
Finally, we crossed a swing bridge to Rabbit Island where we relaxed (i.e. collapsed) on the beach before cycling to the end of the island to catch the passenger ferry to Mapua Wharf.
Honestly, we don't cycle very often and the trip was harder than we expected. It took us around three hours of cycling plus breaks.
Once we left McCashins we didn't pass any shops and there was no shade, so on a hot day we were desperately thirsty.
If we did it again we'd get an earlier start, take more water, and rent e-bikes.
If you are interested in cycling the full trail, Kiwi Journeys and Gentle Cycling Company offer self-guided and supported trips.
Further Afield: The Best Day Trips from Nelson
Nelson makes an excellent base for exploring the top of the South Island. For these day trips you'll need your own vehicle or you can join a tour to most of them.
20) Cable Bay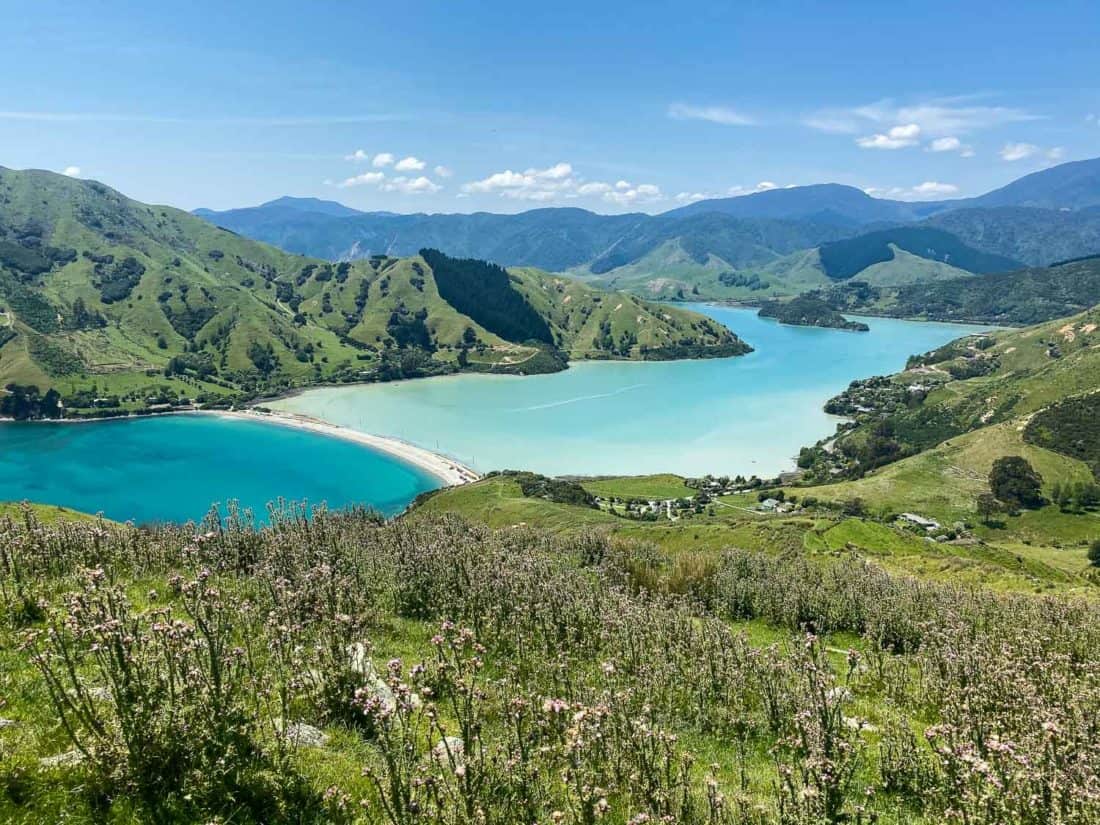 I fell in love with Cable Bay during our stay in Nelson and we returned a number of times including for a Christmas Day picnic. It's one of my favourite New Zealand destinations.
It's only a 25-minute drive from Nelson, so you visit as a half-day trip to hike, kayak, swim, or relax on the beach.
The tiny hamlet features a pebble beach on a causeway that connects to Pepin Island and separates the sea and estuary.
The Cable Bay Walkway to Glenduan is 8km (5 miles) each way but you don't need to do the whole hike. I do highly recommend walking up the steep hill from the beach for stunning views of the green hills and turquoise estuary.
We also loved our 3-hour kayaking trip with Cable Bay Kayaks where we explored the rock formations and caves of Pepin Island, although sadly they have now closed permanently.
Whether you walk or kayak, make sure you finish with lunch or cake at Cable Bay Cafe (summer only).
On our second visit to Nelson we even chose to stay out here—Kikorangi Retreat is a gorgeous house with stunning views of Delaware Bay and Cable Bay.
It's one of the best places we've stayed in all of New Zealand. See the accommodation section below for more details.
21) Abel Tasman National Park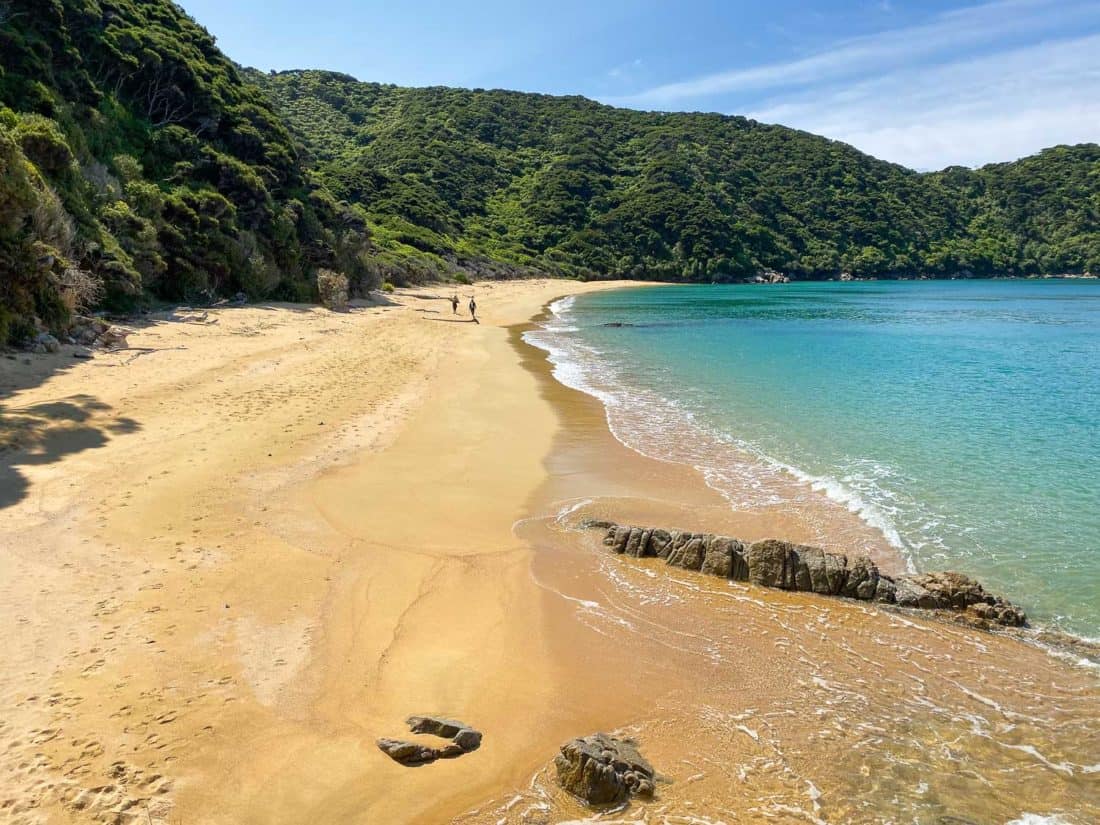 Abel Tasman National Park is one of the most beautiful places in New Zealand and you won't want to miss it during your stay in Nelson.
The park comprises golden sand beaches, turquoise sea, and fairly easy hiking trails through native bush.
You have a good chance of seeing fur seals and a small chance of seeing dolphins (we got lucky).
Kaiteriteri is the access point to the park where you can catch a water taxi to many of the beaches. It's about an hour's drive from Nelson and if you book an Abel Tasman tour, free transport from Nelson is sometimes included in the price.
We love the park so much we've visited six times including three Nelson day trips: for a hike in the quieter northern section, for a hike/kayak combo tour, and for a sailing trip with friends.
There are so many options whether you want to explore by boat, relax on a beach, or be more active.
See our guide to the best Abel Tasman day trips for tips on the best ways to experience the park.
22) Nelson Lakes National Park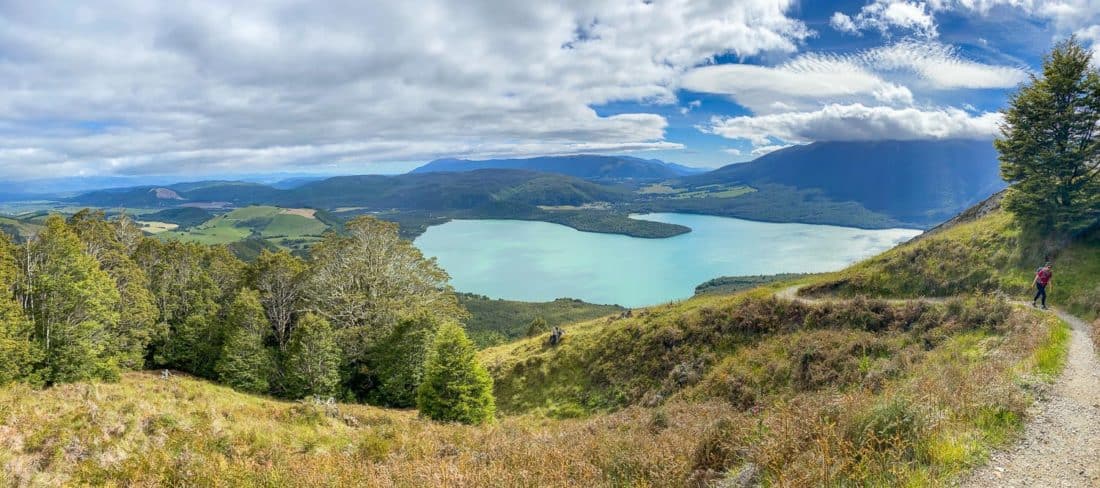 Nelson Lakes National Park is the northernmost section of the stunning Southern Alps. There are some fantastic hikes here to explore the rugged mountains, glacial lakes, and native forest.
The main village is St Arnaud, a 90-minute drive from Nelson. Here you'll find the jetty at Lake Rotoiti, a popular photo spot, and easy trails along the pebble beach and into the forest.
We drove a little further to the Mt Robert car park to hike the Mt Robert Circuit.
The DOC estimated time for this 9km (6 mile) hike is 5 hours, but it only took us 3 hours including a 20-minute break. The lake views are spectacular and well worth the effort.
23) Kahurangi National Park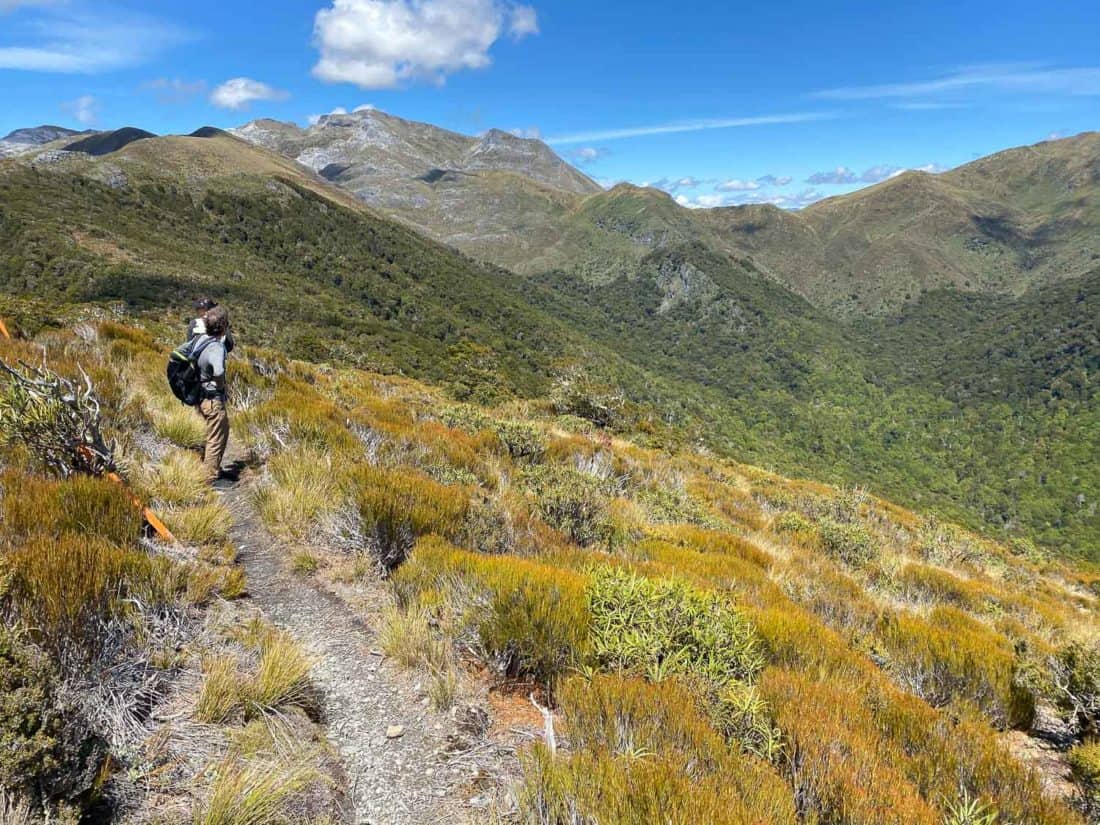 The third national park near Nelson is Kahurangi National Park, another stunning place for a day hike.
As New Zealand's second-largest national park, there are plenty of access points, but the nearest to Nelson is the Flora car park which is 10km up Graham Valley Road at an elevation of 930m.
It's a 1 hour 20 minute drive from Nelson with the last 15 minutes on an unsealed, steep and narrow road. A 4WD is recommended, especially in winter.
From the car park you could hike to Mt Arthur summit at 1795m, but this is a challenging 8-hour return hike.
A much easier option is the 1 hour 15 minute (4.2km) walk up to Mt Arthur Hut at 1310m.
The gravel path is wide and well-maintained and takes you through the forest where we saw many adorable titipounamu (rifleman), New Zealand's smallest bird.
Make sure you continue past the hut for at least a few minutes. Above the tree line the views are incredible of endless forest-covered mountains, Tasman Bay, Nelson, and even Nelson Lakes National Park's snowy peaks. There's a rocky spot that's perfect for lunch.

If you want more of a challenge, you can hike a loop from Flora car park to Flora Hut (an easy 30-minute walk) up to Arthur Hut and down from there.
This should be a 3-hour (9km) hike, but we missed the turning at Flora Hut and added a 4km detour for ourselves.
The trail from Flora to Arthur is much tougher than we expected. The trail heads up a hill behind Flora Hut and keeps ascending through the forest—there's no real trail but orange triangles help you find your way as you clamber over tree roots. Once you get to the top, you are rewarded with 360º views.
Despite the exhausting climb, we loved this beautiful park and highly recommend a visit.
It's best to start early—even at 9.30am in the summer there were only a few spots left in the car park. Take warm clothes as it's significantly cooler up here than in Nelson.
On the way back you pass through the Moutere Hills, so you could stop for a wine tasting or lunch (see above).
24) Golden Bay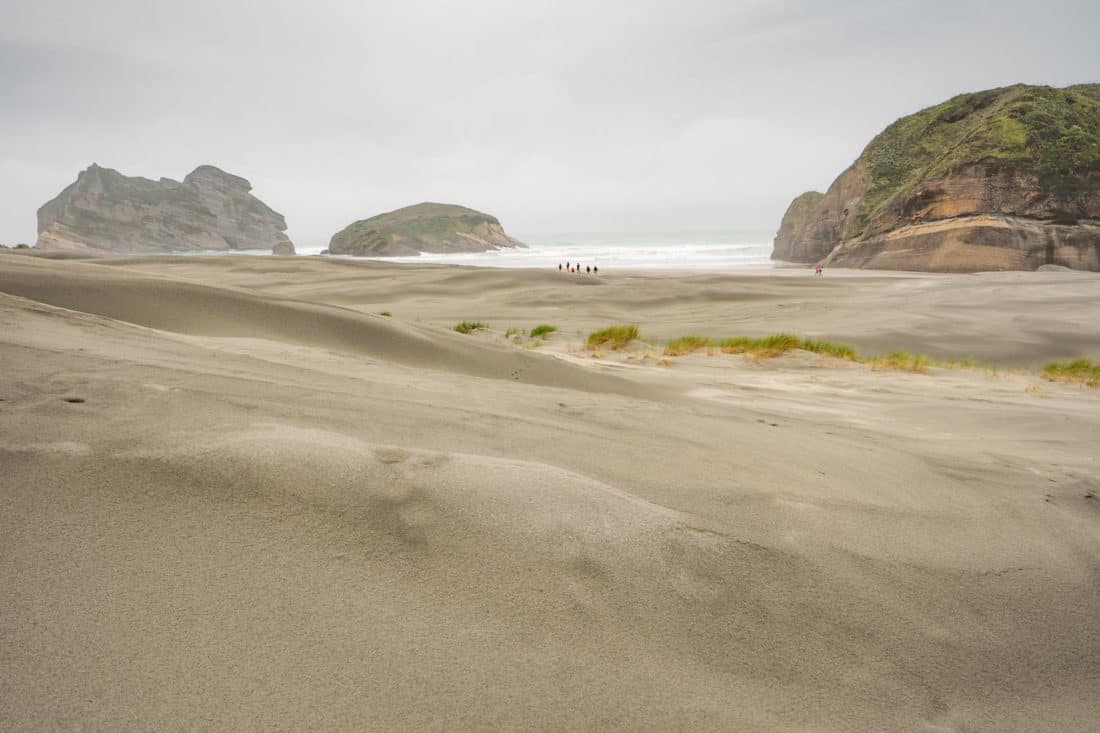 Beyond Abel Tasman is Golden Bay where there are lots of beautiful attractions.
You could visit the area on a day trip from Nelson, but it's a 2.5 hour drive to the northernmost point, so it's best to allocate a few days if you can.
We took a side trip for Simon's birthday and spent two nights in a wonderful beachfront cottage at Adrift in Golden Bay.
Highlights of our trip were the wild and dramatic Wharariki Beach, the ultra clear water at Te Waikoropupu Springs, the hippy village Takaka, and hiking the quiet north section of Abel Tasman from Totaranui.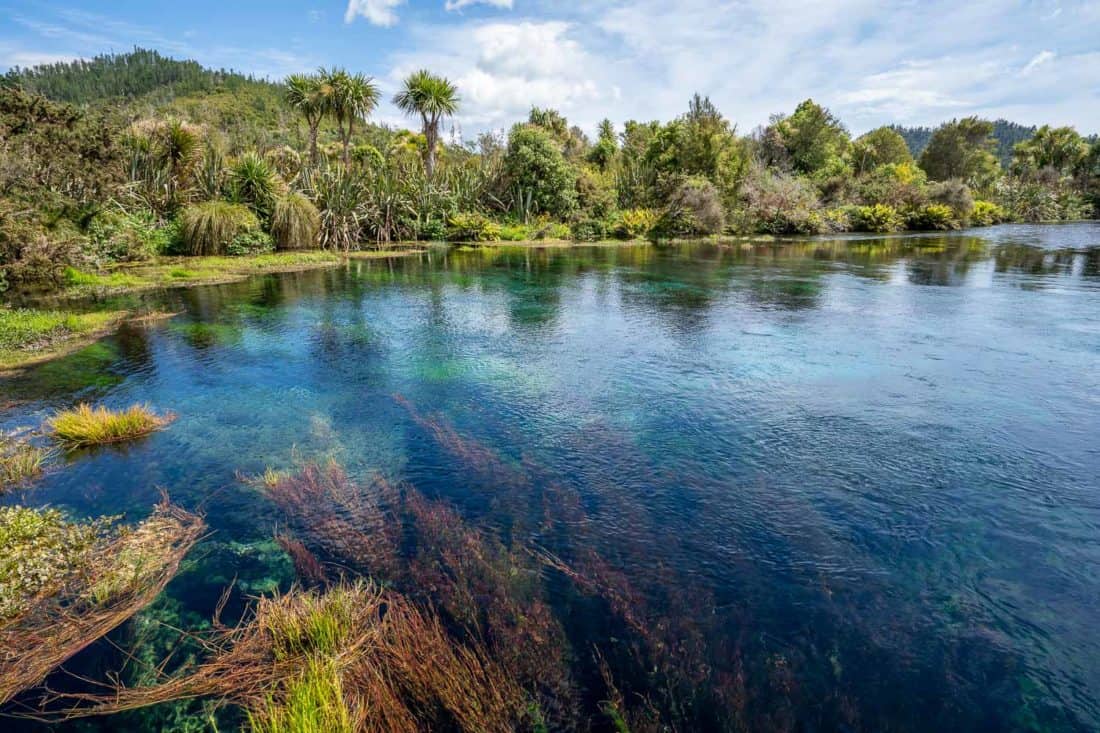 We enjoyed our meals at Roots Bar in Takaka (burgers and craft beer) and The Mussel Inn in Onekaka, which is a cool rustic pub serving comfort food and their own beer.
If you don't have a car, some tour companies offer a day trip from Nelson to Golden Bay.
Where to Eat in Nelson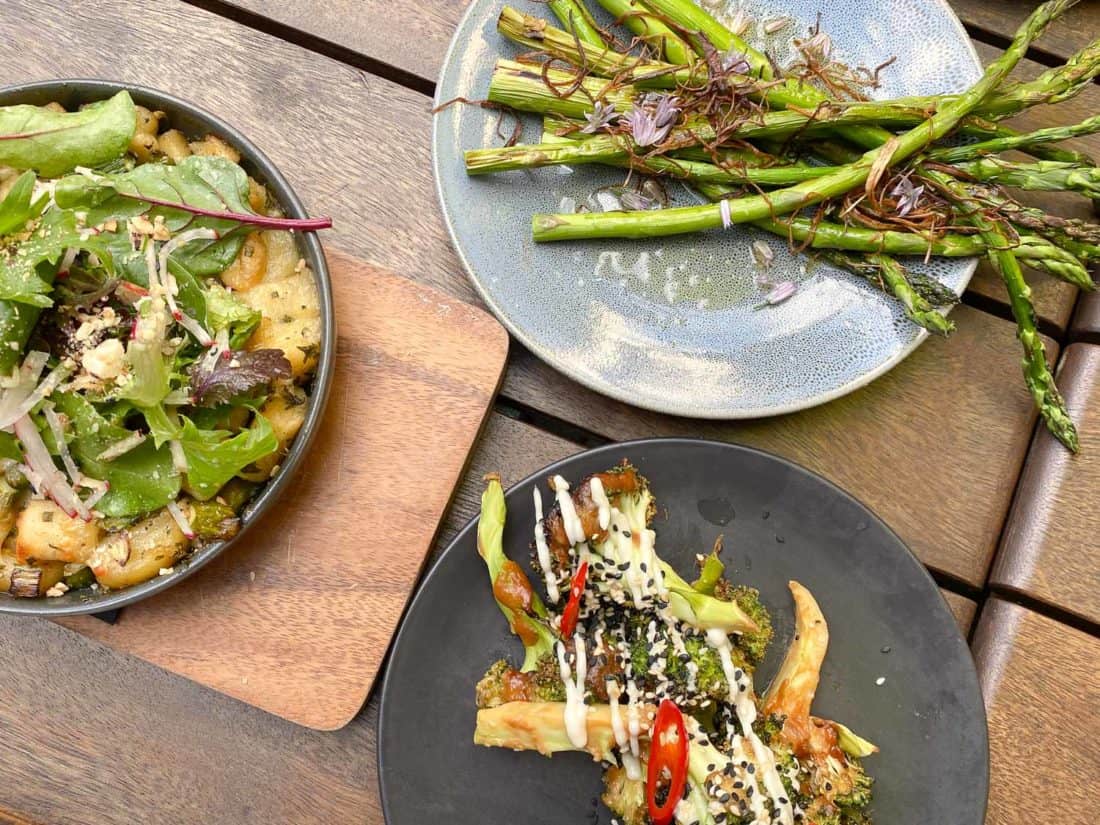 For dinner we love Arden, Harry's Hawker House, and Nahm.
For breakfast or lunch our favourites are Melrose House Cafe and Little Dove, or Cable Bay Cafe when we're out there for the beach or a hike.
See my detailed guide to the best restaurants and cafes in Nelson for lots more ideas.
Best Bars in Nelson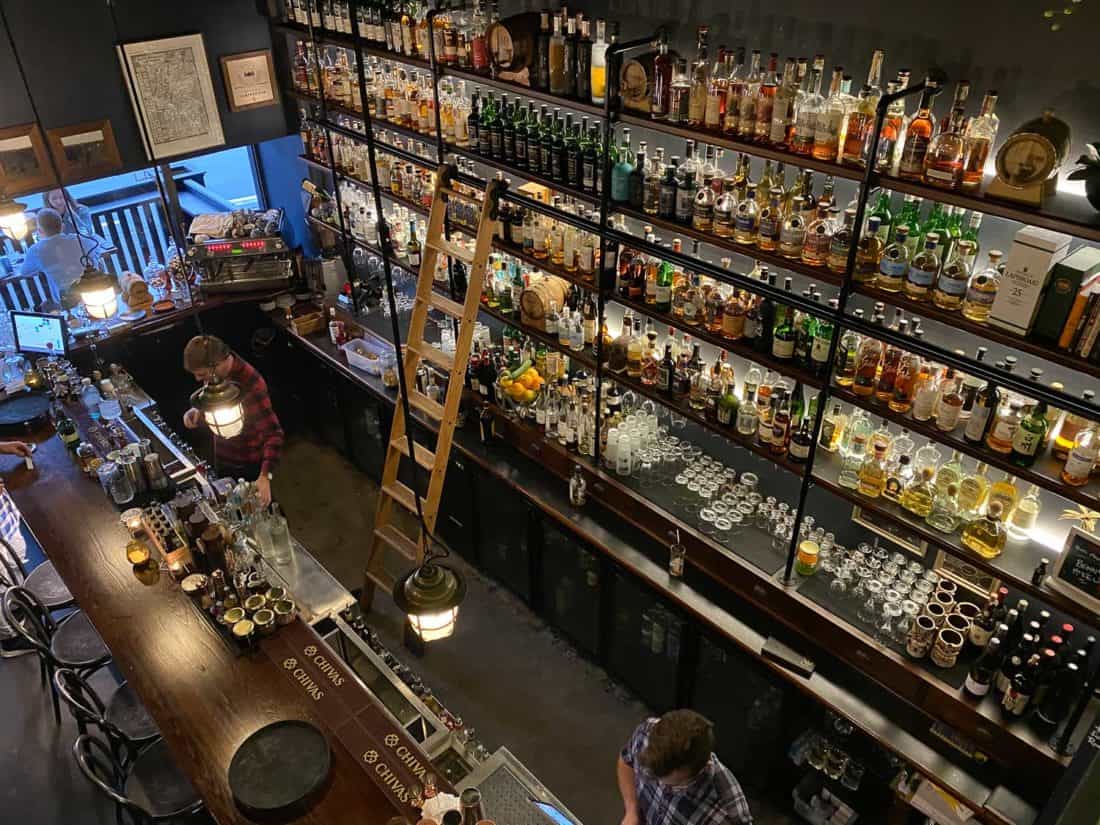 A classy whisky and cocktail bar where you can relax on sofas and armchairs. There's a huge whisky list and you can do tasting flights.
The creative cocktails are superb—the Secret Garden features absinthe, manzana verde, house-made rosemary syrup and a dramatic, smoky presentation.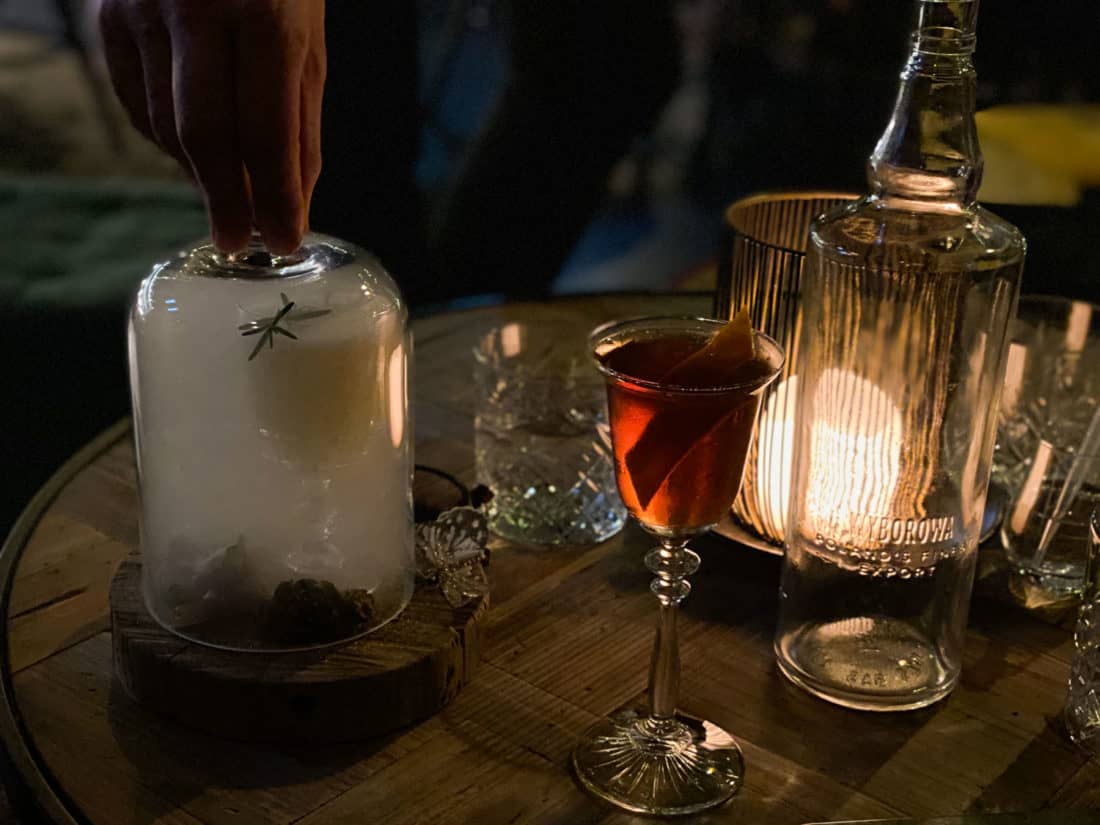 This pub is in a cute converted church and has a large family-friendly beer garden that's popular on sunny days.
It's a great place to sample local craft beer, but we weren't that impressed with their Mexican food. You can also order Indian from across the road.
This New Zealand chain has a friendly atmosphere (no TVs) and good craft beer. There are three branches in Nelson—the one on Hardy Street is most central.
If you are looking for a late-night drink, this intimate bar is one of the few decent bars open late. They serve tacos and have an open mic night on Thursdays.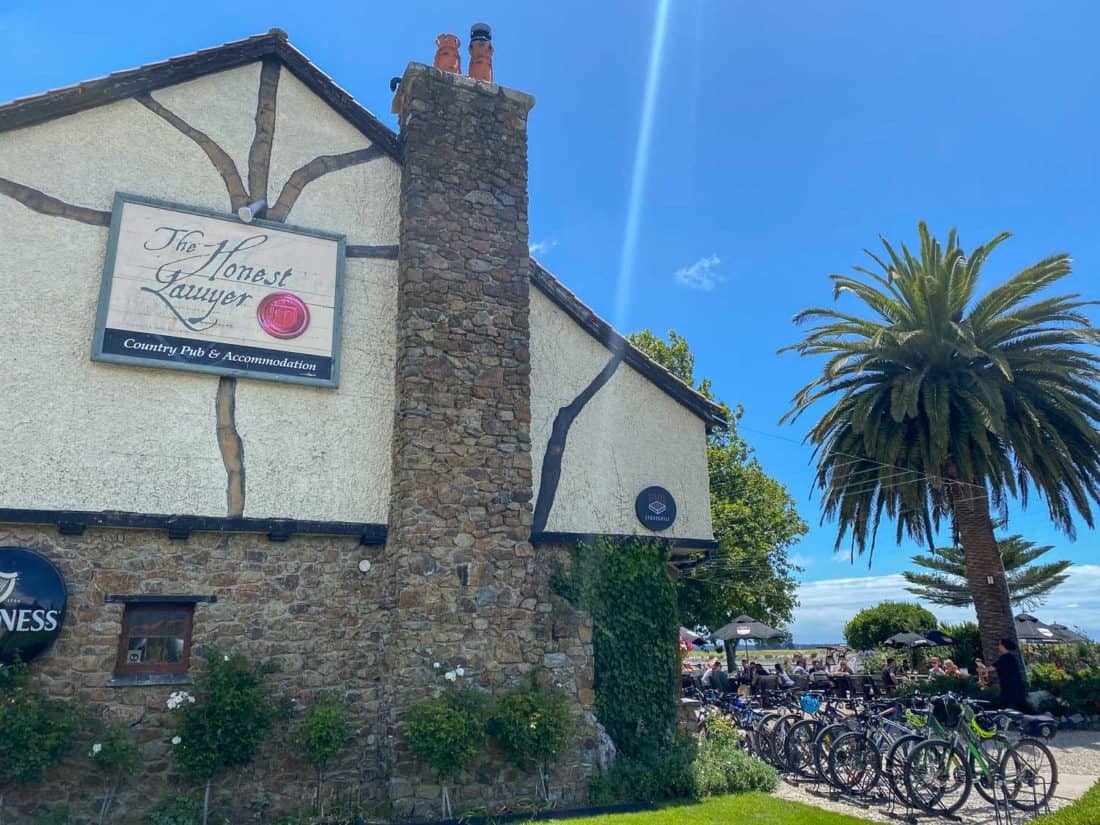 This "Olde Worlde" English-style pub has a large beer garden overlooking the Waimea Estuary a 15-minute drive (or 30-minute cycle) from central Nelson.
The pub food is decent and there are plenty of beers on tap, but you're really here for the setting which is ideal on a sunny day, especially if you have kids.
Accommodation in Nelson
I recommend staying just outside the centre of Nelson where you can enjoy the beautiful nature but are still within walking distance of everything.
Being close to the Maitai River is lovely or you can choose a waterfront location to be nearer to the beach (but further from the centre).
Alternatively, if you want a peaceful retreat from the city, consider staying out towards Cable Bay, a 25-minute drive from the centre.
Wakefield Quay House B & B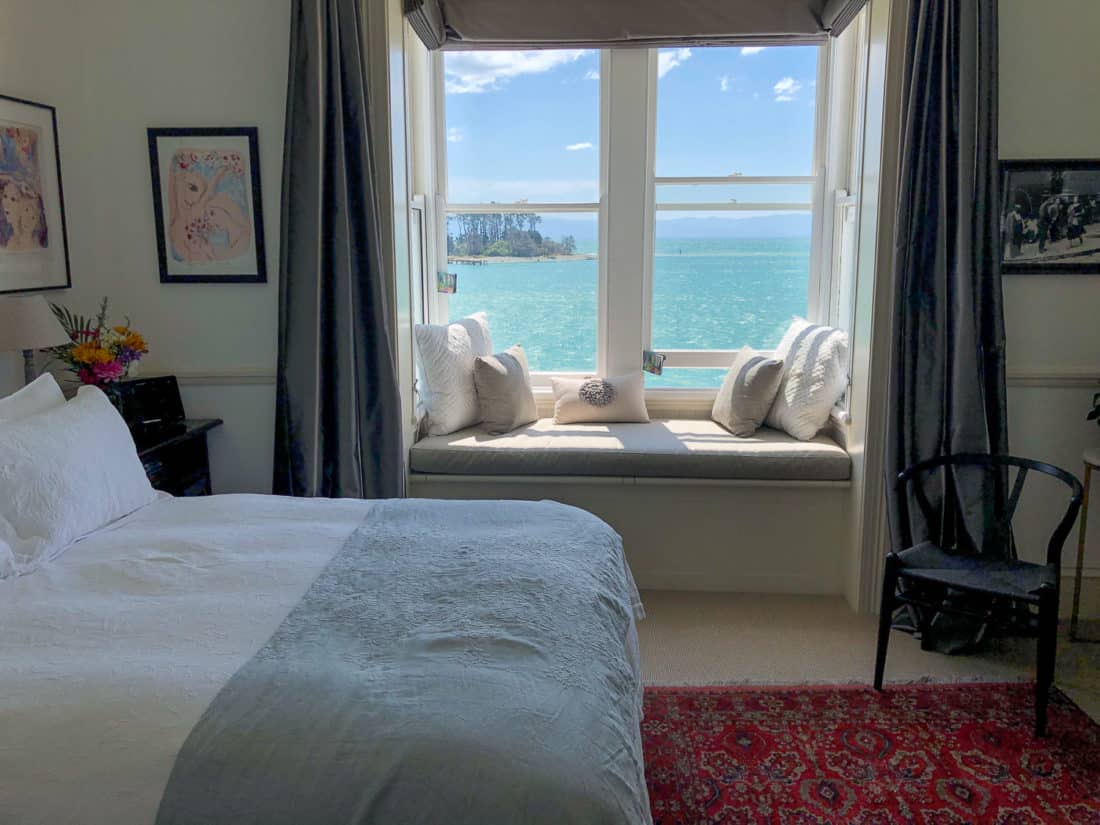 We spent part of our first stay in Nelson at Wakefield Quay House, an intimate but luxurious B&B on Nelson's seafront run by the charismatic Woodi.
There are just two rooms in the weatherboard colonial villa dating back to 1906.
The sea views, happy hour drinks and nibbles, and breakfast are superb.
It's a 30-minute walk outside of the centre and less convenient than staying in the centre of town.
If you have a car and want sea views and to be close to the beach, it's a great option though. There are a few good restaurants a short walk away.
Kikorangi Retreat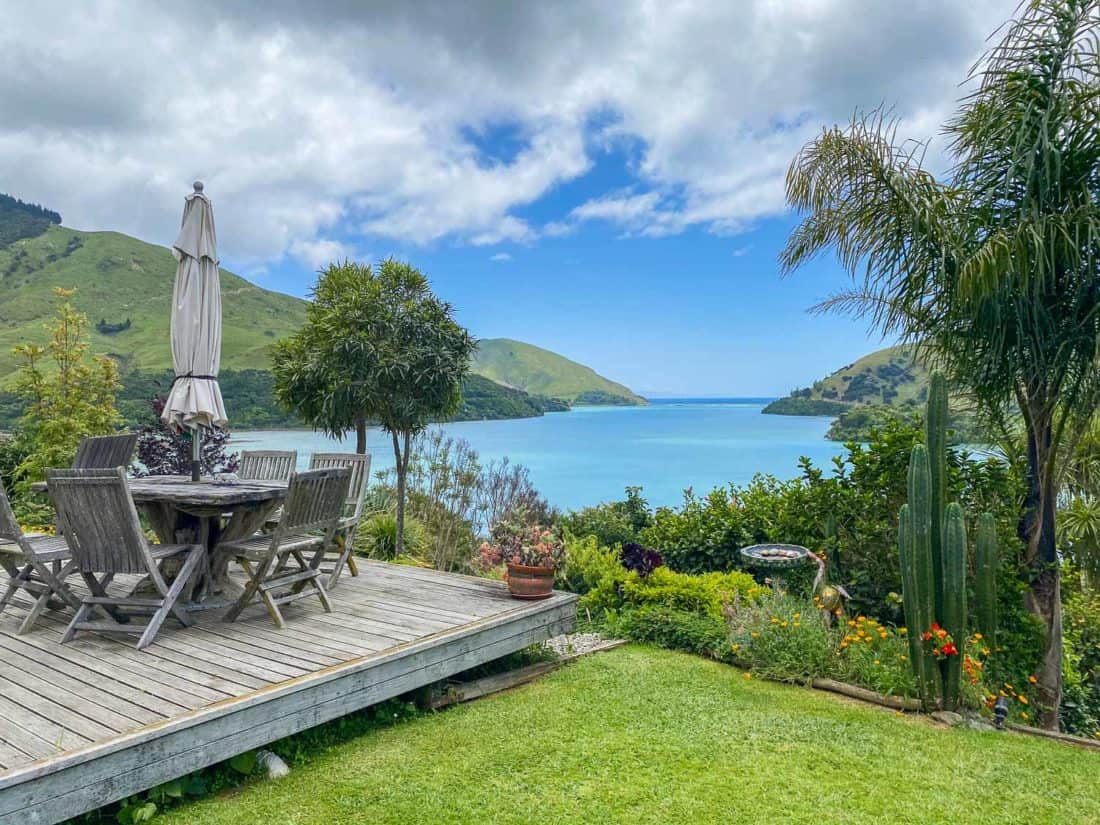 If you are looking for a special place to stay in a quiet location, consider Kikorangi Retreat, which feels remote but is only a 20-minute drive outside of Nelson. It's one of the best places we've stayed in all of New Zealand.
This beautiful house on a hill above Delaware Bay has incredible views of Cable Bay, Pepin Island, and the turquoise estuary with its dramatic tidal changes.
Friendly owner Carolyn and her family created the house with love 22 years ago when it was nothing but 10 acres of empty land and native bush.
The house is now set amongst beautiful gardens full of flowers and fruit trees as well as a vegetable patch and chicken coop—we were encouraged to help ourselves to the produce.
The terrace is the best place to enjoy the setting—from the hot tub, hammock, sitting around the fire pit, or cooking on the BBQ.
It's so peaceful with nothing but the sound of birdsong and sheep baaing on the island across the bay.
Inside the house, big windows make the most of the views and it feels like a real home with artwork, books, CDs, a fireplace, and even a guitar. The large kitchen is well-equipped.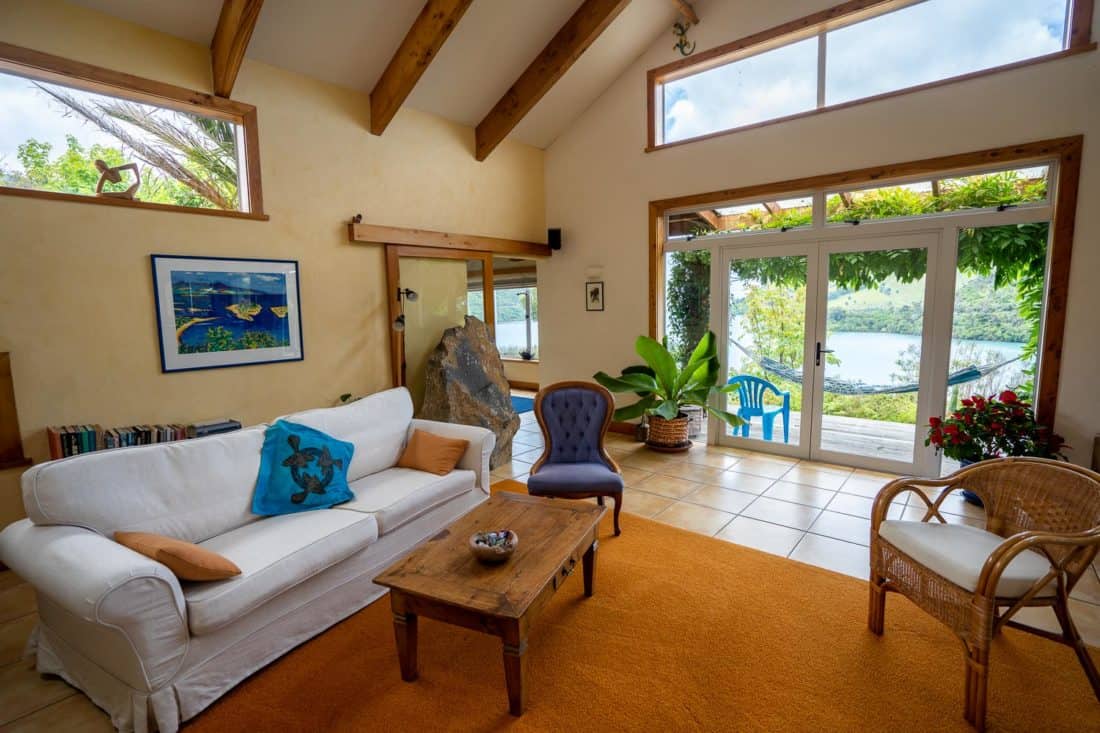 The house feels huge, so it's surprising there are only two proper bedrooms—we took the upstairs double with open plan ensuite and amazing views.
There is also a mezzanine workspace/bedroom, but it lacks privacy, as does the sunroom off the living room which could also sleep one or two people.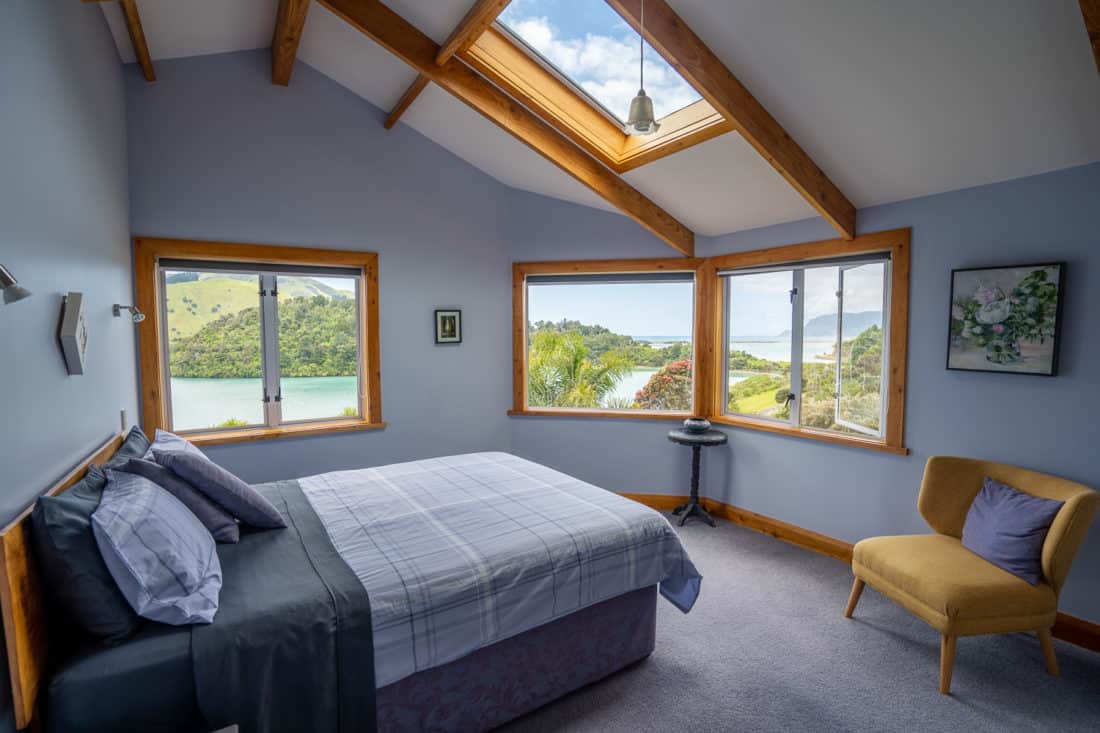 The only downside was rather slow WiFi (and no cell service) but it was manageable. We definitely want to return for a longer stay.
Check prices and availability for Kikorangi Retreat here.
Other Options in Cable Bay
There's a campsite or Cable Bay Nest is a small holiday home with a waterfront location and free kayaks.
Holiday Rentals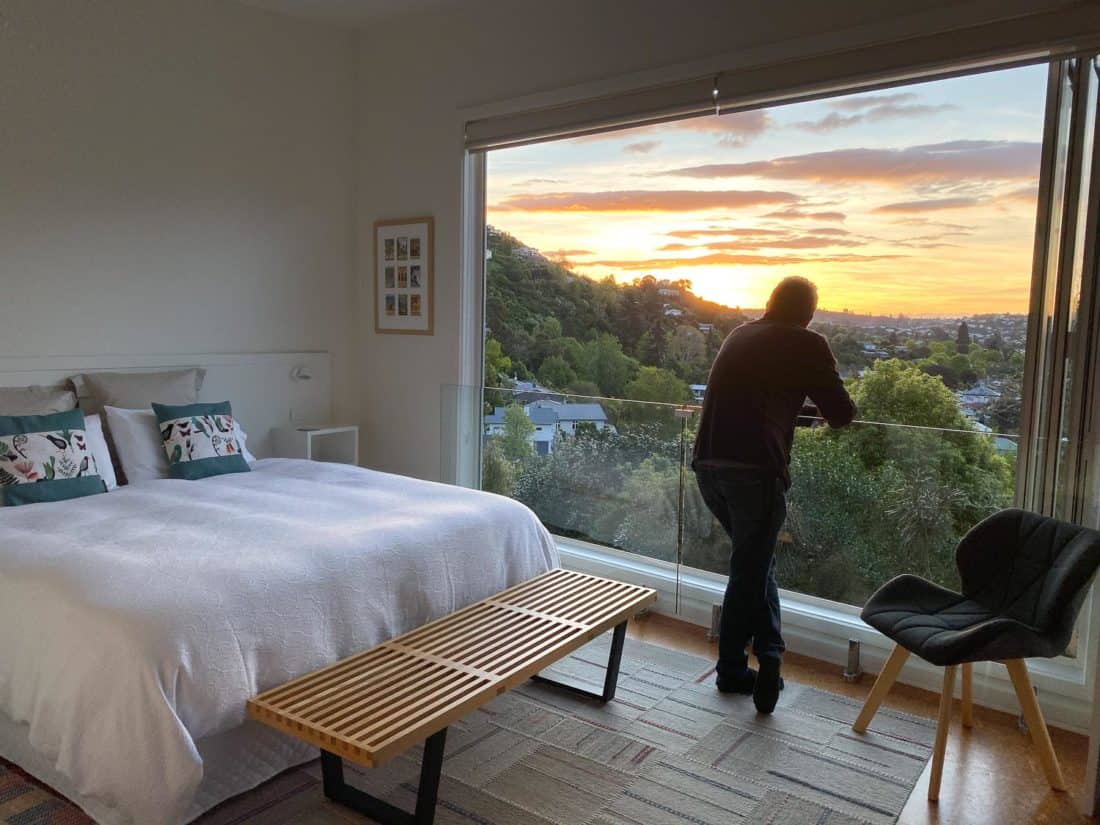 There are lots of great holiday rentals in Nelson that will give you more space and the option to cook.
I recommend this well-designed light and sunny studio with views run by our friend's mum. It's located in beautiful gardens in a quiet part of town near the Maitai River.
The views out of the large windows are stunning, especially at sunset. You feel like you're in the countryside, but it's walkable to the town centre.
Other stylish, well-located holiday rentals in Nelson include this historic eco-friendly villa, Elliott Street Gem, a lovely two-bedroom house plus sleep-out.
Search for more holiday rentals in Nelson here.
Cedar Grove Motor Lodge
There are many motels in Nelson which are affordable and convenient, if unexciting, places to stay.
One of the best is Cedar Grove Motor Lodge which we stayed in for a week one Christmas. The location is ideal near to the river and only a few minutes' walk to the centre of town.
The family who owns it are friendly and the shared laundry facilities were useful.
Our one-bedroom unit with balcony was more spacious than most motels and was modern and clean with a small kitchenette.
Other Motels
Riverlodge Motel – The best of the budget motels, rooms are fairly basic but the location is great and our upstairs studio was bright with views of the hills and a balcony.
Waimarie on Riverside Motel & Apartments – We've also stayed at this affordable motel which has an excellent location on the river close to the centre. We found the apartments rather dark and dated, though, and there's no river view.
Search for more Nelson accommodation here.
How to Get to Nelson
Nelson has a domestic airport and can be reached by plane, bus, or your own vehicle.
Having a car will give you the most freedom to explore, but more than most places in New Zealand you can manage without one.
The centre is walkable and tour companies can take you further afield to the wine region and Abel Tasman.
Wellington to Nelson
To get from Wellington to Nelson you can take a very short (and scenic) flight with Air New Zealand or Sounds Air or a 3.5-hour ferry to Picton plus 2-hour drive.
We took the ferry and spent two nights in the Marlborough wine region to break up the journey, which I highly recommend.
Our North Island itinerary has some suggestions of places to visit if you are visiting both islands.
Picton to Nelson
Picton is where the ferry from Wellington arrives on the South Island. It's a 2-hour drive from Picton to Nelson or the InterCity bus takes 2 hours 20 minutes.
If you are driving yourself, on the way stop at Pelorus Bridge Scenic Reserve where you can do some short walks along the turquoise river and through the birdsong-filled forest. This is where the barrel scene in The Hobbit movie was filmed.
Blenheim to Nelson
Blenheim is the hub of the Marlborough wine region. To get from here to Nelson it's a scenic 90-minute drive or a 2-hour ride on the InterCity bus.
Christchurch to Nelson
The journey from Christchurch to Nelson is quite a long one. It takes at least 5.5 hours to drive it and it's worth breaking up the journey with a stop in Hanmer Springs (if taking the inland route) or Kaikoura (on the coastal route).
The InterCity bus takes 7.5 hours or you can take a short flight. Alternatively, the scenic Coastal Pacific train runs between Christchurch and Picton in just over five hours and you could then transfer to a bus to Nelson. The train only runs three times a week from spring to autumn.
See our guide to the East Coast of the South Island, New Zealand for suggestions on places to stop on the way.
Nelson to Punakaiki
If you want to travel further down the South Island, the West Coast is a beautiful if winding drive.
Punakaiki is a great first overnight stop with some lovely walks along the Pororari River and to see the famous Pancake Rocks.
Punakaiki is a scenic 4-hour drive from Nelson and Murchison is a good halfway point for coffee or lunch.
When to Visit Nelson
Nelson Tasman is the sunniest region in New Zealand and can be visited year-round.
The summer (late-December to March) is the best time to visit Nelson if you want to enjoy the beaches, but expect more crowds, especially over the New Year holidays.
Our longest stay was from November to early January (late spring/early summer) and we found the weather mixed—some cool rainy days but plenty of sunny and warm days too.
Winter (June to August) is cool but often sunny with average temperatures of 12ºC (54ºF) vs 22ºC in summer.
I like that you can see snowy mountains in the distance while walking on the beach in winter and it's a much quieter time to visit.
Nelson New Zealand Map
More New Zealand Posts
Read more of our tips for exploring beautiful New Zealand:
Top of the South Island
Rest of the South Island
North Island
If you enjoyed this post, pin for later!