This page contains affiliate links. Please read our disclosure for more info.
New Plymouth is a small seaside city in Taranaki, a region on the west coast of New Zealand's North Island that is usually overlooked by visitors and even Kiwis themselves, despite being named by Lonely Planet as one of the best regions to visit in 2017.
The area quickly became one of our favourites in New Zealand. We loved the lush green countryside, wild black sand beaches, and most of all, the iconic Mount Taranaki.
This perfectly conical volcano resembles Mt Fuji (it even stood in for it in The Last Samurai film) and rises up from verdant farmland to dominate the landscape. While the peak is often obscured by cloud, it made me happy every time it emerged.
The port city New Plymouth is in some ways a standard New Zealand town, but it has a beautiful coastal walkway and pockets of cool—a surprisingly contemporary art gallery, street art, record stores and artsy design shops, a sourdough bakery in a shipping container hidden down a colourful alleyway, and some excellent cafes for coffee and brunch. It's also home to world-class festivals like WOMAD.
In Taranaki you can surf at the beach and hike in the rainforest on a volcano and then enjoy an excellent meal, all in the same day.
We visited in late winter, which I recommend if you want to see the mountain snow-capped. If you plan to spend lots of time at the beach or do a long hike, summer would be better.
We really enjoyed our week in Taranaki and would happily return for a longer stay.
If you have some extra time on the North Island, it's definitely worth a detour on a road trip between Auckland and Wellington, especially if you want to experience volcanic landscapes without the crowds of Tongariro National Park.
These are our picks for the best things to do in New Plymouth and the Taranaki region.
At the end of the post, you'll also find tips on where to stay, how to get there, and a map of all these places to visit in New Plymouth.
Contents
Video: Best New Plymouth Attractions
Watch our video for an overview of what to do in New Plymouth.
Things to Do in New Plymouth, New Zealand
These are the best things to do in New Plymouth city. They can be reached on foot if you are staying in the city centre, although we chose to stay in the beach town Oakura, a 15-minute drive outside town (more on that below).
1) Cycle the New Plymouth Coastal Walkway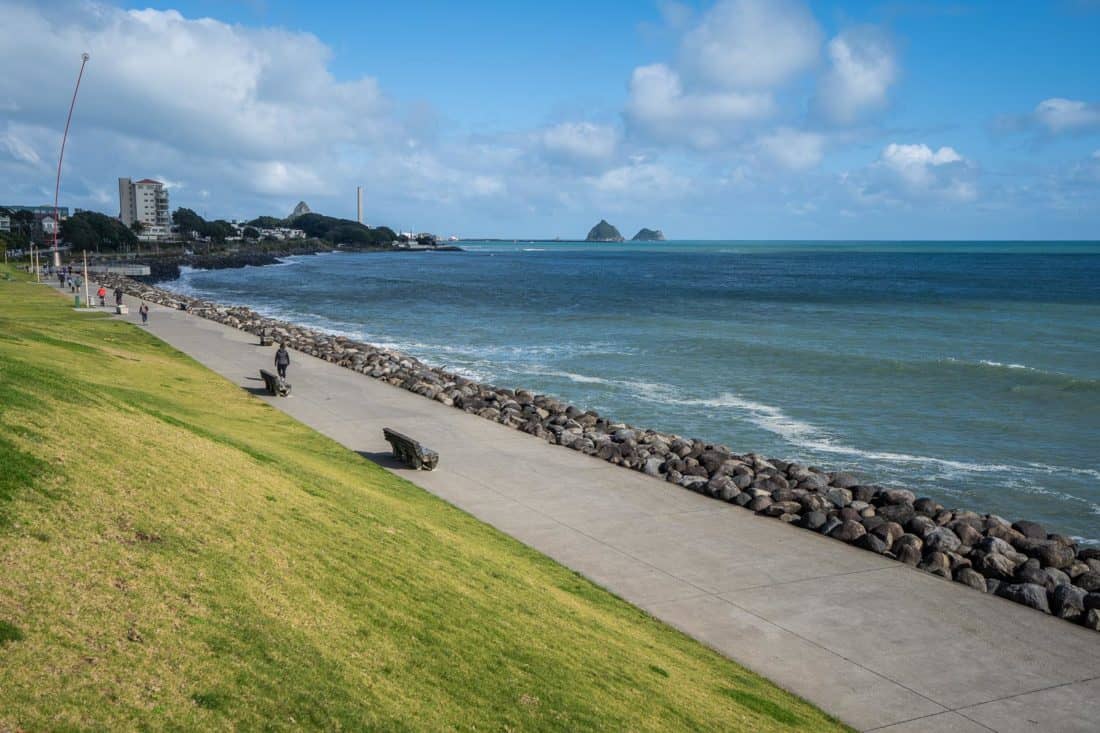 The New Plymouth Coastal Walkway is a 13km seafront path from Port Taranaki to Bell Block Beach that passes through the town centre. While you can walk it, if you want to do the whole thing, it's best to hire bikes.
I'm not the best cyclist, but I really enjoyed the 20km bike ride we did from the centre to Bell Block and back. It was smoothly paved, away from the road, and fairly easy with only a few gentle hills.
We rented bikes from Cycle Inn for $10 for two hours which was just enough time, but I recommend paying $20 for a full-day hire so you don't need to rush.
We didn't have time to go in the other direction to the port or take any of the detours, and there are plenty of beautiful spots to linger.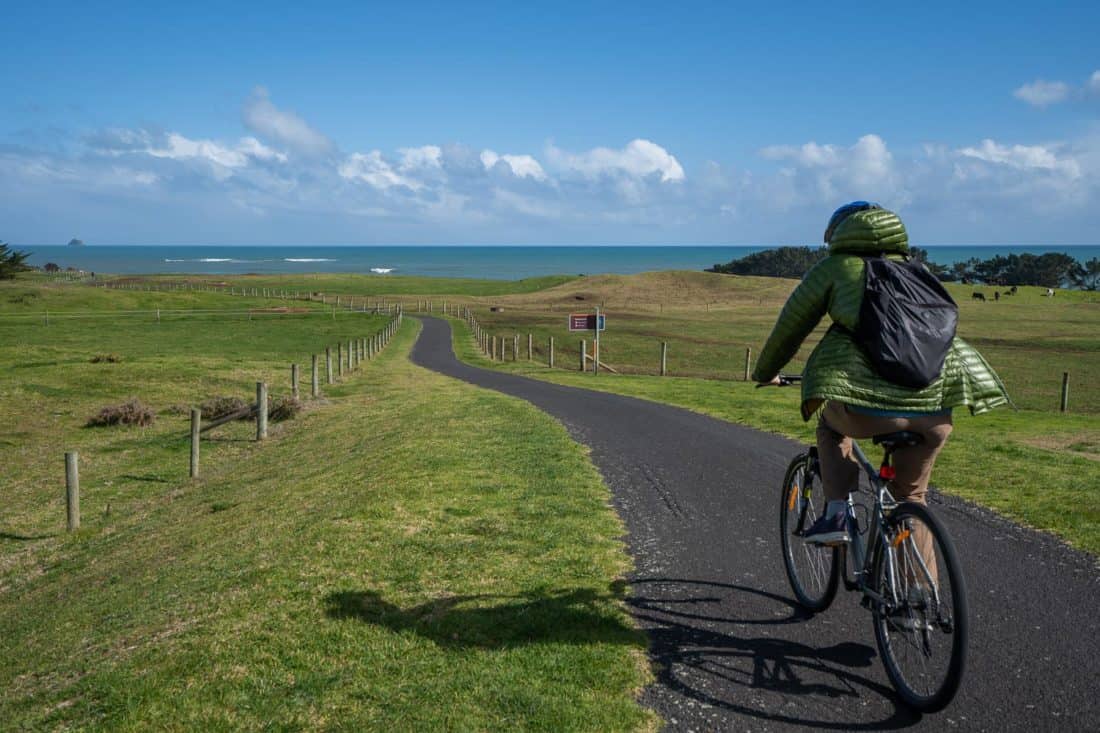 Along the way, there are gorgeous views of the sea, beaches, farmland, and Mt Taranaki.
Highlights include the Len Lye Wind Wand, a kinetic sculpture that bends in the wind, the Te Rewa Rewa Bridge, a velodrome where Simon took a spin, and various beaches.
On another day we walked towards the port. If you have limited time, I think the other direction (towards Te Rewa Rewa and Bell Block) is more scenic.
2) Admire Mount Taranaki at Te Rewa Rewa Bridge
One of the top New Plymouth attractions is the Te Rewa Rewa Bridge. We first visited while cycling the Coastal Walkway (it's 4km from the Wind Wand in the city centre), but you can also park nearby and walk across.
The unique pedestrian and cycle bridge is shaped like a whale skeleton or breaking wave and on a clear day it perfectly frames Mt Taranaki.
3) Visit the Govett-Brewster Art Gallery and Len Lye Centre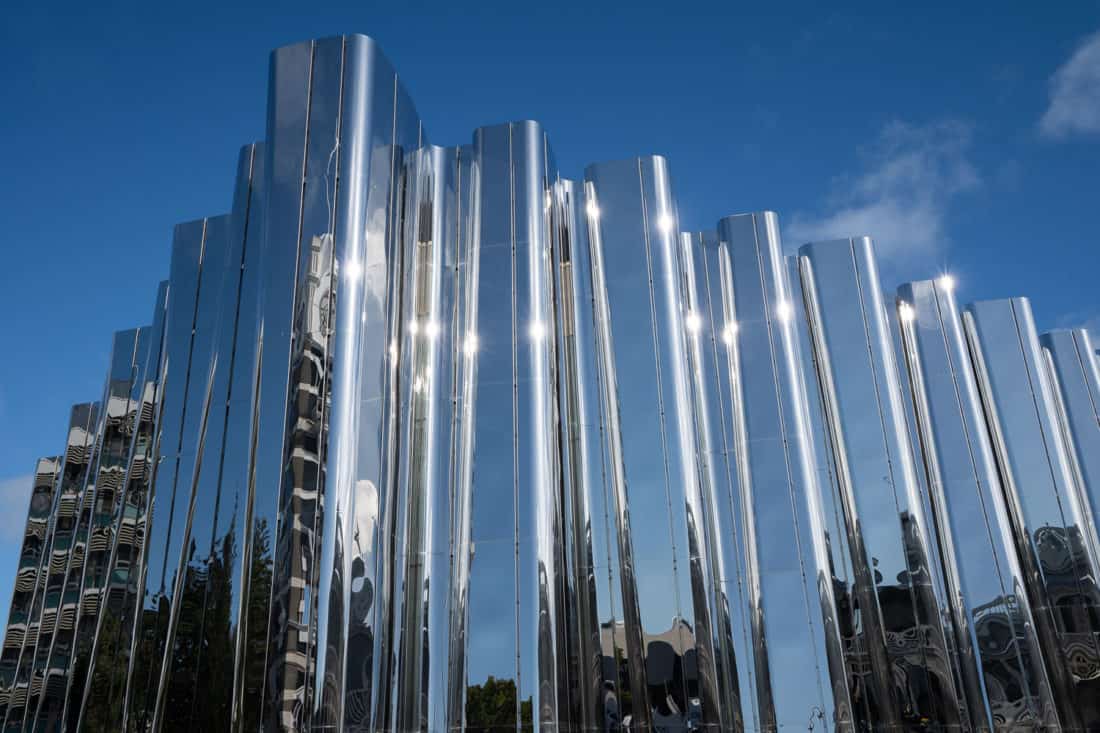 The Govett-Brewster Art Gallery is a contemporary art gallery housed in a striking building with curved mirrored pipe-like exterior walls.
Half of the gallery hosts changing exhibitions—when we visited it was the accidentally timely exhibition Pigs and Poison by Candace Lin about the legacies of Chinese migration and racial profiling during contagions.
The other half is dedicated to the New Zealand filmmaker and kinetic sculptor Len Lye (1901–1980). We enjoyed watching his experimental films in the large screening room and admiring his Sky Snakes sculptures.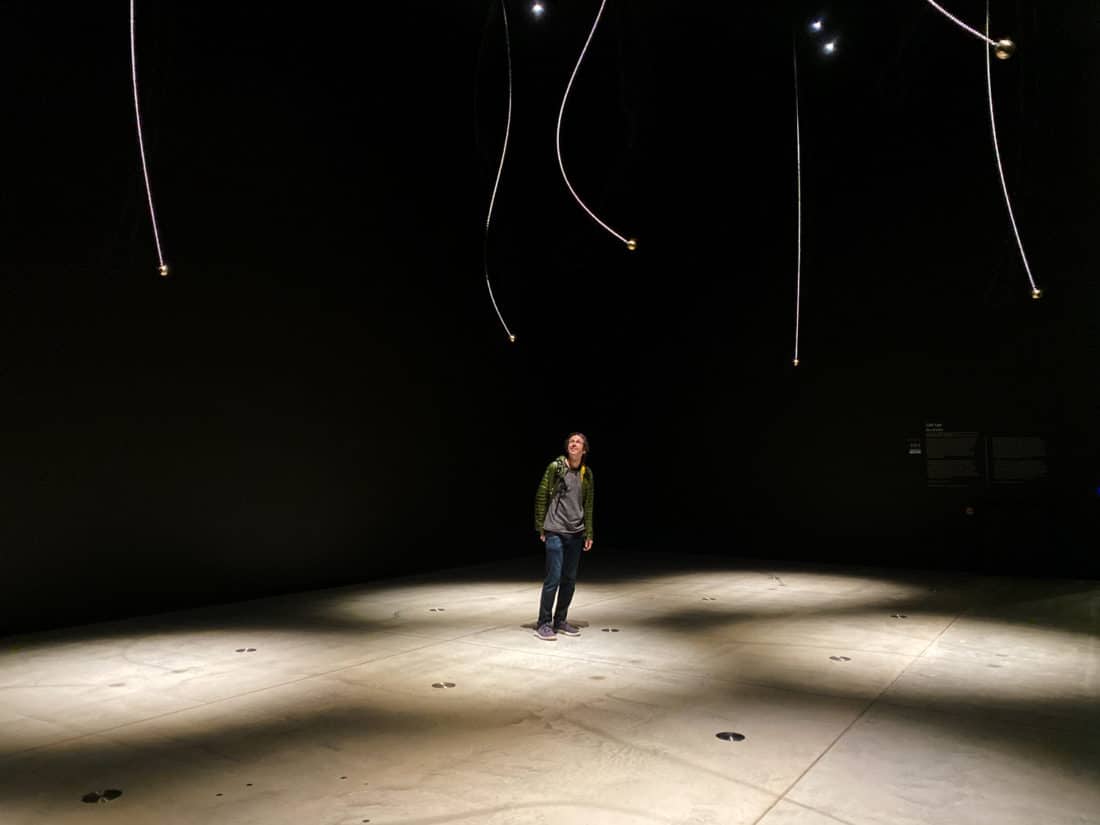 Entrance to the museum is $15 and it's open 10am – 5pm every day. It's a friendly gallery with staff who were eager to answer questions.
4) Climb Paritutu Rock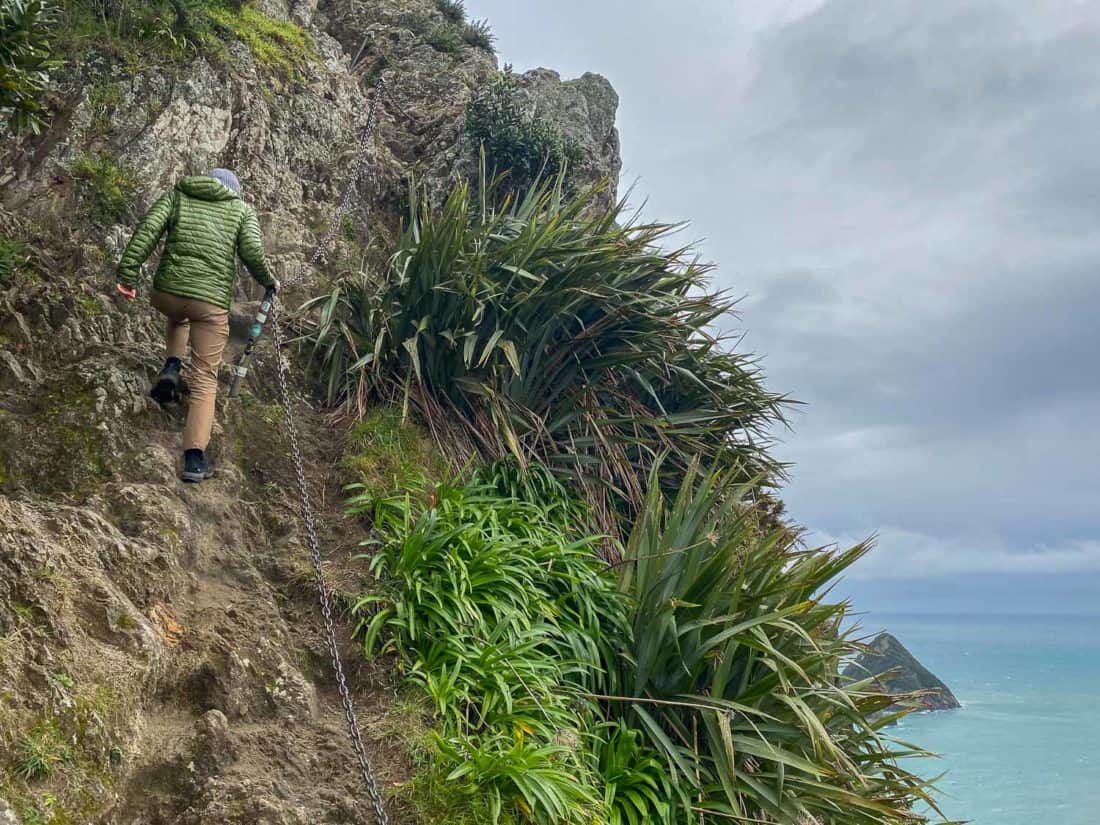 Another of New Plymouth's iconic sights is 156-metre Paritutu Rock, a remnant of an ancient volcanic crater. It's near Port Taranaki so can be reached on the Coastal Walkway or by a short drive.
You can climb the rock for views of the port, Sugarloaf Islands, Back Beach, and Mt Taranaki (on a clear day), but it's not for those scared of heights.
Although it only took 15 minutes to reach the top, it was a pretty scary scramble up an almost vertical rock face with the help of a chain.
Coming down was even worse. You definitely want to wear grippy shoes, keep your hands free, and avoid the climb during or after rain.
5) Walk on Back Beach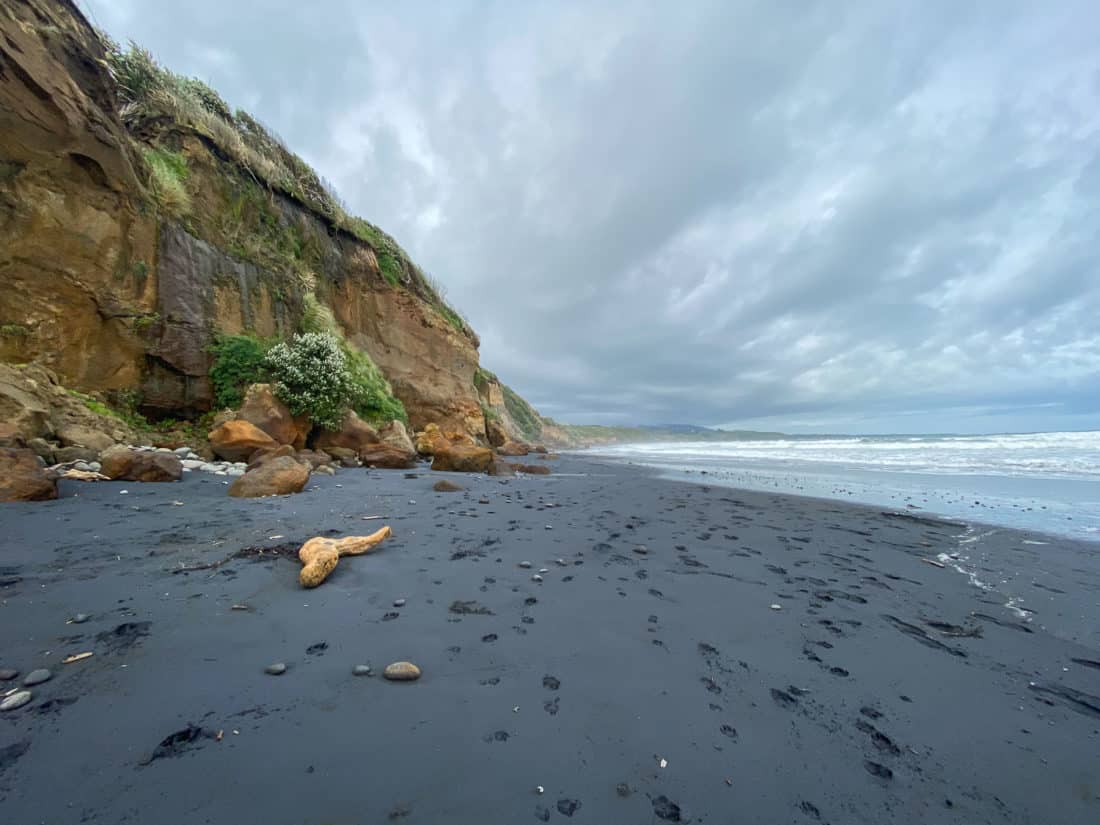 After climbing Paritutu Rock I recommend visiting the neighbouring Back Beach.
This wild and empty beach has the blackest sand we've seen in New Zealand and a beautiful setting backed by orange cliffs with the Sugarloaf Islands just offshore.
The rough waves make it a better beach for walking and surfing than for swimming.
We parked at Paritutu Centennial Park and walked down the steps to the beach, but the adventurous can slide down the sand dunes.
It's best at low tide if you want to walk all the way along the beach. The picnic tables on a grassy area above the beach would be a lovely spot for lunch on a clear day.
6) Stroll in Pukekura Park
Pukekura Park is a large botanical garden a short walk from the centre of the city. It's not a must-see, but it's a pleasant place for a walk or run, and on a clear day it's an easy place to get a view of Mt Taranaki.
The best view is from the teahouse at the pond where the mountain looms over the red bridge. There's also a waterfall, lovely fern gardens, and an indoor tropical greenhouse.
Every summer the park hosts the spectacular Festival of Lights.
7) Enjoy Coffee or Brunch in a New Plymouth Cafe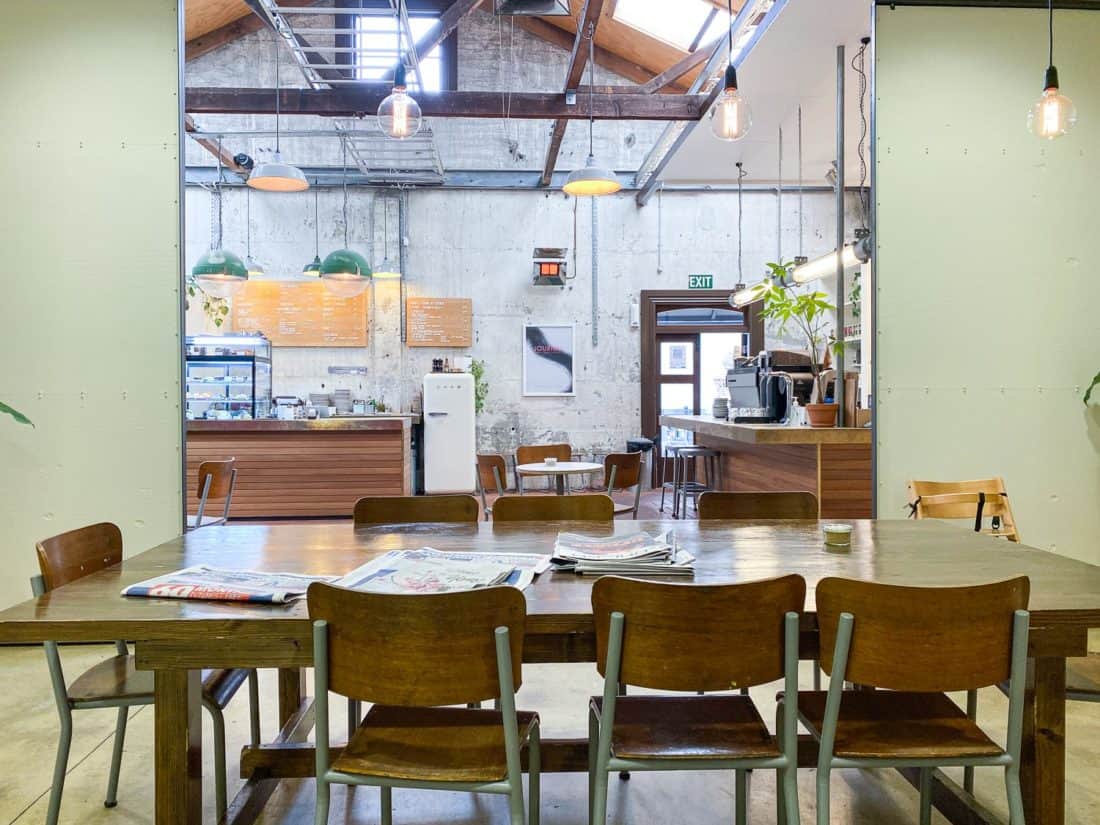 There are some excellent spots in New Plymouth for coffee and brunch.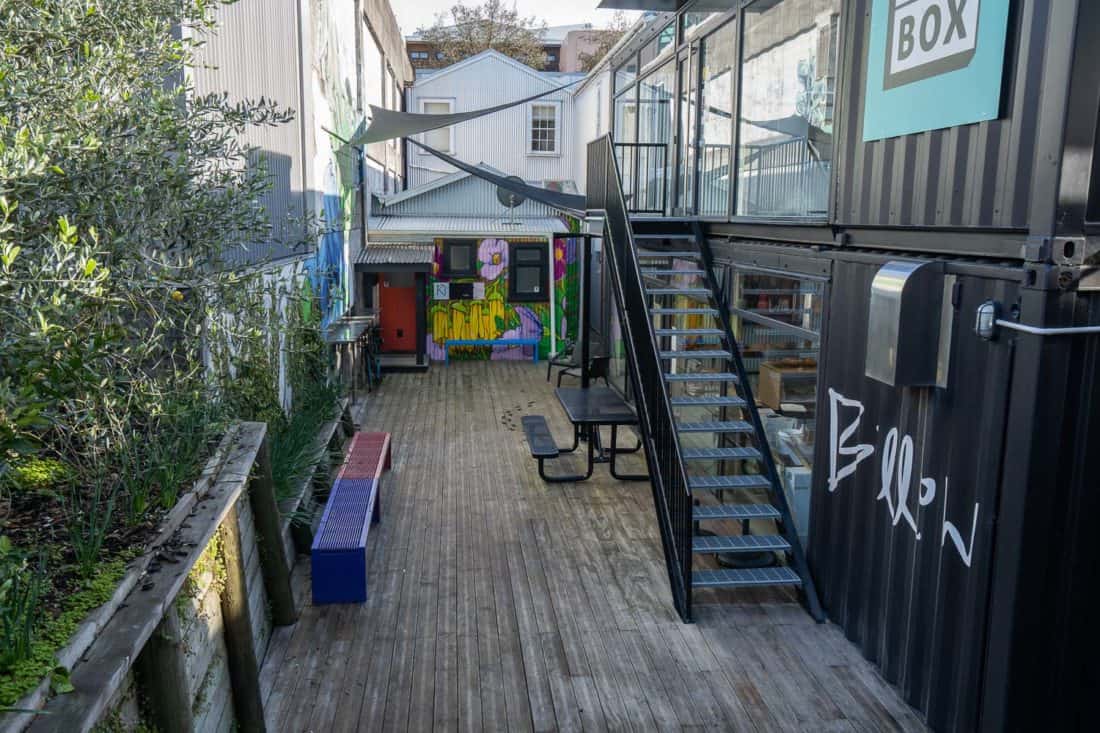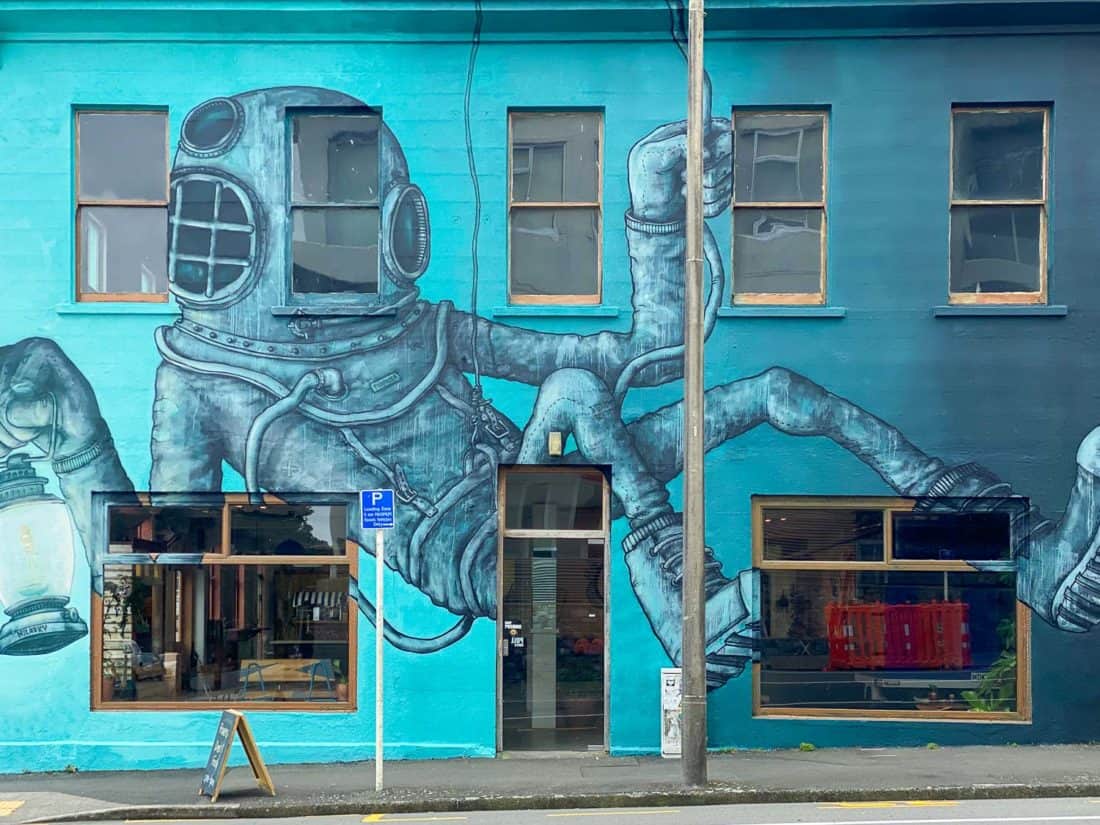 8) Learn About Taranaki at Puke Ariki Museum
While I don't think Puke Ariki Museum is a must-do in New Plymouth, it's a good free activity for a rainy day and has interactive displays for kids.
There's a giant shark model, information about Mount Taranaki and local geology and wildlife, some Maori artefacts, and a display on the immigrants who came to the area from South England (hence the city's name).
9) Eat a Meal in the Courtyard of the Historic White Hart Hotel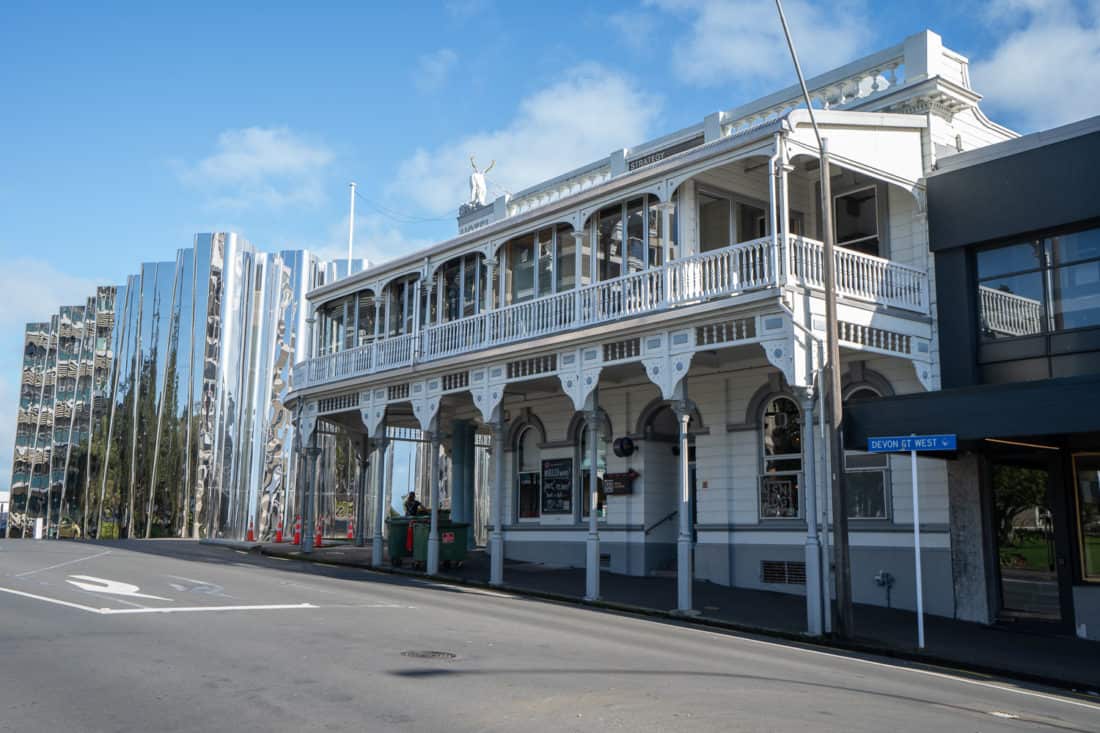 The White Hart Hotel is a timber Victorian building built in 1886. In recent years it has been restored and the courtyard now hosts a number of excellent eateries.
We had dinner at Snug Lounge which serves Japanese-inspired small plates and cocktails in a cosy space with red velvet seating and fireplaces.
There are plenty of vegetarian options and we especially enjoyed the grilled tofu salad and kumara balls.
The courtyard is also home to Ms White Pizza, which is supposed to be excellent, and Public Catering Company, a daytime cafe with donuts, shakes, and cabinet food. The donuts were just ok, but we enjoyed our veggie, cheese and lentil pie.
Things to Do in Taranaki, New Zealand
It's well worth exploring the Taranaki region beyond New Plymouth for stunning beaches and the distinctive mountain. This is best done with your own vehicle on a clear day.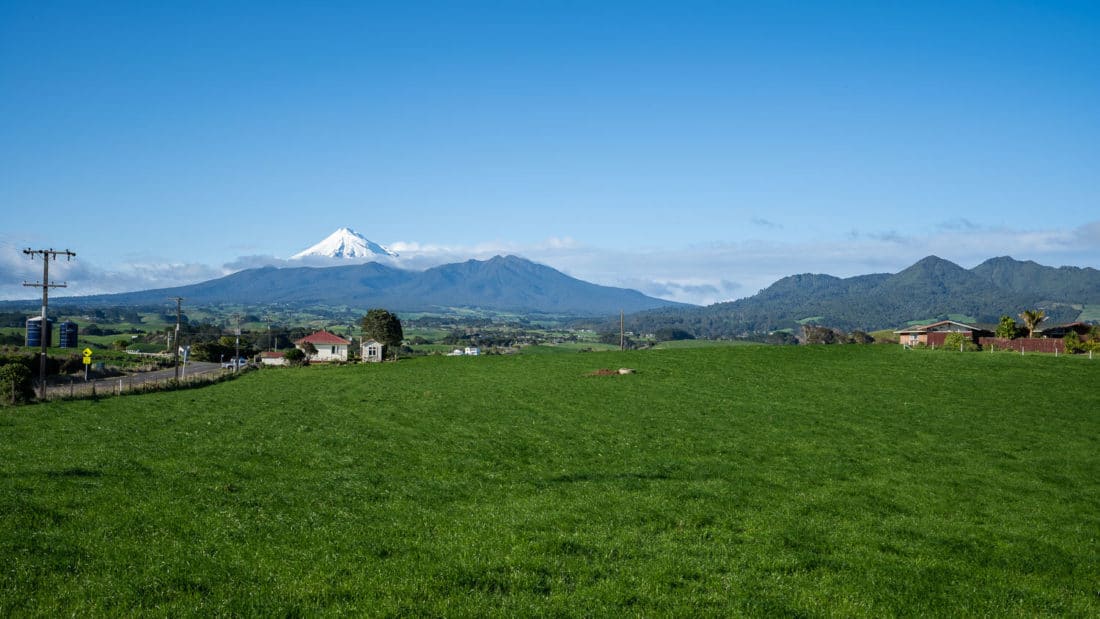 Mt Taranaki is at the heart of the rainforest-covered Egmont National Park. There are various access points to the park and plenty of trails in the foothills.
You can also hike to the summit in the summer, but this is a strenuous 9-hour trip. The mountain is sacred to the Maori, so you shouldn't stand directly on the summit peak or cook in the summit area.
Although the active volcano hasn't erupted since the 1850s and there are currently no signs of life, there's a high chance it will erupt again in the next 80 years.
Take warm clothes when you head up the mountain as it's significantly colder than in New Plymouth.
10) See Mount Taranaki Reflected in Pouakai Tarn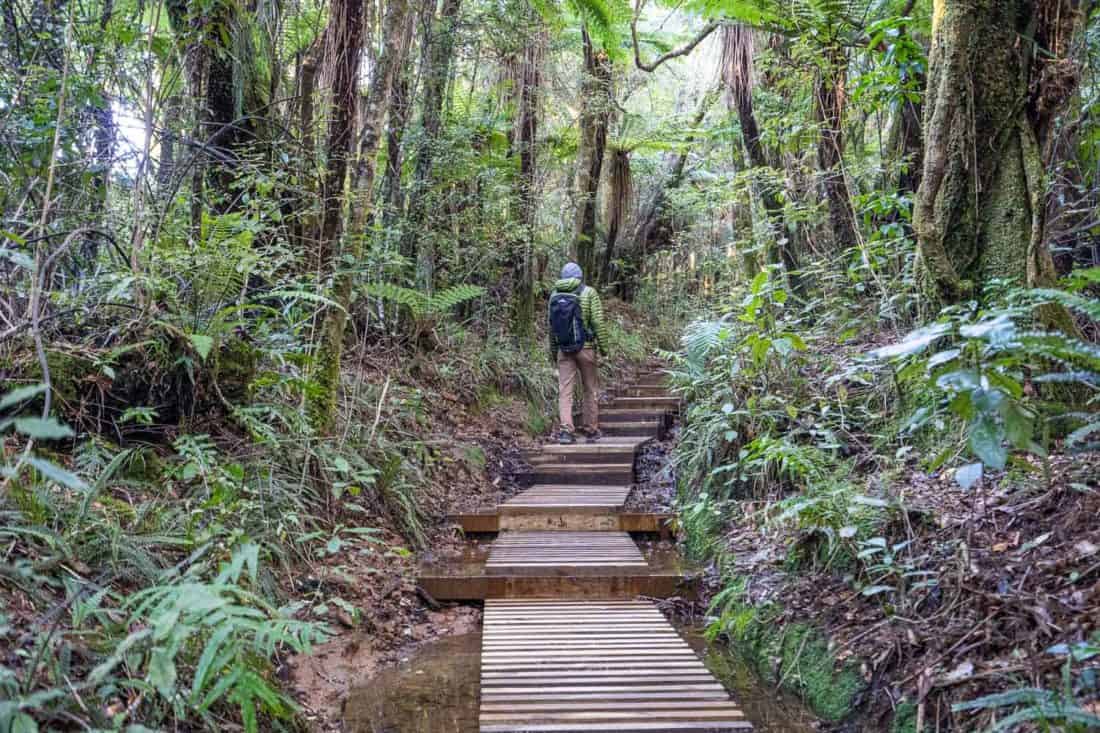 My absolute favourite activity in Taranaki was hiking to see the mountain reflected in Pouakai Tarn. You need a clear, calm day to make the most of this walk.
The out and back hike to the tarn starts from the end of Mangorei Road (where there's a large car park, map, and toilets) and is part of the one day 18.4km Pouakai Crossing or the 2–3 day Pouakai Circuit (neither of which are recommended in winter).
We started the hike at 7.30am (40 minutes after sunrise) which turned out to be perfect. We only saw a few other people on the way up (many more on the way down) and managed to have the tarn to ourselves in-between the overnighters at nearby Pouakai Hut and day hikers.
It wasn't an easy walk. Most of the trail is boardwalk with wooden stairs ascending through the forest. We walked uphill for two hours to reach Pouakai Tarn and only caught sight of the peak in the last 10 minutes.
Once we reached the top we forgot our tiredness, though, as the view is spectacular. Mount Taranaki feels so close and you can see all its details with different colours and textures from the snowy peak to the brown slope and deep green base.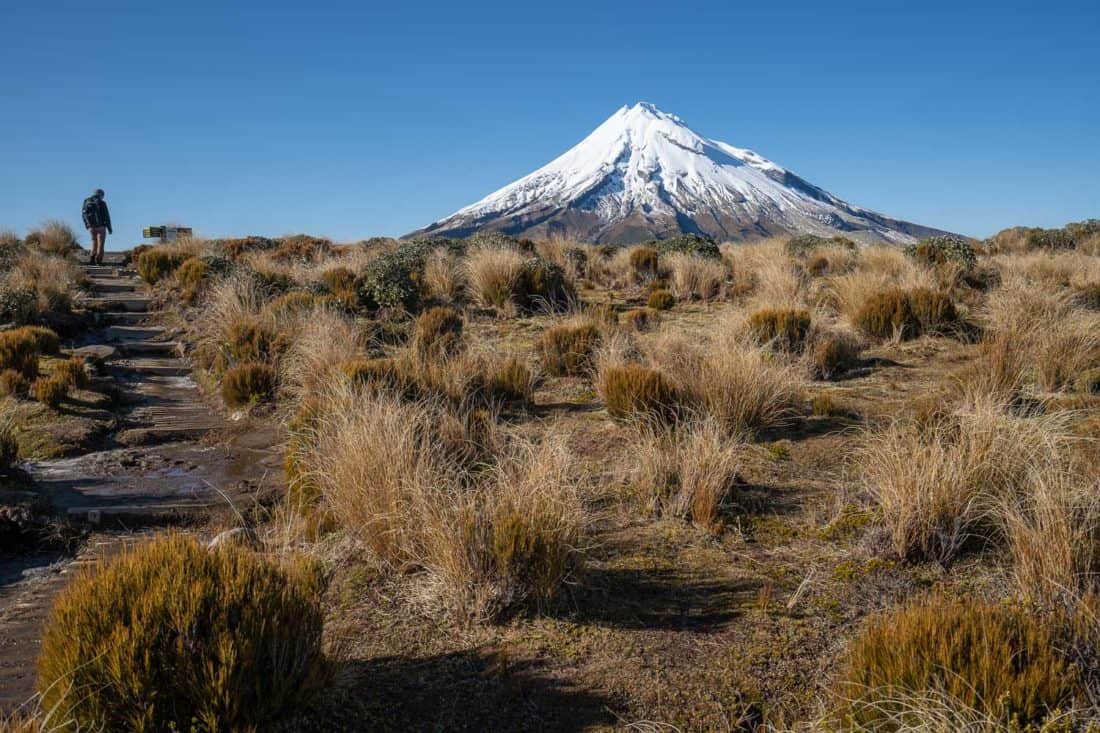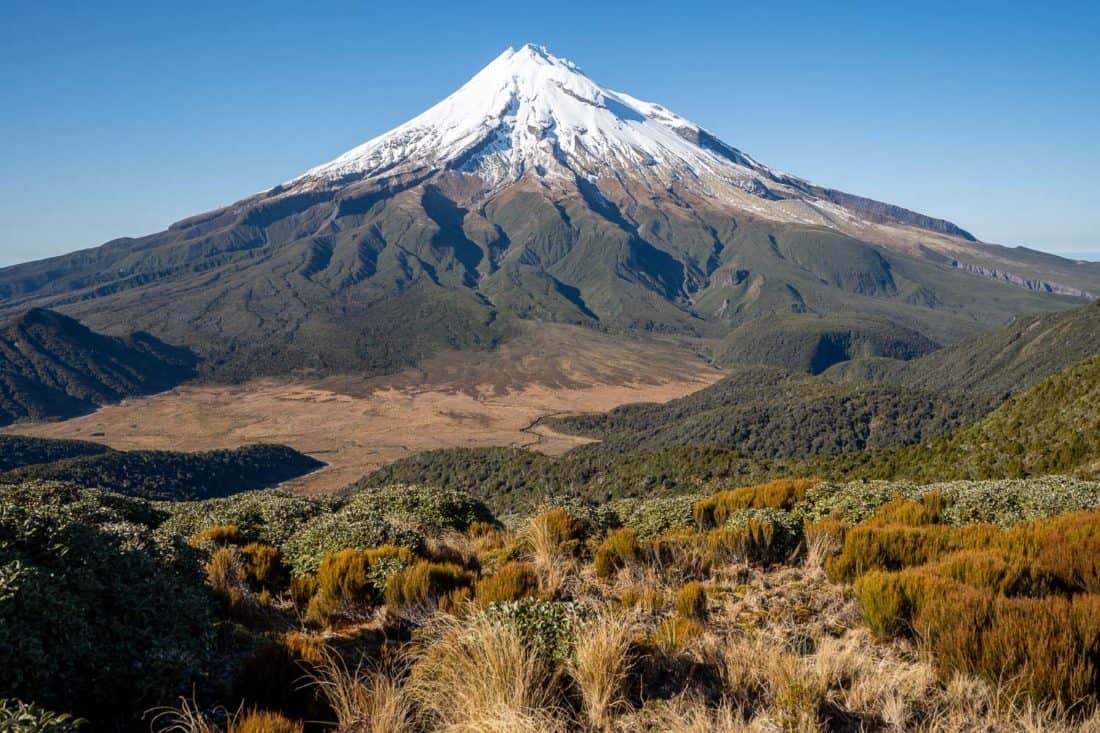 You can also see Mt Ruapehu and Mt Ngauruhoe in Tongariro National Park in the distance.
Pouakai Tarn is a tiny pond that's perfectly positioned to reflect the mountain. We hung out there for ages—eating, admiring the view, enjoying the tranquillity, and feeling far away from everything.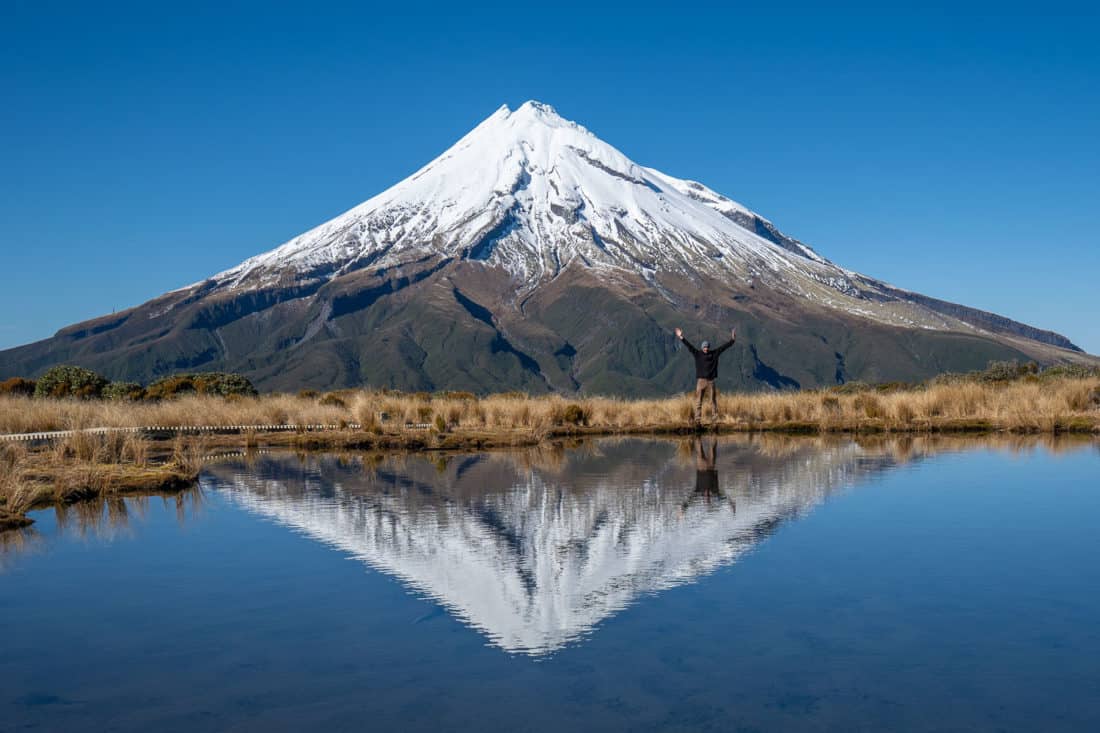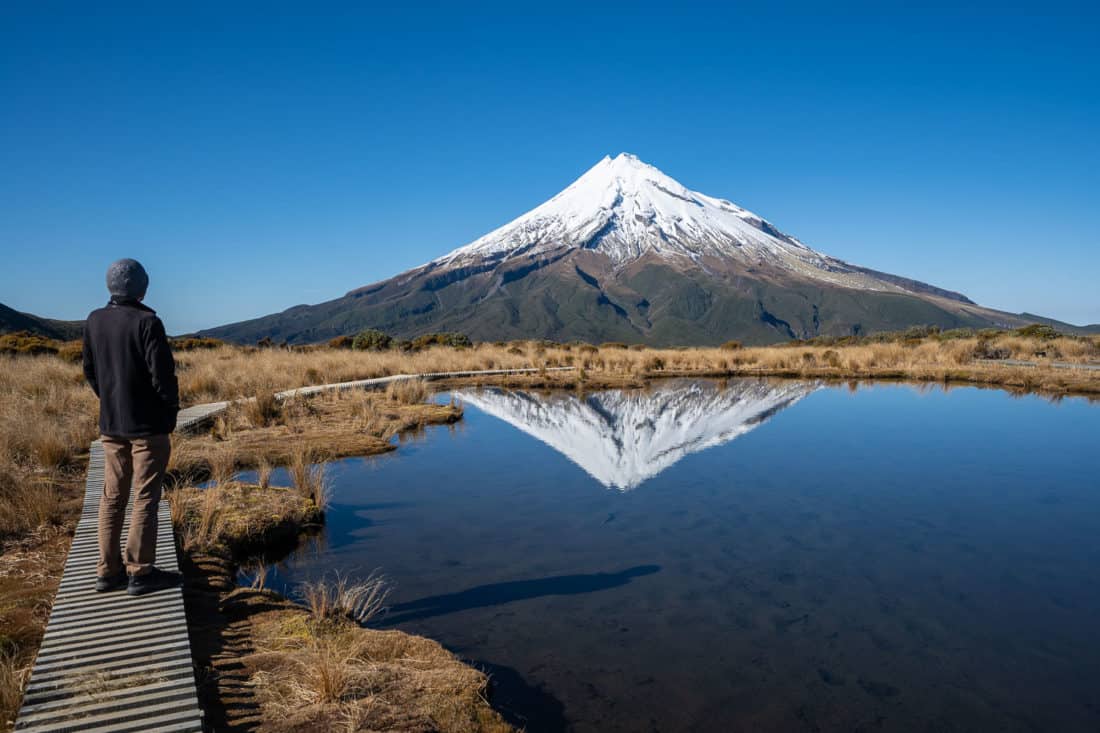 Pouakai Hut is a 20-minute walk away (on the way up) and is a popular overnight stay for people who want to see the mountain at sunset and sunrise. You can't see the mountain from the hut, though.
Our total hike was 13km and took 3 hours 50 minutes (plus a long break at the top) with an elevation gain of 789 metres.
It was very much worth the effort—I believe it's one of the best places to visit in New Zealand for stunning natural scenery.
The Mangorei Track Trailhead is only a 20-minute drive from New Plymouth, so it's one of the closest access points to Egmont National Park.
Make sure you stay on the boardwalk at Pouakai Tarn to avoid damaging the fragile wetlands and stay out of the water.
11) Explore Waterfalls and Trails from Dawson Falls Visitor Centre
Our other day hiking in Egmont National Park was from the Dawson Falls Visitor Centre (a one-hour drive from New Plymouth).
From Dawson Falls there are plenty of trails including the popular short walks to Wilkie Pools and Dawson Falls. You can download a brochure of Dawson Falls hiking tracks on the DOC website.
We decided to do a longer hike, The Stratford Plateau – Enchanted – Waingongoro Loop. The 10km hike took us 3 hours (plus breaks) with 563 metres of elevation gain.
We started on the Wilkies Pool Track, a gentle climb through the mossy trees of the Goblin Forest and continued onwards to the Stratford Plateau (60 minutes from the visitor centre).
It wasn't too difficult but the track was very wet in places, and it got cold with icicles dripping from plants at higher elevations.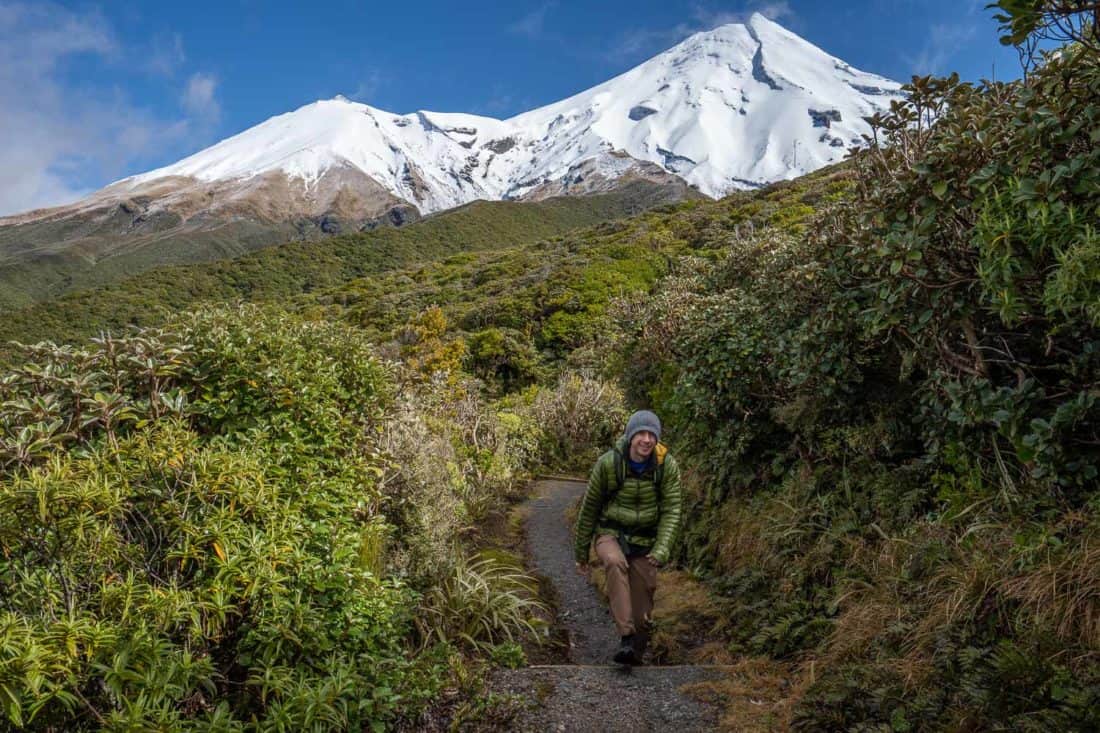 The mountain would occasionally emerge, but the track was mainly through forest and around the edge of the mountain.
At the Stratford Plateau, Mt Taranaki comes into view properly and it is stunning. You can actually drive here if you don't fancy the hike.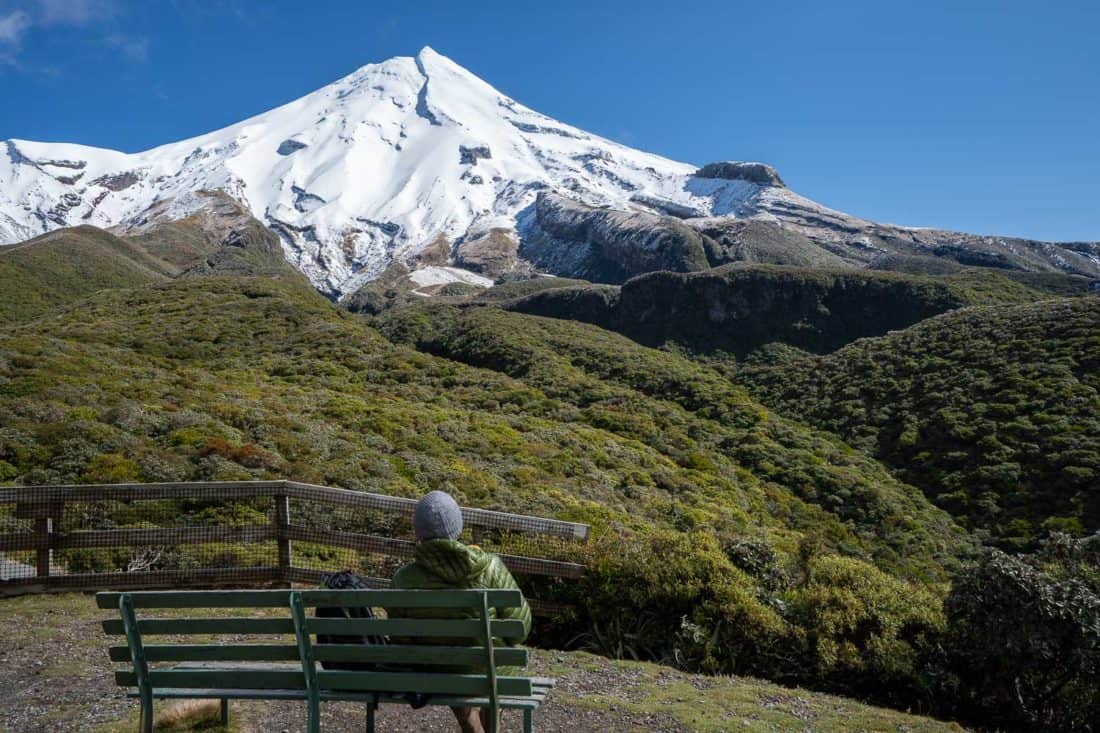 We returned the way we came for a short while and then detoured down the Enchanted Track. This is when things got challenging.
We descended deep into the forest on a track overgrown with ferns and uneven, often huge steps that made for a long, leg-aching climb down.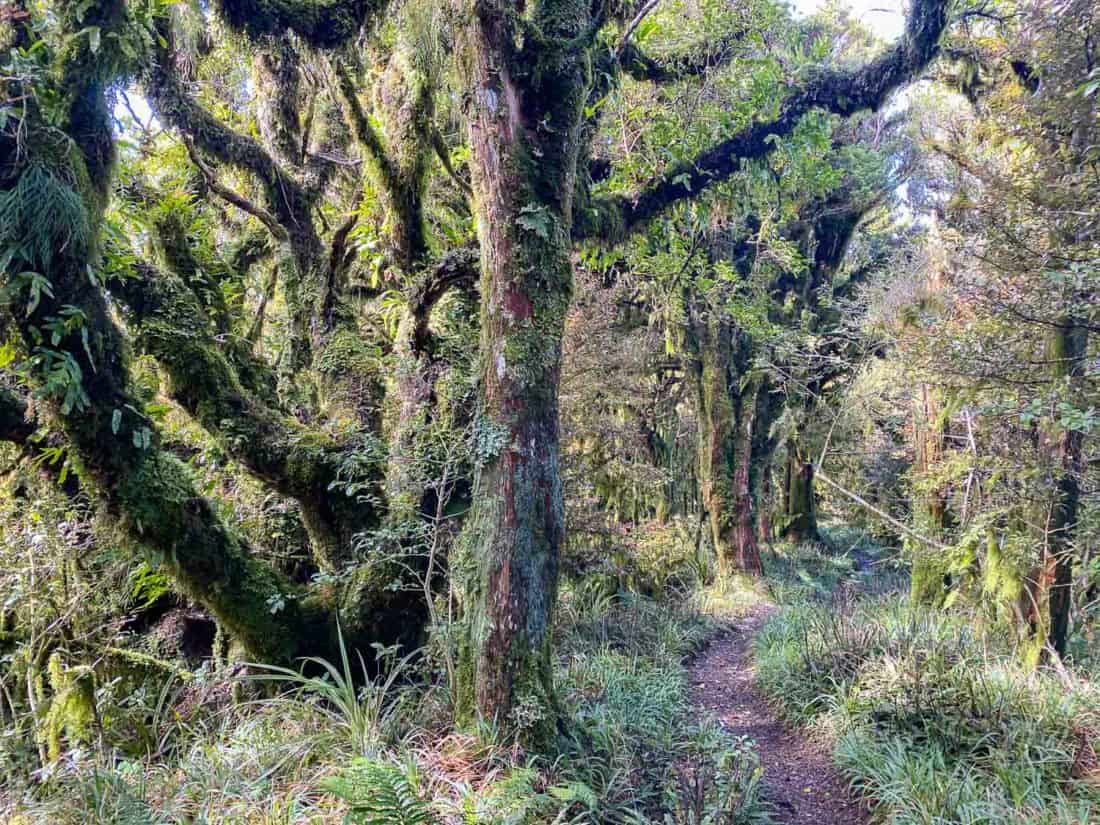 Once we reached the Waingongoro Loop things became a little easier, but we were still deep in the forest with no mountain views except when we crossed a rather scary one-person-only swing bridge.
Although we enjoyed the hike, I'm not sure the final two hours in the forest were worth it and we were exhausted by the end.
I'd probably recommend returning on the Stratford Plateau trail and then heading up to the Hooker Shelter (one hour return) which has mountain views. There are also many longer trails if you are keen.
There's a cafe at the lodge (currently closed while it's being redeveloped) next to the visitor centre. It's very basic with a limited menu of average food, but we appreciated the option for a drink after our hike.
12) Drive the Surf Highway 45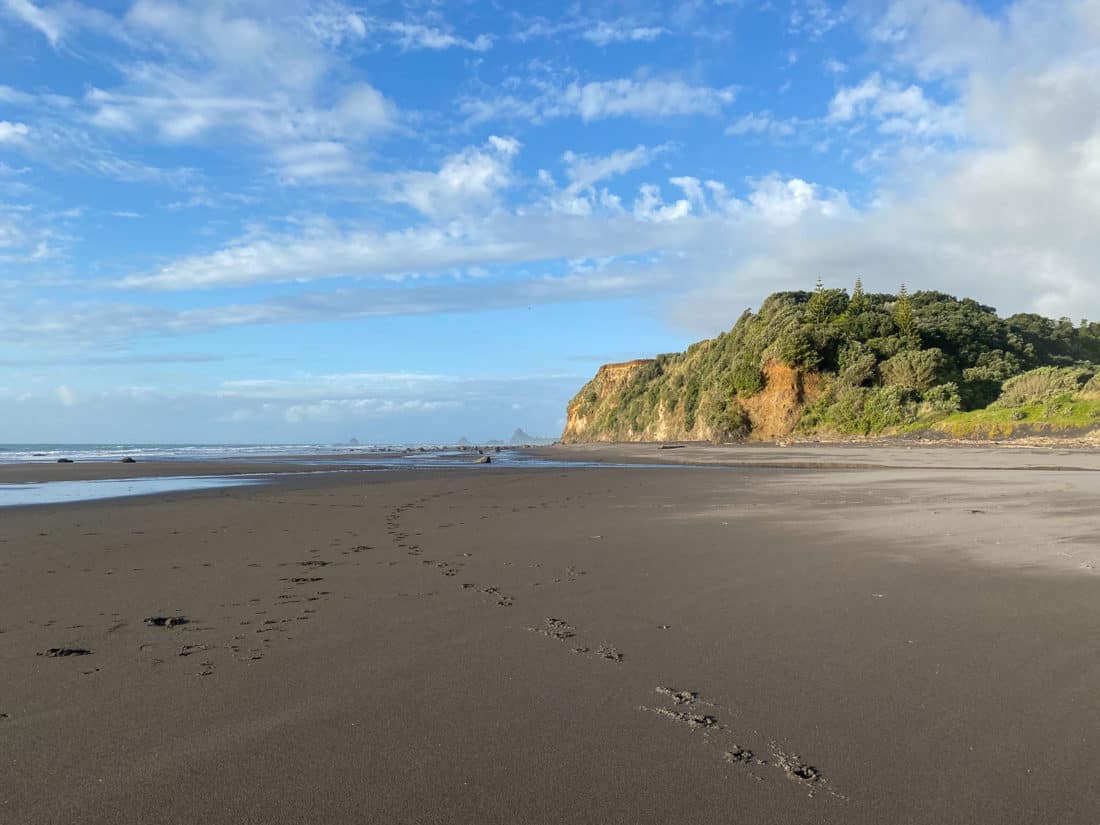 Taranaki's Surf Highway 45 is a 105km scenic coastal road from New Plymouth to Hawera. It's especially popular with surfers are there are many surf breaks along the way.
We drove the route on our way into Taranaki from Wellington and were surprised that the road is often away from the sea and you have to detour down to beaches.
On a cloudy day, we also couldn't see Mt Taranaki, but on a clear day it would be lovely.
If the weather had been better we would have stopped at the coastal town Opunake (the Opunake Walkway has great views) and Cape Egmont Lighthouse.
13) Enjoy a Meal and Walk or Surf in Oakura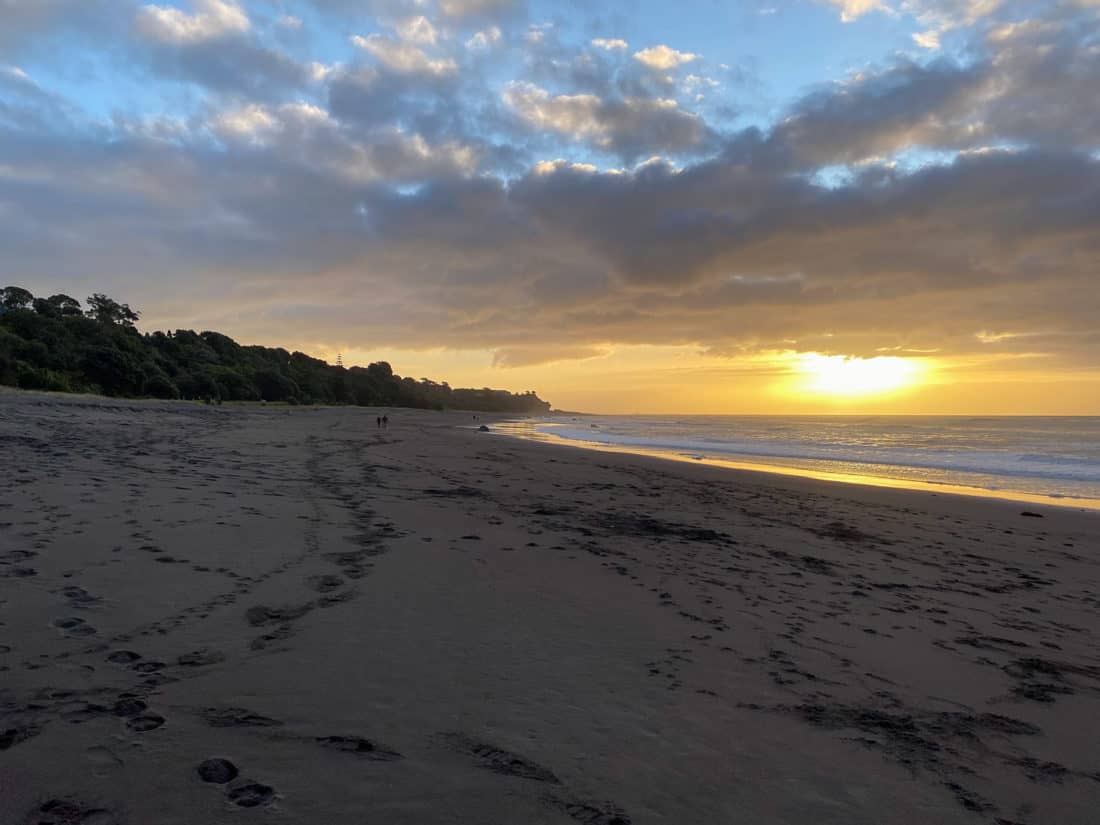 We actually stayed in one of the Surf Highway's beach towns, Oakura, which is only a 15-minute drive south of New Plymouth. It has a beautiful long wide black sand beach that's great for surfing or walking, especially at sunset.
Although Oakura is a small town with just a handful of businesses, there are some fantastic places to eat.
Black Sand Pizzeria is right on the beach with a gorgeous view (go at sunset if you can) and authentic Napoli-style pizza. Bookings are highly recommended.
Lemonwood Eatery (currently closed) is a quirky vegan cafe with a creative brunch menu and lots of delicious cabinet food and cakes.
Holy Guacamole food truck (at the beach in summer or the BP petrol station in winter) has tasty burritos including vegan options (cash or local debit cards only).
14) Spot Mt Taranaki at Lake Mangamahoe
The last two items on this list of things to do in Taranaki are activities we unfortunately ran out of time for.
Lake Mangamahoe is a good option on a clear day if you want to admire Mt Taranaki without doing a long hike or driving into Egmont National Park. It's only a 15-minute drive from New Plymouth and it's a fairly easy 5km walk around the lake.
We also planned to combine it with a visit to the nearby Tupare Gardens.
15) Visit the White Cliffs and Three Sisters
Both these Taranaki attractions need to be visited within two hours of low tide. We couldn't get the tide timing and weather to cooperate, but the Rambling Shoes blog highly recommend this detour north of New Plymouth.
A 40-minute drive north of New Plymouth is the White Cliffs. There is a 6.5km loop hike here or you can just wander down to the black sand beach to admire the dramatic colourful cliffs dotted with caves.
40 minutes further north along the coast are the Three Sisters rock formations at Tongaporutu. The sea stacks are reminiscent of the Twelve Apostles on Australia's Great Ocean Road and also have views of distant Mt Taranaki.
Where to Stay in Taranaki
Where We Stayed in Oakura
We're really glad we stayed in Oakura rather than New Plymouth. The small surf town is only a 15-minute drive from the city so we often went in for meals and tourist attractions, but it was quieter, prettier, and we had easy access to the beach for morning runs, afternoon swims, and sunset walks.
There are also some surprisingly good places to eat (see #13 above).
We stayed at the two-bedroom Breakeracre Apartment on Airbnb. The location is fantastic, only a four-minute walk through gardens to Oakura Beach with a sea view from the terrace. It's surrounded by lovely gardens with lots of birdsong.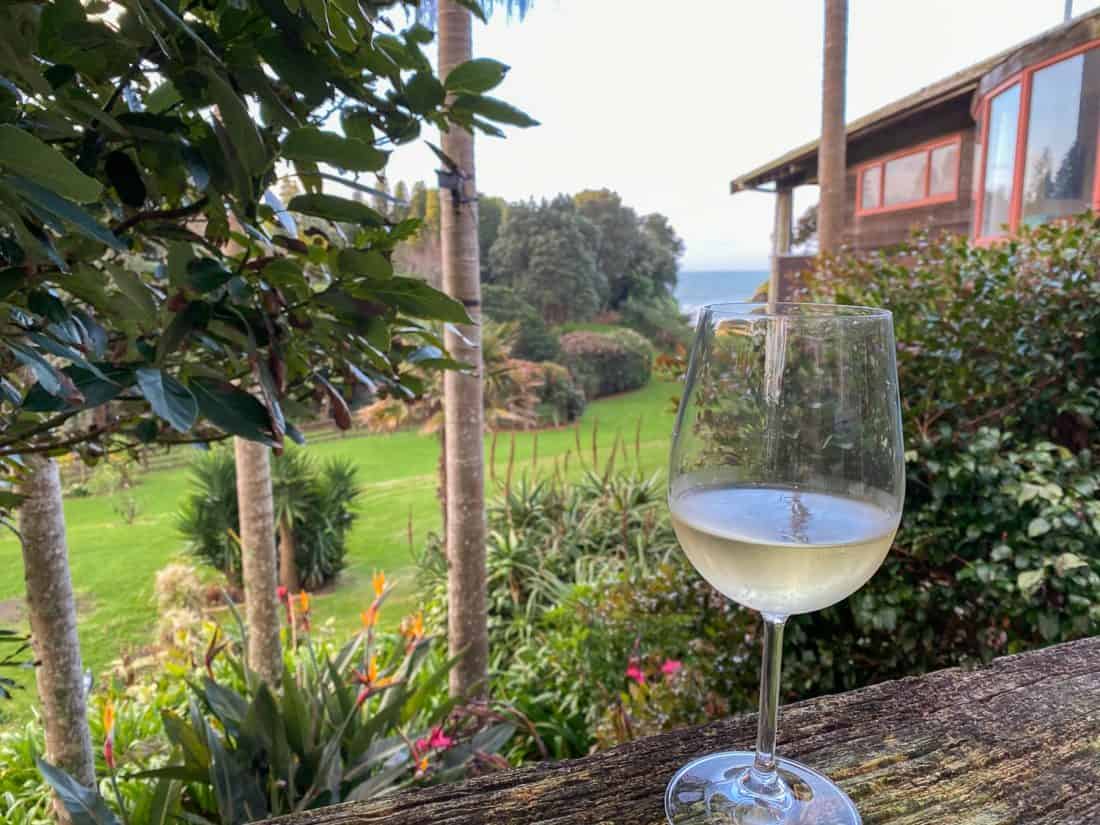 The apartment is a little dated (especially the bathroom), but it's comfortable enough and well-equipped with a laundry area and good kitchen. It's really good value.
Beach Houses in Oakura
If you are looking for a beachfront property in Oakura, Chester Cottage is a modern 3-bedroom house with stunning sea views. It's top of my list for our next stay.
More affordable beachfront baches include Te Moana and Oakura Beach Front.
Search for more holiday homes in Oakura here.
New Plymouth
If you don't have a car or want to be able to walk to plenty of cafes and restaurants, you're better off staying in the centre for your New Plymouth visit.
The Millennium Hotel has a fantastic waterfront location close to the museums and modern rooms, some with sea views.
King and Queen Hotel Suites is a boutique hotel in a central location across the road from the Govett-Brewster Art Gallery and next to many excellent restaurants. Some suites have separate lounges and kitchens.
For budget accommodation, try Ariki Backpackers which has private rooms and dorms. It's very close to the Coastal Walkway and you can rent bikes there.
Search for more hotels in New Plymouth here.
Mount Taranaki
If your priority is being as close to Mount Taranaki as possible, consider staying at Stratford Mountain House which is inside Egmont National Park. The mountain views are stunning, there's a restaurant on site, and hiking trails start from its door.
Dawson Falls Mountain Lodge is also inside the park next to the Dawson Falls Visitor Centre. It has the perfect location for hiking, but it's simpler than Stratford Mountain House. It's currently closed and is being rebuilt.
There are also basic shared huts inside Egmont National Park if you wanted to do a multi-day tramp.
Pouakai Hut ($15) is the most popular (online bookings are needed year-round) and it takes under two hours to hike there from the car park.
How to Get to Taranaki
Taranaki is best visited with your own vehicle so you can explore Egmont National Park and the surf towns along the coast.
If you don't have a car, New Plymouth can be reached by Intercity bus and is easy to explore on foot.
You could also fly into New Plymouth domestic airport. Air New Zealand has direct flights from Auckland, Wellington and Christchurch.
Auckland to New Plymouth is a 4 – 5 hour drive and Wellington to New Plymouth is the same.
We visited Taranaki between Wellington and Raglan as part of a North Island road trip up the west coast.
It was an especially gorgeous drive from New Plymouth north along the coast to Waitomo where we did a boat trip in the Glowworm caves before continuing on to the surf town Raglan.
Google Maps will try to take you on SH3, but we continued on the Manganui Road past Mokau rather than turning inland.
This was one of our favourite drives on the North Island. It's a very windy, remote road alongside a river in a valley between rugged vibrant hills and forest. A short section was unpaved.
At Marokopa we turned inland towards Te Anga, past which are some fantastic attractions just before Waitomo—Marokopa Falls, Mangapohue Natural Bridge, and Ruakuri Bushwalk.
New Plymouth and Taranaki New Zealand Map
Summary
I hope this guide has given you some ideas of what to do in Taranaki. Whether you are looking for a laidback city break, surf trip, or hiking adventure, the region offers something for everyone with a backdrop of seriously stunning scenery.
Let us know if you have any more tips for exploring the region.
More New Zealand Posts
Read our picks for the most beautiful places in New Zealand and explore more destinations below.
North Island
South Island
Liked this post? Pin it for later!