This page contains affiliate links. Please read our disclosure for more info.
The Lake Dunstan Cycle Trail from Cromwell to Clyde in Central Otago is New Zealand's newest bike track, and it is spectacular.
The unique trail follows Lake Dunstan and passes vineyards and rugged mountains before heading into the dramatic Cromwell Gorge.
Here impressive engineering has made the trail possible by bolting platforms onto sheer rock faces that are too steep to carve a pathway. There's even a coffee boat for refreshments on the way.
It's a scenic, fun, and fairly easy bike ride that's easily done as a day trip from Queenstown or Wanaka.
In this post I share everything you need to know about the Lake Dunstan Trail including a map and our recent experience cycling it.
Contents
Is the Lake Dunstan Trail Open?
The Lake Dunstan Trail officially opened on 8 May 2021.
How Long is the Lake Dunstan Trail?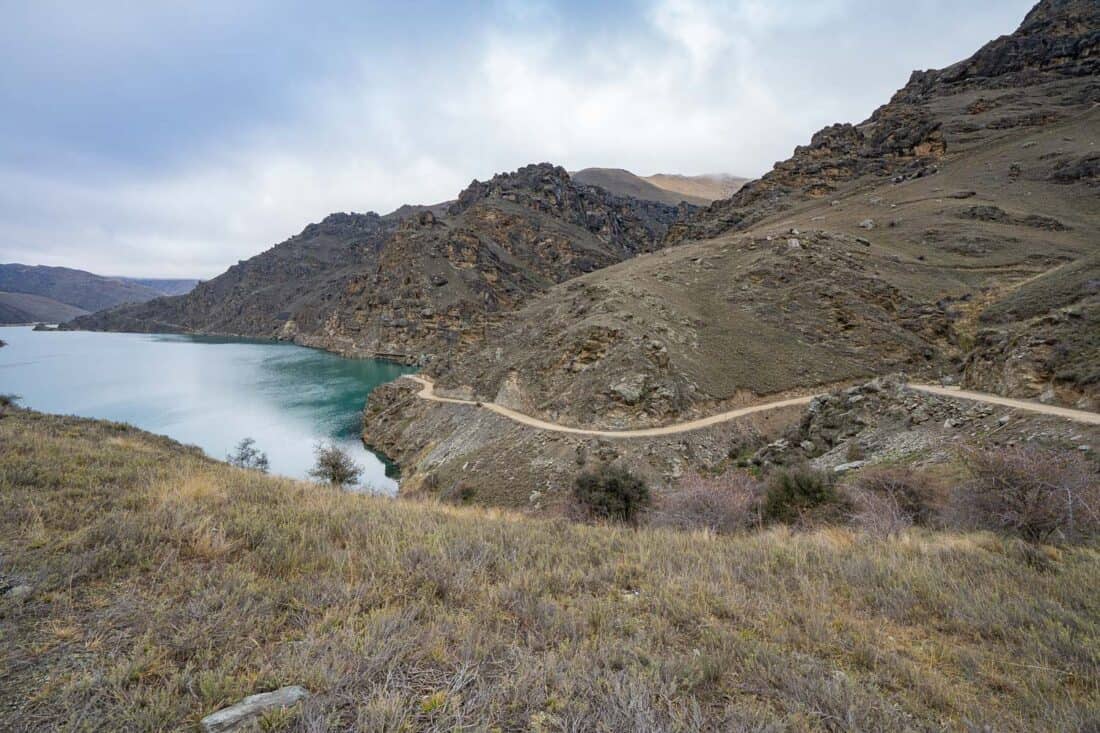 The whole Lake Dunstan Bike Trail is 55km from Smiths Way, outside Cromwell on the edge of Lake Dunstan, to Clyde.
The newest part of the trail, which is what we rode, is 42km from the Cromwell Heritage Precinct to Clyde. This is the most spectacular section as it takes you through the dramatic Cromwell Gorge.
This section of the track takes most people on regular bikes 3.5 – 4.5 hours. On an e-bike it took us 3 hours 20 minutes including 30 minutes of breaks.
If you don't want to cycle the whole way, you can arrange transport to drop you off at Bannockburn Bridge for a 33km ride to Clyde or Pigeon Rock for a 25km route. Both these options include Cromwell Gorge.
If you want to do a multi-day bike ride, the Lake Dunstan Trail links to the 152km Otago Central Rail Trail, New Zealand's first Great Ride, from Clyde to Middlemarch.
The plan is to build new bike trails that eventually connect to Queenstown and Wanaka.
Where Does the Lake Dunstan Trail Start?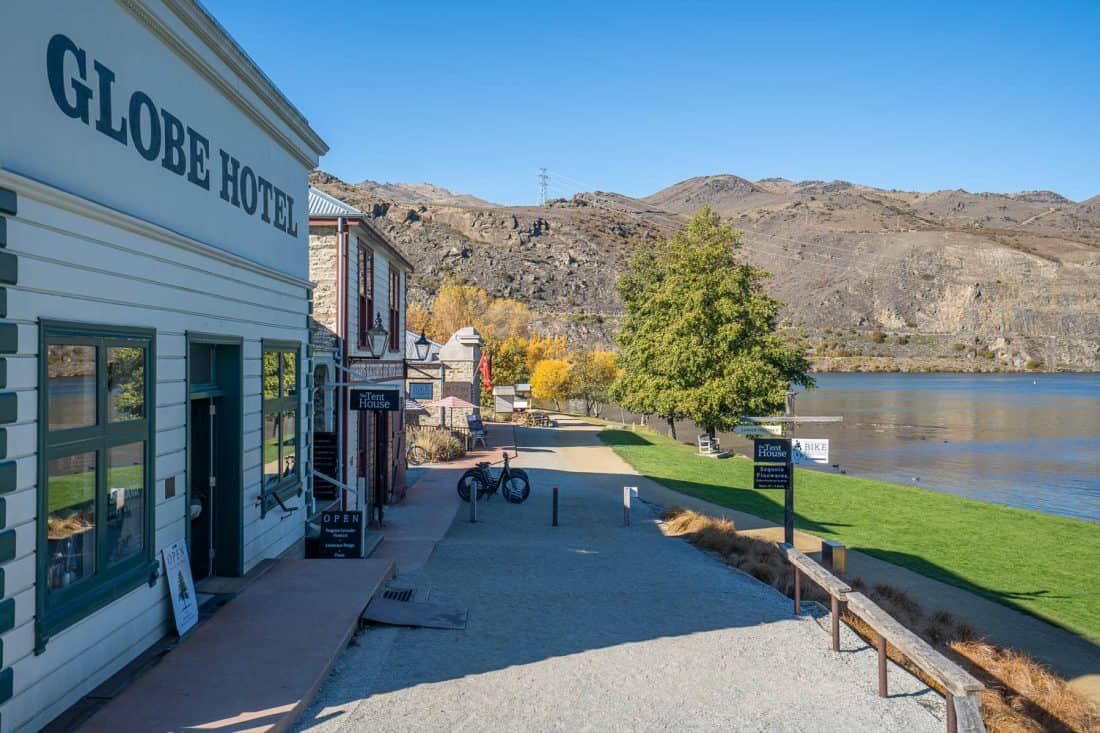 The Lake Dunstan Trail connects Cromwell and Clyde. In Cromwell you can either start outside of town at Smiths Way to cycle the whole 55km, or as we did, start at the Cromwell Heritage Precinct for the 42km trip to Clyde.
It's easiest to cycle from Cromwell to Clyde rather than the reverse as there's less elevation gain, but it's possible to cycle it in either direction.
Queenstown is the nearest airport to the trail—60 minutes from Clyde.
Lake Dunstan Cycle Trail Map

Lake Dunstan Cycle Trail Map courtesy of centralotagonz.com.

Lake Dunstan Cycle Trail Bike Hire and Shuttle
Unless you have the stamina to cycle over 80km in one day, it's best to arrange a shuttle so you can cycle from Cromwell to Clyde one way.
Shebikeshebikes in Clyde
We rented bikes from Shebikeshebikes based at Clyde Railway Station, and they also arrange transport (even if you don't hire from them).
We drove to Clyde, got set up with our bikes at their base, and then were transported to the start of the trail in Cromwell, 20 minutes away. Their shuttle leaves at 9.45am.
We were then free to cycle back in our own time to Clyde, where we dropped off our bikes in the after-hours room and picked up our car.
Although this route involved a little more driving than starting in Cromwell would have, we liked the flexibility of not having to meet a shuttle at a certain time for the trip back to our car.
Our e-bike hire cost $100 each and the transport was $30 per person from Clyde to Cromwell Heritage Precinct. For slightly more they can drop you off at Bannockburn Bridge or Pigeon Rock instead for a shorter ride back. Regular mountain bikes are $55.
Our bike hire included helmet, trunk bag, and repair kit.
Cromwell Bike Rentals
If you'd prefer to rent a bike in Cromwell, Cromwell Heritage Precinct Bike Rentals is located a few metres from the bike trail, near where we started. Regular bike hire costs $55. An e-bike with pick up from Clyde is $150.
They offer a shuttle service to drop you off at Smiths Way and/or pick you up in Clyde, if you want to do the full 55km trip. You could also just do an out and back ride—perhaps to Coffee Afloat, which is 18km away and before the big hills.
How Difficult is the Lake Dunstan Cycle Trail?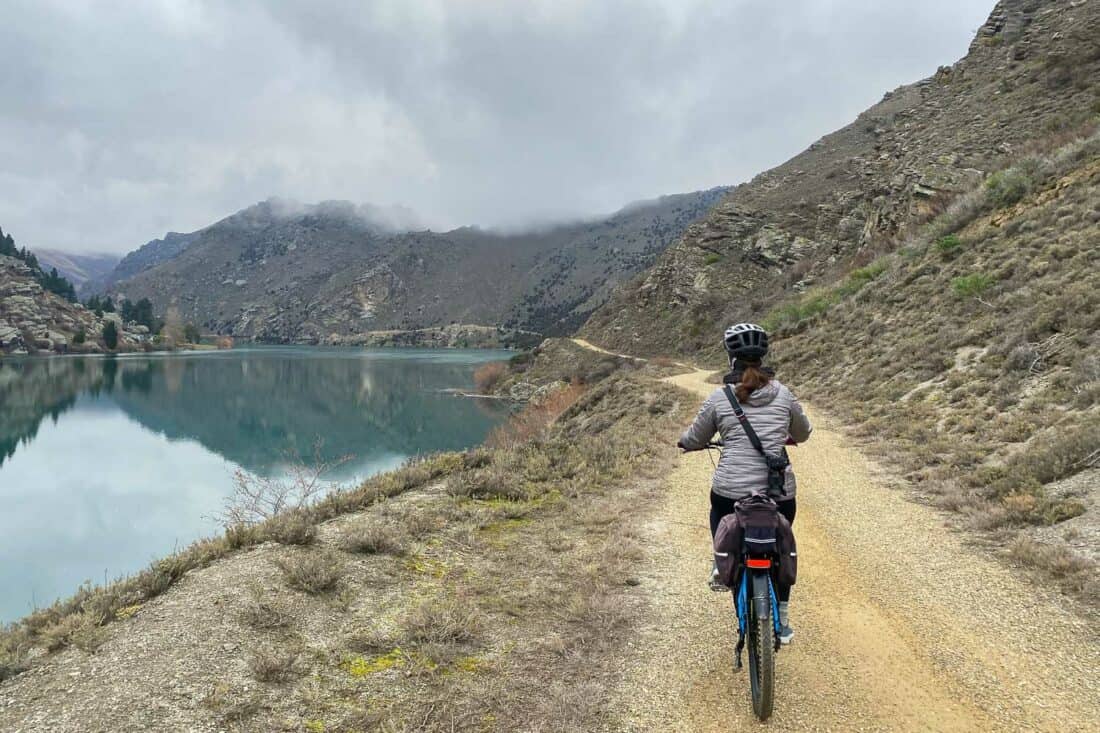 The Lake Dunstan Cycle Trail is rated Grade 1 (easiest) to Grade 2 (easy) by New Zealand Cycle Trails.
Some sections are more challenging than a typical Grade 1 or 2, though. There are two big hills—one is a 2.2km climb up Cairnmuir Ladder with 125 metres of ascent (the first section is at 10% gradient) and the second is 2km with 100 metres of ascent.
The total elevation gain between Cromwell Heritage Precinct and Clyde is 764m (although my watch recorded less).
Sections of the trail through the gorge are also very narrow (1.5 metres) with some tight turns, blind corners, and areas where the trail is close to the edge of unfenced drop-offs. It might be a challenging ride if you are afraid of heights.
The trail is well signposted and easy to follow. It's off the road almost all the way except when you reach Clyde and have to cycle on a quiet road into town.
It's a well-formed dirt trail until you reach the gorge when it turns into hard-packed gravel with the occasional wooden boardwalk.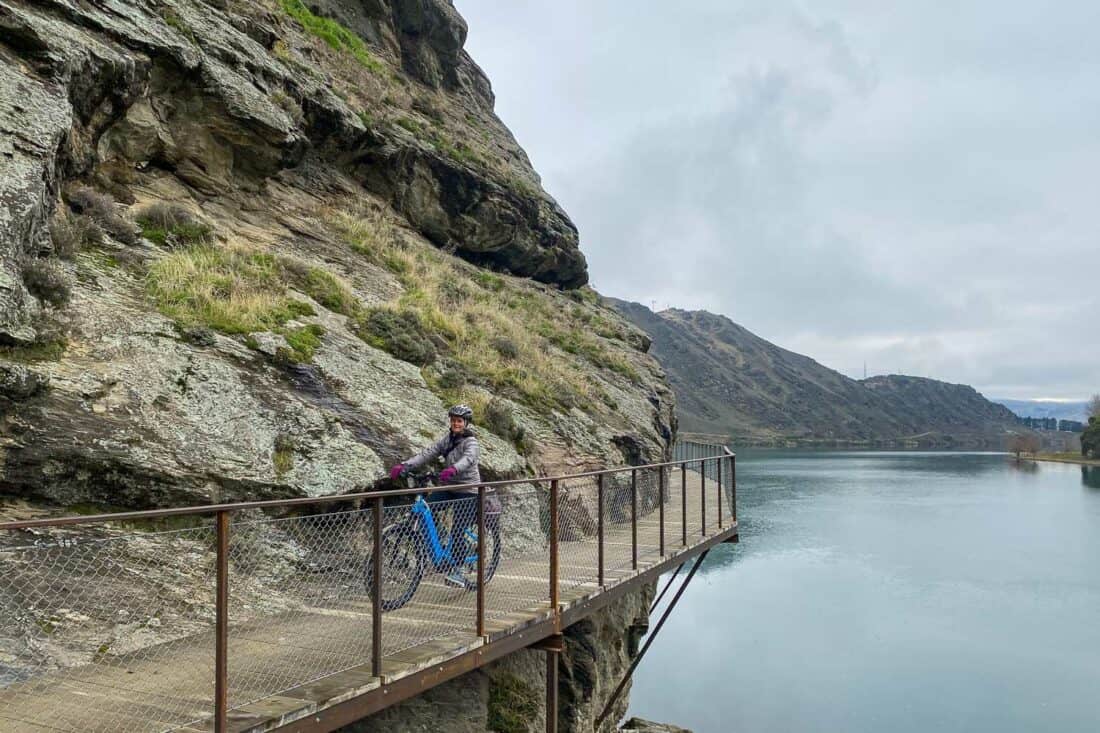 If you haven't been on a bike in years, this is probably not the best trail to start with, but most people with some cycling experience should find it manageable.
We aren't that experienced with cycling, although we've biked from Arrowtown to the Gibbston Valley (also Grade 2) a few times. Lake Dunstan is the longest trail we've ever ridden, and we're not fans of hills, so we're very happy with our decision to rent e-bikes.
Electric bikes make the trail accessible to more people. They aren't zero effort—our hearts were racing up the Cairnmuir Ladder—but they require less energy than regular bikes, and hills are more fun when you don't have to get off and push.
Unless you are a confident cyclist with experience of hills, I recommend renting an e-bike.
The trail is not suitable for young children who require a trailer as sections through the gorge are too narrow.
Our Stats for the Cromwell to Clyde Bike Trail
Here are the stats from my Apple Watch for our ride from Cromwell Heritage Precinct to Clyde. This includes short photo breaks but not longer stops when I paused the workout.
We started at 10am and finished at 1.20pm.
Distance: 41km
Cycling Time: 2 hours 50 minutes
Average pace: 14.5 km/h
Elevation gain: 619m (minimum 148m, maximum 335m)
Can You Walk the Dunstan Trail?
Yes, you can walk the Lake Dunstan Trail, but due to the distance, it's much more popular as a bike ride. We didn't see any walkers once we entered Cromwell Gorge.
What Facilities are on the Trail?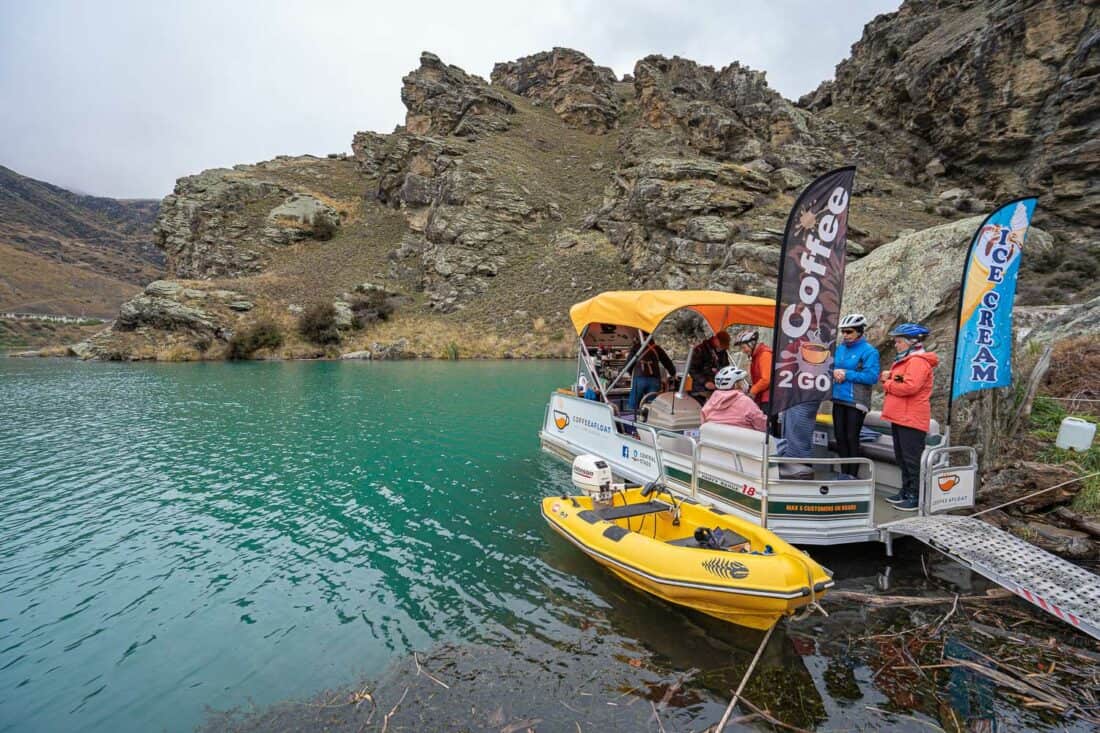 There are toilets at fairly regular intervals—four on the route we cycled.
There are shops and cafes in Cromwell and Clyde at the beginning and end. There are also some winery restaurants in Bannockburn about 6km from the Cromwell Heritage Precinct. The trail goes right through Carrick Winery.
After that the only place for refreshments on the trail is Coffee Afloat, a cafe on a boat at the base of the Cairnmuir Ladder about halfway along the trail. It took us 80 minutes and 18km to get there.
You can buy coffee, hot chocolate, ice cream, and sweet treats like brownies and slices. They open weather permitting.
Lake Dunstan Trail Accommodation
Cromwell Heritage Precinct (where we started the trail) is a 50-minute drive from both Queenstown and Wanaka, so it's easy to do as a day trip from either of them. We visited from Lake Hawea, outside Wanaka.
If you are coming to the area to cycle the trail, you could stay in Clyde, a small historic town with plenty of bike trails nearby (including the Otago Central Rail Trail).
There are some lovely B&Bs including The Lord Clyde and Argyll on Clyde.
Cromwell is another convenient base with plenty of motels and B&Bs, although it's a larger town and not as charming as Clyde. I think the most scenic area is just outside the centre in Bannockburn, where you can visit wineries such as Mt Difficulty.
Check out Vines on Bannockburn B&B and Bannockburn Lodge.
If you'd like to be close to the water, the Lake Resort Heritage Collection has apartments right on the lake with private decks and hot tubs.
It's a 10-minute drive from the Cromwell Heritage Precinct where you can rent bikes, and the original section of the Lake Dunstan Trail is close by.
Another option if you'd like to stay between Queenstown and Cromwell is Kinross Winery, which is about 30 minutes from both.
We love the comfortable, spacious cottages overlooking the vineyard and spent a great evening here drinking wine by the outdoor fire and enjoying a delicious dinner.
Kinross is also on the Arrowtown to Gibbston bike trail, which I highly recommend. Read my guide to the Gibbston Valley wineries for more details.
The Best Time of Year to Cycle the Dunstan Trail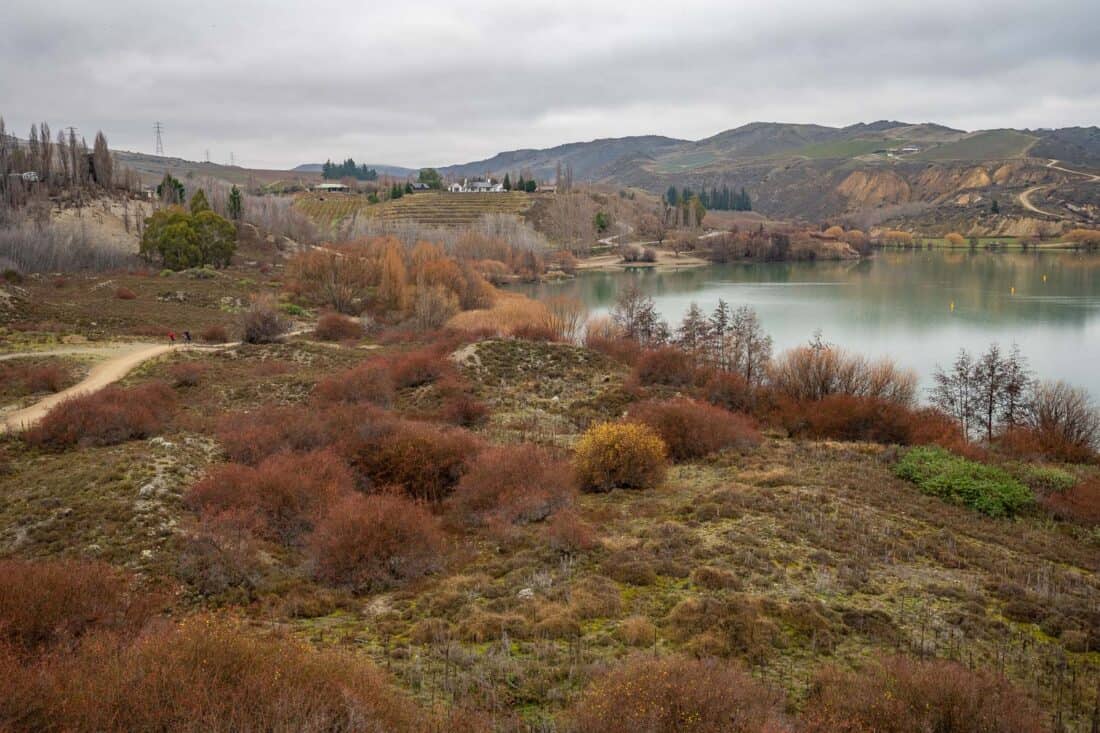 You can cycle the trail at any time of year.
We cycled it in winter (late June) and it was cold and cloudy with temperatures from 3ºC to 6ºC. The previous morning it had been –4ºC.
Gloves, warm socks, and multiple layers are essential in winter, and we found it too cold to take many breaks. But it is still a beautiful and quieter time to ride the trail, and snow is rare at this elevation.
I think autumn would be the best time to cycle the trail. We've visited Lake Dunstan in April and the golden willow trees reflected in the water are stunning. Mornings tend to be chilly but afternoons can be warm when the sun is out.
Summer (December to February) is best if you want the hottest weather and the chance to swim and relax along the way. It can be over 30ºC in summer, though.
High season is from after Christmas until the end of April.
What to Wear and Bring on the Lake Dunstan Trail
In winter I wore gloves, fleece headband (under my helmet), two pairs of merino wool socks, fleece-lined leggings, and four top layers. I was still cold!
You'll also want to bring plenty of water, lunch, snacks, sunglasses, suncream, and toilet paper and hand sanitiser (for the toilets).
The Spark network has the best mobile signal throughout the trail, although Simon had Vodaphone coverage most of the time.
What to Expect on the Cromwell to Clyde Cycle Trail
Cromwell Heritage Precinct to Bannockburn
We were dropped off at a car park just outside the Cromwell Heritage Precinct, a collection of historic buildings from the gold rush era of the 1860s.
The trail is easy at first with only a few gentle hills as it follows the Kawarau arm of Lake Dunstan, which was created from the Clutha River due to the construction of the Clyde Dam.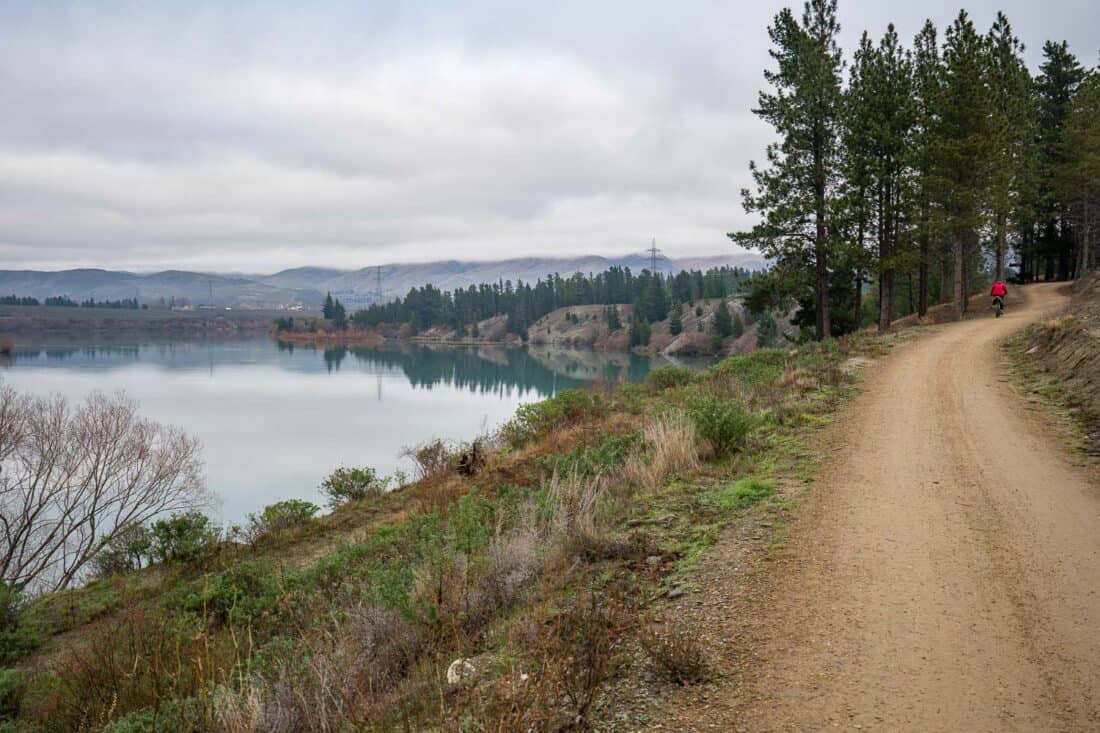 We could see remnants of the autumn colours in the faded orange trees lining the water.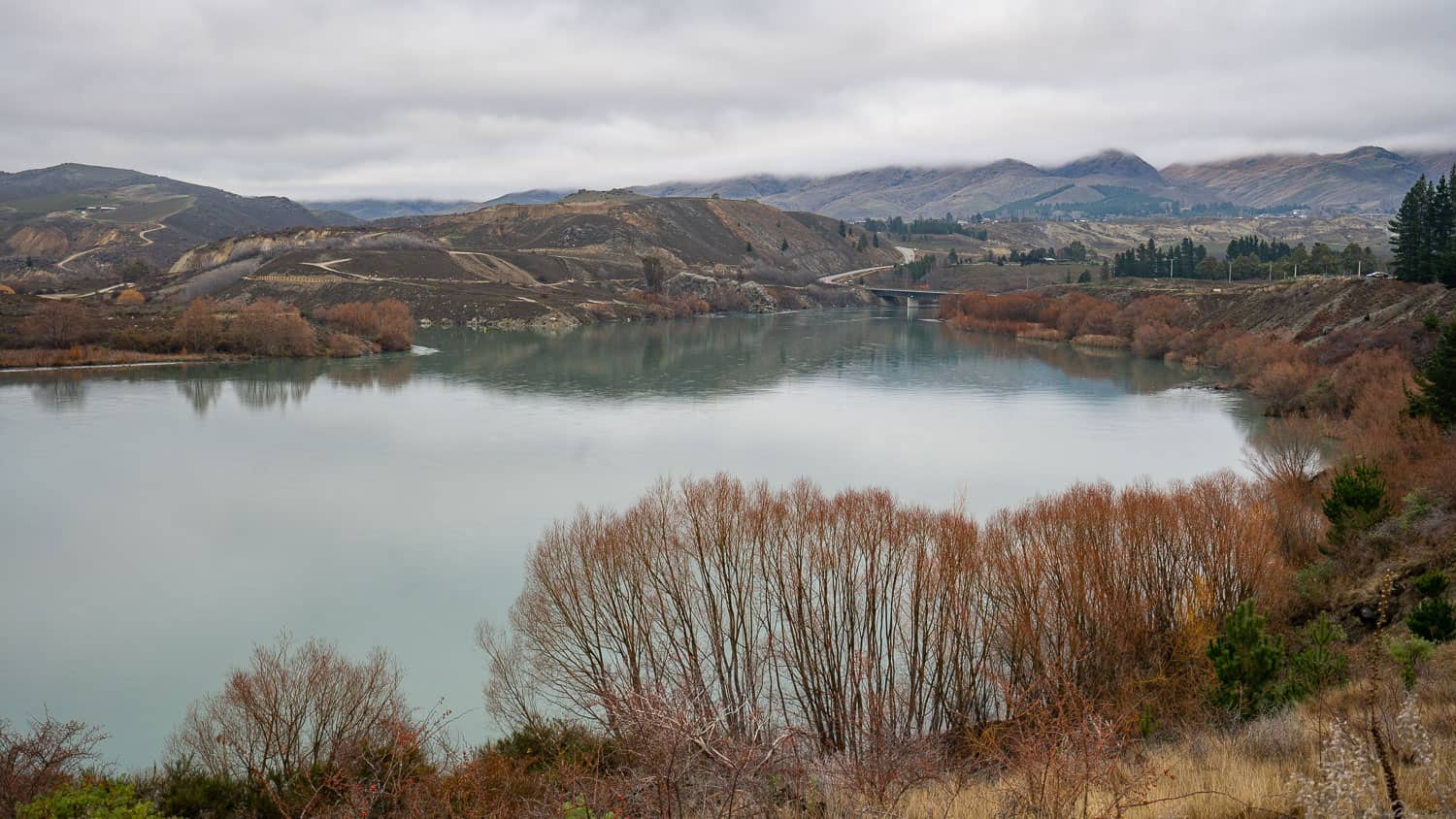 It's 6km to Bannockburn Bridge, which has a separate cycle path over it. From here we crossed to the other side of the lake and looped back—the first 14km of the trail is a scenic detour due to the shape of the lake.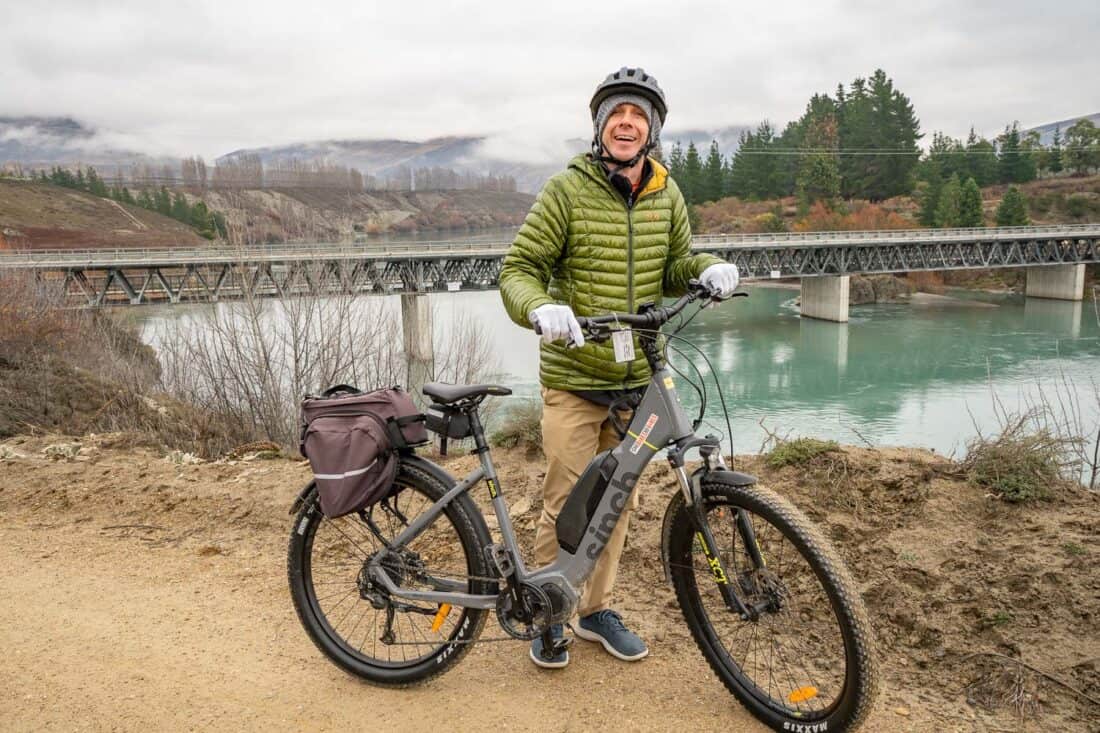 Just after the bridge is the first toilet at Bannockburn Inlet. The lake here would be a good place to swim in summer with a beach, picnic tables, and swimming pontoon.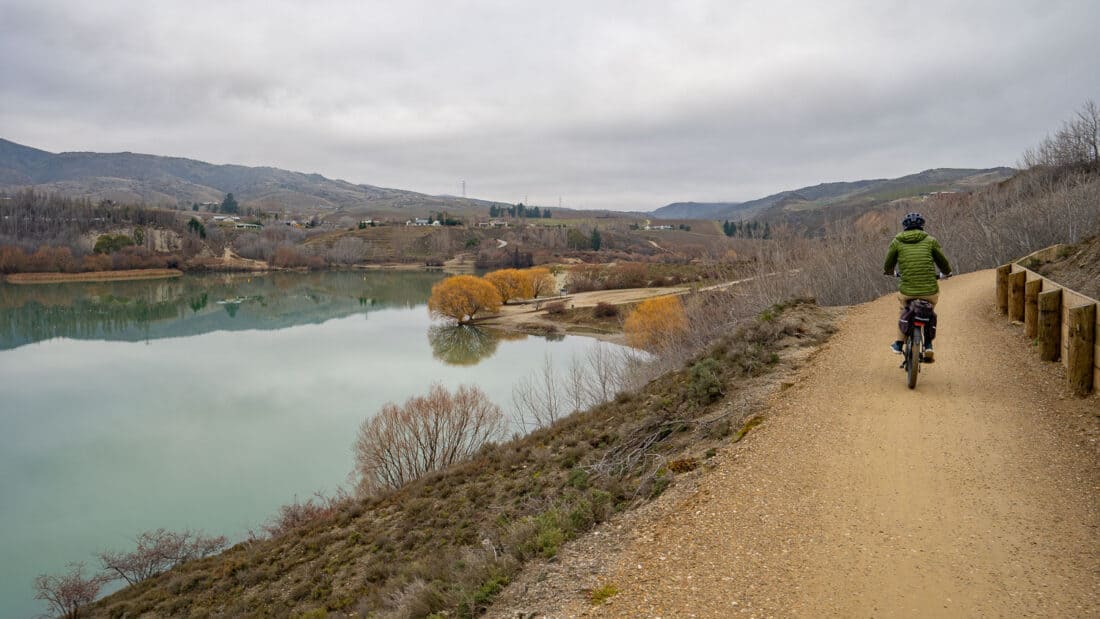 This is a beautiful section of the trail with views of the terraced Bannockburn vineyards on the hillside above the lake. The surrounding rugged mountains were reflected in the calm water, its teal colour subdued on a cloudy day.
The trail undulates, sometimes hugging the water and other times rising up small hills for expansive views.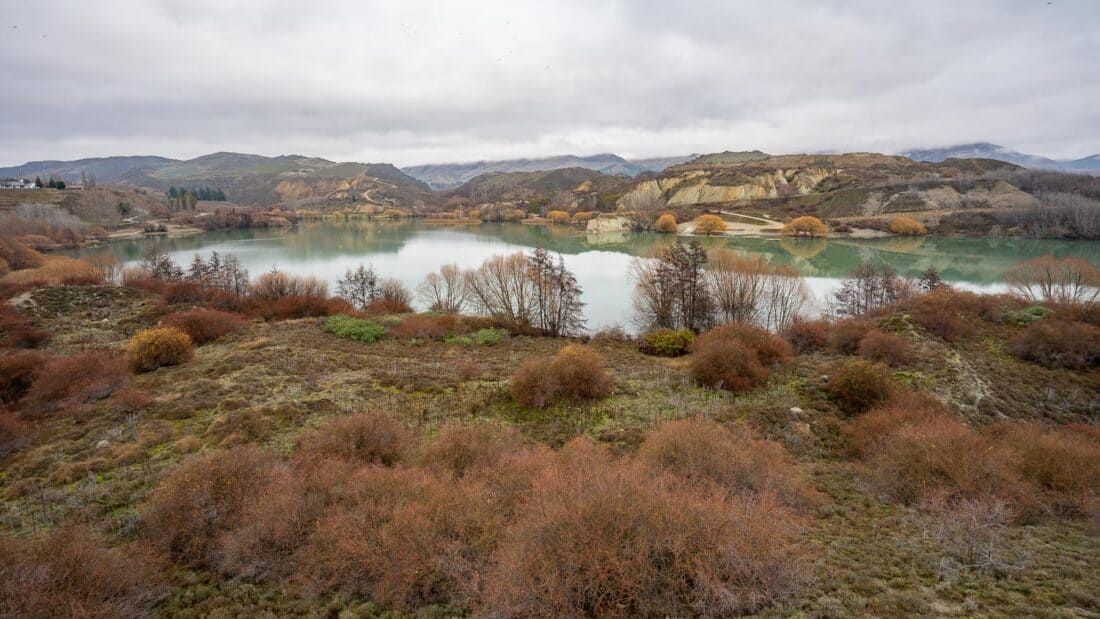 Bannockburn is known for its wineries and the trail goes right through Carrick Winery (open 10am to 5pm every day except Tuesday), which had its lunch menu out welcoming cyclists.
You can also detour up a short but steep hill to Akarua Winery for a tasting (bookings required).
It was a bit early in the day for us, so we continued through their vineyard high above the lake with stunning views.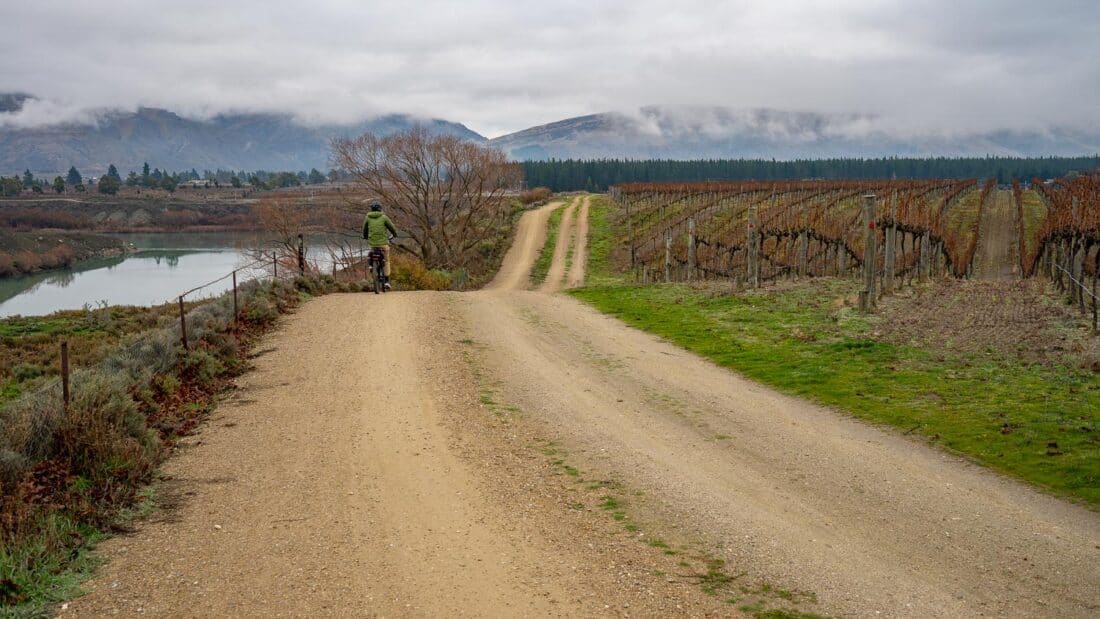 We ended up back on the other side of the lake from the Heritage Precinct where we had started. We also passed the meeting point of the two rivers that now make up Lake Dunstan—the Kawarau and Mata-Au (Clutha).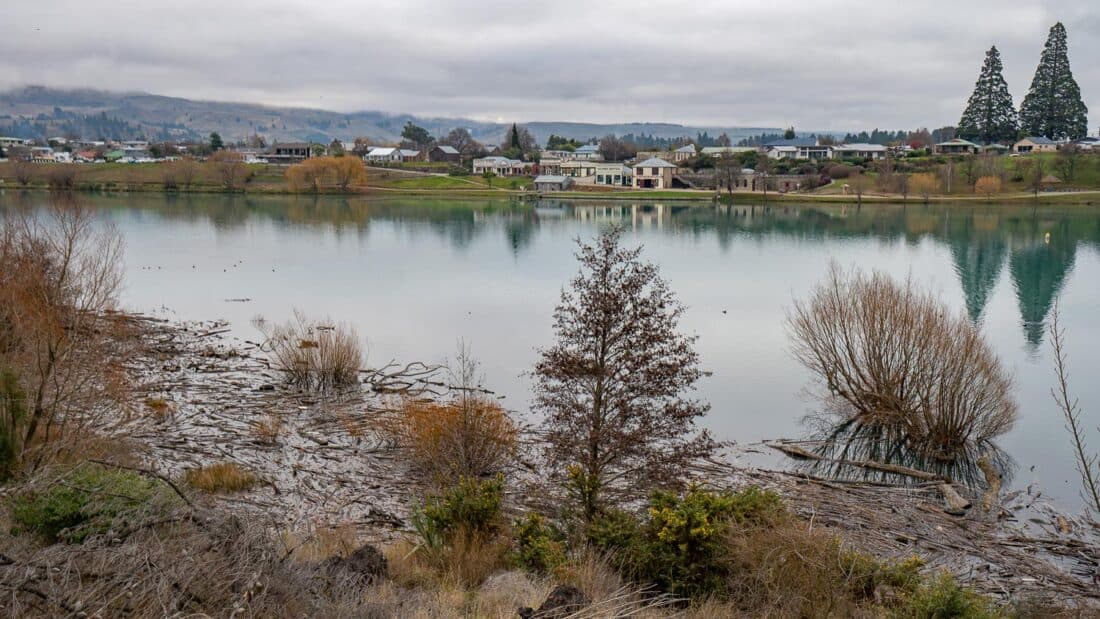 Cromwell Gorge
After Cornish Point we entered the most spectacular section of the trail—the Cromwell Gorge.
We cycled between green-blue Lake Dunstan and the barren mountains of jagged grey and burnt orange rocks. In some sections you are warned not to stop due to potential rockfall.
This is where we saw how impressive the construction of the trail is. In areas where the sheer rock faces are too steep to build the trail, bridges have been bolted directly onto the bluff.
It was a fun and unique experience to cycle on the wooden boardwalks beneath overhanging boulders and get so close to the imposing cliffs.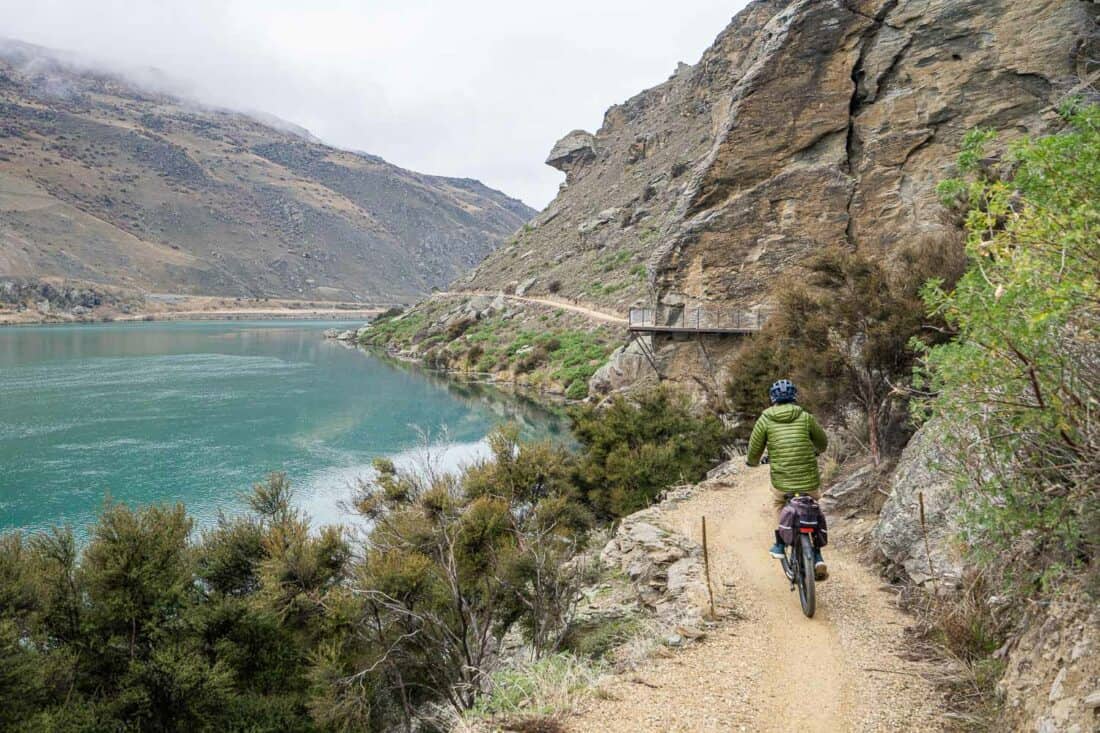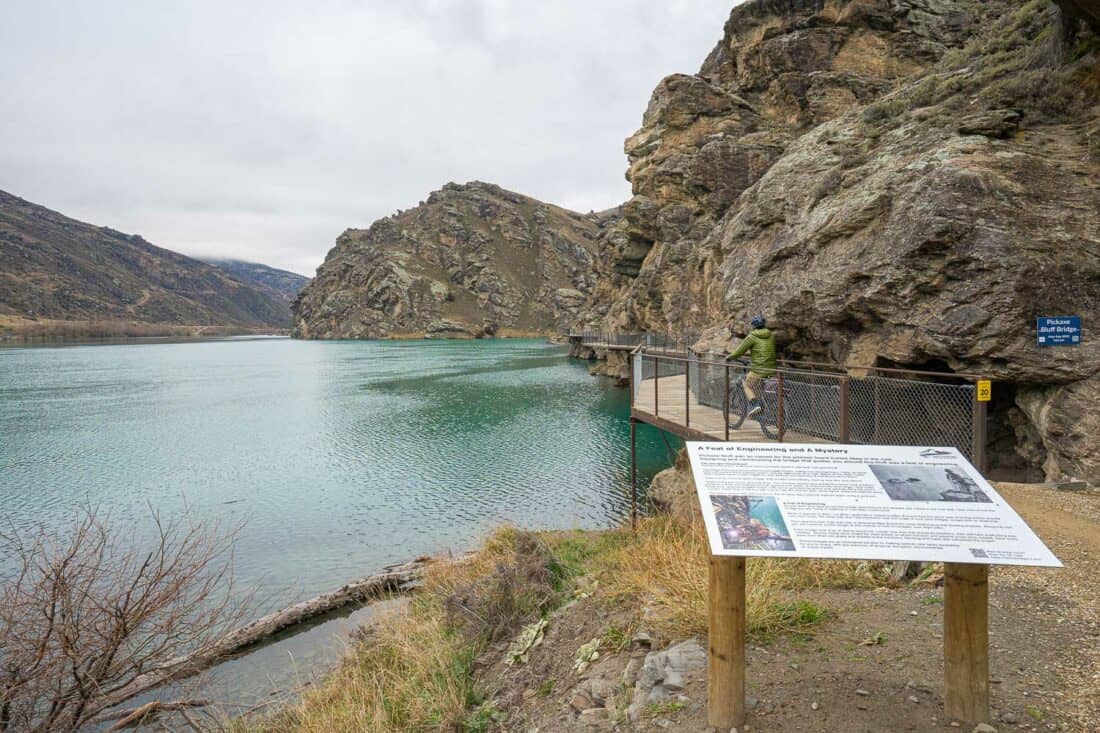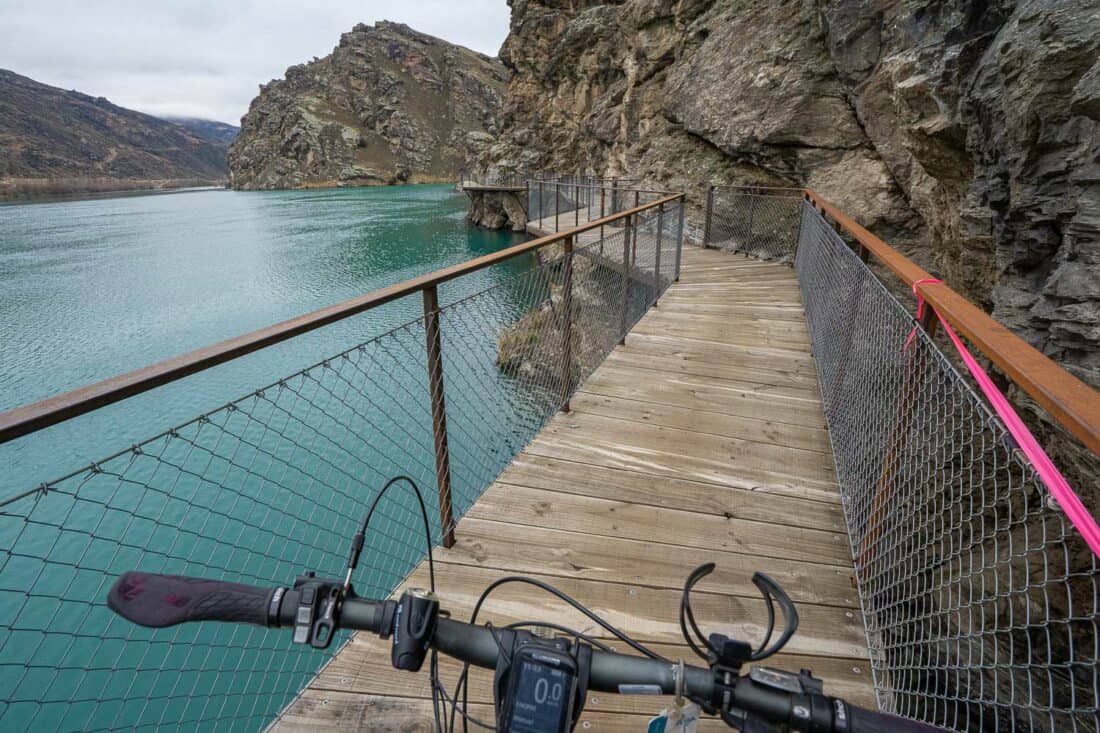 After 18km and 80 minutes of cycling, we reached Coffee Afloat. This coffee boat was created by a local couple, who were involved in the earliest test rides of the trail, as an innovative solution to there being nowhere to stop for coffee on route.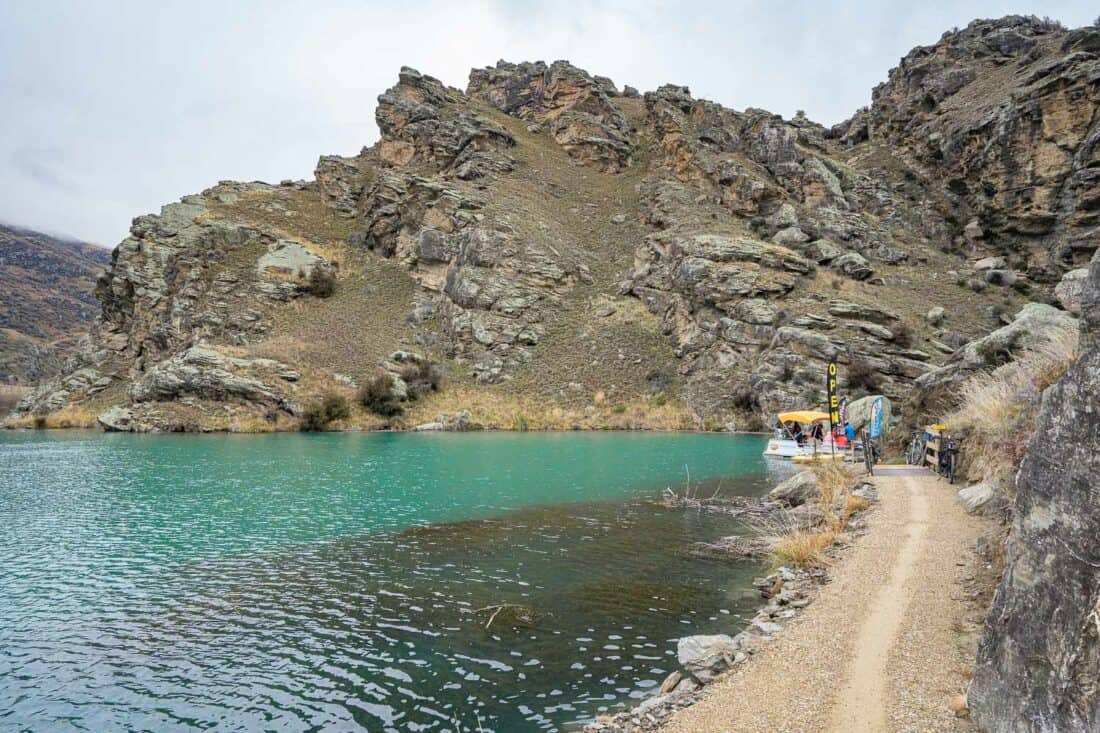 It was busy when we visited as a group had arrived just before us, but we didn't mind waiting for our much-appreciated coffee and hot chocolate on a cold day. The brownies were delicious too, and in summer, I'm sure the ice cream would be welcomed. There's a toilet 150m further down the trail.
You'll want to be caffeinated as straight after the boat you begin the toughest climb on the trail—the steep switchbacks of the Cairnmuir Ladder zig-zagging up the mountain.
Even on an e-bike we worked hard to get to the top—on a regular bike I would definitely have had to get off and push.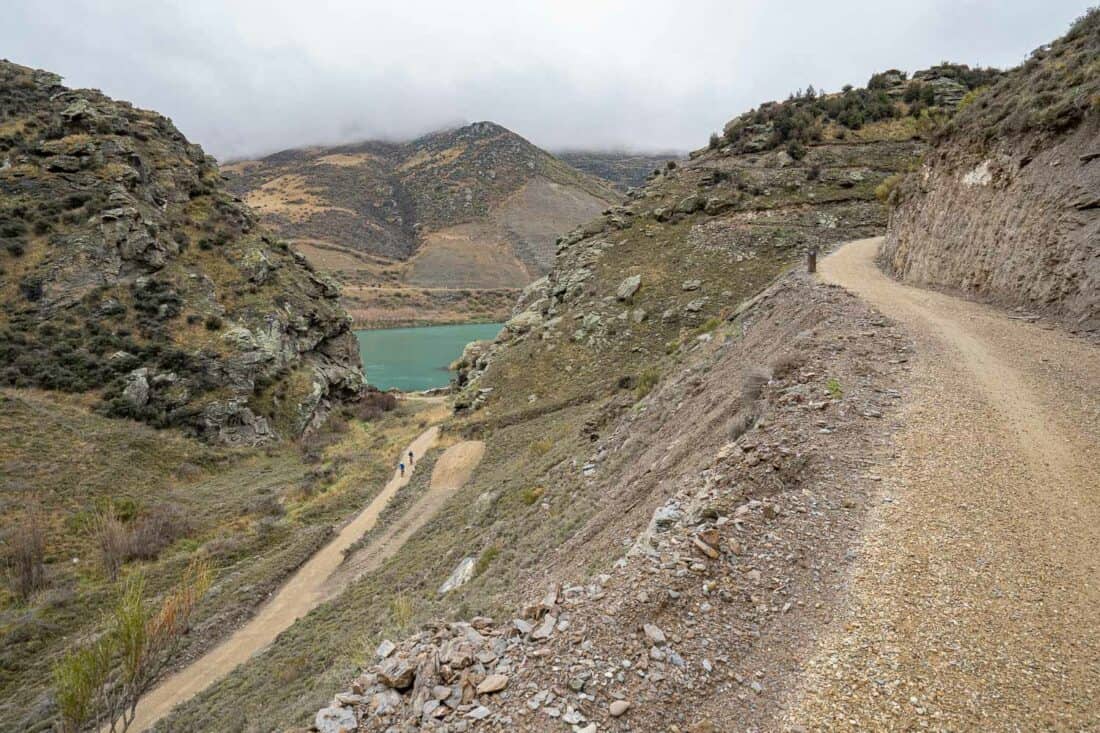 At the top you are rewarded with epic views back down to the lake and a short climb later, the highest point of the trail. I admit I was a little disappointed it was only 324 metres (130 metres above lake level) after such a mighty climb.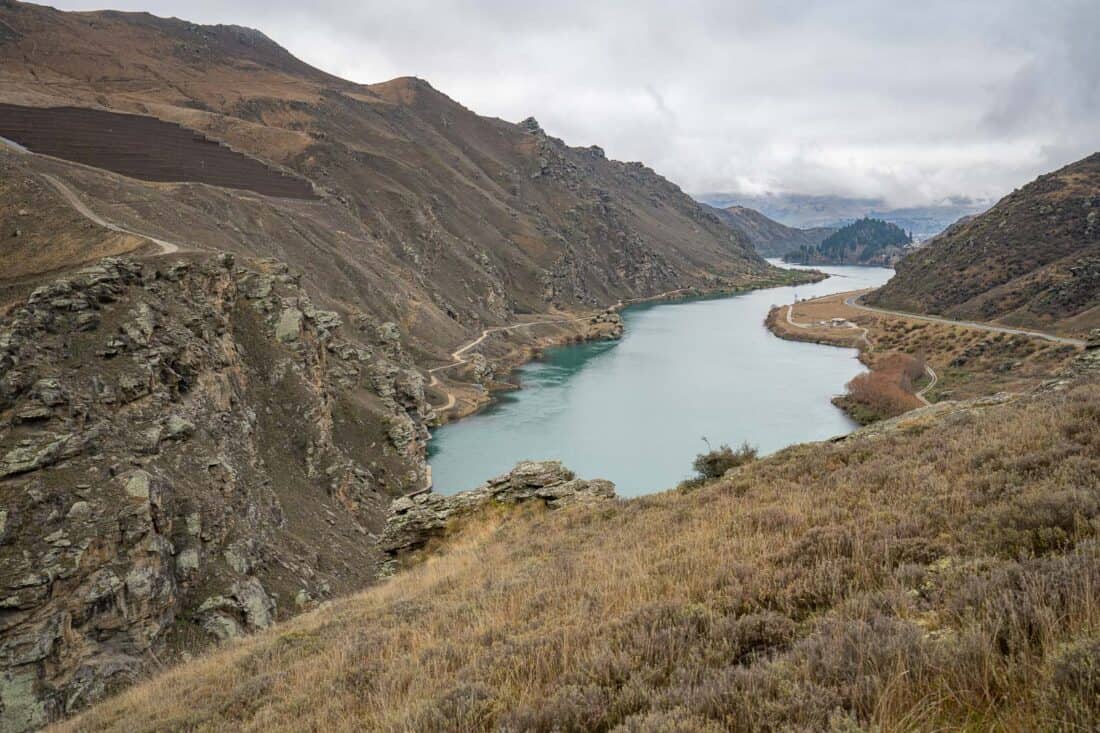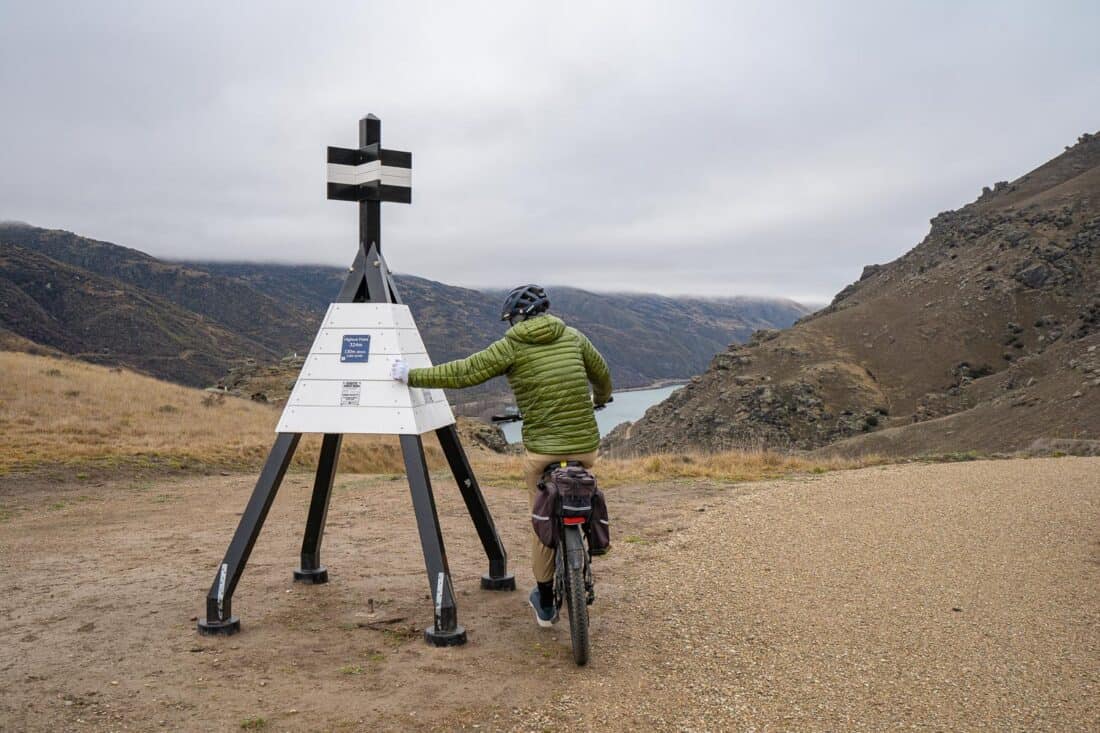 After a fun downhill run we reached two suspension bridges across ravines. The 85 metre Hugo Bridge is particularly impressive.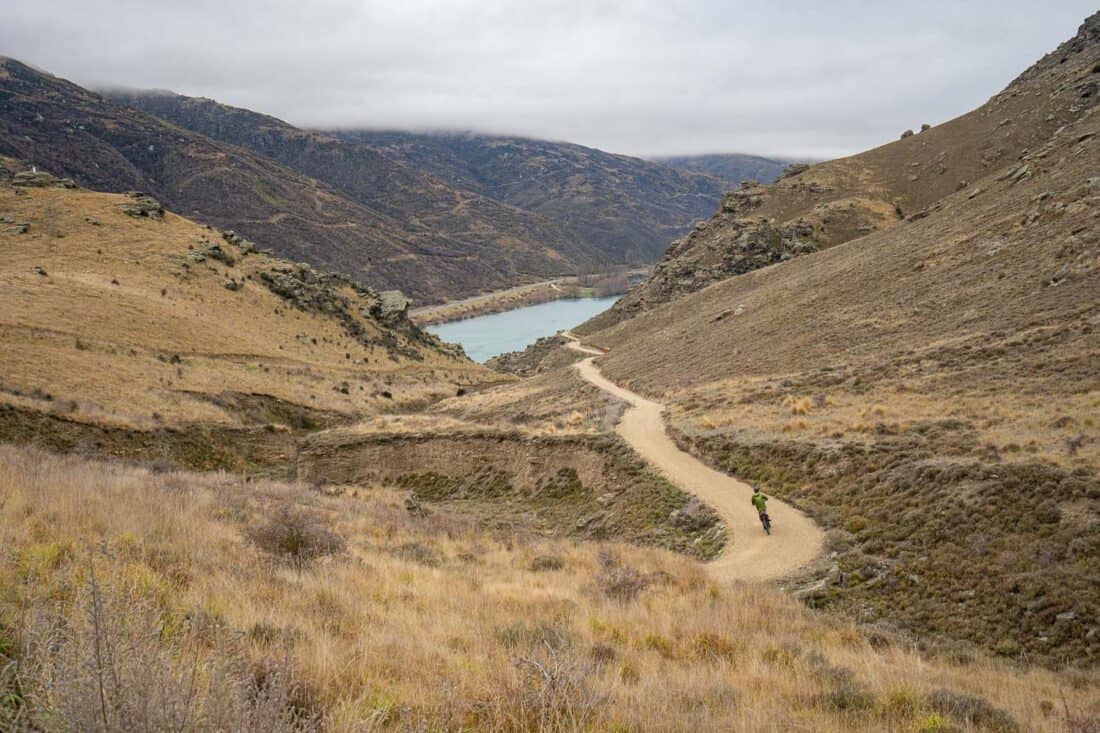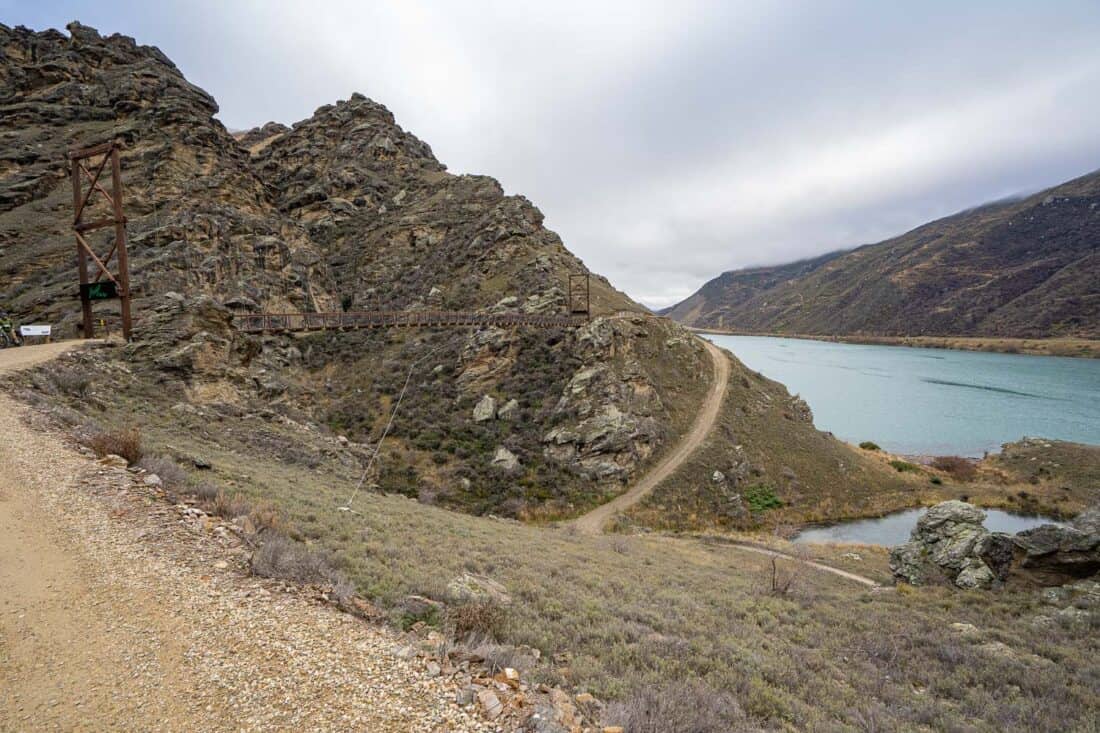 The next part of the trail is narrow and fun as it stays close to the water with more cantilever bridges. It's single rider only, so you have to get off if you need to pass anyone (luckily we didn't).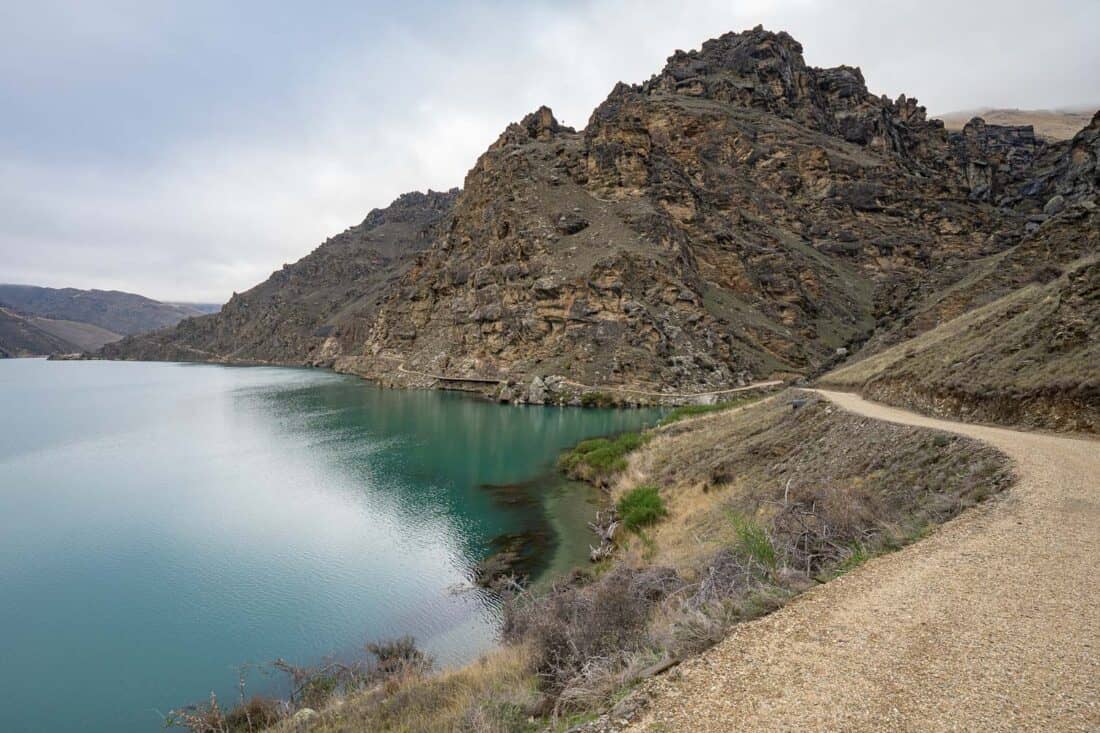 There's a toilet at Halfway Hut at 29km. It's more than halfway if you started at the Historic Precinct, and after another big bill, we were on the homeward stretch, a cruise downhill as we left the gorge behind.
There are more toilets and another good swimming spot at Clyde Rowing Club. From here we swapped the trail for an empty road (with a fun downhill) as we passed the immense Clyde Dam then crossed the Clyde Bridge to return to the centre of town.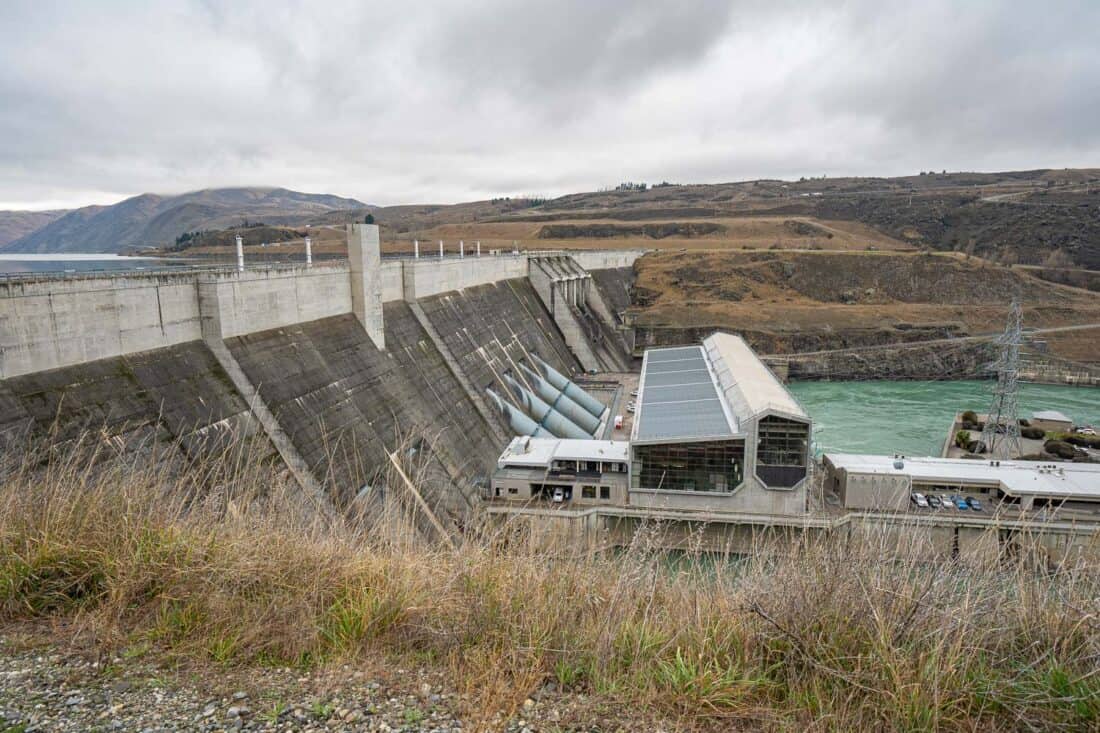 Summary
We had a wonderful day cycling the Lake Dunstan Trail. The scenery is incredible and the engineering impressive.
It was challenging enough to give a sense of adventure but accessible for most people, especially if you hire an e-bike, which we were very glad we did.
More New Zealand Posts
South Island
North Island
If you enjoyed this post, pin it for later!