This page contains affiliate links. Please read our disclosure for more info.
New Zealand's North Island is stunning. It has some of the best beaches in the country as well as hot springs, geothermal parks, volcanoes, lakes, waterfalls, wineries, and island sanctuaries.
Outdoor activities are popular, and you can hike, swim, snorkel, sail, surf, bike, and engage in numerous adventure activities like skydiving or jet boating.
It's the best part of the country to learn about Maori culture and to sample delicious food and coffee at the many restaurants and cafes in the cities. It's also home to the magical Hobbiton Movie Set!
Three-quarters of New Zealand's population lives here and it includes the country's largest city, Auckland, in the north of the island, and Wellington, the capital city, in the south.
We've driven between Auckland and Wellington five times and have spent months living in the Northland and Wellington regions.
Below I share our most recent 10-day North Island itinerary (easily reduced to one week) as well as suggestions for trips ranging from two days to two weeks or more.
Contents
North Island Itinerary Suggestions
These are my North Island itinerary suggestions for different trip lengths. They assume you are travelling between Auckland and Wellington (or vice versa).
Auckland is where most international flights arrive, although the much smaller Wellington airport has connections to Australia. Wellington is where the ferry to Picton on the South Island departs.
We've only spent a short amount of time in Auckland and aren't huge fans. As most visitors are in New Zealand for natural beauty, I think there are better places to visit.
If you have limited time, just spend a night in the city to recover from jet lag and then continue with these itineraries. That said, we are fans of the beaches and wineries of Waiheke Island, which is just a 40-minute ferry ride from Auckland, and a few days there is never a bad idea.
2 Day North Island Itinerary
If you need to traverse the island in the quickest time possible, you could technically drive from Auckland to Wellington in one day (about eight hours), but it's best to break up your journey.
When we made this trip in two days, we stayed overnight near Turangi on the southern shore of Lake Taupo. It was quieter than Taupo town (on the north shore) and on the fastest route.
We stayed at a lovely BnB outside town called Omori Lakehouse. We had a private room and bathroom with a stunning lake view as well as use of the owner's living space. The owners were very friendly and left us beer and brownies as well as providing a continental breakfast with homemade jam.
It was a pleasant stopover and we had a pizza dinner nearby at Floating Rock Cafe on a winery.
We broke up the Taupo to Auckland day with a stop at the Hobbiton Movie Set in The Shire where The Lord of the Rings and The Hobbit movies were filmed.
1 Week North Island Itinerary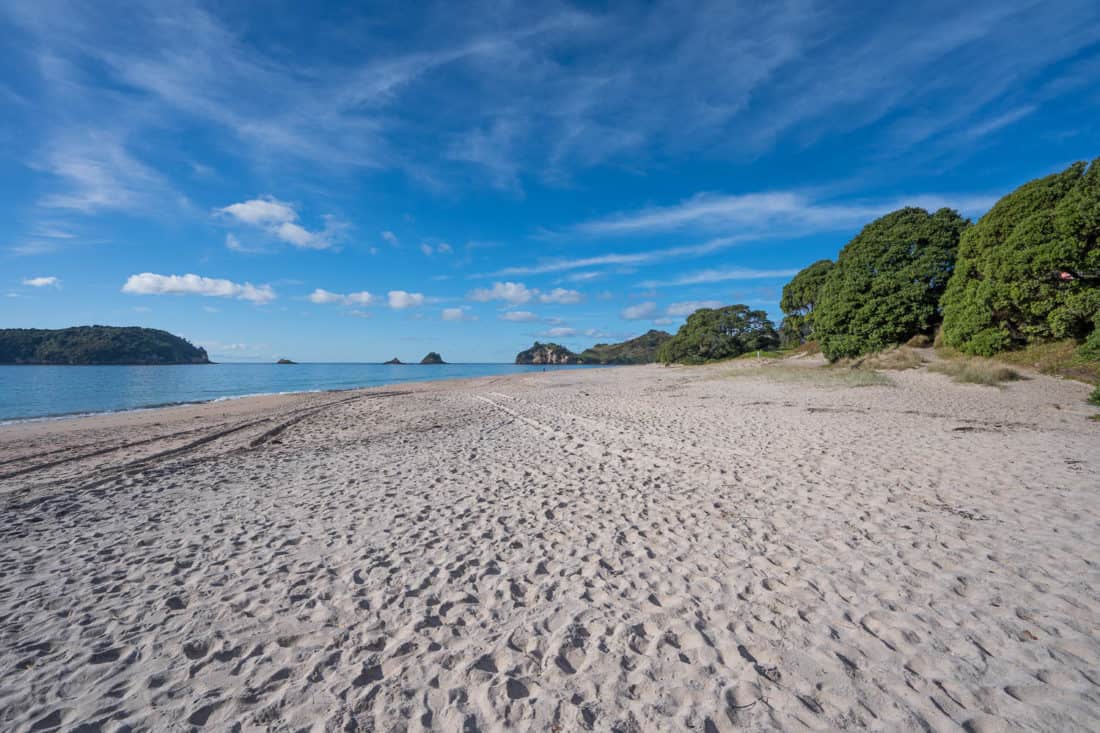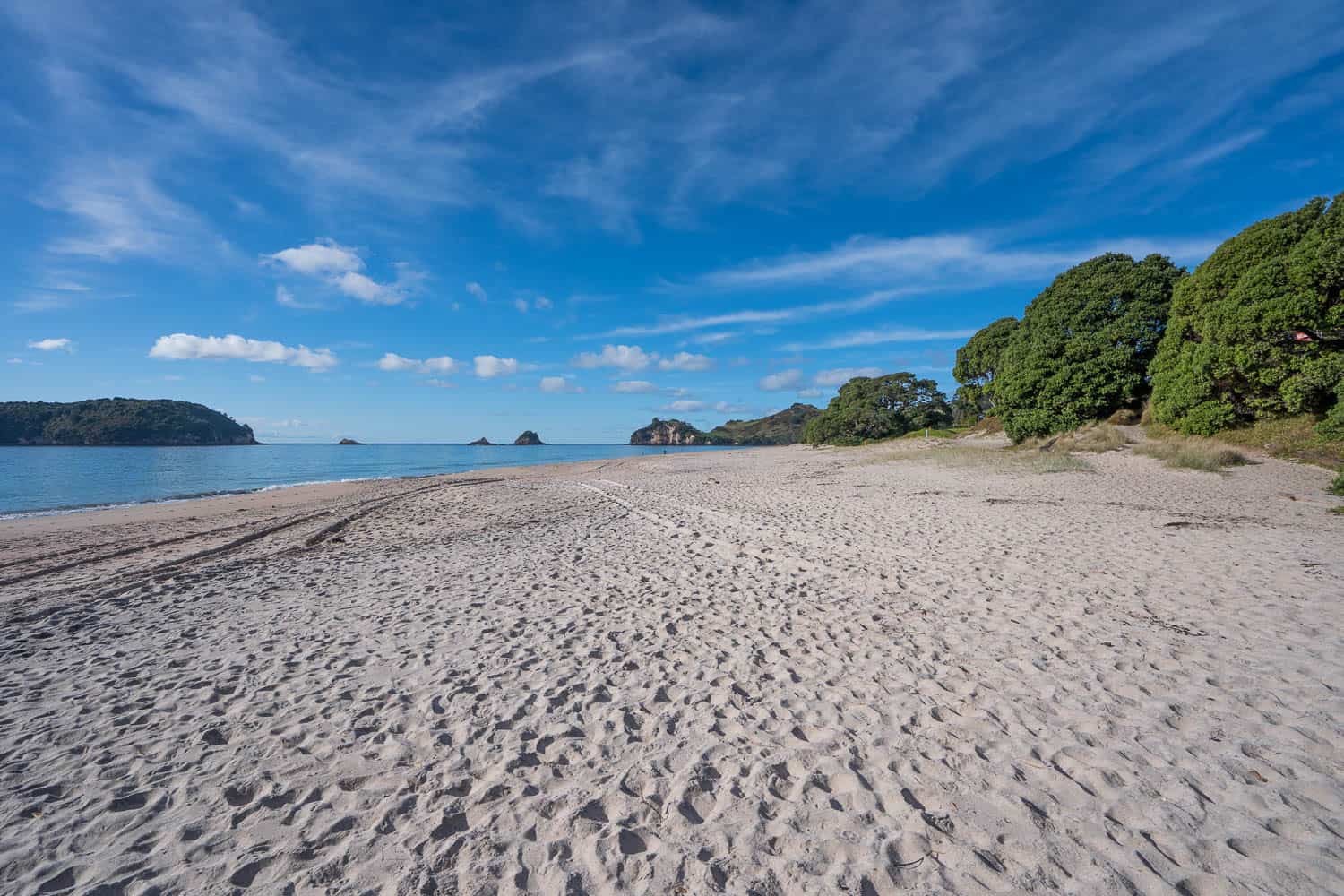 If you have a week for your self-drive North Island road trip, you could follow our 10-day route below but reduce the stays from three nights to two nights. We had plenty of relaxation time, so you could still do most of the things we did. For example:
Coromandel Peninsula – 2 nights
Lake Taupo – 2 nights
Hawke's Bay – 2 nights
Wellington – 1 night
In the 10-day section, I discuss some alternatives to these destinations.
Another option which we followed on our first trip to New Zealand:
Rotorua – 1 night
Lake Taupo – 2 nights
Tongariro National Park – 2 nights
Wellington – 2 nights
If you are continuing south beyond Wellington, check out our picks for the top things to do in the South Island.
10 Day North Island Itinerary
This is the Auckland to Wellington itinerary I detail below.
You could replace one or two of the nights in Taupo with Rotorua, especially if you'd like to visit a Maori village.
If you aren't interested in wineries, swap Hawke's Bay with Tongariro National Park, one of the most stunning places on the North Island.
In the summer you can hike the popular Tongariro Alpine Crossing and in winter you can ski on Mt Ruapehu. I've written more about the park at the end of this post.
2 Week North Island Itinerary
I recommend following the 10-day itinerary but starting with three nights in the Bay of Islands, which is four hours north of Auckland in Northland. See our guide to the best things to do in Bay of Islands.
We spent three months just outside Russell, a charming historic town that makes the best base for exploring the bay.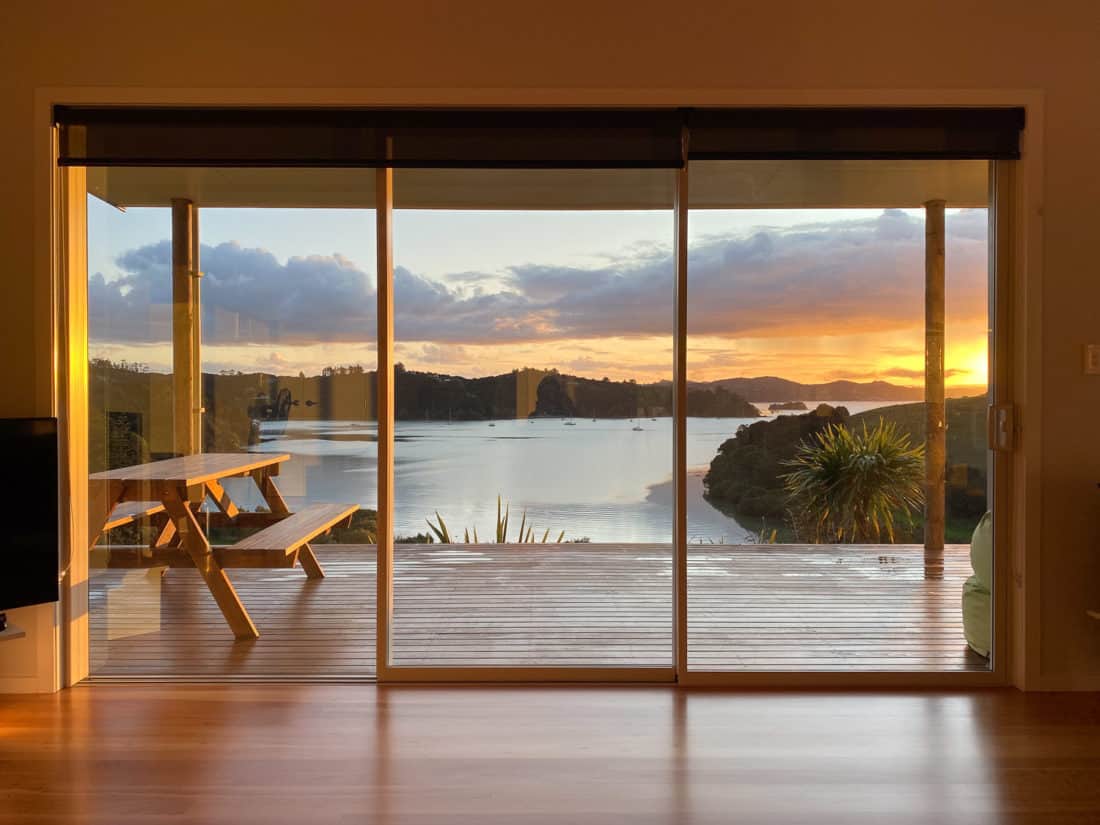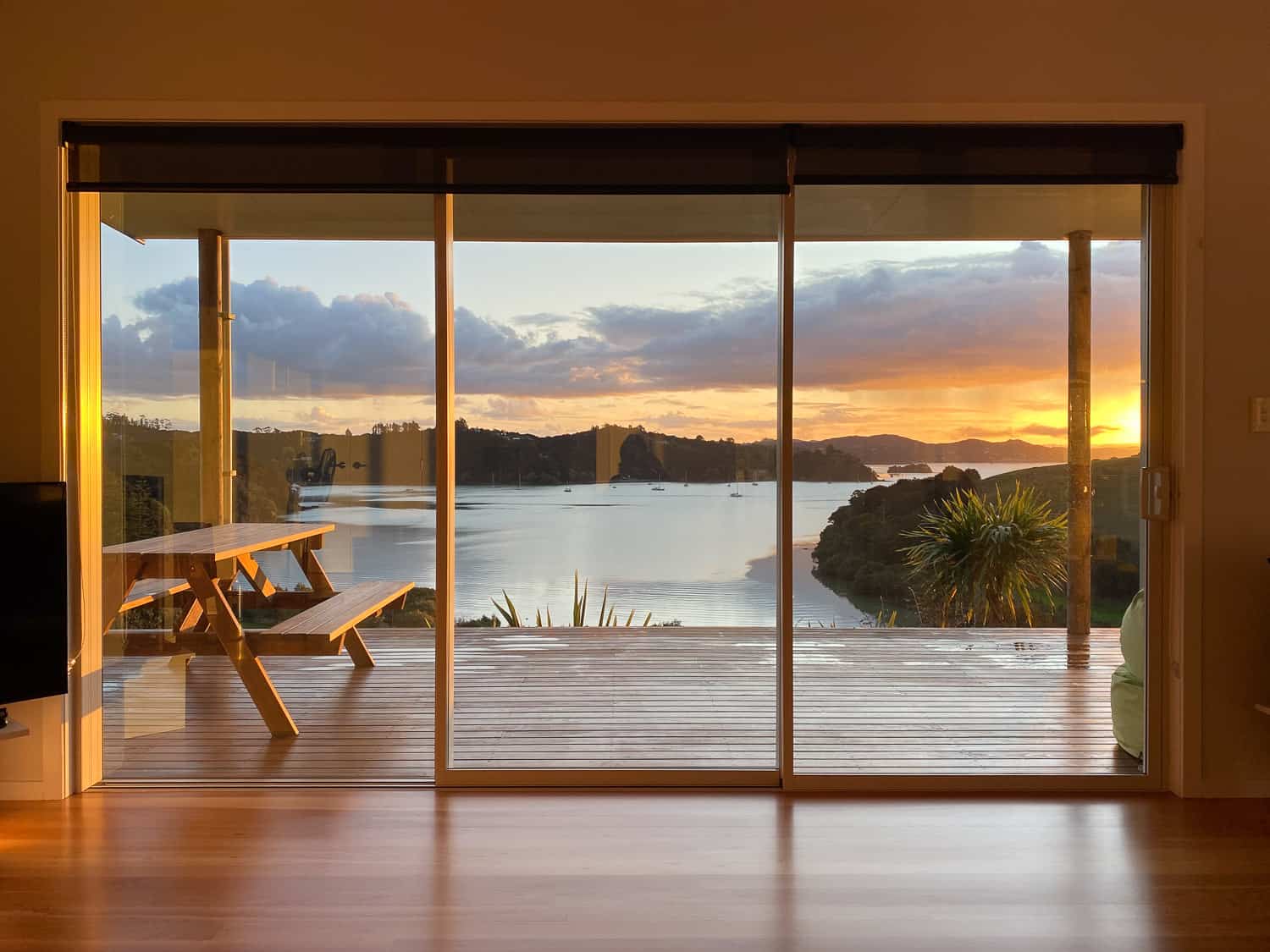 It's a long drive from Russell to Hahei in the Coromandel, but we did it at the start of this road trip, and it took us 6.5 hours plus a lunch break.
With the extra night, you can add time in Auckland, Rotorua, or Wellington.
3 week+ North Island Road Trips
If you have more than two weeks for your North Island itinerary, there are plenty more places to explore.
This route includes many New Zealand must see destinations.
You could do a loop of the North Island by following the itinerary below and then continuing up the west coast after Wellington to:
Tongariro National Park – For hiking and skiing on a volcano.
New Plymouth and the Taranaki region

– For beaches, art, hikes and an iconic volcano.

Waitomo – For glowworm caves, waterfalls, gorgeous green countryside and nearby Hobbiton.
Raglan – For surfing, waterfalls, and beach horse rides.
Waiheke Island – For beaches, wineries, and a tropical island vibe near Auckland.
Read more about these North Island road trip ideas at the end of the post.
Video: Explore New Plymouth and Taranaki
North Island Road Trip Tips
A self-drive road trip is the best way to explore the North Island.
We rented our car with Apex, which is a good option for longer rentals. We liked that they didn't charge for one-way rentals, changing drop-off locations, or an additional driver.
For shorter rentals, search on Rental Cars for the best deals.
Renting a campervan is also a popular way to explore New Zealand, but you can only stay overnight in campsites or designated freedom camping spots.
Remember that in New Zealand you drive on the left-hand side of the road.
Simon picked up a Vodaphone SIM at the airport on arrival, and I later bought a Spark SIM. Both are fine, but Spark seems to have slightly better coverage in rural areas.
Phone signal isn't available everywhere, so it's best to download Google Maps offline so you always have access to directions (which are fairly simple in New Zealand—there aren't a ton of roads!).
I recommend packing a water bottle (we always travel with a few Vapur flexible bottles as they are light and foldable when empty) and a travel coffee mug or thermos.
Wear shoes that are comfortable for walking as you'll do a lot of it in New Zealand. Most of the time I was fine in my Allbirds wool runners, but I was glad for hiking shoes on the muddier trails. (See my Allbirds review for more details on these super comfy shoes).
You can make this New Zealand road trip at any time of year. We drove it in June, which is early winter. We had one beautiful, sunny day on the Coromandel, and the rest of our time was mostly cloudy and often rainy. Temperatures ranged from 10ºC to 16ºC (50ºF – 61ºF). In general, the north is warmer than the south.
The best weather, especially if you want some beach time, is in the summer from January to March. January is busy as it's the school holidays, so I recommend February and March instead.
Map of Our New Zealand North Island Itinerary
The blue (sites), green (food/drinks) and orange (accommodation) markers on this North Island itinerary map are places we visited on this trip. The purple markers are optional destinations if you have extra time.
Our North Island Itinerary
This North Island itinerary starts in Auckland but doesn't include any time there. If you are arriving on a long flight, allow at least a night in the city to recover before you drive.
Day 1 – 3 Hahei, Coromandel Peninsula (3 nights)
Auckland to Hahei Drive: 2 hours 15 minutes / 163km (101 miles)
The Coromandel Peninsula is a detour from Auckland if you are heading south to Wellington, but it's well worth it and is one of the best places to visit in North Island.
Once you've left Auckland's outskirts behind, it's a lovely if windy drive through forests and mountains with rocky peaks.
Hahei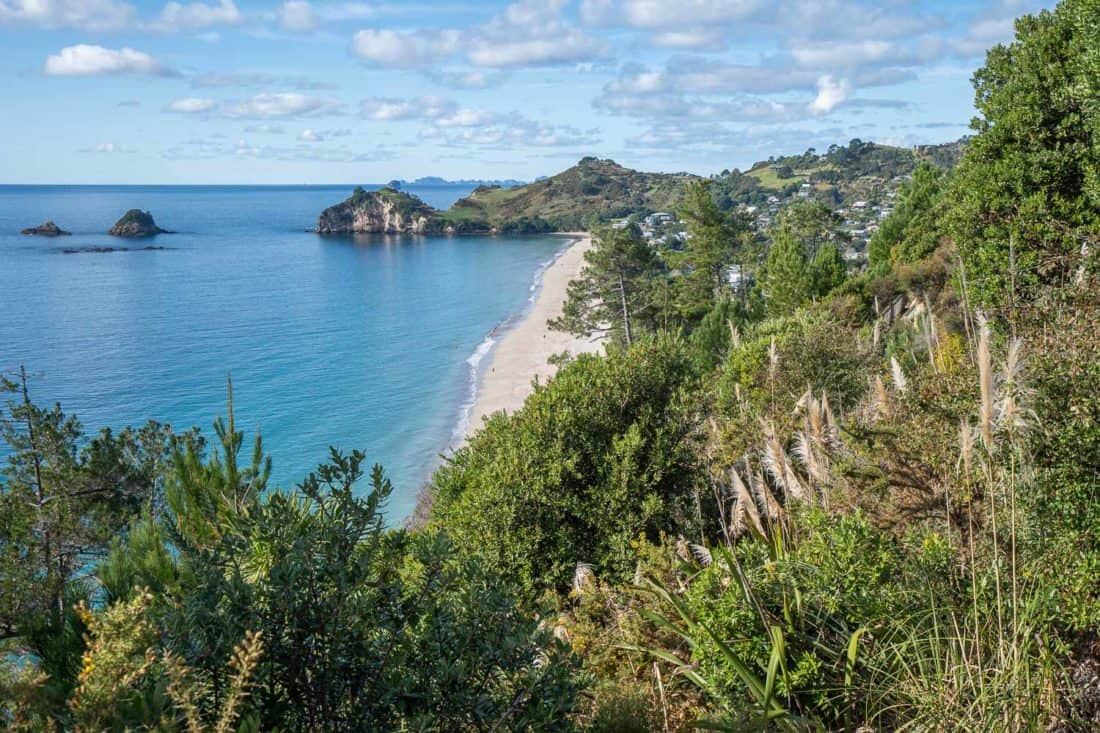 We chose to stay in the cute beach town Hahei which is the perfect base for the Coromandel's main attractions on the east coast—Cathedral Cove and Hot Water Beach.
It gets packed in the summer, but mid-week in winter it was very quiet. The town centre is tiny with just a handful of businesses—a shop, cafe, takeaway, ice-cream shop, and a few watersports companies.
We had dinner on our first night at The Pour House, a craft brewery that makes excellent beer and tasty food (including a creative vegetarian pizza).
Hahei Beach is one of my favourites in New Zealand. It's a gorgeous long white sandy beach with rocky promontories at each end and views of craggy offshore islands. We enjoyed sunset walks, sunrise runs and swims, and a relaxing afternoon reading in a quiet corner.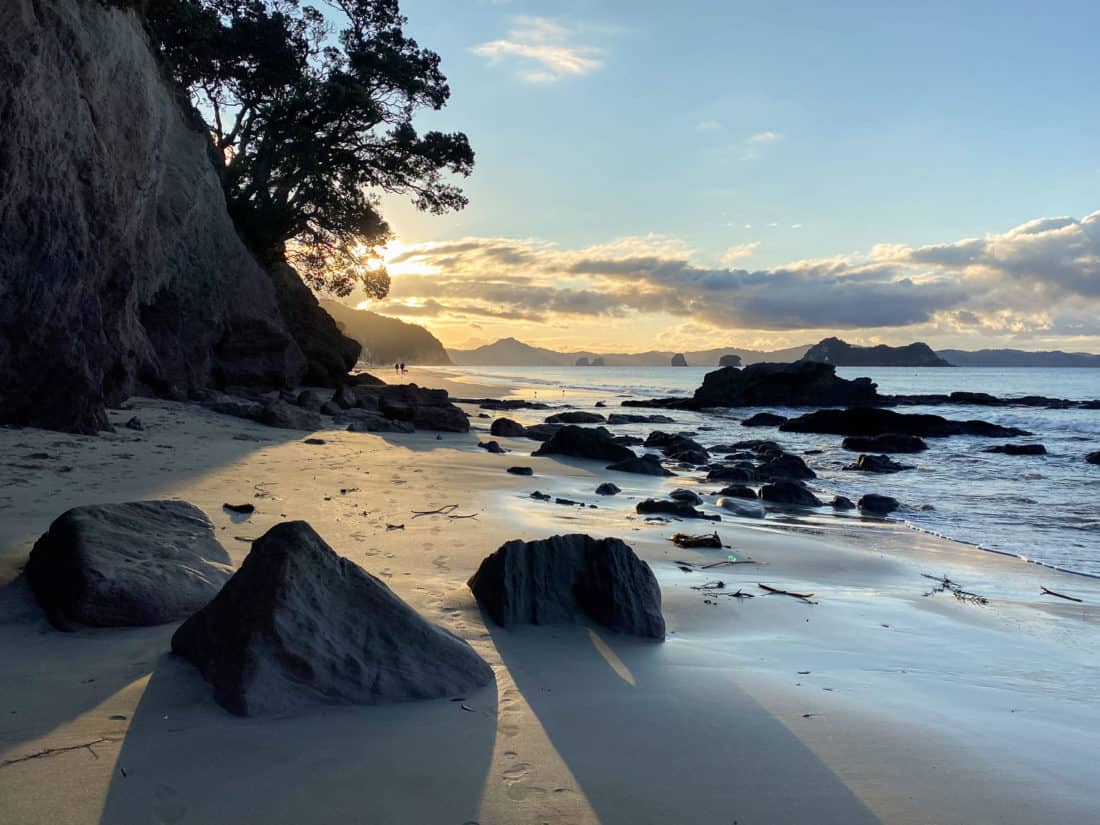 Cathedral Cove
Cathedral Cove is the main attraction in the Coromandel, so it's best to get an early start to avoid the crowds. In winter, we had it to ourselves by leaving at 7.30am for the 40-minute walk from town. It's best at low or mid tide.
The mostly paved walk is fairly easy, although it's steep in parts, with some beautiful sea views on the way.
Steps lead down to Mares Leg Cove, a gorgeous powdery sand beach backed by white limestone cliffs chiselled by the elements and gnarled pohutukawa trees growing sideways out of the rocks.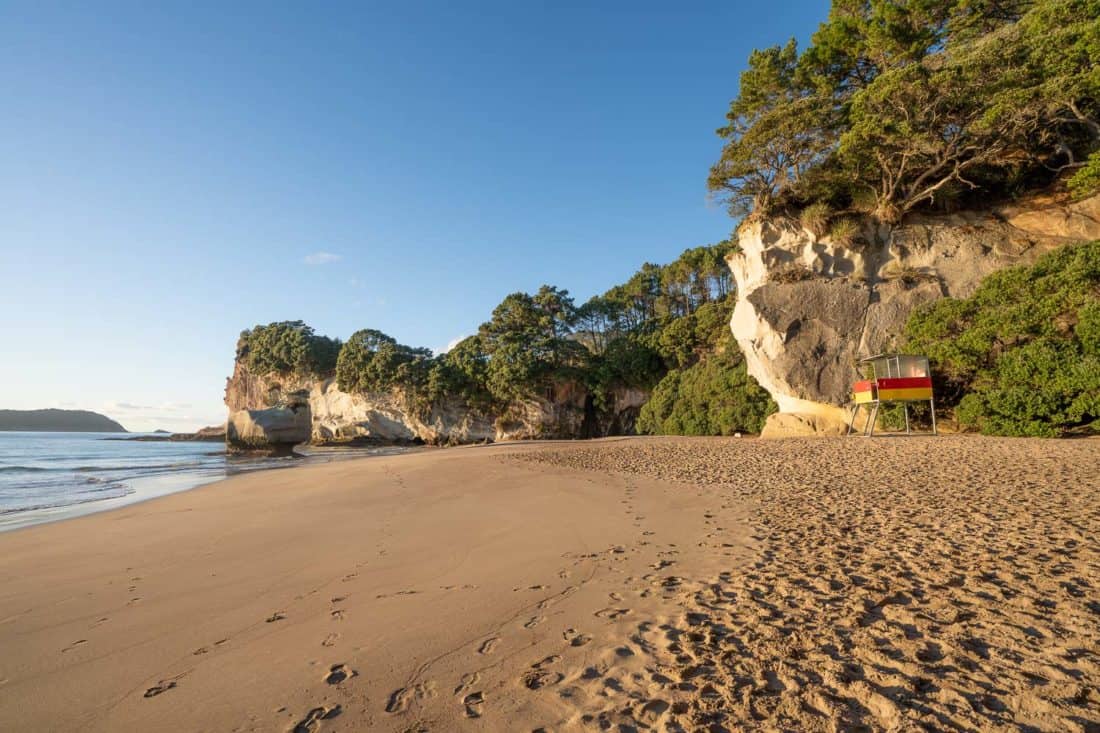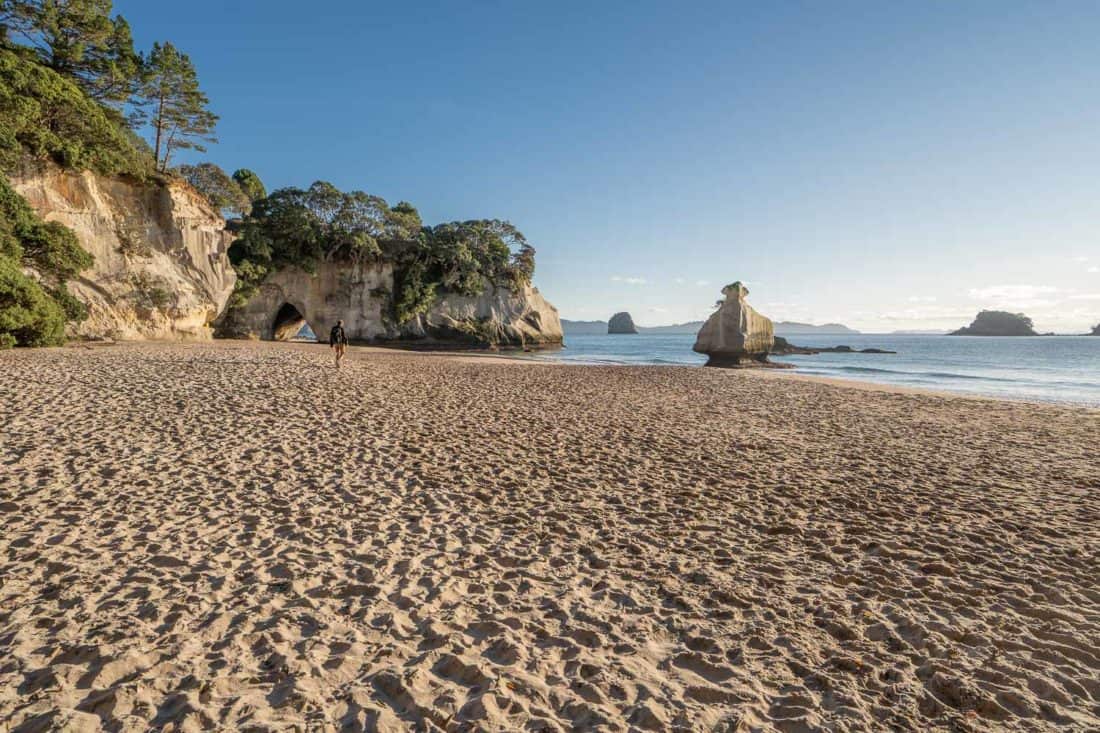 From the beach you walk through a natural rock archway for a view of the beach and sea stacks on the other side framed by the cave opening.
I was worried it might be overrated, but it's a magical place.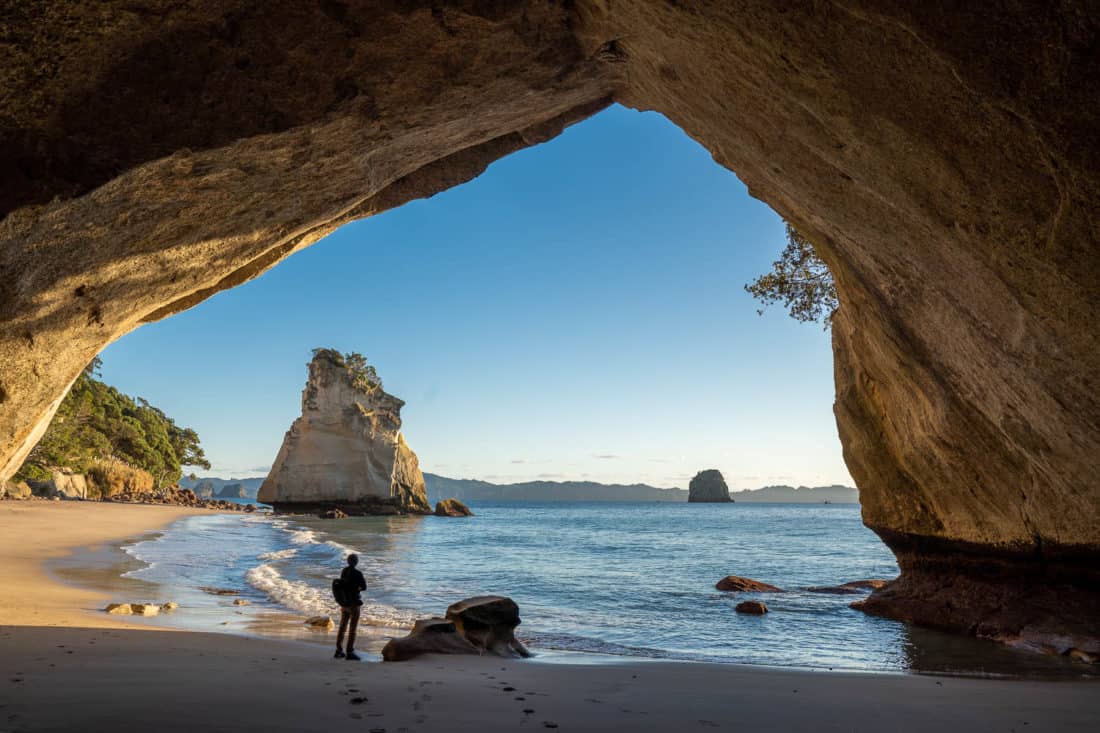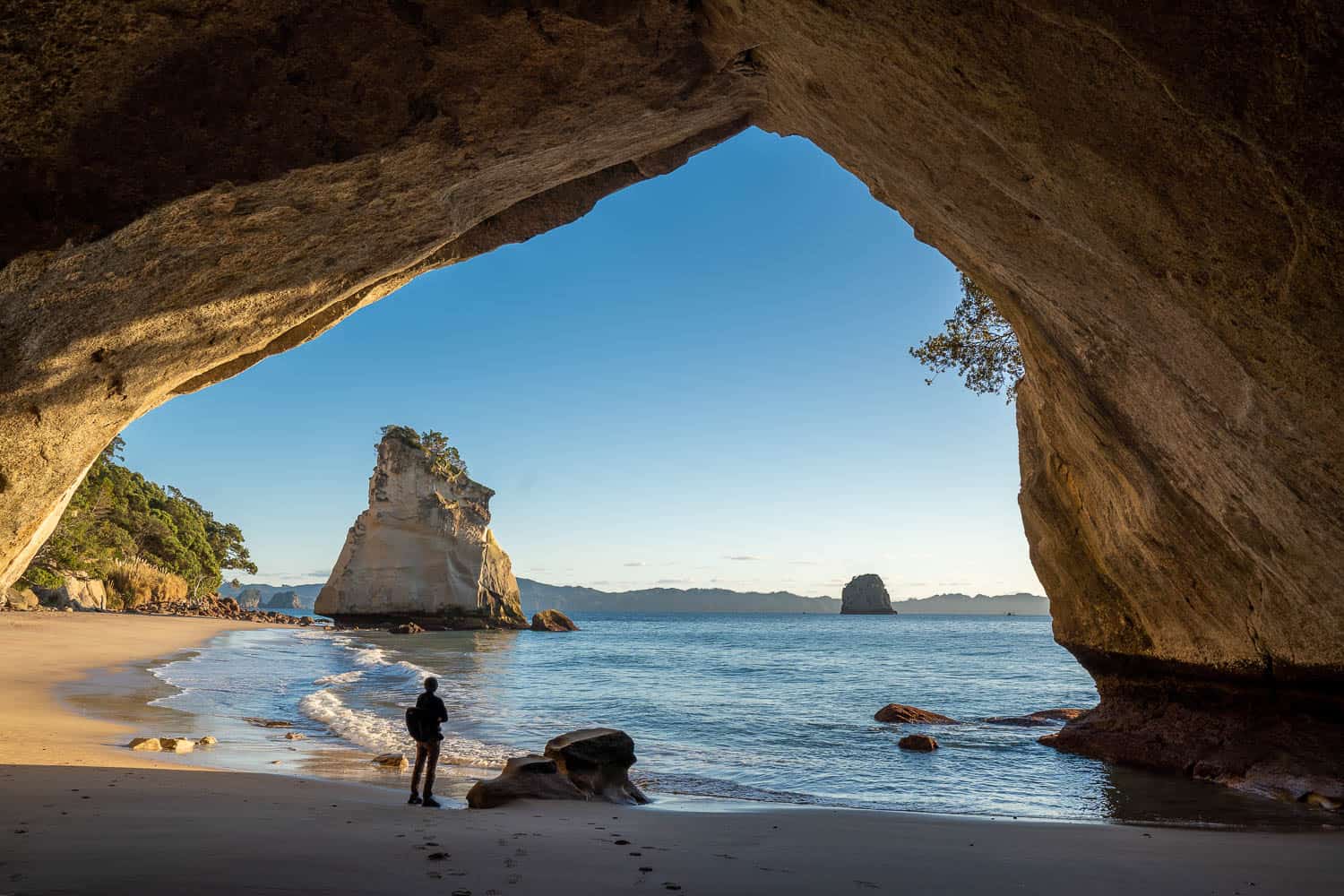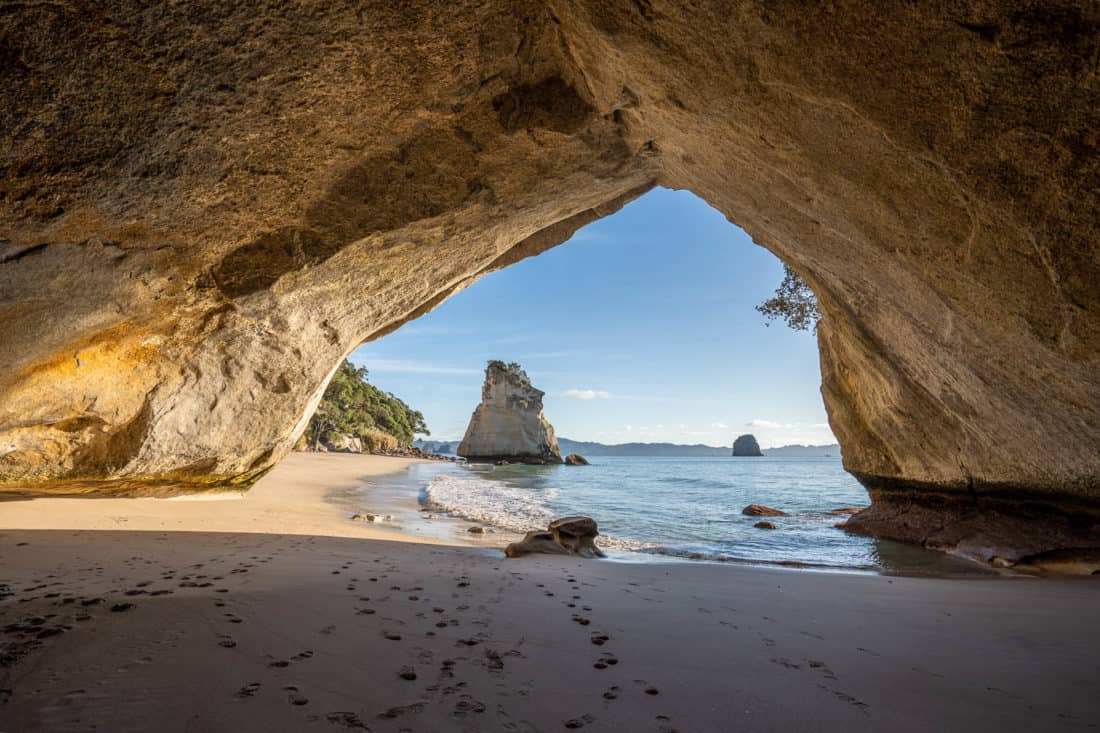 On the way back we took a few of the side trails—the loop trail to a lookout (2km/30 minutes return) takes you through the forest to a platform high above the sea with fantastic views of the rugged coastline and clear turquoise water.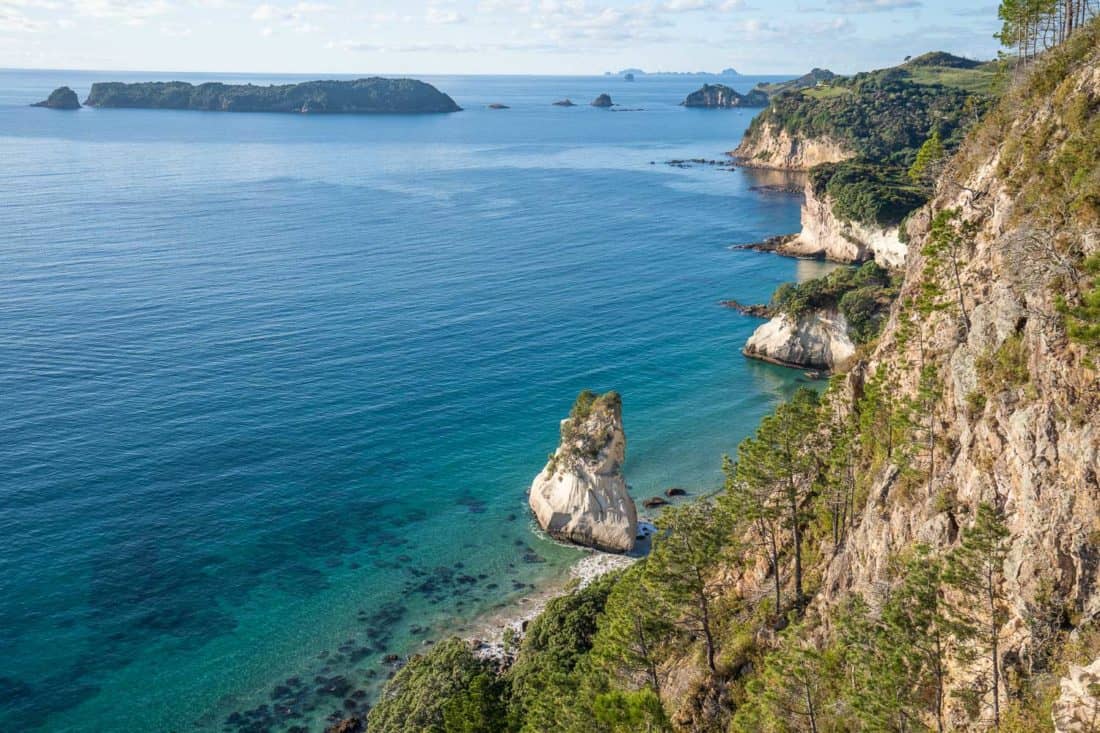 There are also shorter walks (5 minutes each way) to beautiful sandy Stingray Bay and boulder-filled Gemstone Bay, where you can follow a snorkel trail. I braved the chilly water and was rewarded by seeing a giant stingray as well as banded wrasse, red moki, and crayfish.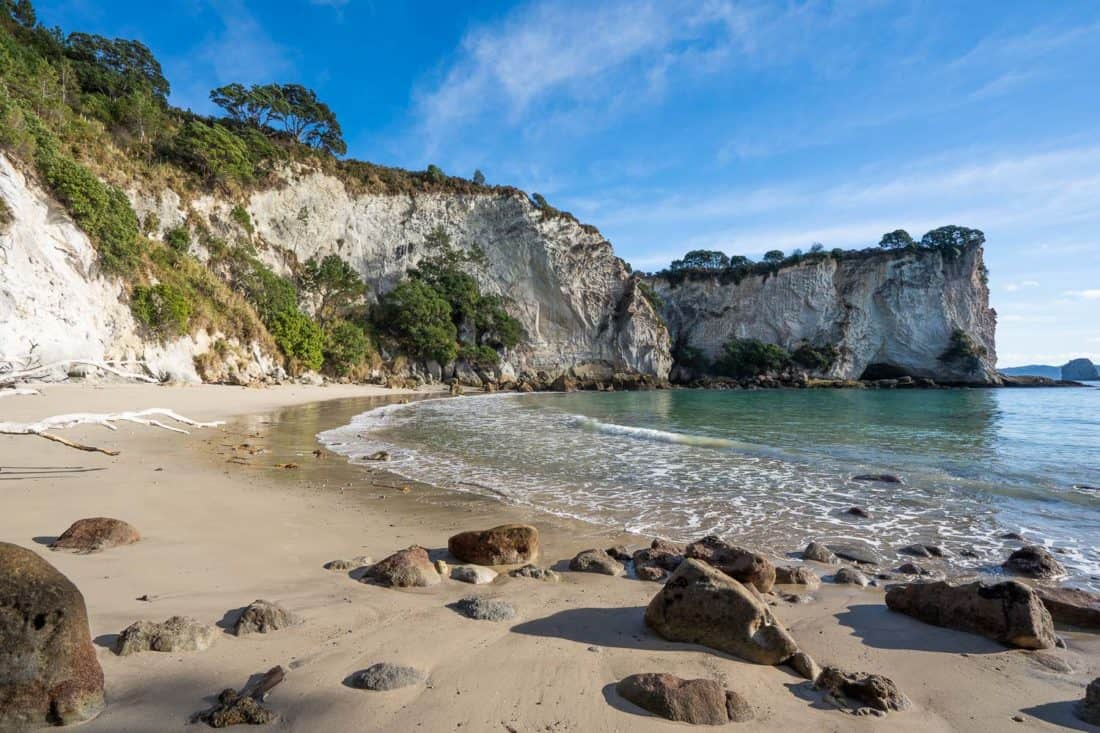 With all the detours we ended up walking 11km (7 miles) with 2 hours 40 minutes of walking or four hours including breaks. In summer you'll likely want to linger on the beaches even longer.
Shakespeare Cliff Lookout
After a morning at Cathedral Cove, we drove 15 minutes to Shakespeare Cliff Lookout. The last section of the windy uphill road is gravel, but it's worth it for the 180º views of Lonely Bay, Cooks Beach, and Maramaratotara Bay.
Hot Water Beach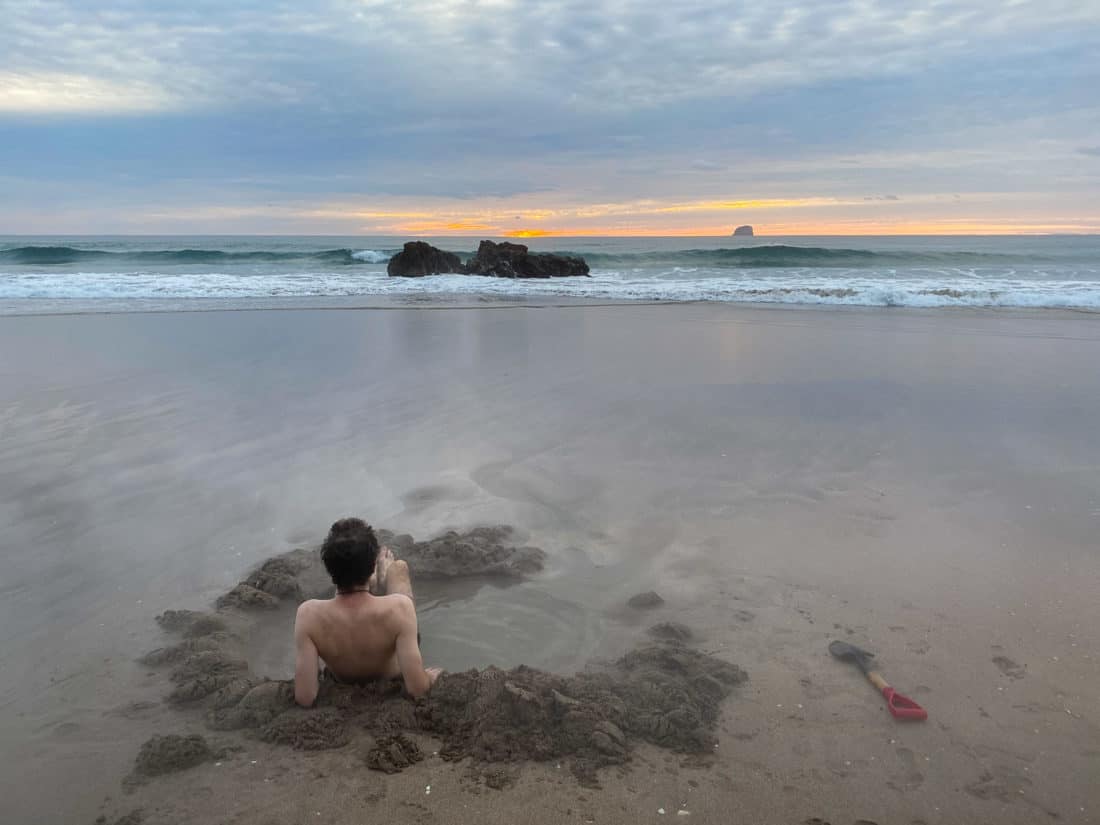 On our second full day, we made it to Hot Water Beach for sunrise.
There's a hot spring under a small section of this unique beach where you can dig your own spa bath (only two hours either side of low tide).
It gets incredibly crowded in summer, but in winter there were only a few others around. Digging a deep hole isn't as easy as it looks (our bath was more of a puddle), but it was atmospheric to sit in hot water surrounding by steam with the waves crashing and the sky lit up in streaks of pink.
Drive to Coromandel Town
After a shower and breakfast, we left for a loop drive to the other side of the Coromandel Peninsula. We started on the 309, a windy narrow gravel road that made me car sick. It goes deep in the bush and feels far away from everything.
A few worthwhile stops are the Waiau Kauri Grove, where a peaceful 15-minute loop walk takes you past some of these giant trees, and Waiau Falls, a pretty little falls with a pool that looked enticing for swimming.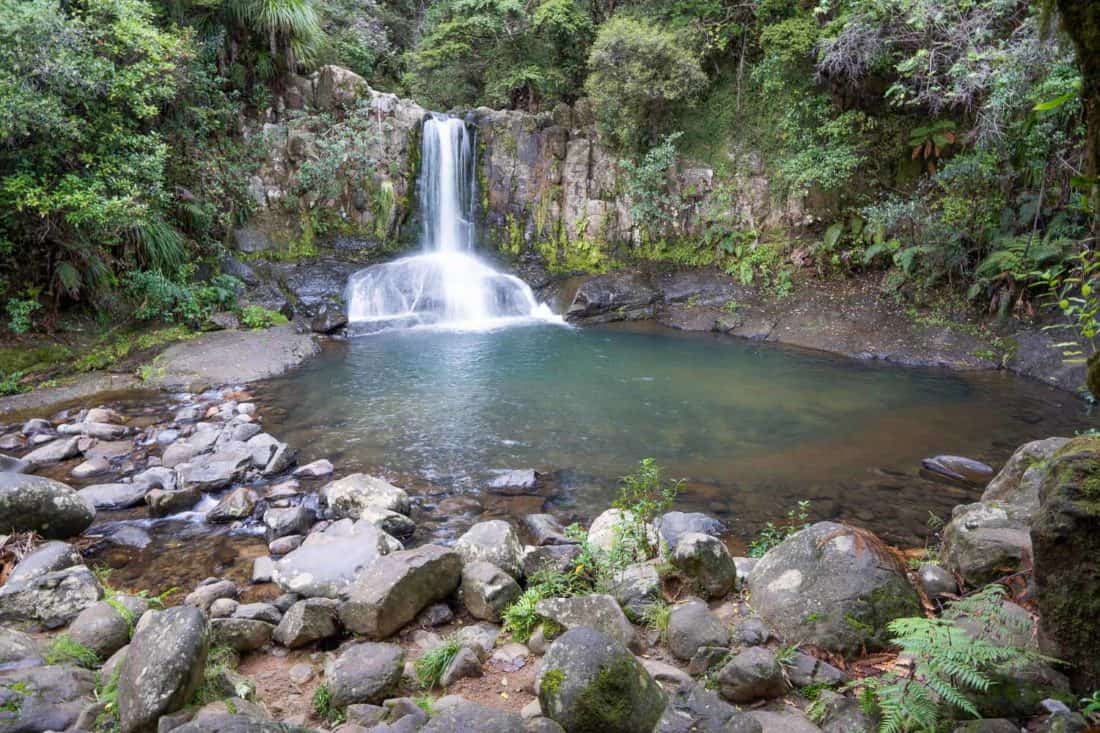 We had lunch in Coromandel Town, an old gold town that still has some heritage buildings. There's not much going on, but we did enjoy the creative vegetarian lunch options at Wharf Road Cafe (Update Jan 2023: temporarily closed as it has been sold to new owners!) including cajun cornbread and flatbread with halloumi.
You could also take a scenic train ride on the nearby Driving Creek Railway, but the times are limited in winter and we missed it.
We drove back on the 25, a sealed road with beautiful coastal views and plenty of opportunities for beach stops. I'd wanted to detour to New Chums Beach, but you can only reach it at low tide.
We ended up taking a short walk at Matarangi Beach, a long white sand beach typical of the area, but the weather wasn't great. Rings Beach and Kuaotunu Beach are also supposed to be pretty.
Hahei Accommodation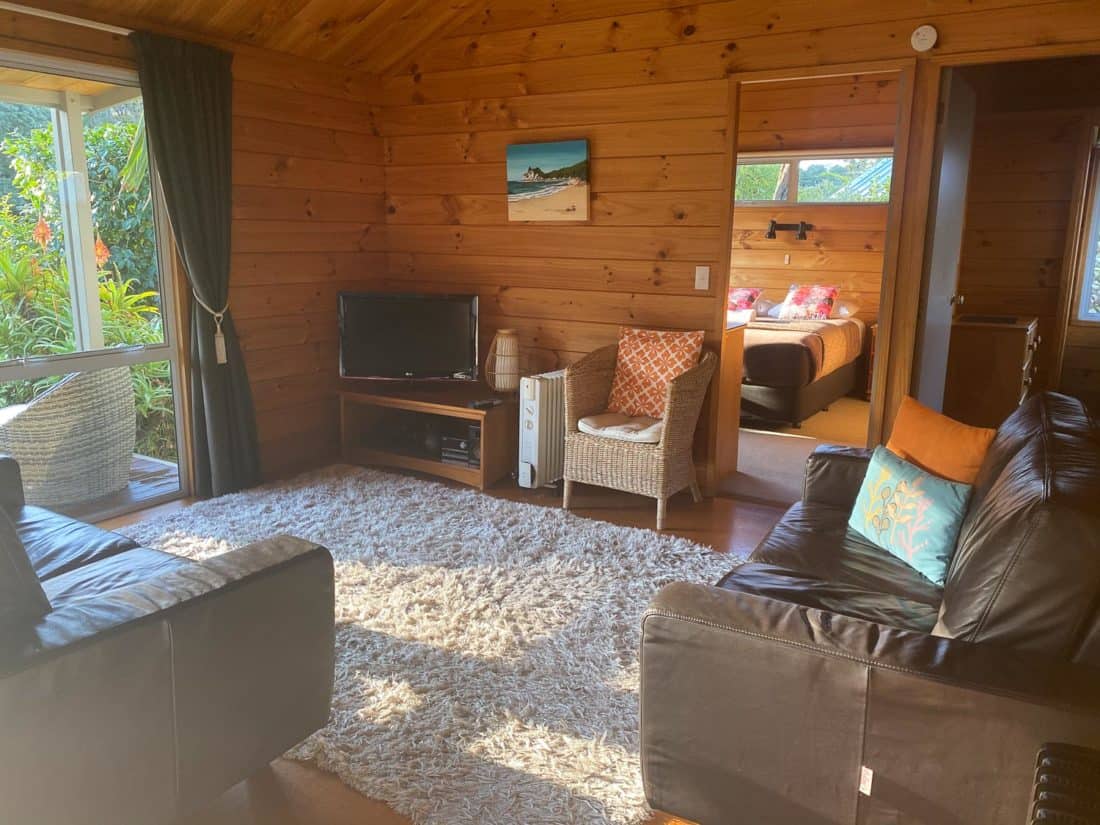 We stayed at Tatahi Lodge, which I highly recommend. It has a range of accommodation for all budgets including a backpackers, motel rooms, and holiday cottages. It's set in pretty gardens and is a one-minute walk from the pub, five minutes from the beach, and 40 minutes from Cathedral Cove.
The friendly staff gave us all the information we needed on the area and lent us a shovel and beach towels. The only downside is we only got 5GB of internet free, but it was enough for our stay.
We stayed in a two-bedroom cottage with a log cabin vibe. The decor was a little dated, but it was comfortable and spacious with a kitchen and small garden with BBQ and outdoor furniture.
Day 4 – 6 Lake Taupo (3 nights)
Hahei to Taupo Drive: 4 hours / 281km (175 miles) plus stops (1 hour 15 minutes)
Our next destination was Lake Taupo in the centre of the North Island. The winding drive through the forest-covered mountains of the Coromandel was beautiful before we reached flatter plains and farmland. Past Matamata the scenery became more dramatic again with lush green rolling hills.
We made three stops—for coffee (and to eat our packed sandwiches) in Matamata, at the Blue Spring Putaruru, and for a quick walk in Rotorua.
Hobbiton
I also highly recommend stopping at the Hobbiton Movie Set near Matamata. Even if you aren't a Lord of the Rings fan, the cute hobbit village is a picturesque place to wander with incredible attention to detail.
You need to book the two-hour walking tour in advance, but if you book it for early afternoon, it fits well in this itinerary. There's an average cafe there for lunch, or you can stop in Matamata.
Blue Spring Putaruru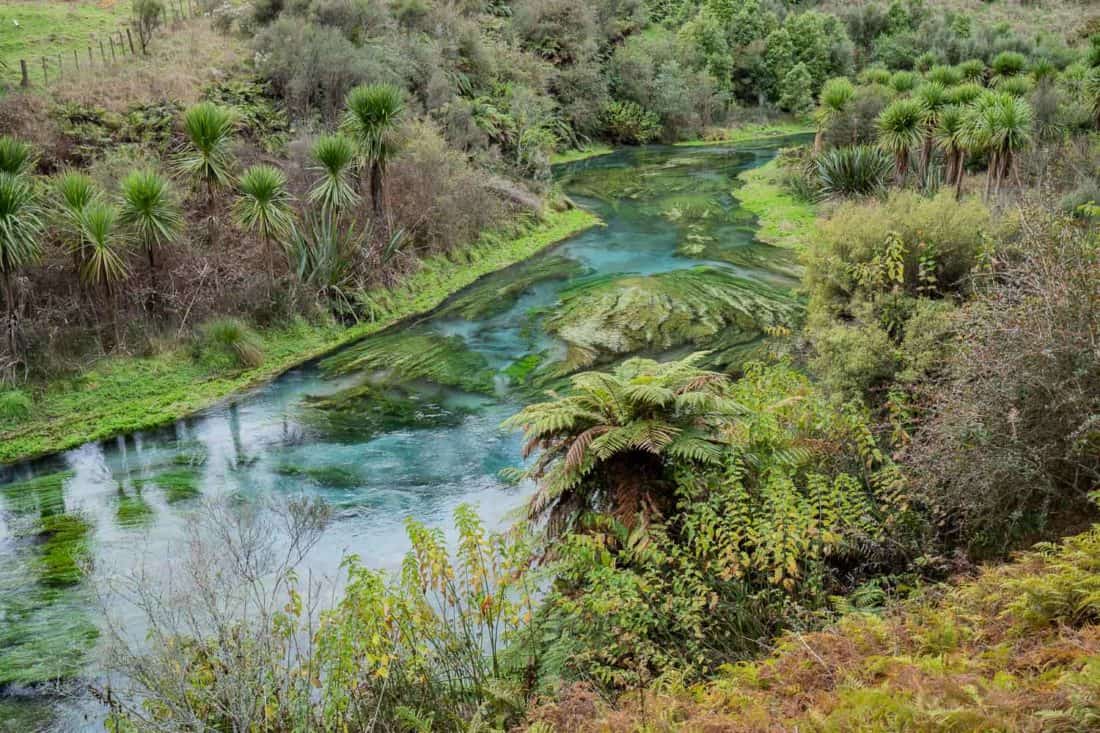 As we'd visited Hobbiton on a previous North Island road trip, we chose to take a break at the Blue Spring in Putaruru, which is just after Matamata and 40 minutes before Rotorua.
We parked at the Leslie Road car park and strolled along the river for 10 minutes to reach the colourful main pool (and toilet). The incredibly pure water is bright blue and full of floaty green vegetation, creating a magical feel.
You can continue along the river on the Te Waihou Walkway (1 hour 30 minutes each way), but we were a bit concerned about the signs warning of car break-ins.
Rotorua
Our next stop was Rotorua, which is a popular stop on many North Island road trips, so you may want to spend a night or two here.
The sprawling town is renowned for its geothermal activity—you can see steam emerging from the drains and smell the sulphur in the air. It's the best place in the country to learn about Maori culture—at Whakarewarewa Maori village you can take a guided tour and see a cultural performance.
As we'd visited previously and recently experienced a Maori performance at Waitangi in the Bay of Islands, we just made a quick stop at Kuirau Park. At this free city park you can see geothermal activity like a large pool of steaming water and bubbling mud pools.
It doesn't compare to the experience at the paid geothermal parks (which we'll visit soon), but it's worth a quick stop.
Taupo
Taupo is a lakefront town, one hour from Rotorua. There are some excellent geothermal destinations to explore on the way, but we chose to return to these the following day.
Lake Taupo is the largest lake in New Zealand and is a popular spot for watersports in the summer. It's also a hub of adventure activities like skydiving (which we did here on our first trip to New Zealand), bungy jumping, and jet boating.
As we were visiting in winter, we focused on hot springs, waterfalls, and geothermal parks.
We mostly self-catered, but we did have a good-value lunch at Cafe Baku near the waterfront, which has a huge range of cabinet food including veggie options.
Wairakei Terraces Thermal Spa
On our first evening in Taupo, we relaxed after the drive at the hot pools at Wairakei Terraces. Sunset would be ideal but the lighting was also atmospheric at night as we soaked in a series of large terraced pools of varying temperatures. It's open to over 14s only. Entrance is usually $25 but we got a Grabone deal for $15.
Wai-o-Tapu Thermal Wonderland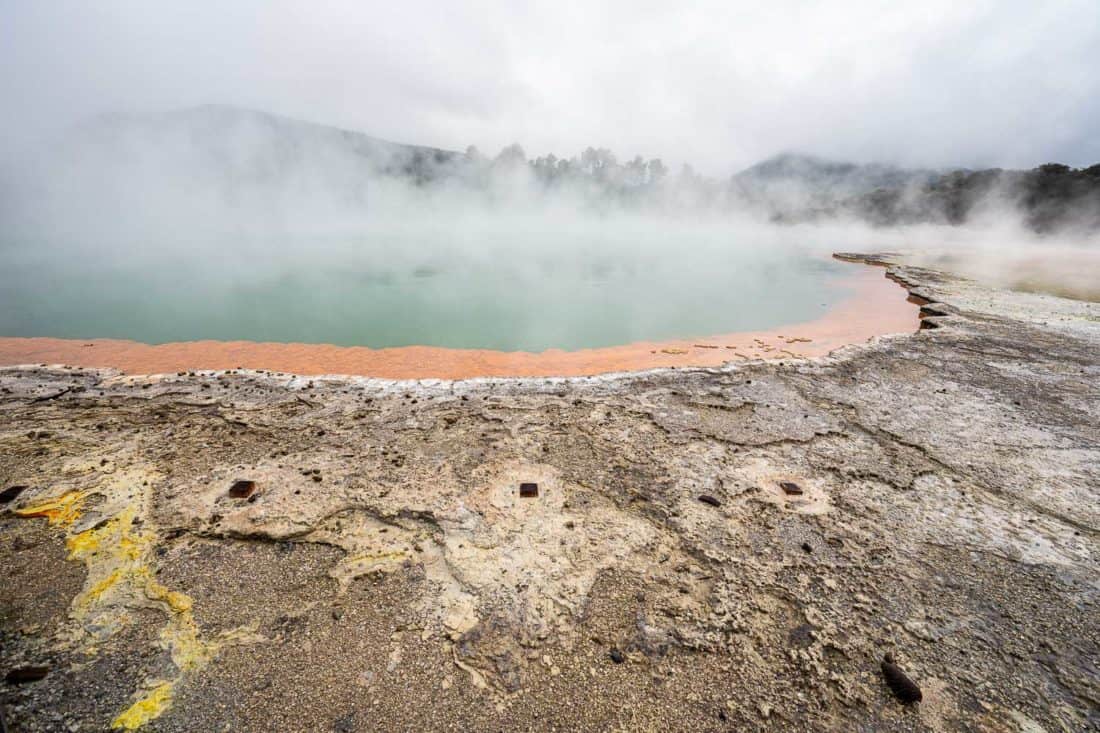 On our first full day in Taupo we drove 45 minutes back towards Rotorua for some geothermal action. There are a number of geothermal parks, but we chose Wai-o-Tapu as it's known for having the most colourful pools. Tickets are $32.50 and currently can only be bought online.
We arrived at opening at 9am and had the place to ourselves. The full trail around the park is 3km and took us an hour, although you could spend longer if you read all the information signs.
It's a unique and fascinating place with steam rising from the ground, bubbling mud pools, collapsed craters, and many colourful hot pools. Champagne Pool is the largest hot spring in New Zealand and Devil's Bath is an unreal neon green.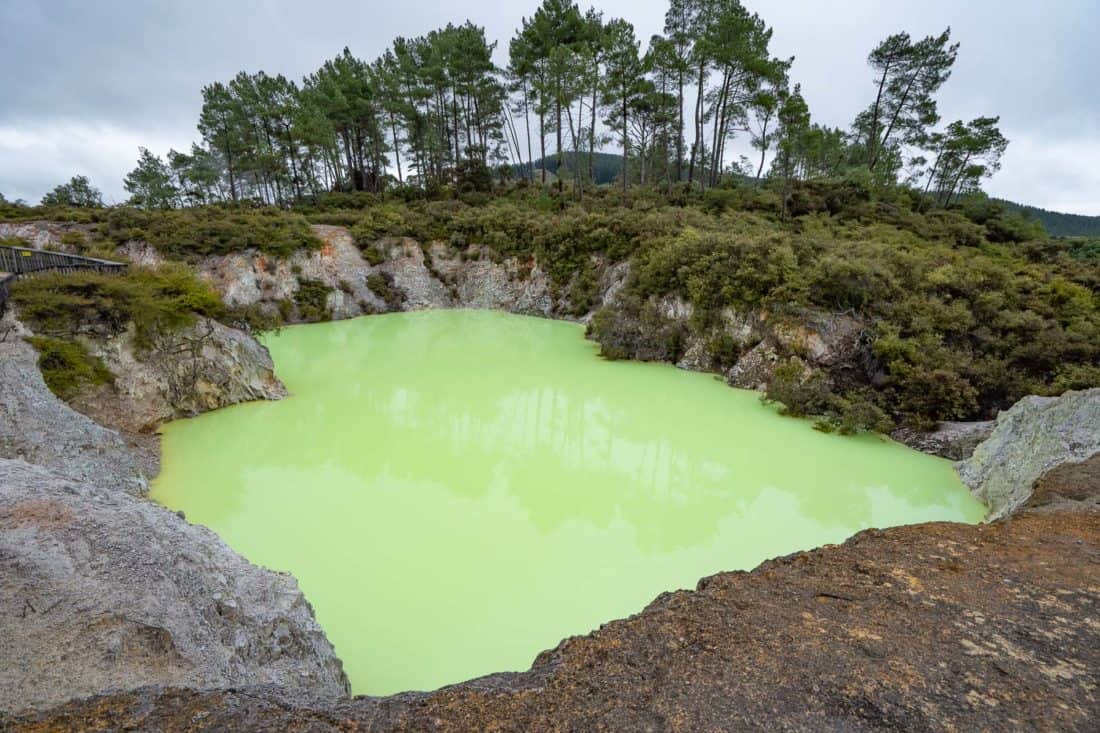 There's also an eruption of Lady Knox Geyser at 10.15am daily at a separate site a short drive away, but we didn't make it in time.
Mud Pool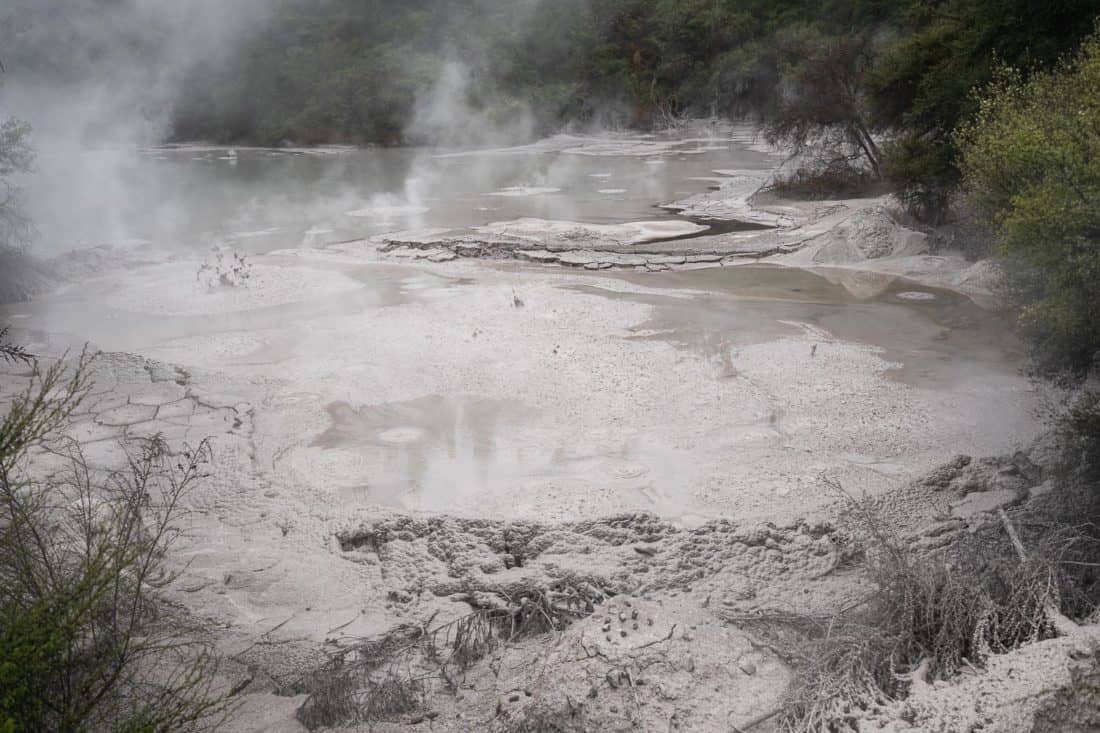 A few minutes' drive from Wai-o-Tapu is this free site where you can see mud spurting out of a large pond. It's definitely worth a stop.
Kerosene Creek
Our final stop on our first day was Kerosene Creek, a 10-minute drive from Wai-o-Tapu (towards Rotorua). The last five minutes is on a horrible gravel road full of potholes, so I wouldn't recommend it after rain in a normal car.
There are plenty of hot springs in the area, but this is the only hot river I found, and it's free. It's a unique experience to soak in the warm, shallow water surrounded by forest.
It gets busy so it's best to visit early, but you can just keep walking down the river to find a quiet spot to yourself. The most popular section was under a small waterfall.
Spa Park and Huka Falls
Our second day in Taupo didn't go entirely to plan as it rained all day.
We'd planned to park at Spa Park just outside town where there's a free natural hot spring in the banks of the river. From there we'd walk on the riverside track (60–90 minutes each way) to Huka Falls, return, then soak in the pools.
Instead, we drove to Huka Falls and did a short walk along the river, and then drove to Spa Park. Huka Falls is a wide and thunderous mass of water that erupts into a bright blue river.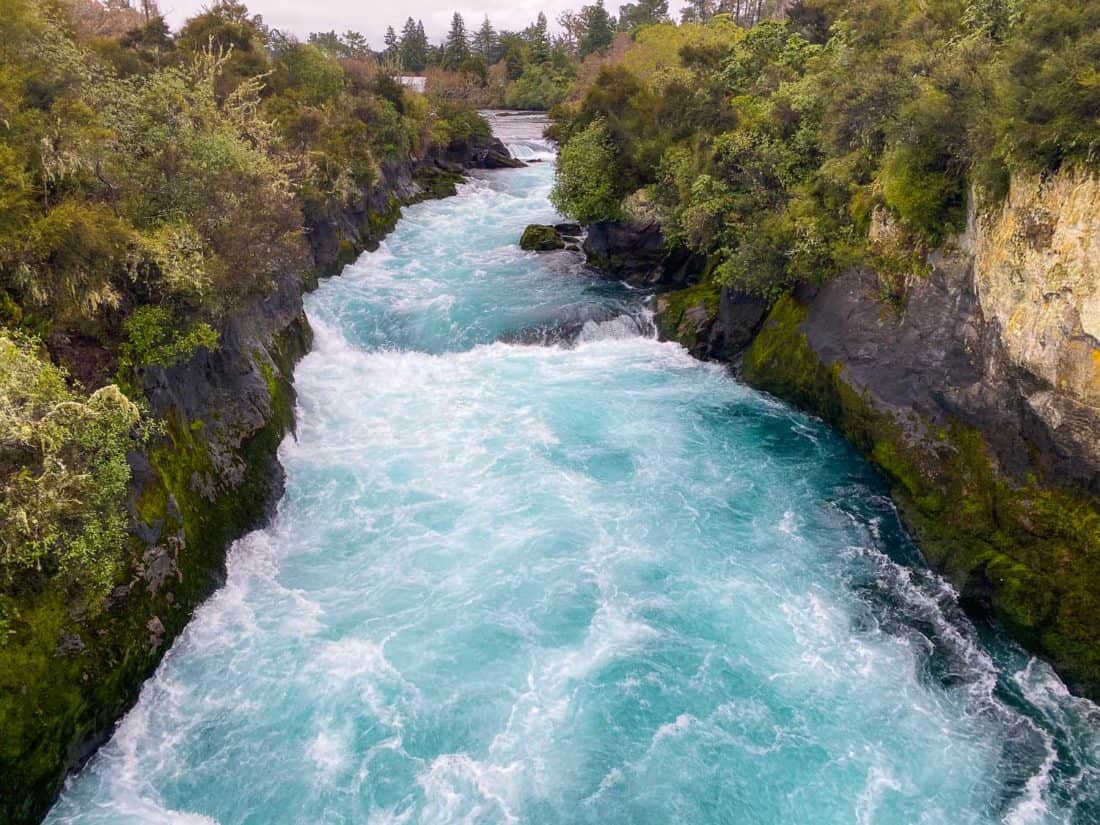 Kinloch
In the afternoon we drove 25 minutes to Kinloch, a small lakeside village that's much less developed than Taupo town. There's a cycle and walking trail along the lake and it seemed pleasant, but honestly, in the rain we couldn't see much!
Taupo Accommodation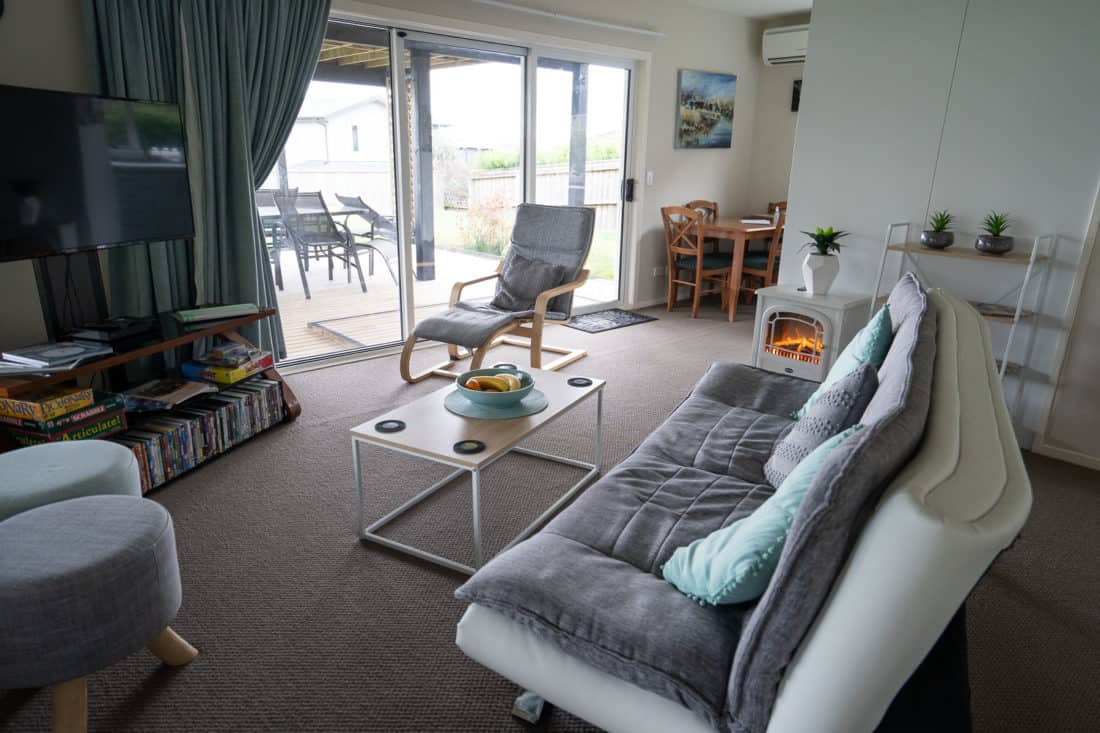 We stayed at Janey B'z on Botanical (no longer available), a one-bedroom apartment under a friendly family's home a five-minute drive outside Taupo town. It was modern and decorated with care, and well-equipped with a Nespresso machine and lots of DVDs and games.
The heat pump and gas fire kept us cosy and warm for the very rainy weather we had. There's also a large terrace with a glimpse of the lake (a 15-minute walk away).
It was great value and we recommend it if you don't have the budget for lakefront accommodation. We didn't mind being outside town as all the activities we wanted to do were a drive away anyway, and we're not huge fans of Taupo town.
Search for more holiday rentals in Taupo here.
Day 7 – 9 Te Awanga, Hawke's Bay (3 nights)
Taupo to Te Awanga Drive: 2 hours / 156km (97 miles)
Our next destination was Hawke's Bay on New Zealand's east coast, which is known for its wineries and Art Deco architecture. You'll also find good food and some beautiful walks.
In winter, it's best to visit on a weekend if possible, as not all wineries are open during the week, especially in Te Awanga.
If you're not a wine fan, you might prefer to head south to Tongariro National Park instead for hiking in summer or skiing in winter.
It's an easy, stunning drive from Taupo over the mountains. There's no petrol on the way so fill up in advance. It's a remote area and the only place we stopped was at the sign for a scenic lookout which leads to a view of a large dramatic waterfall.
Te Awanga Estate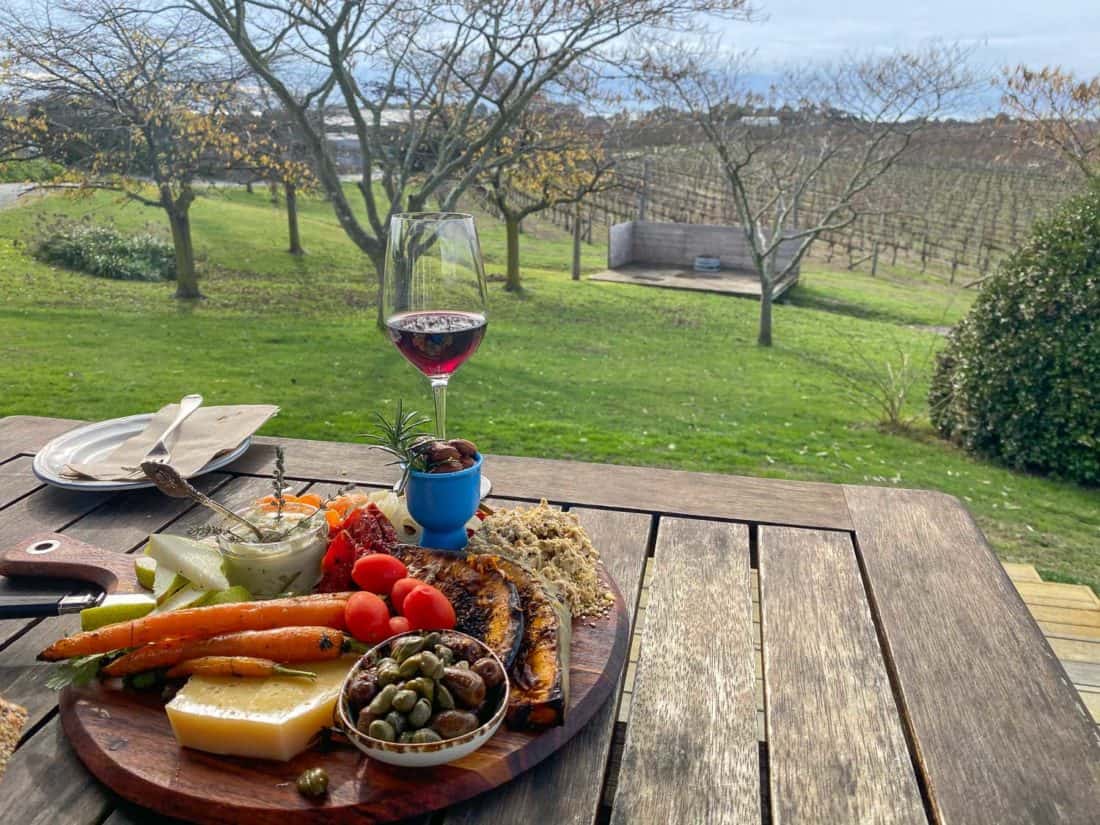 Hawke's Bay is a large area that includes the towns of Napier and Hastings plus the surrounding countryside. I found it difficult knowing where to stay and ended up choosing Te Awanga, a small seaside village, as it was a flat cycle ride to three wineries (you could even walk).
On the day we arrived, we started with lunch at Te Awanga Estate, a casual winery with views of the vineyard and sea beyond. It was busy and chaotic on a Saturday and we really should have booked, but we managed to get a table outside.
We enjoyed a vegetarian version of their platter, which featured an array of dips, pickled vegetables, nuts, fruit, and bread, and a tasty pie of the day (chile and cheese was the veggie option), along with the local specialities—Syrah red and Chardonnay white wines.
Te Awanga Beach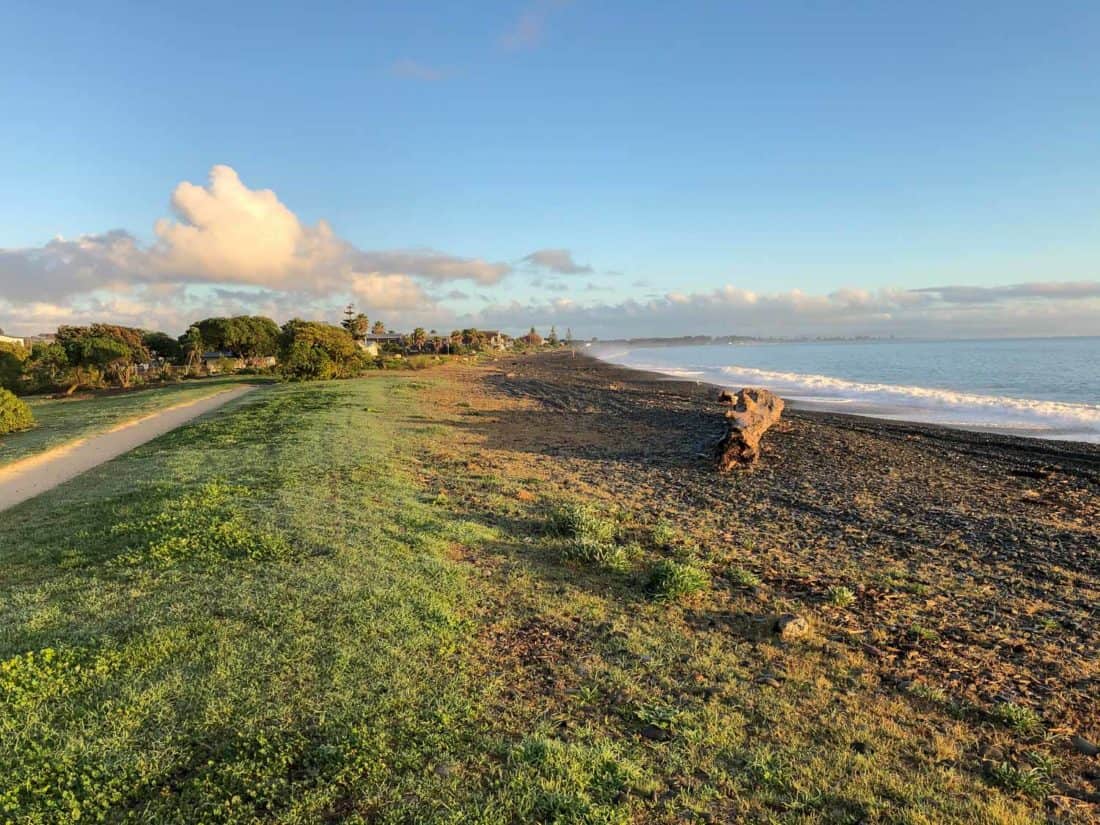 After lunch it was still too early to check in to our accommodation, so we want for a walk on the pebbly beach which is popular with surfers.
The small village consists mostly of baches (holiday homes) plus a shop, takeaway, and the waterfront wineries.
Elephant Hill Winery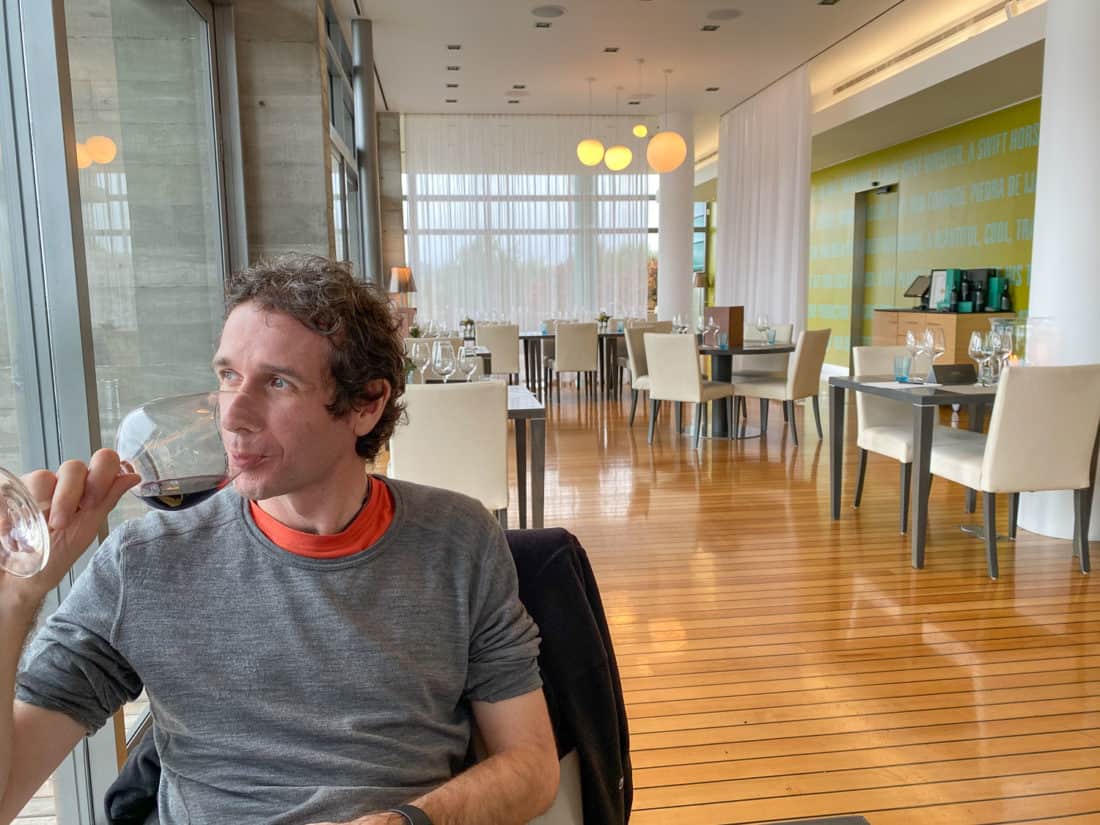 Our first full day was our winery day. Despite the pouring rain we ventured out on our bikes (you can rent from Coastal Wine Cycles) for an easy (if wet) 15-minute cycle on the limestone bike path along the seafront.
At Elephant Hill you must book a seated tasting ($15 for four wines) and it was a relaxed, informative experience in their modern tasting room. The view of the sea would have been amazing if we could have seen it!
We focused on the Syrah and Chardonnay again and ended up treating ourselves to a bottle of their Stone Syrah.
We spent an hour there and could have lingered longer over the generous pours.
Clearview Estate Winery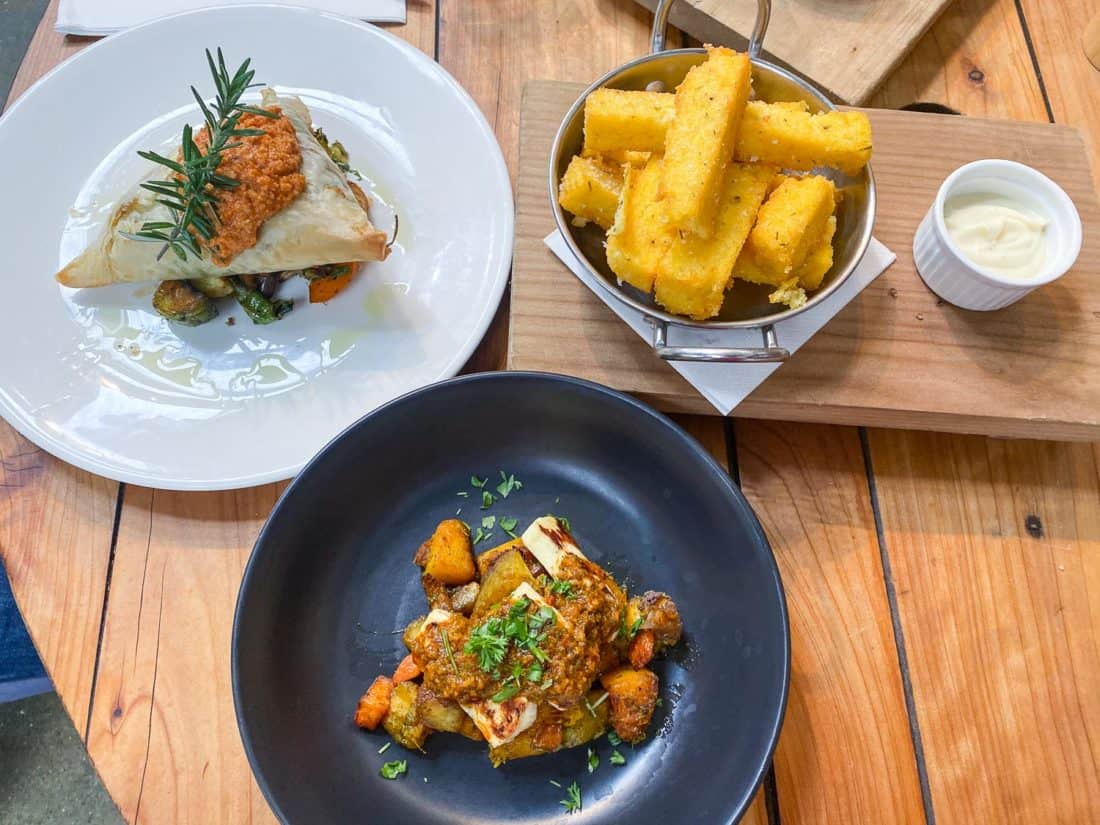 It was a five-minute cycle back to Clearview Estate where we'd booked a table for lunch. It's set further back from the sea, so the view isn't as good, but the rustic dining room was cosy and we appreciated the fireplace.
It was our favourite meal in Hawke's Bay. We shared halloumi with roasted vegetables, spinach and feta filo parcel, and polenta chips with aioli. We liked that you could order half glasses of wine to sample their many Chardonnays (the White Caps was oaky and buttery enough to satisfy Simon).
We'd planned to cycle further down the coast to the seafront Hygge Cafe in Clifton for coffee and cake, but the rain was miserable so we spent the afternoon relaxing at our apartment instead.
You could also cycle inland to the wineries near Havelock North, but this will be a hillier route.
Napier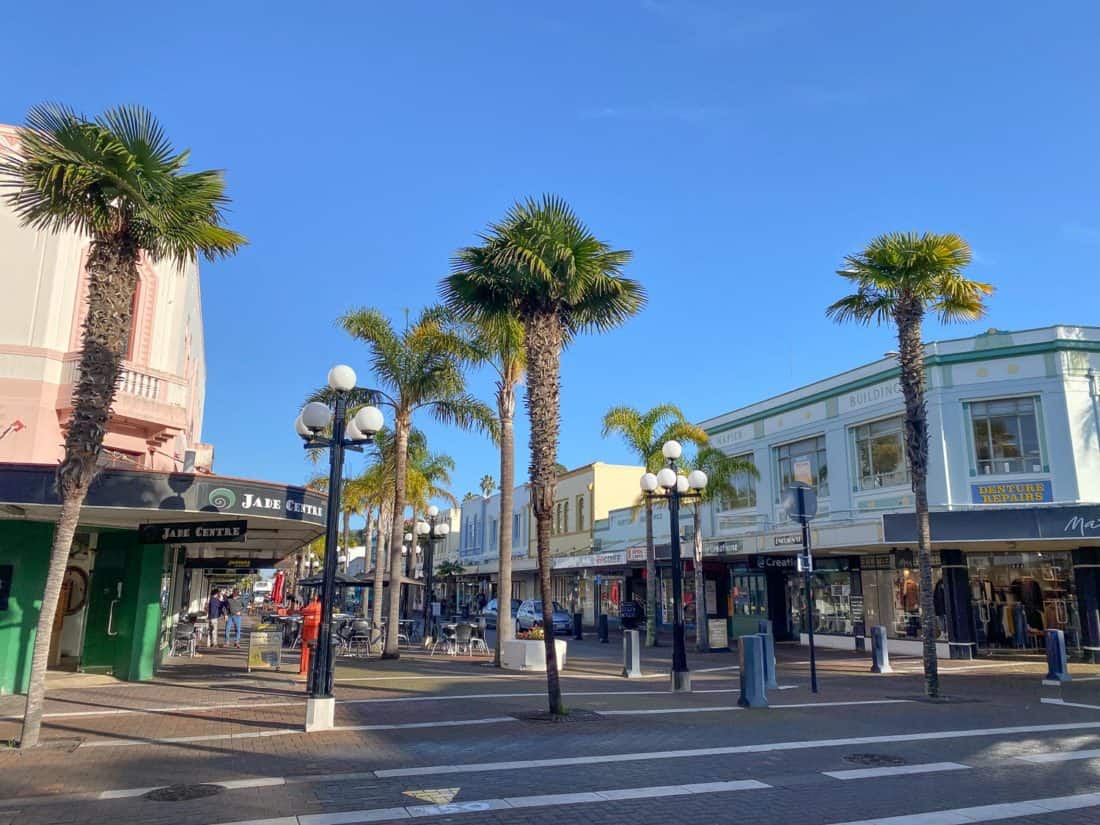 We started our second full day with a wander around Napier. This small city was rebuilt in Art Deco style after an earthquake in 1931, and the streets are still lined with pastel-coloured buildings with geometric motifs.
There are quite a few tempting coffee shops in Napier, so we stopped in at Georgia on Tennyson, before driving to the suburb of Ahuriri for a seafront walk past sea wall murals.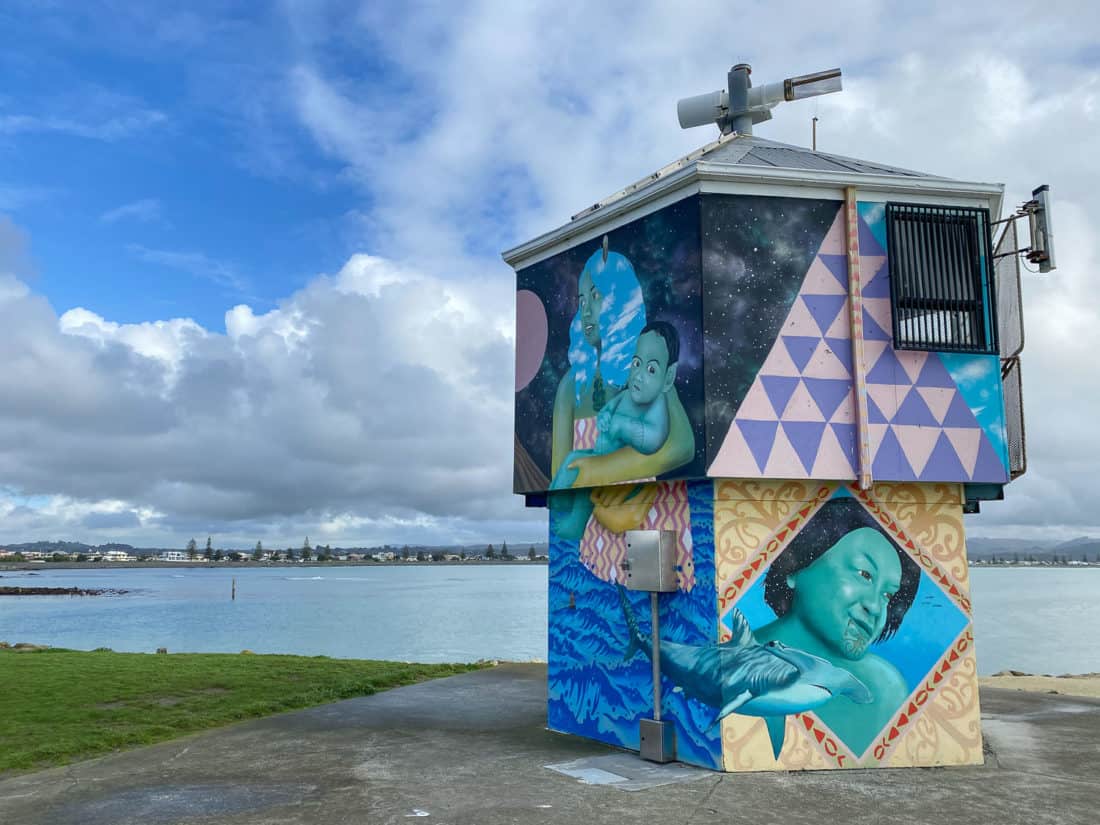 Havelock North
A 25-minute drive from Napier is Havelock North, a boutiquey village on the outskirts of Hastings. It's supposed to be one of the most desirable places to stay in the area, but honestly, we didn't find it that exciting or attractive. Perhaps if we were into shopping we would have enjoyed it more.
It is close by to some great wineries and hikes, though.
Craggy Range Winery
Craggy Range is an upmarket winery next to the craggy Te Mata mountain. We had lunch in the stylish restaurant where the fine dining menu uses local, seasonal ingredients, including produce from their garden.
Although vegetarian options were limited, we did enjoy our halloumi and green bean starter and baked gnocchi with black garlic main. Simon was a fan of their Reserve Chardonnay.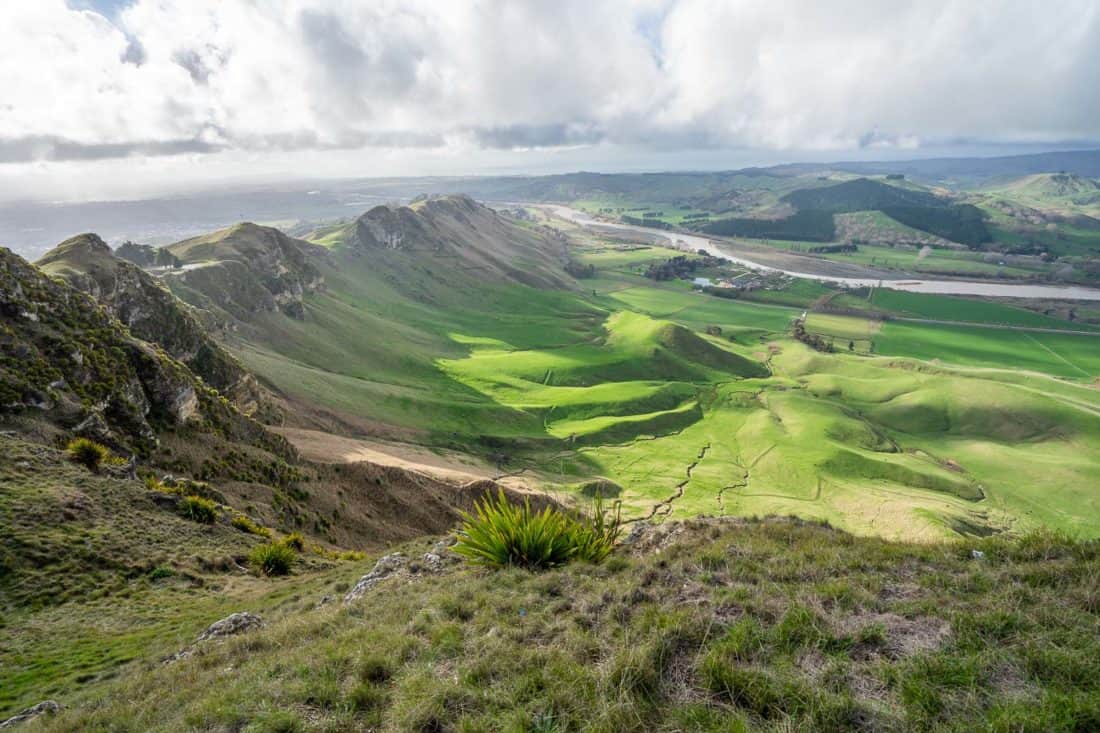 Te Mata Peak
We'd originally planned to hike the 5-kilometre Giant Circuit at Te Mata, but the steep trail was too muddy and slippery after days of rain.
Instead, we drove to the peak and took a short walk for spectacular views of the jagged limestone peaks, bumpy green hills, and down to Craggy Range Winery.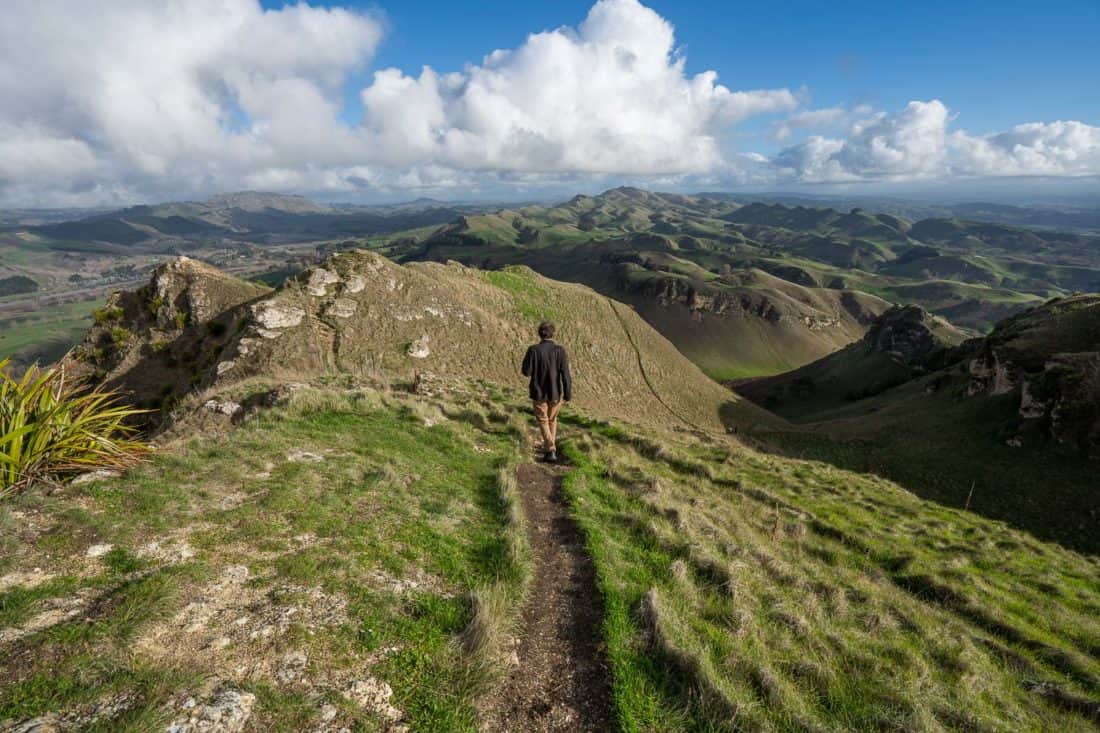 I definitely recommend a longer hike here if the weather is good—it's the most scenic part of Hawke's Bay.
Ocean Beach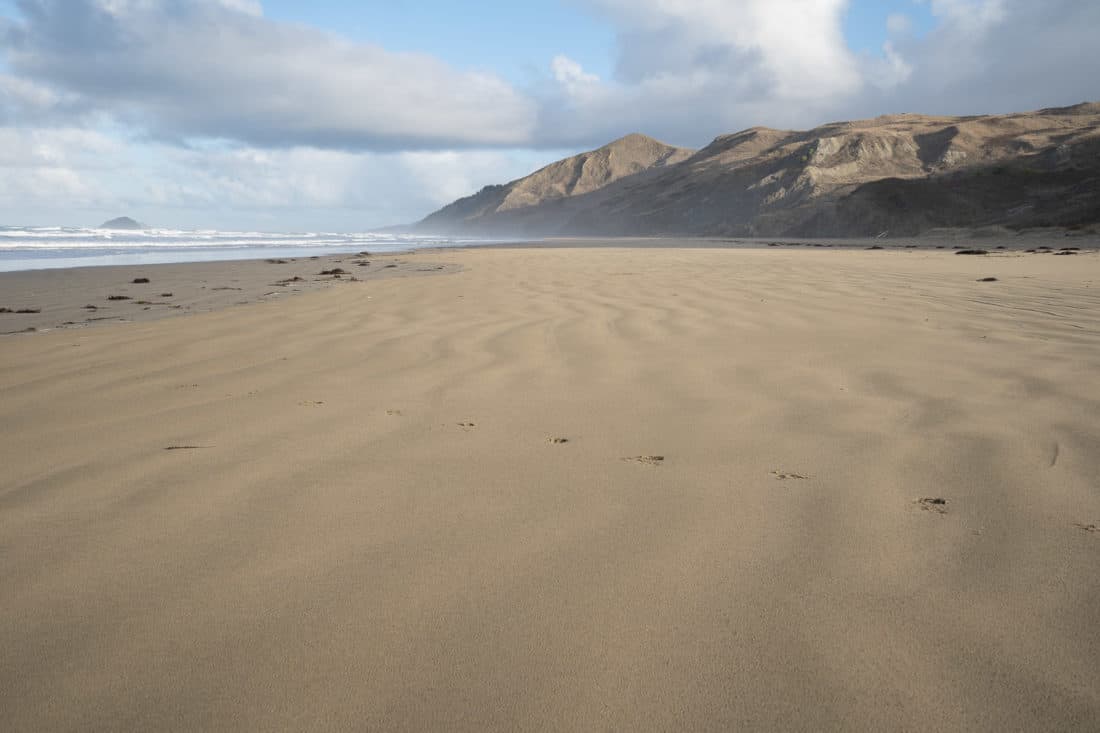 Our final stop was Ocean Beach, a 30-minute drive from Te Mata and Te Awanga, but it's well worth a detour with beautiful views of undulating green hills on the way.
Ocean Beach is gorgeous—a long, wide, golden sand beach backed by small dunes and larger green hills. It feels quite remote and is undeveloped except for a collection of simple wooden baches. I would love to stay here.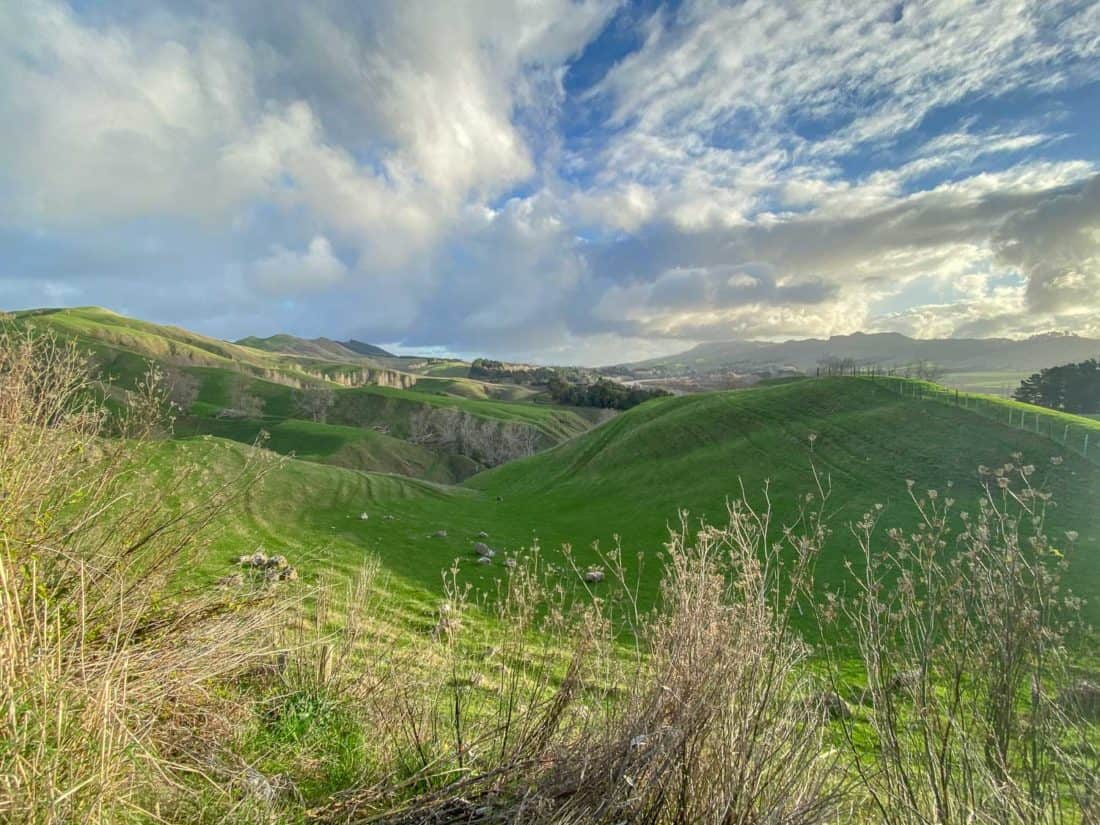 Hawke's Bay Accommodation
We rented this large studio apartment underneath a family home in Te Awanga. It was a two-minute walk from the beach and came with free bikes, which saved us $80 on rentals and gave us more flexibility.
The owner was friendly and even left us eggs from the chickens in their garden. The studio features a patio area, but it was too rainy for us to use.
The heater and wood fire kept us warm, and the washing machine and dryer were useful at this stage in our trip.
If you have the budget, you could stay in a luxury cottage on a vineyard at Craggy Range. The views are stunning here and you'll have easy access to their restaurant and tasting room.
Day 10 Wellington (1 night +)
Te Awanga to Wellington Drive: 4.5 hours / 323km (201 miles) plus 15 minutes of breaks
It was a beautiful drive down the SH2 to Wellington, especially after Featherston over the dramatic Rimutaka Hill. There are lots of options for stops on the way, although we only stopped for coffee.
We were tempted to add an extra night at Castlepoint, a remote beach town with a scenic lighthouse, but the weather put us off.
If you want more wine, Martinborough is also worth a night or two (we visited as a side trip from Wellington). It's a smaller wine region than Hawke's Bay with flat, easy cycling to many nearby wineries (don't miss the platters at Poppies).
Alternatively, drive through Palmerston North (where you can visit the New Zealand Rugby Museum) and down SH1 to the Kapiti Coast. If you have time, you might want to stay in one of the beach towns—we love Paekakariki.
Wellington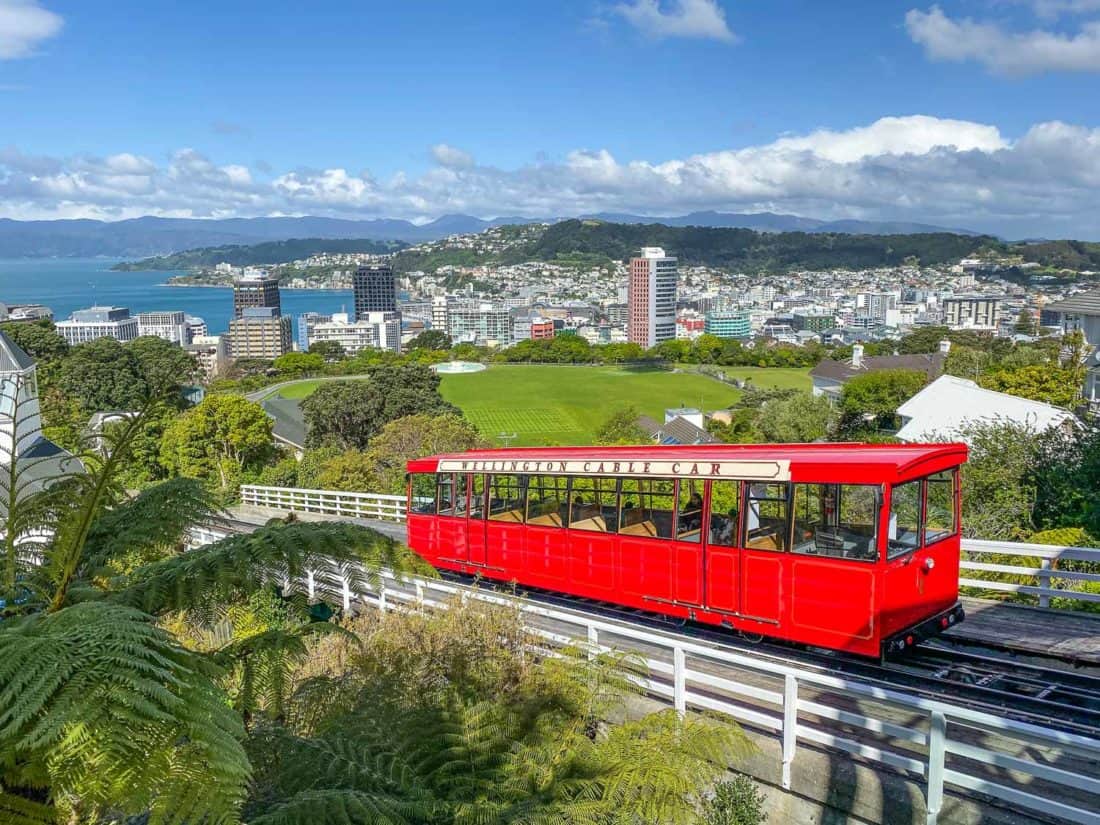 On this trip we spent a week in Wellington staying with friends, but if you have limited time in the country, you'll probably only want a night or two here.
We do love this compact capital city (we've since spent a few months here), but most people come to New Zealand for nature and will likely want to get on the ferry and head to the South Island (see our best East Coast South Island road trip stops and the best South Island activities).
A few of our favourite things to do in Wellington include the Wellington Botanic Gardens (and the cable car ride up there), a walk along the waterfront to Oriental Bay, the Sunday morning Harbourside Market, the view from Mount Victoria, learning about native birds at Zealandia, and seeing seals on the Red Rocks Walkway.
Check out these other scenic Wellington walks.
You'll find some of the best food and coffee in the country here. We love coffee tasting flights at Hangar, hot chocolate at Scopa, seaside brunch at The Botanist or Maranui Cafe in Lyall Bay, vegetarian tasting menus at Hillside Kitchen, and wine at Noble Rot.
Wellington Accommodation
Although we stayed with friends on this trip, we have visited Wellington multiple times. Our favourite place to stay is the stylish boutique hotel QT Wellington.
It has the perfect location opposite the Te Papa museum with harbour views. Rooms are creative and comfortable (Harbourview Gallery rooms are best) and there's cool artwork throughout the hotel.
More Places to Visit in North Island
If you have longer than 10 days to travel the North Island, consider adding one or more of these destinations. You could even loop back to Auckland by following these places north.
Tongariro National Park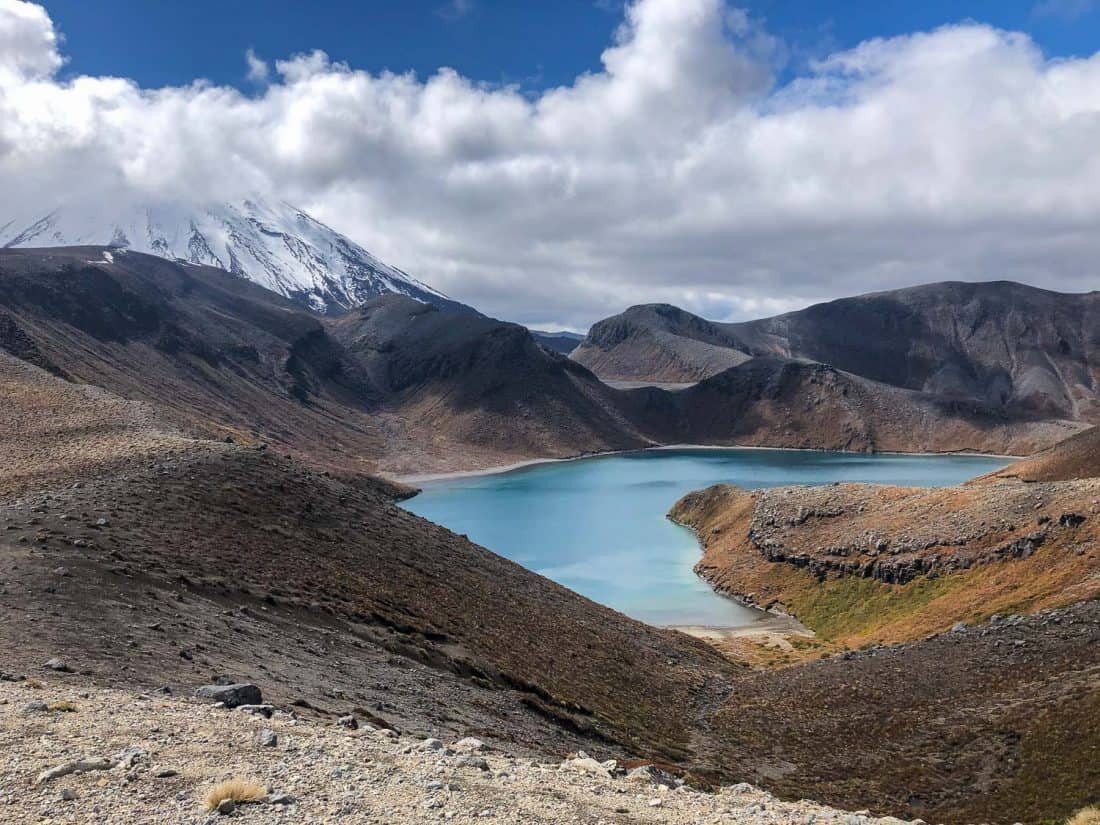 Tongariro National Park is one of the most spectacular places on the North Island with three active volcanoes in a wild and beautiful landscape.
It's most famous for the challenging (and very busy) day hike, the Tongariro Crossing. We visited in early spring when the route was still covered in snow, but there are plenty of other hikes in the area.
We stayed in Whakapapa, the tiny village nearest to Mount Ruapehu and its ski resort. Our room at Skotel Alpine Resort was simple but had wonderful views of the symmetrical dome of Mount Ngauruhoe, which stood in for Mt Doom in the Lord of the Rings films.
Our picks for the area include:
Tama Lakes hike – An incredible walk to two volcanic crater lakes. The 17.8km trail took me just over four hours plus breaks. It starts next to the Skotel (they rent poles which were useful for the last section).
Skiing or snowboarding at Mt Ruapehu – While I hiked, Simon spent a day on the slopes. It's a unique opportunity to ski on a volcano, but the resort does get busy (avoid weekends and July school holidays). Shuttles run from the village. You can also ride up the gondola just to enjoy the magnificent views.
Drink mulled wine in the Chateau Tongariro lounge – A more affordable way to enjoy the faded glory of this grand, historic hotel than staying here.
New Plymouth and Taranaki
New Plymouth is a small seaside city in Taranaki, a region on the west coast that is usually overlooked by visitors and even Kiwis. We soon fell for the green countryside, black sand beaches, cool art, and most of all, the perfectly conical volcano, Mt Taranaki.
Hiking to snow-capped Mt Taranaki in late winter and seeing it reflected in Pouakai Tarn is one of my top North Island experiences.
Read my guide to the best things to do in New Plymouth and Taranaki for more details.
Waitomo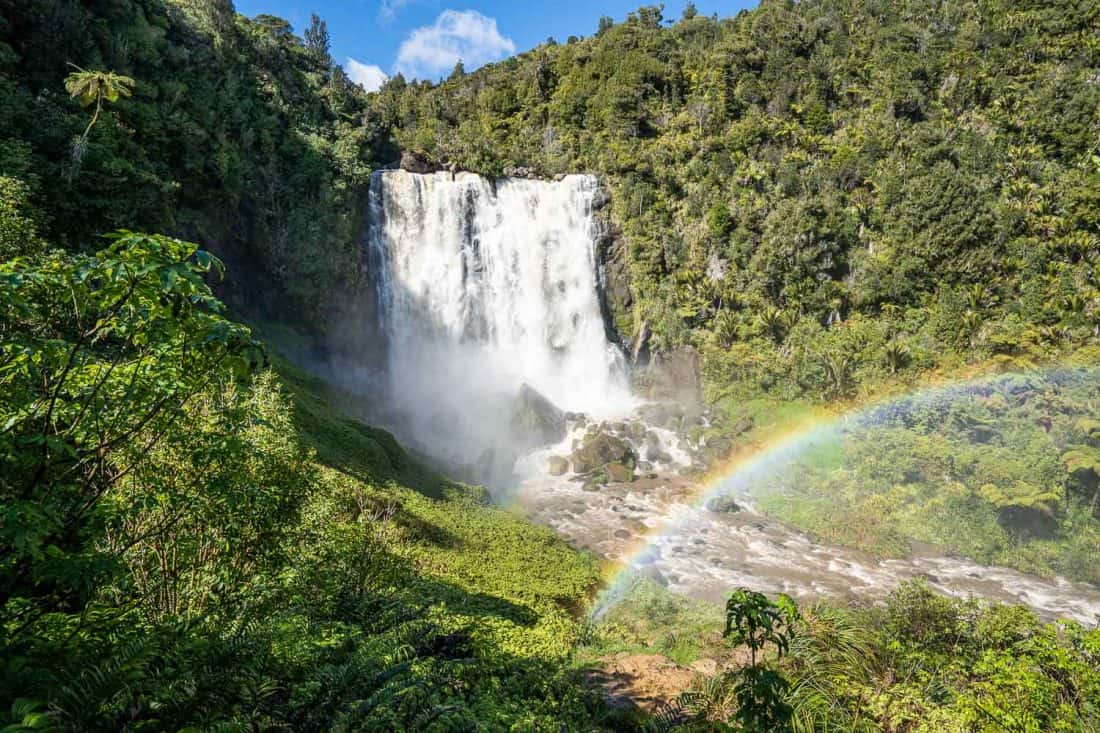 Waitomo Caves is one of the top tourist attractions in the North Island. The typical 45-minute cave tour, which we did, includes a walk through an impressive cave and boat ride under a magical sky of glowworms, which glitter like fairy lights.
It's a commercial operation and the magic is often ruined by the constant flow of tour groups but visiting when the borders were closed, we really enjoyed it. There are also longer cave tours in the area.
Nearby, we also loved the Ruakuri Bushwalk (you can see glowworms here at night), Mangapohue Natural Bridge, and Marokopa Falls, my favourite waterfall in New Zealand.
Raglan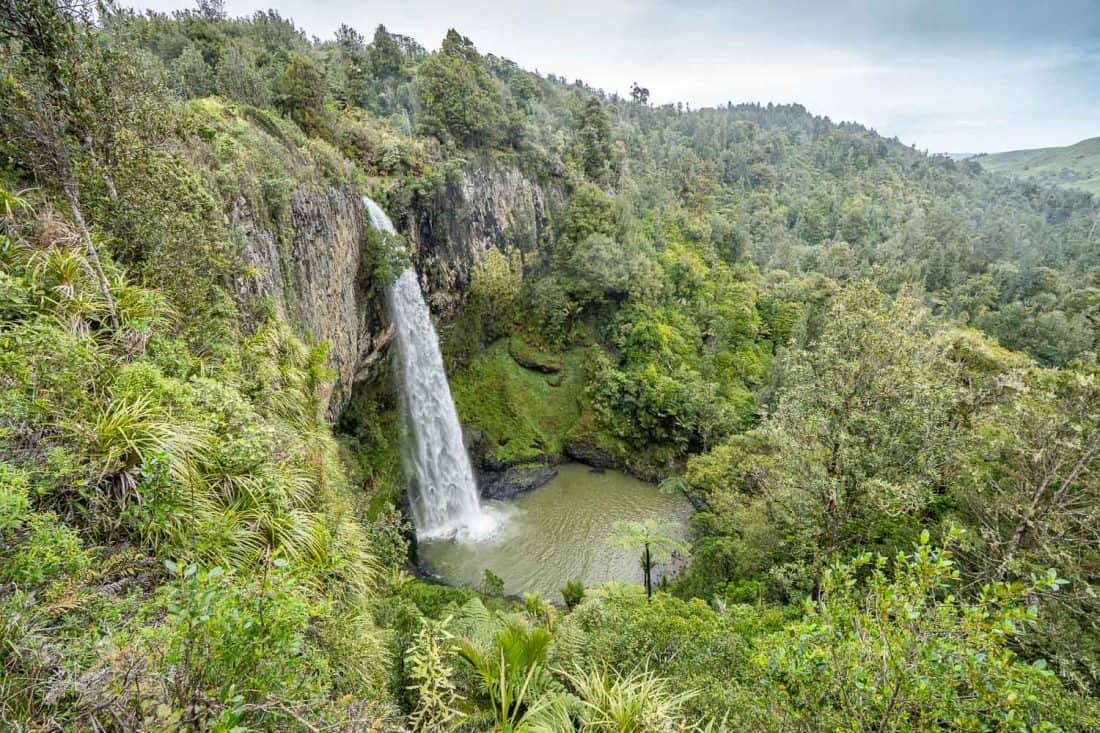 Raglan is a small surf town on the west coast with a cool vibe. In the area we recommend:
Horse riding on Ruapuke Beach – Horseback was a fun way to experience this remote jet black beach. We did the trip with Wild Coast who were fantastic.
Te Toto Gorge – A scenic platform overlooking the gorge with sea views.
Bridal Veil Falls – A beautiful 55 metre waterfall with four different viewpoints.
Raglan Yoga Loft – I loved the deep flow class here.
Dinner at Ulos – This quirky, colourful restaurant is run by a friendly Japanese family and has delicious Japanese/Korean food with veggie options.
Brunch at The Shack Cafe – A cool cafe with delicious food.
The impressive Hamilton Gardens are only 45 minutes away—we stopped here on the way to Auckland. You could spend half a day exploring the many gardens including Maori, Japanese, Italian Renaissance, Chinese, Indian, Tudor, and surrealist.
Waiheke Island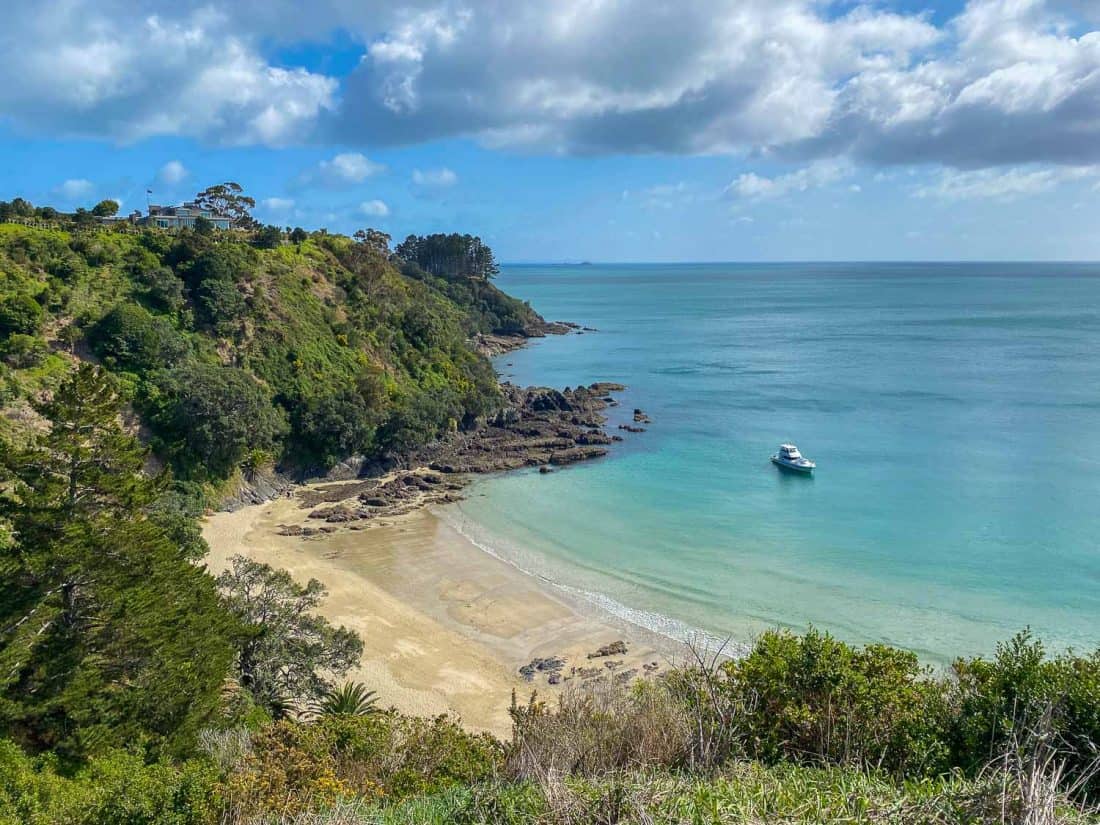 This dreamy island would make a good first or last stop in the country as it's only a 40-minute ferry ride from Auckland. Many people visit on a day trip, but if you like beaches and wineries, you might want to stay longer. Our picks include:
Man O' War Vineyard – The food is just ok, but the wine is excellent and the beachside location is wonderful. It's a windy but beautiful drive on a gravel road to get out here.
Poderi Crisci – An authentic Italian restaurant on a vineyard in an undeveloped part of the island. Our favourite meal on Waiheke—expect to linger.
Casita Miró – Delicious tapas and wine with vineyard and sea views and a colourful mosaic design.
Wine tasting at Mudbrick – It's worth a visit to this upmarket winery to enjoy the lovely gardens and stunning views. Walk up the hill to the helicopter landing pad for 360º views of the island.
Cable Bay Vineyard – We enjoyed our mezze platter here, but the views are what people come for.
Little Palm Beach – My favourite beach on Waiheke is beyond the rocks at Palm Beach and has a secluded feel backed by cliffs (it's popular with nudists). The walk above Palm Beach also has a lovely view.
There are some amazing holiday homes on Waiheke. We stayed at Te Kereru Onetangi, a spectacular architecturally designed house surrounded by native forest with views of Onetangi Beach below (a 15-minute walk away). We loved the birdsong, sunlight, secluded feel, modern design, and many terraces.
Bay of Islands
A beautiful area of beaches and islands in Northland. Taking the ferry or water taxi to Urupukapuka Island is our top recommendation for the area.
We also spent six days learning to sail a yacht with Great Escape and then sailing ourselves around the islands.
See more recommendations for activities in Bay of Islands New Zealand.
Summary
I hope this New Zealand North Island itinerary has given you some ideas for your trip. There are many fantastic options, but this route is an excellent mix of beautiful beaches, relaxing hot springs, fascinating geothermal parks, stunning hikes, and delicious wineries.
More New Zealand Posts
Read more of our tips for exploring beautiful New Zealand.
North Island
South Island
Enjoyed this post? Pin for later!