This page contains affiliate links. Please read our disclosure for more info.
Urupukapuka Island is one of our favourite places in New Zealand. It's the largest island in the Bay of Islands and the scenery is stunning with lush green hills, dramatic cliffs, idyllic bays, and sandy beaches.
As it's pest-free, rare native birds flourish and the forests are alive with birdsong.
The calm water is ideal for swimming, snorkelling, and kayaking, and the island isn't too crowded (at least outside the summer holidays).
We've visited Urupukapuka twice—in March we spent a night moored there when learning to sail a yacht, and in May we returned by water taxi for a day hiking around the island.
As it was autumn, on both trips we had trails and beaches to ourselves, and the sun was still shining.
If you are visiting the Northland region, I highly recommend spending a day here hiking, kayaking, or relaxing on the beaches.
In this post I'll share how to get to the island and details of the Urupukapuka Island walks as well as other activities.
Contents
How to Get to Urupukapuka Island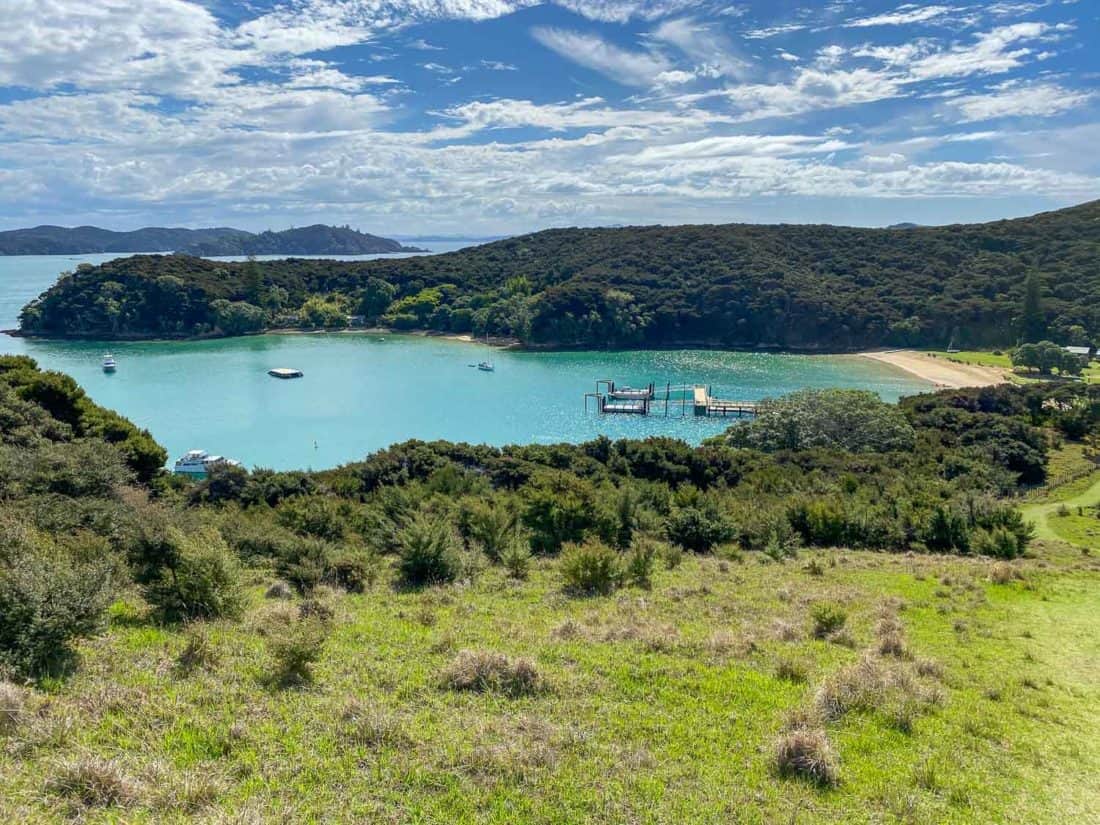 Taking a boat trip to explore the islands is one of the best things to do in Bay of Islands.
While many boat tours stop briefly at Urupukapuka (like this Bay Discovery Cruise), it's well worth spending a whole day here if you like hiking and beaches.
It's also cheaper to travel by ferry or water taxi to Otehei Bay on Urupukapuka rather than tour multiple islands.
Urupukapuka Island Ferry
You can take the Explore passenger ferry to Urupukapuka Island from Russell or Paihia in about 40 minutes.
It costs NZ $50 return per person. The ferry arrives at Otehei Bay where there's a cafe and kayaks to rent.
The Urupukapuka Island ferry only runs on weekends year-round, but there are more trips in the warmer months from October to April.
Urupukapuka Island Water Taxi
You can also take a smaller water taxi to Urupukapuka Island from Russell or Paihia. These run on-demand year round.
In May we took a water taxi with Sea Shuttle Bay of Islands from Russell. For just us, it would have cost NZ $300 return, but we put our names down with the helpful Russell Information Centre who got a group together, so it was $60 per person return for five people.
Sail Yourself to Urupukapuka
Urupukapuka is also popular with yachties. We spent the night there during our Great Escape sailing course which involved three days training and three days exploring the islands alone.
If you already know how to sail, Great Escape in Opua has reasonable prices on bareboat charters and two moorings at Otehei Bay (or you can anchor at another bay).
Urupukapuka Island Map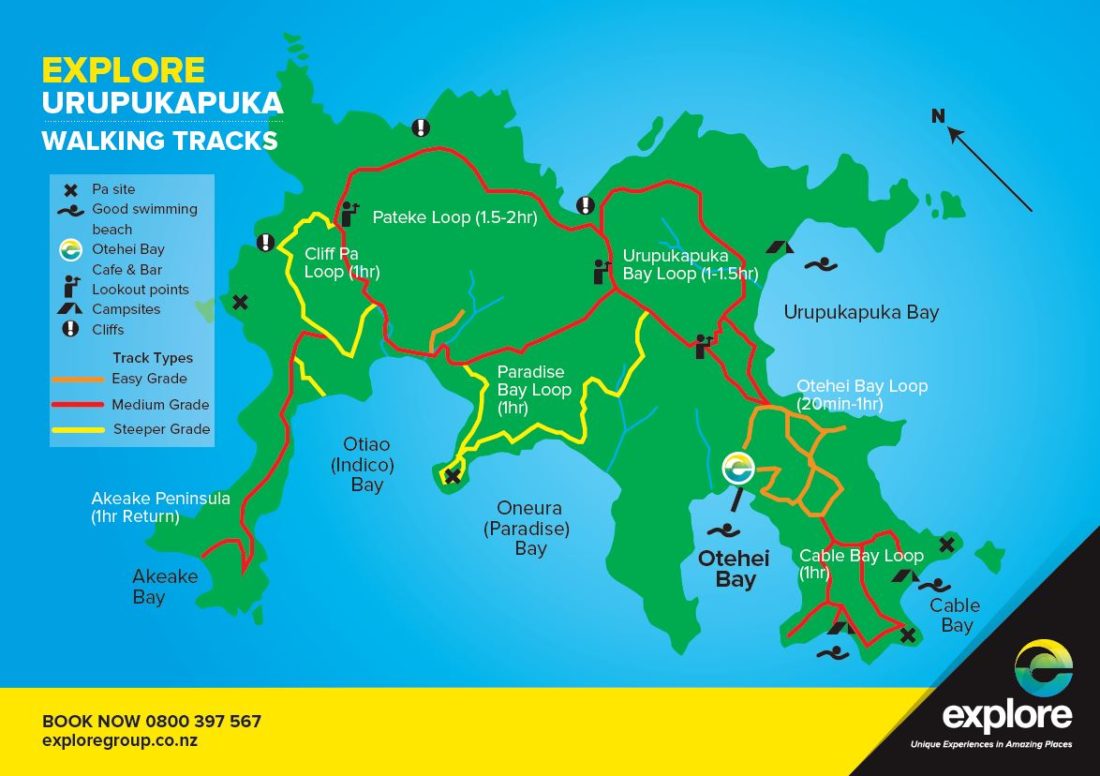 You can also pick up a map from the Russell Information Centre or find a map at the start of the trails in Otehei Bay.
Hiking on Urupukapuka Island
How Long is the Urupukapuka Island Walk?
The DOC says the Urupukapuka Island Walk is 7.3km (4.5 miles) and takes five hours. In reality, instead of one trail around the island, there's a series of interconnected loop walks so you can choose how far to go.
We walked to all the bays on the island (except Sunset Bay as we'd visited before) which was 11.5km (7 miles) and 3.5 hours of walking (4.5 hours including breaks). You could easily reduce this by leaving out some of the more remote parts of the island.
We had five hours on the island and it was just enough to walk the whole island and take three 30-minute breaks for lunch, swimming, and relaxing at Otehei Bay at the end. I could easily have spent longer here as I loved it so much.
We didn't find the hike too difficult. There are plenty of ups and downs but the steep sections tend to be short. Our total elevation gain was 498 metres (1634 ft) with the largest ascent being 109 metres (358 ft).
If you have limited time, Sunset Bay is our favourite beach and is only 20 minutes each way from Otehei Bay with beautiful scenery on the way.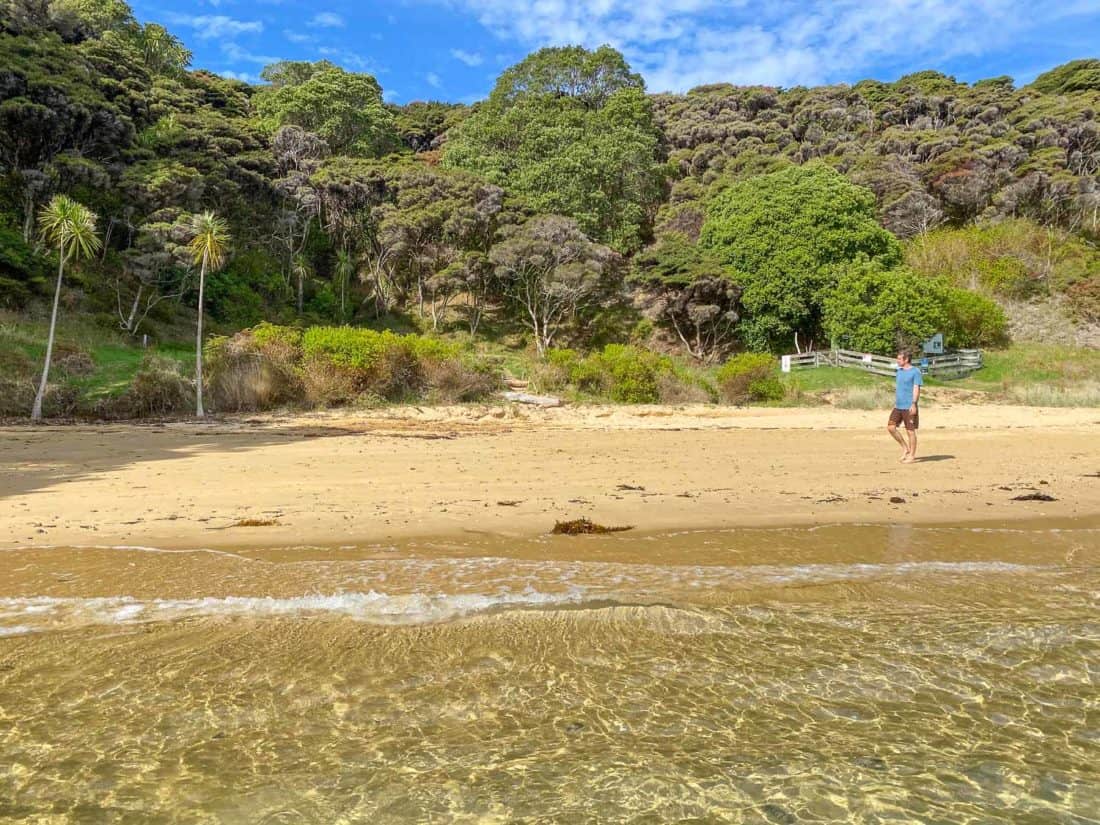 If you have a couple of hours, you'll find some of the best views by heading over to Urupukapuka Bay and on to the Pateke Loop (and the Cliff Pa Loop if time allows).
It's well worth exploring the whole island, though, as every bay has its charms—Akeake Bay is our other favourite beach and feels far away from everything.
One side of the island has calm bays and sandy beaches, while the other has rugged cliffs with a sea of trees and rolling hills in between—it's worth experiencing both sides.
Our Hike Around Urupukapuka Island
We started from Otehei Bay at 11am. There's a map near the cafe and a sign pointing the way to the start of the trails. You'll find signs all over the island and it's hard to get lost.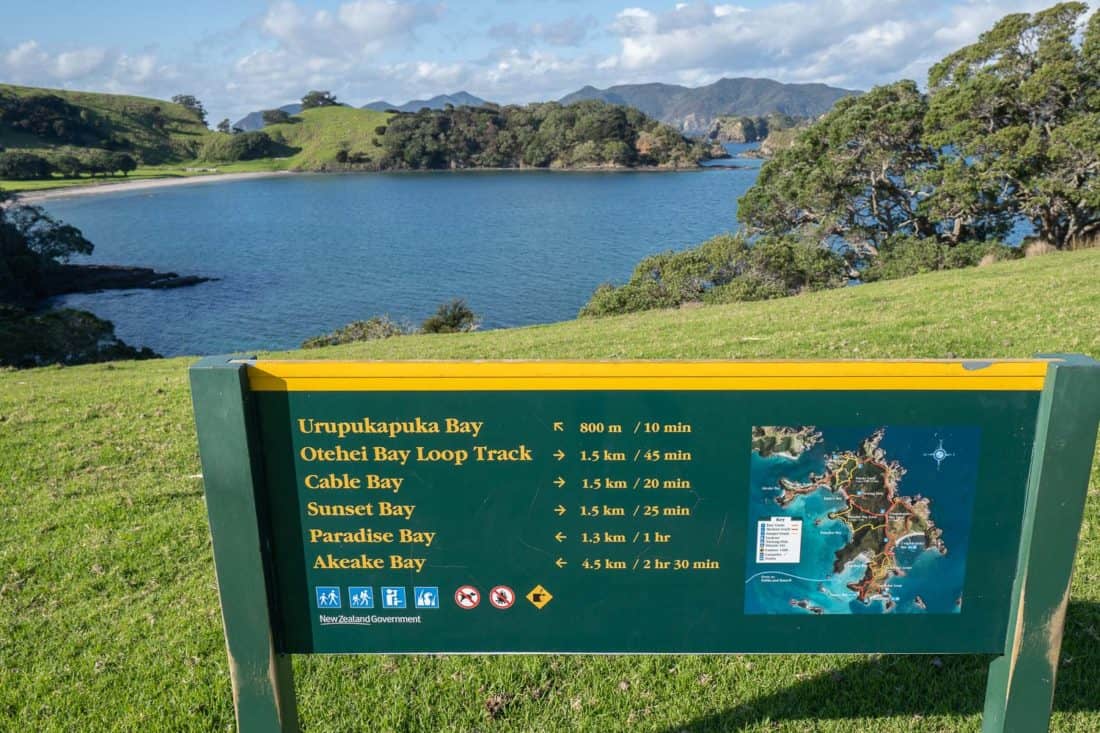 There are several options of where to start, but we decided to head to Urupukapuka Bay on part of the Urupukapuka Bay Loop track. It only took 10 minutes from Otehei Bay up and over a hill.
Urupukapuka Bay features a long sandy beach with calm turquoise water and a lush grassy area that's usually home to the largest campsite on the island. I imagine it's a different scene in summer, but we had it to ourselves.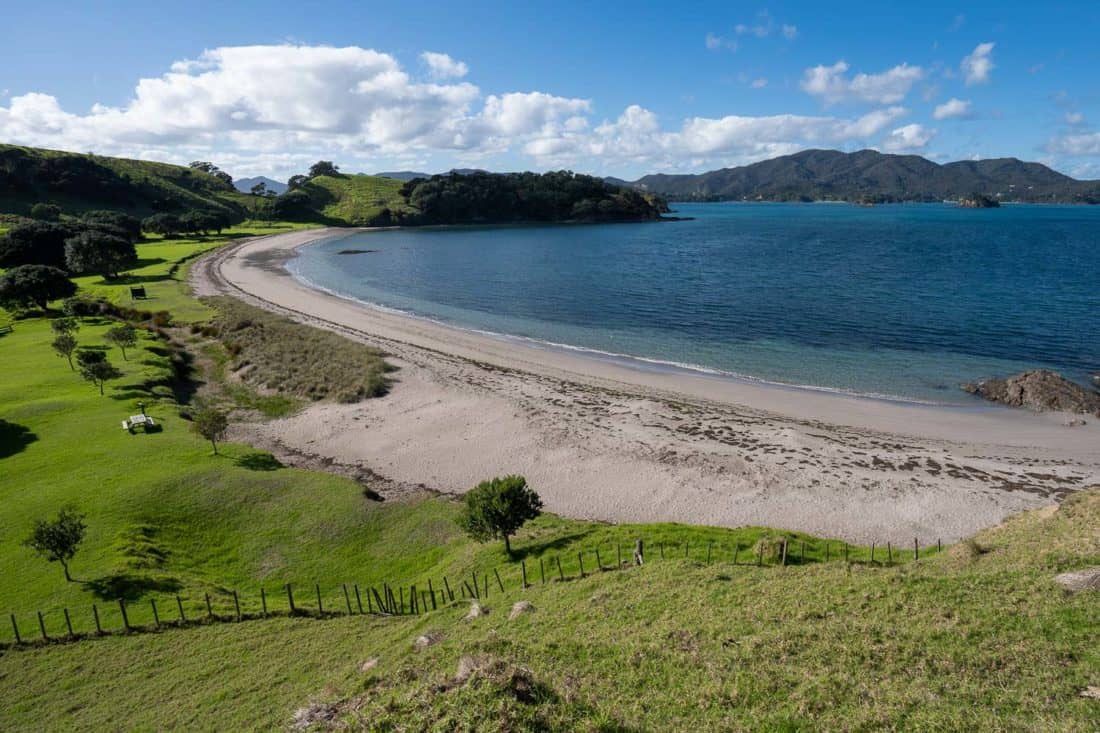 At the far end of the beach we continued uphill to the Pateke Loop. The views from the top back down to Urupukapuka Bay were stunning.
From the highest points you can see multiple blue bays with the emerald hills and dark green forest in between.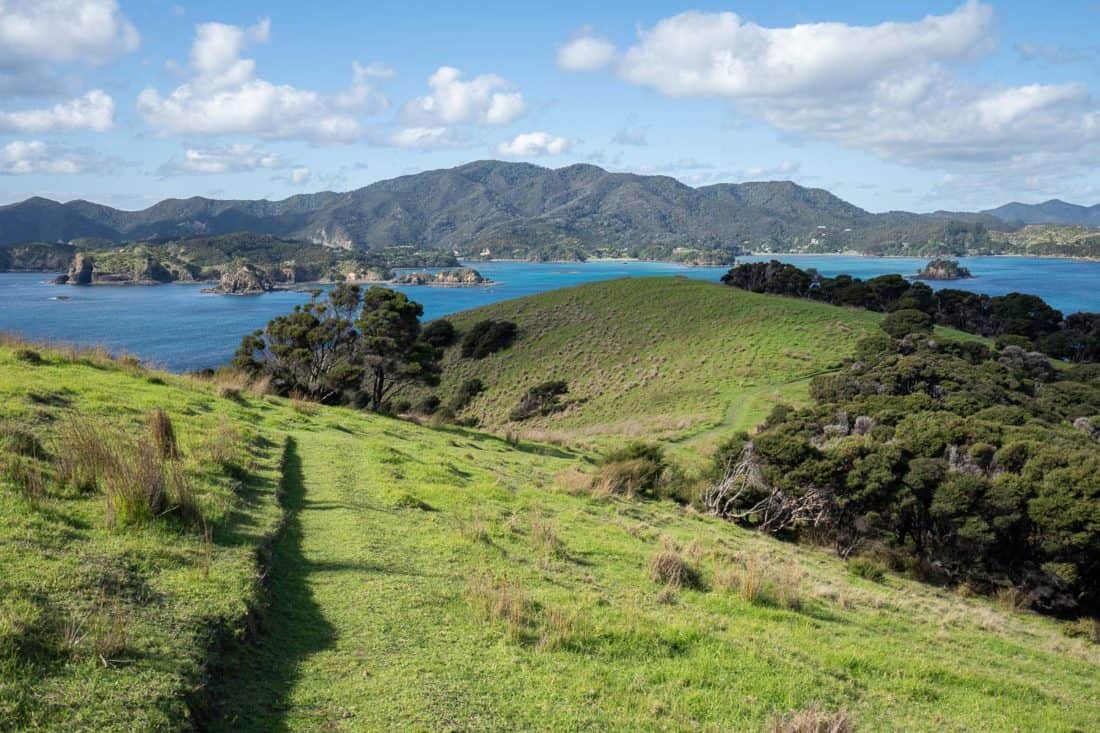 The scene soon changed from pastoral idyllic to dramatic as we peered over the edge of craggy cliffs plunging to the sea far below.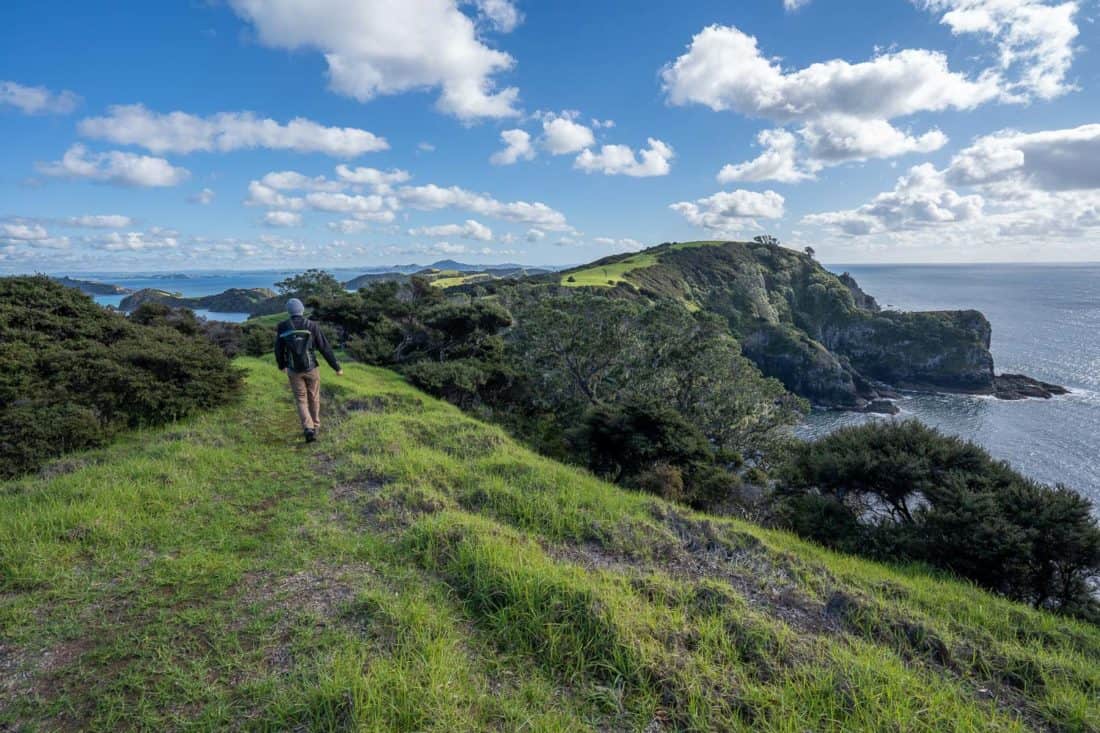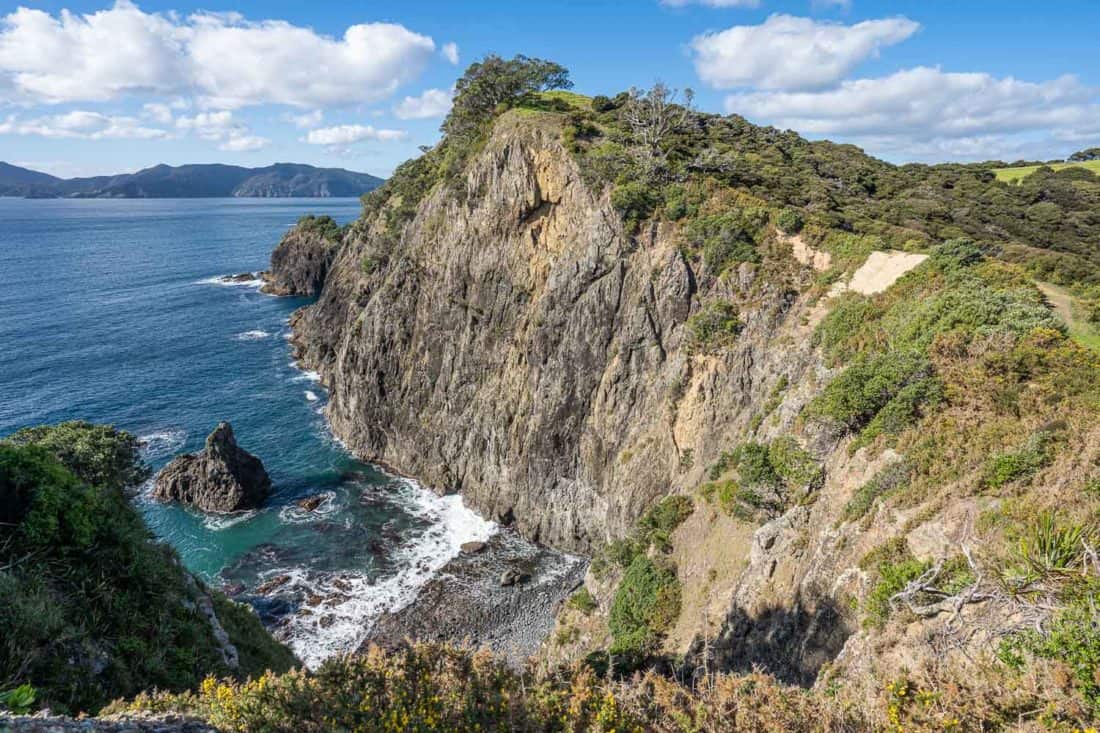 About 45 minutes into the walk, at the far end of the island, we connected to the Cliff Pa Loop.
It's rated as a steeper grade (so far the others have been medium), but we didn't find it much more difficult, and it didn't take us long to ascend the stairs for more impressive clifftop views.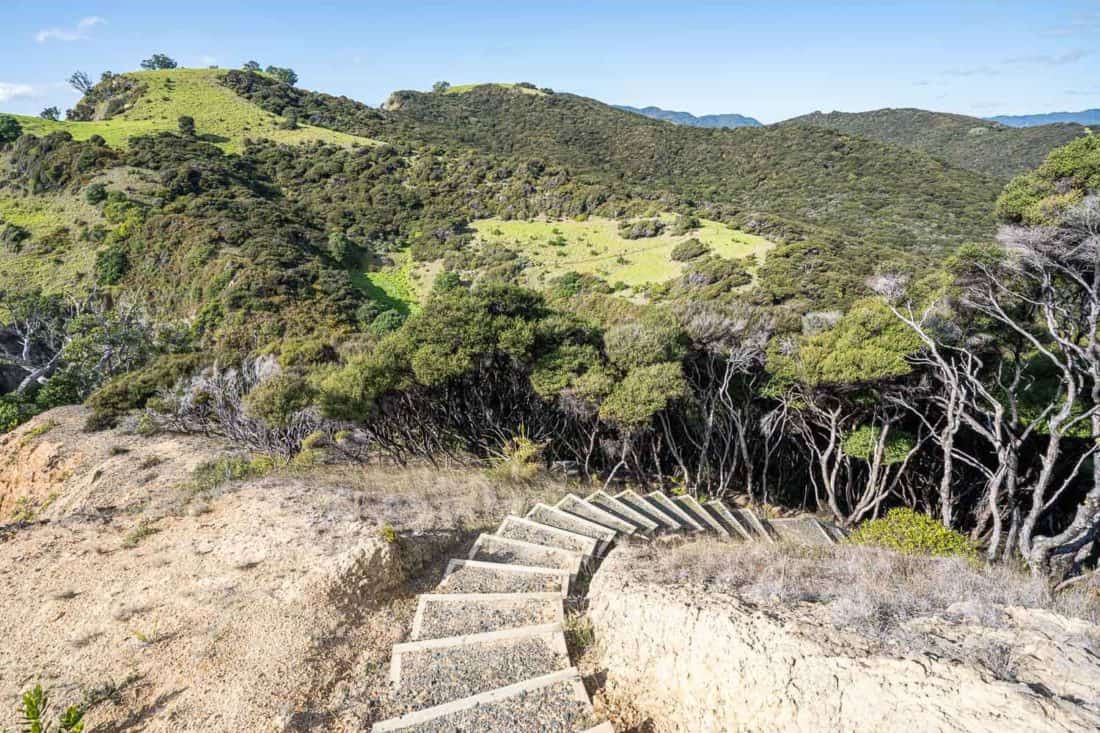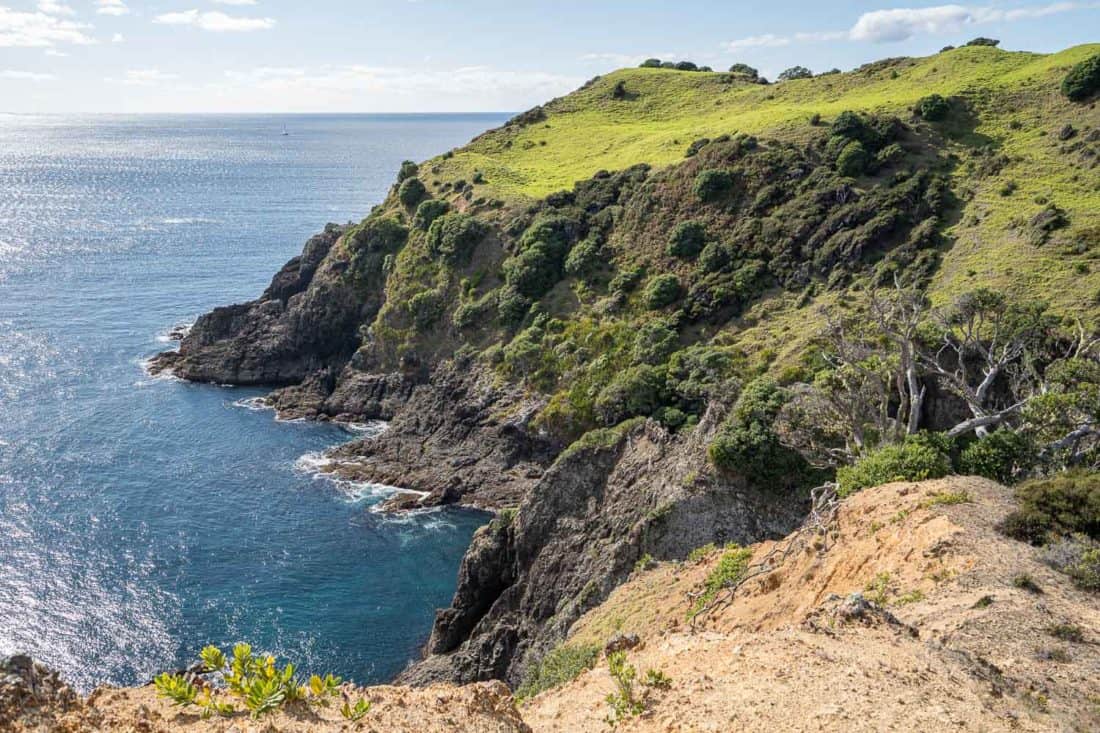 We found a grassy patch off the trail and stopped for lunch with incredible views over to neighbouring Waewaetorea Island with its black and white sand beaches.
It was feeling warmer by now and it was so relaxing to lie back and enjoy the scenery in such a peaceful spot.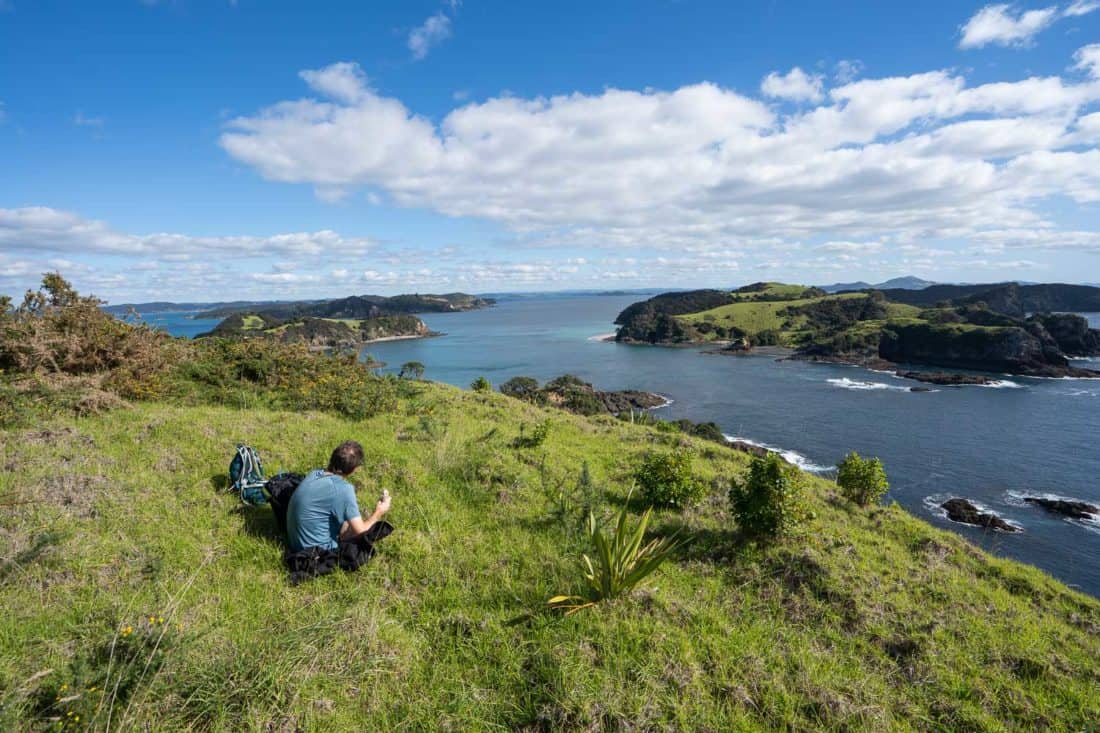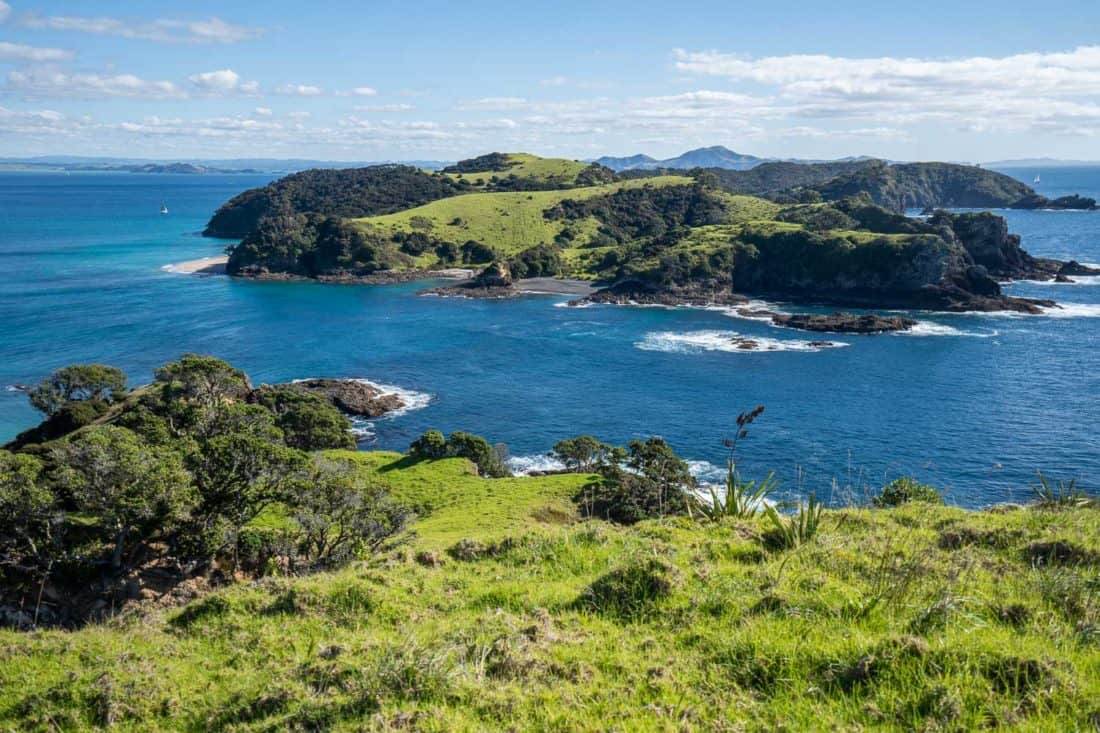 High up on the cliffs you can also find the remains of an ancient Maori pa (hillfort).
We descended down the Cliff Pa trail and decided we had time for a detour on the Akeake Peninsula walk. DOC says this out and back walk takes one hour, but it took us 30 minutes.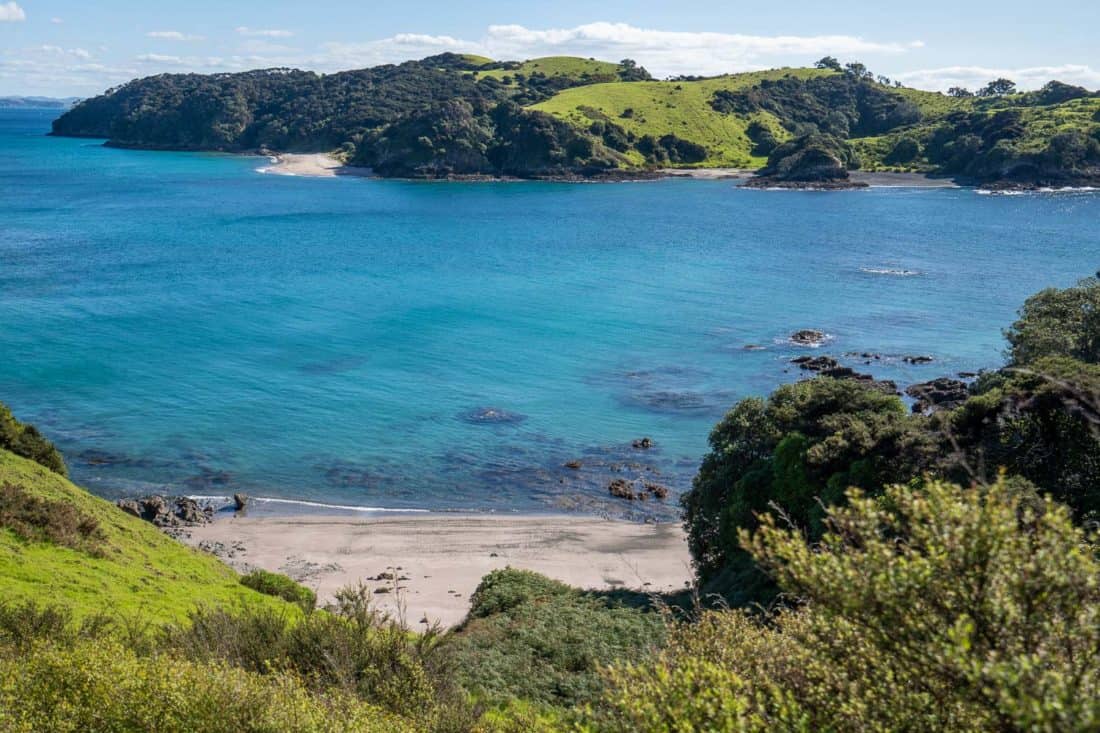 It was fairly easy walking along the grassy track of the peninsula and down a hill to Akeake Bay. We anchored at this pretty beach for lunch when we were sailing and it was just as tranquil a few months later.
I loved the gnarly old pohutukawa tree dripping with moss above the beach.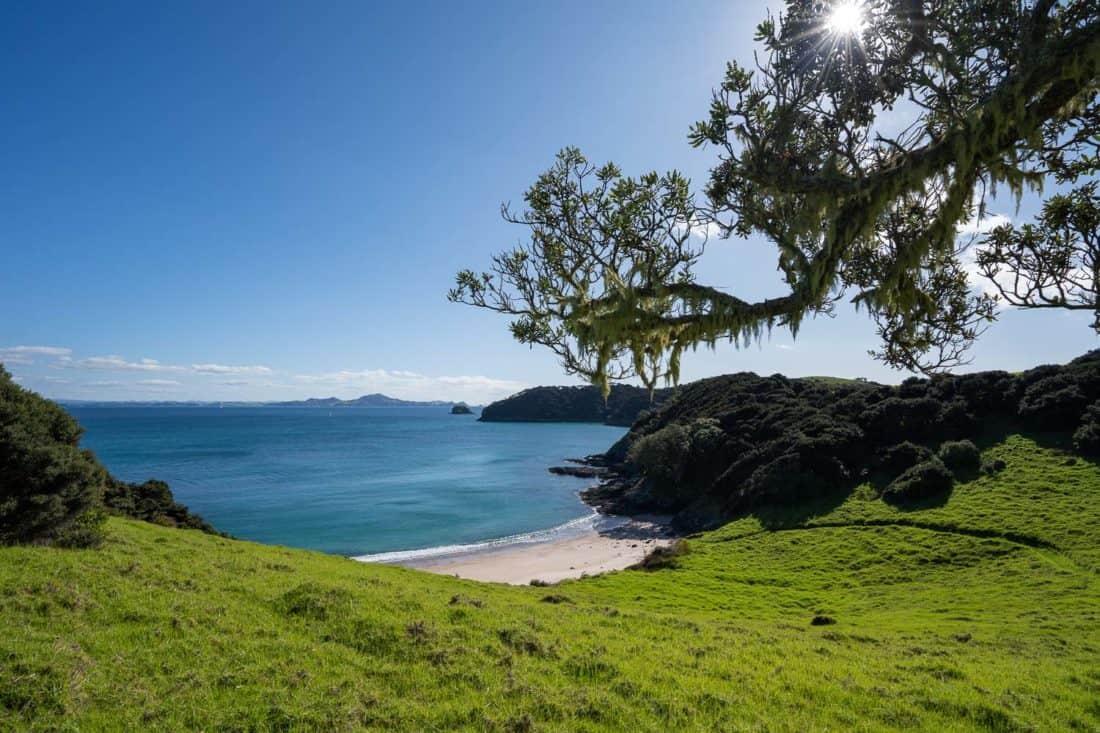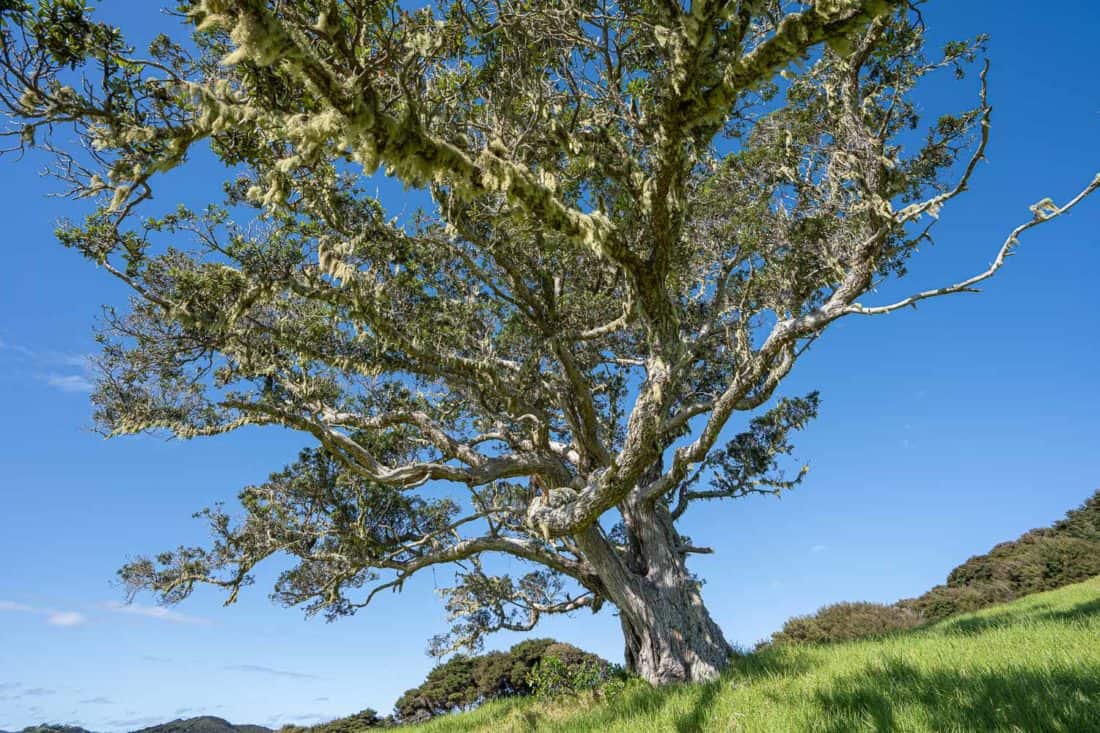 After returning the same way down the peninsula, we continued to Entico Bay (also known as Indico or Otiao Bay) where there were quite a few yachts.
The Paradise Bay Loop was next. It's also rated as steep but again we didn't find the hills particularly tough.
There are no cliffs on this side of the island; instead, we walked through kanuka and manuka forest with a chorus of birdsong.
On the island we saw many pukeko (swamphens) which are chicken-like birds with blue breasts and red beaks, as well as shimmering green tuis, black and chestnut saddlebacks, and cute fluttering fantails.
Lovely Paradise Bay has powdery white sand and turquoise water, but we'd grown used to deserted beaches, and it felt a bit busy with five or so yachts anchored in the bay and a family playing on the beach.
I went for a swim in the cool sea while Simon rested in the shade of the mossy pohutukawa trees.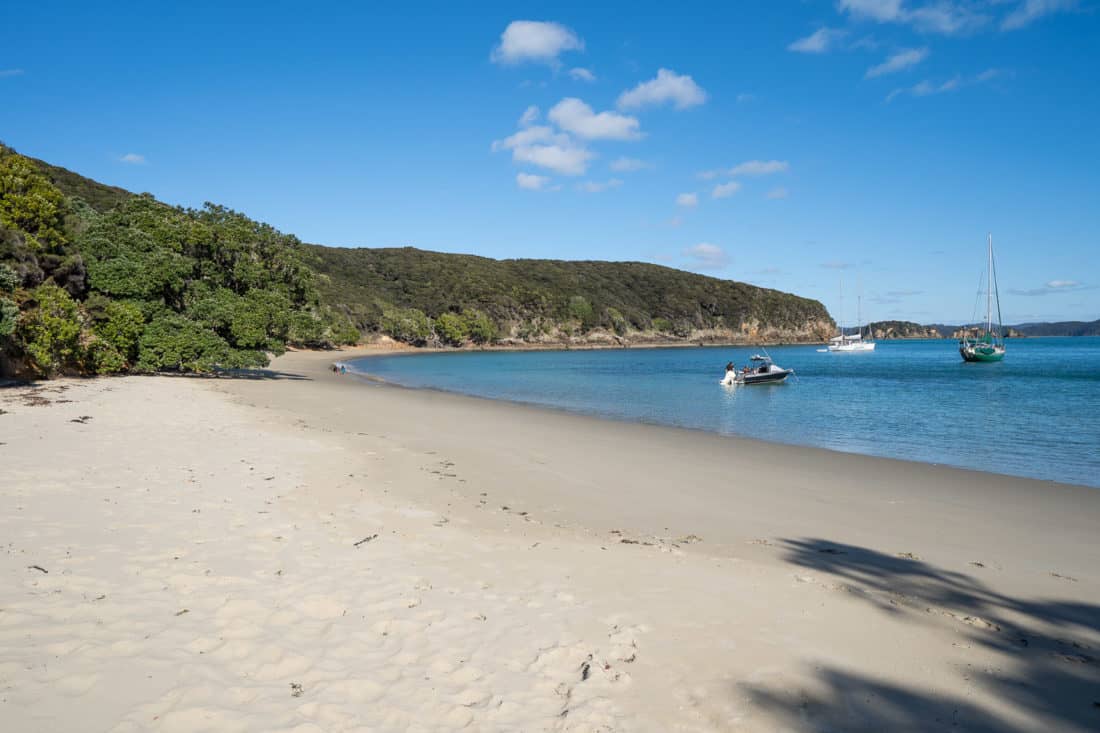 We'd planned to head straight back to Otehei Bay, but as we had spare time we continued past it towards Cable Bay on the other side of the island.
Walking through the central ridge of the island again, we enjoyed more gorgeous vistas down to Urupukapuka Bay.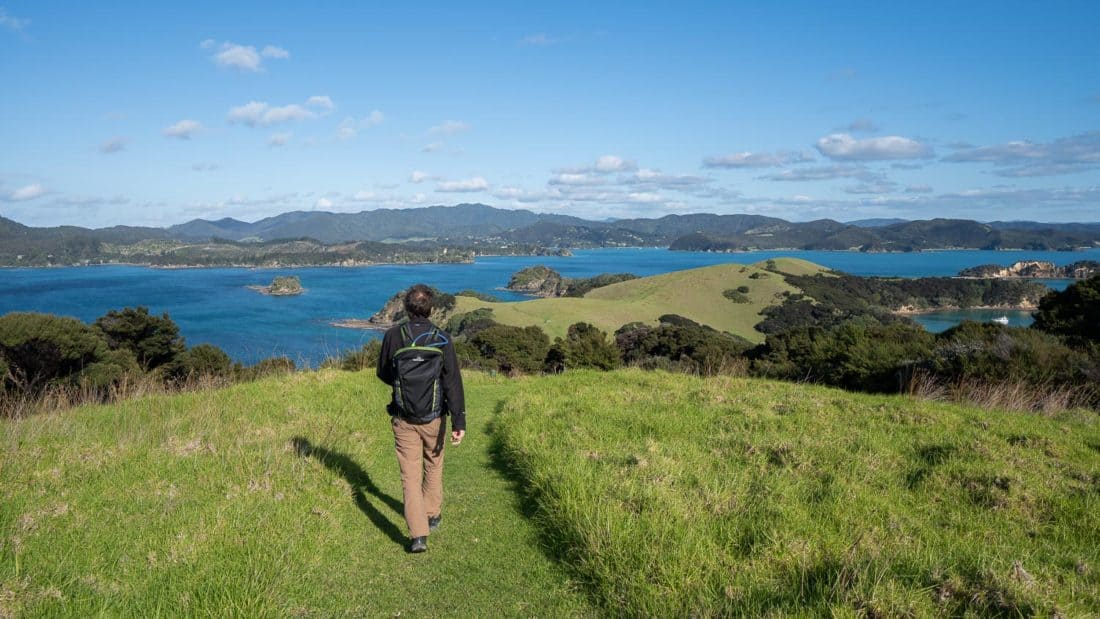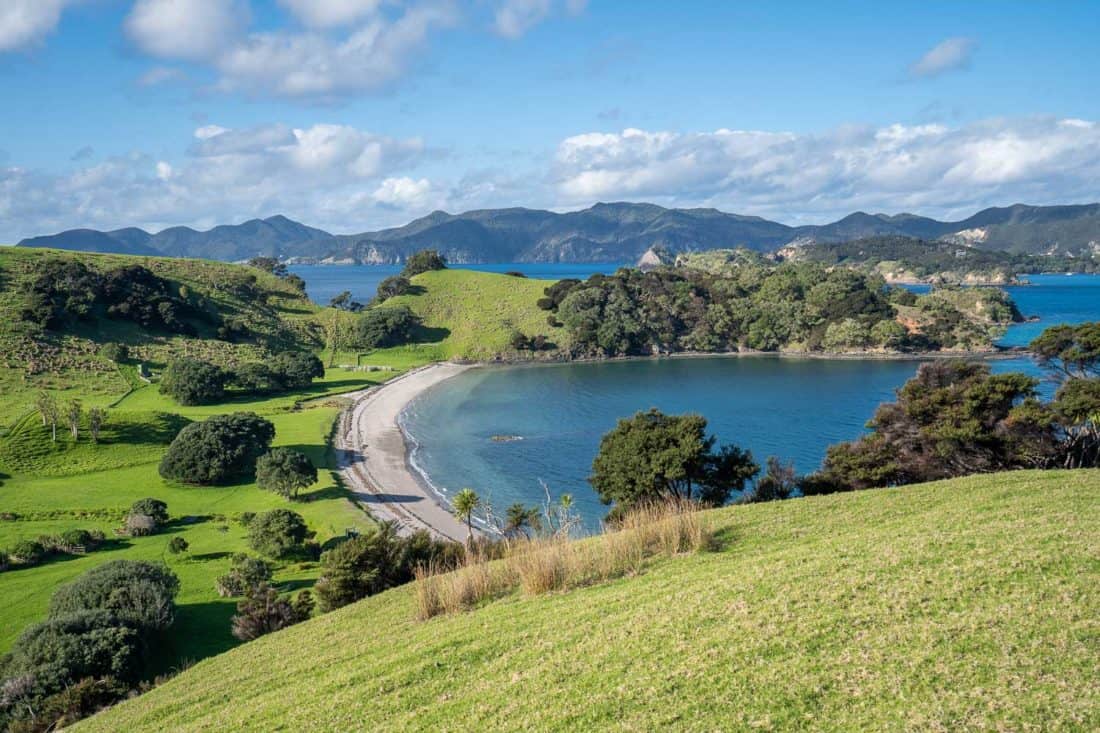 The grassy path to Cable Bay was fairly easy with views of multiple bays.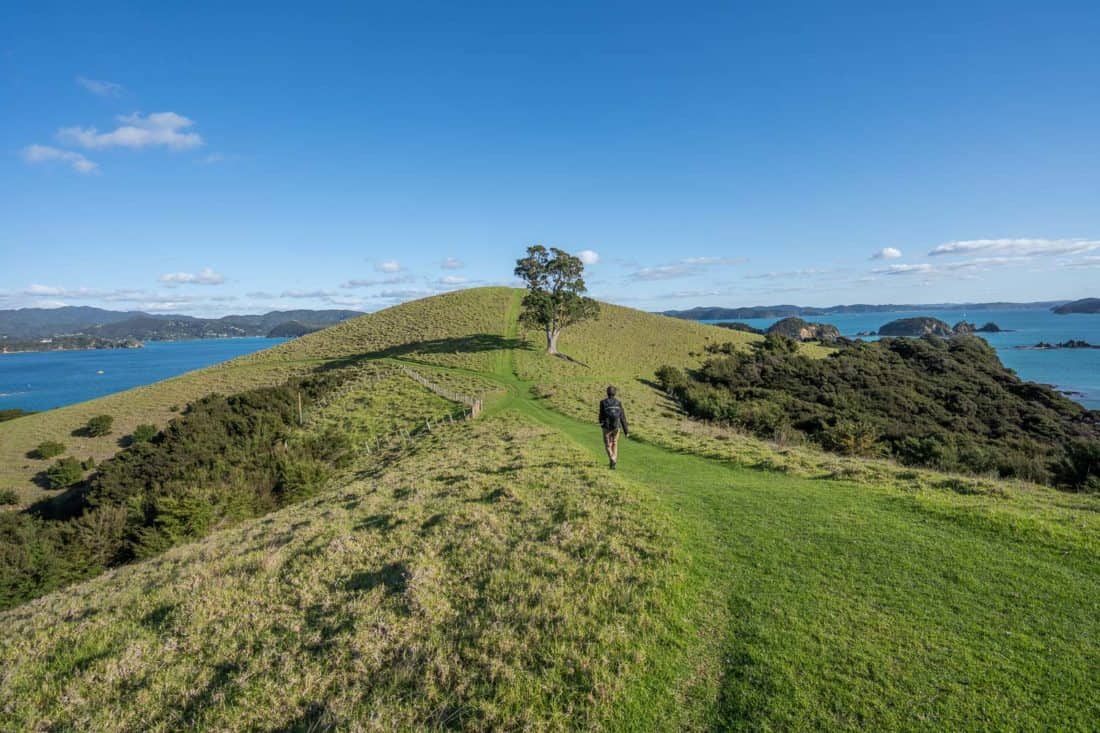 Cable Bay was another pleasant and empty beach, and there's a campsite and apparently good snorkelling here.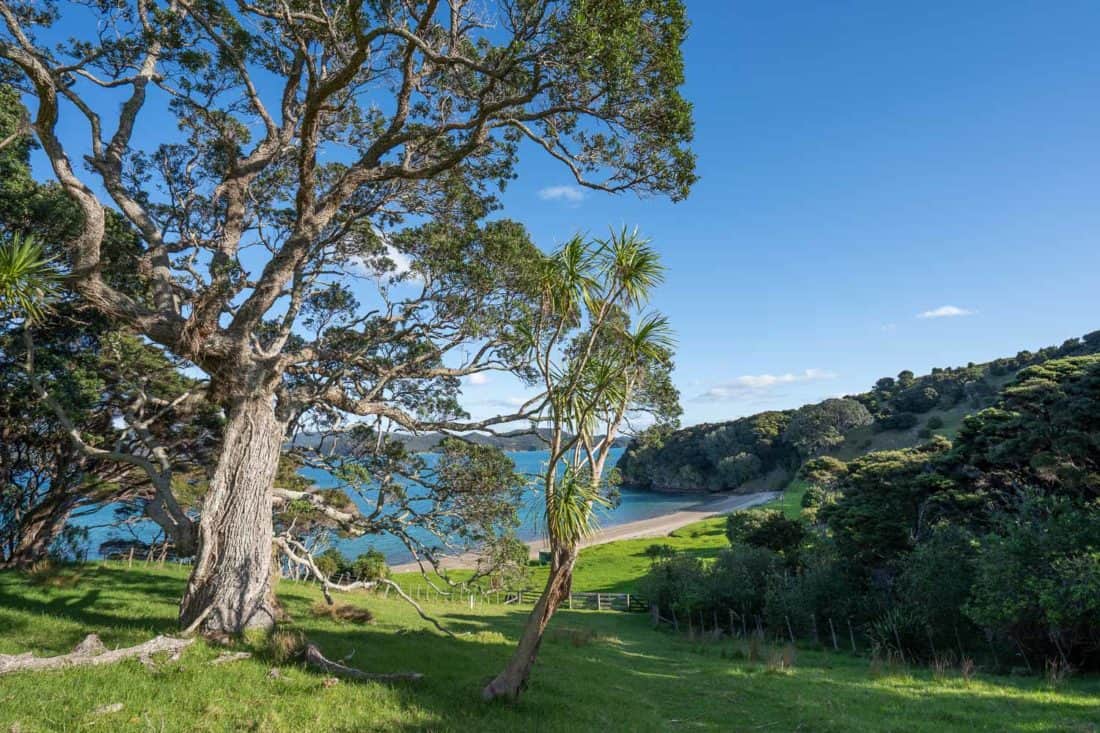 We prefer nearby Sunset Bay where we spent a lovely afternoon swimming back in March, but we weren't sure we had time on this walk (it would probably only add another 20 minutes to visit).
Finally, we headed back to Otehei Bay (20 minutes from Cable Bay) where we relaxed on the grass overlooking the beach and waited for our return boat.
It was the perfect day and one of the best hikes we've done in New Zealand—a little challenging but nothing too strenuous with incredible scenery and many beautiful beaches to relax on along the way.
The more time we spend on Urupukapuka Island, the more we love it, and we can't wait to return.
Urupukapuka Island Cafe
The Otehei Bay Cafe is open for limited hours on weekends year-round and with longer hours every day in the summer high season.
Check the Explore website for the latest opening hours and menu.
The Urupukapuka Island cafe is very popular during the summer holidays with live music and other events. You can even have a wedding here.
Kayak Hire on Urupukapuka Island
From November to early April you can rent kayaks and standup paddleboards at Otehei Bay from Bay of Islands Kayaks, which would be an amazing way to explore the coastline.
Rentals cost from $30 for a single kayak for one hour, $40 for a double kayak, and $35 for a paddleboard.
Urupukapuka Island Camping
We're not campers, but I am so tempted to camp here and have more time on this gorgeous island.
We didn't see any campers in March or May, but it is very popular during the summer holidays (Christmas to late January). February would be the ideal month to camp—much quieter but the weather is still warm.
Bookings are essential, facilities are limited (a composting toilet and cold outdoor shower), and it costs $15 per adult per night.
The biggest campsite is at Urupukapuka Bay (60 tent sites), and you can also camp at Cable Bay (20 sites) and tiny Sunset Bay (just 2 sites). Peaceful Sunset Bay would be my pick, although there's only a tap rather than a shower here.
See the DOC website for more details and online bookings.
More New Zealand Posts
Read more of our tips for exploring beautiful New Zealand.
North Island
South Island
Enjoyed this post? Pin for later!