This page contains affiliate links. Please read our disclosure for more info.
Choosing the most beautiful places in New Zealand was a difficult task. In our two years in the country we were never far from a gorgeous beach, river, lake, forest, or mountain.
While this list could be a lot longer, I've narrowed it down to these 25 best places to visit in New Zealand for stunning natural beauty.
I've included a mix of well-known tourist attractions (Milford Sound is famous for a reason) and more off the beaten track personal favourites. What all these New Zealand destinations have in common is that they made our hearts soar.
You'll find a map at the end and my picks for the best places to stay throughout.
Contents
Video: Best Places to Visit in New Zealand
Most Beautiful Places in New Zealand: South Island
The South Island has the most dramatic scenery in New Zealand—snow-capped mountains, majestic fiords, turquoise lakes, and golden beaches.
See my guide to the best things to do in the South Island New Zealand for even more ideas.
1) Aoraki Mount Cook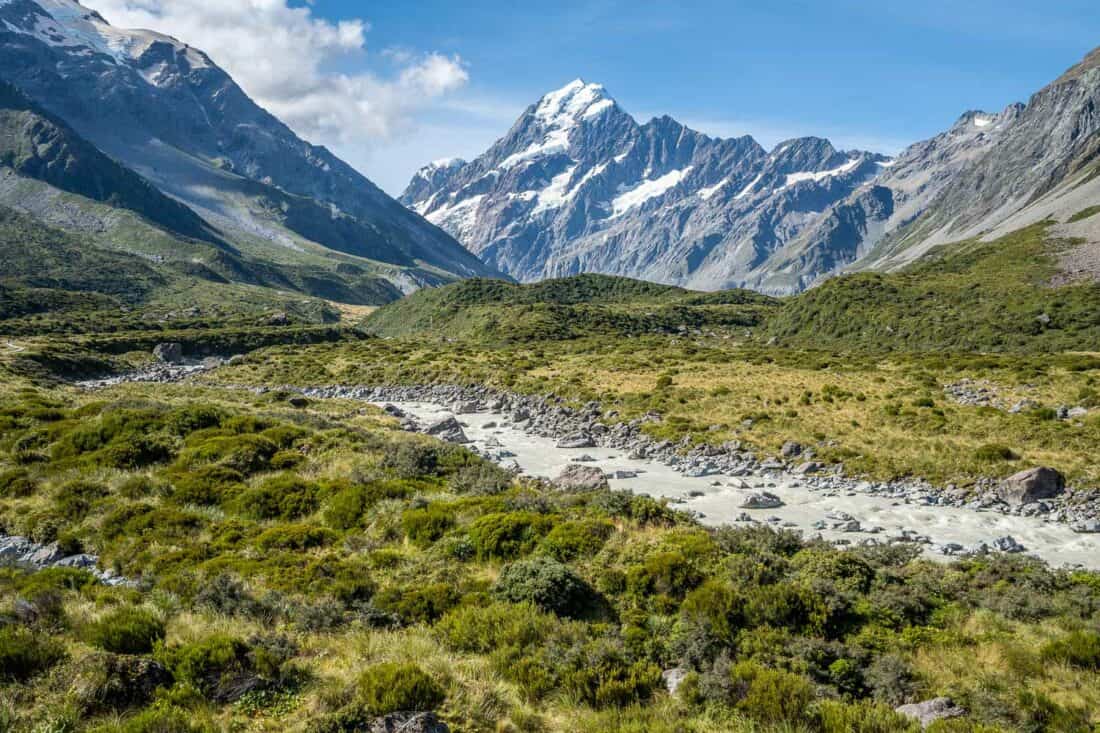 Aoraki Mount Cook is New Zealand's highest mountain and my pick for the most beautiful place in New Zealand.
You can see the 3724-metre peak from several places, including Lake Pukaki (see below) and the West Coast (see it reflected in Lake Matheson near Fox Glacier), but it's best to get up close in Mt Cook Village.
The tiny village is at the heart of Aoraki Mount Cook National Park where you'll find 23 mountains and glaciers over 3000 metres.
The scenery is magnificent and it's easily accessible too—there's nowhere else in the country you can get so close to soaring peaks without needing to hike.
Although you could just enjoy the view from the Hermitage Hotel, there are many easy but worthwhile walks.
Don't miss:
Hooker Valley Track – A mostly flat 10km trail to the iceberg-filled Hooker Lake with views of Aoraki most of the way.
Tasman Glacier Terminal Lake – An easy 3km walk to the source of the Tasman River. Head there at sunrise for stunning reflections of Aoraki in the lake.
Blue Lakes and Tasman Glacier View – A 2km return walk takes you to a small pretty lake and viewpoint above the glacier and its lake.
Kea Point – A 40-minute return walk to a viewpoint of Aoraki and the Mueller Glacier lake.
If you feel more adventurous, there are plenty of longer hikes up into the mountains.
We love visiting Aoraki Mt Cook in summer, but it's even more beautiful (and quieter) when the mountains are covered in snow in winter.
Where to Stay in Mt Cook Village
We love Hermitage Hotel as it has spectacular views of Aoraki from the rooms, bar, and restaurants. You have the advantage of being able to watch for when the mountain emerges from cloud, and it's especially glorious at sunset.
2) Milford Sound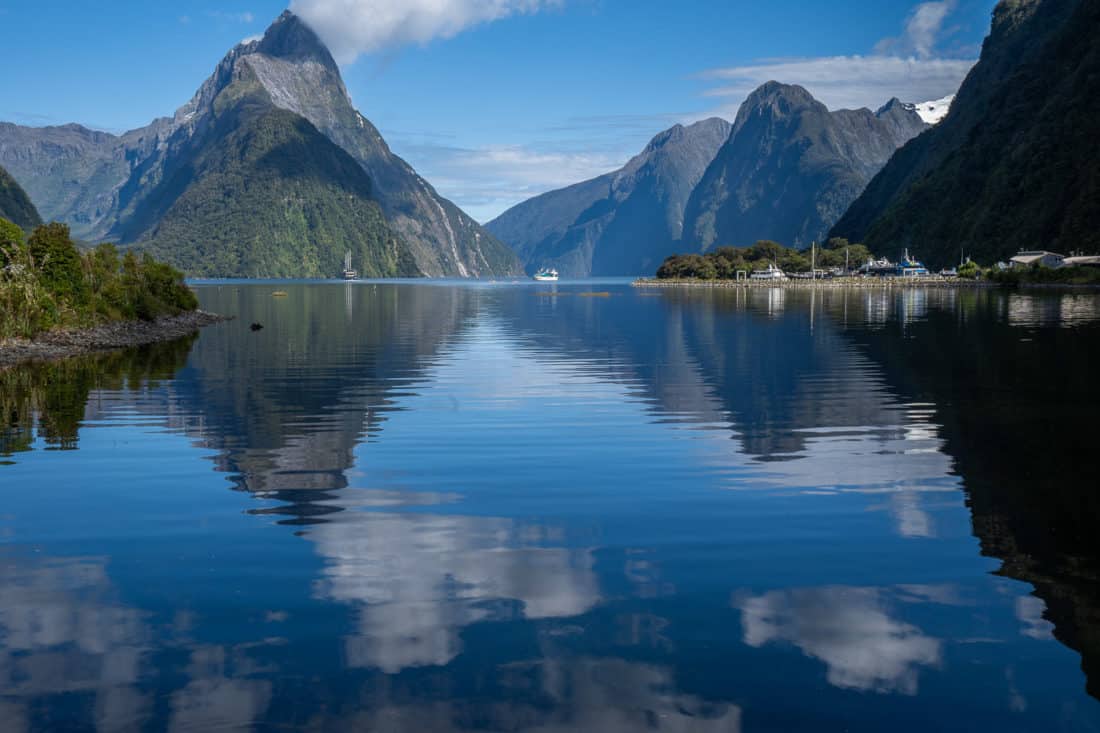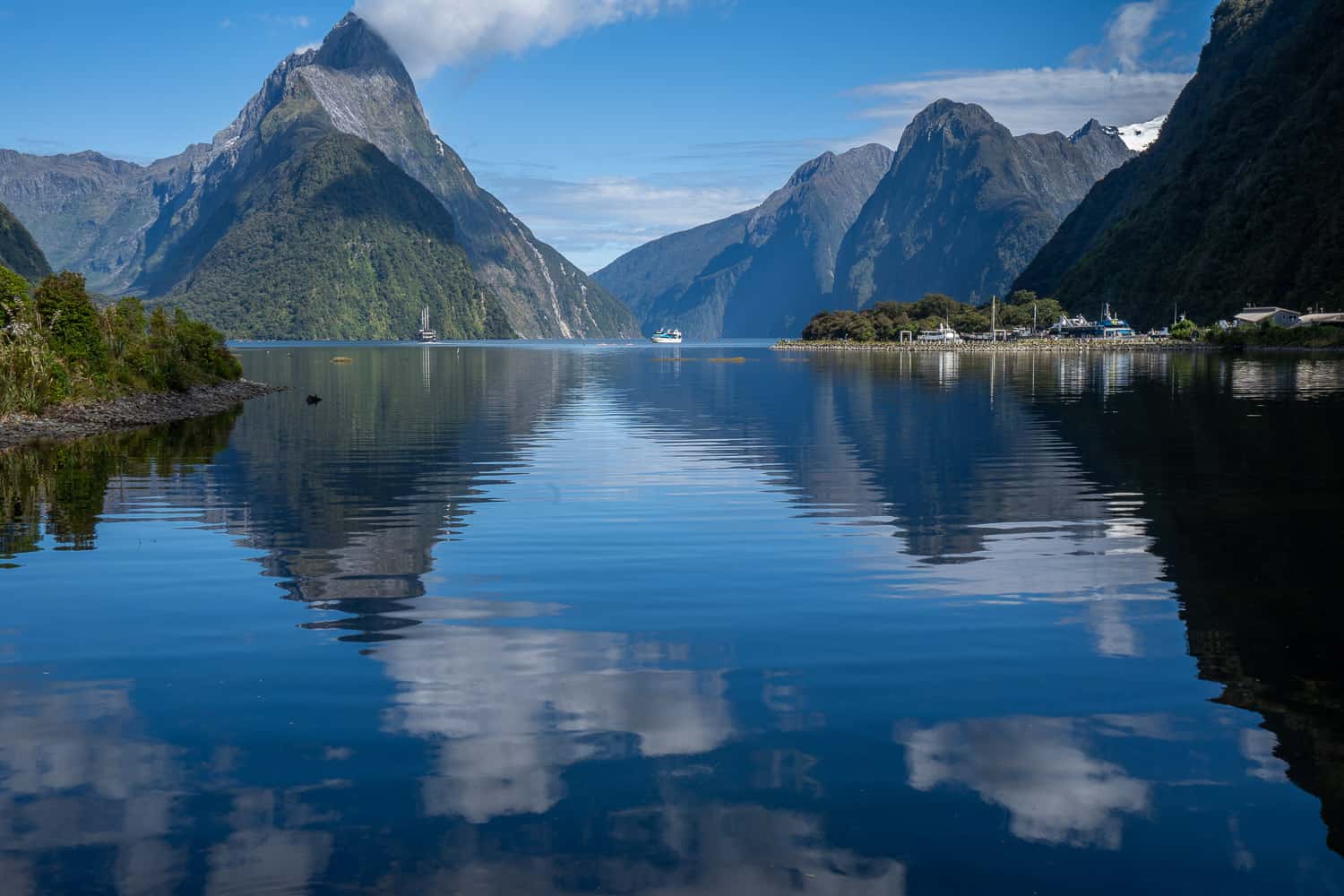 Milford Sound is one of the most popular tourist destinations in New Zealand for good reason.
The remote fiord features soaring peaks, forest-clad cliffs, gushing waterfalls, and playful wildlife including dolphins and seals.
Honestly, I thought it might be overrated, but the scenery is truly awe-inspiring, especially in the early morning when the triangular Mitre Peak is reflected in the calm water.
As there's only one hotel in this isolated spot, most people visit on a bus tour from Queenstown which includes a two-hour cruise down the fiord.
The bus trip takes four hours each way, though, so if you can afford it, I recommend taking a scenic flight there instead.
Flying over the Southern Alps was just as beautiful as the fiord cruise and we saw so much in just half a day.
Check out the Milford Sound flight and cruise here. Or read my guide to flying from Queenstown to Milford Sound.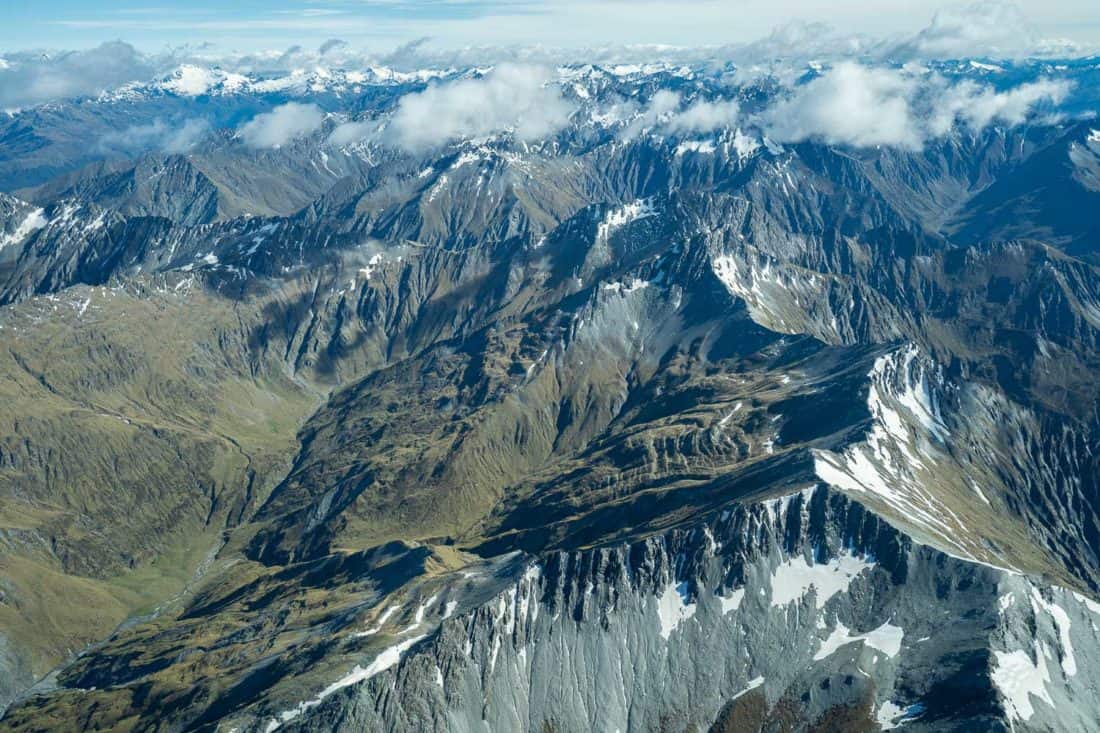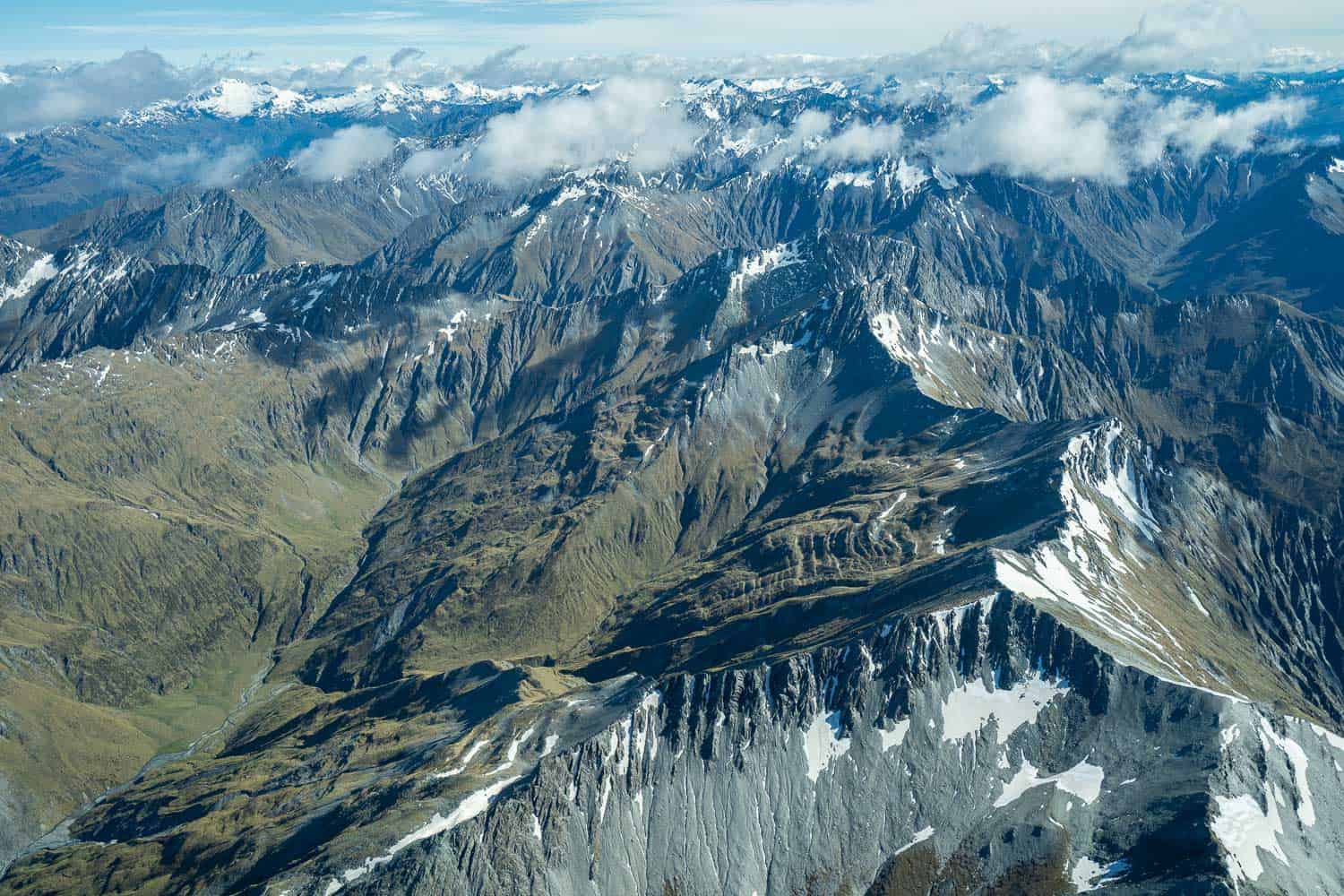 If you have more time, staying at Milford Lodge is another worthwhile splurge (but book far in advance). We loved being there when the tours had gone and taking an early morning kayak trip in Milford Sound.
There are plenty of other gorgeous hikes and viewpoints on the journey in on Milford Road, such as the 8.5km Key Summit Track, which combines rainforest and panoramic mountain views.
3) Doubtful Sound
Another highlight of Fiordland National Park is Doubtful Sound. It's more isolated than Milford so it doesn't get as many visitors, but we think it's just as beautiful.
As the fiord is harder to reach and three times as long as Milford, it's best to visit on an overnight cruise which will take you to the most dramatic parts. This way you can see it in the beautiful morning and evening light.
My favourite part of our RealNZ cruise was Hall Arm, which we visited in the morning as the light broke through the clouds and the steep mountains were reflected in the deep dark water.
Doubtful Sound is a special place that's well worth the effort to get to.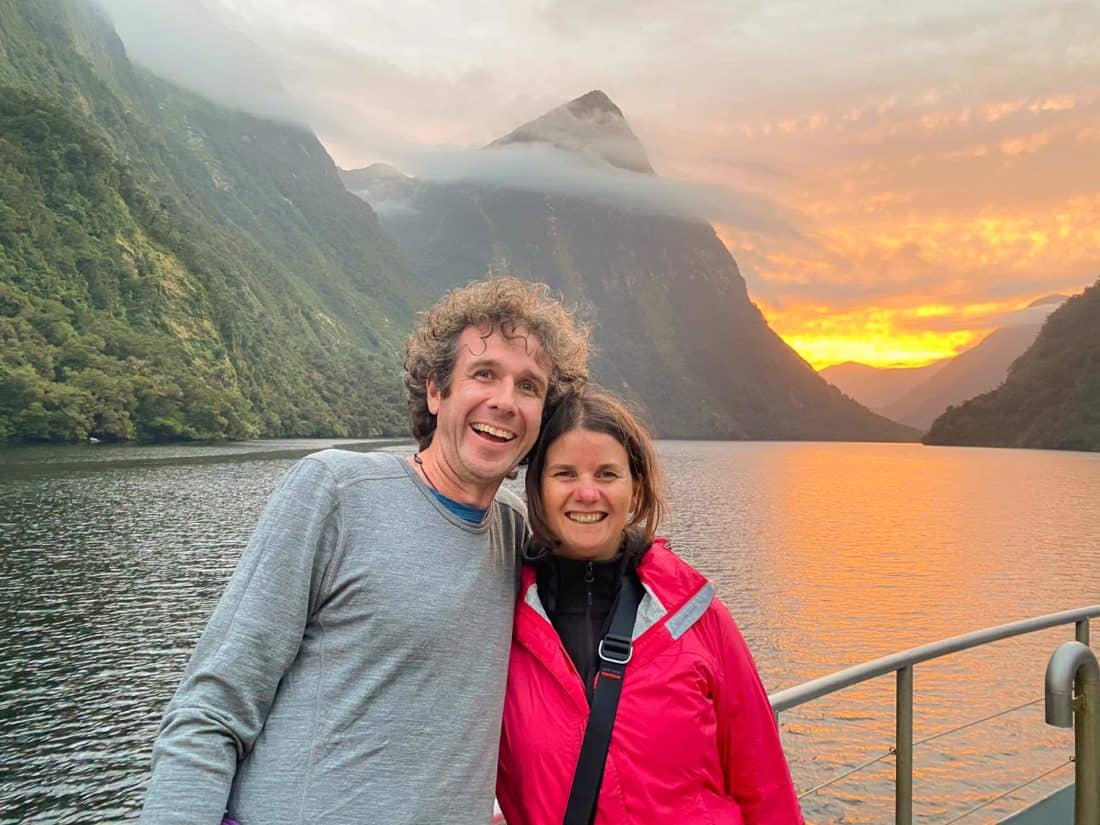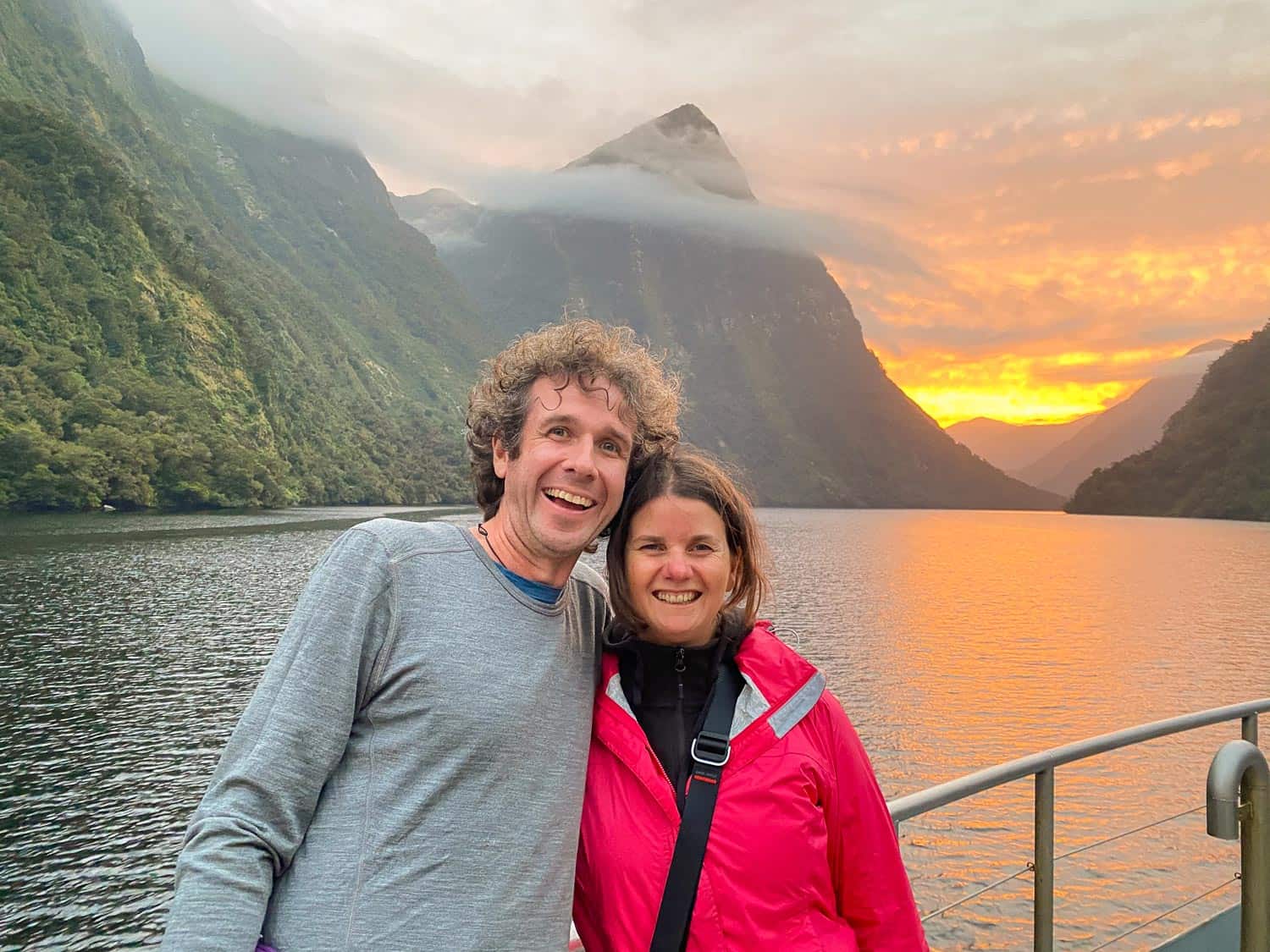 4) Mount Aspiring National Park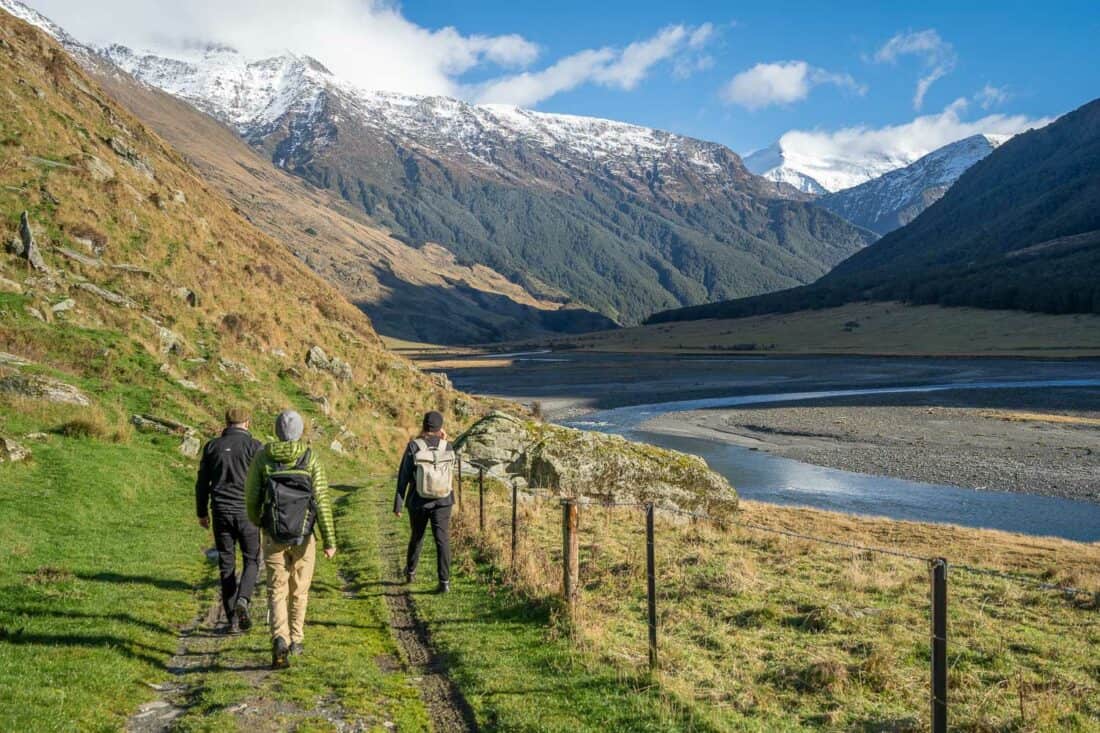 Mount Aspiring National Park is one of my favourite New Zealand destinations for hiking.
While the extensive park includes remote wilderness and high mountains, there are also easy walks in river valleys where you can enjoy the alpine scenery.
From Raspberry Flat car park (one hour from Wanaka) you don't have to walk far along the turquoise Matukituki River to see waterfalls, the Rob Roy Glacier, and snow-topped Mt Aspiring.
The 10km Rob Roy Glacier Track takes you closer to the wall of ice.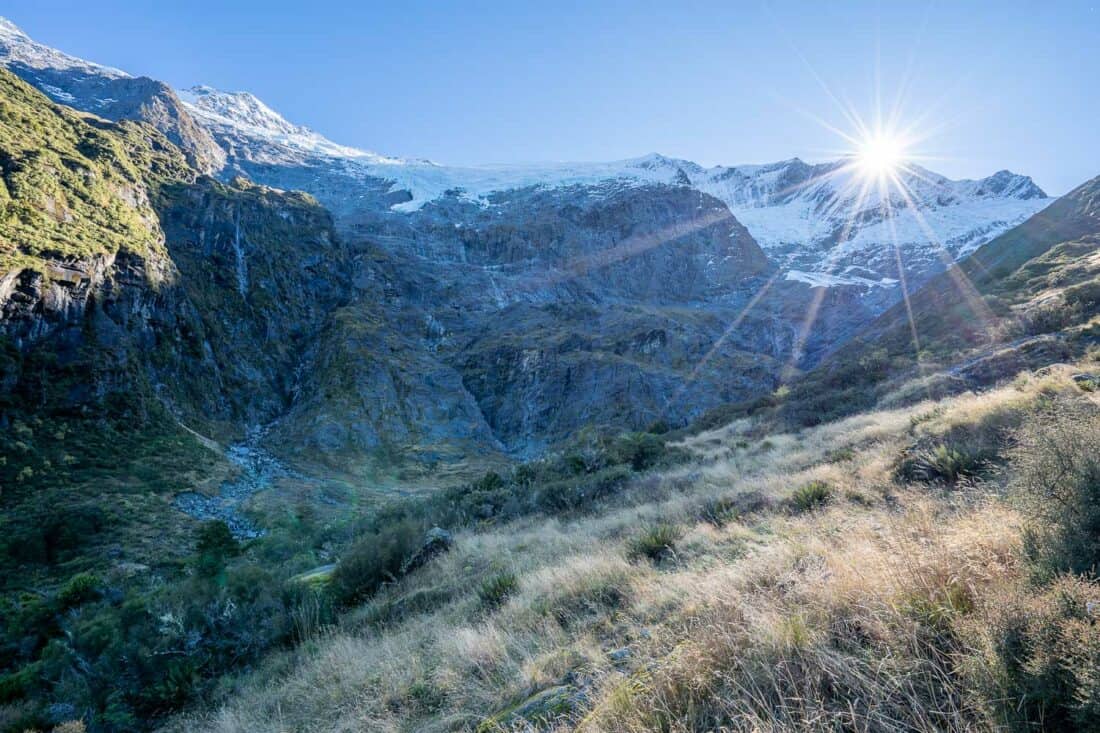 See my guide to the best things to do in Wanaka for more details.
5) Abel Tasman National Park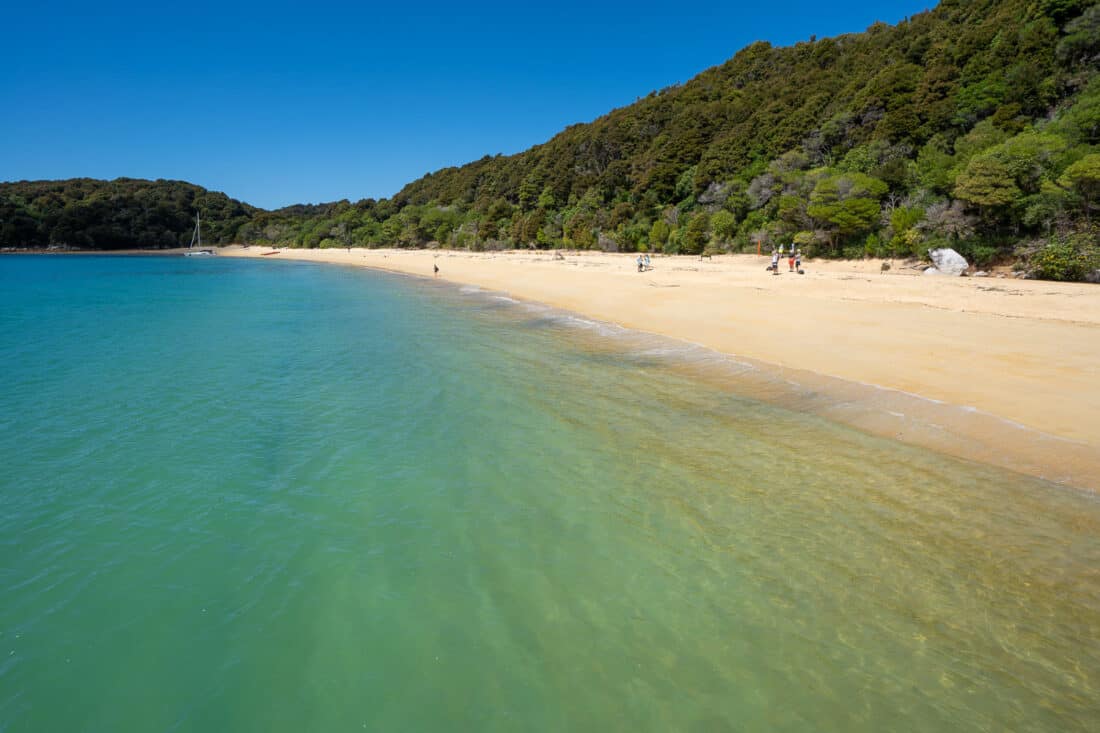 Abel Tasman National Park is the place we've returned to the most in New Zealand. Even after six visits we still haven't had enough of its golden beaches, turquoise bays, and native forests.
It's definitely one of the most beautiful places to go in New Zealand, with an almost tropical feel that's very different from the snowy mountain ranges further south.
Abel Tasman is a versatile destination—come for the day and take a water taxi to one of the beaches to relax or spend 3-5 days tackling the whole coastal park on foot or by kayak.
The hiking isn't too strenuous and you can break it up with swims and picnics on the beach.
We've explored the park in many ways including day hikes, sailing, kayaking, and overnight stays.
See my ultimate Abel Tasman National Park travel guide for everything you need to know.
Where to Stay for Abel Tasman
Nelson is a popular base for Abel Tasman day trips and is an hour away.
If you have a few days for the park, it's best to stay in Kaiteriteri where the water taxis depart. Kimi Ora Eco Resort is our favourite spot for a relaxing break (you'll appreciate the hot tubs and sauna after a hike).
Inside the park you can camp or stay in a shared hut. For more luxury, we prefer Awaroa Lodge (accessible by water taxi or on foot only).
6) Cable Bay, Nelson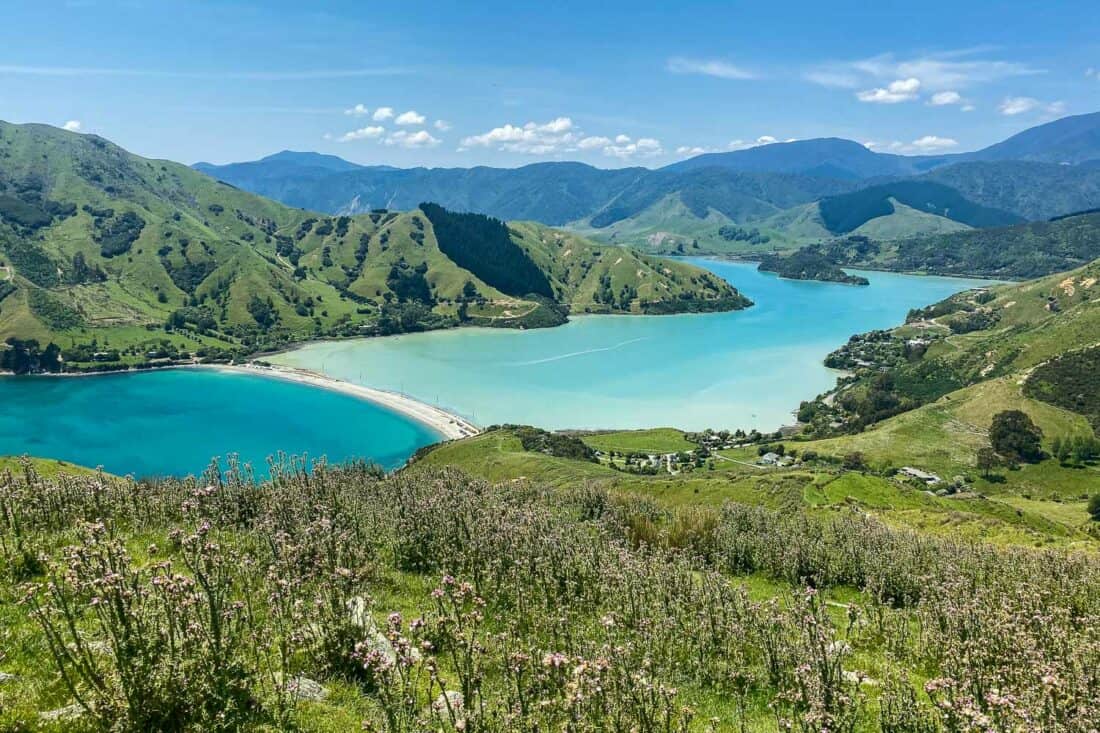 Cable Bay is the most beautiful New Zealand destination that most people haven't heard of.
I fell in love with this peaceful bay while staying in Nelson, 25 minutes away.
It's a unique spot with a pebble beach that leads to Pepin Island and divides the estuary from the sea. The colour difference between the two is striking, and at low tide the estuary empties entirely.
The area is surrounded by green hills and walking the Cable Bay Walkway is the best way to admire the view from above.
Afterwards, enjoy lunch or a treat at Cable Bay Cafe, one of our favourite cafes in Nelson.
Read my Nelson activities guide for more Cable Bay tips.
Where to Stay in Cable Bay
There's only a campsite and a few holiday homes in Cable Bay.
After some day trips from Nelson, we returned to stay just across the water in Delaware Bay. The gorgeous holiday home Kikorangi Retreat is one of the best places we stayed in New Zealand.
The views are incredible, the spacious house has all the homely details you need, and there's a beautiful garden with hot tub.
7) Marlborough Sounds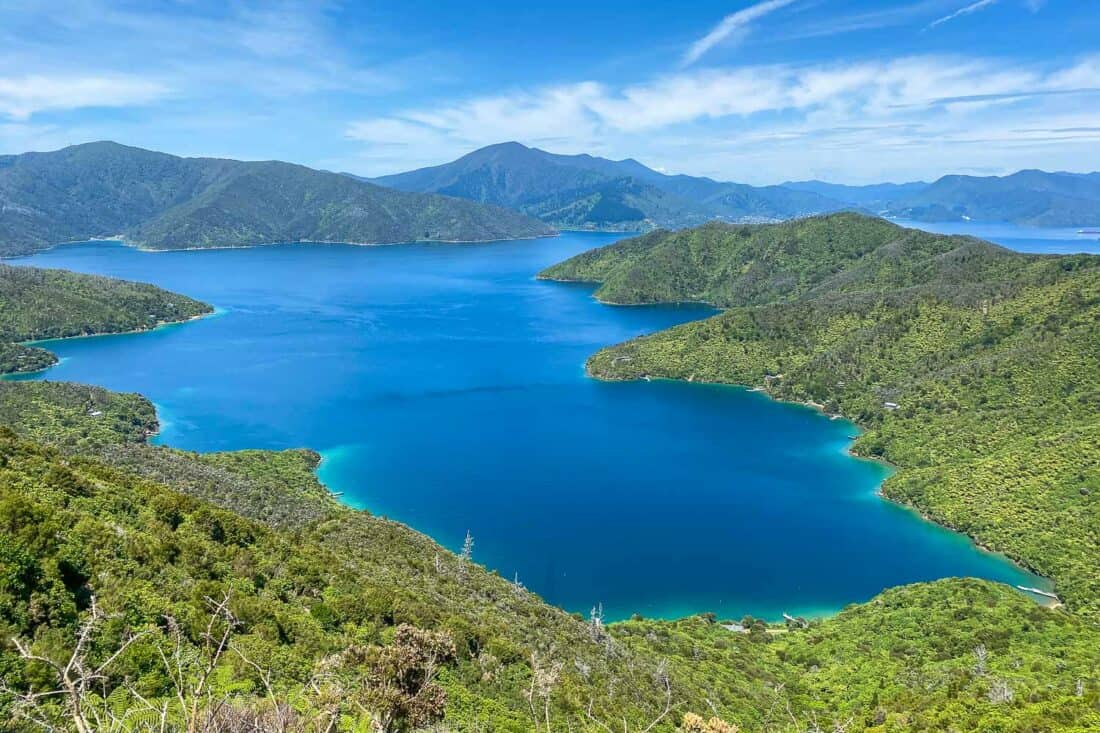 The Marlborough Sounds is another Top of the South destination that has stolen my heart.
This network of sea-drowned valleys is vibrantly colourful with so many shades of green and blue.
The access point is Picton, where the ferry arrives from Wellington. You can take a water taxi into the sounds or follow winding gravel roads to some areas.
While a day trip will give you a good taste, we like to spend longer at a remote resort or bach for a relaxing break.
We also loved hiking the Queen Charlotte Track, which takes 4-5 days and can be done in comfort by staying in lodges along the way.
After visiting the Sounds, take a wine tasting trip to the nearby Marlborough wineries (a must for sauvignon blanc fans).
Where to Stay in Marlborough Sounds
Punga Cove is our favourite resort in the Marlborough Sounds. It's on a beautiful bay, rooms have sea views, and there are plenty of facilities including free kayaks and paddleboards, hot tubs, and a waterfront cafe.
To get away from it all, we rent the off-the-grid St Omer's Hideout, a three-bedroom house with stunning views.
8) Mou Waho, Lake Wanaka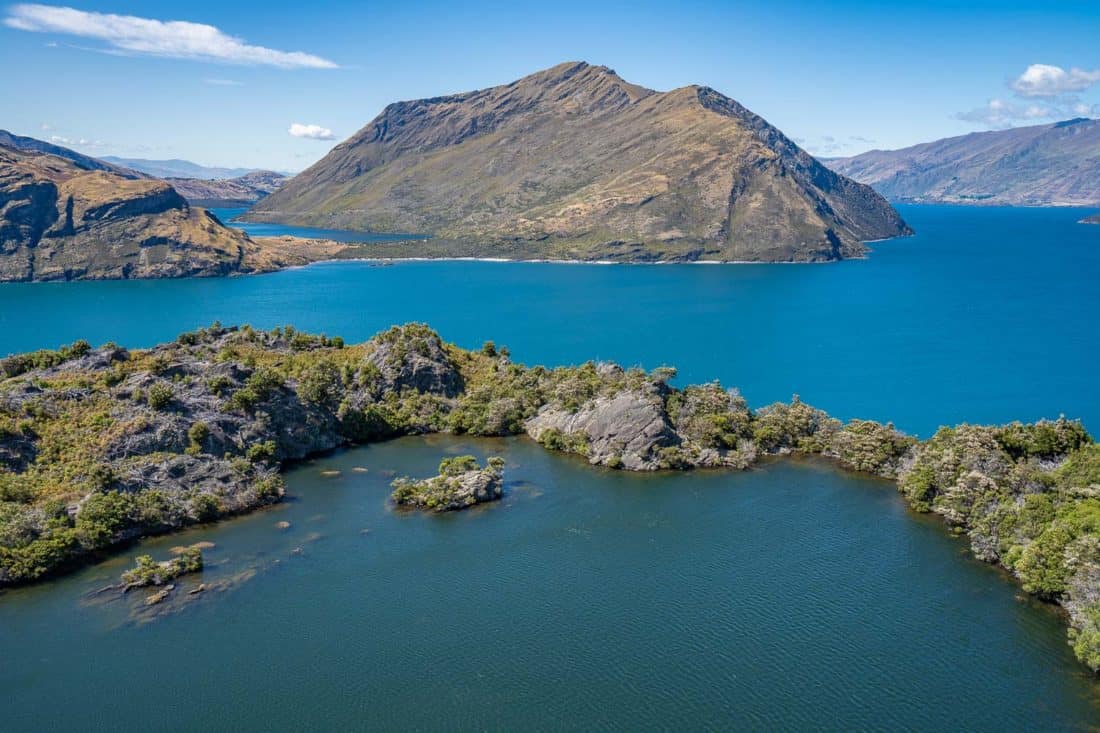 Lake Wanaka is certainly one of the most beautiful places in New Zealand. Snow-capped mountains surround the large lake and there are plenty of hikes and water activities where you can enjoy the views.
My top pick is to take a boat trip to Mou Waho, an island in the lake, where you can do a short uphill walk to a unique spot—a lake within a lake! The views are gorgeous and it's a lovely spot to swim.
For more details see my Wanaka travel guide —I have loads of tips after three extended stays in the area.
9) Lake Hawea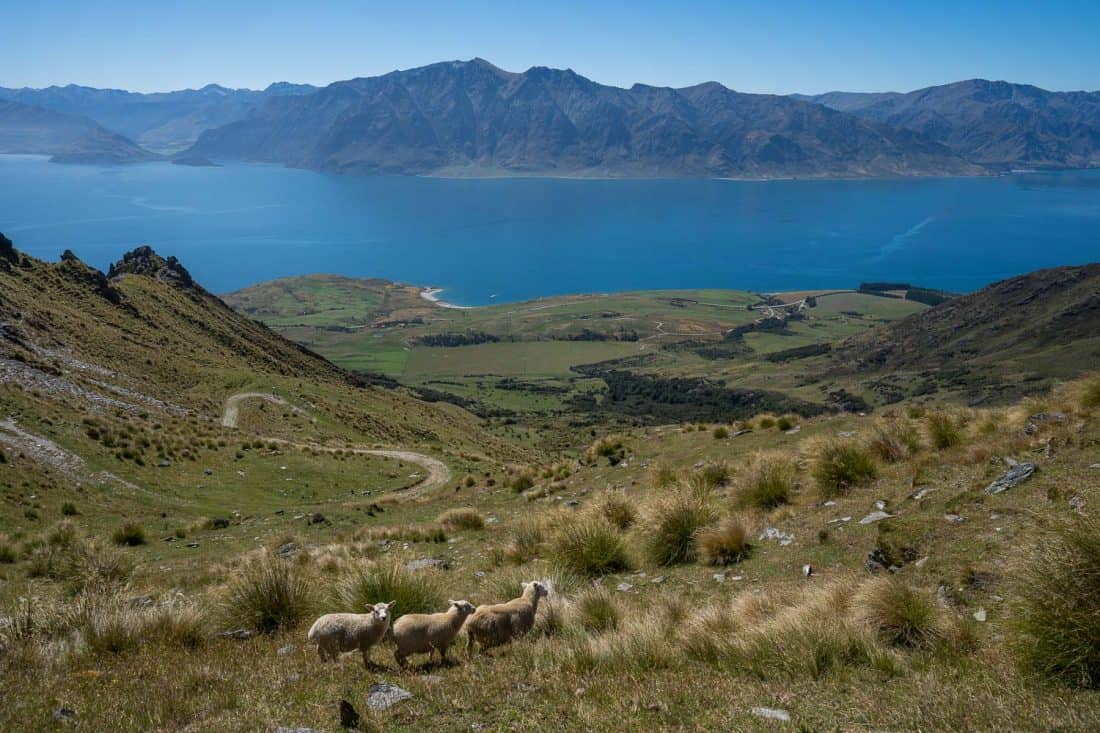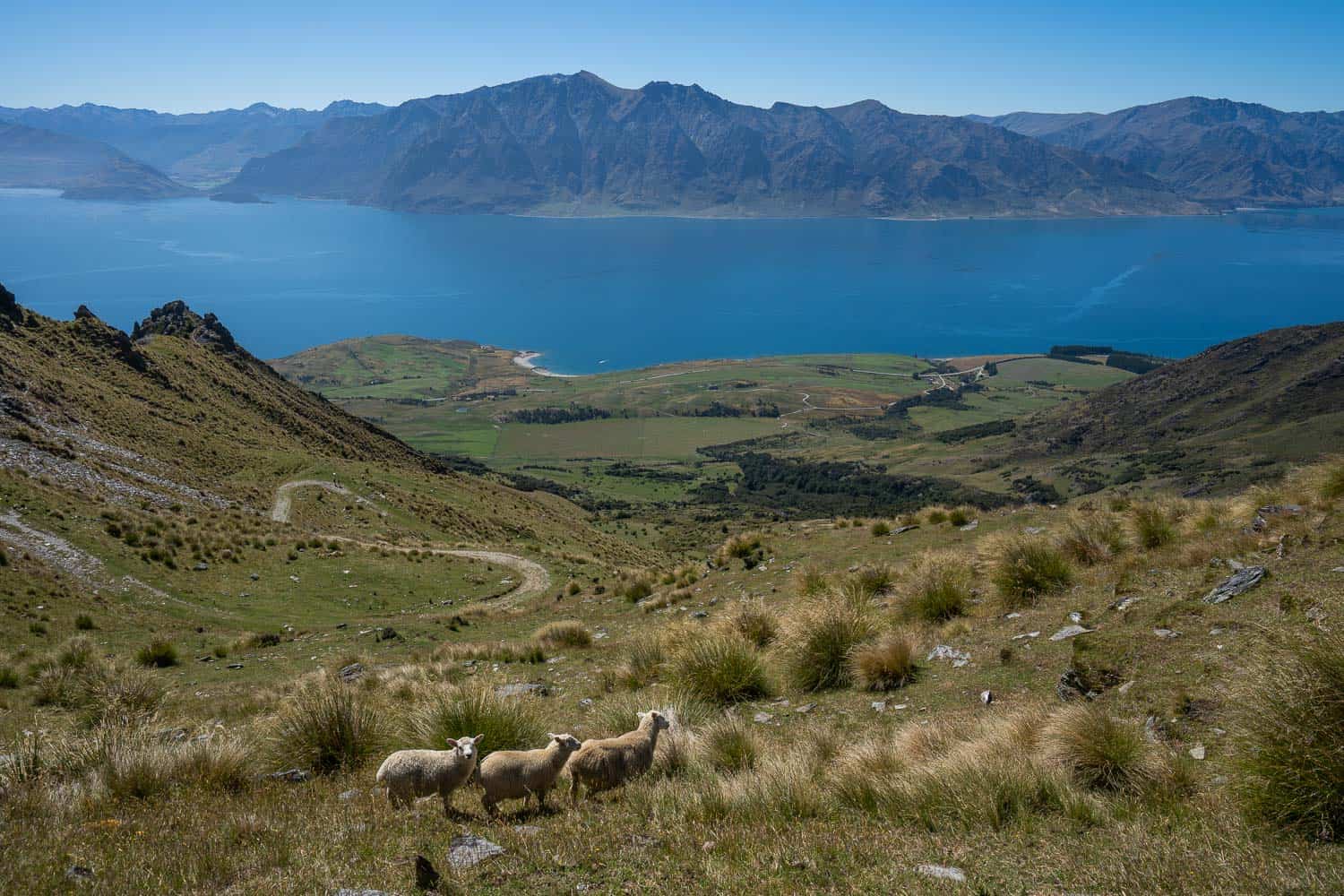 If Wanaka is the quieter Queenstown, Hawea is the quieter Wanaka.
Lake Hawea became our summer retreat in New Zealand. We loved spending the hot January and February months relaxing on the pebble beaches, swimming in the gloriously clear water, and paddleboarding for peaceful views of the surrounding mountains.
For the best view of Lake Hawea, hike the Isthmus Peak Track. The 16km trail takes 5-6 hours and will definitely get your heart going, but it's worth it. From the top you can see both Lake Hawea and Lake Wanaka.
My Wanaka activities post has more advice on Hawea.
10) Lake Pukaki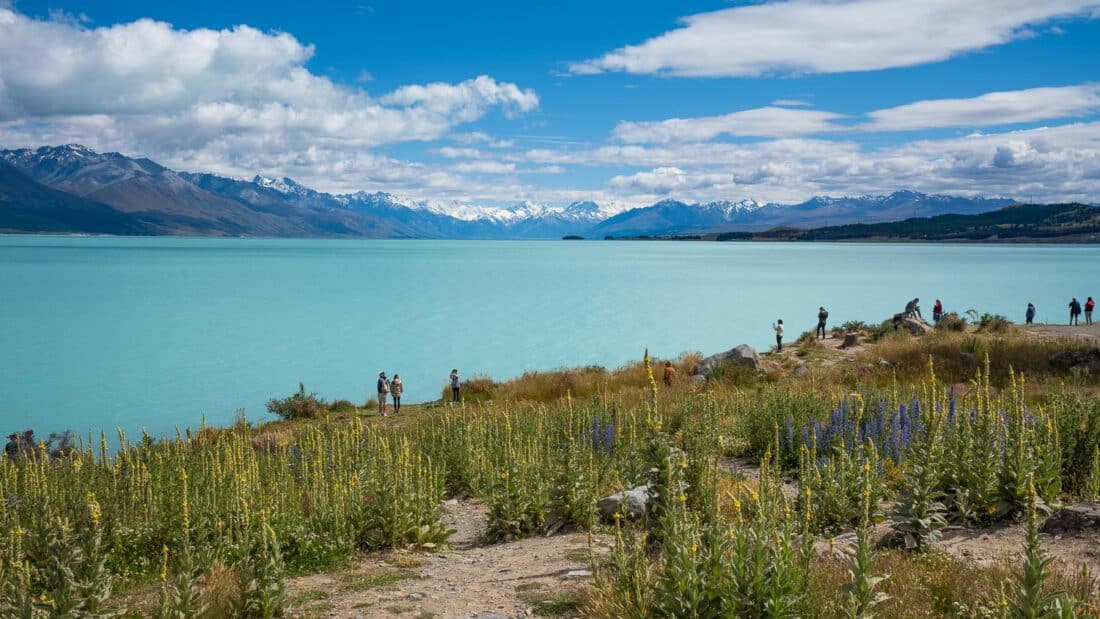 New Zealand is famous for its turquoise lakes and I think Lake Pukaki is the most beautiful.
In summer you can admire views of the colourful lupin flowers in front of the astonishingly blue lake with snow-capped Aoraki as the backdrop.
There's not much at the lake, but you'll pass it on the drive into Mt Cook Village and there are a number of viewpoints to enjoy along the way.
Where to Stay for Lake Pukaki
Most visitors stay at nearby Lake Tekapo, another breathtaking turquoise lake that's well worth visiting.
We loved our stylish cabin with lake view at The Cairns Alpine Lodges. You can meet alpacas or play a round of golf onsite.
11) Moke Lake, Queenstown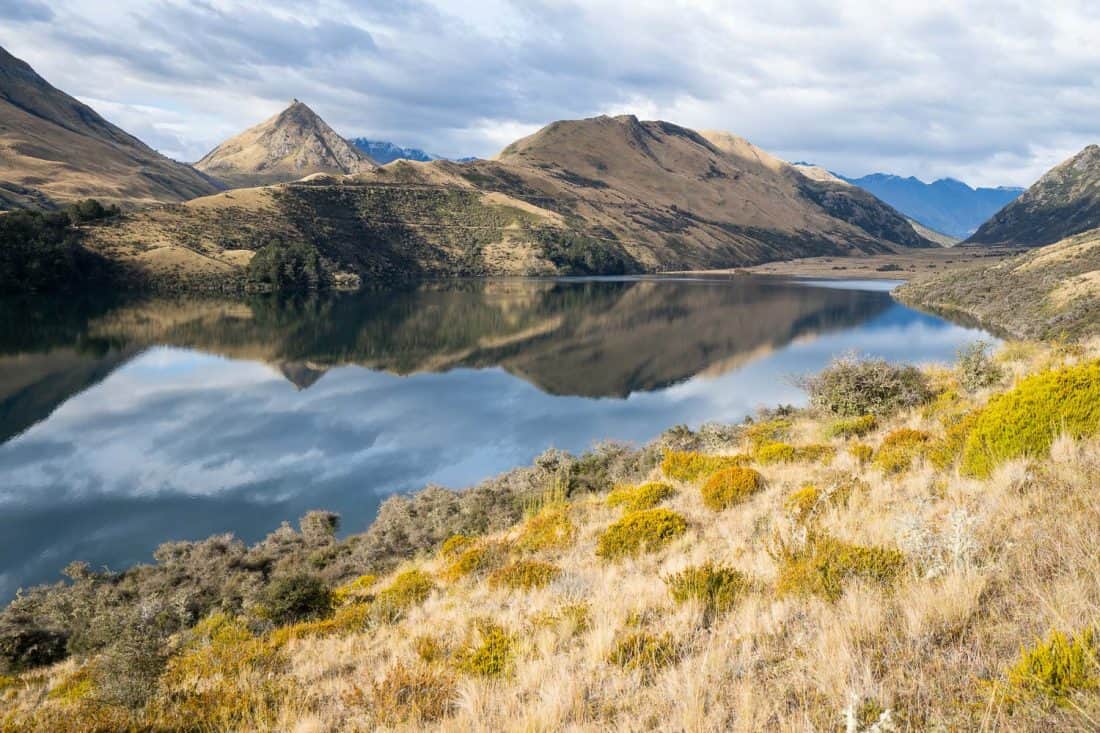 While Queenstown is an obvious choice for the most beautiful destinations in New Zealand, I like nearby Moke Lake even more.
It's only 20 minutes from the popular adventure town, but it feels secluded surrounded by mountains with a bumpy access road.
On a calm day, when the mountains are reflected in the water, it's just magnificent. Admire it on a 6km trail around the lake, paddleboard or kayak on the water, or just picnic on the banks.
See my post on the best things to do in Queenstown for many more attractions in this gorgeous area.
Where to Stay for Moke Lake
At the lake, there's a DOC campsite or for more luxury, stay in a geodome at Glam Camping Queenstown, which is on my wish list. Sunrise and sunset at the lake would be spectacular.
In Queenstown, the boutique QT Queenstown Hotel on the lakefront is our favourite place to stay.
12) Punakaiki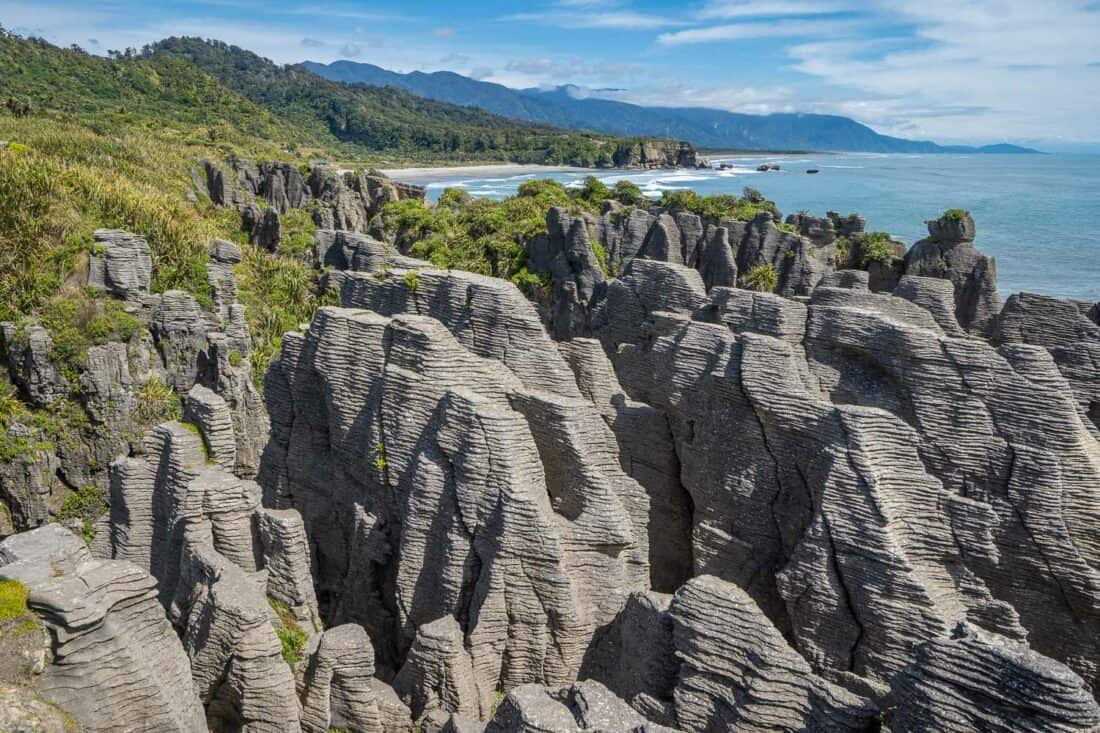 The whole West Coast of the South Island is beautiful, but my favourite spot is the small seaside village of Punakaiki. Here you can explore the beaches, rivers, and rainforest of Paparoa National Park.
In Punakaiki don't miss:
Pancake Rocks – The most famous attraction is a short walk to unique limestone rock formations and an impressive blowhole.
Pororari River – Rent a canoe to explore this gorgeous green river beneath limestone cliffs or walk the easy riverside track.
Inland Pack Track – For a longer, steeper hike connect the Pororari River Track to the Inland Pack Track and loop back to town via stunning rainforest and the Punakaiki River.
Truman Track – A 10-minute walk through forest takes you to this secluded beach backed by dramatic cliffs. Best at sunset.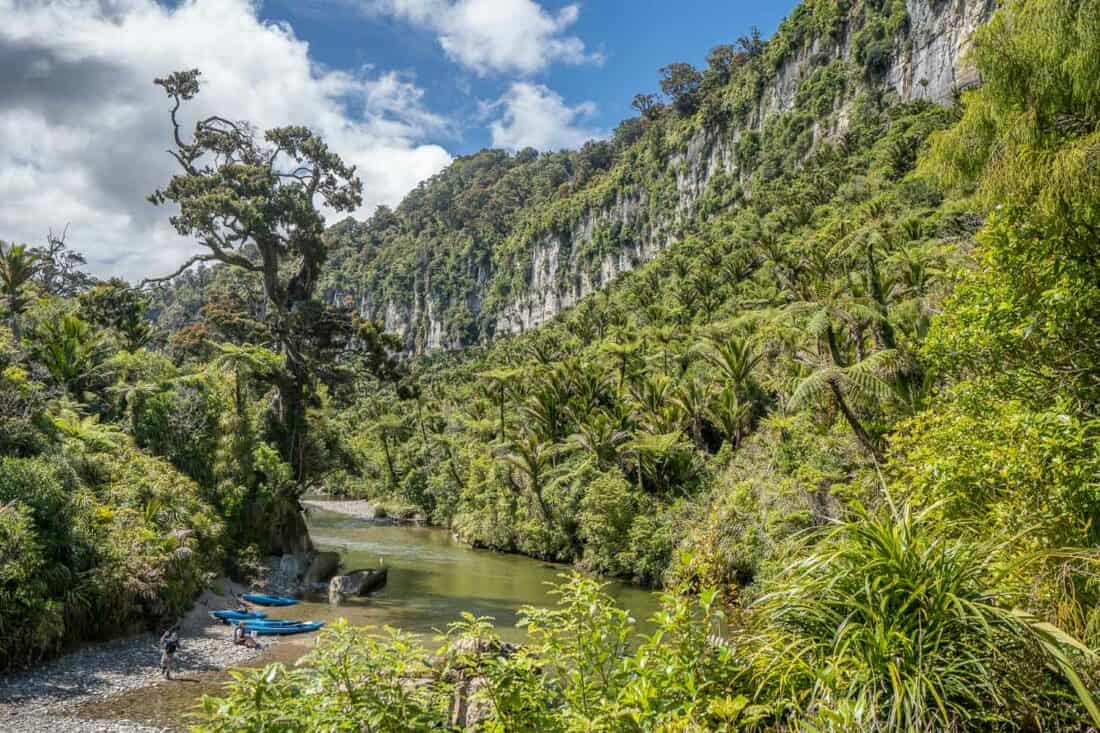 Where to Stay in Punakaiki
We stayed at Punakaiki Resort. Rooms are nothing special, but the views overlooking a quiet beach are wonderful, and it's only a five-minute walk to Pancake Rocks.
13) Tunnel Beach, Dunedin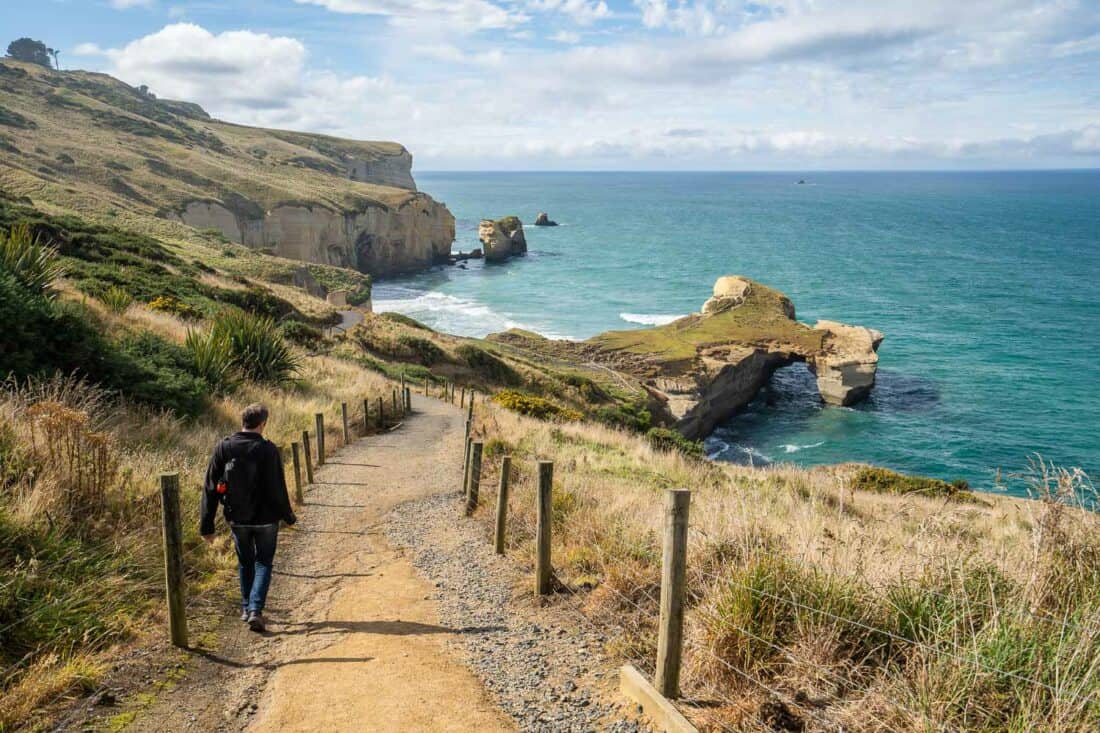 All of the Otago Peninsula is stunning with rolling green hills, wild white sand beaches, and lots of wildlife.
To pick just one beautiful spot, though, I loved the walk down to Tunnel Beach just outside Dunedin.
The one hour return walk follows a steep path down towards the sea with beautiful views of rugged coastline, cliffs, and a rock sea arch.
To access the beach you walk through a short tunnel hand-carved into the rock in the 1870s. The beach is backed by sandstone cliffs carved into patterns by the Southern Ocean and wind.
It reminded me of Cathedral Cove in the Coromandel, but it's not as well known.
My guide to the best road trip stops on the East Coast has more tips on the area.
Where to Stay for Tunnel Beach
Our apartment at Arts Content Harbour View was ideal for exploring the Otago Peninsula.
It is next to the home of a local artist (who provides a delicious breakfast basket) set amongst lovely gardens with a sea view.
Most Beautiful Places in New Zealand: North Island
The North Island is the most populated island. At the northern end you'll find Auckland, the largest city and where most international flights arrive, and in the south is Wellington, the cool capital city and the jumping-off point to the South Island by ferry.
While the North Island doesn't have as many dramatic mountains and fiords as the South Island, it has its own beauty with stunning volcanoes, waterfalls, beaches, and islands.
My North Island New Zealand Itinerary post has road trip suggestions from two days to two weeks.
14) Mount Taranaki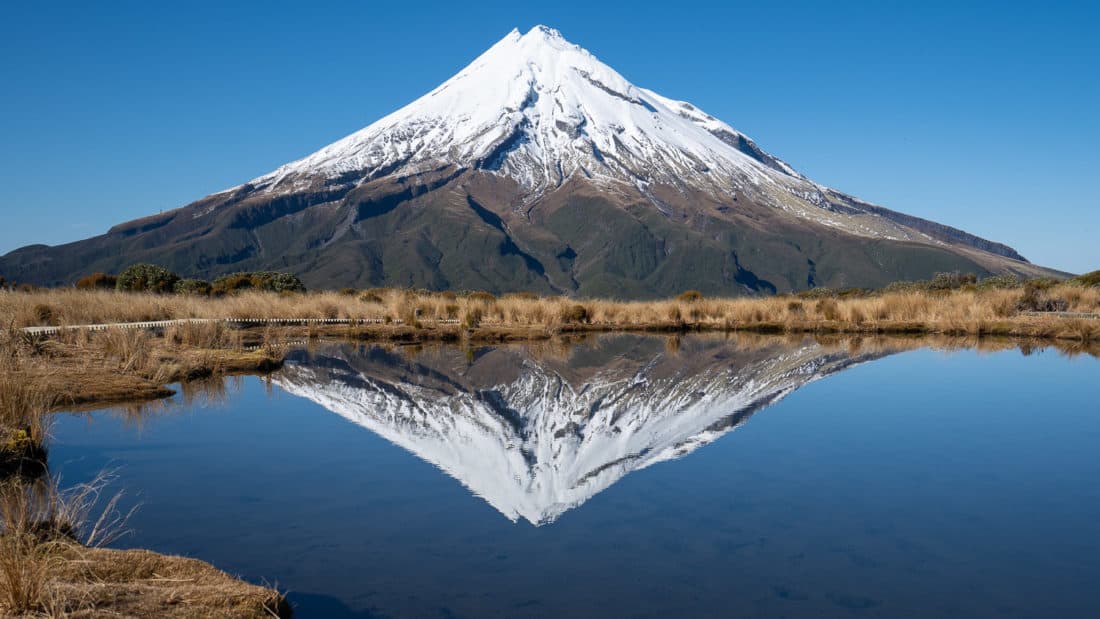 The Taranaki region is often overlooked, which is a shame as it has some of the most beautiful scenery in New Zealand.
The conical volcano Mt Taranaki (a Mt Fuji lookalike) rises above the lush green farmland and is an awe-inspiring sight, especially when snow-capped in winter.
You can enjoy the view from many places in the area including when just driving around on a clear day. Some of my favourite places to see the iconic peak are:
Pouakai Tarn – Seeing the mountain reflected in this small pond was one of our most beautiful sights in New Zealand. It does require a two-hour uphill hike on the Mangorei Track to get there, though.
Stratford Plateau – Another wonderful viewpoint in Egmont National Park. You can drive there or walk one hour from the Dawson Falls Visitor Centre where there are lots of hiking trails.
Te Rewa Rewa Bridge – This unique whale-shaped bridge frames Mt Taranaki perfectly. Drive there or even better, cycle the New Plymouth Coastal Walkway along the seafront.
Read my post on the best things to do in New Plymouth and Taranaki for many more ideas on exploring the region.
15) Tama Lakes, Tongariro National Park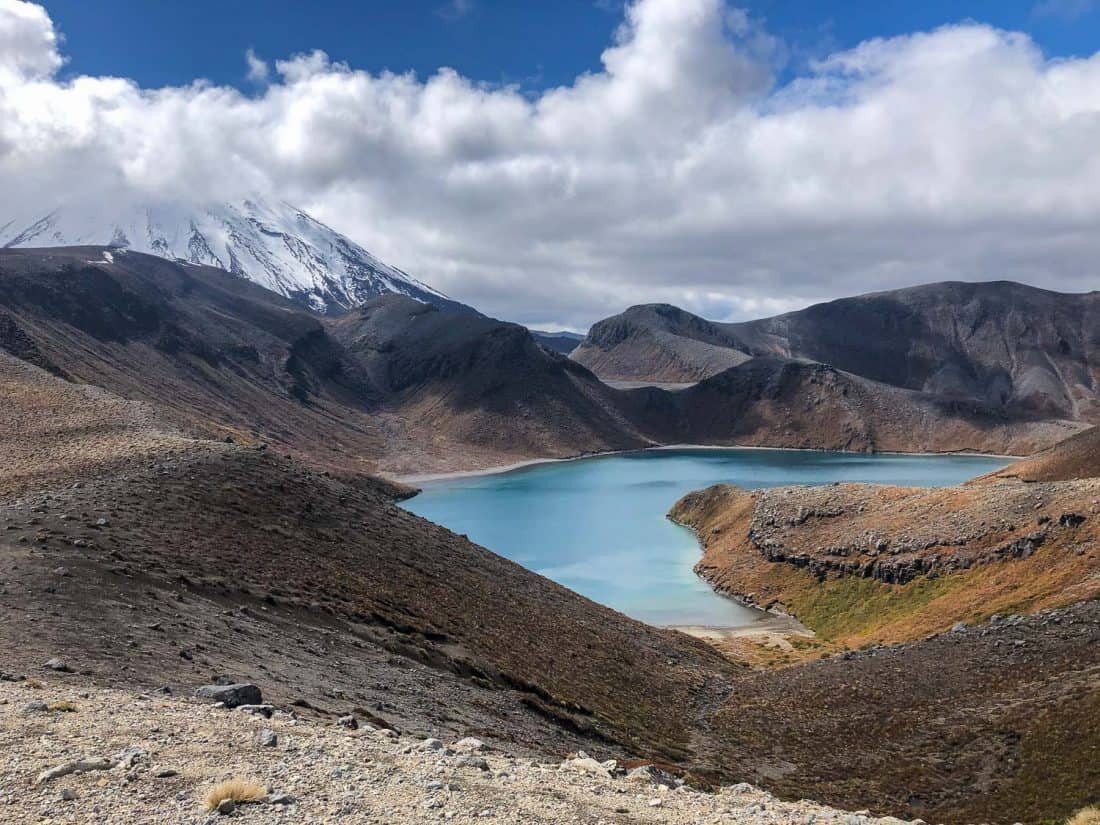 Tongariro National Park is a New Zealand must see for many visitors to the North Island.
It feels so different from the rest of the island—a wild landscape with three active volcanoes including Mount Ngauruhoe, which stood in for Mt Doom in the Lord of the Rings films.
The park is a dual World Heritage area in recognition of its Maori cultural significance as well as the magnificent natural features.
The most popular thing to do in Tongariro National Park is hike the challenging Tongariro Alpine Crossing, one of the best day hikes in the country.
It gets very busy, though, so if you are looking for a quieter trail or are visiting in winter, when the Crossing requires special gear, I recommend the easier 17.8km Tama Lakes Track instead.
Even though the snow-capped volcanoes didn't emerge from the clouds for me, it was still a spectacular walk through tussock and alpine herb fields to two volcanic crater lakes.
Where to Stay in Tongariro National Park
We stayed in Whakapapa, the tiny village high up in the park. Skotel Alpine Resort is the ideal base for hiking or skiing.
Our room was simple but had outstanding views of Mount Ngauruhoe, and the onsite restaurant, gear rental shop, and games room were useful. The Tama Lakes hike starts just outside the hotel.
16) Urupukapuka Island, Bay of Islands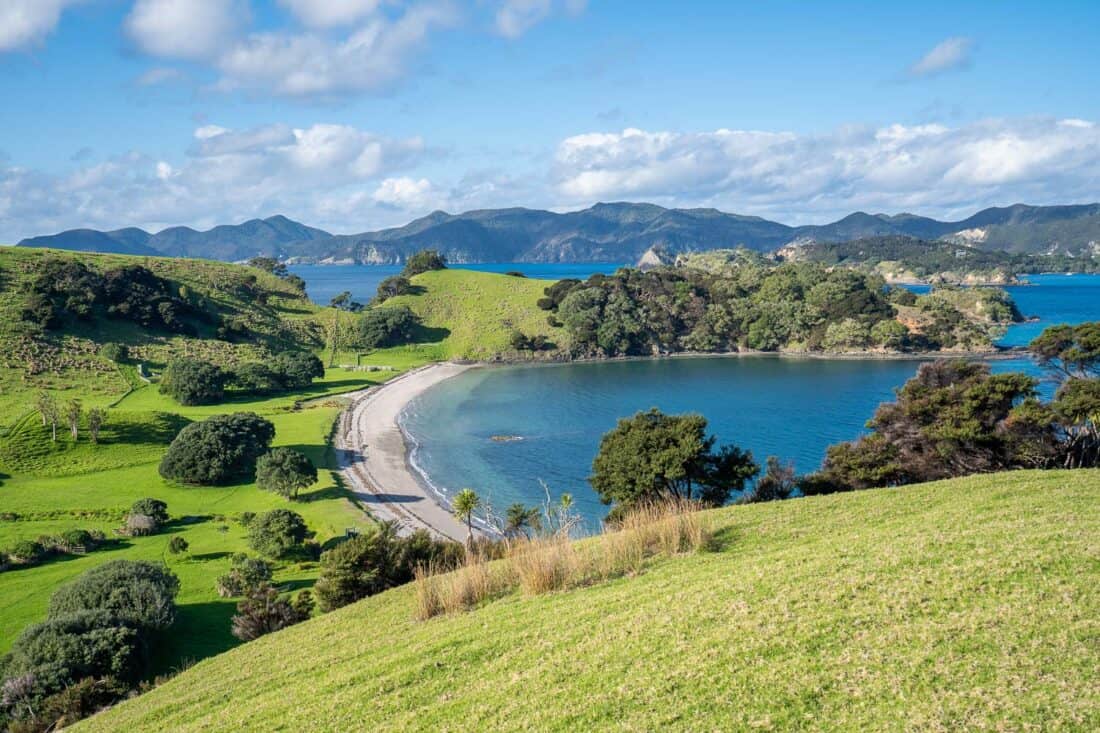 You'll find many beautiful places in the Bay of Islands in subtropical Northland, but my favourite is Urupukapuka Island, the largest island in the bay.
It's so lush and green with the vibrant hills contrasting with the white sandy beaches and clear aqua sea.
The 11.5km loop hike around the island is a fantastic way to explore, stopping to swim, picnic, or spot native birds along the way.
You could also just take the ferry out to relax on the beach, snorkel or kayak. Whenever I visit, I don't want to leave.
My guide to the best things to do in Bay of Islands has more tips on the area.
Where to Stay in Bay of Islands
You can camp on Urupukapuka Island and we also moored there overnight as part of our Bay of Islands sailing course.
If you prefer more comfort, I recommend staying in Russell, the prettiest town in New Zealand.
We spent two months in this gorgeous two-bedroom house with the most stunning sea views a short drive outside Russell. We even heard kiwis at night.
17) Mimiwhangata Coastal Park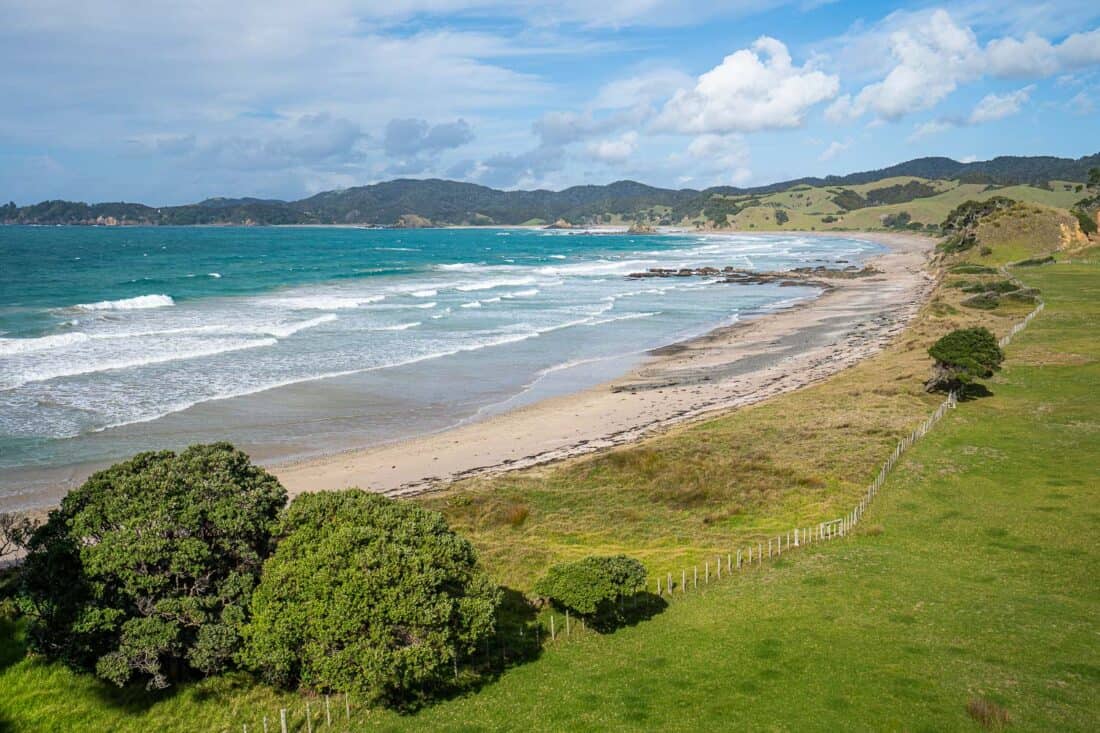 One of the most beautiful off the beaten track places we visited in New Zealand was Mimiwhangata Coastal Park.
It's on the winding Secret Coast Route from Russell in the Bay of Islands to Helena Bay.
We only saw two other people as we walked across farmland, over lush green hills, and along multiple long empty beaches.
Mimiwhangata is the perfect place to get away from it all and enjoy some classic New Zealand coastal scenery.
18) Cape Reinga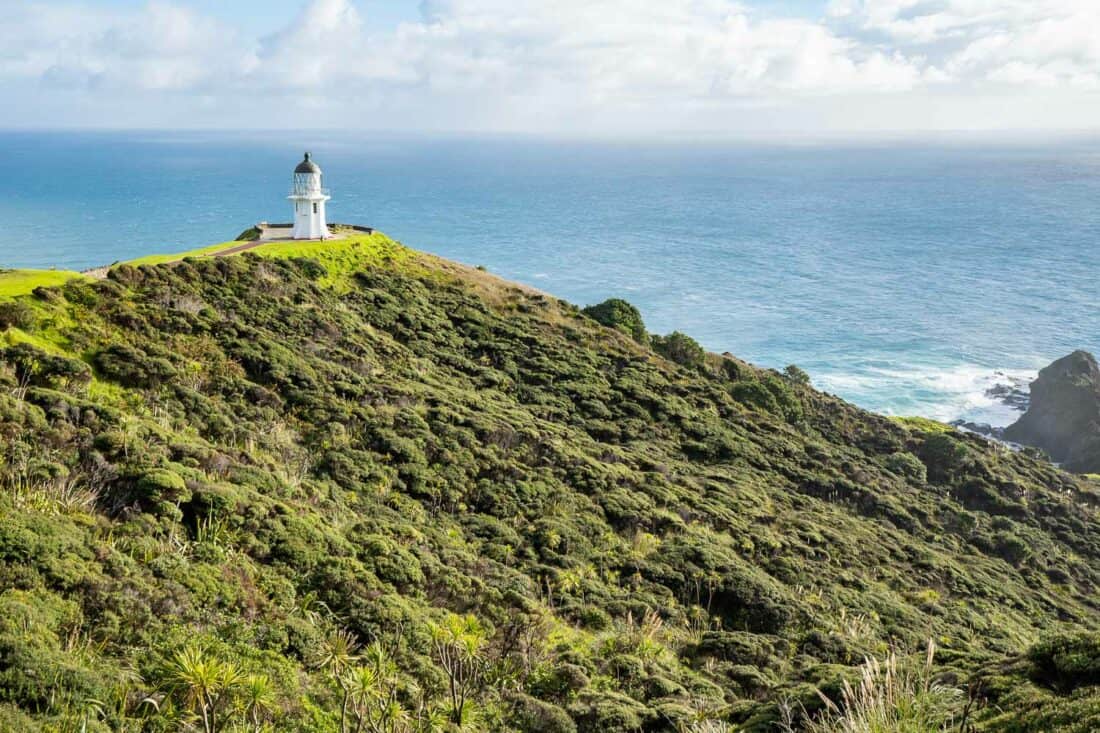 Also in Northland is Cape Reinga (Te Rerenga Wairua) at the wild and empty northern tip of the country.
The Cape Reinga lighthouse feels like the end of the world perched on a rocky cape where the Tasman Sea and Pacific Ocean meet. It's stunningly beautiful and a sacred place for Maori.
The lighthouse is only a 10-minute walk from the car park, but I also recommend walking part of the Te Paki Coastal Track along dramatic clifftops and down to empty beaches.
My Bay of Islands travel guide has more details.
19) Cathedral Cove, Hahei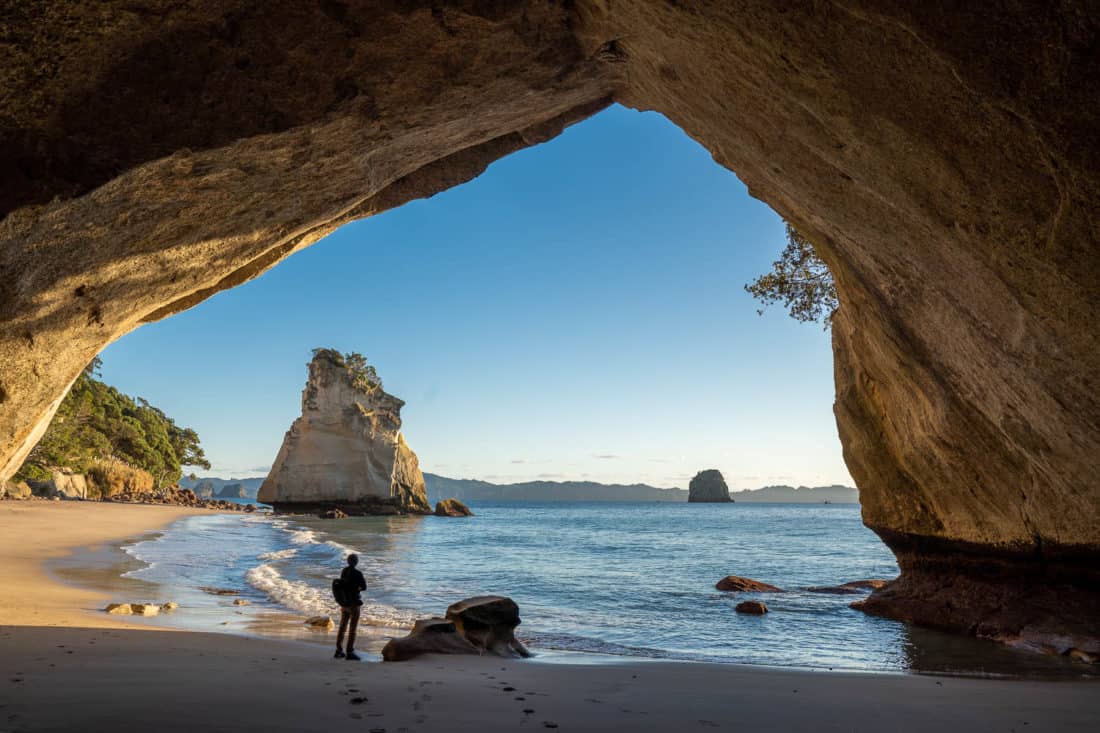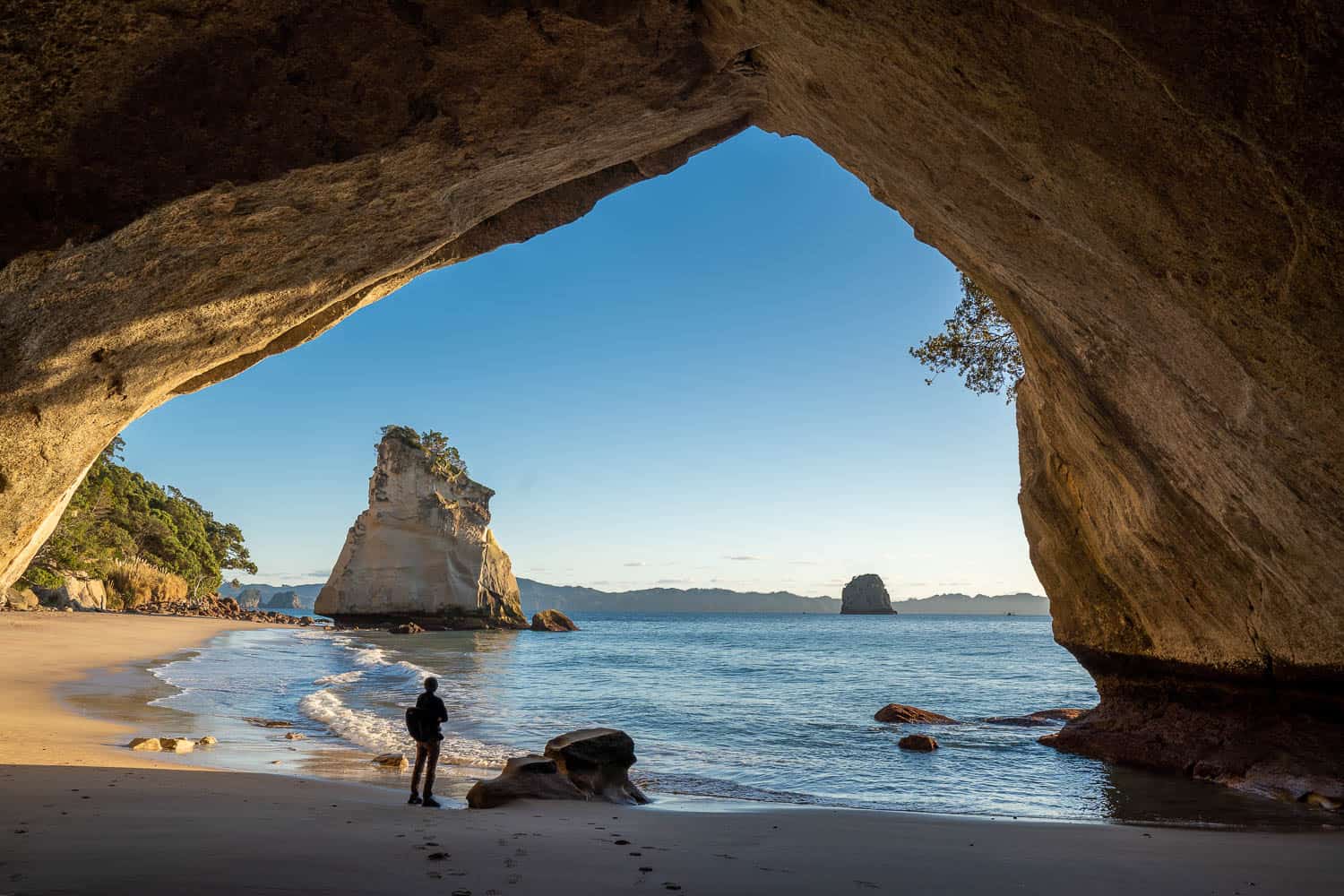 For both visitors and locals, the Coromandel Peninsula is one of the must see places in New Zealand for its gorgeous beaches and forests.
We based ourselves in the little beach town of Hahei, home to one of my favourite beaches in New Zealand.
The scenery gets even better as you walk along the coast to Cathedral Cove, one of the most popular New Zealand tourist spots.
The rock archway creates the perfect natural frame for photos of the beach and sea stacks beyond.
It's often very crowded, but on a winter morning we had it to ourselves and it was magical!
The whole coastline is spectacular, so I recommend taking some of the side trails and detouring to Gemstone Bay, where you can follow a snorkel trail. I saw a giant stingray as soon as I put my head under!
See my North Island road trip itinerary post for more places to visit in the Coromandel.
Where to Stay in Hahei
Tatahi Lodge is ideal as it has accommodation for all budgets from backpackers to holiday cottages.
It's set in pretty gardens just five minutes from the beach and ideally placed for the walk to Cathedral Cove.
20) Waiheke Island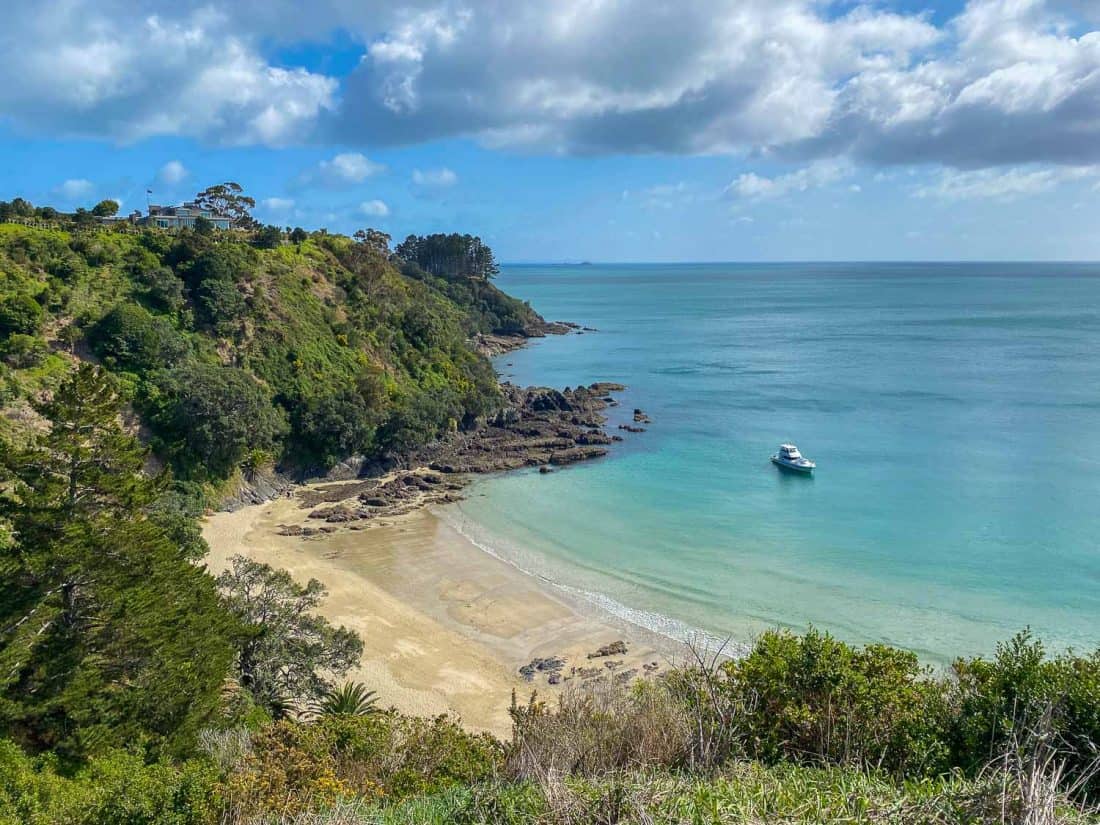 Just a 40-minute ferry ride from Auckland, Waiheke Island is a dreamy place where you can combine wine tasting with beaches.
There's beautiful scenery all over the island but the eastern side is quieter and less developed. Make sure you try some wines at Man O'War Vineyard overlooking a beach.
My favourite beach in Waiheke is Little Palm Beach, which is backed by cliffs with a secluded feel. Walk the trail above Palm Beach for the best view.
For wine tasting with a view, head to upmarket Mudbrick.
Where to Stay in Waiheke
There are some amazing holiday homes on the island. We rented Te Kereru Onetangi, a spectacular architecturally designed house above Onetangi Beach.
It's surrounded by native bush so there's plenty of birdsong, and the views from the many rooms and terraces are wonderful. It's such a peaceful retreat.
21) Marokopa Falls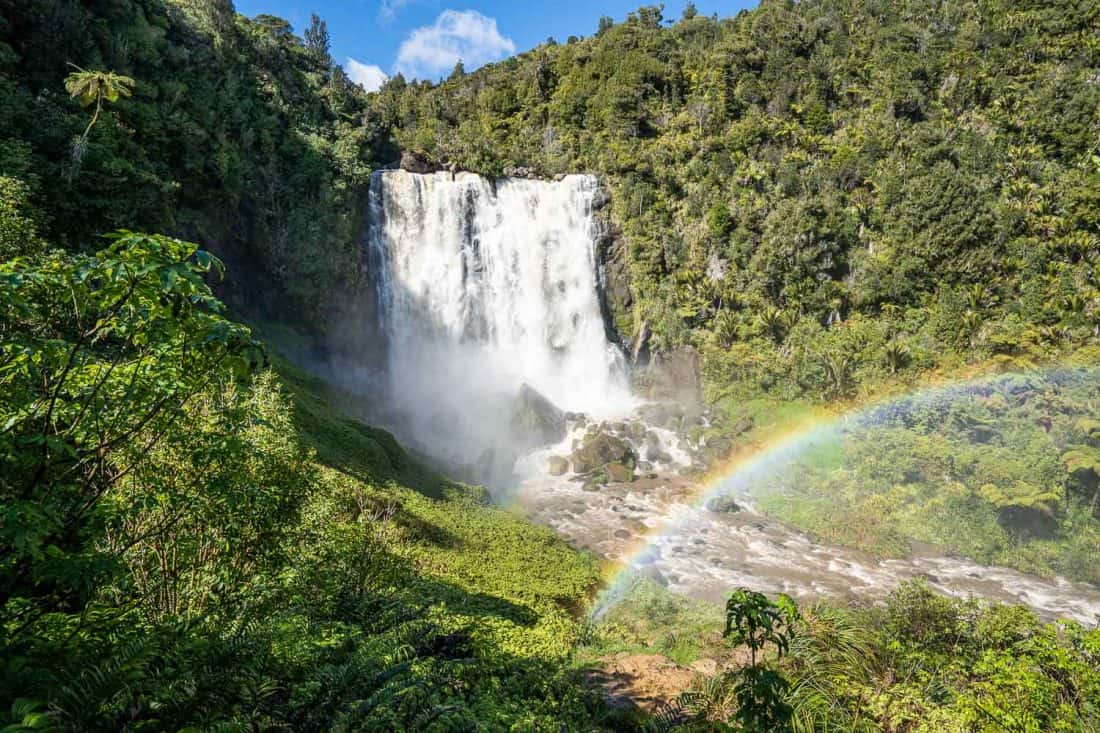 We've seen many beautiful waterfalls in New Zealand but my favourite is Marokopa Falls, which we visited on the way to the Waitomo Glowworm Caves (a top tourist attraction that's also worth visiting).
The 35-meter high falls cascade over rock surrounded by dense native forest. You feel like you're in a hidden valley, but it's only a five-minute walk through the bush to get there.
On our visit the sun came out and a rainbow appeared—just magical!
22) Te Mata Peak, Hawke's Bay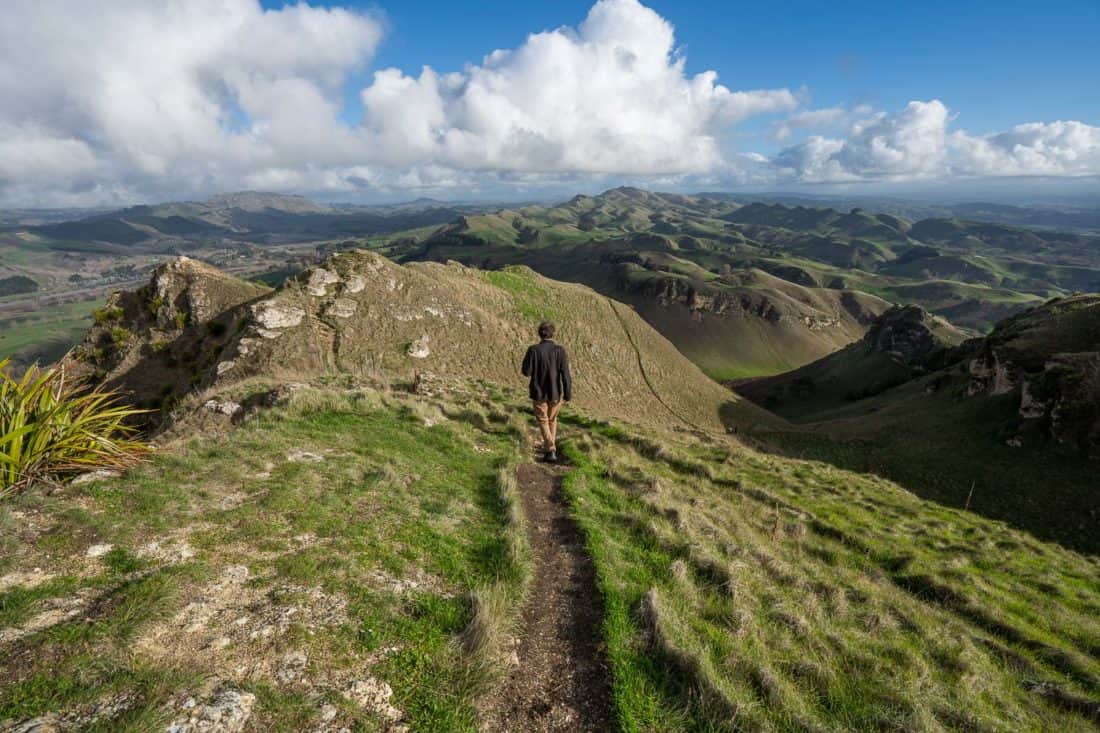 We visited Hawke's Bay for the wineries, but the most scenic place we visited was Te Mata Peak with its bumpy green hills and jagged limestone peaks.
The summit is nearly 400 metres above sea level and has astounding views across the region. You can even see the volcano Ruapehu in Tongariro on a clear day.
There are plenty of hiking trails, but you can also drive to the summit, as we did, and take a short walk from there.
Combine it with lunch or a wine tasting at nearby Craggy Range Winery.
23) Wai-O-Tapu Thermal Wonderland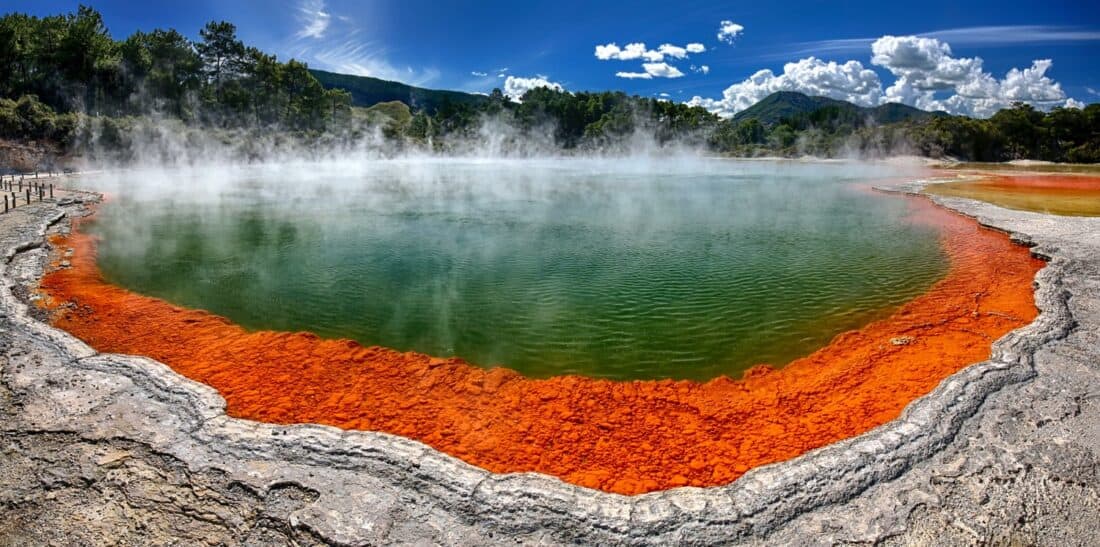 Seeing the North Islands' geothermal activity around Rotorua and Taupo is a unique experience that feels very different from the rest of the country.
One of the best places is the geothermal park Wai-O-Tapu where you can get up close to bubbling mud pools, erupting geysers, steaming vents, and colourful hot pools.
Champagne Pool is a vibrant green edged with orange, while Devil's Bath is neon green.
24) Hobbiton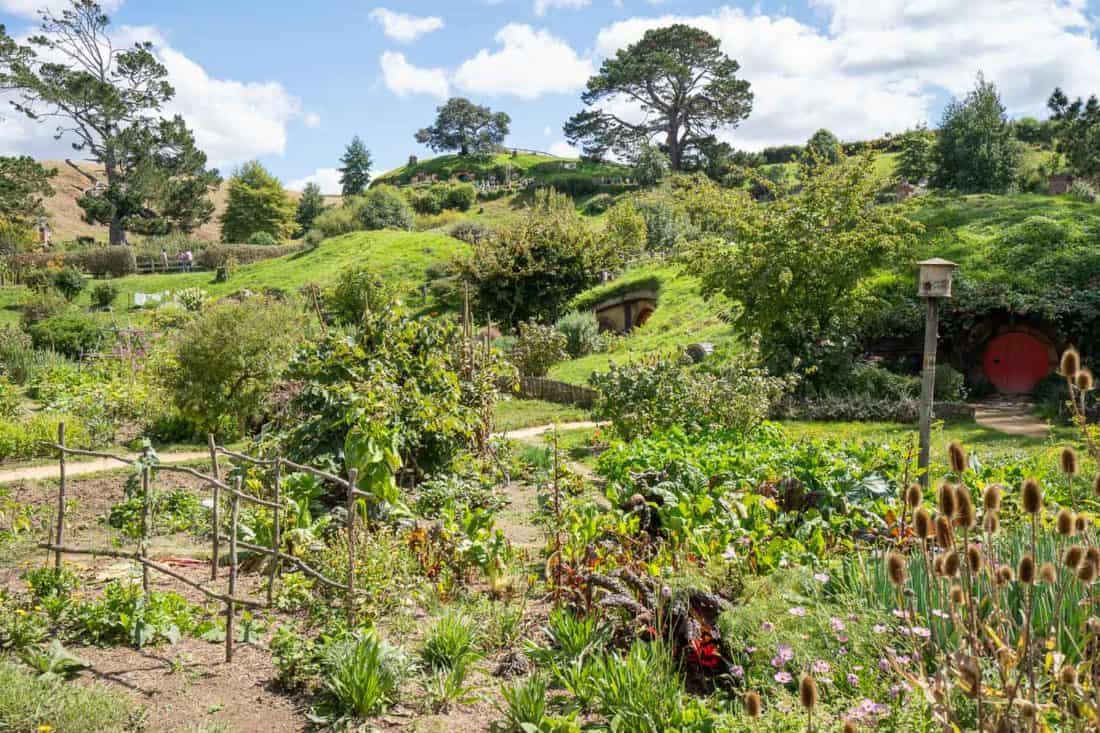 Unlike the others above, this New Zealand attraction isn't natural, but it is beautiful. Hobbiton is a movie set leftover from The Lord of the Rings and The Hobbit films.
The producers chose the perfect location for The Shire—a 1,250-acre sheep farm in Waikato with unspoilt rolling green pastures.
44 Hobbit Holes—where the hobbits live—were built into the hillside and each has its own carefully crafted details.
It feels like a real, if impossibly charming, village with vegetable patches, washing hanging from lines, and colourful flower gardens.
We even had a pint by the fireplace in the thatched roof Green Dragon Inn.
Hobbiton is a delightful place in a beautiful setting. I highly recommend it even if you're not a fan of the films.
See my guide to visiting Hobbiton New Zealand for more details.
25) Wellington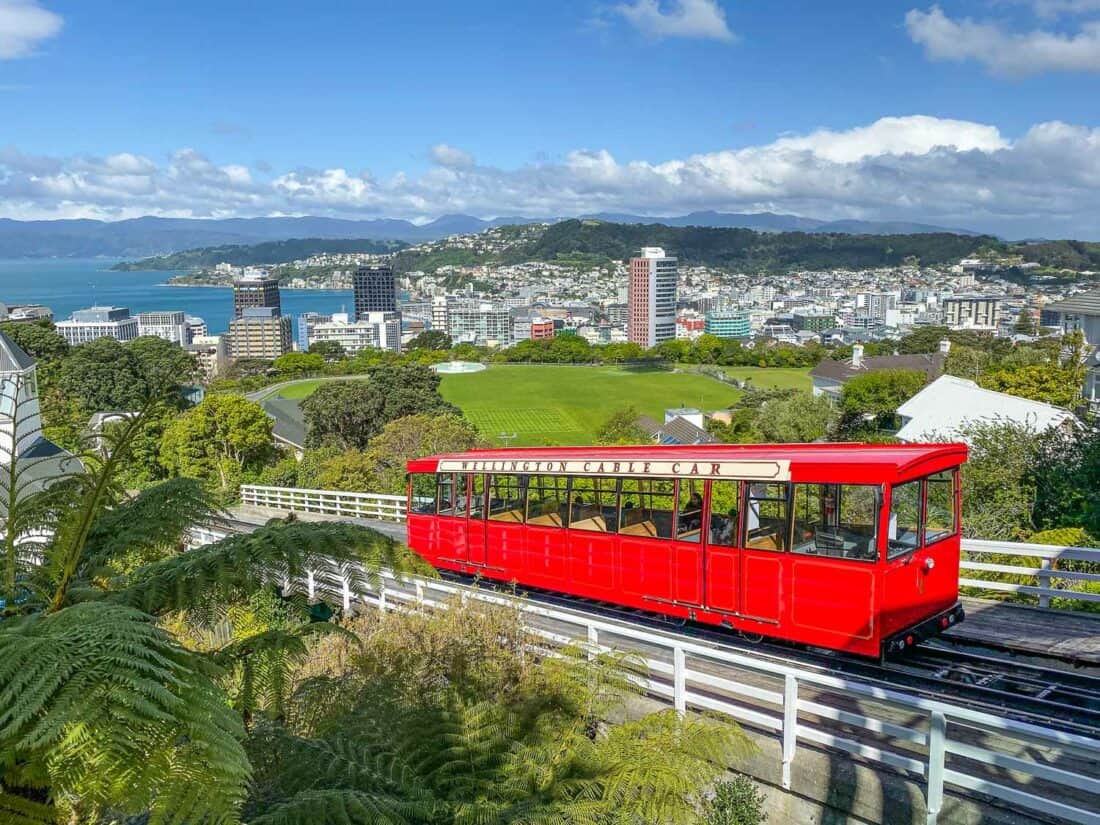 I think the capital Wellington is the most beautiful city in New Zealand.
Immersed in the tall buildings of the CBD, it might not feel so attractive, but when you take a step back (or above) you realise what a spectacular location it has, surrounded by hills and sea.
The best places to enjoy the view of Wellington are the waterfront (Te Papa Museum is a good place to start), driving or walking to the Mt Victoria lookout, taking the cable car to the Botanic Gardens, or on one of these Wellington walks.
Read my post on the best things to do in Wellington for many more tips (we've spent months there).
Where to Stay in Wellington
My favourite place to stay is QT Wellington, a boutique hotel filled with quirky artwork right on the waterfront.
Map of Must-Sees in New Zealand
Summary
I hope this post has given you some ideas of the top places to visit in New Zealand!
It really was hard to narrow it down as it's a country filled with natural beauty.
I encourage you to combine some of the popular spots with your own exploration and find your own favourite beautiful spots in New Zealand. Let us know your picks!
More New Zealand Tips
South Island
North Island
If you enjoyed this post, pin for later!