This page contains affiliate links. Please read our disclosure for more info.
The Southern Lakes region in New Zealand's South Island is one of the most visited areas of the country. Travellers are drawn to the iconic snow-capped mountains, crystal clear lakes, and many exhilarating adventure activities.
While Queenstown is the most popular lakeside town, we prefer smaller, quieter Wanaka. While the pace of life may be more relaxed, there are still plenty of amazing things to do in Wanaka from water sports and hikes to wine tasting and eating at one of the many delicious restaurants.
We've visited Wanaka in summer and winter and both have a lot to offer. We loved snowboarding with incredible lake views in the winter and the quirky cinemas are perfect for escaping the cold.
Spending a month in Wanaka during the summer was even better, though. The temperature in January reached 30ºC and we spent blissful days lounging on lakeside beaches, swimming in the cool water, exploring the lake by paddleboard and kayak, strolling through lavender fields, and eating lots of ice cream.
Here are our favourite Wanaka activities.
Contents
Where is Wanaka in New Zealand
The town of Wanaka is on the southern edge of Lake Wanaka in the south of New Zealand's South Island. It's in the Otago region an hour's drive from Queenstown, which has the nearest airport.
See the map at the end of this post with the locations of the best things to see in Wanaka.
Best Things to Do in Wanaka
I've included costs for these Wanaka attractions when applicable (many are free). All prices are in New Zealand dollars. The current exchange rate is NZD $1 = USD $0.70, GBP £0.51, and EUR €0.60.
1) Visit the Lake Within a Lake on Mou Waho Island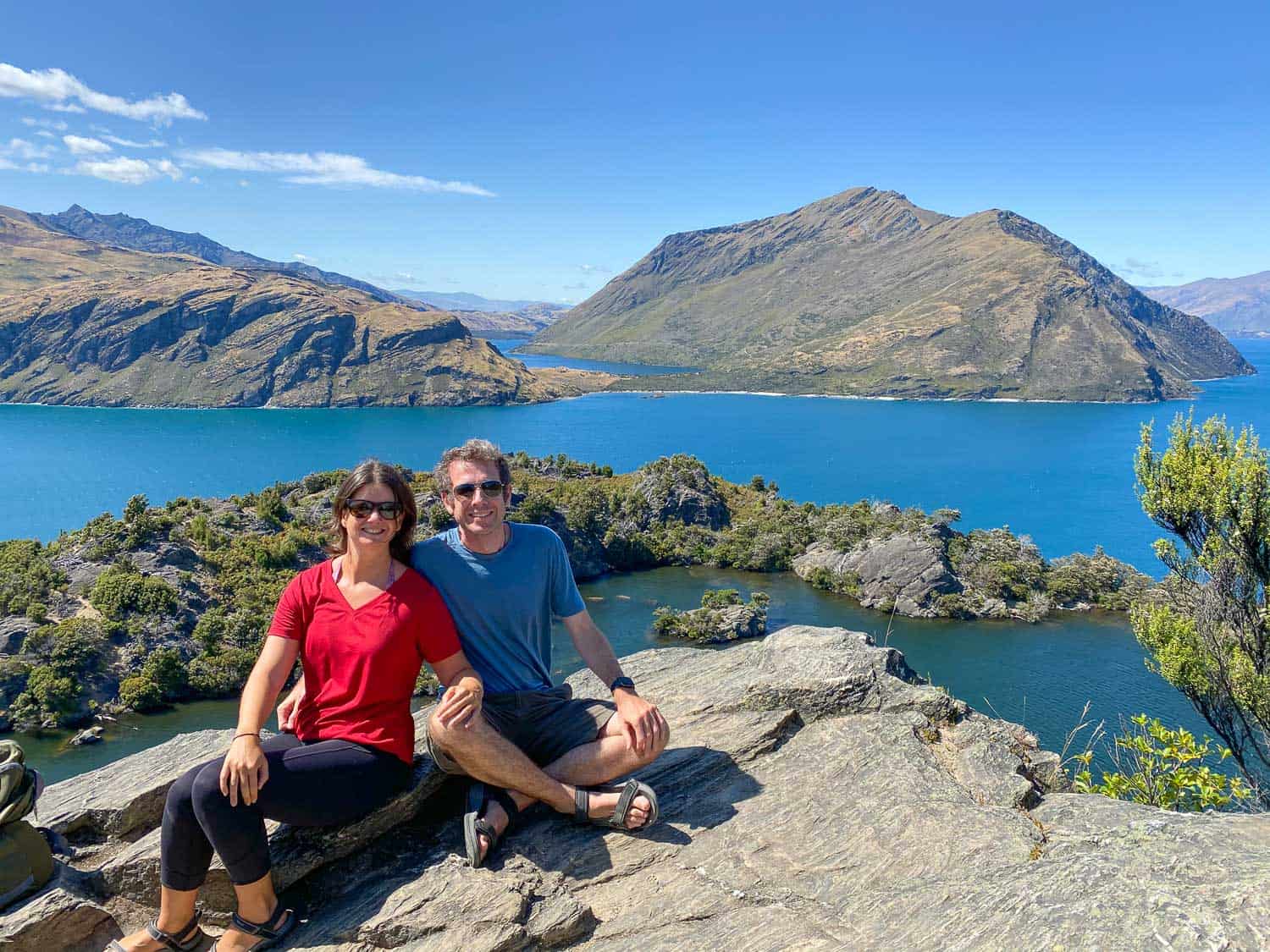 One of our absolute favourite things to do in Wanaka is take a boat trip to Mou Waho Island.
The 45-minute journey to the island is a great way to see the undeveloped side of Lake Wanaka and realise how huge it is (42km long). The views of the surrounding mountains are stunning.
Mou Waho is a 2km-long island that's the largest of the four significant islands in Lake Wanaka. It's predator-free and a nature reserve for native birds—we saw a few buff weka pecking around.
On arrival on the island we were free to explore on our own. It's a 20-minute uphill hike through native bush to see the unique lake within the lake, the Arethusa Pool, which sits 150 metres above the surface of Lake Wanaka.
A further five-minute walk above the pool is an incredible view of the two lakes seeming to merge. We ate our lunch up on the rocks and could have spent all day here, but we couldn't turn down the opportunity for a swim.
The pool is supposedly a few degrees warmer than Lake Wanaka, but it still felt very cold to us! It was definitely worth it, though, and it's one of our top picks for the best South Island attractions.
Details: We visited Mou Waho with Wanaka Water Taxis which costs $125 for a three-hour trip at 10am (which we did) or 1pm. The guide gave us lots of information on the way, but we explored the island on our own.
The 1.5 hours on the island was just enough time to hike to the lake, eat lunch, and swim, but we would have loved to linger longer. If you have the cash, you could hire a boat to get out here and even camp overnight.
2) Stroll Along Lake Wanaka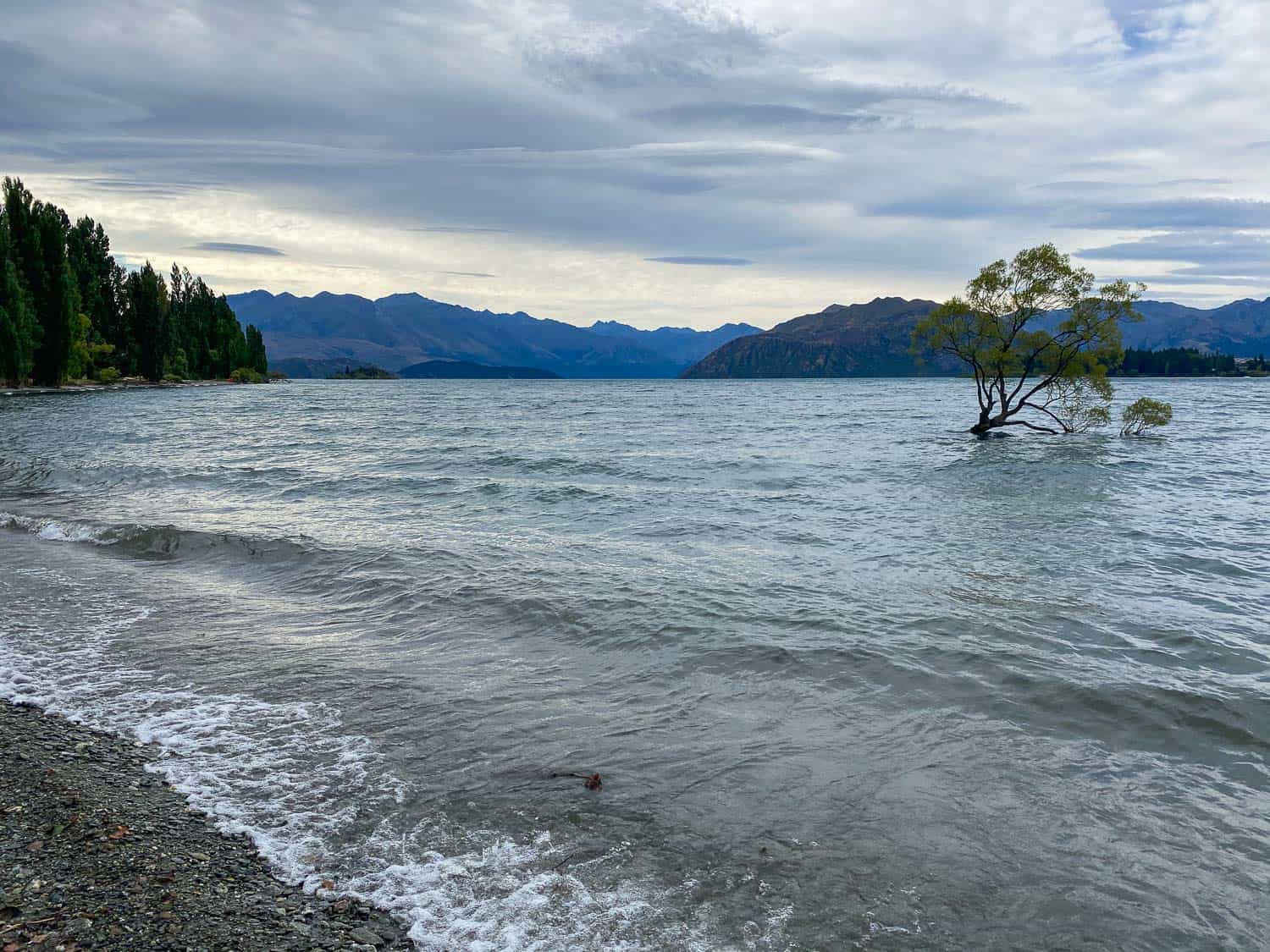 Likely the first of your Wanaka activities will be taking a stroll along the lakefront. From the town centre a trail leads for miles along the waterfront and the further you get from town, the quieter it becomes.
The most famous landmark is That Wanaka Tree, which grows out of the water and has become an Instagram star. It's a 20-minute walk from the Wanaka i-SITE visitor centre.
The pebble beach along the lakefront is a popular place to relax in the summer. We enjoyed water sports here but preferred to swim at quieter Lake Hawea (see below).
3) Hike in Mount Aspiring National Park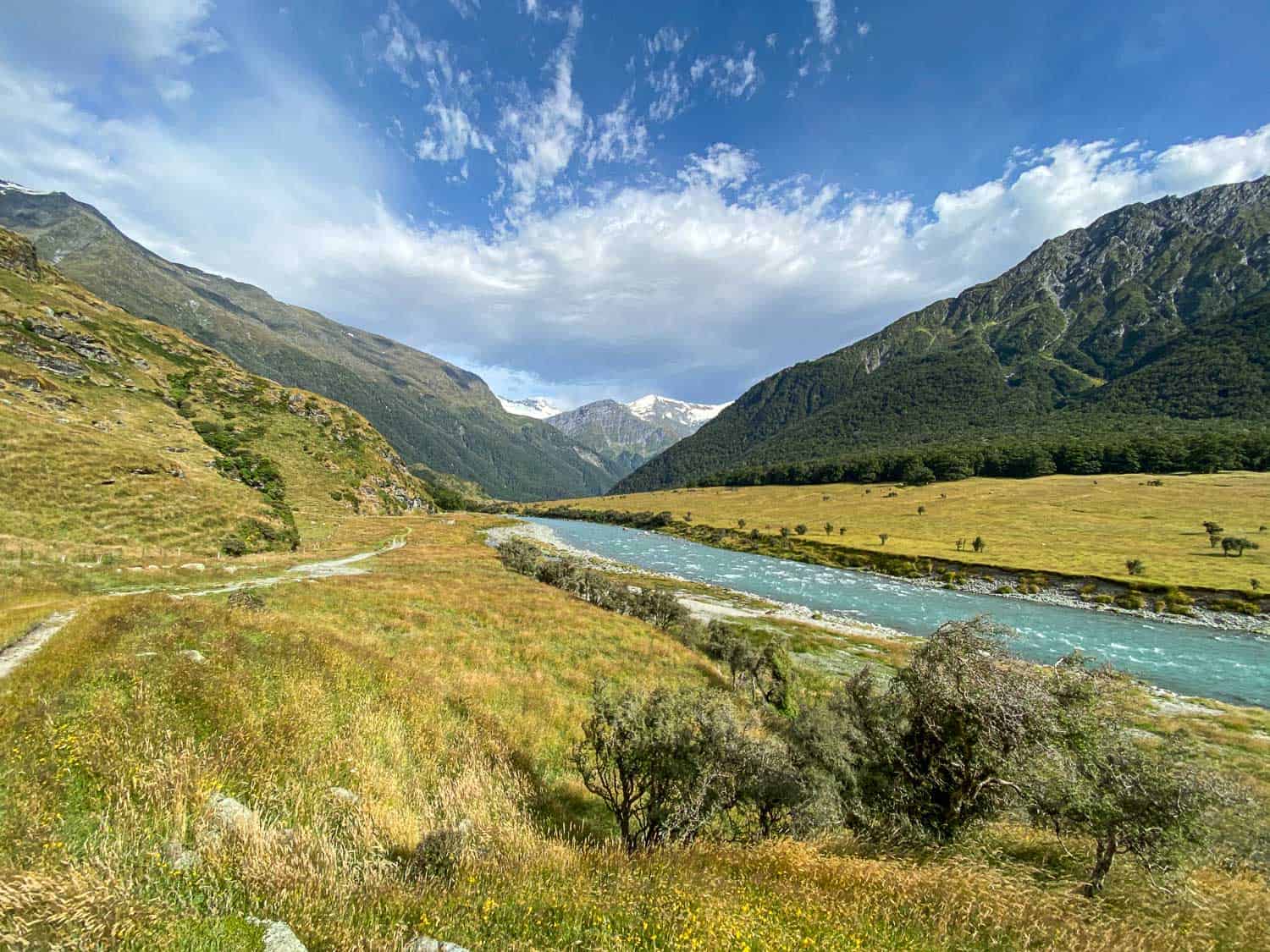 Hiking in Mount Aspiring National Park is definitely one of our top things to do in Wanaka with classic New Zealand mountain and river scenery.
In fact, we chose it as one of our picks for the most beautiful scenery in New Zealand.
There are many trails in the park and we've done two of the most popular half-day hikes.
Raspberry Creek to Aspiring Hut (18km)
My favourite hike is in the West Matukituki valley from the Raspberry Flat car park to Aspiring Hut. The return hike was 18.6km (11.5 miles) and took us 3 hours 45 minutes (plus a half-hour lunch break).
The trail was easy—mostly flat with a few gentle hills and shallow creek crossings—and the views were astounding. Most of the way we followed the turquoise Matukituki River past golden meadows with views of snow-topped Mt Aspiring in the distance.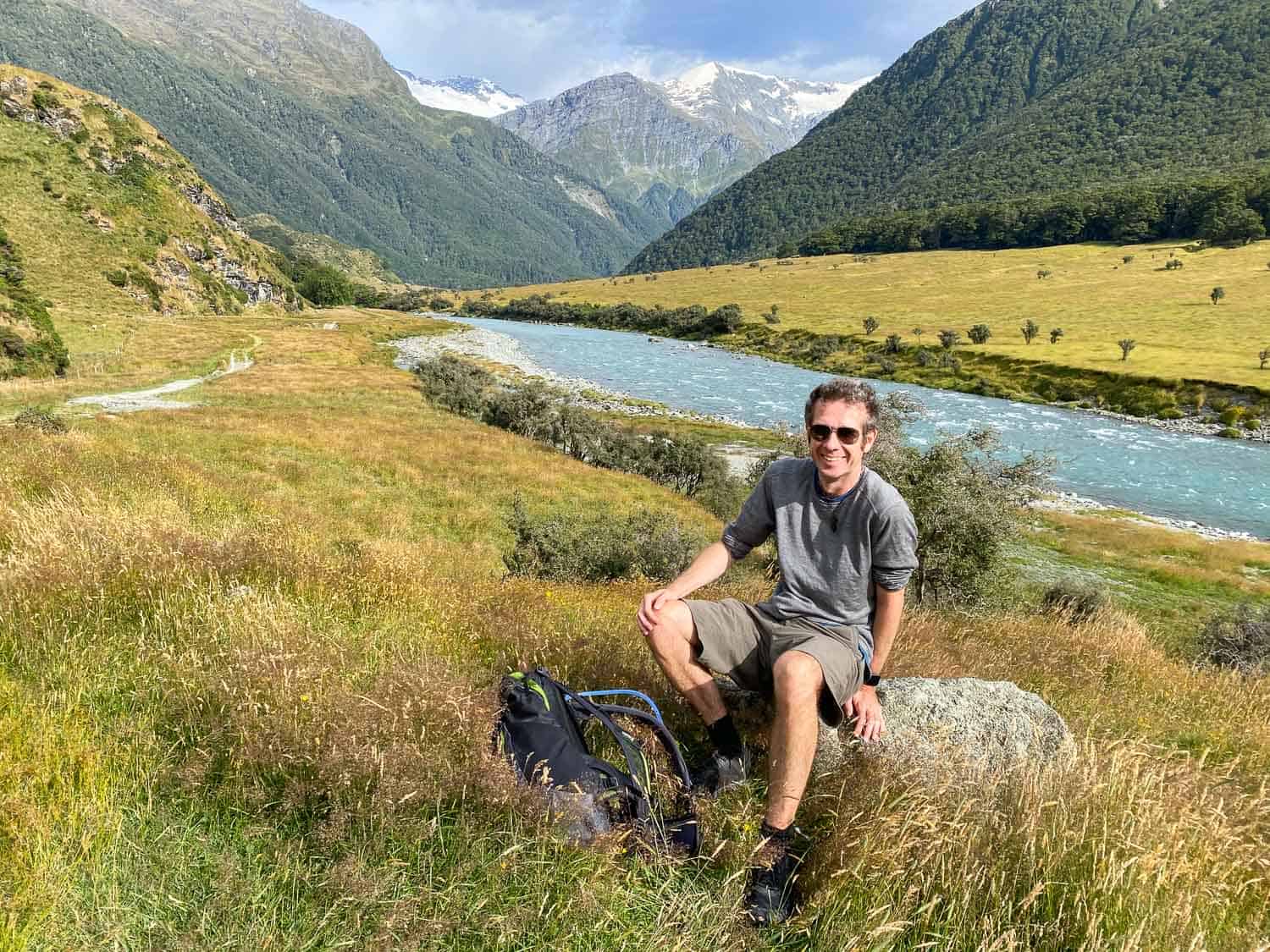 Waterfalls trickled down the forest-covered mountains on either side of the valley (blowing sideways in the strong wind), and we got a glimpse of Rob Roy Glacier.
At Aspiring Hut we ate our picnic lunch and returned the way we came. You could also stay overnight in one of the 29 bunk beds—it's first come, first served—or continue deeper into the mountains to other huts.
When revisiting in early winter, when the streams were a bit higher, we only walked 5km towards the hut and then turned around, and it was still an amazing hike. It was even more beautiful with snow-capped mountains.
Rob Roy Glacier Track (10km)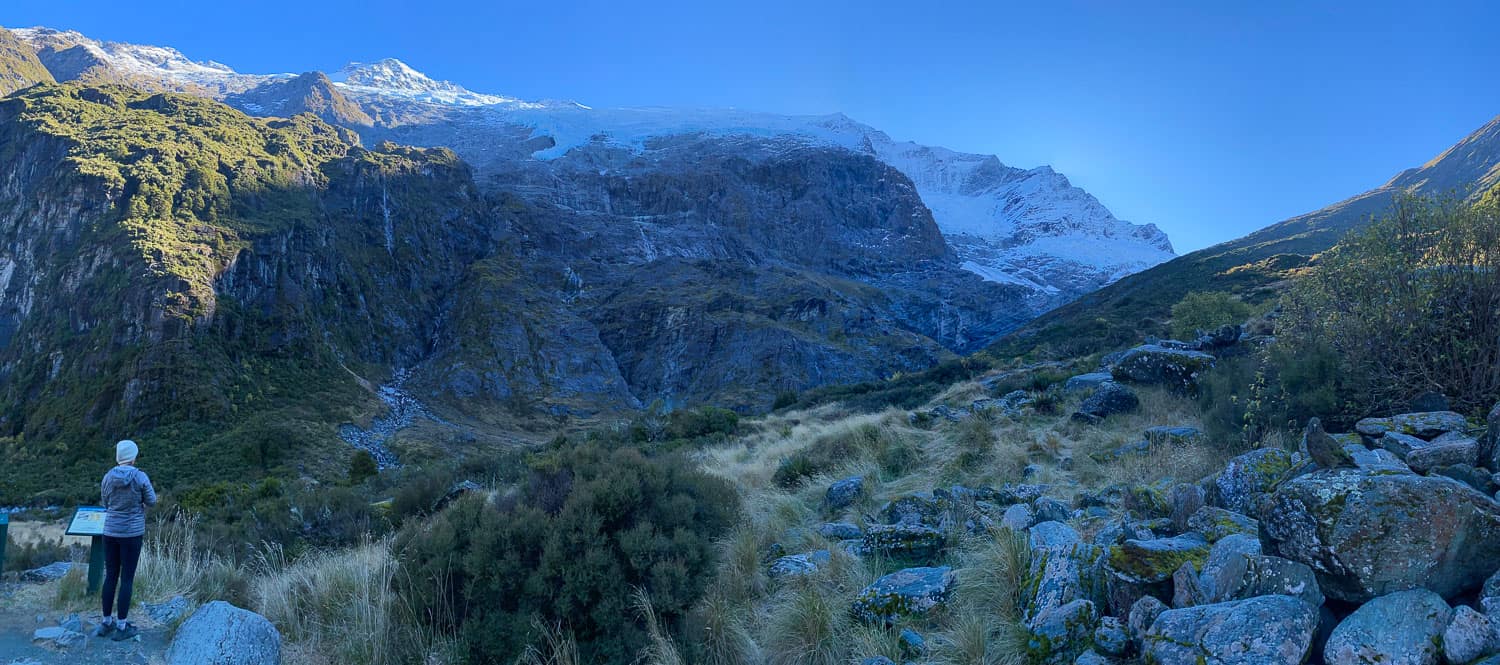 The Rob Roy Glacier Track reopened in February 2021 after an 18-month closure to repair damage to the trail.
It starts at the same car park and is shorter but much steeper than the walk to Aspiring Hut. You are rewarded for the climb with a stunning view of the Rob Roy Glacier at the upper lookout.
The hike is supposed to be 10km and take 3-4 hours. My watch said 12km and it took us 3 hours 20 minutes plus a lunch break at the top (be careful of the cheeky keas and don't feed them).
The trail starts by following the river for 15 minutes and then you cross a swing bridge and start an uphill climb through beech forest with occasional views of the glacier.
Towards the end, you have to scramble over some large rocks (look for the orange triangle that marks the trail) and continue uphill for another 15 minutes to get the best view of the glacier and a waterfall.
Getting to Mt Aspiring National Park
If you are a nervous driver you might want to skip this one. It's an hour's drive from Wanaka to the Raspberry Flat car park and the last 30km is on an unsealed road with rivers to ford.
We were fine in a small car, but it's not a good idea to drive it after rain—check conditions with DOC before you head out.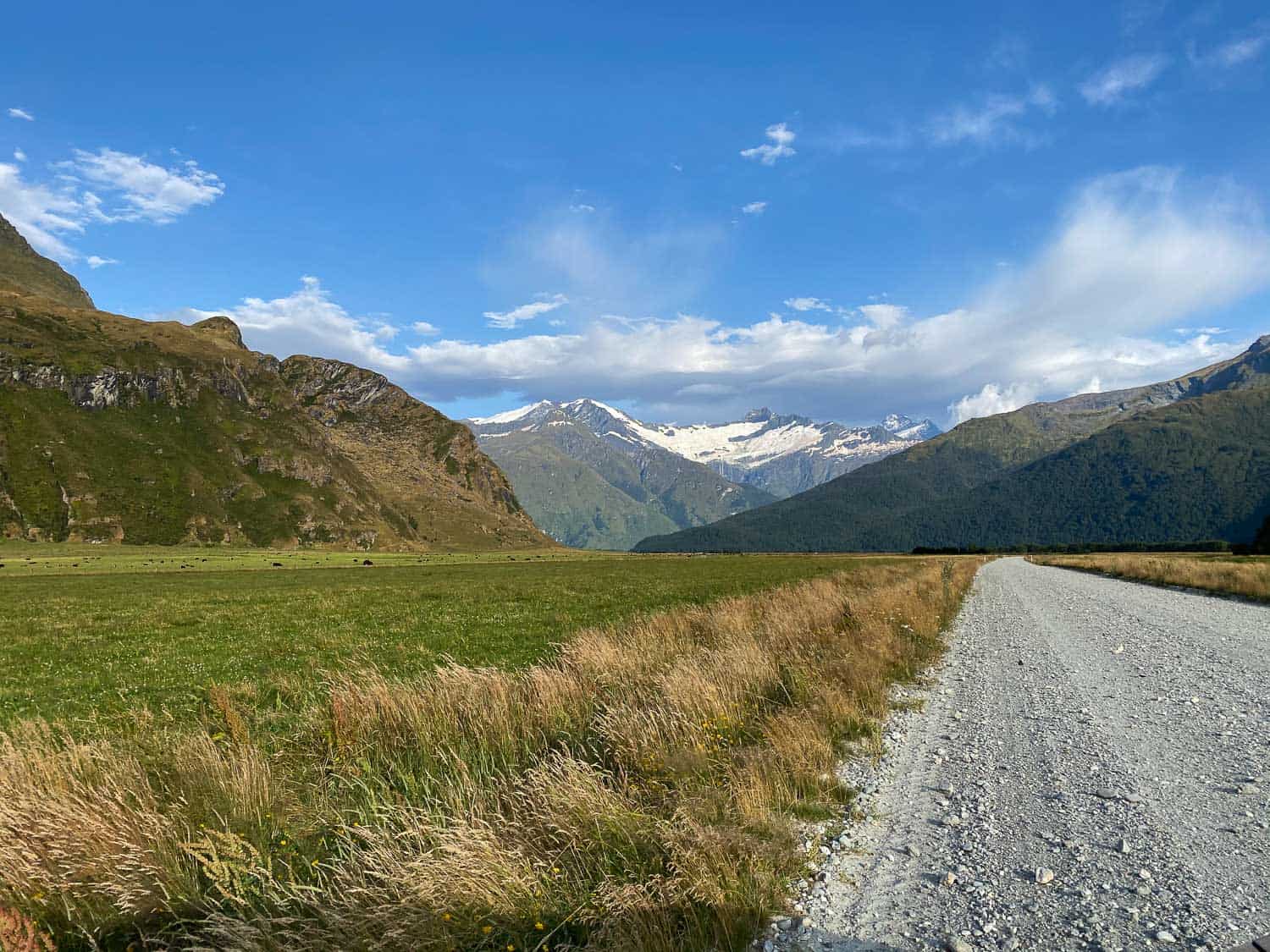 It's well worth the beautiful if bumpy drive as the park has something to offer everyone from experienced hikers looking for a multi-day tramp to day-trippers wanting a gentle walk, and it's much less crowded than the trails closer to town.
Even if you just walked 30 minutes from the car park and had a picnic, it'd be worth it for the stunning alpine scenery.
4) Stand Up Paddleboard on the Lake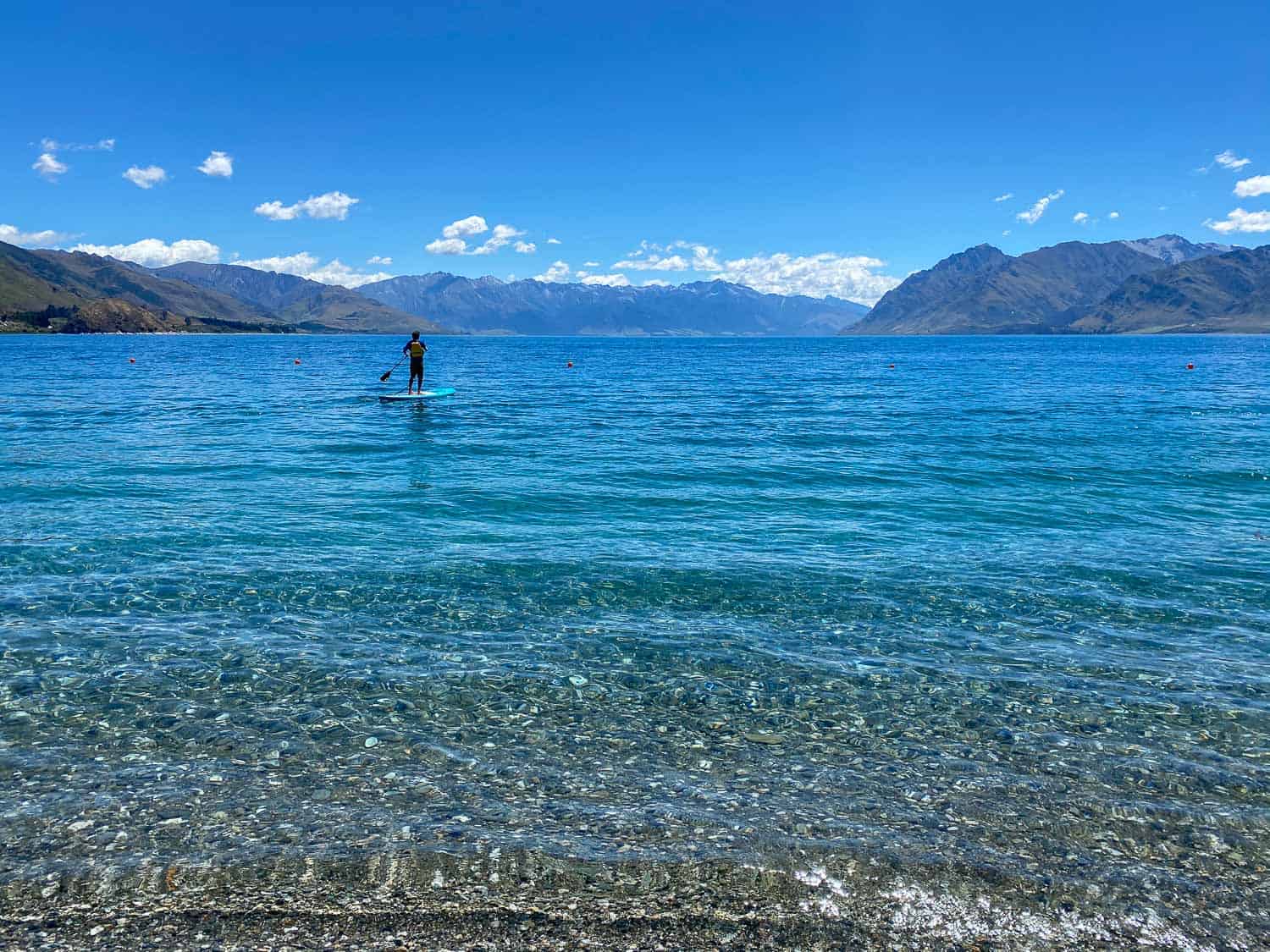 One of the best things to do in Wanaka in summer is to hire water sports gear and get out on the lake to enjoy the clear calm water and mountain views.
We rented stand up paddleboards and managed to get to the Wanaka Tree and back in our hour's rental without falling off.
We enjoyed it so much that on our second summer trip to Wanaka we bought our own inflatable paddleboard from Torpedo 7 and spent many happy hours on Lake Hawea.
Details: Paddle Wanaka on the lakefront rents paddleboards for $20 an hour.
5) Kayak to Ruby Island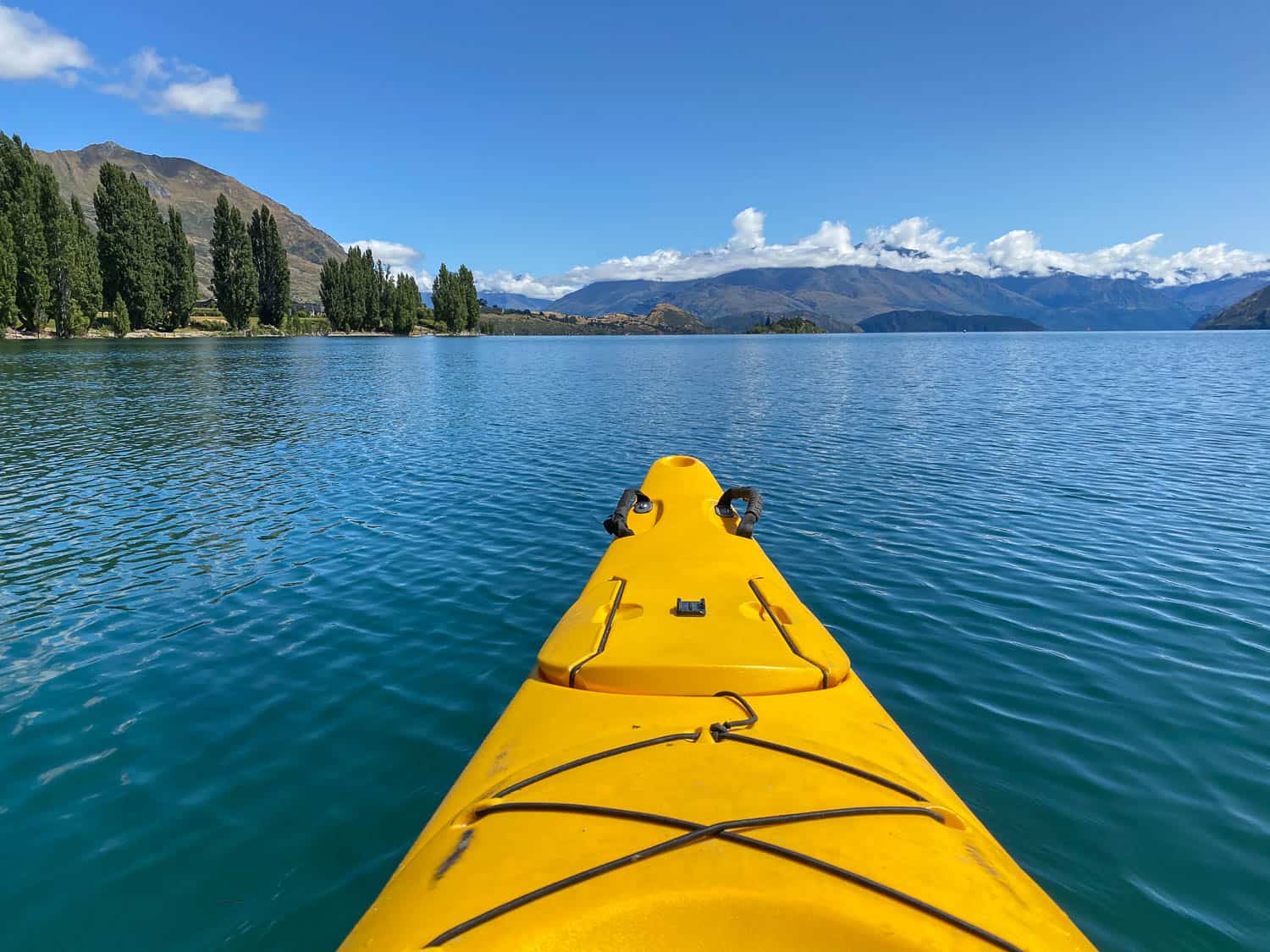 We also rented a kayak for two hours, which was enough time to reach Ruby Island. The water is beautifully clear here and you can do a 15-minute loop walk around the island (except if it's flooded as it was on our visit).
Along the way we enjoyed views of Rippon Winery and the surrounding mountains.
Details: Paddle Wanaka rents double kayaks for $40 an hour. Choose a calm day as they won't rent them out if it's too windy.
6) Wine Taste with a View at Rippon Winery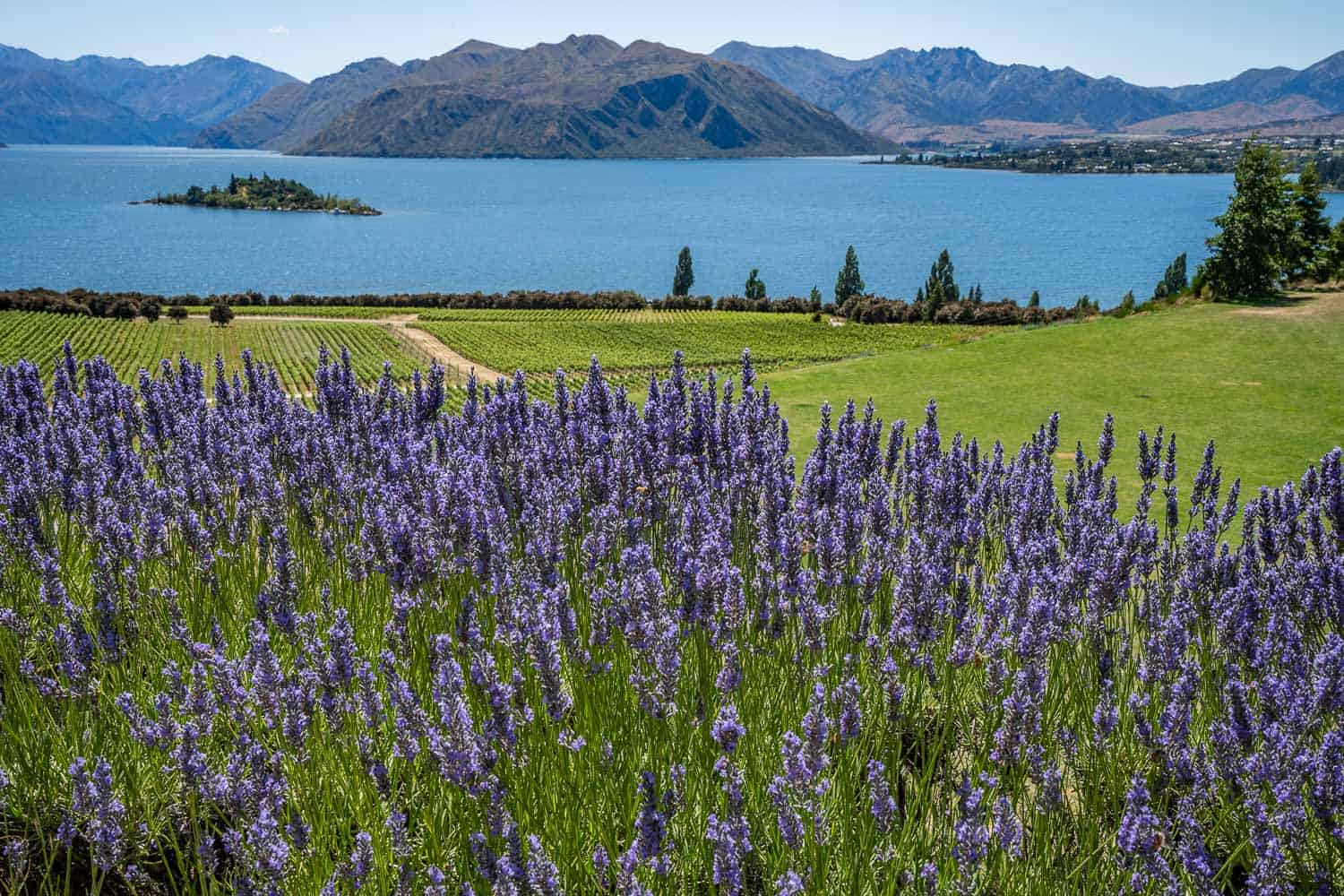 We've had many wonderful winery experiences in New Zealand (Marlborough wine region is our favourite), but the views at Rippon Winery beat them all.
Even if you aren't a drinker, it's worth visiting for the colourful scene—lavender plants, green vines, and azure lake with views of Ruby Island.
The wine is excellent too, and it's all biodynamic and organic. Tastings are a group experience and include lots of information on the winery and wines.
On a hot summer's day, we mostly tried whites and treated ourselves to bottles of the rare Osteiner white (so refreshing) and a rerelease of their 2010 Pinot Noir for our 10th nomadiversary.
If you are a pinot noir fan, you might also want to make a day trip to the Gibbston Valley wineries—see my post on the best things to do in Queenstown for more activities on that side of the mountain.
Details: Rippon cellar door is open from Wednesday to Sunday from 12-5pm. Tastings are free.
7) Hike the Rocky Mountain Trail

The best short hike for a view of Lake Wanaka is at the Diamond Lake Conservation Area, a 20-minute drive from the centre of town near the western shore of the lake.
We walked to the Lake Wanaka Lookout which took us 1 hour 10 minutes return (plus time at the top) for the 4.75km (3 mile) return hike. It is uphill but not too challenging.
At the viewpoint you can sit on a bench or grassy patch and enjoy the panorama of endless lake and mountains.
You could also continue to the Rocky Mountain Summit (7km /4.3 miles return) where you can see Mount Aspiring.
We've also hiked this trail in winter, and while it can be icy (I appreciated my hiking pole), it's even more beautiful with the snow-capped mountains.
Rocky Mountain is a great alternative to Roy's Peak if you want a shorter, easier, and less crowded hike with lake views.
8) Walk Up Mount Iron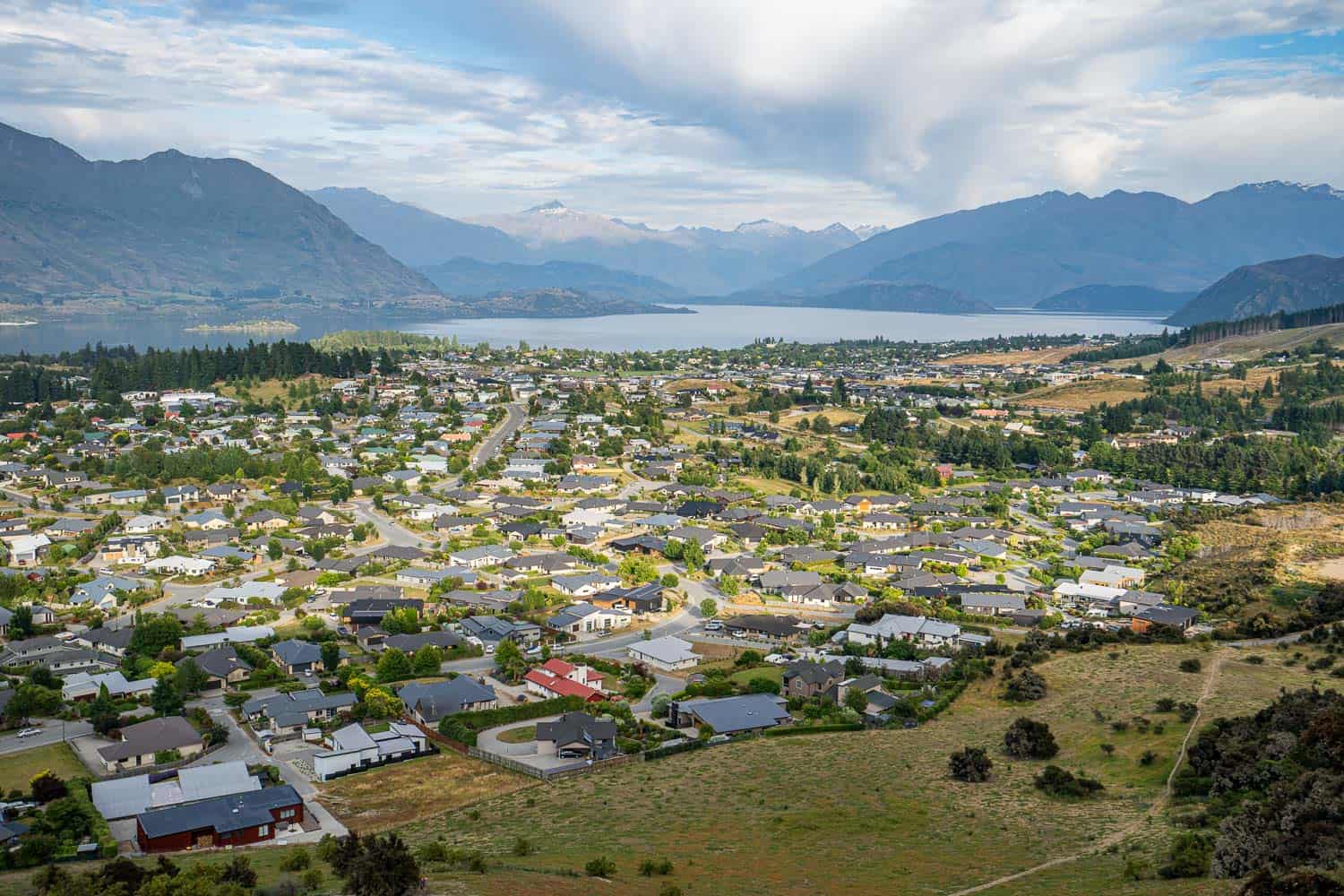 If you want an even easier hike close to the centre of Wanaka (it's a five-minute drive), head up Mount Iron, a popular exercise spot with locals.
The return walk on the loop track took us 1 hour 10 minutes and was fairly easy. From the top there are views of Wanaka township and the lake and peaks beyond.
The views are much better at Rocky Mountain, but if you have limited time and energy, it's worth heading up here. It's also a good option in winter.
9) Explore Wanaka Lavender Farm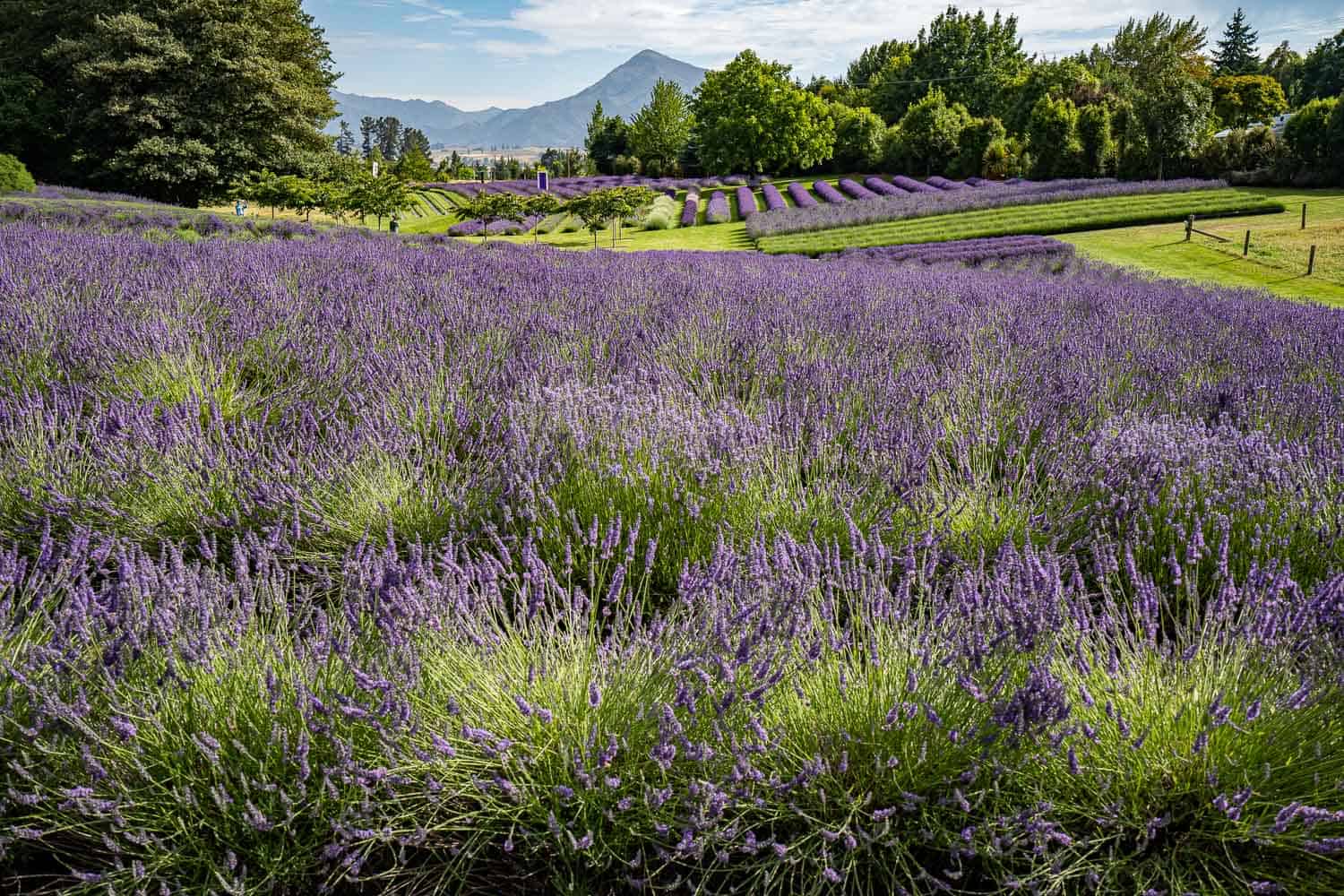 The Wanaka Lavender Farm is one of the top Wanaka tourist attractions and was so much bigger and better than I expected it to be.
You need at least an hour to wander through the many pretty lavender fields, play games like giant jenga and pétanque, take an Instagram shot by the purple door in the middle of a field, see the vegetable garden and beehives, meet the animals (donkeys, alpaca, sheep, goats, ponies), and sample lavender treats and honey in the cafe.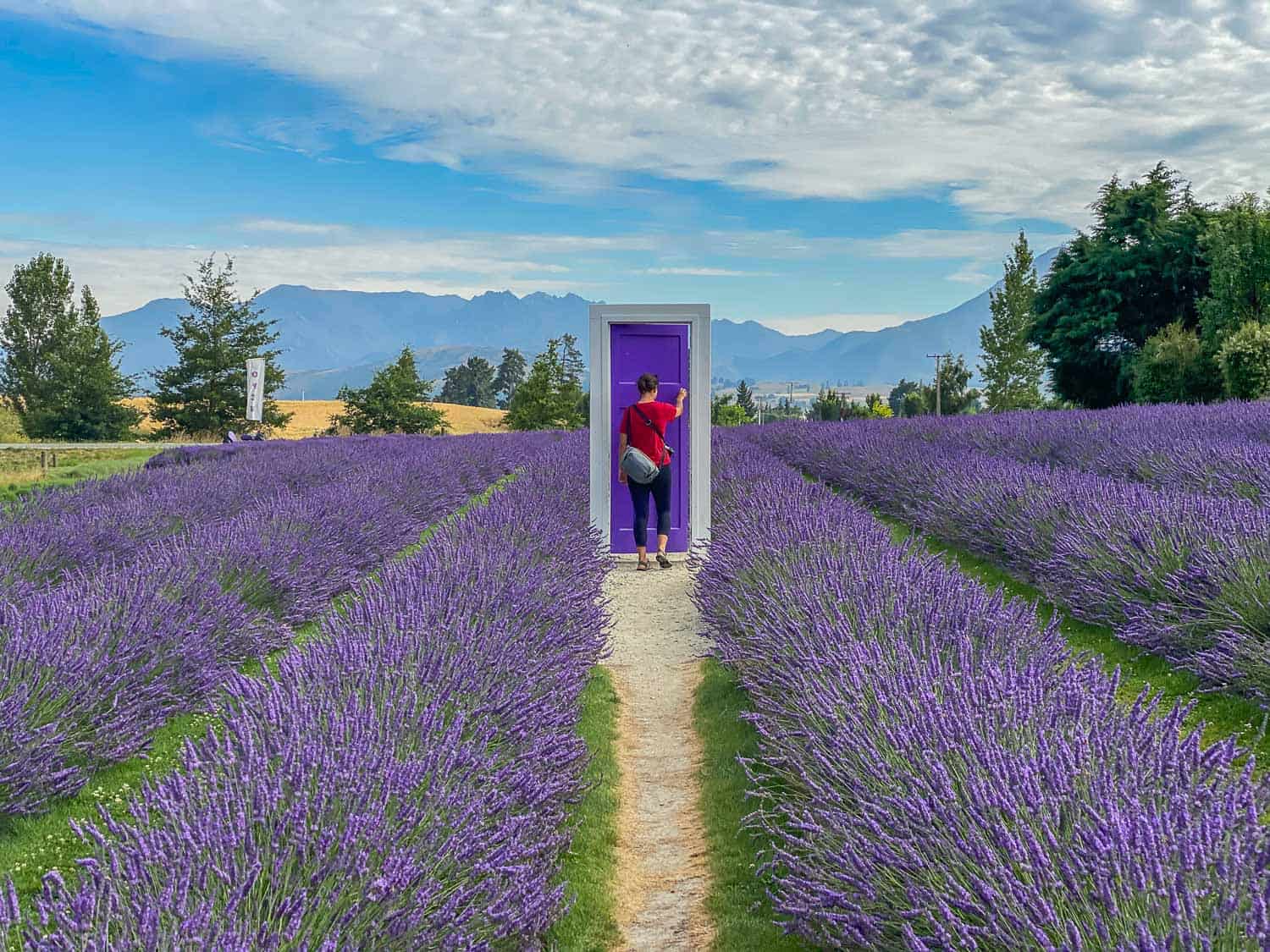 Yes, it's ideal for kids, but it's also a beautiful place for anyone to stroll and relax. It does get busy in summer (when the lavender is in bloom), so I recommend arriving at opening time.
Details: Entrance is $10 and it's open 9am to 5pm every day in summer with shorter hours in winter (and a reduced $5 fee). It's a five-minute drive from the centre of town.
10) Visit Lake Hawea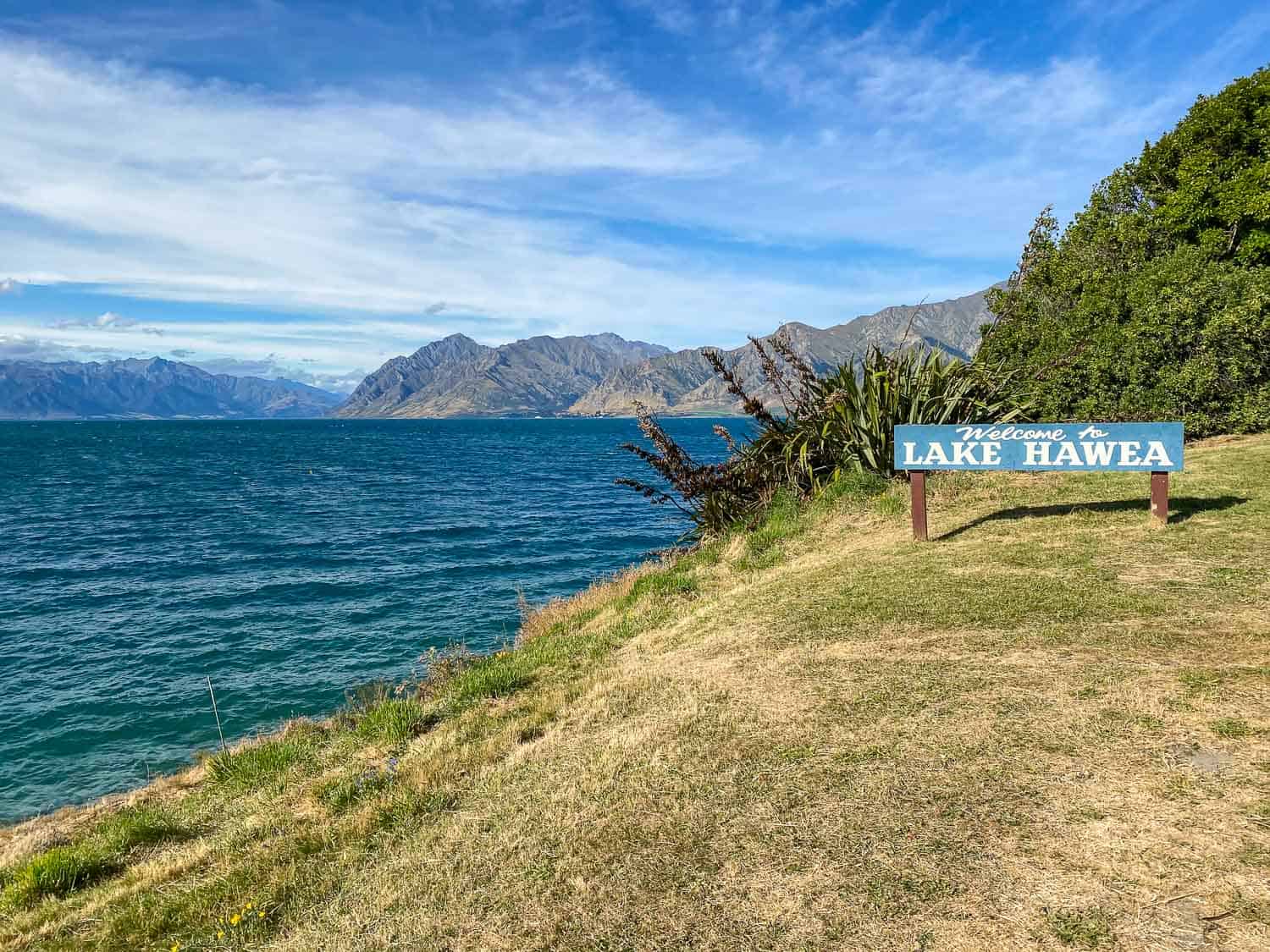 We chose to base ourselves at Lake Hawea (see accommodation section below) and fell in love with this peaceful lake a 20-minute drive from Wanaka.
Even in the summer holidays, it's much quieter than Wanaka and we preferred the pebble beach here and swimming in the wonderfully clear blue water.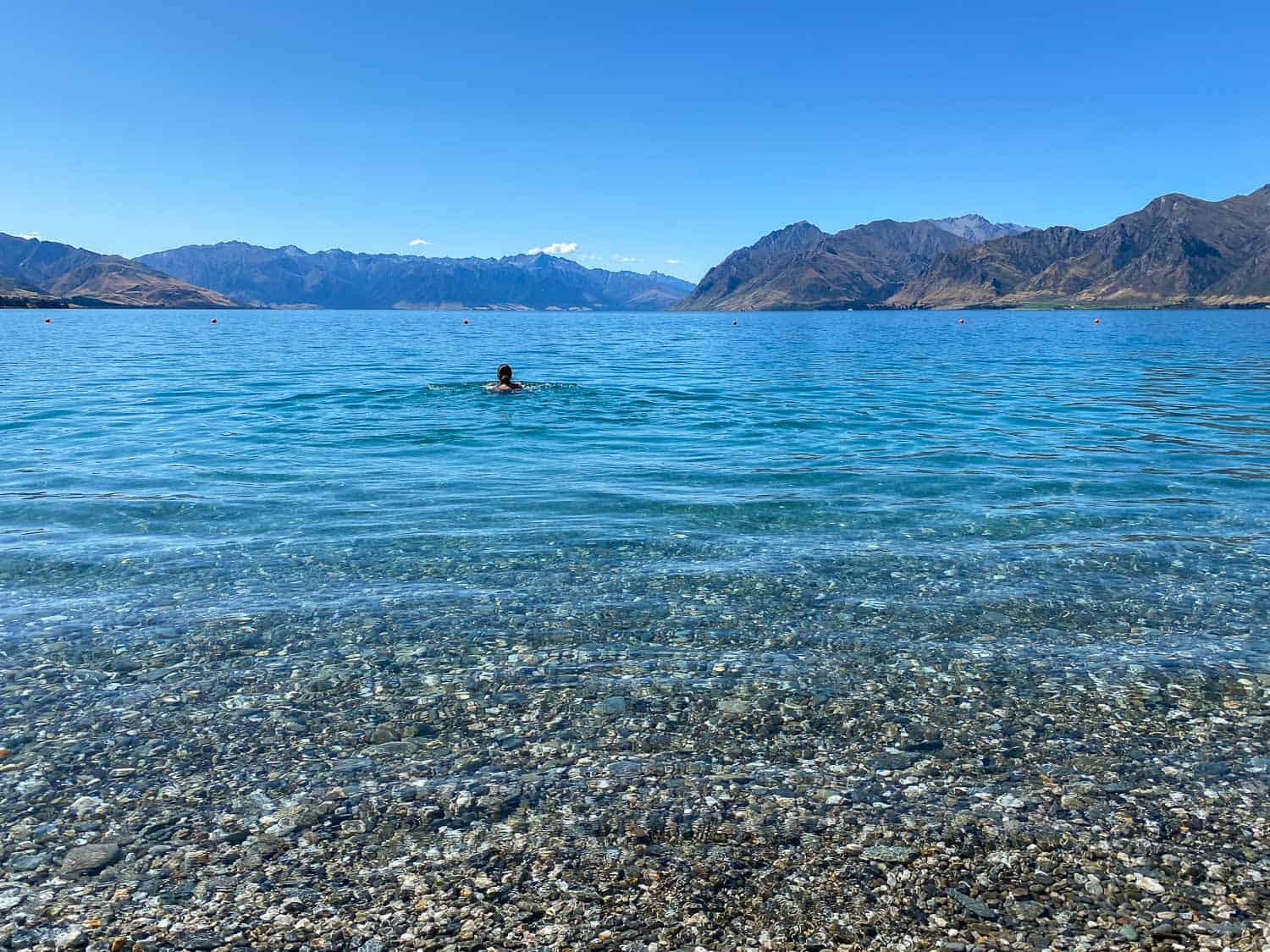 The gravel Gladstone Track skirts the shore (part of the Te Araroa Trail) and you can walk or run for miles.
Eventually, you'll reach Johns Creek beach which is our go-to spot in the summer for relaxing and paddleboarding. It's quieter than the beaches closer to town as it's a dusty 10-minute drive on a gravel road to get there.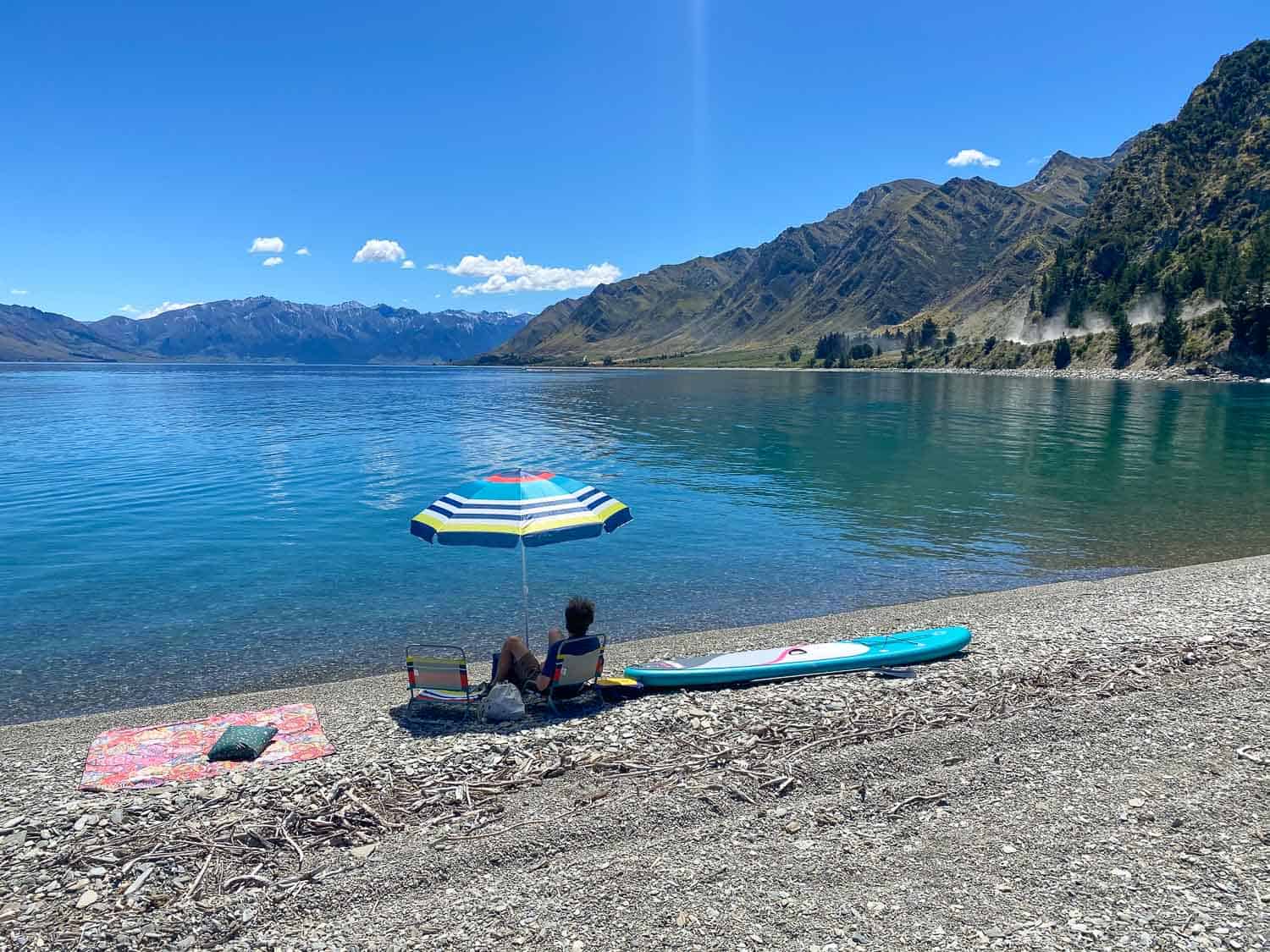 You could also cycle from Wanaka to Hawea along the turquoise Clutha and Hawea Rivers. If you'd prefer to cycle the 30km (19 mile) trail only one-way, this self-guided cycle tour drops you off in Hawea and you cycle back.
The tiny Hawea township is much less developed than Wanaka, but the few local businesses are excellent. We love the sweet treats at the Sailz store and having a drink in the beer garden of the Hawea Hotel (we often get takeaway pizza too).
In an unlikely location at the petrol station on the way into town is Mo's, a caravan where you can pick up excellent coffee, sourdough toasties, cheese scones, and raw vegan treats. I recommend getting a takeaway here to eat on the lakefront.
11) Hike the Isthmus Peak Track for Views of Two Lakes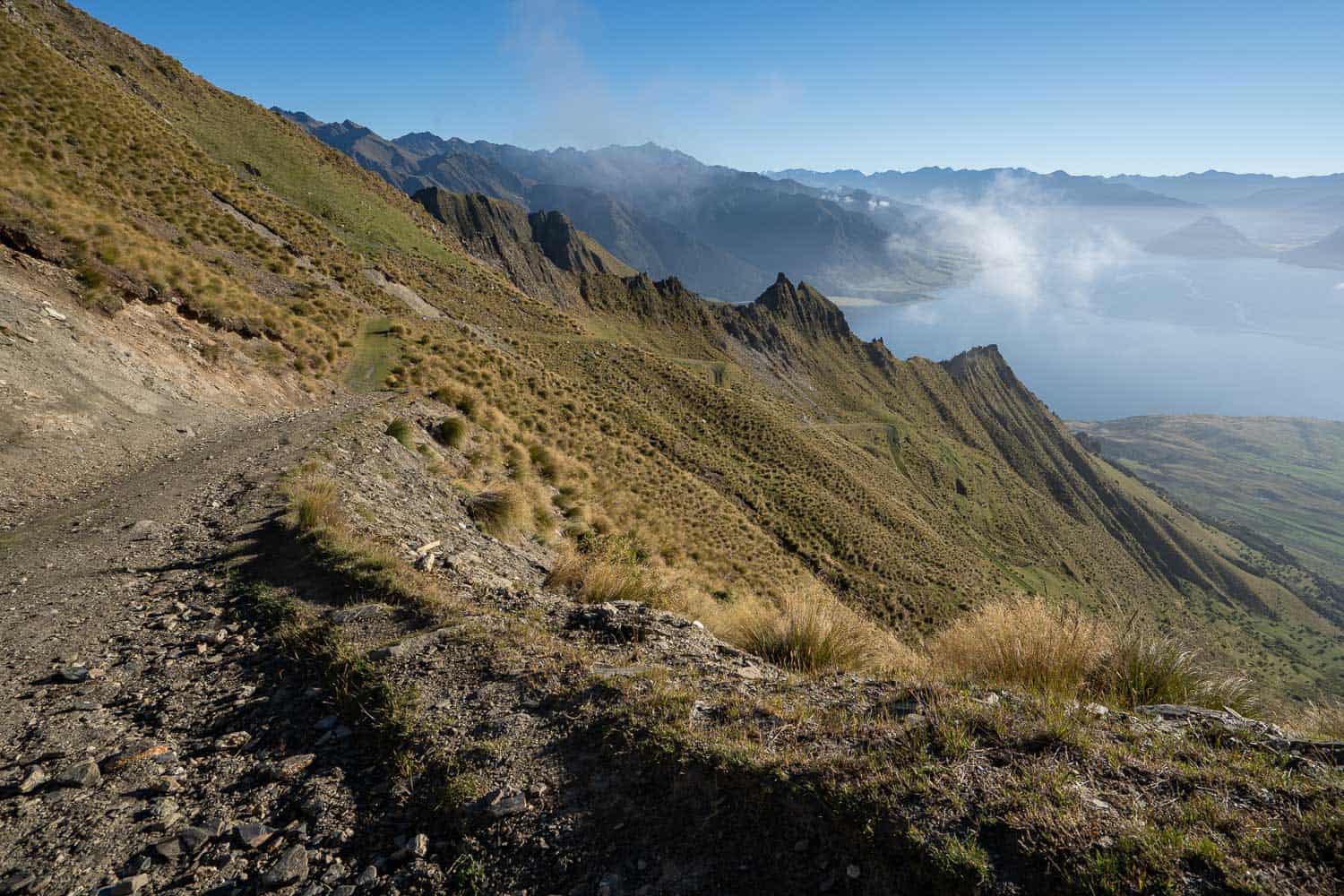 One of the best hikes in the Wanaka area is the Isthmus Peak Track which has stunning views of both Lake Hawea and Lake Wanaka from the top. It's similar to the famous Roy's Peak (see below) but much less crowded.
The hike starts from Lake Hawea (look for Isthmus Peak Track Parking on Google Maps), a 30-minute drive from Wanaka. The 16km trail has an elevation gain of 1106 metres from the lake up to the summit of Isthmus Peak at 1385 metres.
It's certainly not a hike to be taken lightly—while the trail is well-formed, it's a steep continuous climb of around three hours to the summit. The entire hike took me just over five hours of walking (6.5 hours including breaks).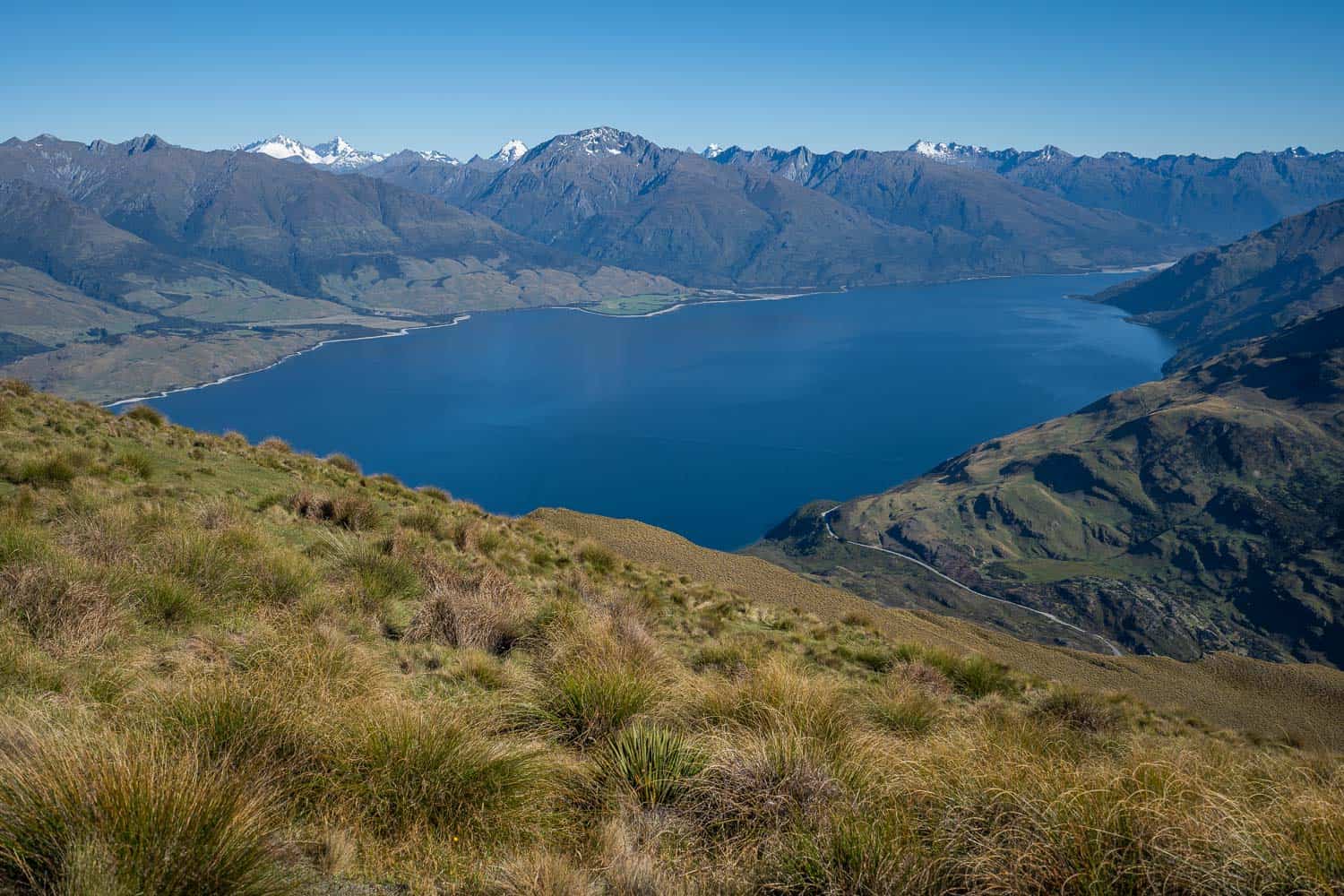 I started at 6am in summer, just before sunrise, and am glad I did because I only saw two couples on the way up and had the summit to myself. It was also very hot on the way down (there's no shade) and I drank all my two litres of water.
The views were beautiful all the way as I climbed up from Lake Hawea—I walked through fields of sheep towards jagged mountains with the lake below me. At the top, the view was even better as the summit overlooks Lake Wanaka on the other side and the snowy peaks of Mt Aspiring National Park.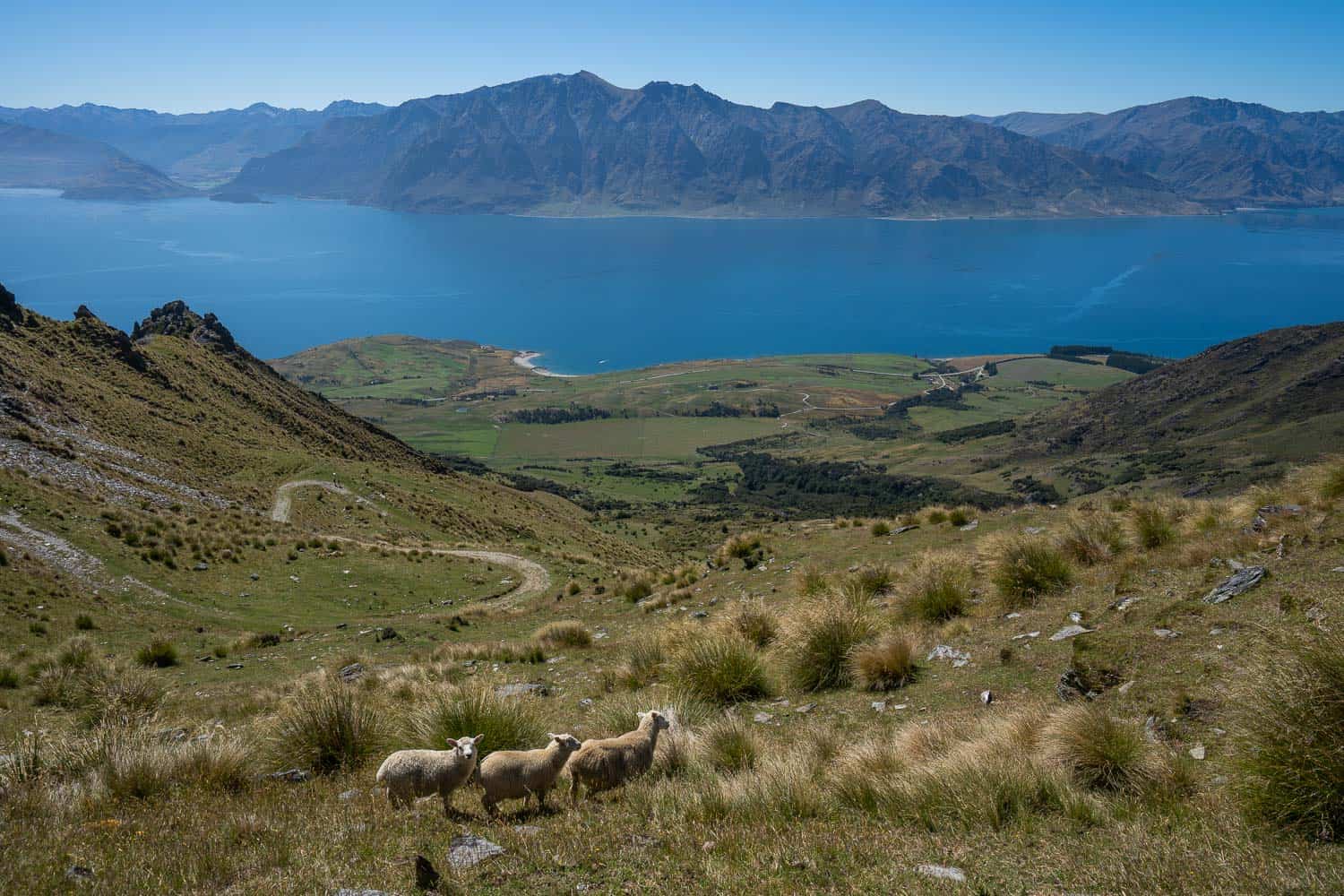 Useful tips: The track is closed for fawning from 20 November – 20 December. There's a toilet five minutes into the walk and another 2km before the summit.
I was glad of hiking poles as the gravel trail was a little slippery on the way down, but you can manage without. Take plenty of food and water and an extra layer for the often windy summit.
12) Climb a Waterfall with Wildwire Via Ferrata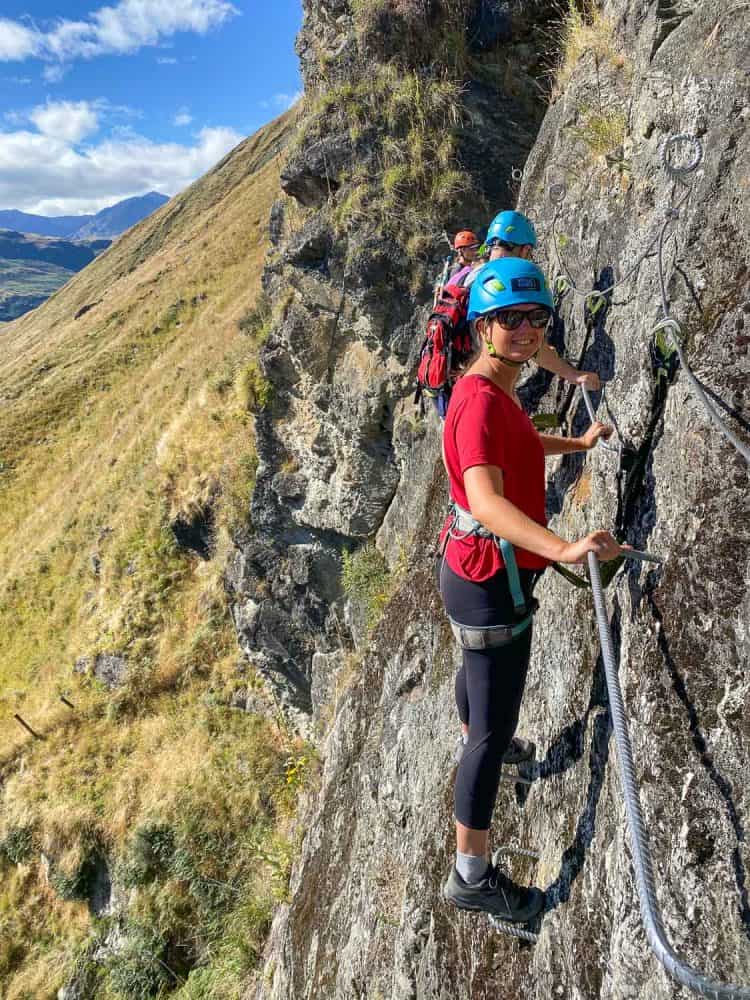 The most exciting Wanaka activity we've done is climb alongside a waterfall on Wildwire's Via Ferrata. Via Ferrata makes climbing more accessible with a trail of cables and iron rungs in the rocky mountainside. Wildwire runs one of only two commercial Via Ferratas in New Zealand.
We had no climbing experience and were rather nervous so opted for the easiest Level 1, a 150m climb which took us 2.5 hours including plenty of instruction and practice before we started.
It was fairly easy learning how to clip and unclip the various ropes from our harnesses, making sure that there were always two points of contact.
Although we knew we were safe, it didn't stop our fear as we traversed a rock face with a steep drop below us. We grew more confident as we clambered over rocks and walked across narrow swinging bridges that cross the waterfall.
It was an exhilarating adventure with beautiful views. Despite our nervousness, the climb was over more quickly than we expected, and we were rather disappointed not to be continuing on to Level 2 (an extra two hours of climbing for a total of 320m).
I definitely recommend Wildwire if you are looking to try something different.
Details: The Wildwire Level 1 climb costs $199 and the longer Level 2 costs $299. If you are not sure about doing Level 2, let Wildwire know in advance and you can decide at the top of Level 1 whether to continue.
13) Fly, Hike and Jetboat on the Siberia Experience
If you want to pack three adventures into just half a day, consider doing the Siberia Experience.
The trip starts in Makarora, an hour's drive from Wanaka with beautiful views of Lakes Wanaka and Hawea on the way.
The first leg is a 20-minute flight on a tiny 6-seater plane that takes off from a grassy field. We flew through the alpine valleys of Mount Aspiring National Park above braided rivers and a turquoise lake surrounded by glaciers before landing in a meadow in a remote valley.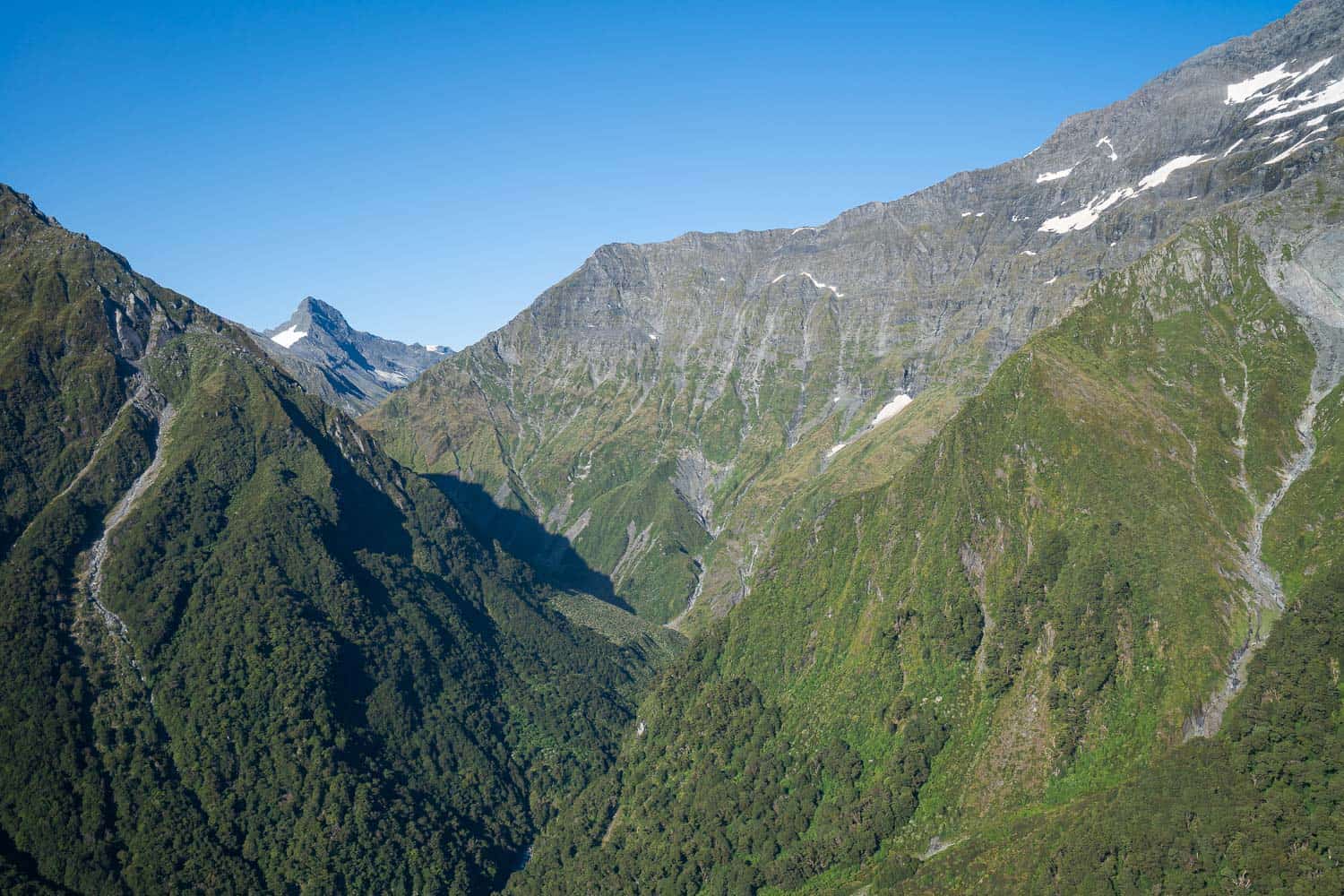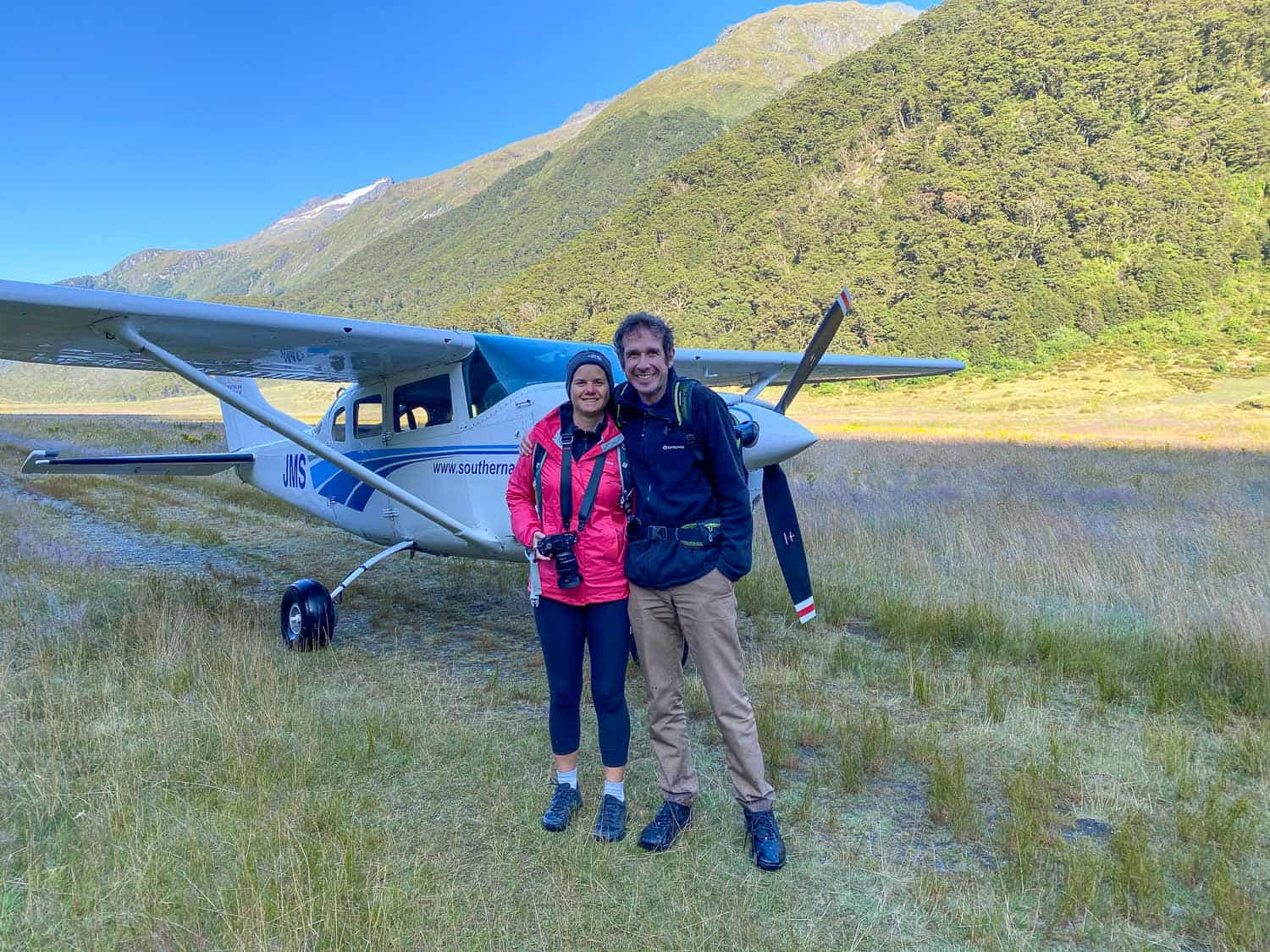 From here we were left to do a self-guided 7km (4.3 mile) hike. It starts with a typical New Zealand backcountry challenge—a river crossing! The river was wide and came up to our knees but wasn't too ferocious. As is recommended, we kept our hiking shoes on for the crossing which made is pretty easy, if extremely cold, especially on a surprisingly frosty summer morning.
Walking with wet feet wasn't as bad as we imagined (merino wool socks help), but you could always bring water shoes for the crossing if it bothers you.
Once on the other side we followed the incredibly clear blue Siberia River with spectacular views of a snowy glacier at the end of the valley.
The trail soon enters a forest for a gentle uphill climb. It's a lovely walk through native bush with no one else around, but we had expected to be surrounded by mountains for longer.
After two hours we reached the meeting point on the Wilkin River where we waited for our pickup on the pebble beach and enjoyed the gorgeous views.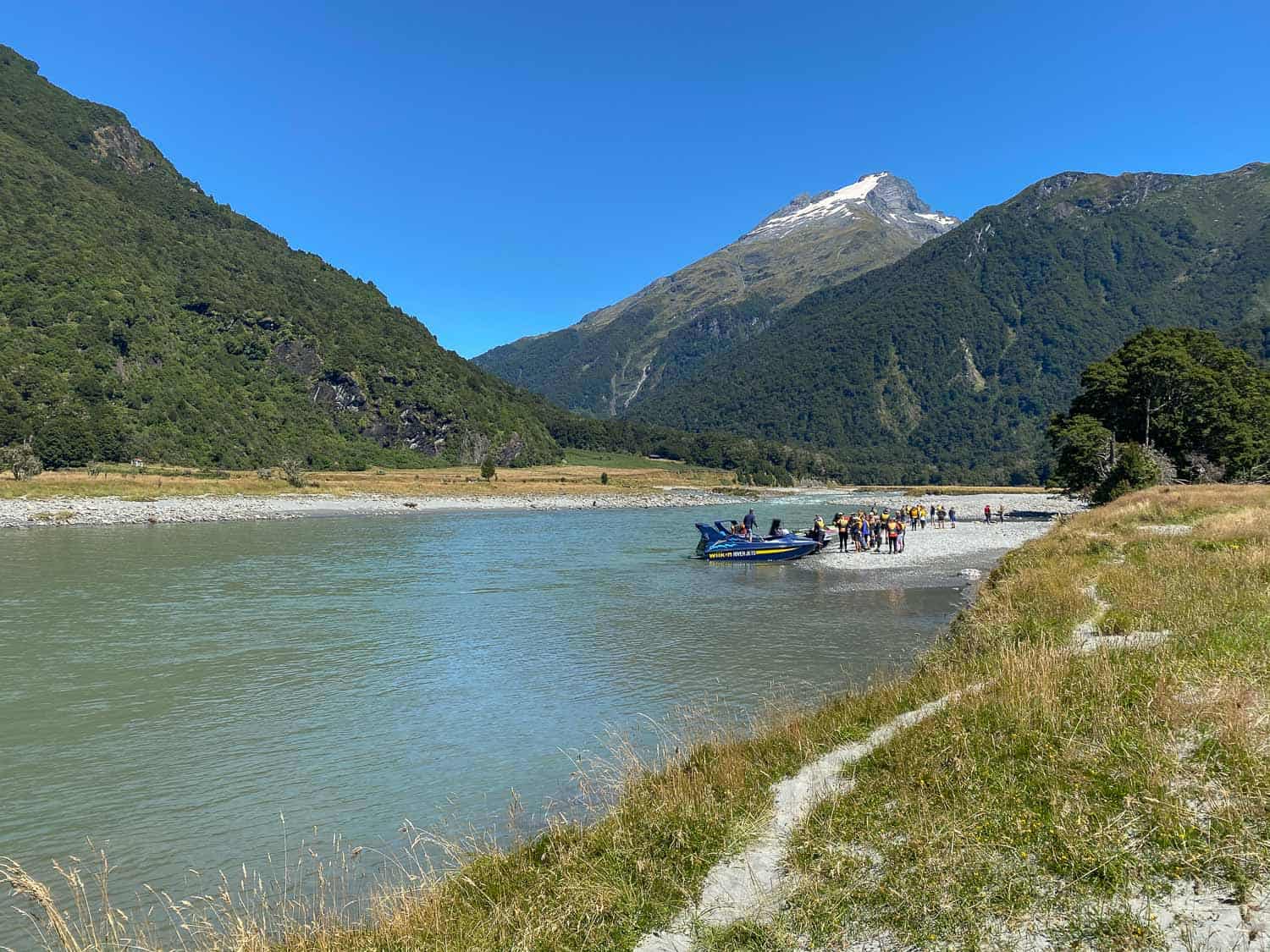 The final adventure is a 20-minute jet boat ride back to the start. The scenery is stunning and the boats are impressively smooth as they speed along, skimming over the shallow water. We did a couple of fast turns and one 360º turn, but it wasn't as much of a thrill ride as the Shotover Jet Boat trip Simon did in Queenstown.
The Siberia Experience isn't cheap but it's a great way to fit a lot into a short amount of time. The hike is easy and the scenery is beautiful. If you are on a limited budget, see above for details of a free hike in Mount Aspiring National Park where the views are just as good.
While you are in Makarora you could also visit the Blue Pools, which are a short drive and 10-minute walk away. Unfortunately, after heavy rain the water was more grey than blue for us.
Details: The Siberia Experience costs $405. It starts from the Wonderland Makarora Lodge and lasts four hours. It's best to book for early on in your trip as it can often be cancelled due to weather and river conditions (our first trip was cancelled).
We also found the staff rather unreliable—they turned up 30 minutes after our first scheduled flight was due as they had overslept. I recommend taking warm clothes, food, water, and insect repellent (there are sandflies at the river beach).
14) Visit Historic Cardrona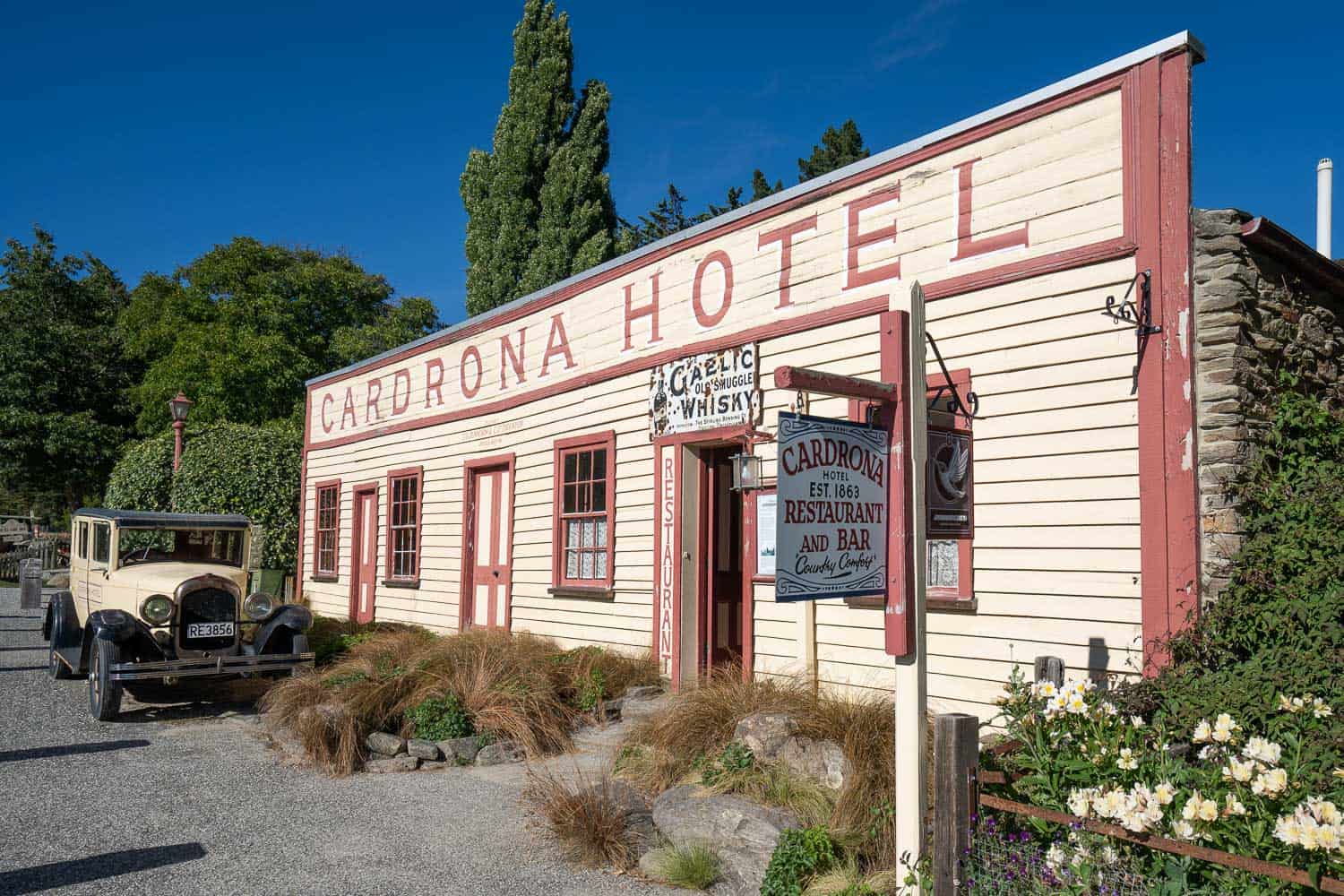 Cardrona is a historic village on the Crown Range Road that connects Wanaka to Queenstown. In winter, it's known for its ski resort, but it's worth visiting at any time of year.
In the summer you can horse ride (as we did), mountain bike or quad bike. An essential stop is the Cardrona Hotel, one of the oldest pubs in New Zealand, dating back to the gold rush era of the 1860s.
The historic building still looks like it's from an old Western movie, as do the cute church and general store nearby. The pub has a lovely beer garden for a drink and the restaurant is supposed to be excellent.
The Cardrona Distillery is also worth visiting. They offer a free tasting of their artisan vodka, gin, liqueurs and whisky. We especially liked the gin and elderflower liqueur, which use botanicals grown on the local mountainside.
We enjoyed delicious cocktails and snacks in their bar which has outdoor seating with mountain views. You can also take a behind the scenes tour ($25).
If you are looking for a full day trip from Wanaka, continue over the mountain pass to Arrowtown, another charming gold rush town, and the nearby Gibbston Valley wineries (Kinross is our favourite).
You could loop back to Wanaka via Cromwell on Highway 6. The total drive takes at least two hours, not including stops.
In Cromwell I recommend the 4km Bannockburn Sluicings Track for unique Wild West scenery and gold mining history, lunch on the terrace of Mt Difficulty Winery, and a visit to the Cromwell Heritage Precinct. On a separate day out the stunning Lake Dunstan Cycle Trail is well worth doing.
15) Ride Horses in Cardrona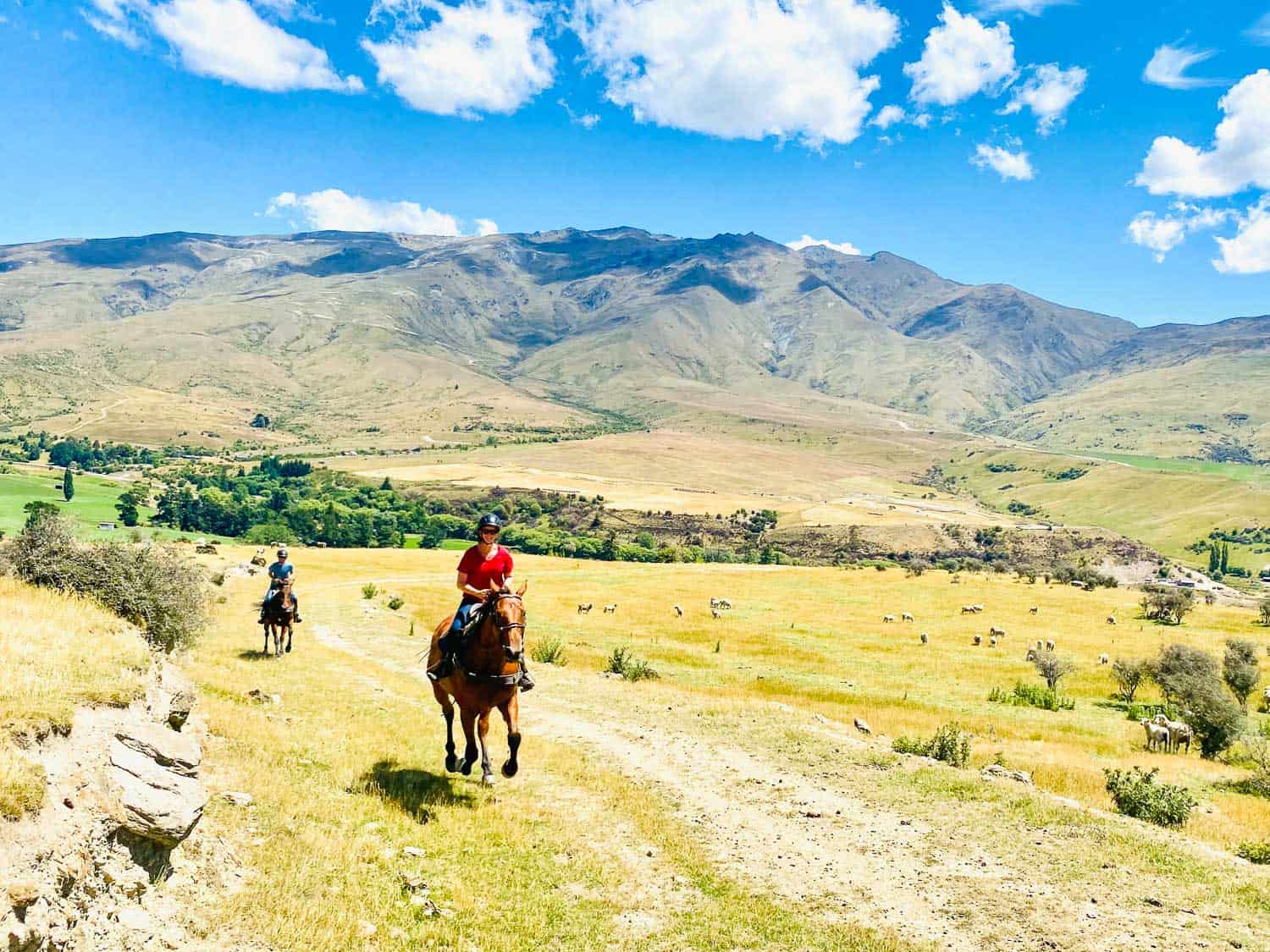 One of the most fun things to do in Wanaka is horse riding at Cardrona. There's no better way to explore this historic area than on horseback and no previous experience is needed.
Kelly, the owner of The Cardrona Horse Trekking, is one of the best trail ride leaders we've had. On our three hour ride she gave us lots of information about the local history and flora as well as tips on their western style of riding. She is careful about safety but gave us plenty of opportunities to trot and canter. It felt challenging but safe.
Pat and Danny, our beautiful, healthy horses, were a pleasure to ride as we crossed rivers, cantered along the edge of mountain trails (you have to trust those horses!), and admired stunning mountain views.
On a hot day, we appreciated the stop at the Cardrona Hotel where we hitched our horses outside and enjoyed a refreshing drink.
We enjoyed the ride so much that we plan to return in winter to experience the snow-covered landscape.
Details: We did the longer afternoon High Country Pub Trail ride, which costs $259 (including a drink), but there's also a shorter 2-hour morning ride without the pub stop for $199.
16) Hike Roy's Peak for New Zealand's Most Famous View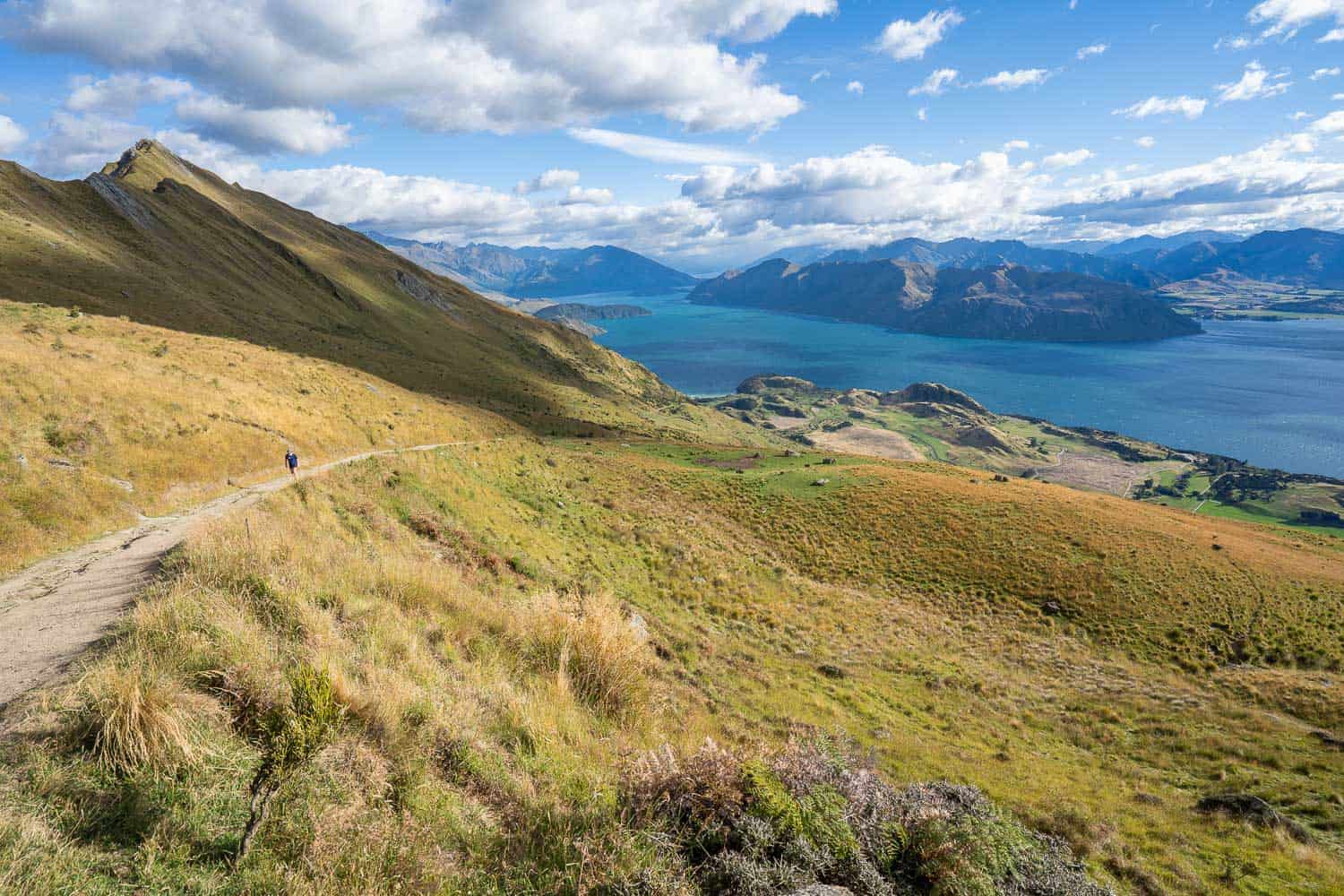 The most popular Wanaka attraction is Roy's Peak Track, made famous by Instagram photos from its viewpoint.
When the borders are open, the car park is usually overflowing and there's a queue for the iconic photo, but in summer 2021, I had a much quieter experience.
Although it's a Wanaka must-do for many, Roy's Peak is not an easy hike. It's similar to the Isthmus Peak Track (see above)—a steep but well-graded and easy-to-follow gravel trail with 1256 metres of elevation gain over 16.6km.
It took me 2.5 hours of uphill walking to reach the viewpoint and an extra 30 minutes to the summit. In total, I walked for 5 hours 25 minutes with a total time of 6 hours 20 minutes including breaks.
I was worried the hike might be overrated. It wasn't. At least without the crowds.
The views of Lake Wanaka all the way up were beautiful, especially in the glowing morning light (I started just after sunrise), and they got even better once I reached the viewpoint where the classic shot is taken.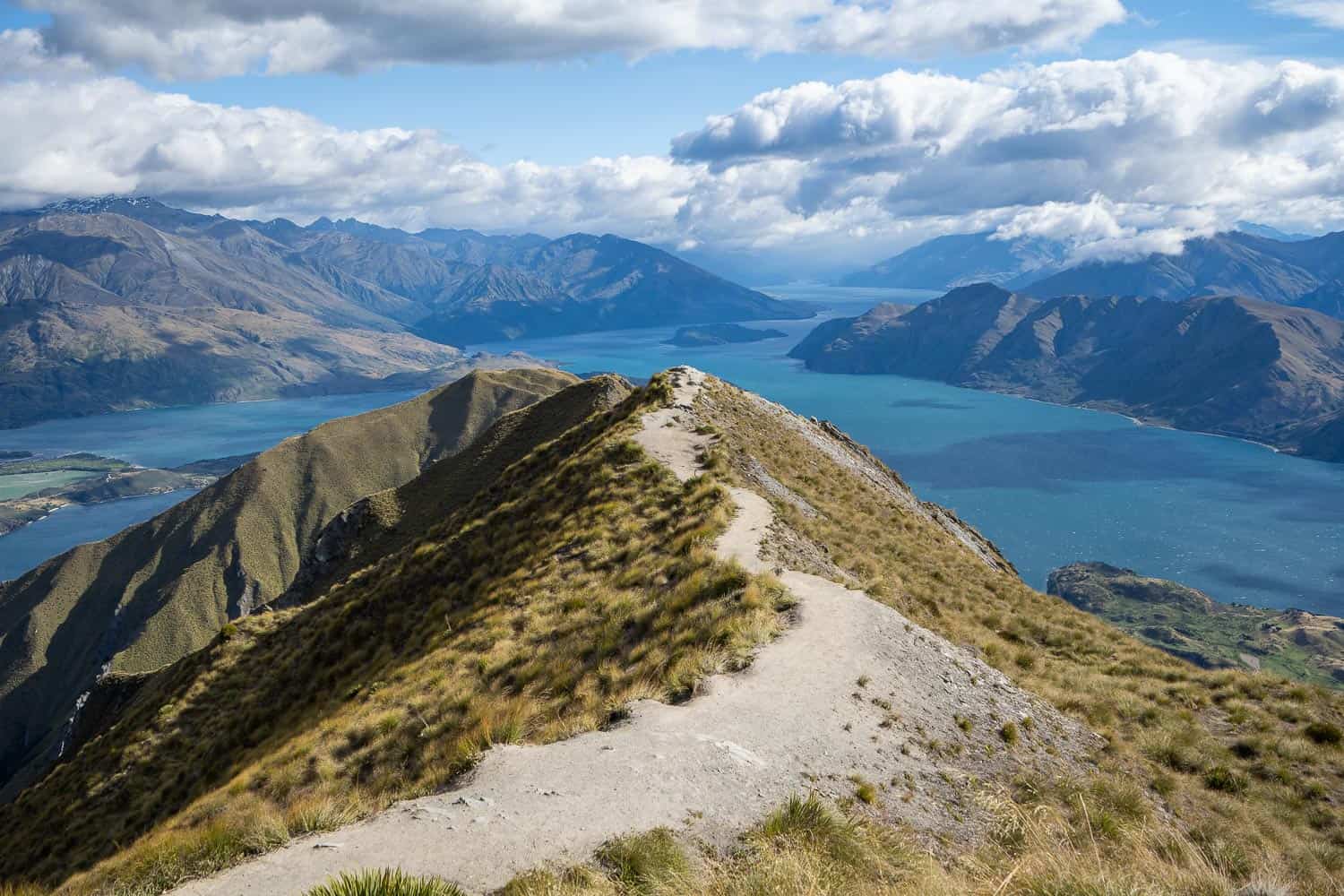 Although I was tired at this point, it was well worth the extra slog to the 1578m summit. The 360º views up here are truly epic—you can appreciate how huge the lake is and see the surrounding rugged green mountains and Mt Aspiring's snowy peak.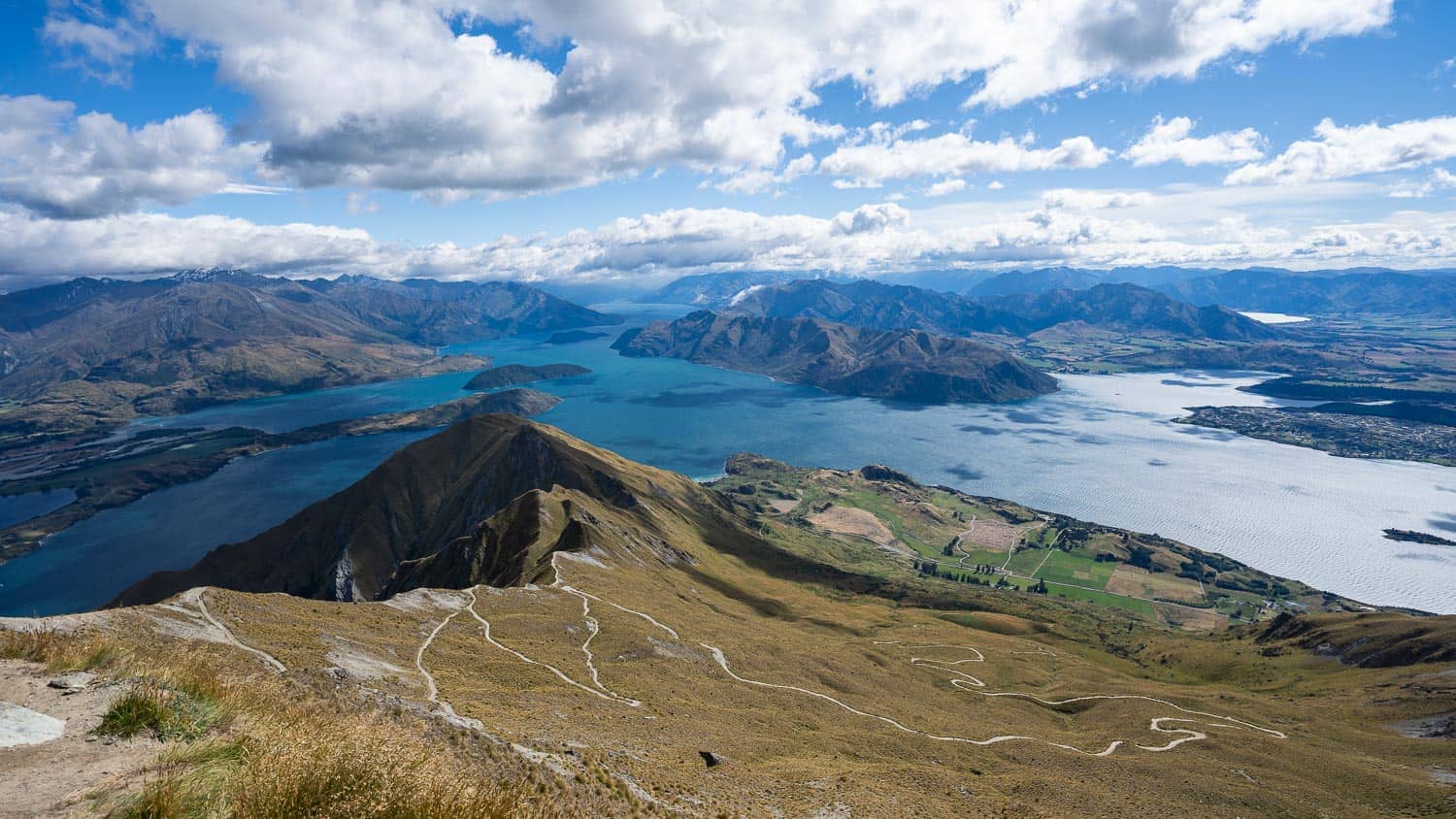 Useful tips: The track is closed for lambing from 1 October – 10 November. There's a toilet near the beginning and another at the viewpoint. Hiking poles were useful on the steep descent but not essential. Take plenty of food and water and an extra layer for the top.
Start early in the summer as the trail is exposed and it gets very hot. Many people hike it for sunrise but you'll need a head torch and a very early start. The hike is not recommended in winter unless you are experienced in the mountains.
17) Watch a Movie at an Independent Cinema
If you are wondering what to do in Wanaka on a rainy day, head to one of the two fantastic independent cinemas.
We have fond memories of watching a film at Cinema Paradiso on our first trip to Wanaka 12 years ago. Although it has moved locations since then, it was just as we remembered it—the theatre features old couches and a vintage Morris Minor car and during the intermission, you can buy warm homemade cookies and ice cream. You can also get food delivered to your seat.
Another fantastic little cinema in Wanaka is Rubys. It has more of a luxury feel than Cinema Paradiso (and better air conditioning) and you can order unique cocktails (I like the jaffa martini) and food to your seat.
The theatres are small and intimate with comfortable reclining seats. They also have intermissions.
18) Sample Craft Beers at a Local Brewery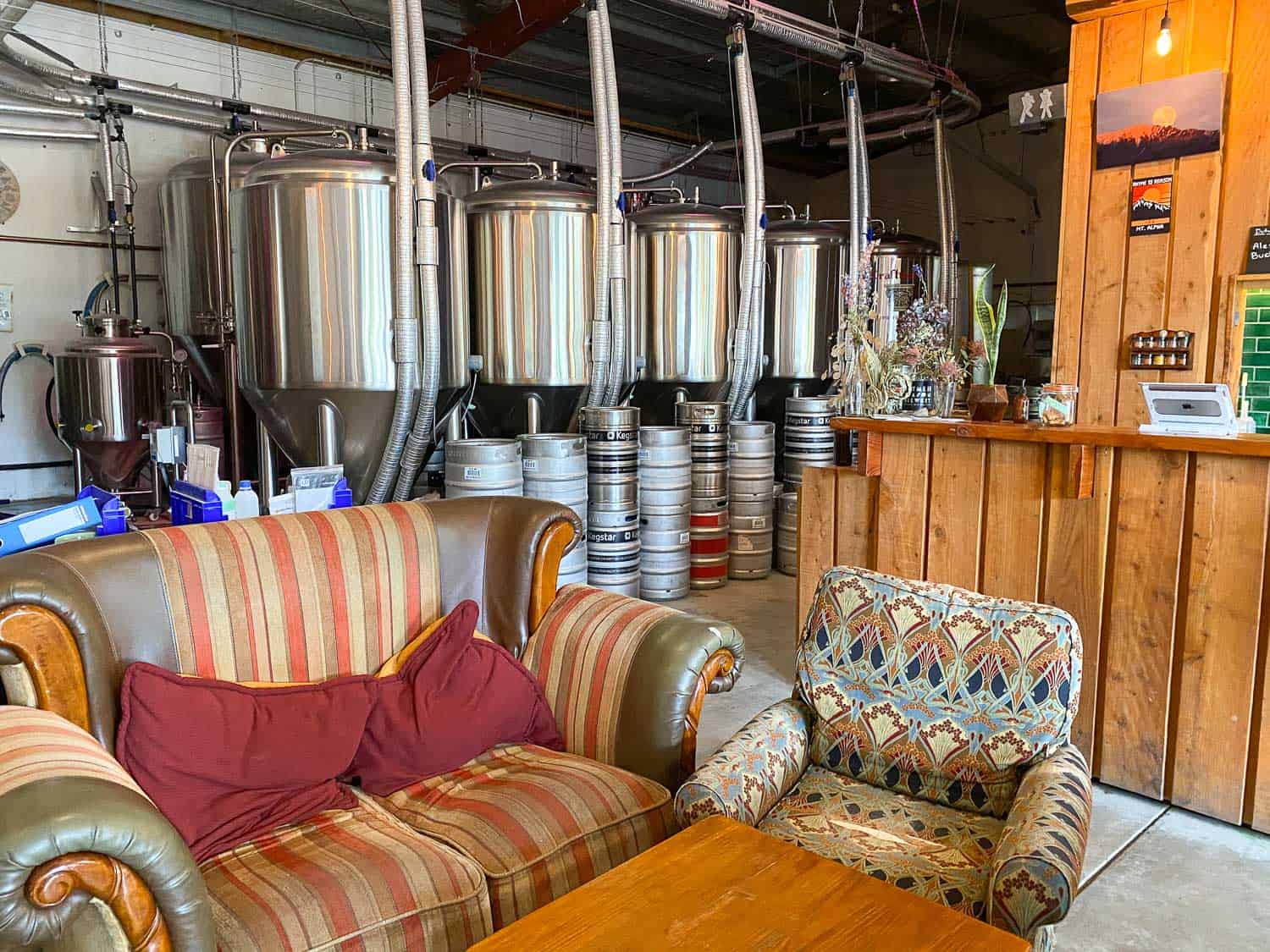 According to some, Wanaka has the most breweries per capita in New Zealand (Nelson contends this). In this tiny town, you can sample lovingly crafted brews at Wanaka Beerworks, Ground Up, b.effect, and Rhyme and Reason.
Our favourite is Rhyme and Reason Brewery, which has a cool space where you can enjoy a brew on a comfy sofa amongst the tanks of the working brewery. Simon got a tasting paddle of four tap beers from the changing blackboard menu and enjoyed them all, especially the hazy IPA. There's also outdoor seating for sunny days.
There's no kitchen but you can order a few snacks or bring your own food, and they sometimes have food trucks on site.
We also enjoyed b.effect, which has a full food menu—the cauliflower wings and roast kumara sandwich were a tasty accompaniment to our drinks. If you aren't into beer, they also make cider, alcoholic ginger beer, and a non-alcoholic kombucha (the most beer-tasting I've tried).
19) Ski or Snowboard in the Surrounding Mountains
Wanaka is just as popular in the winter as in the summer as it is surrounded by fantastic skiing opportunities. There are three ski fields within a 40-minute drive of central Wanaka—Cardrona, Treble Cone, and Snow Farm (for cross country and snow shoeing).
The ski season usually runs from late June to early October and during the school holidays in July is the busiest time. August is the best month to visit.
We love the astounding lake views at Treble Cone, but Cardrona is better for beginners.
I also appreciate that Cardrona has a gondola—perfect for novice snowboarders like myself who don't want to deal with chair lifts.
Non-skiers can also ride up the gondola for sightseeing—at the top there are beautiful views over to Queenstown and the surrounding mountains. There's also an outdoor bar where you can enjoy champagne, hot chocolate, or mulled wine.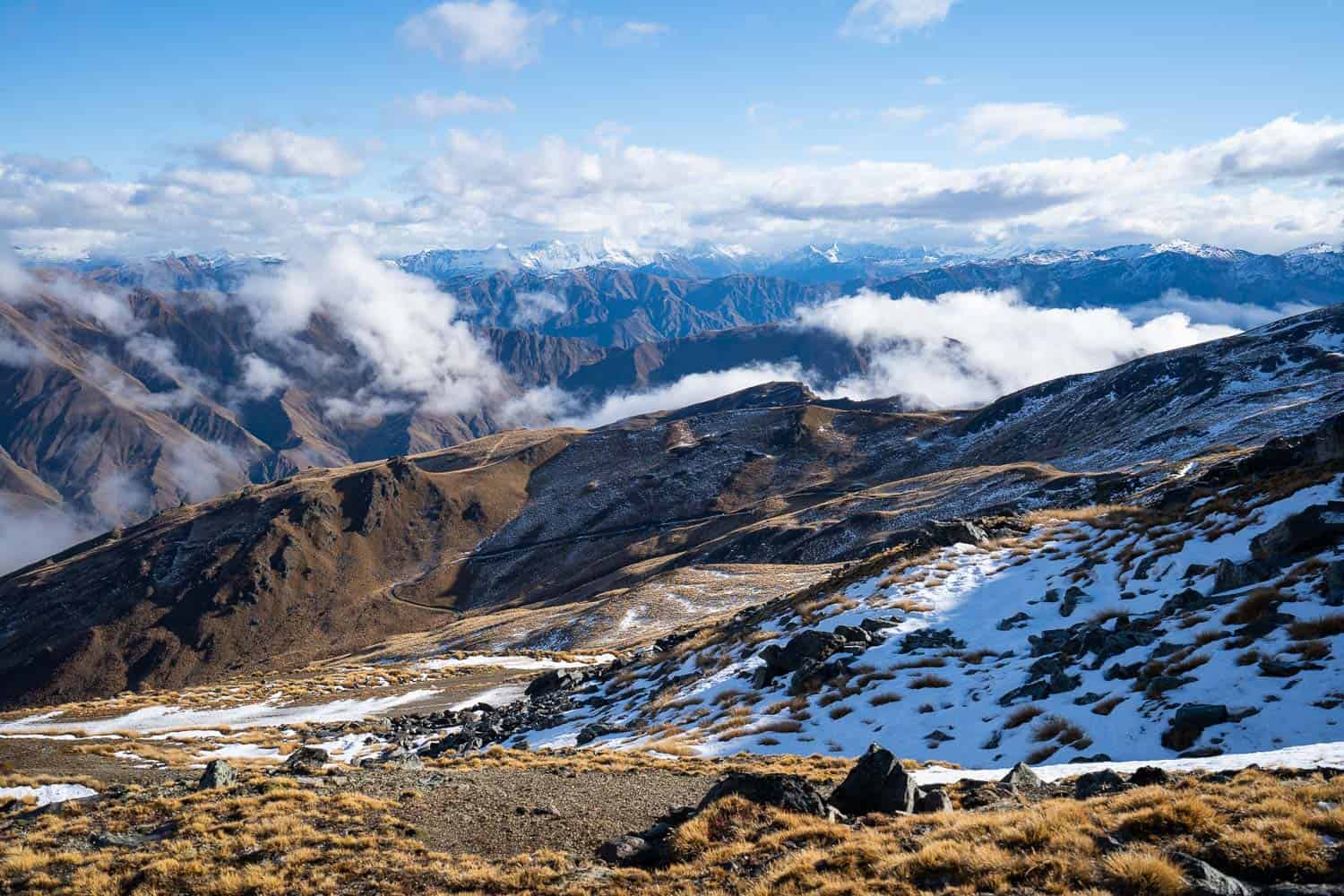 Cardrona has plenty of places to eat—a standard canteen, a noodle bar, a comfy lounge (nice for a mulled wine break), and the table service restaurant The Mezz where we enjoyed cauliflower tacos.
You can rent all the gear you need in town (Green Toad is a budget option), which is preferable to waiting until you are on the slopes. Arriving at Cardrona at 9.30am it took us 1.5 hours to queue for our ski pass, clothes/accessories, and snowboard and boots. I recommend taking care of it all the night before or at least arriving earlier.
You can also buy cheap secondhand ski gear at Wastebusters in Wanaka.
You will need snow chains if you want to drive yourself up to the ski resorts in winter. Or the resorts offer shuttles from Wanaka or the base of the mountain.
20) Get Adventurous
Wanaka rivals Queenstown as the adventure capital of New Zealand. There are many more thrilling activities you can participate in including skydiving, jet boating, rock climbing, canyoning, paragliding, and mountain biking.
The Best Wanaka Restaurants
Wanaka has a surprisingly excellent restaurant scene for its size. Here are our favourite places to eat.
Quick Eats in Wanaka
Patagonia Chocolates
Delicious ice cream close to the waterfront (we preferred it to nearby Black Peak Gelato). I love the dark chocolate and dulce de leche flavours and the cones with chocolate at the bottom.
Big Fig
Slow food, served fast. Big Fig is a convenient place to eat in or get takeaway on the waterfront. Select the size plate you want and choose from the delicious hot and cold dishes at the counter. Food is Mediterranean inspired and there are plenty of vegetarian options. One of the cheapest places for a healthy meal.
Burrito Craft
This food truck has delicious burritos and tacos with mushroom and jackfruit options for vegetarians. You can choose the spice level—5 was pretty spicy. The large burrito is humungous. My favourite is the jackfruit loaded fries.
Charlie Brown Crepes
Charlie Brown is another excellent food truck serving savoury and sweet crepes with plenty of vegan options. We especially loved the veggie galette with goat cheese, tomatoes, walnuts, and spinach. It's opposite Cinema Paradiso so is convenient if you want a quick meal before watching a film.
The Good Spot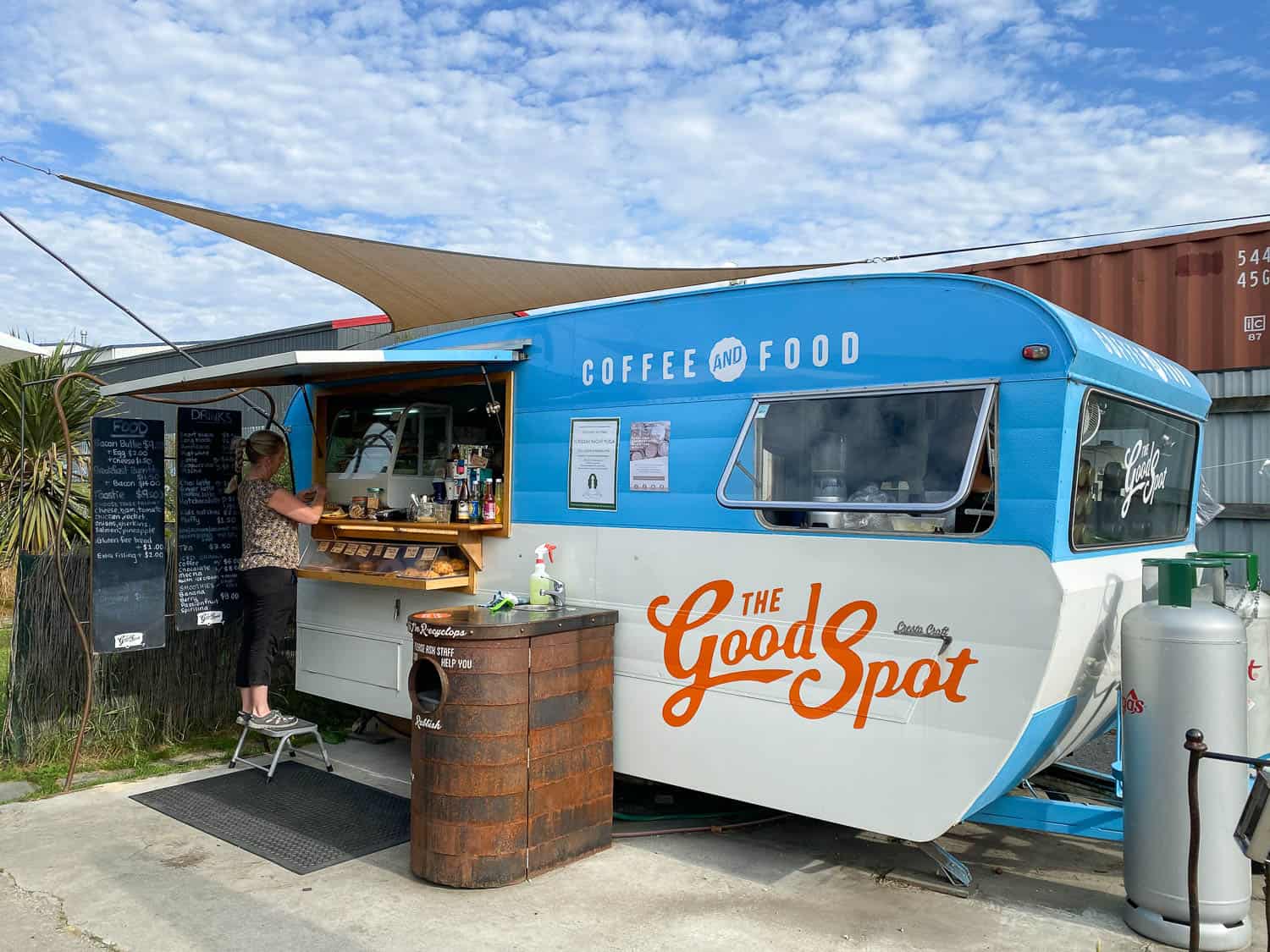 This coffee truck on the outskirts of town near Mount Iron is a local favourite. We love the coffee, cheese scones, and chocolate pastries. They have a few vegan options too.
The Doughbin Bakery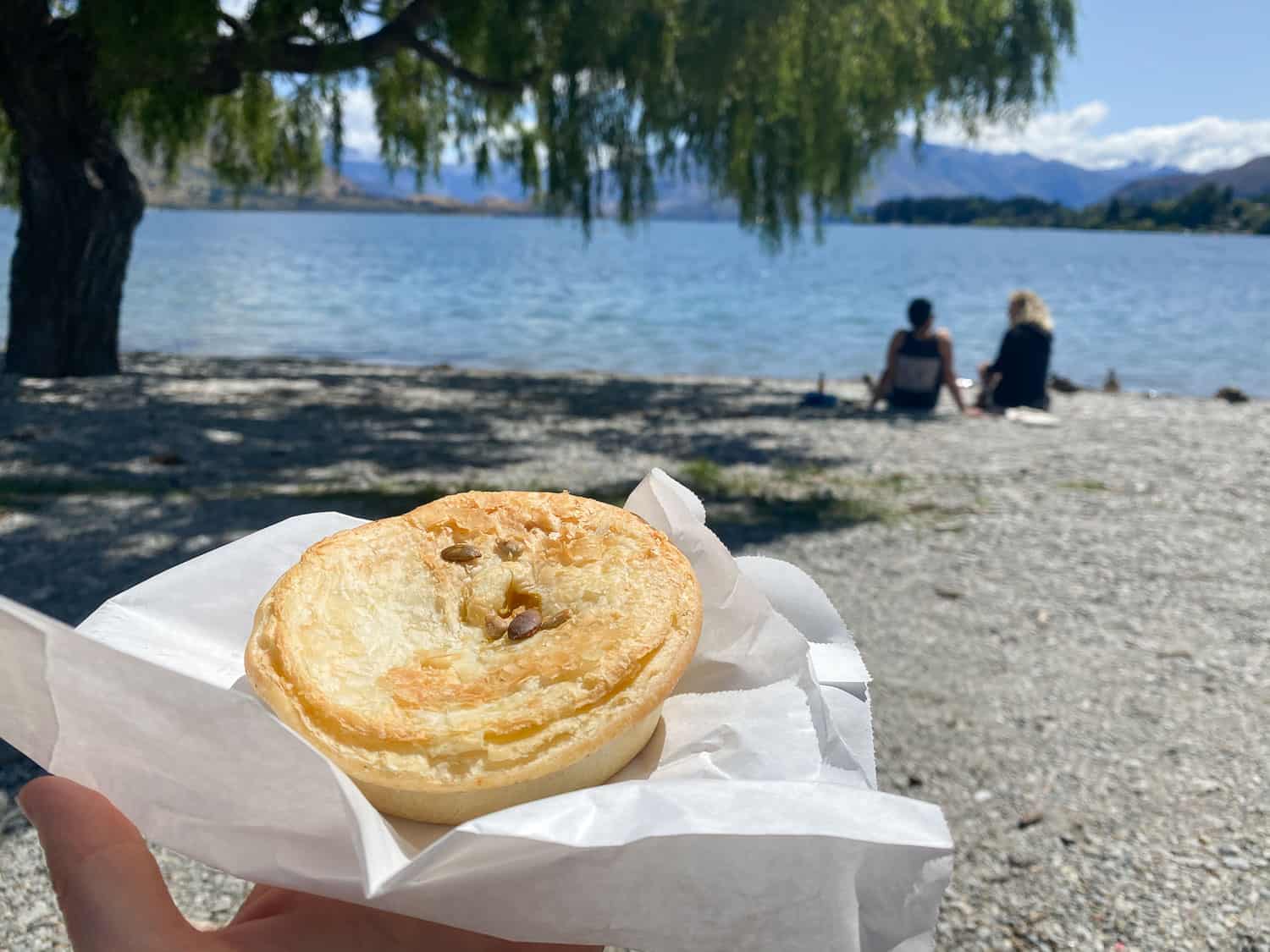 For a quick, cheap meal to eat on the beach, grab a pie from this takeaway on the waterfront. The veggie pie was tasty.
Wineglass Cafe at Edgewater Hotel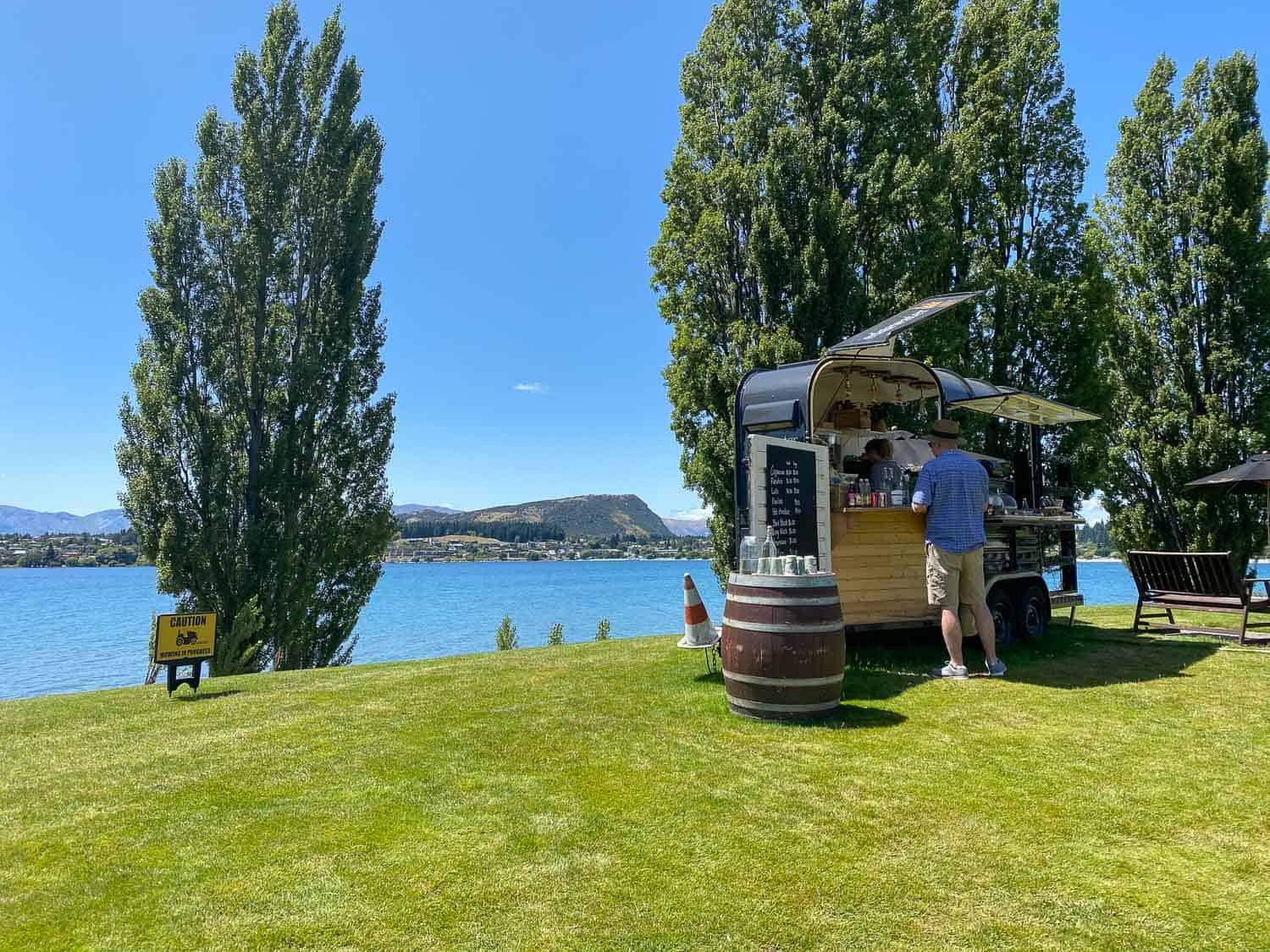 The cafe at the Edgewater Hotel is all about the location—the outdoor seating has lovely views of the lake. Unlike the places in the centre of town which have a road between them and the lake, this is proper waterfront on a quieter section of the lake.
We haven't tried the famous scones here yet, but our veggie burger and Mediterranean sandwich were pretty good.
It can get very crowded in summer—it's quicker to order drinks from the quieter coffee cart in the garden.
Red Star Burger Bar
A good spot for an easy, filling meal. The lentil burger was pretty good, but sadly the fries are cooked in animal fat.
Pembroke Patisserie
This bakery in Albert Town (on the way to Lake Hawea) has some of the best pastries we've had in New Zealand including croissants and pain au chocolat.
Restaurants in Wanaka
Kika
Kika is our favourite restaurant in Wanaka.
The seasonal menu consists of sharing plates, and although there aren't a ton of veggie options, what they do have is creative and tasty.
We especially enjoyed the avocado mousse with pesto and flatbread, Mexican elote with popcorn, and the gnocchi. The cherry chocolate dessert is one of our favourite desserts in New Zealand.
Bookings are recommended.
Francesca's Italian Kitchen
A popular Italian restaurant (bookings for dinner are essential) with delicious pizza, pasta, and risotto.
Kai Whakapai Cafe
This lakefront cafe in the centre of town has outdoor seating and is very popular at any time of day. We enjoyed the Buddha bowl with tofu along with a glass of the local Rippon Sauvignon Blanc.
Amigos Mexican Grill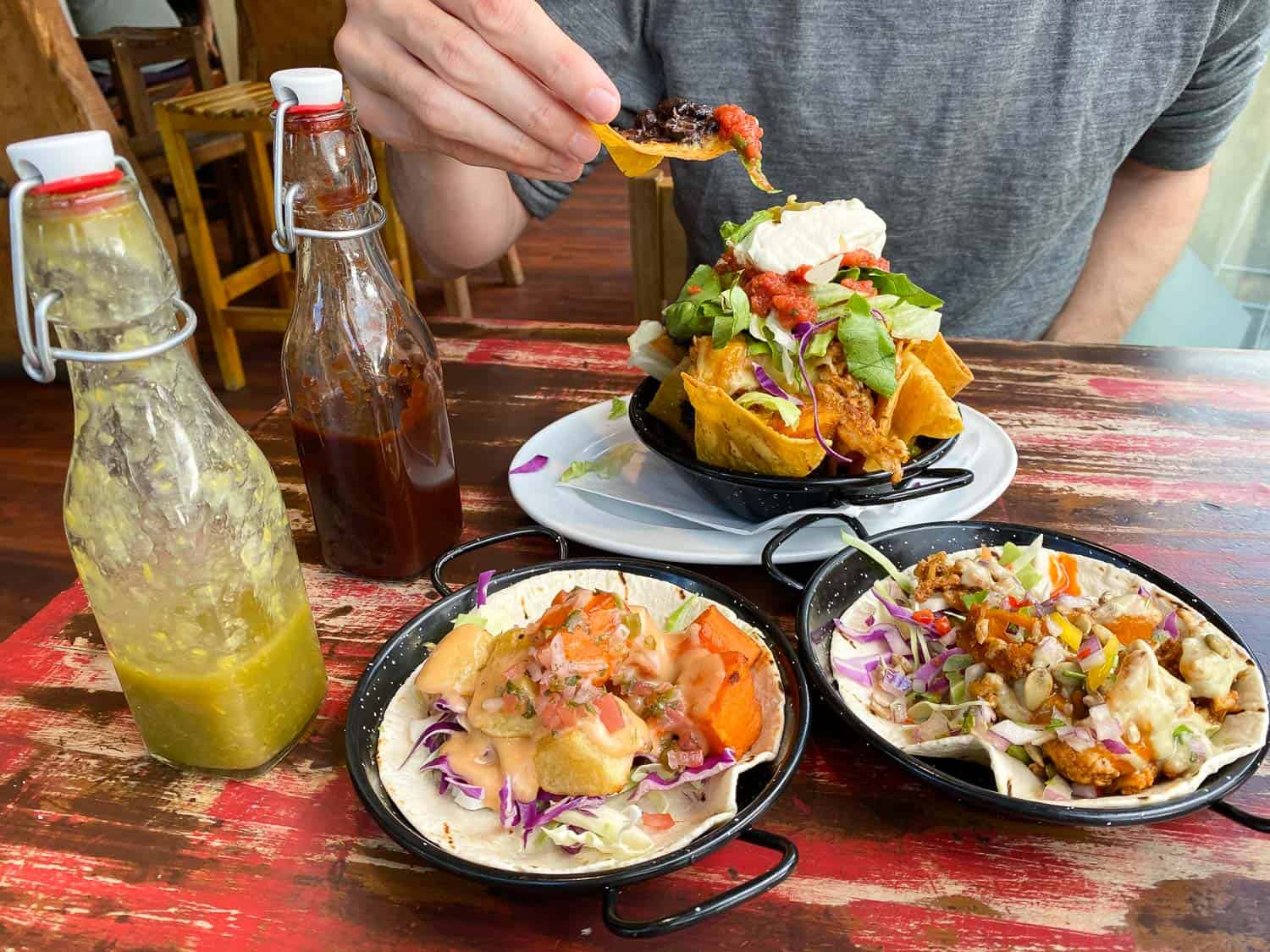 We appreciate the many vegetarian and vegan options at this Mexican restaurant as well as the good selection of hot sauces. I love the cauliflower tacos.
Ask for the green menu to see all the dietary requirements they can cater for (vegetarian, vegan, dairy-free, gluten-free).
Bombay Palace
Good Indian food with wonderful lake views and an outdoor terrace on the main Wanaka lakefront strip.
Wanaka Accommodation
Wanaka
If you want to be close to restaurants and activities, stay in the Wanaka township.
I'd love to stay at Edgewater Hotel which is the only accommodation directly on the shore of the lake. The views are beautiful and there's a restaurant, tennis courts, and spa. The lakefront trail is at the end of the garden and it's a 20-minute walk into the centre of town. Studio rooms and apartments are available.
If you'd prefer to be closer to town, Lakeside Apartments is in the heart of the action and has lovely views and an outdoor pool.
You can also look for apartments and houses in Wanaka on Vrbo/Book a Bach.
Hawea
Wanaka is busy and expensive in January, so we chose to spend our month at Lake Hawea instead. We loved it so much we returned the following January for another month and again in May/June.
Hawea is a 20-minute drive from Wanaka and there's not much there, so it's not the best base if you want to eat out frequently and take lots of tours.
If you are looking for a tranquil spot, though, it's worth considering. I think the lake is even more beautiful than Wanaka—the water is bluer and there's no development on the lakefront.
We rented this two-bedroom house in Hawea on Airbnb. It's modern and clean with a spacious open plan living area and kitchen with sliding doors that open onto the garden. The house was comfortable and well-equipped and the host was friendly and helpful. It's a 7-minute walk from the shop (over a small hill) and 12 minutes from the lakefront beach.
Of course, being even closer to the water would be best, but lake houses get booked up far in advance in summer. Options range from four-bedroom houses like the Lakefront Bellevue and Lakefront Holiday House to more affordable one-bedroom cabins for couples.
Search on Vrbo/Book a Bach for more holiday homes in Hawea.
The other accommodation options are the Hawea Hotel and The Camp Lake Hawea, which has glamping tents and cabins as well as campsites. Both have great locations next to the lake.
How to Get to Wanaka
Most people visit Wanaka from Queenstown, which is a one-hour drive away and has the closest airport.
If you are road tripping around the South Island, from Wanaka you could continue to the west coast—Haast is a 2-hour drive and Fox Glacier is about 3.5 hours away.
Alternatively, as we did on one trip, you could drive up the centre of the island to Mount Cook and Lake Tekapo, both about 2.5 hours away. Beyond is Christchurch, at least a 5-hour drive and the nearest major international airport.
Although it's best to have a car to explore the area, Ritchies has a twice-daily coach to and from Queenstown. It's also possible to get an Intercity bus to Dunedin by changing at Cromwell.
Wanaka New Zealand Map
More New Zealand Posts
Central Otago
South Island
North Island
If you enjoyed this post, pin it!