This page contains affiliate links. Please read our disclosure for more info.
It's our 10 year nomadiversary!
We can't quite believe we've made it to a whole decade travelling the world full-time and running our own business along the way. We feel so blessed to still be living this lifestyle—the freedom to travel wherever we want, to work on projects we love, and to be together 24/7 is incredible.
We've certainly had challenging times over the years, especially struggles to figure out how to run a business and support ourselves, as well as balancing work and travel.
But in the last few years things are finally coming together. Last year we doubled our blog traffic and income for the second year running and now earn more than we ever imagined possible while working fewer hours with no deadlines.
We're still excited about travel and have an ever increasing list of places we want to visit, although we recognise the need to travel more slowly these days.
Our travel style has certainly changed with longer stays, more comfortable accommodation, more road trips, and no more long bus rides. We even changed from backpacks to rolling suitcases in the last year (although we still only have carry on luggage) and took our first business class flight (so worth it!).
Deciding on the highlights of the last 10 years feels like an impossible task—we have experienced so much—so for now, as usual in our nomadiversary posts, we'll focus on our top experiences from the last year.
Year 9 on the road was fast-paced and we were feeling tired, so we made a conscious decision in Year 10 to slow down and had a few three-month stays in one place.
This meant we only travelled to five countries, our lowest amount in the last decade (in the early years we usually visited about 10).
None of them were new countries to us, but we did explore new destinations in our beloved Japan and finally revisit Australia and New Zealand after 12 years away.
Japan
Spending a Month in Kyoto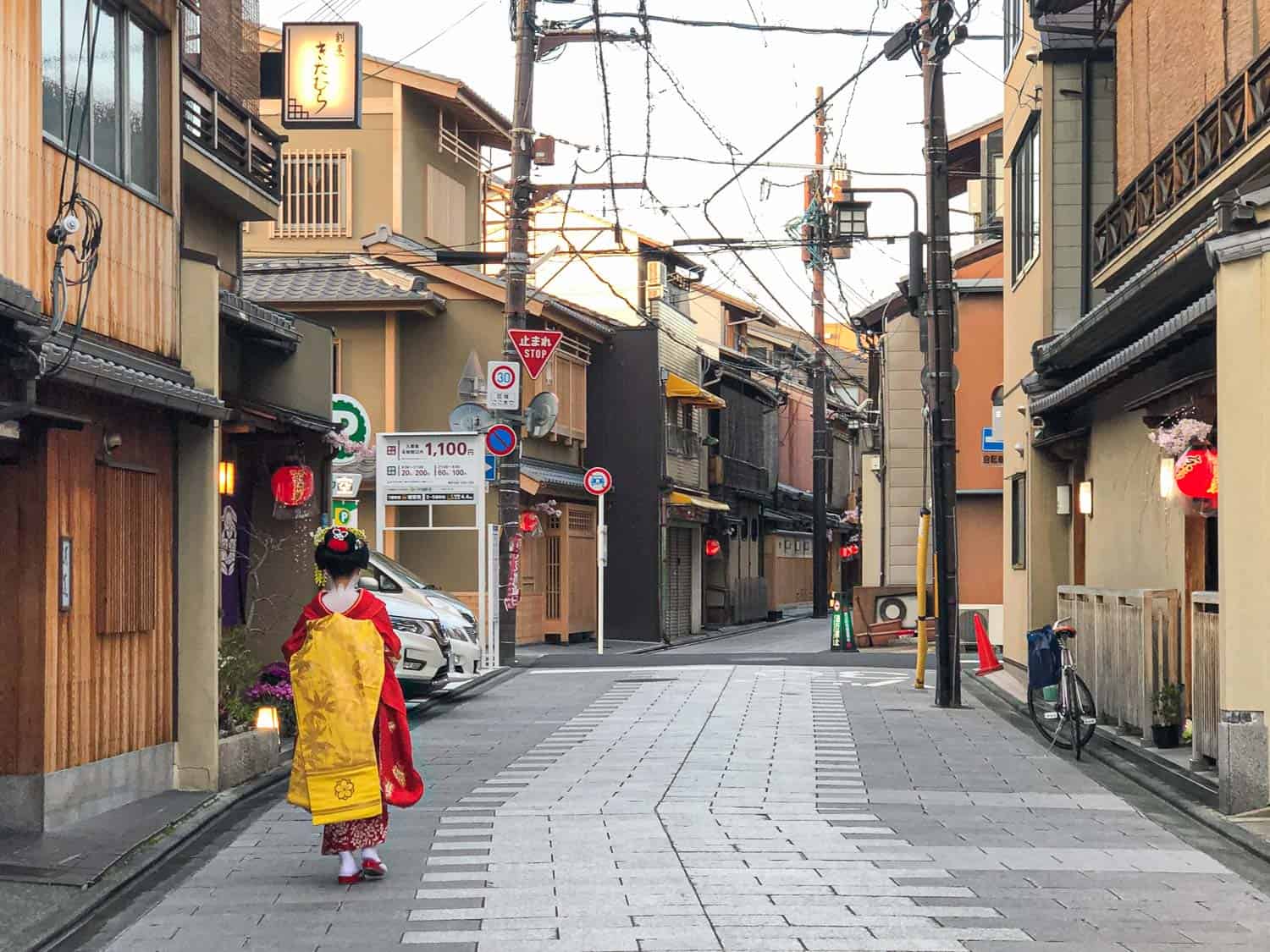 Our month in Kyoto last March feels like a dream.
We rented an apartment in the traditional geisha neighbourhood of Miyagawa-cho, not far from the much more crowded Gion. It was magical stepping out each evening onto our lantern-lit street and often seeing geisha and maiko (apprentices) in elaborate outfits on their way to evening appointments.
A highlight was seeing the Kyo Odori spring geisha dance at the theatre on our street. It was a magnificent performance and truly an event for locals (including many geisha from neighbouring districts) rather than tourists.
It was wonderful to have so long in a city rich in culture and tradition. While most people have to rush around the sights in a few days, we were able to explore at a slower pace, visit many off the beaten track temples, and dig deep into Kyoto's vegetarian food scene.
The Glory of Cherry Blossom Season
Oh my, cherry blossom season in Japan exceeded our expectations!
Before we left Kyoto the elusive blossoms appeared and they were everywhere! Locals take sakura viewing seriously and hit the parks in big groups for picnics to admire the flowers, drink, and eat cherry blossomed themed food (mmm, sakura and sake kitkats!). Especially when the sun finally came out, it was a joyous time.
We'd been worried about the crowds, but we managed to find some quieter spots, especially when we left Kyoto and followed the blossoms around the country.
We saw the sakura at famous spots like Mt Fuji (where it also snowed!) and Himeji Castle, and while they were stunning, my most memorable moments were lying under the trees admiring the flowers in quieter spots.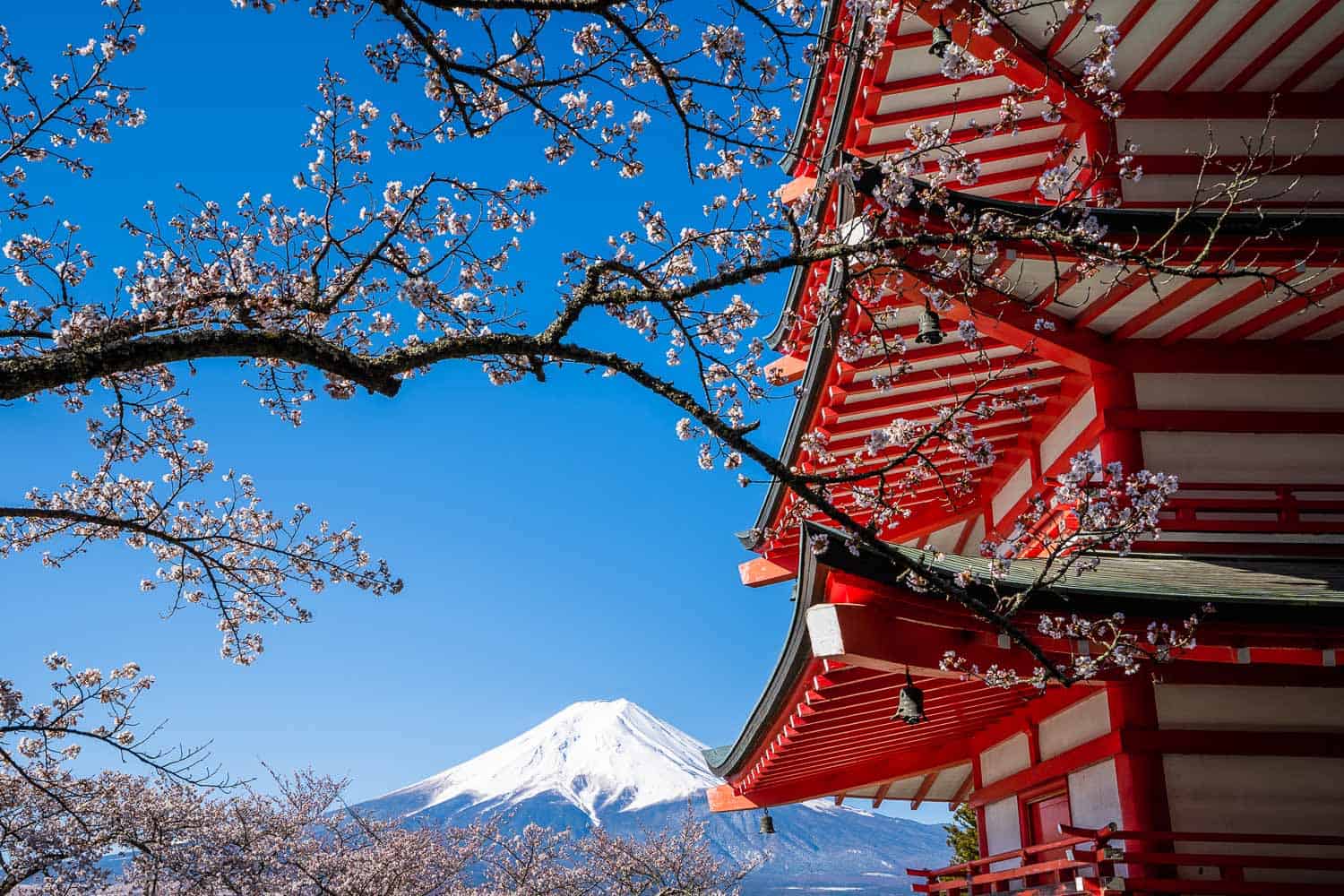 Handayama Botanical Gardens in Okayama was especially stunning and we found some beautiful quiet spots while cycling the nearby Kibeji bike path.
In Tokyo we caught the late blooming cherry trees at Shinjuku Gyoen and loved it so much we went back three times for relaxing picnics in the sun.
Braving An Onsen Town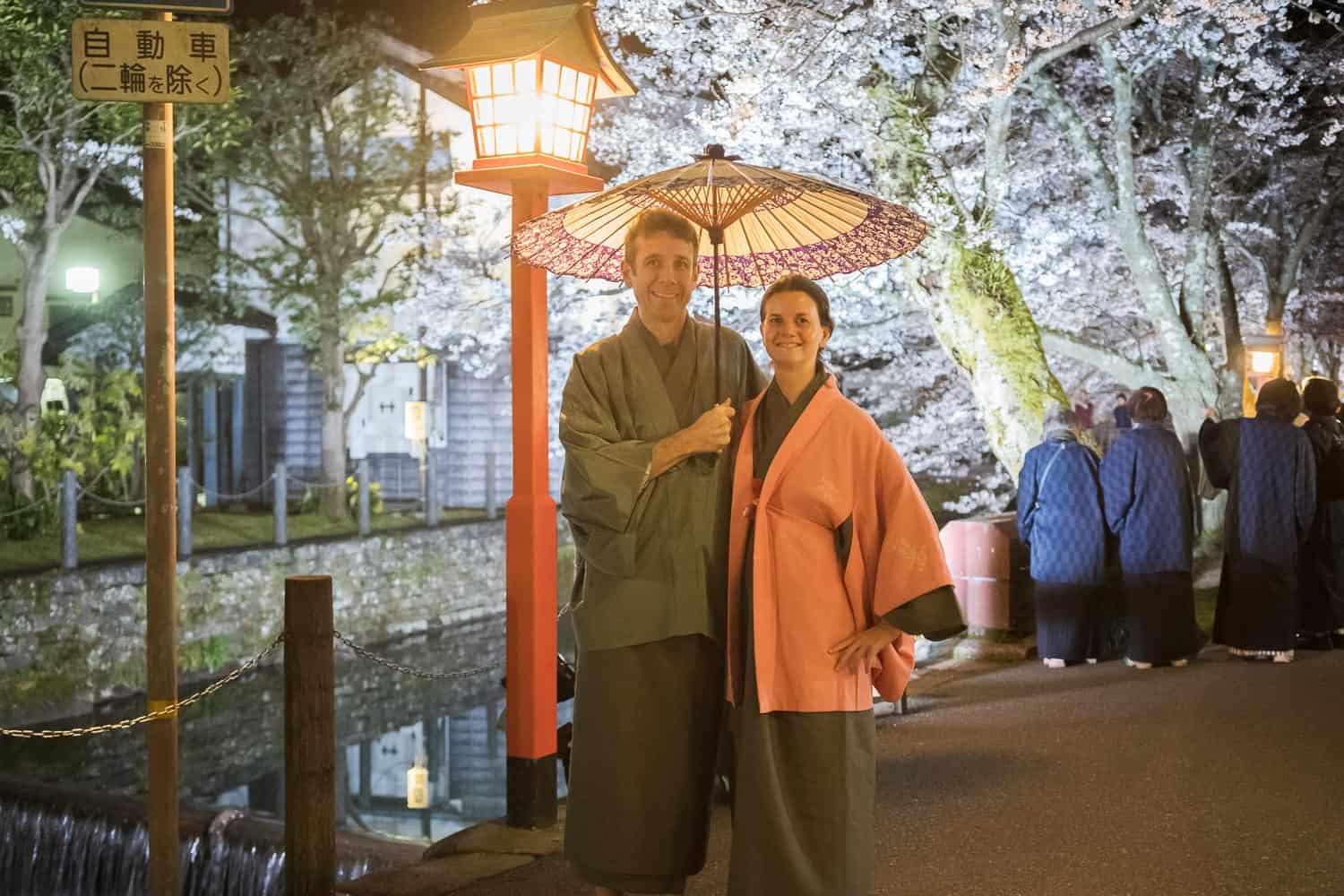 Public nudity scares me, so it was a significant moment to get over my fears and soak in multiple public onsen (hot spring baths) in the cute town of Kinosaki Onsen.
Onsen-hopping in kimonos along cherry blossom lined canals felt like a classic Japanese experience. Once I got over my fears, soaking in the steaming hot baths was blissfully relaxing.
Revisiting Tokyo Disney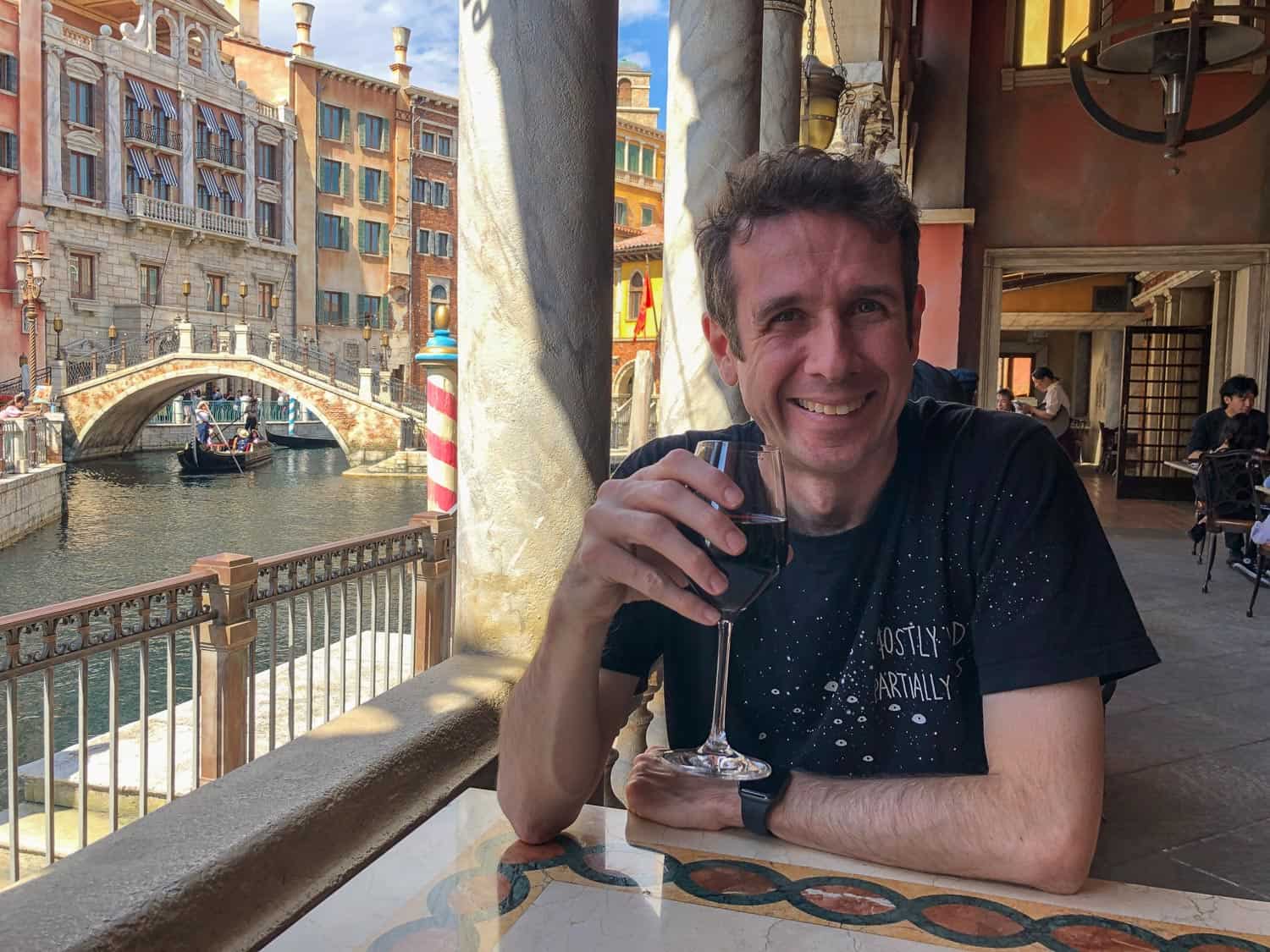 Regular readers know that Simon is a massive Disney fan, so we couldn't visit Tokyo without returning for a few days of fun and popcorn at DisneySea (possibly our favourite Disney park in the world) and Tokyo Disneyland.
This time we stayed in a nearby hotel rather than travelling in from central Tokyo, which made the trip much easier.
Another new place for us in Tokyo which exceeded expectations was the stunning digital art museum, TeamLab Borderless, which is unlike anywhere we've ever visited. A truly immersive experience.
Thailand
Spending 3 Months on Koh Lanta
Our two months in Japan were wonderful but exhausting, so we were ready to settle down for a while. We chose our favourite Thai island, Koh Lanta.
It had been five years since our last visit, but it hadn't changed too much and is still a relaxed island with the ideal mix of amenities without the crowds or parties of neighbouring islands.
We stayed in our friends' new apartment complex, Malee Highlands, which has gorgeous views over the island.
We were there in low season aka rainy season or green season and everywhere was very quiet—by the end of May we had the long beaches to ourselves.
Highlights included daily practice (until they closed for low season) at Oasis Yoga, my favourite yoga studio in the world, the insane sunsets, and taking staycations at fancy resorts around the island (those low season rates are amazing!).
Celebrating our 20 Year Anniversary at Pimalai Resort
One of our staycations was to the fanciest resort on the island to celebrate 20 years of being together! (We got together when we were 18, in case you were wondering how we look so youthful!).
Pimalai Resort was certainly a suitably celebratory place. The large resort is located on a steep jungle-covered hillside leading to a lovely stretch of quiet sand on Kantiang Bay.
There are two infinity pools and the upper one has the most stunning views of the bay. We loved soaking in the jacuzzi on the edge of the pool and enjoying sunset cocktails.
Singapore
Exploring Singapore by Night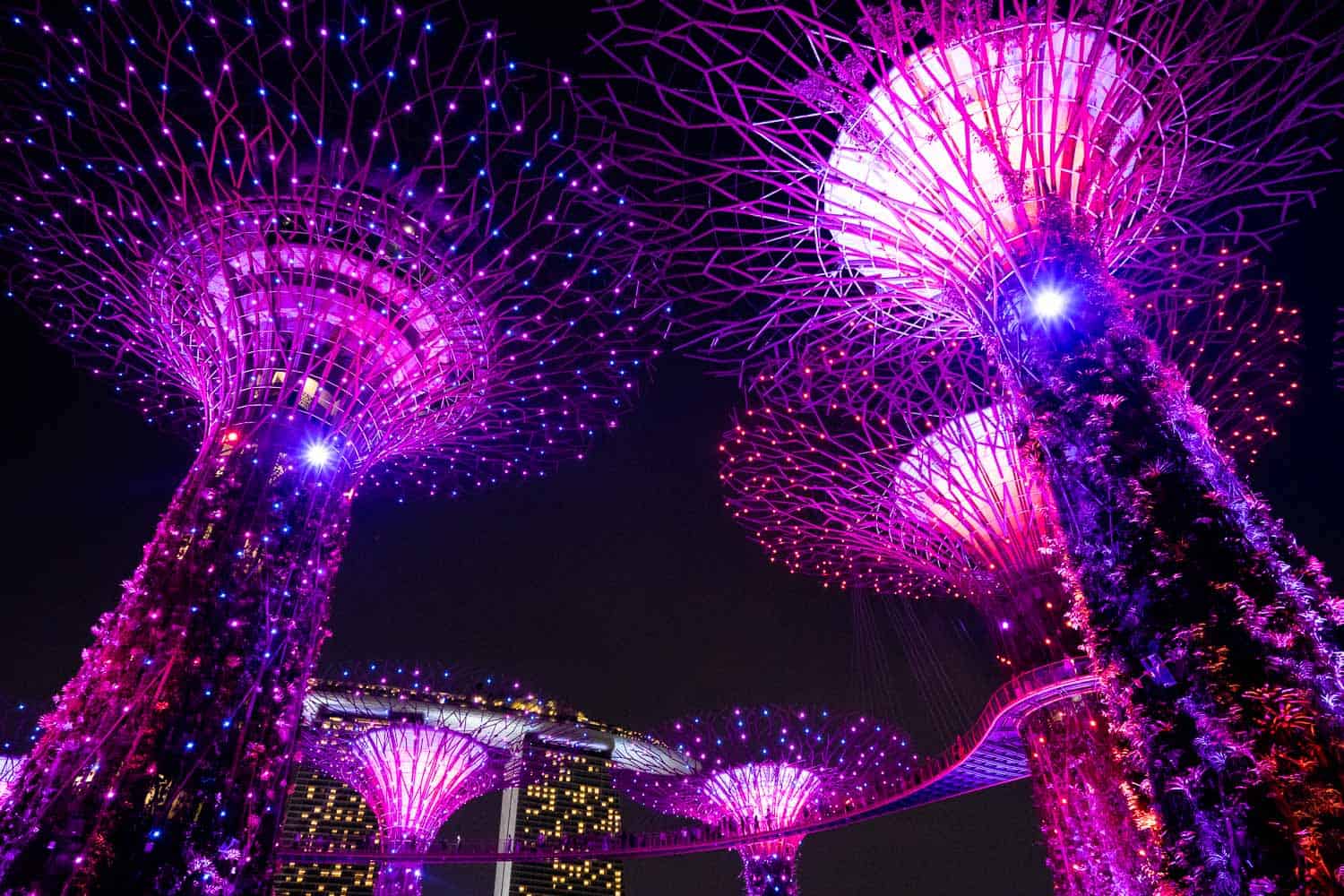 Singapore is one of our favourite cities. We only had a few days there this time, but we used the time to revisit some of our favourite areas as well as discover new places and put together this three day Singapore itinerary that's ideal for first time visitors.
Singapore is one of the few places in the world where I love to go out after the sun sets—the Marina Bay area is fantastic at night with various light shows and stunning views of the skyline.
Australia
Getting Cultural in Melbourne
We spent three months in Melbourne during their winter when all the cultural activities on offer made up for the chilly weather.
We went to the International Film Festival, the Writers Festival, the theatre, a nighttime light festival, and were regulars at our local independent cinema.
We also embraced the art of brunch (with an amazing cafe just at the end of our street in North Fitzroy) and all the delicious food and coffee.
A highlight for Simon was attending three gamer conferences where he was able to connect with other game developers.
A calf injury meant I couldn't run the Melbourne Half Marathon as planned, but I was able to train enough for the 10k and still got to finish with a lap around the iconic Melbourne Cricket Ground.
Once spring arrived, we ventured out of the city on day trips to the beautiful Yarra Valley wine region and Dandenong Ranges.
Driving the Great Ocean Road (and Koala Spotting!)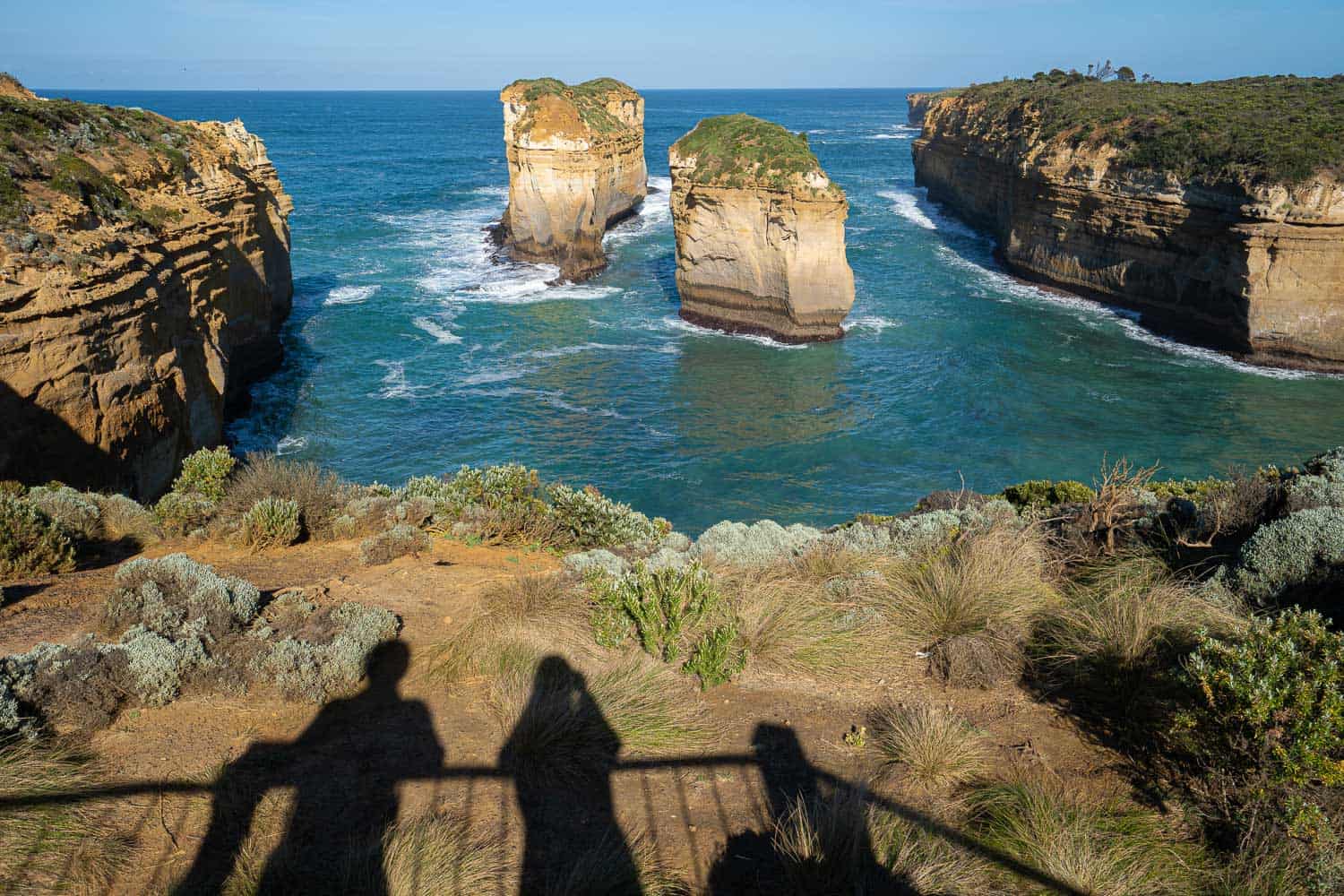 The best side trip we did from Melbourne was spending four days driving the stunning Great Ocean Road.
Many people drive it in a day but a longer trip meant we could take our time to spot koalas (so cute!), see the famous 12 Apostle rock formations without the crowds, and do walks to lighthouses, waterfalls, and forests.
Best of all, we stayed in the most gorgeous oceanfront house at Points South by the Sea. We loved it so much we returned for a second trip (to do nothing but relax) before we left Melbourne.
New Zealand
We are currently four months through our six months in New Zealand and we have well and truly fallen in love.
It's such an easy and safe country to travel in with laidback locals, spectacular scenery, and wonderful wine. The cities aren't very big and beautiful nature is found everywhere with the bluest lakes and rivers and seas and vibrant green hills.
It's difficult to choose just a few highlights as we've done so much (despite our attempts at slow travel) and we've loved everywhere we've visited. I've linked to a few of my New Zealand posts but lots more are on the way!
Hiking the Queen Charlotte Track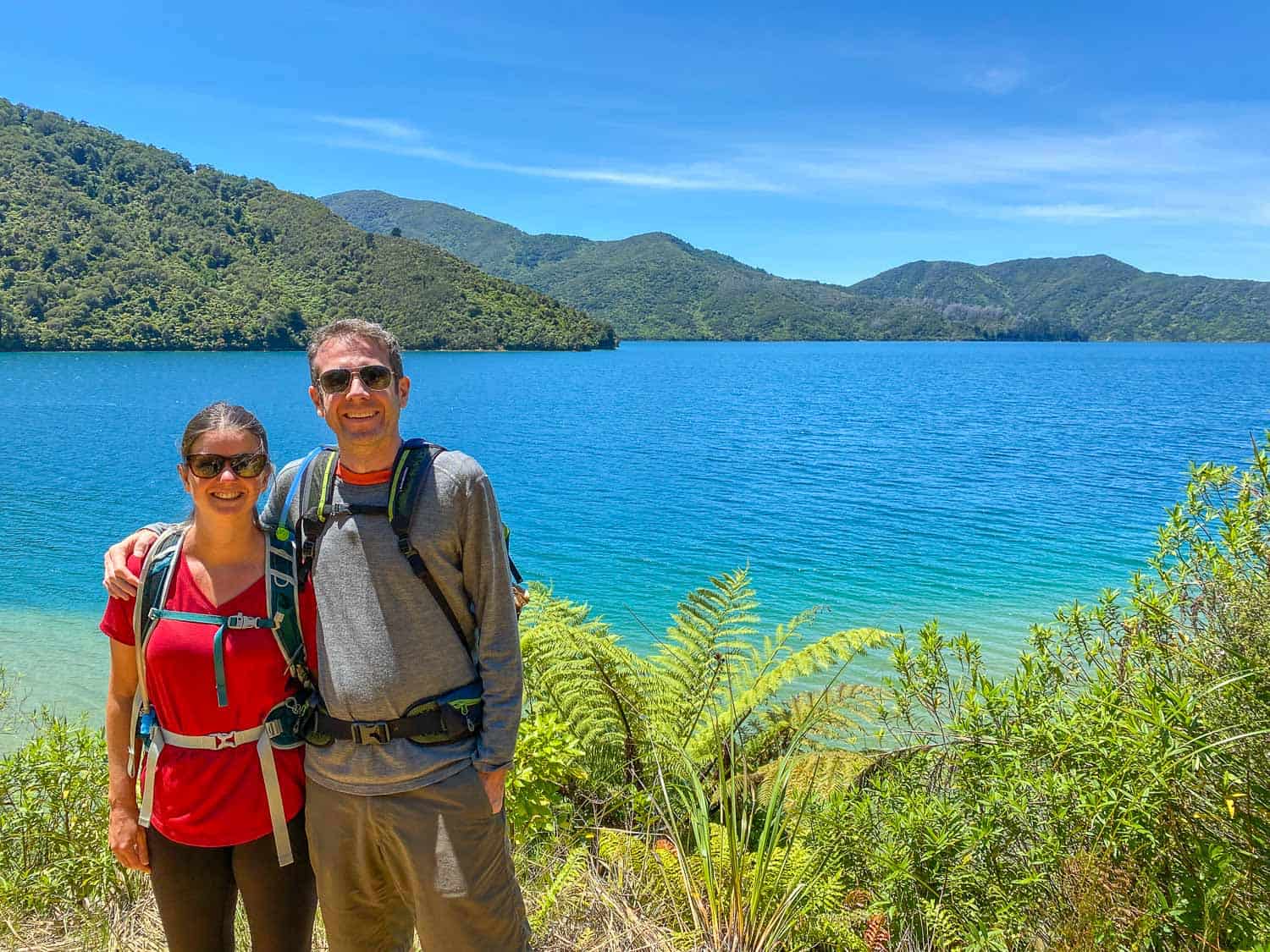 Our favourite experience so far in New Zealand was spending five days hiking the 72km (45 mile) Queen Charlotte Track in the Marlborough Sounds.
The scenery is astounding with so many shades of blue and green in the forest-covered mountains and clear water of the sounds. We saw dolphins, stingrays, and many native birds.
It was the perfect multi-day hike for un-hardcore walkers like us. We stayed in comfortable lodges, had our luggage transferred by water taxi, and the walking wasn't too strenuous (although there are some challenges).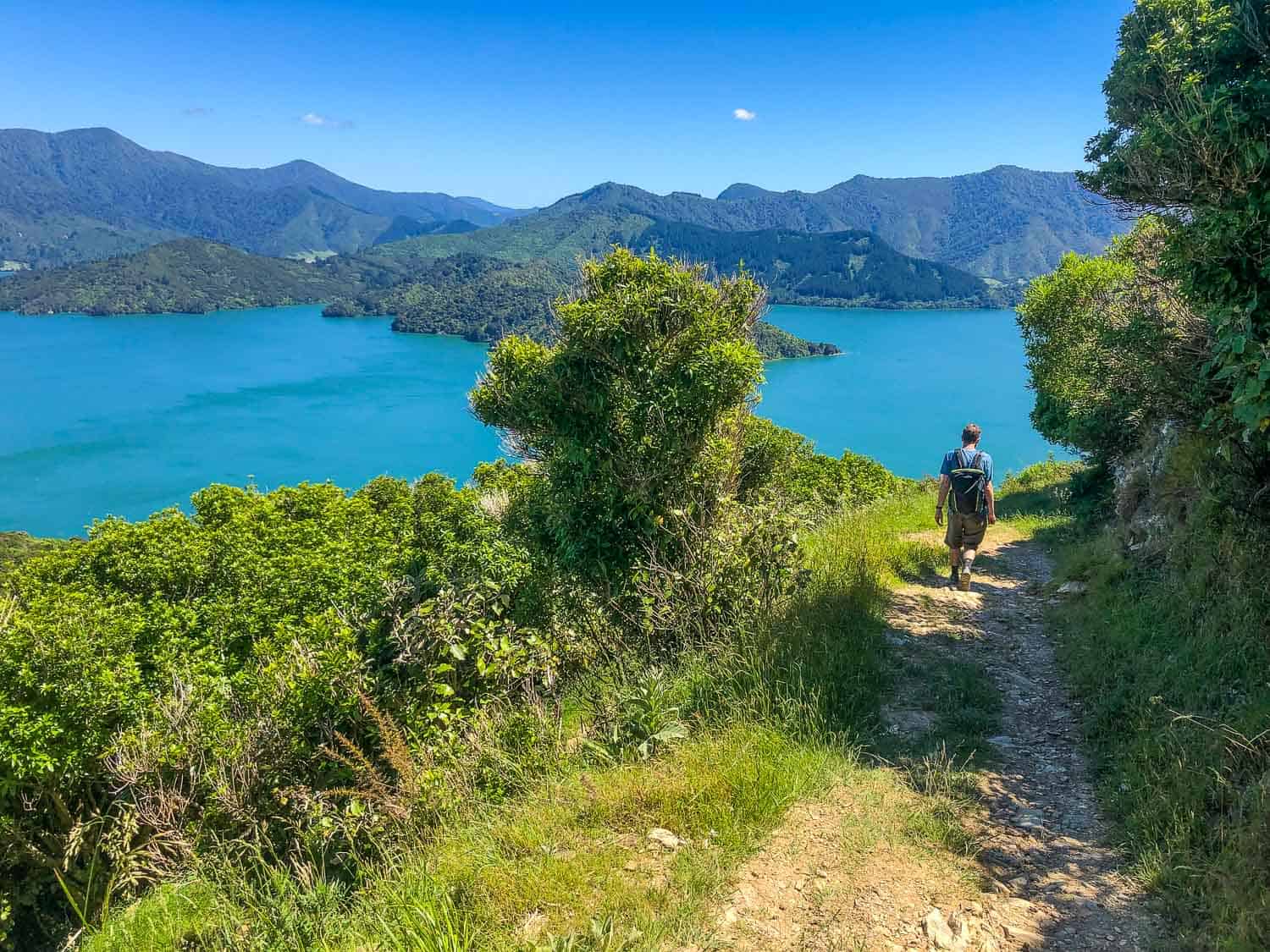 We loved arriving each afternoon for a swim or kayak in the bay, having a glass of local wine overlooking the water followed by a delicious dinner and relaxing soak in the hot tub!
It was wonderfully relaxing and a great way to enjoy this stunning part of the world.
Exploring the Top of the South Island
Nelson was our base for two months for exploring the top of the South Island. In this laidback little city we relaxed on the beach, had lunch at wineries and breweries, hiked up the hills and along the river, picked our own berries, and cycled the Great Taste Bike Trail to Rabbit Island.
Slightly further afield we fell in love with Cable Bay and Abel Tasman National Park where we walked and kayaked, celebrated Simon's birthday in Golden Bay, and did a stunning hike at Nelson Lakes National Park.
Read more about our favourite things to do in Nelson.
Visiting Multiple Wine Regions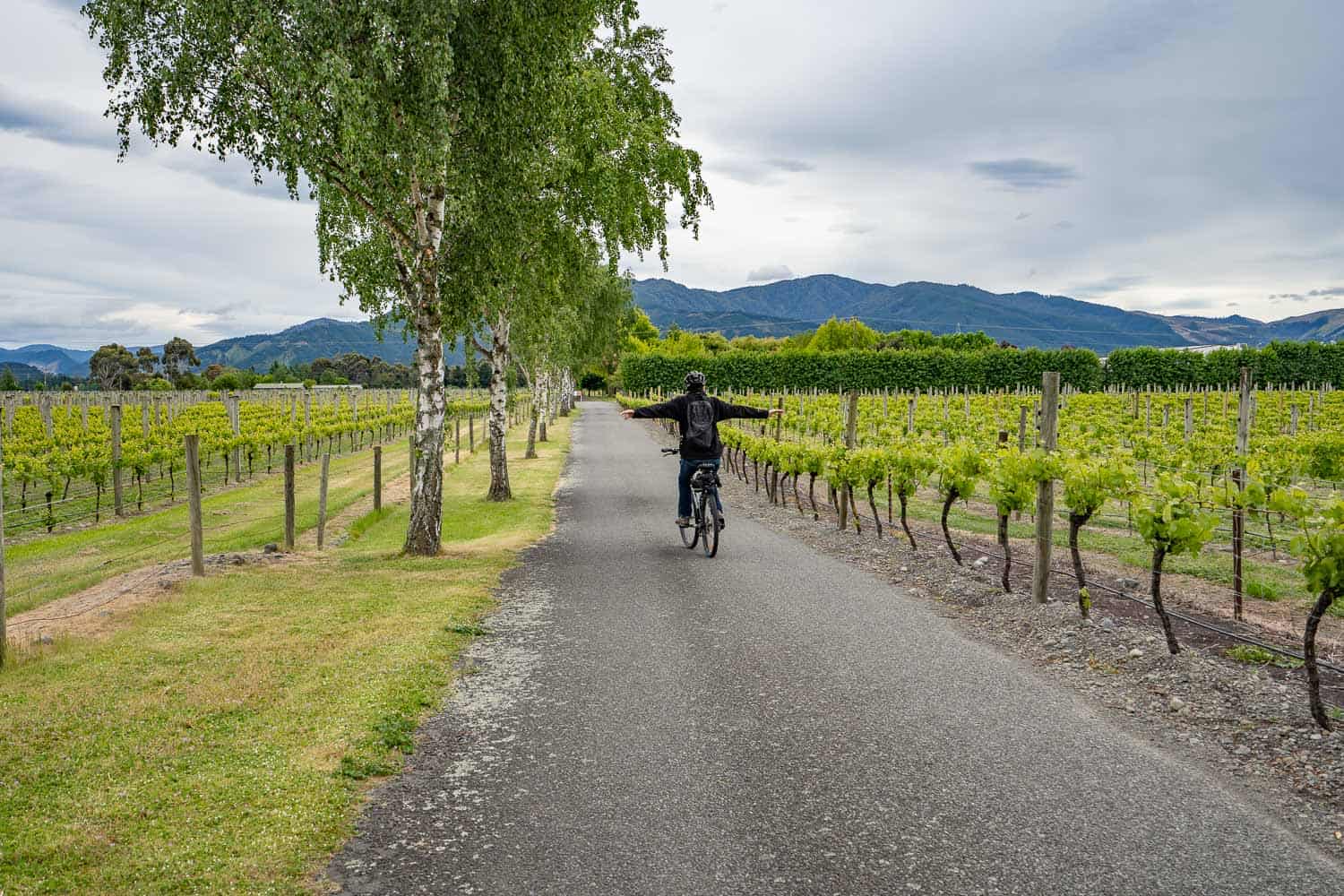 A pleasant surprise has been how good the wine in New Zealand is. We've visited four wine regions so far (Marlborough, Nelson, Central Otago and Martinborough) and have loved them all.
Our favourite wine so far has been the Central Otago pinot noir (especially the Wild Irishman Kinross), but I'm also a big fan of the Marlborough Sauvignon Blanc. We had a fantastic few days in Marlborough staying in a lovely B&B, eating an incredible meal at Arbour, and cycling to the wineries.
Flying to Milford Sound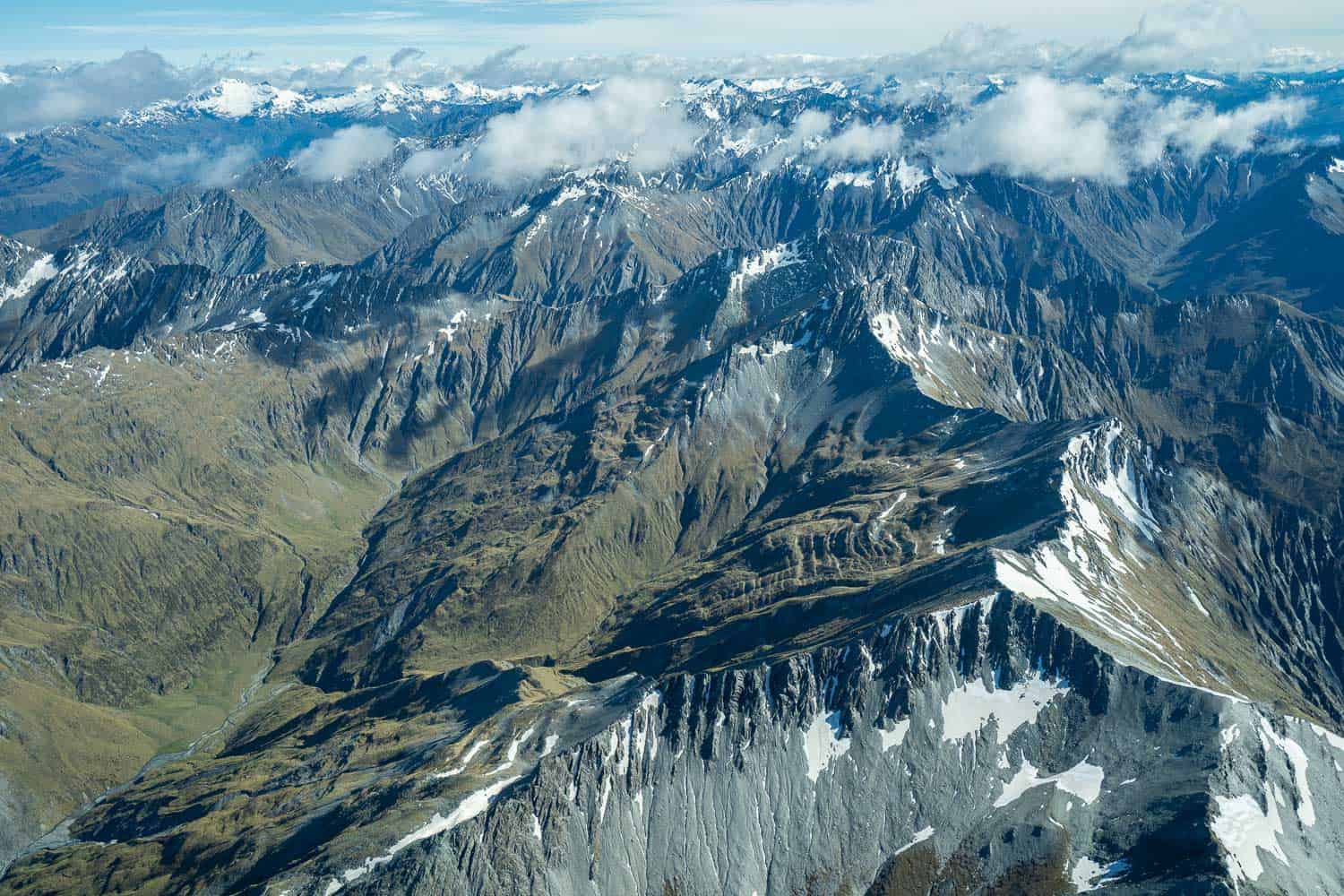 We chose to fly from Queenstown to Milford Sound on a small plane in 30 minutes rather than take the five hour bus trip (each way!) and it was well worth the splurge. Flying over the mountains, lakes, rivers, and glaciers of this stunning country was magnificent.
The boat trip down the Milford Sound (actually a fjord) was just as beautiful and we even saw dolphins and seals.
Summer Life at Lake Hawea
We spent a month in the tiny township of Lake Hawea just as summer arrived, and it was magical.
Hawea is much quieter than Wanaka (a 20-minute drive away) with just one pub and one shop/cafe, and we thought it was even more beautiful with mountains surrounding the clear blue waters.
We enjoyed lots of lake swims and beach relaxation as well as hikes, boat trips, kayaking, stand up paddle boarding, BBQs, and more winery visits.
A few highlights were taking a water taxi to see the "lake within a lake" on Mou Waho island in Lake Wanaka, a stunning but easy hike to Aspiring Hut in Mount Aspiring National Park, and the Siberia Experience which included a flight on a six-seater plane, a hike in a beautiful valley (including river crossing), and a jet boat ride back.
Admiring Mount Cook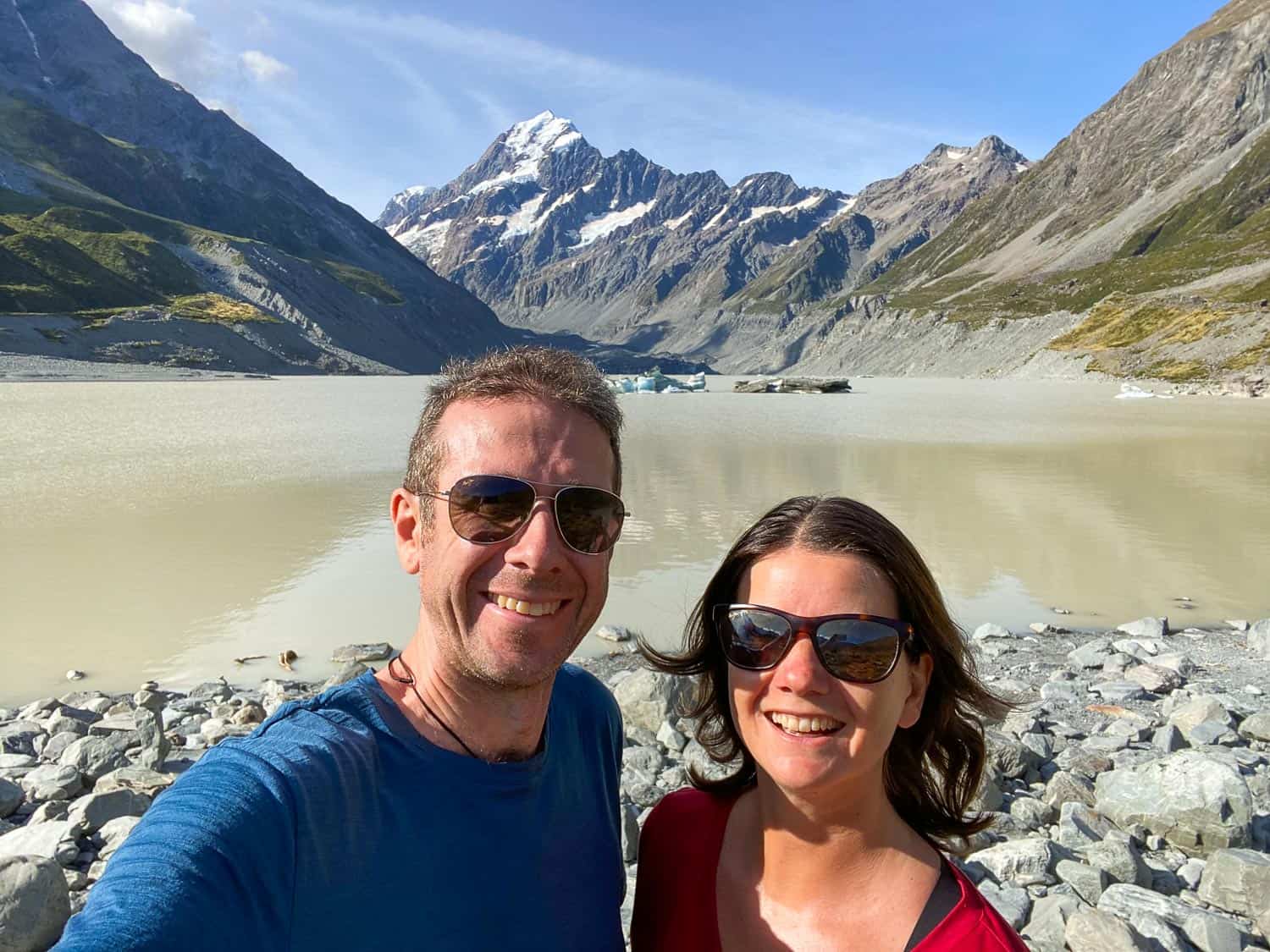 Mount Cook (Aoraki) is the highest mountain in New Zealand, and it is stunning. We're so glad we took a few days to admire it up close in Mt Cook Village. We stayed at the Hermitage Hotel with gorgeous views of the mountain from our room.
We also did the Hooker Valley Track which has to be one of the easiest hikes you can do for spectacular mountain scenery. Just gorgeous!
Swimming with Dolphins in Kaikoura
Just seeing a pod of 100+ wild dusky dolphins from our boat trip in Kaikoura would have been special as we watched them jump and spin and backflip. But we got to jump in the water with the playful creatures!
It was a magical experience, especially when you caught their eye and span around in circles with them.
Friends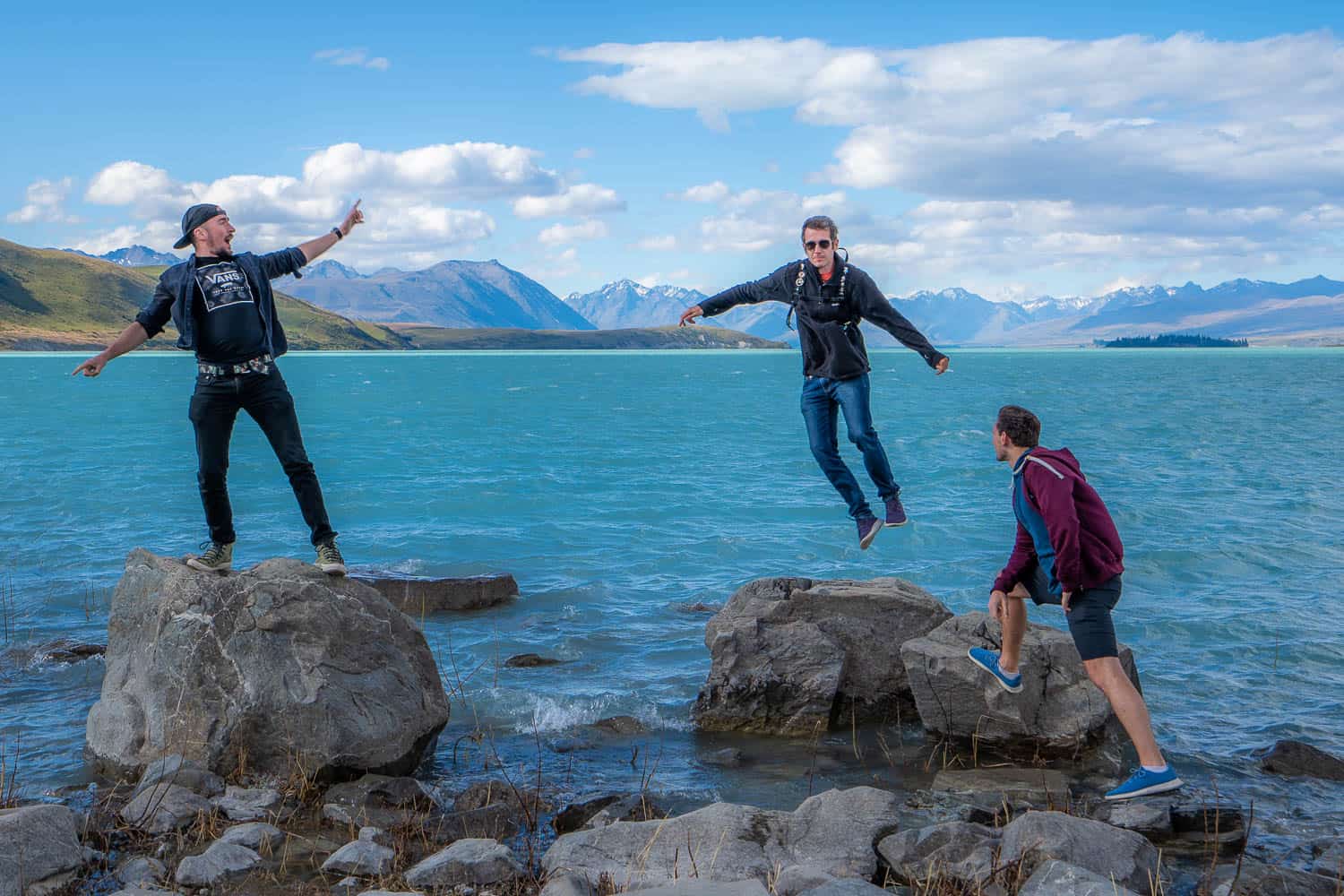 Our friends (both old and new) in New Zealand have made our time here extra special. We experienced Wellington from a local's perspective, attended a most beautiful garden wedding in Nelson, and took group trips to Queenstown and Martinborough. Thank you for making us feel so at home!
Business Growth
Year 9 was exceptional, but Year 10 was the year our business grew to heights we never dreamed possible.
Our blog traffic doubled to 3.2 million visitors in the last year, and our income doubled too.
It has given us the freedom to be able to travel anywhere we want, and we were able to return to Australia and New Zealand after putting it off for years due to the cost.
We also took our first business class flight (without points because we can't figure out how to collect them as Brits) which made flying so much more relaxing. We can't afford it for every flight, but even choosing Premium Economy makes travel days less exhausting.
Our income is entirely passive—primarily from ads and affiliate commissions on this site—which means we can take time off whenever we want to without losing money. No deadlines, no obligations to anyone.
It has also given Simon the freedom to pursue his dream of making an adventure game (which is coming along…slowly) without any financial pressure.
We're so glad we decided against the travel blogging model of being sponsored by brands and going on press trips. Being Instagram stars just isn't for us, and after a decade of experimentation, we've found our own path.
Whether it will last is a question always at the backs of our minds, but for now, we're enjoying the ride and looking forward to Year 11 on the road!
As always, thank you for your support!
You can see our previous years' highlights posts and other reflections on digital nomad life here.