This page contains affiliate links. Please read our disclosure for more info.
Can I buy travel insurance after departure? Yes, you can but only with a few insurance companies.
Finding travel insurance when you're already travelling is challenging. As digital nomads, we started out with a one year long term travel insurance policy, like many round the world travellers, but unlike them, after a year we carried on travelling.
We discovered that we couldn't extend our travel insurance and new policies required us to be living in the UK at the time of purchase. As we were overseas, we didn't know what to do and went uninsured for months—not a good idea.
Thankfully, we discovered it is possible to buy travel insurance when already abroad—whether you forgot to buy insurance before departure or you want to travel for more than a year.
While most companies don't allow you to buy travel insurance after departure, there are a few reliable insurers that do.
The best we've found (and used ourselves) are SafetyWing (available worldwide), Heymondo (worldwide except US and 5% off for our readers), and True Traveller (for UK and EU residents).
We now always make sure we're insured because if anything went wrong it could cost us thousands to be treated or evacuated in a medical emergency.
Contents
Post Departure Travel Insurance Comparison Chart
This chart compares the companies reviewed in this post that offer the best travel insurance when already abroad.
It is difficult to do a direct price comparison for every traveller as costs depend on where you are from, where you are going, age, and level of cover needed.
The prices in this chart are for the standard/ basic packages with quotes for a 30 and 40-year-old from California, USA and from the UK. For True Traveller the quotes are for a 30 and 40-year-old from UK and France.
It's always best to do your own quote for accurate pricing.
SafetyWing
Heymondo
True Traveller
World Nomads

Cost 4 weeks
worldwide
for 30 yr old
(Excl. US)
$45/ £35
$120/ £92
£89/ €71
$207/ £120
Cost 4 weeks
worldwide
for 40 yr old
(Incl. US)
$137/ £106
$120/ £92
£119/ €114
$207/ £120
Purchase After Departure?
Yes (3)
(effective immediately)
Yes
(after 72 hours)
Yes
(after 48 hours)
Yes
(after 48-72 hours)
Availability
Worldwide
Worldwide (excluding US) (4)
UK & EU
Worldwide
(excluding EU)
Covid-19 cover
Yes
Yes
Yes
(must be fully vaccinated)
Yes

Excess/
deductible
$250/ £210
None
£125/ €145
None
Medical Cover
$250,000/£210,000
$250,000/
£3 million
£10 million/ €10 million
$100,000/
£5-10 million
Baggage Cover
Up to $3000/ £2500 (1)
$1700/ £1400
£1000/ €1200 (2)
$1000/ £1000
Other features
Free cover for kids under 10/ Some coverage
in home country/ Pay monthly
Dedicated app with 24/7 doctor chat
Wide range of activities included
High coverage/ many activities included
Best for
Budget travellers, young families, digital nomads
Over 40s, comprehensive cover
Long-term travellers from Europe
Comprehensive cover
SafetyWing only covers lost checked luggage, not stolen baggage.
Baggage cover is an optional extra on True Traveller's most basic plan.
SafetyWing is not available to purchase while you are in Australia, Canada, or the US states: Maryland, New York, and Washington.
While Heymondo is available worldwide, US residents can no longer purchase it while already abroad.
Is Covid-19 Covered?
The pandemic has made travel insurance more important than ever.
In the early days, not every policy covered Covid-19, but now all these companies that allow post departure travel insurance cover it as any other illness.
Always check the small print, though, and make sure you follow any local rules.
Note that True Traveller only covers Covid if you are fully vaccinated.
What to Look For In Your Travel Insurance Policy
Read the small print before buying a policy or you could be wasting your money if they don't pay out.
When you are starting out in your home country you can buy any long term travel insurance policy for the first year. Just check they don't require you to have a return ticket home.
When you need to renew make sure you are allowed to buy the policy when already travelling. Sometimes the policy must be purchased 48 or 72 hours in advance. SafetyWing does not require this waiting period so is a good option if you need immediate cover.
Medical coverage is the most important—make sure it includes emergency evacuation and repatriation.
Check which activities the policy includes if you are going to be doing things like scuba diving, white water rafting, and horse riding. You often need to pay extra to include high-risk activities.
Most policies charge extra for skiing and snowboarding. You might just want to purchase a winter sports policy for the time you are in the mountains.
It's unlikely that it will cover valuables like cameras and laptops (or the limit will be low) so you may need to get extra insurance for these (see below).
We don't worry about baggage cover (our clothes and toiletries are hardly valuable), but you need to decide if it's important to you and check the per item limit.
Cancellation cover is not available for travel insurance mid trip after you have left your home country.
Choose a worldwide policy if you don't know where you'll be travelling to. Otherwise, it'll be cheaper to exclude the US or to focus on one region like Europe.
Check the excess/deductible (the contribution you'll have to pay towards a claim). The higher the excess the cheaper the policy, but make sure you can afford it.
No travel insurance covers pre-existing conditions. If you need this, SafetyWing's Nomad Health plan is your best option.
SafetyWing
The Best Travel Insurance When Already Abroad For Nomads Worldwide.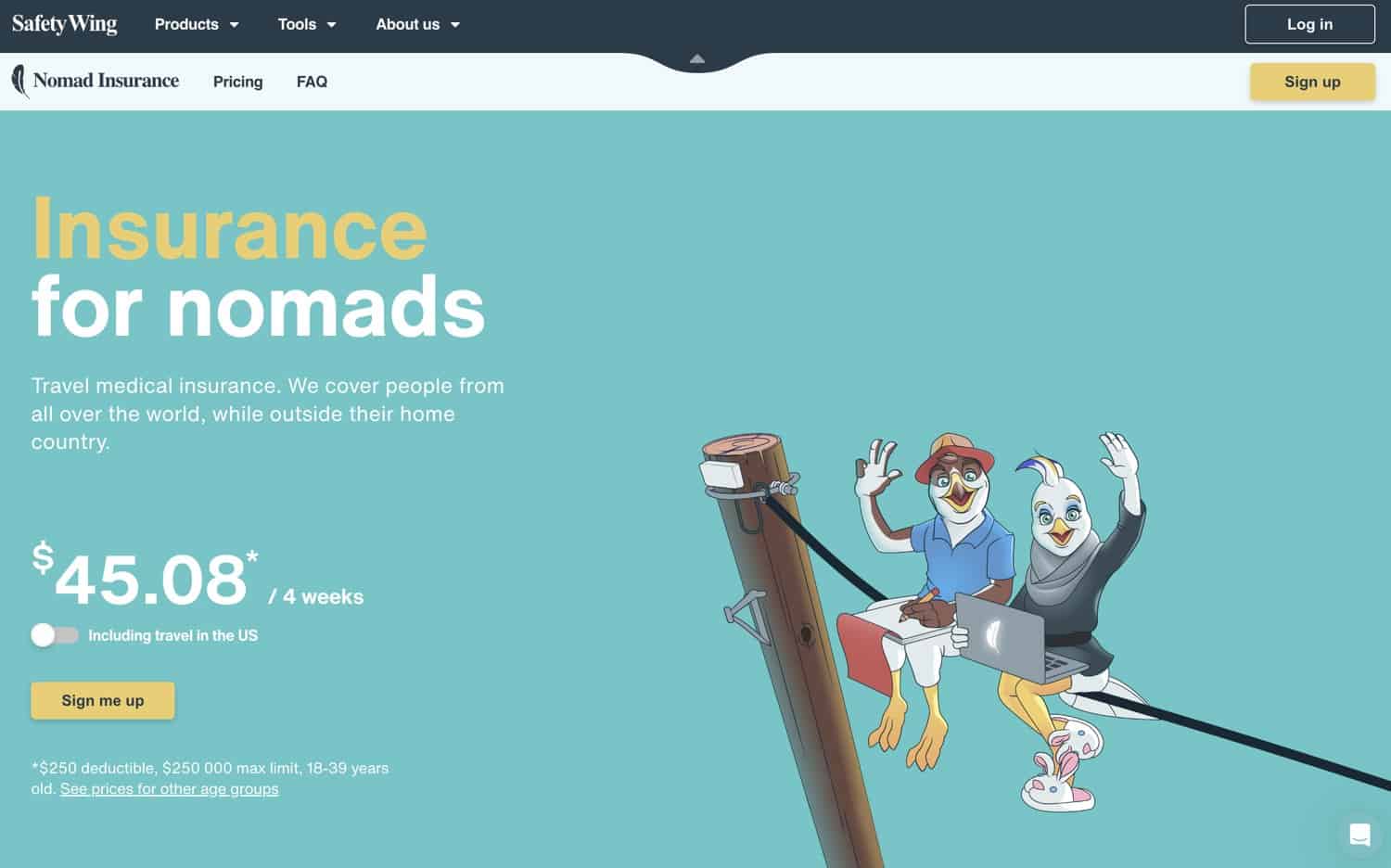 SafetyWing is the world's first travel medical insurance developed specifically for nomads, by nomads. They cover people from all over the world while they are outside their home country.
We used SafetyWing Nomad Insurance last year and loved having the ability to pay every 4 weeks and cancel at any time as we didn't know how long we'd be away from the UK (our home country).
They offer two products:
SafetyWing Nomad Insurance
SafetyWing insurance for nomads can be purchased while travelling and there's no cap on the duration of travel.
Unlike the other insurers on this list, cover can start immediately, even if you are already abroad (as long as you haven't already had an accident).
Unfortunately, due to local regulations, you can not purchase cover while you are in Australia, Canada, or the US states: Maryland, New York, and Washington. You can buy before or after visiting those places though.
SafetyWing Nomad Insurance includes travel medical cover such as emergency doctor and hospital visits and medical evacuation. They also cover travel delay, lost checked luggage, and personal liability. Stolen baggage isn't covered.
It's the most affordable long term travel insurance I've found for most nationalities. The standard policy costs a flat rate of US $45 per 4 weeks which is automatically charged every 4 weeks until you cancel.
This is for ages 18-39; other ages are available but will cost more (up to age 69). Travel to the US adds an extra $38 per 4 weeks.
There's a $250 deductible and a $250,000 maximum limit on payouts.
Another unusual bonus is limited coverage in your home country. For every 90 days, you can use your medical coverage for 30 days in your home country (15 days in the US) if something happens while you are there.
Other benefits include free coverage for children under 10 (up to 2 per family).
The policy covers many sports and activities, but it's best to check their website if you are interested in a particular activity.
Unusually, they do cover moped or scooter accidents as long as the accident does not fall under any exclusions, such as the exclusions for racing and intoxication.
My SafetyWing insurance review has more details including a comparison with World Nomads and True Traveller.
Visit the SafetyWing website or use the widget below for a quote.
Nomad Health
SafetyWing also offers a global health insurance plan for digital nomads and remote workers called Nomad Health.
It offers more comprehensive health coverage than the SafetyWing Nomad Insurance including cancer treatment and pre-existing conditions (subject to approval).
Note that this is not a travel insurance policy, so there is no coverage for non-health expenses such as lost baggage, travel delay, etc.
It is significantly more expensive than the Nomad Insurance and you need to commit to a year contract.
A standard policy for one person aged 18-39 costs $123 a month and the premium plan is $238. It costs extra to include more than 30 days in the US, Hong Kong, and Singapore.
Visit the Nomad Health website for more details.
Heymondo
Comprehensive Post Departure Travel Insurance Available Worldwide (excluding the US)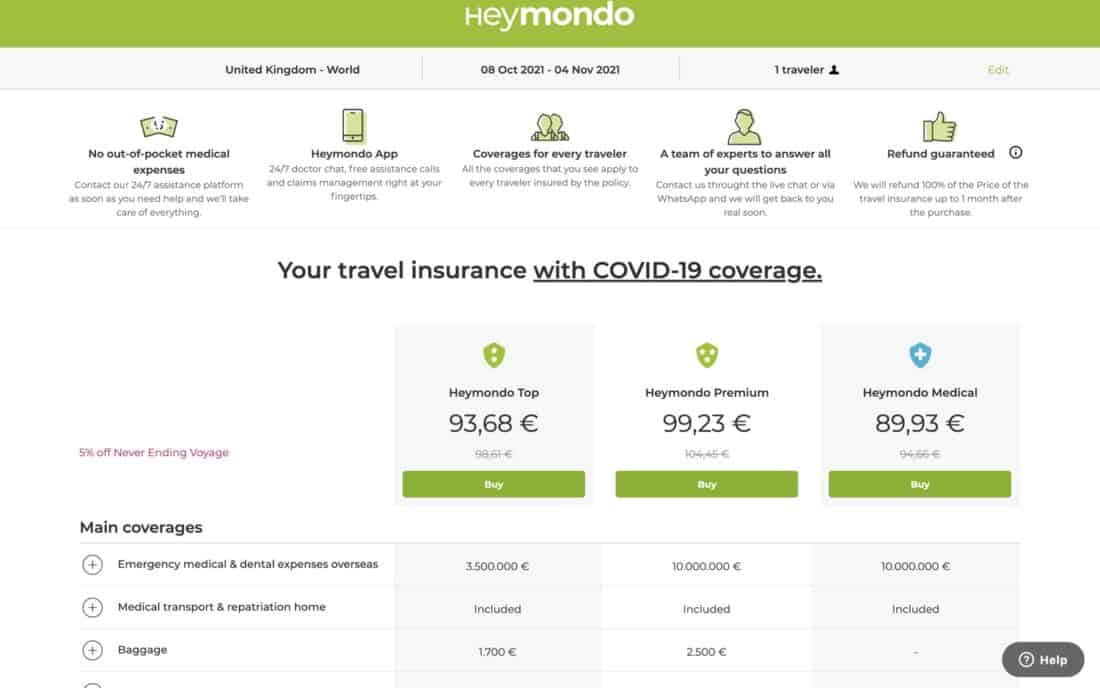 Heymondo is the most recent company I've discovered that offers travel insurance after arrival. Their policies are very comprehensive and we used them on our last US and Europe trips.
Note that their policies are only valid 72 hours after purchase.
Here are some pros of Heymondo travel insurance:
It's available worldwide with similar coverage for most nationalities. The major exception is the USA—they no longer offer insurance when already travelling or for one way trips to Americans.
Comprehensive coverage including high medical payouts (€3.5-10 million), although this is lower for US residents ($100,000-200,000 USD).
You can add electronics and adventure sports coverage.
Prices are the same for all ages and are available up to 69 years. This makes it better value for older travellers.
There's no deductible/excess except for the long stay policy (for trips over 90 days) and the new basic policy.
You don't need to pay upfront for medical expenses—contact them to take care of payment. This only works if you go to an emergency room first though (not direct to a doctor's clinic).
There's a dedicated app with a doctor available for 24-hour online chat (we found this really useful when Simon had a minor health issue).
The main downsides are higher prices and limited activity coverage (including no ski cover).
If you'll be doing lots of adventure sports, check what they cover—you might have to pay extra to include your activity. For example, horse riding isn't in the basic plan.
A 4-week trip worldwide (with or without the US) costs €96 for their Top policy and €99 for Premium.
This is much more expensive than other options for younger age groups, but for over 50s travelling to the US, it becomes significantly cheaper than SafetyWing.
They also have a Basic policy for some nationalities, which is cheaper if you don't need cancellation cover or mind a small excess.
Click here to get a Heymondo quote (with a 5% discount for Never Ending Voyage readers).
True Traveller
The Best Post Departure Travel Insurance for UK and EU residents.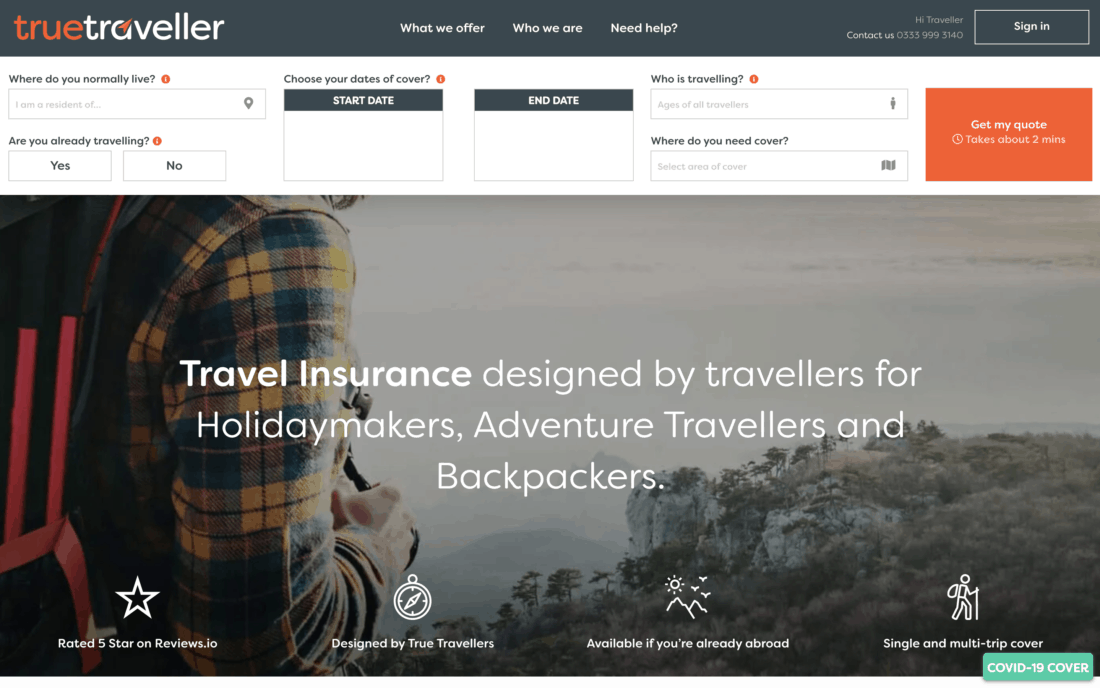 We used True Traveller insurance for eight years and it's the best value, most digital nomad and backpacker-friendly policy we've found for UK and EU residents.
True Traveller covers COVID-19 as long as you have been vaccinated.
True Traveller allows you to buy travel insurance when already travelling and they don't require a return ticket, so it's ideal for digital nomads, long term travellers, or anyone who has forgotten to buy insurance before leaving.
If you are already abroad, cover does not start until 48 hours after purchase.
They really understand the needs of long term travellers and you can tailor the policy to suit you, choosing the most basic medical insurance or adding extras like baggage, electronics, cancellation, activities, and winter sports cover. This helps keep costs down as you only buy what you really need.
Their site is user friendly and easy to understand. True Traveller was originally an adventure travel company, not an insurance company. Their policies are designed by travellers for travellers and it shows.
Making a claim with True Traveller was quick and easy. After visiting the doctors in Bali all I had to do was fill in a simple form, take photos of the doctor's report and receipts, and send it all by email. Just three working days later I received the money in my bank account!
You can read our detailed True Traveller insurance review here including the claims process.
How Much Does a True Traveller Policy Cost?
Currently, a one year True Value worldwide (excluding North America) policy without baggage costs £337 per person for a 39-year-old.
Although this policy excludes the US and Canada, you are covered for 14 days there without any additional cost.
To include the US for the whole year, the policy would cost £401 for a year.
It's the best value insurance I've found for Brits on longer trips.
For shorter trips, it's significantly more expensive (but more comprehensive) than SafetyWing—from £89 for 4 weeks for a 39-year-old travelling worldwide (excluding US).
We used to buy the most basic policy (only available for those under 40) to keep costs down and as we're only interested in the medical coverage (£10 million is covered).
There's a £125 excess (deductible) but you can pay slightly more to reduce this to zero (which I recommend).
91 activities are included as standard so we didn't need to purchase the Adventure or Extreme pack to include high-risk activities like scuba diving at lower depths or black water rafting. Check their list to see what activities you are likely to be doing.
If you are over 40, you'll have to purchase the Traveller or Traveller Plus policies which are more expensive but provide more coverage and a lower excess.
Unfortunately, they don't insure those over 65.
Click here to go to True Traveller for a quote.
World Nomads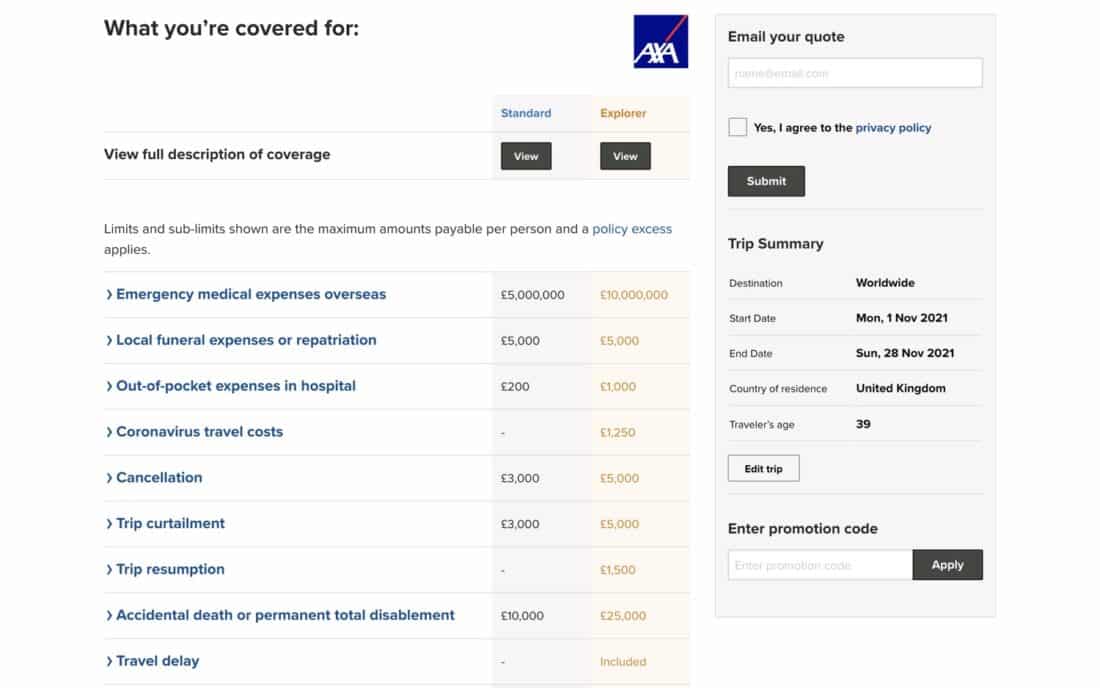 World Nomads is a well known travel insurance company that we used on our round the world trip in 2007-8.
They allow you to get travel insurance while abroad so are popular with many digital nomads and long term travellers we know.
For some nationalities, there is a waiting period of 48 or 72 hours before the insurance takes effect if you are away from home when you purchase. Check the terms for your country, but currently this applies to UK, Canada, and others.
Their policies are some of the most comprehensive on the market with high maximum amounts for medical cover (£5-10 million) and lots of extras like rental car excess insurance (in the Explorer plan). They also cover many adventure activities.
World Nomads is available for most nationalities, but since August 2021, they have temporarily suspended cover to residents of all EU countries except Ireland. It's still available for UK residents.
The main downside is that they are much more expensive than both True Traveller and SafetyWing. World Nomads cover and price also varies widely depending on your country of residence.
You can see a detailed comparison in my SafetyWing review.
Electronics Insurance for Travel
Most travel insurance policies don't cover valuables and electronics or have a low limit.
If you want to include electronics in your policy, Heymondo is the best option. With their Premium plan your electronics are covered for 50% of the baggage limit ($2500/€2500) or you can pay extra to extend this to 100%.
We used to have a separate policy with Photoguard that covered our cameras and laptops for accidental damage and theft.
They only cover UK citizens and the cost depends on the value of your items—when we last renewed ours was £263 a year.
We stopped using Photoguard as they no longer cover long term travellers, so it's only a good option for shorter trips.
We struggled to find an electronics insurance policy that would cover us for a whole year, so we no longer have insurance for our camera and electronics. We make sure we have savings to cover their replacement if necessary.
Another option we've heard of is to get your electronics added to a family member's home insurance policy.
What's the Best Travel Insurance While Abroad?
The best post departure travel insurance for you depends on your age, nationality, length of trip, and the cover you need.
If your budget is limited or you want to pay monthly, SafetyWing is best for most travellers, especially those under 50 and Americans.
True Traveller offers more comprehensive cover and can be good value for Brits and Europeans on long trips.
For most nationalities, Heymondo provides high levels of cover, but it can be more expensive for younger travellers.
If you are over 40, check out Heymondo as it can be more affordable than the others. They also have the best electronics cover.
Whatever you decide, make sure you do buy travel insurance. If the worst happens you'll want to be covered or it could end up costing you more than you can afford.
I hope this post helps if you forgot to buy travel insurance or need a new policy for travel insurance while already overseas.
Let us know if you've heard of other companies that allow you to buy travel insurance whilst already abroad.
Other Travel Insurance Reviews
If you enjoyed this post, pin it!