This page contains affiliate links. Please read our disclosure for more info.
Travel insurance is essential for any trip abroad. Although it's unlikely that anything will go wrong, it's important to be covered as a serious accident or illness could end up costing you a fortune.
For eight years we used True Traveller insurance which is the best backpacker insurance we've found.
True Traveller insurance is only available for UK and EU residents, so if you're from somewhere else we recommend SafetyWing instead—more details on that below.
Here's our True Traveller insurance review and why we think it's the best long term travel insurance for Brits.
Contents
True Traveller Covid-19 Coverage
True Traveller does provide medical, cancellation, and curtailment cover for COVID-19, but only if you have been vaccinated and are not travelling to a country that the FCDO advises against "all but essential travel on the current assessment of COVID-19 risks."
To find out, go to the FCDO Travel Advice page and search for the country you plan to visit to see the latest restrictions. In late 2021, there are only seven countries on the list to avoid travelling to.
The True Traveller coronavirus page has the latest information.
SafetyWing also covers COVID-19 and is a good option if you're not from the UK or want to travel to somewhere the FCDO advises against. See our travel insurance after departure guide and SafetyWing review for more details.
Flexible
True Traveller was originally an adventure travel company—their policies are designed by travellers for travellers and it shows.
They offer a flexibility that other insurance companies don't and show a real understanding of the needs of backpackers and long-term travellers. With True Traveller you can:
Buy travel insurance when you are already travelling – This is very rare as most insurance companies require you to be in your home country at the time of purchase. It's ideal if you forget to buy insurance or your policy expires and you need to renew.
Travel with a one-way ticket – Unlike most insurance companies, True Traveller covers you if you don't know when you'll be returning home (as we never do) and don't have a return ticket.
Get cover for a range of adventure activities – Whether you'll be horse riding, scuba diving, snowboarding, trekking, volunteering, or working on a gap year, True Traveller covers you. You can choose which of their three activity packs is right for you—the Traveller Pack covers 91 activities and is included as standard.
Choose the cover you really need – This can dramatically reduce the cost of your policy (see below).
If you are heading off on a long trip, you can buy a backpacker insurance policy for up to 18 months (and extend it if needed).
Although True Traveller insurance is ideal for long-term travellers, it's great for short trips too.
You can purchase cover for a single trip or potentially save money with an Annual Multi Trip policy which is valid for unlimited trips throughout the year, for up to 30 days (True Value or Traveller) or 70 days (Traveller Plus).
Affordable
True Traveller insurance is the best value travel insurance we've found for UK and EU residents.
This is because they allow you to tailor the policy to suit you. You can choose the most basic medical insurance or add extras like baggage, electronics, cancellation, extreme adventure activities, and winter sports cover.
This keeps costs down as you only buy what you really need.
Getting a True Traveller Quote
True Traveller offers three policies: True Value (the cheapest, for backpackers and travellers under 40), Traveller (their most popular policy), and Traveller Plus (with enhanced medical and cancellation cover).
They can not insure people who are over 65 years old.
It's very easy to get a quote on the homepage of the True Traveller website. Below is the quote I got—£392 for a one year True Value worldwide policy (including the US).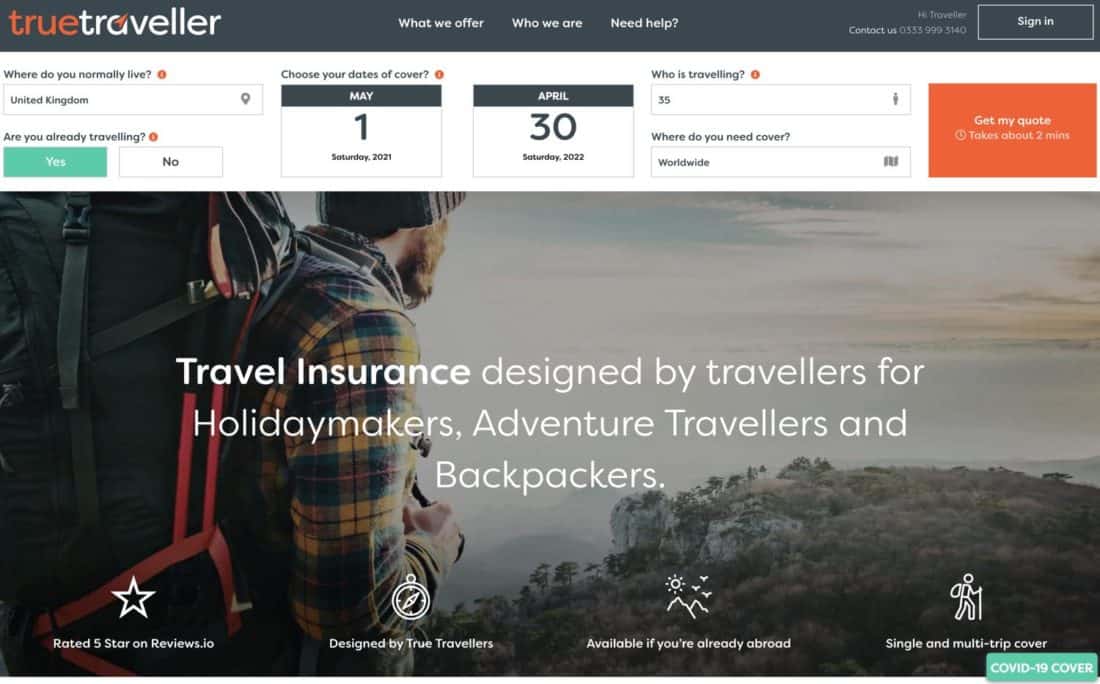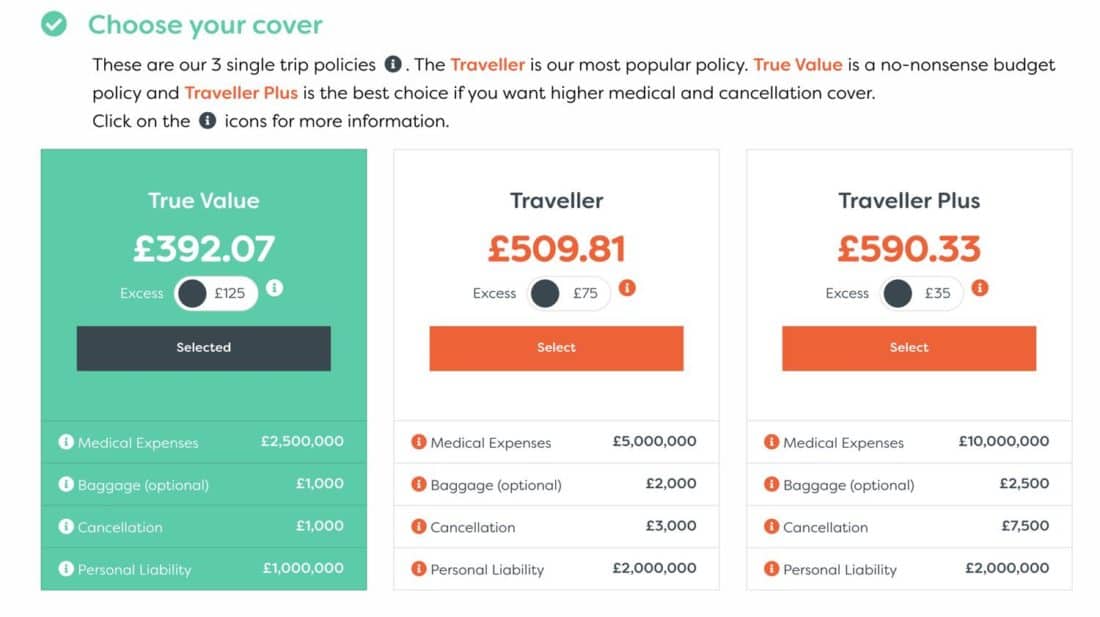 If you exclude the US and Canada, you will save a considerable amount—£63 on this quote. On trips over six months, you can spend 14 days in the US without paying extra.
You can see the different levels of coverage above. Traveller and Traveller Plus offer higher levels of baggage and cancellation coverage and smaller excesses (the amount you pay of any claim).
We usually choose the basic True Value policy as our main concern is medical expenses and repatriation.
I recommend paying slightly more—about £52 a year on my quote—to reduce the excess to £0. Even if you only go to the doctor once, you'll likely pay more than this so will save money.
Activities
You can then choose to add an Activity Pack, but for us the Traveller Pack that is included is enough.
It covers activities that we sometimes do like horse riding, motorcycling (under 125cc), kayaking, cycling, white water rafting, sailing, surfing, and lots more.
You can also add winter sports cover.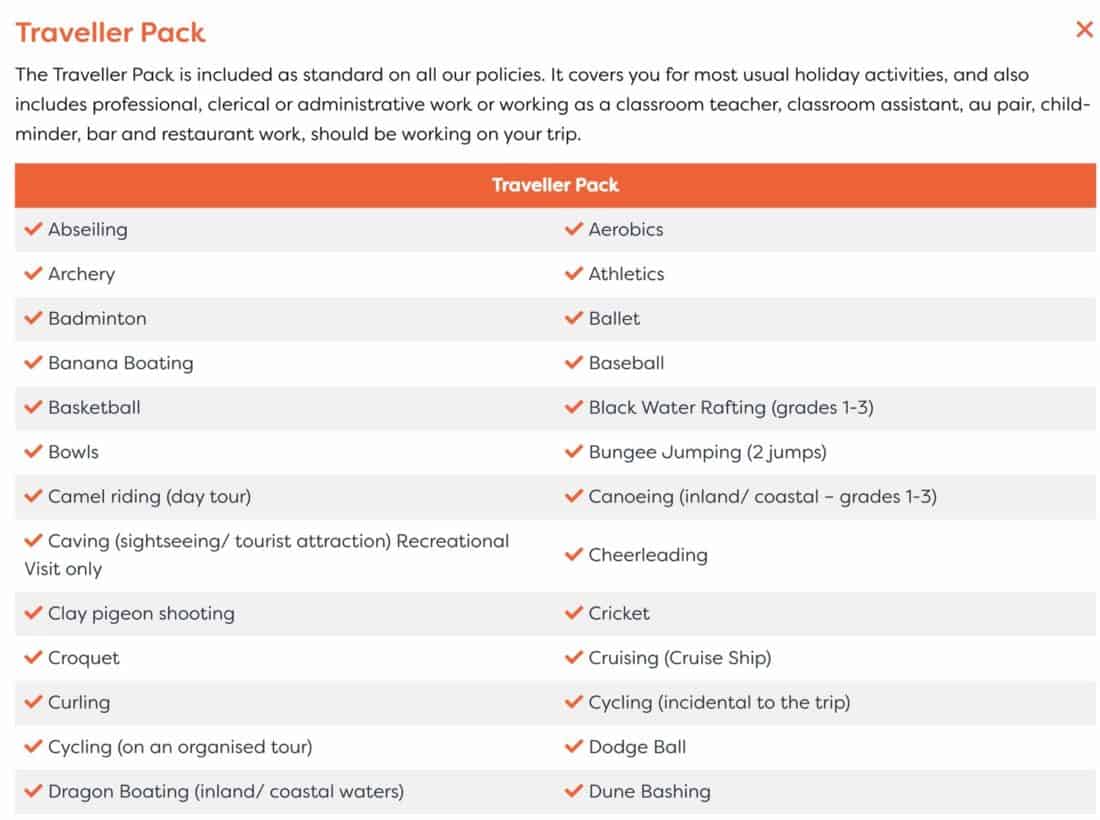 Baggage
For the True Value policy baggage isn't automatically included but you can add it. We don't bother as it only includes valuables up to £200 total (£100 per item) and our non-electronic items aren't worth much.
You can also choose to add electronics separately, but the value limit of £450 per item (or £750 with Traveller Plus) is not enough for our laptops and camera.
Unfortunately, we haven't found a good option for long-term worldwide electronics insurance, so our items are uninsured and we make sure we have enough savings to replace them.
Renewable
If you decide to travel for longer, you can easily extend your True Traveller policy (before the expiry date) and get a 10% discount.
Even if you let your policy expire while abroad you can purchase a new one by ticking the "already travelling" box.
Easy Claims Process
The real test of any insurance is how easy it is to make a claim. I have made a claim with True Traveller and was pleased to discover that the process was simple and quick.
To make a claim you have to download the claim form from their website and return it within 60 days of the incident. Make sure you keep any receipts and doctor or police reports.
I had to visit the doctor in Bali on two occasions about ongoing stomach problems and they did various tests to find out what was wrong and prescribed antibiotics.
The total cost wasn't a huge amount over my £125 excess, but it was worth putting in a claim anyway. After this I learnt to pay a little extra to reduce the excess to zero.
The claims form was a little intimidating at first, but it was straightforward once I started and it didn't take long to fill out.
As I was still travelling I was able to send the form by email along with scanned copies of the doctor's report and receipt and my certificate of insurance. Scanning was easy with the Notes app on our iPhone or you could just take a photo.
Claims are supposed to take up to 10 working days, but two days later I received an email saying my claim had been processed and a day later the money was in my bank account.
I was impressed by how easy and quick making a claim was. I was also pleased that they hadn't quibbled over the fact that the doctor had got my date of birth wrong on my report.
My claim was a small one, so much larger claims may be more difficult, but True Traveller has excellent reviews on Trust Pilot and I feel confident continuing to use them.
SafetyWing: The Best Alternative to True Traveller for Non-UK Residents
If you are not from the UK, the best alternative to True Traveller we have found is SafetyWing. It's designed for nomads and is payable as a monthly subscription (cancellable anytime). They provide COVID-19 cover worldwide.
The standard policy costs a flat rate of US $45 per 4 weeks which is automatically charged every 4 weeks until you cancel. This is for ages 18-39; other ages are available but will cost more. Travel to the US adds an extra $38 per 4 weeks.
Visit the SafetyWing website for a quote or see my SafetyWing insurance review for more details and a comparison with True Traveller and World Nomads.
Another travel insurance option available worldwide is Heymondo, which has higher levels of cover but is more expensive.
Get a True Traveller Insurance Quote
If you are from the UK or Europe, I highly recommend True Traveller insurance. Their website is really easy to use and you can play around with the different options to find the most affordable cover that meets your needs.
Click here to get a quote from True Traveller.
Which backpacker travel insurance do you recommend? Have you made any claims with True Traveller or SafetyWing? We'd love to hear about your experiences—leave a comment below.
If you enjoyed this post, pin it!