Oman isn't a country that many people consider visiting, which is a shame as it has a lot to offer and is one of the safest countries in the Middle East.
In Oman you can visit forts and deserts, mountains and beaches, mosques and souqs, and swim in stunning wadis.
These are our picks for the best places to visit in Oman.
You'll find a map at the end of the post with all these Oman tourist places.
Contents
Video: Best Places to Visit in Oman
1) Sultan Qaboos Grand Mosque, Muscat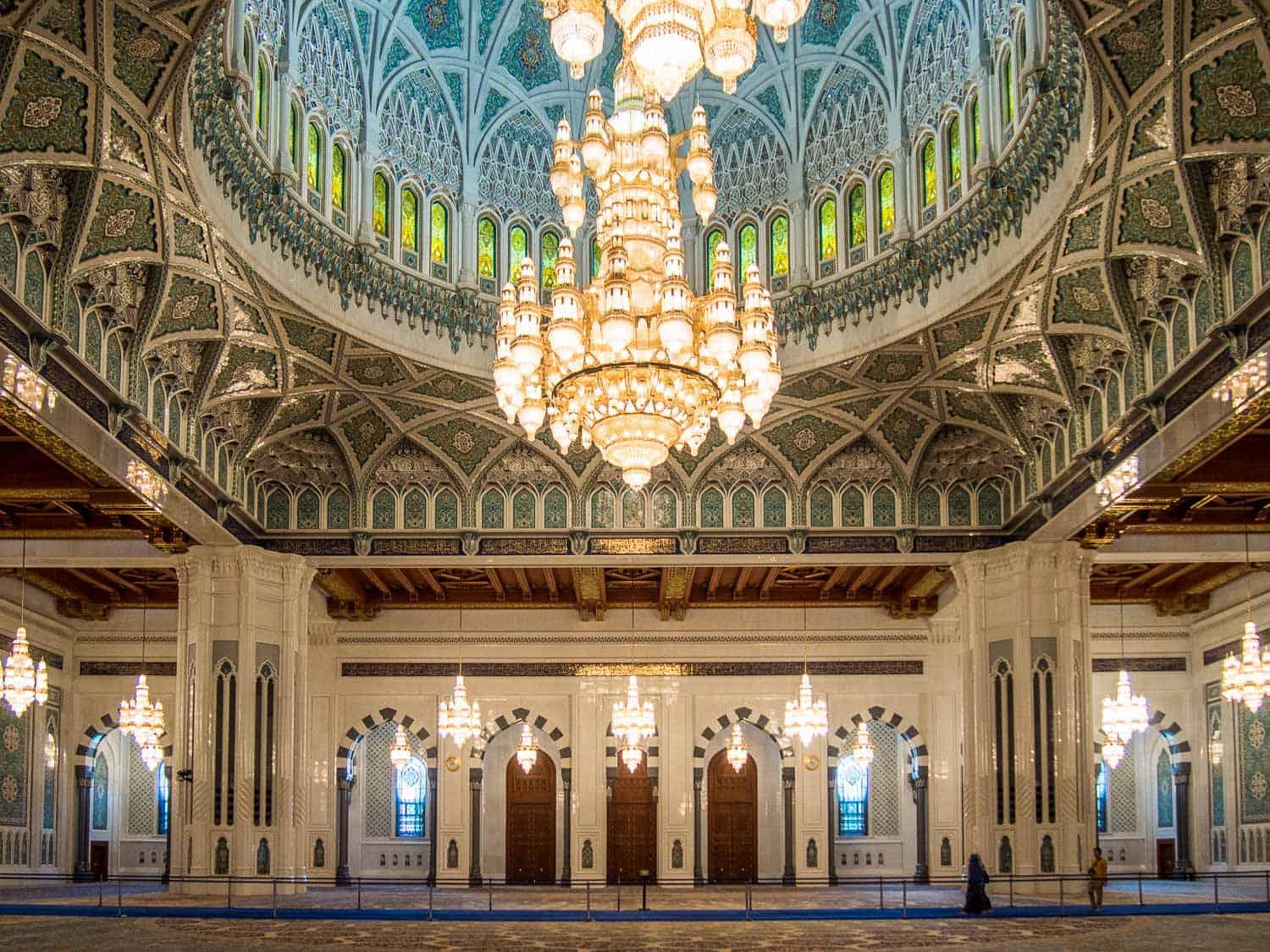 Most trips to Oman begin in the capital Muscat and high on everyone's list is a visit to the Sultan Qaboos Grand Mosque.
It's a stunning modern mosque that lives up to its name with space for 20,000 worshippers.
The extravagant main prayer hall features a massive chandelier, intricately detailed blue mosaic tiles, and the second largest handmade Iranian rug in the world—it took 600 women four years to weave.
The mosque's grounds are a serene place to wander and enjoy the harmonious lines and archways of the various buildings and beautiful gardens. It's certainly one of the best places to visit in Muscat.
On our visit a rare rain shower turned the marble floors into a reflective pool.
Women need to cover their hair, arms and legs when visiting the mosque. Men should wear long trousers.
The Grand Mosque is open to non-Muslim visitors from 8.30am to 11am every day except Friday. There's no entrance fee.
2) Mutrah Corniche, Muscat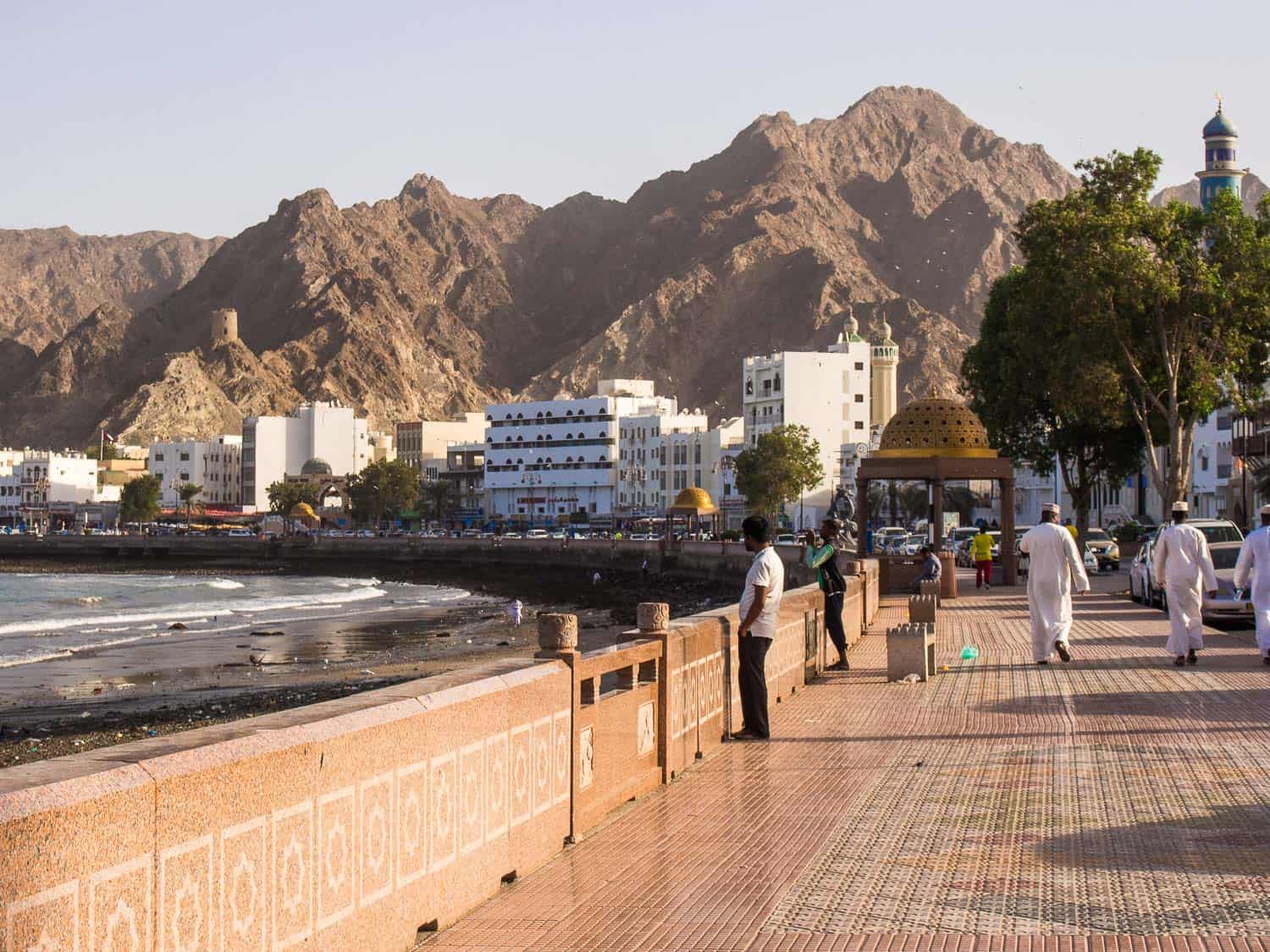 Before sunset head to the other side of Muscat to the Mutrah Corniche.
Join the locals for a stroll along the lovely seafront where white buildings and mosques are backed by rocky mountains and forts that glow golden in the late afternoon light.
Nearby you can shop in the narrow lanes of the Mutrah Souq, one of the oldest markets in Oman and a top Muscat tourist attraction.
Browse the stalls for frankincense and myrrh, ceramic incense burners, silver jewellery, pashminas, turbans, genie lamps, fluffy camels, and much more.
3) Jabrin Fort (Jibreen Castle)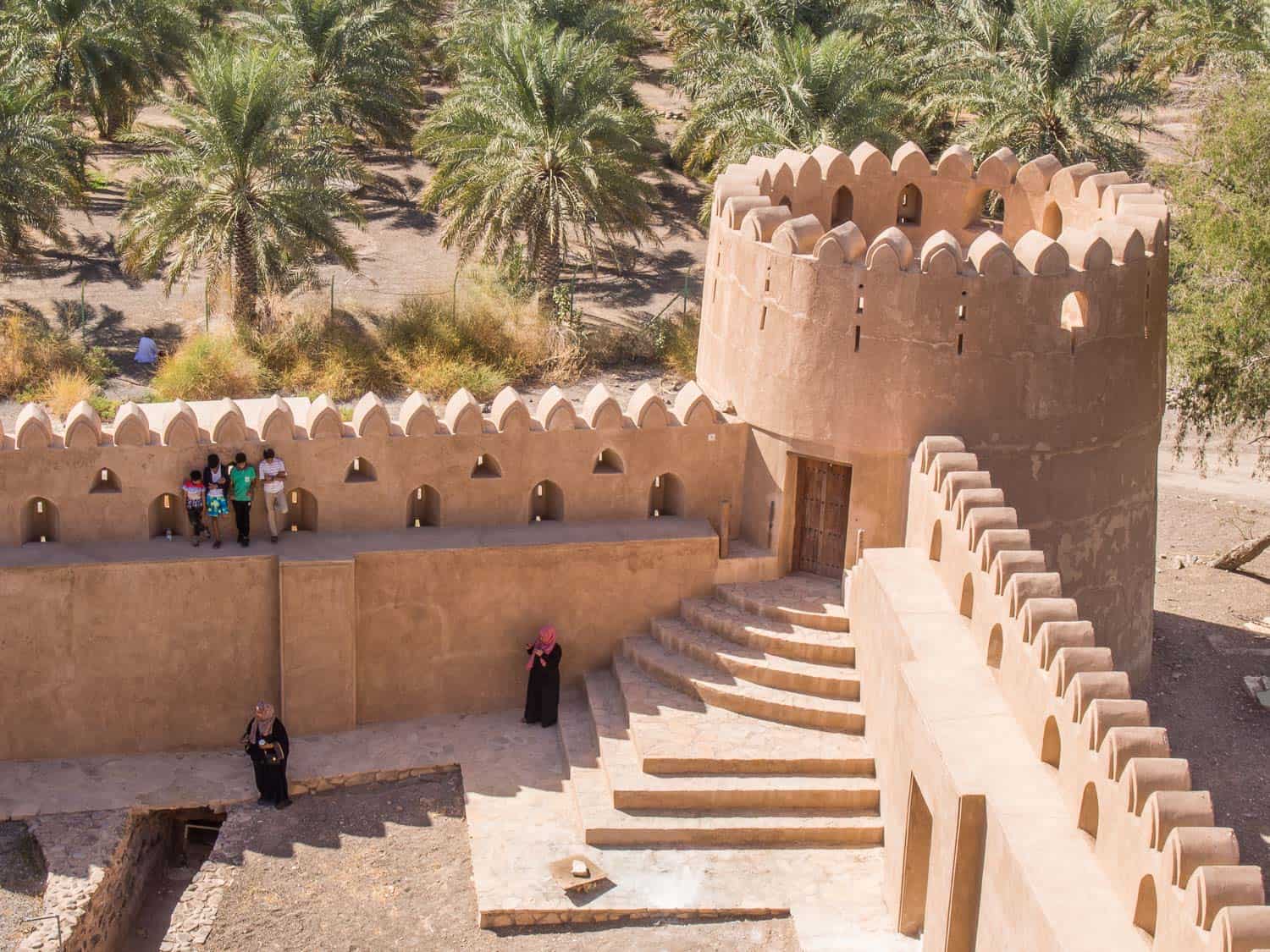 From Muscat we recommend taking a trip inland to the Nizwa area where you can explore forts, mountains, and ancient villages.
See our Oman road trip itinerary for more details of all the places on this list.
Jabrin Fort (also known as Jabreen or Jibreen Castle) dates back to 1675 and looks like a sand castle amidst an oasis of date palms.
You can wander through the labyrinth of rooms and see the defensive methods used like the murder holes, gaps in the floor where they used to pour boiling date oil on enemies.
Entrance to Jibreen Castle is 500 baisa. It's open from 9am to 4pm Saturday to Thursday and 8am to 11am on Friday.
4) Nizwa Fort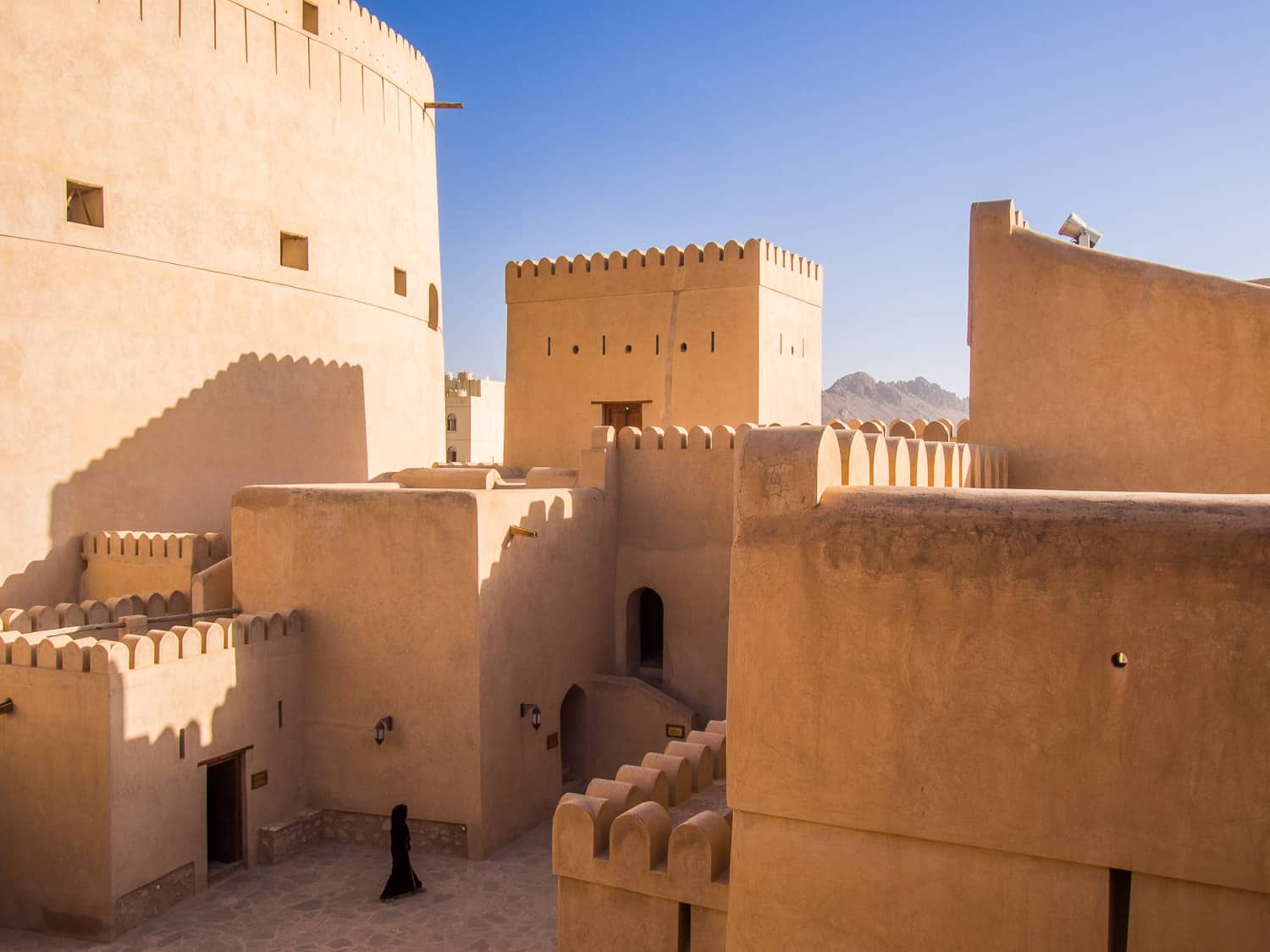 The 17th-century Nizwa Fort is one of the most popular places to visit in Oman.
It features a massive circular tower which you can climb for views of the mosque, souq, distant rocky mountains, and the date palms that surround this oasis city.
Nizwa Fort has been refurbished and there are now historical items on display like jewellery, tools, and a timeline of the area's history.
You can also watch women making crafts and baking bread over an open fire. Look out for the murder holes here too.
Entrance to Nizwa Fort costs 5 OMR. It's open from 8am to 8pm (except on Fridays when it's open 8am to 11.30am and 1.30pm to 8pm).
5) Jebel Akhdar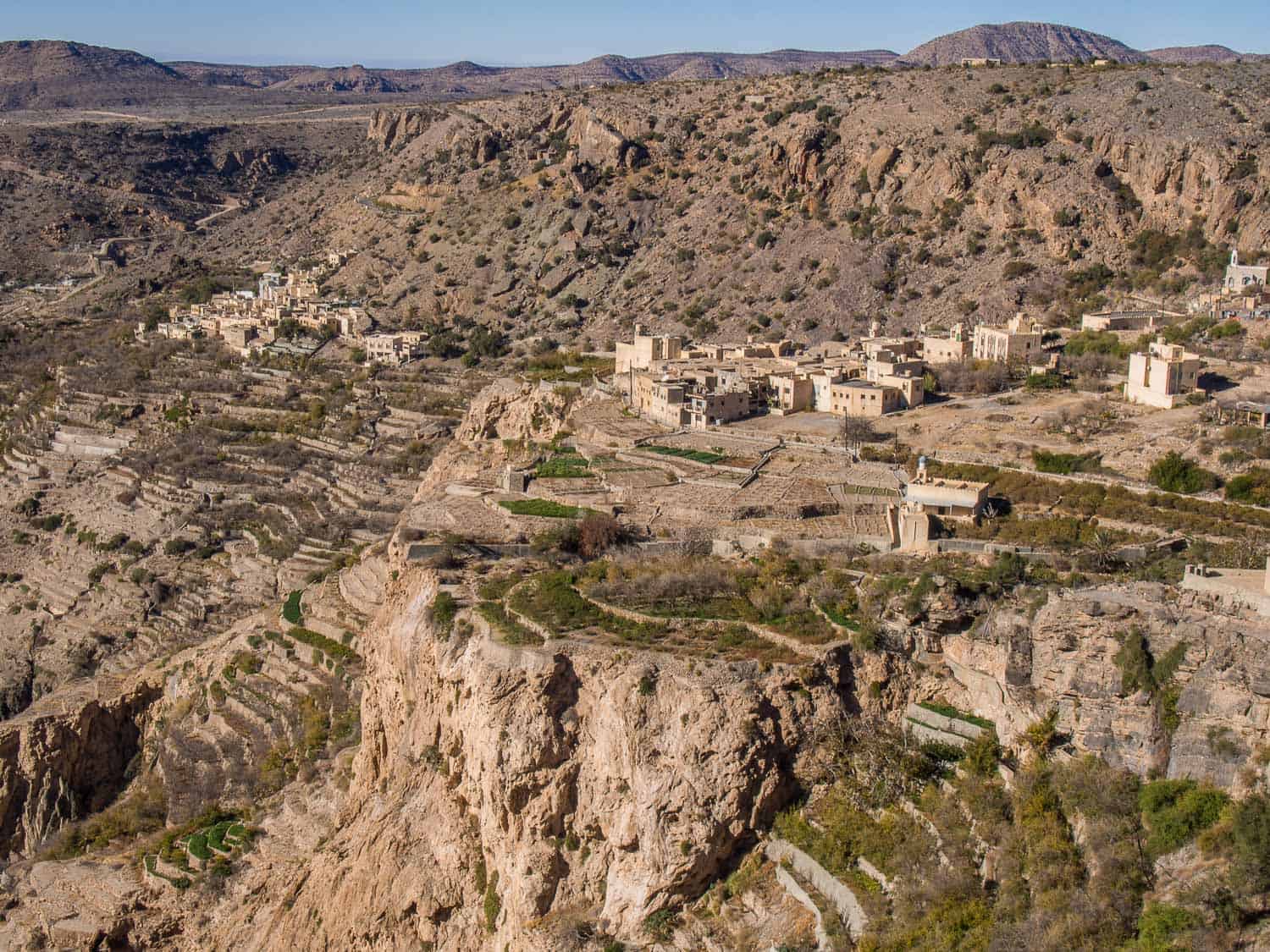 Jebel Akhdar means Green Mountain but you might wonder why as you ascend its slate grey and burnt orange sides, barren except for a few thorny dried up bushes.
The green refers to the villages of the Saiq Plateau, 2000m above sea level, where abundant rainfall allows the growth of pomegranates, grapes, peaches, apricots, and roses for the rose water that's used in Omani sweets and as perfume.
Spring is the best time to visit when the roses are in bloom and the terrace plantations are a vibrant green.
Jebel Akhdar is an easy day trip from Nizwa (or even Muscat), but you do need a 4WD to ascend the steep winding road (we hired a driver at the police checkpoint just outside Birkat al Mawz).
The views from the top of the villages surrounded by jagged peaks are spectacular, and the cold air is a relief from the hot plains.
6) Misfat al Abryeen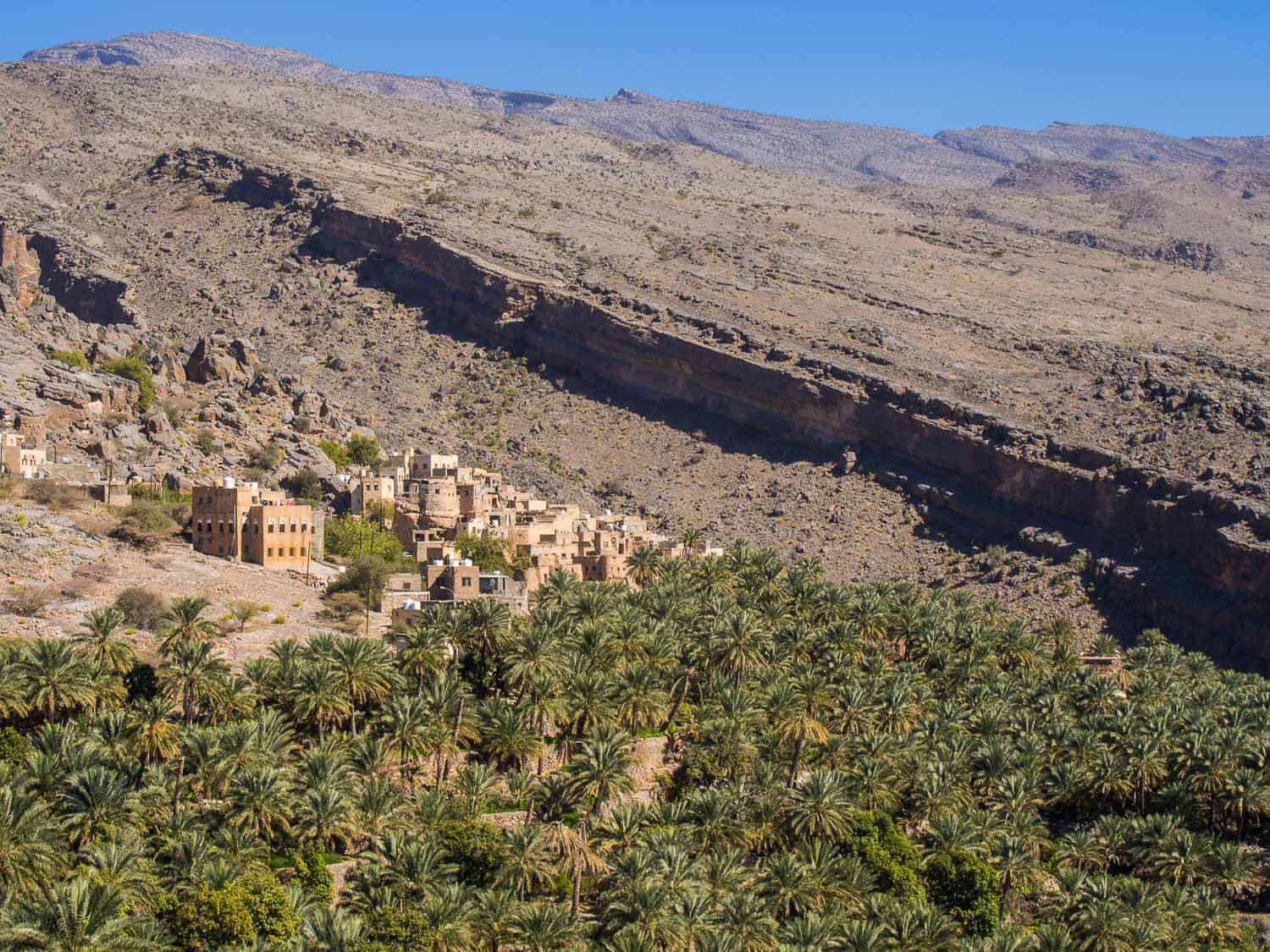 Most of the old villages in Oman have been abandoned, but Misfat al Abryeen is still inhabited and is one of the most picturesque in Oman.
It's a maze-like village of crumbling mud houses in narrow passageways sloping down the mountainside.
Below the village you can follow the falaj irrigation channels and walk through the lush date and banana plantations—it's shockingly green after the desert.
7) Jebel Shams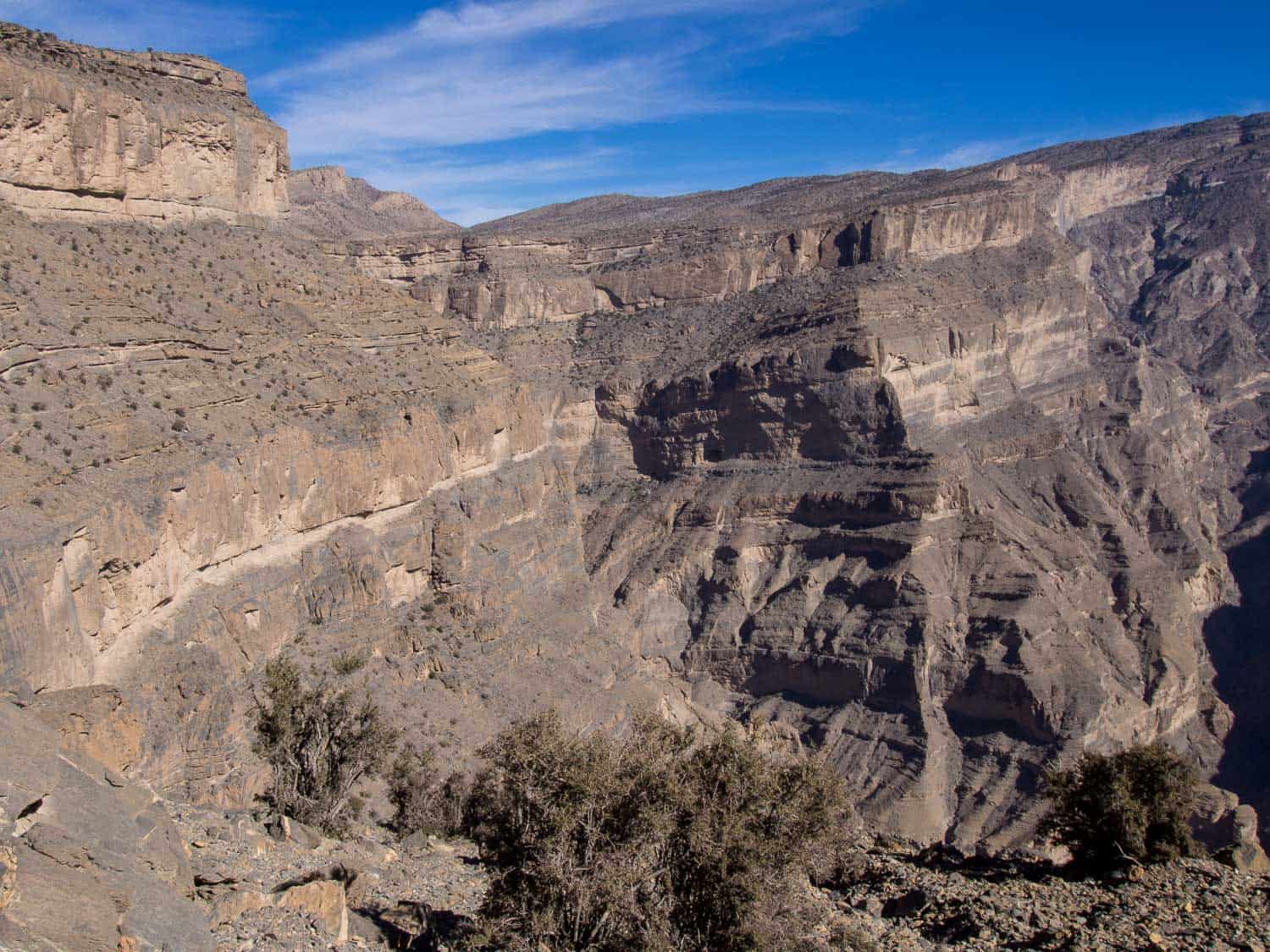 It's a long drive on steep, rough roads to the top of Jebel Shams, Oman's highest mountain.
It's worth it for the stunning views deep down into Wadi Ghul, known as the Grand Canyon of Arabia. It's one of the most beautiful places in Oman.
Our highlight was the Balcony Walk, a fairly easy but dramatic 2.5-hour hike which winds around the cliffs halfway up the rim of the canyon to the abandoned village of As Sab.
Tiny stone and mud houses perch precariously on the edge of the ravine under a ledge of rock—a perilous place to live.
8) Wahiba Sands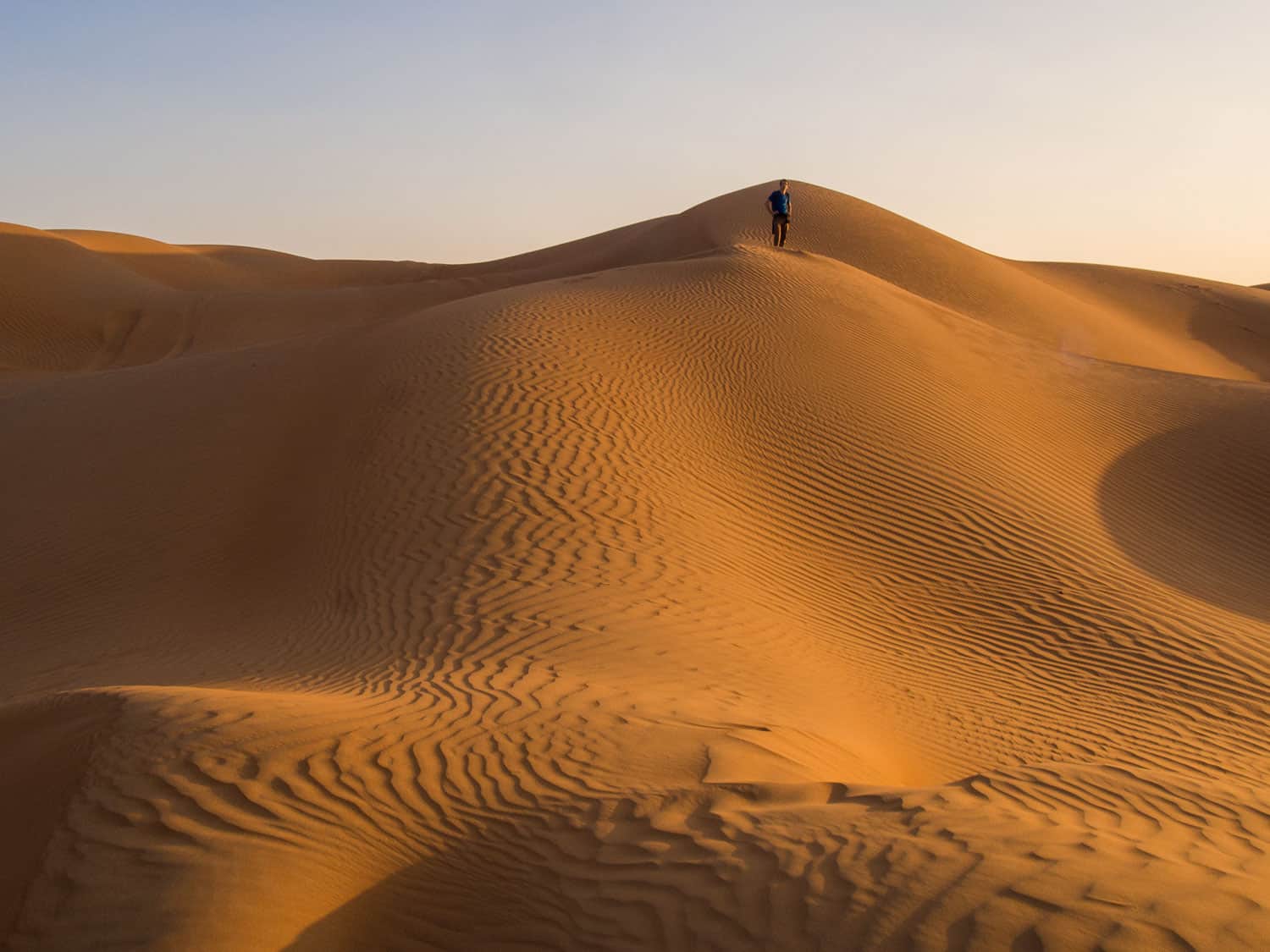 For the true desert experience head to Wahiba Sands for rolling sand dunes, camel rides, and 4WD adventures.
We spent a night in a rustic goat-hair Bedouin tent at the foot of a huge dune which we climbed for sunset and sunrise.
We watched camels wandering past, drank tea by the fire, and gazed at the sky lit up with stars. It was wonderfully peaceful.
9) Wadi Bani Khalid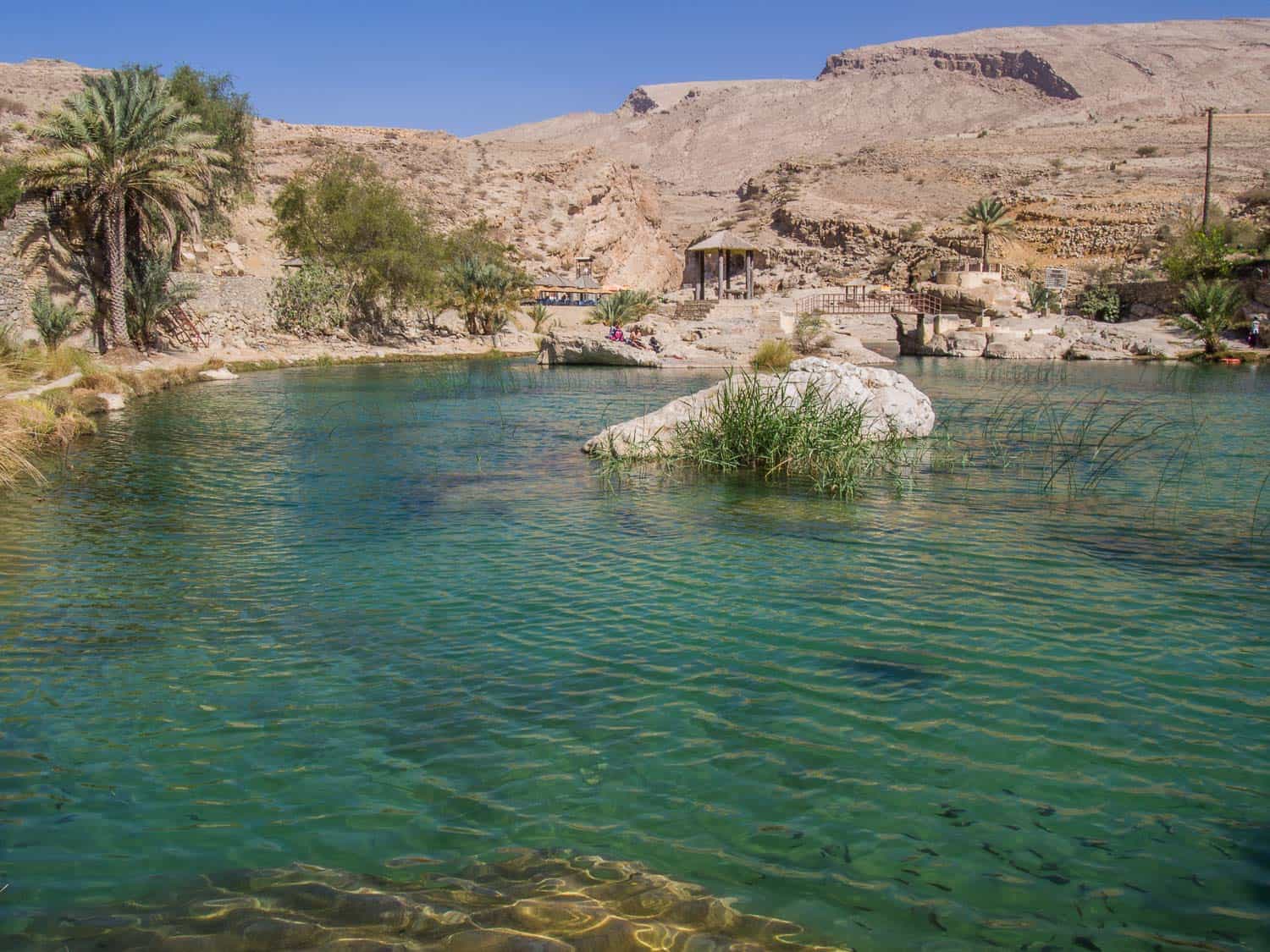 One of our favourite things about Oman were the wadis, rocky ravines or dry riverbeds that only contain water at certain times of the year, but many have pools you can swim in.
Wadi Bani Khalid is a stunning oasis in the desert with crystal clear green water surrounded by date palms and rugged mountains.
The pools are huge and swimming in them is so refreshing in the desert heat. It's the perfect place for a relaxing afternoon.
Read more about Wadi Bani Khalid.
10) Sur
At Sur the desert meets the sea. You'll find long empty beaches, the picturesque fishing village of Al Ayjah, a dhow boat building yard, and just north, the turtle reserve at Ras Al Jinz.
You must book turtle viewing tours (9pm and 5am) at the reserve in advance. Sadly, there were no turtles on the beach when we visited in December. The peak viewing season is from May to September.
11) Wadi Shab
While Wadi Bani Khalid is all about relaxation, Wadi Shab is about adventure.
You take a boat across the river, hike for 45 minutes through a stunning valley, then swim through a series of pools to reach a cave which contains a waterfall.
It's gorgeous and one of the best things to do in Oman.
Places to Visit in Oman Map
More Oman Tips
Make sure you read our detailed Oman itinerary, which has lots more information on these Oman tourist attractions as well as practical details for planning a road trip around the country.
Our post on what's it like visiting Oman has more reflections.
What do you think are the most beautiful places to visit in Oman? Leave a comment below as I know we missed many of Oman's attractions.
If you enjoyed this post, pin it!