This page contains affiliate links. Please read our disclosure for more info.
Wadi Bani Khalid was one of our favourite places in Oman.
We had a blissfully relaxing afternoon at this stunning desert oasis swimming in the emerald pools surrounded by a rugged ravine and vibrant date palms.
In this Wadi Bani Khalid guide, I share what to expect at the pools, how to get there, what to wear, facilities, other tips to make the most of your visit and a handy map.
Contents
Arriving at Wadi Bani Khalid
We visited Wadi Bani Khalid after a night in a Bedouin tent in the Wahiba Sands desert.
After we turned off the main road we drove through a series of tiny villages then up and over stunning rocky mountains to this Oman desert oasis.
From the car park it's only a five-minute walk to the pools, making it one of the most accessible wadis in Oman—the other popular wadi, Wadi Shab, is a 45-minute hike from the car park.
Entrance to the pools is free.
Wadi Bani Khalid Main Pools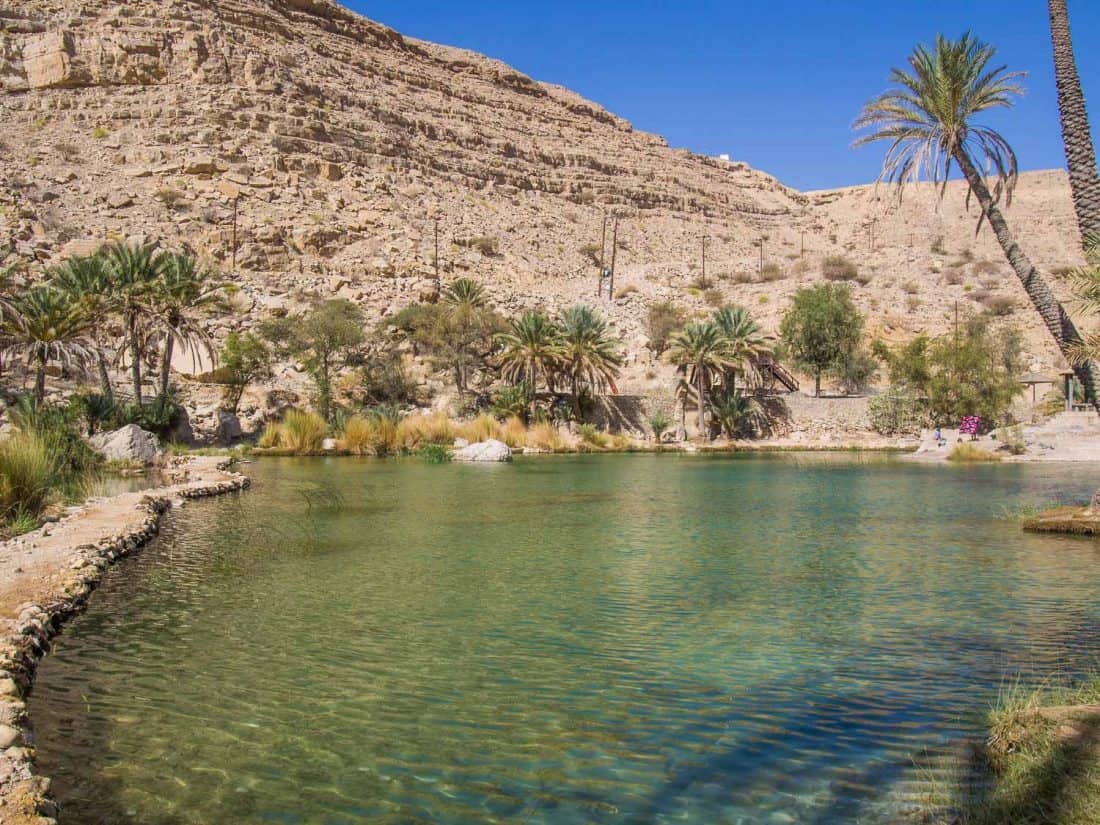 After driving through the oranges and browns of the desert the wadi feels like a real oasis, the green of the water and palms shocking after the bleakness.
Wadi Bani Khalid has been developed with a few bridges, seating areas, and a restaurant, but it doesn't detract from its beauty.
It also makes it one of the most convenient wadis to visit as you can buy food and drinks and use the toilets.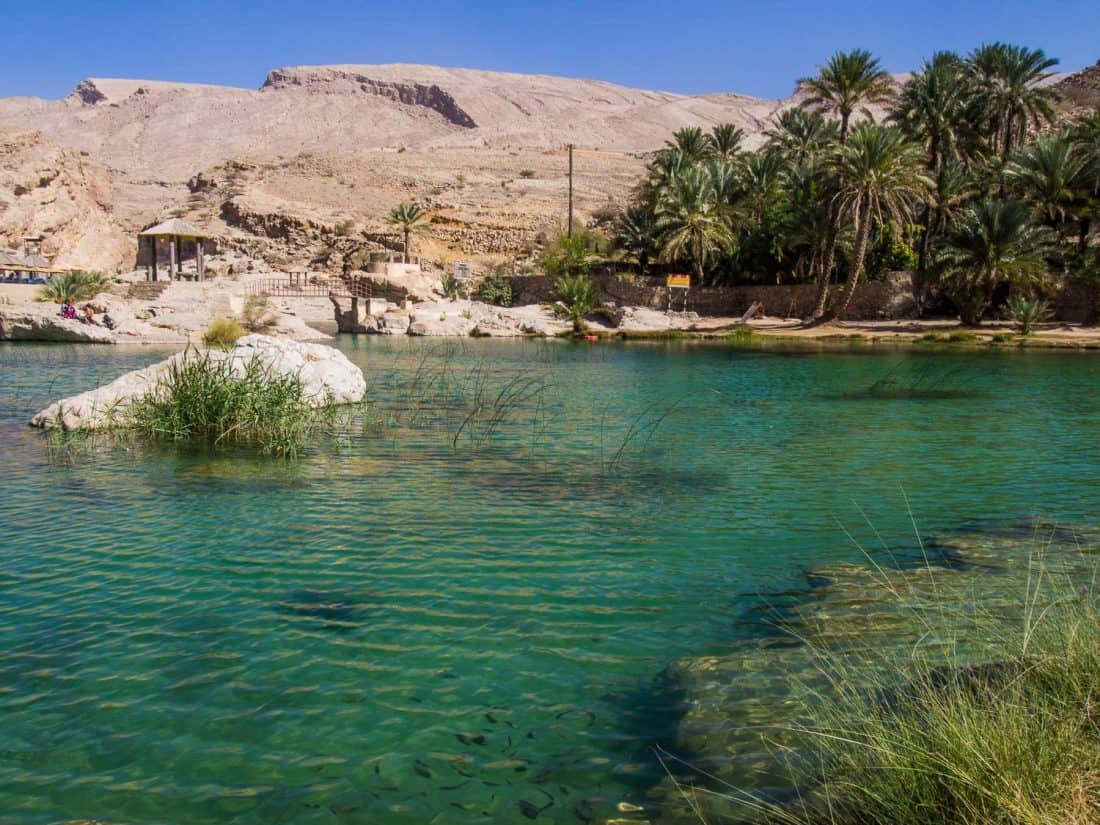 The first pool is the largest. The wadi does get busy, especially on weekends (Fridays and Saturdays in Oman), but on a Sunday afternoon it was easy to find a quiet spot on the rocks to ourselves.
In December the weather was perfect for sunbathing—about 25ºC, wonderfully warm but not too hot with bright blue skies.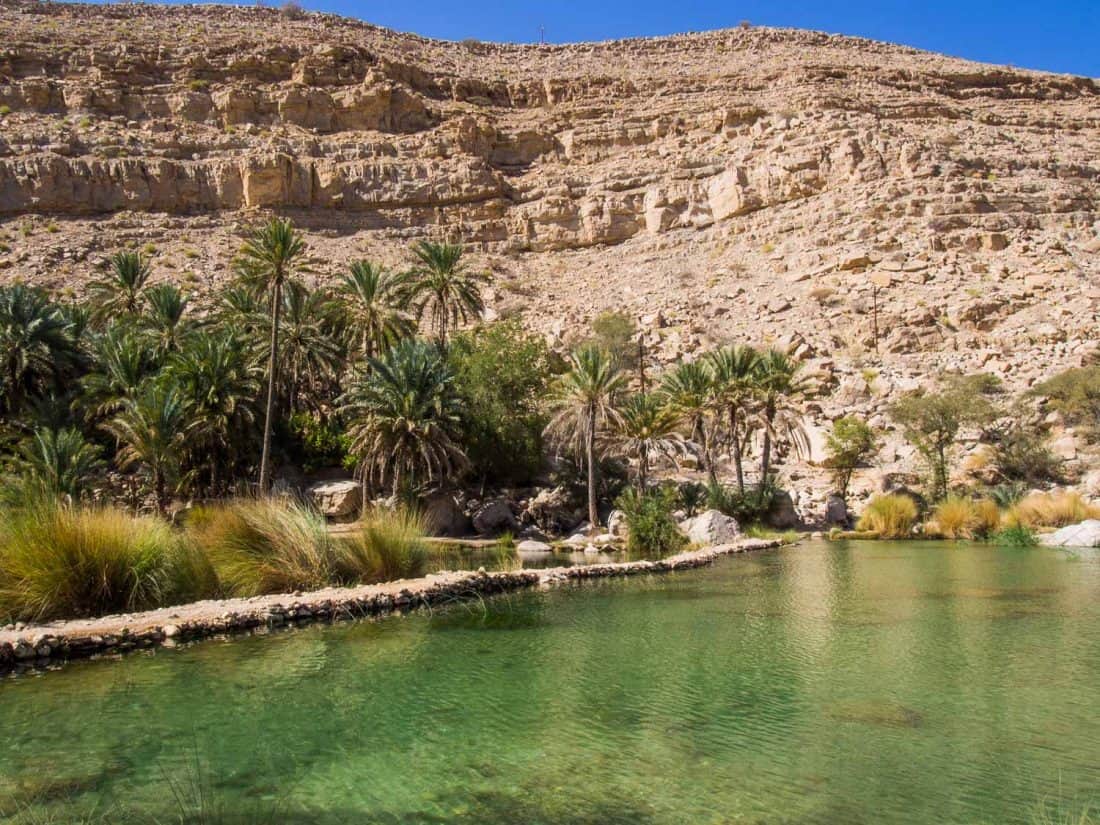 The pools are full of fish that will give you a foot massage if you dangle your feet it. The nibbling feels odd, but people pay to have this done in Thailand!
Swimming in the pools was wonderfully refreshing—it felt cold at first, but I soon warmed up and loved swimming around the massive pools, apparently followed by a school of fish!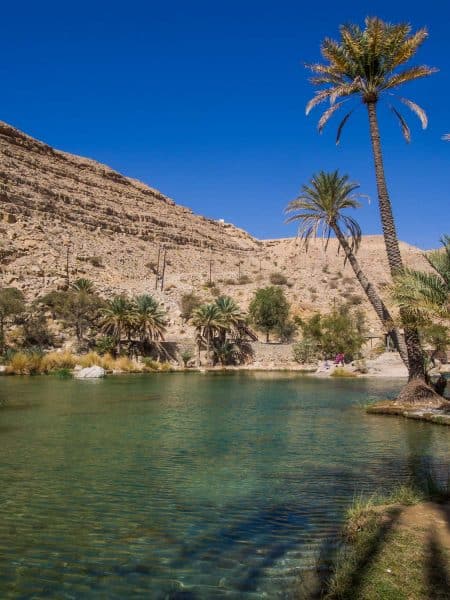 Upper Pools and Cave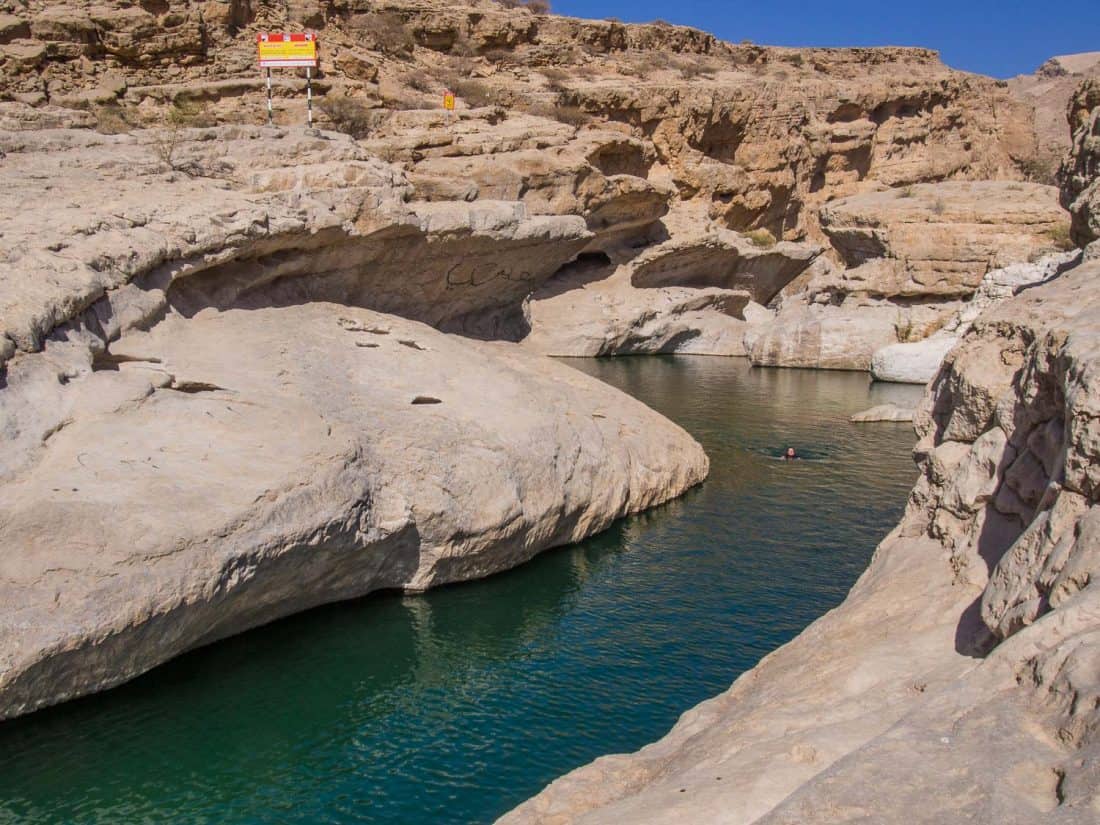 From the main pool you can swim (or walk) under a bridge (where many kids like to jump off) and into a narrow canyon with pale rocks looming above.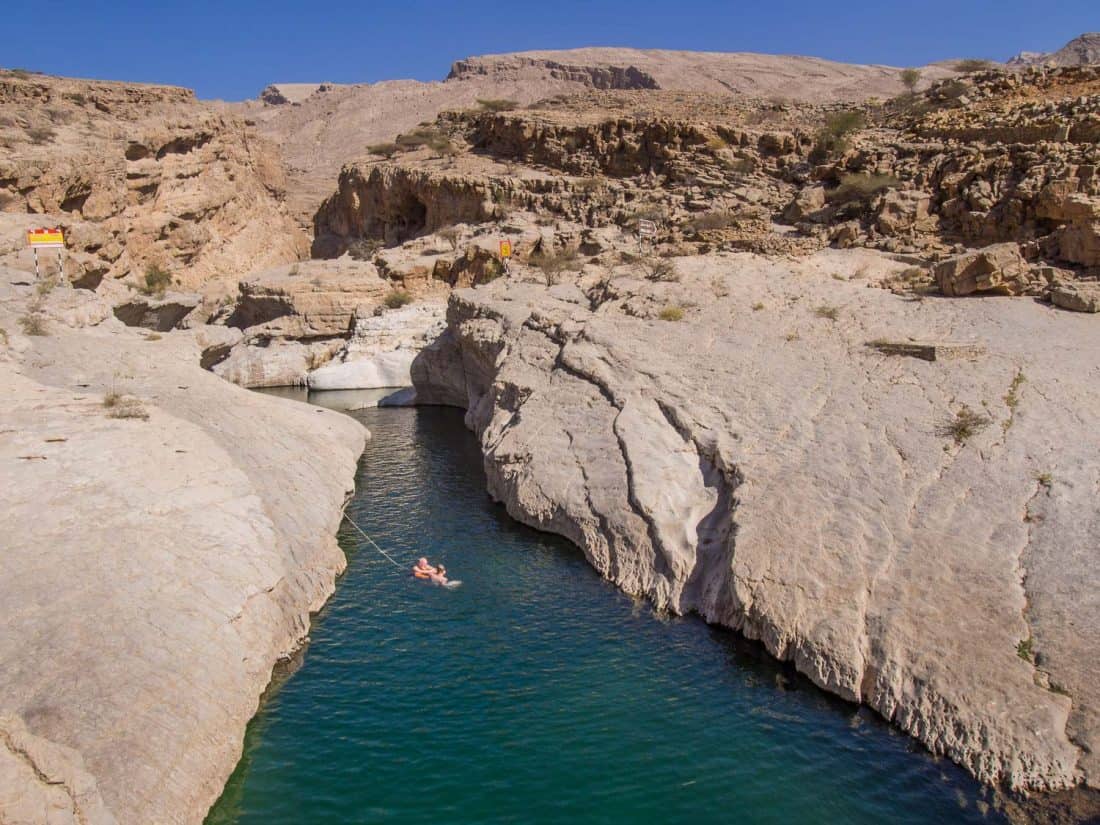 To get to the second set of pools you have to walk—follow the sign and walk for about 10 minutes on slightly slippy rocks (decent shoes are recommended).
These pools are quieter but much smaller.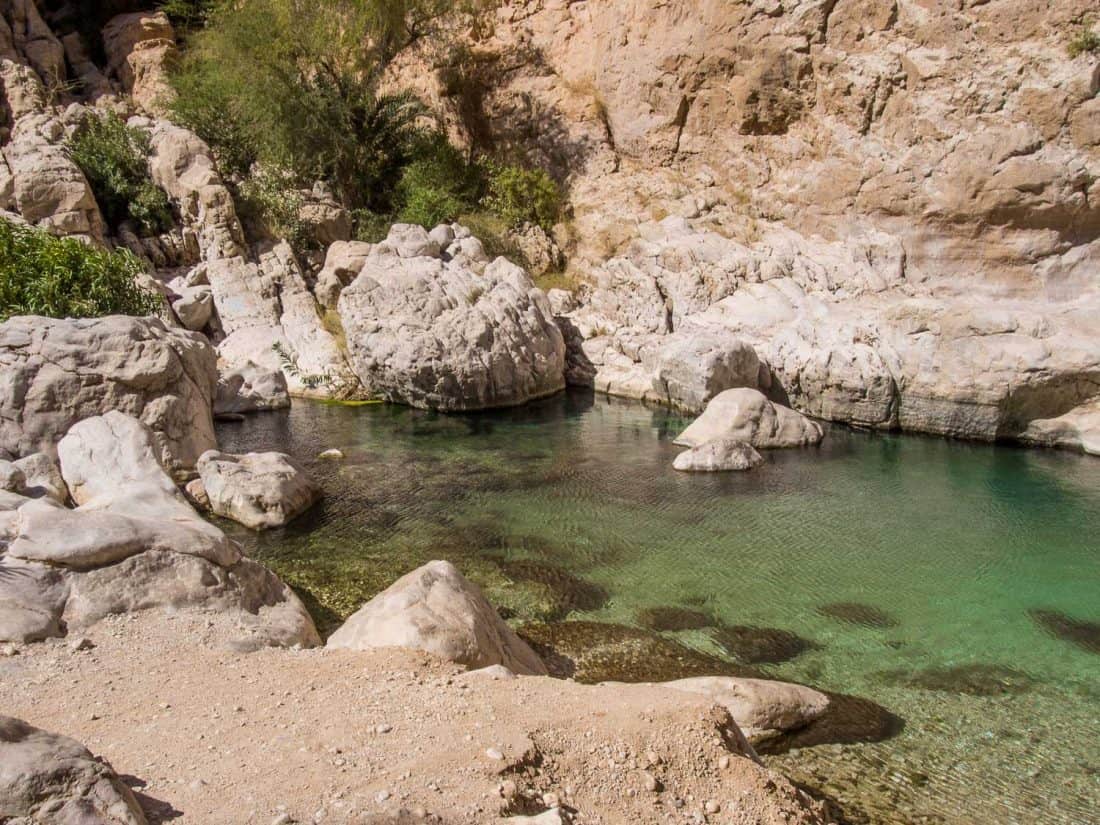 You can continue for another 10 minutes to visit the Muqal cave—bringing a torch is a good idea.
Eating at Wadi Bani Khalid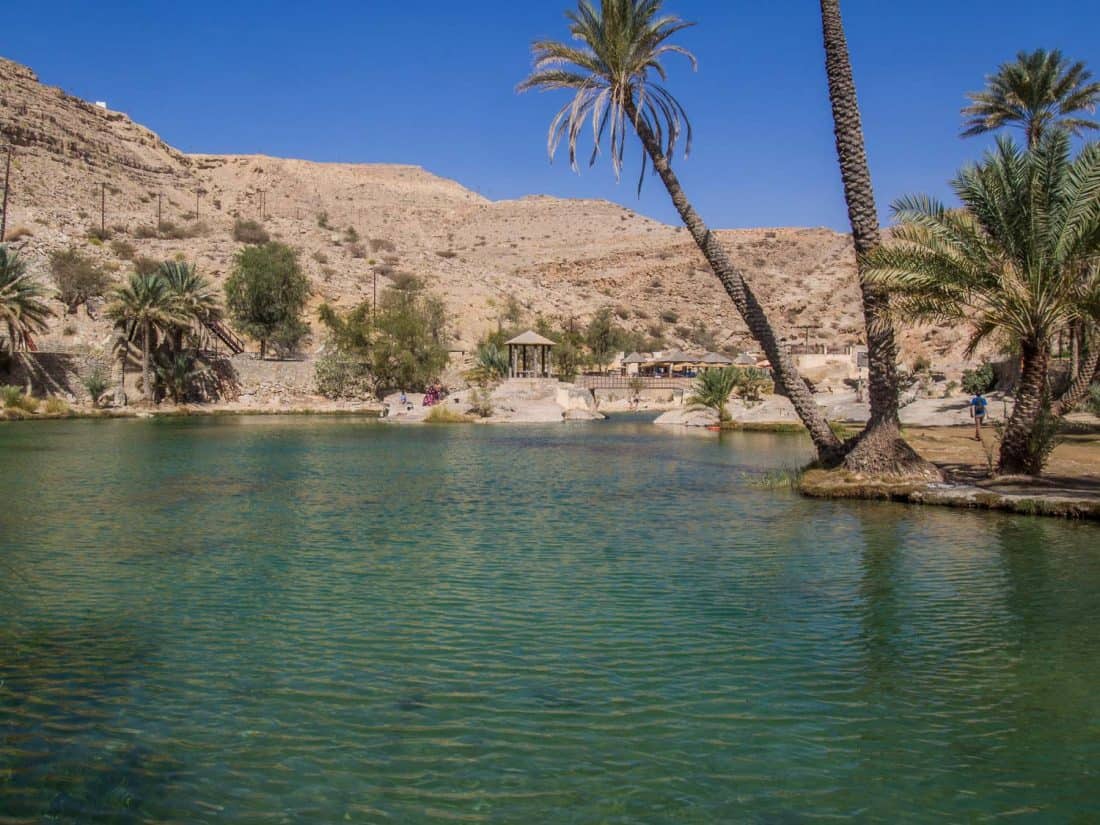 At the restaurant overlooking the pools you can buy coffee (1 OMR), soft drinks (400 baisas), popcorn, and ice cream.
You can also eat at the lunch buffet for 4 OMR, which is what we did. Vegetarian options included dahl, vegetable curry, rice, french fries, and a basic salad. It was quite bland but edible. They only accept cash.
You would be better off bringing a picnic. Omani supermarkets like Lulu have a great choice of salads, hummus, bread etc., but as we were coming from the desert, there weren't any supermarkets around.
What to Wear at Wadi Bani Khalid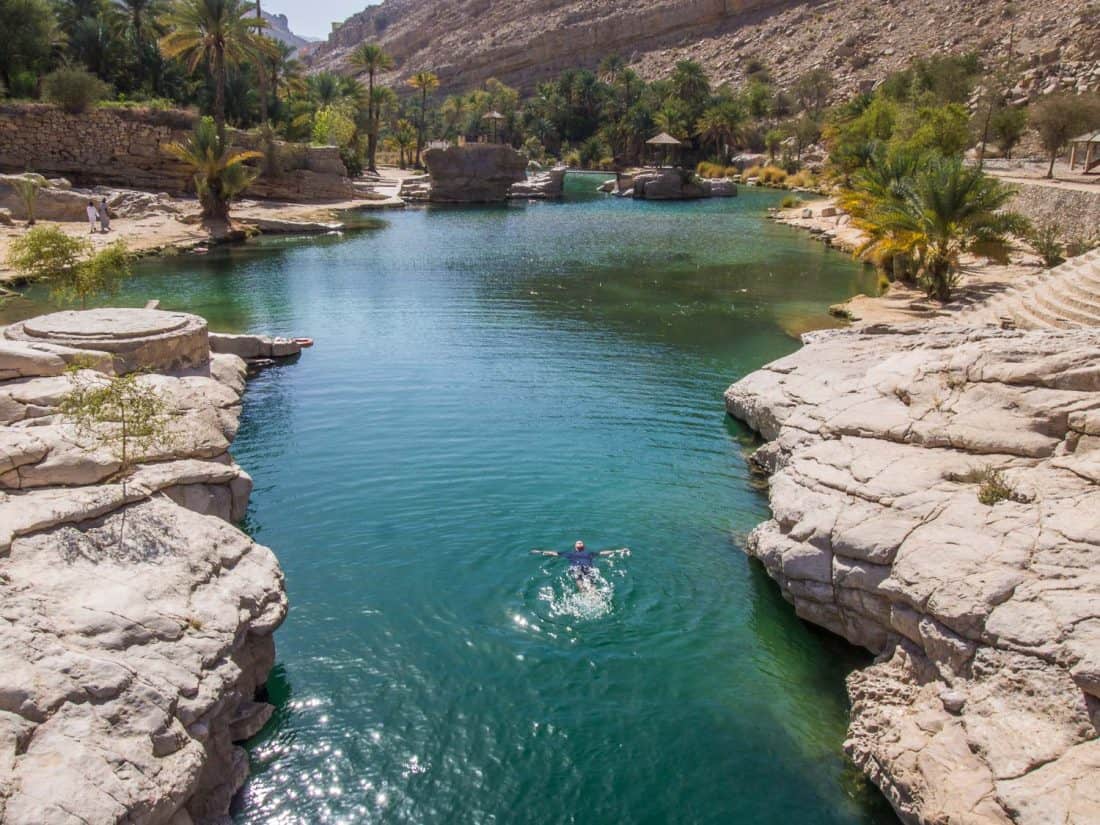 You need to dress modestly at Wadi Bani Khalid as Oman is a Muslim country.
Women should avoid bikinis and wear a t-shirt and shorts at least. I wore capri leggings and a baggy t-shirt of Simon's.
It seems OK for men to wear swimming shorts without a top, but some local men do wear t-shirts as well (just avoid skimpy briefs).
Wadi Bani Khalid Facilities
The toilets behind the restaurant are free and include western and squat styles. They are in decent condition for changing but bring your own toilet paper.
You can rent towels from the restaurant for 1 OMR.
Visiting Wadi Bani Khalid From Muscat
Some people visit Wadi Bani Khalid as a day trip from Muscat—you can take a tour, hire a driver, or rent a car.
This Wahiba Sands and Wadi Bani Khalid private tour is a great way to visit the pools.
It's a three-hour drive, though, so it would be better to spend the night in the area if you have time.
Wadi Bani Khalid Location
We had a rental car for our Oman road trip and visited the wadi on our way from Wahiba Sands (the most typical desert area of Oman with large dunes) to Sur on the coast (popular for the nearby turtle reserve).
It was a one hour drive from Al Wasil, the village that's the access point for many of the desert camps.
From Al Wasil drive down Road 23 until you see the sign "Welcome to Wadi Bani Khalid" on the left after about 20 minutes.
Turn off here and continue through villages and along the winding mountain road until you reach the car park (approximately 40 minutes after the turn off). This is marked on Google Maps as "Wadi Bani Khalid Parking Area".
The road is paved all the way and a 4WD is not necessary. From the car park it's a five-minute walk to the pools.
It's about a two-hour drive to Sur from Wadi Bani Khalid.
Wadi Bani Khalid Map
Here's the Wadi Bani Khalid location on Google Maps and directions from the Desert Retreat Camp office in Al Wasil, Wahiba Sands.
Where to Stay Near Wadi Bani Khalid
We visited Wadi Bani Khalid after a night in Wahiba Sands at the Desert Retreat Camp (1 hour 20 minutes drive away), which we highly recommend.
The Bedouin tents are simple but have a bed and private bathroom next door. We loved the peaceful location at the foot of a large sand dune, perfect for sunset and sunrise.
Read more about the camp in our Oman itinerary.
Click here for current prices at Desert Retreat Camp.
If you want to stay nearer to the wadi, the Oriental Nights Rest House is one of the nearest hotels. It's a 40-minute drive away on the main road.
Best Time to Visit Wadi Bani Khalid
Wadi Bani Khalid can get crowded, so don't expect to have it to yourself—although if you arrive at 9 am you probably would.
To avoid the crowds, visit on a weekday morning—lots of people were arriving when we left at 1 pm.
We visited from 11 am to 1 pm on a Sunday (a weekday in Oman). There were plenty of people around, but we didn't find it too crowded as there's enough space to spread out and swim in the large pool.
Is it Worth Visiting Wadi Bani Khalid?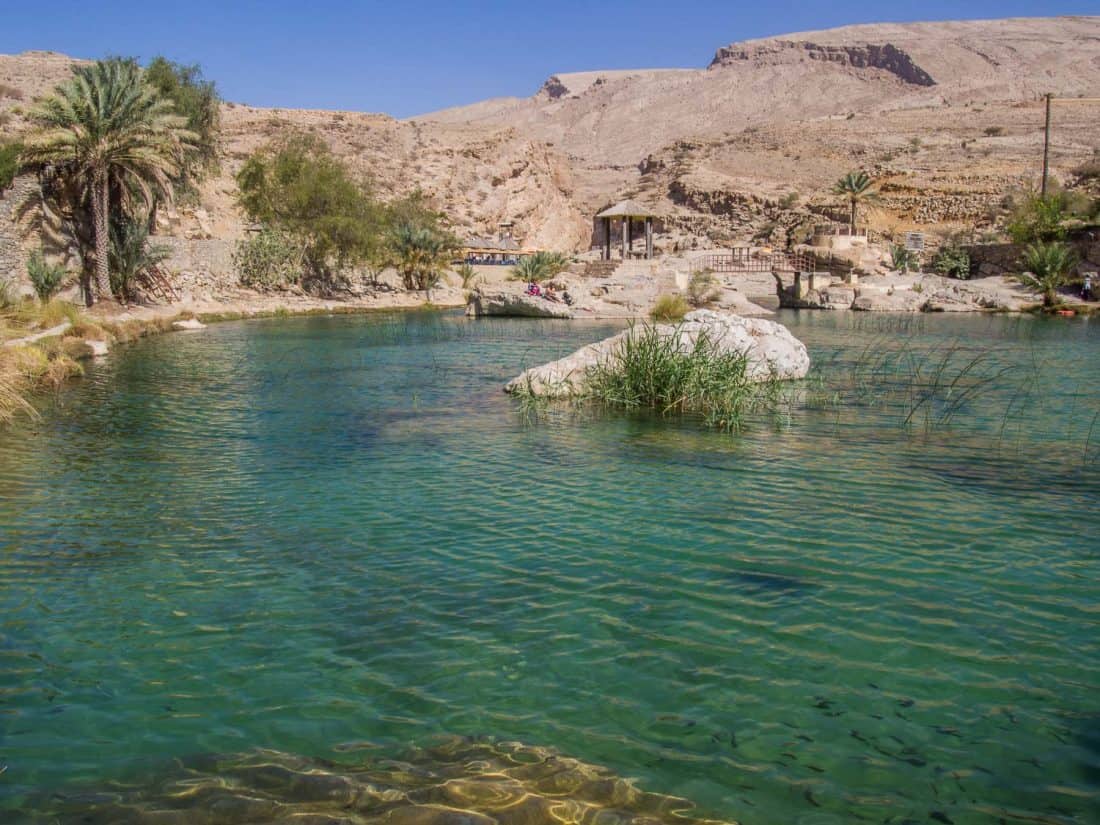 Wadi Bani Khalid is an Oman highlight and the most relaxing place we visited in the country.
We spent about two hours there but could have spent all day swimming, sunbathing, and reading.
Wadi Bani Khalid is one of the most accessible, largest, and picturesque wadis in Oman, so we definitely recommend visiting.
More Oman Tips
If you enjoyed this post, pin it!