This page contains affiliate links. Please read our disclosure for more info.
Update 2021: Tortuga is no longer selling the Setout Backpack and is focusing on the Outbreaker collection instead. See our Tortuga Outbreaker Backpack review for more details.
Tortuga makes the best carry-on travel backpacks. Simon travelled full-time with a Tortuga backpack for five years and with each new release, their backpacks got better and better.
The Tortuga Setout isn't a new version of the Tortuga Outbreaker (Simon's previous backpack)—it stands along side it as a lighter, more affordable, but less full-featured bag.
In this detailed Tortuga Setout review we share the pros and cons of the backpack and compare it to the Outbreaker so you can decide which is right for you.
The review is based on Simon's experience of travelling with the Setout for two years as well as the seven months I also used the Setout—you can read a woman's perspective of the backpack below Simon's review.
I had the men's version of the Setout, but there is now a women's Setout and you'll find the details below.
Contents
Tortuga Setout Review
One of the reasons we love Tortuga so much is that the founders Fred and Jeremy really understand the needs of travellers.
They created the original Tortuga backpack after a backpacking trip to Europe when they discovered that traditional hiking backpacks are inconvenient for travel—they stand out too much, it's hard to access your stuff, and there's no storage for electronics.
Since then they've been striving to create the perfect travel backpack for urban travellers and each backpack gets better and better.
The Tortuga Setout Travel Backpack is our favourite so far.
Simon travelled with the largest 45 litre version of the Setout (the maximum carry on size allowed on most planes).
In 2019 Tortuga added a women's 45 litre backpack as well as 35 litre versions (in men's and women's fits) and new colours for both sizes (and the new ones are made from recycled plastic bottles).
Tortuga Setout 45 L Backpack Details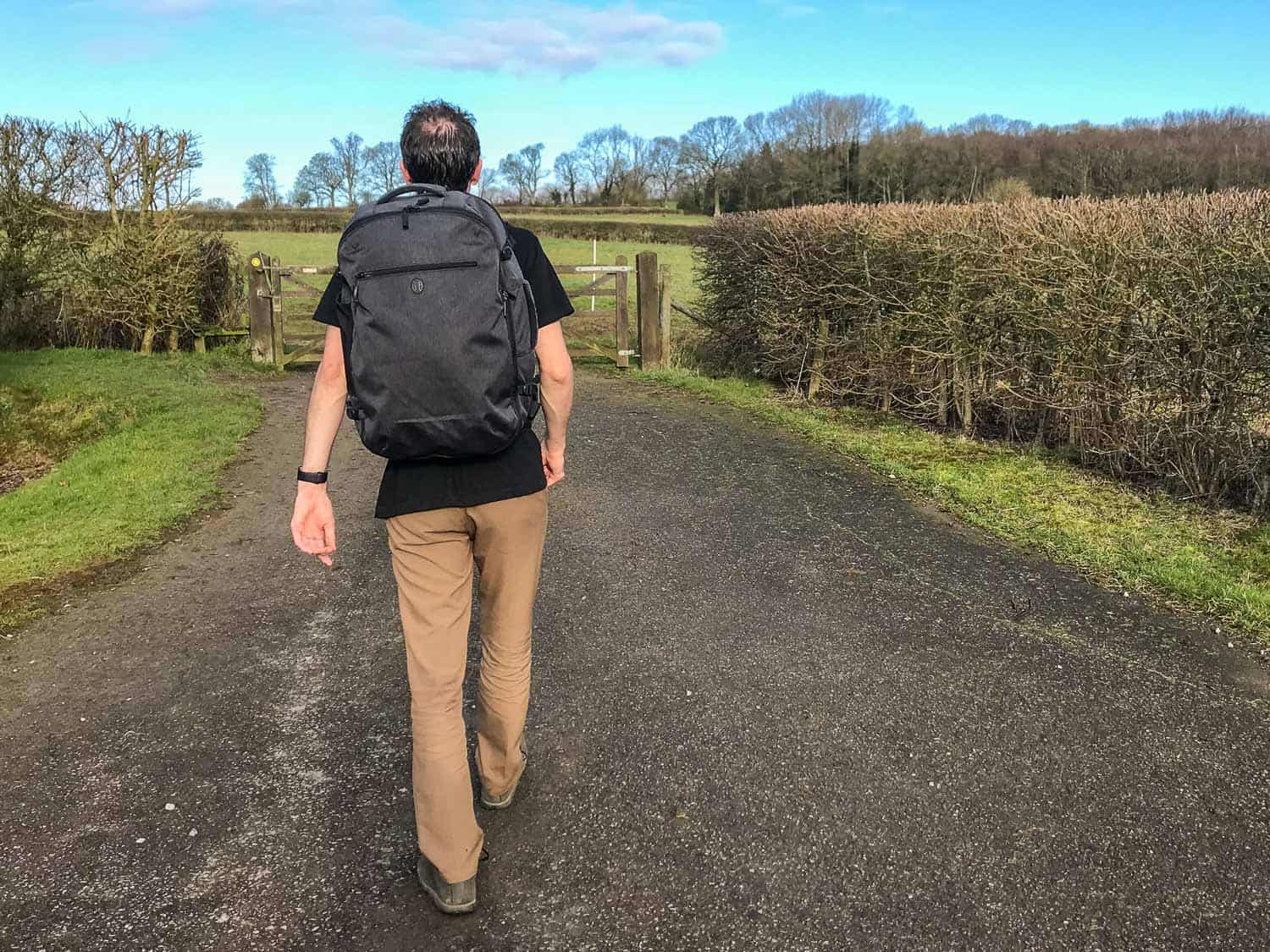 Dimensions (inches): 22 x 14 x 9 inches
Dimensions (cm): 56 x 36 x 23 cm
Volume: 45 litres
Weight: 1.77 kg (3.9 lbs)
Colours: Heather Grey and Black
Price: Usually US $199 (and free US shipping) – currently on sale for $139
Buy from: Tortuga website
Setout Backpack Pros
Carry-on sized
As with all Tortuga backpacks, the Tortuga Setout is carry-on-sized, so you can take it on the plane and save time and money. It's the maximum carry-on size allowed on most airlines and it holds a surprising amount of stuff.
Simon isn't exactly an ultralight traveller—his current electronics collection includes a 15-inch laptop, 13-inch tablet, and Nintendo Switch games console—but he has plenty of space for all his stuff.
Light
Our biggest issue with the Tortuga Outbreaker was how heavy it was. The Setout is the lightest maximum carry-on-size Tortuga backpack at just 3.9 lbs.
Stylish
The Setout is the best looking Tortuga backpack yet. Simon has the Heather Grey version and the soft, matte grey fabric and rounded corners feel more stylish than the previous blocky Tortugas. It's a simple, understated design that looks fantastic and won't stand out in cities.
The Setout is also available in black.
Padded hip belt
Most carry-on-sized travel backpacks don't include a padded hip belt, but we think it's essential to transfer the bag's weight from your shoulders to your hips and avoid back pain. This is especially important if you travel with heavy electronics as we do.
The Setout has a robust padded hip belt that takes the load off and makes it comfortable to carry, even when Simon's backpack weighs 11 kg (24 lbs).
If you don't want to use the hip belt you can unclip it.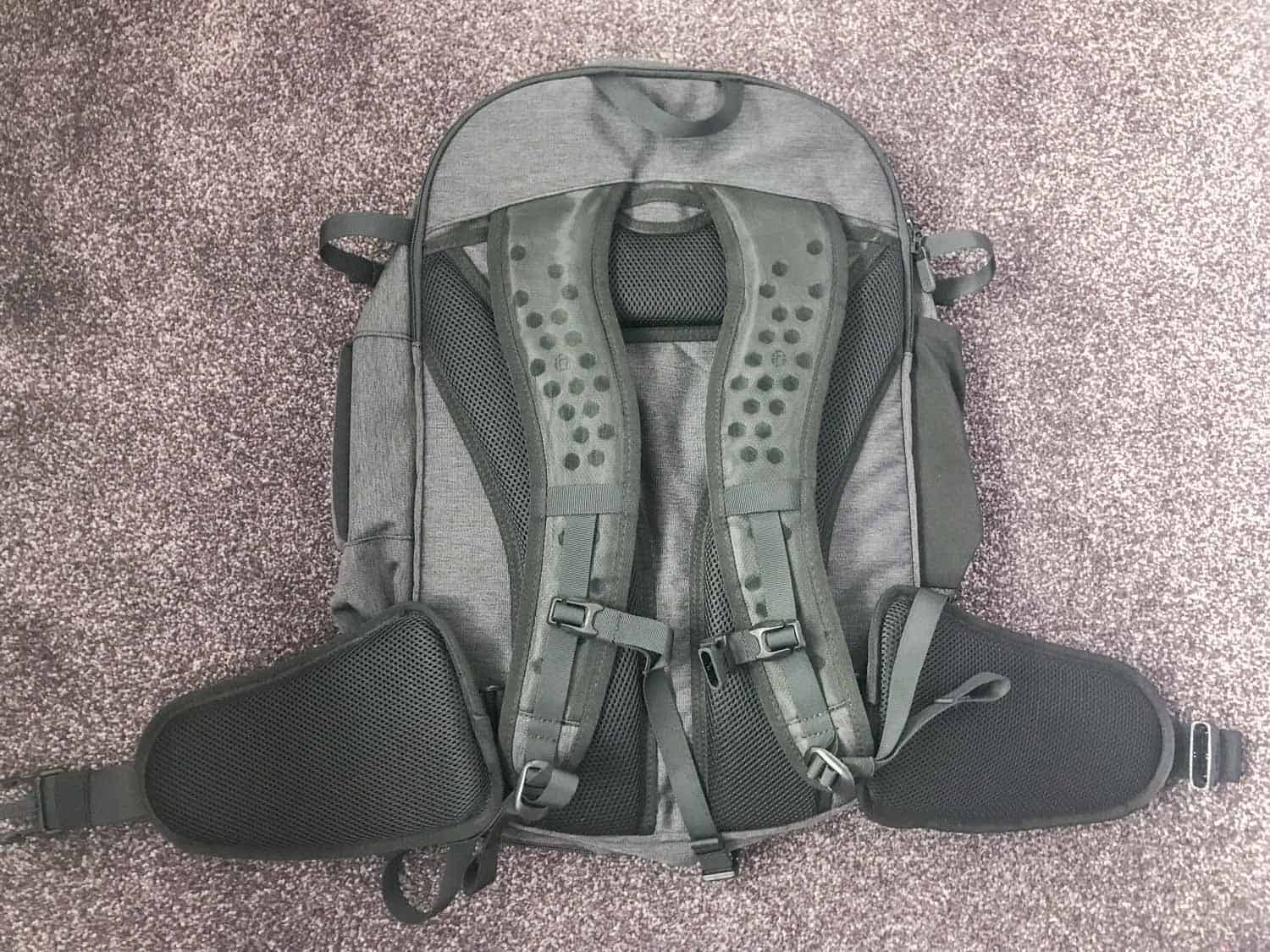 Front-loading like a suitcase
Like all Tortuga backpacks, the Setout is front-loading which means it opens along the entire front (along three sides) like a suitcase.
This is much better than hiking backpacks which open from the top as it's easier to access your stuff and keep things organised.
Durable
Even after two years of travelling full-time with the Setout, it still looked great, and I expect it to last a long time.
The backpack is water-resistant but not fully waterproof. All Tortuga travel backpacks are made with Duraflex buckles and YKK zippers—widely regarded as the best in the business. Tortuga does not skimp on materials.
Electronics storage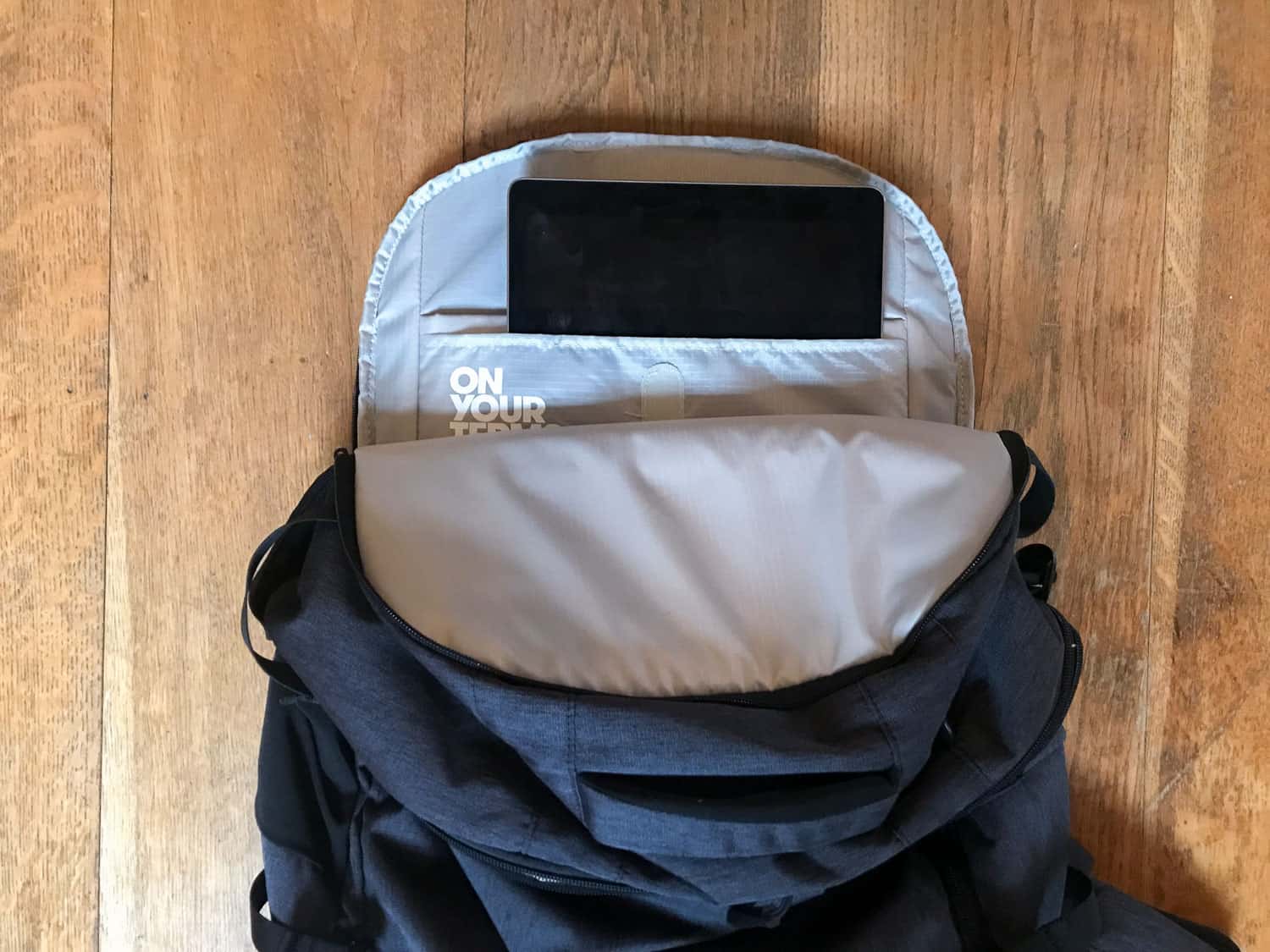 The Setout is ideal for digital nomads as there are dedicated sleeves for a laptop (up to 17-inch), tablet (supposedly up to 9.7-inch but larger ones work), and e-reader.
The padded laptop sleeve is in a separate compartment at the back of the bag, close to your body for the best weight distribution. Simon packed his 15-inch MacBook Pro in a neoprene case first for extra protection, but there's enough padding to skip the case.
In front of the laptop sleeve is space for a tablet. This area isn't padded so a case is a good idea. It's only supposed to hold tablets up to 9.7-inch, but Simon's 12.9-inch iPad Pro (one of the biggest on the market) fit in just fine, although the top pops out (not a problem if it's in a case).
The e-reader compartment is a lightly padded sleeve at the front of the bag for easy access.
Organised
There are enough pockets to organise your stuff, but not too many.
There are three sections in the Setout, each accessed by a different zip at the top of the bag.
Front section
The front section unzips about a third of the way down and is designed for easy access to small items in transit. There's a zippered pocket and an organiser panel for items like pens, phone and notebook. Behind that there's a lightly padded sleeve for an e-reader and above there's a clip for keys.
Larger items can fit in the bottom and take up the whole compartment if needed—perhaps snacks or an extra layer for travel days.
Main section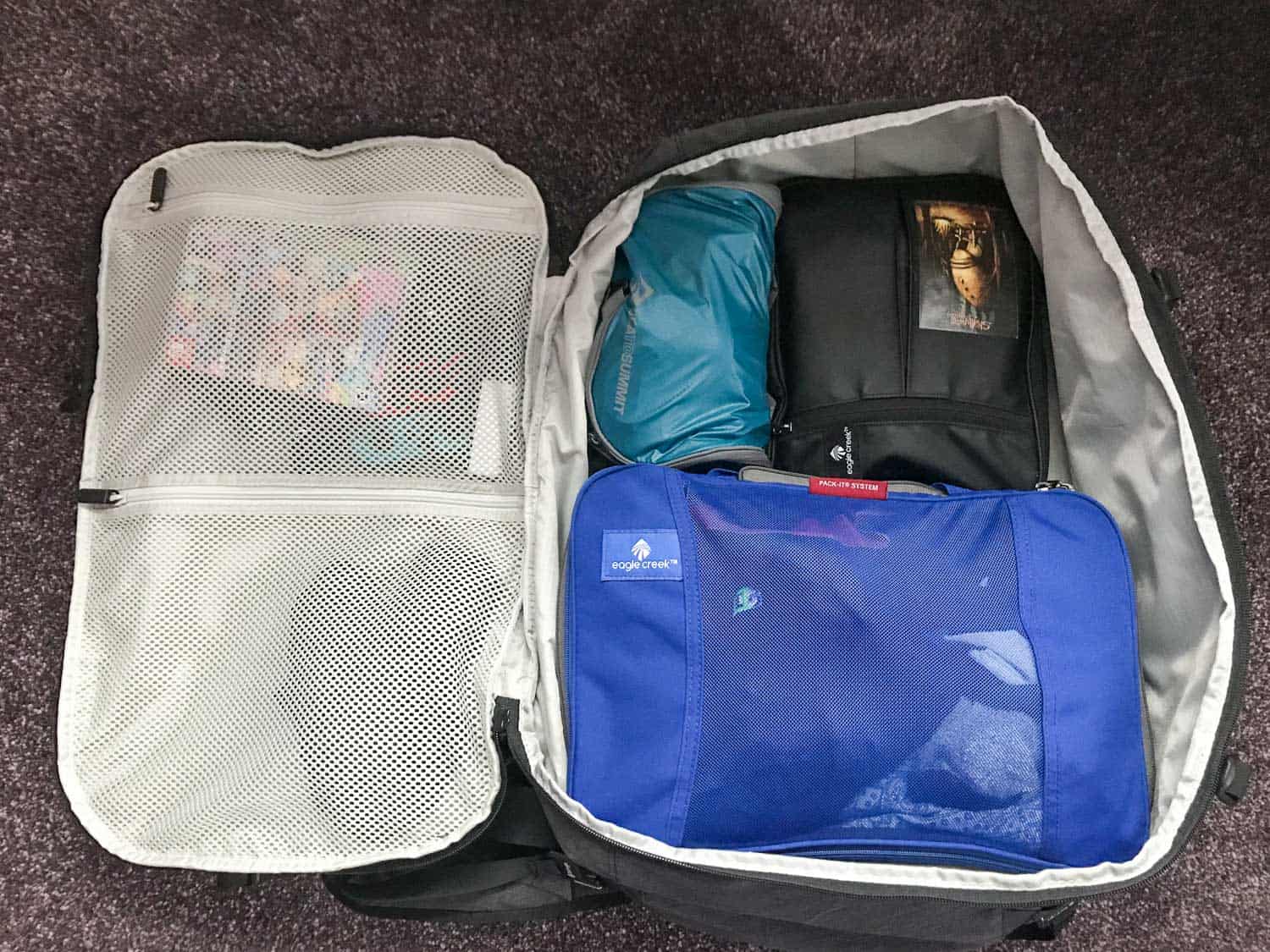 The middle main section is the largest and unzips on three sides, so it's really easy to pack.
It's ideal if you use packing cubes to keep your clothes organised (and save space). Simon uses an Eagle Creek compression cube for his clothes.
There are two zippered mesh compartments on the opposite side which are useful for small items or dirty laundry.
Electronics compartment
The electronics compartment is at the back and unzips about a third of the way down. It's easy to reach in and grab your laptop or tablet, which have separate sleeves (described above).
Simon didn't use this section for anything else, but you could fit flattish things in front of the laptop sleeve.
External pockets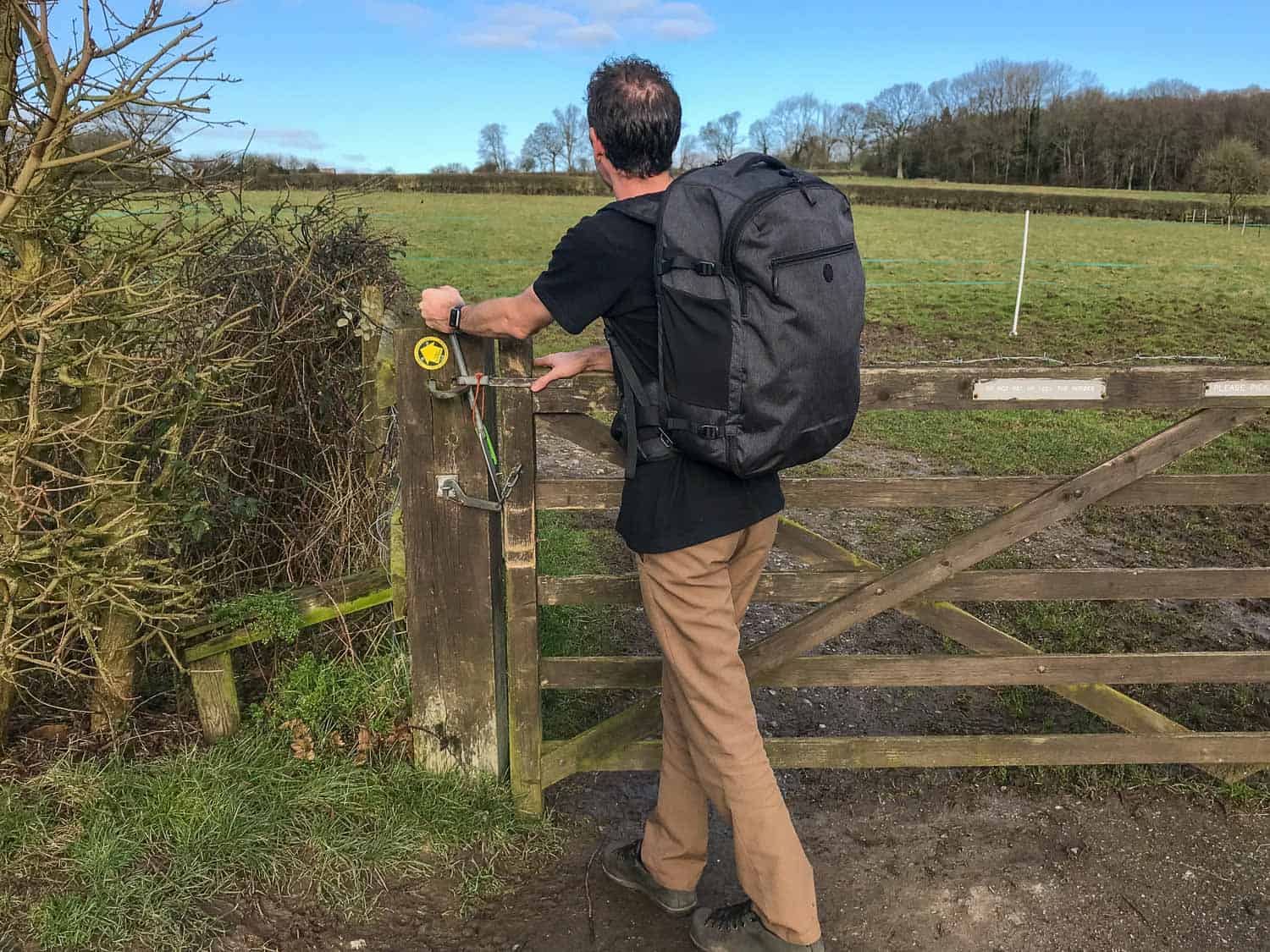 The external storage consists of:
One small zippered pocket on the front of the backpack.
A lie-flat water bottle holder on one side. Unlike on most backpacks, this is more than large enough to hold our one-litre Vapur water bottle and has come in really useful.
Two small zippered pockets in the hip belt that are designed to stash coins, phone and keys when going through airport security.
Injection-moulded shoulder straps
The Setout's shoulder straps are injection-moulded which means they conform to your body and get more comfortable over time. They did feel a bit stiff when Simon first wore the backpack, but it didn't take long for them to become comfortable.
The latest version of the Setout has load lifters which help you bring the shoulder straps closer to your body.
Lockable zippers
We lock our backpacks with a small combination lock to prevent opportunistic theft. All three compartments of the Setout are lockable.
You do need two locks to secure the backpack fully. The two front compartments are close enough together to share a lock (or Simon kept the front compartment unlocked for easy access) and you'll need a second lock for the electronics compartment at the back. Or you could choose just to lock your electronics compartment.
Hideaway straps
You can unclip the shoulder straps and tuck them away into the back panel. Simon never used this feature, but it could be useful if you want it to carry it like a suitcase with the side handle or check your bag.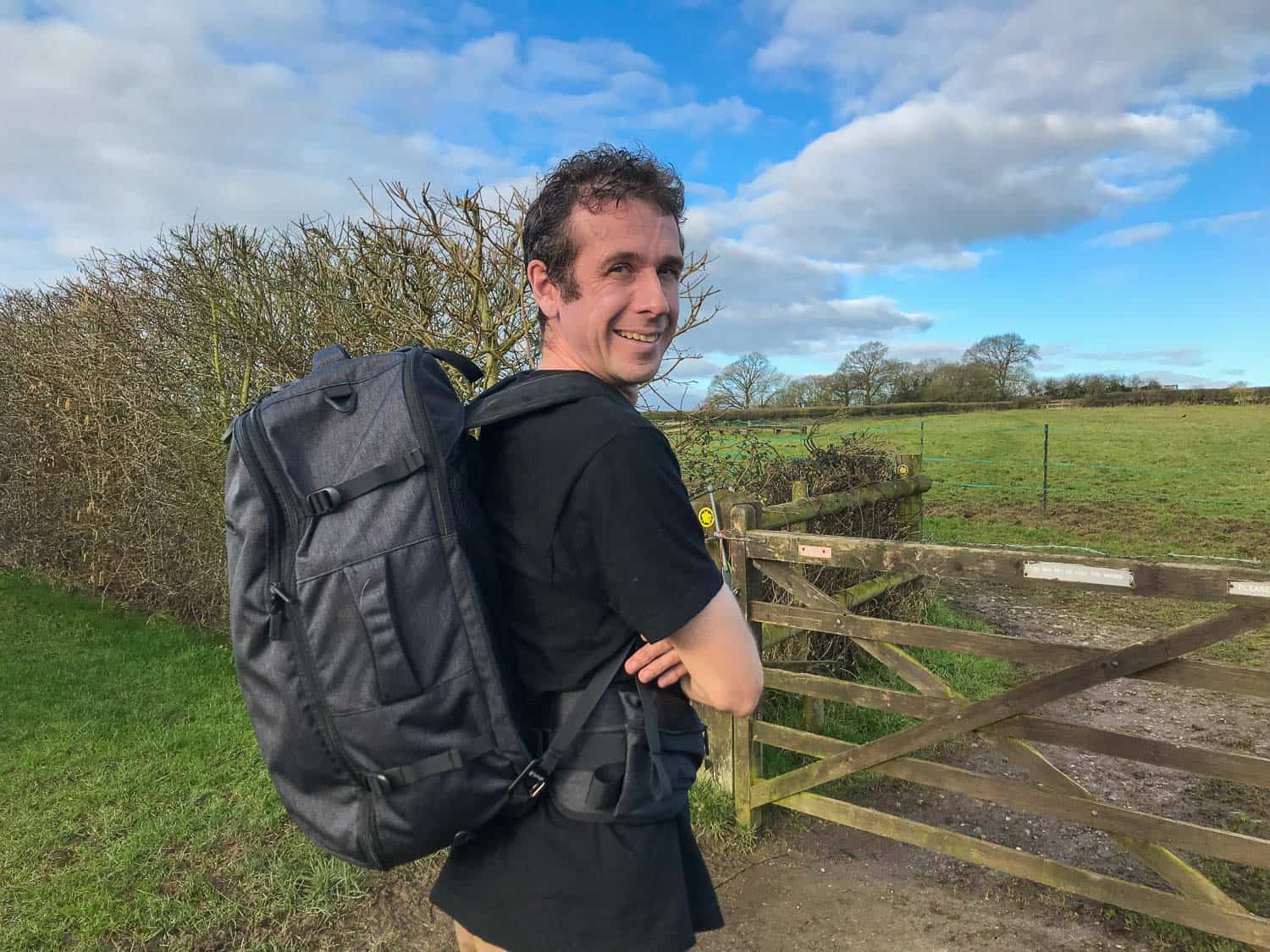 Good value
At $199 the Tortuga Setout isn't cheap, but it's good value for the quality and will last you many years. It's $100 cheaper than the Tortuga Outbreaker and other similar backpacks like the Minaal Carry-On 2.0.
Multiple Sizes Available
The 45L Setout may be able to fit on a plane, but it's a big bag. Simon likes to pack as much as possible as a full-time traveller, but for some people it's overkill, especially if you are on a short trip, travelling only to warm climates, or don't need to travel with as many electronics as we do.
So we're really pleased that there's now a 35-litre Tortuga Setout. The bag is exactly the same, just a little smaller and lighter (full details below). The 35L also comes in a women's fit.
Another even smaller option is the Setout Divide, which is expandable from 26 litres to 34 litres. This is ideal for short trips or minimalist packers.
Free shipping
Tortuga offers free US shipping and if the backpack doesn't work out for you after a test pack, return it unused within 30 days for a full refund. They also pay for the return shipping on US orders.
Setout Backpack Cons
45L too big for some people
The Setout 45L is a maximum size carry on bag and may be too large for some people. Simon doesn't have an issue but as a smaller woman, it does feel bulky to me (see my thoughts below).
This is no longer a problem as there is now a 35-litre Tortuga Setout in both men's and women's fits.
No height adjustable suspension system
Unlike the Outbreaker, the Setout doesn't have a height adjustable suspension system (rare for travel backpacks anyway). This isn't a problem for Simon, but if you have a short or long torso, the Outbreaker might fit better.
Larger than some airlines allow
The 45L Setout is within most airlines' allowed carry-on size, but it's a few centimetres over the size allowed by some strict carriers such as Ryanair, which has a 55cm x 40cm x 20cm limit (and only if you pay for priority).
We have travelled on Ryanair multiple times with the Outbreaker, though, which is the same size as the Setout and had no problems taking it on the plane.
We don't find airlines to be that strict about size and weight if you are travelling with a backpack as it's less visible than a rolling suitcase.
If you are worried about this or just want a smaller backpack, check out the 35-litre Setout or Setout Divide.
No shipping outside the US (for now)
The backpacks are only available from the Tortuga website, and as of 2019, they no longer ship internationally.
Tortuga is working on a better solution for shipping abroad with lower postage and customs fees. We'll keep you updated. In the meantime you could use a freight forwarder.
Less full-featured than the Outbreaker
The Setout has fewer features and less organisation than the Outbreaker. See our comparison below.
Tortuga Setout Summary
The Tortuga Setout is the best carry-on backpack on the market. It's spacious, stylish, durable but light, and very well-designed with just enough support and organisation. It's ideal for anyone looking to maximise the amount they can travel with carry-on only.
Click here to buy the Setout Backpack on the Tortuga website.
Tortuga Setout For Women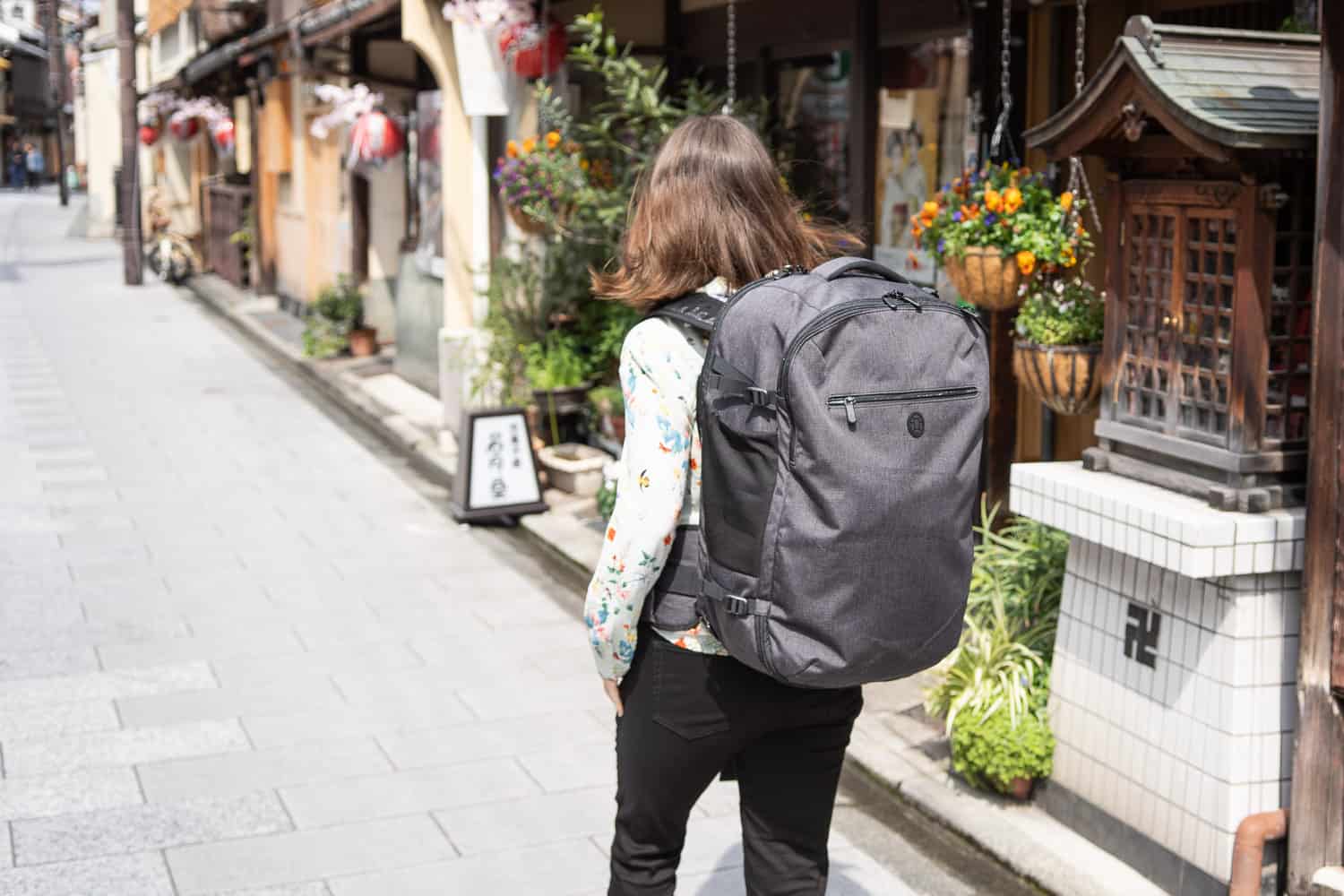 In 2019 I decided to give the Tortuga Setout 45 a try for myself. I used to think it was too big for me as a 5'4″ woman, and I was happy with my Osprey Farpoint 40, but after nine years of living out of one bag, I was ready for more space.
We'd been travelling to an inconvenient mix of hot and cold countries, and I had lots of extra clothes that were a tight squeeze in a smaller bag.
So seven months, five countries, and dozens of trains and planes later, what did I think?
These are my thoughts on travelling with the men's version of the Setout 45L. I don't recommend this as there is now a women's version of the Setout, which I haven't tried yet (details below).
Pros
Packing is so much easier with the Tortuga Setout! The main compartment is huge and the way it unzips on three sides makes it super easy to access every corner. Even with my overload of clothes (including a thick Christmas jumper) and five pairs of shoes (including fleece-lined winter boots!) I could fit everything in easily.
Even when the Setout seemed full, I would turn it upright and a magical new pocket of space was created at the top (enough to fit three vegan pot noodles at a Japanese train station!).
I love all the pockets too. The mesh compartments in the main section are great for dirty laundry. The small front pocket is useful for quick access items (tissue, pen, eye mask and ear plugs), and the front compartment has various padded pockets for my Kindle, phone, and Apple Watch.
I also think the design is more stylish than the Osprey Farpoint and I'm a big fan of the Heather Grey colour.
Cons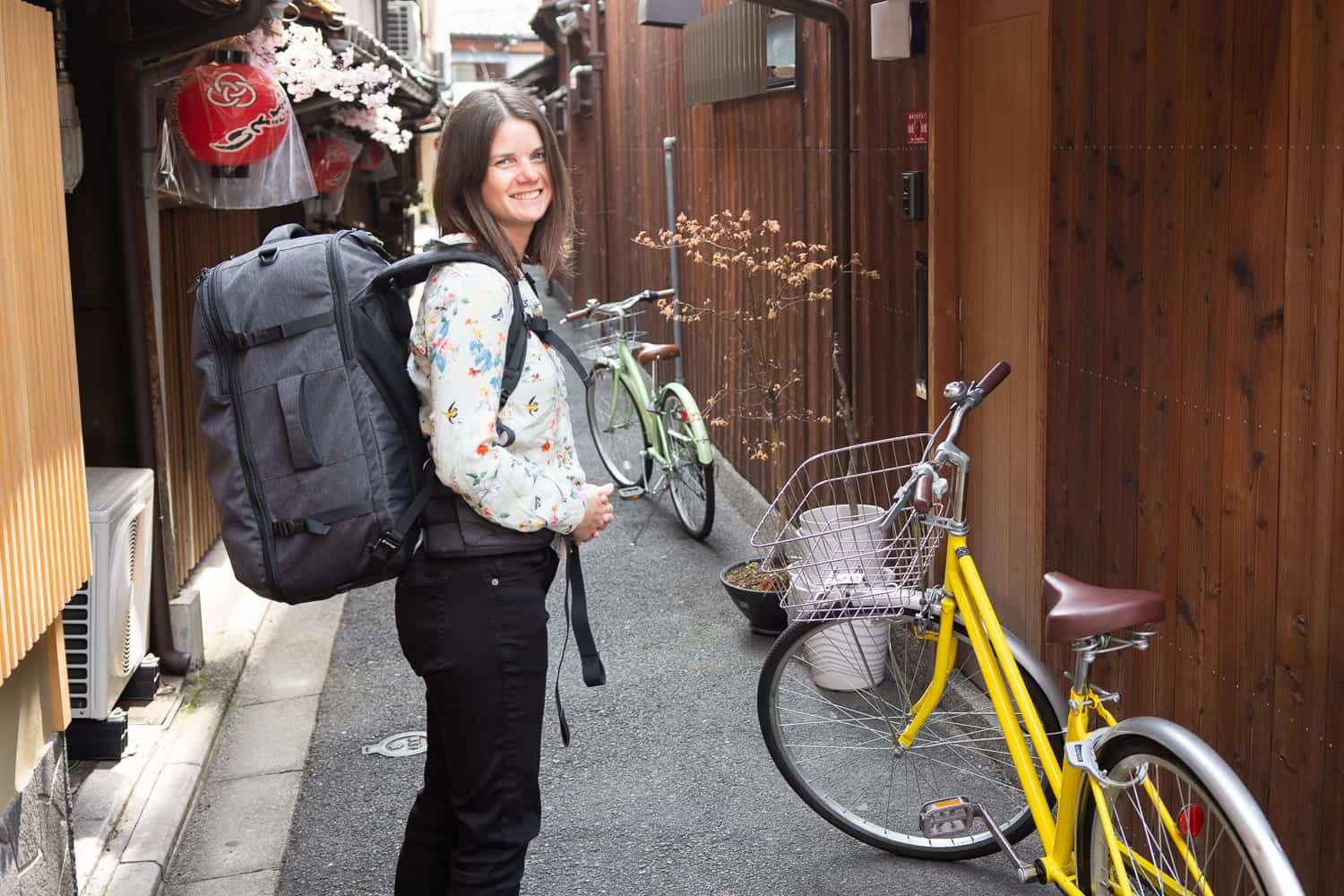 The problem with a large bag is that you fill it. I wanted the extra space but fully packed it does feel too big and heavy for me. It's so bulky that I find it difficult to lift up and swing over my shoulder easily.
Once it's on my back it's not so much of a problem, and the hip belt does take some of the weight off, although I find the hip belt a little too large and difficult to quickly tighten.
If I had the 35 litre women's version, I think I'd be fine. It's designed for women's frames so it would fit more comfortably, and as it's smaller it would be easier to wield. I'd have to pack less though, which for most women on most trips would be no problem (I did it for nine years).
The Tortuga Setout is a brilliant backpack, but at this stage of my nomadic life (travelling slowly with more stuff) I've decided to switch to a rolling suitcase (the Away Bigger Carry-On).
So far I am loving not having to carry my bag through airports, but I do miss the Tortuga's excellent organisation, lighter weight, and the convenience of a backpack when climbing stairs. I'm also much less likely to get away with taking a suitcase as a carry-on on stricter airlines.
Women's Setout 35L and 45L
I am so pleased that Tortuga has released a new women's version of the Setout backpack. I haven't tried it myself, but it sounds like it solves the issues I had with the men's Setout.
It's available in black in 35 litre and 45 litre versions.
The women's Setout has all the same features and look as the men's backpack, but it's designed to fit women's bodies better.
Here's what's different:
The hip belt is smaller and tightens more to transfer the load from your shoulders
The shoulder straps are more cushioned
The shoulder straps fit narrower frames more comfortably
The chest strap is higher up—just below the collarbone so it doesn't squish your boobs
It's designed to fit torso lengths 15.5-18″ (the men's fits 17-19″ torsos)
It's 0.2 lbs heavier due to extra padding
Tortuga says it should work well for women of all sizes and in testing they've seen "women from 5'0 to 5'11 adjust the shoulder straps to a height that works perfectly, and women from size 0 to size 16 tighten the hip belt to a comfortable, weight-bearing level."
Here are the specifications for the 35 litre women's Setout:
Dimensions (cm): 54.6 x 34 x 19 cm
Dimensions (inches): 21.5 x 13.5 x 7.5 inches
Volume: 35 litres
Weight: 3.6 lbs (1.63 kg)
Colour: Black
Price: US $179 (and free US shipping)
Tortuga Setout 35L: Men's
The new smaller 35-litre Tortuga Setout is ideal if you don't need as large a bag as the 45-litre or if you are travelling on airlines with stricter carry-on limits.
The features and materials are the same as the 45-litre, but it's smaller, lighter, and $20 cheaper.
Here are the men's Setout 35L details:
Dimensions (cm): 54.6 x 34 x 19 cm
Dimensions (inches): 21.5 x 13.5 x 7.5 inches
Volume: 35 litres
Weight: 3.4 lbs (1.54 kg)
Colour: Heather Grey, Black and Navy
Price: US $179 (and free US shipping)
Tortuga Setout Divide
The Setout Divide is an expandable carry-on backpack and is the smallest bag in the Tortuga Travel Backpack line. When unexpanded it can fit under a plane seat.
It's ideal for short trips and light packers. The expandable design means you can adjust the bag to suit your current trip (or fit souvenirs in for the journey home).
The two-compartment layout is different from the classic Setout and allows you to pack dirty and clean clothes separately. It fits a 15-inch laptop and 9.7-inch tablet and is made from the same material as the Heather Grey Setout. It can be paired with a rolling suitcase with a sleeve that passes through the handles.
Note that the different design means it's actually heavier than the Setout 35.
The divide is available in men's and women's fits.
Dimensions (inches): 20 x 13 x 6 inches (expands to 8 inches)
Dimensions (cm): 51 x 33 x 15 cm (expands to 20cm)
Volume: 26 litres (expands to 34 litres)
Weight: 3.8 lbs (1.72 kg)
Colour: Heather Grey
Price: US $179 (and free US shipping)
Tortuga Prelude
If you don't need a laptop sleeve, you might consider the latest backpack in the Tortuga lineup—the Tortuga Prelude. This is their cheapest (at $149) and lightest (at 2.5lbs) travel backpack.
The downsides are no laptop sleeve, less organisation, and less space (at 38.5 litres). It could work for you if you just want a basic bag for clothes and a tablet.
Tortuga Setout vs Outbreaker: A Detailed Comparison
| Tortuga Setout | Tortuga Outbreaker |
| --- | --- |
| $199 | $299 |
| 35 or 45 litre | 35 or 45 litre |
| 1.77 kg (3.9 lbs) | 2.3 kg (5.1 lbs) |
| Not height adjustable | Height adjustable |
| Hideaway straps | No hideaway straps |
| Fits 17-19″ torsos | Fits 16-20″ torsos |
| Laptop up to 17-inch | Laptop up to 17-inch |
Simon travelled happily with the Tortuga Outbreaker for over a year to eight countries. He wasn't in the market for a new backpack, but when the Setout was released he thought it was worth trying because the only real issue with the Outbreaker is how heavy it is (5.1 lbs/2.3 kg).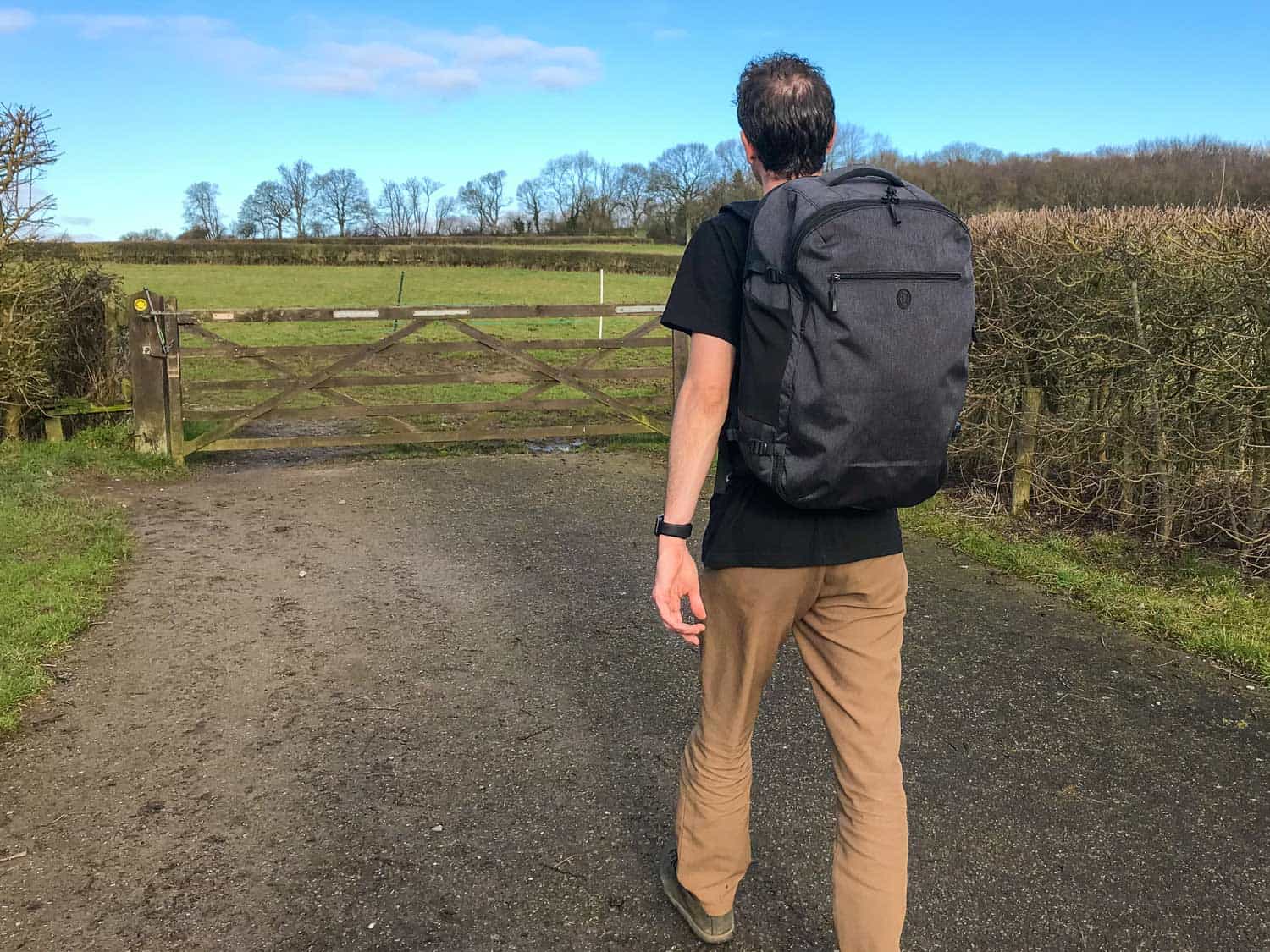 Here's a comparison of the two backpacks so you can decide which one is right for you.
Compared to the Tortuga Outbreaker, the Setout Backpack is:
1.2lbs (0.54kg) lighter
$100 cheaper
Made from a matte fabric that has a nicer feel (and comes in three colours)
Water resistant rather than waterproof
More stylish looking (in our opinion) with rounded corners rather than a rectangular shape
Not as rugged (and possibly less durable)
Less organised (although there are still plenty of pockets)
Less padded
Less adjustable to find the perfect fit
Another major difference for some people is that the Setout has hideaway shoulder straps and a side carry handle, which the Outbreaker doesn't have.
The Setout also comes in a women's fit which the Outbreaker doesn't.
Here's a comparison of each of the Setout's areas:
Front and sides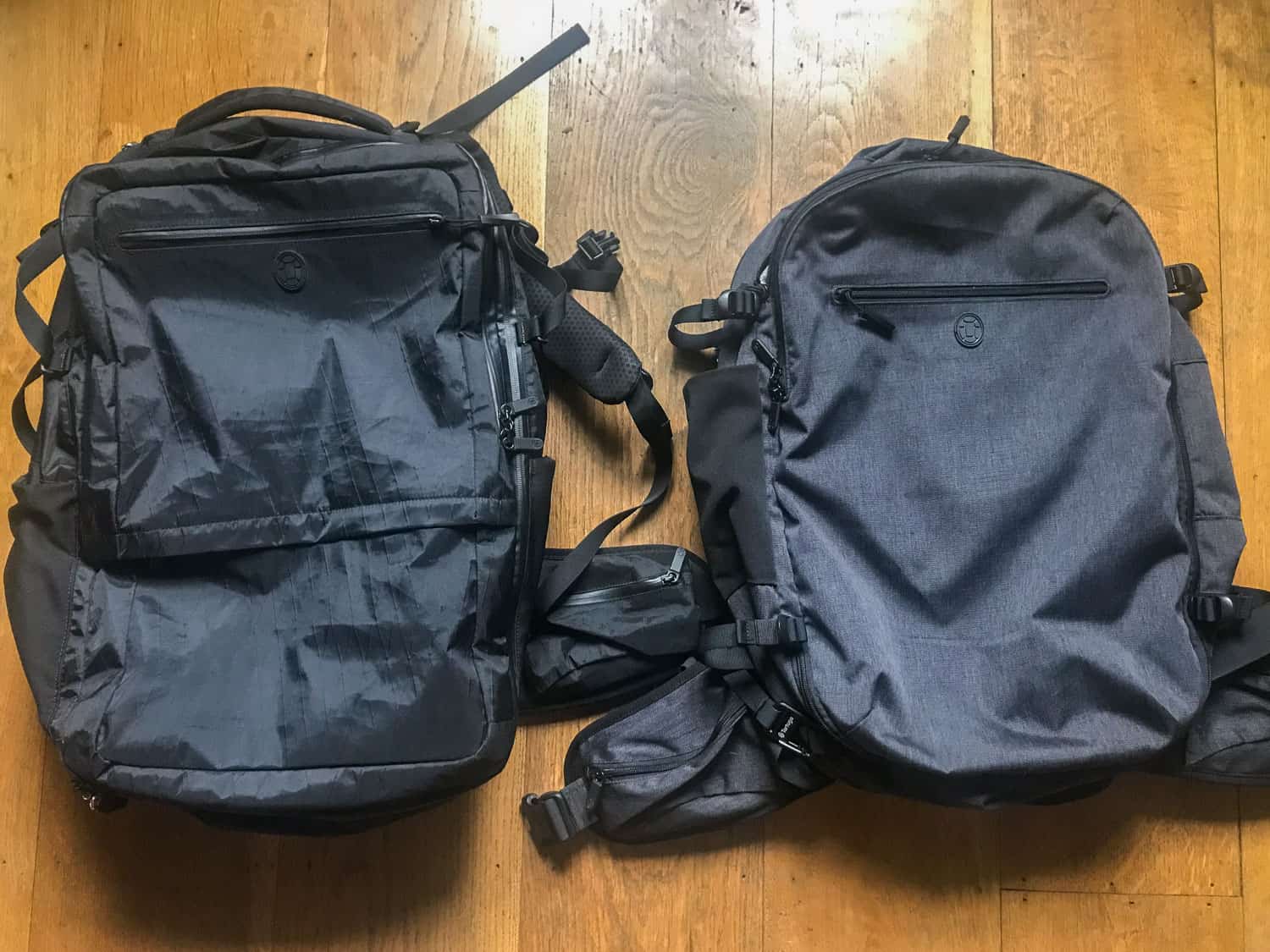 There's only one pocket on the front rather than the two on the Outbreaker (Simon never used the second one).
There's only one water bottle holder on one side rather than on both sides (again, never used both).
The other side now features a carry handle. For us this is more useful than a bottle holder, especially for getting the bag down from overhead storage or carrying it like a suitcase.
Front compartment
This compartment is now the full length of the backpack (as there's no second front pocket) which means you can fit bigger items in it.
Most storage pockets are similar but there's no mesh pocket on the Setout.
The e-reader compartment is not fleece lined.
Main compartment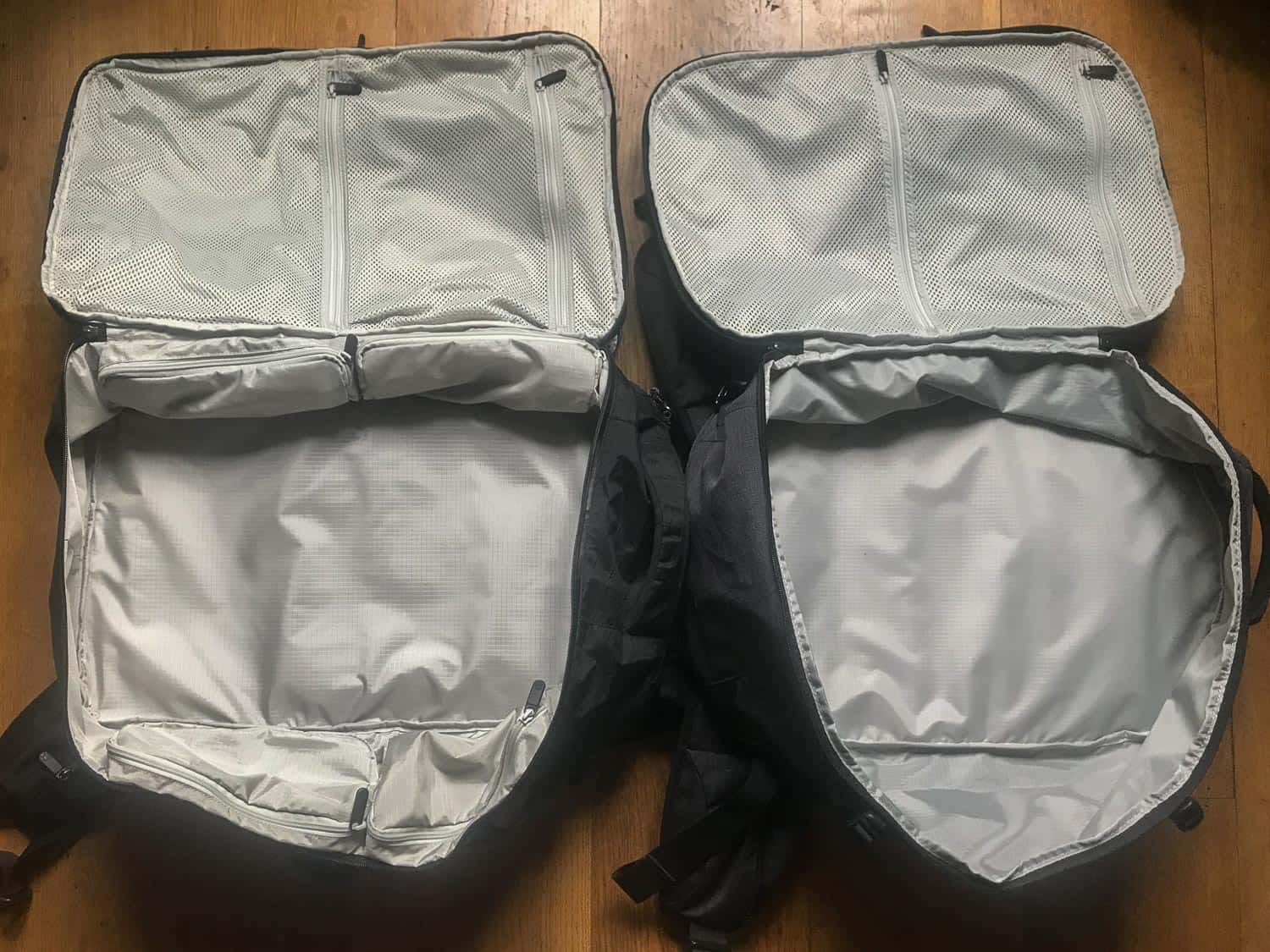 As the fabric is lighter the sides are floppier. It still opens on three sides and is easy to pack.
There are no small compartments around the edge (the Outbreaker has four). This was the feature Simon missed the most as he used them to keep his AeroPress and coffee separate from the rest of his gear, but he switched to using a lightweight Eagle Creek Spectre packing cube for them instead. There are still two mesh pockets on the other side.
Laptop compartment at back
The Setout laptop compartment doesn't completely open up and lie flat. On the Outbreaker this was supposed to enable you not to remove your laptop at airport security, but we never got away with this.
It doesn't have the Outbreaker's three mesh pockets on the opposite side of the laptop sleeve (Simon never used them).
The laptop compartment isn't fleece lined but is still padded. Simon kept his 15-inch MacBook Pro in an additional neoprene case for extra protection anyway.
The tablet compartment is supposedly smaller—Tortuga says it fits 9.7-inch tablets rather than 13-inch for the Outbreaker—but it seems similar to us. Simon's 12.9-inch iPad Pro fit just fine—the top pops out of the sleeve, but it did on the Outbreaker too. As he uses a neoprene sleeve it's not an issue.
The tablet compartment is not padded, so you may need an additional case.
Back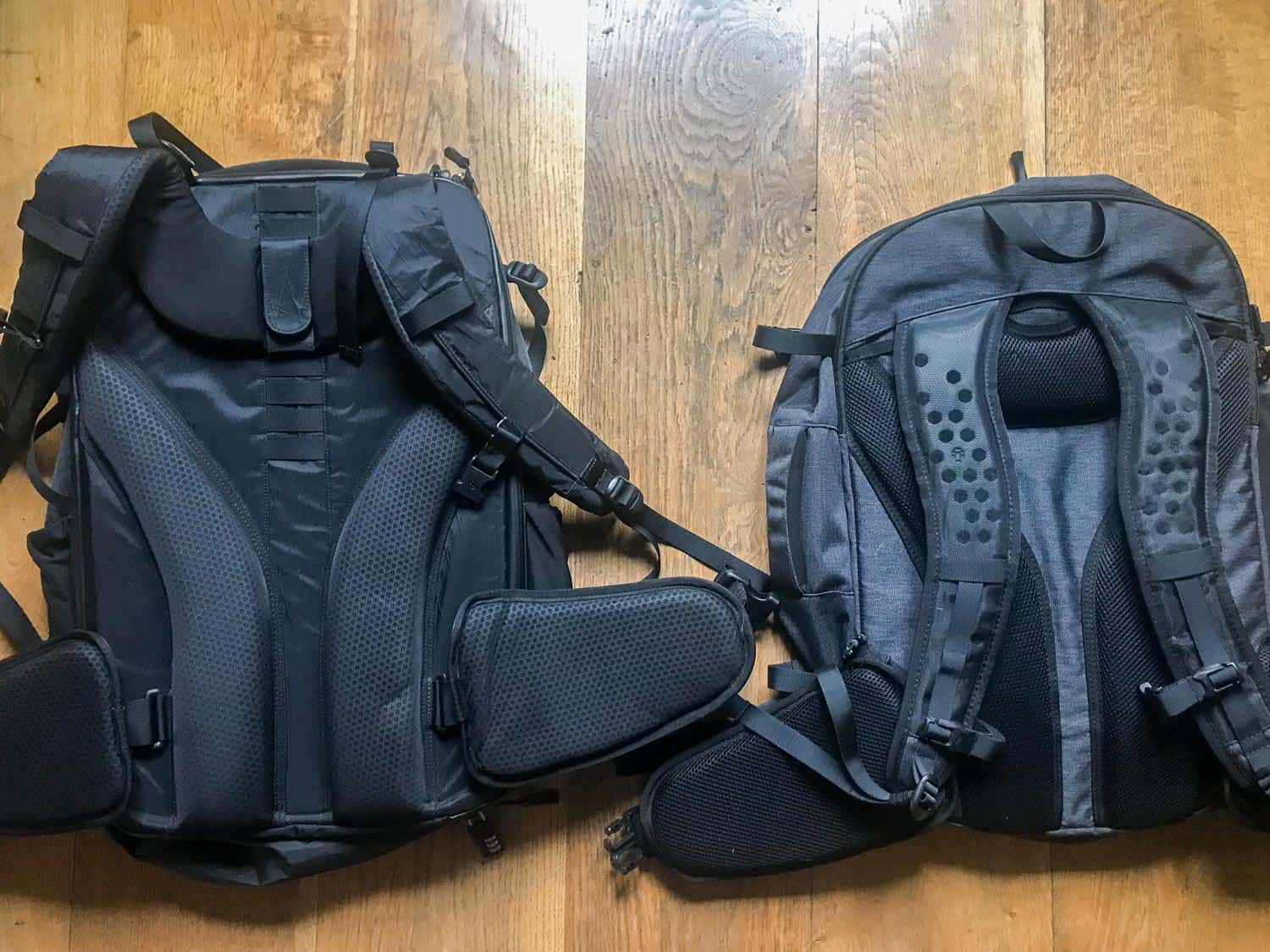 You can unclip the shoulder straps and hide them away in the back panel (Simon never used this).
The shoulder straps are less padded but are made from injection-moulded foam which conforms to your body and gets more comfortable over time.
There's less back padding, but this always seemed like overkill on the Outbreaker.
You can't adjust the height of the shoulder straps. This isn't an issue for Simon but could be if you have a particularly long or short torso. The Outbreaker fits torsos 16–20 inches whereas the Setout fits torsos 17–19 inches.
Which Tortuga Backpack is Right For You?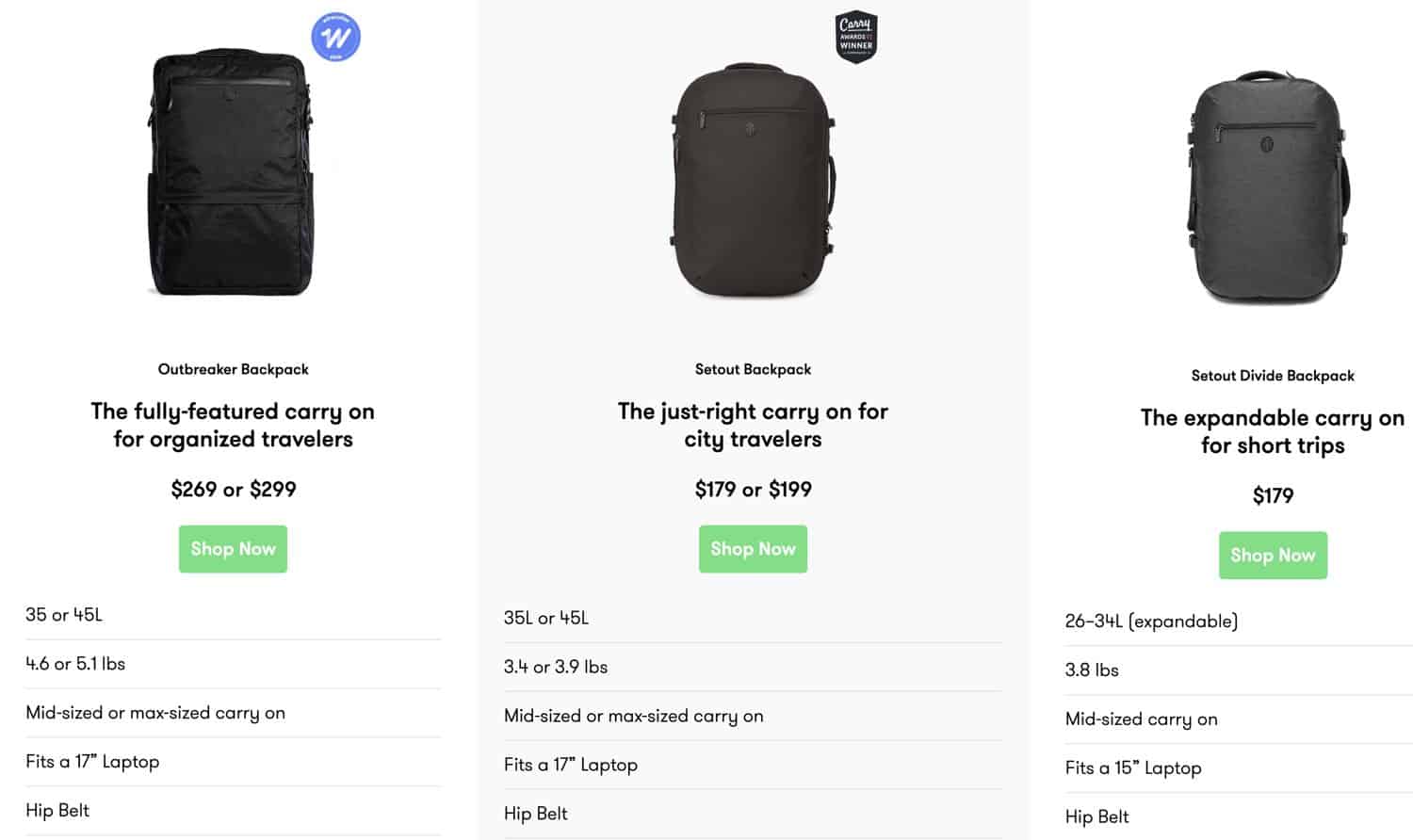 Which Tortuga backpack should you choose? The Setout meets the needs of most people and it's lighter and cheaper than the Outbreaker. We think it's the best Tortuga backpack yet.
If you need to pack away the shoulder straps or carry it by a side handle, the Setout is the right choice.
The Outbreaker is still a fantastic backpack and is better for you if you have a very long or short torso, want lots of internal organisation, or will wear it in the rain frequently. Read our Tortuga Outbreaker review for more details.
If you are looking for a smaller bag, the Setout 35 litre is the best option, although if even that is too big, the Setout Divide is the smallest backpack and is expandable from 26 litres to 34 litres, so you can add more space if needed.
For women, the Setout 35L is the only backpack that comes in a women's fit designed specifically for women's bodies and is likely to be more comfortable to carry than the other bags. There's now also a 45L version but if you have a smaller frame, I'd recommend the 35L if you can pack light enough.
If you still can't decide, Tortuga offers free returns on unused products within 30 days (and covers the shipping), so you can compare them side-by-side at home.
Compare all the Tortuga travel backpacks on their website here.
Setout Daypack and Packing Cubes
Tortuga offers accessories to go with the Setout backpack.
Setout Packable Daypack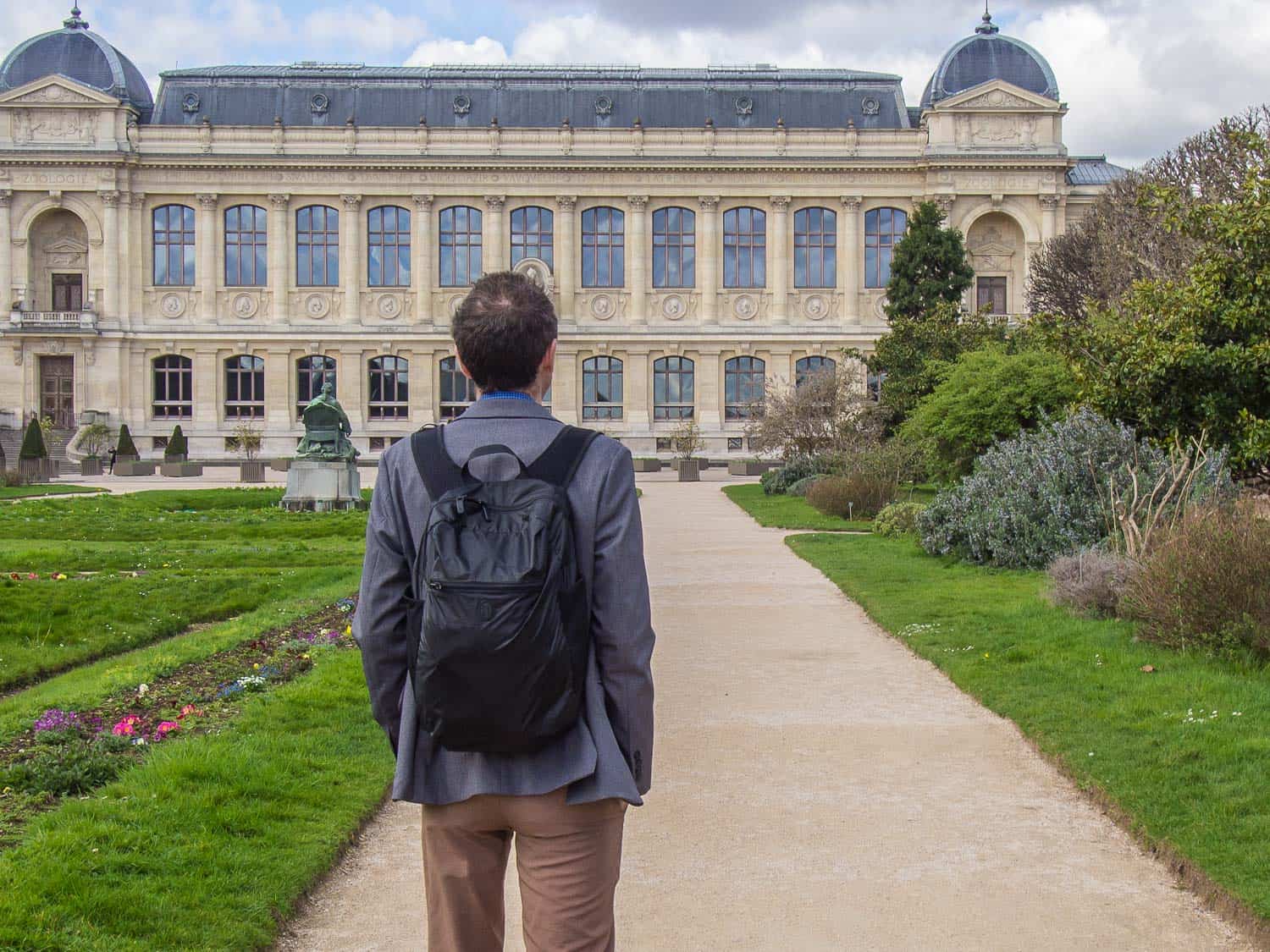 The Setout Packable Daypack is the best packable daypack we've tried and have been travelling with it full-time for years.
The padded back and shoulders straps make it more comfortable than most packable daypacks, but it's still light and folds into its own pouch. It easily fits inside the Setout Backpack on travel days and then can be taken out and used for sightseeing in your destination.
It features a simple black design, a zipped front pocket, two stretchy water bottle holders on the side, and a sternum strap (which most lightweight daypacks don't have). The sternum strap is surprisingly useful as it stops the bag from slipping off your shoulders.
If you buy the Setout daypack at the same time as the Setout backpack, you'll save money.
Setout Packing Cubes
We are obsessed with packing cubes. They help you fit more in your luggage and keep everything organised. We couldn't travel without them.
We haven't tried Tortuga's packing cubes, but the Setout cubes are designed to fit perfectly inside the Setout backpack with a unique curved design. They come in a pack of one large and two small and are made from high quality materials.
The max-sized cubes fit the 45L Setout and the mid-size cubes fit the 35L.
If you buy the Setout packing cubes at the same time as the Setout backpack, you'll save money.
Do you need some packing tips?
See our carry on packing list for what Simon fits inside his Setout and for tips on packing light, my book, The Carry-On Traveller: The Ultimate Guide to Packing Light, will teach you everything you need to know.
If you enjoyed this post, pin it!
Many thanks to Tortuga who provided us with a Setout backpack for review. We were under no obligation to write a positive review or keep travelling with it for so many years. As full-time travellers our luggage is extremely important and Simon would not still be travelling with the Setout if he didn't think it was the best backpack.