This page contains affiliate links. Please read our disclosure for more info.
We've been living out of carry-on bags for over ten years now. We love the freedom that travelling light gives us—we can pack our belongings in 10 minutes, walk around easily with all our luggage, and breeze through airports without queuing at check-in desks or baggage carousels.
Below we share our current travel packing list. It has evolved over the years and is meant to give you a starting point for your own carry on packing list. You don't need to follow it exactly as we all have our own preferences and needs.
Living out of a carry-on bag for ten years is very different from travelling for two weeks or even six months, and we're certainly not ultralight travellers. We have a ton of electronics to run our online business, whereas many travellers could manage with just a smartphone.
We've added extra clothes over the years to reduce the amount of laundry we need to do and as I started running and yoga. I can't believe in our first year we only had three tops and pairs of underwear!
We used to travel mostly in hot climates but have been spending more time in cooler places in winter. The packing list below works for multiple climates and I've noted the extra things we pack for cold places.
Our biggest change in the last year has been switching from one carry on backpack each to a rolling suitcase plus personal item. You can read more about that below.
This post was originally published in 2016 and was last updated with our 2021 carry on only packing list.
Contents
Our Change From Carry-On Backpack to Suitcase
After nearly ten years of carrying everything we own on our backs, we were ready for a change.
We loved the freedom of travelling with a backpack—it's easier to carry on rough streets, climb stairs, and hop on and off buses and boats. But as we added more items over the years, our bags were getting heavier and we began to dread carrying them.
Our travel style has also changed—we travel more slowly, sometimes rent cars, and can afford to take taxis to our accommodation rather than walk.
For travelling by bus around South America, a backpack made sense. When we spend more time in airports and cars, a suitcase makes life much easier.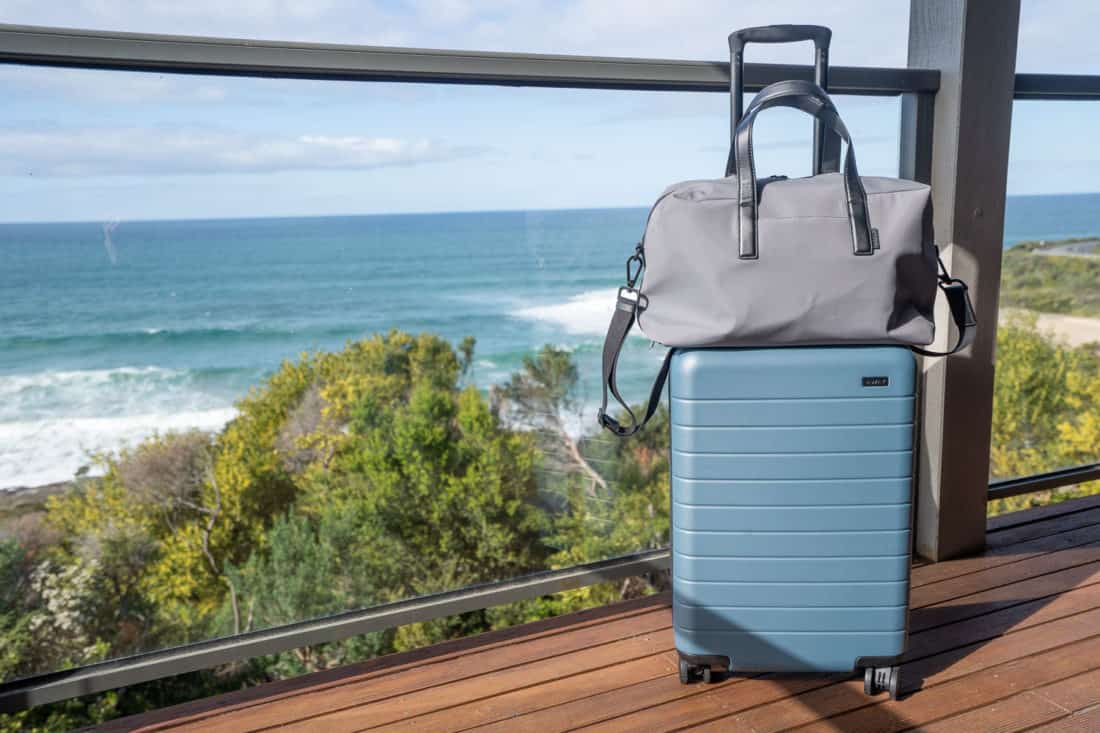 I opted for the Away Bigger Carry-On Suitcase and the Away Everywhere Bag (as my personal item for my electronics).
With this combination I maximise the amount I can carry on a plane. I haven't had any issues so far, but I do imagine that on some stricter airlines, I'll need to check the suitcase as it is on the larger size for hand luggage and not all airlines allow two bags.
I was nervous about the change, but Away offers an amazing 100 day free trial, so I knew I could return it if it didn't work out. They also provide free delivery to many countries including the US, UK, Australia, Canada, and Europe.
I haven't looked back. The suitcase is stylish, spacious, and durable. The smooth spinner wheels mean I can effortlessly roll it alongside me (no need to drag it behind).
I especially love how the Everywhere Bag slides over the handles of the suitcase, so I don't have to carry a thing. Airports are so easy now!
Stairs are more challenging with a suitcase than with a backpack, but I think it's worth it for easy rolling the rest of the time.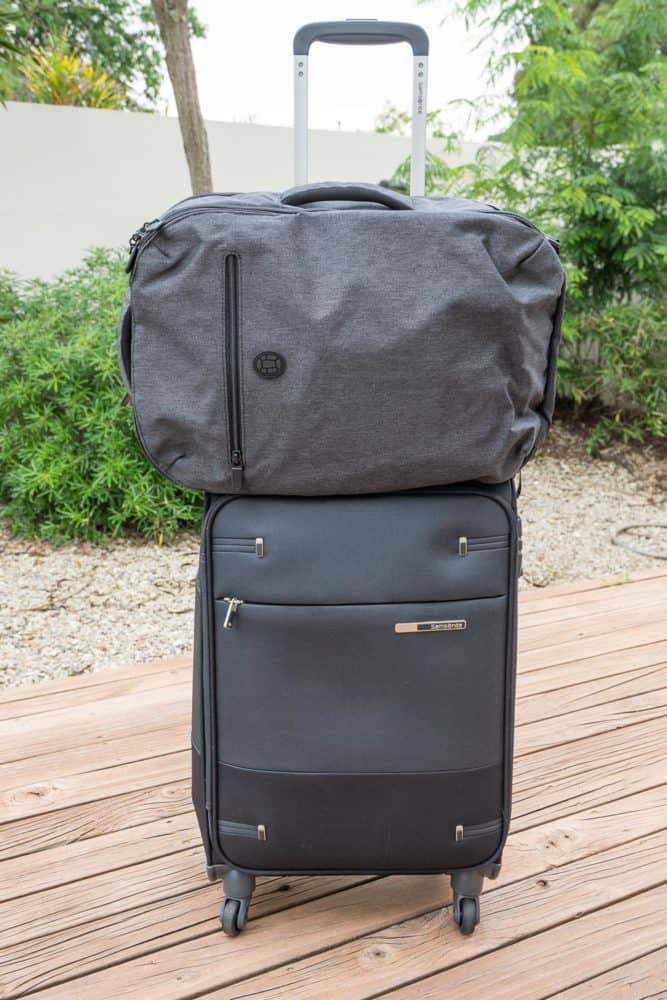 Simon was jealous of my burden-free travel days, so he has now converted to a suitcase too. He bought an ultra-lightweight Samsonite case, but it's a little small and not as sturdy or easy to roll as the Away, so he plans to pick up an Away Carry-On when we're back in the UK.
He pairs his suitcase with a Tortuga Setout Laptop Backpack, which he loves. It made the transition easy as it's basically a smaller version of his previous bag, the Tortuga Setout Backpack, so he can pack his many electronics in the same way.
It also has a sleeve so you can slide it onto suitcase handles and not need to carry it.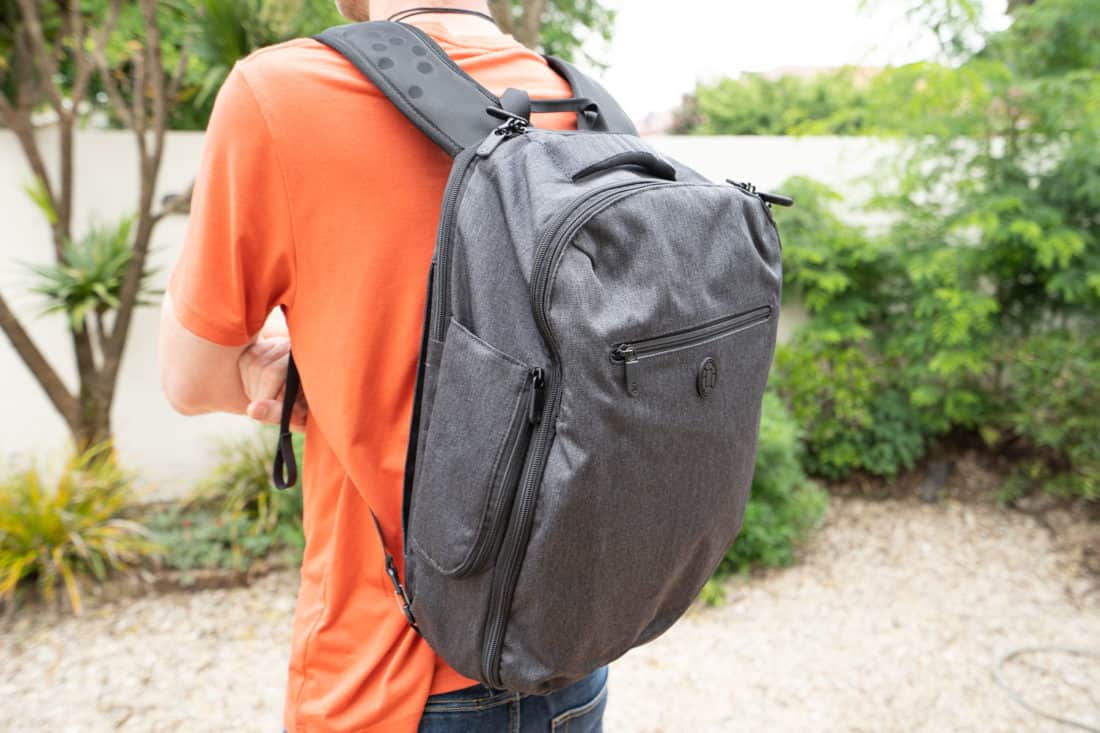 Our recommended carry-on backpacks
I do still think backpacks are a great choice for many people, especially if you'll be moving around a lot, taking public transport, and walking to your accommodation.
They are best if you can pack lighter than we do—reducing electronics would help.
Another advantage of backpacks is that you can get away with being over the allowed carry-on weight on planes, as they are less likely to be weighed. Read my tips on dealing with airline weight restrictions.
We think the Tortuga Setout 45L Backpack is the perfect carry-on backpack if you want plenty of space with good organisation, comfort, and a stylish design. See our Setout backpack review for full details.
If you'd prefer a smaller bag, Tortuga has a 35L version, or if you're not in the US, I used to travel with the Osprey Farpoint 40.
Our Carry-On Travel Packing List
Luggage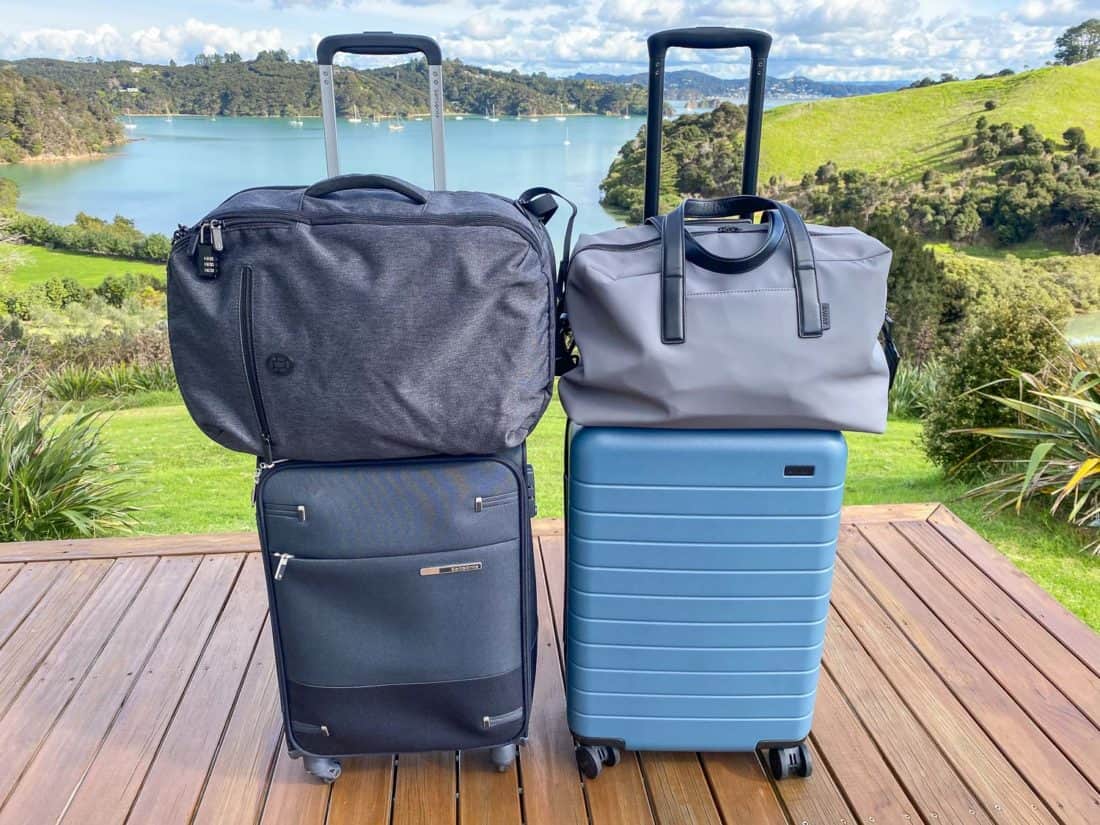 Packing Cubes
Packing cubes are the secret to carry on packing. They are essential to help us fit more in our luggage and keep things organised. Read my post on how to use packing cubes.
Erin's Clothes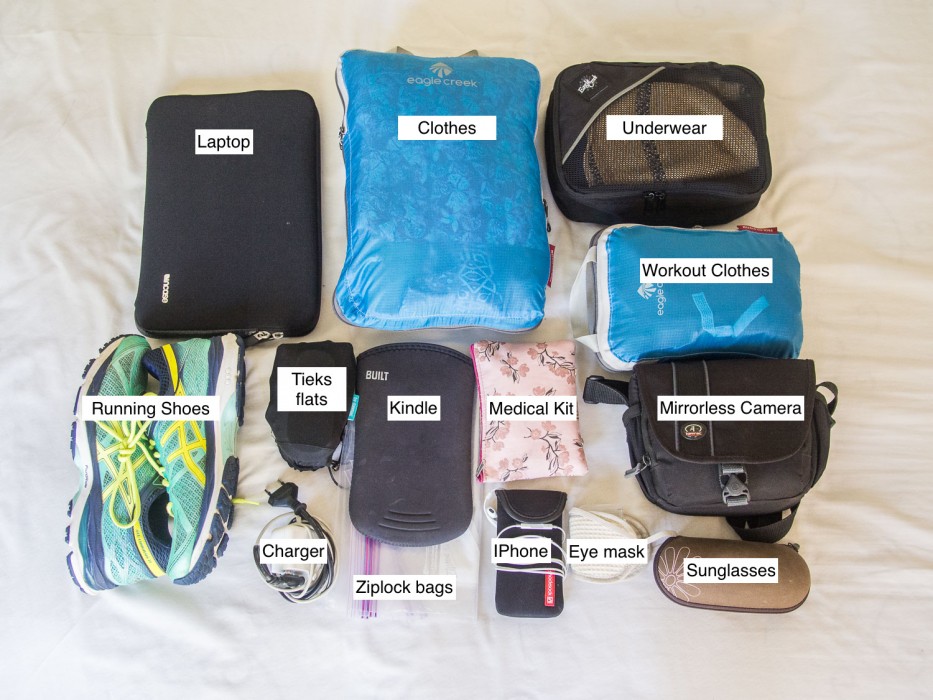 Bottoms
I prefer dresses to bottoms/tops in hot weather, so if you don't, you might want to add an extra skirt or shorts to your travel packing list.
I also spend a lot of time lounging in leggings (see Workout Gear below).
1 Aviator Comfort Skinny Black Jeans – These travel-friendly jeans are super comfy and have huge pockets. I always wear these when flying. For details see my review of the best travel pants for women.
1 stretchy blue jeans – I have an old pair from Next. When we spent most of our time in hot countries, I had linen trousers instead of jeans.
1 Toad & Co Chaka Skirt – The best travel skirt I've found as it's soft, very comfortable and wrinkle-resistant. I have the Nightsky colour so that it goes with all my tops.
Tops and Dresses
I also used to have a Clever Travel Companion tank top which replaced my money belt as it has two zipped pockets to keep my passport and cards/cash safe on travel days. These days I keep my valuables in my jeans or inner jacket pocket or (in low risk situations) in my day bag instead. If I were travelling in places like South America, I would use this tank again though.
Outerwear
1 Cardigan – I used to have a Uniqlo merino wool cardigan which I loved but couldn't replace. I now have a WoolOvers cashmere cardigan which is ultra soft and cosy but takes a bit more care. Both dry more quickly than cotton.
1 Fleece (The North Face Mezzaluna) – Lightweight with pockets and a hood.
Workout Gear
2 tank tops – For running I love the Athleta Chi tank (no longer available) and I have a

cheap H&M tank for yoga at home.

1 capri leggings – I wear the Athleta Be Free Knicker (no longer available) for running as well as yoga and hiking in hot weather.
2 leggings – For yoga, lounging, and hiking. My favourites are the Lululemon Wunder Under Tights (made from full-on luon) which are comfortable and flattering. The 25-inch is full length on me and I bought two sizes down as they stretch out. I also have some cheap, comfy Lapasa leggings.
1 shorts (Brooks Sherpa 6-inch) – For running in hot weather.
2 sports bras
2 running socks – My current favourites are Albirds Trino Sprinters and Hilly Marathon Fresh Socklets.
Underwear and Swimwear
2 bikinis
7-9 underwear – Most pairs are ExOfficio, which are light, quick drying, and odour-resistant. Uniqlo's AIRism seamless underwear is also great for travel.
2 bras
2-3 socks – I don't wear socks often. In cold places, I buy more as needed.
Shoes
I ordinarily only travel with three pairs of shoes—running shoes, sports sandals, and ballet flats.
As we've been spending so much time in colder places recently, I've also added a pair of Allbirds Wool Runners for casual use, so I can keep my running shoes just for running. They are perfect for travel—see the cold weather section below for details.
I've also been testing out the Allbirds Wool Runner Mizzles, which are a good option if you want a water-resistant sneaker with extra traction.
In New Zealand (where we have a car), I also added a pair of hiking shoes (Solomon Outline GTX) as we were walking the Queen Charlotte Track. I will get rid of these when we leave the country. The Allbirds work well for easy hikes.
I had a period of travelling with three pairs of ballet flats, which was definitely overkill, but I wanted to try them all out. I've now decided that Allbirds Tree Breezers are my favourite—you can't beat that Allbirds comfort, and they are also much more affordable than my previous Tieks flats (which I still love).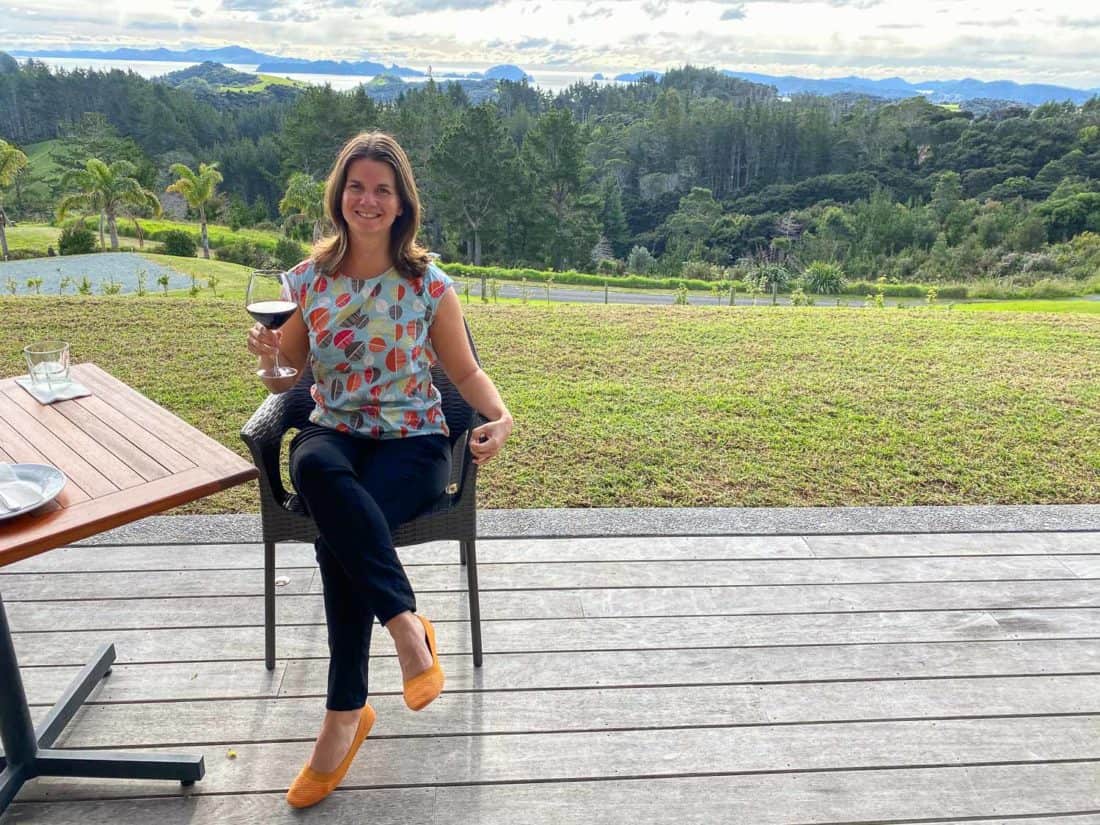 If you are figuring out which flats are best for you, see my Allbirds Tree Breezers review (which includes a comparison with Tieks and Rothy's) as well as my Tieks review (after travelling with them for 8 years) and Rothy's vs Tieks comparison.
Running shoes – I currently run in Allbirds Tree Dashers. I love their neutral design (so I can wear them around town too) and they are comfy, breathable, fairly lightweight, and machine washable. See my Allbirds Tree Dashers review for details.
Sports sandals – My Teva Verra sandals are super comfortable, waterproof, and practical for hikes but nice enough to wear in cities. Amazingly, there was no break-in period.
Ballet flats – As much as I love my Silver Lake Vegan Tieks, I've decided that the Allbirds Tree Breezers are the one pair I want to travel with. They are ultra comfortable, lightweight, machine washable, and made from sustainable materials. See my Allbirds flats review for more details.
Shower caps – I pick up a few shower caps from hotels to store my shoes in and protect my suitcase.
Accessories
Sun hat
Sunglasses – I like Maui Jims, which are expensive but durable, stylish and have polarised lenses to reduce glare (it really makes a difference).
Cold Weather Extras
In cold weather (like currently in New Zealand), I add these extra items:
Patagonia Nano Puff Hoody Down Jacket – It's warm but light and packs down small in its own pocket.
Marmot PreCip Eco Rain Jacket – In most places I don't bother with a rain jacket, but this has been useful in New Zealand. It packs down small in its pocket and has pit zips and an adjustable hood.
1-2 sweaters – I prefer cashmere or merino wool for warmth and lightness. I love the softness of the Woolovers 100% cashmere sweater, but it does require more care (and has shrunk a bit because of that). Their merino/cashmere blend isn't quite as soft but is more practical if you'll be throwing it in the washing machine on the road.
2 long sleeve t-shirts – I like Uniqlo Heatech Extra Warm tops.
Extra socks – My favourite are Smartwool medium crew socks

, which are thick, warm, and odour-resistant. Any merino wool socks are ideal.

Allbirds Wool Runners – I love how cosy and warm these wool sneakers are! They are as comfortable as slippers and I can wear them without socks. They are machine washable too. See my Allbirds Wool Runners review for more details.
Cashmere wool hat
Fleece headband – For running
Scarf and gloves
See our Iceland packing list for what we pack when we are only visiting a cold country.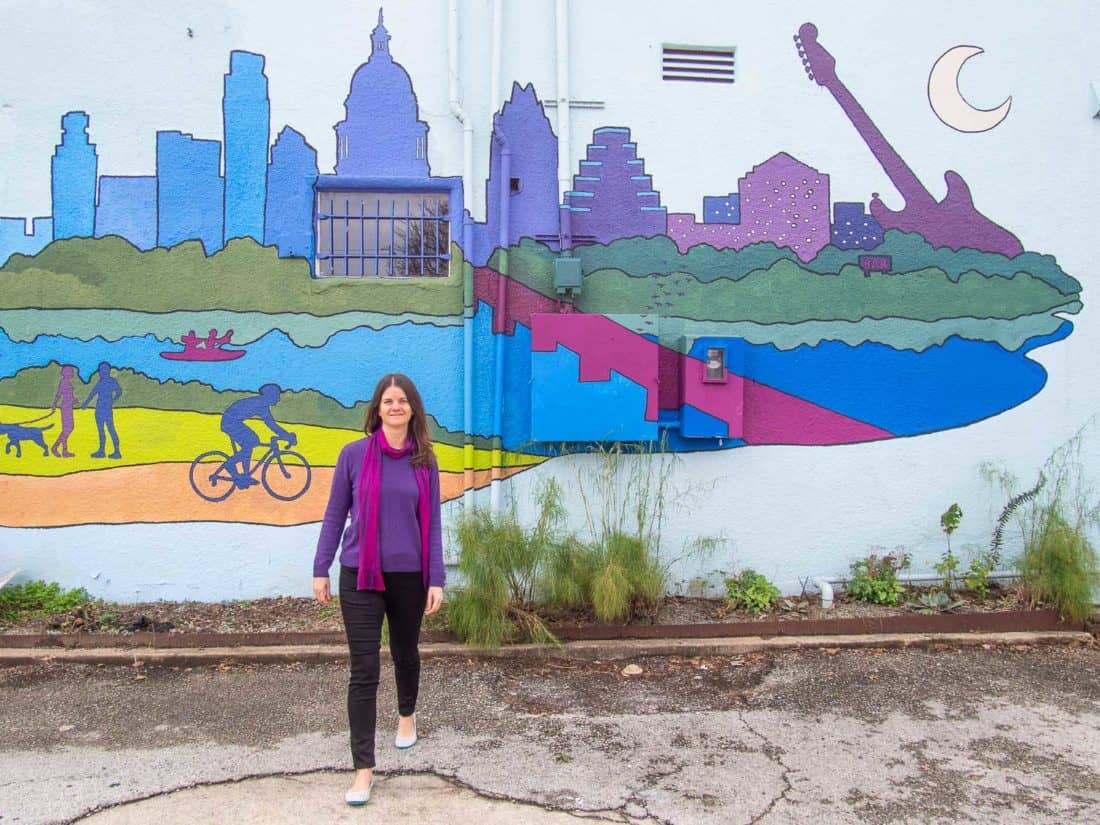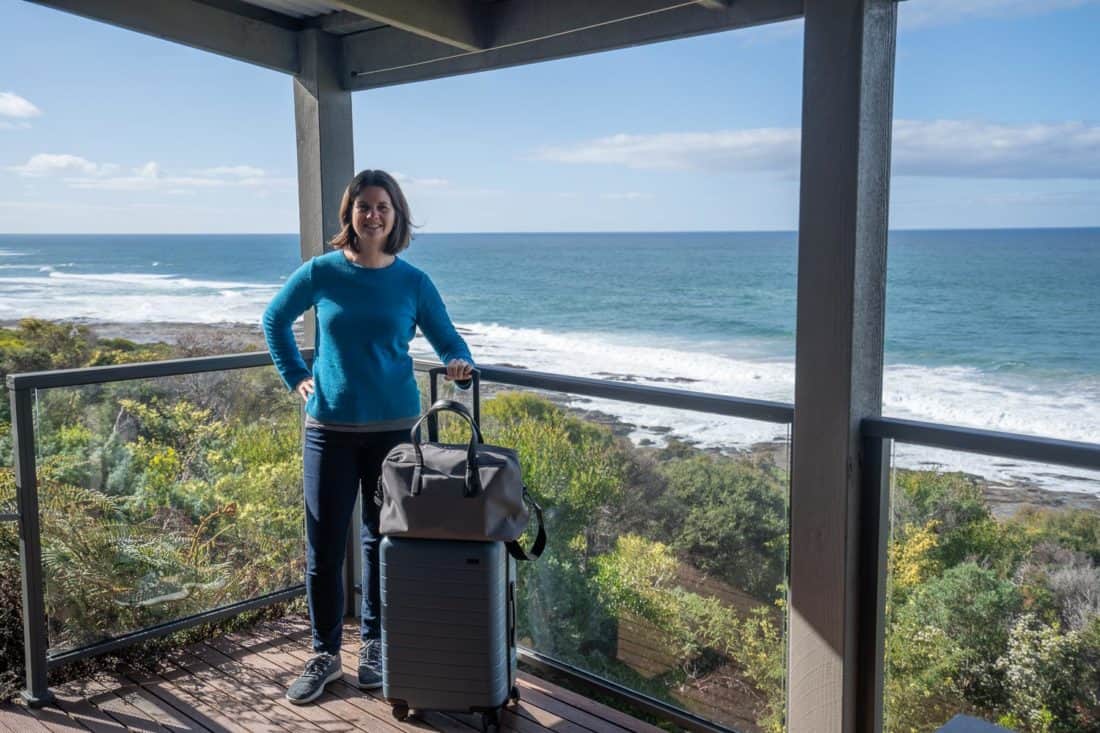 Simon's Clothes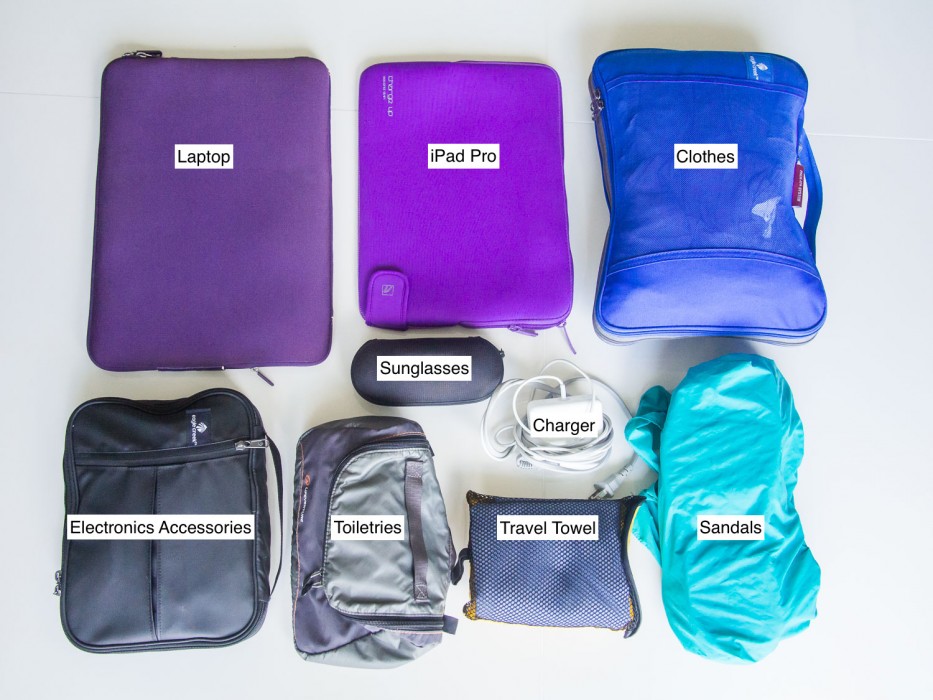 Bottoms
Tops
4 – 5 t-shirts – His favourite is the Bluffworks Threshold t-shirt which is as soft as cotton but durable, moisture-wicking, quick-drying, and odour-resistant. He is also a fan of Icebreaker Cool Lite t-shirts which are made from merino wool and can be worn for multiple wears without smelling. His Under Armour tech t-shirt dries the quickest of all, but it doesn't have the best odour-resistance.
Long-sleeve dress shirt – After struggling for years with shirts that wrinkled, Simon now travels with the brilliant Bluffworks Zenith shirt which has all the features you need for travel—wrinkle-free, soft and comfortable, moisture-wicking, and quick drying. It looks great too and works as well for dinners out as it does for hikes.
Outerwear
Fleece
Bluffworks Gramercy Blazer – A new addition to Simon's wardrobe that was ideal for a Paris and Italy trip from spring to summer (but less useful in outdoorsy places). This is the perfect travel blazer as it doesn't wrinkle, is machine washable, and has tons of hidden pockets. Great if you want a smarter look.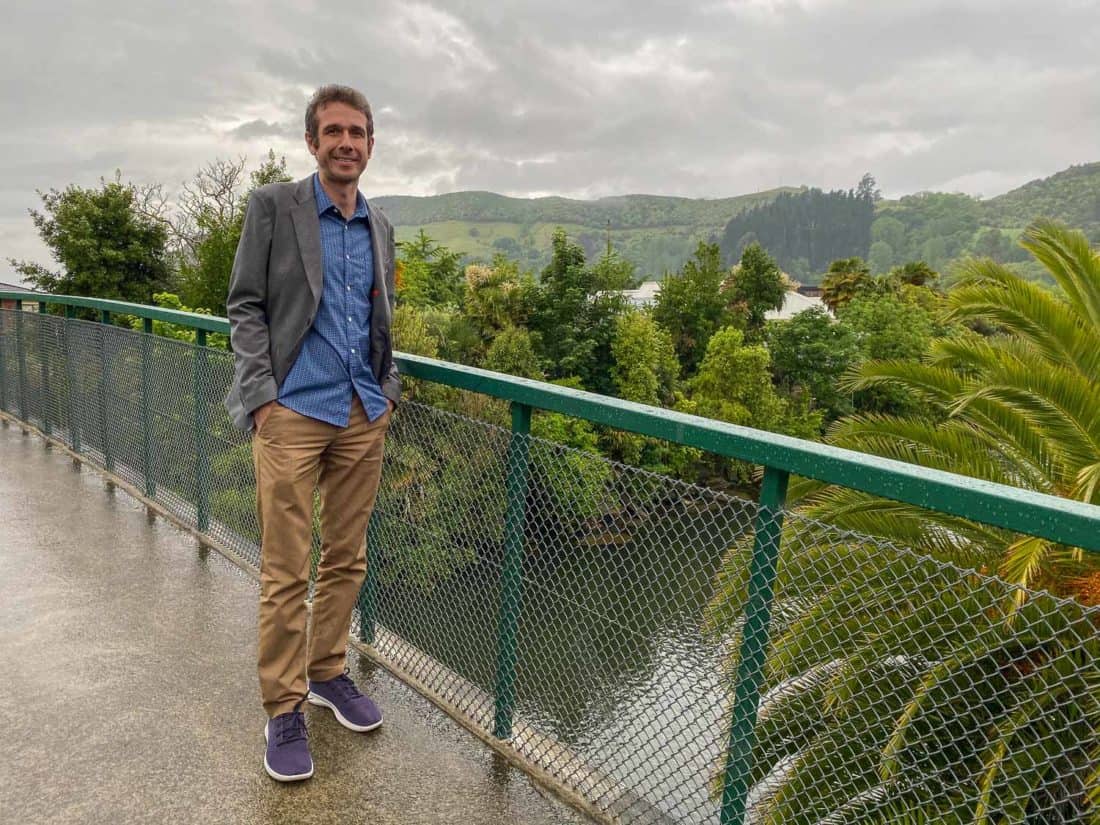 Underwear
7 underwear – Most pairs are ExOfficio or Uniqlo AIRism boxer briefs (a cheaper alternative) which are very light and quick drying.
4-7 socks – He prefers socks made from merino wool which is moisture-wicking and odour-resistant. His favourites are Smartwool PhD crew socks and REI liner crew socks.
Shoes
For nearly 10 years, Simon had just two pairs of shoes—hiking shoes and sports sandals.
This year he also added a pair of casual sneakers, the Allbirds Tree Runners, which he loves.
If you aren't planning any major hikes, the Allbirds are great for travel as they are smaller, lighter, and easier to dress up than hiking shoes, and can be worn without socks.
Hiking shoes – For years Simon travelled with the Scarpa Margarita GTX, which were the perfect travel shoes—attractive enough to wear to dinner (and even a wedding) but rugged enough for hikes. He can no longer get hold of them so replaced them with the Keen Explore Waterproof hiking shoes. In black they look neutral enough for cities and are comfortable for long hikes.
Allbirds Tree Runners – The summer version of Allbirds are lightweight, comfortable, machine washable, and come in a range of fun colours. You can read our comparison of Allbirds tree vs wool runners here.
Sports sandals – Simon has had a pair of Teva hiking sandals (currently the Teva Strata Universal) through all our years of travel and lives in them in the tropics. They are super comfortable, durable, and great for hot weather hikes and watersports.
Accessories
Sunglasses – Like me, Simon has a pair of Maui Jims with polarised lenses.
Cold Weather Extras
In cold weather he adds these items: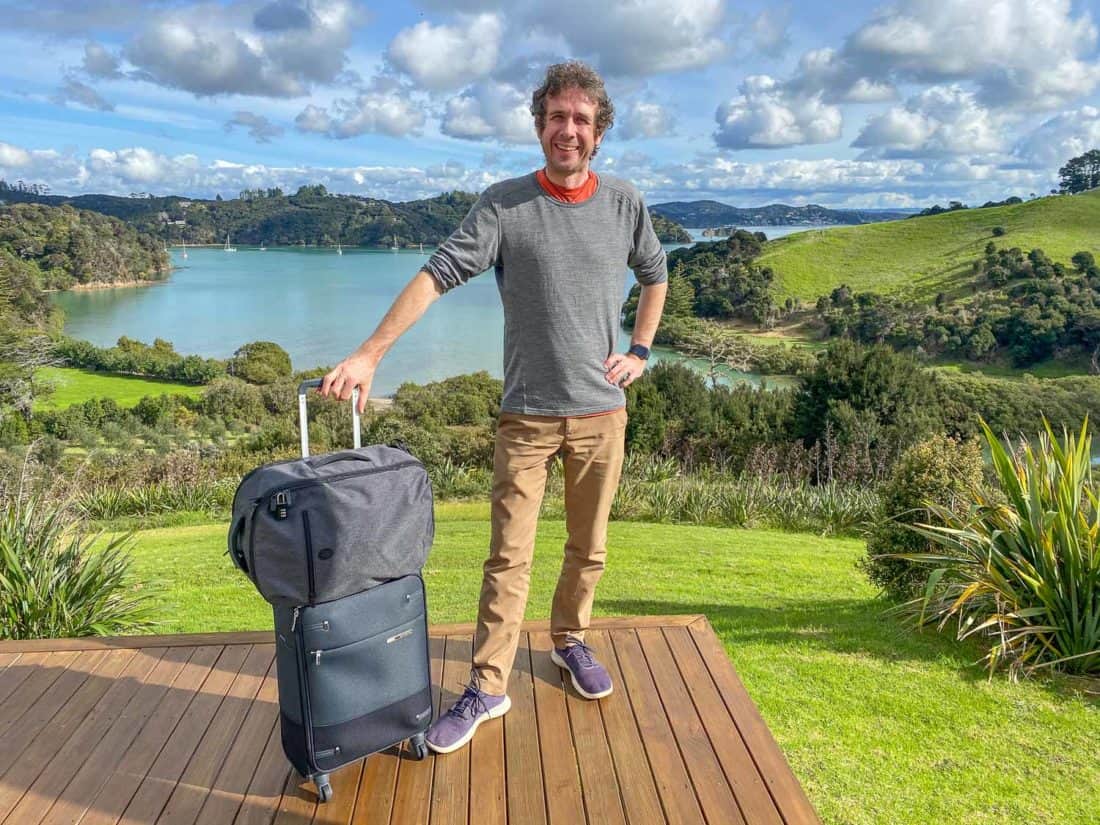 Toiletries
Remember to keep all your liquid toiletries in containers of 100 ml (3oz) or less if you are travelling by plane. Solid toiletries help minimise the liquids you need.
Toiletry bag – We have the Sea to Summit Hanging Toiletry Bag which is lightweight and comes with a mirror and hook to hang it up when there's nowhere to put it. We have the small version which is just enough space for all of our toiletries.
Small zip-lock bag – For liquids when flying. We usually fit our liquids into one bag between us.
Suncream – When it's available, we buy the 100 ml Riemann P20, a once-a-day suncream that lasts ages and is easy to apply.
Solid shampoo bar + tin – A must for carry-on travel. Solid shampoo lasts ages and doesn't use up your liquid allowance. We often use it as soap as well. We buy bars from either Lush (which has shops worldwide) or Ethique.
Toothbrush each + head cover
Toothpaste (usually a 50 ml tube)
Solid deodorant (Salt of the Earth 50 g) – The more solid toiletries you pack, the better. This natural crystal deodorant works well and lasts over a year.
Lip balm
Hand sanitiser (50 ml bottle) – Especially useful for bus journeys and hikes.
Shaving oil (Simon, 15 ml bottle) – Magic stuff! A tiny bottle lasts Simon nine months.
Razor each + 2 or 3 spare blades
Hairbrush (travel-size)
Nail clippers
Tweezers
Menstrual cup (Erin) – Essential for travelling women. A Mooncup or Divacup takes up less space than tampons (and you don't have to worry about finding them abroad) and is better for the environment, your body, and your wallet.
Hairbands and clips (Erin)
Sometimes we add these extra items in 50-100 ml (2-3 oz) bottles when needed:
Moisturiser (Steamcream)
Hair conditioner
Insect repellent
Medical
Ibuprofen
Loperamide (Imodium) – In case of traveller's diarrhoea.
Dimenhydrinate (Dramamine) – For motion sickness.
Plasters (Band-Aids)
Prescription medications
Antihistamine – Simon has allergies, so we sometimes carry these.
Electronics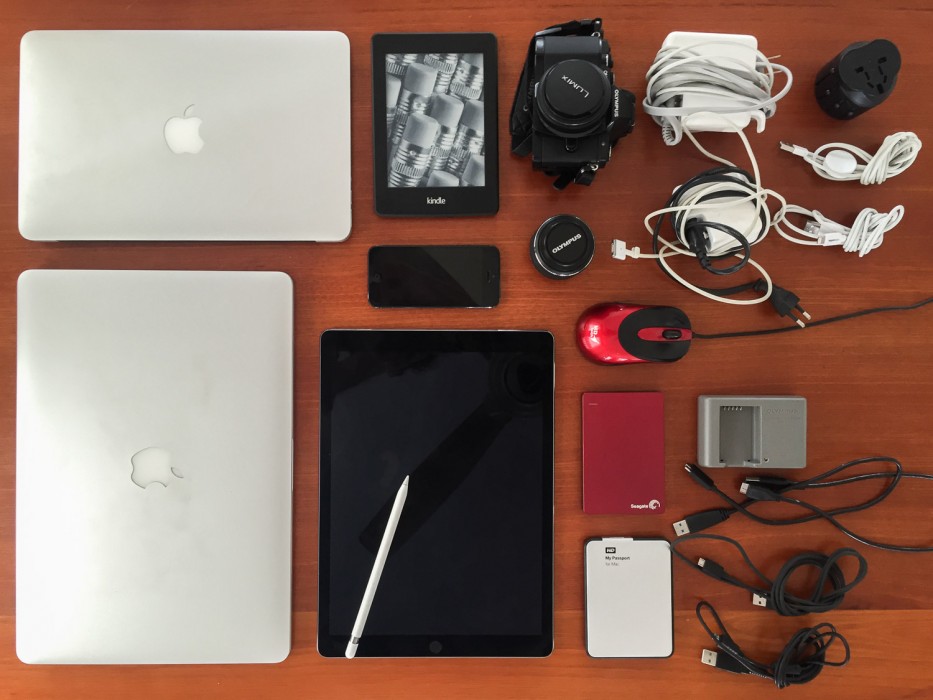 Laptops and Accessories
Photography (Erin)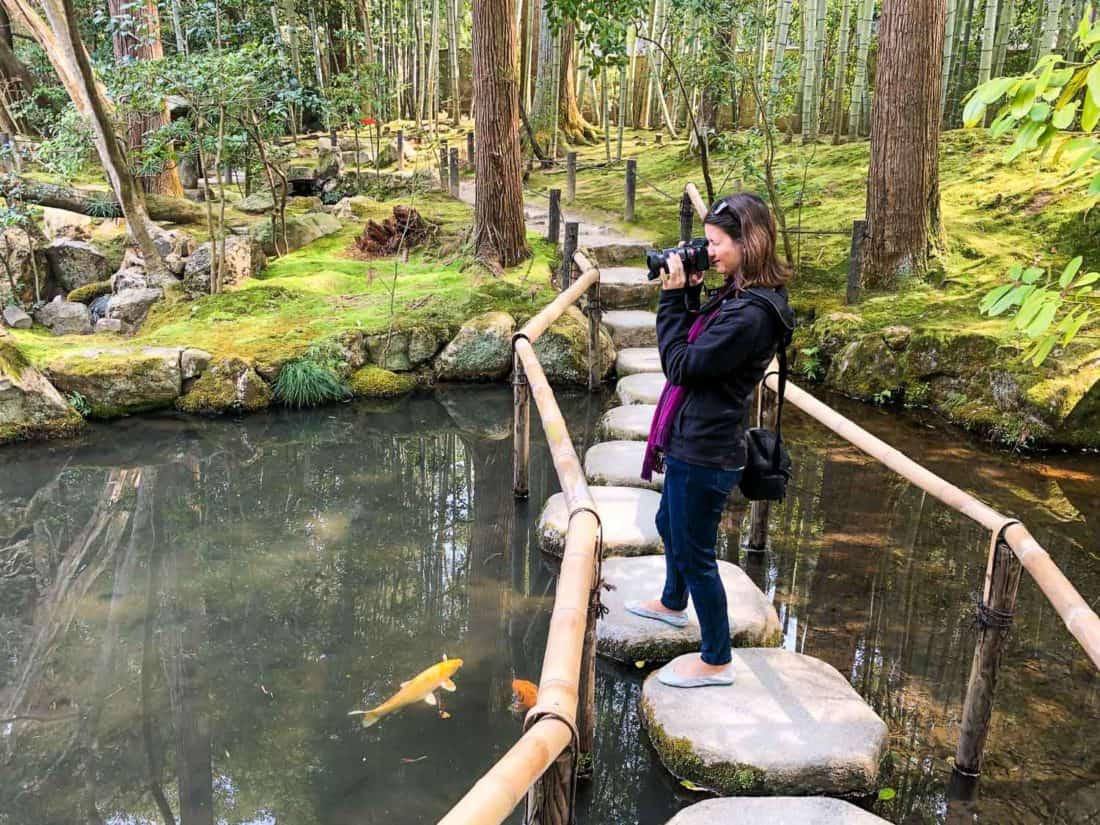 Most travellers these days can manage with the camera on their phone and save lots of space. As a travel blogger, that's not an option for me.
I switched from DSLR to smaller but high quality mirrorless cameras years ago and think they are the best option for serious travel photographers.
I pack everything in my Peak Designs bag and then place that inside my Away Everywhere Bag (my personal item) so I only have two pieces of luggage on travel days.
I charge my camera with my Kindle's USB cable.
Sony A7 III Mirrorless Camera – This full-frame camera takes high quality photos and is especially fantastic in low light.
Sony 16-35mm f4 lens – I love the wide angle on this lens for landscapes and interior shots.
Samyang 35mm f/2.8 lens – An inexpensive, small, and super light lens that's ideal for street photography, food, and low light.
Peak Design Everyday Sling Bag – I love this stylish, comfortable, versatile camera bag that can be carried in three ways. The inside can be configured to fit your camera and lenses using the velcro dividers. I have the 5L in the older version—the 6L is the nearest size in the new bag.
Peak Design Slide Lite Camera Strap – A versatile strap that's so much more comfortable than a standard camera strap. It can be worn as a sling (my favourite), shoulder, or neck strap, and it's easy to switch between the styles.
2 batteries
USB memory card reader – For uploading photos to my laptop.
Lens pen – For cleaning.
iPhones, iPad, Kindle, Watch, Nintendo
iPhone 11 Pro + Apple AirPods (Simon) – This phone is fantastic for photography and I often use it when I don't want to carry my camera. We buy local SIM cards with data plans in each new country.
iPhone X + Apple AirPods (Erin) – We both love the wireless AirPods so much!
Old iPhone – With an increasing number of websites requiring a text message to our UK phone number as security when logging in, we decided to keep an old iPhone as a "security phone", so we didn't have to keep swapping SIM cards. It has our UK Three SIM card in it.
iPad Pro Wi-Fi + neoprene case (Simon) – It's huge, but Simon loves the beautiful screen, especially for drawing.
Kindle Paperwhite x 2 + USB cable + neoprene sleeve – I couldn't live without my Kindle. It fits thousands of books on a device smaller than one paperback. I love that the newest version is waterproof for pool reading. Simon used to read on his iPhone but now has my old Kindle.
Apple Watch + USB cable – We both have one of these for fitness tracking. Read Simon's review.
Apple Pencil – For drawing on the iPad Pro. Perfect for travelling artists as it replicates a real pen or brush. Simon now does all his artwork digitally.
Plate stand – Much cheaper and lighter than an iPad stand. Along with the Duet app, it turns the iPad into a second monitor.
Apple lightning cables + USB power adapter
Apple USB-C Digital AV Multiport Adapter – For connecting our iPad and Mac to a TV.
Nintendo Switch – Yes, Simon travels with a games console! It's the most portable games console, but with the charging dock it is still fairly bulky and heavy.
Miscellaneous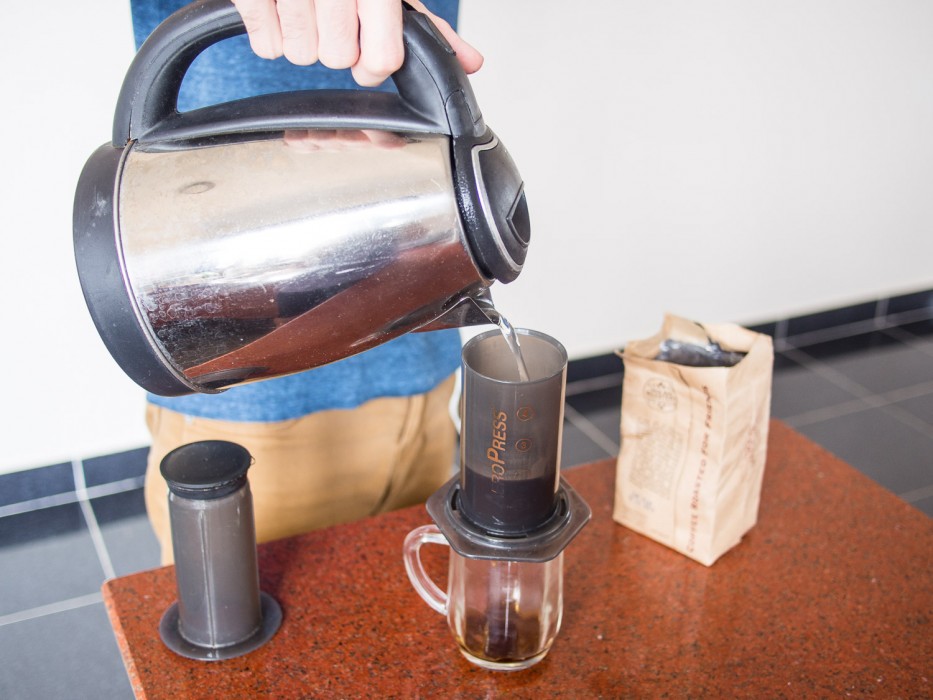 Travel towel (Simon) – As most accommodation provides towels, he mainly uses this for the beach.
Sarong (Erin) – For the beach and as an emergency towel.
Yoga Paws Skin Thin – Little yoga mats for your hands and feet. A much smaller, lighter alternative to a yoga mat. I practice every day wherever we are with Yoga with Adriene videos (free on Youtube or I signed up for the membership site for offline downloads and extra content). Read my Yoga Paws review.
AeroPress Go travel coffee maker – So that Simon is never deprived of good coffee. He's travelled with one for years and recently switched to the travel version which is more compact with a mug that doubles as the case. See our AeroPress review.
Porlex Mini coffee grinder – Simon has taken his coffee making to the next level and now grinds his own beans with this surprisingly compact and easy-to-use manual grinder.
Travel coffee mug – Simon has the Contigo West Loop which is leak-free and keeps drinks hot for up to 5 hours. It's ideal for hikes and road trips, but he prefers a glass KeepCup for coffee shops.
Vapur Element 1L water bottle x 3 – They fold flat or can be rolled up when not in use to save space.
Silicone earplugs (Erin) – Essential for me for noisy places and overnight bus and plane journeys.
Eye mask (Erin) – I use a cheap light one, like the kind they give out on planes.
Tiny sewing kit – Like the ones that hotels provide.
Moleskine notebook – I tried going digital but I still mostly prefer making travel notes on paper.
Pens
Zip-lock bags – These always come in useful for storing food or wet clothes. I take a few small and medium bags.
Beeswax wraps – A sustainable way of storing leftover food and sandwiches.
Toilet paper – We store a little folded up in the pockets of our bags.
Documents and Money
Travel insurance – We used True Traveller for many years and they are the best value we've found for Brits. We recently started using SafetyWing instead, which is a monthly subscription designed for digital nomads and is available worldwide. See our SafetyWing insurance review for more details.
Passport – We protect them with a clear plastic cover.
Dollars – A few hundred for emergencies and visa fees.
2 debit and 3 credit cards each – We recommend travelling with at least two of each as a backup. Read more about managing your travel finances.
Card reader for online banking – This is issued by our bank for secure access.
Driving licence
International driving licence (when needed)
Photocopies of passport (we also keep a scanned copy on our laptops)
Passport photos – For visa applications.
Vaccination card
Yellow fever vaccination card
Scuba diving certification card
Money belt – Simon wears one to keep his passports, cards, and cash hidden under his clothes on travel days. I used to wear a Clever Travel Companion tank top with zipped pockets instead but now don't bother (I would use it again for riskier destinations though).
Slim wallet (Simon) – We keep a copy of our passports and travel insurance details inside.
More Carry-On Packing Tips
See our other posts about packing light:
If you enjoyed this post, pin it on Pinterest!