This page contains affiliate links. Please read our disclosure for more info.
A packable daypack has become an essential part of our packing list. It fits easily in our luggage and we can use it for sightseeing and shopping at our destination.
We've tried many backpacks and below you'll find reviews of the best packable daypacks in 2021 from ultralight to fully featured with something for every budget.
Contents
What is a Packable Daypack?
A packable daypack is an ultralight backpack that can fit in your luggage (or even your pocket). They usually compress into a small pouch.
They come in a range of sizes, some tiny and ultralight with one compartment, others bulkier with many of the pockets and features you'd expect in a regular backpack.
They are also sometimes called a foldable backpack or collapsible backpack.
Why Travel with a Packable Backpack?
Our luggage is too large for days out so we need something smaller for sightseeing. A light, foldable backpack is ideal as it fits inside our main bags on travel days.
It also allows you to travel with just one carry-on bag (which is all some strict airlines allow) but still have a small bag for exploring.
A collapsible daypack is also useful when you don't need a bag for the whole day. You could pack a folding backpack inside your handbag or pocket to use when needed—for shopping or if you want to remove your sweater or jacket later.
Our Budget Pick
After trying out many daypacks, the Gonex Packable Backpack is our top pick for the best packable daypack if you're on a budget. It's the cheapest bag we reviewed but is durable (it stood up well to a year of travel), has a number of pockets, and is more comfortable than most. See our review below for more details.


Our Overall Pick
The Gonex was our favourite daypack in 2017 and early 2018, but then Tortuga released the Tortuga Setout Packable Daypack.
The Setout is more expensive and heavier than the Gonex, but it's also more comfortable, so we switched to using it. We've been travelling with it full-time for three years now. See our review below for more details.
Comparison Chart: The Best Packable Daypack 2021
How to Choose the Best Packable Backpack
The main consideration when choosing a packable daypack is whether you will prioritise weight and packability or features and comfort.
The lightest daypacks only have one main compartment and flimsier shoulder straps, whereas most full-featured and comfortable packs weigh considerably more.
We opt for the middle ground. We like backpacks with at least one external zipped pocket and lightly padded shoulder straps, but otherwise prioritise weight and packability over features.
Here are the features to consider when choosing a packable travel backpack:
Capacity – We find 20 litres is plenty of space for a fleece, water bottle, snacks and Kindle. We can even usually fit in both our laptops (15 and 11 inches) in neoprene cases (although we don't recommend doing this too often in unpadded bags).
Weight – The lighter, the better. We prefer under 250g (8.5oz). If you want ultralight, there are packs under 100g (3.5oz).
Size When Packed – Most pack into the inside pocket to create a compact pouch that doesn't take up much space in your main luggage.
Pockets – Ideally we like to have two zipped pockets, one outside for easily accessible things like tissues and pens and one inside pocket for more valuable items like a phone. The Setout doesn't have an internal pocket though and we've managed without it.
Water bottle holders – We don't tend to use these as we carry a large water bottle inside the bag, but they are essential for some people.
Hip belt – Most lightweight backpacks don't have one. It's only necessary if you'll be carrying a heavy load.
Sternum strap – A chest strap for extra support and to keep the bag from moving around. Not common on packable daypacks but it has become a must for us.
Back and shoulder strap padding – Most don't have back padding and only light shoulder padding. For heavier loads you might need more.
Laptop compartment – This will add significantly to the weight, but it's a good idea if you'll be carrying around a laptop often as most don't offer any protection.
Hydration port – If you prefer drinking from a water bladder look for this. Not commonly found.
Weather resistance – Most daypacks aren't fully waterproof but look for ones that are water resistant.
Durability – Check the quality of the fabric and zips before you commit.
All the backpacks reviewed below are unisex.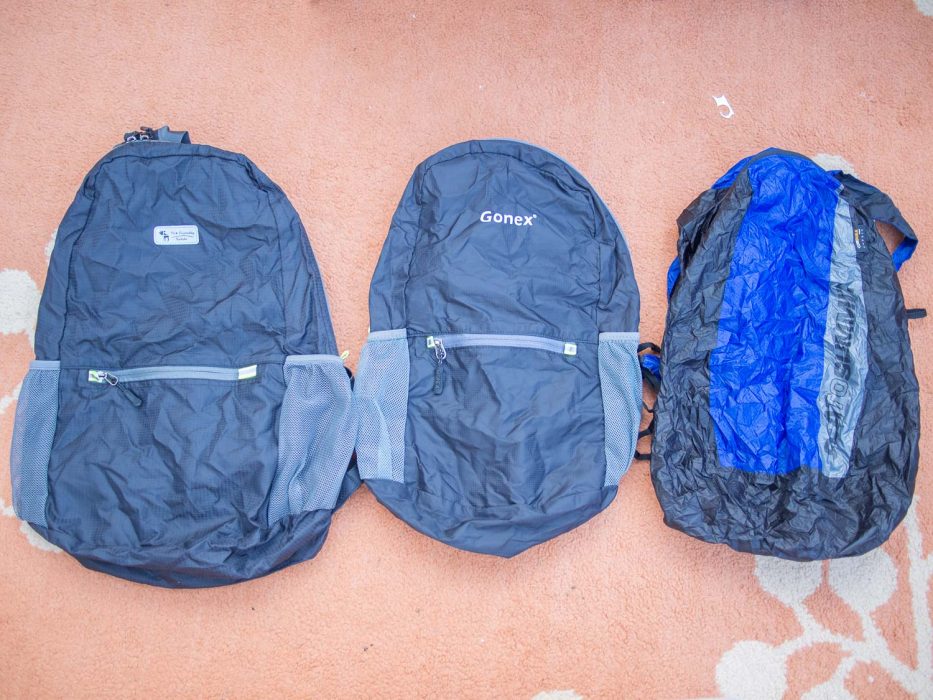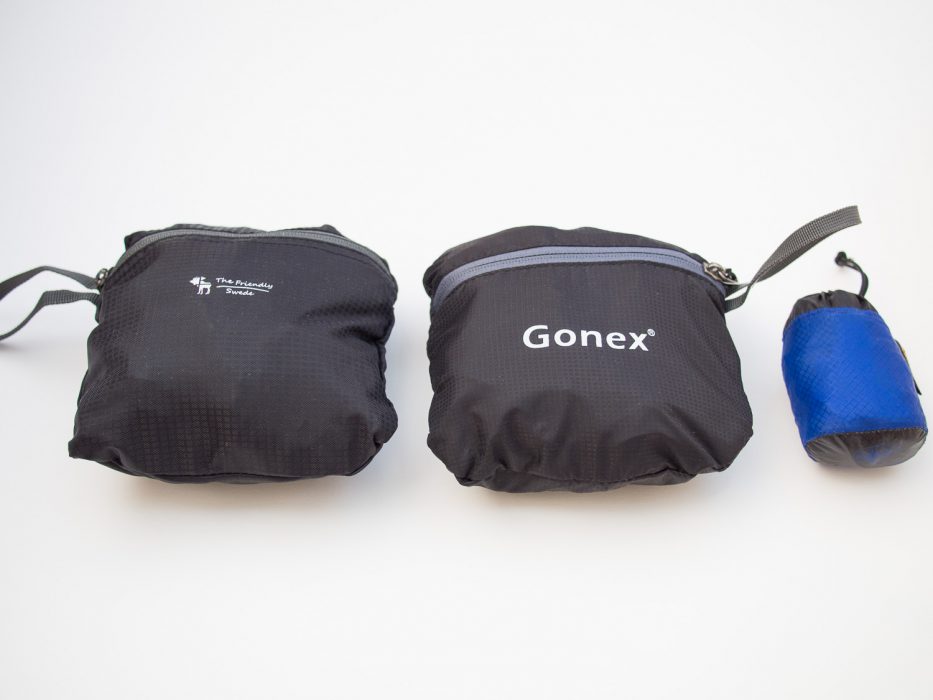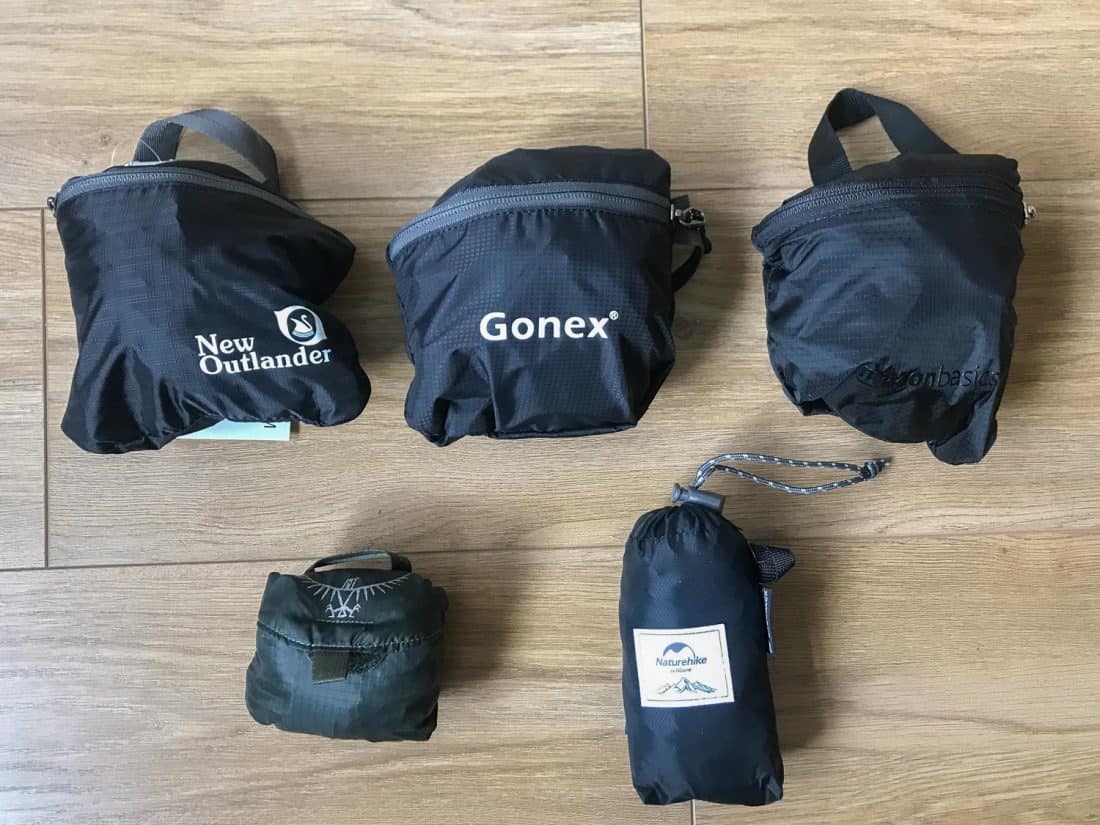 The Best Budget Packable Daypacks
In recent years more packable backpacks have become available on Amazon. Most have similar designs and are very affordable (under $20) and reasonably good quality.
It can be difficult to distinguish which ones are the best, so we've tried a number of the most highly rated ones for you. We think all these offer a good balance between packability/weight and comfort/features. All three daypacks in this category pack down to a similar size.
Capacity: 20L
Weight: 185g (6.5oz)
Colours: 8 available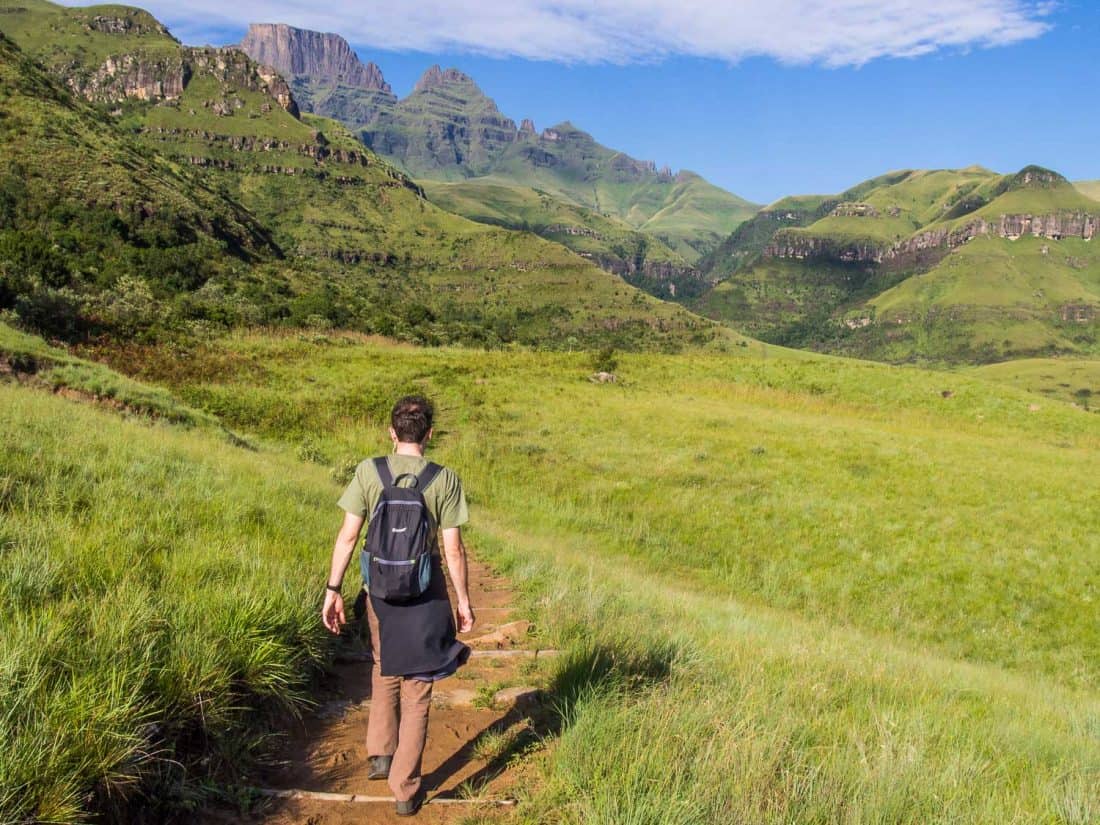 After trying out many daypacks, we chose the Gonex daypack to travel with full-time a few years ago.
The Gonex has a simple black design (other colours are available), a zipped front pocket, two mesh water bottle pockets on the sides, and a zipped inside pocket that doubles as the storage pouch it folds into.
It's lightweight and packs in our luggage easily, but it fits a surprising amount of stuff—we can fit Simon's 15-inch MacBook Pro in it along with my 11-inch laptop and 12-inch iPad Pro (all in cases). There's no padding, so it's not the best option for electronics, but we did use it for them occasionally.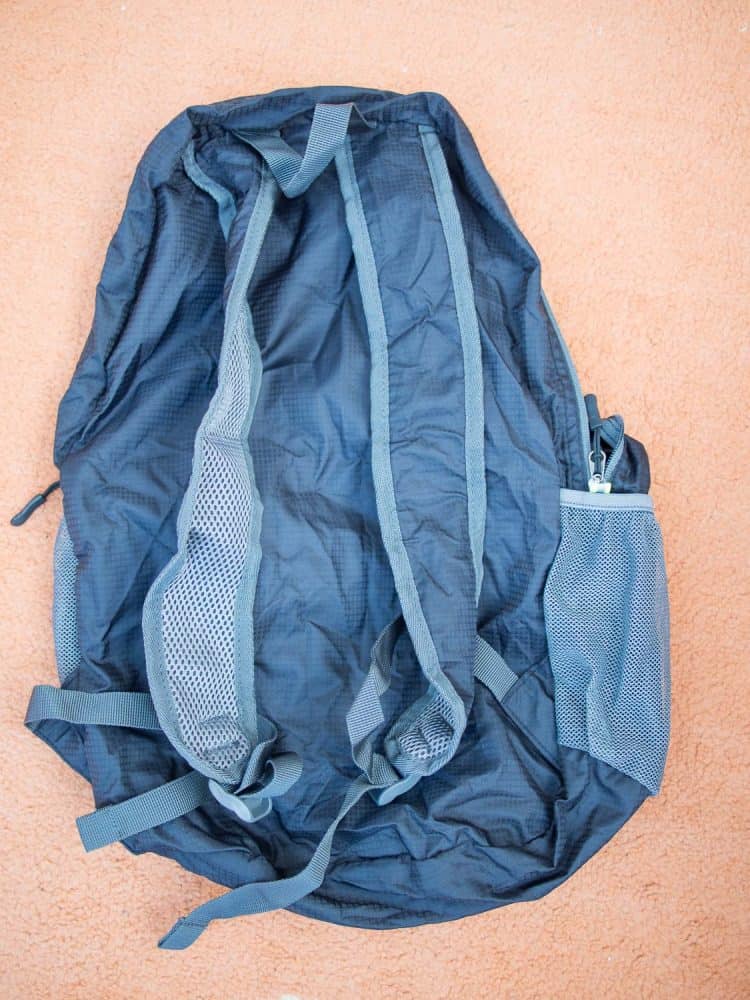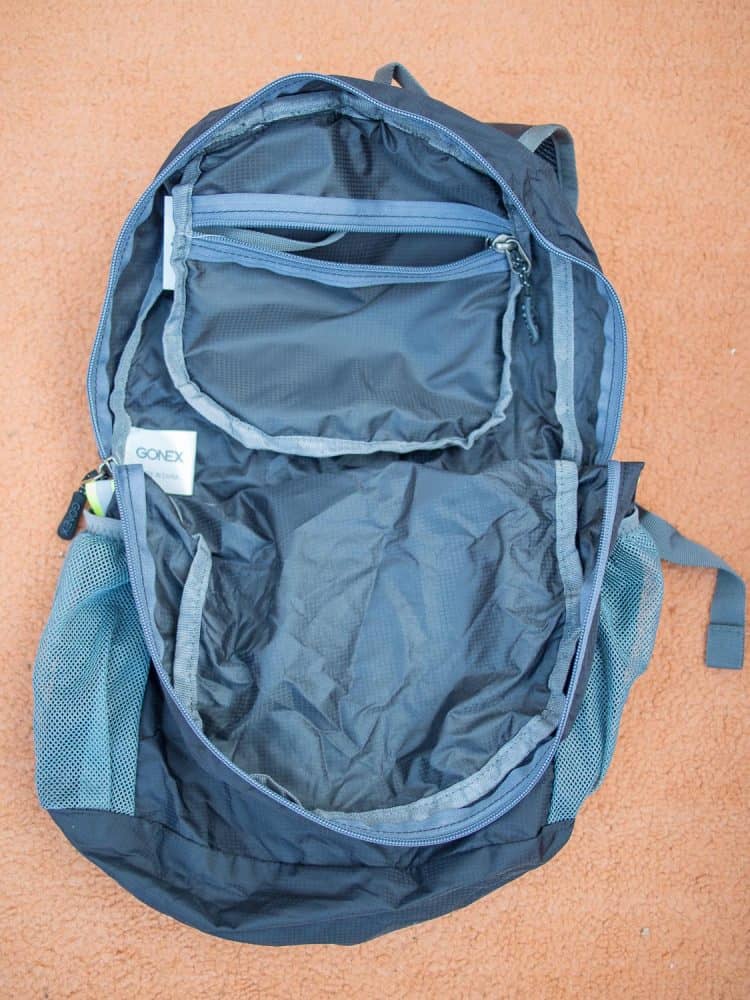 It's the cheapest backpack on this list but is made from water and tear resistant nylon and is surprisingly durable. We travelled with it for over a year to eight countries and used it regularly for hikes, day trips, and shopping.
We did replace our Gonex after a year as it was looking a little worn and the inside lining was beginning to shed. But this wasn't strictly necessary as structurally it was still perfectly fine.
The Gonex is comfortable to carry despite the minimal padding on the shoulder straps, although for long hikes it's not ideal (no packable daypack is).
The Gonex is a fantastic daypack for travel, especially if you are on a budget.
A few years ago we switched to the new Tortuga Setout daypack instead. It's more expensive and heavier, but the extra back and shoulder padding make it more comfortable to carry. See the review below for details.
Click here to see the latest prices of the Gonex daypack.
Capacity: 20L (33L version also available)
Weight: 198g (7oz)
Colours: 11 available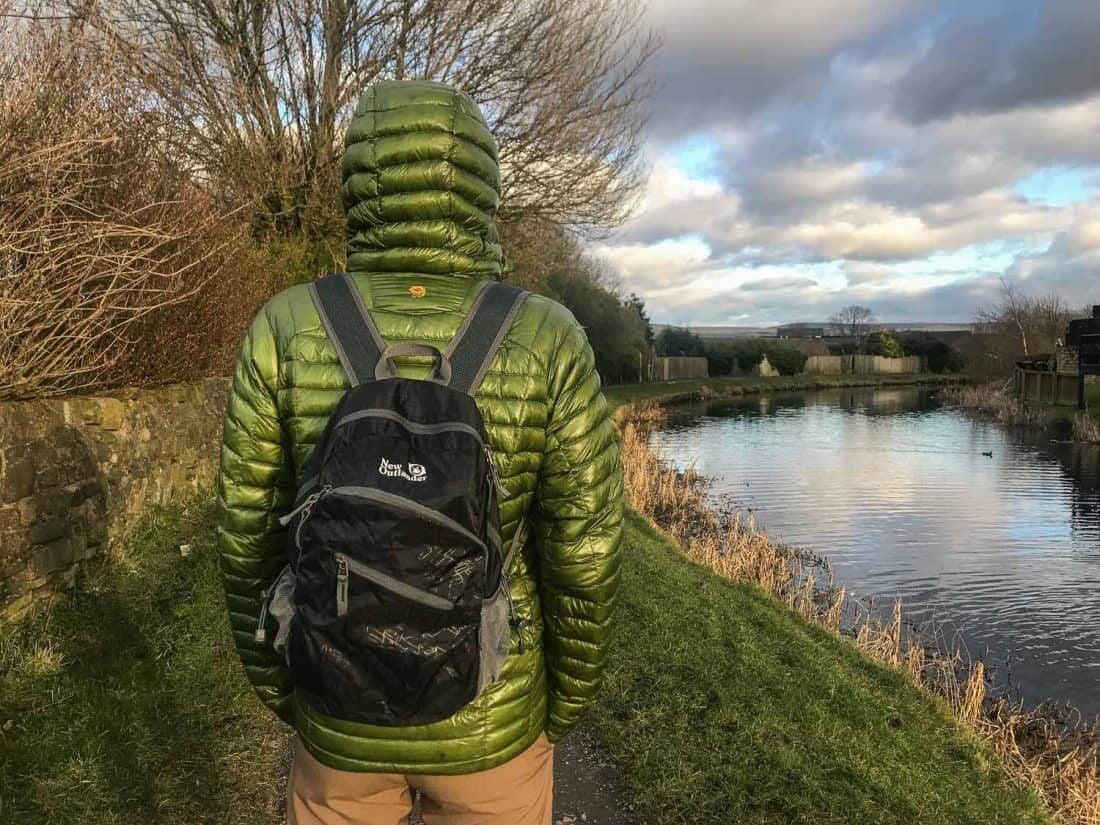 The New Outlander backpack is very similar to the Gonex, but it has two zipped pockets on the front as well as a zipped pocket inside and two mesh water bottle holders on the sides. A carabiner clip is included so you can attach items to the backpack.
It has excellent reviews on Amazon and would work well for most travellers, but we preferred the Gonex because it's slightly lighter and cheaper and the fabric looks less wrinkled. If you'll use the extra external pocket, this could be the best packable backpack for you.
Click here to see the latest prices of the New Outlander daypack.
Capacity: 25L (35L version also available)
Weight: 191g (6.7oz)
Colours: 6 available
I like the simple design of the AmazonBasics daypack—the logo is almost hidden and the external pocket is discreet. If the fabric wasn't so wrinkly, it would be the best looking of the cheaper daypacks.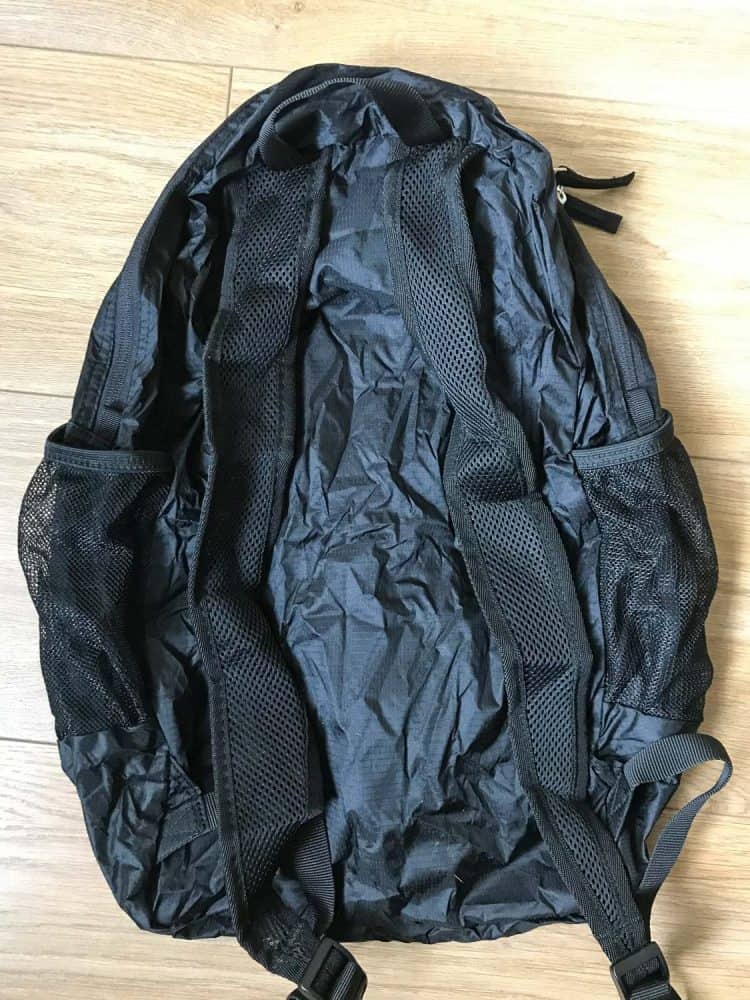 At 25 litres it's the biggest backpack we tried, but it isn't a huge difference. Like the others above, it has an internal zipped pocket and two mesh water bottle pockets. The front zipped pocket is vertical, though, which feels less practical as things could fall out when you unzip it.
The breathable mesh shoulder straps are similar to those on the New Outlander but are slightly narrower.
Again, the AmazonBasics is a decent lightweight travel backpack, but we still prefer the Gonex.
Click here to see the latest prices of the AmazonBasics daypack.
Capacity: 13L
Weight: 142g (5oz)
Colours: 3 available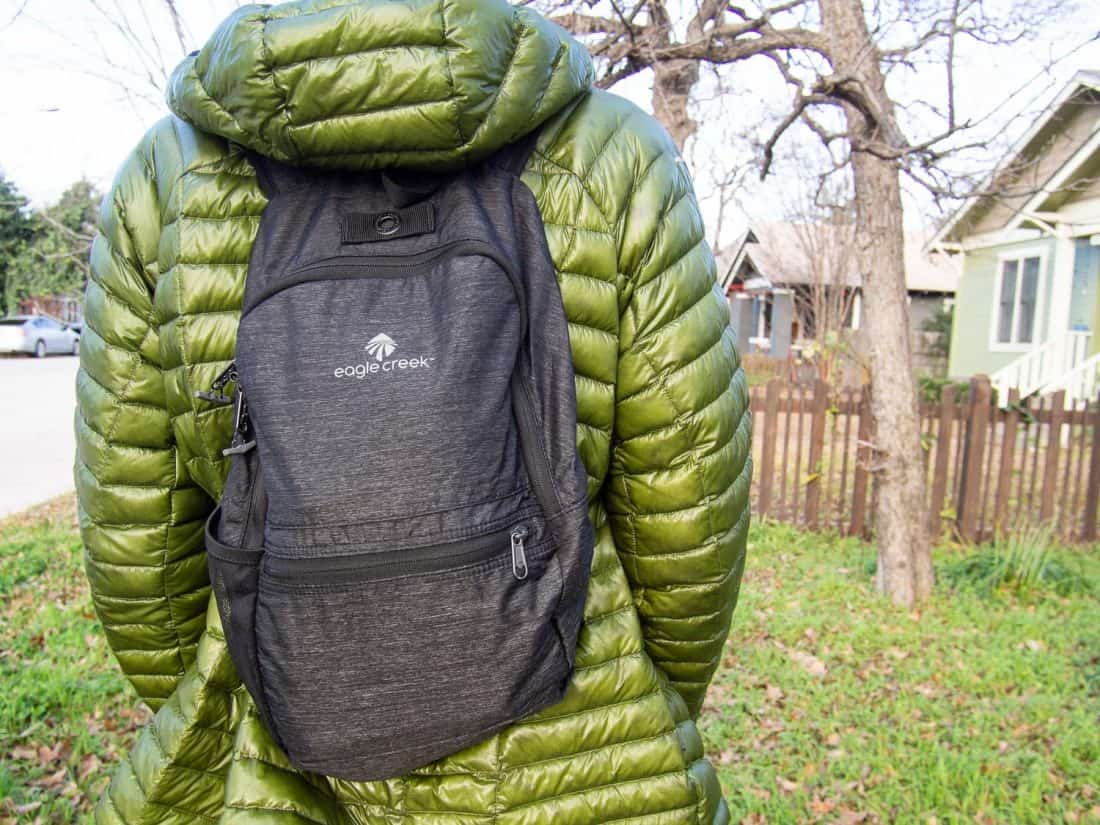 The Eagle Creek Packable Daypack was hard to categorise on this list. It's smaller, lighter and more expensive than the budget daypacks but not as light as the ultralight backpacks.
It's a good option if you want a lightweight bag with a more stylish design than the ultralight daypacks. It's one of the nicest looking bags we reviewed with an attractive matte grey fabric (although it's described as black) and would be ideal for city travel.
It's the smallest bag on the list but still fits the basics for a day out. It packs down small into its outside pocket and has a clip for attaching it to your luggage (or use it for keys when it's inside the pocket). The main compartment is lockable which is a rare feature on these small daypacks.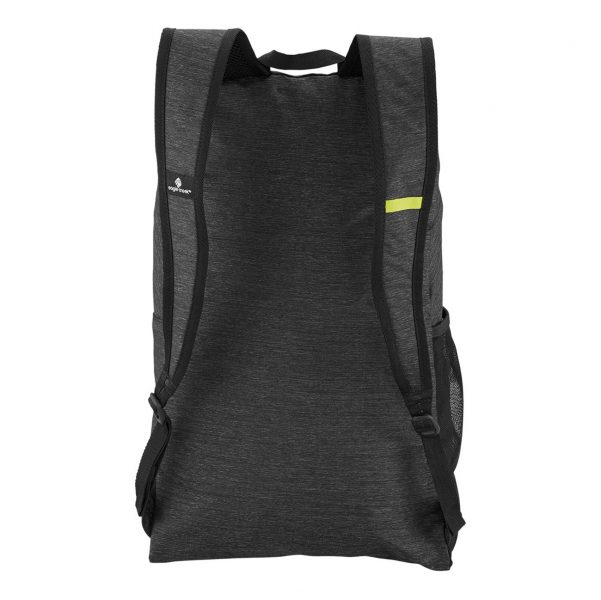 There's one mesh water bottle holder but no inside pocket or sternum strap. The back has no padding and the shoulder straps have the typical minimal mesh padding.
We're a big fan of Eagle Creek packing cubes and trust the quality of their products—this daypack comes with a lifetime warranty.
For higher quality materials, a lighter weight, and a more stylish design, it could be worth paying more than the other budget picks. It lacks the extra water bottle holder and internal pocket of the Gonex, though.
Click here to see the price of the Eagle Creek Packable Daypack.
The Best Ultralight Daypacks
The priority with these daypacks is to be as lightweight and packable as possible. The downside is they are more expensive, less comfortable, and have fewer pockets than the backpacks above.
All of these pack down to roughly half the size of the daypacks above, with the Sea to Summit even smaller. These packs are a good choice if you only want a bag for occasional use and won't be carrying anything very heavy.
Capacity: 20L
Weight: 68g (2.4oz)
Colours: 4 available (no black or grey)
I really wanted to like the Sea to Summit daypack as it's the lightest model available—just 68g/2.4oz—and folds down into a tiny pouch despite its 20-litre capacity.
Unfortunately, we didn't like how this small day pack looked. It's made from a wrinkly fabric that rustles and feels flimsy but is actually very strong. It has no pockets or any shape or structure, so when it's not full it sags and looks unattractive.
It was the least comfortable of the backpacks we tried, one of the most expensive, and it's only available in bright colours.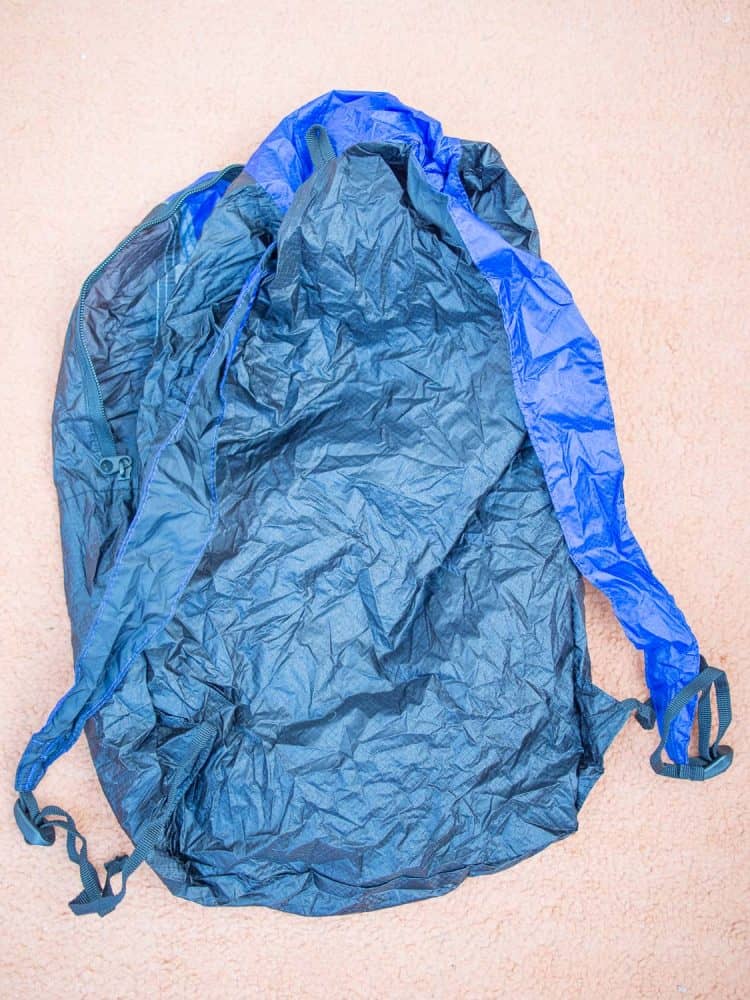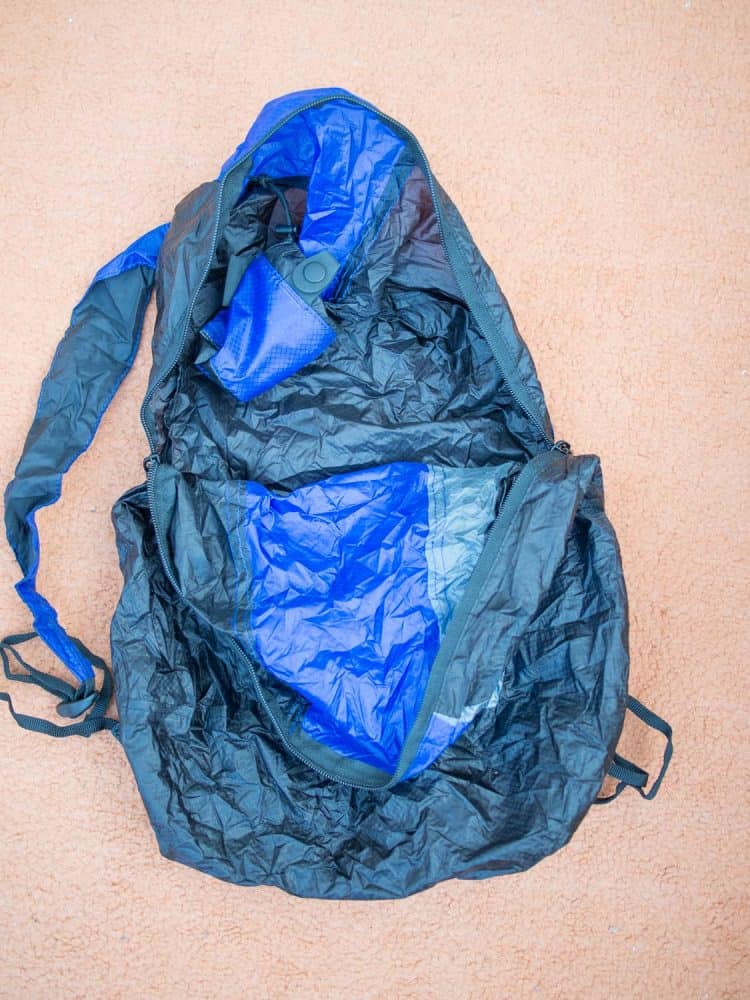 The Sea to Summit is a great lightweight daypack if weight and size are an absolute priority or you'll only be using it occasionally, but it's not the backpack for us.
See the latest prices of the Sea to Summit Ultra-Sil Daypack on Amazon or on REI.
Capacity: 18L
Weight: 90g (3.2oz)
Colours: 4 available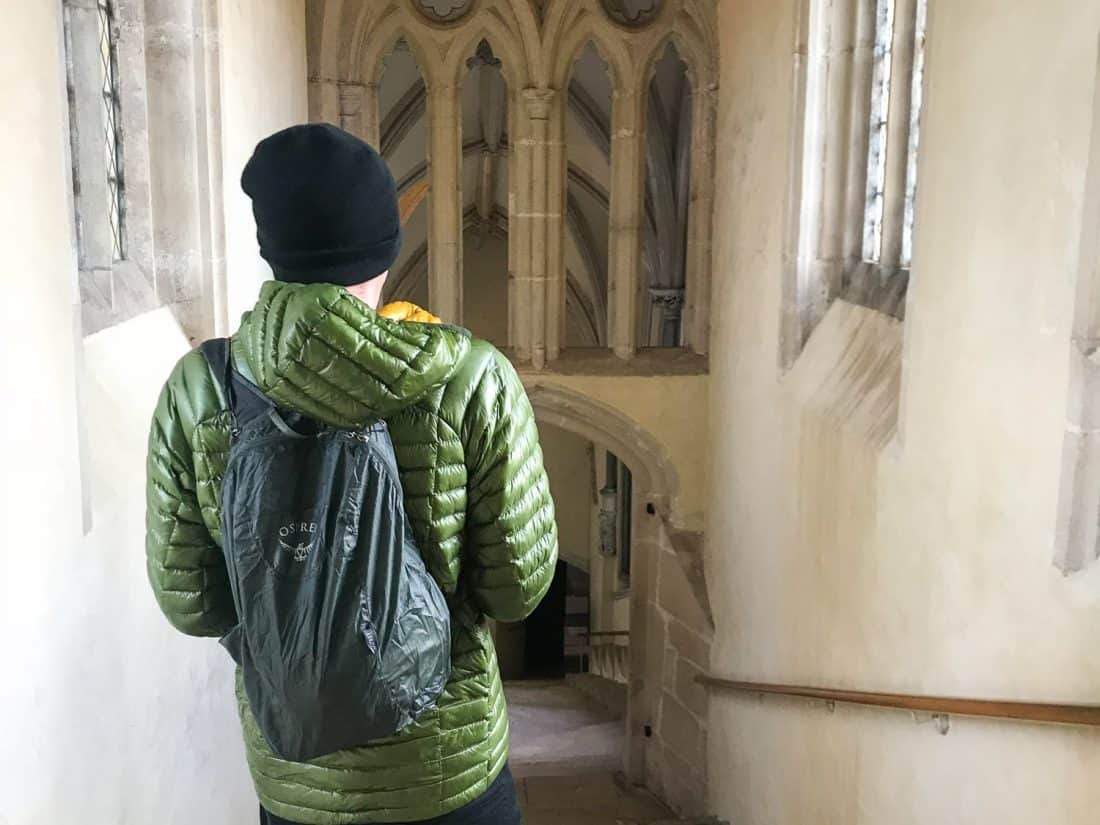 The Osprey daypack is the best lightweight backpack. It's not much heavier than the Sea to Summit, although it's a bit bigger when packed away. It has the advantage of a little more padding, more pockets, less wrinkly fabric, and it comes in a neutral colour (a grey/dark green) rather than the bright shades of the Sea to Summit.
The Osprey has one water bottle pocket on the side in a stretchy fine mesh that looks better than most of the backpacks above. There's also one external zipped pocket, but it's at the very top of the backpack behind the main zips. This makes it more secure but less accessible.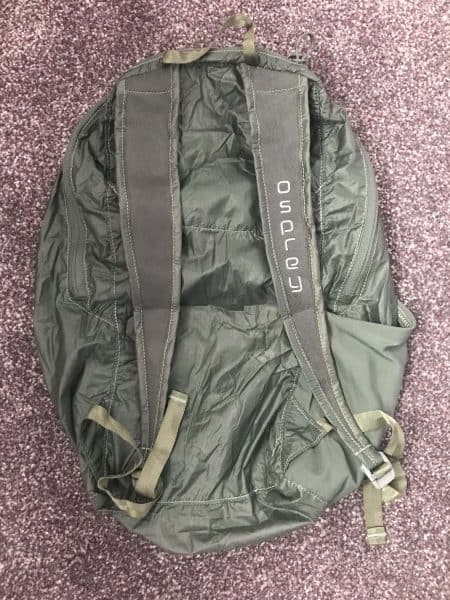 The fabric is quite crinkly and we didn't find it very comfortable to carry, although the straps are better than others in this category. The bag is so light and flimsy that the shoulder straps moved around too much and were too far up Simon's back.
Osprey has a great reputation—I travelled with the Osprey Farpoint 40 for years—so I would expect the daypack to be durable.
If you are looking for an ultralight backpack, the Osprey is ideal.
Click to see the latest prices of the Osprey Ultralight Stuff Pack.
Capacity: 18L
Weight: 120g (4.2oz)
Colours: 3 available
The Sea to Summit and Osprey packable daypacks are expensive, so if you are looking for an ultralight daypack for under $20 then consider the Naturehike. It's heavier than the others in this category but is noticeably lighter and more compact than the other budget picks.
There's one mesh water bottle holder and a front zipped pocket that's narrow and deep. There's no internal pocket (despite what the listing says) except for the small drawstring pouch it folds into, which you could use for small items like keys.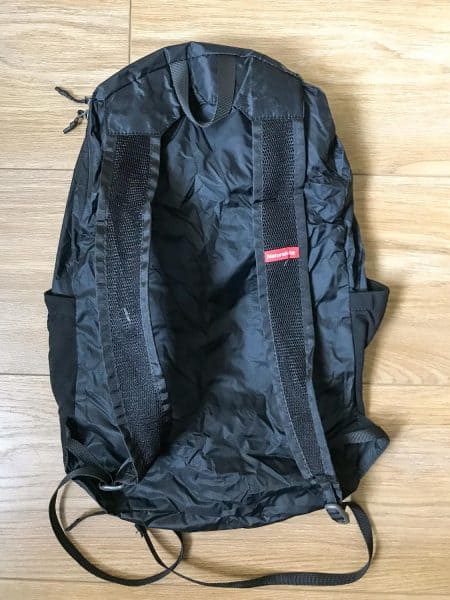 At 18 litres it's smaller than most of the other daypacks and as the zip doesn't open as far, the opening is narrower.
We found the straps too narrow and flimsy, so as with the other ultralight backpacks we'd only recommend it for occasional use or lighter loads.
Click to see the latest prices of the Naturehike Foldable Backpack.
The Best Full Featured Foldable Backpacks
These backpacks are similar to regular daypacks with more features and comfort than the packs above. They do fit inside your luggage but are heavier and bulkier and don't all pack down into a pouch.
Capacity: 19L
Weight: 241g (8.5oz)
Colours: Black only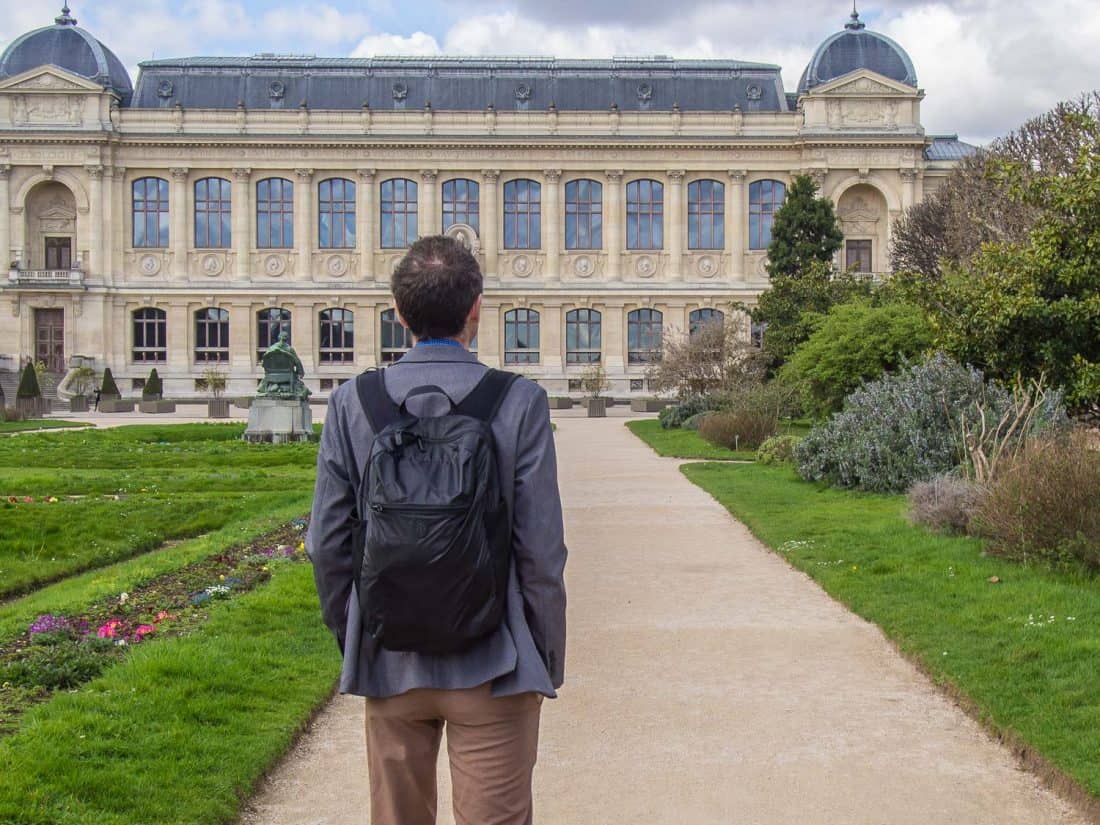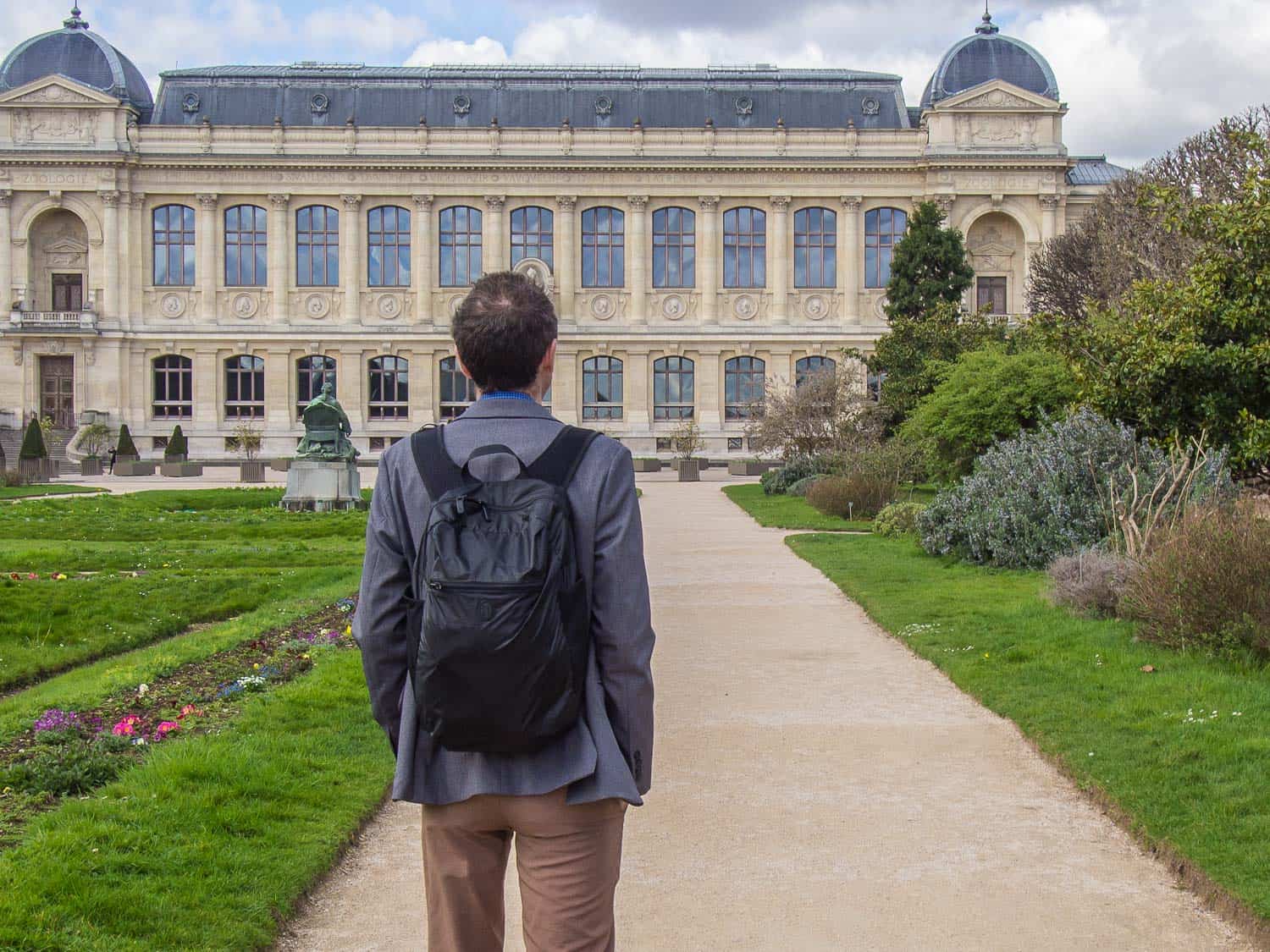 Tortuga released the Setout Packable Daypack in 2018 and it soon became our favourite daypack. It takes the middle ground between the budget backpacks above and the more fully featured daypacks below.
The Setout Daypack is heavier and a little bulkier than our previous pick, the Gonex, but it's still light enough for regular travel and packs up into its own pouch. At $39 it's over double the price of the Gonex.
What sets it apart is the lightly padded mesh back and shoulder straps which make it more comfortable to carry.
It also has a sternum strap, which none of the budget or ultralight daypacks have. We find this surprisingly useful, especially when the bag isn't full, as it stops it from slipping off your shoulders and again adds to the comfort.
I love the simple black design with a discreet logo. There's one zipped pocket on the front and two good-sized stretchy water bottle holders on the sides.
At 19L there's plenty of space for Simon's 16-inch MacBook Pro and 12-inch iPad Pro (in cases as the daypack has no body padding or laptop sleeve).
The Setout is well made. We've been using it almost every day for three years. For the first year there were no signs of wear, but it has now developed a tiny hole in the bottom of the bag. It hasn't stopped us using it and it's not surprising after extensive use considering the lightweight fabrics that most packable backpacks use.
The only real downside of the Setout is that it doesn't have an inside pocket, which we used occasionally for valuables in the Gonex. As the Setout packs into its front pocket it means you can't keep anything in here when you pack it away.
We decided that the extra weight and lack of inside pocket were worth the compromise as otherwise the Setout Daypack is the ideal blend of lightweight design and comfort.
The Setout Daypack is designed to work perfectly with the Tortuga Setout Backpack (which Simon used for years) and you get a discount if you buy them both together.
Click here to buy the Setout Daypack from Tortuga.
Capacity: 21L
Weight: 499g (1.1lbs)
Colours: Black only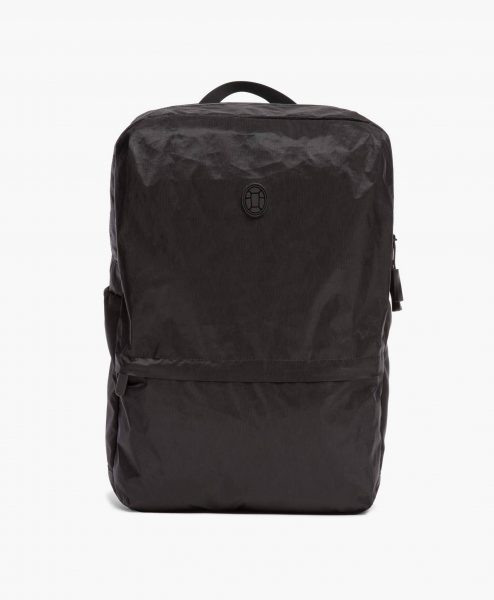 If you will use your daypack every day, especially to carry a laptop, then the Tortuga Outbreaker Daypack could be the best backpack for you.
It's much heavier than the daypacks above and doesn't pack away into a pocket, but it does lie flat to fit in your luggage. It's designed to fit inside the excellent Outbreaker Travel Backpack which Simon used as his main bag until he switched to the lighter Setout. It's also the most expensive daypack here at $99.
You do get a lot for the extra weight and money. I think it's the best looking of the packable daypacks we've reviewed with a simple and sleek black design that's perfect for urban travel.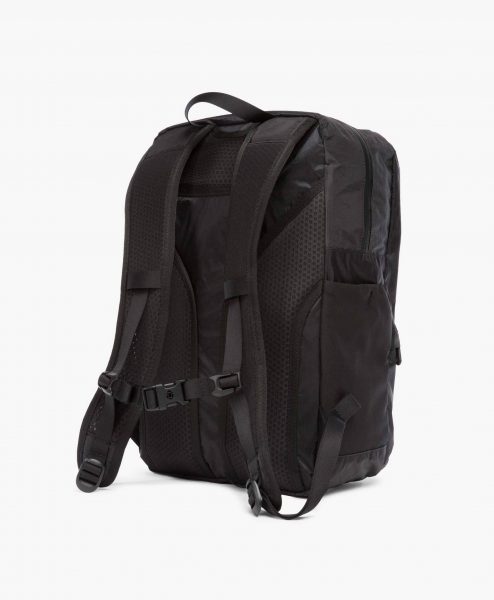 The Tortuga Daypack is very high quality as it's made from waterproof sailcloth, uses quality YKK zippers, has padded shoulder straps made from sweat-wicking Ariaprene foam, and features a sternum strap.
There's a 15-inch laptop sleeve, 9.7-inch tablet sleeve, a front zipped pocket and key clip, and two side water bottle pockets.
If you'll be using your daypack more than packing it and carrying electronics regularly, the Tortuga is the best foldable daypack. It's the only waterproof daypack on this list.
Click here for more details about the Tortuga Daypack
Capacity: 18L
Weight: 255g (9oz)
Colours: 6 colours available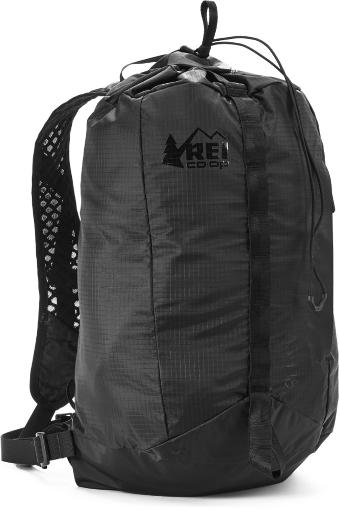 If you are looking for a small hiking backpack, the REI Co-op Flash 18 Pack could be right for you.
It's not hugely heavier than the budget daypacks above, but it features a thin hip belt and sternum strap (detachable), a hydration-compatible design with a hose exit port and internal sleeve for a reservoir, lightly padded back panel, and more padded shoulder straps. There is also an exterior zipped pocket.
It doesn't pack into a pocket, but this foldable backpack does fold down fairly small to fit inside your luggage. Friends of ours travelled with this pack for years and highly recommend it.
Click here to check the latest price of the REI Flash Pack.
Capacity: 22L
Weight: 397g (14oz)
Colours: 9 available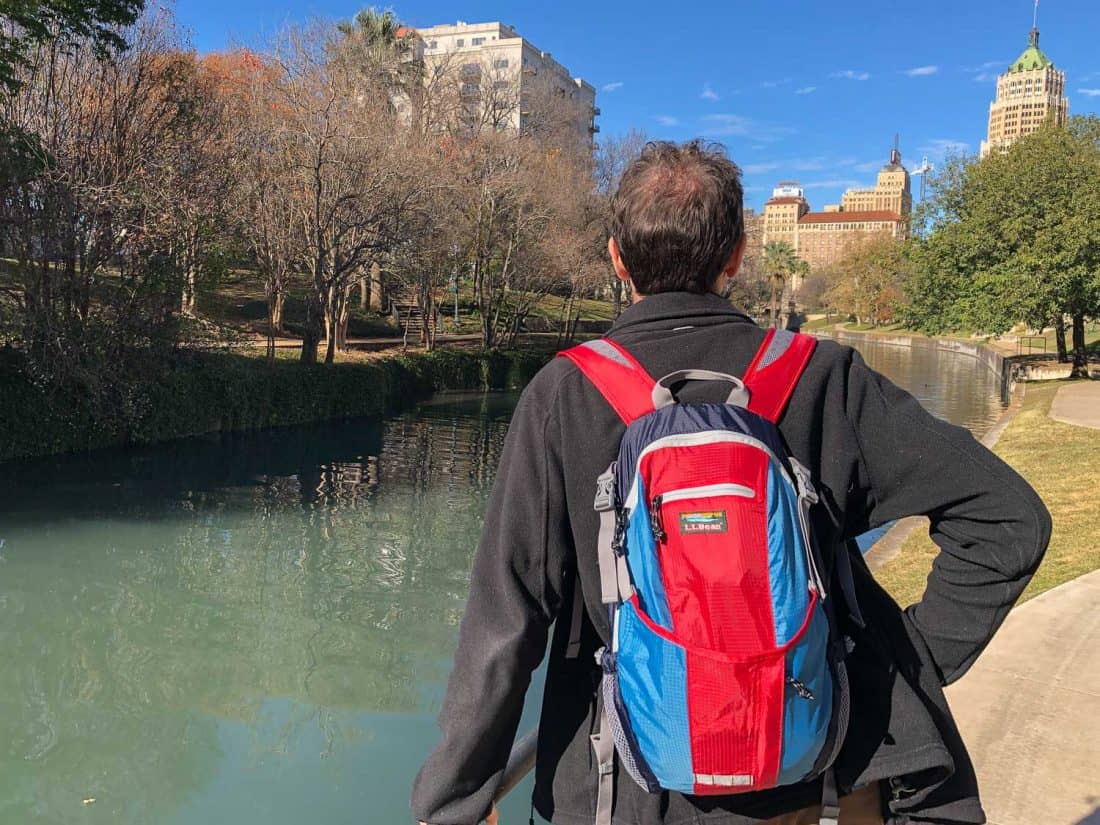 The LL Bean Stowaway Day Pack is another contender for a packable hiking backpack.
It has thicker, more comfortable shoulder straps and back padding than most daypacks, and the sternum and waist straps add to the comfort.
There's plenty of storage: two zipped pockets on the front (one with a clip inside), two large mesh water bottle holders, and an inside zipped pocket. There's also an open pocket on the front for a jacket.
It seems like a durable, well-made backpack and LL Bean offers a one year guarantee.
The downsides of these features are that it is heavier, bulkier and more expensive than most daypacks, and I found it difficult to pack it away in the inside pocket.
It also very much looks like a hiking backpack, although the black version is more understated than the multi-coloured one we tried.
The LL Bean Stowaway Day Pack could be right for you if you need a comfortable hiking daypack (without hydration reservoir) and won't be packing it inside your luggage very often.
Buy the Stowaway Day Pack from LL Bean.
Which Packable Daypack is Best for You?
If you want the lightest possible backpack and don't care what it looks like, go for the Sea to Summit. Or we think the Osprey daypack is the best ultralight backpack as it's only slightly bigger but has pockets and looks better.
If you need something more fully featured for frequent use, consider the REI Co-op Flash 18 Pack, which has a hip belt and space for a hydration reservoir, or the Tortuga Outbreaker Daypack, which has padded straps and a laptop sleeve.
If you are on a budget, the Gonex ultralight travel backpack is ideal—it's small, light, has a few pockets, and is remarkably good value.
For us, the Tortuga Setout Daypack is the perfect compromise between weight and comfort.
Which packable daypack do you use?
If you enjoyed this post, pin it!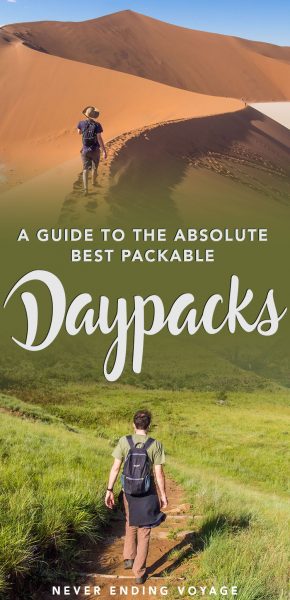 This post was originally published in June 2017 and has been updated regularly since then after trying more daypacks (most recently in January 2021).