This page contains affiliate links. Please read our disclosure for more info.
Allbirds Tree Breezers are my new pick for the most comfortable ballet flats for travel and home.
Allbirds flats are lightweight, machine washable, and oh so comfortable.
The silky-smooth eucalyptus tree fabric and cosy wool insole mean they feel like house slippers but have a classic ballet flat silhouette. I couldn't believe how good they felt on my feet from the first time I wore them.
It's not surprising really, considering how much I love my other Allbirds shoes: my Allbirds Wool Runners are my go-to casual walking shoe in cooler weather, and I now run exclusively in the Allbirds Tree Dashers.
The Allbirds ballet flats have the same "walking on clouds" feel as their other shoes, as well as a commitment to sustainability and use of renewable materials.
In this Allbirds Tree Breezers review, I share the pros and cons of these ballet flats after three years of travel with them.
I also compare them to my other favourite quality flats—Tieks and Rothy's—which the Allbirds flats are an excellent and more affordable alternative to.
Contents
Allbirds Flats Details
Sizes: Women's US 5 – 11 with half sizes available.
Colours: 15 colours in the US (fewer options in other countries)
Weight: 122g (4.3oz) per shoe (size US 8.5)
Price: US $100 with free shipping and 30-day returns (price varies by country)
Buy from: Allbirds website in many countries including US, UK, Canada, Europe, Australia, and New Zealand.
There is now a wool version of the Allbirds flats, the Allbirds Wool Breezers. I haven't tried them yet and this review focuses on the original Tree Breezers.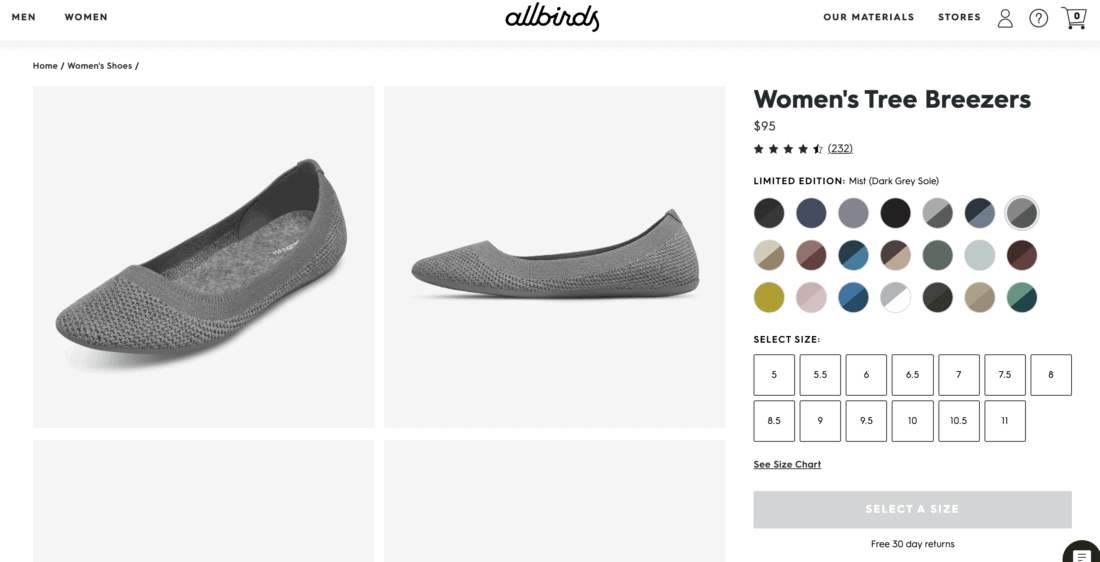 Allbirds Tree Breezers Sizing
Allbirds Tree Breezers come in half sizes from US 5 to 11. Although they are supposed to run true to size, it's always a good idea to allow a little more room with ballet flats.
My other Allbirds shoes are an 8, so I went up a half size to 8.5 for my Allbirds Breezers, and they were perfect.
They fit like a glove as the upper is soft and stretchy with a ribbed collar. They don't slip off my feet like some flats and they don't feel at all constricting.
If you have wide feet, you might want to go up a full size.
Luckily, Allbirds has a superb returns policy, so you can easily swap them for another size if you're not sure.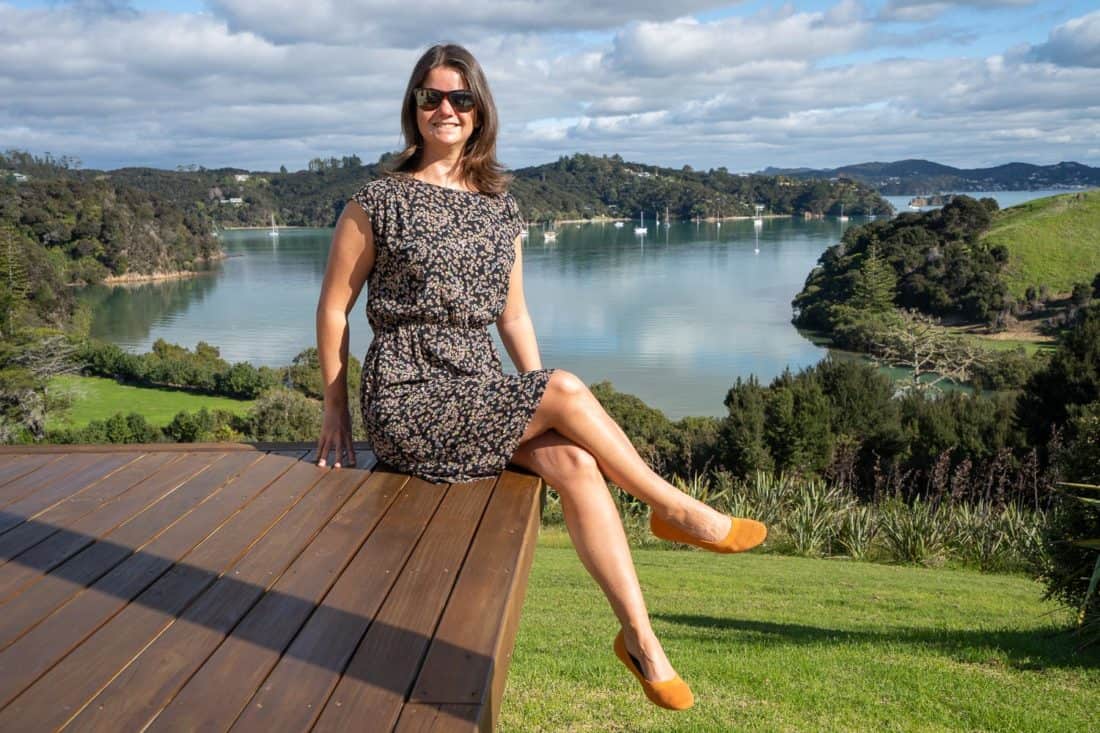 Allbirds Tree Breezers Pros
Free Shipping
Allbirds are available online in the US, Canada, UK, EU, Australia, New Zealand, China, Japan, and Korea.
This is a big advantage over other popular flats which are only available in the US or have expensive international shipping and customs fees.
Shipping is free for all orders over $50.
In the US, standard shipping takes 5 – 10 business days to arrive from when the order is placed. I ordered my Tree Breezers in New Zealand and they only took a few days.
I love that Allbirds shoes arrive in an easy to open box made from recycled cardboard that works as the shoebox, shopping bag, and mailer all in one.
30-Day Free Trial
Allbirds has an incredibly generous returns policy—you can return their shoes for free within 30 days, even if you've worn them outside.
This is essentially a free trial, which I don't know of any other shoe company offering. It made the decision to try Allbirds ballet flats so much easier for me as I knew I could return them if they didn't work out.
The returns process is easy. There are no questions asked and they supply the return label with the shoes. Just attach it to the box they were sent in and take it to a post office. You don't have to pay for return shipping.
Allbirds donates the lightly used returned shoes to charity for use by people in need.
The refund to your credit card can take up to two weeks. If you haven't heard anything by then, I recommend contacting Allbirds.
Although I haven't returned any shoes, I did return their bra, but there was a delay with my refund. After contacting them through the website, my refund was processed the same day.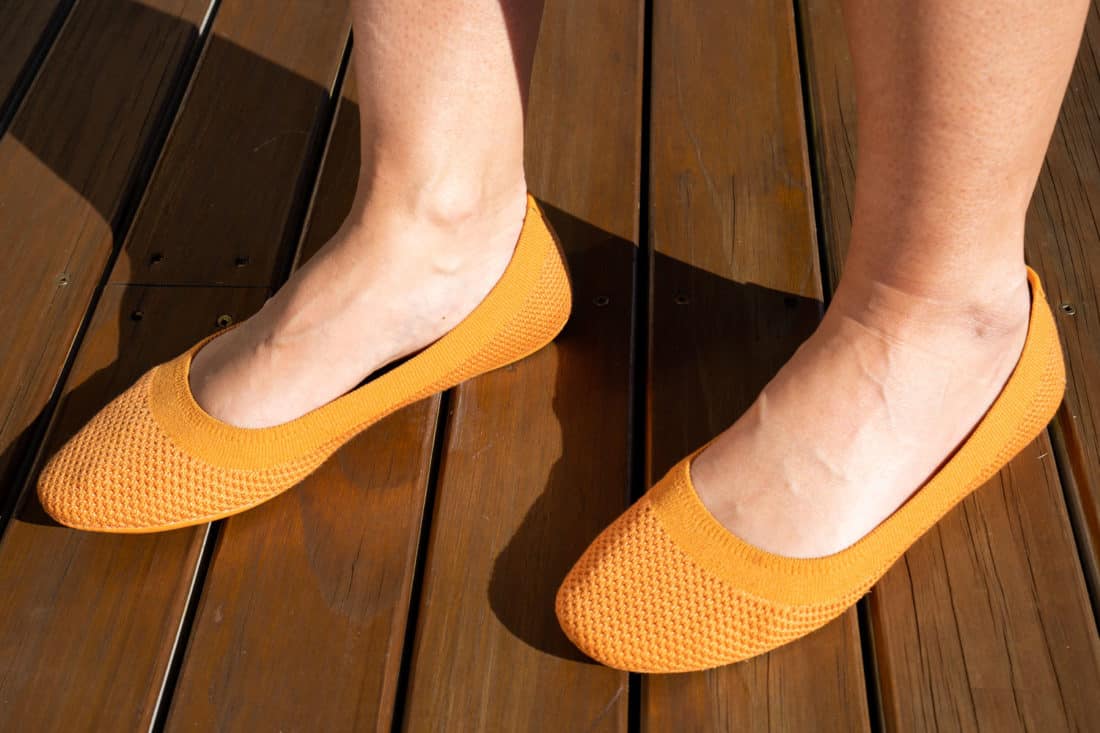 No Break-In Period
Previously I've said that Tieks are the only ballet flats that fit me right away with no blisters or cuts.
Well, Allbirds Tree Breezers are even better—they felt amazing on my feet instantly and I've never felt even a hint of rubbing despite wearing them for hours.
I always wear them without socks and have had no problems at all.
I'm not the only one. An Allbirds Breezers review on their website says:
"These shoes are amazing! The very first time I wore these shoes was during one of my 12hr workdays where I'm literally on my feet the entire time… Any other "cute flat" I've tried has given me blisters but not my Allbirds! Shockingly I was able to wear them again the very next day which is unheard of! I am already planning on buying my next pair."
Comfortable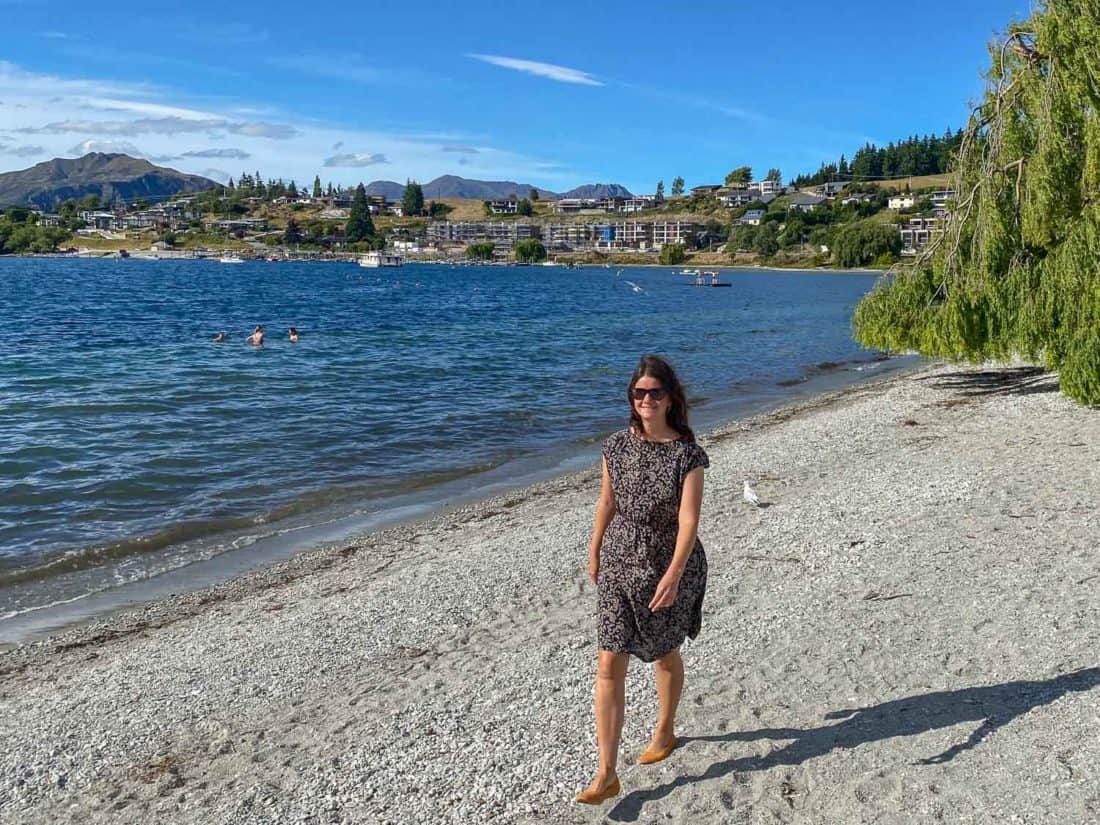 I don't know how they do it, but all my Allbirds shoes have the most amazing foot feel and the Tree Breezers are no different.
I'm always surprised by how lovely they feel when I put them on—more like cosy slippers than stylish flats.
Part of the cosiness comes from the padded insole which is made from super soft merino wool.
The knit upper, which is made from eucalyptus tree fibre, also feels soft and smooth. The fabric is stretchy and flexible, moulding to my feet without constricting them.
I've heard that the flexible upper can accommodate bunions.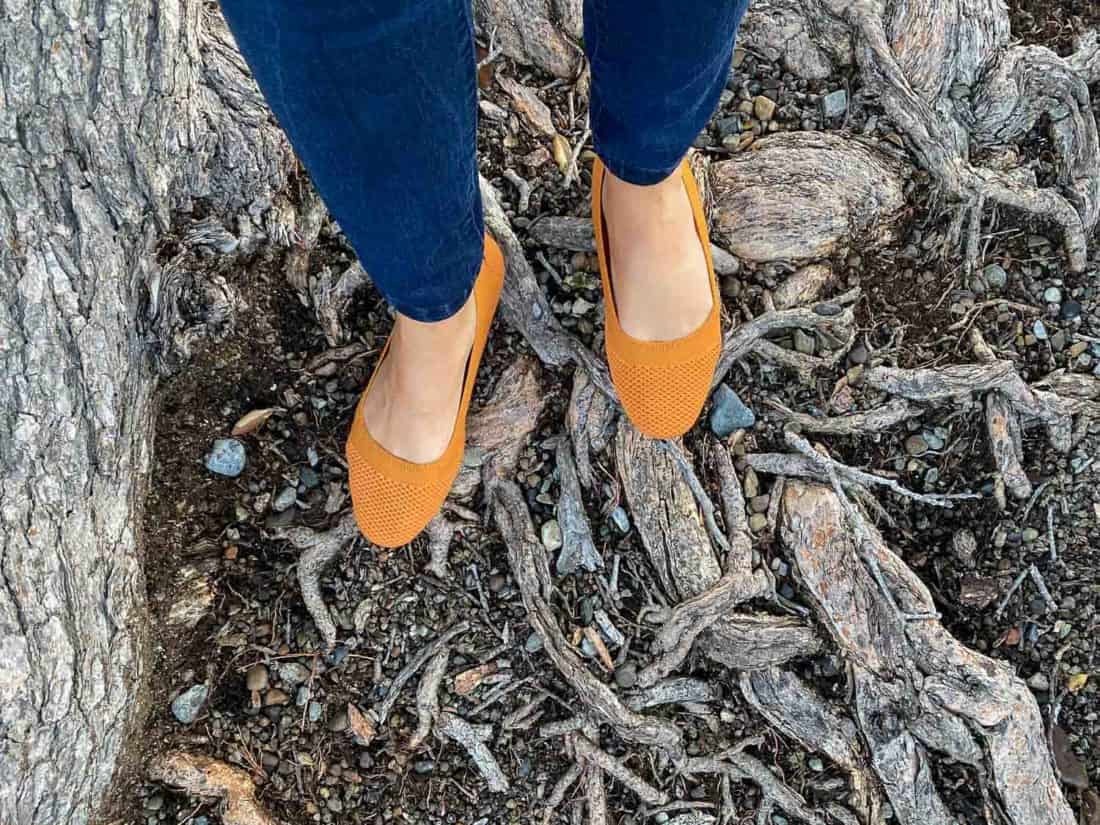 The Allbirds Breezers have a bouncy feel and are really comfortable to walk in. Of course, they don't offer as much support as a bulkier shoe like the Allbirds Wool Runners or Allbirds Mizzles, but I haven't tried a flat that feels better to walk in.
Here are some more glowing reviews from the Allbirds website:
"This teacher's life is completely changed. I will never wear another pair of shoes to school again! I have never had a more comfortable pair of shoes EVER."
"These flats were instantly comfortable when I put them on. I'm on my feet a lot, so I figured they'd get super sweaty or I'd get a blister at some point when I wore them for the first time, but they felt amazing all night long and looked so cute! There is a good amount of arch support in them too. I would definitely recommend these flats: they're worth every penny!"
Lightweight
They are the lightest shoes I own at just 122g (4.3oz) per shoe. This makes them ideal for travel. Although they don't fold up, they are flexible and easy to pack.
Range of Colours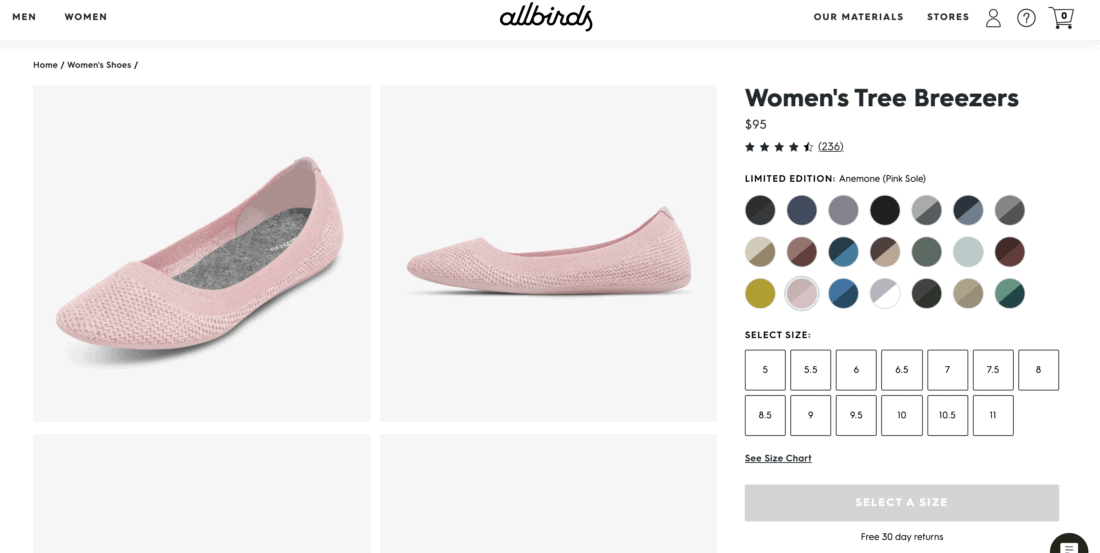 Allbirds Tree Breezers come in a range of changing colours. The US store has the most choice with up to 21 colour options ranging from neutral black, navy, and grey to brighter pink, blue, green, and yellow.
Many of these are limited editions with fewer options available in winter.
For my first pair, I chose the limited edition Poppy, a bright orange. It's not the most practical choice, but it added a fun pop of colour which I loved.
For my second pair, I decided on a more neutral colour that would go with all my clothes—Mallee, a light grey.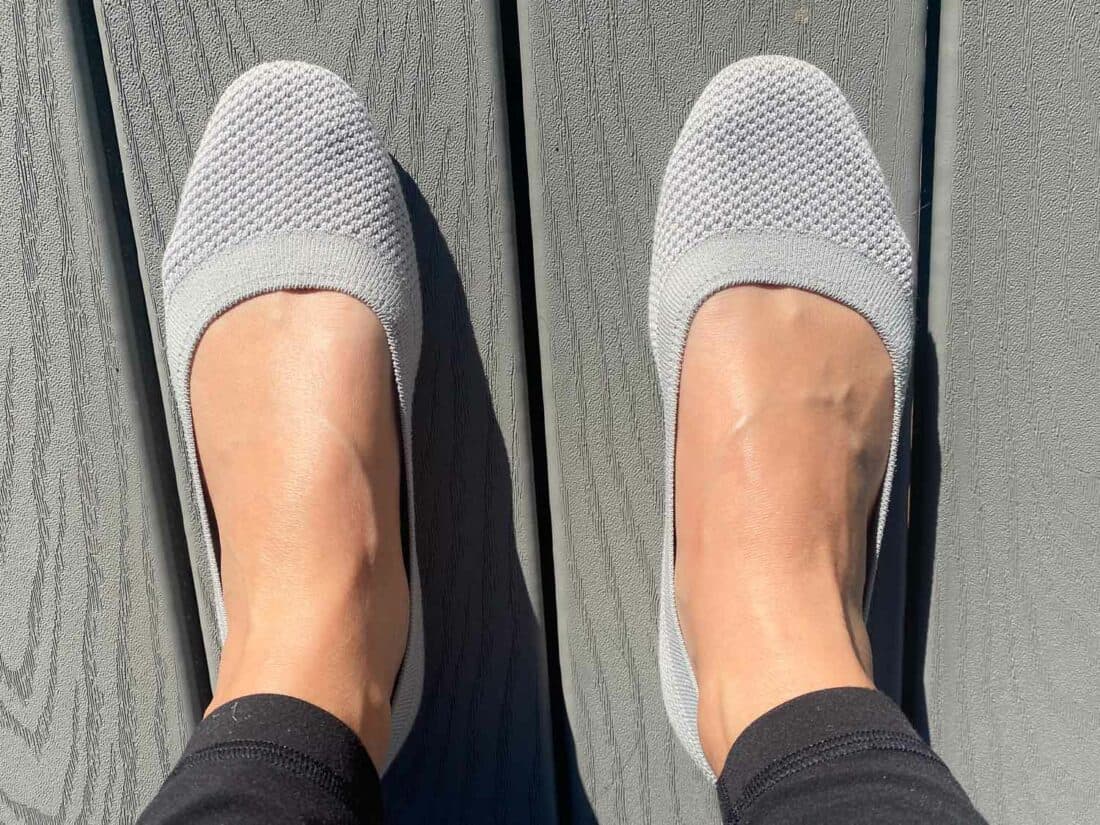 Other neutral shades are Jet Black, Navy Night, Mist (dark grey), and Cream Hush.
While the grey was practical, I ended up finding it a bit boring. After a year with my second pair, I bought a new pair of Allbirds Breezers in Emerald. It's not green like it sounds but a vibrant blue—I love them and they are my favourite so far!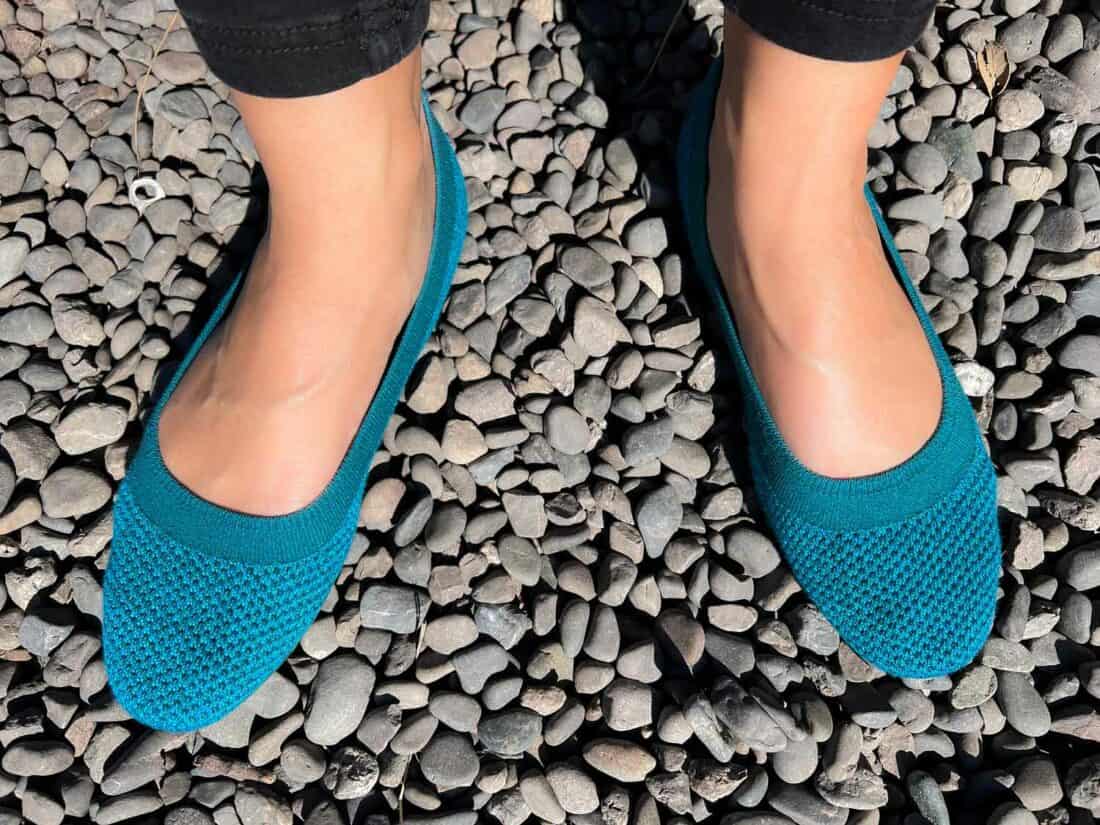 Allbirds flats often sell out, so if you see a colour you like in your size, don't wait.
Check out all the Tree Breezer colours on the Allbirds website.
Odour Resistant
The knit upper is breathable and the merino wool insole is moisture-wicking and odour-reducing, so I haven't had any issues with the flats smelling.
My feet never feel sweaty although they've felt a little warm on very hot days (when I'd usually wear sandals anyway).
If you do have any odour, the shoes are machine washable or you can just wash (or replace) the removable insoles.
Machine Washable
One of the biggest advantages of the Tree Breezers is how easy they are to clean.
I found it easy to wipe off small patches of dirt, but you can also chuck them in the washing machine. I've done this with no issues—see the Common Questions section below for instructions.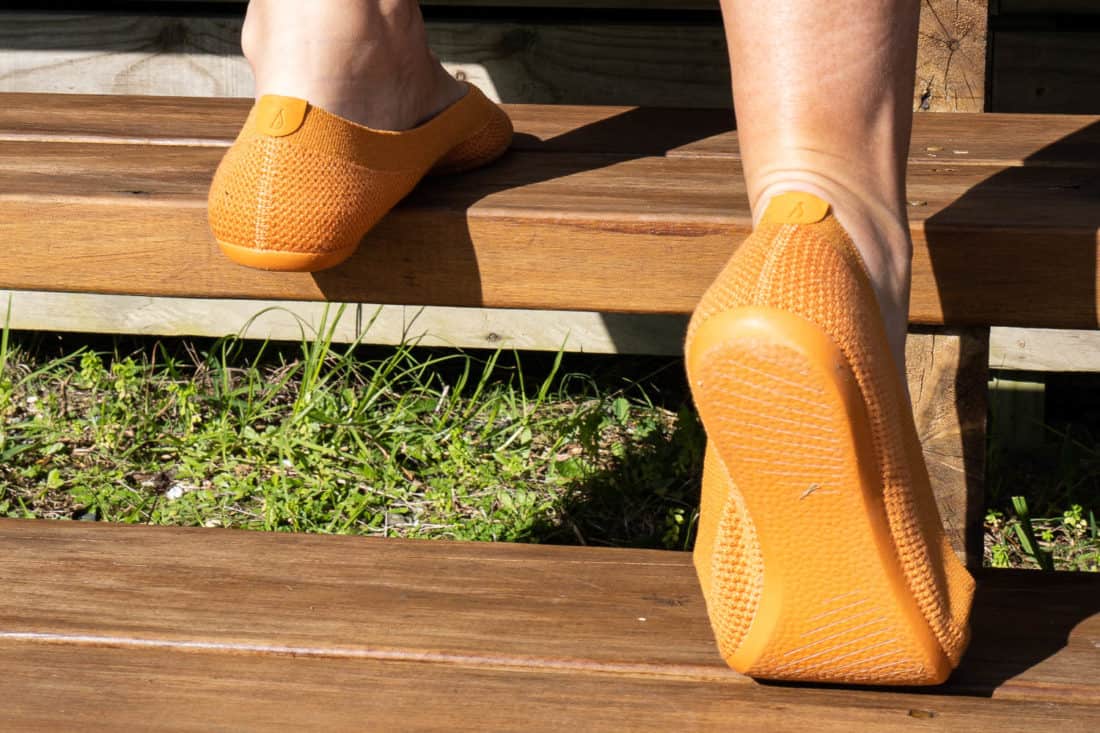 Sustainable
The Allbirds Tree Breezer is carbon neutral due to sustainable practices like using natural, renewable materials and offsetting emissions.
It's a vegetarian shoe as it doesn't contain leather, but not vegan as it has wool insoles.
The flats are made of the following materials:
SweetFoam outsole made from renewable sugar cane. This prevents the need for EVA, a polluting, petroleum-based plastic foam used in most shoe soles.
Insole made from castor bean, which emits less carbon than petroleum-based foam, and ethically-farmed ZQ merino wool.
Upper made from FSC Certified eucalyptus trees. This renewable material is easier on the environment than traditional fabrics.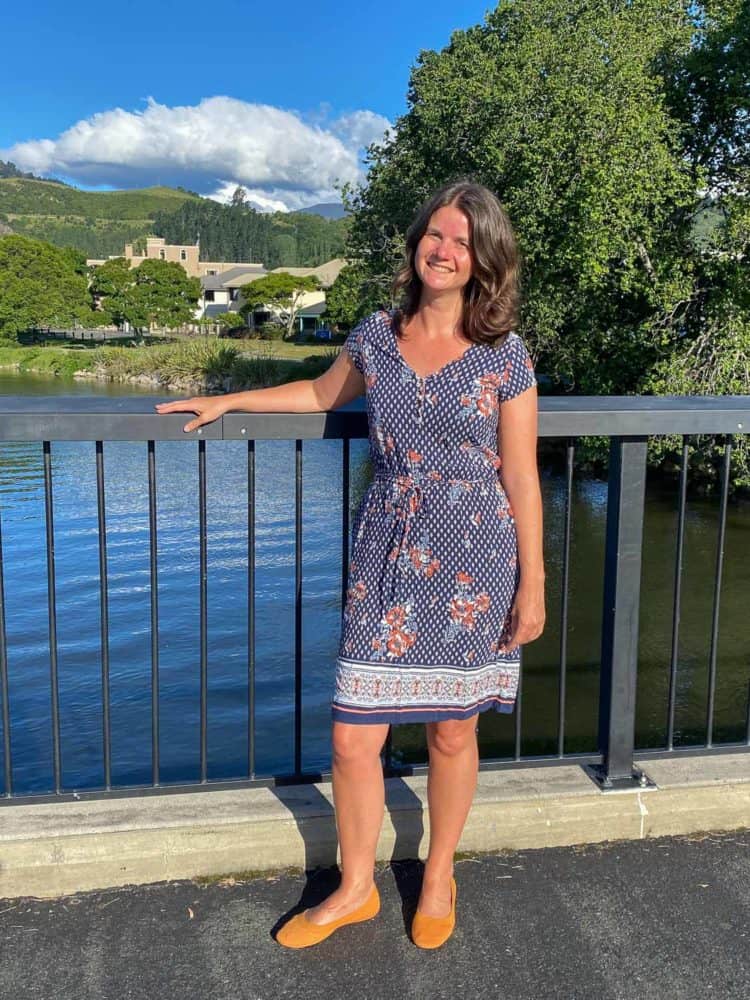 Durable
I've found all Allbirds shoes to be durable. I wore my first pair of Allbirds Breezers for 18 months and they were still in good condition.
As the Poppy colour is quite light, they did get a bit grubby but cleaned up nicely in the washing machine.
The only sign of wear was on the soles which had some dark marks—you could avoid this by choosing a shoe with a darker sole.
The only reason I decided to replace my first pair of Allbirds flats was to get a pair in a more neutral colour.
After another year, I replaced my grey flats with a more vibrant blue (turns out I didn't want too neutral). Again, there was nothing wrong with my old flats except for sole marks.
One thing I appreciate about Allbirds is they sell removable insoles, so if you find they are getting a little worn, you can easily replace them and prolong the life of the shoes.
The insoles of my Tree Breezers were fine, but I've replaced my Wool Runner and Mizzle insoles a couple of times when the wool has worn down around the heel area because I walk in them so much. It's like getting a fresh pair of shoes!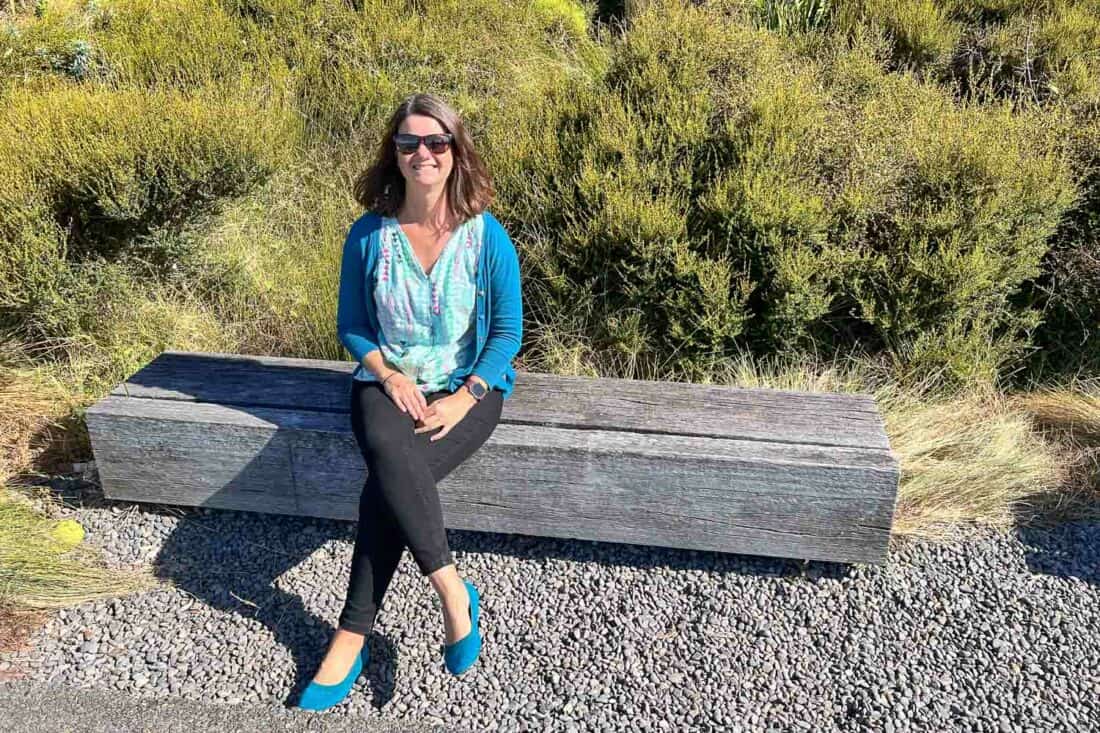 No Toe Cleavage
When comparing the Allbirds Tree Breezers to my Tieks and Rothy's, I noticed that the Allbirds tree flats come up higher on my forefoot and do not reveal the spaces between my toes for any "toe cleavage".
Whether toe cleavage bothers you or not is a matter of personal taste. I hadn't noticed it previously, but on comparison, I prefer the look without.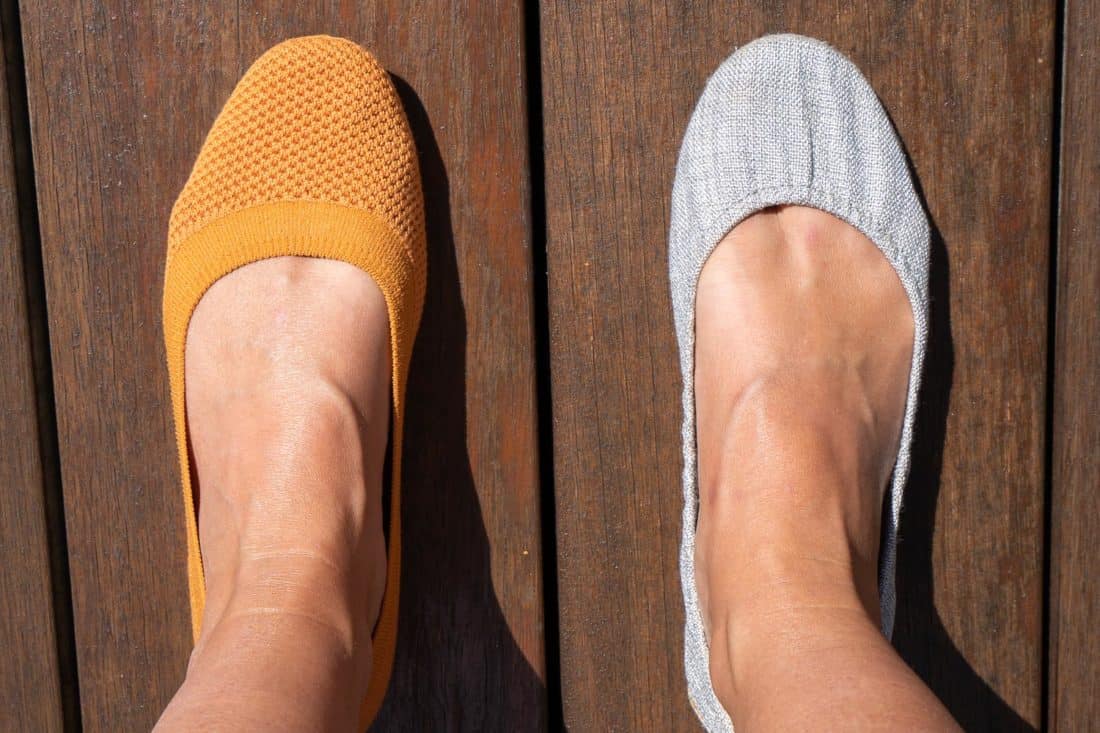 Good Value
While they aren't cheap at $100, the Breezers are significantly more affordable than other trendy flats like Tieks and Rothy's (see my comparisons below).
I think they are good value for the quality, comfort, and sustainability.
Allbirds Tree Breezers Cons
Casual Style
The Tree Breezers have the classic silhouette of a round toe ballet flat and can be dressed up or down to wear when city exploring, out to dinner, or to the office.
The knit fabric does give them a more casual, less stylish look than other flats, though, and they might not be suitable for formal settings.
Of course, this is a matter of personal taste, and I am happy to compromise slightly on style in exchange for more comfort.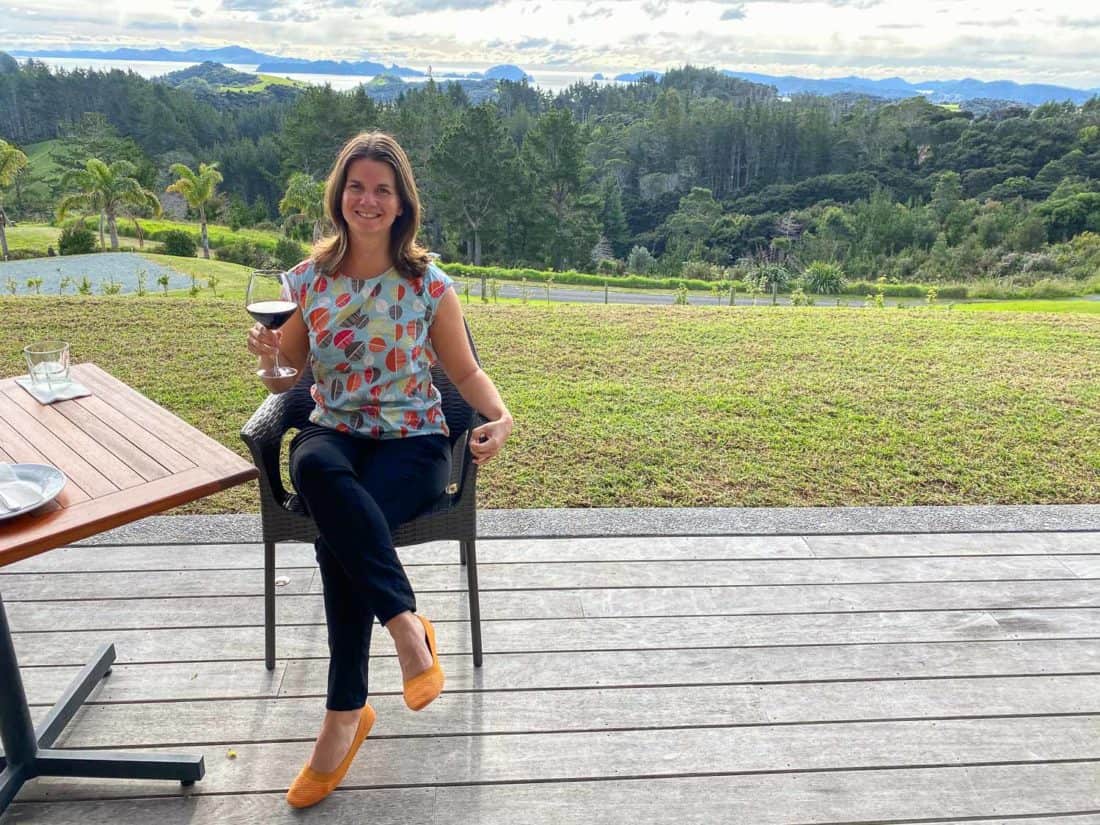 Limited Colours Outside US
Allbirds ballet flats don't come in as many colours or patterns as alternatives like Rothy's or Tieks. In particular, I'd like there to be more vibrant colours like red.
There is also a more limited selection of colours in stores outside the US—the UK, for example, currently has 10 colours available compared to 15 in the US.
They often sell out in some colours and sizes, too.
This does vary seasonally so it's always worth checking back (especially in spring).
Allbirds Flats Alternatives
Allbirds vs Tieks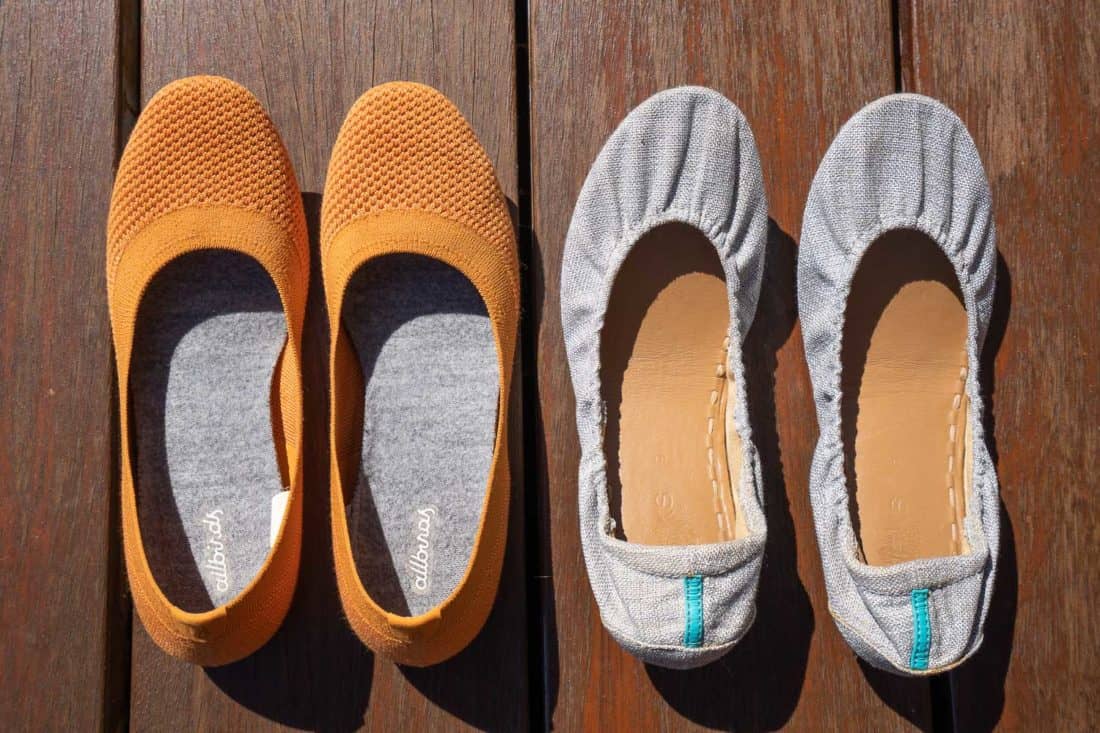 Tieks were my favourite flats for eight years, but how do they compare to Allbirds Tree Breezers?
I have the fabric vegan Tieks, rather than the typical leather Tieks, so my comparison is based on those. Most of these comments apply to both styles.
Allbirds Flats Advantages:
More affordable ($100 vs $185 for vegan Tieks)
Free returns within 30 days even after wearing them outside
More comfortable with a softer insole and bouncier sole
Cosier
Machine washable
No toe cleavage (they come up higher on the foot)
Mould more to feet
Lighter (122g vs 150g per shoe)
Removable, replaceable insoles
Commitment to sustainability
Available in half sizes
Free shipping to many countries
Tieks Advantages:
More stylish design
Much wider range of colours and patterns (but only for leather Tieks)
Fold up into a small pouch – ideal for nights out and travelling
For exchanges you can keep both sizes to decide which is the best fit (but you can't wear them outside)
I still love my Tieks, especially how my silver lake vegan Tieks shimmer in the sun, and they are more stylish than Allbirds.
I've found them comfortable enough for a day at Disney or walking the cobblestone streets of Rome, and they come in an enormous array of beautiful designs.
But aside from style, Allbirds ballet flats win in every area. They are more comfortable, affordable, easier to wash, and environmentally friendly. They are also much easier to buy outside of the US.
If you are interested in Tieks, see my detailed Tieks review for more information.
Allbirds vs Rothy's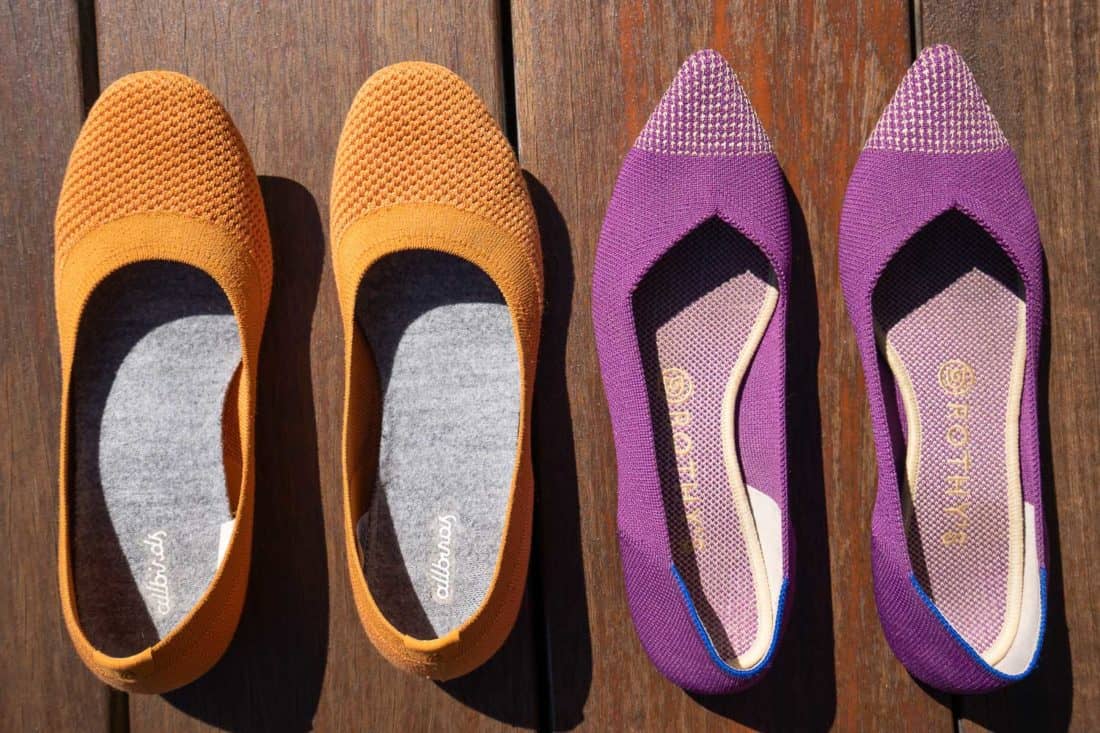 My pointed toe Rothy's were an impulse purchase a few years ago, and I've struggled to get rid of them as I love the look so much.
How do Rothy's compare to Allbirds Tree Breezers?
Allbirds Flats Advantages:
More affordable ($100 vs $149 for pointed toe Rothy's)
Free returns within 30 days even after wearing them outside
More comfortable with a softer insole and bouncier sole
Cosier
Stretchier
Mould more to feet
Slightly lighter (122g vs 132g per shoe)
Free shipping to many countries
Rothy's Advantages:
More stylish design
Suitable for formal occasions
Much wider range of colours, patterns, and styles (round, pointed and square toe)
Made from recycled plastic bottles
More water-resistant in the rain
Stay cleaner
Vegan (except for merino wool styles)
Both Allbirds and Rothy's are machine washable and have a commitment to sustainability.
The biggest advantage of Rothy's for me is their stylish design. I adore the pointed toe look and the vibrant mulberry colour (sadly no longer available).
They feel more formal and I've worn my Rothy's to three weddings and received compliments.
The downside is they are nowhere near as comfortable as Allbirds or Tieks for me. They rubbed my feet when I was breaking them in and they hurt if I wear them for too long. While they are great for dinners out, they don't work for all day on my feet.
Rothy's currently only ships to the US and Canada, whereas Allbirds are more widely available.
See my Rothy's vs Tieks comparison for more details.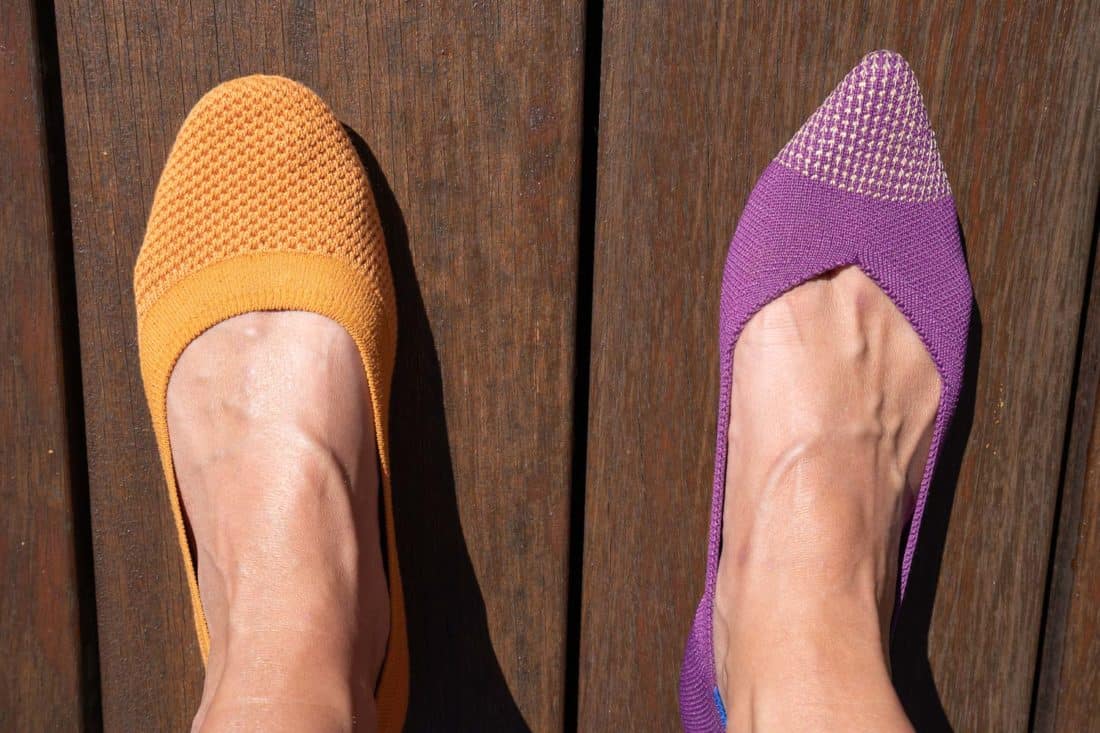 Which Flats Are Right For You?
All three ballet flats are excellent shoes that are more comfortable and durable than the average cheap flats.
The biggest deciding factors of Allbirds vs Rothy's vs Tieks are your personal taste/style and budget.
Allbirds Tree Breezers are my pick for comfort and price.
Rothy's pointed-toe flats win the style points.
Tieks balance comfort and style but are much more expensive and harder to clean.
If you don't live in the US, Allbirds flats are the best option for you.
And if you are still unsure, Allbirds has the unbeatable 30-day returns policy so you can try them for free.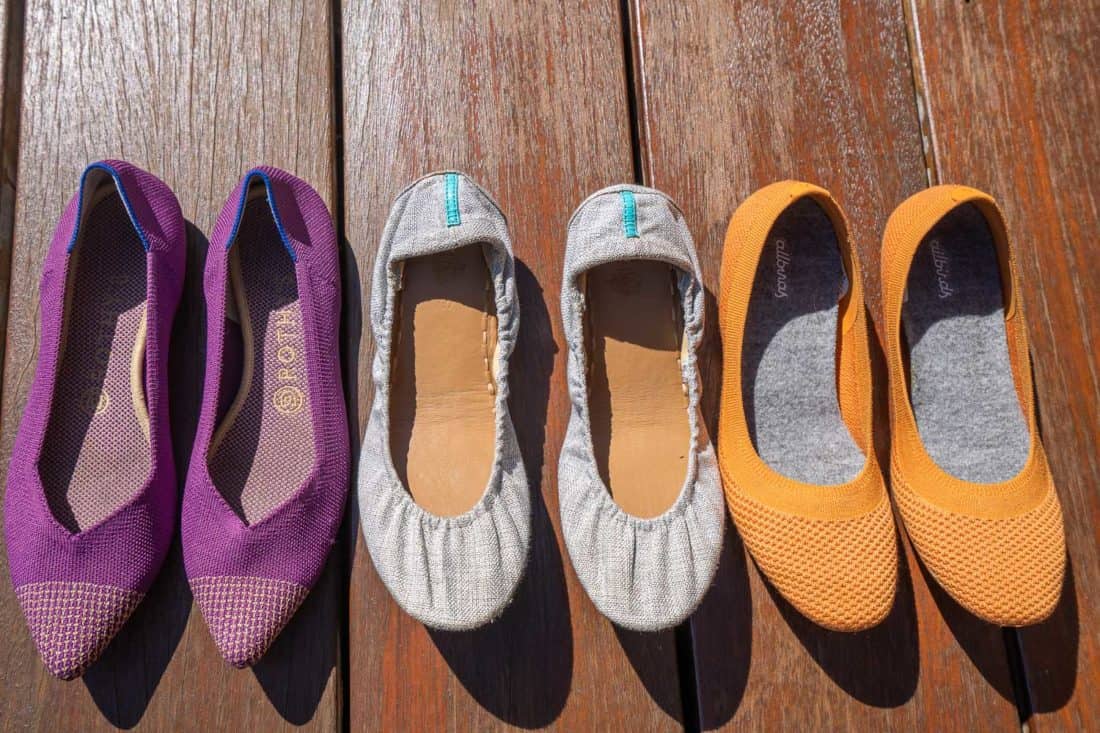 Allbirds Flats Common Questions
Do Allbirds Tree Breezers run small?
As with most flats, it's best to go up a half size with Allbirds Tree Breezers. If you have wide feet, you might want to go up a full size as they fit quite snugly.
I have an 8.5 in Allbirds and Rothy's and a 9 in Tieks (which don't come in half sizes).
Do Allbirds Tree Breezers stretch?
The upper of the Allbirds flats is stretchy and moulds to your feet, but the fabric hasn't stretched out or loosened.
Allbirds says: "The Tree material is super accommodating, but will fit similarly over time as it retains shape."
Do Allbirds flats have arch support?
Allbirds flats don't have built-in arch support, but as the insole is thick and cushiony, they do offer some support, especially compared to most flats.
They certainly don't have as much arch support as the Allbirds Wool Runners, but I wouldn't expect a flat to compare to a sneaker in this area.
Tree Breezers can work for people who usually need arch support as this review on the Allbirds website shows:
"I was very sceptical about these as I have had a Morton's neuroma leaving me needing super wide shoes, and also have plantar fasciitis which means I can't wear flat shoes without pain usually. I am beyond impressed though. Felt a little bit loose when I first tried them on, but after wearing them for half an hour they fit like a glove. I've walked in excess of 3 miles a day in them since doing school runs etc and I have absolutely no heel pain whatsoever."
Do Allbirds Tree Breezers work for wide feet?
I don't have wide feet, but as they are stretchy I think they would work—I recommend going up a size.
This Allbirds flats review shows they can work for people with wide feet:
"As someone with wide feet who has never been able to fit into pumps, I actually fit into these shoes (ie it is wide enough for my feet and doesn't fall off at the back). Amazing! Been wearing them around the house cause it's not pump weather at the moment but will be great a smart shoe for summer months. P. S. I went up to half size than my normal size as per Allbirds customer service recommendation."
How to wash Allbirds Tree Breezers?
Washing Allbirds Tree Breezers is very simple: just throw them in the washing machine! When I washed mine they came out looking like new.
I used my usual eco laundry detergent, put the shoes and insoles in the machine separately (but washed them together), and chose a cold, delicate cycle with no spin. If you have a delicates bag, Allbirds recommends you use it, but I didn't have one.
I air dried them and they took half a day (overnight) to dry, which is quite a bit faster than my Alllbirds Wool Runners.
Note that Allbirds does not recommend machine washing their insoles. As I can't be bothered to hand wash them, I've stuck them in the washer multiple times without issue.
If you washed them often, it could reduce their lifespan, but as you can replace them inexpensively, I don't think it's a big risk.
Summary: Are Allbirds Flats Worth It?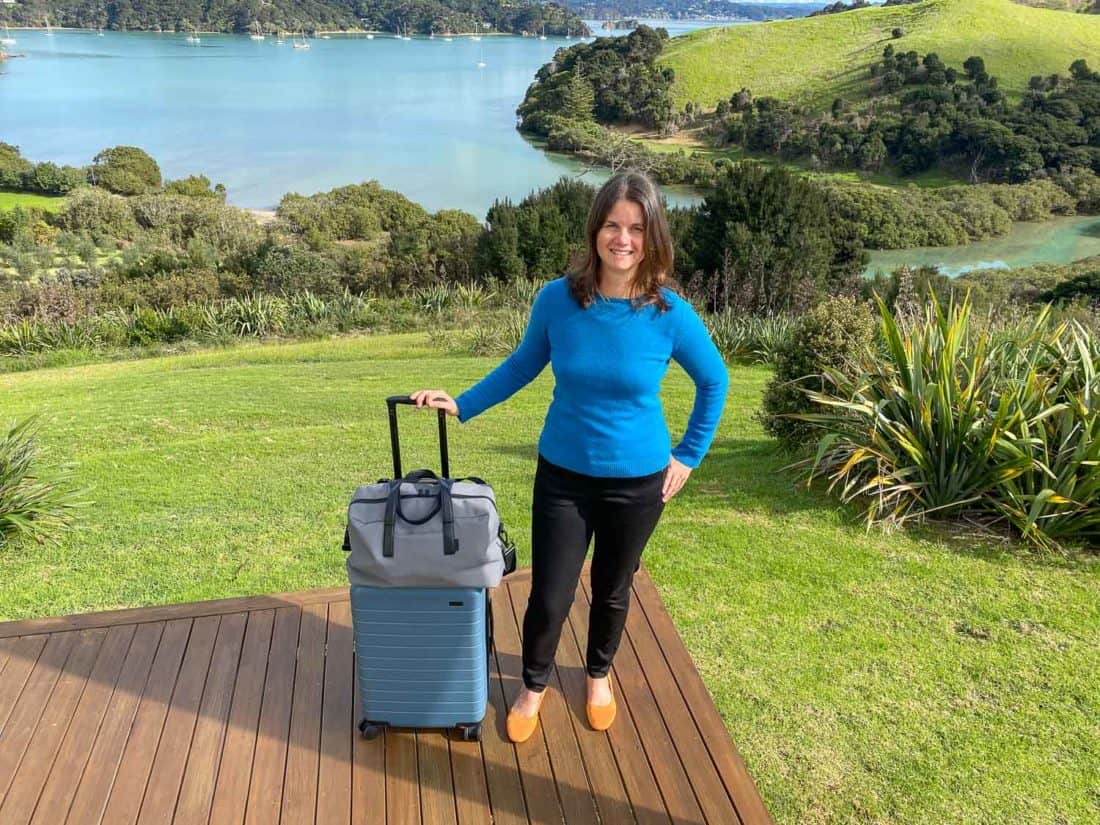 Allbirds Tree Breezers are my new favourite ballet flats. I wear them for exploring cities, out to dinner, and when I want an easy shoe to slip on.
They feel lovely on my feet and are comfortable and breathable for hours of walking. I love how easy they are to wash, and Allbirds' commitment to sustainability and their durability make them an environmentally-friendly choice.
Allbirds flats are more affordable than other quality ballet flats, and I think they are well worth the price. The 30-day free trial makes trying them an easy decision.
Check out Allbirds Tree Breezers on the Allbirds website.
Other Shoe Reviews
Enjoyed this post? Pin for later!