This page contains affiliate links. Please read our disclosure for more info.
I've become an Allbirds obsessive in recent years. I haven't found any other shoes that can compete for comfort, sustainability, and practicality (they are all machine washable).
As I love their casual sneakers, running shoes, and ballet flats, I was excited to try the Allbirds Trail Runner SWT, which is designed for trail running and hiking.
I tested them out during our month in England's Peak District in early spring on muddy hills, gravel footpaths, and country lanes for both running and walking.
In this Allbirds Trail Runners review, I share the pros and cons as well as a comparison with the Allbirds Tree Dasher running shoes.
The Trail Runners are available in the same design for men and women, so this review applies to both, although I tried the women's version.
Contents
Allbirds Trail Runner SWT Details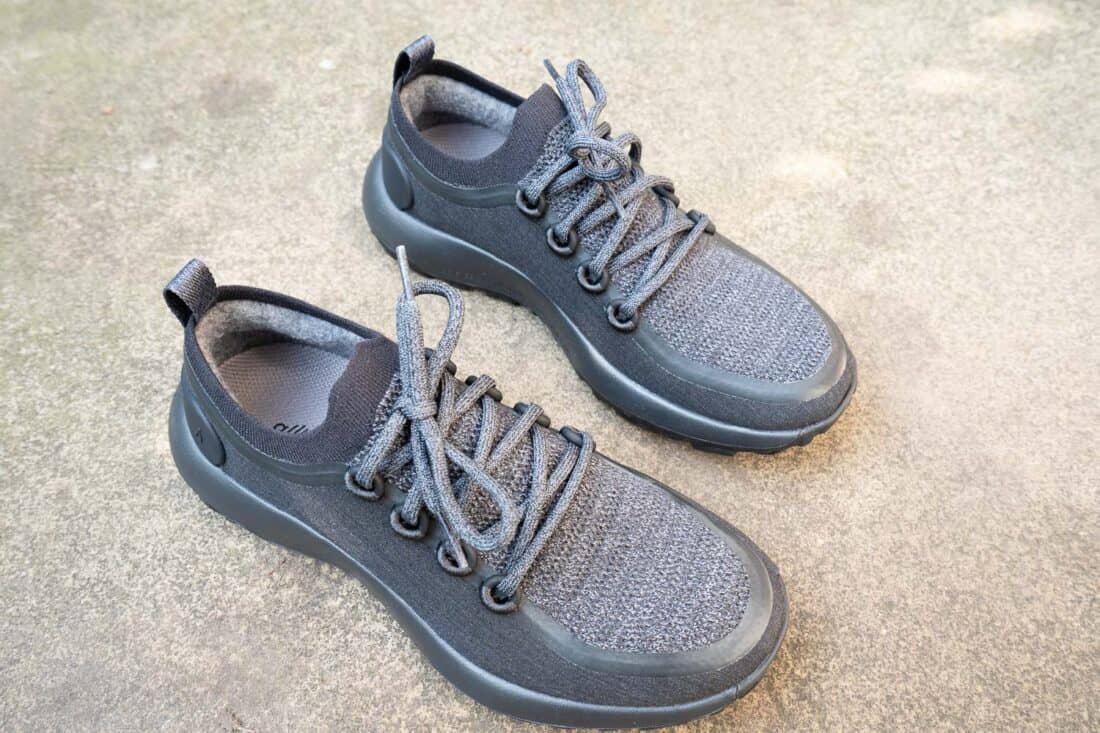 Best For: Trail running, hiking, walking
Heel Drop: 7mm (Forefoot: 18mm, Heel: 25mm)
Weight: 12.36oz (350g) per shoe
Colours: 7+ colours including classic black and grey plus limited editions
Price: US $140 with free shipping and 30-day return (prices vary by country)
Buy From: Allbirds website in many countries including US, UK, Canada, Europe, Australia, and New Zealand. Also on REI in limited colours.
There's now also a water-resistant wool version of the trail runners, the Allbirds Trail Runner SWT Mizzles. This Trail Runners SWT review focuses on the original version.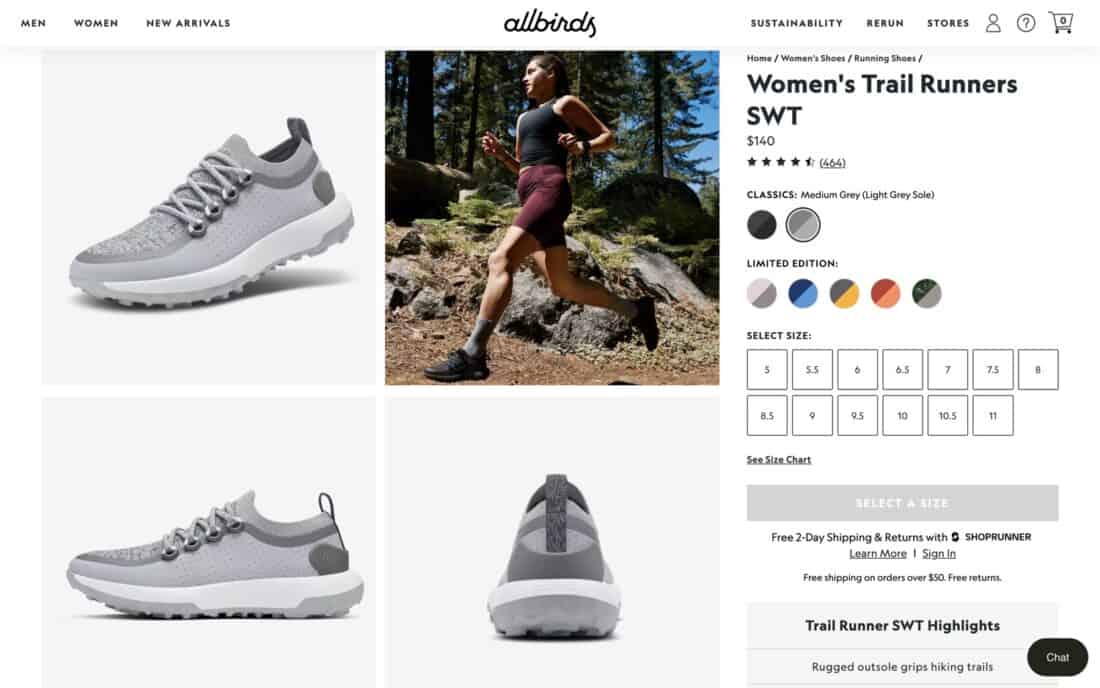 Allbirds Trail Runners Pros and Cons
Pros
Excellent traction on muddy trails
Rugged
Comfortable straight away
Sustainable materials
Machine washable
Neutral colours available
Light for a hiking shoe
30-day free trial (return even after wearing them)
Quick delivery
Cons
Heavy for a running shoe
Water repellent but not fully water-resistant
Minimal ankle support
Fairly warm
Not the most attractive Allbirds shoe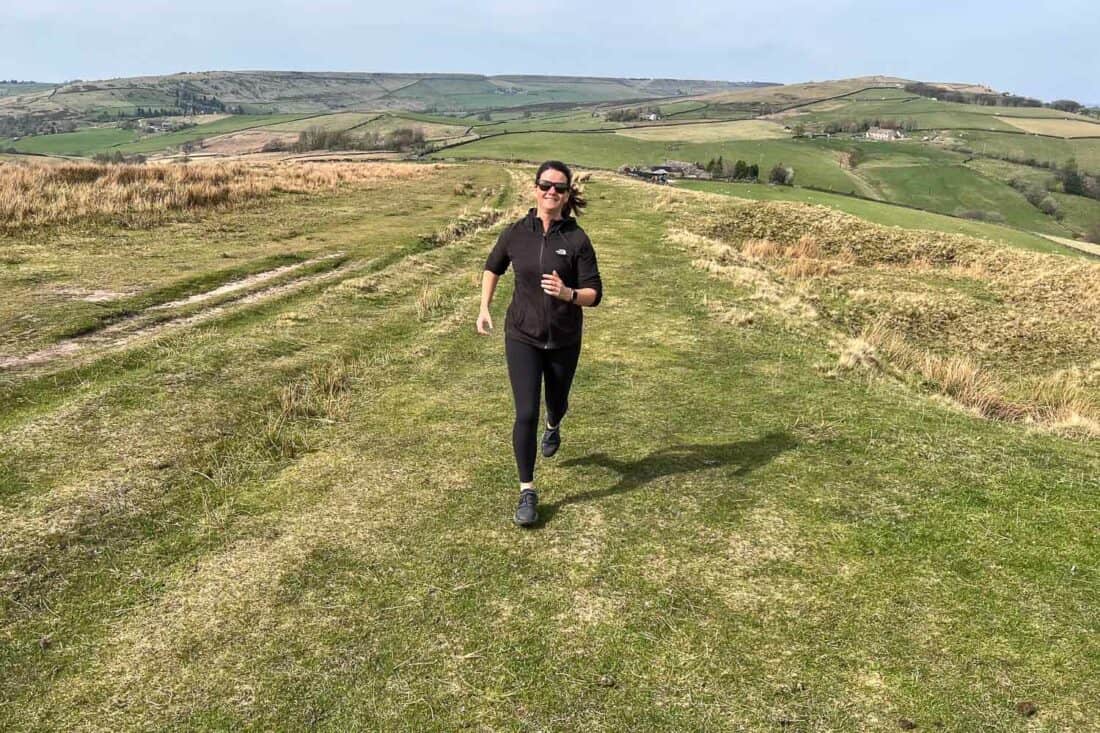 Allbirds Trail Runners Sizing
I usually wear a US8 in Allbirds shoes, but I went up a half size for the Trail Runners. I've had problems with damaged toenails when hiking in the past and wanted to allow more space.
This was a good decision as I had plenty of room in the toe box, but the shoes still felt secure on my feet.
My Allbirds Trail Runners SWT Review
The Allbirds Trail Runner SWT is designed for off-road terrain whether you are hitting the hills on a run or hike.
I'm not a real trail runner, but I do love running on trails (preferably ones that aren't too hilly!). I usually manage fine in my Allbirds Tree Dashers, but I wanted to see if the Trail Runners would give me more protection and confidence off-road.
I have also struggled to find a pair of hiking shoes that don't hurt my feet, so if they would work for walking too, even better.
I didn't fall in love with the Allbirds Trail Runners as instantly as I usually do with Allbirds shoes. They were comfortable, as always, but I found the style less attractive.
On my first run, which started on the road leaving my village, they felt bulky and heavy compared to my Dashers, and I was aware of the large lugs on the sole as I hit the pavement.
The second time I took them out, though, I noticed the lugs less and began to feel more comfortable.
Other than that, I had no breaking-in issues—no blisters or areas of soreness.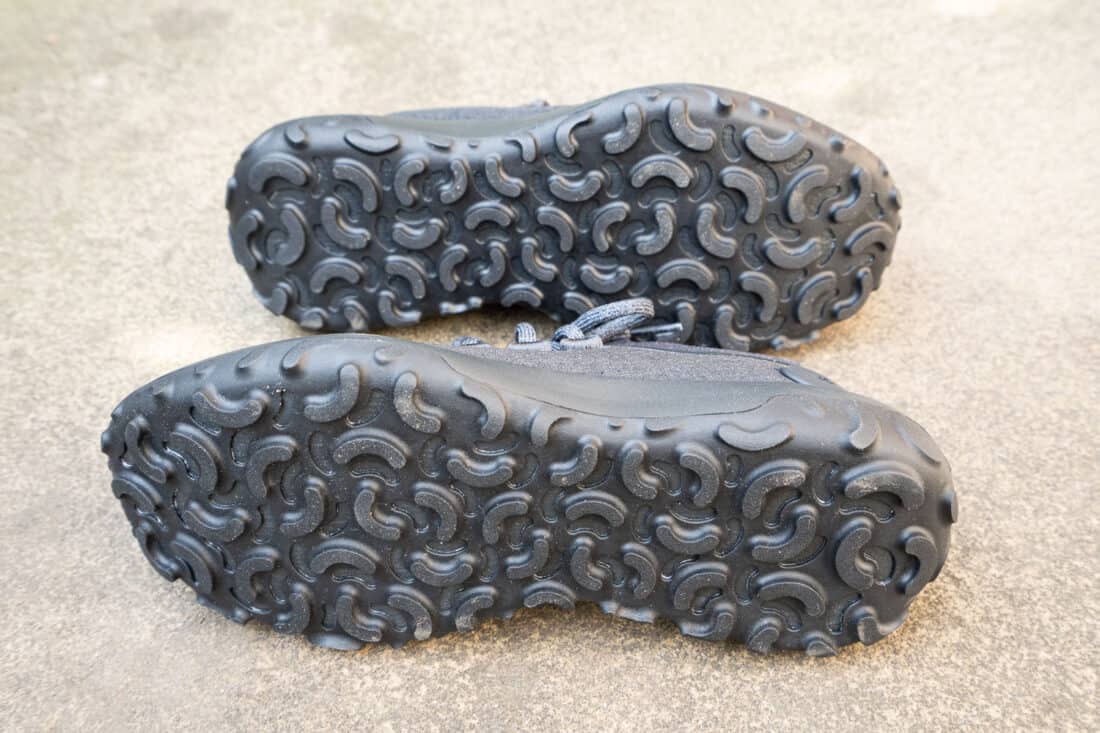 Where I really grew to appreciate the Trail Runners over time was in the conditions they are designed for. My feet felt protected on muddy runs and I felt confident running down grassy hills in the rain.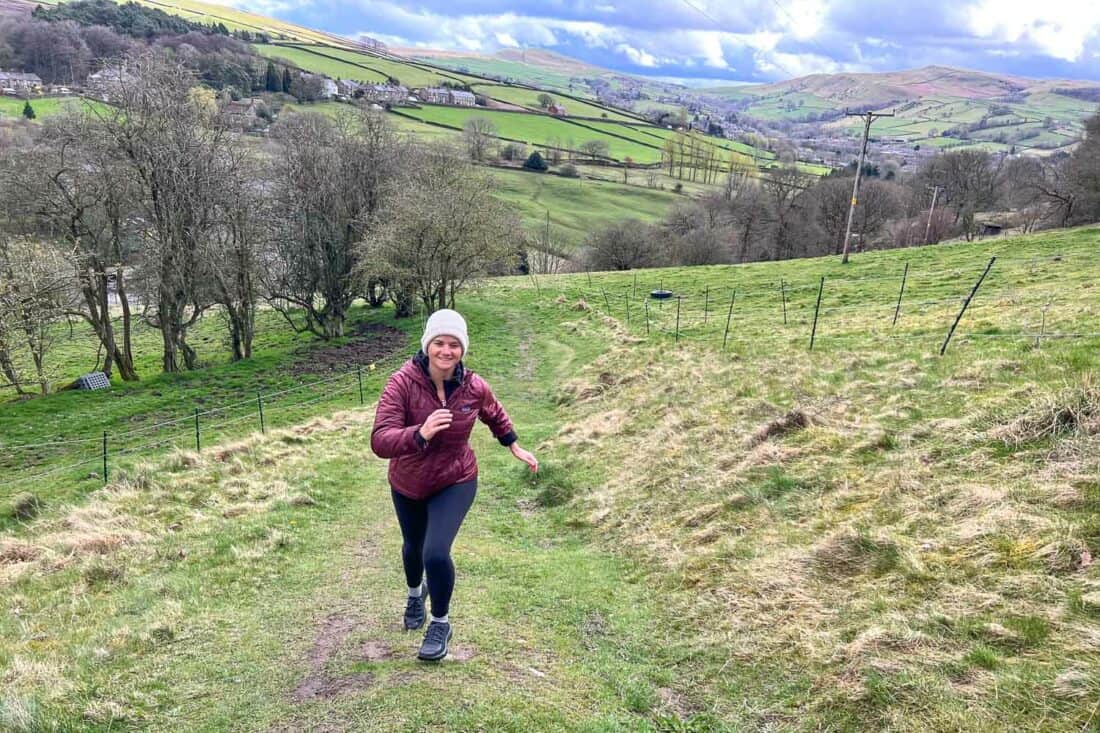 The amazing traction on the soles is the feature I love most about these shoes. The 4mm lugs in multiple curves look unusual but perform really well on slippery surfaces.
I'm often nervous coming down steep, wet hills but I felt totally comfortable in these. They even kept me upright in light snow.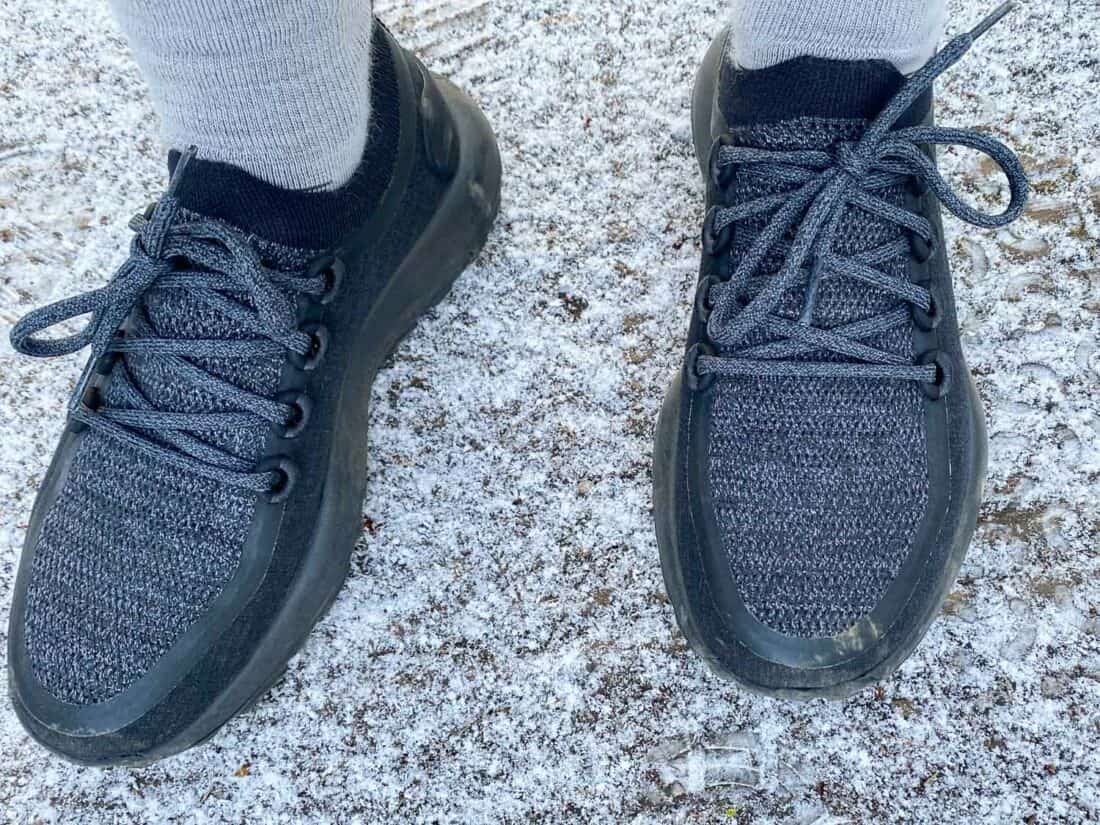 The shoes have a water-repellent finish to protect them from the elements, but they aren't fully waterproof as the top of the shoes is a mesh made from eucalyptus tree fibre for breathability.
I was happy with their performance, though, and I ran in the rain a lot in these shoes.
My feet stayed dry in light rain and on wet tarmac and gravel trails. In heavier rain and when running through multiple puddles, some water did get in but my feet were never soaked.
I also found them really easy to clean. I just wiped them but you can also throw them in the washing machine (just make sure to air dry them).
The Allbirds SWT are definitely my preferred shoe for a wet, muddy run.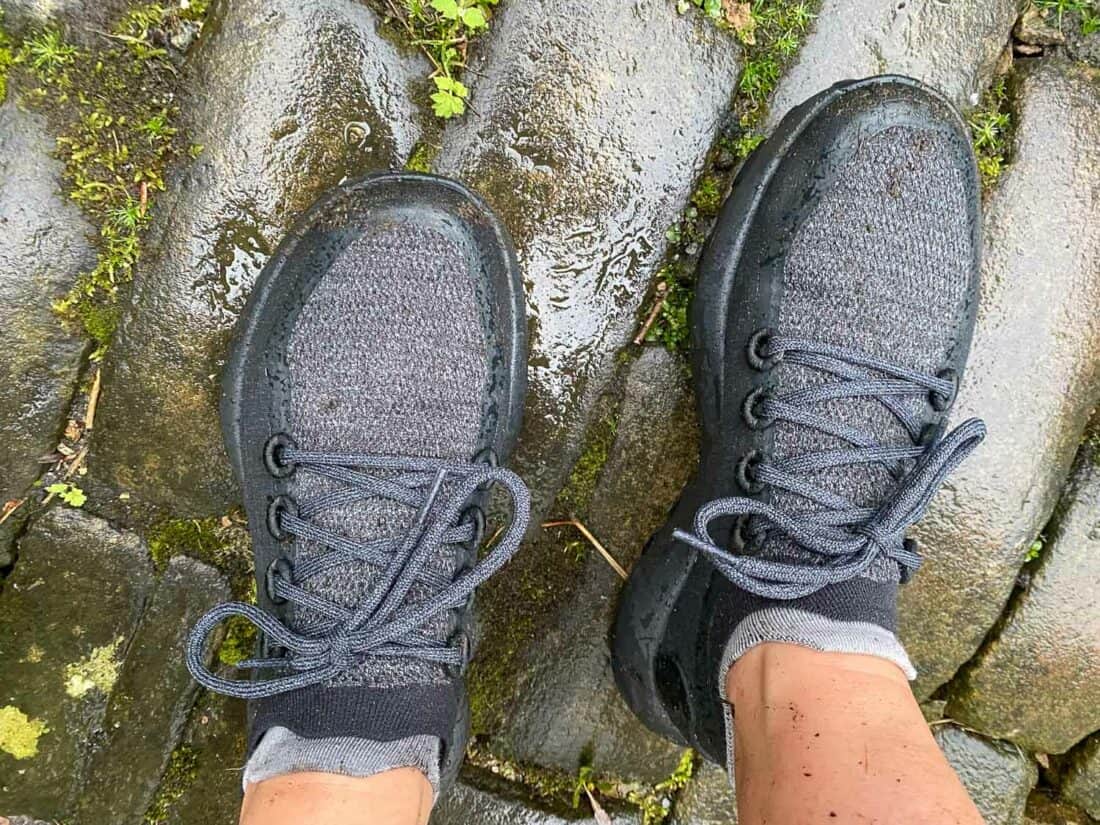 For hiking, I felt less sure. I really like a waterproof hiking shoe so I can stride across muddy fields without worrying about ending up with wet feet for hours. I'm not sure the Trail Runners SWT would offer that protection on a very long hike.
They also have a lower profile than my hiking shoes (I recently picked up a pair of Oboz Sypes waterproof hiking shoes) and I did miss the ankle support.
For short hikes, the Allbirds trail running shoes were fine, but I'm not sure they'll replace my hiking shoes yet.
What Others Say About the Allbirds Trail Runner SWT
The reviews on the Allbirds website show that it's becoming a popular shoe with hikers.
"I wore the Women's Trail Runners SWT on a multiple-day, mountain biking/hiking/camping trip and not once did my feet hurt even when doing 20+ miles per day. I would definitely recommend these shoes to anyone. Plus, they're super stylish in my opinion!"
"I had lumbar surgery 3 months ago and my doctor instructed me to walk as much as I can. I purchased the trail runners to ensure I have adequate traction while out on my walk. Not only do the shoes provide traction and stability, I've noticed all small aches and pains in my hips are gone! They are so comfortable and offer so much support!"
"So comfortable and very stable while hiking jungles of Costa Rica. Rinsed them in a stream and they dried looking perfectly new. Wore them straight out of the box to the jungle and never a blister or issue."
Allbirds Trail Runners vs Tree Dashers Running Shoes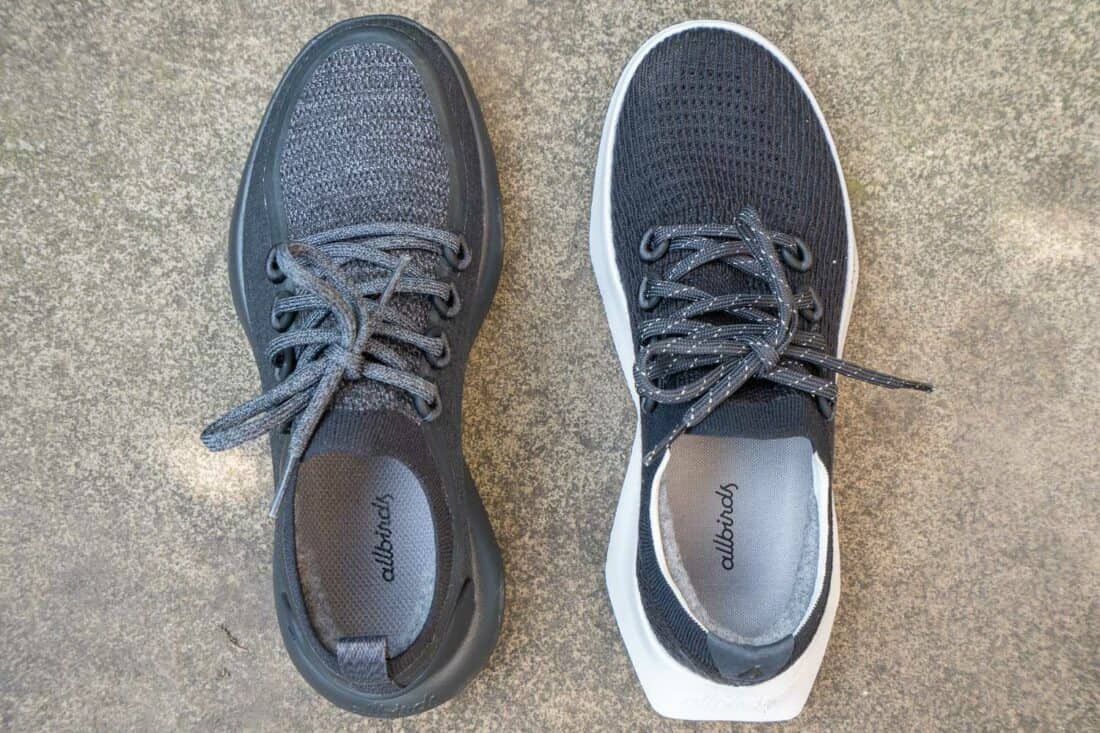 If you are considering which Allbirds running shoe to buy, here's my comparison of the Allbirds Tree Dashers V2 and Trail Runners SWT.
They both have the same tongueless design, a sock-like collar that blocks debris, and a padded wool heel lining for cushioned support. They both can be worn without socks, but I don't like to do so for running.
Compared to the Dashers, the Trail Runners are:
Bulkier
Heavier
More rugged
Have more traction with larger, deeper lugs
More water-resistant
More structured with a solid heel plate
Have a tag to pull them on and off at the back
Less breathable in warm weather
Less attractive (in my opinion)
For road running and general wear, I prefer the Dashers, but for trails, the Trail Runners provide more grip, support, and protection from the elements.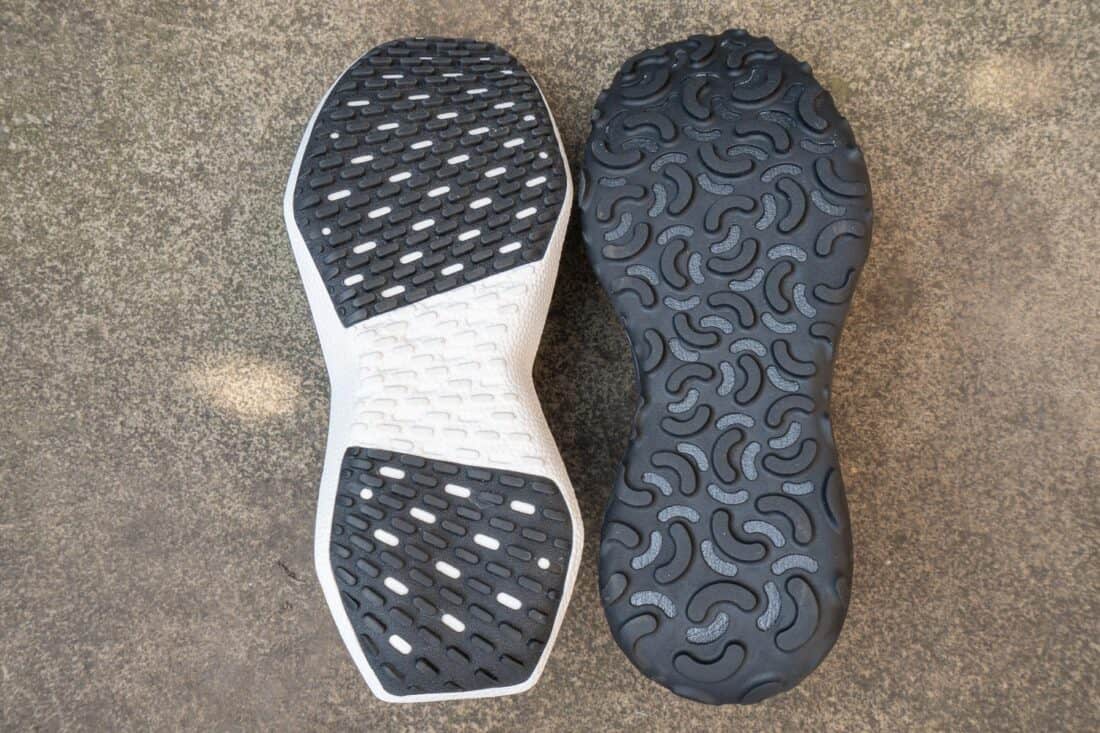 Who is the Allbirds Trail Runner For?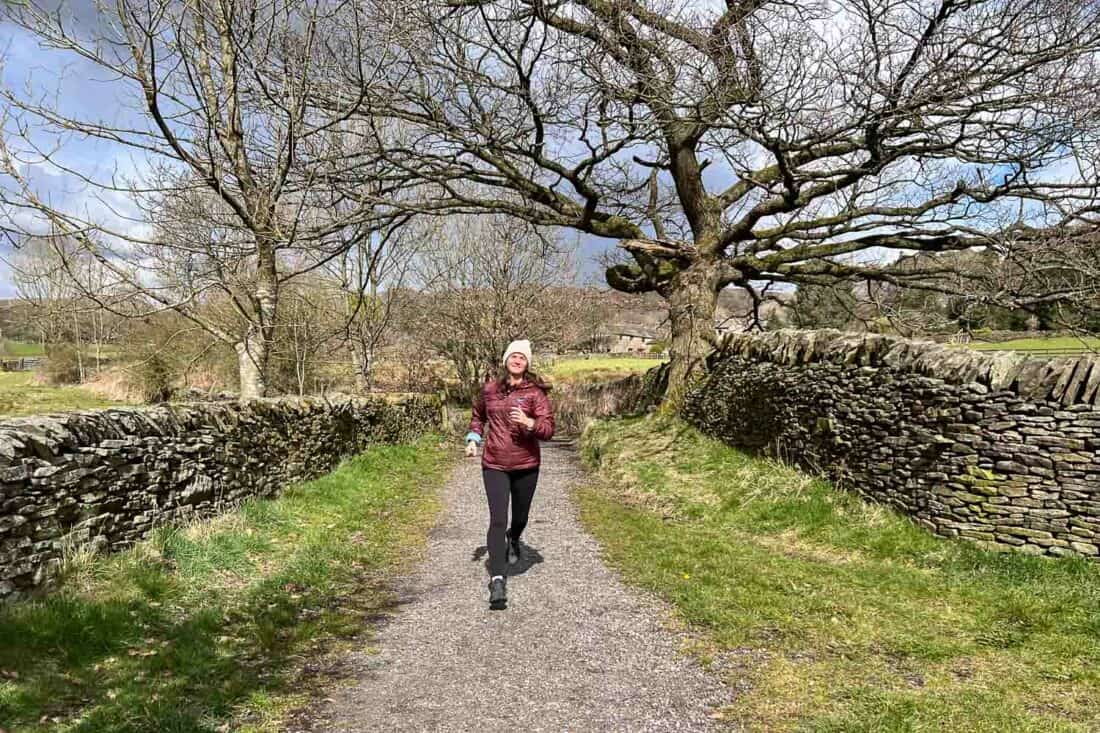 While I won't be travelling full-time with the Trail Runner, I would definitely consider them for short trips where I want one shoe for hiking and running, and for places where all my running will be in the hills.
The Allbirds Trail Runner is ideal if you want a running shoe for muddy trails.
It's also a great multipurpose shoe for travel if you want something you can wear for light hikes as well as running.
As always, Allbirds stands out for its use of sustainable materials (wool, eucalyptus, and sugarcane) and the ability to easily wash the shoes in a machine.
Allbirds offers a 30-day free trial, so it's worth giving them a go and seeing if they work for you.
Check out the Allbirds Trail Runner on the Allbirds website.
More Shoe Reviews