This page contains affiliate links. Please read our disclosure for more info.
As a big fan of the Allbirds Wool Runners, I was excited to try the water repellent version, the Allbirds Wool Runner Mizzles.
These cosy merino wool sneakers sounded even better for winter wear with non-slip soles and the ability to withstand rain.
Like all Allbirds shoes, they are super comfortable, machine washable, and made from sustainable materials.
I put these Allbirds waterproof shoes to the test for over a year during the colder months in New Zealand, the US and the UK. I've worn them on hikes and bike rides, to restaurants and wineries, in the city and countryside.
In this Allbirds Mizzles review, I share their pros and cons, test whether they really are waterproof, and compare the original Allbirds Wool Runners vs Mizzles.
While I have the women's version of the Allbirds Mizzle, they also come in a men's version that's the same.
Contents
Note: Allbirds sent me the Mizzles for review but this is my honest opinion. Simon and I have both paid for multiple pairs of Allbirds shoes as we love them so much.
Styles of Allbirds Mizzles
Allbirds makes several styles of Mizzles. They are all made from merino wool with a water repellent shield and are available in men's and women's versions.
Casual Shoes
These are the most similar to the classic Allbirds Wool Runners. Despite the name, they are designed for casual use rather than running.
Wool Runner Mizzles – These are the original Mizzles and have a sneaker style like the Wool Runners. These are what I have and will be writing about in this Allbirds Mizzles review.
Wool Runner-Up Mizzles – This high-top version comes higher up on your ankles.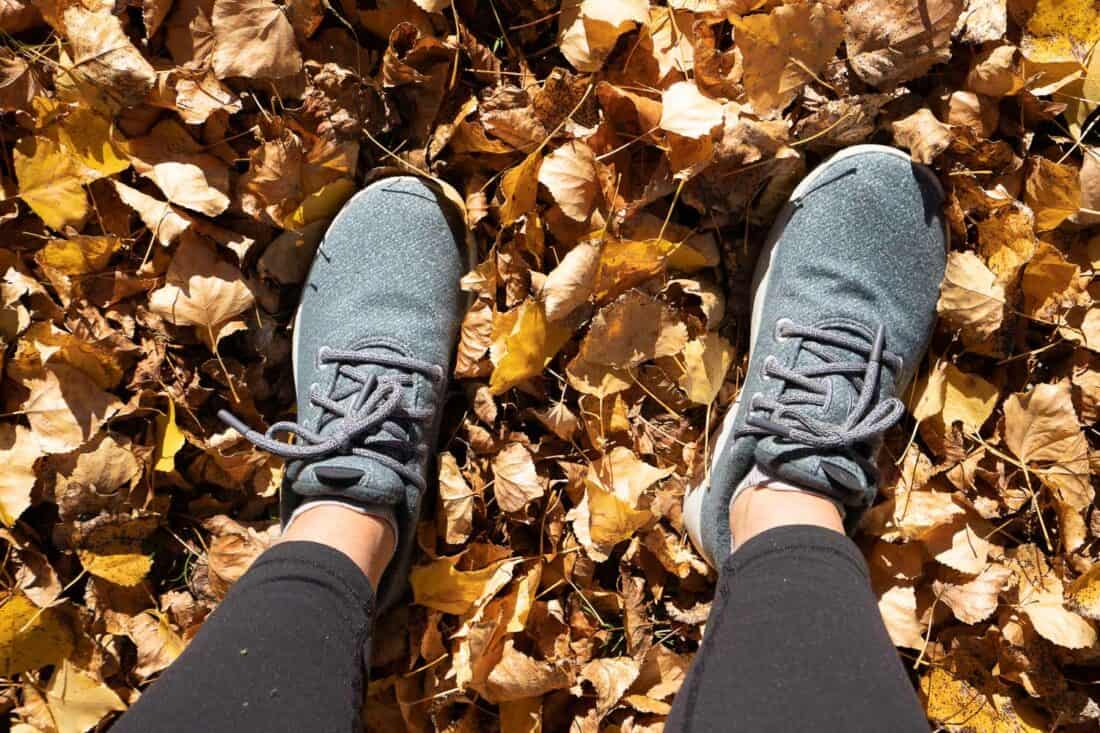 Running Shoes
If you want to run in cold, wet weather, the Allbirds Wool Flyer Mizzles are the shoes for you.
Some people also like them for walking as they have more supportive soles with increased traction compared to the Wool Runner Mizzles.
They feature a tongue-less design and come in half sizes, but they are more expensive.
See my Allbirds Tree Dashers review for details on the warmer weather running shoe.
Trail Runners
Allbirds now makes a water-resistant version of their trail runners, the Trail Runner SWT Mizzle.
These have more rugged soles that are designed for getting off-road. If you are looking for a trail running or hiking shoe, I recommend these.
See my Allbirds Trail Runners review for my experience wearing the non-Mizzle version.
You can also see my Allbirds review, which focuses on the original Wool Runners, for a full breakdown of all Allbirds shoes.
My Allbirds flats review compares the Tree Breezers to other popular ballet flats.
Allbirds Wool Runner Mizzles Details
Sizes: Women's US 5 – 11 and men's US 8 – 14 (no half sizes).
Colours: 8 colours in the US (fewer options in other countries).
Weight: 280g (9.9oz) per shoe (women's US 8).
Price: US $125 with free shipping and 30-day returns (price varies by country).
Buy from: Allbirds website in many countries including US, UK, Canada, Europe, Australia, and New Zealand. Also now available on REI.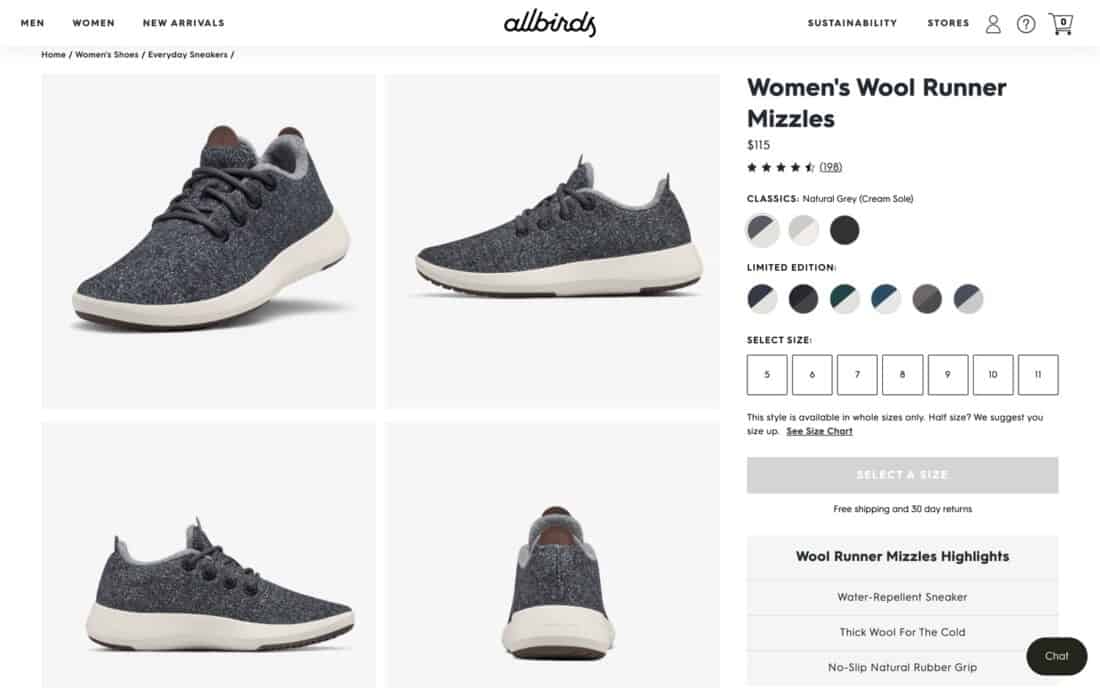 Allbirds Mizzle Sizing
Allbirds Wool Runner Mizzles come in whole sizes only. I found them true to size and went with a US8, which is also my size for the classic Wool Runners and Tree Dashers.
Allbirds recommends that you size up if you are a half size, especially if you have wider feet (all Allbirds shoes are medium width).
If you aren't sure about sizing, Allbirds has a generous returns policy, which makes them easy to return—see below.
Allbirds Wool Runner Mizzles Pros
Free Shipping
I love that Allbirds are available in many countries worldwide with free shipping on orders over $50.
You can buy the shoes online in the US, Canada, UK, EU, Australia, New Zealand, China, Japan, and Korea.
In the US, standard shipping takes 5 – 10 business days to arrive from when the order is placed. Expedited shipping is also available.
My Mizzles took one week to arrive in New Zealand.
All Allbirds shoes arrive in simple packaging that's easy to open. They use just one box made from 90% recycled cardboard that works as the shoebox, shopping bag, and mailer all in one.
30-Day Free Trial
One of the things I love most about Allbirds is their incredible returns policy. Even if you've worn the shoes outside, you can return them within 30 days if they don't work out for you. No questions asked.
This makes it really easy to try out new styles of Allbirds like the Mizzles.
Sending shoes back is simple—just attach the included return label to the box they were sent in. Return shipping is free.
Allbirds donates the lightly used returned shoes to charity.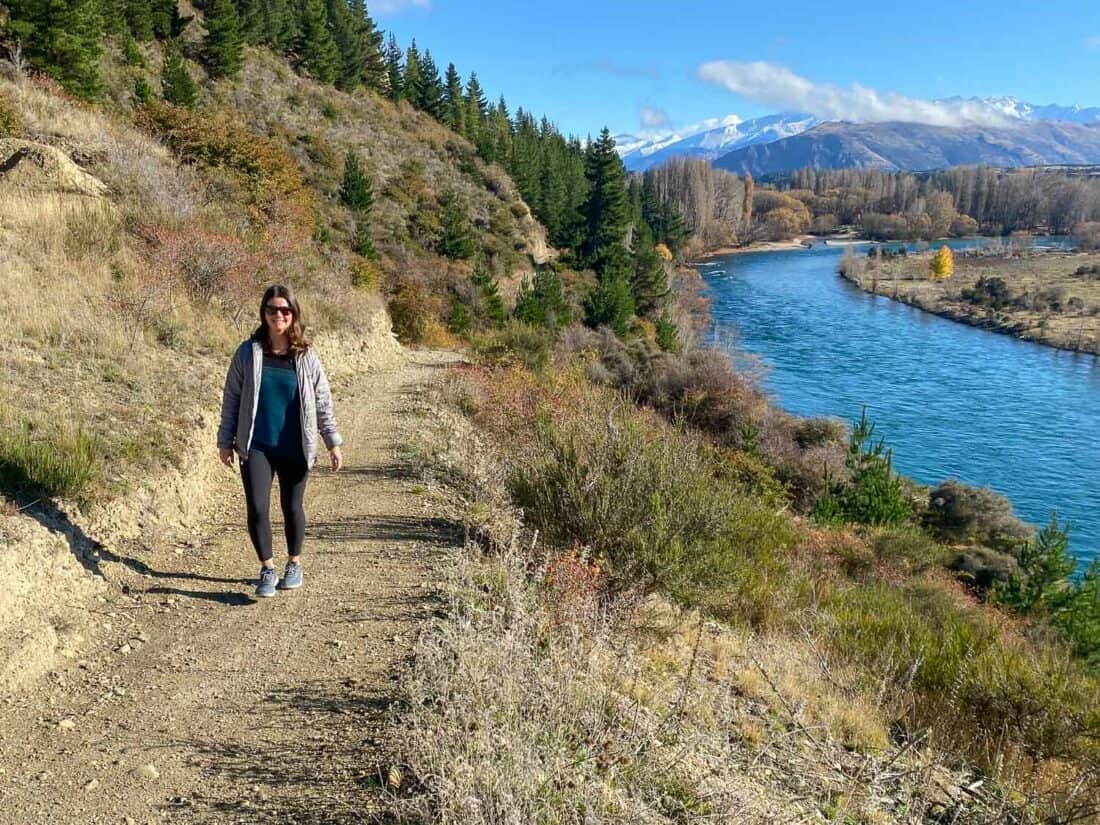 Comfortable
The reason that the Mizzles are the fourth pair of Allbirds shoes I've bought is that they always feel so good on my feet straight out of the box.
Even without socks they feel cosy and my feet don't ache when wearing them.
That said, there was some adjustment compared with my original Wool Runners (the non water resistant kind), which I talk more about below.
I'm not the only one who finds the Wool Runner Mizzles super comfortable. Here are some reviews from the Allbirds website:
"I love these shoes! I have several foot problems… including bunions. I usually only buy shoes if they are available in wide widths but decided to take a chance with Allbirds. These shoes were comfortable from the minute I put them on!"
"Feels like I'm walking on clouds every time I wear them. Super comfortable, supportive, and stylish. They go with so many outfits I wear. Can't recommend enough."
"I love these shoes. I am a nurse and I wear them for at least 12.5 hours. They are so comfortable!"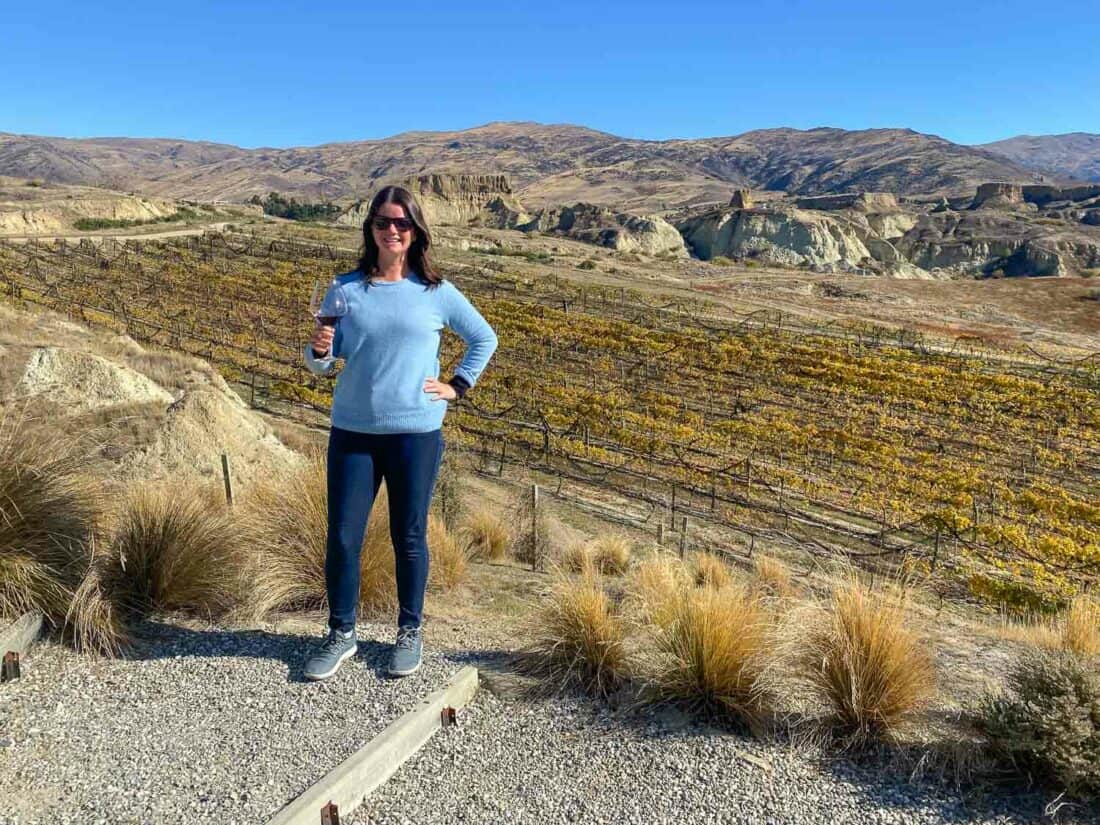 Great for Short Hikes
The Allbirds Mizzles are more structured than the Wool Runners with higher ankle support and more traction on the soles.
I often wore my Wool Runners for short walks, but the extra traction has made me more confident wearing my Mizzles on longer hikes that include hills and uneven trails.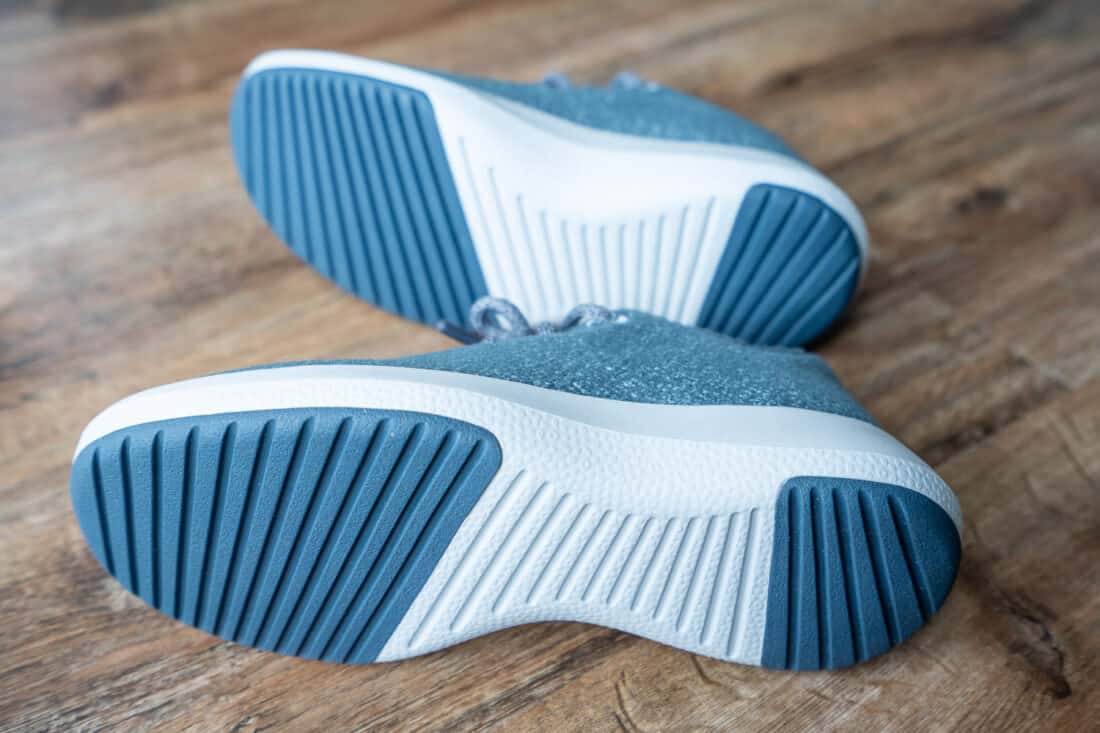 So far the longest hike I've done in them was 13km/8 miles in Abel Tasman National Park on a chilly morning. Even after three hours of walking my feet felt totally fine.
I also wore them for a week of hiking in Joshua Tree, California in the winter. I spent hours a day exploring the desert and scrambling over rocks, and they were perfect.
I never had achy feet or sore toes (which is always a problem for me in hiking shoes) and they kept me warm on freezing mornings.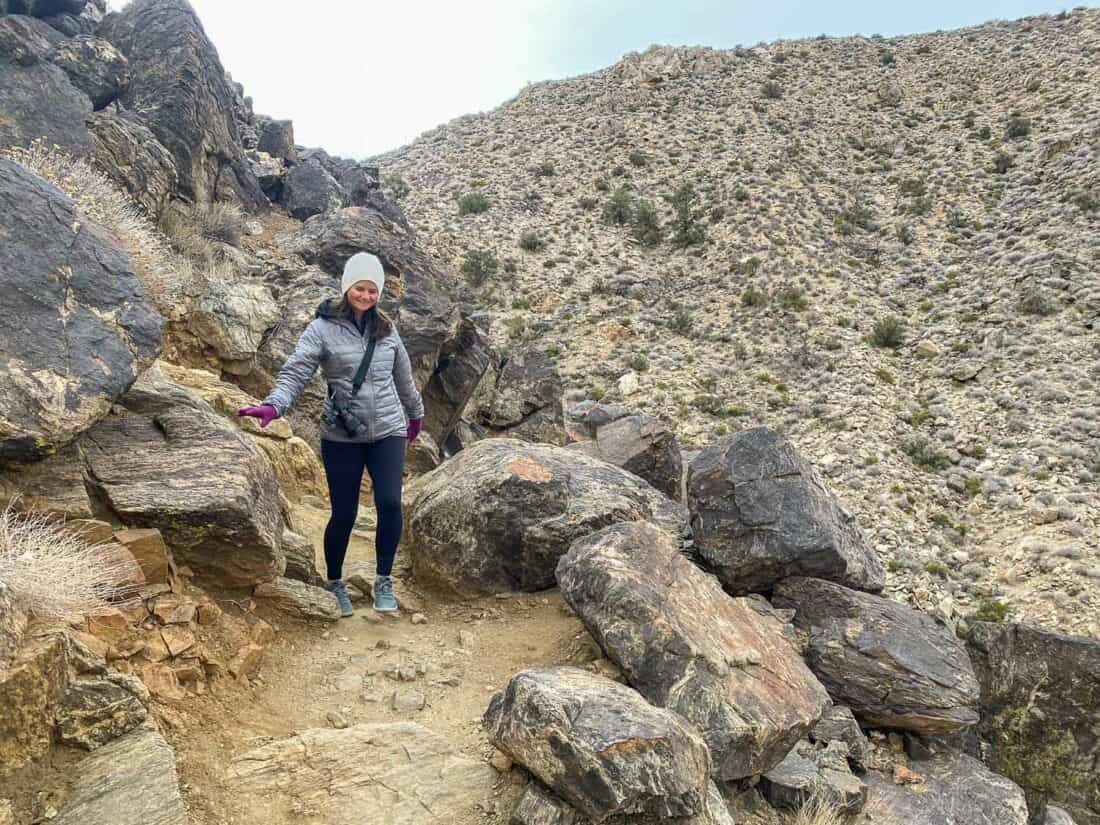 I've now worn my Mizzles on multiple hikes and bike rides and even played tennis in the rain.
The reviews agree:
"I walk my dog every morning in these shoes. We go 4 to 5 miles on rocky, hilly trails. These shoes are the best. Cozy and warm without being too warm."
"Amazing! I am a nurse assistant and I average 5.5 miles a day walking—sometimes running—on the job. These shoes have saved my feet. The support is amazing and they absorb shock. They make you feel light on your feet, bouncing off each step."
That said, the Allbird Mizzles aren't hiking shoes so I wouldn't recommend them for very long or challenging hikes.
If you are looking for a shoe mostly for hiking or trail running, see my Allbirds Trail Runners review. These have even more traction than the Mizzles and are great in muddy conditions. They now come in a water-resistant Mizzle version.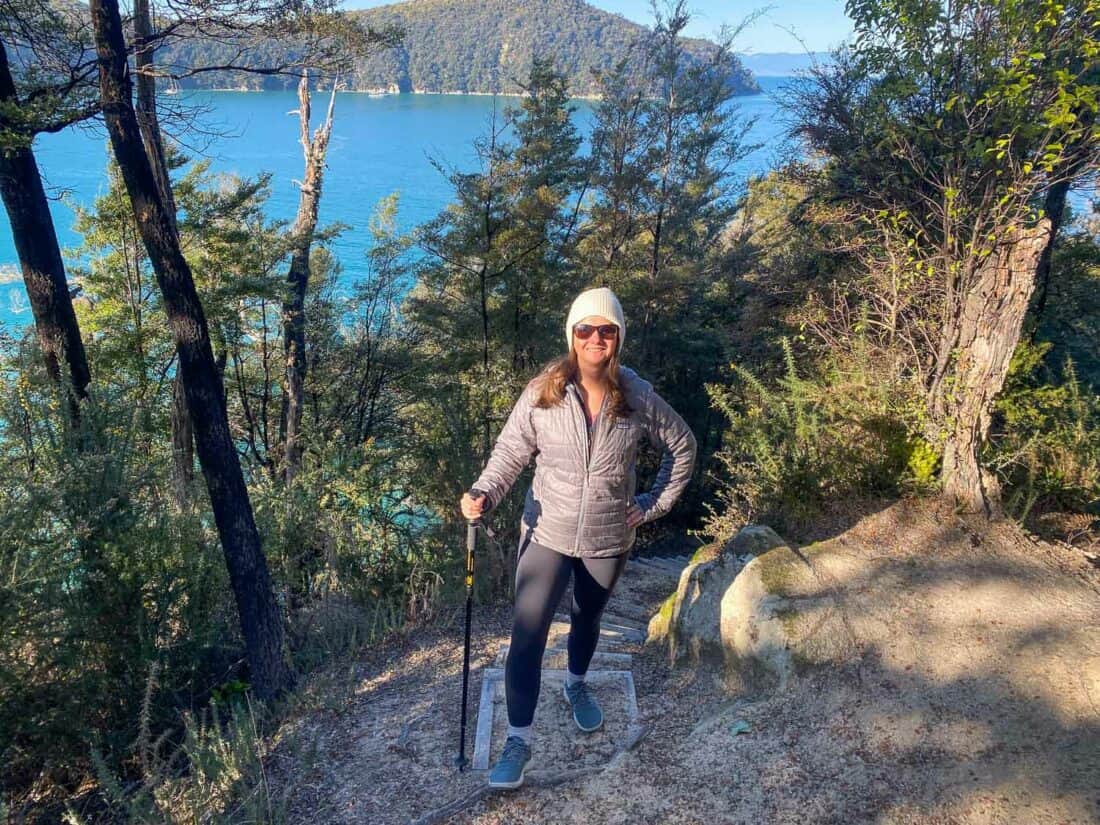 Water Resistant
What stands the Mizzles apart from other Allbirds styles is that the merino wool upper is treated with a bio-based water repellent shield.
Allbirds does not claim that they are fully waterproof, but they stand up to light rain much better than the original Wool Runners. They are definitely a good option for drizzly climates.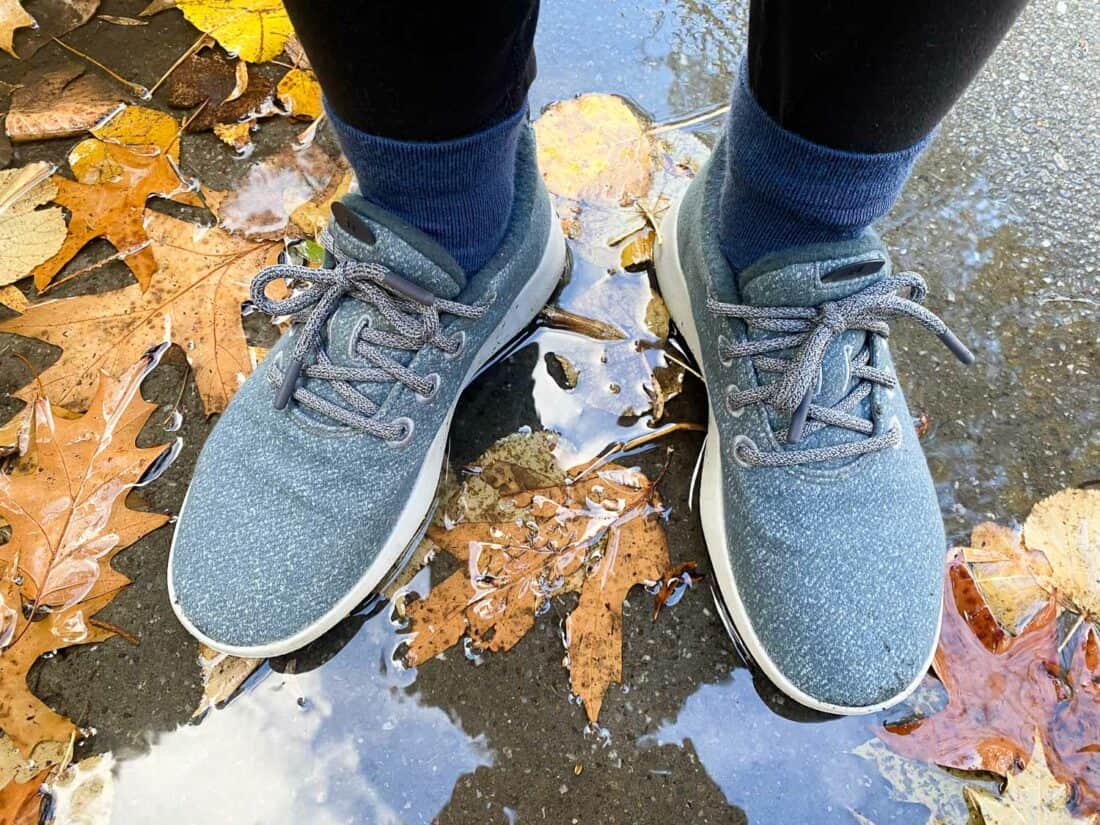 Warm
Made from merino wool, the Wool Runner Mizzles keep your feet warm in cold weather.
Merino wool is much softer than regular wool with no itchiness. It's also breathable, moisture-wicking, and odour-resistant.
While the Mizzles are ideal for winter hikes, I can find my feet getting quite hot on warmer days (over 15ºC/60ºF) on extended walks. It does depend what socks I wear, though.
In Joshua Tree National Park, I paired my Mizzles with warm merino socks for chilly mornings (-3ºC/27ºF) and lighter Allbirds Trino Sprinter socks (designed for running) for hotter afternoon hikes. My feet always felt just right.
The Allbirds Tree Runners are a better option for summer wear—Simon wears his year-round.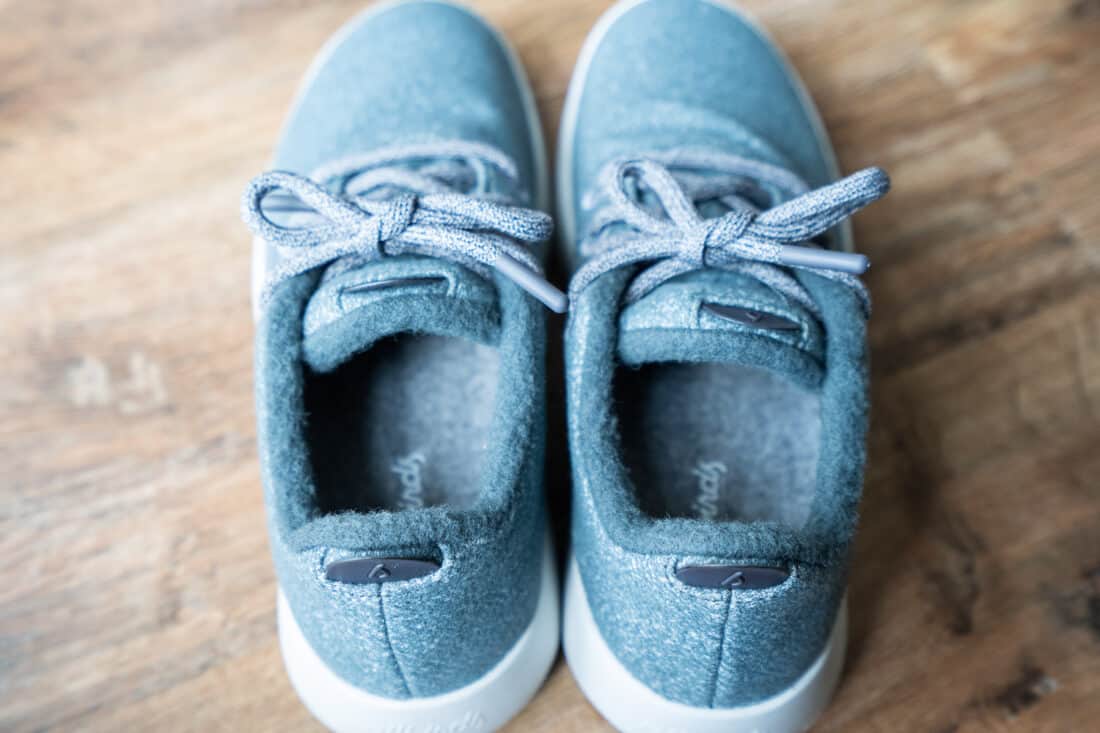 Odour Resistant
After over a year of regular wear, my Mizzles have very little odour. I do mostly wear them with socks, though, which may help.
They did get a little smelly at one point, but washing them took care of it. You can also just wash the insoles (which are replaceable).
Machine Washable
I've washed my Mizzles a few times with no problems.
Allbirds Wool Runner Mizzles are machine washable. You should use a gentle, cold cycle and air dry them.
Allbirds recommends using a delicates bag, but I don't have one. I also don't remove the laces and insoles to hand wash as they recommend.
Instead, I leave the laces tied up and remove the insoles but throw them in the wash with the shoes.
They can take up to 24 hours to dry depending on the warmth of the room (the insoles dry much quicker).
Sustainable
Allbirds are committed to sustainability and all their shoes are carbon neutral. They use natural, renewable materials and offset carbon emissions.
The Mizzles are made of the following materials:
Upper made from ethically-sourced ZQ merino wool.
SweetFoam midsole made from renewable sugar cane. This prevents the need for EVA, a polluting, petroleum-based plastic foam used in most shoe soles.
Insole made from castor bean, which emits less carbon than petroleum-based foam, and merino wool.
Laces made from recycled plastic bottles.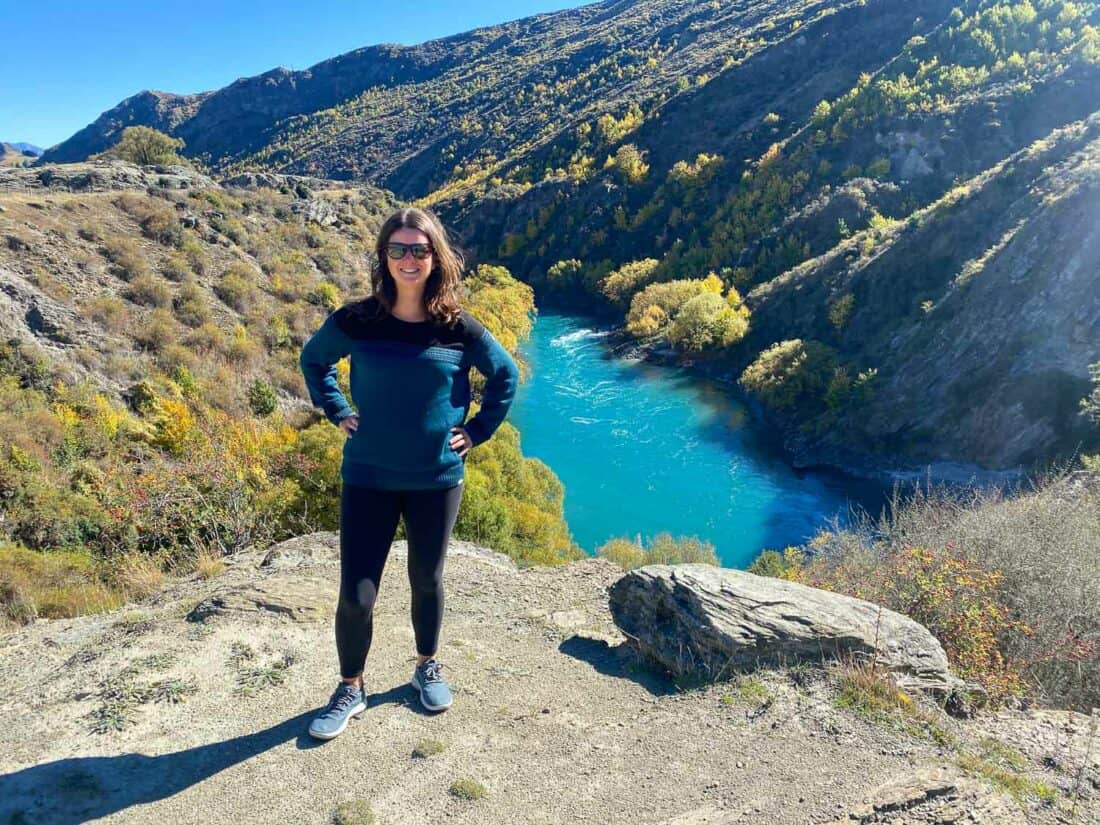 Durable
After a year, my Wool Runner Mizzles still look great with only a few smudges on the light grey soles.
The heel area of my insoles was wearing down slightly so I replaced them. I find a fresh pair of insoles makes Allbirds shoes extra comfy and is well worth the $15.
I've found all my Allbirds very durable. I only felt the need to replace my original Wool Runners after two years. They had no holes or serious issues, but they looked a bit grubby (especially the soles) and the tread on the soles had faded in parts.
The Mizzles are more durable due to the much deeper treads and more robust upper.
Check out the Allbirds Wool Runners Mizzles here.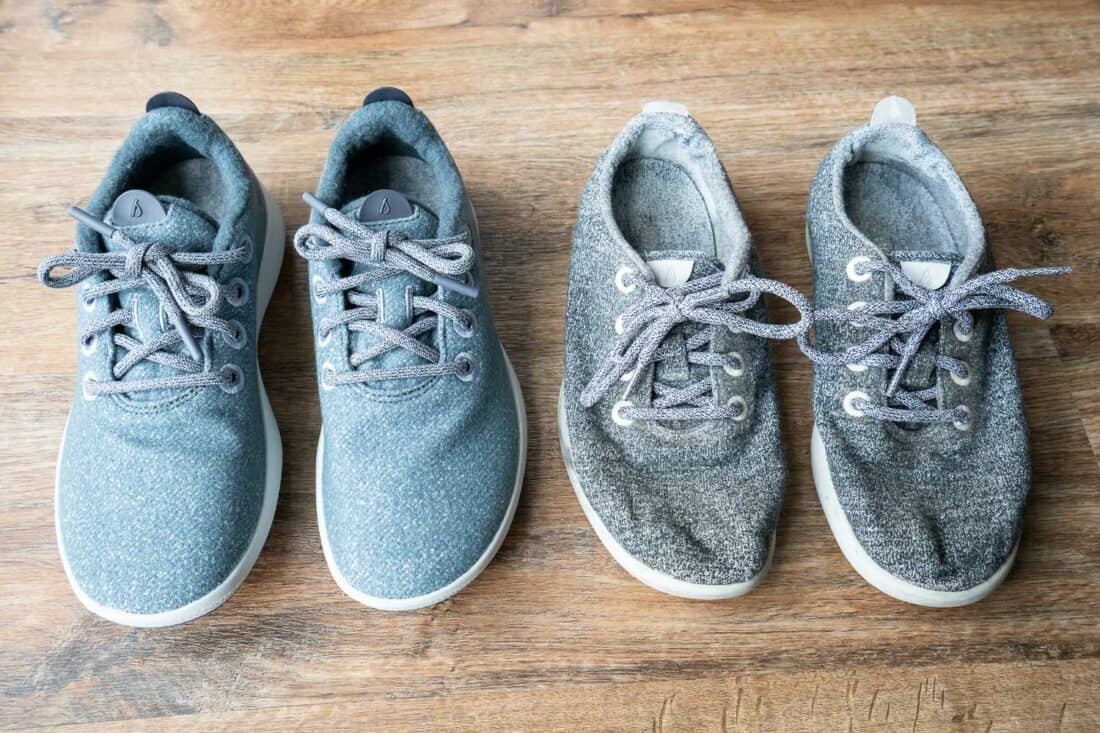 Allbirds Wool Runner Mizzles Cons
Not Fully Waterproof
The Mizzles keep my feet dry in light rain, but if I wear them for prolonged periods in heavy rain, or once for 15 minutes in a torrential downpour, the water seeps through the shoes, mostly around the toes.
They are certainly more water resistant than the original Wool Runners, but if you want fully waterproof shoes, look for Gore-tex hiking shoes (which I don't find as comfortable).
Slower to Break-In
The Mizzles are the only Allbirds shoes I've had a breaking-in period with—my original Wool Runners, Tree Dashers, and Tree Breezer flats were instantly comfortable.
Assuming the same from my Mizzles, I set out on an hour-long hike without socks soon after I first bought them. They ended up rubbing the back of my heel and were uncomfortable to wear for a while, even with socks.
This is because the Mizzles are stiffer than other styles and don't mould to your feet as much.
After a month or so, they felt much more comfortable, and a few months in, they felt amazing. I've worn them on many long hikes without problems.
I can also wear them without socks now, but I prefer them with socks.
Reviews are mixed with some customers saying they had zero break-in period and others taking a little longer:
"They took a bit to break in (including moleskin for the heels), but these are now my most comfortable, solidly supportive shoes. Very stylish too."
"These shoes were so comfortable right from the first wear, no breaking in necessary."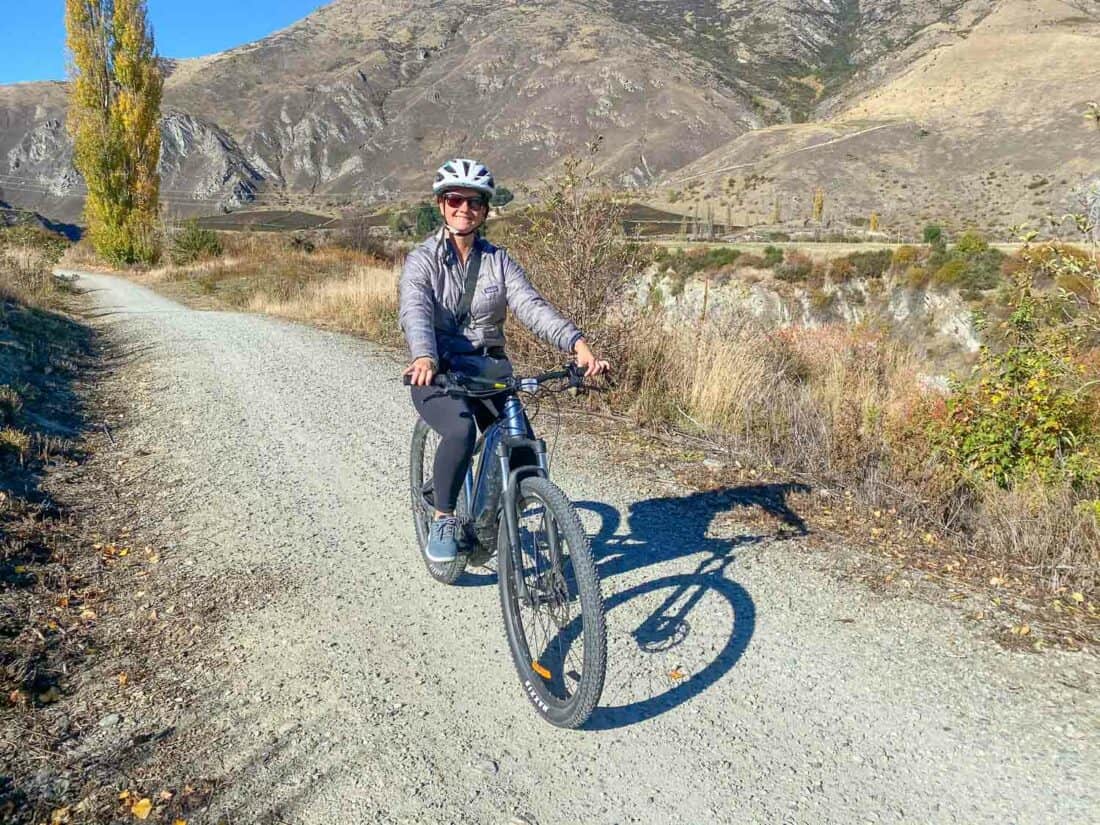 Not Super Lightweight
The Allbirds Wool Runner Mizzle is my heaviest Allbirds shoe at 280g/ 9.9oz per shoe vs 199g/7oz for my Wool Runners.
The extra weight is due to the more structured, supportive upper and the thicker sole with more traction.
I don't think the Mizzles are heavy shoes and I never feel that they weigh my feet down. It's more a consideration if you are comparing them to other Allbirds styles.
Limited Colours
Compared to other Allbirds shoes, there aren't quite as many colours available for the Mizzles, especially outside the US store.
The classic colours are dark grey, light grey, true black (with a black sole), and natural black (with a black sole).
I went for one of the limited edition colours, Ironbark, a pale greenish/grey colour with a light grey sole. I really like it.
Note that colours look quite different in the various Allbirds fabrics. Simon had the Ironbark Tree Runners and it's a much darker colour.
Other limited edition Mizzle colours currently available include Calm Cargo (green), Hazy Beige, and Terra (orangey brown).
See the full range of Mizzle colours here.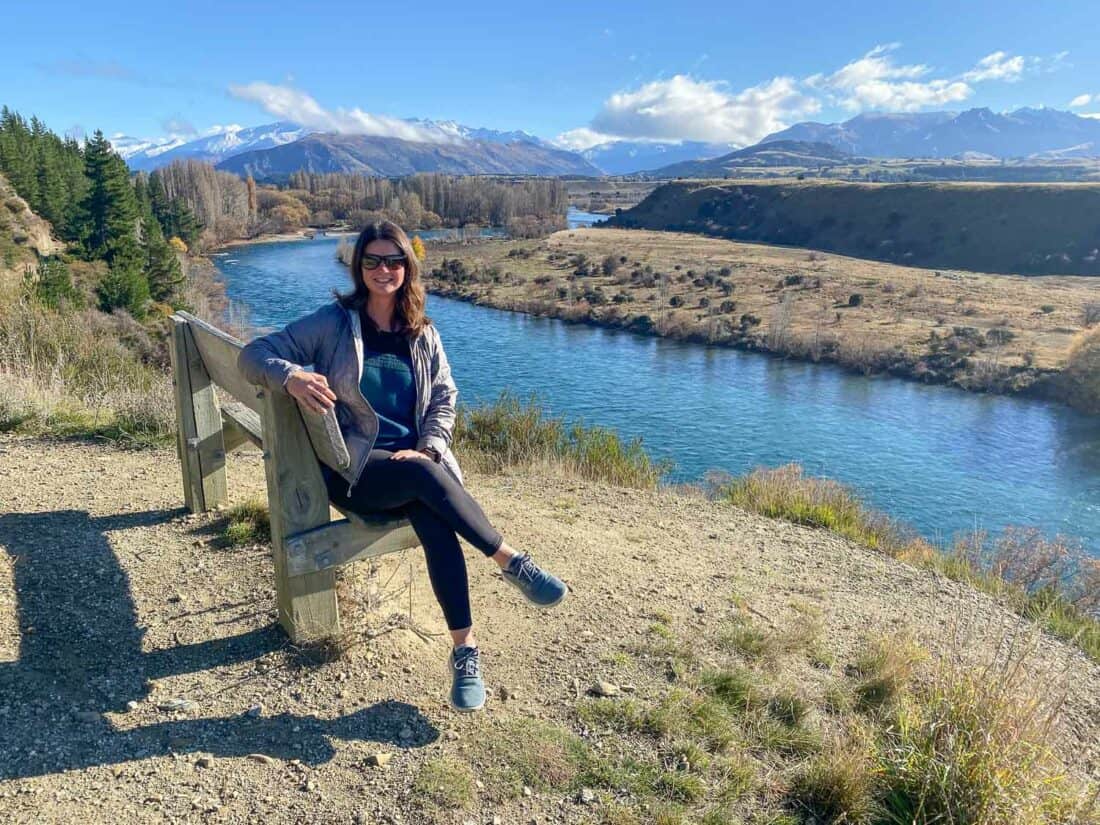 Allbirds Wool Runners vs Mizzles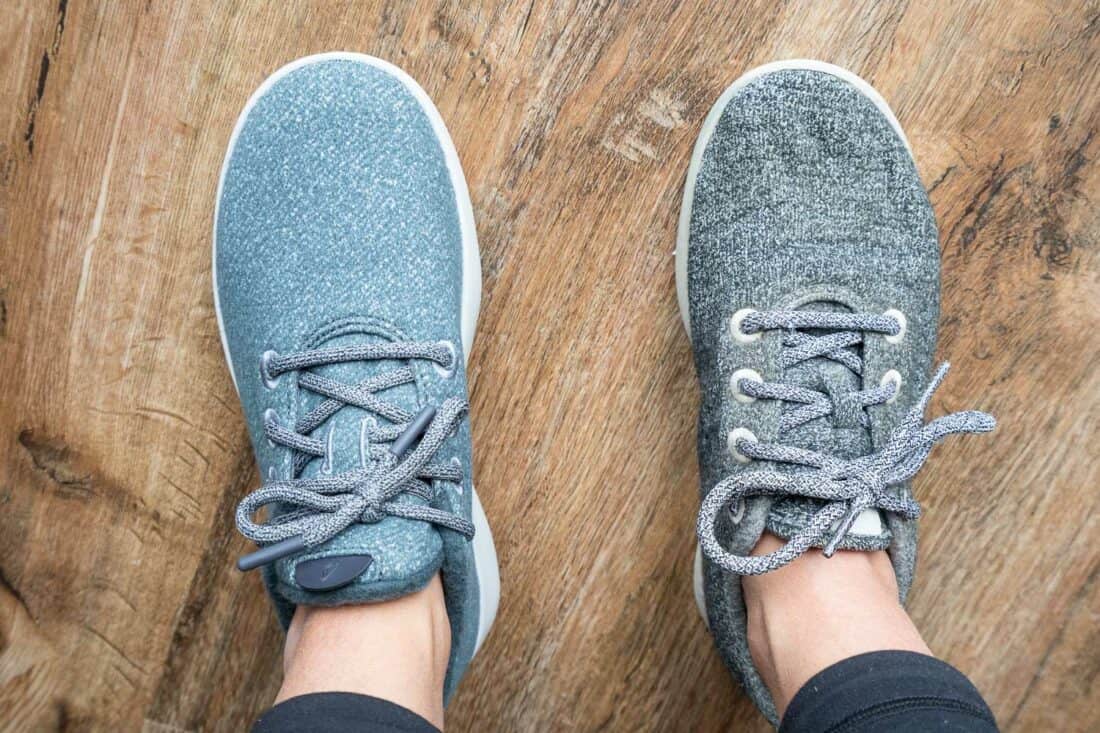 How do the Allbirds Wool Runner Mizzles measure up against the original Wool Runners?
They are both excellent cold weather shoes made from cosy merino wool with many of the same features—they are machine washable, odour resistant, and made from renewable materials.
Here are the main differences:
Allbirds Wool Runner Mizzles:
Water repellent
Bulkier
Heavier (280g vs 199g per shoe)
Stiffer
More structured
More ankle support
Thicker soles with more traction and deeper treads
Better for hiking
Longer break-in period
Not as warm and cosy to wear barefoot
Can't slip on without untying laces
$15 more expensive
Allbirds Wool Runners:
Not rain-resistant
Smaller and easier to pack
Lighter
Floppier and more flexible
Lower on the ankle with less support
Not as much traction on soles
No break-in period
Warmer
Ultra cosy and soft inside
More comfortable to wear barefoot
Easy to slip on and off without untying laces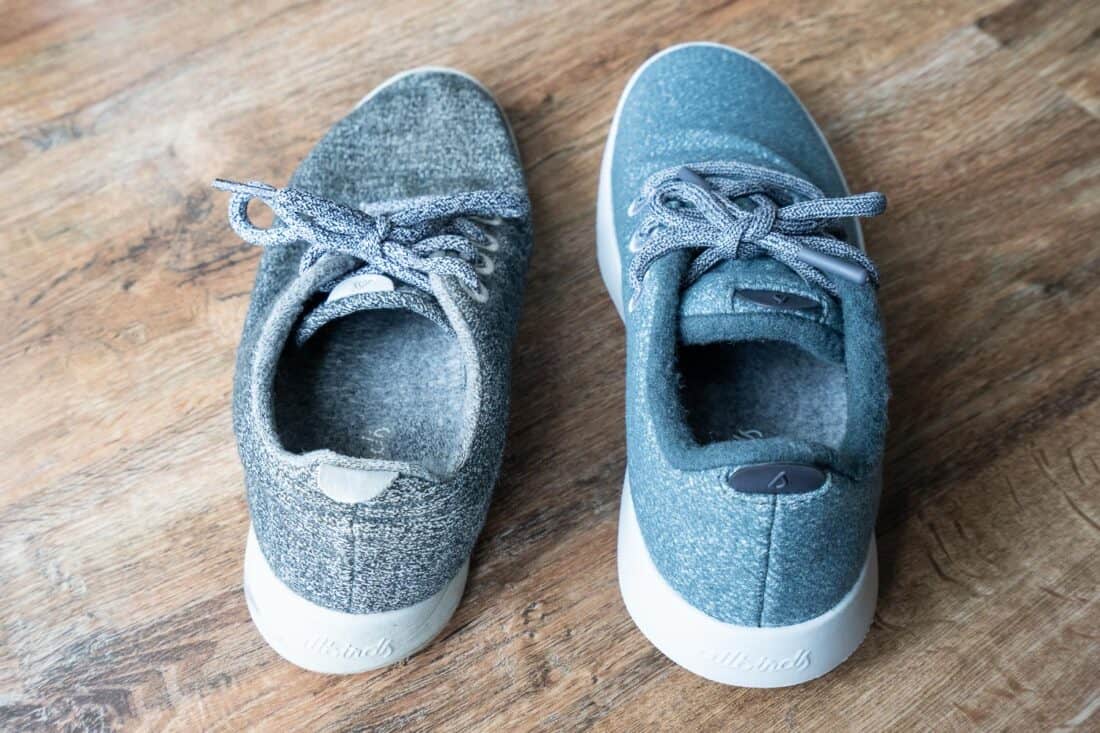 I was initially hesitant about the Mizzles. They didn't feel as cosy, light, or comfortable as my slipper-like Wool Runners, and they rubbed the back of my foot when I wore them without socks.
Once I'd worn them in, though, I appreciated the extra ankle support, traction, and rain-repellence.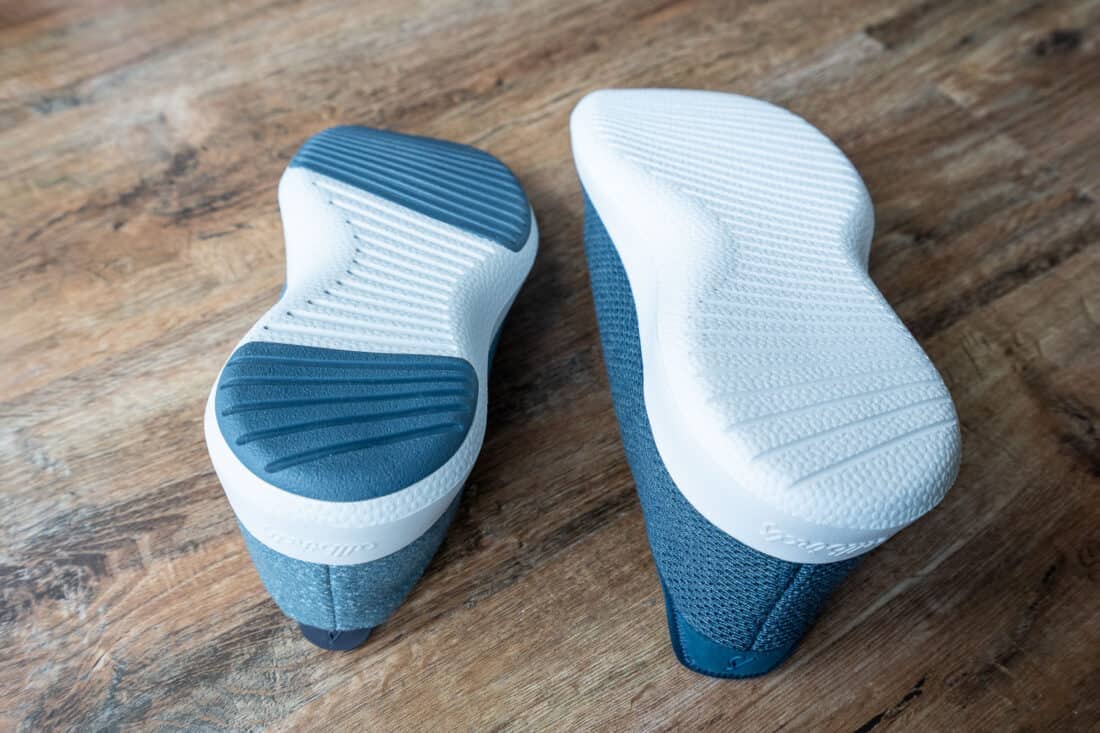 If you want a more supportive, structured shoe, or will be wearing them in the rain or hiking trails, the Mizzles are the better choice.
For everyday wear, I prefer the original Wool Runners. They feel as light as air on my feet, almost like I'm not wearing shoes at all.
They are cosier to wear barefoot and I can slip them on without untying the laces. The lighter, floppier upper also makes them easier to pack for travel.
Whether you choose Allbirds Wool Runners or Mizzles, both are fantastic shoes and you can't go wrong with either—remember you have a 30-day free trial!
See my Allbirds Wool Runners review for more details about the classic version.
Summary: Are Allbirds Mizzles Worth It?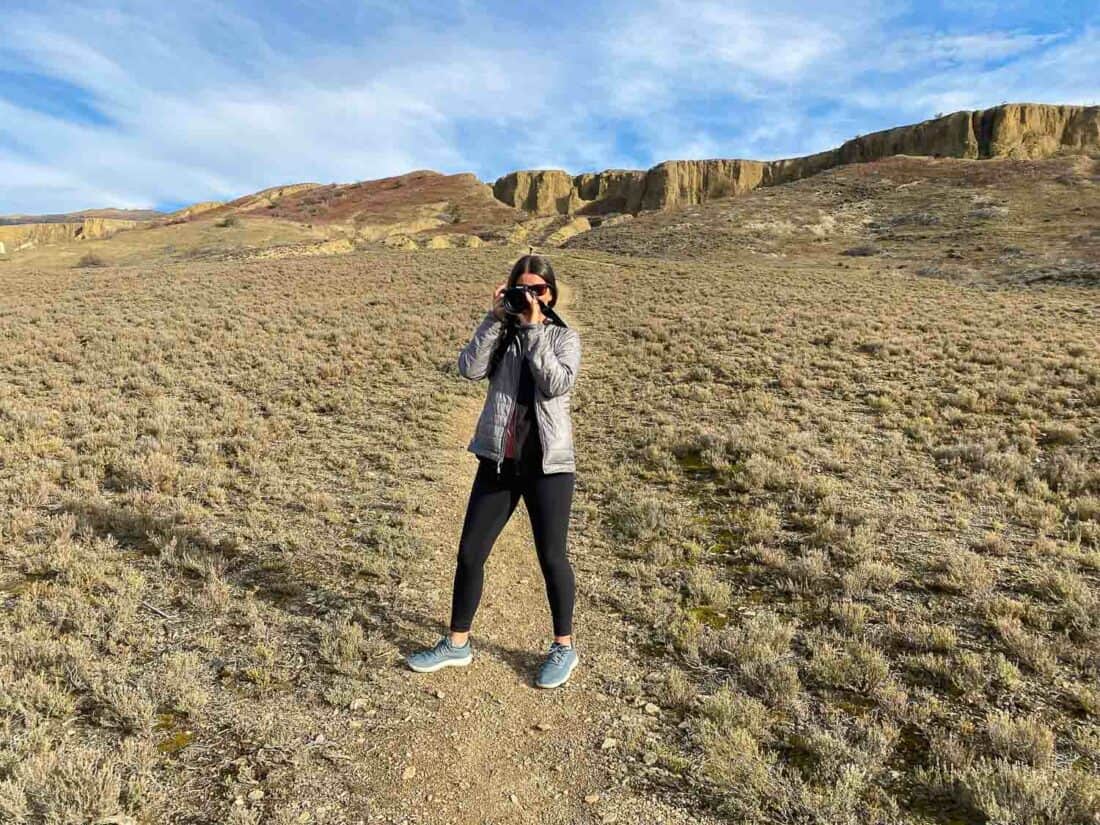 Yes, Allbirds Wool Runner Mizzles are worth it. They are good value for high-quality sneakers made from sustainable materials.
The Mizzles are warm, comfortable shoes that keep your feet dry in light rain. They are stylish enough for city exploring but have enough support and traction for short hikes.
With a 30-day free trial, there's no reason not to give them a try and see if they work for you.
Check out Allbirds Wool Runner Mizzles on the Allbirds website.
Enjoyed this post? Pin for later!