This page contains affiliate links. Please read our disclosure for more info.
Tieks by Gavrieli are not your average ballet flats. They are Oprah's favourite ballet flats and have developed a cult following amongst thousands of women (and some men).
I'm not usually into designer shoes, but Tieks are special. I only own a few pairs of shoes, so it's important that the ones I do have are comfortable, versatile, and durable.
I used to travel with cheap, flimsy flats that hurt my feet and fell apart quickly in the rugged conditions I wore them in.
Eight years ago I tried my first pair of Tieks shoes and they were a revelation. Not only did they look beautiful, but the cushioned rubber soles were supportive enough for a day's sightseeing on cobbled streets in Rome or Paris.
They're not perfect—no shoes are—so in this Tieks review I'll be writing honestly about their pros and cons and ultimately whether they are worth the high price.
Contents
Video: Tieks vs Rothy's
My Tieks
Before I dive into the review here's a quick overview of the four pairs of Tieks ballet flats I've owned in the last eight years.
Lilac Classics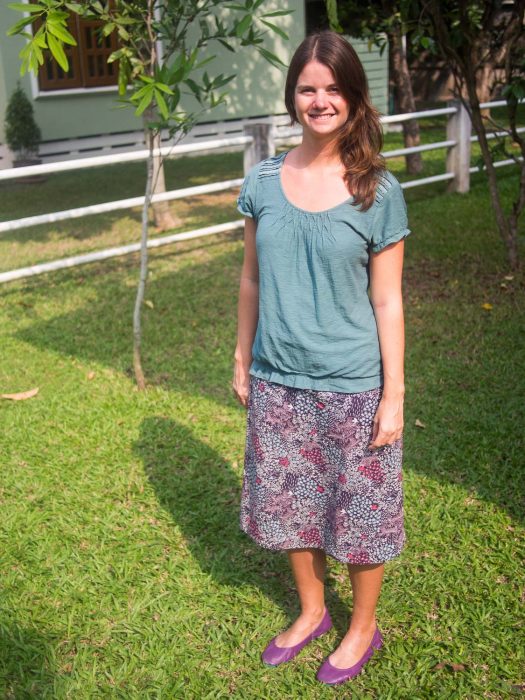 I received my first pair of Tieks shoes in 2013—the matte leather Lilac Classics. They were sent to me free of charge by Tieks in exchange for writing about them.
I absolutely loved the bright purple colour, and they were the first pair of shoes I'd owned in years that received many compliments.
Brentwood Vegan Tieks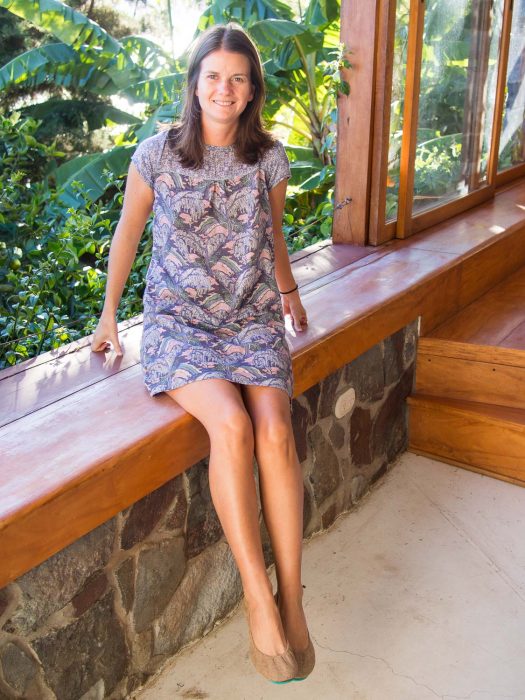 A year later I contacted Tieks—through their customer service team, not via my PR contact—about whether there was anything I could do about the scuffing on the toe of my Lilac Tieks. They offered to send me another pair free of charge—very impressive customer service! (Note: I don't think Tieks replace shoes after they have been worn anymore).
This time I chose the beige Brentwood Vegan Tieks which are made from fabric rather than leather. They didn't look quite as good as my purple ones, but they were lighter and cooler in hot weather and the neutral colour went with everything.
I travelled with my Brentwoods for two years and although the soles and uppers were still in good condition with no holes, the fabric was looking rather dirty and was difficult to clean.
They also didn't feel quite as comfortable as they used to and I wondered if the soles had lost some of their springiness.
Silver Lake Vegan Tieks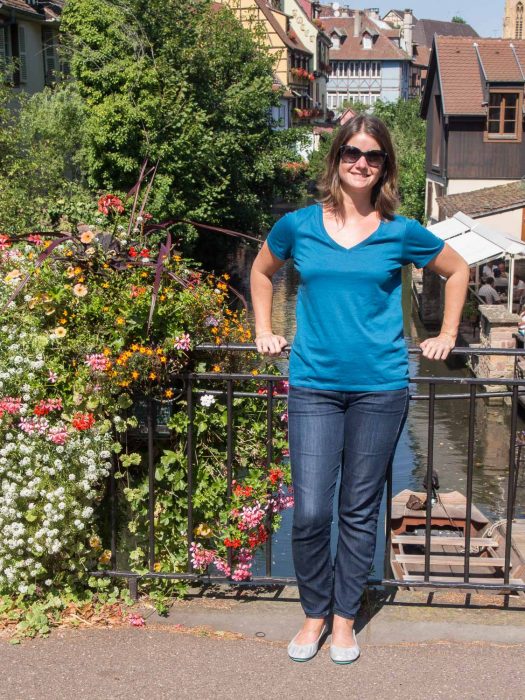 It was time for a new pair and there was no way I was going back to regular ballet flats. This time I not only paid for them myself but forked out for the shipping and customs costs to get them sent to the UK.
It was worth it and my Silver Lake Vegan Tieks are my favourite pair so far—I love how they shimmer in the sun. I think they look more attractive than the Brentwoods but are neutral enough to go with everything.
My second pair of Silver Lake Tieks
I wore my Silver Lake Tieks solidly for 2.5 years before I replaced them with the same pair in December 2018 (again paying for them myself).
My old Tieks flats were still comfortable and the soles and uppers intact, but they had some cosmetic issues (see cons below). I loved getting the shimmer back with my new shoes and they were comfortable straight out of the box.
Over two years later and my latest Silver Lake Tieks still look great. I have worn them less than my previous pair, though, due to being in colder climates and wearing Allbirds Wool Runners and (more recently) Allbirds flats instead.
Tieks Sizing
Tieks flats are available in women's US size 5 – 13.
Tieks only come in whole sizes and are supposed to run true to size. I recommend going up a size if you are usually a half size.
I am a UK size 6, which is usually a US 8. My first pair of Tieks were a size 8, but they were a little tight and I'm more comfortable in a US 9.
If you have wide feet, Tieks recommends you go up a size.
Tieks has a great exchange policy (see below) so you can try a variety of sizes for free until you find the perfect fit (just don't wear them outside).
Tieks Pros
Packaging
OK, this is a trivial thing, but I have to give a shout out to the gorgeous packaging Tieks shoes arrive in along with a personalised note. It makes it feel like Christmas.
The shoes come with a pouch to store them in and a nylon tote bag designed to carry your heels in after swapping into your Tieks at the end of the night. I use the tote bag to store my running shoes in my backpack.
Quick to Break In
Tieks are the only flats that fit me right away with no blisters or cuts (until I tried Allbirds Tree Breezers that is).
In the past I had to endure a painful week-long breaking in period where the cheap flats rubbed my feet so much that they bled and I used dozens of plasters until they softened up.
Tieks have never made my feet bleed or blister. That said, each pair has been different to break in.
My first pair of leather Tieks was a bit tight for the first few days as the leather is designed to stretch and mould to fit your feet. So, if your Tieks feel a little tight at first, don't panic, they will stretch out.
I decided to go up a size for my second pair as vegan Tieks don't have the same stretching effect. My Brentwood Tieks fit perfectly right away with no issues at all.
Strangely, my Silver Lake Vegan Tieks took a little longer to wear in, even though they are the same design. The back of one shoe felt stiff and rubbed at first but after two days of walking around London, I had no more problems.
Even more strangely, I didn't have the same issues with my second pair of Silver Lake Vegan Tieks and had no break-in period.
It really does depend on your feet and some people require a longer breaking in period. I recommend wearing them around the house at first (perhaps wearing socks to stretch them a little) so that you can swap sizes or styles if they aren't working for you.
Each style has a different fit. I've heard that the patent and faux snakeskin designs are harder to break in than the softer classic leather or vegan Tieks.
If your Tieks feel uncomfortable right away it's best to swap them for a larger size or different style—they shouldn't be painful.
Recommended Reading: Recently I discovered Allbirds Tree Breezers which are just as comfortable as Tieks but more affordable and machine washable. They aren't as stylish as Tieks but are well worth considering. See my Allbirds flats review for details.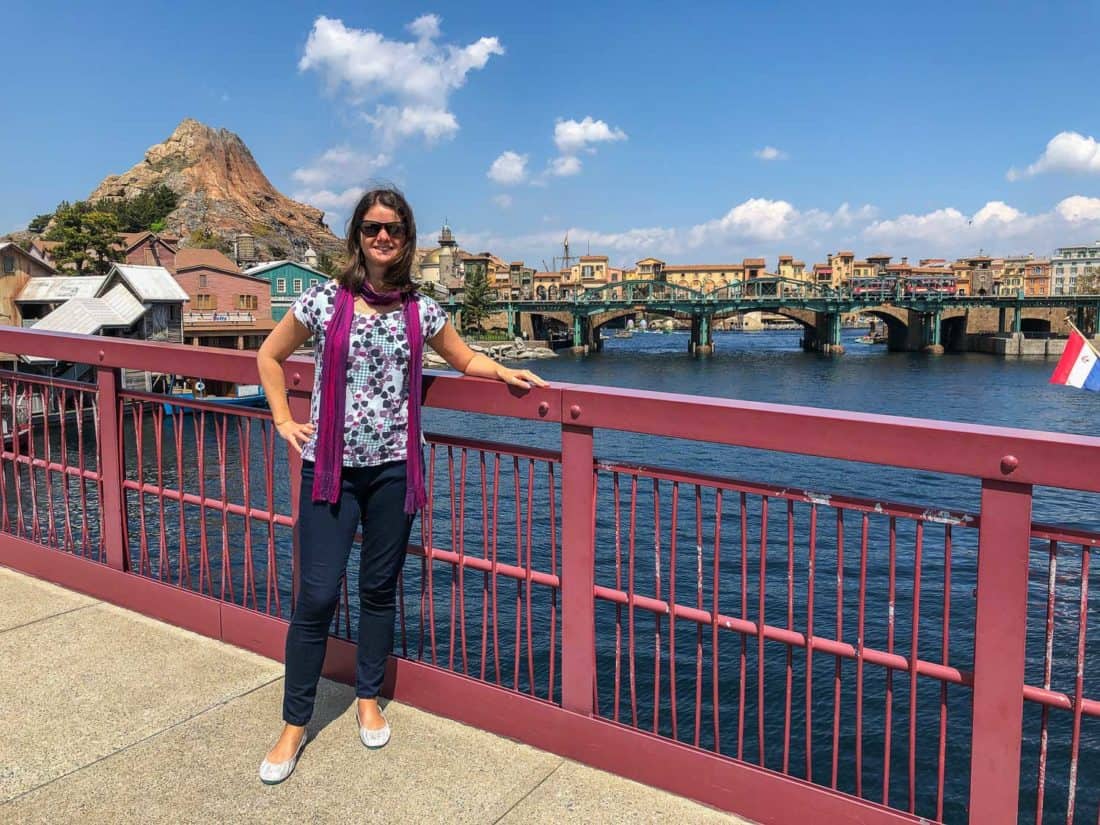 Comfortable
The most important question for me – are Tieks comfortable?
Tieks are one of the most comfortable flats I've ever owned. The cushioned non-skid rubber soles (in their signature turquoise) are thicker than most ballet flat soles and feel bouncy.
The backs are cushioned rather than elasticised so they don't feel too tight at the heel.
I can wear them all day long whether it's a 10-mile walk on the cobbled streets of Rome or twelve hours at Disney (I've worn them at Disney in Florida, California, and Tokyo!). They are the shoes I wear most when I'm sightseeing in cities.
I tested Tieks at Tokyo Disneyland against another pair of popular flats, Rothy's, and the Tieks won hands down. You can read more in my Rothy's vs Tieks comparison.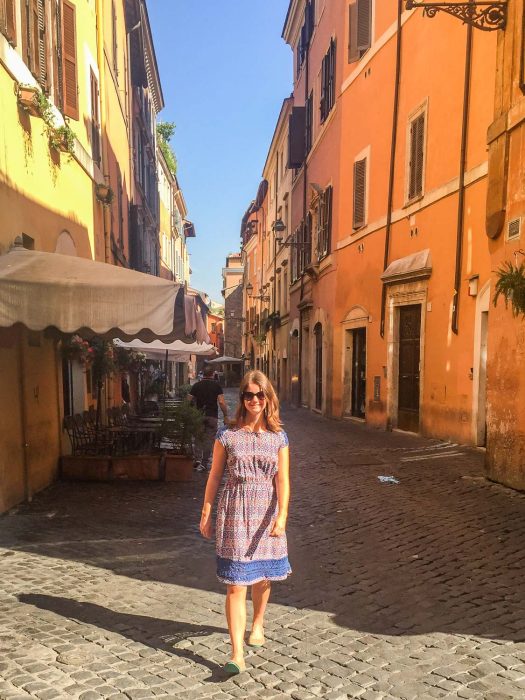 They are still ballet flats, so I don't wear them on real hikes and they aren't quite as comfortable as my Teva Verra hiking sandals.
Everyone's feet are different and if you need a lot of arch support they might not be the best option for you. I have heard that some people with feet issues like plantar fasciitis have found that Tieks are the only flats they can wear.
If you are looking for more of a sneaker that is good for short hikes, I love my Allbirds Wool Runners.
They are soft and cosy, can be worn without socks, and are lightweight enough to pack easily. It's what I wear when it's too cold for my Tieks. See my Allbirds review for more details.
Portable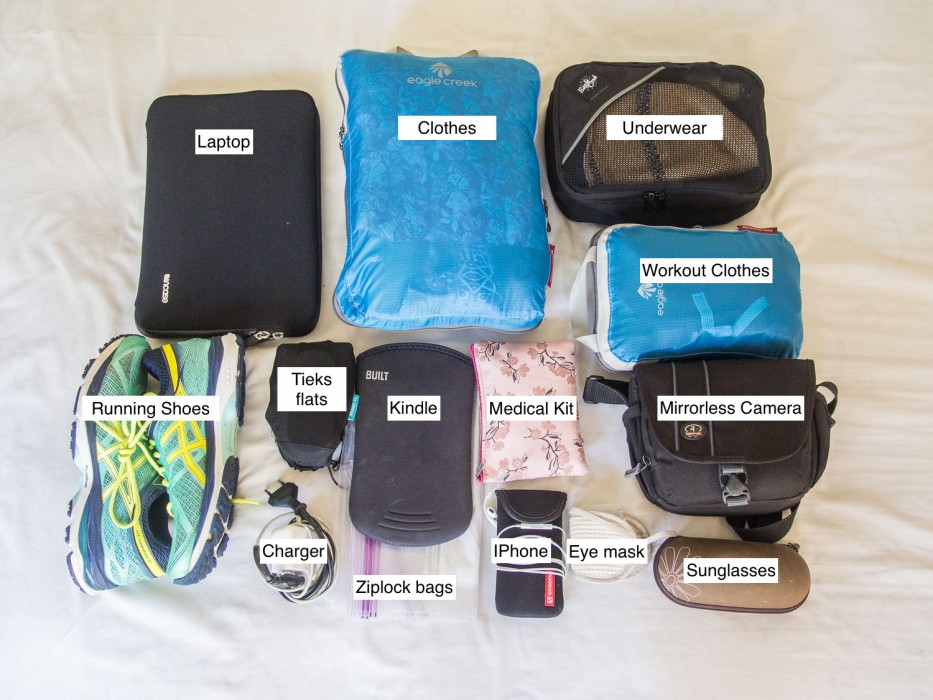 I travel full-time with only carry-on luggage so portability is essential to me and is one of the reasons I love Tieks so much.
Tieks flats fold in half and are compressed into a compact pouch so they don't take up much space in my bag. They aren't heavy either—my vegan pair weighs 300g (10.5oz).
Attractive and Versatile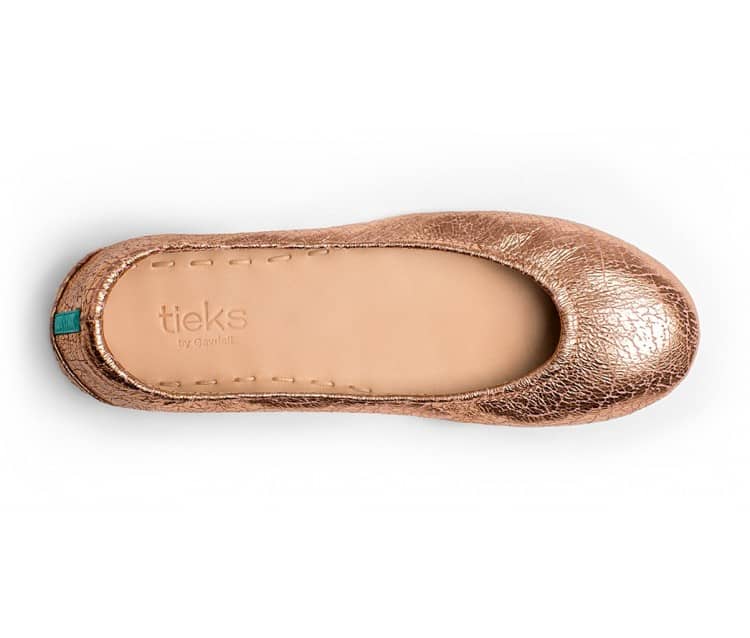 My Tieks are ideal when I want a smart pair of shoes. They are what I wear for evenings out, sightseeing in stylish cities, on winery visits, and when the weather turns too cool for sandals.
When you're travelling, multi-purpose items are essential for packing light. Tieks can be dressed up or down and look just as great with jeans or a dress.
I even took them to a wedding to change into for the evening's dancing (after borrowing my mum's heels for the day).
The only time I don't wear my Tieks is on the rare occasions we go somewhere with a temperature of below 10ºC (50ºF). Tieks, especially the vegan ones, are also not ideal for rainy weather.
I do often end up wearing them in the rain, though, and besides getting a bit dirty, they've been fine. They even survived walking through deep flooding in southern Italy when the cobbled streets couldn't handle a sudden heavy downpour.
It's also convenient to travel with a pair of slip-on shoes in places like Japan where you have to take your shoes on and off a lot at temples and restaurants.
I like wearing them on planes too, as they are easy to slip off when going through airport security.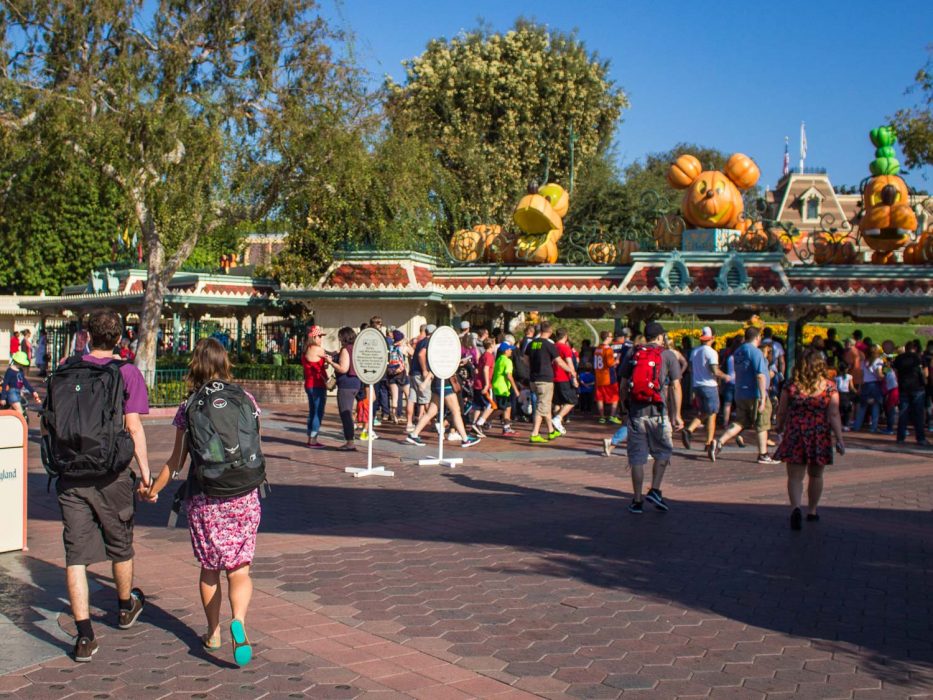 Durable
My Tieks foldable flats have lasted very well despite being folded up constantly, stuffed in my bag, taken to dozens of countries, and worn in all kinds of situations.
I am tough on them and wear them in conditions they aren't really designed for—on dirt and rocky paths and out in the rain.
The uppers and soles are remarkably durable and I've never had any holes in the structure, even after over two and a half years of constant wear.
This is important to me as I'm often in remote places where it's not possible to find replacement shoes. In Mexico I once got holes in the soles of my cheap flats and had to tape them up with gaffa tape! I don't have to worry about that with Tieks.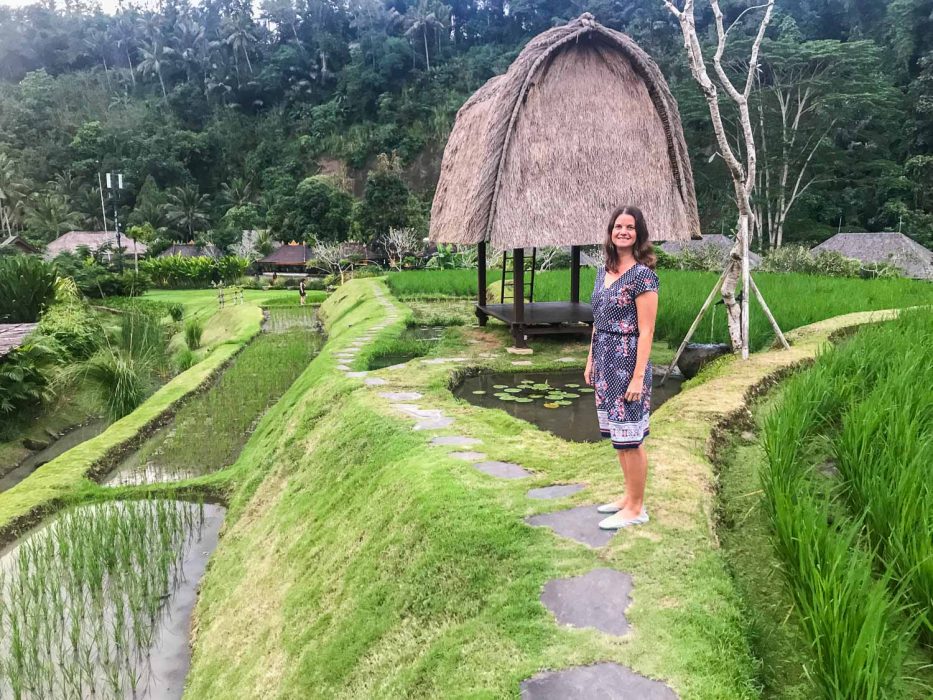 Less Smelly
I wouldn't go so far to say that my Tieks never smell but given that I wear them without socks in hot, sweaty weather, they are remarkably odour free.
They definitely don't retain odour in the same way that my previous flats did. While they might smell a little at the end of a long day, the next day they'll be fine.
Range of Designs

Oh my, Tieks come in a gorgeous range of over 75 colours and designs. Whether you want simple black or glamorous gold, there's something for everyone—choose your favourite here.
Most Tieks are leather but they do have five styles in the vegan range. While I love my Silver Lakes, I do kind of wish I didn't feel the need to avoid leather (as a vegetarian) as there are some seriously stunning leather designs like the shimmering iridescent Lovestruck and Moonstruck Tieks.
There's even a Game of Thrones inspired pair called the Drago which are black with foiled scales in silver with hints of glacial blue. So unique!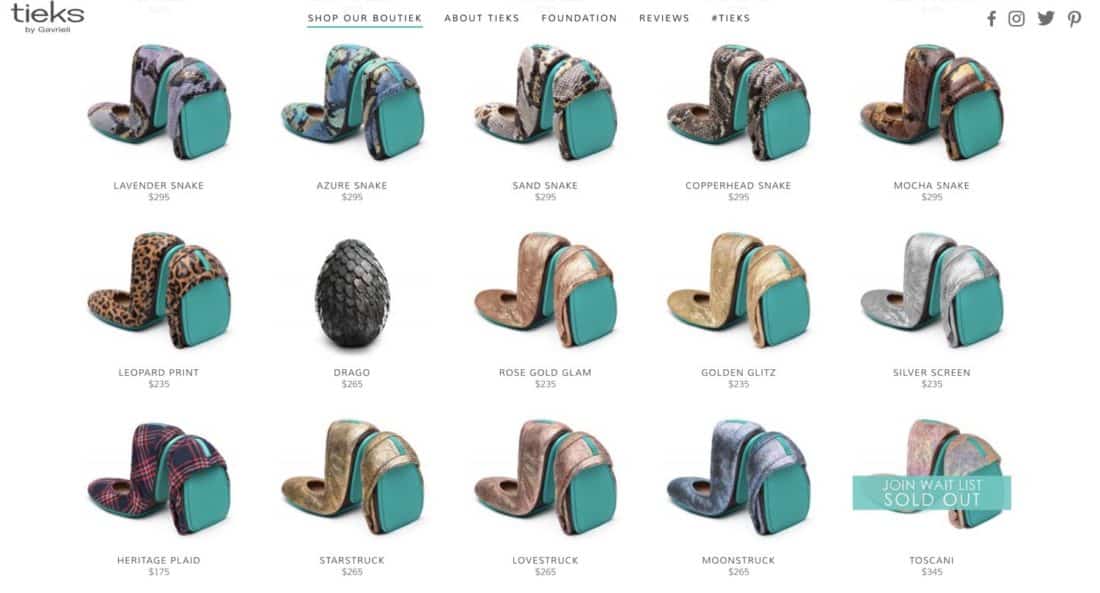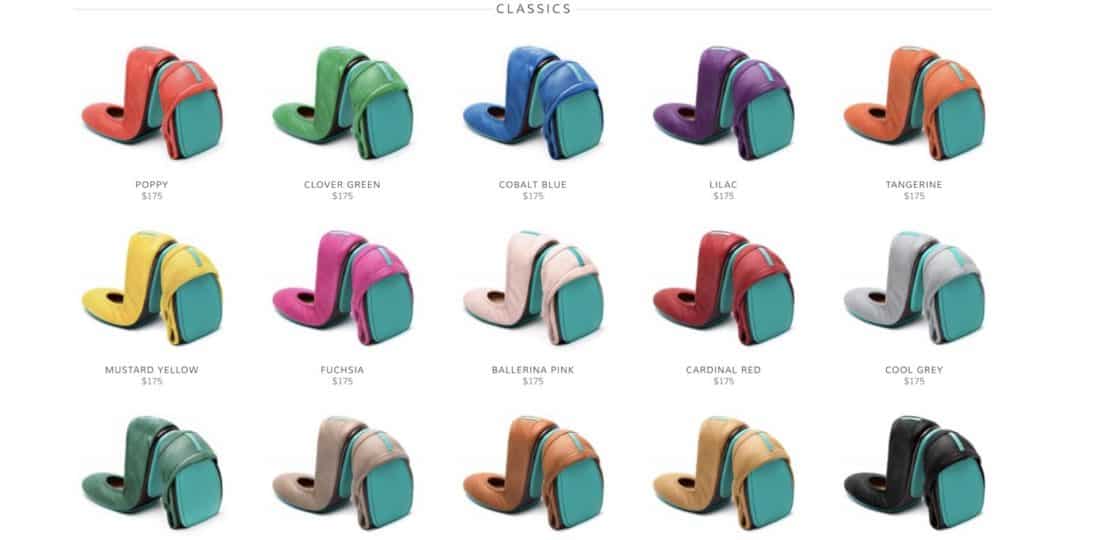 Some more vegan styles would be welcome. The limited range of leather-free styles is one of the reasons I bought a pair of Rothy's in their Point style. I wanted something to wear to a wedding and my vegan Tieks felt too casual. See my Tieks vs Rothy's review for a detailed comparison.
They even make Tieks for young girls now.
Free Shipping and Exchange in the US
Shipping is free within the US. Unworn shoes can be exchanged or returned for free at any time and they cover shipping both ways.
Tieks uses USPS Priority Mail for their free shipping and shoes arrive in about 2–4 days. I even received them in two days when I shipped them to the UK (which isn't free).
If you are unsure about the fit, you can request a different size and Tieks lets you keep both pairs while you decide which fits best, without charging you for the second pair.
Shop for Tieks ballet flats here.
Tieks Cons
Cost
The biggest downside is that Tieks are expensive. The vegan and classic leather Tieks cost $185, patents cost $195, and many of the metallic and snake print designs cost from $200 to $300. Yep, the price tag is painful.
If you are looking for more affordable but still comfortable flats, I recommend the Allbirds Tree Breezers which cost $100. They are made from knitted fabric and have a more casual look, though.
Scuffing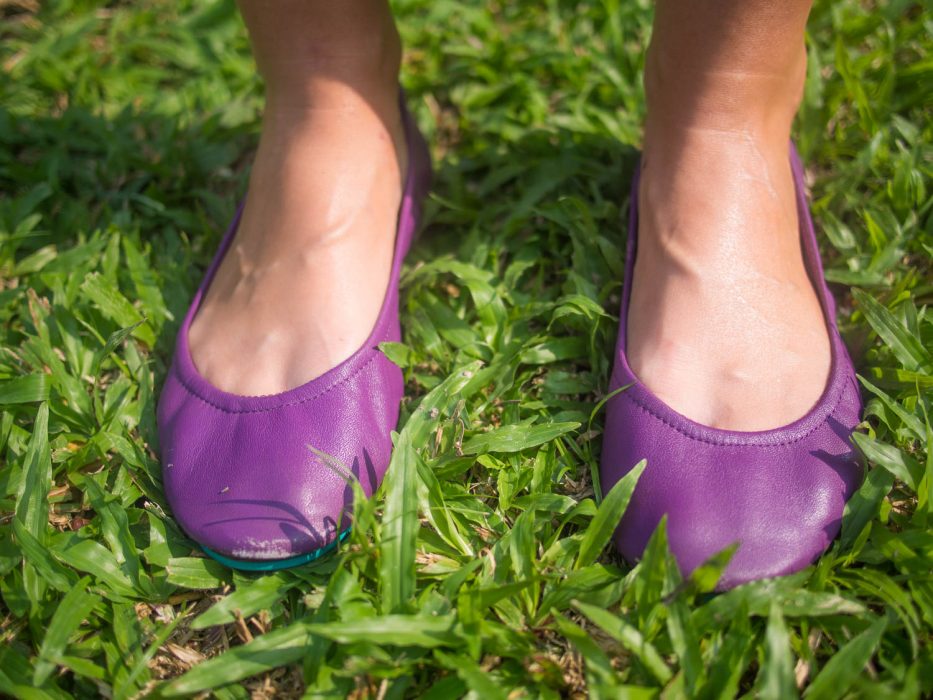 I loved my purple leather Tieks, but the toes and heel scuffed quite quickly and got worse over time.
This is probably the way that I walk (I really don't treat them carefully), but it was disappointing for such an expensive pair of shoes. The patent Tieks are apparently less likely to scuff.
I have since discovered that it's possible to touch up the scuffing using a coloured Tarrago shoe cream—here's a list of polish matches for Tieks colours.
Cleaning Vegan Tieks
Scuffing isn't a problem with the textile vegan Tieks, although there is a little unnoticeable wearing at the very tip of the toe and heel.
The main problem I've had is with discolouration as both my fabric Tieks have been light colours and they aren't as easy to clean as leather. I try with soapy water and a sponge, but after a year or so of wear, they don't look their best.
The Greystone vegan Tieks probably wouldn't have this problem, but the dark colour and wool-like look aren't ideal for summer wear.
Insole Peeling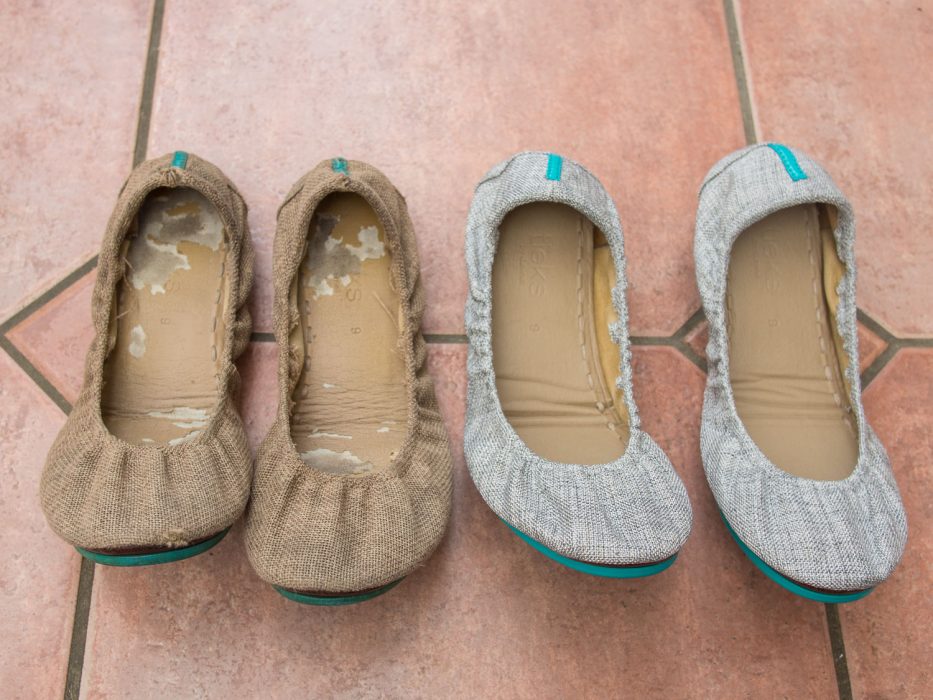 Update: Insole peeling was an issue with earlier pairs of vegan Tieks, but my latest pair hasn't had the same problem even after two years.
My biggest disappointment with my third pair of Tieks was after a month of use the surface of the insole started peeling off.
This was probably because I was walking a lot in Europe during a heatwave and my bare feet were sweating and sticking to the insole, but again, it's still disappointing with an expensive pair of shoes.
After over two years of wear, there were quite large patches where the insole had worn away. This didn't affect the comfort, but they did look a bit of a mess when I took them off.
I could have tried these insoles that were recommended by other Tieks users (they are leather though), but I ended up buying a new pair.
The insole problem primarily affects vegan Tieks as the insoles aren't made from leather.
The insoles in my latest pair of vegan Tieks are different and it seems the issue has been resolved. After two years they look much better than my previous pair with just a tiny patch of wear in the heel.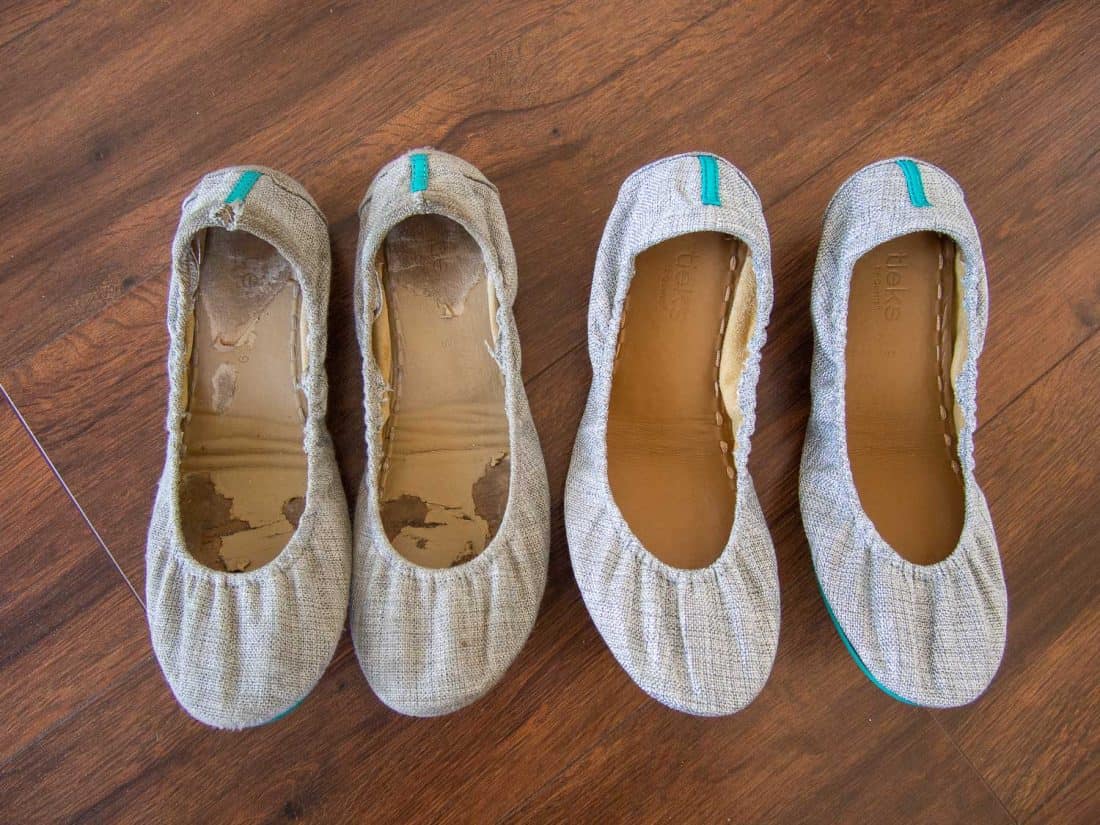 Expensive Shipping Outside US
If you don't live in the US, international shipping is expensive and you'll also have to pay customs tax.
When I ordered a pair of Tieks to the UK they were sent by FedEx International Priority which cost $31.72 and came very quickly—I ordered on Friday and they arrived on Monday. A few weeks later I was sent an invoice for the customs fee which was an extra £24 (£12.44 VAT and £12 FedEx fee).
It's also risky ordering them outside the US if you aren't sure of your size as you'll have to pay for the return shipping to send them back.
Vegan Tieks vs Leather Tieks
Leather Tieks
A huge variety of colours and styles
Dressier look
The Italian leather is designed to mould to your feet for the perfect fit
Kept my feet drier in rain
Felt warmer in hot weather
Easier to clean
Prone to scuffing
Vegan Tieks
Cruelty free
Made from fabric
Five styles available
More casual look
Slightly looser fit
My feet get soaked quickly in the rain
Cooler and more breathable in hot weather
Lighter
Insoles prone to peeling (although it's less of an issue in the latest versions)
See the vegan Tieks range here.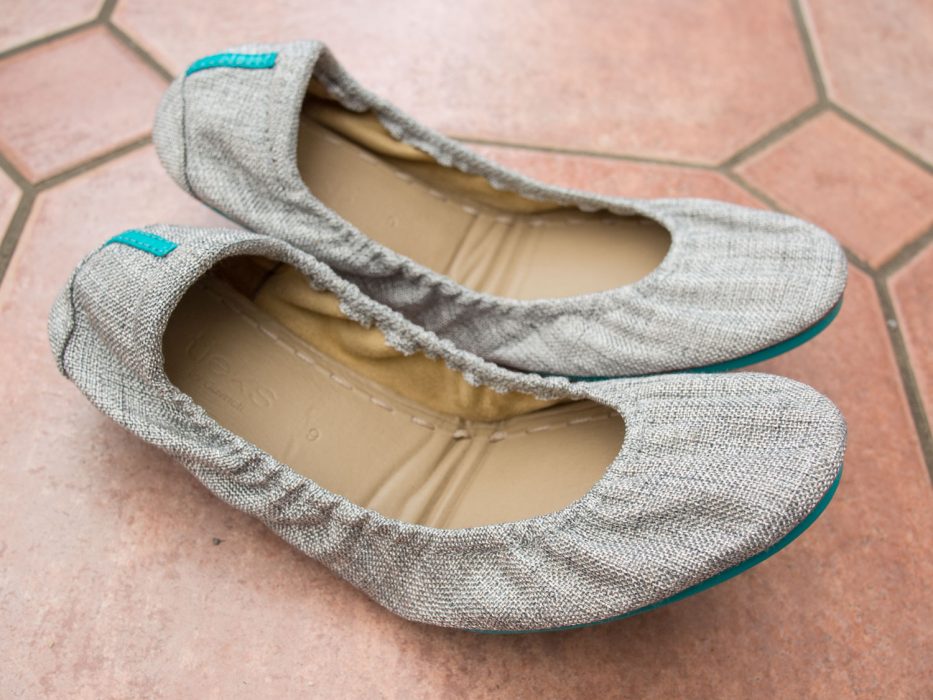 Tieks Common Questions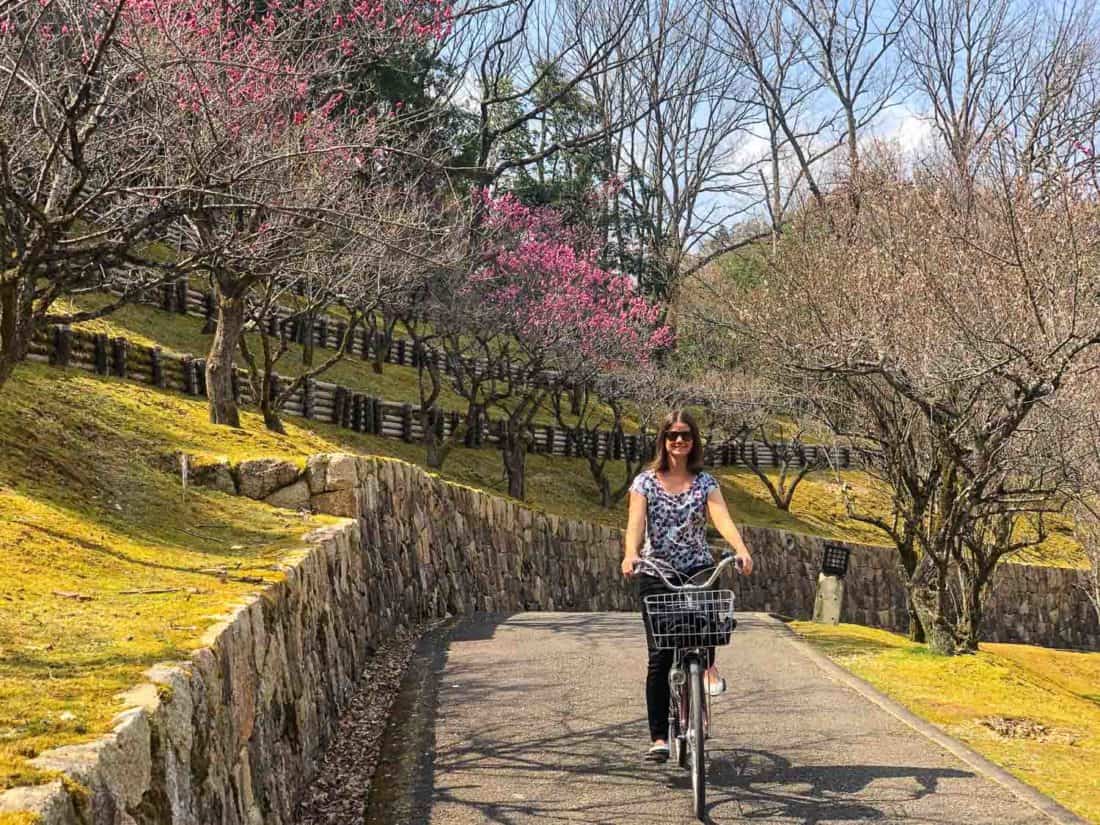 Do Tieks run true to size?
Although Tieks say they run true to size, in my experience it's worth going up a size for more comfort. This is especially important if you have wide feet or are usually a half size.
Do Tieks stretch?
Yes, leather Tieks are designed to stretch. This is a good thing because they mould to your feet and become more comfortable over time.
It means they can take a while to break-in for some wearers. To speed the process up some people wear them with thick socks around the house first. Another idea is to leave a golf ball in the big toe area for a few days to stretch it out.
Vegan Tieks don't stretch in the same way.
Do Tieks have arch support?
Like most flats, Tieks don't have built-in arch support. That said, they definitely offer more support than the average ballet flat and are designed with a unique shape and padding for comfort.
Apparently, they can accommodate orthotics but you may need to go up a size.
Are Tieks slip resistant?
The rubber soles are designed to be non-skid with a slightly textured surface. They definitely are more slip resistant than flats with shiny soles and I've never had an issue with slipping.
Of course, they aren't hiking shoes so aren't designed for steep trails or anything like that.
Do you wear socks with Tieks?
I don't wear socks with Tieks and find them very comfortable.
There's no reason you can't wear socks with them, though, and I have done this on the occasional cold day. Thin socks work best unless you've allowed for extra room when choosing your size.
If you want the sock-free look but want to reduce odour, try a low cut no-show liner sock.
Are Tieks washable?
Tieks are not machine washable. I wash mine when needed with a cloth or sponge and slightly soapy water.
Classic and patent leather Tieks are easier to clean than the lighter fabric vegan Tieks.
You need to be careful when cleaning the snake, metallic, sparkle, and other special prints. It's best to spot clean only with a soft damp cloth.
Do Tieks get smelly?
Tieks can get smelly but not as much as previous flats I've owned. I find that even if they smell a little after a long hot day, the odour will dissipate by the next day.
How do you get the smell out of Tieks?
I find any odour in my Tieks disappears overnight. If you do have an issue with smelly flats, I've heard that putting a few unused tea bags into the shoes and leaving them for a few days with eliminate foot smell.
How do I clean the bottom of my Tieks?
I clean the soles of my Tieks with a sponge or cloth and soapy water. Wet wipes also work.
Do Tieks scuff easily?
The classic leather Tieks can scuff. My vegan Tieks don't scuff and I've heard the patent leather Tieks are less likely to scuff too.
You can use a shoe cream to touch up any scuffs (see the Scuffing section above).
How do you polish Tieks?
Tarrago shoe cream is the best way to keep your classic leather Tieks looking fresh. They have so many colours it's easy to find one that matches your shoe colour and it can be used to touch up any scuffs.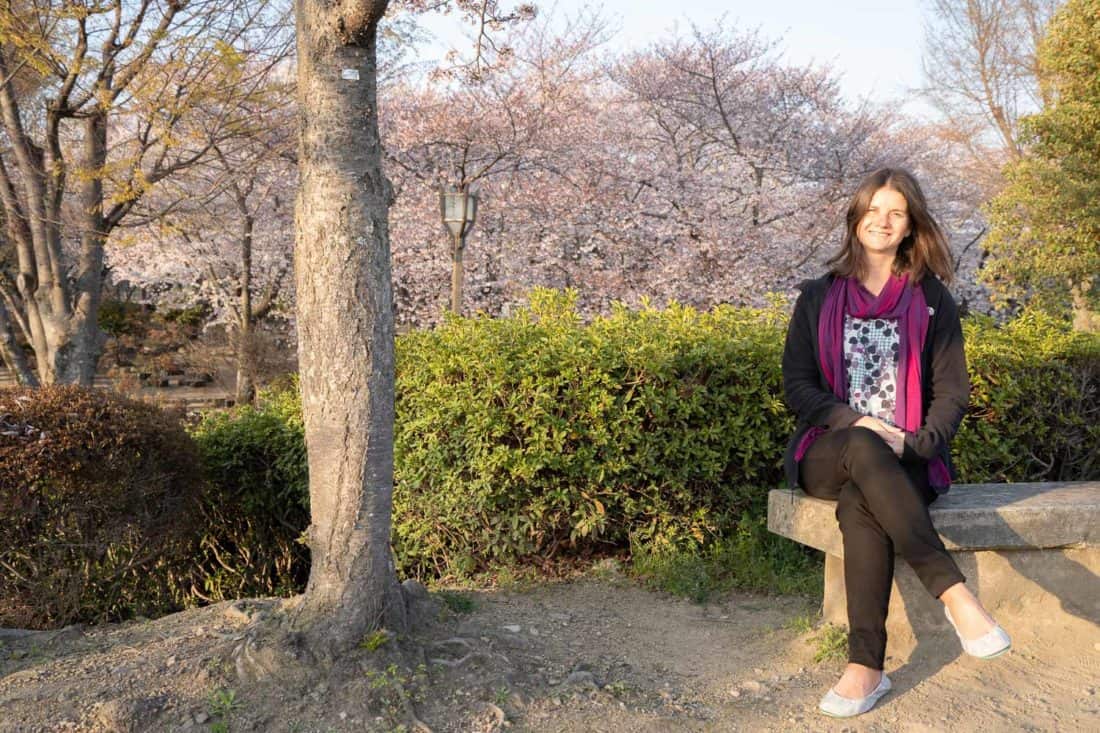 How long do Tieks last?
In my experience Tieks shoes last from two to three years which is when I usually replace them.
Although they can still be worn at this stage (I've never had any holes), my vegan Tieks end up looking rather grubby and the insoles begin to peel.
I wear my Tieks frequently, so if you only wear yours occasionally, they could last longer.
Do Tieks squeak?
I've never had an issue with Tieks squeaking, but some people do. A reader suggests, "Rubbing a dryer sheet on the insoles will help with the infamous "Tieksqueak"."
Do Tieks create toe bumps?
Some Tieks wearers are bothered by the toe bump—the fact you can see the outline of the big toe through the shoe. This isn't something that I have noticed or care about personally.
If you do want to avoid the toe bump, a reader suggested adding moleskin inside the shoe. This is a soft cotton fabric with an adhesive pad that is often used on skin to prevent blisters.
You can cut a half-circle of moleskin that fits inside the toe box and stick it inside the shoe. This will stop the toes from showing through and also prevent extra wear in this area and prolong the life of the shoes.
Are Tieks available in stores?
No, Tieks are not available in stores. They are sold online only at Tieks.com.
Does Tieks ever have a sale?
No, Tieks do not run sales, unfortunately.
What shoes are comparable to Tieks?
If you are looking for the most comfortable ballet flats that are also stylish and well-made, you might also consider:
Rothy's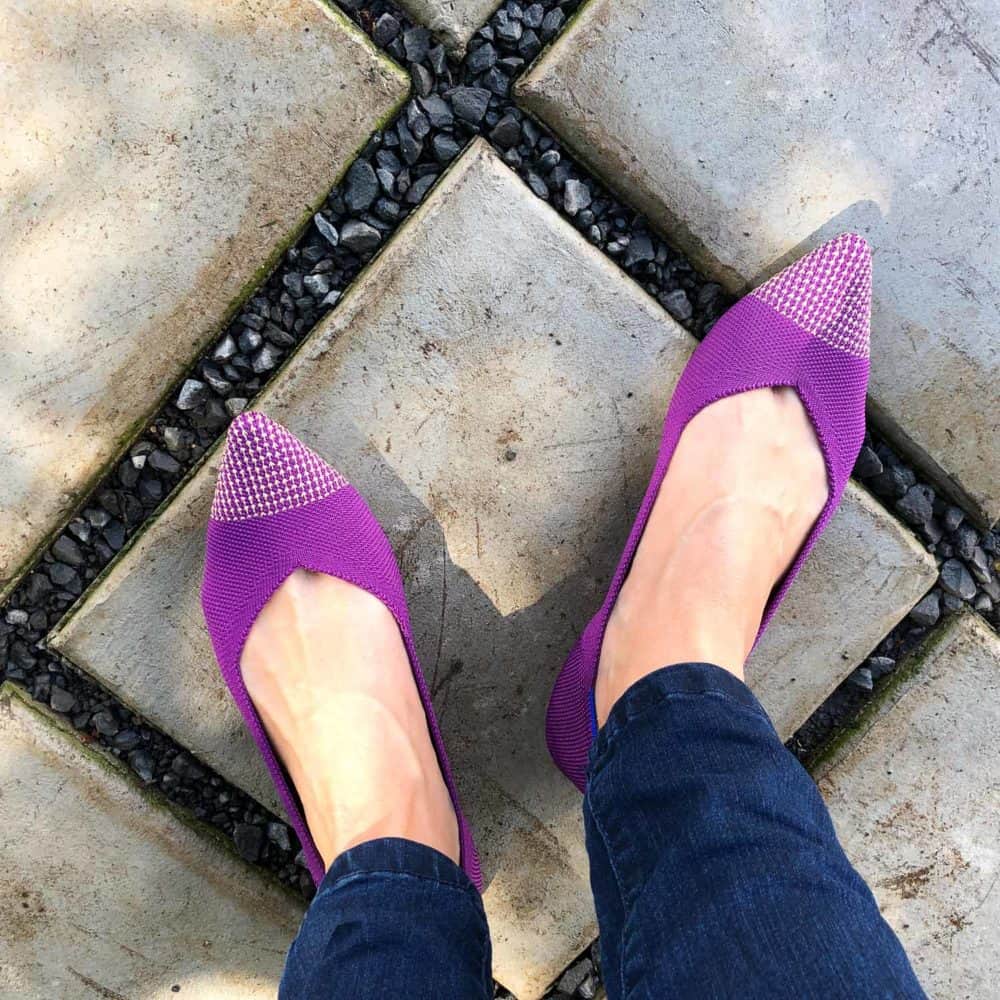 These vegan flats made from recycled plastic bottles come in pointed and rounded styles in a huge range of constantly changing colours.
They are machine washable but aren't foldable. They are cheaper than Tieks at $129 for round toe flats and $149 for the pointed toe version.
Although I love the look of my pointed toe Rothy's, they are not as comfortable as my Tieks.
See my detailed Rothy's vs Tieks comparison or check out the range on the Rothy's website.
Allbirds Tree Breezers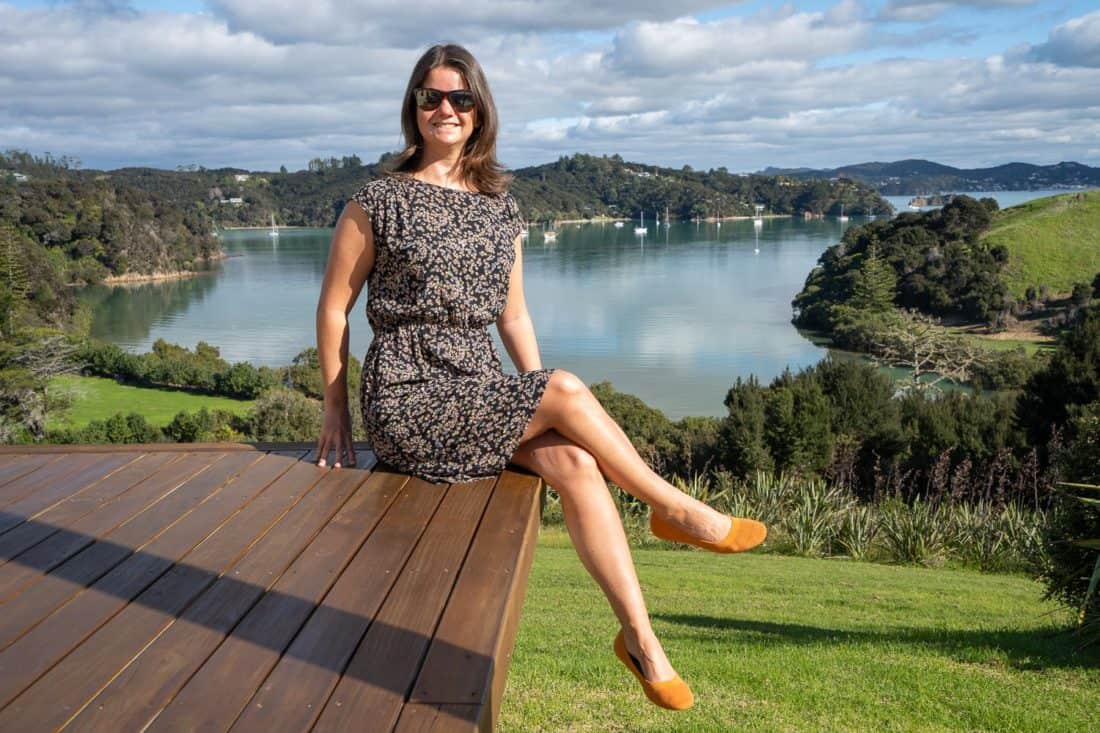 My new favourite flats are the Allbirds Tree Breezers, which are made of knitted fabric from eucalyptus trees.
I am a big fan of their Allbirds Wool Runners (a cosy casual sneaker) and was impressed by how comfy they also made their flats.
They are much cheaper than Tieks at $100, even more comfortable, and machine washable.
They are vegetarian but not vegan (as they have merino wool insoles). Although they are not foldable, they are the lightest of all my shoes.
The main downsides are that they don't come in as many colours as Tieks or Rothy's and the style is more casual.
A big bonus is that you can try Allbirds for 30 days (even outside) and return them for free if they don't work out. They are available in many more countries than Tieks with free shipping and returns.
See my Allbirds Tree Breezers review for more details including a comparison with Tieks.
Are Tieks Worth it?
Tieks ballet flats are the most expensive shoes I've ever bought, but for me, they are definitely worth it.
When you spend hours on your feet out exploring it's vital to have a quality pair of shoes. Tieks are the ideal travel ballet flats—they are comfortable, portable, durable, versatile, and stylish.
Ultimately, I choose quality over quantity—I'd rather pay more for a few pairs of shoes that work perfectly for me.
Are Tieks worth it for you? If you can afford it, I recommend giving them a try.
They don't work for everyone but take advantage of the excellent returns policy and try a few styles and sizes around the house. If you find the perfect fit, treat yourself—your feet will thank you.
Where to Buy Tieks
Tieks by Gavrieli are only available to buy online on Tieks.com. They can't be bought in any physical stores or on other online retailers like Amazon.
Are you a Tieks fan or have you found another perfect travel ballet flat? Leave a comment below and let us know.
Other Shoe Reviews
If you enjoyed this post, pin it!