This page contains affiliate links. Please read our disclosure for more info.
I don't like wearing shoes. Where possible, I go barefoot or wear the minimal footwear possible.
But Allbirds sneakers are the least shoe-like shoes I've ever worn. They are soft and snuggly, more like slippers than running shoes, but they look good enough for city exploring.
What makes Allbirds eco-friendly shoes stand out is their use of New Zealand merino wool. I have long been a fan of this superfine wool for socks and t-shirts as it's soft, breathable, moisture-wicking, and odour-resistant.
I wasn't sure how wool would work in shoes but was intrigued by the claim that Allbirds make the world's most comfortable shoes.
Could this possibly be true? I bought a pair over three years ago and have put them to the test on our travels from winter in Australia to all seasons in New Zealand.
This Allbirds Wool Runners review focuses on the pros and cons of the original Allbirds Wool Runners, but I'll also compare them to the Allbirds Tree Runners, which Simon has.
Women's Allbirds are identical to the men's version, so my review applies to both.
Contents
Different Styles of Allbirds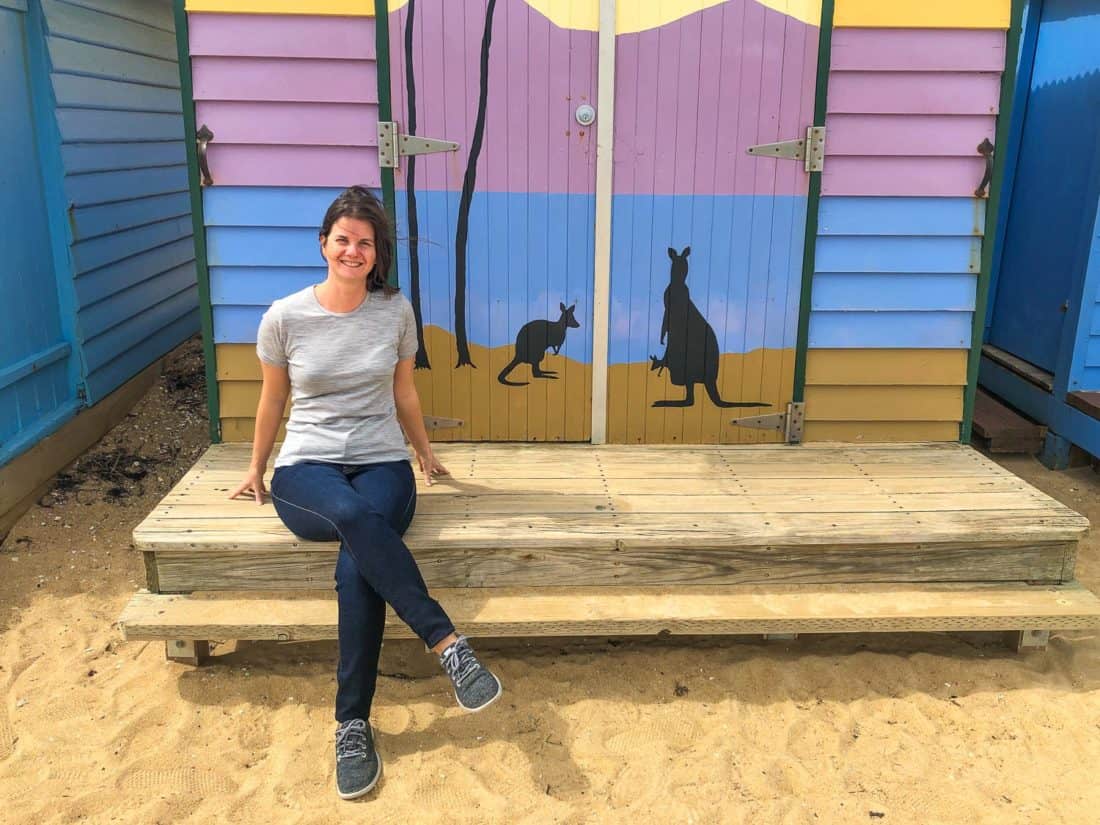 Allbirds has grown hugely in recent years, and there are now many styles beyond the original Wool Runners.
All come in versions for men and women, except for the women-only Tree Breezers.
Here are just some of the Allbird shoe styles: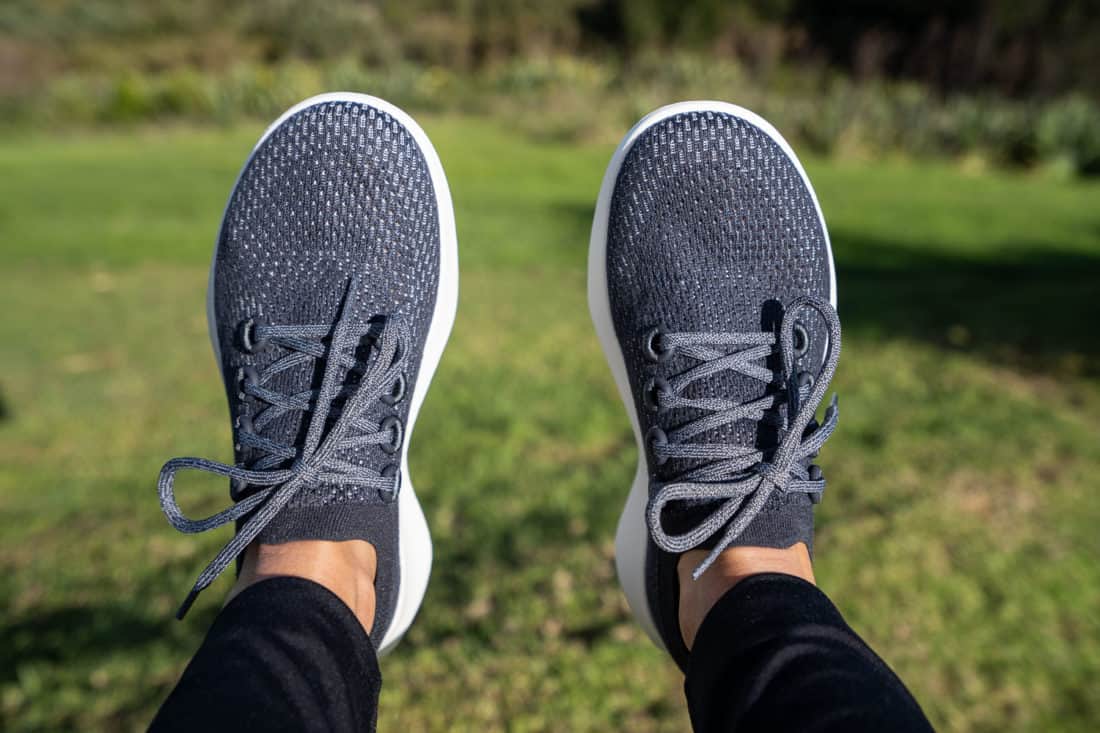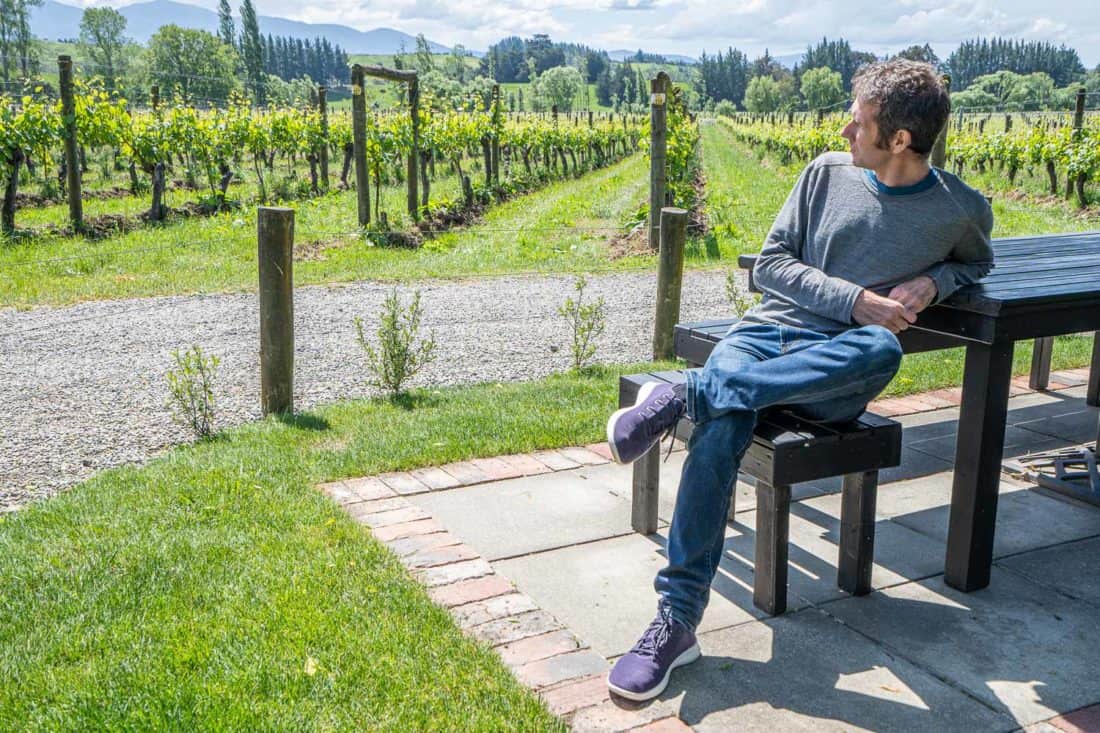 Allbirds Wool Runner Details
Sizes: Women's US 5 – 11 and men's US 8 – 14 (no half sizes).
Colours: 19 colours in the US (fewer options in the summer and in other countries)
Weight: 199g (7oz) per shoe (size US 8)
Price: US $110 with free shipping and 30-day returns (price varies by country)
Buy from: Allbirds website in many countries including US, UK, Canada, Europe, Australia, and New Zealand. Also now available (in limited colours) on REI.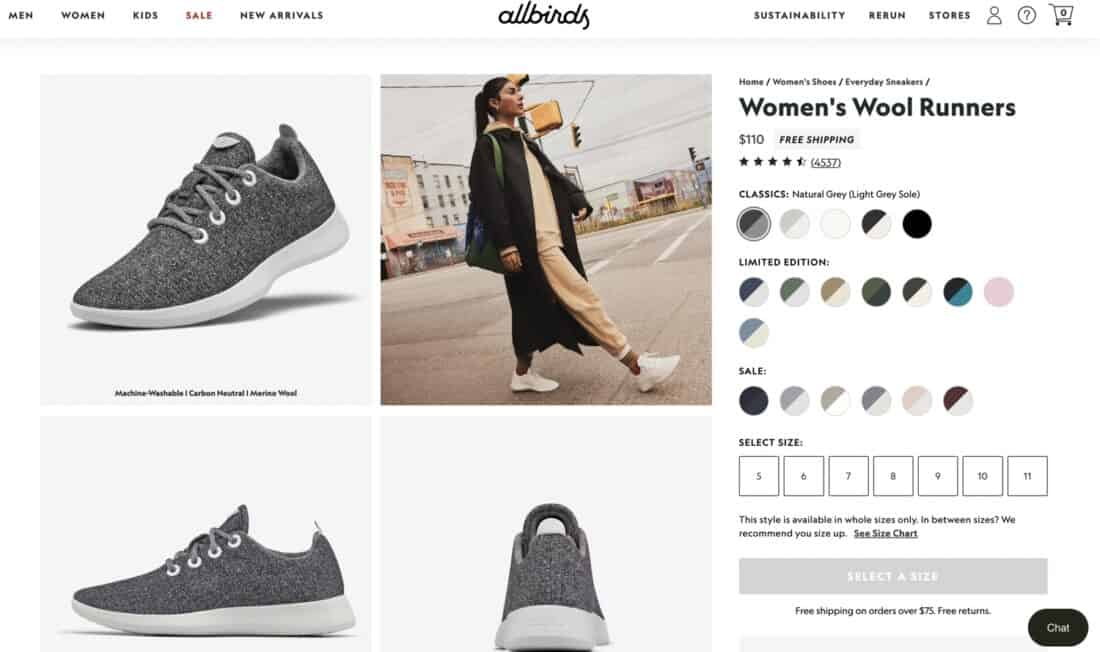 Allbirds Wool Runners Sizing
Most Allbirds shoes (including Wool and Tree Runners) come in whole sizes only, and Simon and I have both found them true to size. We ordered our usual sizes (I'm a US8) and they fit perfectly.
Allbirds recommends that you size up if you are a half size.
Allbirds Wool Runners do stretch a tiny bit (about a quarter of an inch) after a few weeks of wear. This isn't something I noticed or that caused any problems—they only became more comfortable over time. The Tree Runners don't stretch.
If you are unsure about sizing, Allbirds has a fantastic return policy—see below for the details.
Allbirds Wool Runners Review: Pros
Free Shipping in Many Countries
Much of our favourite travel gear is available in the US only, so I'm really pleased that Allbirds are available online in the US, Canada, UK, EU, Australia, New Zealand, Japan, Korea, and China.
Best of all, shipping is free for all orders over $50 (which is all the shoes).
I ordered my Allbirds Wool Runners in Australia and they took four working days to arrive.
In the US, shipping takes 5 – 10 business days, or you can pay for expedited shipping ($12–20).
Simon ordered his Allbirds in New Zealand and they arrived in a couple of days.
I love the simple packaging that the Allbirds arrive in. They use just one box made from 90% recycled cardboard that's easy to open and works as the shoebox, shopping bag, and mailer all in one.
The Amazing Allbirds Return Policy
I was on the fence about buying Allbirds. I wasn't sure they'd be warm enough for the chilly Melbourne winters or comfortable enough for long days exploring.
But what convinced me to give them a try was the incredible Allbirds return policy. You can return them for free within 30 days—even if you've worn them outside! I know of no other shoe company that offers what is essentially a free trial.
It was so reassuring to know that if they didn't work out for me, for any reason, I could return them no questions asked.
Spoiler: I did not return my Allbirds.
If you do want to return your Allbirds or exchange them for a different size, it's easy to do by attaching the included return label to the box they were sent in.
Allbirds donates the lightly used returned shoes to charity for use by people in need.
Soft and Cosy
My Allbirds Wool Runners felt amazing as soon as I put them on—they are so fluffy and cosy inside that they feel more like a pair of slippers. They feel especially good when worn without socks.
Merino wool is superfine so it's much softer than regular wool and there's no itchiness at all. Merino is also breathable, moisture-wicking, and odour-resistant.
Although I don't usually like wearing shoes, putting on my Allbirds sneakers always feels comforting.
No Break-In Period
My feet are awkward and I often struggle to find shoes that fit well. Amazingly, I had no break-in period with my Allbirds.
They felt great straight away even on a long walk around Melbourne, and I had no rubbing, blisters or discomfort.
Simon had a similar experience with his Tree Runners.
Comfortable for Walking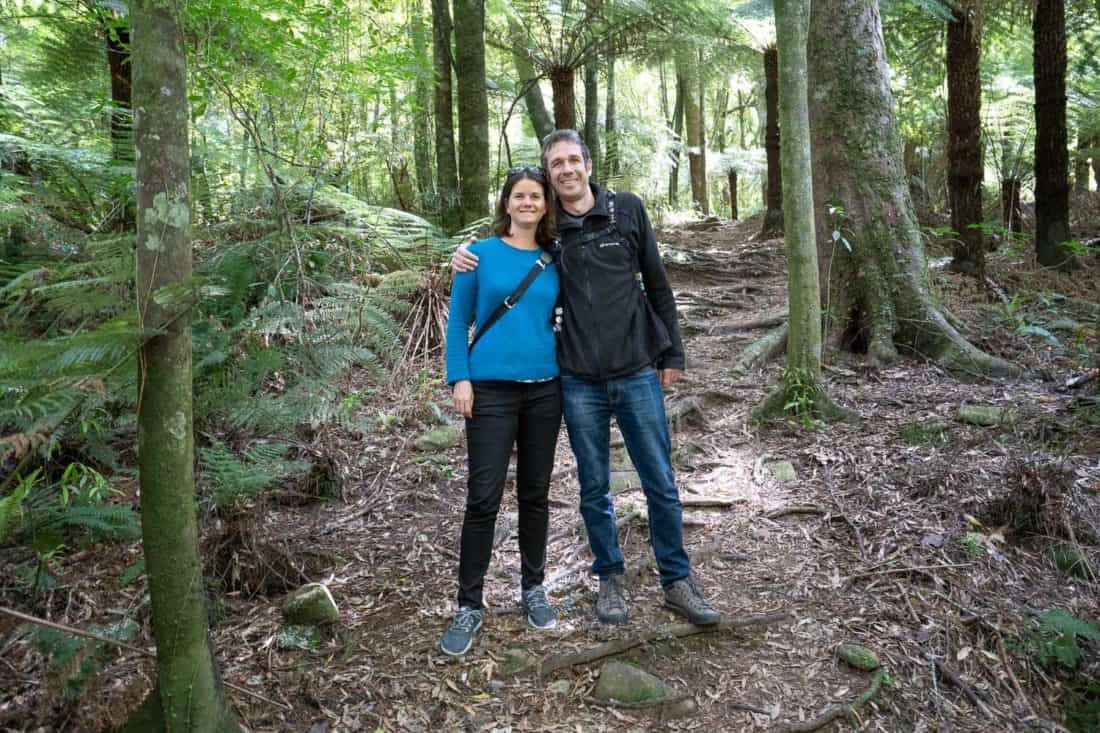 As a full-time traveller, I have no space in my luggage for shoes that are pretty but impractical. All my footwear must be comfortable for long days of exploring.
Allbirds Wool Runners really are comfortable shoes. The foam soles are light but bouncy, and my feet don't ache even after spending all day walking in them.
I've worn them on plenty of short hikes—through the forest, on beaches, and on gravel trails in Australia and New Zealand.
I wouldn't want to wear them on muddy trails or very uneven, slippery surfaces, but they have more grip than I expected and are fine for easy hikes.
The Allbirds Mizzles are better for hiking as they have more ankle support and traction. Learn more in my Wool Runner Mizzles review.
Although they are called runners, Allbirds sneakers are not designed for running, and they don't have as much support as running shoes. See the FAQ below on can you run in Allbirds?
Allbirds has a high-performance running shoe called the Tree Dasher, which is what I've been running in for three years. See my Allbirds Tree Dashers review which includes a comparison with the Wool Runners.
Can Be Worn Without Socks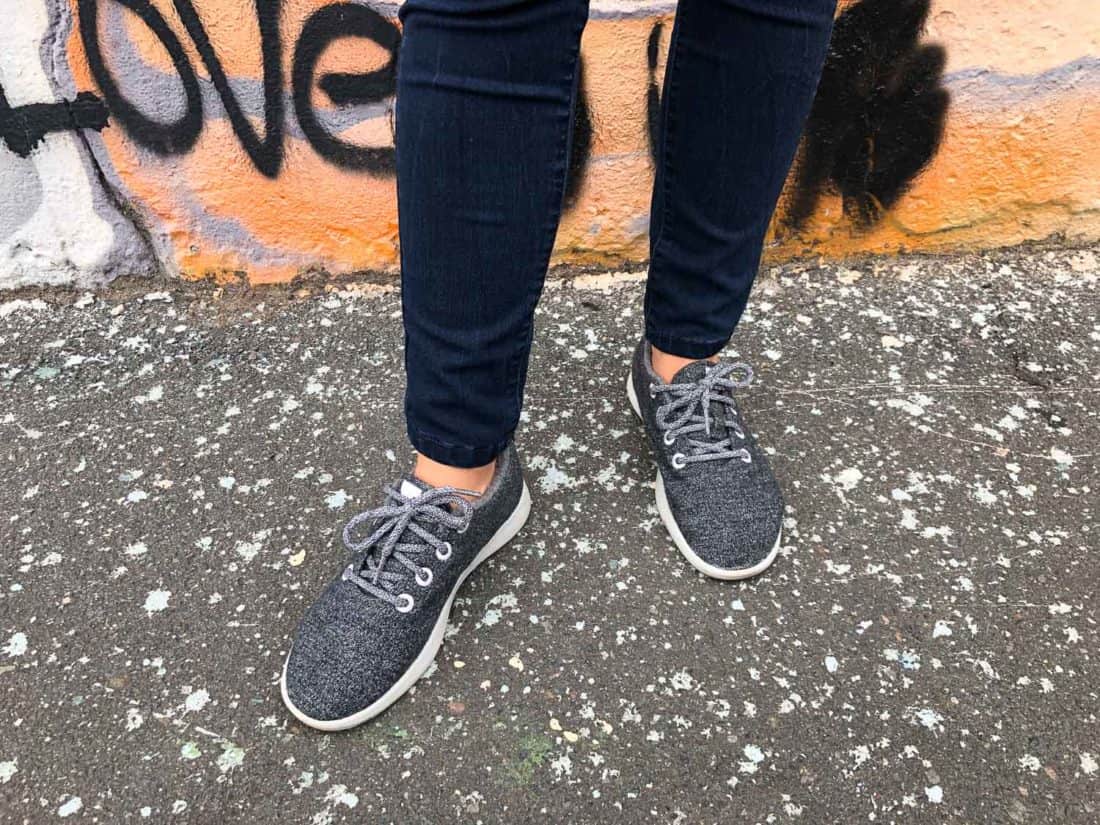 As Allbirds sneakers are so soft, you can comfortably wear them without socks, which is what I do most of the time. They feel great on my feet and I've had no issues with rubbing.
I even find them easy to pull on and off without untying the laces (yes, I'm lazy). They were especially convenient to wear to yoga class—they kept my feet warm on chilly mornings, but I could slip them off easily before class.
I haven't worn them to Japan yet, but they would have been ideal for our trip there in early spring. I would have appreciated a warm pair of shoes I could slip off easily at temples and traditional restaurants and hotels.
My Allbirds were ideal for sailing in early autumn when I wanted to alternate between being barefoot and wearing shoes. I could put them on easily when the weather turned colder or when I wanted more protection when dropping the anchor.
The non-marking soles were ideal on the yacht and gripped well on the wet deck.
Simple Design and Range of Colours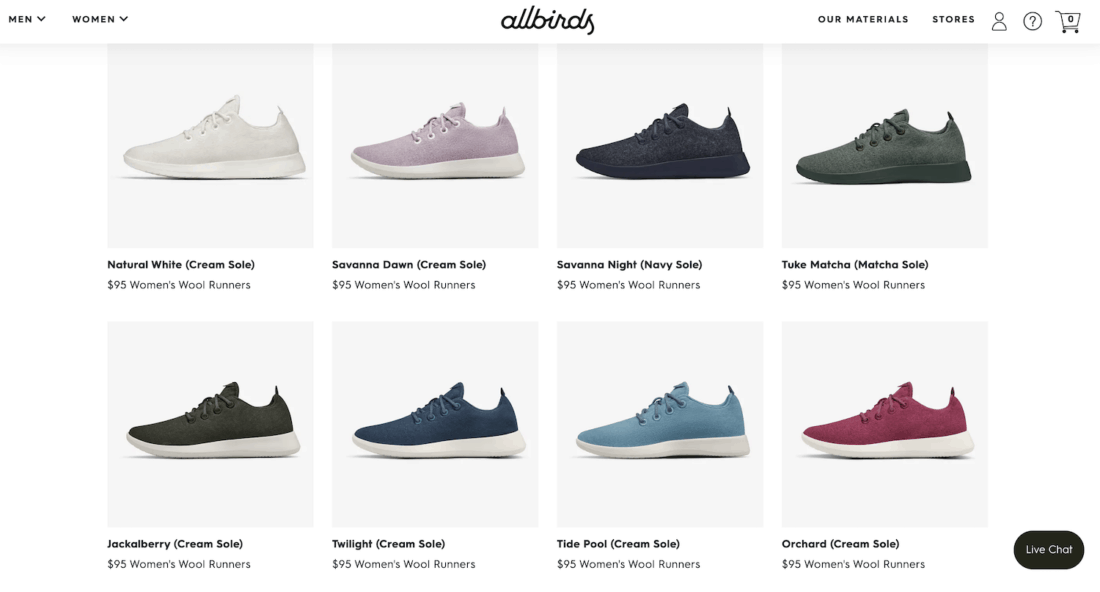 I love the simple design of Allbirds Runners. There are no logos or extra details, and they have a low profile design that works well in the city or countryside.
They would be ideal for a trip to stylish Europe where they'd blend in better than bulky running shoes but be comfortable enough for pounding the cobblestone streets.
Allbirds are casual and look great with jeans or leggings, but you can also wear them with a skirt or dress.
Simon has paired his Tree Runners with a shirt and blazer for a smart-casual look that works well for dinners out.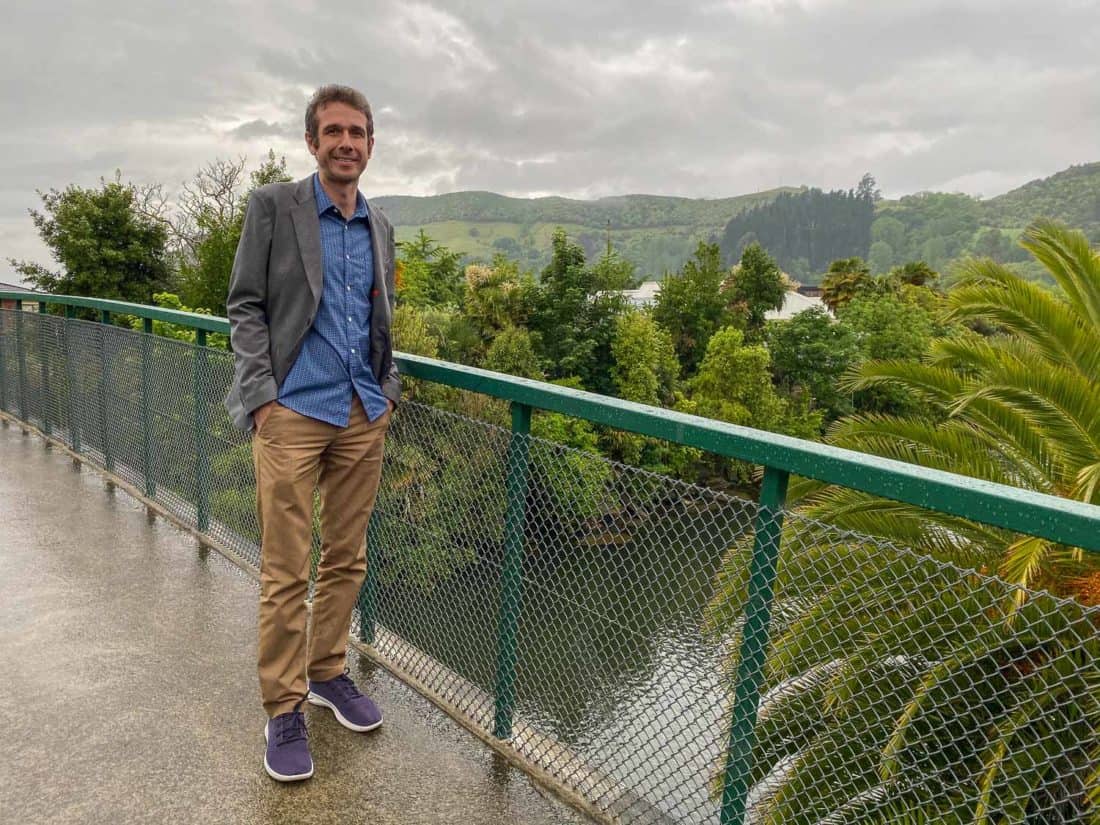 They are available in a range of colours. The Wool Runners come in five classic colours—I have the Natural Grey (with a light grey sole), and there's also Natural Black (with black sole), Natural White (with cream sole), Dapple Grey (a pale grey with cream sole), and True Black (with cream sole).
In addition, there are many limited edition Allbirds colours that vary from pale blue, pink, and apricot to earthy green and more vibrant shades of blue and red.
If you see a limited edition colour you like, don't wait to purchase as they do sell out.
Check out the current range of colours on the Allbirds website.
Lightweight and Travel-Friendly
As I travel with only carry-on luggage, my shoes must be packable and lightweight, and Allbirds are definitely travel-friendly.
The soft fabric means they flatten down to fit in my luggage easily. My Wool Runners weigh 199g (7oz) per shoe compared to my lightweight Asics running shoes which weigh 229g (8oz).
While this is heavier than my Allbirds Tree Breezers ballet flats (at 122g per shoe), they are about as light as supportive, full-coverage shoes get.
While my Allbirds fit in my suitcase, I've found they are my favourite shoes to wear on flights. I can slip them off easily at security, and they keep my feet cosy and warm on the plane.
If you are looking for a dressier shoe that's also lightweight and comfortable, check out my Allbirds Tree Breezers review. These ballet flats plus Allbirds Wool Runners are a great combo for travel.
Keep Feet Warm in Cold Weather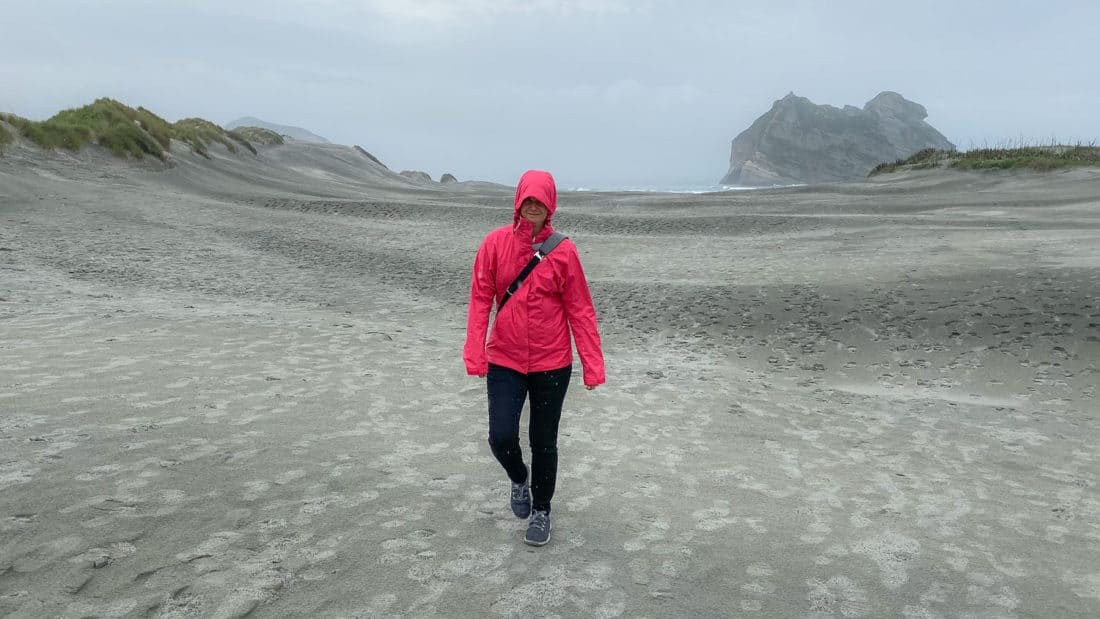 I originally bought my Allbirds Wool Runners in Melbourne because we were there in winter and my ballet flats weren't practical.
Allbirds turned out to be perfect for the weather, which ranged from 5–20ºC (41–68ºF). My feet even stayed cosy and warm without socks when the temperature dropped close to freezing.
I've since worn them in all seasons in New Zealand where they also worked brilliantly. I prefer my Teva Verra sandals when it gets sweltering, but the weather is so variable there that they still came in useful in summer.
In freezing weather you can maximise the warmth by pairing them with cosy merino wool socks.
The classic Wool Runners are not waterproof, so they aren't snow shoes, but for milder winters as well as spring and autumn, I think they are ideal.
Machine-Washable
Washing Allbirds is easy as you can throw them in the washing machine.
I've done this three times (see the instructions below) but most of the time I find it simpler just to wipe off any dirty patches with a damp cloth—it comes off easily.
Made from Sustainable Materials
Allbirds is an eco-friendly company that is carbon neutral (by offsetting its emissions) and committed to using sustainable materials.
Their shoes are vegetarian as they don't use leather (but not vegan as they do use wool).
The merino wool shoes use 60% less energy than materials used in typical synthetic shoes.
The company says they "work with leading organizations like ZQ Merino to ensure our wool is held to high standards of farming, land management and animal welfare." The sheep who provide the wool roam freely on vast open pastures.
The laces are made from recycled plastic bottles—one bottle = one pair of laces.
The SweetFoam shoe soles are made from sugarcane, a fully renewable resource that grows quickly using rainwater rather than irrigation.
Allbirds is working towards their shoes having a zero carbon footprint and they are already doing better than most. While a standard sneaker emits 12.5 kg CO2e, the Allbirds Wool Runner emits 7.1 kg CO2e.
Durable
I wore my Allbirds sneakers almost every day for nearly two years before I felt they needed replacing.
I first replaced them with the Mizzles (which I still love for wet weather), and then bought a new pair of Wool Runners as I love the light as air feel.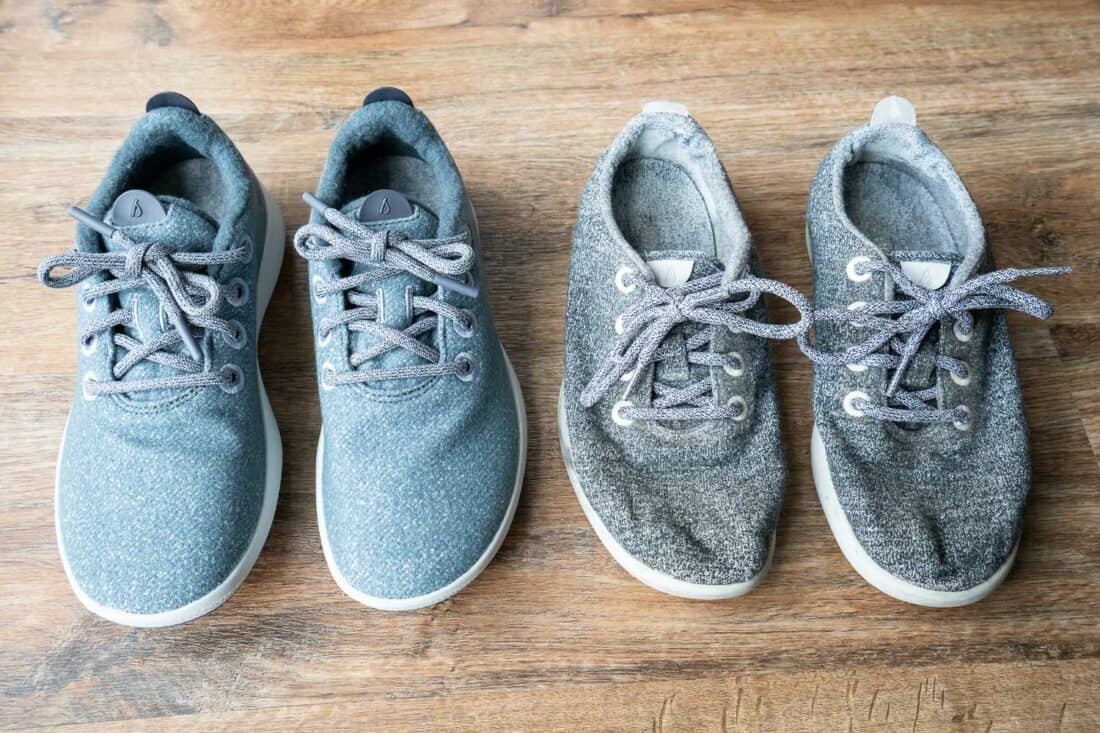 My original runners held up well to two years of use. The uppers became floppier, but this wasn't noticeable when I was wearing them. There was no sign of holes in the uppers or soles.
The main issue I've had was the wearing away of the wool in the heel area of the insole. You can buy replacement insoles, which I've done twice and prolongs their life further. It really makes them lovely and cosy again.
My light soles had some black marks and the upper looked a bit grubby. This wasn't an issue until after over a year of wear.
The tread on the bottom of the soles also wore away in small patches at the heel and forefoot, so they weren't as grippy as they once were.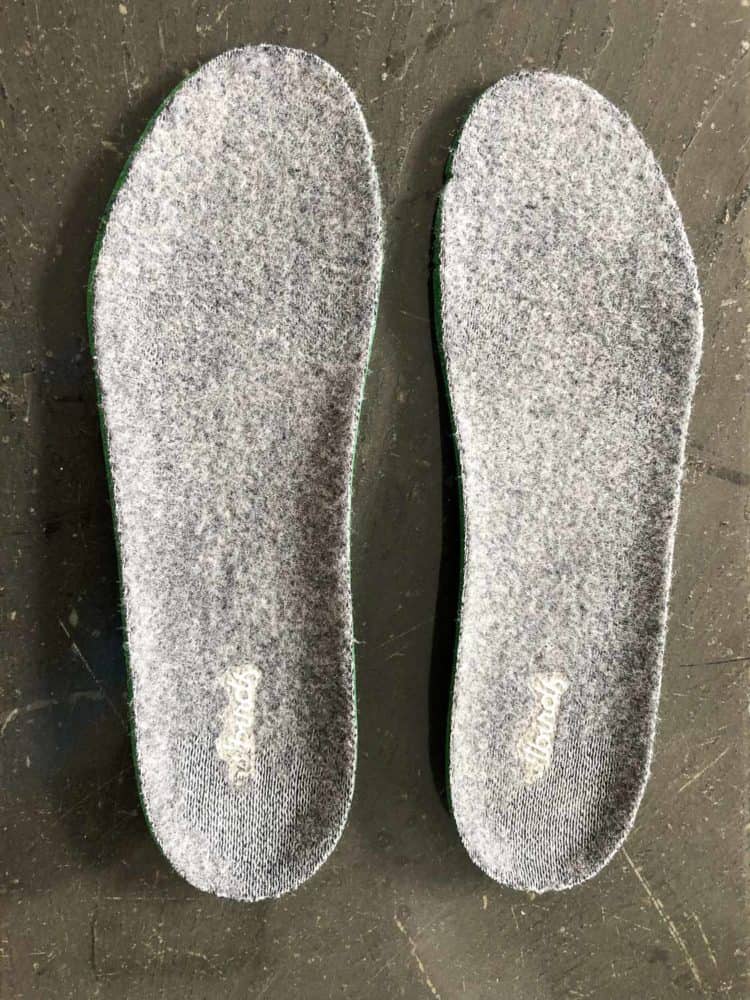 You can also buy replacement laces, but mine looked as good as new (perhaps because I rarely untied them!).
Considering how much I've worn them, I'm happy with how the shoes lasted.
With my second pair of Wool Runners, I did have an issue with some of the stitching on the outside of the heel coming undone.
As I wouldn't expect this to happen after just three months (it didn't happen in two years with my first pair), I contacted Allbirds.
After answering some questions and sending them photos, they sent me a new pair. I was really impressed with the service and my replacement pair arrived just one week after I first emailed them.
Allbirds Cons
Not Waterproof
The classic Allbirds Wool Runners are not waterproof. I often wear them in light rain without my feet getting wet, but in a heavy downpour, they will get soaked.
Due to the moisture-wicking properties of merino, I find my feet don't feel uncomfortable even when they do get wet in heavy rain, but it's not ideal.
If you plan to wear them frequently in rain, I recommend buying the Allbirds Mizzles instead. These are similar to the Wool Runners but have a water-repellent coating on the wool and thicker, non-slip soles.
See my Allbirds Mizzles review for a comparison with the Wool Runners.
Feet Can Get Hot
The Allbirds Wool Runners are ideal in spring, autumn, and non-snowy winters, but when the temperature rises above about 22ºC (72ºF), I find my feet get too hot when I'm walking around a lot.
If you are looking for a summer shoe, I recommend the Allbirds Tree Runners instead. Simon found them perfect in New Zealand's spring and summer, and they kept his feet warm enough in autumn and winter too.
See the review comparing Allbirds Tree Runners vs Wool Runners below.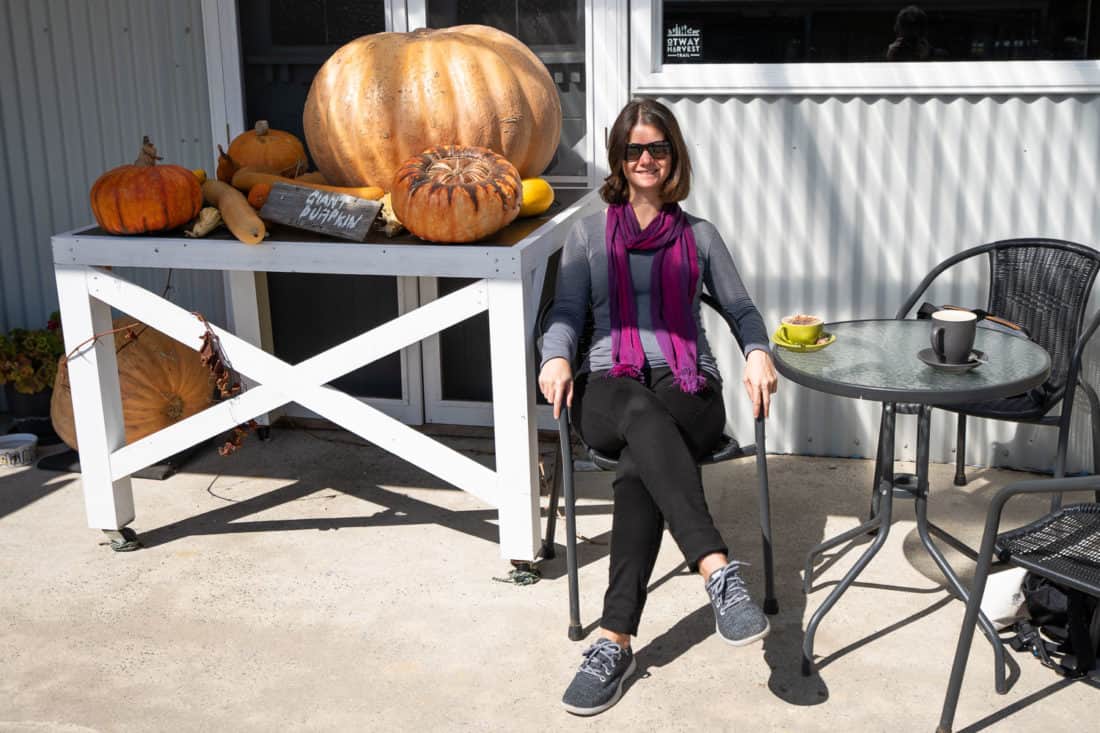 Not Entirely Odour-Free
Merino wool is known for its odour resistance and I've been able to wear merino socks and t-shirts multiple times without them smelling.
Allbirds aren't entirely smell-free, though. I first noticed a smell after six weeks of wearing them every day without socks. I washed the insoles (and later replaced them) and this solved the problem.
If you wear them every day and do have odour issues, it might be a good idea to buy a spare pair of insoles and alternate them.
You could also stick the shoes in the washing machine, but I found the smell was coming from the insoles.
Slow to Dry
If you get the Wool Runners wet, they take a while to dry. When I machine washed mine, they took over 48 hours to dry the first time and just over 24 hours the second time (in a warmer room).
How to Wash Allbirds
You can wash Allbirds in the washing machine, but I didn't need to do this until I'd had them for six months. I've now machine washed them three times with no issues.
If they get a little dirt on them, it comes off easily if you wipe them with a damp sponge or cloth.
If they start to smell, I recommend soaking the insoles for an hour or so in warm soapy water and then rinsing them. They dried overnight.
If you want a full clean, you can put them in the washing machine, but it's best to brush off excess dirt first.
Allbirds recommends removing the laces and insoles first, but this seemed too much hassle to me. You are also supposed to use a laundry bag, but I don't have one.
I kept my laces on the shoes tied up and removed the insoles and added them to the washing machine separately. Simon washed his Tree Runners and insoles at the same time as my Wool Runners.
I washed them on the wool cycle at cold temperature with no spin (low spin also works), and they came out fine with no issues with the insoles or laces.
You can't tumble dry the shoes, and it took them over 48 hours to dry the first time (the insoles dry much more quickly). The second time, in a warmer room, they took just over 24 hours to dry.
Allbirds Wool Runners vs Tree Runners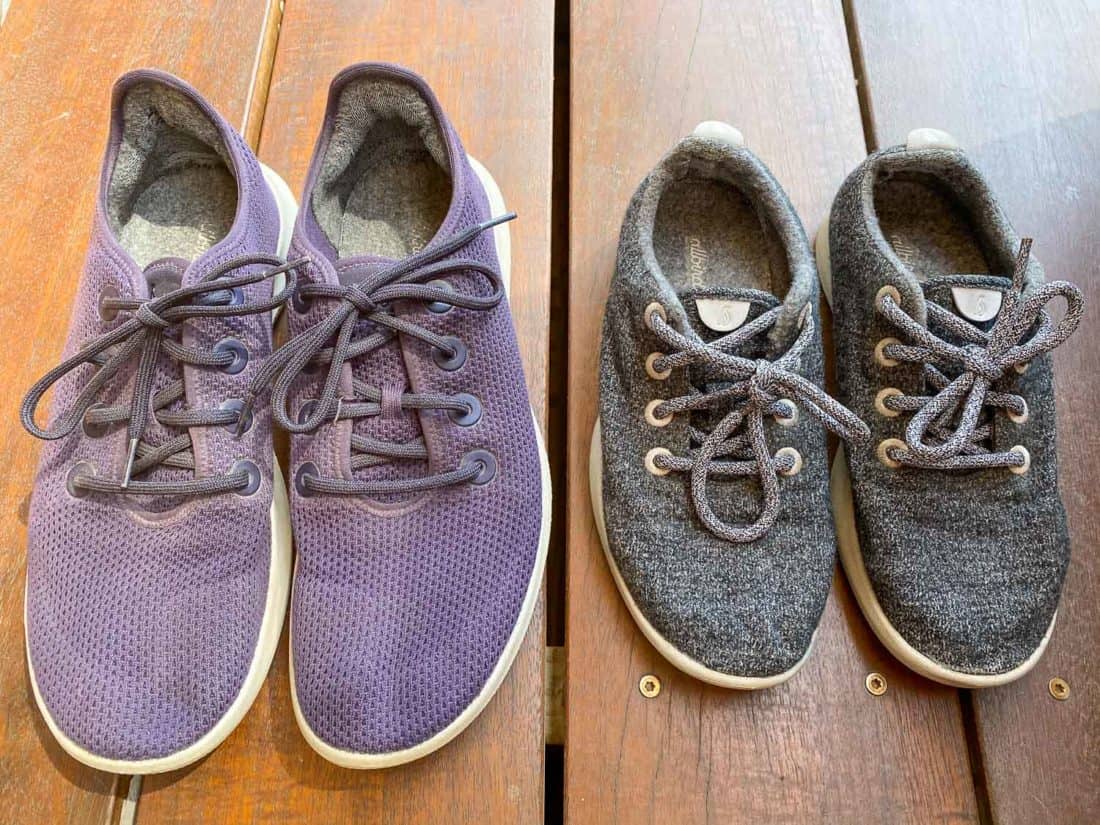 You might be confused about the differences between the Allbirds Wool Runners vs Tree Runners. As I have the Wool Runners and Simon has the Tree Runners, here is our comparison.
Similarities
Here's what the Allbirds Wool and Tree Runners have in common.
They both:
Have a minimalist design
Come in a range of fun colours
Use merino wool insoles
Are soft enough to wear without socks
Have bouncy, lightweight soles that are comfortable for walking
Are light and easily packed for travel
Are machine washable
Differences
This is how the Allbirds Tree Runners differ from the Wool Runners.
They are:
Made with Tencel, which is created from eucalyptus trees, rather than merino wool
Lighter and more breathable
Cooler in warm temperatures
Less likely to keep your feet warm in the winter
Less durable
Simon bought the Tree Runners as summer was on the way and he loves them. He's worn them almost every day for over three years.
Although he's used to wearing hiking shoes with much more support, he found them very comfy and enjoyed the bouncy light feel.
The only issue he had was getting a blister when he first wore them without socks. Since then he's worn them without socks with no problems.
The Tree Runners are less durable than the Wool Runners due to the lighter fabric.
Simon replaced his Tree Runners after 17 months. The toe on one foot was starting to poke through the upper and it looked like a hole would develop (this also happened to a friend with the Tree Runners).
The tread on his soles was also much more worn down than on my Wool Runners. I can't see this is a difference in the shoes, though, as the soles are the same. It's more likely because Simon is heavier or perhaps just walks differently from me.
Despite needing to replace them eventually, he still feels they were good value for the amount he wore them and was happy to buy the same shoes again (he's now on his third pair).
Should you buy Allbirds Wool or Tree Runners?
If you are looking for a summer shoe, I recommend the Tree Runners.
For colder weather, the Wool Runners are a better option. Simon hasn't had cold feet wearing his Tree Runners in New Zealand's winter, but the weather has rarely gone below 10ºC (50ºF) and he usually wears socks.
In spring and autumn, we find either shoe works well.
I love the cosiness of the Wool Runners, so I plan to keep wearing them in cooler weather. When it's hot, I wear my Allbirds flats (which are made with the lighter Tree fabric) or Teva Verra sandals.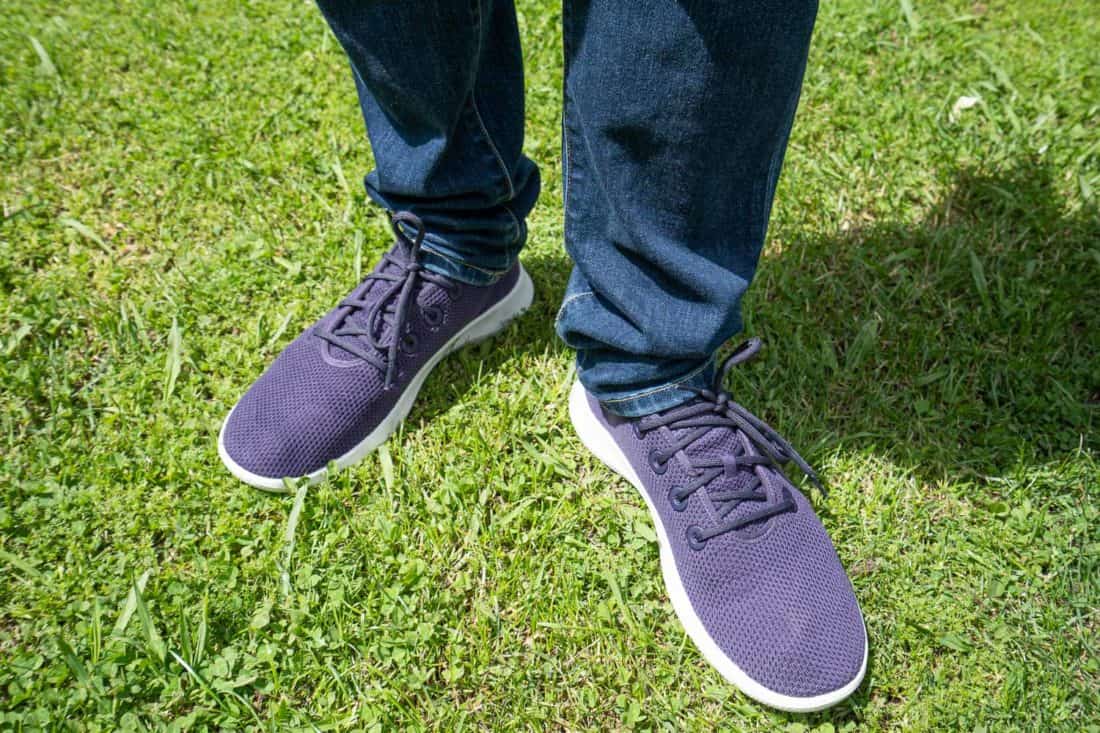 Allbirds Common Questions
What is so special about Allbirds?
Allbirds are made from merino wool which is a natural, sustainable material. It makes the shoes ultra soft and cosy, and you don't really feel like you are wearing shoes.
The shoes are lightweight, comfortable for walking, and have a simple design available in many colours.
Does Allbirds have free returns?
Yes, Allbirds has a fantastic return policy. You can return them within 30 days for any reason, even if you've worn them outside.
Are Allbirds good for running?
No, Allbirds Wool and Tree Runners aren't designed for running. The soles don't have as much cushioning as regular running shoes and the Wool Runners might get a little hot.
If you are used to minimalist running shoes, they might work, but transitioning to minimalist shoes is best done gradually or it can cause injury (I tried and gave up).
I can imagine running in Allbirds for a couple of miles on a treadmill occasionally, but I wouldn't wear them on a long run.
A much better option is the Allbirds Tree Dashers which are specifically designed for running with more cushioning.
I now wear these for running and have run over 1200km in them — see my Allbirds running shoes review.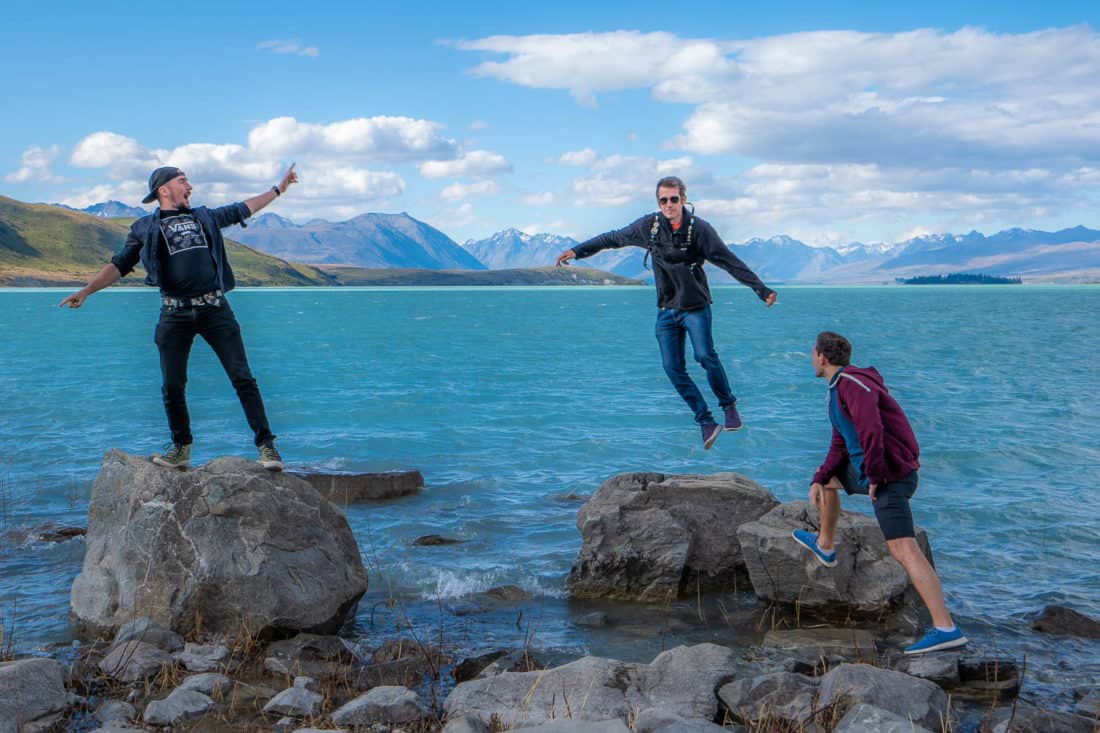 Do you wear socks with Allbirds?
It's up to you. You can wear socks with Allbirds, but they are also comfortable and warm without socks due to the cosy wool lining.
I sometimes wear my Allbirds with the Trino Sprinter socks, which are especially good for running or when you want a lightweight, breathable sock. They are highly odour-resistant and dry quickly.
Do Allbirds stretch?
The Allbirds Wool Runners stretch a bit, so if they feel a little tight at first, they will likely loosen up. The Allbirds Tree Runners do not stretch.
Are Allbirds waterproof?
No, Allbirds Wool Runners aren't waterproof. The Allbirds Mizzles are treated with a water repellent coating, so they are the best option in the rain.
As merino wool is moisture-wicking, even when my feet get a bit wet in my Allbirds, I don't find it uncomfortable.
Do Allbirds get smelly?
They can do. For average usage, it shouldn't be a problem, but when I wore mine without socks every day for months, they did start to smell.
The best way to get rid of the smell is to soak the insoles in soapy water for a while and then rinse and air dry. You can also buy replacement insoles.
In two years with the Wool Runners as my main pair of shoes, I replaced my insoles three times, washed the insoles twice, and washed the entire pair of shoes in the washing machine three times (two times were due to getting caught by the ocean on beach walks!).
Can you machine wash Allbirds?
Yes, you can machine wash Allbirds. See above for instructions.
Are Allbirds Wool Runners hot in summer?
The Allbirds Wool Runners can get hot in the summer. Allbirds Tree Runners are a better choice for wearing in warm weather as they are made from a cooling eucalyptus material rather than merino wool (although they do have the same merino wool insoles).
That said, I did often wear my Allbirds in summer in New Zealand—they were fine for cooler days (20ºC/68ºF or below).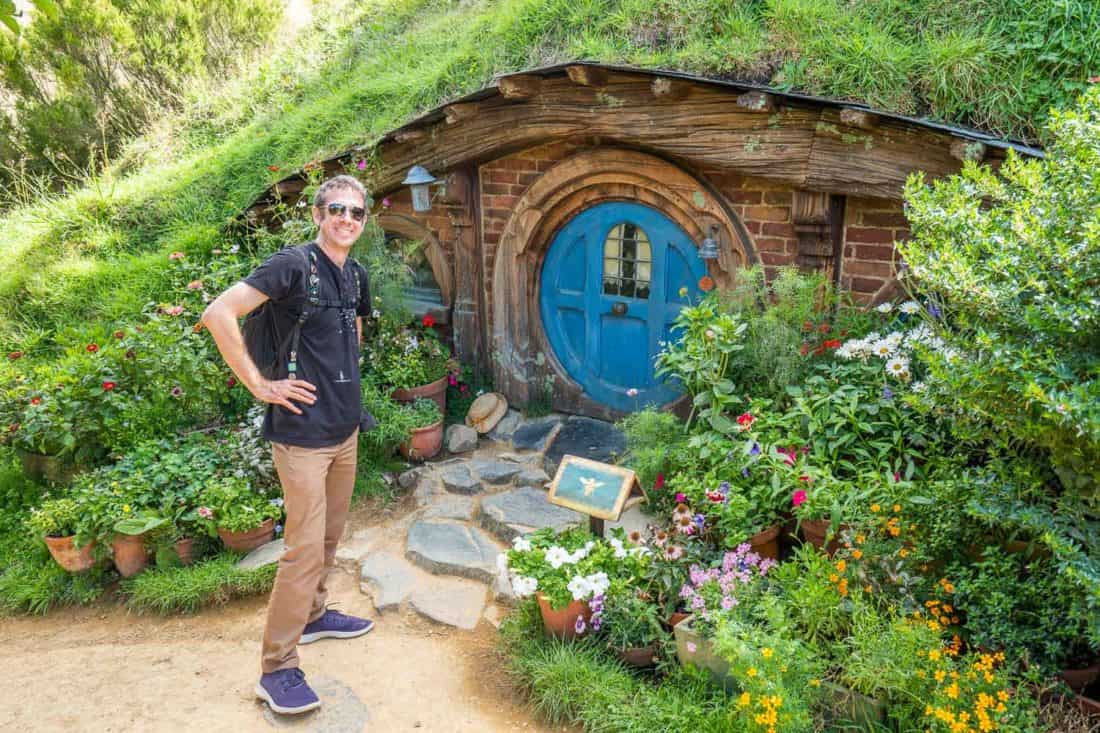 Are Allbirds really that comfortable?
Simon and I both find our Allbirds very comfortable. Part of the comfort comes from the cosy wool insole and the soft lining of the shoe that makes it possible to wear them without socks.
The other aspect is the lightweight, bouncy sole that provides enough support for a day out walking.
If you require a lot of foot support, Tree and Wool Runners aren't as supportive as a very cushioned running shoe—you might prefer the Allbirds Tree Dashers or Allbirds Wool Runner Mizzles.
If you are looking for a minimalist, stylish shoe, Allbirds Wool or Tree Runners are a great choice.
How much do Allbirds cost?
In the US, Allbirds Wool and Tree Runners for men and women cost $110. The Waterproof Mizzles cost $125.
Spare insoles cost $15 and it's worth buying a pair.
Are Allbirds Worth It?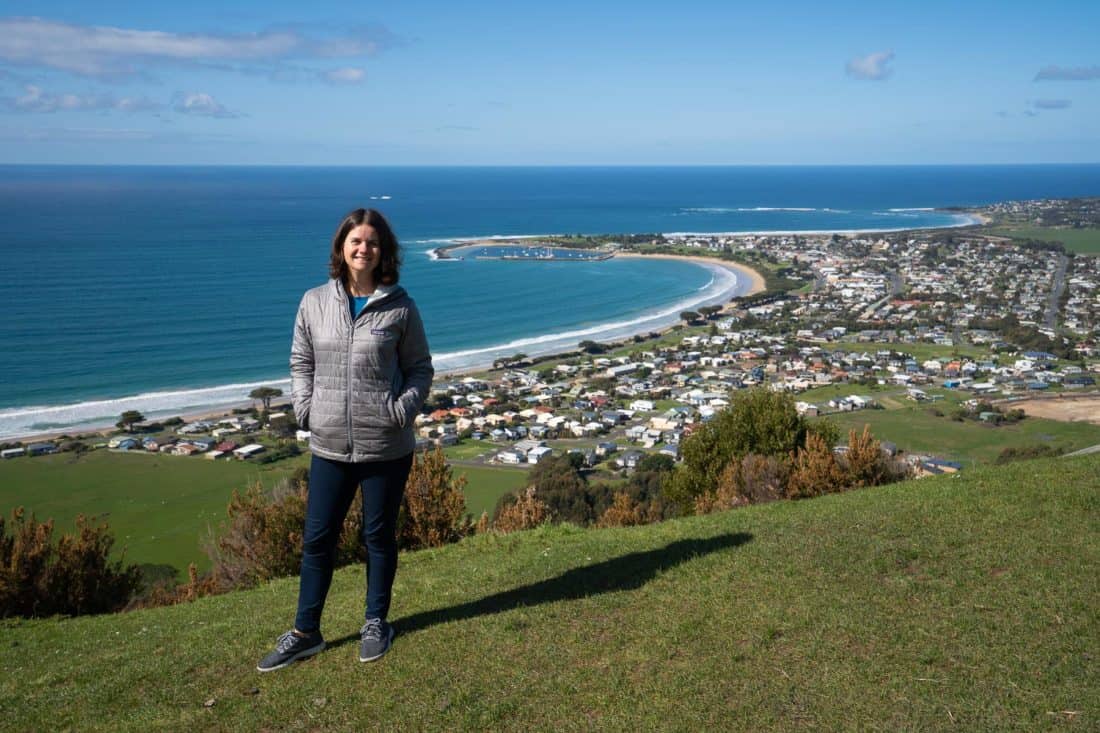 Yes, I think Allbirds are worth it. The price is reasonable for quality, environmentally-friendly shoes, and they are unlike any other shoes I've tried.
My Allbirds Wool Runners are so soft, cosy, and flexible that I don't feel like I'm wearing shoes.
I can wear them all day without discomfort, and they are light enough to pack in my luggage easily. I love being able to wear them without socks and my feet stay warm in winter.
The amazing returns policy makes it a no-brainer. If you are interested in Allbirds, there's no reason not to give them a try as you have a 30-day free trial.
Where to Buy Allbirds Shoes
You can buy Allbirds online with free shipping in the US, Canada, UK, EU, Australia, New Zealand, China, Japan, and South Korea.
There are also Allbirds stores in New York City and other major US cities, London, Auckland, Berlin, and a few in China and Japan.
REI also stocks Allbirds Wool Runners in limited colours.
Check out Allbirds Wool Runners here.
Other Shoe Reviews
Enjoyed this post? Pin it!