This page contains affiliate links. Please read our disclosure for more info.
I'm a huge fan of Allbirds shoes, so I was excited when they released a new high-performance shoe designed for running.
The Allbirds Tree Dashers have the same features I love in my other Allbirds—they are ultra comfortable, machine washable, and made from sustainable materials.
They also have an understated look and come in neutral colours, which makes a nice change from the neon of traditional running shoes.
The Dashers are excellent multi-purpose shoes—you could wear them walking around the city as well as on runs and to the gym.
Even if you don't plan to do any jogging, it's worth considering the Dashers if you want a more supportive shoe than the rest of the Allbirds range.
In this Allbirds running shoes review, I share the pros and cons after running over 1200km (745 miles) in the Dashers in the last three years (across three pairs). Most of my runs are 5 – 12km (3 – 7.5 miles).
The Tree Dashers are available in the same design for men and women, so this review applies to both, although I tried the women's version.
I also compare the Allbirds Tree Dashers vs Allbirds Wool Runners (which confusingly aren't designed for running despite the name), which I love for general wear, and the new Allbirds Tree Flyers.
Contents
Note: Allbirds sent me my first pair for this Allbirds Tree Dasher review but this is my honest opinion. I have since paid for my second and third pair.
Allbirds Tree Dashers 2
In February 2022, Allbirds released a new version of the Tree Dashers. They are fairly similar to the originals but with improved traction.
I've been running in them for a year and have now updated this review to reflect the Dashers 2.
If you are wondering whether to upgrade your Tree Dasher 1s, I compare them at the end of the post.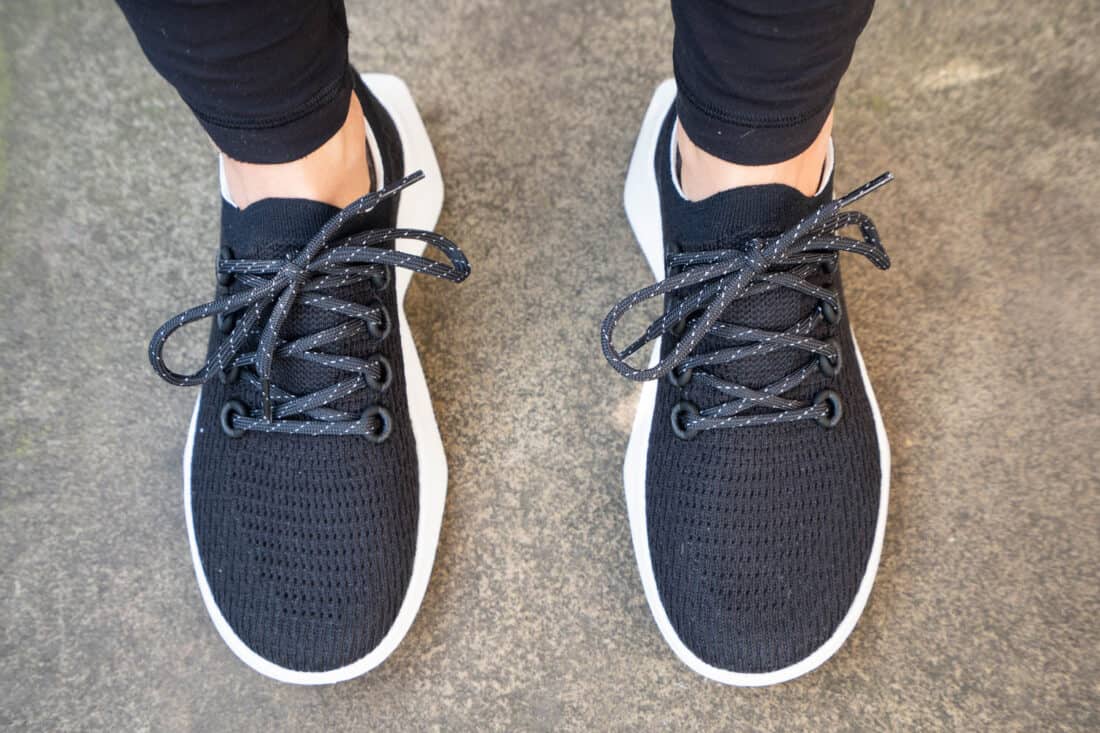 Allbirds Tree Dashers Details
Type: Neutral, Cushioned, Light Stability Running Shoe
Heel Drop: 7mm (Forefoot: 15.5mm, Heel: 22.5mm)
Weight: 292g (10.3oz) per shoe
Colours: 17 colours in the US store (black, white, and grey are classics plus limited edition colours)
Price: US $135 with free shipping and 30-day return (prices vary by country)
Buy From: Allbirds website in many countries including US, UK, Canada, Europe, Australia, and New Zealand.
This review is focused on the Allbirds Tree Dashers, but there are now more styles of Allbirds running shoes:
Tree Flyers – The newest Allbirds running shoe is lighter and designed for longer runs. See below for details.
Trail Runners SWT – This rugged running shoe has extra traction for off-road terrain. I like them for rainy days and muddy hills. For road running, I prefer the Dashers. See my Allbirds Trail Runners SWT review.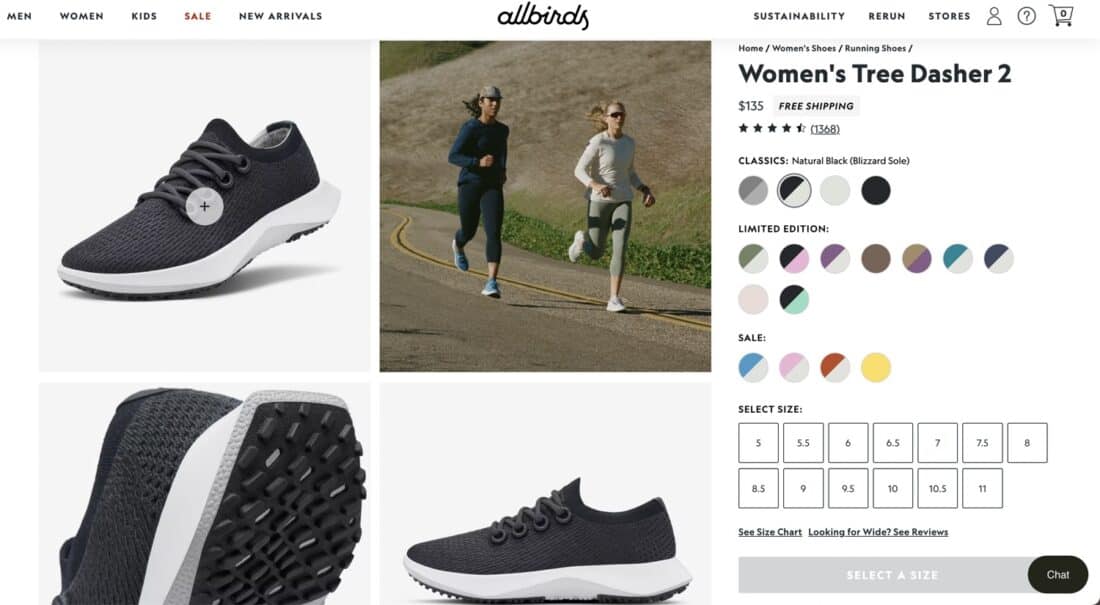 Allbirds Dashers Sizing
Allbirds Tree Dashers come in half sizes to ensure the perfect fit. They fit true to size for most people, although Allbirds recommends going up a half size if you have wide feet or prefer a roomier fit.
I bought the same size (US8) as my Allbirds Wool Runners and they fit perfectly. At first they felt slightly bigger than my Wool Runners, but I appreciate the roomy toe box as my feet often swell when running.
If you are unsure about sizing, you can easily return them with the Allbirds generous return policy—see below.
Allbirds Tree Dashers Pros
Free Shipping
Allbirds are available online in the US, Canada, UK, EU, Australia, New Zealand, China, Japan, and Korea.
Best of all, shipping is free for all orders over $50.
In the US, standard shipping takes 5 – 10 business days to arrive from when the order is placed. My Allbirds orders in Australia and New Zealand have only taken 2 – 4 days. My latest UK order took two days.
Like all Allbirds shoes, the Dashers arrive in simple packaging that's easy to open. They use just one box made from 90% recycled cardboard that works as the shoebox, shopping bag, and mailer all in one.
30-Day Free Trial
Allbirds has an amazing returns policy—you can return any of their shoes for free within 30 days—even if you've worn them outside!
This is so important and unprecedented for running shoes as I find it impossible when trying on shoes to know if they will feel good when I'm out on a run. I have wasted money on shoes before that turned out to be uncomfortable after a few wears.
It makes the decision on whether to try the Allbirds Dashers so much easier—if they don't work out for you, for whatever reason, you can return them with no questions asked.
It's easy to return the shoes by attaching the included return label to the box they were sent in. You don't have to pay for return shipping.
Allbirds donates the lightly used returned shoes to charity for use by people in need.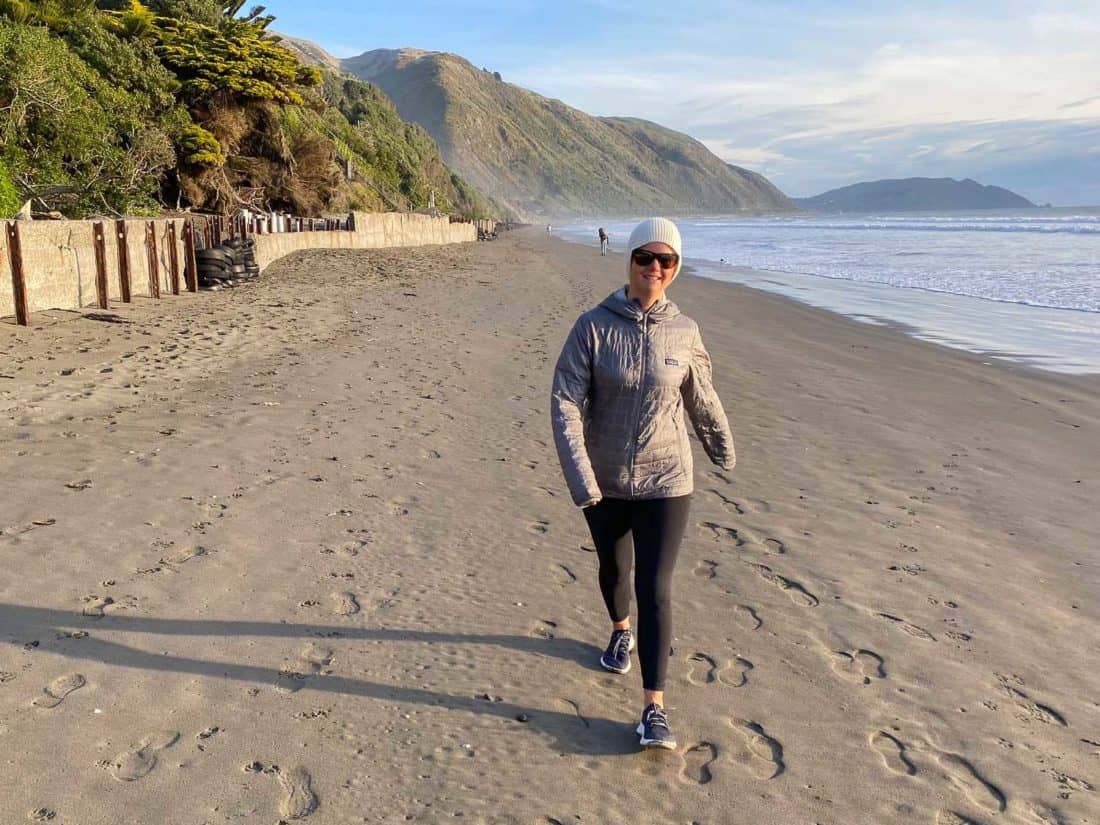 Comfortable
My Allbirds Tree Dashers (both V1 and 2) felt comfortable straight away, which is a superpower all Allbirds shoes have.
I find new shoes often feel too stiff or bulky or just too different from my old worn-in shoes. Incredibly, even on the first wear, the Dashers felt almost as comfy as my old shoes I'd run over 600km in.
I had no break-in period and no blisters or rubbing, even when wearing them without socks.
The Dashers have a seamless, flexible knit upper (like the Allbirds Tree Runners) which feels soft with a good amount of stretch.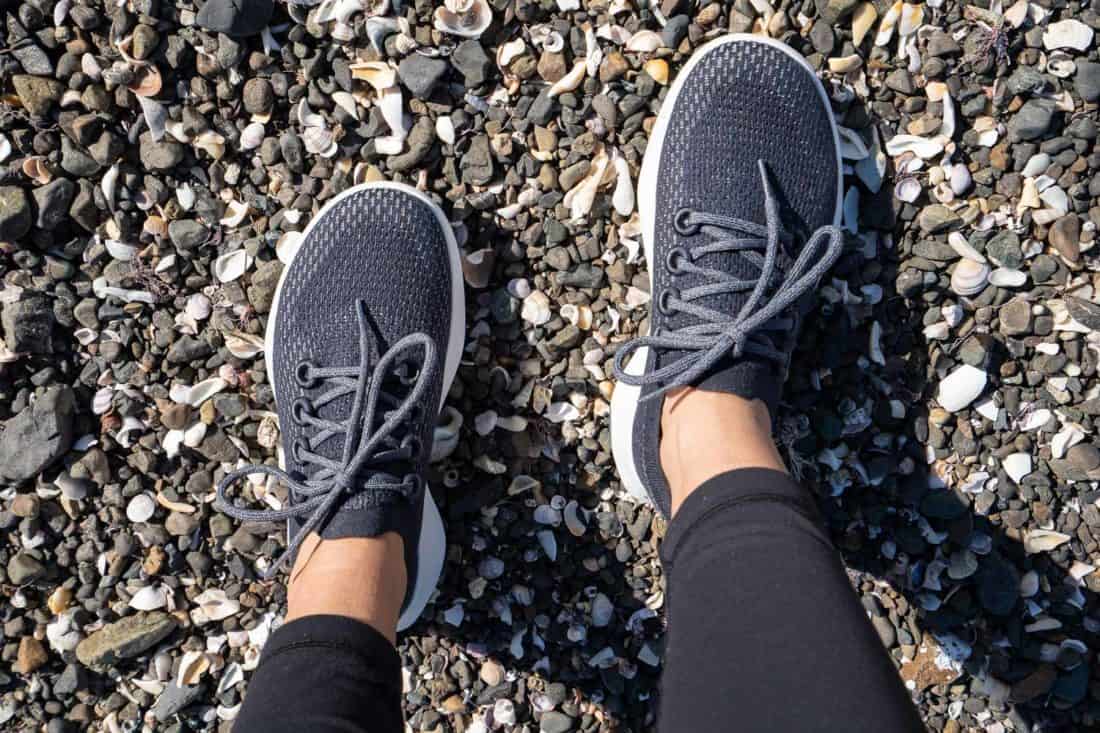 They don't have a traditional shoe tongue but are more of a slip-on style with laces to adjust the fit. This feels lovely on the feet and the front fits snuggly like a sock—secure but not tight.
I especially love the padded wool heel lining which adds cushioned support and locks the foot in place.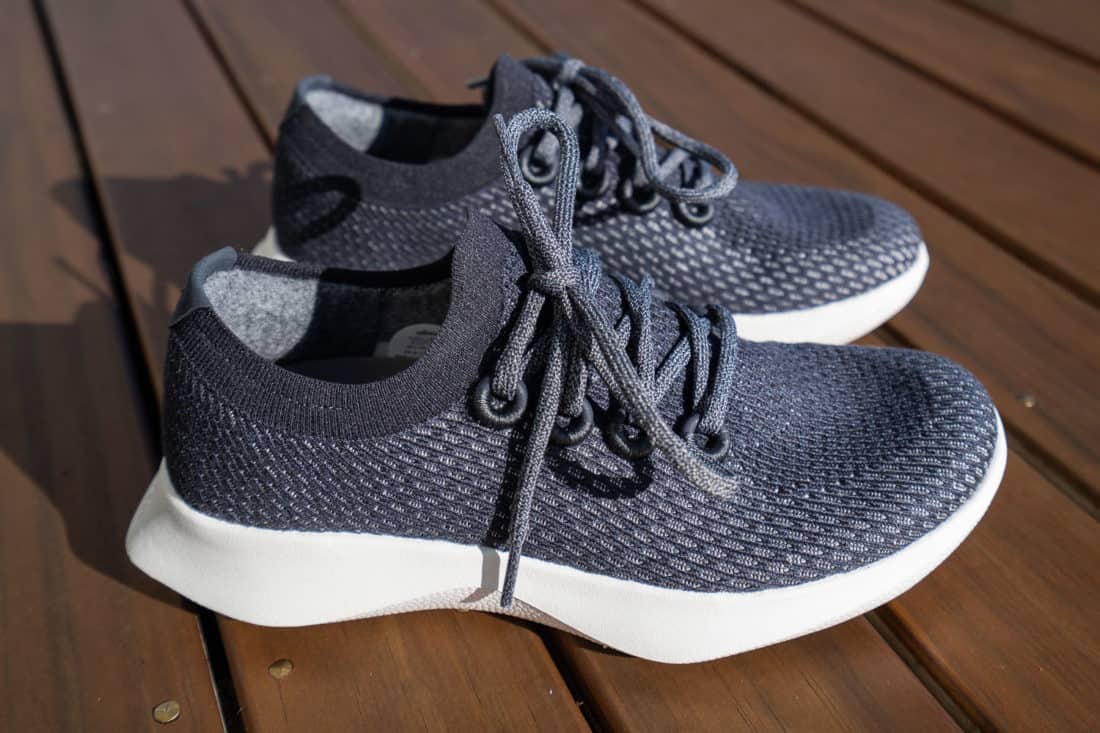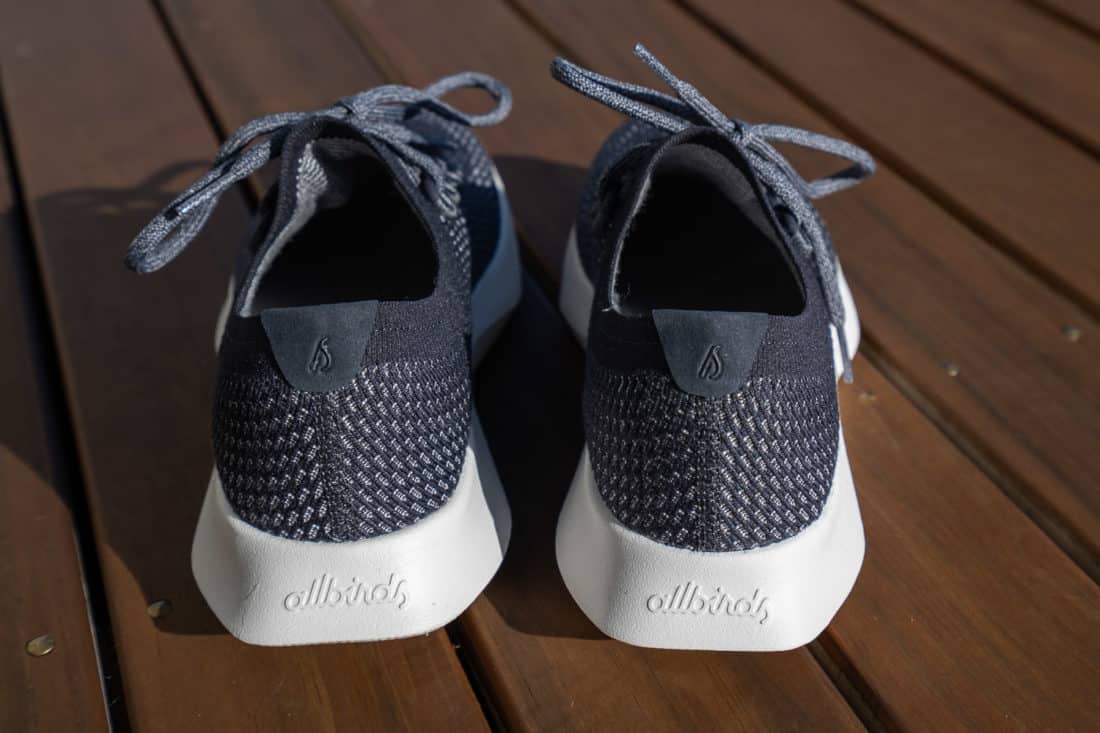 Supportive
The Tree Dashers have good arch support and there are many reviews by people with plantar fasciitis who love them for pain-free walking.
For running, I find they have just enough spring but not too much. They have a firmer landing than some running shoes, which is good for a bit of speed (not that I'm a fast runner, but I have run intervals in them).
Allbirds says they are designed for maximum energy return. I doubt professional racers will be wearing them (they are a little heavy) but for the average runner, they work well.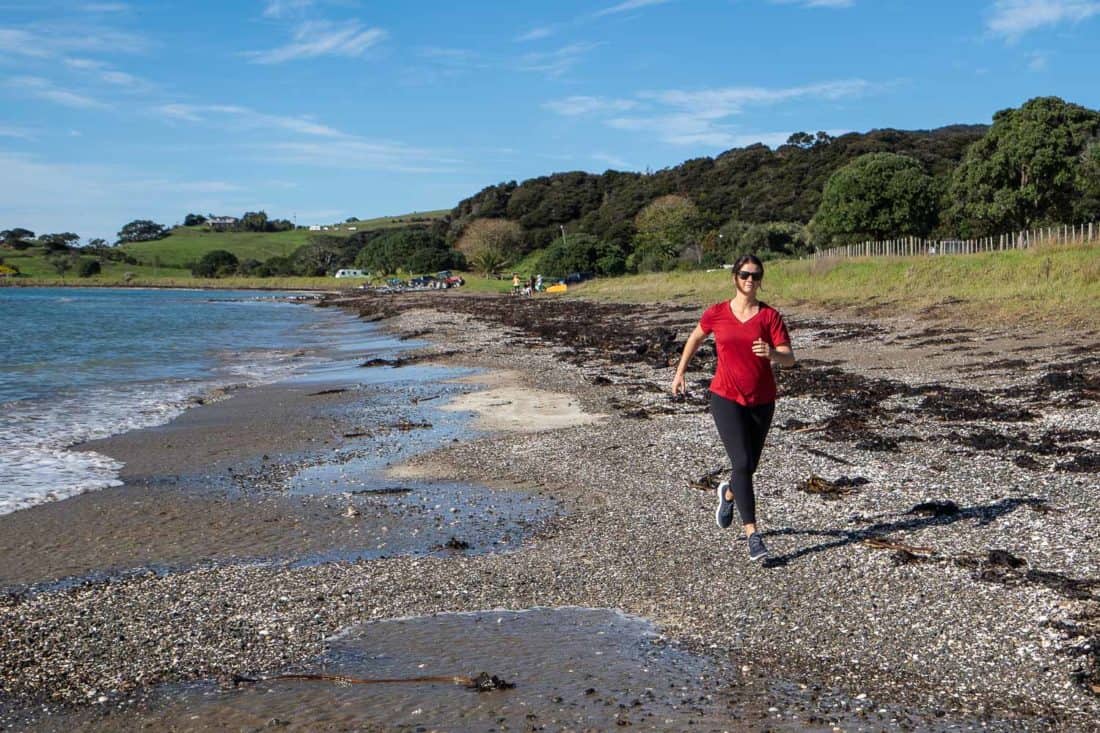 The wider heel is designed to be stabilising. I'm more of a fore/midfoot striker and find there's a good amount of cushioning upfront, and there's even more if you land on your heel.
I've had no pain or injuries when running over 1200km (745 miles) in them.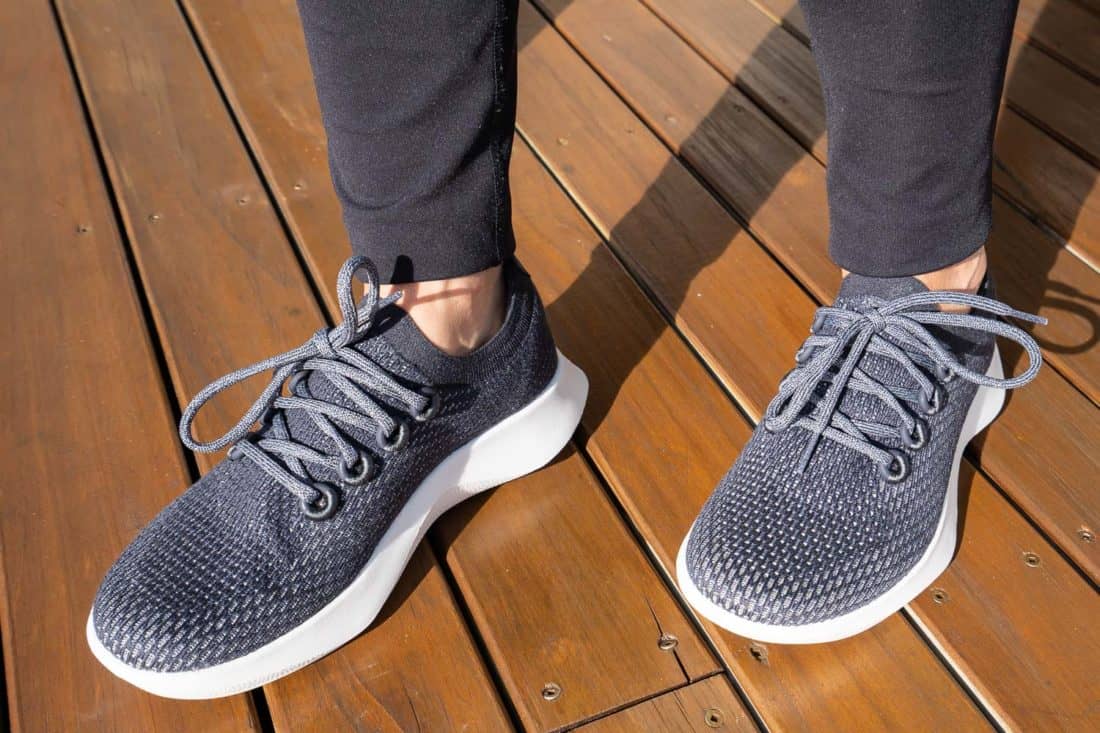 Breathable
The breathable mesh upper is made from eucalyptus trees and doesn't leave my feet too hot on a run, even in the summer.
Can be Worn Without Socks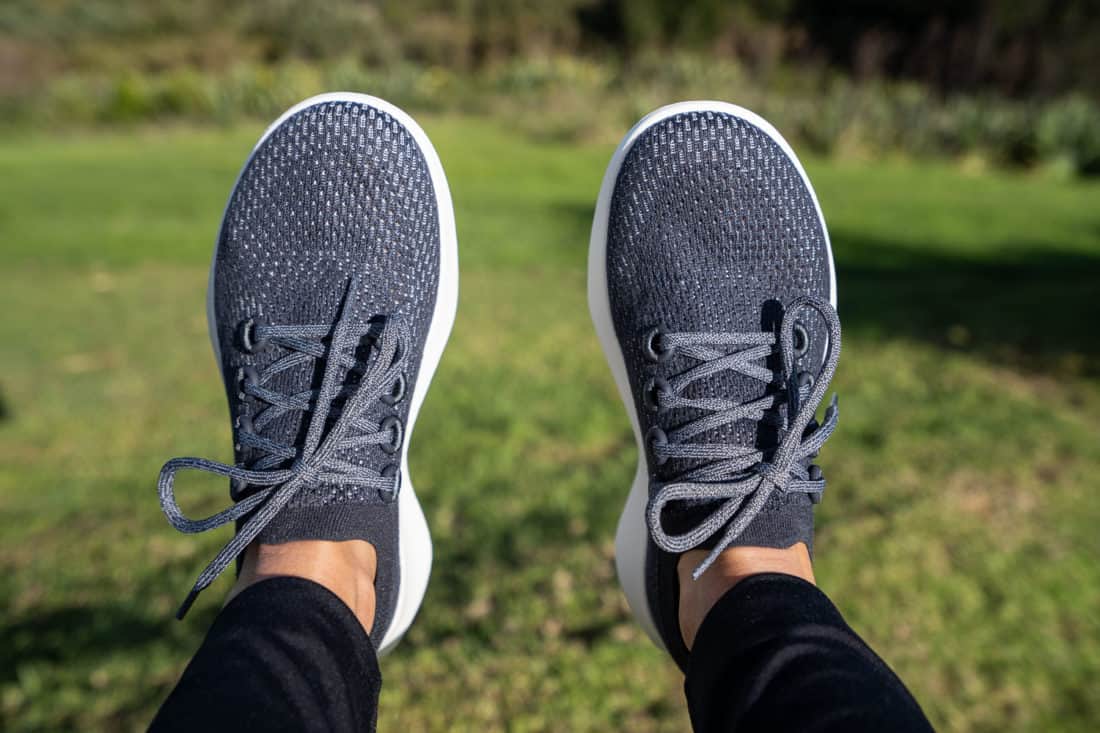 The Allbirds Dashers feel smooth and comfortable on my feet if I wear them barefoot. I often do this for walks or for playing tennis in the summer.
For running, I prefer to wear socks. The Allbirds Trino Sprinter socks are designed to fit perfectly with the Dashers—see my review below.
Neutral Colours Available
The Allbirds Dasher comes in many colours including simple black, white, and grey. I really appreciate this as so many running shoes only come in neon shades which I'm not a fan of.
My first pair was Thunder, a dark blue (almost black) upper with a white sole.
For my second pair (after wearing my first for 15 months), I chose the limited edition Everest, a lovely bright blue.
My third pair (which I bought to try out V2 for this review) is neutral black with a white sole and they are my favourite so far.
Check out the full range including limited edition colours on the Allbirds website.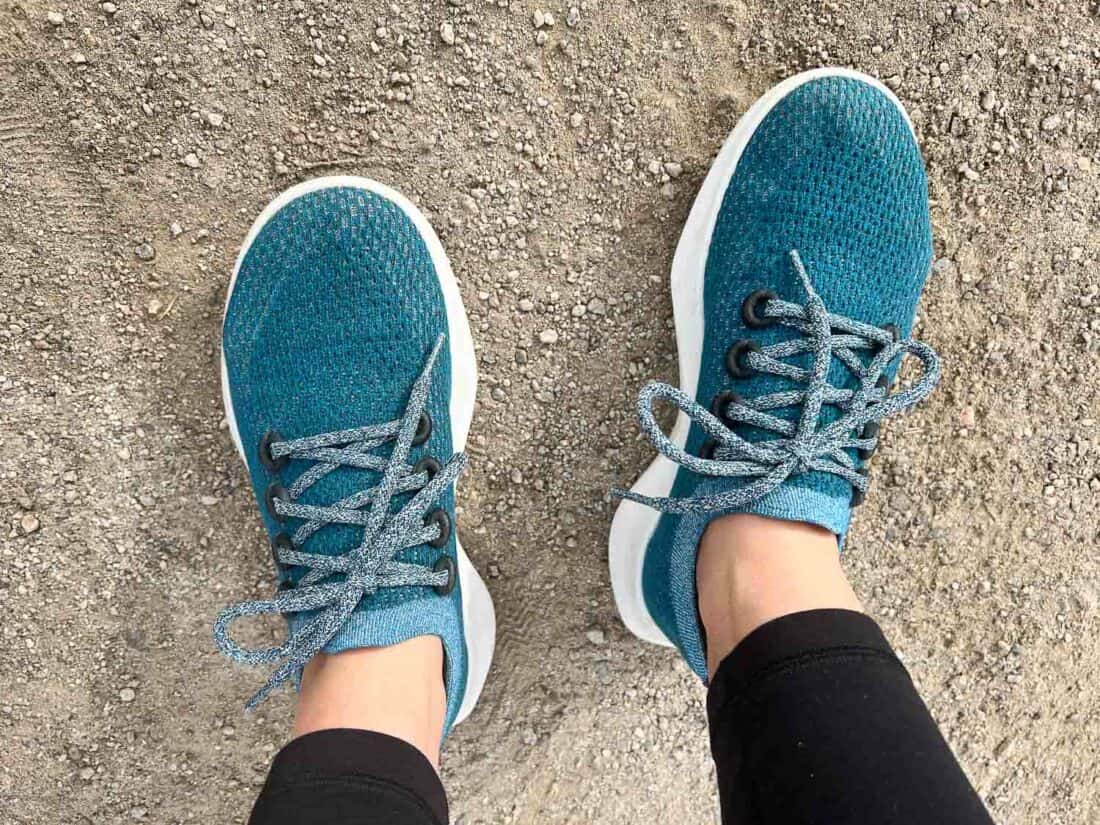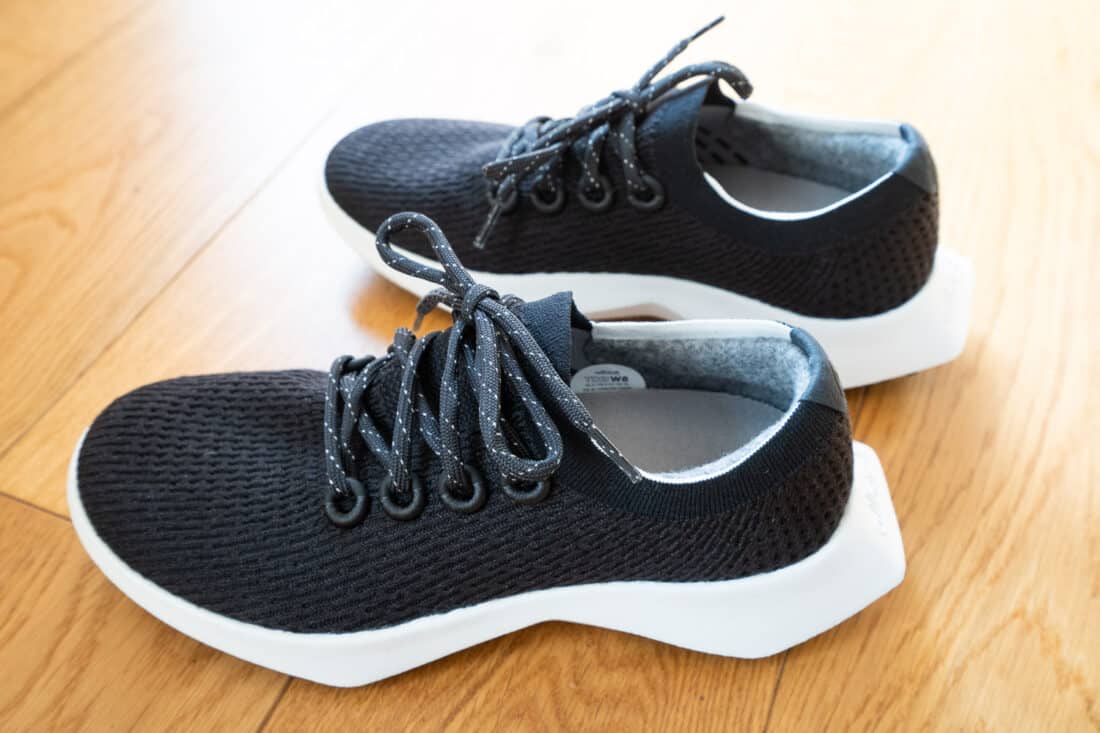 Attractive and Versatile
I love the simple, understated design with no logos or graphics. Unlike most athletic shoes, I think they are attractive enough to wear in daily life—around the city as well as on walks, runs, and gym trips.
In fact, many of the reviews on the Allbirds website are from people who use them for walking or work rather than running. Here's a sample:
"With my plantar fasciitis these give tremendous support and my feet don't hurt at the end of the day."


"10/10 quality for healthcare workers in the acute care setting!"


"Have such a hard time with shoes due to bunions. I put these shoes on and went to work for 12+ hours for 3 days in a row—my feet never hurt at all."
Good Traction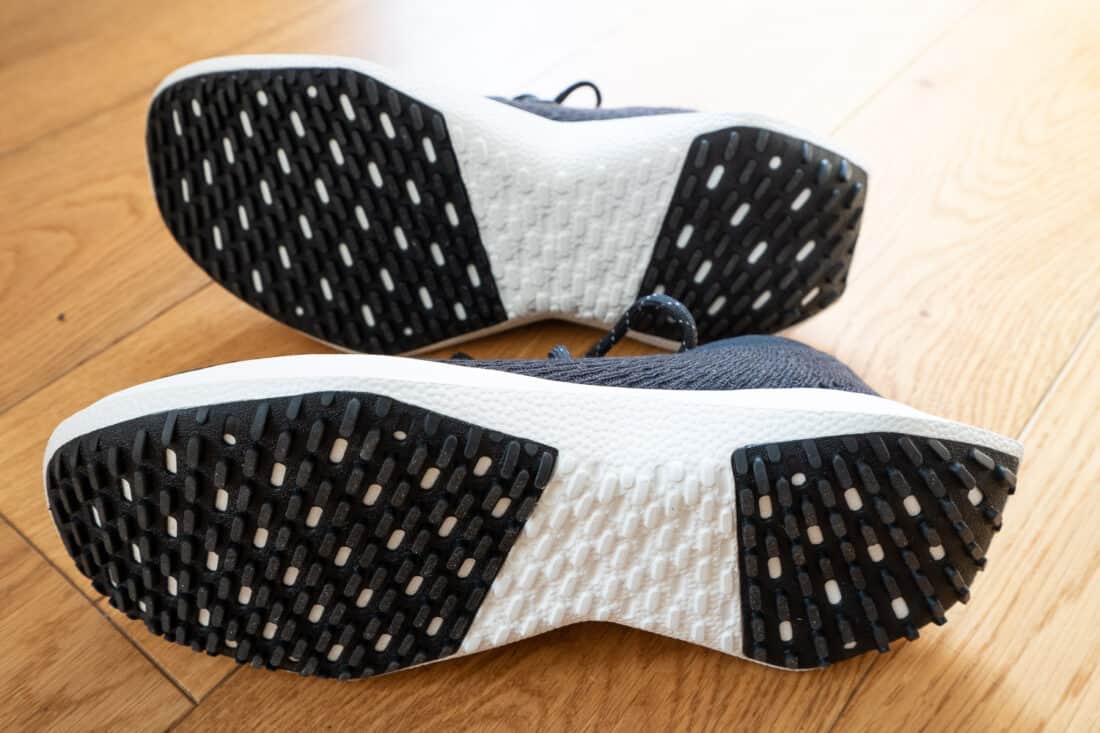 In my original Allbirds running shoes review, I said that limited grip was one of their cons. That has changed with the Tree Dasher 2 and their new soles.
I love the upgrade as the soles now have small lugs which provide extra grip in wet, muddy and otherwise slippery conditions.
I've run in my Dashers in a wide range of conditions without slipping: road, gravel, grass, boardwalk, muddy forest trail, and sandy beach.
For steep, muddy, slippery hills, I prefer the Allbirds Trail Runner though.
Odour Resistant
Even after 15 months of wear (for my first pair), my Dashers still didn't smell.
Machine Washable
If your Dashers do get smelly or dirty, they are machine washable! I've done this with no problems.
Allbirds recommends removing the insoles and laces, washing them on a gentle cycle with cold water in a delicates bag in the washing machine, and air drying.
While you should definitely avoid putting them in a dryer, I don't bother removing the laces (I tie them up), I throw the insoles in separately, and I don't use a delicates bag.
I also find the Dashers are easy to spot clean with a cloth or sponge.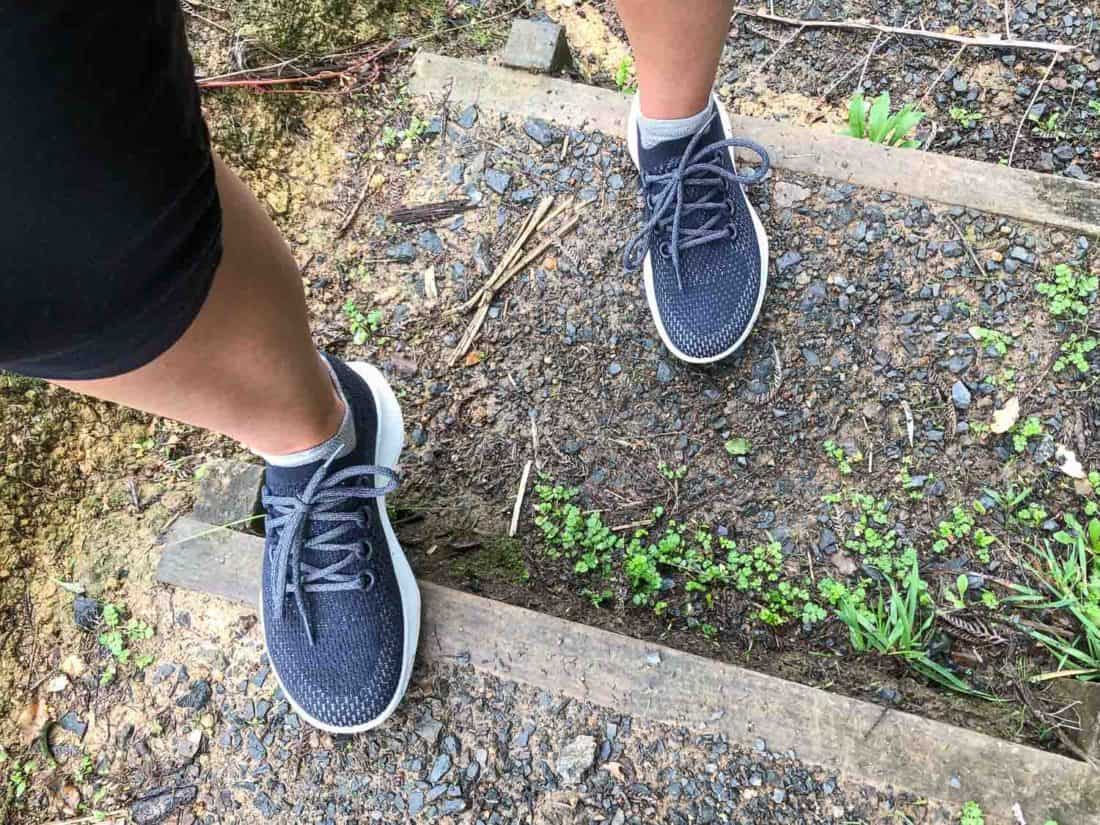 Sustainable
The Allbirds Tree Dasher is carbon neutral due to sustainable practices like using natural, renewable materials and offsetting emissions.
The Tree Dasher 2 has reduced its carbon footprint by an extra 5% compared to the original.
It's a vegetarian shoe as it doesn't contain leather, but not vegan as they do use a little wool.
The materials the shoes are made of include:
SweetFoam midsole made from renewable sugar cane. This prevents the need for EVA, a polluting, petroleum-based plastic foam used in most shoe soles.
Castor bean oil insole that emits less carbon than petroleum-based foam.
Upper made from FSC Certified eucalyptus trees.
FSC-certified natural rubber outsole.
Laces made from recycled plastic bottles.
Durable
After 15 months of running, walking, and playing tennis in my first pair of Dashers, they still looked great.
The only signs of wear were some black smudges on the upper part of the white soles and a very slight wearing of the tread on the bottom of the soles at the edges.
Like all running shoes, though, it's best to replace them after running 300 – 500 miles (500 – 800km), so I bought a second pair after 655km, just to make sure I'm getting the maximum support.
If you are just walking in them, they'll last even longer.
Consistent Design
The most annoying thing I find about running shoes is when you find a pair you love but then a year later, when you come to replace them, they've changed the design and you have to start from scratch trying to find a pair that feels good.
So far this hasn't been a problem with Allbirds running shoes as even when they released V2, the shoe design hadn't changed substantially.
I really appreciated this when I bought my second and third pair of Dashers—they fit exactly the same straightaway.
Being able to go online and buy a new pair and know exactly what to expect is a huge bonus.
Allbirds Tree Dashers Cons
May Lack Cushioning for Long Runs
So far I've only run up to 12km (7.5 miles) in my Allbirds running shoes, and I'm not sure they'd be shoes I'd want to wear for training for a half or full marathon.
The soles do feel quite firm to land on, so if you prefer a very soft, cushioned, bouncy sole, these might not be the shoes for you.
Also, it's not a stability shoe, so if you need extra support for your feet that roll in or out, these don't provide that.
Not Super Lightweight
While the Dashers don't seem heavy, when I put them on the scale, they were heavier than my other shoes due to the bulkier sole.
My size 8 Dashers weighed in at 292g (10.3oz) per shoe while my old ASICS Dynaflyte 2 running shoes were 224g (7.9oz) and my Allbirds Wool Runners (casual sneakers rather than running shoes) were 199g (7oz) per shoe.
The Allbirds Tree Flyers are a little lighter.
Not Water Resistant
The breathable eucalyptus upper is not going to stop your feet from getting wet.
If you need a water-repellent shoe for running, take a look at the Allbirds Wool Flyer Mizzles.
The Allbirds Trail Runner SWT is designed for off-road terrain and I've worn them in the rain without wet feet. They aren't totally waterproof, though.
If you are only wearing them for walking, I'd also consider the Wool Runner Mizzles, which are water-resistant. See my Allbirds Mizzles review for details.
Allbirds Tree Dashers vs Wool Runners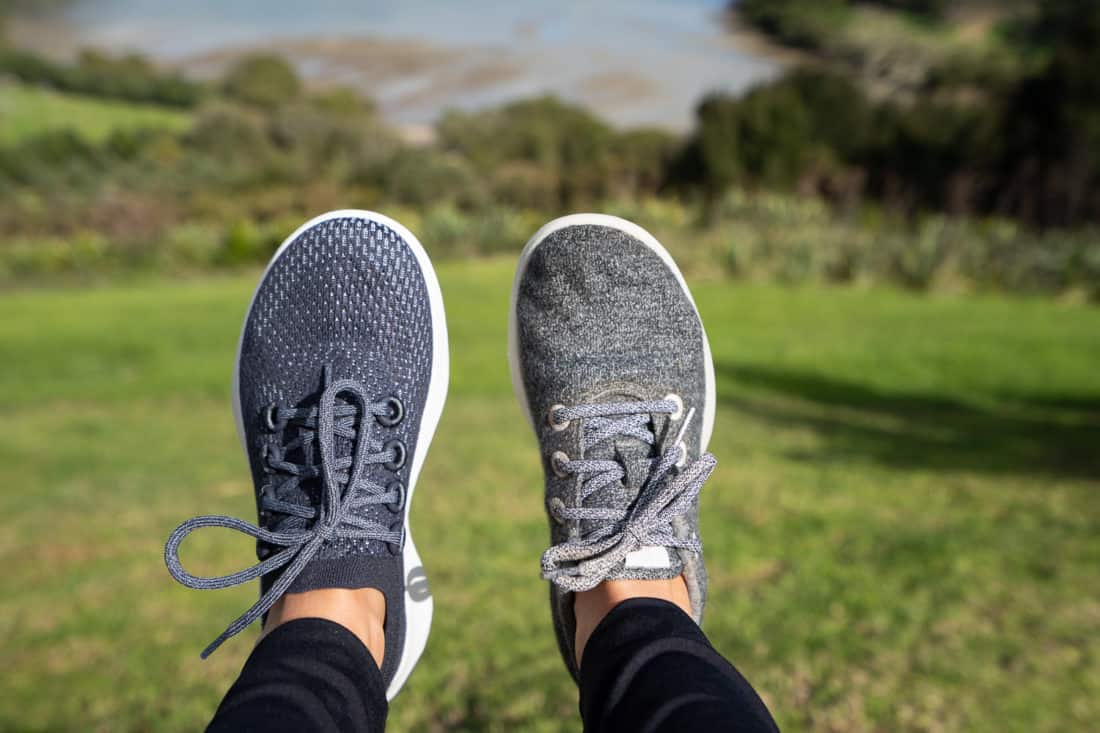 If you are looking for a pair of shoes to run in, definitely choose the Allbirds Tree Dashers as they are specifically designed for running and offer more support.
If you want a casual or walking shoe, either pair could work. Here are the main differences between Allbirds Dashers vs Runners:
Allbirds Tree Dashers:
More arch support
Bouncier, more cushioned soles
A little bulkier and heavier
Wider heel for stability
No tongue (seamless, one-piece upper)
Less cosy
More breathable
Come in half sizes
Versatile as can be worn for running too
Allbirds Wool Runners:
Warmer
Ultra cosy and soft inside
Lighter
Thinner soles
Less athletic look
I love both shoes, but for most everyday wear and short walks, I prefer my Wool Runners for the cosiness. I love how they feel like slippers and they keep my feet warm even when worn without socks.
On really hot days, though, I prefer the cooler fabric of the Tree Dashers for hikes.
If you prefer more arch support, the Dashers will likely work better for you. One reviewer says: "The comfort of this model is the best yet. Not a runner but I can wear all day. Better than the other Allbirds models I have."
If you are travelling and want a multi-purpose and comfortable shoe you can wear for exploring and the occasional run—the Tree Dashers are a better option than the Wool Runners.
For now, I'm happy to travel with both the Allbirds Tree Dashers for running and the Allbirds Wool Runners for daily casual wear.
See my Allbirds Wool Runners review where I also compare them to the Tree Runners (a summer version of the casual sneaker).
I also recommend considering the Wool Runner Mizzles if you want a casual sneaker with extra support and water resistance. I wore those for a while as they are better for hiking in cooler weather.
Allbirds Tree Dashers 1 vs 2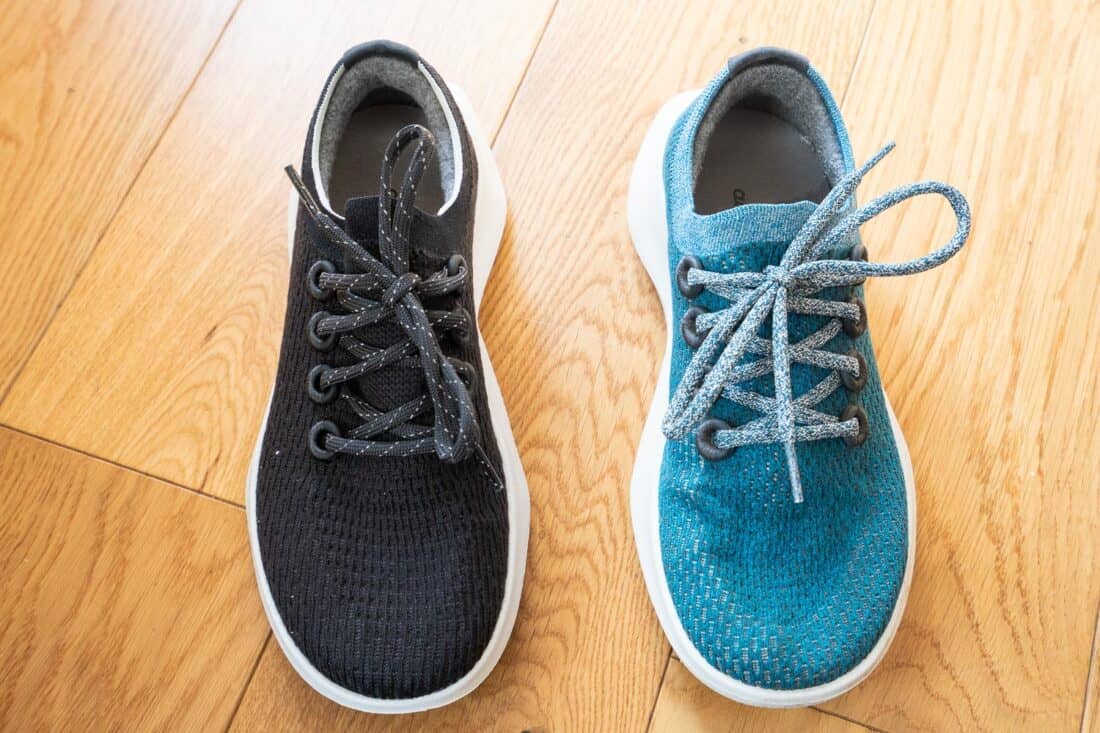 How do the new Allbirds running shoes compare to the original version?
The Tree Dasher 2 has these improvements:
Extra traction – This is the biggest difference for me.
Cushier crash pad – Apparently, the sportier, angular heel shape softens impact but I haven't noticed a difference.
Lighter, more responsive foam – Again, not something I've noticed.
Improved heel collar – This helps lock your ankle in place. I didn't have problems with slippage before but I have noticed the wool collar is a bit more padded.
Reflective details on laces – Good for more visibility on night runs.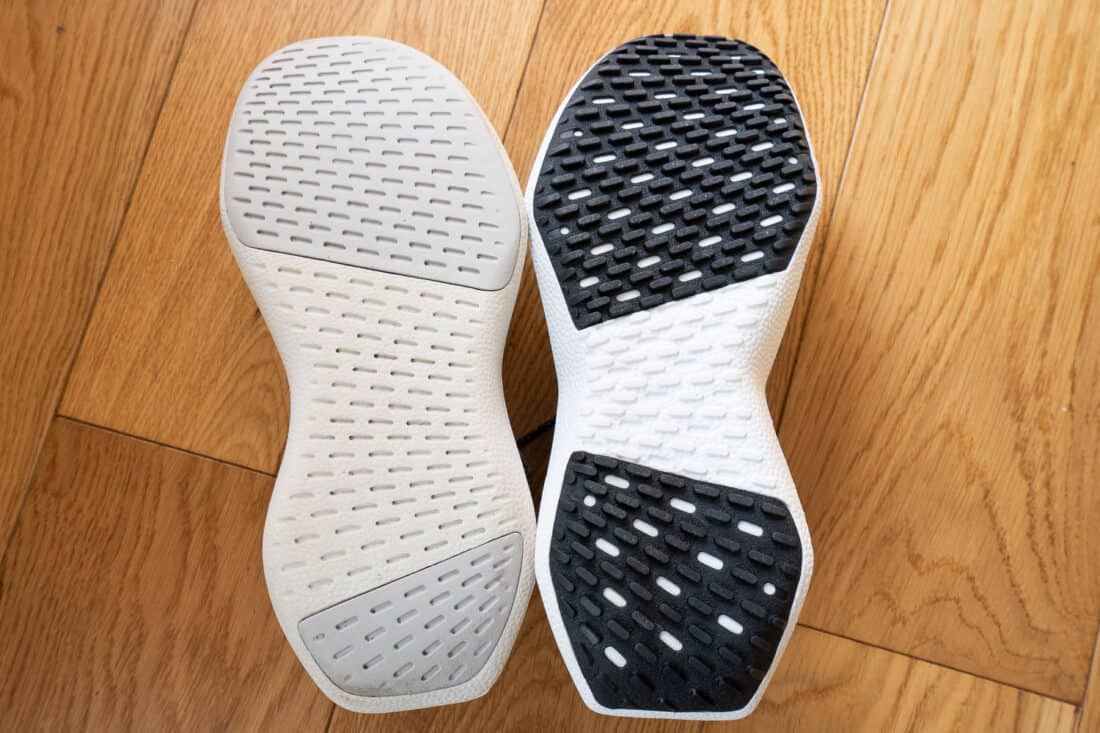 If you already have the Allbirds Tree Dasher 1, should you upgrade?
I don't think the changes are significant enough to warrant buying a new pair of shoes unless you really need the extra traction.
But when it comes time to buy a new pair (after 300-500 miles of running), know that you can safely buy V2 and still have the same comfort and fit.
Note that V1 is only available in a few sizes and colours on the website (at a discount), so the Tree Dasher 2 is a better option if you want more choice.
Feedback from other Dasher wearers to the new design is similarly positive:
"Great upgrade. Still the comfort and easy run of the dasher, but more midfoot support and grippy sole! Love them!"
Allbirds Tree Dashers vs Tree Flyers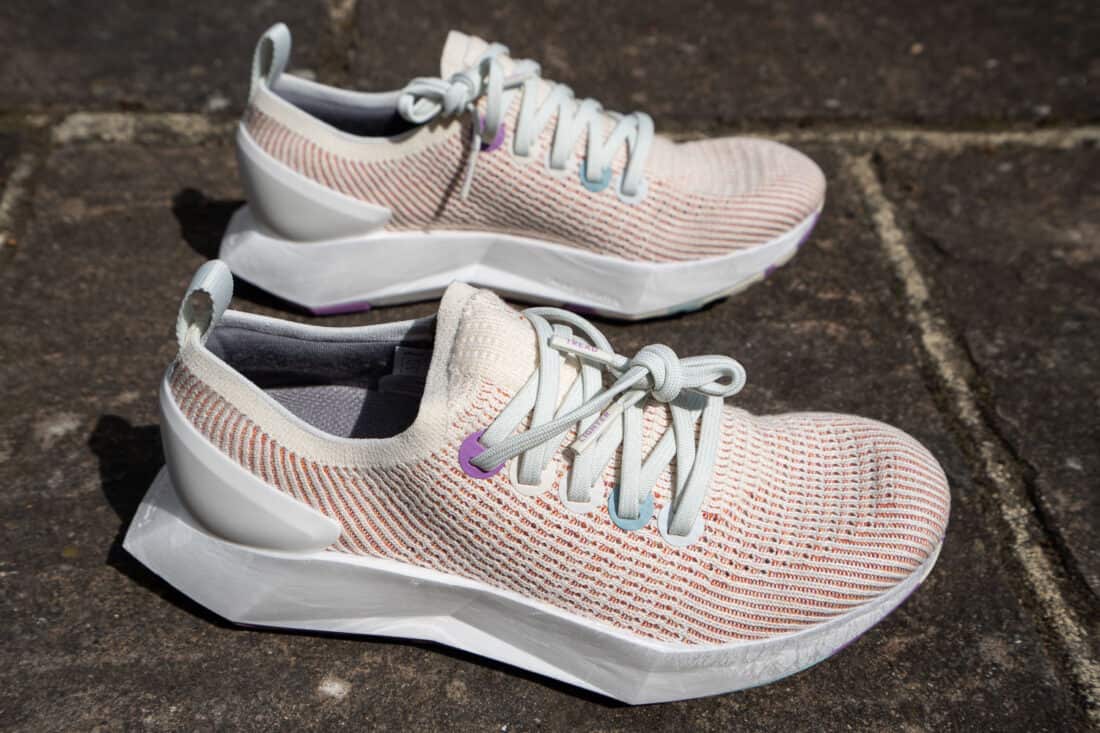 The latest Allbirds running shoe is the Allbirds Tree Flyer, which I tested for a while. It's designed to be a lighter, more responsive, higher performance shoe that's suitable for longer runs.
I didn't notice a huge difference in the Tree Flyer vs Tree Dasher. It does feel slightly lighter but the sole is bulkier.
The new heel counter at the back adds to the bulk and creates a more athletic look. It's designed to give more support and stability, but I haven't noticed a difference on my short runs.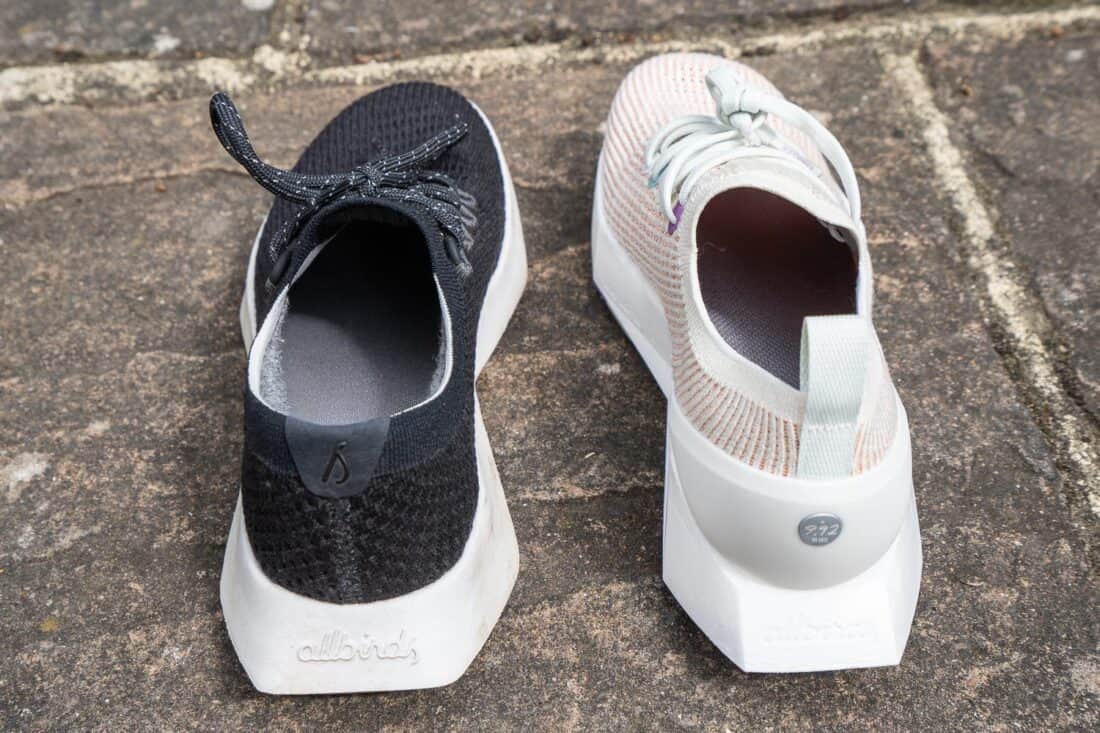 The mesh upper is similar. The soles have different treads but both shoes have good traction (much improved on the Allbirds Tree Dasher 1).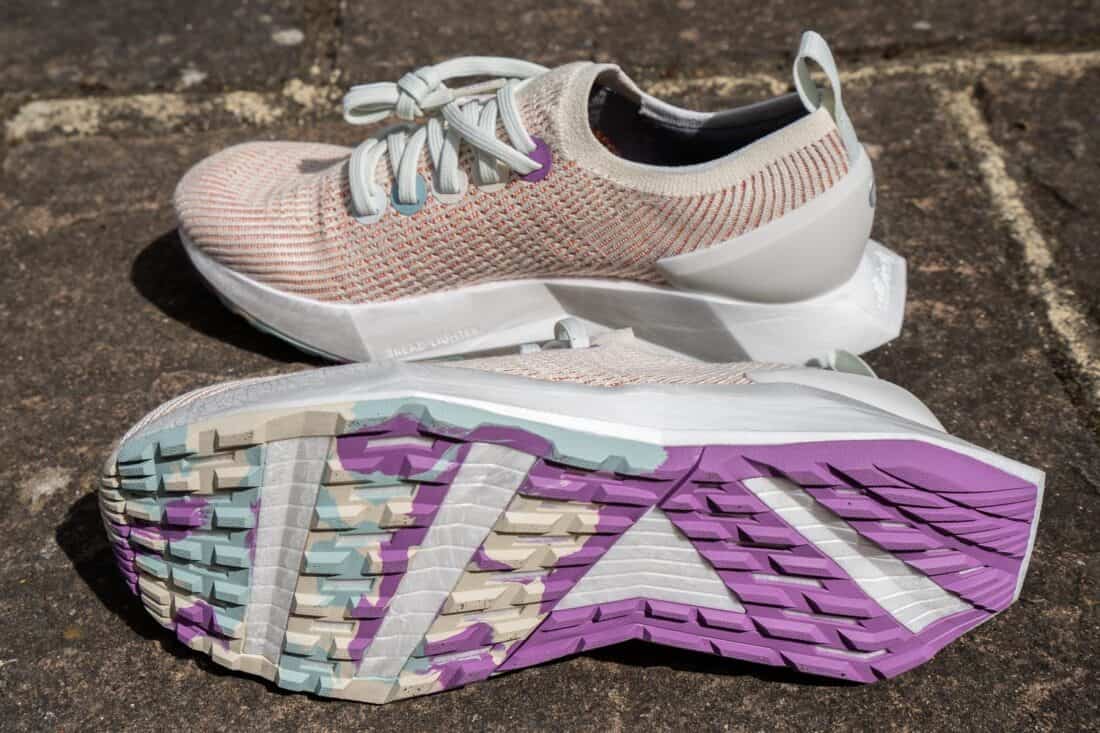 Overall, the Allbirds Flyer seems like another good running shoe, but I'm not sure it's worth the extra $25 cost. The differences seem minimal to me.
As I prefer the look of the Tree Dasher and it works well for casual wear as well as running, I'll be sticking with it for now.
Check out the Allbirds Tree Flyer running shoe here.
Pair with Allbirds Trino Sprinters Socks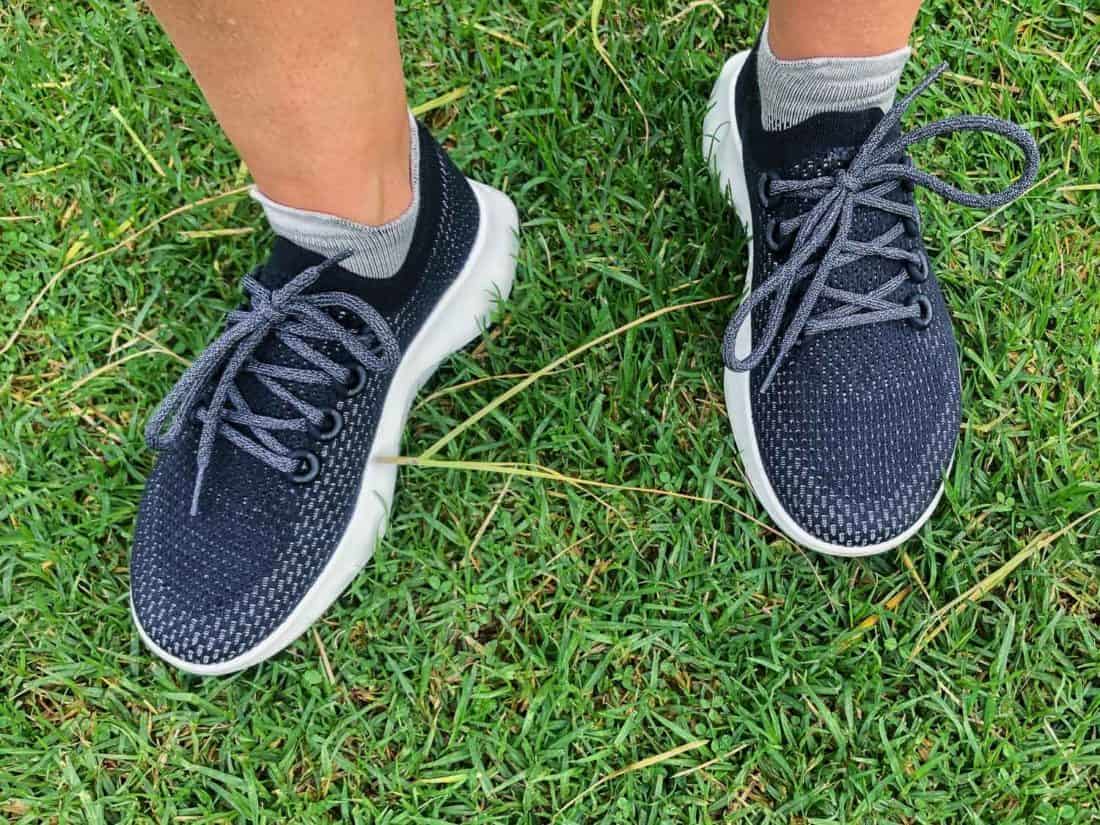 The Allbirds Trino Sprinters are running socks designed to fit perfectly with the Tree Dashers. I have a couple of pairs and love them.
They are made from silky smooth Trino material which consists of 46% recycled nylon, 35% TENCEL Lyocell, 15% Merino Wool, and 4% Spandex.
I find them breathable, moisture-wicking (even when my feet got soaked in the ocean), and odour-resistant. Seriously, I wore them for four runs without washing (for research purposes!) and they still didn't smell!
They are also surprisingly durable, unlike some thin merino wool socks I've used in the past which developed holes quite quickly. After three years, my first pair still don't have holes (but do look a bit worse for wear).
The low-cut design fits just over the top of the Dashers with a tab in the front and back. I find they fit really well and don't fall down.
The Trino socks are made from a thin fabric without any padding (but with reinforced heels and toes), which I prefer for running as my feet get hot otherwise.
Allbirds running socks cost US$15. If you add a pair to your shoe order, the shipping will be free.
Summary: Are Allbirds Good for Running?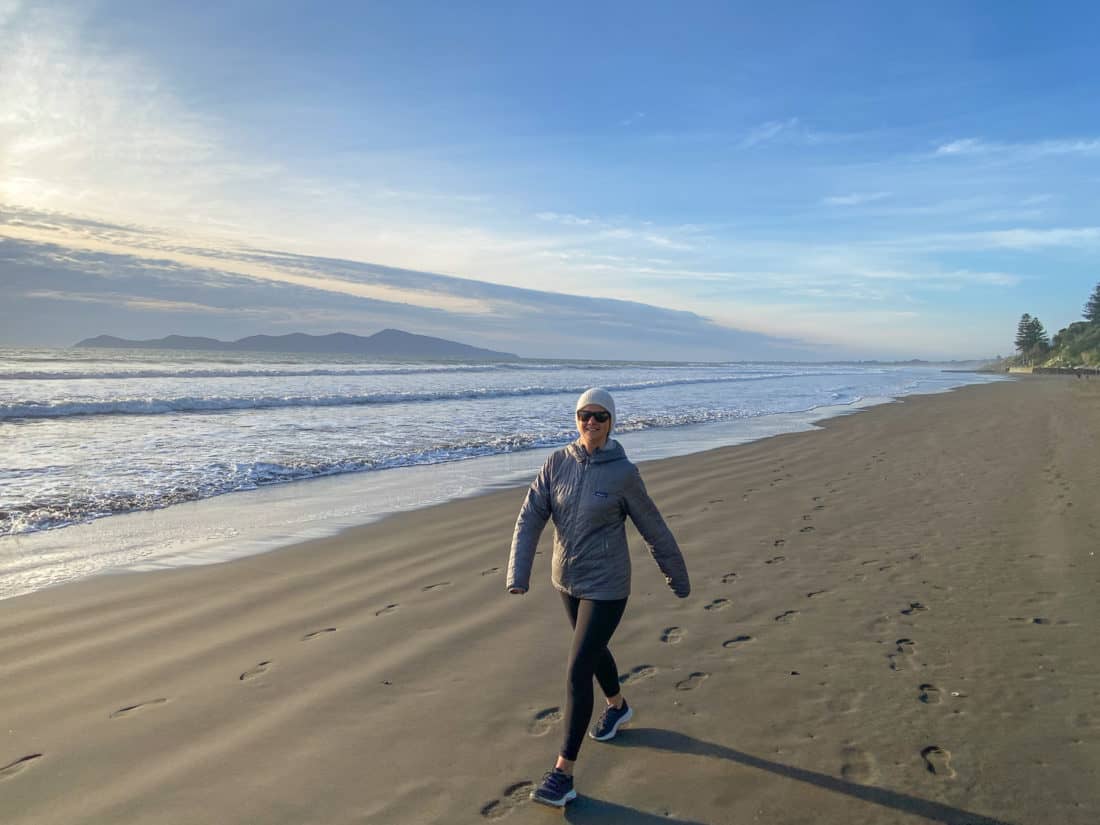 I was dubious about how well a casual sneaker company could compete with athletic shoe brands, but I've been pleasantly surprised with my Allbirds Tree Dashers and I plan to continue running in them.
I love how comfortable they are and I haven't had any injuries or issues while running in them. The lowkey design and neutral colours make them a versatile shoe I can wear for other activities too.
What really makes them stand out from other running shoes is Allbirds' commitment to sustainability and use of renewable materials.
Finally, with a 30-day free trial, there's no reason not to give them a go and see if the Dashers work for you.
Check out the Allbirds Dashers range here.
Other Shoe Reviews
If you enjoyed this post, pin for later!